Local test sites are a boon when it comes to WordPress development. They enable you to tinker with new features, plugins, and themes without fear of breaking anything – which is fantastic! Their only downside is that they can be a pain to set up, regardless of your operating system.
Local by Flywheel solves this problem neatly for Mac users (and soon for Windows as well). This tool – previously known as Pressmatic – makes local WordPress development a breeze and, best of all, it's free. Let's find out what features it offers, how it came to be, and how to set it up.

Local by Flywheel is a tool that intends to cut down on time spent wrangling local WordPress environments. It includes almost everything you need to set up local WordPress installs, bundled in a single application that takes care of the whole thing for you. Furthermore, Local by Flywheel enables you to manage multiple local installs from a single dashboard, and even clone or save them as 'blueprints' for later use.
At the time of this writing, Local by Flywheel is only available for macOS, but a Windows version is expected to launch within the coming months. In fact, some users have already been invited to beta test it. You can download the Mac version from their official homepage, as well as ask to be notified when the Windows version launches.
Key Features:
Offers you the ability to create shareable URLs for your local websites.
Lets you add Secure Sockets Layer (SSL) certificates to your sites.
Gives you Secure Shell (SSH) access to your sites.
Offers a way to interact with your local installs using WP-CLI.
Enables you to swap between different types of servers and versions of PHP with a single click.
Gives you the option to clone your local WordPress test sites, or save them as blueprints for new installations.
Lets you launch a local WordPress Multisite setup.
Price: FREE | More Information
The Development of Local by Flywheel
Before Local by Flywheel, there was Pressmatic. Flywheel, a company known for top-notch managed WordPress hosting services, acquired the latter near the end of 2016.
Pressmatic was also a quality application for launching and managing local WordPress test sites on Mac, albeit a premium solution. After its release in July 2016, it spread quickly through word of mouth, thanks to its streamlined interface and ease of use.
If you've ever had to set up a local environment for WordPress development, you'll know it's no picnic – hence why Pressmatic gained something of a cult following. That following ultimately brought lead developer Clay Griffiths – and his application – under Flywheel's radar. In fact, Griffiths now also works at Flywheel to help develop the solution further.
As it stands, Local by Flywheel is mostly the same as Pressmatic, with one key difference – this product is free, whereas early Pressmatic adopters had to pay $129 for a single license. Alongside the free version, Flywheel are also working on a premium version (Local Pro), the details of which are thin on the ground.
However, there is plenty of speculative information floating around about some of the functionality that will be added at some point down the line, including:
Easy deployment for Flywheel hosting users.
The ability for users to import remote sites.
An option to carry out off-site backups for your WordPress test sites.
A quality and straightforward option for creating WordPress test sites – especially one that's now free – sounds good to us! Having covered what Local by Flywheel does, how it came to be, and what the roadmap looks like, it's time to see it in action.
How to Set Up a WordPress Site Using Local by Flywheel (In 3 Steps)
As with any application, the first step in our journey is to download and install it on your computer. It's important to mention the application is only available for macOS at the moment – if you use a different operating system, you'll need to wait for their official releases.
Once installed, you can begin adding local WordPress sites to your environment. They can be used for any purpose you want, and you'll be glad to know they work perfectly alongside Divi.
Step #1: Set Your WordPress Site Defaults
As soon as you launch Local by Flywheel, you'll encounter a mostly bare dashboard and the option to add a new website to your environment: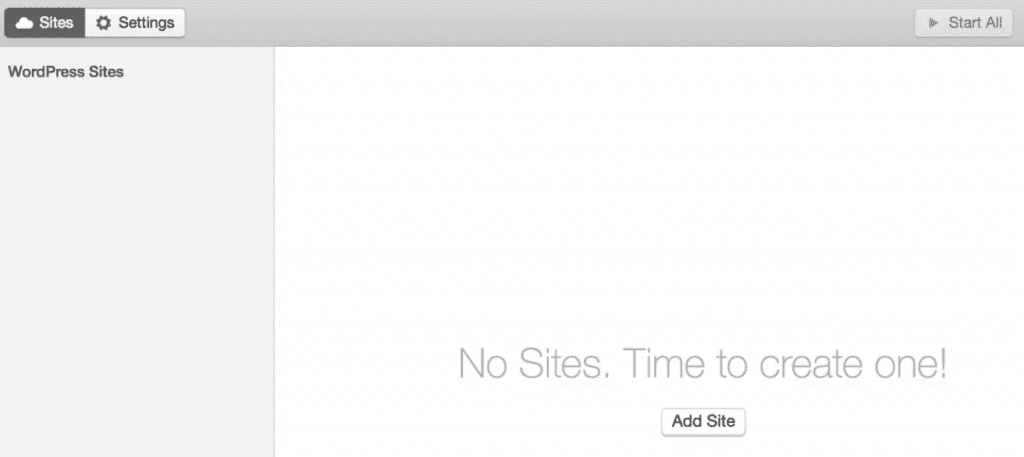 However, before we do that, let's head to Settings on the top left of our dashboard. Here we can modify our default installation settings, including the PHP and MySQL versions, admin username, password, and installation directory: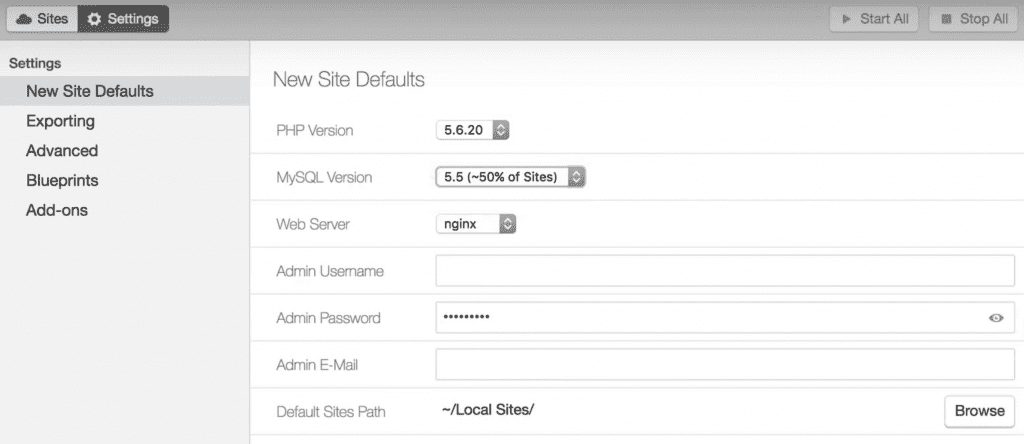 Make changes as you see fit, then click on Apply in the bottom right corner of the window. We're still going to have to configure some settings almost every time we spin up a new WordPress local site, but these will be constant for each site.
Step #2: Add Your First Local WordPress Site
To add our first local WordPress site, let's return to the Sites tab (where we landed upon opening the application) and click on Add Site. On the next screen, choose a name for your site, a domain (in order to access it in your browser), and modify its directory if you want to:

Moving on, you can also decide to change your environment if you want to work with a different server, PHP version, or MySQL version than previously selected:

Finally, you can set whether you want to enable Multisite for your new local installation, as well choose a new admin username, password, and email: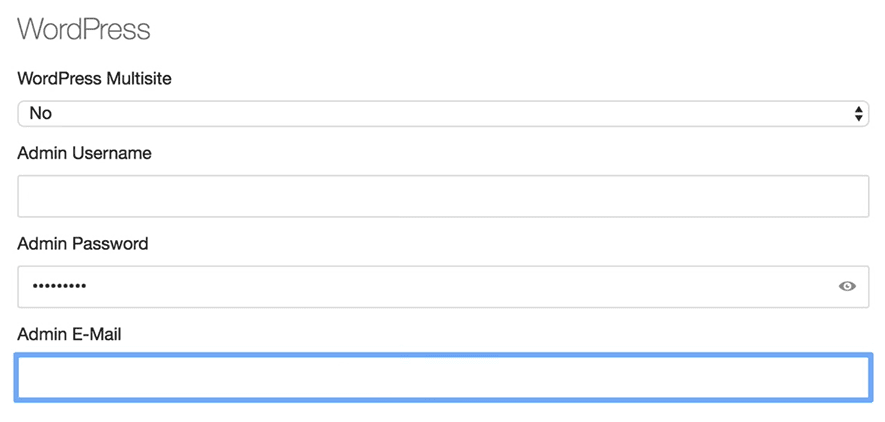 Now click on Add Site, and sit back as Local by Flywheel does its thing, which may take a few minutes depending on your computer: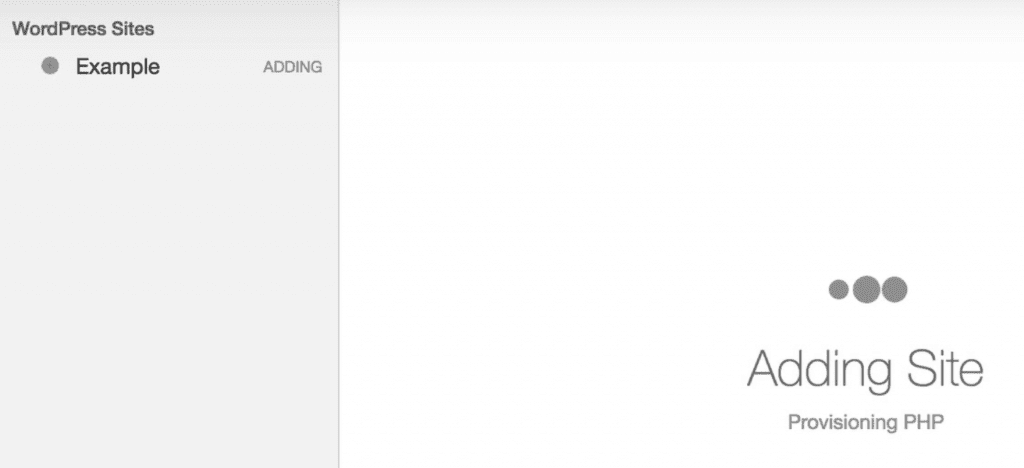 When your local WordPress installation is ready, a new item will appear under WordPress Sites on your main dashboard. Clicking on it will enable you to check out an overview of its settings, modify some of them, and open the site using your default browser:
By now, you're ready to start tinkering with your local WordPress websites, but there's one more feature we want to cover before wrapping up.
Step #3: Create 'Blueprints'
As we mentioned earlier, Local by Flywheel enables us to create something called blueprints. They're essentially templates – carbon copies of any given local WordPress site, which can be saved for use at a later date. Whenever you add a new website to your collection, you'll be able to choose to use a blueprint as its base.
At first glance, the blueprints system may seem quite similar to a simple cloning feature, but it can be highly useful. For instance, if you like to set up particular default plugins on all of your WordPress sites, you can do so once using Local by Flywheel, then save it as a blueprint. Now all you have to do is select it during your next installation process, which saves you some valuable time.
To create a blueprint, right-click whichever site you want to use from your list of local WordPress installs, then select the Save as Blueprint option: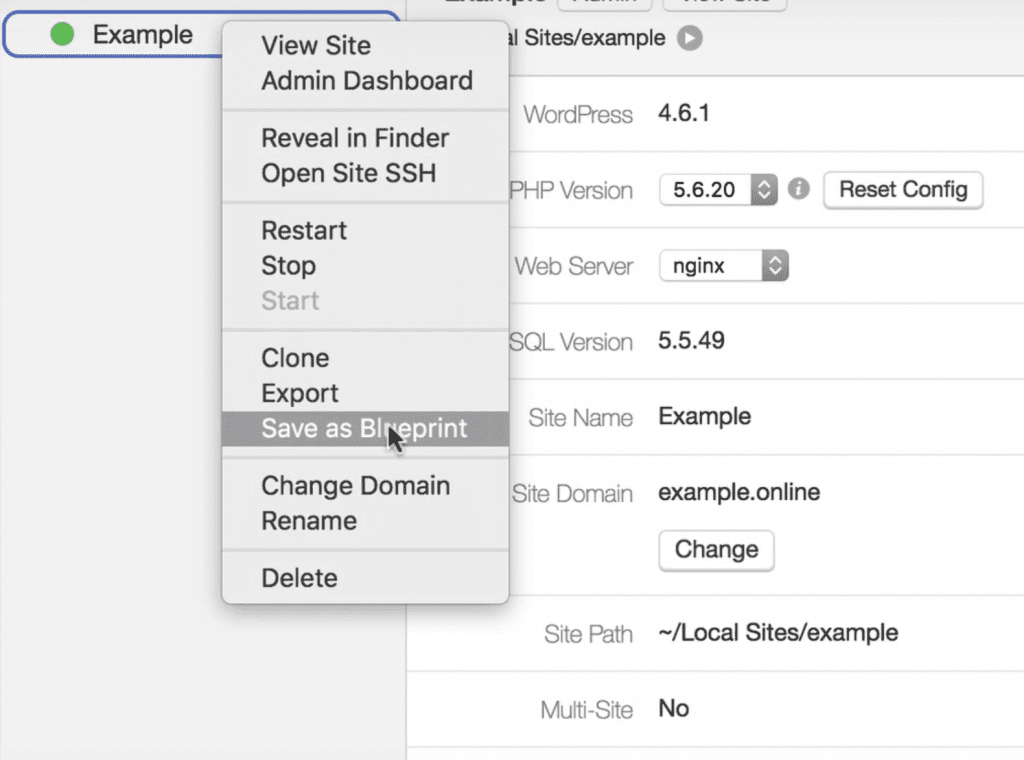 Next, set a name for it, choose the server type, PHP version, and pick which files to exclude…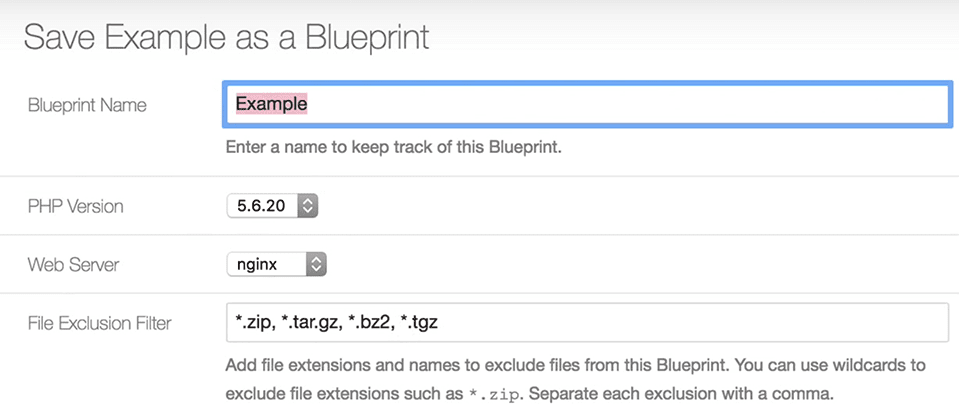 …and wait while it saves. The next time you create a new local WordPress website in Local by Flywheel, you can use that blueprint as your base:

The rest of the installation will proceed as usual, except this time, you'll have a fully customized WordPress site on your hands instead of a blank slate.
Conclusion
Local test sites are a great tool for WordPress users and developers in general. Local by Flywheel enables you to eschew the usual complicated setup process for local WordPress test sites, and manage them more efficiently. It even works for non-WordPress sites!
If you're a Mac user and want to test out Local by Flywheel, here are three steps to get up and running:
Configure your WordPress site's default settings.
Add your first local WordPress installation.
Create WordPress blueprints to streamline your development process (if you want to).
Do you have any questions about Local by Flywheel? Subscribe and ask away in the comments section below!
Article thumbnail image by liravega / shutterstock.com.