Security is an essential part of how you choose a hosting provider. Cost, features, and usability should all be considered. Cloudways stands out against the competition with the built-in security features they offer. They provide a free SSL certificate, automatic backups, and bot protection amongst other things. Additionally, they offer pricing for any budget. Lastly, their user experience is clean and easy to navigate.
We previously introduced you to Cloudways by providing an overview. As a part of our Cloudways managed hosting series, we'll discuss the unique features that come standard with Cloudways. From firewalls to end-to-end encryption, Cloudways packs features into its hosting platform effortlessly.
What is Cloudways Hosting?
Cloudways is a cloud-based managed hosting provider that offers a unique setup. With Cloudways, you have the ability to choose your cloud server host, file storage location, and storage options. Cloudways offers a modular approach to hosting plans, for example. You can choose options that will allow you to grow your plan over time. Cloudways is very affordable. They offer price points for every budget. You can start your hosting plan for as little as $10 per month.
We've partnered with Cloudways because we feel that they offer one of the best products on the market for the Divi community. Hosting companies are a dime a dozen, but few offer the features and benefits that Cloudways do. Plus, Cloudways managed hosting is optimized for WordPress and Divi.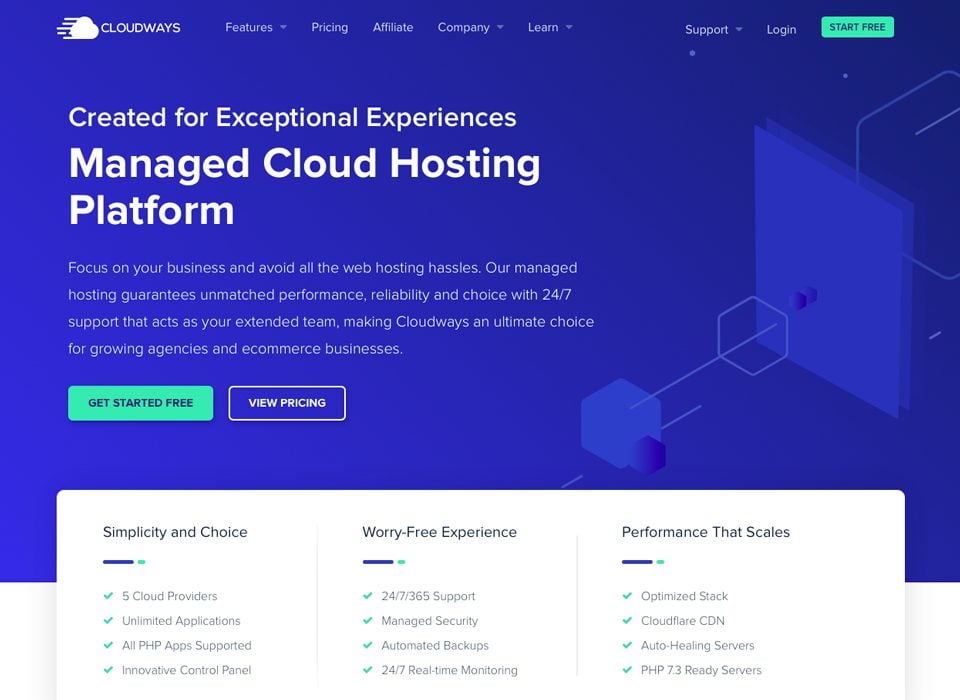 What Makes Cloudways Perfect for Divi Users?
Cloudways hosting with Divi is a great option for Divi users. If you purchase a hosting plan through us you'll get great benefits. For example, Divi will come installed on your hosting plan. Secondly, you'll get the enhanced security features and speed optimization Cloudways is known for. Lastly, you'll get a 20% member discount. Head over to our Cloudways partnership page and click the Get Divi Hosting button to sign up.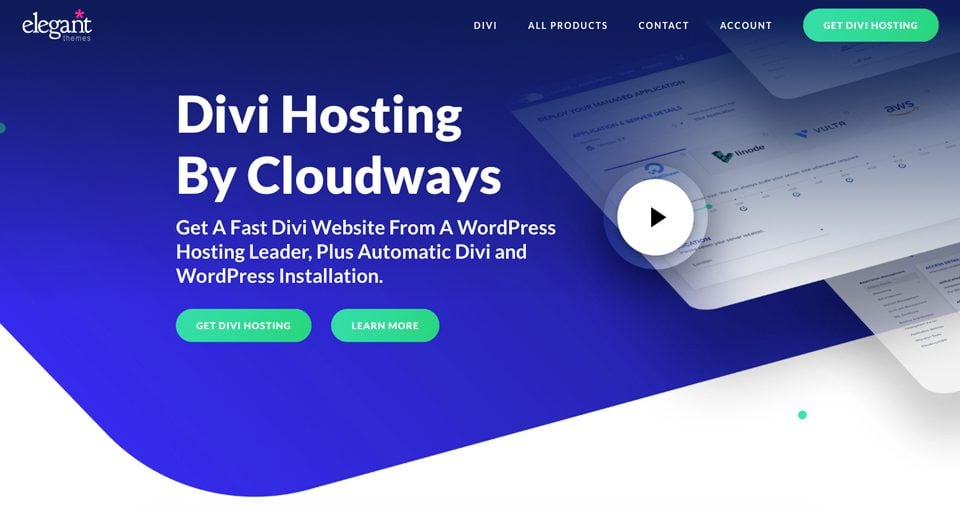 Cloudways security is hands down one of the best features of their service. Let's discuss the security features provided with Divi Hosting by Cloudways and how to use them.
What Security Features are Offered With Cloudways Divi Hosting?
Cloudways Divi hosting is packed full of goodies to keep your sites safe and secure. Every Cloudways plan comes standard with great security features. You'll get options like a firewall, bot protection, database security, and two-factor authentication, to name a few. Additionally, automatic daily backups are standard. In our opinion, Cloudways security is among the best. Let's dive into security features that come with hosting your site with Cloudways.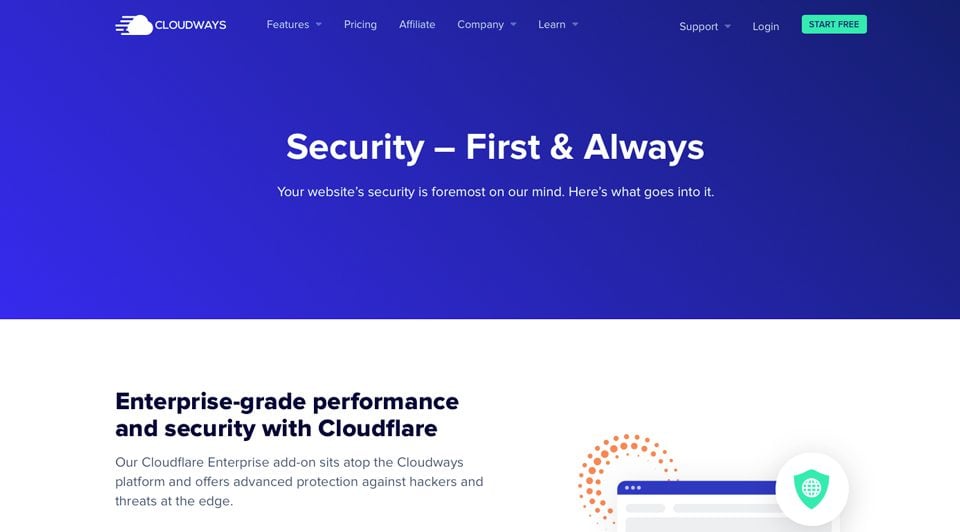 Cloudways Security: Firewall
One of the most important Cloudways security features is their dedicated firewall. Firewalls protect your server by filtering traffic on the network. It's the first line of defense. A firewall is crucial to overall server security. Cloudways configures their firewall to only access ports that are required. This keeps your server optimized and protected. View a firewall as a gatekeeper, for example. It'll lock the gate and leave bad actors outside looking in.
Checking the status of your firewall is easy. You can monitor your site's traffic by clicking on Applications in the navigation of your account.

Next, navigate to Monitoring > Analytics > Traffic. You'll be able to view IP requests, bot traffic, URL requests, and your website status codes.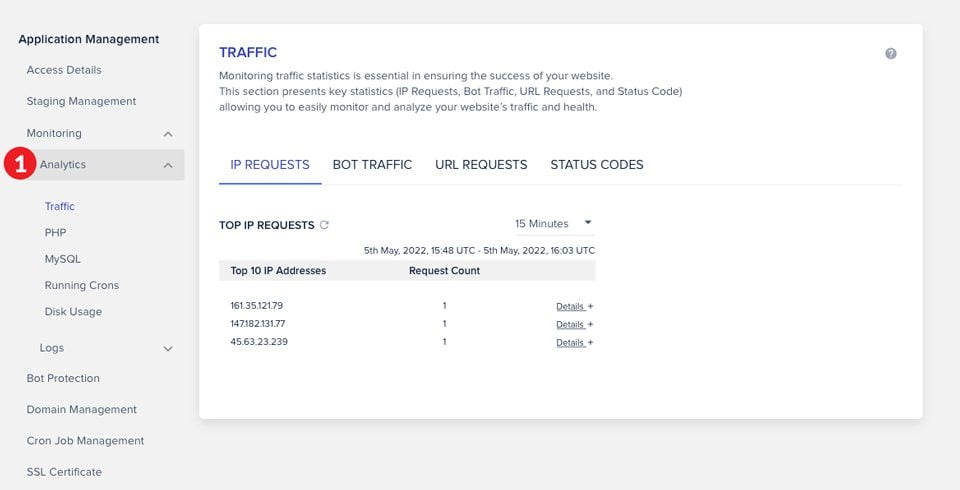 A Free SSL Certificate
You get a security boost with a Let's Encrypt SSL certificate. Installing your SSL is easy with 1-click installation. If you are a techy-type who prefers a more hands-on approach, that's an option too. You can bring your own SSL over and manually sign a Certificate Signing Request (CSR).
Installing an SSL is a breeze. Click on SSL Certificate in the application management dashboard. Choose an option for your SSL using the dropdown menu. Next, enter your email address and choose your domain. Finally, install your certificate by clicking the INSTALL CERTIFICATE button.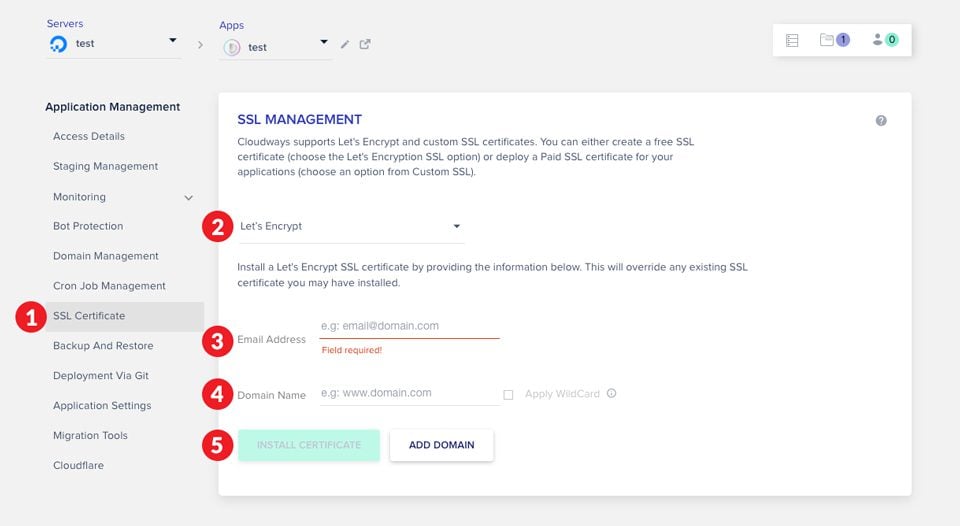 Cloudways Security: Bot Protection
Cloudways offers fantastic protection against bots. Bot protection is automatic. Through partnership with Malcare, you'll have peace of mind knowing your site is protected. Brute force and Denial-of-Service (DoS) attacks are common these days. Cloudways makes it so you won't have to worry. Attacks are automatically blocked, so leave it up to Cloudways to keep these common threats from being a problem. Additionally, there is site monitoring so you can see potential attacks in real time.
Viewing your data is easy. Click on Bot Protection in the application management dashboard. You'll see all traffic requests and login attempts here.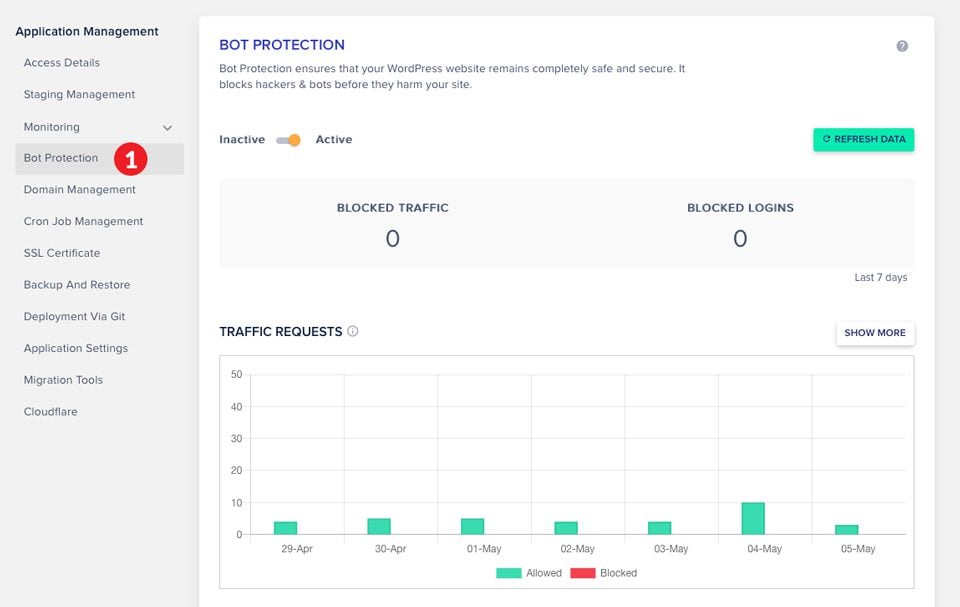 Application Isolation
Some hosting providers allow you to have more than one application on a server. None that we are aware of keep applications separate on one server. Cloudways does. With applications housed separately, troubleshooting is easier. For example, if your files become corrupted on one of your website installs, you can fix the problem there. You don't have to dig into the server to see where things went wrong. With application isolation, your server is protected from being corrupted by one application.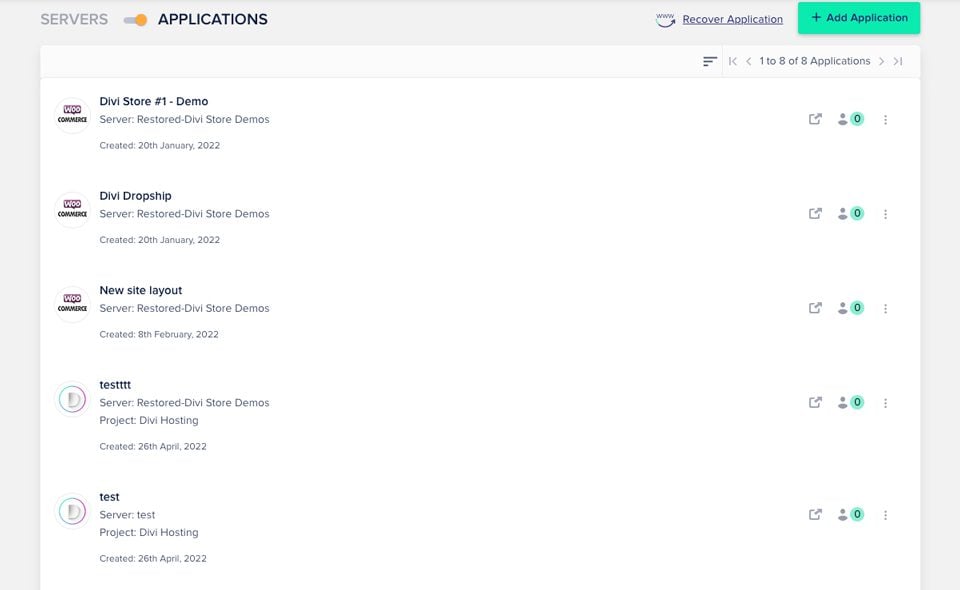 Automatic Backups
Making changes to your site can come with challenges. Accidentally deleting a page or erasing a theme template isn't fun. Automatic backups are essential for site security. Cloudways takes the worry out of backups by handling it for you. You can restore your server with the click of a button. Additionally, you can set up a schedule for backups.
To access server backups, follow these steps. Click on the server of your choice. Next, click server management. Finally, click backups. Here you can schedule your backup settings.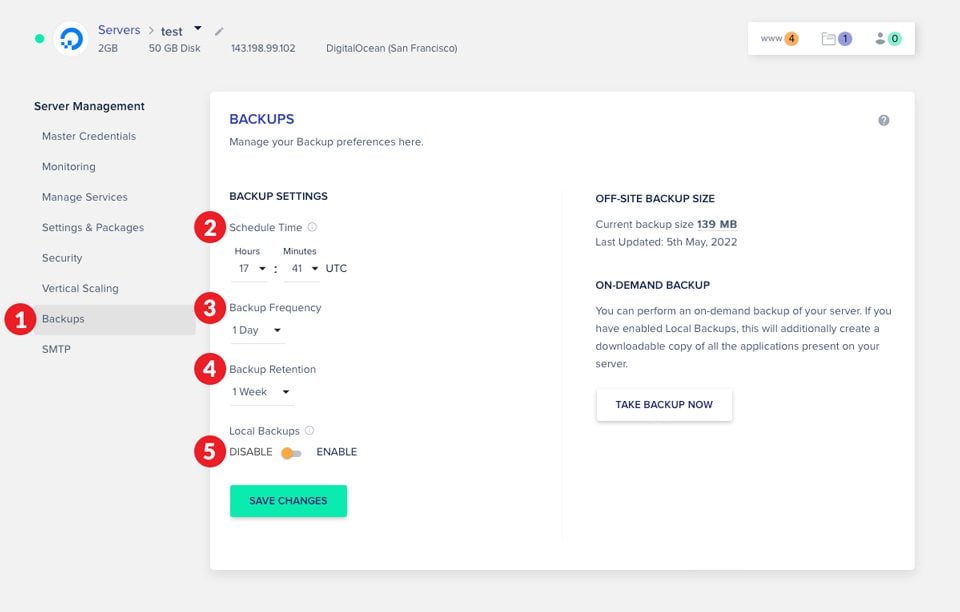 They offer an additional option for backups. You can schedule your application-level backups with their manual backups. This is useful especially if you want to back up one application. To backup an application, follow these steps. First, choose your restore point, then click the RESTORE APPLICATION NOW button. If you want to do an on-demand backup, click the TAKE BACKUP NOW button.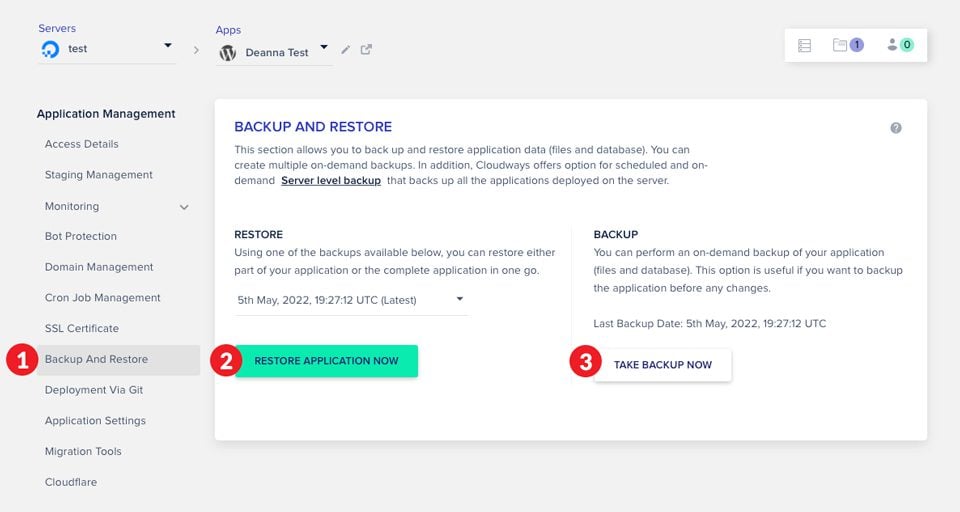 Cloudways Security is Unparalleled
Cloudways uses end-to-end encryption on its servers. It protects your data from start to finish. Cloudways protects your server in a few ways. They use a firewall as a gatekeeper to block bad actors. Two-factor authentication is standard with every plan. Bot protection through Malcare blocks brute force and DoS attacks. The free SSL certificate gives your users peace knowing their information is secure. Lastly, automatic backups allow you to undo costly mistakes at the press of a button.
We think Cloudways is one of the best hosting providers out there. Their security and competitive pricing are hard to beat. If you are in the market for a hosting provider, we highly recommend taking a look at Cloudways.
Do you have a question or comment? If so, leave us one below.