Web hosting and protecting the environment aren't two goals that usually go hand-in-hand, but if you're in this small niche of web host-seekers, GreenGeeks should be on your radar. Why do we need eco-friendly web hosting? Websites can be a drain on the environment because they produce C02 and add to your carbon footprint. Data centers have thousands of computers that generate a ton of heat, which requires huge cooling systems. If your personal or business goal is to protect the environment, then you should consider your website as part of your go-green efforts. In this post we'll go over what GreenGeeks hosting has to offer so you can decide if it's the eco-hosting solution you need.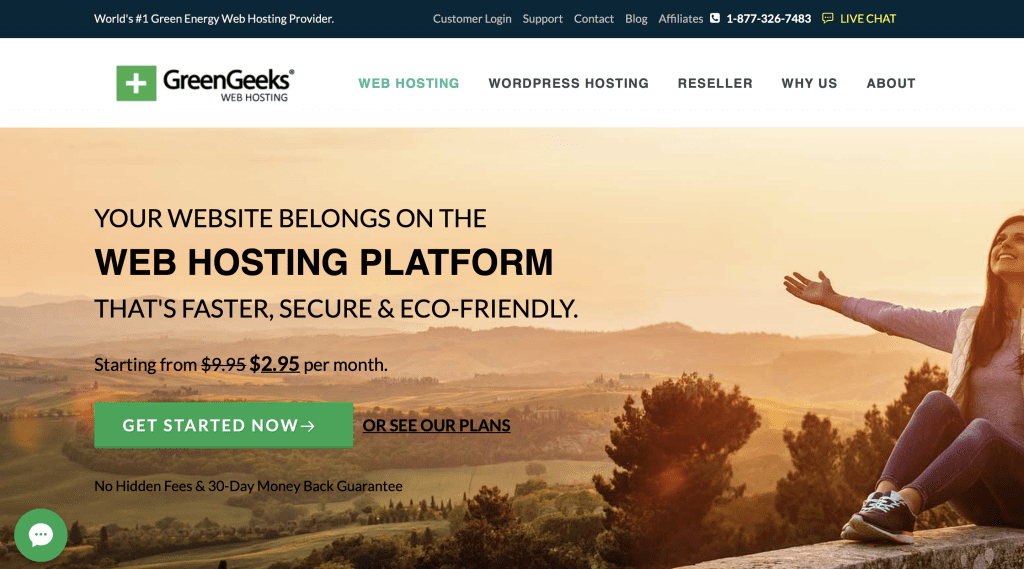 GreenGeeks' Eco-Friendly Promise
GreenGeeks is possibly the greenest web host you'll find. According to their website, "Since our launch in 2008, GreenGeeks has been the industry's leading eco-friendly web hosting provider putting back three times the power we consume into the grid in the form of renewable energy." This type of carbon offsetting strategy is common amongst eco-friendly web host providers. Basically, it means that for every unit of energy that's used, the company pays to generate an equal or greater amount of energy from renewables and put that back into the grid.
GreenGeeks Benefits and Features
GreenGeeks is known to have a lot of uptime and few outages, and websites have a pretty good response time. Upgraded plans will have even better performance and reliability. Here are the other benefits and features that GreenGeeks offers:
Customizable templates with replaceable images and text, and widgets for buttons, contact forms, maps, multimedia, social media links, etc.
No limit to how many pages your website can have or how large it can be; add any number of elements, images and pages you want
Upload website files via FTP or add them manually using a browser-based file manager
Free website migration (best for simple blogs and websites) handled by GreenGeeks during setup
Data centers located in the United States, Canada and Europe
Quick installation of Drupal, Joomla, MediaWiki, WordPress or other apps
Cloudflare integration with an icon that lets you access your settings
While they promote themselves as a WordPress hosting provider, their WordPress plans are essentially their regular plans that can be used with WordPress. If you need several WordPress-specific hosting features, consider another provider.
Shared hosting is a popular choice for first-time web creators or if you have a basic website. It's also the least expensive hosting option, so it's a great place to start – you can always upgrade to a good dedicated hosting plan later. Every shared hosting plan from GreenGeeks comes with the following:
cPanel site management
Daily backups
Dedicated IP
Drag-and-drop SitePad builder
Email accounts
Free domain name for the first year
Limitless web space and data transfer
Shopping cart installation
Softaculous one-click installer
Unlimited MySQL databases
Unlimited sub and parked domains
Wildcard SSL
The Lite plan is $2.95 per month and is best for launching small blogs or websites. You can have one website with the Lite plan. The Pro plan is $5.95 per month and is best for a growing website that needs extra resources or more speed. The Premium plan is $11.95 per month and is best for small businesses or websites with a lot of traffic. Upgraded plans come with PowerCacher, enhanced performance and support for unlimited websites.
Note that those prices are for three-year plans that are paid upfront. Otherwise, prices start at $9.95 per month when paid monthly. There's also a 30-day money-back guarantee, minus setup and domain fees (and you keep your domain name even if you request a hosting package refund). And yes, that means that the free domain is no longer free if you request a refund.
Dedicated Hosting
As your website grows and you gain more traffic, you'll likely grow out of shared hosting, which means you'll be interested in dedicated hosting packages. In general, dedicated servers have stronger security features and better performance. At GreenGeeks, dedicated hosting is pricey – the lowest option is $169 per month for just 2GB RAM. However, if you need dedicated hosting and you're committed to sustainability, the higher price tag may be an acceptable trade-off. It's common for eco-friendly web host companies to raise their prices a bit because they have a high bill for offsetting the energy consumed (in GreenGeeks' case, three times the amount).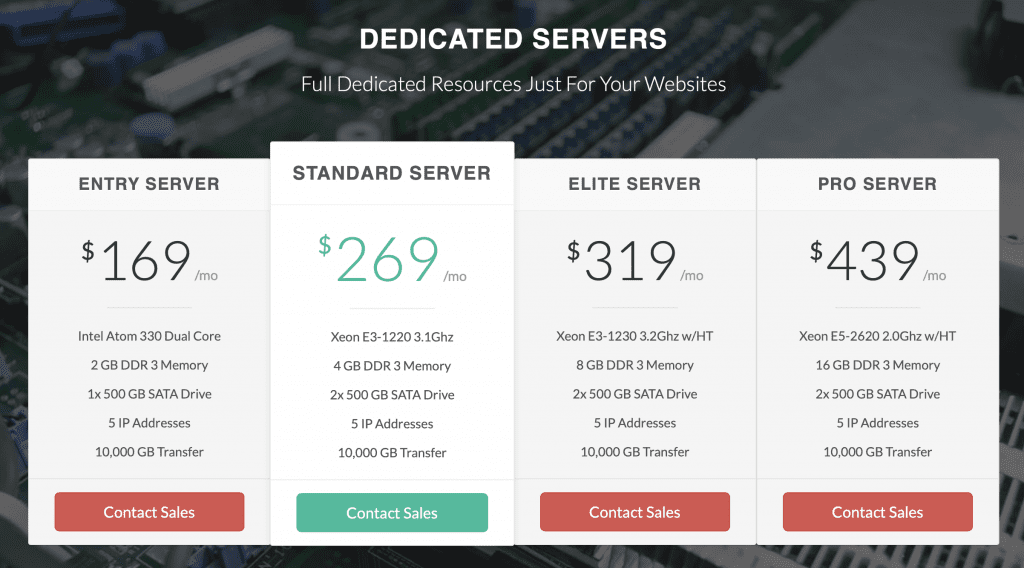 VPS Hosting
VPS hosting is useful if you need added security and privacy. The VPS plans at GreenGeeks are great from a value standpoint – you get a lot of storage and bandwidth for a low cost – but there are few configuration options. For example, you can't choose your data center.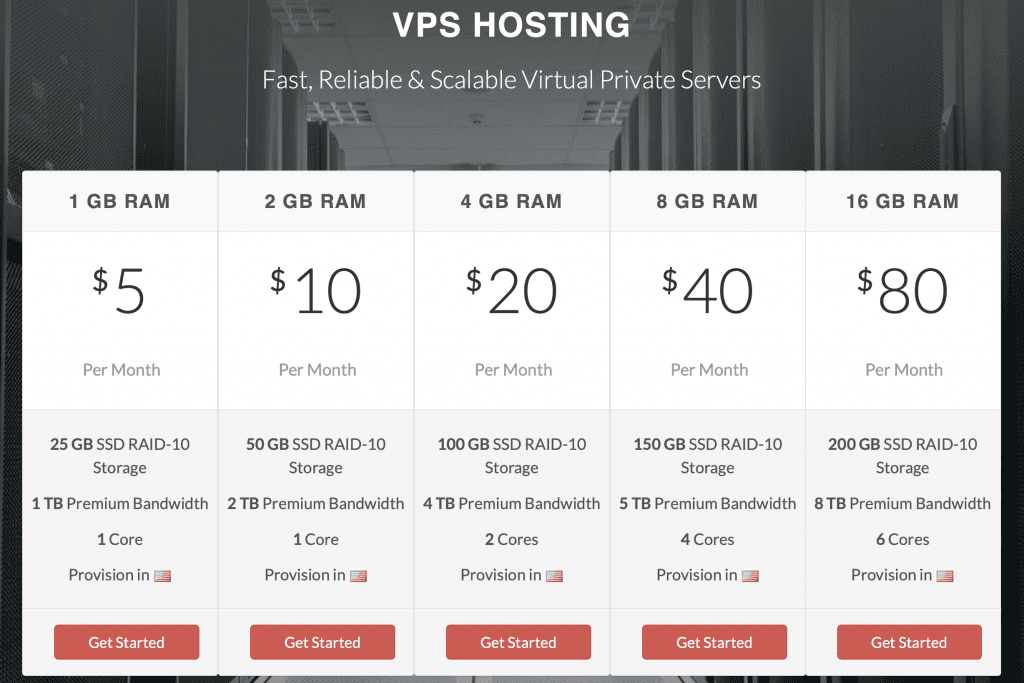 Getting Started with GreenGeeks
Getting up and running with GreenGeeks is pretty easy. Choose your plan, register your domain or use your own, and then enter your personal information. Choose your payment method (PayPal is an option) and then have your account activated.
New accounts are checked internally before being activated as a way to make sure a fraudulent order isn't placed. If your site fails the check for some reason, you may be asked to verify the information by phone. Otherwise, you'll get a welcome email and account details.
The account console and dashboard are simple and user-friendly. Links to everything you need are readily available, like account management, cPanel launch and submitting a customer support ticket. The cPanel is pretty standard – you can control security, create email accounts, manage databases, see server status, etc.
GreenGeeks Customer Support
GreenGeeks offers three types of support. You can submit an email ticket, and live chat is available 24-7, every day of the year. There's also phone support available daily from 9 a.m. to midnight EST. The knowledgebase has articles broken down by category, but it's hard to get in-depth advice here, so you'll probably contact support for complex troubleshooting.
GreenGeeks vs. Other Green Hosting Providers
GreenGeeks isn't the only eco-friendly host out there. DreamHost has a longer money-back guarantee (97 days), and while they're not as upfront about their eco-friendliness, they do run their business in a sustainable way. For example, their offices are EnergyStar- and LEED-certified. However, GreenGeeks has a nicer hosting panel and customer support is a lot easier to contact.
There's also iPage, which offers a 200% carbon offset, and while pricing is a bit higher, their products have more features. However, GreenGeeks offers a 300% carbon offset, which is a big difference if your main goal is to be an eco-friendly brand. A2 Hosting and HostPapa are similar – they have slightly higher prices and richer products than GreenGeeks, but their carbon offsetting strategies aren't as impressive.
Popular websites that require dedicated hosting may perform better on HostGator – dedicated hosting is what they do best – but their carbon offset is only 130 percent. InMotion has great VPS hosting plans, but while they've cut down on their carbon output, their go-green efforts barely compete with GreenGeeks.
Final Thoughts
Overall, GreenGeeks offers basic hosting products. Some users consider their offerings underpowered, but if you don't need bells and whistles, and you care about eco-friendliness, GreenGeeks may work out fine for you. Shared hosting has all the features you need and for a good value – it's not necessarily groundbreaking, but it's certainly capable.
Where GreenGeeks shines is in their carbon offsetting plan, as well as with their customer support. And while their hosting plans could be more feature-packed, their websites perform well. Ultimately, you get a lot of value in return for what you pay, and you can tell your customers that your web host invests in 3x the amount of energy they use.
If you're looking for other managed WordPress hosts and want to compare them to GreenGeeks, check out Pressable, Cloudways, SiteGround, and Flywheel.
If your brand is eco-friendly, check out our green energy layout pack for your website.
Featured Image via moobeer / shutterstock.com