Choosing the perfect domain name is always a challenge. However, there are more hurdles to overcome if the one you want is not available. If you're unfortunate enough, you'll land on the perfect name, only to find out that it's already taken. Unfortunately a lot of domains are registered by cybersquatters, which can be frustrating!
If you want to buy a domain that's already taken, you'll need to do some extra legwork. In this article, we'll walk you through all the ways that you can buy a domain that already has an owner.
Let's get to it!
Why You Might Want to Buy a Domain That Is Already Taken
In the vast majority of cases, registering an available domain is going to be your best – and most simple – bet. Depending on the name and Top-Level-Domain (TLD) you want to use, you might pay as little as $10 for a one-year registration.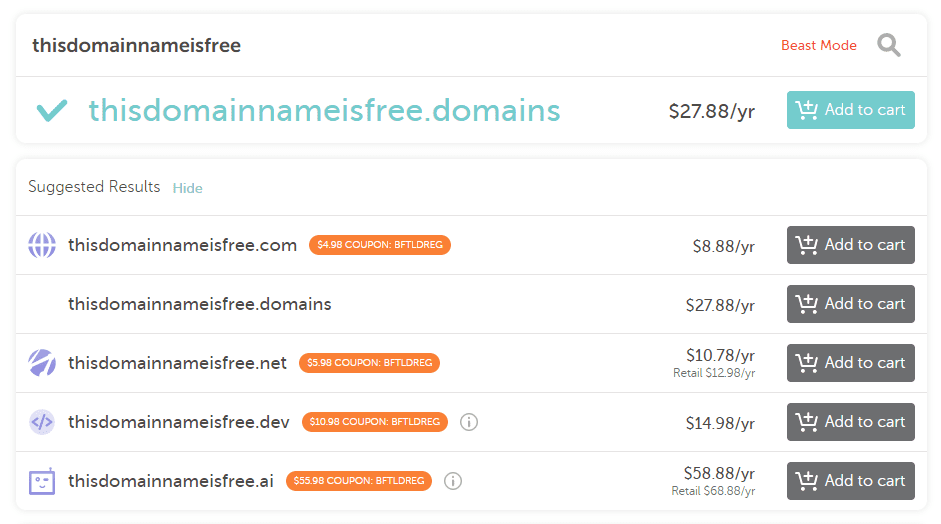 There are three straightforward cases where buying a domain name that's already taken makes sense:
You want to buy the .com TLD for your existing brand name and it already has an owner.
You've found the absolute perfect name for your website, but that domain isn't available.
You haven't been able to come up with a domain name, so you decide to look for options that are on sale by their owners.
If you find yourself in scenario number one, the easiest move is to consider whether you can use an alternate TLD. Although we recommend .com in most cases, this doesn't mean other TLDs are out of bounds for your site.
On the other hand, if the .com domain you want is relatively popular, using another TLD might not bring you the results you want. In this case, it's more likely that users might get confused.
Regardless of what scenario you find yourself in, here's how you'll want to proceed. Let's start by talking about what to do if the domain you want has a website attached to it.
What to Do If the Domain You Want Already Has a Website
If a domain name already has an active website connected to it, your chances of being able to buy it are slim. The more active or popular the site is, the less likely its owner will want to sell it.
On the other hand, if you find a domain name with a website that looks abandoned, or seemingly without much traffic, you can always try making an offer for it. In this scenario, there are two ways you can go about contacting the owner.
Most websites include a contact form or email that you can use to reach out to whoever's in charge. If the website in question doesn't – although this is rare – your next best bet is to run an ICANN lookup:

In theory, domain name registration data is available to the public. However, most reputable registrars offer WHOIS protection as a cheap or free extra when you purchase a domain. That means, in practice, ICANN lookups often won't return any contact information that you can use.
How to Buy a Domain Through an Auction (3 Steps)
It's far easier to buy a domain from someone who's already decided to list it. In most cases, if a domain is up for sale, you'll find it on one of the websites mentioned in step one.
Step 1: Identify the Auction Websites That You Want to Use
When most people want to sell a domain, they do so through a third-party platform. If you've ever browsed websites for sale, you may already be familiar with some of these platforms.
Take Flippa, for example. It's one of the most popular platforms for buying and selling websites, apps, and domains: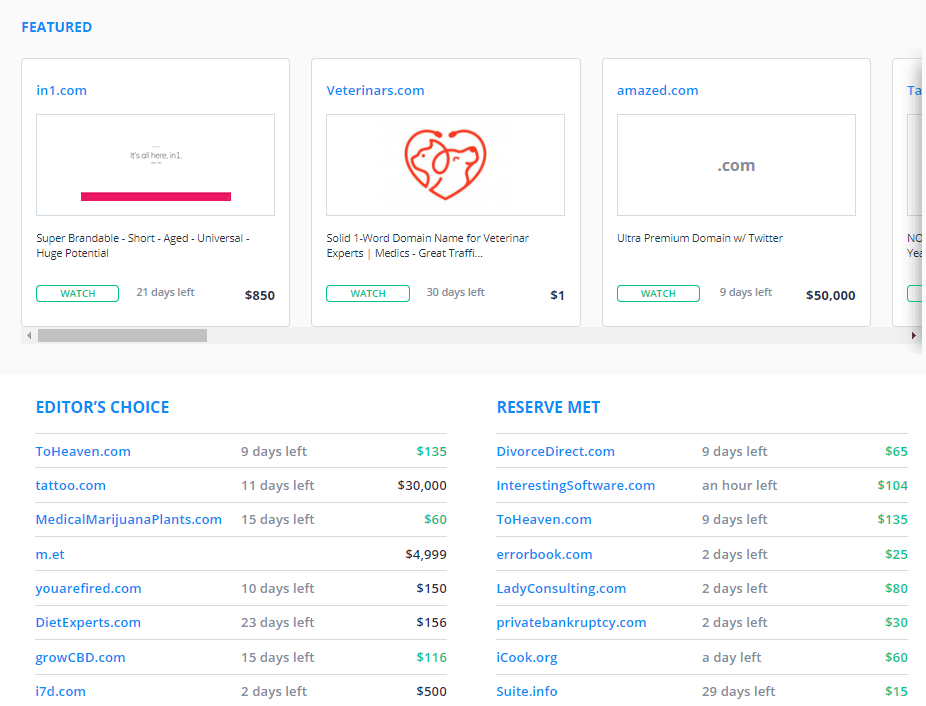 Using Flippa, you can put up domains up for action. As a buyer, you can check out what auctions editors recommend, sales that are close to ending, and more.
Another popular option for buying domains is GoDaddy Auctions. On top of being a web hosting provider and registrar, a lot of users go through GoDaddy to list and sell their domains: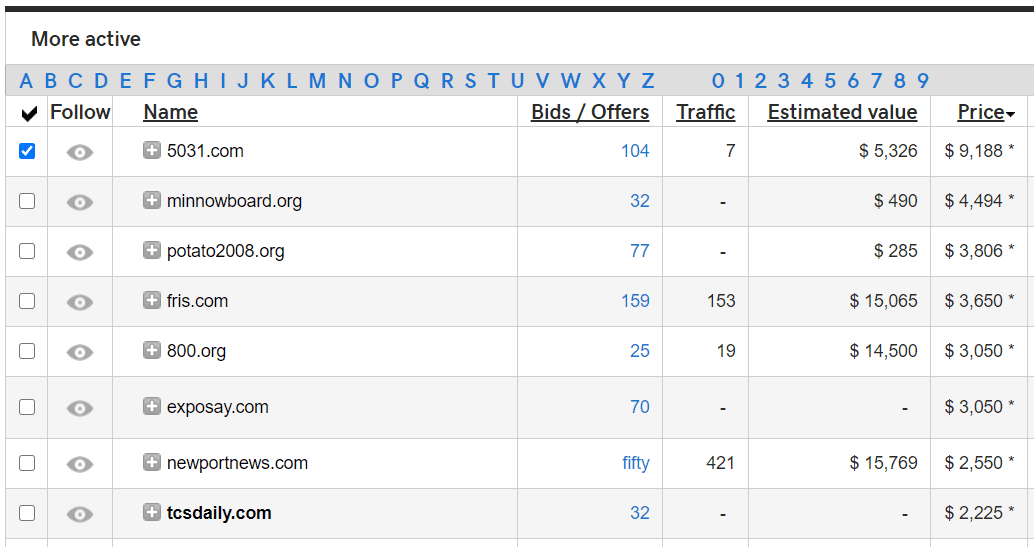 Sedo is another well-known registrar that also enables customers to sell domains through their platform. If you use Sedo, you can access curated domain auctions, peruse domains that are close to expiration, or browse direct offers: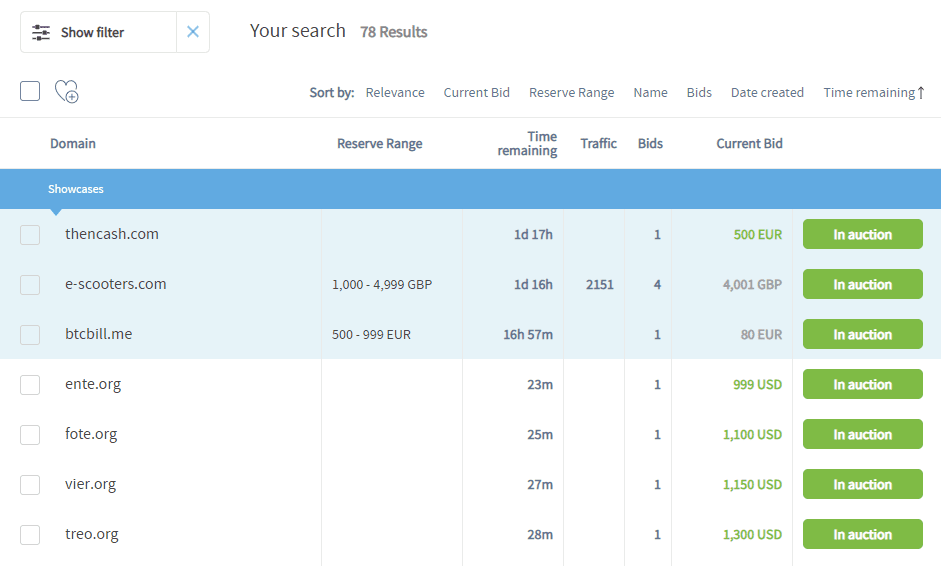 As you can see, the vast majority of public domain sales occur through auctions. For a private sale, it's normal to come to a private arrangement. However, if you're putting a domain up for sale and you don't have a buyer, an auction is the most logical way to extract the best price the market can offer.
Step 2: Make an Offer for the Domain That You Want to Buy
In our experience, it's not uncommon to be the only person to make an offer during a domain auction. This means you might be able to pick up the domain you want without breaking your budget.
If you happen to find your way into an auction with lots of activity, you'll want to set a cap on how much you're willing to spend: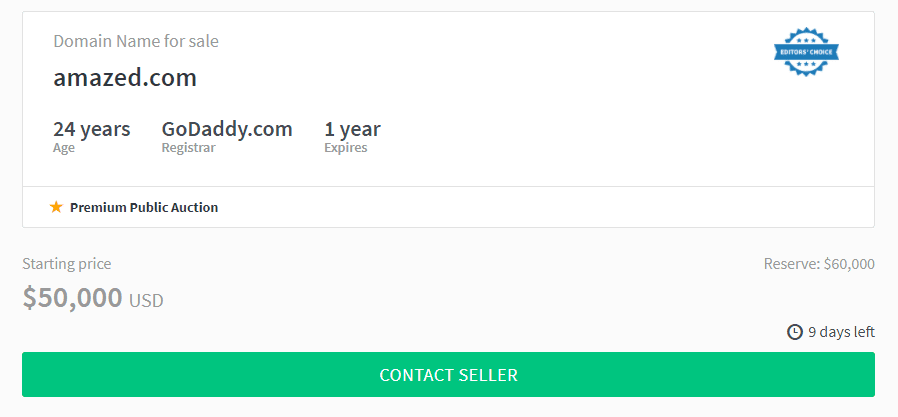 How much you're willing to spend to buy the perfect domain name is up to you. In any case, if you make the winning bid on a domain auction, the final step in your journey is remarkably simple.
Step 3: Wait for the Domain to Be Transferred to You
Since you're purchasing a domain name through a platform that handles the auction, they'll usually take care of the transfer as well. This means it's up to the seller or the platform to initiate the domain transfer to you.
The process can be a bit more involved if you and the seller use different domain registrars. In this case, you might need to ask your registrar's support to initiate the domain transfer on your behalf.
Once the transfer is over, you'll be able to update your new domain's settings through your registrar's control panel. Now, you're ready to link the domain to your website as usual!
Conclusion
Buying a domain that's already taken is a bit more involved than registering an available name. However, the extra work can be worth it if you find the perfect domain name, and you have the budget for it.
In most cases, if you want to buy a domain that's already registered, you'll need to do so through an auction. Here's how the process works:
Select what auction platform(s) you want to use.
Make an offer for the domain that you want to buy.
Wait for the domain to be transferred to you.
Do you have any questions about how to buy a domain that's already taken? Let's talk about them in the comments section below!
Article thumbnail image by Crystal Eye Studio / shutterstock.com