Running a domain name auction can be a smart way to recoup some of the costs of registering a web address you no longer want or need. However, this process isn't one you're likely to be familiar with unless you're already in the business of flipping websites.
Fortunately, there are many online marketplaces that can help you get the best price for your domain. In this post, we'll discuss why an auction may be the best way to sell your site and walk you through how the process works.
Let's get to it!
Subscribe To Our Youtube Channel
Why You Might Want to Run a Domain Name Auction
If you've reached a point where you're no longer interested in your website or don't have the time to keep it up, selling it may be your best course of action. You should be able to get back at least some of the money you've put into it. In some cases, you may even be able to make a profit.
Some domain names can be quite valuable, depending on keywords they include, what Top-Level Domain (TLD) they use, and other factors. If you're also selling your website and its content, you may stand to gain quite a bit of money.
Rebranding may also lead you to sell your domain name, even if you're keeping the rest of your online real estate. If the first web address you chose has turned out not to be such a great fit for your online business, it can be beneficial to register a new one and move your content over to it.
You can then sell your first domain to make back some of your initial investment. Auctioning it off may be particularly fruitful due to the flexible nature of the pricing structure for this type of sale.
At an auction, buyers may feel encouraged to place bids on domains with low minimum prices. However, as time goes on, you stand a chance of eventually selling for more money than you might make by simply listing a specific cost in a traditional sale.
Where to Host Your Domain Name Auction
With a straightforward sale, you might list your domain name with a broker or even just post it in an online marketplace yourself. Running an auction is a little more complicated, so it's best to list your domain on an established platform.
There are a few benefits to this:
Buyers come to established domain auctions looking to make purchases. You don't have to worry about drumming up leads to promoting your web address.
The platform will keep track of how much time is left on your auction, as well as any bids that come in.
In other words, listing with a domain auction platform means less work for you. For example, GoDaddy Auctions is a well-established and popular option: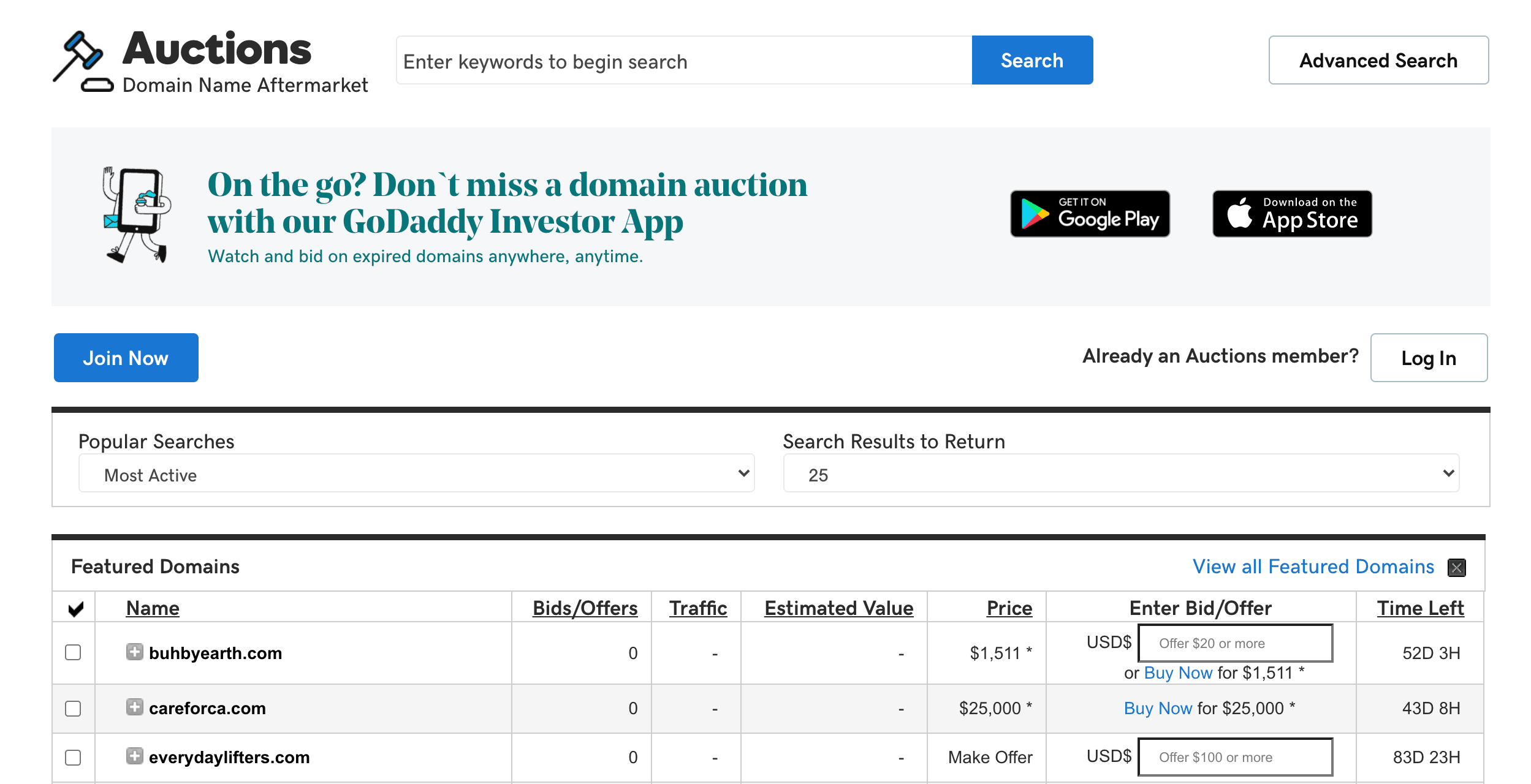 However, you need a paid membership in order to sell on this platform. If you have many domains you want to auction off, this may be worth the investment.
Flippa is another resource you might try. It's best known for website sales, but it also hosts domain name auctions. You can sign up for free, but there's a listing fee required to post your domain for sale: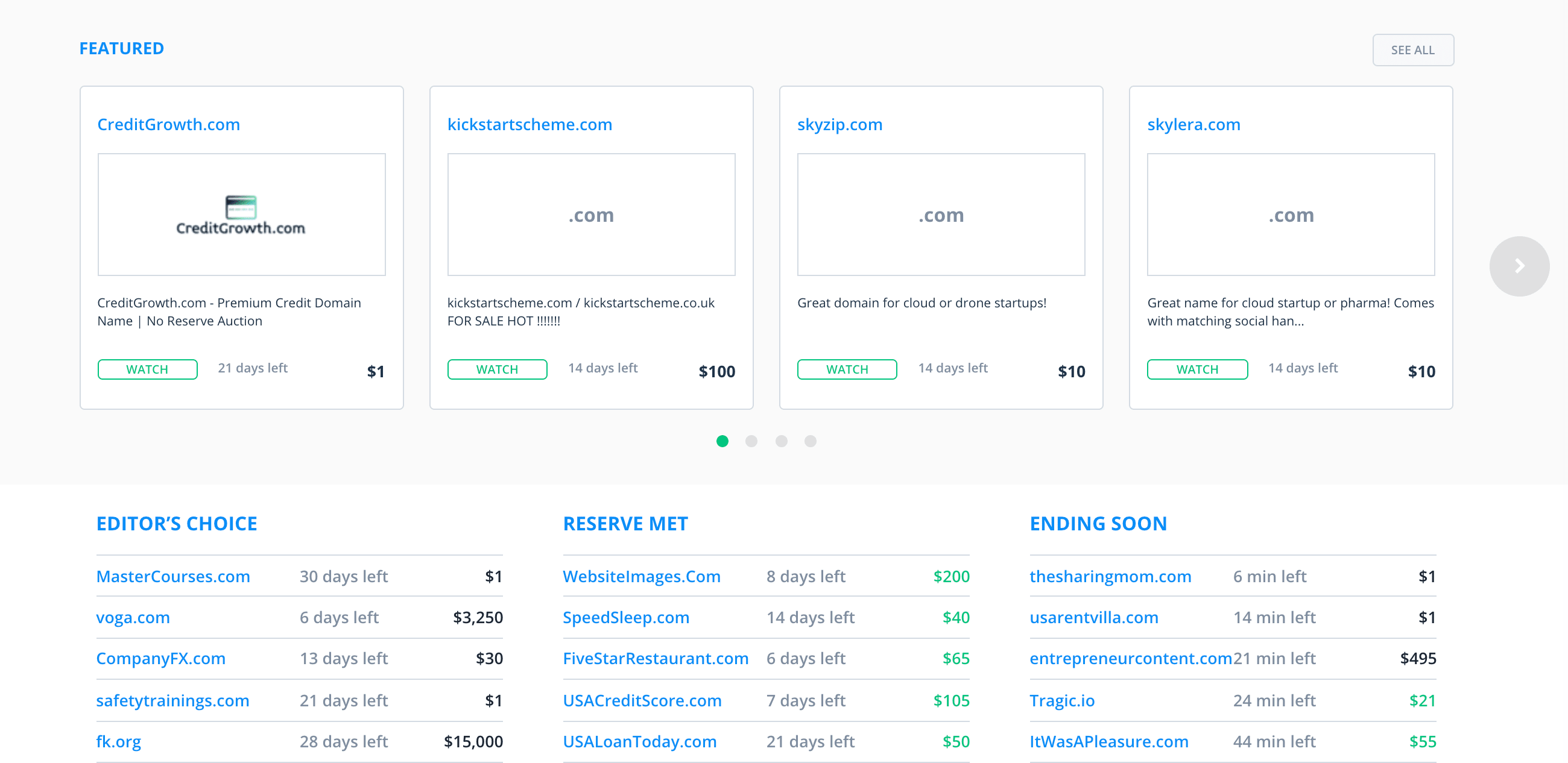 Sedo maintains an ongoing calendar of domain auctions as well. It has an initial listing fee as well as a 15 percent commission on all sales: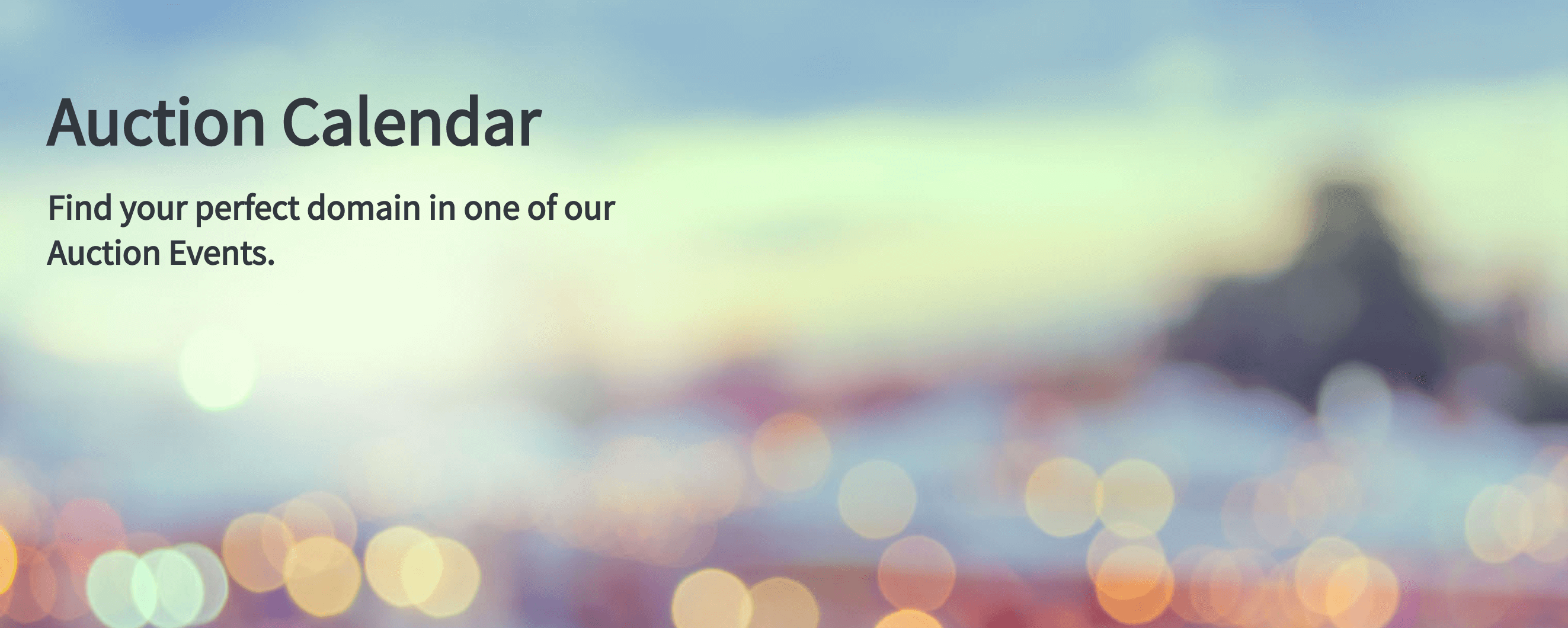 Finally, eBay has a domain name category where you can list yours if you prefer. However, we recommend going with a dedicated platform. That way you can access knowledgeable support if you need it, and you're more likely to get the best price.
How to Run a Domain Name Auction to Sell Your Website (In 3 Steps)
The three steps below will apply in some form no matter which platform you use to run your domain name auction. However, we'll be using Flippa for our examples, since it's free and user-friendly. Here's how to get started.
Step 1: Create Your Flippa Seller Account
The first thing you'll need to do is create a Flippa seller account. Head over to the home page and click on the Sell Now button: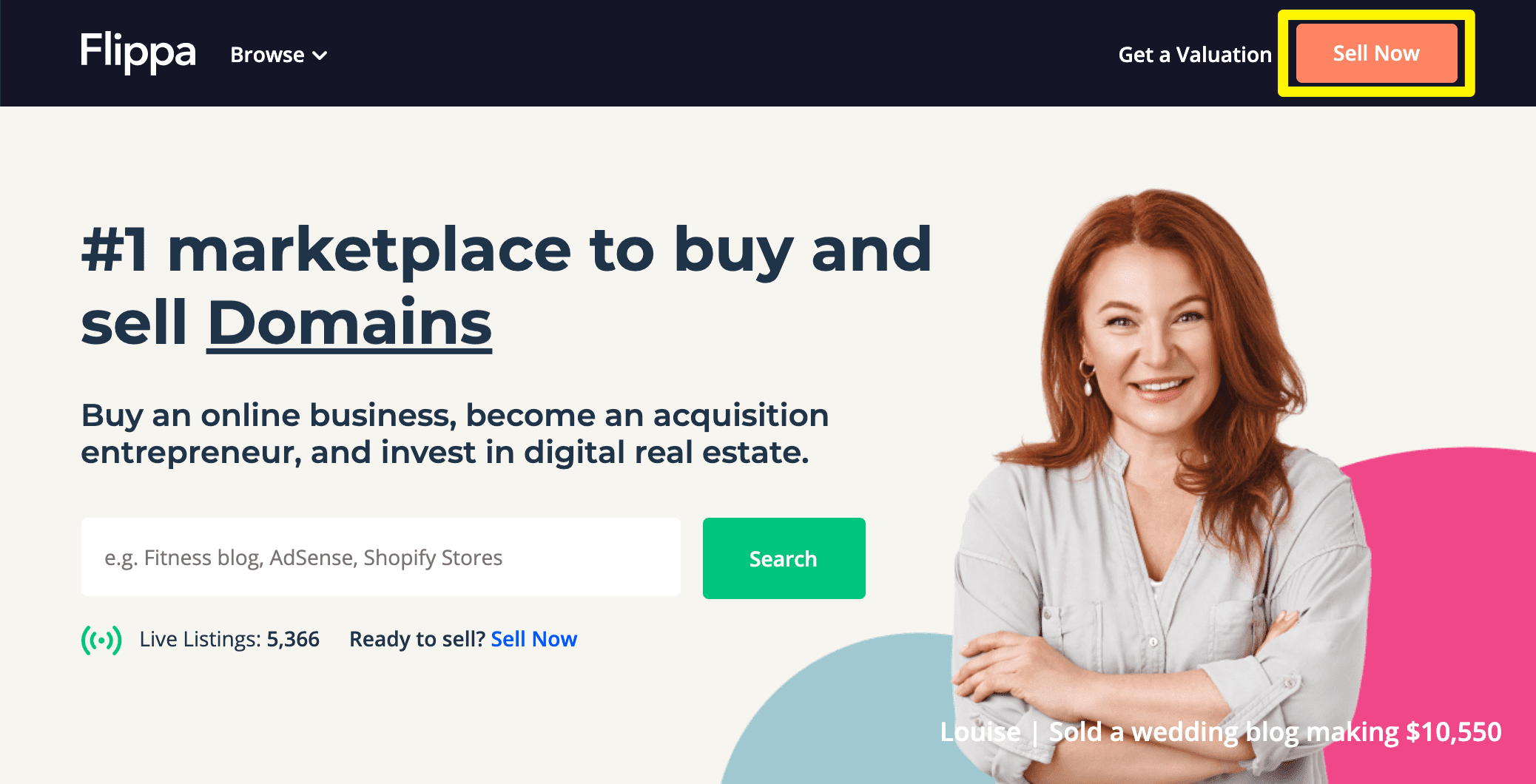 You'll then be prompted to enter your domain name or select the type of property you want to sell:
If you entered a URL, confirm that you're looking to sell the domain (rather than the website it points to) by clicking on the Let's Go button: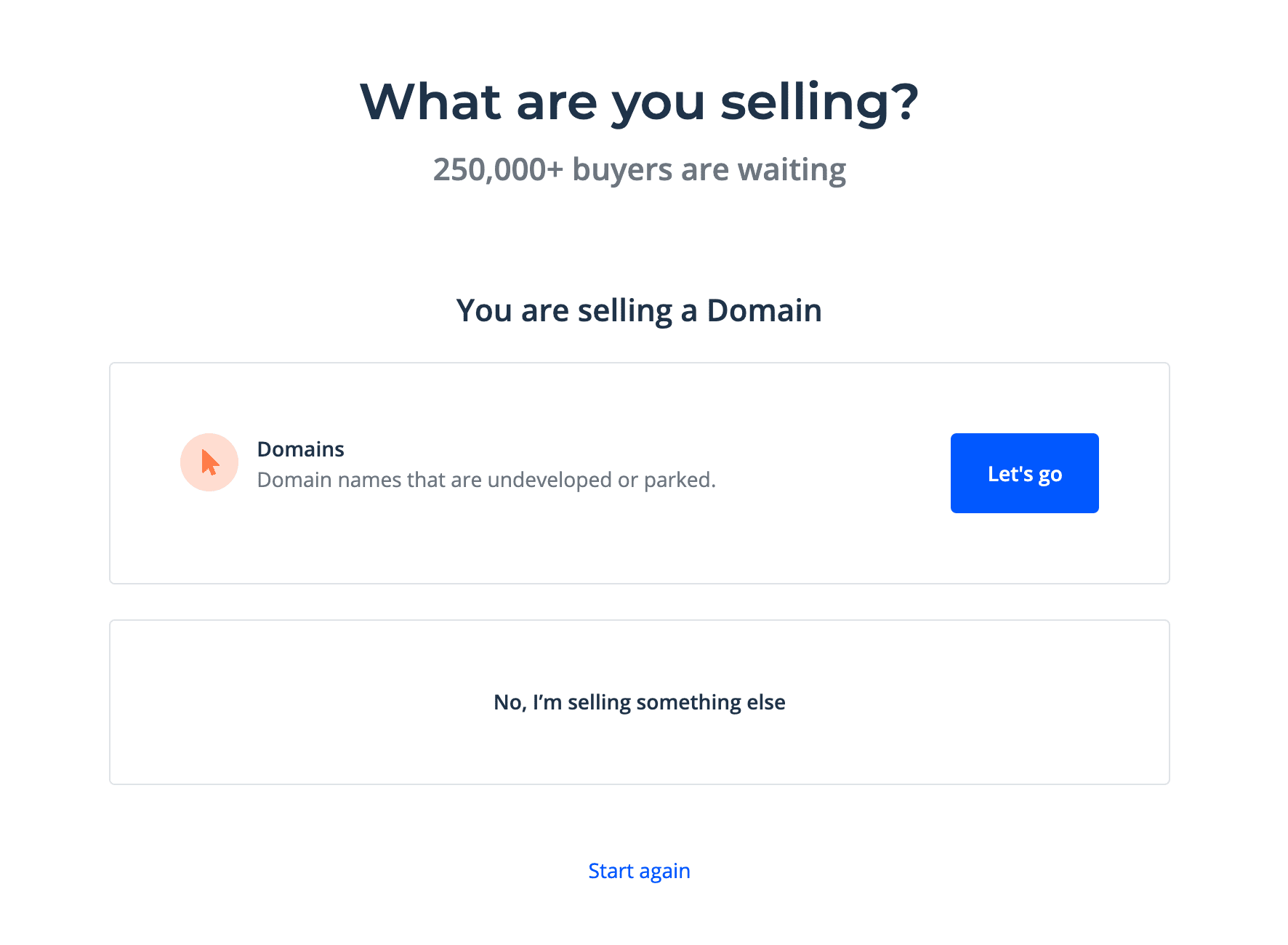 This will redirect you to the registration screen. Enter your name and email address and click on Continue. Then specify that you're looking to sell and confirm your location and phone number: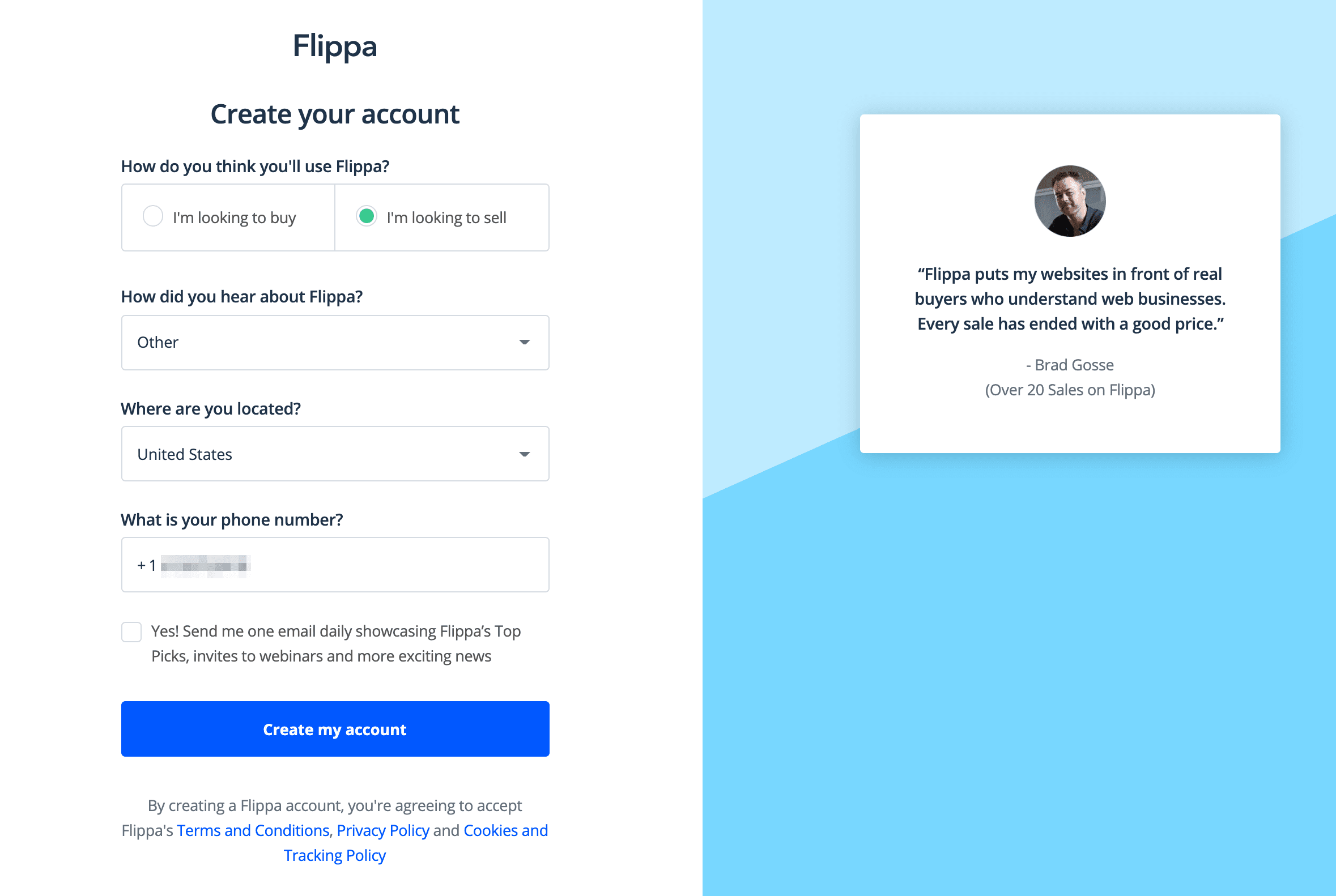 Click on Create my account to finish registering. Flippa will send you an email address to confirm your information, then you'll be ready to start selling.
Step 2: Set Up Your Domain Name Auction Listing
Once you confirm your email address, Flippa will redirect you to a four-step listing wizard to set up your domain name auction for the URL you entered before completing the signup form. On the first screen, start by writing a tagline and description for your domain: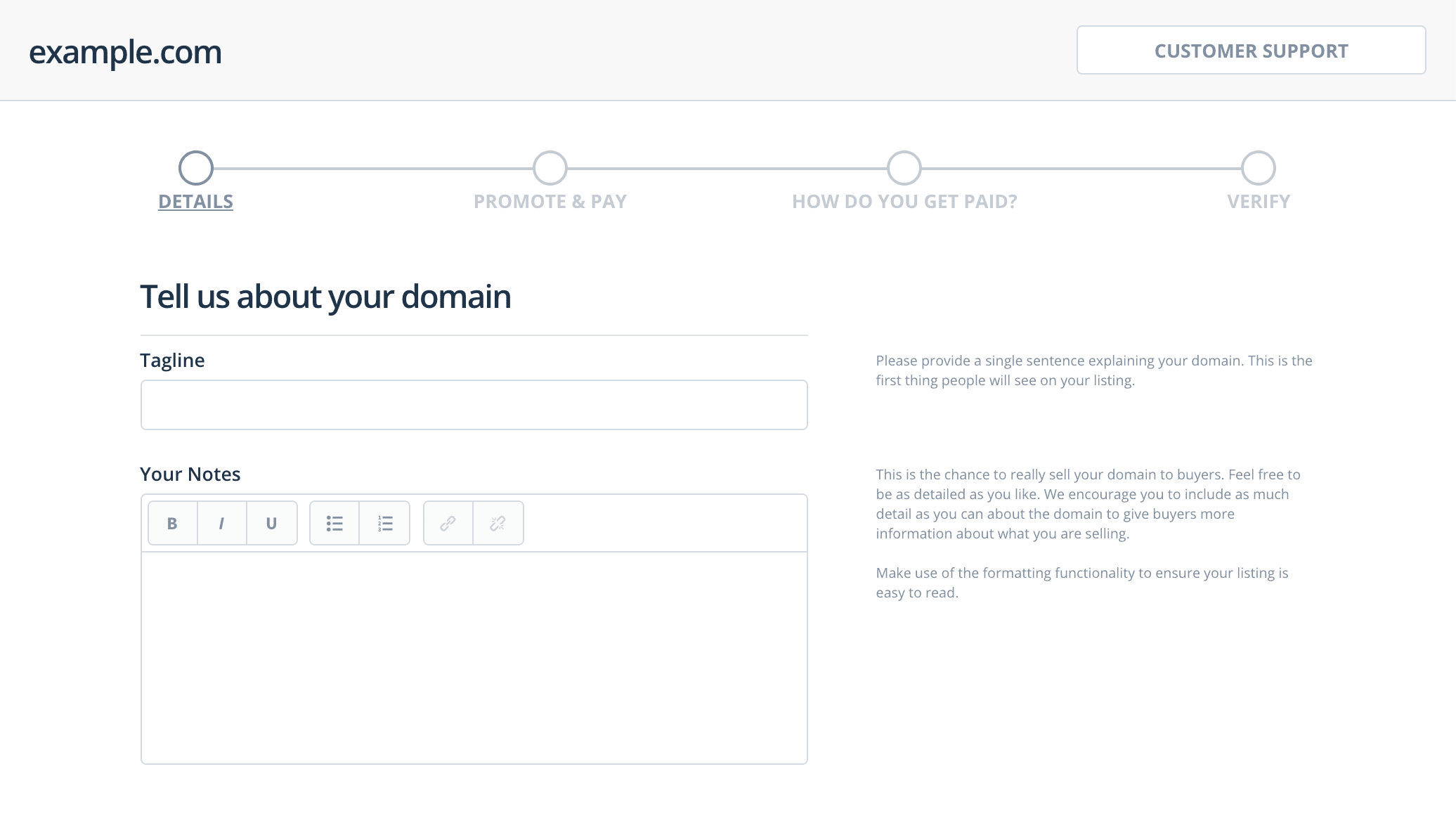 This is much like writing a product description. It's important to mention any key benefits your domain brings with it in order to convince buyers it's a sound investment.
Next, scroll down to specify how you want to sell your domain. In this case, we've selected Auction: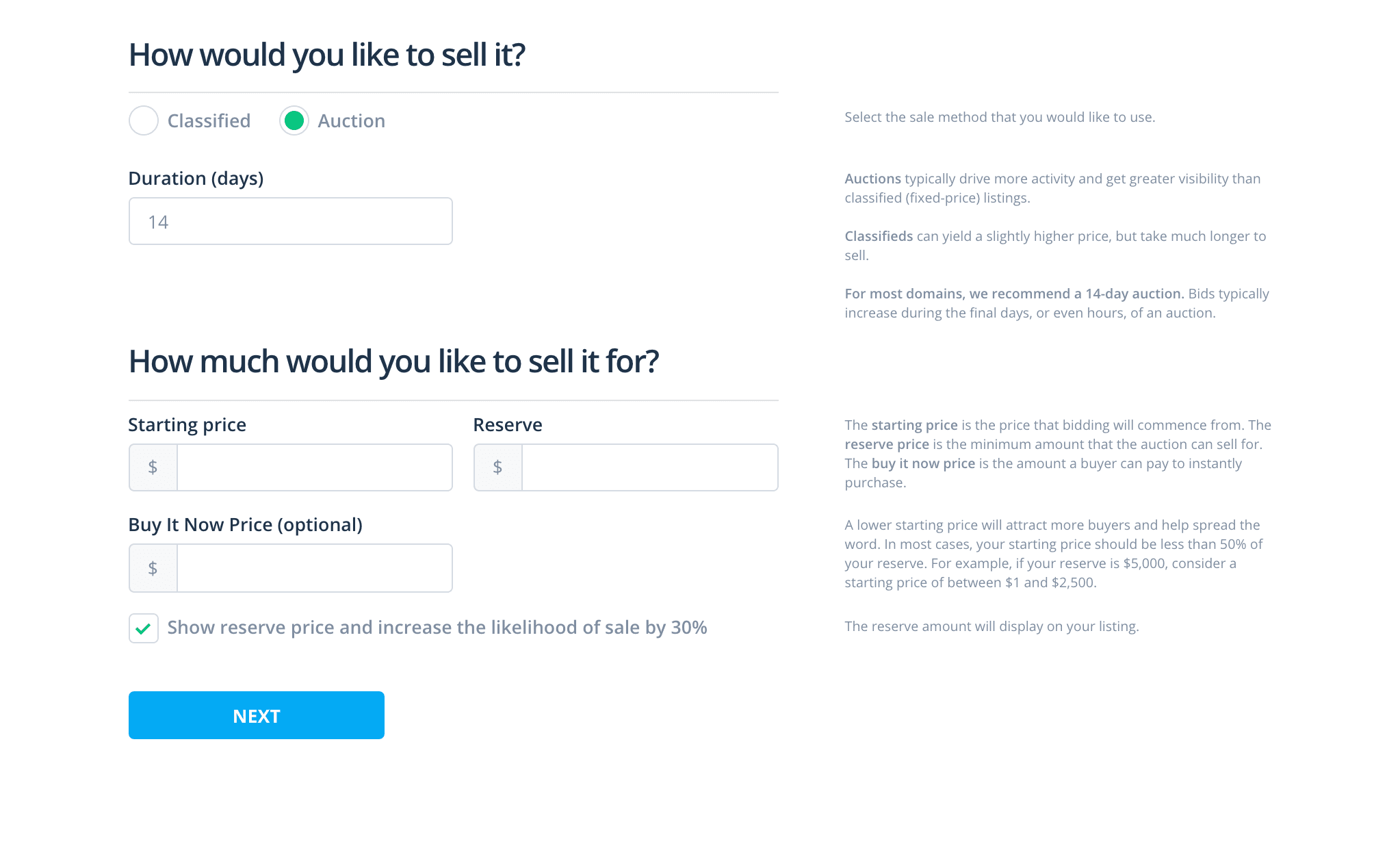 You'll also need to supply the following information:
How long you want the auction to run. The default is 14 days and the maximum is 30 days.
The starting price to be listed for your domain.
The 'reserve price', which is the minimum amount you're willing to sell for. If the top bidder does not meet this price, the sale will be canceled.
A 'Buy It Now' price if you wish to let buyers purchase the domain before the auction is over.
You can also choose whether to show or hide the reserve price on the listing. When you're ready, click on the Next button.
Here you can select whether you'd like to upgrade your listing to include promotions for your domain name auction, such as a featured spot on the site or inclusion in the next email newsletter: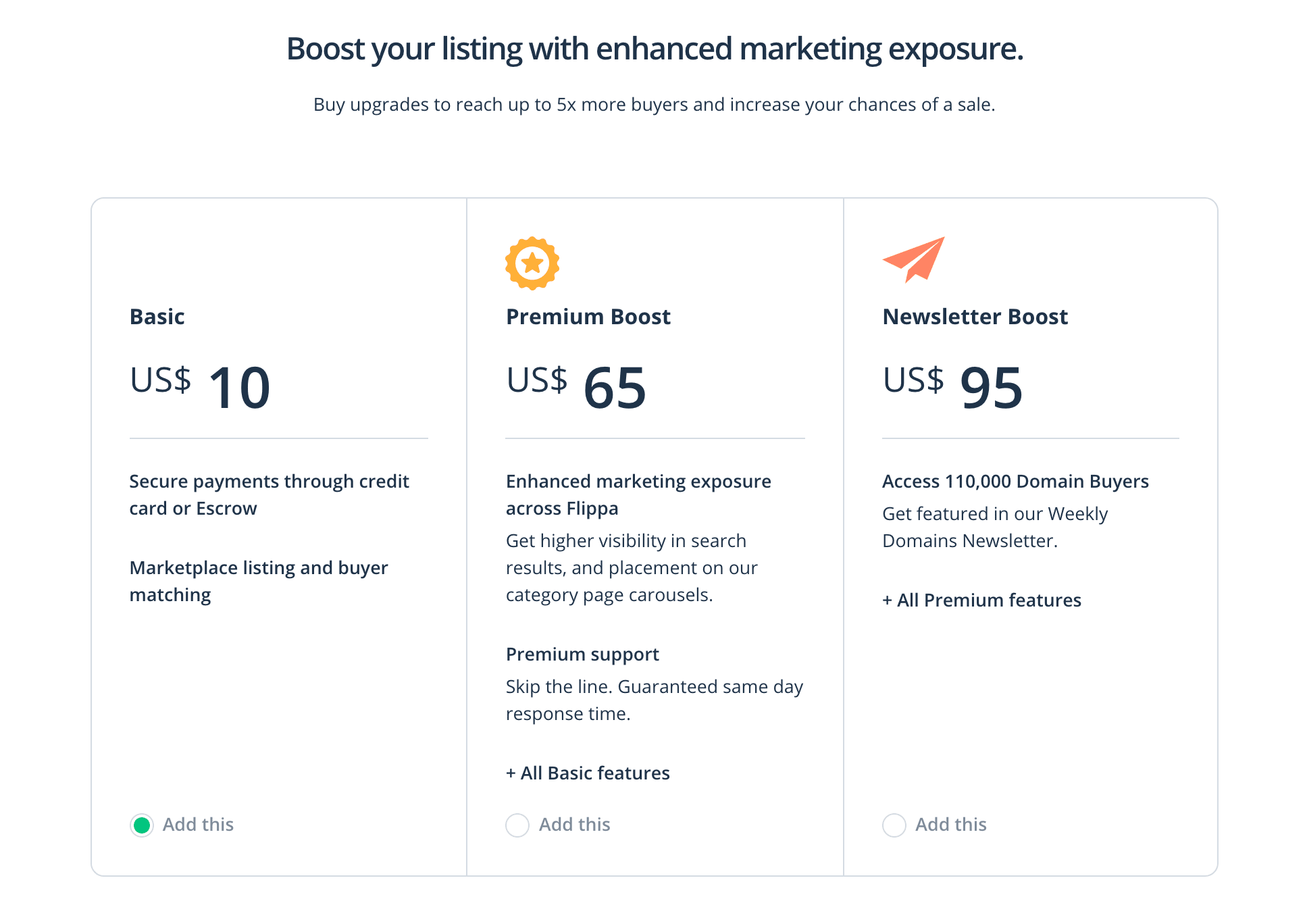 Otherwise, the listing fee is $10. Enter your credit card or PayPal details, then click on Pay Now.
You'll then have to specify how you want to receive money in the event of a sale. You can use PayPal or Flippa Escrow. With the latter option, the buyer will have to send their payment, which will then be held securely until you deliver the domain.
Finally, you'll have to verify that you own the domain you're trying to sell. This can be done via email, or by adding a Domain Name System (DNS) Text Record.
Step 3: Transfer Your Domain to the Buyer
After you've completed the listing wizard, your domain will be put up for auction. It's important for you to check your Flippa account dashboard regularly for updates on bids and to confirm the final bid and close the sale.
Once this is done, you have to transfer your domain to the buyer. This process varies a bit depending on who your registrar is, and if the buyer is using the same one. If you have the same registrar, you should be able to simply obtain the buyer's account information and push the domain's registration to their account. Your registrar can assist you if you're stuck or otherwise in need of help.
If you and the buyer had different registrars, the buyer needs to request a transfer via their provider's support team. The other company will then reach out to your registrar to initiate the process.
Conclusion
Auctioning off a domain name may feel like an intimidating prospect at first. However, platforms such as Flippa and GoDaddy Auctions can make the process fairly painless by walking you through creating your listing and managing your bids.
In this post, we showed you how to hold a domain name auction in Flippa in just three steps:
Create your Flippa seller account.
Set up your domain name auction listing.
Transfer your domain to the buyer.
Do you have any questions about auctioning off your domain name? Let us know in the comments section below!
Image by Tetiana Yurchenko / Shutterstock.com