You've probably heard stories of people selling domains for millions of dollars. It can be hard to imagine someone paying so much for a web address, but domain value involves more than just the string of characters your users type into their browsers to reach your site. You may be sitting on a figurative gold mine without realizing it.
Unfortunately, calculating your domain's value isn't the most straightforward process. In this article, we'll go over some of the reasons why you might want to part with a web address, what attributes can influence its worth, and three methods you can use to appraise yours.
Let's get to it!
Why You Might Want to Sell Your Domain
If you don't have any more use for a domain and you don't want to keep paying for its renewal, you have two options:
Let it expire.
See if someone might be interested in purchasing it.
You paid your domain registration fee at least once. If you're not going to be able to use it to generate revenue, you might as well get at least a little bit of that cost back by reselling your web address.
In most cases, you're not going to get millions of dollars for your domain. However, if it's a particularly desirable URL or there's a following attached to it, you might be able to get a decent sum for it.
There are a lot of reasons why you might end up in this position. You may have purchased a domain for a project that never came to fruition, for instance. Or perhaps you did start a website, but you don't have the time or energy to maintain it anymore.
You might even have a thriving website that's still manageable, but want to move on to pursue other opportunities. Another possibility is that you've rebranded and your old domain no longer fits with your site's identity. Whatever your reasons might be, someone else might be interested in that web address.
What Makes a Domain Name Valuable
Before we talk about appraisal, it's important to note there's a difference between selling a web address and selling a website. In the latter case, the domain name comes as part of the package.
On the other hand, when you sell a domain, you can choose to keep your content and the rest of your actual site. This is important for situations like rebranding, as we mentioned above.
The factors that make websites and domains valuable are also different. When it comes to selling a web address, here are some of the elements that can impact the amount you can get for it:
There's no real formula for calculating domain value, in contrast to websites where you have more metrics that can determine its price. As a rule of thumb, however, short and punchy web addresses with valuable keywords tend to bring in the most money.
To give you a couple of examples, the domain palace.com sold in 2020 for over $300,000. Carinsurance.com sold for a nice $49.7 million in 2010, which is logical considering it includes top keywords for one of the most competitive online industries. Whether those domains were worth how much they sold for is subjective, however.
How to Determine Your Domain's Value (3 Popular Approaches)
Although there isn't a precise formula for appraising a domain's value, that doesn't mean there aren't ways you can get a ballpark figure. For the best possible results, we recommend you try all of the methods below, rather than relying on just one.
1. Research What Similar Domains Are Selling For
Ideally, you want to have an idea of what domains similar to yours are selling/have sold for. At the very least, this gives you a range to aim for.
The problem lies in finding that data. A lot of domain sales aren't part of the public record, and there's no database that keeps track of them. Some resources, such as Domain Name Journal, compile data from different marketplaces to show you which web addresses have brought in the most money lately:

If you look to the right of that table, you can see the source for each record. Those are all names of domain marketplaces you can look through yourself. Sedo, for example, enables you to look up listings using specific keywords: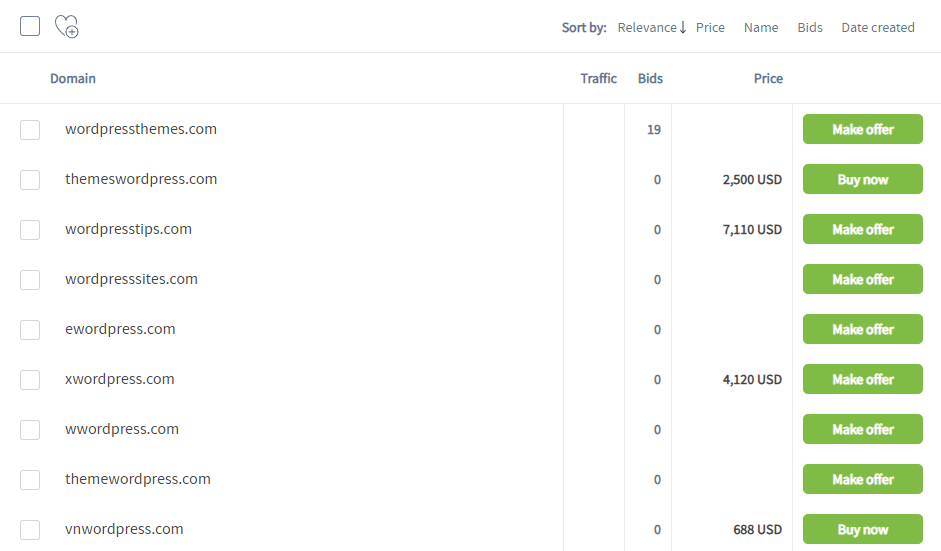 Value for most domains varies a lot, however, so the best you can hope to get here is a broad price range to aim for. Even so, this data can be incredibly valuable when putting the next approach into action.
2. List Your Domain Name for Sale and Check Offers Firsthand
The best way to find out what people are willing to pay for your domain is to put it up for sale and let the market figure it out. With many services, you don't need to set a price when you put up a listing. Sedo, for example, enables you to list domains for free and entertain offers without any commitment.
Flippa works much the same way, although it does charge a $10 fee for listing domains: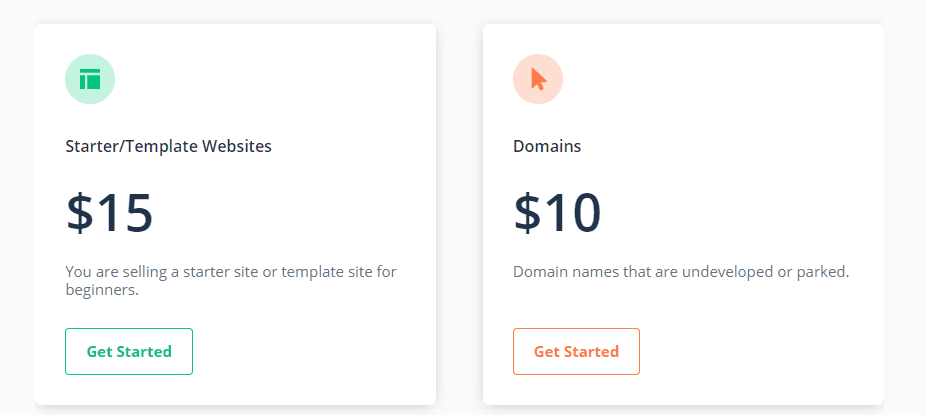 For this approach to work, you need to give your listings some time. You might receive offers that are too low at first, and if you don't wait for more potential buyers to find your domain name in the marketplace, you might come up with the wrong valuation.
Likewise, you might not receive any offers at all. With user marketplaces, you never know until you put up a listing. If you'd rather get help from professionals, method number three might be more up your alley.
3. Use a Domain Appraisal Service
Domain appraisal services come in two flavors. You have automated services, such as EstiBot, where you enter a domain and it returns a valuation in seconds: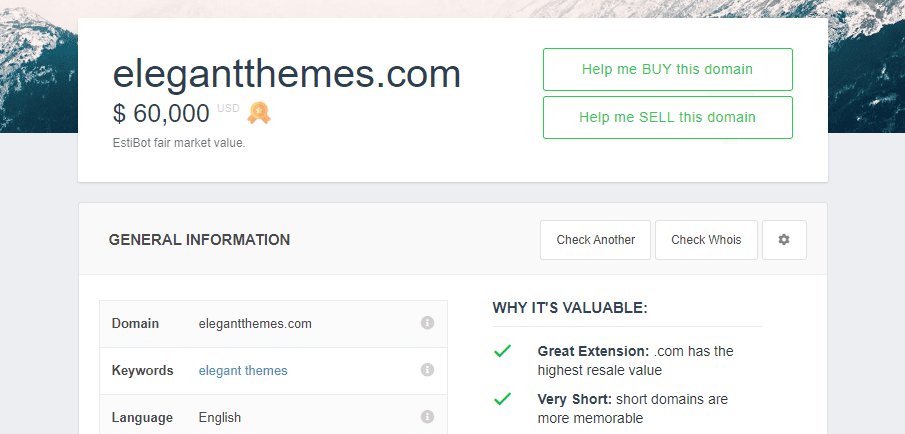 The problem with automated appraisal tools is they rely on formulas that you have to take with a grain of salt. As we already mentioned, domain value can be quite subjective, so these sites are not the most reliable approach. They're also prone to return wildly different results, so you're unlikely to receive consistent estimates:

If you want to rely on a third party to help you appraise your domain, your best bet is to go with a professional service. Sedo, for example, offers domain appraisals starting at $99 per URL. We've not tested these services ourselves, but we'd trust their results a lot more than what you can get from automated tools.
Conclusion
Selling a domain name isn't as complicated as you might think. The valuation process, however, is an entirely different matter. There are a lot of factors that can affect how much your web address is worth. Without a solid grasp on what they are, you might be leaving money on the table.
If you want to get an accurate assessment of what your domain might sell for, a few viable approaches are to:
Research what similar domains are selling for.
List your domain name for sale and check offers firsthand.
Use a domain appraisal service (but take the results with a grain of salt).
Do you have any questions about how to calculate your domain's value? Let's go over them in the comments section below!
Article thumbnail image by stokk / shutterstock.com