For many WordPress website owners, a managed hosting service is a must. Managed hosting services tend to cut down setup time and maintenance, guarantee against downtime, have simple use dashboards, and provide on-demand customer support. Depending on your website needs, you can choose from a huge pool of managed hosts. Two of the most popular are Cloudways and SiteGround. If you're curious about which is the better choice for you, Cloudways vs SiteGround,  we've got you covered. Let's jump right in and see these two giants duke it out.
Cloudways vs SiteGround
Both Cloudways and SiteGround include Divi integration for Elegant Themes members. You can link your member account to your hosting dashboard and take the idea of managed hosting to an all-new level.
Both services are powerful and offer many user-friendly features, but there are some key distinctions between Cloudways vs SiteGround. Let's take a look at each individual service, followed by a comparison breakdown.
1. Cloudways
Cloudways is a unique managed host that offers many of the same features as some of the best hosting companies, including SiteGround, Pressable, and Flywheel. It offers a full security package and custom dashboards that make building and managing a WordPress site both efficient and fairly seamless.
Additionally, Cloudways offers modular hosting options from five different hosts: DigitalOcean, Linode, Vultr, AWS, and Google Cloud. Therefore, users only have to pay for the exact features they choose and use. As a result, there's no specific set fee for plans.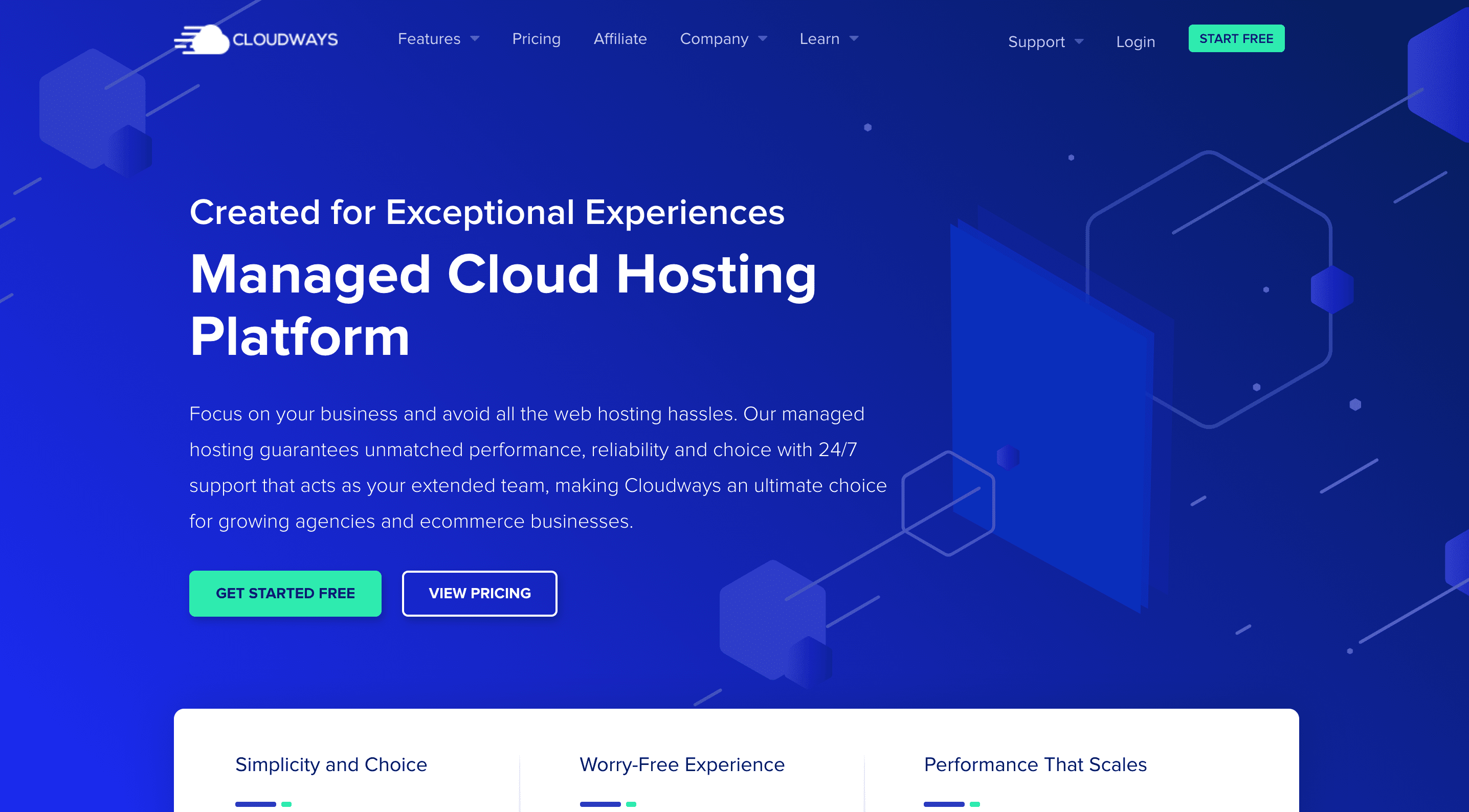 Key Cloudways Features for Site Owners
Other user-friendly Cloudways features:
Host as many sites as you want on the server you pay for
Lets users host multiple websites on multiple servers, from one dashboard
Users can easily switch websites from one server to the next within the dashboard
Highly customizable options for individual servers
Automatic Divi and WordPress installation
Fast, efficient hosting that meets Divi's server requirements
No plugin blacklist unlike most managed hosts, meaning site owners can use any plugin of their choice
Site servers that can handle a high volume of traffic — even a 10x increase if needed
Dev toolkits for advanced users, including WP-CLI, SSH access, and Git integration
Collaboration tools that allow multiple users to maintain and update your websites
Staging and cloning interfaces for private and secure website building
Includes CloudwaysCDN integration if desired
Excellent managed security, regular updates, and 24/7 support
A tech stack optimized for stellar WordPress site performance and less downtime
Easy configuration for external SMTP email services
Includes a free SSL certificate
Site storage distributed across the Cloud
Cloudways Pricing: Price varies, but standard options begin at $10/month | Learn more about Cloudways.
2. SiteGround
SiteGround is one of the best cheap hosting providers for WordPress site owners. It boasts excellent server stats, impressive uptime, fantastic customer support, and a simple user dashboard. SiteGround uses a proprietary Site Tools platform for site management rather than cPanel, but that is a normal practice for managed hosting providers. Additionally, SiteGround includes a marketplace where site owners can purchase domain names right from the dashboard, as well as SSL certificates if they prefer a non-free version.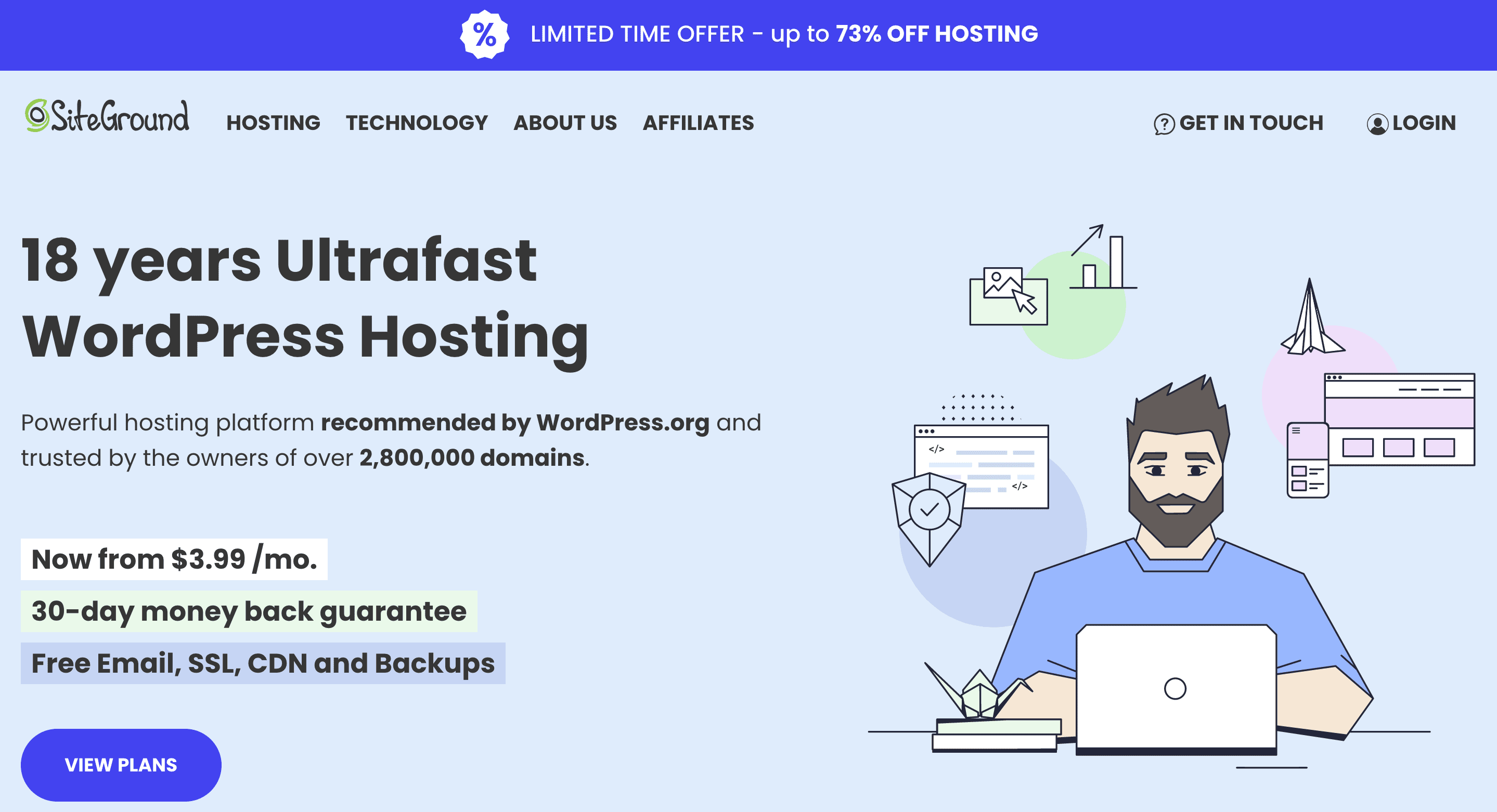 Key SiteGround Features for Site Owners
Other notable SiteGround features:
Automatic Divi and WordPress installation for Elegant Themes members
Superfast hosting that checks all of Divi's boxes (including server requirements)
Regular updates and security protection to safeguard your site
Excellent customer support, available 24/7
Access to WP-CLI tools and SSH in SG's dev toolkit for advanced users
Collaboration tools that, as a result, allow multiple users to maintain and update your websites
Sites built on Google Cloud architecture
Built-in SG Optimizer plugin, which compresses images and caches automatically
Staging and cloning tools for easy site-building before you publish
Automatic site backups to protect you from data loss
Option to host multiple websites from your account
Dedicated help desk for support whenever you need it
Offers managed hosting for non-WordPress CMS platforms, including Joomla, Drupal, and more
Free Sitebuilder software included
Option to purchase SiteScanner and a dedicated IP address for your server
SSD site storage
SiteGround Pricing: Standard options begin at $3.99/month | Learn More About SiteGround
Features Unique to Cloudways vs SiteGround
When it comes to choosing Cloudways vs SiteGround, there are some unique features to consider. While both managed hosting services support WordPress and Divi integration, there are many characteristics that set them apart. As a user, you need to know the major differences before you decide.
Cloudways: Modular Hosting
When it comes to Cloudways managed hosting, site owners pay for only the features they use. While this is truly a great option that sets Cloudways apart from other providers, keep in mind that many of its features are more expensive than other site hosts. In fact, server pricing tends to run higher at the base level. It really comes down to what you need in order for your sites to succeed. You can scale Cloudways easily, adjusting your hosting specs from your dashboard at any time.
Cloudways: No Plugin Blacklist
If you want the option of using WordPress plugins liberally and with fewer limitations, Cloudways offers you more freedom than other managed hosting providers. It does not disallow plugins — meaning that it doesn't restrict users from selecting which plugins they can install and activate on their sites. This speaks to Cloudways' commitment to WordPress site customization and modular site control.
Cloudways: Technical Interface
The Cloudways interface is fairly technical. Therefore, it may be more difficult for beginning users to learn. Advanced users, particularly web developers, might find it easier to wrangle.
Cloudways: Multiple Sites on Multiple Servers
Cloudways allows users to host multiple sites on multiple servers, all from one interface. As a result, site owners or agencies that need a variety of options could potentially host all their client sites in the same place. Having a central location for all servers and sites means a more streamlined experience. If you're an agency owner or freelancer, this feature could be invaluable to the way you operate.
SiteGround: Site Tools Interface
For full details, we suggest reading our full breakdown of the SiteGround Site Tools dashboard and capabilities. The interface is solid, easy to navigate, and allows users to access most of the same functions that cPanel formerly did. While it is a proprietary dashboard, this is common for managed hosts, and Site Tools is one of the cleanest and most user-friendly we've seen.
SiteGround: Lower Pricing
Users who opt to host their websites on SiteGround will enjoy lower pricing in comparison to Cloudways. As of this writing, SiteGround's hosting starts at $3.99/month for 10GB web space, plus a free CDN, email services, and SSL certificate. SiteGround includes a number of powerful features, as well as paid add-ons such as a custom IP address. Still, its price is likely to be significantly lower per month than Cloudways, which starts at a more expensive baseline price of $10.00/month before add-ons.
Cloudways Is Right For You If…
…you're an agency or freelancer and could benefit from the multi-server, multi-site options at Cloudways. Managing multiple client websites, on multiple servers, from one place could help to streamline your site management processes. Hobby site owners might find Cloudways a bit overwhelming because of its modularity.
If you're an advanced user or website developer, the learning curve at Cloudways might not be as daunting for you as it would be for a beginner. Likewise, if you prefer using Cloud architecture for your sites, Cloudways is a solid go-to. Pricing may start a bit more expensive than the lowest at SiteGround, but the pay-as-you-go method means you will likely not be hit with any surprise rate increases.
SiteGround Is Right For You If…
…you're a website owner looking for an easy onboarding experience. SiteGround is a solid option for hobby site owners, as well as professionals. The user interface is a bit less technical than Cloudways, making it friendlier to non-developers. The Site Tools area is intuitive, and you can handle most tasks for your site within its various tabs.
And, if you prefer SSD storage for your site rather than Cloud distribution, SiteGround might be the way to go. Plans start cheaper with SiteGround vs Cloudways, but renewal fees can be a sharp increase if you're not aware they're coming.
Conclusion
Whichever you choose between Cloudways vs SiteGround — or even another managed hosting like Flywheel or Pressable — there really isn't a bad option. Both hosts have tools available to help you host, launch, and maintain your sites, and in the end, it depends if you need more of an all-in-one solution (SiteGround) or want to maintain complete control of every aspect (Cloudways). Either way, you will have a secure, fast, reliable host that supports and integrates with Divi without a hitch.
So, which one will you choose between Cloudways vs SiteGround? Drop a comment below and let us know what you think.