WordPress now makes up well over 1/3 of all internet sites. That's a lot of websites. However, when we say "WordPress," that could mean more than one thing. The base WordPress software is the same. But when you decide between WordPress.org vs WordPress.com, you are choosing a very specific set of features over another. While WordPress itself doesn't change, the day-to-day usage can be pretty different. We want to walk you through both sides of WP so that you can decide which version works best for you and your site.
Subscribe To Our Youtube Channel
What is WordPress?
First off, let's take a look at WordPress itself. Many see WordPress as a blogging platform, and it is. But over the past couple of decades, it has also become a full content management system (CMS) that can manage every kind of site you could want. Even if you're not writing and publishing content regularly, you can still easily use WordPress for your website. As a landing page, portfolio, learning management system (LMS), membership site, or even an ecommerce shop.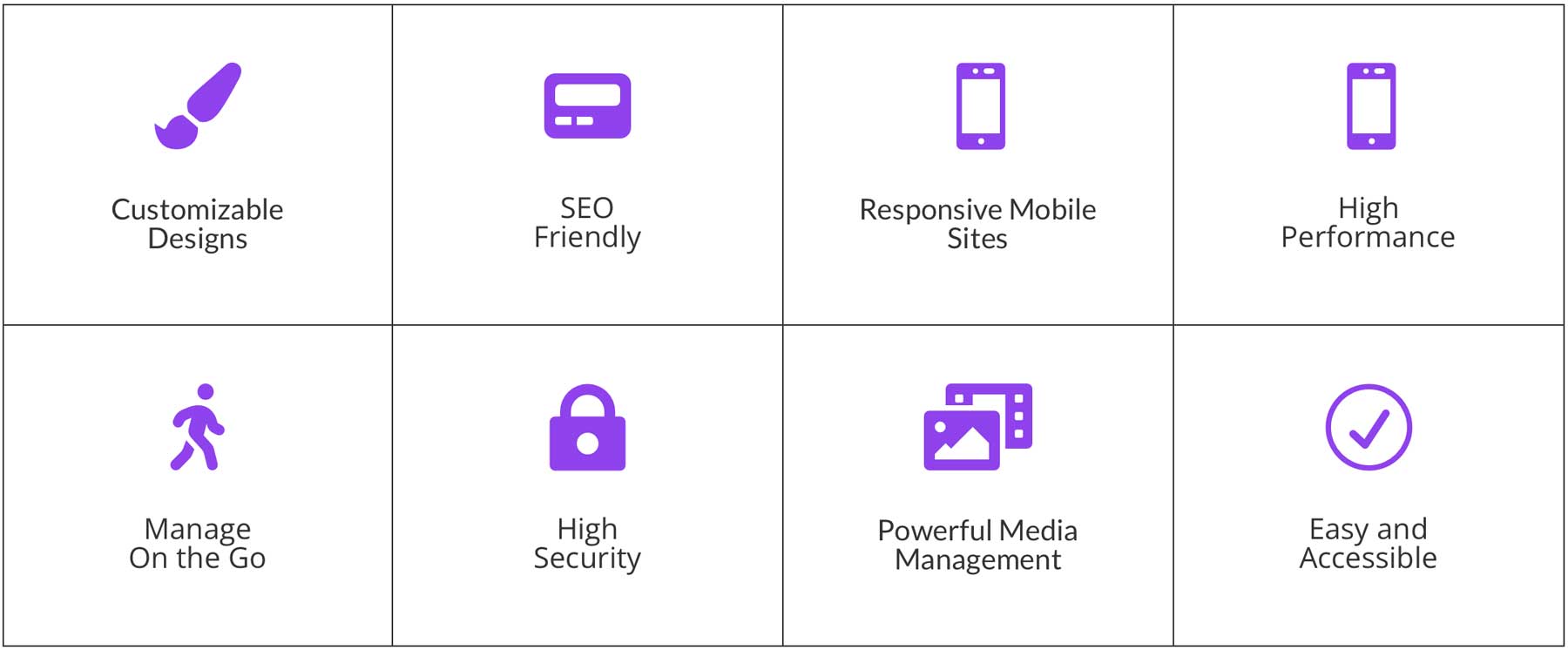 In a nutshell (an admittedly big one), WordPress does a lot of things.
WordPress Features, Perks, and Details:
It is open-source software, through the GPL license, and receives consistent and regular updates that add new features and polish and enhance old ones.
Simple-to-use interface, both as an administrator and content creator.
The Gutenberg block editor is intuitive and allows full-site customization immediately on installation.

Additionally, content can be designed around various structures. Custom post types, possess unique metadata, various taxonomies, and more. These allow for impressive organization.

WordPress is a full CMS:

Content creation (blogging, podcasting, video, streaming, etc.)
Static landing pages
Media management
User management built into the base software which can be utilized for membership sites or e-commerce shops.

The WordPress themes system gives 100% customization of every aspect of your site.
Themes do more than just alter the design, but also add and adjust functionality.

Thousands of free and premium themes (such as Divi) out there for you to choose from, many available and hosted by WordPress itself.

WP can be hosted anywhere. It is near-universally supported by web hosts, with some excellent choices including Pressable and WPEngine.
WordPress domain and URL customization within the dashboard
Built for speed and page-load times
Custom widgets provide page-by-page customization in almost any area such as sidebars, footers, and headers.
WordPress is extensible, meaning that anyone can create a plugin to hook into the CMS and add a feature or change how something works.
Developers can do so much through the WordPress APIs, from the REST API to HTTP requests, URL routing, and MySQL databases, WordPress is ready for translation, user management, data manipulation, and whatever features they can dream up.
Don't Forget the People!
On top of all the technical things that WordPress can do, the community that surrounds the software is tight-knit and welcoming. You can attend WordCamps to learn about it, go to Meetups in your town, or even just participate in social media groups and forums to meet people who can help you, work with you, and even become your friends.
You get all of these with both versions of WordPress. With all that in mind, both technical and social, let's look at WordPress.org vs WordPress.com individually to consider their strengths and weaknesses.
WordPress.com vs WordPress.org Pricing
WordPress.com offers a variety of plans, ranging from a free plan with basic features to a business plan with advanced features. The free plan allows you to create a website with limited features and includes a WordPress.com subdomain. The paid plans range in price from roughly $4 per month (billed annually) for a personal plan to $45 per month for an e-commerce plan. The more expensive plans offer more advanced features and customization options.
With WordPress.org, the cost of web hosting can vary depending on the provider and the plan you choose. For example, some popular hosting providers like SiteGround and Green Geeks offer starter WordPress plans that start at $2.95 per month, while other premium providers like WPEngine might start at $20 per month.
Additionally, you will need to pay for a domain name, which typically costs around $10 to $15 per year. Providers such as GoDaddy and HostGator offer both domains and hosting plans, but it's generally recommended that you purchase a domain separately from a provider such as NameCheap.
By purchasing your domain from a separate domain registrar, you can have more control over your domain and avoid potential issues that may arise from having your domain and hosting with the same provider. Additionally, using a separate domain registrar may give you more flexibility to switch web hosting providers in the future, without having to transfer your domain to a new provider.
| | WordPress.com | WordPress.org |
| --- | --- | --- |
| Hosting | $4-45 per month | $2 - $20 per month for starter plans |
| Domain | FREE | $10-$15 per year |
What is WordPress.org?
WordPress.org is very likely the software you mean when discussing generic "WordPress." The version put out by .org is the self-hosted, independent, open-source version of the WordPress CMS.
Backed by The WordPress Foundation, WordPress.org is free to install and use in whatever way you see fit. Obviously, there are some catches to that, but if you want to use WordPress in its most open and available way possible, head to WordPress.org and download it.
You may also see the .org version of WordPress referred to as "self-hosted WordPress," meaning that the software itself is free, but as previously mentioned, you must have a web host (such as SiteGround or Flywheel) to install it on. (Technically, you can run WP on your local machine, too, but that's generally done for development and troubleshooting.)
The Pros for WordPress.org Installations
There are quite a few drawbacks to WordPress.com vs WordPress.org. The biggest and most prominent benefit of using .org installations of WordPress come with the total freedom to do what you want. Outside of your hosting provider, you are not bound by any terms of service, content limitations, or what kinds of development, themes, or plugins you can use on your site.
You always own your content, too. You do not grant any services or platforms even the slightest consideration for what you write or put up. The absolute freedom of building and content production is the hallmark of WordPress and was one of the reasons it was created and released as open-source software.
As we mentioned, you can use any theme, and any plugin, and do any kind of development that you want on your site. With WordPress.com (which we will get to below), you are limited to using approved plugins and themes, meaning that the freedom to have exactly the site that you want is impossible. You can get the exact site you want with .com, but you have to pay for the ability piecemeal. That isn't the case with .org installations.
Additionally, you can run any ads you want on your site, use any sort of monetization you want, paywall anything you desire, and sell any kind of products in your WooCommerce store. Only the terms of use for the ad networks and services you choose to use will limit what you can and can't do.
The Cons for WordPress.org Installations
As with anything, there are downsides to WordPress.org installations, too. The most prominent of which is that same freedom that is its primary draw. By being fully in control of your site, you are also fully in control of maintenance, purchase of themes and plugins, additional development, and any hosting issues that might come up.
Additionally, you have to sort through web hosts, making sure that the one you choose offers everything you need. (For instance, Pressable is a fantastic host for WordPress, but they don't offer email service.)
| PROS | CONS |
| --- | --- |
| FREE to use | Must maintain on your own |
| Self-hosted | Premium themes and plugins cost extra $$$ |
| Freedom to choose plugins, themes, and hosting provider | Sift through choices of hosting provider |
| Owning your content | May have to pay for domain |
| Paywall content | |
| Host ads, sell unlimited products | |
Who is WordPress.org For?
WordPress.org is for anyone who wants a website. Really. If you want a website of any sort, WordPress.org can create it for you. With full freedom and ownership of your site, design, and content, there is no reason not to give it a shot. With having responsibility for your site one of the only real drawbacks to using WordPress.org, it is a fantastic option for anyone who wants a website.
What is WordPress.com?

To start with, WordPress.org vs WordPress.com is comparing software to a service/platform. WordPress.com is a free website service, not a free website software like .org. You don't have to download anything or install it. You sign up for an account and create a site that is hosted by WordPress.com vs WordPress.org, where self-hosting is required. To do so is free. You will be given a choice of templates and suggested plugins and a yoursite.wordpress.com URL.
Essentially, everything is handled for you from the moment you sign up. Which, like .org's freedom, is .com's primary benefit and detriment.
The Pros of a WordPress.com vs WordPress.org Website
If you're looking for a free, no-frills, no-hassle website, WordPress.com vs WordPress.org can give you that. From the moment you sign up, you're walked through the process of setting up the site. Pick a name and URL and theme. Then you're free to start publishing content immediately.
You don't have to find a host because WordPress.com is your host. In fact, it has one of the best free hosting options out there. They give you a decent, albeit limited, amount of space per site (3GB) before requiring you to pay for a plan. If you are looking for a 100% free site where you can get started from nothing in essentially moments, you can do that here. No hosting costs and no domain registration; just sign up and go.
They also handle backups and maintenance and upgrades for you. Meaning that you won't have to worry about your site getting security holes in it from not having X, Y, or Z plugin at its newest version.
The hosting is the same that powers Pressable, and it's top-notch. You won't have to worry about your site's stability when using WordPress.com.
The Cons of a WordPress.com vs WordPress.org Website
The limitations that come with a WordPress.com vs WordPress.org site tend to be the main things that drive people away from the platform. Because .com is a platform and not just software, the company that runs it (Automattic) is out to make a profit. So like any free service on the internet, you only get the most basic elements for free.
If you want a custom URL (mysite.com instead of mysite.wordpress.com), you have to pay extra. To use any theme you want (from their approved list), you have to pay extra. Same for plugins. Want a run an e-commerce site? Yup, upgrade your plan. Do you see the pattern here?
WordPress.com also shows ads on your site and doesn't pay you for them. At least, if you're a free member. The saying "if you're not paying for a product, you are the product" holds very true here. Automattic definitely profits off your use of their service, whether you pay or not. (And in this case, at the expense of your users' experiences.)
You cannot use external services such as Google Analytics or Google AdSense, but you can apply for their proprietary ad system and use Jetpack stats. Unless, of course, you upgrade to a higher plan.
And finally, you are bound by the WordPress.com EULA and ToS. Which means that they have the right to do with your site what they want. While you own the content there, they may choose to use it in advertising. And if they decide your content violates their terms, they can take your site offline without your consent (or knowledge, sometimes).
Who is WordPress.com For?
In its free version, WordPress.com websites are for people who want a no-frills publishing experience that doesn't require any upkeep. Using the .com version of WordPress means that you can get your work out to the world with zero upfront cost and very little effort and almost no maintenance.
If you need a temporary site or a demo or just a place to blog as a diary/journal, .com can certainly be what you want.
Also, WordPress.com is an option for people who run high-revenue businesses and high-traffic sites who also want a hassle-free experience. The WordPress.com VIP packages (starting at $2,000 per month) are about as hands-off as any website can get that's WordPress-based, but it's priced out of nearly everyone's reach. The VIP portion of WordPress.com is targeting Fortune 500-level companies, not every other person who needs a free website for a bit.
| PROS | CONS |
| --- | --- |
| FREE to use | Only basic elements are free |
| Easy set up | Certain plugins are prohibited |
| Hosting is provided | Ads are shown that you don't get paid for |
| Free domain | Custom domain costs extra |
| JetPack provided | No Google Analytics integration |
| Security is provided | You don't own your content |
WordPress.com vs WordPress.org Alternatives
If you are interested in checking out alternatives to WordPress.com or WordPress.org, check out our comparison of WordPress vs HighLevel, WordPress vs Wix, and WordPress vs Weebly. They are all somewhat similar to WordPress and can give you insiintot on comparable platforms for your consideration.
The Verdict: WordPress.com vs WordPress.org
Overall, our verdict is that WordPress.org is by far the superior product. While you do have a little more to handle on your end as a site owner and user, the freedom you get (for free) is just too much of an incentive. Not being upsold to use whatever plugins or themes you want (even if you've purchased them) alone is worth using .org.
| | WordPress.com | WordPress.org |
| --- | --- | --- |
| Pricing | Free - $45 per month | Free + hosting fee |
| Domain | Free | $10 - $15 per year |
| Monetization allowed | Selling products, affiliate marketing, sponsored posts and ads visible on site | Unlimited |
| Allows plugins | With business or eCommerce plans | Yes |
| Own your own content | No | Yes |
| Google Analytics | With premium plan and above | Yes |
| Backup and storage | Yes | With plugin |
| eCommerce | Must purchase premium plan | With plugin |
| | WordPress.com | WordPress.org |
WordPress.com is an absolutely solid platform. If you decide to host your website through their service, it will be stable, easy to use, and it will have very little trouble. But if you want anything else, it will cost you. If you have the budget for it and don't want the responsibility, consider a .com site. However, even though you have to pay separately for .org hosting, the cost is generally lower and you can run more sites than just one on that hosting service.
In the end, whether you go with WordPress.com vs WordPress.org, you still get to use WordPress. And that's a win, no matter which side you're on.
Frequently Asked Questions (FAQs)
Before we wrap up, let's answer some of your most common questions about WordPress.com and WordPress.org. Did we miss one? Leave a question below and we will respond!
What is the difference between WordPress.org and WordPress.com?
WordPress.org is free software you install on your web host. You have full control but handle maintenance. WordPress.com is a hosted service where you create a site without installing anything. It's easier but has limitations unless you pay. The main difference is control vs. convenience.
Should I use WordPress.com or WordPress.org?
Choose WordPress.org if you want full control, and customization, and are okay with handling maintenance. Pick WordPress.com if you prefer an easy setup with some limitations unless you upgrade. WordPress.org offers more freedom, while WordPress.com is simpler but might have extra costs for features.
Is WordPress.org the same as WordPress.com?
No, they aren't the same. WordPress.org lets you host your site with full freedom to customize it. WordPress.com, on the other hand, hosts your site for you, making setup easy but with some restrictions. While WordPress.org offers more flexibility, WordPress.com provides a simpler start.
Which is cheaper, WordPress.com or WordPress.org?
WordPress.org software is free, but you pay for hosting and a domain. Costs vary based on the host. WordPress.com can be free with limitations. For added features, you'll need paid plans. WordPress.org might be cheaper in the long run, especially if you plan to host multiple sites.
Is WordPress.com or WordPress.org easier to use?
WordPress.com is easier for beginners. It offers a simple setup process without handling domain, hosting, or updates. WordPress.org requires you to manage hosting and maintenance, but it provides more control. So, for a hassle-free start, WordPress.com is recommended.
Which has more features, WordPress.com or WordPress.org?
WordPress.org offers more features. It allows you to use any theme, plugin, or customization. WordPress.com has limitations on its free plan, and to access more features, you need to upgrade. So, for the broadest range of capabilities, WordPress.org is the better choice.
Which is more beginner-friendly, WordPress.com or WordPress.org?
WordPress.com is more beginner-friendly. It guides users through the setup process, handles hosting, and requires no installations. While WordPress.org offers more control, it involves steps like choosing a host and manual updates. For those new to websites, WordPress.com provides a simpler start.
Which is better for SEO, WordPress.com or WordPress.org?
WordPress.org is generally better for SEO. It allows for full customization, including using advanced SEO plugins and tools. While WordPress.com offers basic SEO features, you'd need to upgrade to access advanced tools. For complete SEO control and optimization, WordPress.org is the best choice.
What are the alternatives to using WordPress.com?
From a hosting perspective, alternatives to WordPress.com's managed hosting include services like
WP Engine
,
SiteGround
, Bluehost's Managed WordPress,
Kinsta
, and
Flywheel
. These providers offer managed WordPress hosting, ensuring optimized performance, security, and updates, similar to what WordPress.com provides.
What is the upside of using WordPress.com?
The upside of using WordPress.com includes a simple setup, no need for hosting management, automatic updates, and backups. It's beginner-friendly, offering an easy process to create a site. Maintenance is handled for you, and the platform provides stability and security out of the box.
What are your thoughts on WordPress.com vs WordPress.org? Let us know in the comments!