Website builders are everywhere these days. WordPress is the dominant platform with well over 1/3 of the internet having been built with it. A slew of other site builders has popped up to demand their fair share of the market though. One of the big players is Weebly, a free service that made a name for itself by being fast, reliable, and easy to use. Square is one of the top e-commerce payment gateways. They bought Weebly to use as an e-commerce platform. They can give WordPress a run for its money. But what features make each platform uniquely appealing? To assist you in determining which is more suitable for your business, we will compare WordPress vs Weebly.
WordPress vs Weebly: Who Are They For?
To be a little hyperbolic, WordPress is for everyone. What we mean is that no matter what kind of site you want to run, WordPress can create it. From portfolios to e-commerce shops to prolific magazines, WordPress has the capability and features to make it happen. The catch is that because it can do nearly anything, the setup can be a little more difficult. You, as a site owner, need to either hire a developer or find the plugins, themes, and features you need for your site, yourself. But if you can dream it, WordPress can do it. There is room for beginners and coders in the WP space.
Weebly, on the other hand, started as a quick-and-easy builder that gave users fast access to static/informational sites, and it has since been acquired by Square and become an incredibly robust e-commerce platform. While the platform can still function as a quick-and-easy free website for you, the focus has shifted to being an e-commerce platform that has a full range of features built right in. If your main goal is to get an e-commerce site up and running as quickly as possible, Weebly may be what you're looking for.
Weebly Makes Building a Website Easy
A major factor for anyone looking to build a website is how easy the platform is to learn and use daily. WordPress does not have the best new-user experience. But that has somewhat improved over the years. Weebly has always attracted users who wanted a nicely designed website. One that wasn't hard to maintain, and Square's acquisition hasn't changed that at all. Both platforms are relatively easy to use, and each has quirks that make the learning curve about even between them.
WordPress
The hardest part about learning WordPress is figuring out where all of the options are located and what they do. To new users, learning what's in Settings vs Tools vs Customize can be frustrating. Why are Menu options under Appearance? What's the difference between the Theme Editor vs the Theme Customizer?
These are very easy-to-solve frustrations, but the messaging for new users isn't always clear. In terms of actual utility, using WordPress has never been easier. You create Posts and Pages using the new Gutenberg block editor. The new editor gives you drag-and-drop functionality for each element on the page. From images to paragraphs to lists and even rating stars, you have full control over each thing separate from everything else.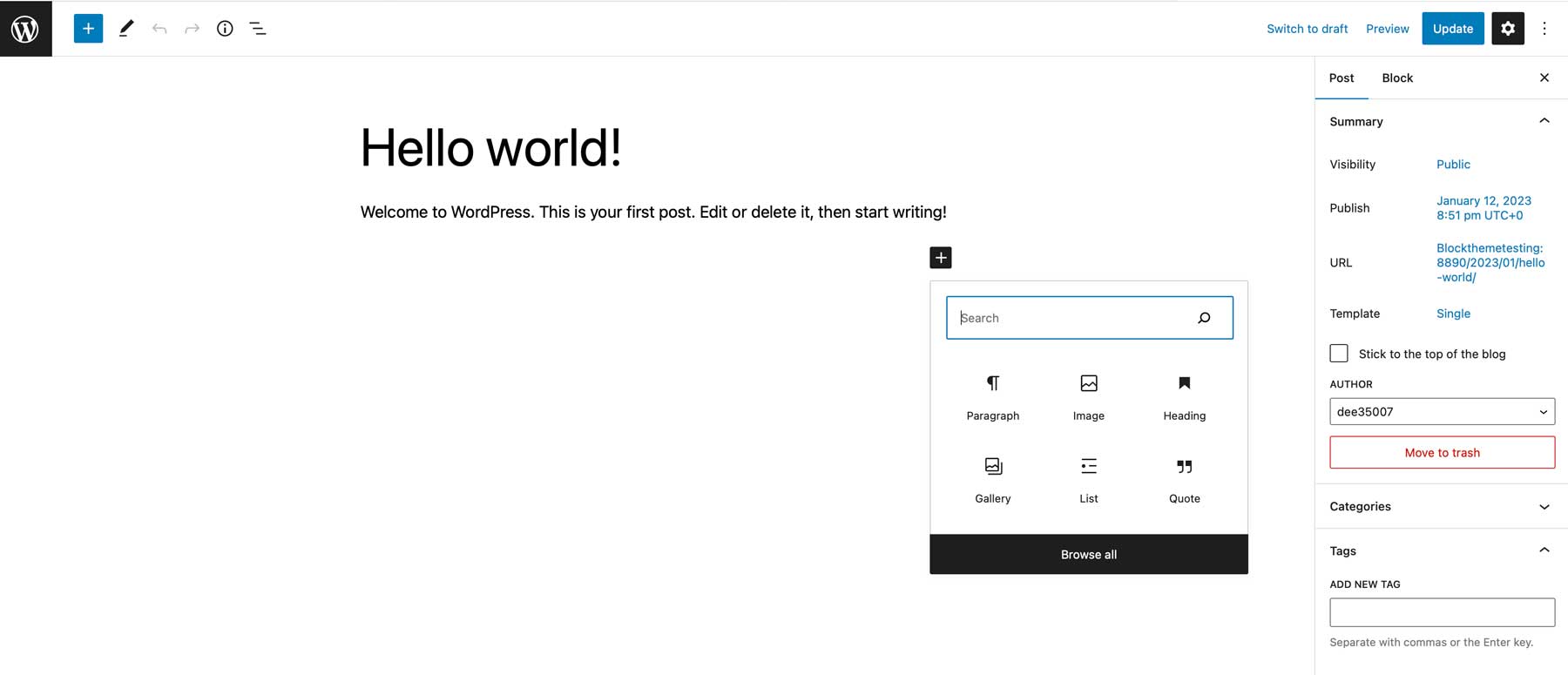 Editing the site and posts are incredibly easy, and as of WordPress 5.8, these blocks can also be used in nearly every editable space on your site. The ease with which you can customize WordPress has never been greater. Or easier.
As we said, the dashboard can be a little confusing at times to navigate. However, you can overcome that with just a little use and practice. Additionally, themes such as Divi and plugins by companies such as 10Web can make the experience of using WordPress much easier to learn. It does, however, take external research or recommendations to find out which ones those are.
Weebly
Weebly is a fairly easy platform to use. Setting up your website and then running it on a day-to-day basis is pretty simple. Though there are some quirks with the software that put it on about equal footing to WordPress in terms of the learning curve.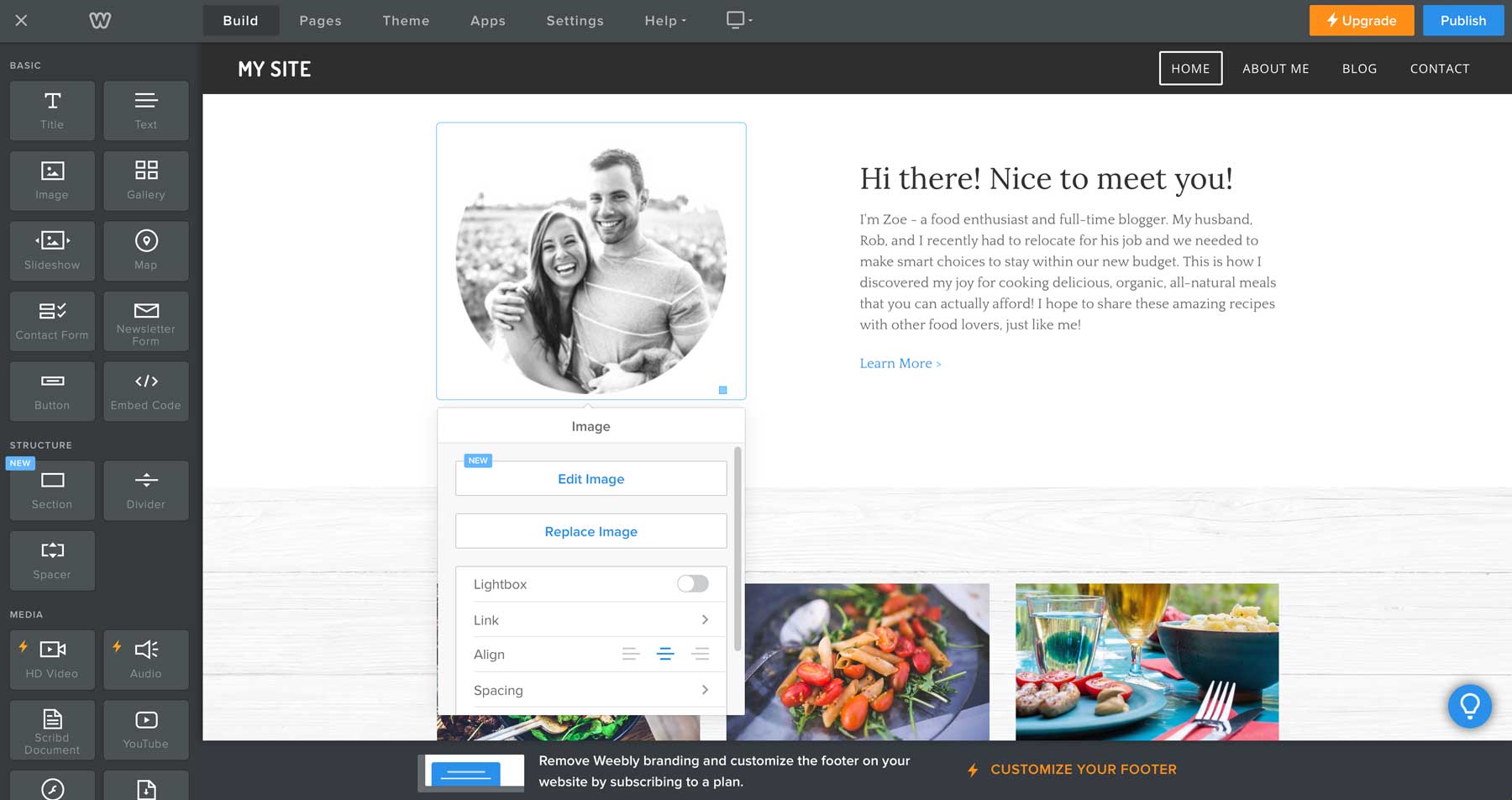 The editor screen works almost exactly like the Gutenberg editor. You have different blocks available for elements such as text, images, lists, videos, and so on. (Some of these are available to premium users.) Editing each of these is a matter of clicking and selecting options from a pop-out.
The quirkiness can come in with adding new top-level pages and product categories, blog posts, and individual products. The menus aren't intuitive to use, but they're not difficult to learn. To create a blog post, you will need to navigate to the blog feed page itself, edit it, and then press the New Post button.
This isn't hard or complicated, but when compared to WordPress and other blogging platforms, it's pretty obtuse. On the other hand, consider that Weebly is not a blogging platform. In that context, the entire experience is easy to learn and use and is perfectly passable.
Ease of Use
Figuring out where the options are and what they do can take time. Learning what's in Settings vs Tools vs Customizer can be difficult.
🥇 Winner

Set up is easy, but adding top-level pages has a bit of a learning curve. That being said, it is a bit more user-friendly for beginners.
Choose WordPress
Choose Weebly
When it Comes to eCommerce, Weebly Has the Edge
WordPress has a number of powerful eCommerce plugins to add online commerce to your site. The most popular of which is WooCommerce. WooCommerce is a free e-commerce plugin that is used by hundreds of thousands of websites. Over time, an ecosystem of extensions and add-ons has sprung up around it, giving users access to any feature they could ever need. For example, companies such as Yith have a great list of plugins to expand WooCommerce capabilities. It's easy to find WooCommerce SEO plugins, image extensions, and optimization tools that can make your eCommerce store great. Weebly doesn't need that level of ecosystem and plugin extensibility. It integrates fully with the Square e-commerce system. For quick setup and a few hassles, Weebly stores are great options. WordPress and WooCommerce are the better options for those who want the most customization and control over store options.
WordPress
Creating stores and adding products to WordPress using WooCommerce is a straightforward process. Installing the plugin adds new menu items to your WP admin dashboard. Creating a product and categorizing it is as easy as creating or editing a Post or creating a new Page. WooCommerce builds products on WordPress custom post types, which can be extended with plugins like Toolset. This can both help and hinder WP users because the process is known to them. The extra e-commerce meta boxes for product information does make things a bit more complex than before.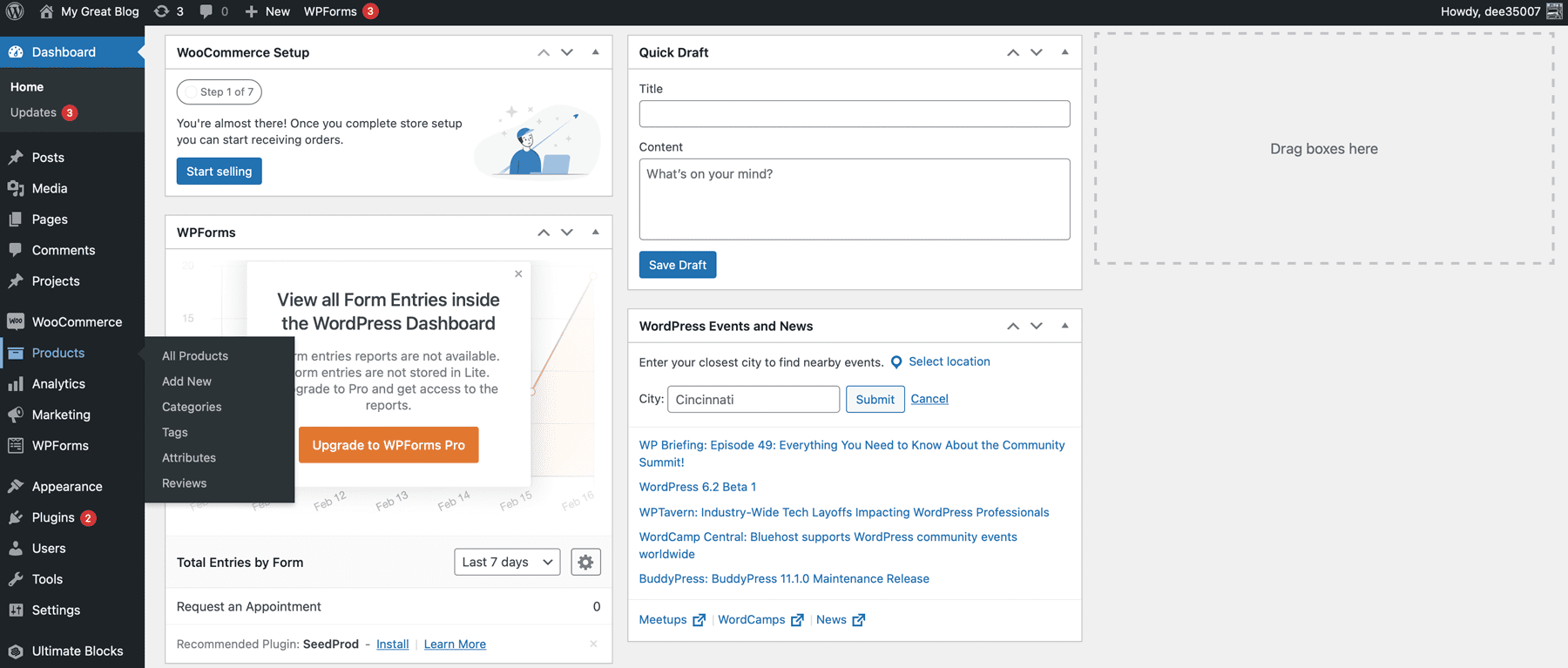 WooCommerce comes with various payment gateways by default, including EFT, PayPal, Stripe, Amazon Pay, and the proprietary WooCommerce Payments. You can also purchase extensions that allow even more payment gateways to be used, including the Weebly-owner Square.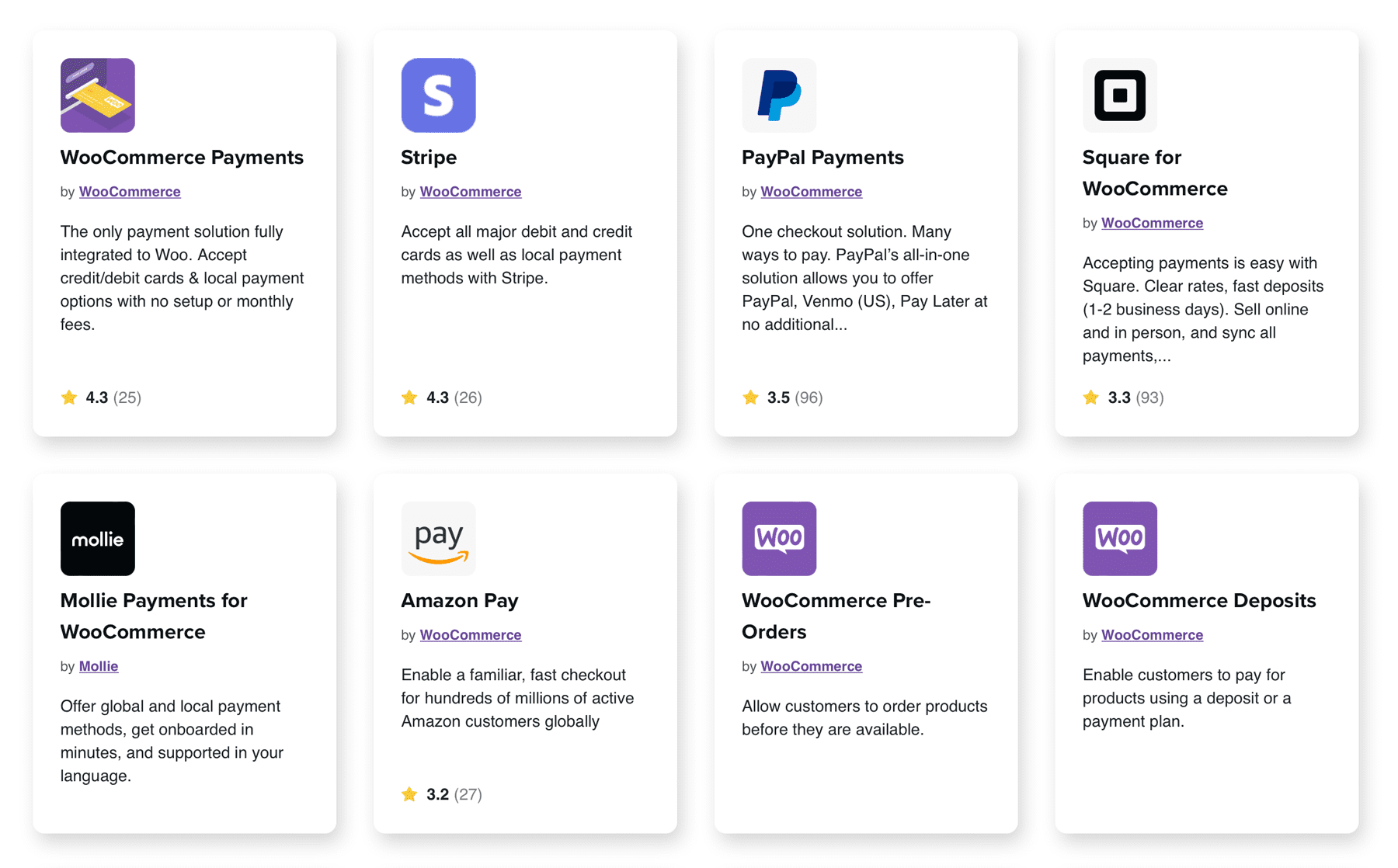 Some of these options are free, and some are premium. Using any and/or all of the options is up to the website owner. Which is going into one of WordPress's most noteworthy features: freedom of customization.
That customization and many options are also available to your product lineup. You can sell digital goods and physical merchandise from the beginning. Even for more complex eCommerce business cases, like online bidding and auctions, WordPress has a number of plugins that you could use to make this happen.  If you want advanced analytics and in-depth management utilities, additional plugins or extensions may be necessary.
Weebly
Weebly, in stark contrast to WordPress, comes with all e-commerce tools built in because of its association with Square. We should note, however, that each of these options is not available to all users. Weebly restricts some behind different tiers of paid membership.
Also, we want to note that while WooCommerce can be free, most users will be spending money on extensions and other costs. We have a complete rundown on what you can expect, and it is comparable to a paid membership with Weebly.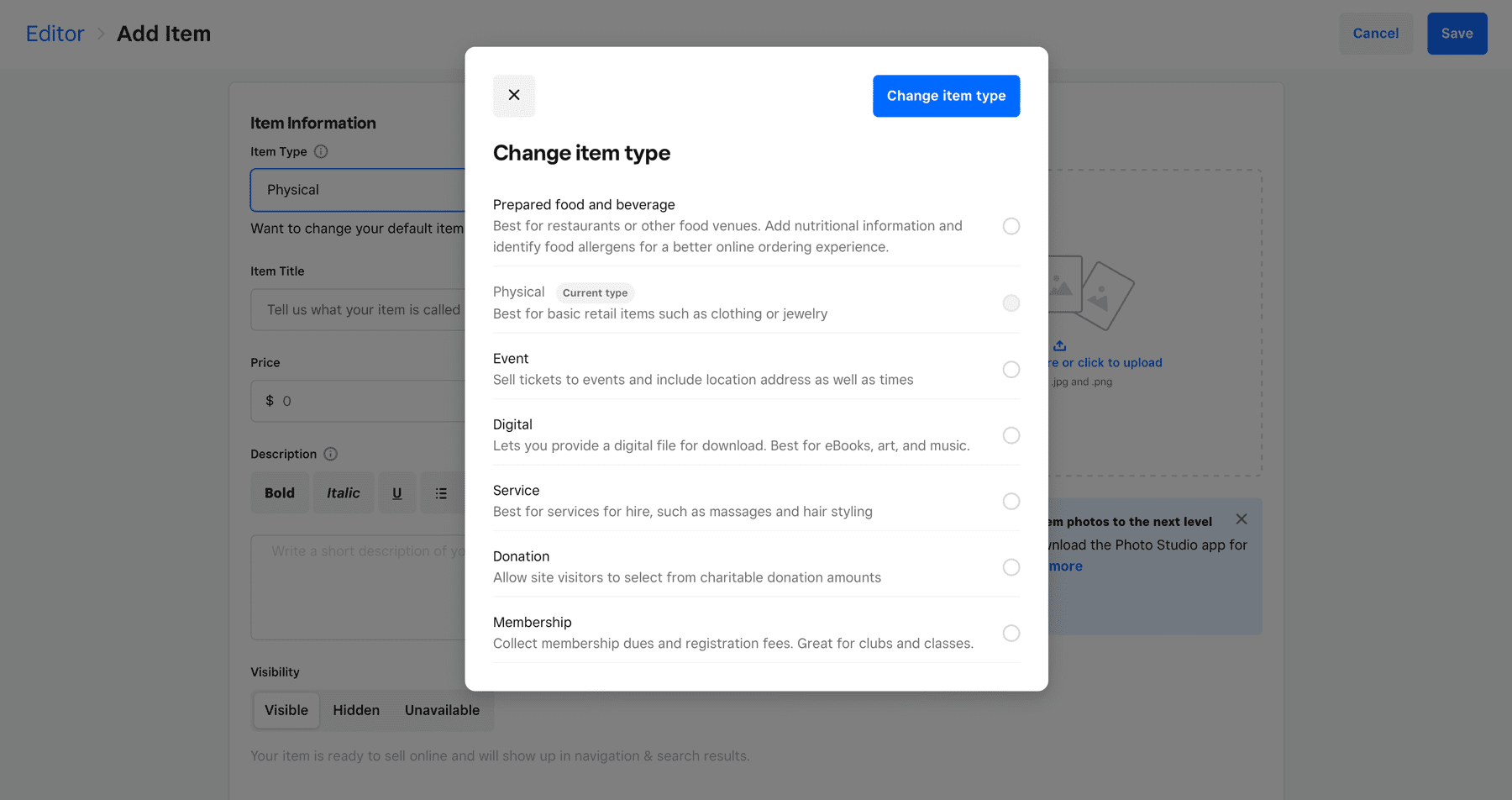 The strongest feature Weebly offers is that you can sell anything to anyone from the beginning. Even as a free user, you can populate your store with inventory. While some of the actual sales (such as for digital goods) are limited to paid users, you can get started with your site and store immediately. With WooCommerce and WordPress, you have to use different extensions to offer memberships, donations, and events.
This inclusion, even for premium members only, makes using Weebly just a bit more accessible than WooCommerce. Users in WordPress would need to individually seek out methods to sell any additional product types.
Weebly also has a much smoother interface for entering product information (as you can see above) than WordPress. This is because Square is actively developing Weebly as an e-commerce platform. WordPress is a CMS that can function as an e-commerce platform. In Weebly, products are their own thing, separate from blog posts and all other features. Learning how to use them may take more time for Weebly users. But in the end, they're more intuitive than customizing WooCommerce products.
Perhaps WooCommerce can be extended and eventually provide a more powerful and custom e-commerce experience. For those who want a no-hassle platform that's relatively easy to learn, Weebly's Square integration provides that.
eCommerce
WordPress is a CMS first, and an eCommerce platform only through extensions and plugins.
🥇 Winner

You're given everything you need to set up an eCommerce platform thanks to integration with Square.
Choose WordPress
Choose Weebly
WordPress is King in Customization
Both WordPress and Weebly use themes and layouts that change the design and apparent utility of the site. With WordPress that can go deep into the site's code. With Weebly, though, it's skin-deep and is based on how the information is presented. WordPress offers much more customization than is possible with Weebly in almost every way, but you do get a decent amount of choice with Weebly, similar to Squarespace in that it's curated customization.
WordPress
Themes are the fundamental draw to WordPress. They give users the most control over their sites, offering both functionality and design. Some themes, such as Divi, come with page builders included so that editing your WordPress site can be as simple as using the block editor (or the Weebly builder itself, which is built around blocks and curated designs).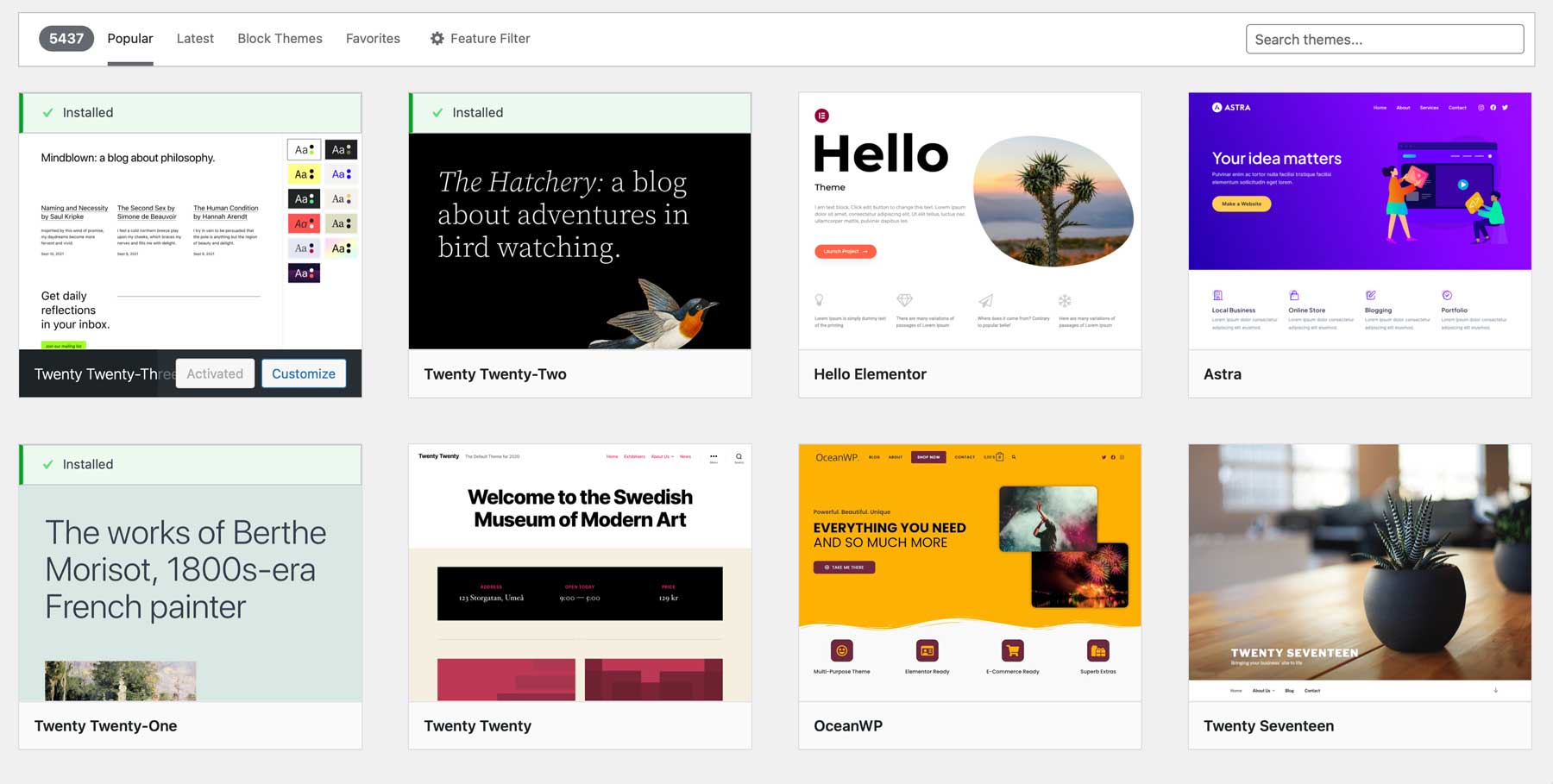 You can find any number of free themes on the WordPress.org theme repository, as well as additional plugins on that repository, too. Both of these offer major customization. Some through design and layout, others through utility and additional features and function. Very few website platforms can compete with the total control (and ease of control) that WordPress gives its users.
Weebly
In terms of customization, Weebly users do have options. Just not as many as WordPress. There is a well-stocked theme repository of curated designs they can choose from. Many of them are optimized for e-commerce (again, a good thing because of Square's integration).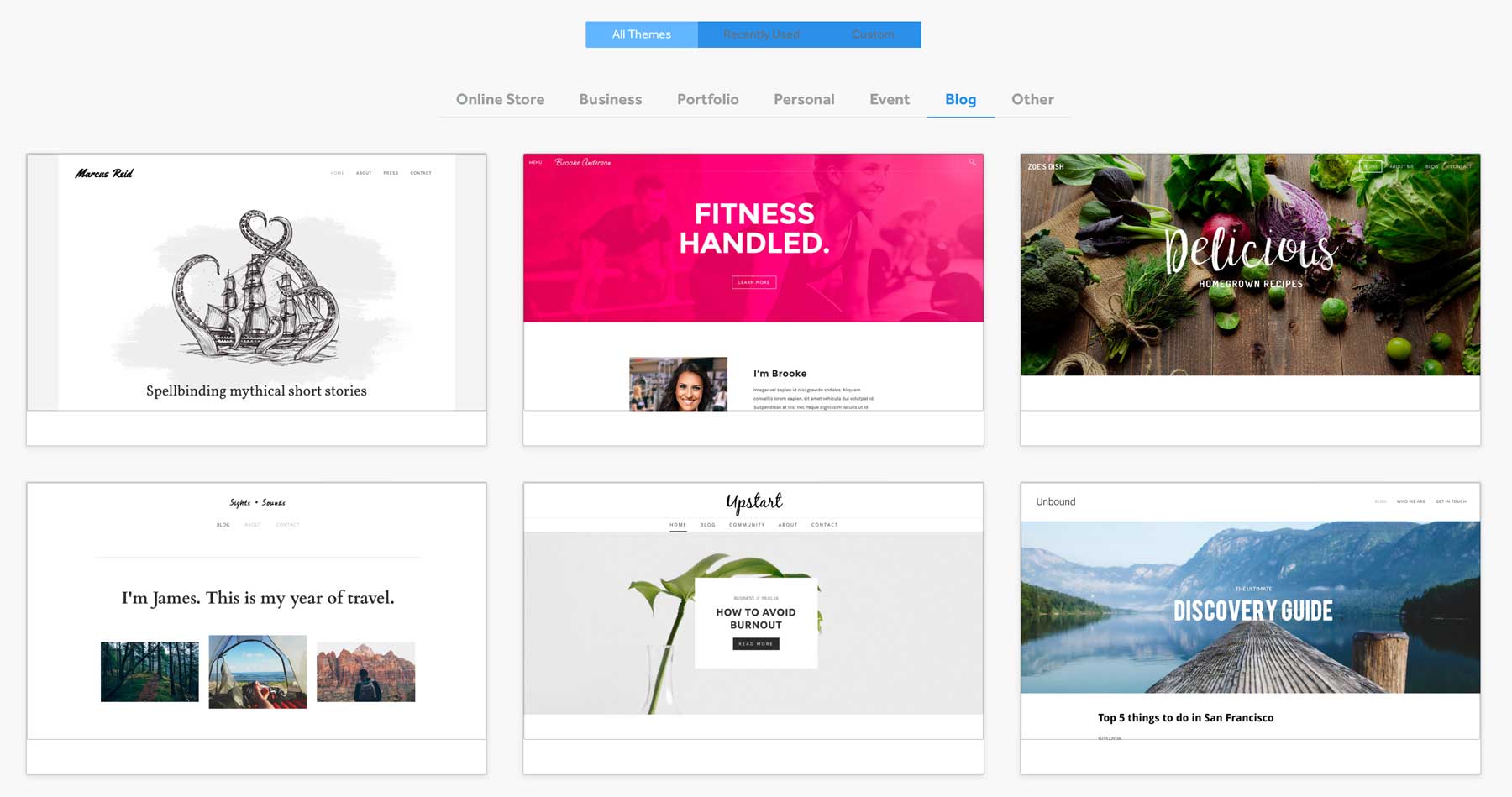 They're cleanly designed and put together. You should have no trouble customizing them. The options you get for each block and element are comparable to any basic page builder you could find in WordPress.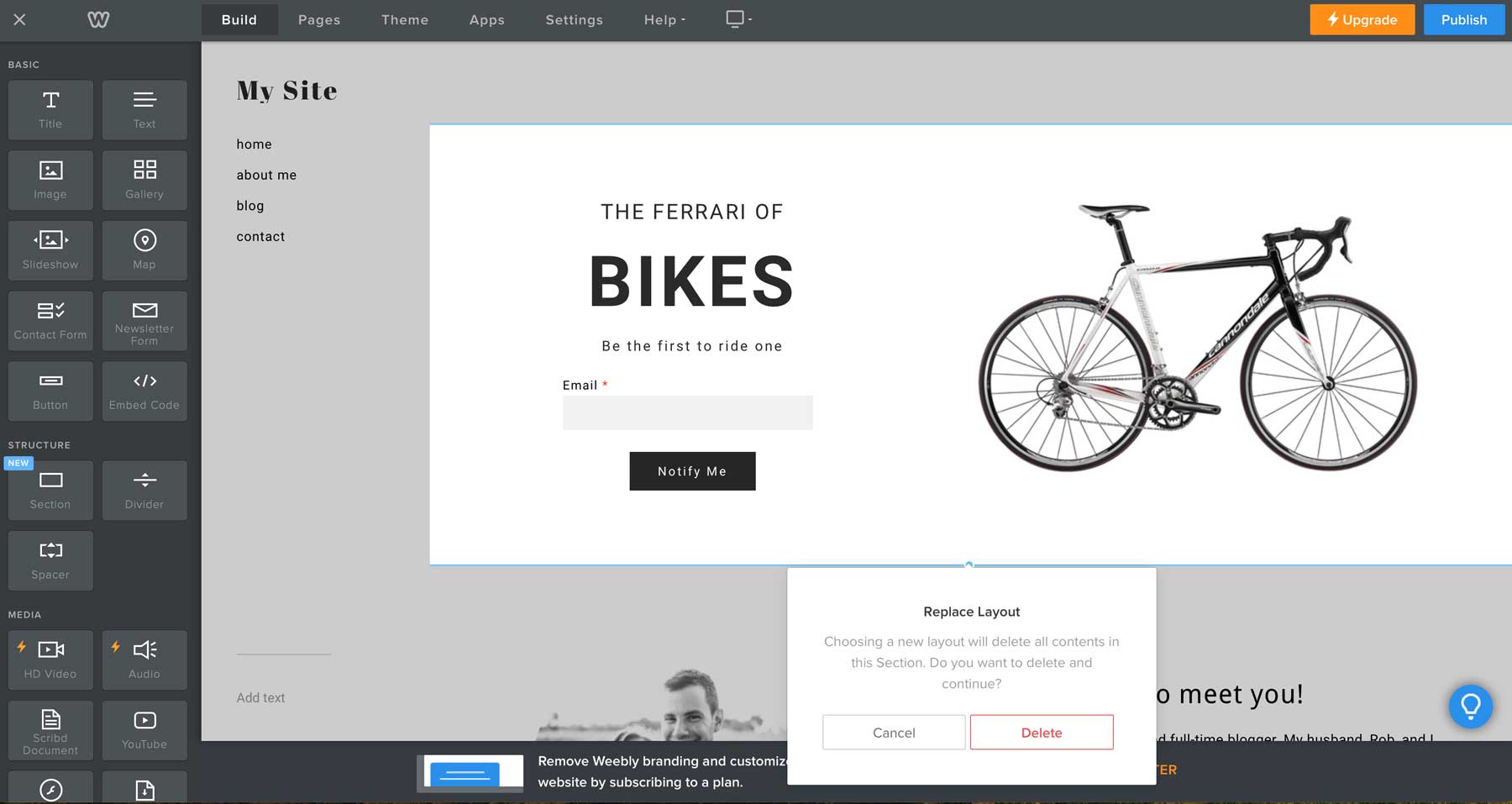 The downside is that some customization and elements are locked behind paid subscriptions. However, this is offset by taking into consideration that the most advanced page builders in WordPress are also premium subscriptions or licenses. If you're a free user expecting full customization, however, that won't be possible.
Very little can compare to WordPress's innate customization. However, Weebly competes well enough with WP that using its builder and having access to its options won't feel cumbersome or a burden like some other builders.
Customization
🥇 Winner

WordPress shines with its unlimited customization options to make sites stand out from the crowd.
There are a few themes to choose from, but Weebly is limited to those choices.
Choose WordPress
Choose Weebly
WordPress vs Weebly Wrap Up
In the end, Weebly is a very solid e-commerce platform but doesn't have a lot of draw for people who want a blog or publishing website. If you need a fast, free, decently designed static website, sure. However, Weebly has very clearly moved toward targeting those who plan on selling things being the primary function of their website.
WordPress comes in solid in this regard, too, simply because it was built as a blogging platform first and has since evolved into a CMS capable of most kinds of sites. With the sheer amount of customization options with plugins by third-party vendors such as Yith, Toolset, and 10Web, you simply can't beat what WordPress can offer.
But the WooCommerce and other e-commerce solutions can be a bit more cumbersome than using something like Weebly that is built for that specifically.
Ease of Use
Figuring out where the options are and what they do can take time. Learning what's in Settings vs Tools vs Customizer can be difficult.
🥇 Winner

Set up is easy, but adding top-level pages has a bit of a learning curve. That being said, it is a bit more user-friendly for beginners.

eCommerce
WordPress is a CMS first, and an eCommerce platform only through extensions and plugins.
🥇 Winner

You're given everything you need to set up an eCommerce platform thanks to integration with Square.
Customization
🥇 Winner

WordPress shines with its unlimited customization options to make sites stand out from the crowd.
There are a few themes to choose from, but Weebly is limited to those choices.

Choose WordPress
Choose Weebly
One more thing. Before you make your final decision on your website platform…are you curious to see how WordPress stacks up against its other biggest competitors? We did the hard work and compared WordPress vs everything else so that you don't have to!
Frequently Asked Questions (FAQs)
Before we wrap up, let's answer some of your most common questions regarding WordPress and Weebly. Did we miss one? Leave a question below, and we will respond!
Which is best, WordPress or Weebly?
Both WordPress and Weebly have strengths. WordPress offers great customization and flexibility but may have a steep learning curve. Weebly is user-friendly and great for quick e-commerce setup but lacks extensive customization. The choice depends on your specific needs and tech comfort level.
Is WordPress easier to use than Weebly?
While WordPress offers extensive customization options, its broad feature set can make it more complex for beginners. On the other hand, Weebly is known for its user-friendly interface, making it easier for non-tech-savvy users to create and manage websites. So, Weebly is generally easier to use.
What are the key differences between WordPress and Weebly?
WordPress offers extensive customization and flexibility but can be complex for beginners. It's powerful for all websites, especially with plugins like WooCommerce for e-commerce. Weebly, however, is more user-friendly and straightforward, ideal for quick setup, especially for e-commerce with Square integration.
Which is better for SEO, WordPress or Weebly?
WordPress has better SEO capabilities due to its extensive range of SEO plugins, like Rank Math, that provide granular control over every aspect of SEO. However, Weebly also offers basic SEO tools that are adequate for simpler sites. For advanced SEO needs, WordPress usually stands out.
Can I migrate to WordPress from Weebly?
Yes, it's possible to migrate from Weebly to WordPress. This process involves exporting your Weebly content, setting up WordPress, and importing your content into WordPress. However, it can be technical so you might need professional help or a migration plugin like WP All Import.
Which is faster, WordPress or Weebly?
Website speed depends on hosting, site design, and content optimization. While WordPress offers plugins to optimize speed, a poorly configured site could still be slow. Being a hosted solution, Weebly generally provides consistent performance. Ultimately, both can be fast with proper setup.
Which one is easier to customize, WordPress or Weebly?
WordPress offers far greater customization options due to its extensive library of themes and plugins. However, this can be more complex for beginners. Weebly provides a simpler, drag-and-drop interface for customization, but it offers a different depth of customization than WordPress.
Is WordPress a better choice for eCommerce than Weebly?
Both WordPress (with WooCommerce) and Weebly (integrated with Square) have their merits for eCommerce. WordPress offers more customization and flexibility but can be complex to set up. Weebly provides a more straightforward setup process and is more streamlined but less customized.
Which platform is more cost-effective, WordPress or Weebly?
WordPress is free, but associated costs include hosting, premium themes, plugins, and possibly developer fees. Weebly has a free plan, but more features are available on paid plans. Costs may also arise from premium apps. WordPress is usually more cost-effective compared to any SaaS solution.
How easy is it for beginners to learn WordPress versus Weebly?
Weebly is generally easier for beginners due to its user-friendly, drag-and-drop interface. WordPress has a steeper learning curve, with more options and settings to learn. However, WordPress's flexibility and power can be worth the initial learning investment for many users.
What have your experiences been with WordPress vs Weebly?