When building an ecommerce website on WordPress, picking between WooCommerce and other platforms is crucial. Once you determine which plugin to use, you can take steps to personalize your eCommerce website to make it more effective and unique. In this post, we'll share the best WordPress ecommerce plugins available, including WooCommerce-based options and other solutions, to help take your website to the next level.
Let's get started.
What is a WordPress Ecommerce Plugin?
An ecommerce plugin adds ecommerce functionality to a WordPress website, allowing you to sell products, process payments, manage orders, and customize your online store. Therefore, these plugins are necessary when building an ecommerce site. There are many free and paid options based on your needs.
Why Do I Need WordPress Ecommerce Plugins?
Ecommerce plugins manage online stores, including products, pricing, shipping, taxes, and automation. They also offer search customization, filtering, checkout streamlining, and multivendor marketplace options, resulting in a highly capable store that boosts sales and revenue.
The Best WordPress Ecommerce Plugins
We carefully selected this list of eCommerce plugins for WordPress to help businesses enhance their online stores with additional features and functionality. Our selection criteria included reviews, installs, support, ease of use, and compatibility with the latest WordPress version for security and stability.
Let's dive right into our top picks for the best WordPress ecommerce plugins without any further delay.
The Best WordPress Ecommerce Plugins Listed In Order
Expand List
1. WooCommerce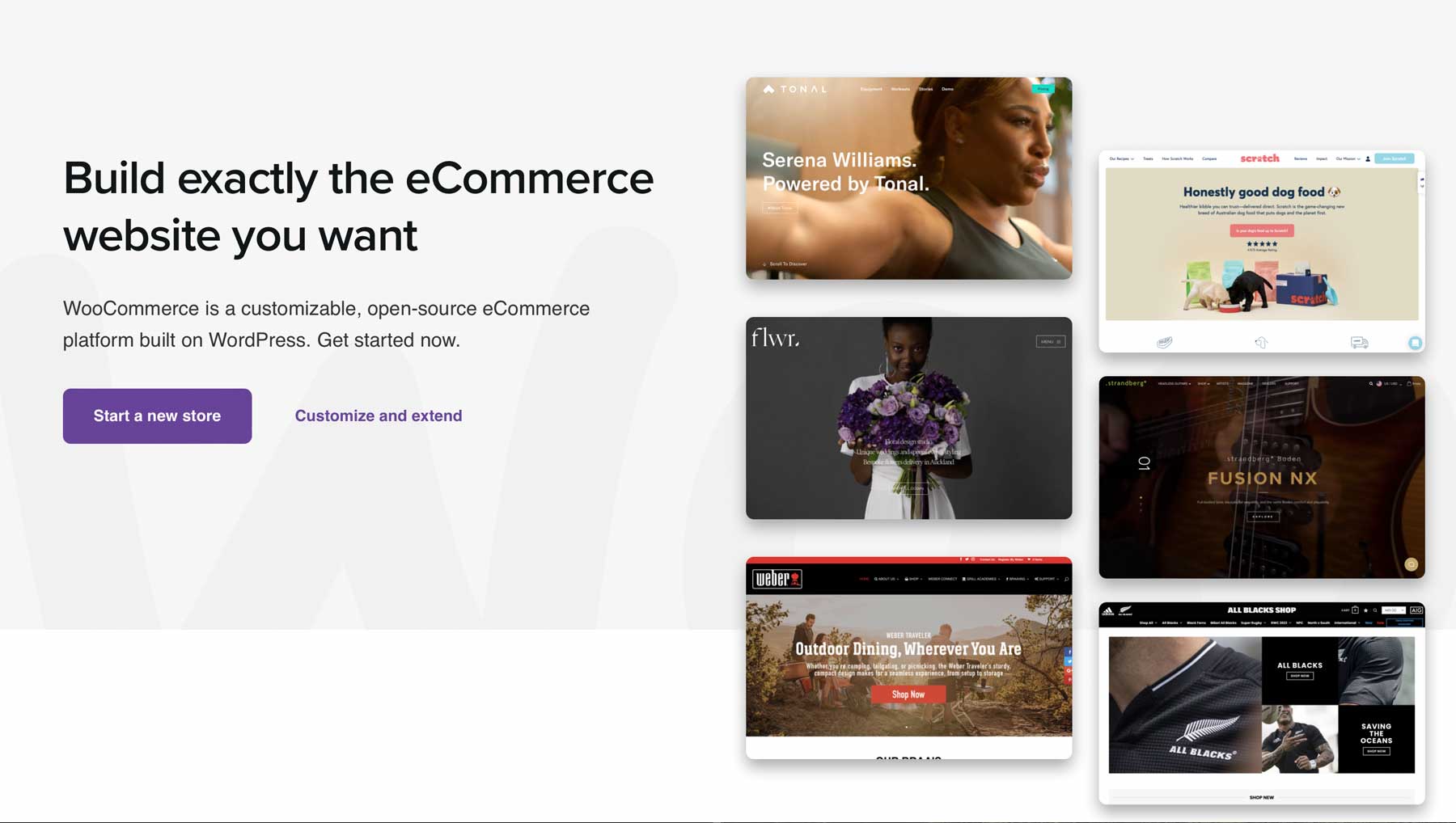 WooCommerce is the go-to ecommerce platform for WordPress sites, being the most used option. However, while it has the most features and plugins available, it may not be the easiest option. Configuring it and adding products, including taxes, can be tedious. Nevertheless, WooCommerce remains a popular choice for millions of WordPress sites due to the number of plugins available for it.
WooCommerce has incredible support with helpful guides and resources on its website. Companies such as YITH make useful plugins that can help make your online store unique and make it stand out from the crowd.
Key Features for WooCommerce:
Complete ecommerce solution for WordPress
Lots of plugin options
Hefty knowledge base
Endlessly scalable
Unmatched analytics tools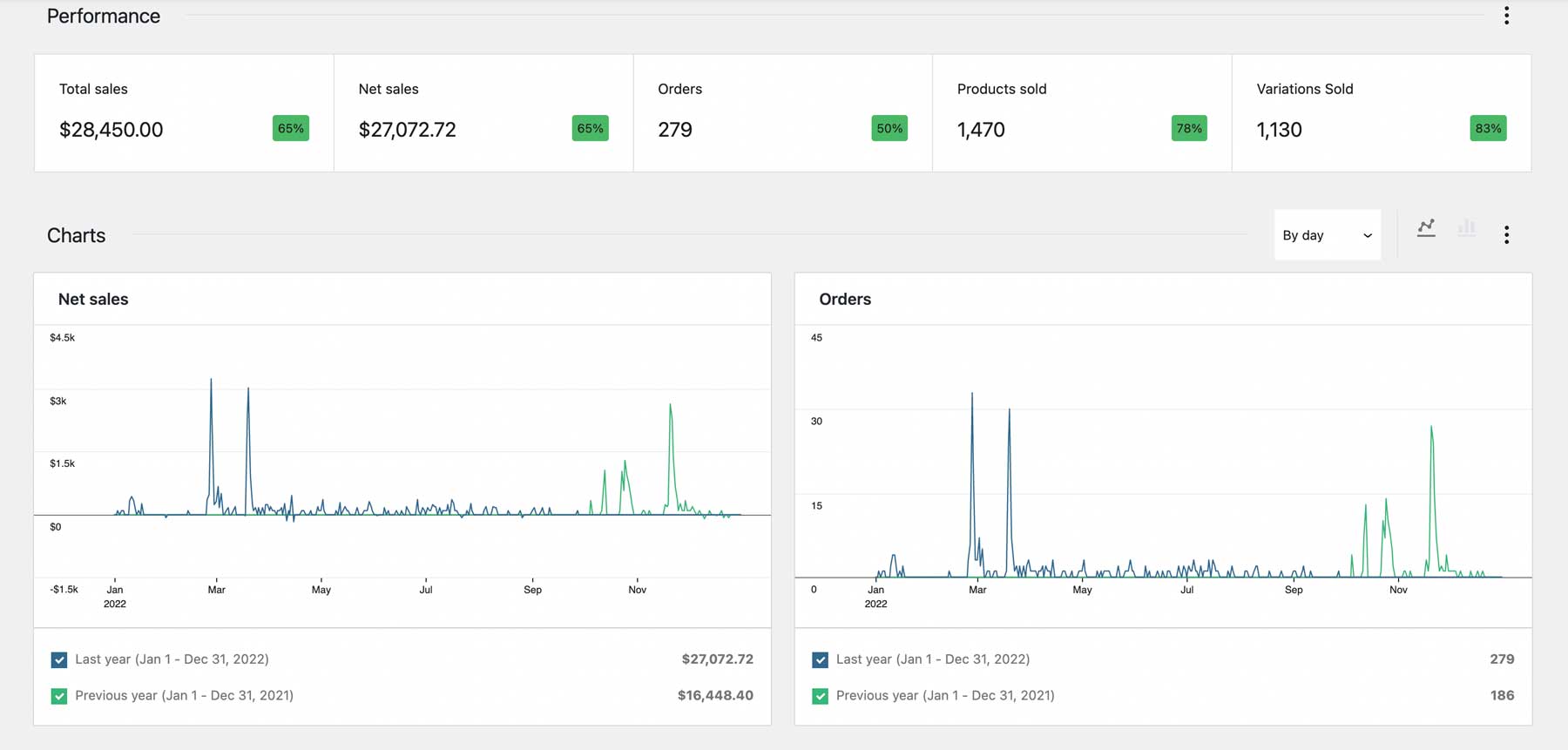 WooCommerce gives you a lot of information about how your store is doing, like how many sales you've made and what customers are doing. You can start with the free plugin and add more features as your business grows.
Best For:
WooCommerce is ideal for those who desire a custom ecommerce solution and have the knowledge or resources to manage and optimize their online store. It may be difficult for newbies with limited time to learn the platform.
Pricing: Free. Note that the "free" price of WooCommerce doesn't tell the whole story. Most store owners will need to purchase a few premium add-ons, which can be pricey.
2. Easy Digital Downloads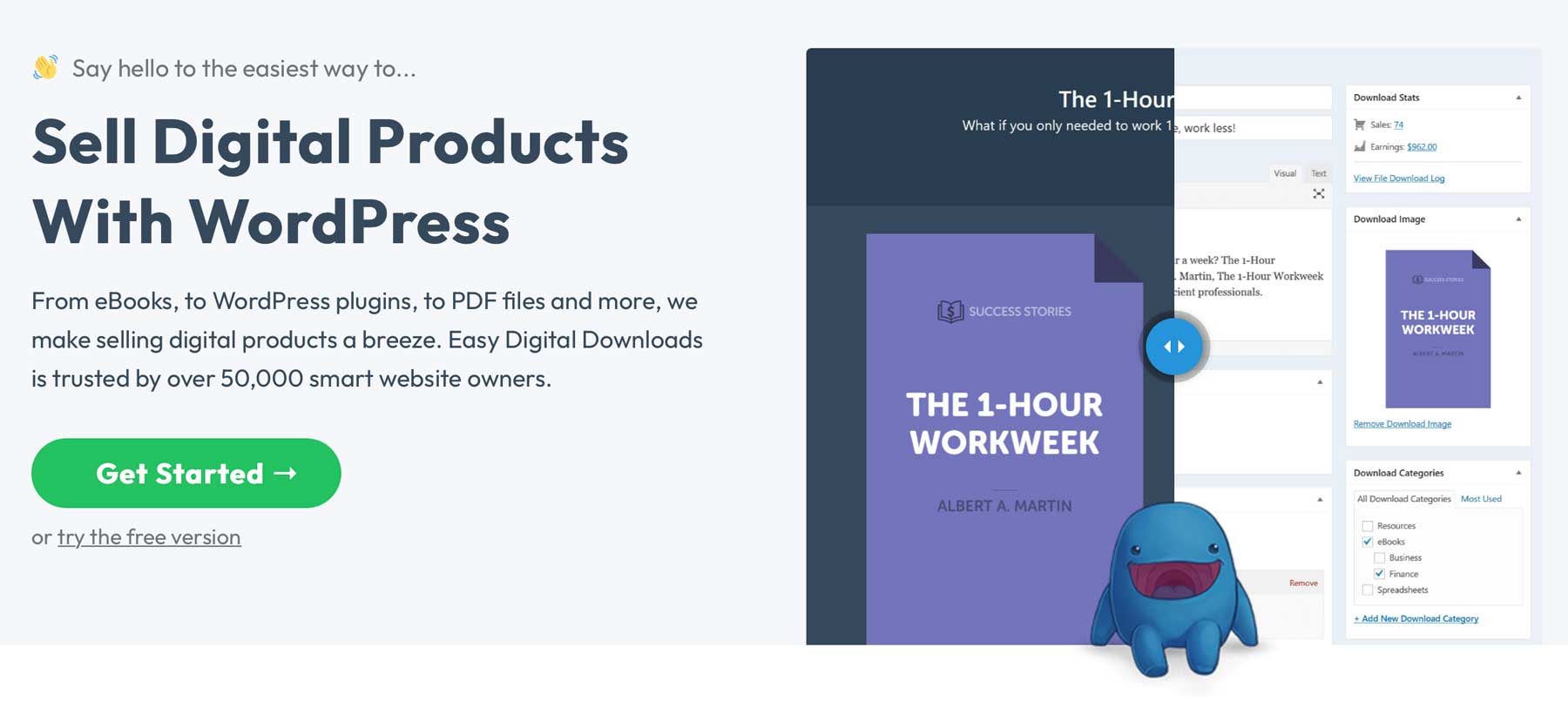 Easy Digital Downloads simplifies digital storefront management and sales, making it a must-have for ecommerce sites selling digital products. It works alone or integrates with WooCommerce, allowing you to set single and variable pricing with immediate purchase or cart-saving options. It seamlessly works with popular WooCommerce SEO plugins such as Rank Math and Yoast SEO, optimizing product pages for better SERPs visibility.
Key Features for Easy Digital Downloads:
Multiple purchasing formats
Functions as a standalone ecommerce solution or integration with WooCommerce
Integrates well with Divi and other popular WordPress themes
Multiple payment gateway options
Addons for recurring payments, shipping, and front-end submissions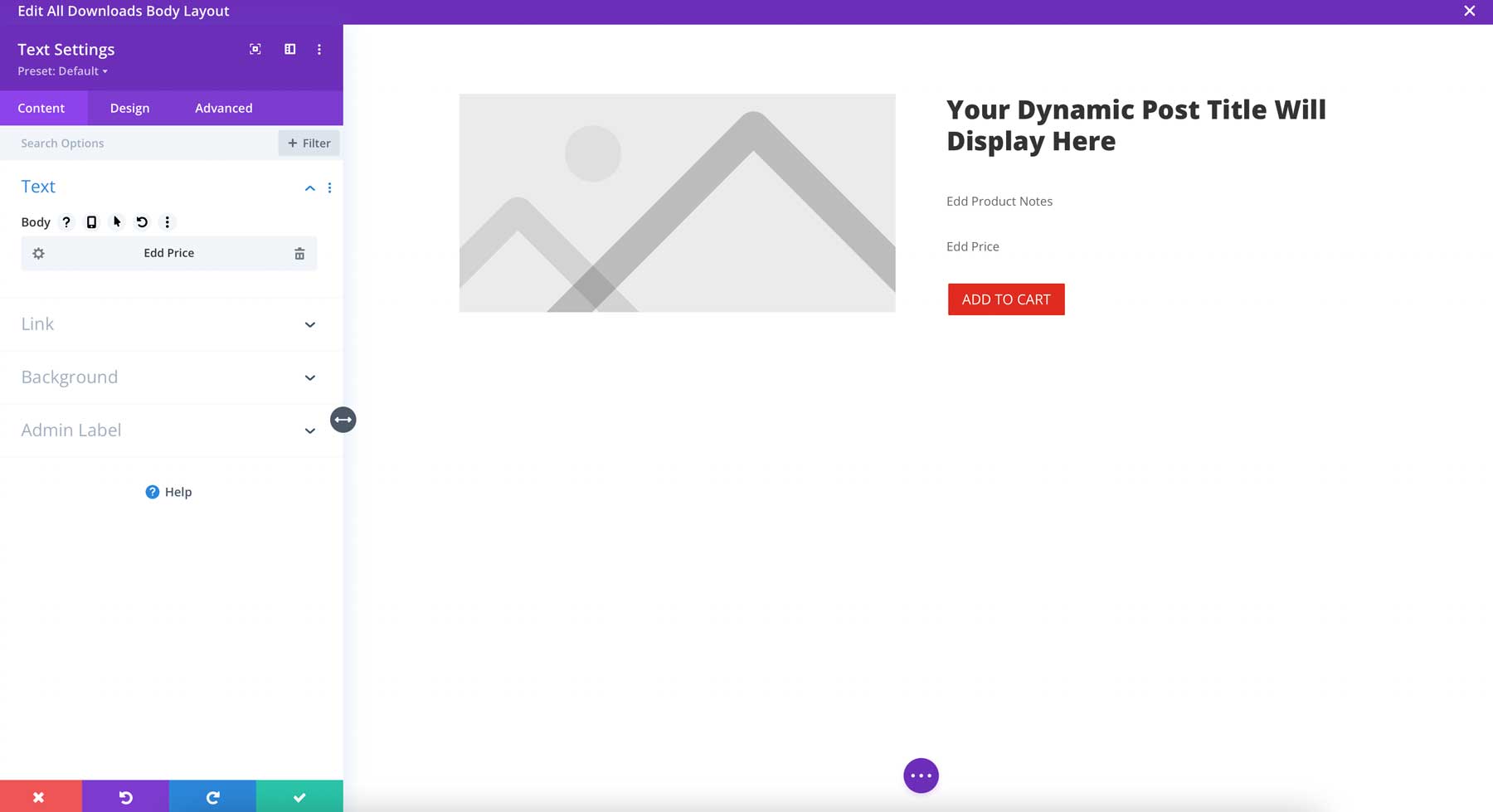 Easy Digital Downloads allow you to use any theme, including Divi. Plus, Divi's Theme Builder lets you create customized download product templates. The platform's dynamic content feature enables you to customize EDD fields to display download images, product descriptions, pricing, and add-to-cart buttons. Addons can be used to allow for subscription-based products, multivendor marketplaces, and seamless email opt-ins with Mailchimp integration. Easy Digital Downloads also supports several payment gateway add-ons.
Best For:
Those looking to feature digital products on their websites will find Easy Digital Downloads, one of the best WordPress ecommerce plugins available. With multiple payment options, custom template support through Divi, and single and variable product options, EDD is great for selling digital products online.
Pricing: Free pro license starting at $99.50 per year.
3. Dokan Multi Vendor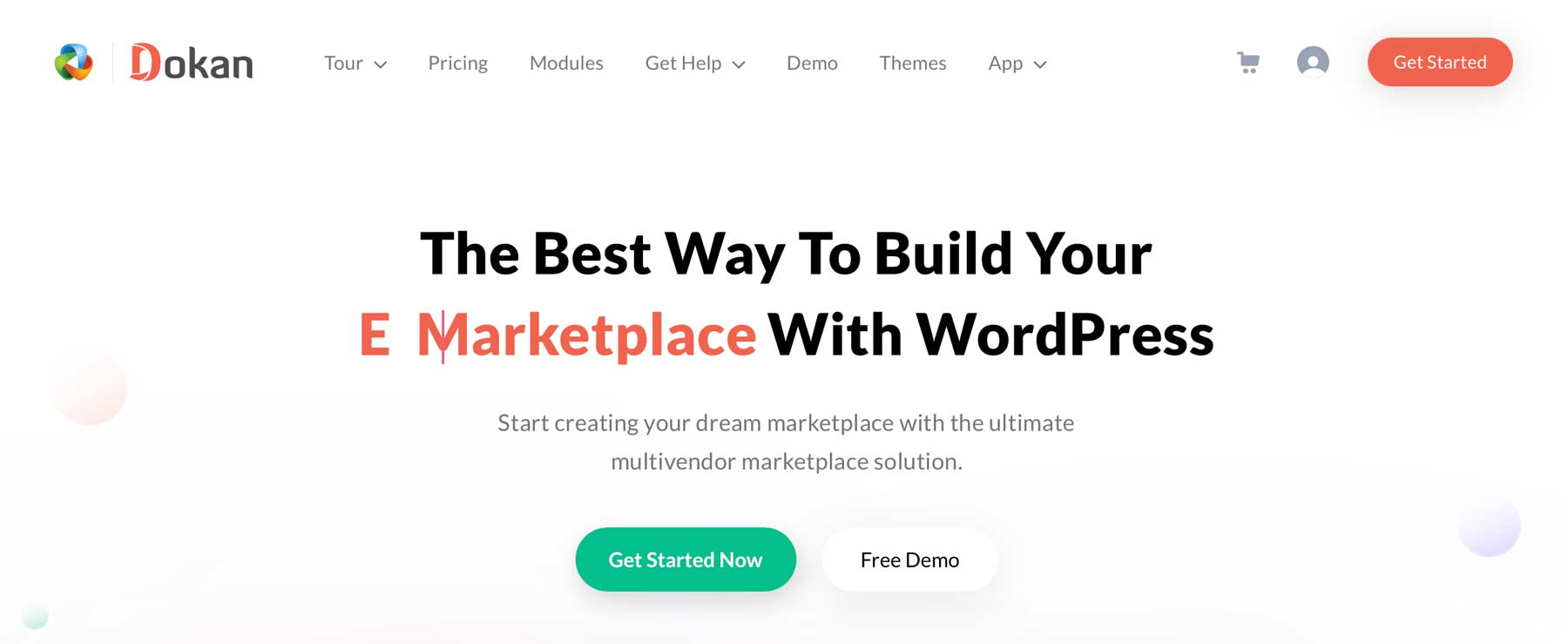 Dokan MultiVendor is the best WordPress ecommerce plugin for creating a multivendor marketplace with options to monetize through commissions and subscriptions. It requires WooCommerce and comes in both free and paid versions. The free version offers features such as unlimited vendors with individual front-end dashboards.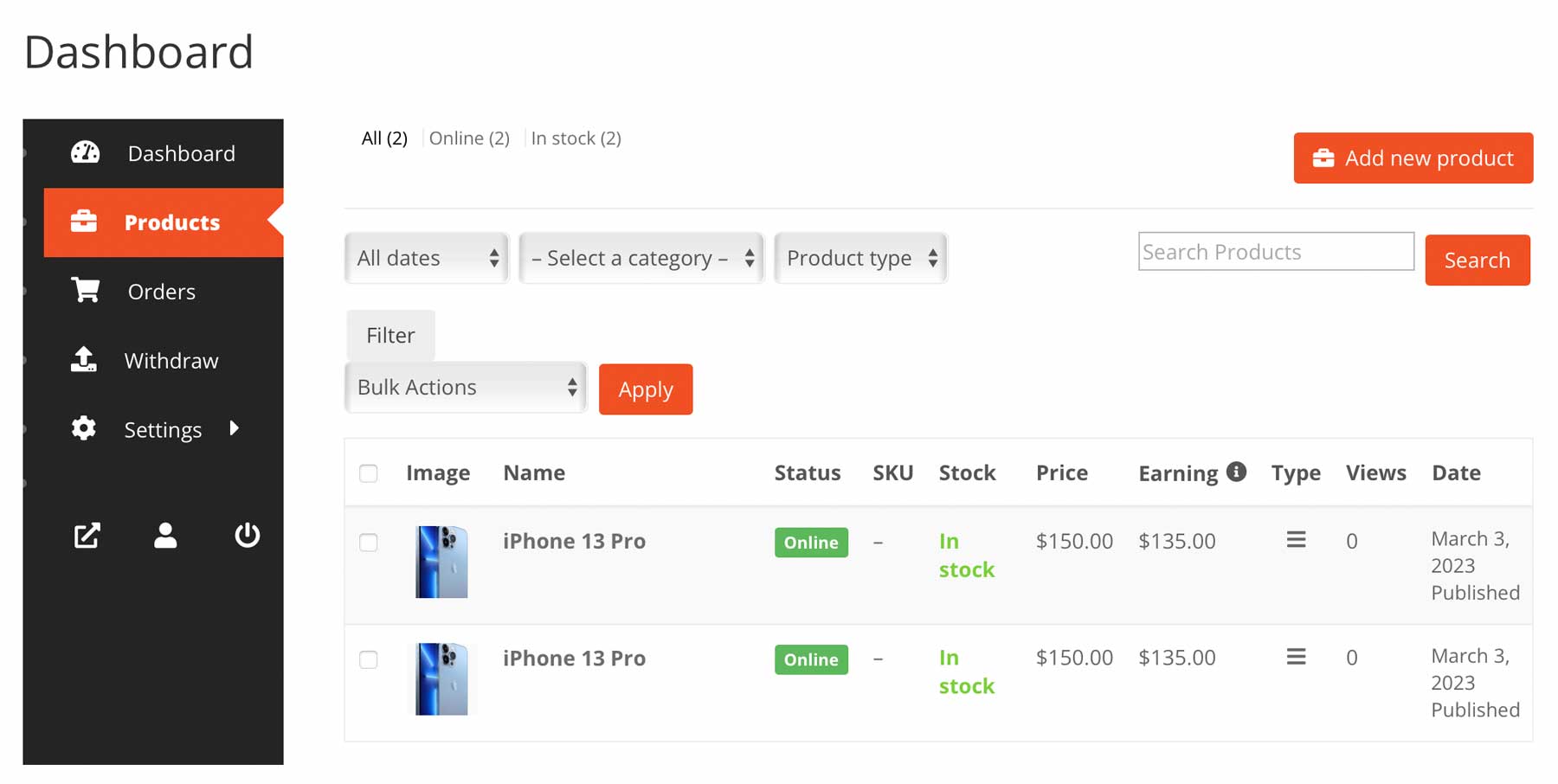 This free version also includes a comprehensive order management dashboard, various widgets, email notifications for orders, and multi-language support with WPML.
Key Features for Dokan Multi Vendor:
Multiple product options
Website monetization opportunities
Comprehensive order management dashboard
WooCommerce integration
Multilanguage support through WPML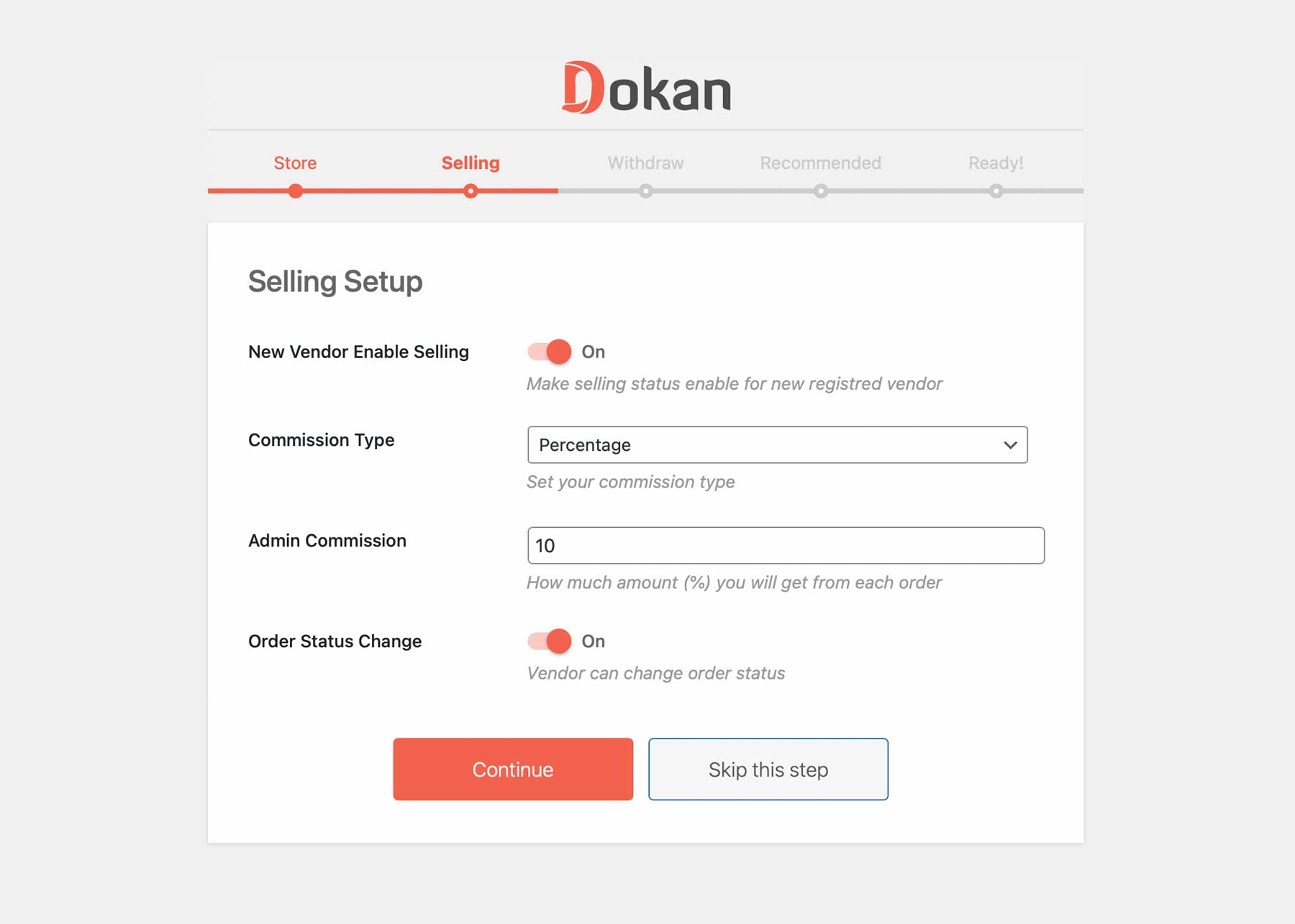 Dokan offers a variety of features to make your experience setting up a multivendor website a breeze, but the most compelling by far is its ease of use. With a straightforward setup wizard, you can easily configure how vendors will pay you and the level of control you want over them. To make things even easier, Dokan will even install WooCommerce for you.
Best For:
Dokan MultiVendor simplifies creating a multivendor marketplace on WordPress with unlimited vendors, easy order management, and fee earning. However, the free version has limited features. The professional version starts at $149 per year before add-ons, but it is WordPress's most versatile multi-vendor ecommerce plugin.
Pricing: Free, with a premium license starting at $149 annually.
4. Ecwid for WordPress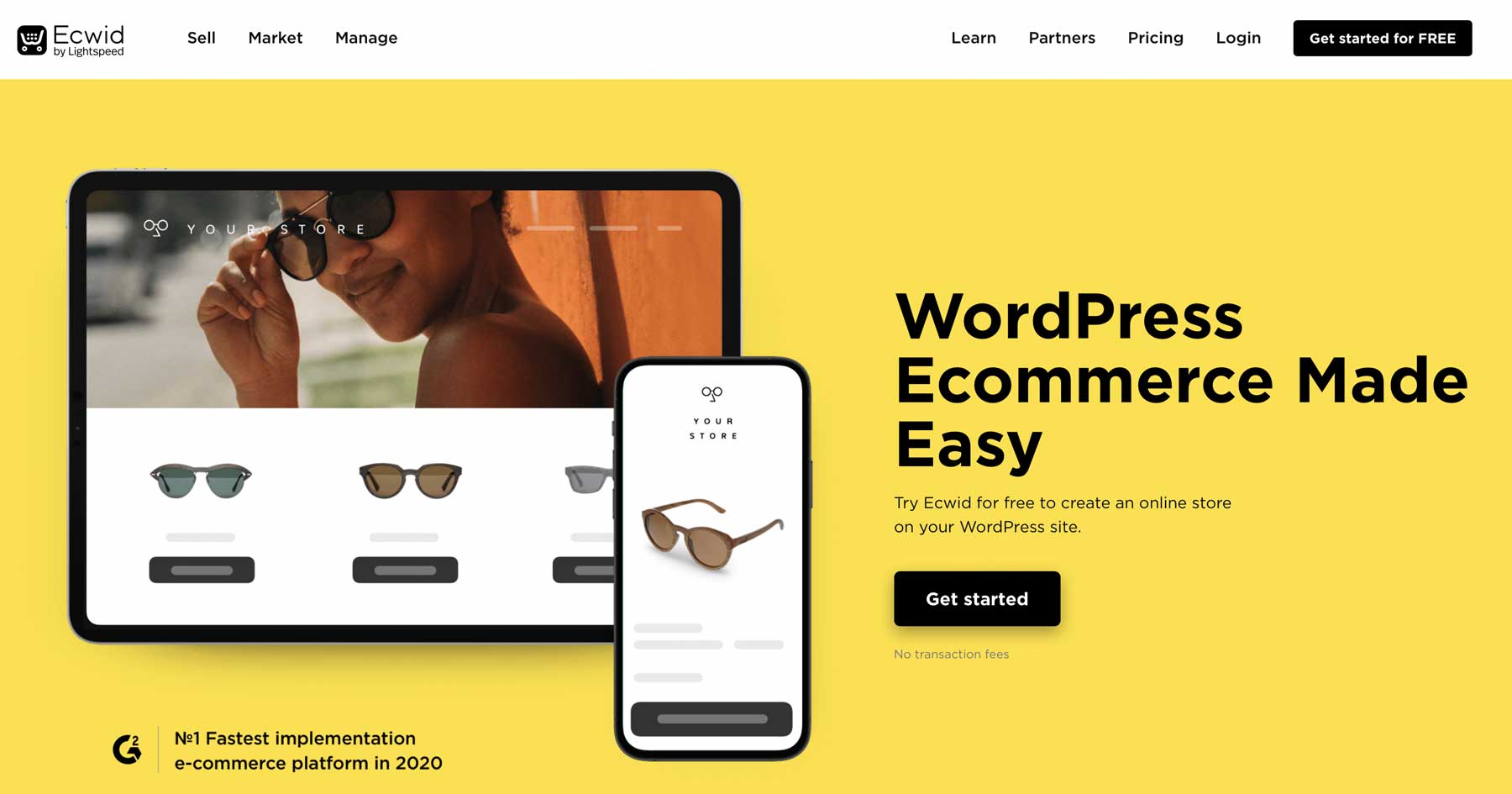 Ecwid is a cloud-based ecommerce platform that allows businesses to sell products on multiple platforms, integrating seamlessly with WordPress using the Ecwid Ecommerce Shopping Cart plugin. It offers over 40 payment options, social media selling, and comprehensive shipping and tax collection options for a reasonable monthly fee. While a free account allows up to 5 products, upgrading to a pro license is required for more. The prices for a pro license are lower than the costs of customizing a WooCommerce store.
Key Features for Ecwid for WordPress:
WooCommerce alternative
All-in-one ecommerce solution
Seamless WordPress integration
Sell products on social media
Ecwid offers nearly 100 storefront templates, providing ample design options for your online store. It is fully compatible with all WordPress themes, allowing you complete control over the look and feel of your website. However, the editing options for Ecwid storefront themes are limited, so you may need to adjust your WordPress styling to ensure a cohesive look and feel.
Best For:
Those looking for a cost-effective alternative to WooCommerce that doesn't require expensive plugins will find Ecwid an excellent choice. With its simple interface, setting up a full-featured ecommerce store is a breeze.
Pricing: Free, with monthly plans starting at $14.08.
5. MemberPress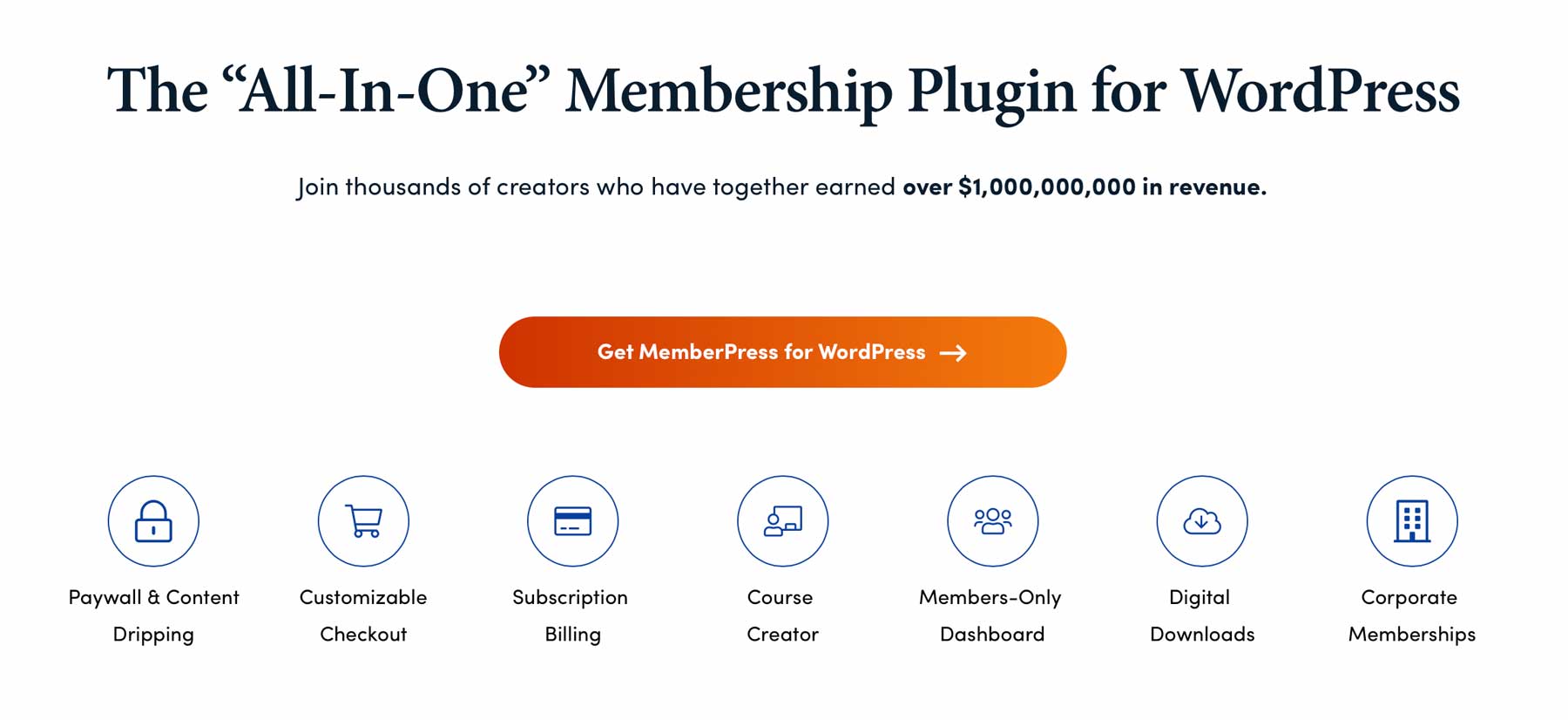 MemberPress is a top membership plugin for WordPress that offers a wide range of features, including multiple payment gateways, subscription management, digital downloads, discounts, and affiliate program integration. It seamlessly integrates with popular affiliate marketing plugins like Pretty Links and can be used alone or integrated with WooCommerce.
Key Features for MemberPress:
Multiple payment gateway support
Digital downloads
Subscription-based products
Integrates with top affiliate plugins
Integrates with WooCommerce, or is a standalone option for ecommerce
Ability to create trial memberships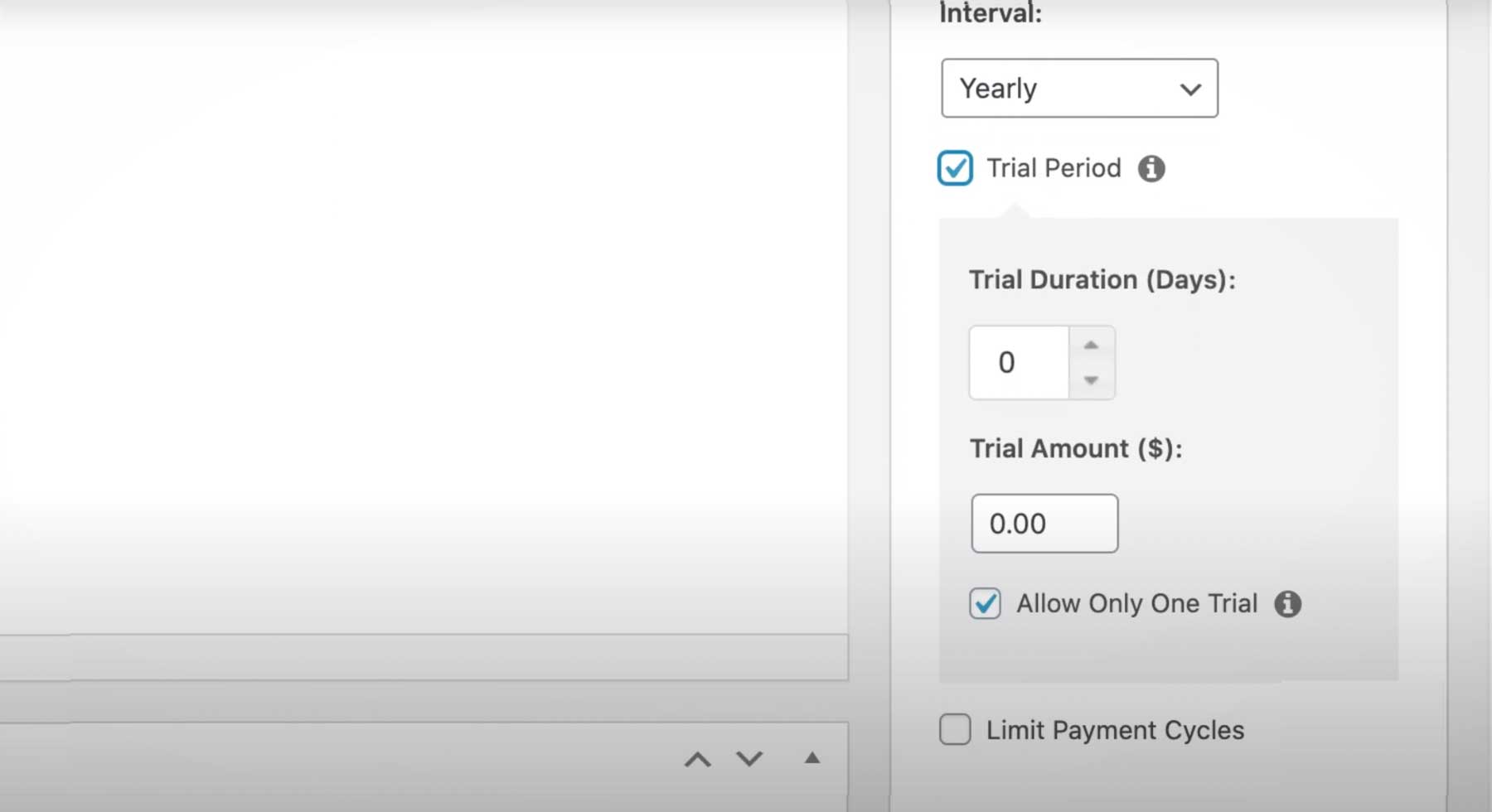 Another unique feature of MemberPress is the ability to offer trial memberships. By allowing potential members to test out your site, you will enable them to determine if it's right for them. This can help increase customer satisfaction and loyalty, resulting in higher retention rates.
Best For:
For membership-based ecommerce websites, choose MemberPress as the go-to solution. It offers numerous features and is easy to set up with a configuration wizard, getting your website ready in minutes. One downside is the lack of a free plugin or demo, but they offer a 14-day money-back guarantee. That should appease those who aren't 100% convinced that MemberPress is right for them.
Pricing: Starting at $179.50 per year.
6. SearchWP

WordPress users know that the built-in search function is inadequate. But there's a solution: SearchWP. This ecommerce plugin replaces it with a customizable, advanced search system that delivers more accurate and relevant results. Better search results can enhance the user experience, increasing satisfaction, loyalty, and product visibility.
SearchWP integrates with popular ecommerce plugins such as WooCommerce, Easy Digital Downloads, and Dokan Multivendor, delivering accurate search results for custom fields. It also integrates with WPML for multilingual ecommerce websites and searches form entries for WP Forms, enhancing its capabilities.
Key Features for SearchWP:
Customizable search system
Ability to search custom fields
Multilingual support
Integration with other popular ecommerce plugins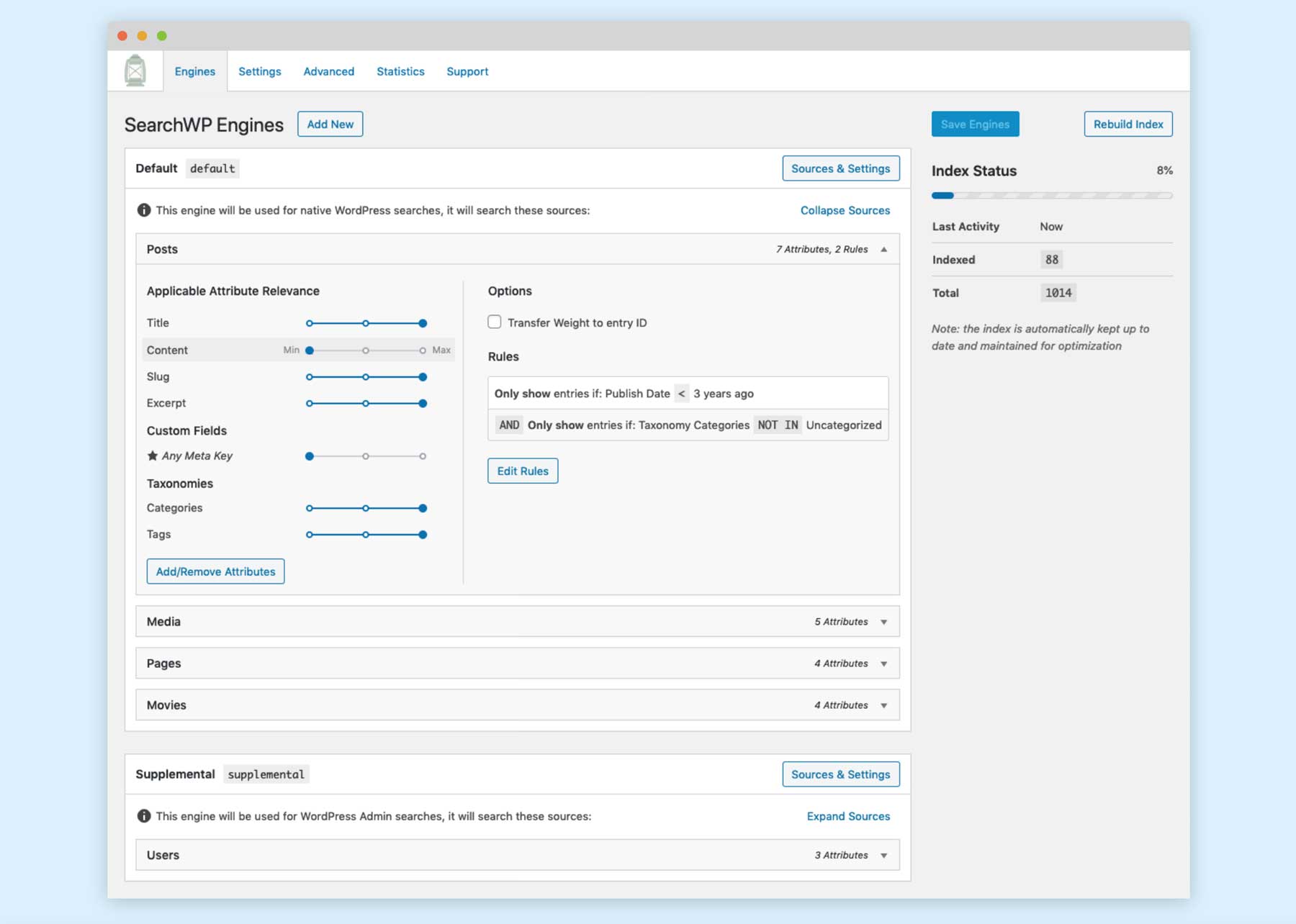 The free version of SearchWP only offers Ajax live search. For full functionality, you need to buy the premium version. It provides an extensive settings dashboard to configure search parameters for posts, pages, media, and custom fields.
Best For:
Those wanting to make their site's content searchable should consider SearchWP. With support for all post types, including custom fields, it is a useful ecommerce plugin for any website.
Pricing: Free, with premium plans starting at $99 annually.
7. WP Forms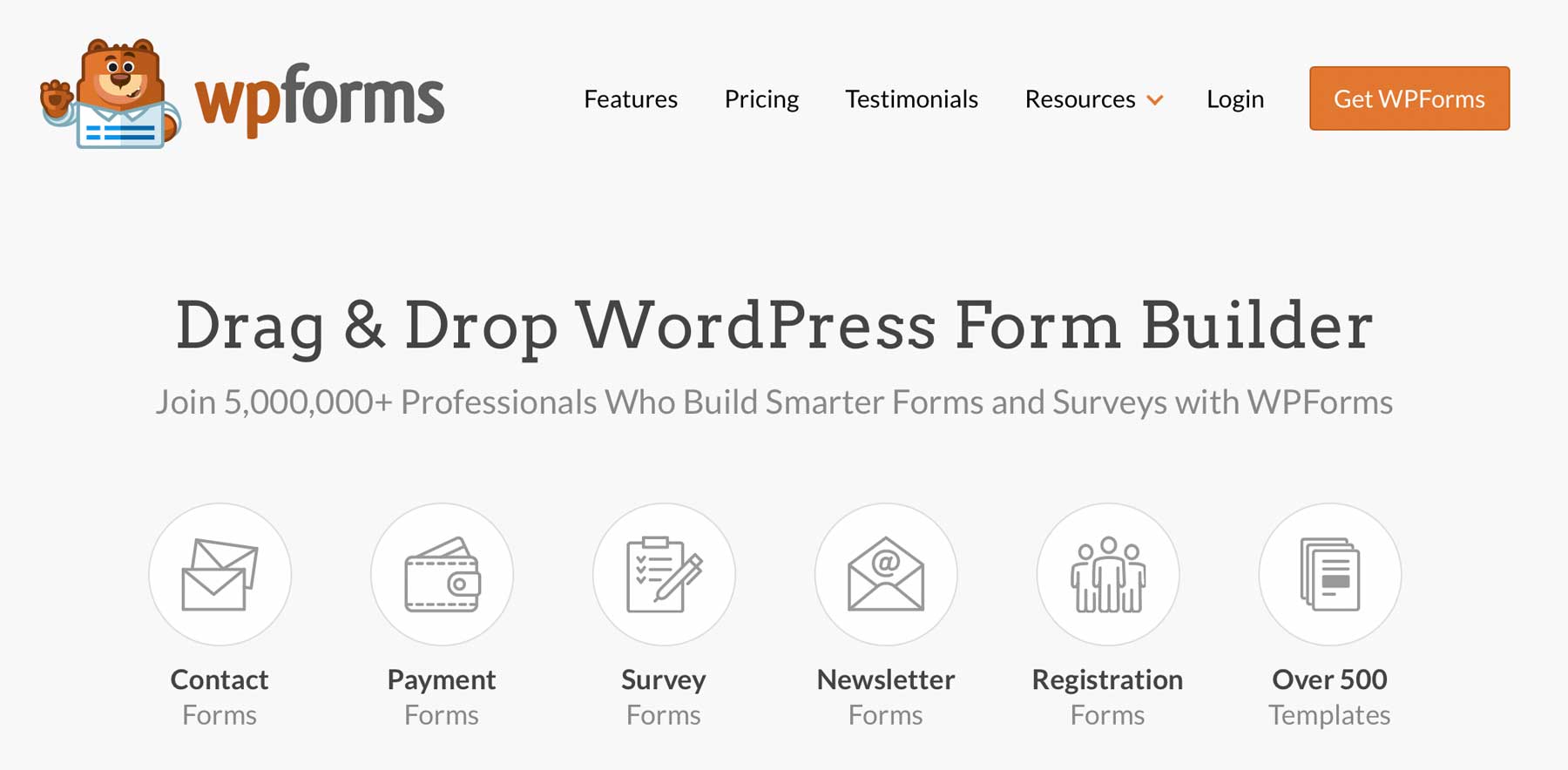 WP Forms is a top form building plugin that offers excellent features for ecommerce. It lets you create custom forms to collect customer information, process orders, and handle other ecommerce tasks. It integrates with popular payment gateways like PayPal, Stripe, and Square, enabling you to accept payments within forms.
Key Features for WP Forms:
Drag and drop form builder
Integration with payment gateways
Track form submissions
Customizable form templates
Integration with Divi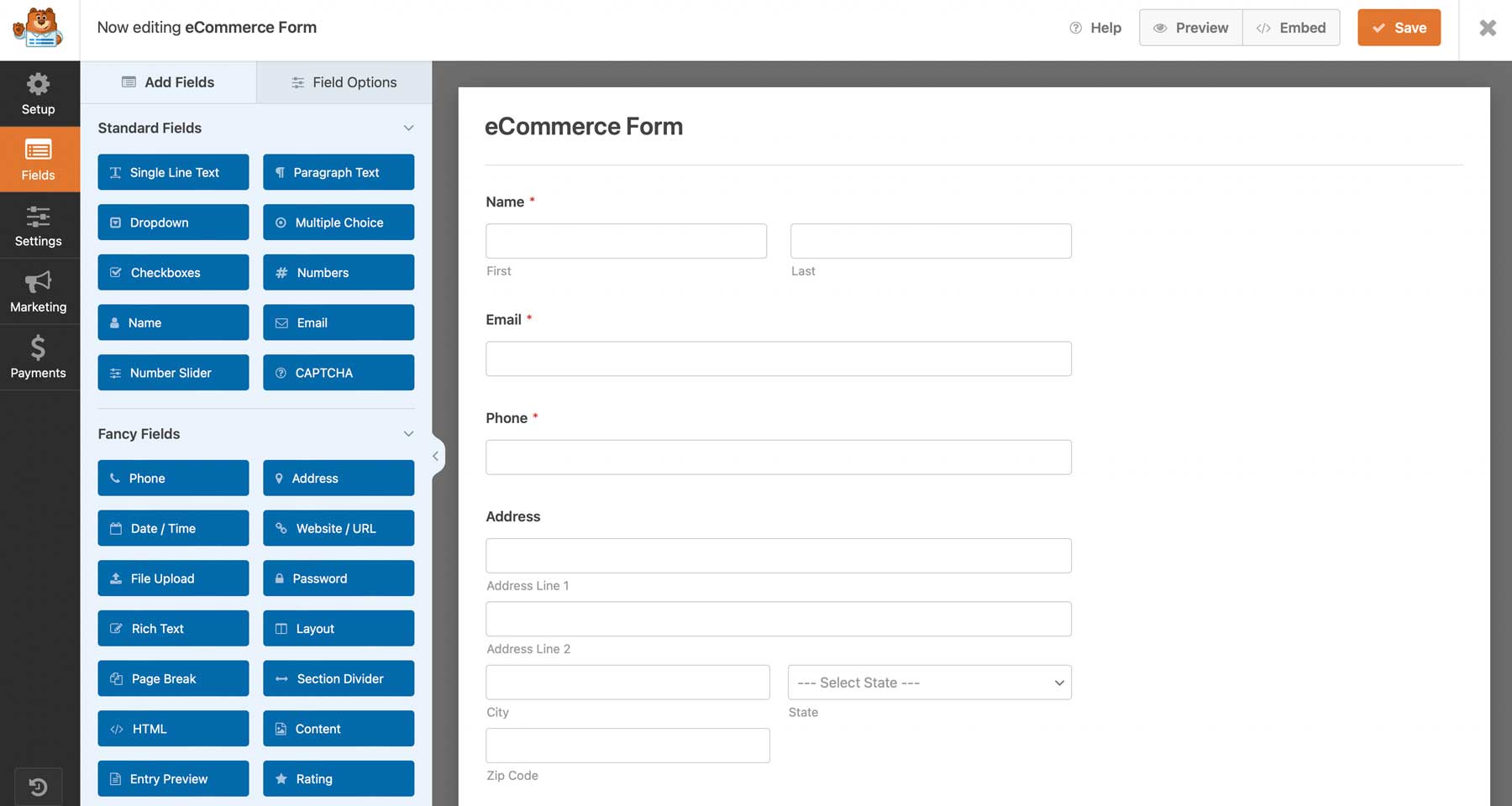 With WP Forms, there's no need for WooCommerce. The plugin lets you create customizable checkout forms that include customer-specific fields to personalize the process. Thanks to WP Forms ' integrated styling options, you can also match your site's branding seamlessly.
Best For:
If you plan to sell a few products and don't need all the extra hassle of installing and configuring WooCommerce, WP Forms is one of the best WordPress ecommerce plugins available.
Pricing: Free, with premium licenses starting at $49.50 per year.
8. Funnelkit

Funnelkit is one of the best marketing plugins for WordPress. It lets businesses create sales and lead generation pages for ecommerce sites with various page types, such as opt-in pages, sales pages, thank you pages, and webinar registration pages.
Key Features for Funnelkit:
A/B testing
Assortment of landing page types
Analytics dashboard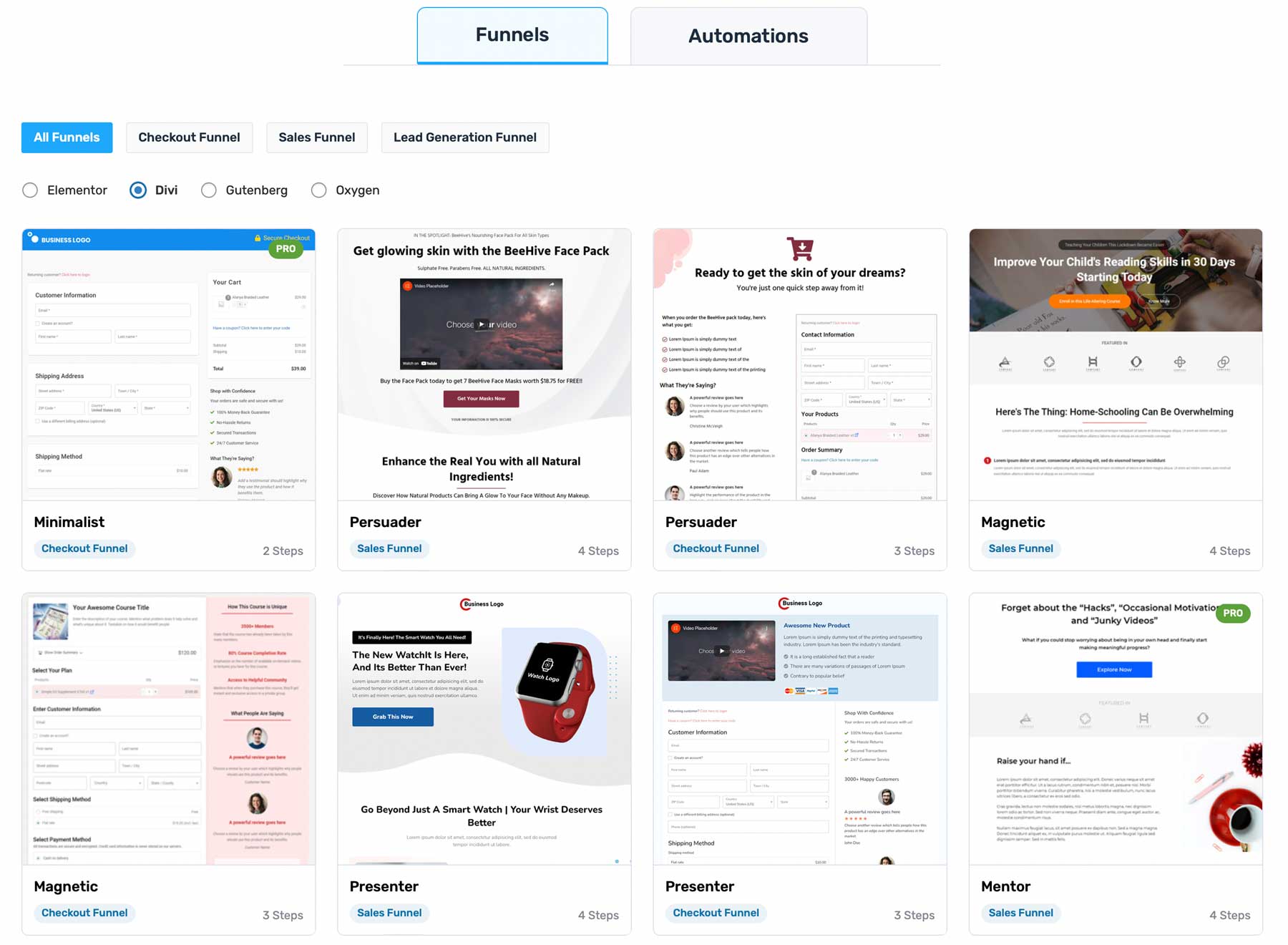 The plugin's drag-and-drop builder makes it easy to create pages using a wide selection of design elements. Additionally, Funnelkit includes A/B testing functionality, allowing users to compare different versions of their pages and optimize them for better performance.
Best For:
Funnelkit is the ideal tool for boosting eCommerce sales through landing pages. Its templates, compatible with popular WordPress themes such as Divi, Elementor, and Gutenberg, make creating landing pages easy.
Pricing: Free, with premium licenses starting at $99.50 per year.
9. SendPulse Web Push
Web Push by Sendpulse is a key component of a successful omnichannel marketing strategy. It lets businesses send notifications through major browsers and mobile devices to alert customers about upcoming sales, discounts, and other important information. Web and mobile notifications can increase engagement and drive sales by allowing customers to opt-in.
Key Features for SendPulse Web Push:
Web and mobile notification
Intuitive UI/UX
Pop-ups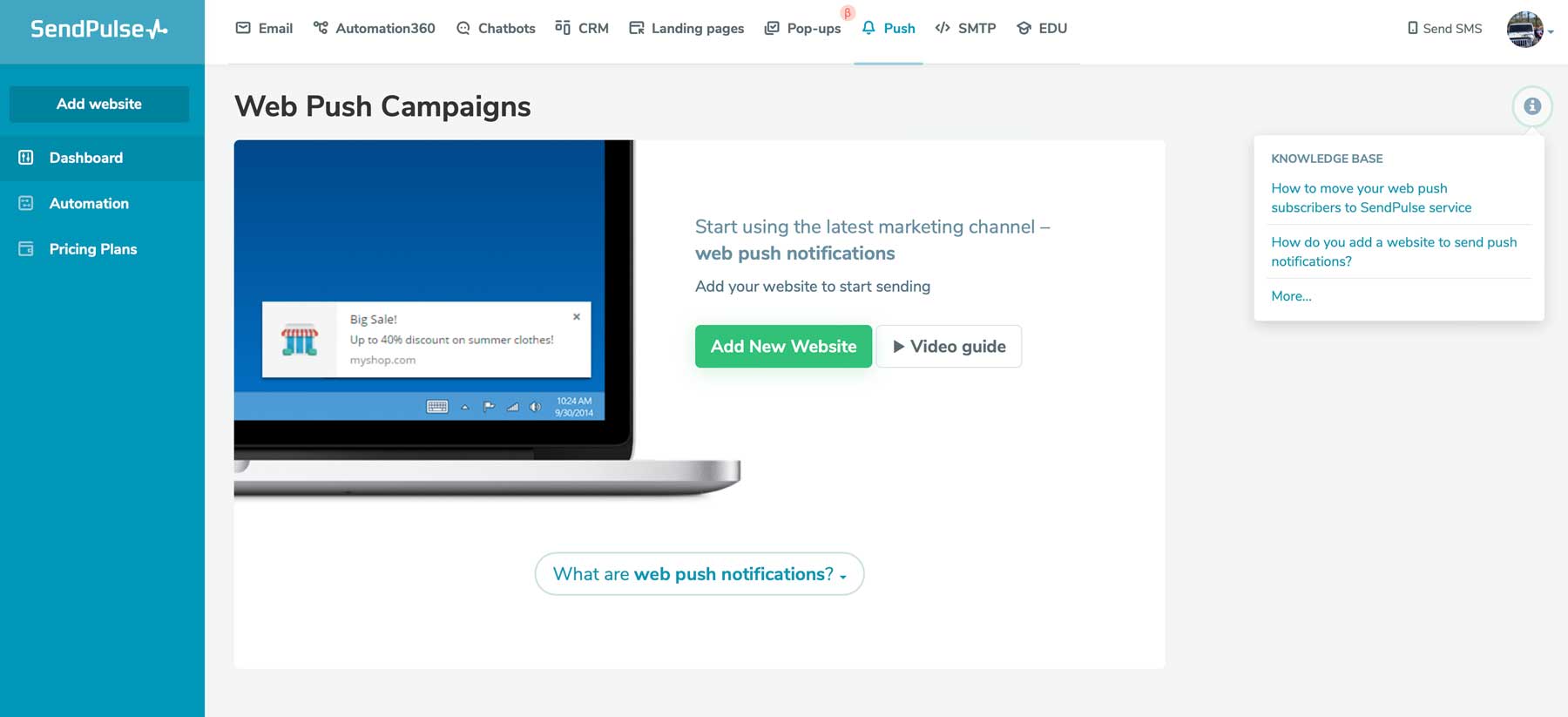 Web Push notifications are free, but for advanced notification features, SendPulse offers robust options. This includes SMS messages and chatbots through popular social media platforms like Instagram, Facebook, and WhatsApp. Moreover, SendPulse allows you to create landing pages, popups, and engaging email marketing campaigns.
Best For:
Those looking for unique ways to interact with their customers will find SendPulse Web Push a fantastic option. With additional communication methods available with pro plans, SendPulse can be your go-to marketing solution for your eCommerce website.
Pricing: Free, with monthly pro plans starting at $7.68.
10. ShopWP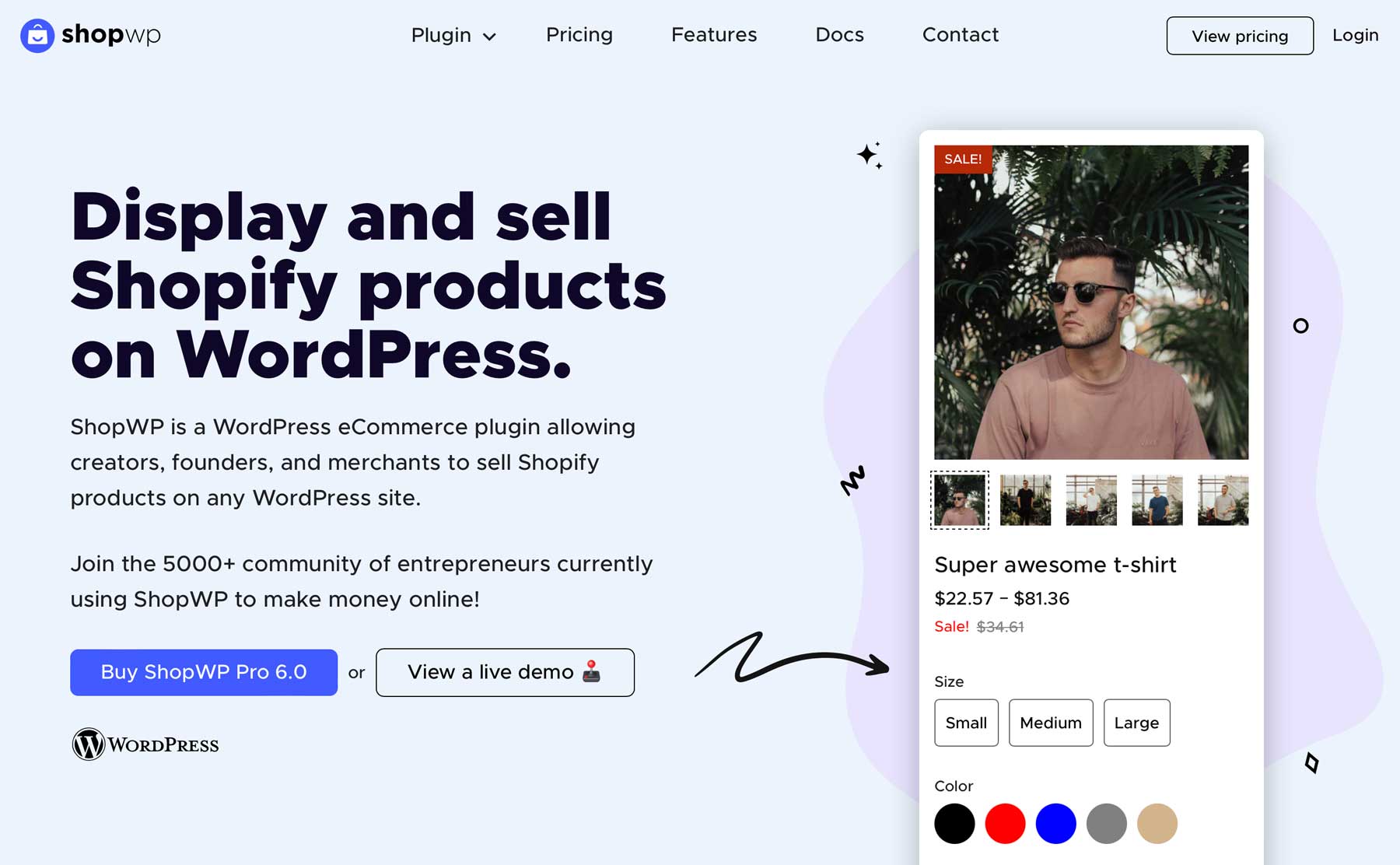 ShopWP is a full-featured ecommerce plugin that bridges the gap between Shopify and WordPress, allowing users to sell Shopify products on their WordPress site. It provides automatic product syncing, customized styling options, and a robust filtering system. The product embed interface allows for easy editing and publishing of Shopify products directly within the WordPress dashboard.
Key Features for ShopWP:
Integrate Shopify into WordPress
Automatic product syncing
Vast styling options
Advanced filtering options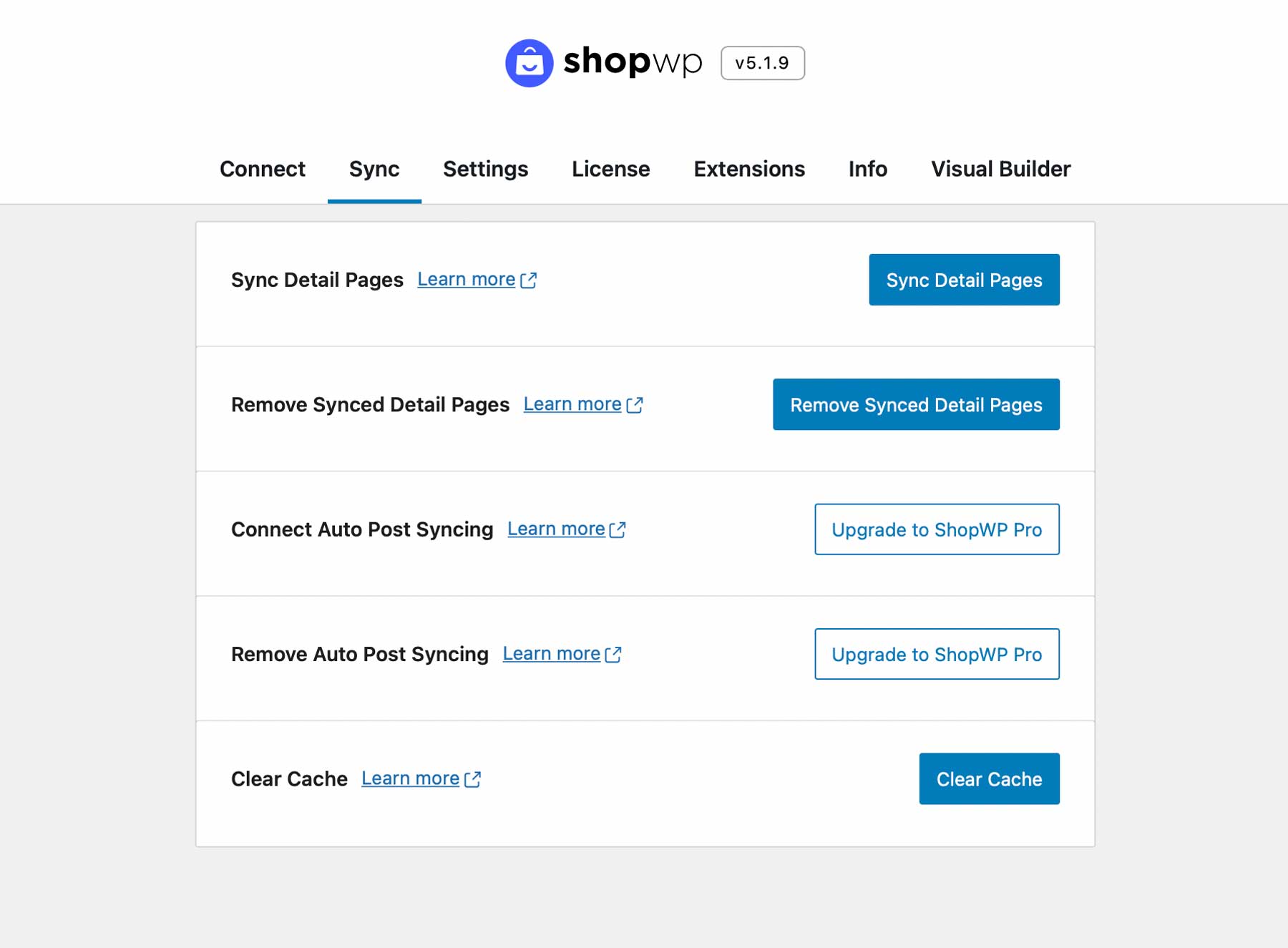 Setting up ShopWP is a breeze. If desired, connect your Shopify account, sync your products, and add extensions like Yotpo reviews or Recharge subscriptions. This is perfect for beginners and only takes a few minutes. The free version includes filtering, sorting, variants, Ajax pagination, and the Shopify cart experience, but the developer no longer supports it. Upgrade to the pro version for advanced features like image zoom and direct checkout. If you prefer Shopify to WooCommerce, this is worth it.
Best For:
ShopWP is an excellent solution for Shopify users who wish to take advantage of the extensive customization options available on WordPress.
Pricing: Free, with the pro version starting at $199 per year.
11. WP Gridbuilder

WP Grid Builder is a powerful eCommerce plugin that lets you create custom grid layouts for pages, posts, and products with a drag-and-drop interface. It comes loaded with designs that can be easily customized. Other features include lazy loading, Ajax pagination, WooCommerce integration, and tons of options for product filters.
Key Features for WP Gridbuilder:
Easy to customize
Variety of design templates
Lazy Loading, custom filter options
Works with WooCommerce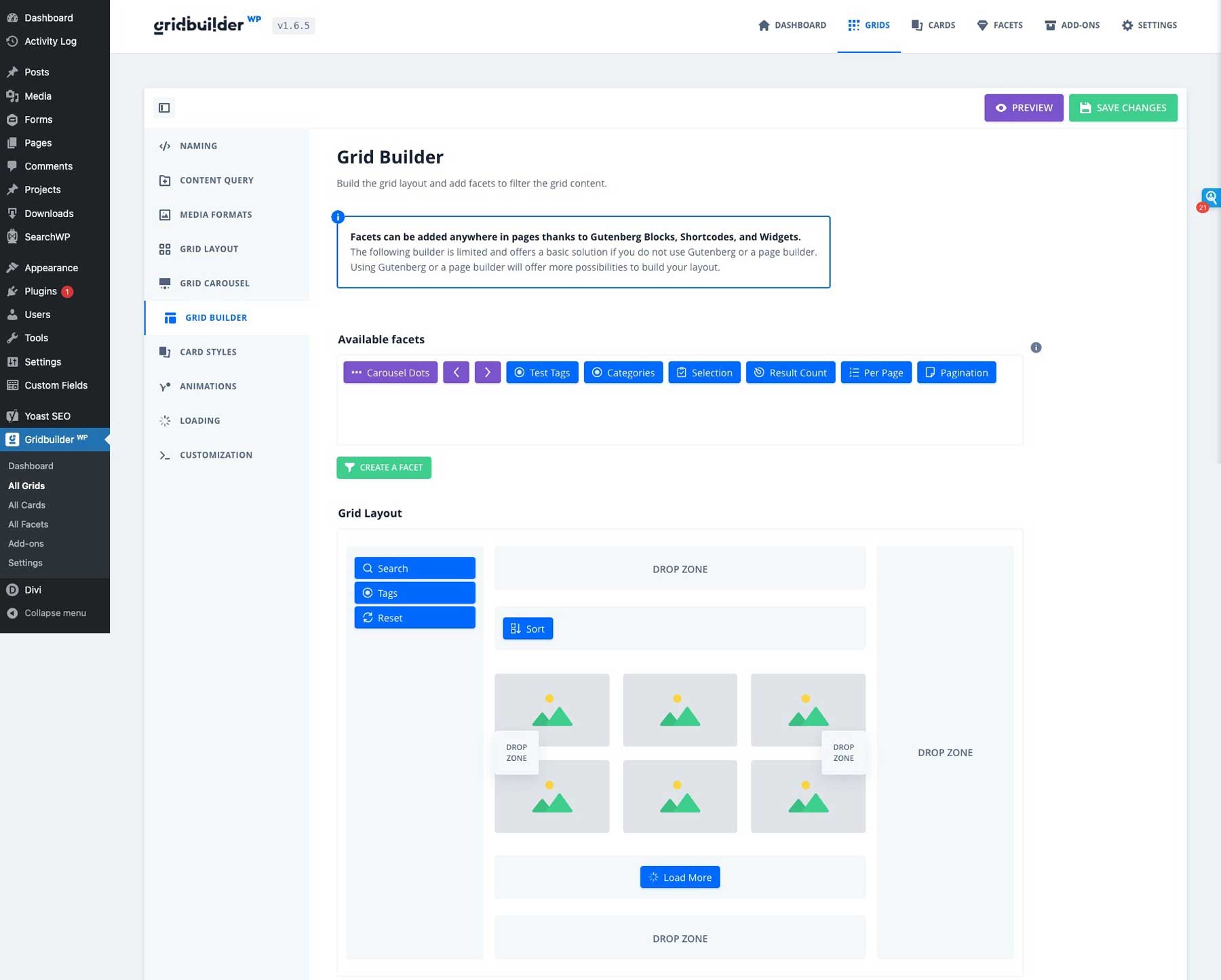 WP GridBuilder lets you fully customize the search options for your products. You can place them on your page's left, right, or top. You can also add color swatches to help people with vision problems search more easily.
Best For:
WP Grid Builder is a useful ecommerce plugin for those who want to create dynamic and beautiful product layouts without needing coding skills.
Pricing: $49 per year.
12. WP Simple Pay

WP Simple Pay is a popular ecommerce plugin for WordPress that accepts single and repeat payments, making it ideal for subscription-based products. Its custom checkout process works easily with WordPress sites and supports multiple currencies. This makes it a top choice for any business looking for a solid payment solution.
Key Features for WP Simple Pay:
Multiple payment options, including buy now, pay later
Subscription-based product support
Multiple currency support
Custom payment forms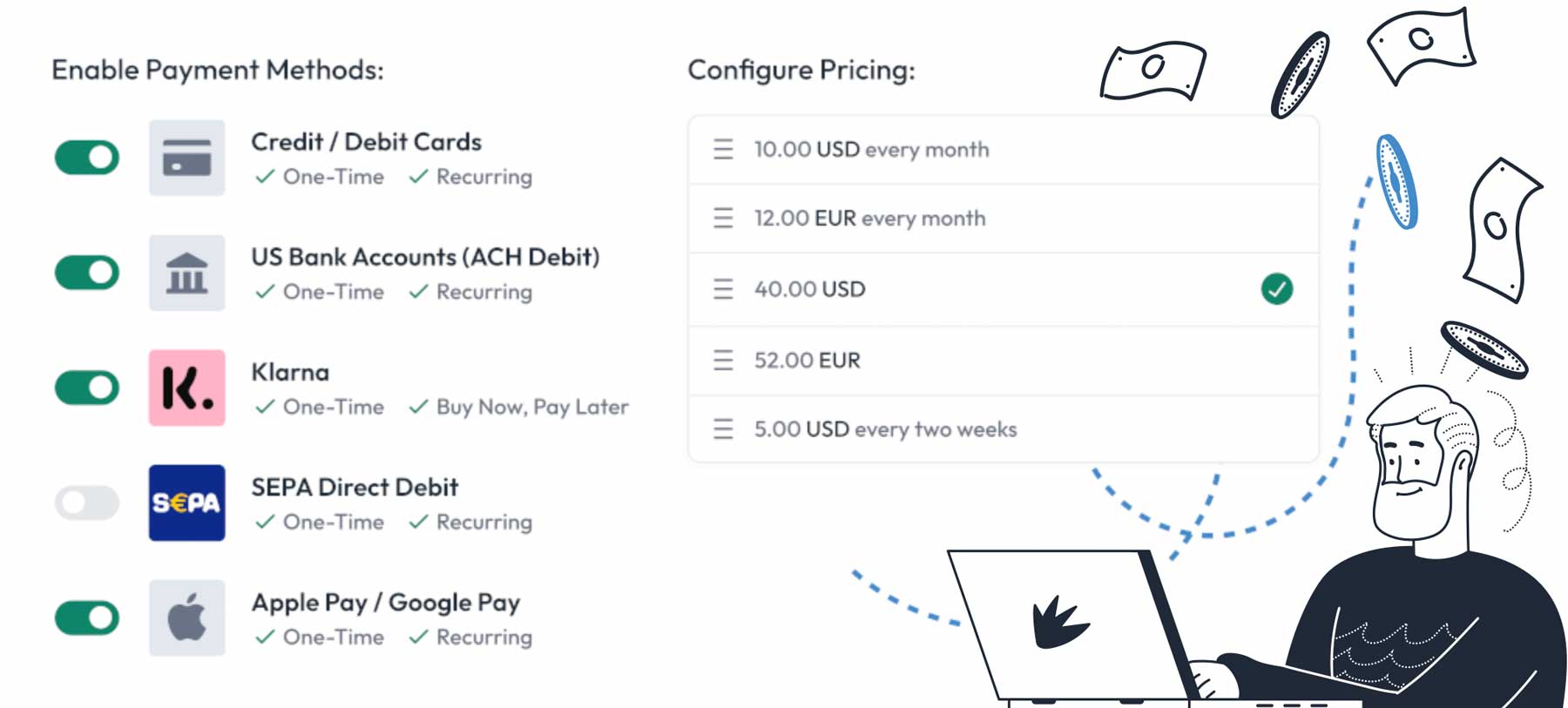 WP Simple Pay offers various payment options with both versions of the plugin. The free version enables payments via Stripe, while the pro version provides more options, such as Apple Pay, Google Pay, and buy now, pay later options through AfterPay, Klarna, and ACH Direct Debit. The pro version also allows custom payment forms, while the free version only permits custom payment buttons.
Best For:
WP Simple Pay is a great complete solution for those looking to collect payments without needing a complicated plugin like WooCommerce.
Pricing: Free, with premium plans starting at $49.50 per year.
13. Ecommerce Product Catalog for WordPress

Ecommerce Product Catalog for WordPress allows you to create a product catalog or online store without the need for WooCommerce. It offers easy setup, product management, customizable layouts, several payment options, and advanced product sorting filters.
Key Features for Ecommerce Product Catalog for WordPress:
4 product catalog setup choices
Advanced sorting and product filter options
Custom field support
Multiple payment options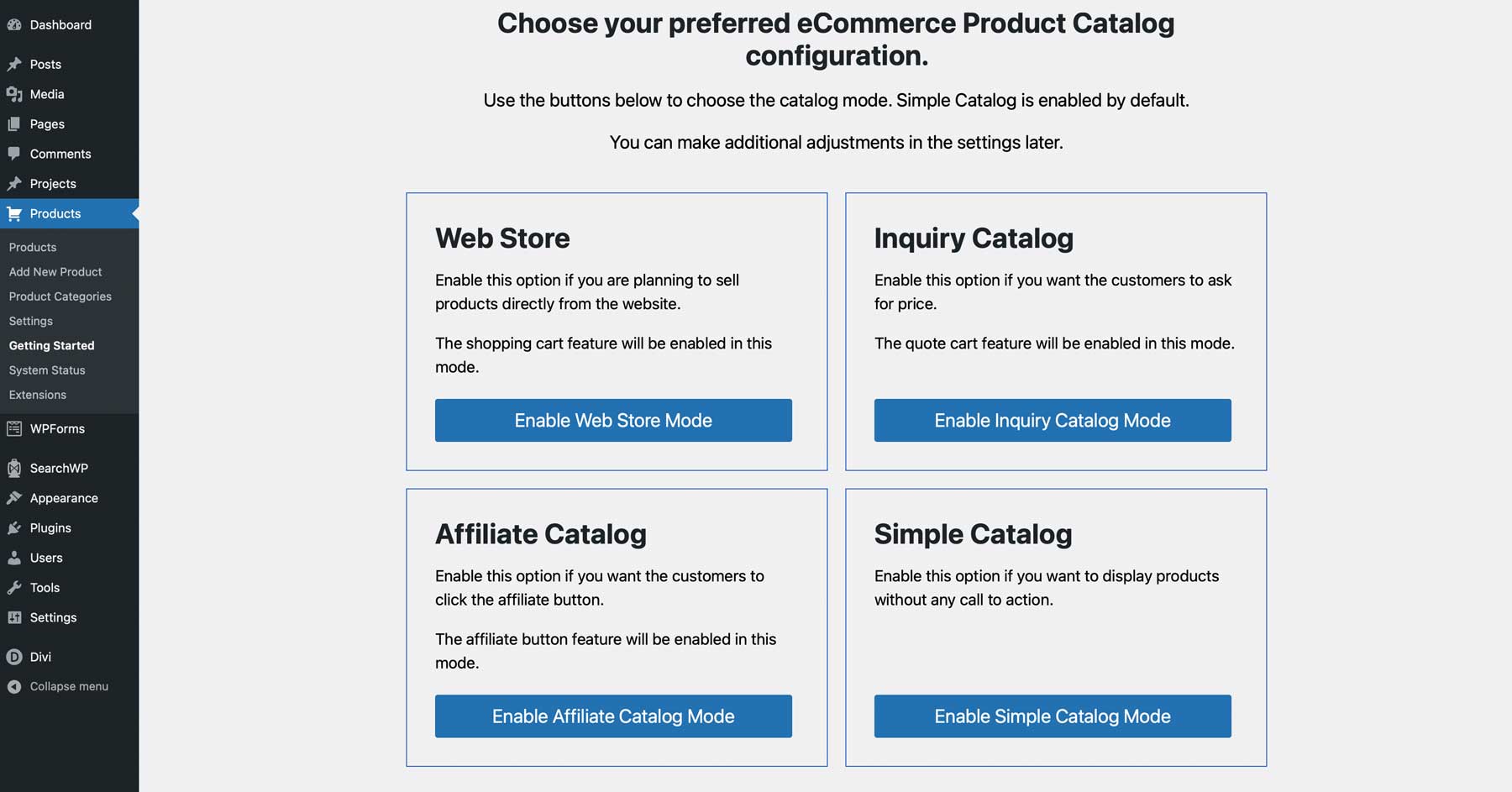 The plugin offers different options for ecommerce situations, such as a web store, inquiry, affiliate, or simple catalog, with each option installing the necessary parts. However, display options are limited and require CSS or custom field creation knowledge to customize products. Nonetheless, custom fields can be used to create dynamic product templates for viewing products in themes that support full site editing.
Best For:
If you are looking for a simple ecommerce solution and have experience with CSS or creating templates with premium themes, then Ecommerce Product Catalog for WordPress could be a good option.
Pricing: Free, with addon bundles starting at $49 per year.
Get Ecommerce Product Catalog for WordPress
14. WP Easy Cart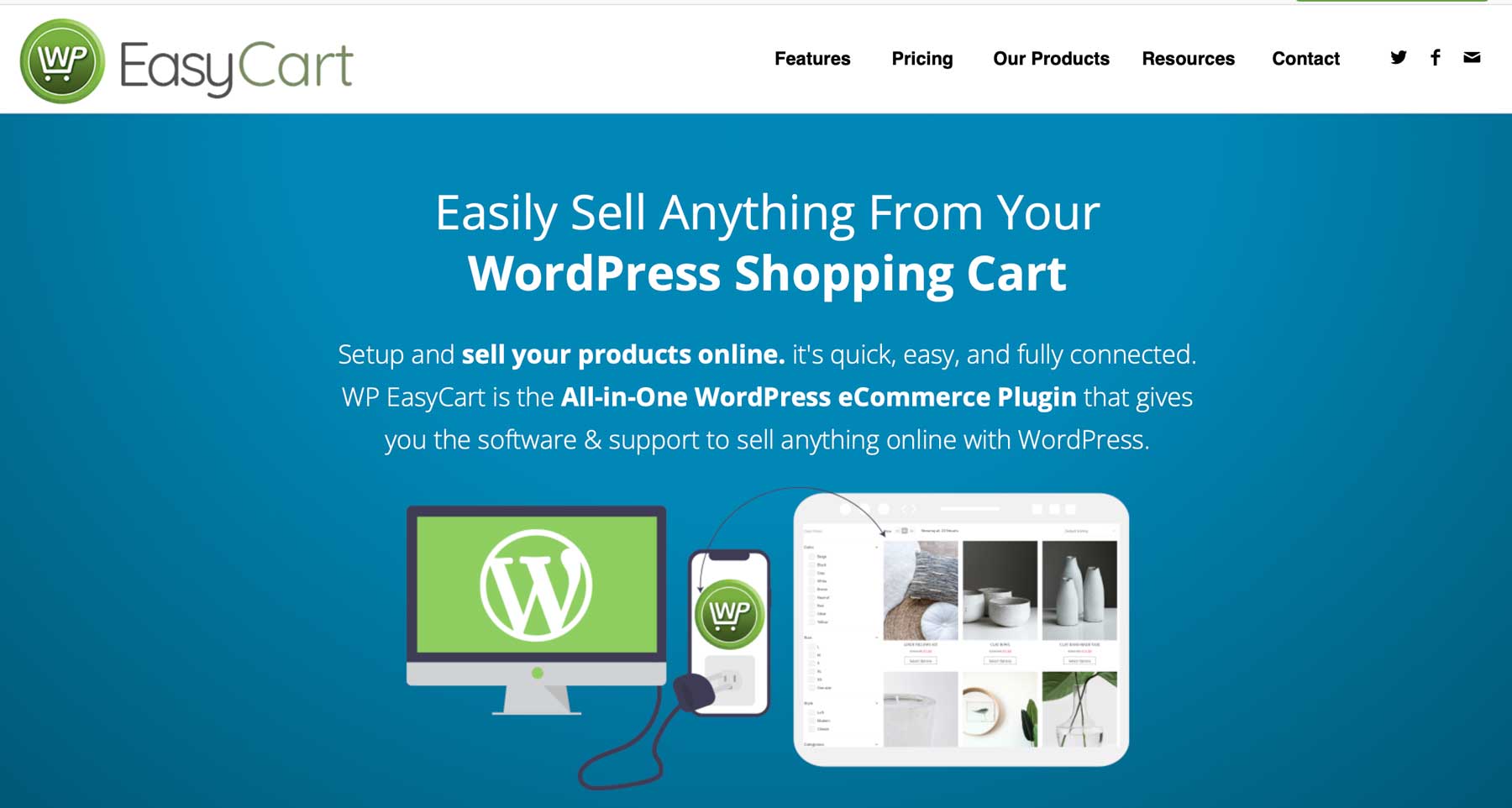 Up next is another WooCommerce alternative, WP Easy Cart. Like other plugins on our list, it offers an easy setup wizard to help you build your online store. That being said, the interface isn't as simple as other options. It has a messy appearance that may be a bit frustrating at first.
Key Features for WP Easy Cart:
Easy setup
Social media sharing options
Product variations
Sale pricing
Inventory management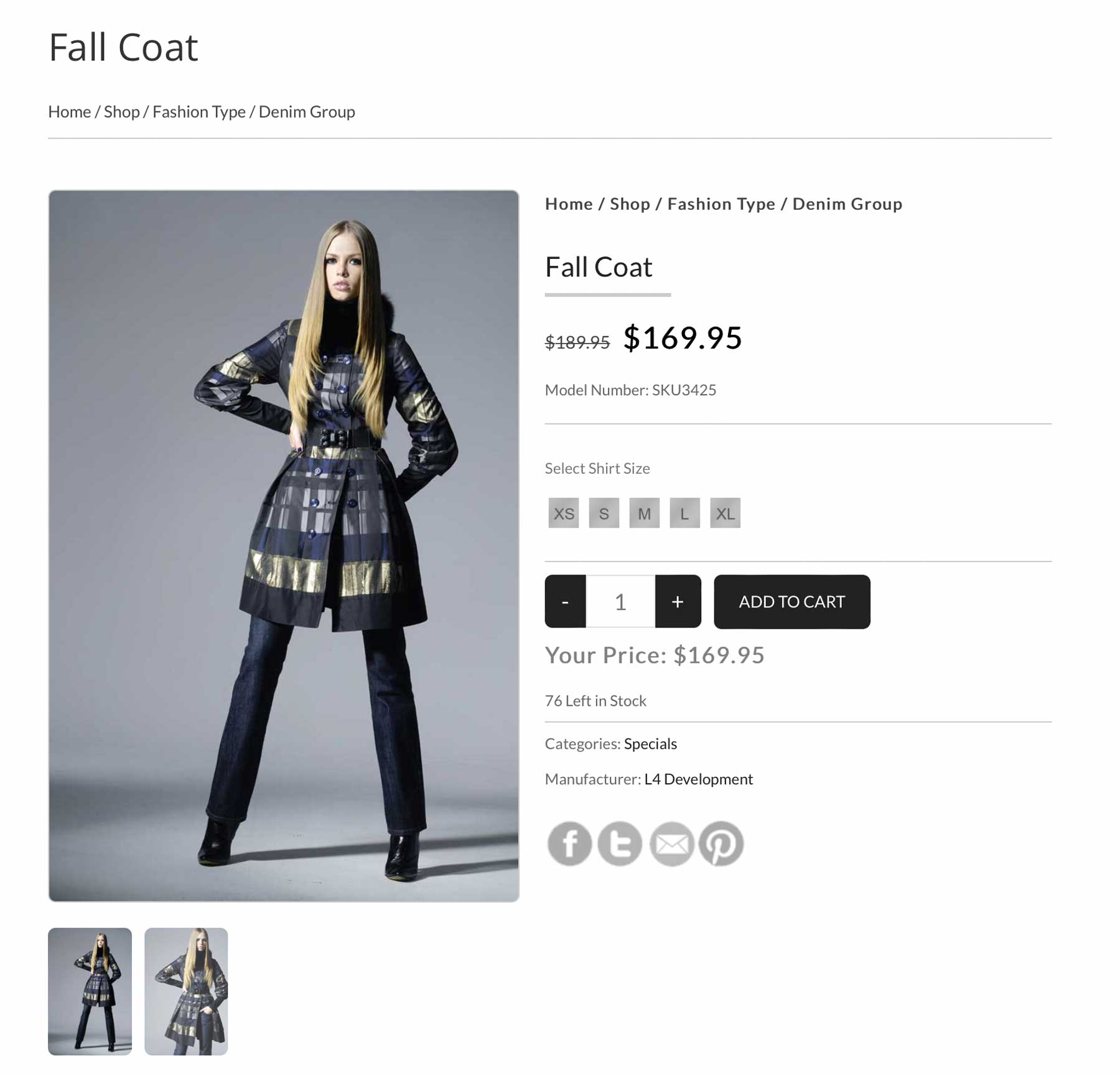 Once you get over the dashboard hump, you'll find WP Easy Cart easy to understand. To help you along, you can install demo content to get a feel for how the plugin works. The product page is impressive, with social media sharing icons, product variations, sale pricing, and inventory management. The paid version adds a few more features, including abandoned cart emails, coupons, promotions, and the ability to cross-sell products.
Best For:
Those looking for a simple ecommerce plugin that doesn't require WooCommerce should check out WP Easy Cart. There are ample options to make your online store look nice, opportunities to share products on social media, and great inventory management – all free.
Pricing: Free, with premium licenses starting at $69 per year.
15. OptinMonster

OptinMonster is a powerful lead-generation tool that can improve ecommerce websites with features such as exit-intent technology, reducing cart abandonment, and growing email lists. Although setup can be tedious and requires a credit card, OptinMonster's simple dashboard makes it one of the best WordPress ecommerce plugins.
The plugin dashboard is simple and easy to follow. You're met with the ability to create different kinds of calls to action: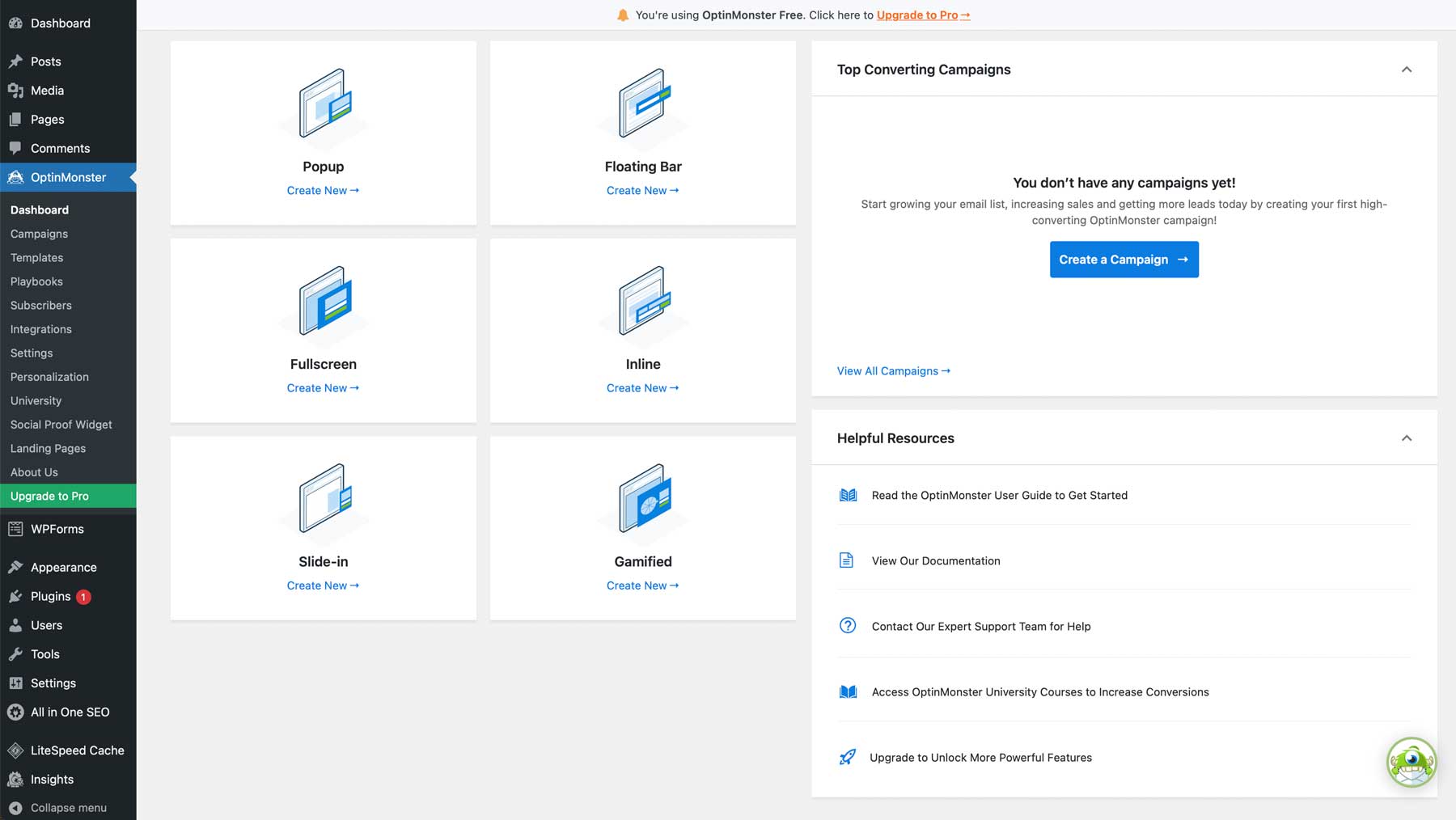 OptinMonster offers customizable templates such as exit intent popups, floating bars, slide-ins, and more for businesses to create campaigns using a simple drag-and-drop builder easily.
Key Features for OptinMonster:
Generous amount of templates
Comprehensive dashboard
Track campaign performance with advanced analytics tools
Helpful documentation (pro users only)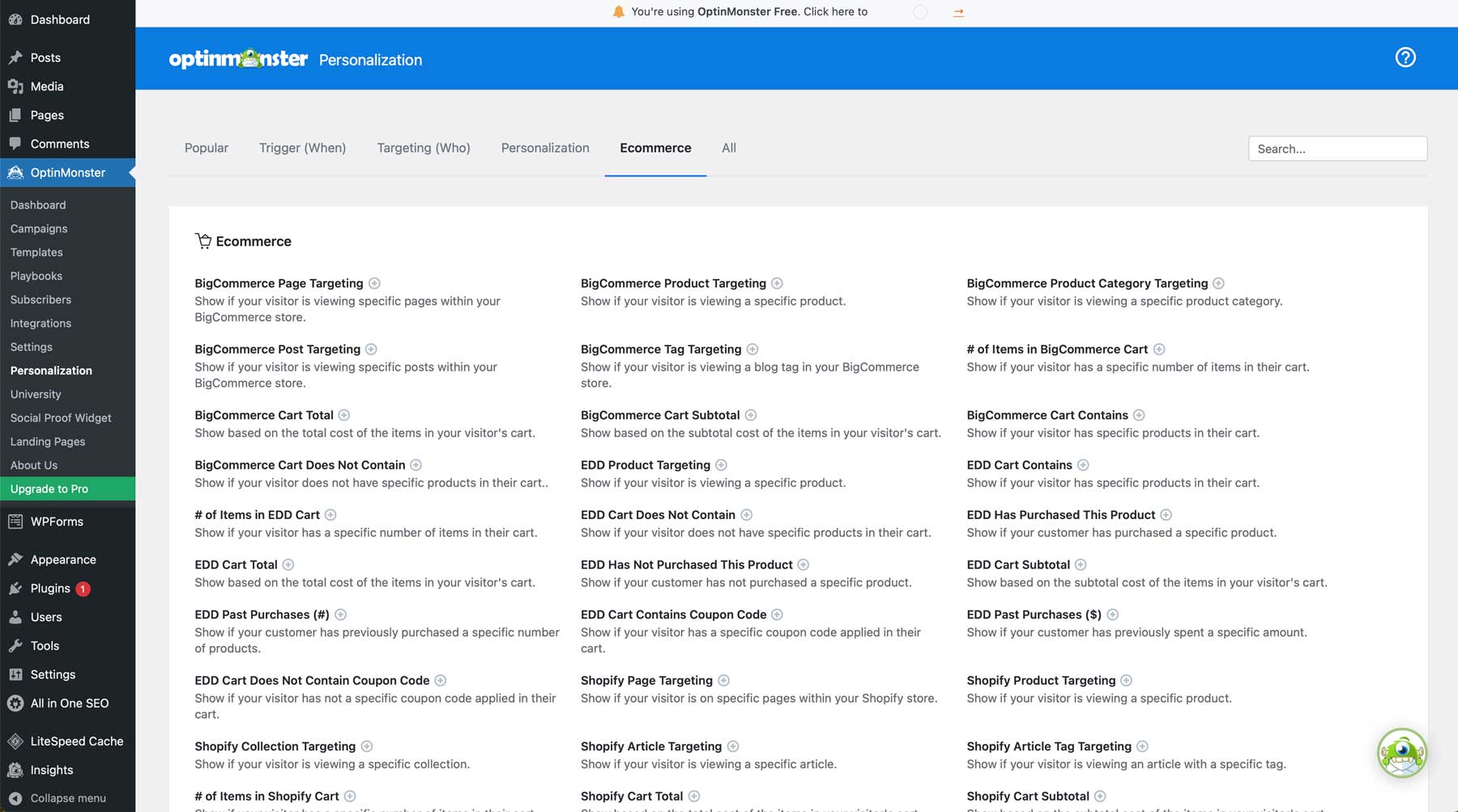 Additionally, OptinMonster provides businesses with effective popups, an intuitive dashboard, and a suite of analytics tools to track campaign performance and make data-driven decisions to improve conversion rates and revenue. Personalization tools allow businesses to set up monitoring for ecommerce-specific plugins, tailor reporting to their needs, and gain valuable insights into their customers' behavior and preferences. However, you'll need to become a pro member to access personalization features, with plans starting at $9 per month.
Best For:
OptinMonster offers essential tools for ecommerce websites that can help increase engagement and create impressive call-to-actions, along with providing robust reporting tools. In addition, if you are a Shopify or WooCommerce user, OptinMonster is the best ecommerce plugin for taking your website's performance to the next level.
Pricing: Free, with pro licenses starting at $9 per month (billed annually).
16. Divi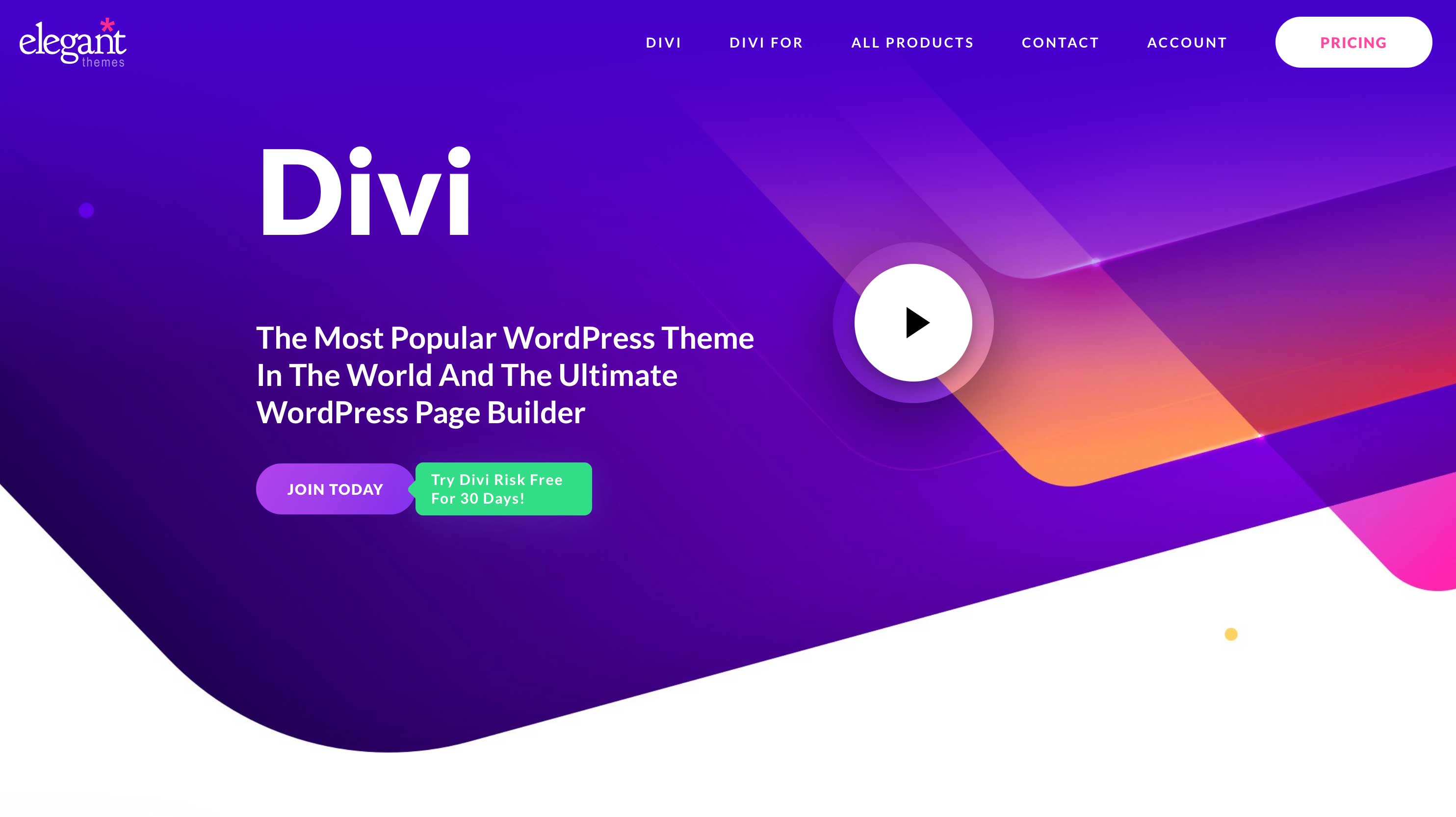 Lastly, we have Divi – one of the most amazing premium themes that natively supports WooCommerce. Divi comes packed with over 20 WooCommerce modules that allow you to design every aspect of your site using the powerful front-end Visual Builder. As mentioned, Divi also offers its Theme Builder, which allows you to create gorgeous templates to house your products, categories, and shop pages.
Key Features for Divi:
Native WooCommerce support
No-code Visual Builder
Create product, shop, and category pages with Theme Builder
Over 2000 free layouts
Over 200 design elements
Integration with popular plugins
Divi has a few other stellar features, such as its global color management system that enables you to set default colors for your entire site to provide design consistency across all pages. Divi also includes an A/B testing tool, mobile editing tools, and over 2000 design layouts for free use within the theme.
Best For:
Divi is an amazing theme for new WordPress users and professional designers. It offers many design layouts, native WooCommerce support, and robust design options, making it an excellent choice for creating a unique and powerful ecommerce website.
Pricing: Premium licenses start at $89 annually.
Comparing All Ecommerce Plugins
Building an ecommerce platform doesn't have to be complicated. Any of the plugins on our list can help you create the online store of your dreams. Whether you need a simple ecommerce solution or a more robust multivendor platform, an ecommerce plugin can provide the functionality you seek.
Ecommerce Pricing Comparison
We've covered quite a few plugins in this post. If you're still unsure about which one to choose, look at our handy comparison table, which denotes which plugin offers a free version and pricing for each. With so many choices, you should be able to find one that meets your needs.
The Top 3 Ecommerce Plugins Features
WooCommerce is the most popular ecommerce plugin in the world. Although free, if you want to sell subscriptions, need extra help setting up taxes, or want to allow front-end product submissions, you'll need an addon. However, if you want a simple store with a few products, there's no better option than WooCommerce. Alternatively, if you are selling digital goods and want an easy all-in-one solution, you should consider Easy Digital Downloads. To round out the top three, we have Dokan Multivendor. It's an excellent solution if you aspire to create the next eBay or Amazon marketplace. No matter your needs, any of these three plugins can help.
What is the Best WordPress Ecommerce Plugin?
WooCommerce is by far the most popular WordPress ecommerce plugin, and it's a great way to get your store up and running. It's free, but most stores will need to purchase quite a few paid add-ons that can add up.
Of course, creating your store is only the first step! You'll also need to promote it. OptinMonster is a great way to generate leads and build your mailing list, and Funnelkit is a great way to improve conversions. And, of course, if you are looking for a great theme or page builder that works well with all of these plugins, look no further than our very own Divi!
Are you looking for more ecommerce plugin options? Check out our posts for the best WooCommerce image zoom plugins, as well as excellent WooCommerce social media plugin options. Make sure to check out our post on the best WordPress plugins as well, we provide a top recommendation for each type!
Frequently Asked Questions (FAQs)
Before we wrap up, let's answer some of your most common questions regarding the best WordPress ecommerce plugins. Did we miss one? Leave a question below and we will respond!