Affiliate marketing is one of the best ways to make money on your WordPress website. You can join companies' affiliate programs and share links on your website or create your own affiliate program. Many WordPress plugins can help with affiliate marketing.
Are you looking for ways to increase your income through affiliate marketing on your WordPress website? Look no further! In this post, we have rounded up the top 2023 WordPress plugins for affiliate marketing.
What is Affiliate Marketing?
Affiliate marketing is a mutually beneficial partnership between companies and affiliates. Companies offer affiliate programs that allow individuals to promote their products and earn commission on sales made through their unique links. This way, companies can expand their marketing efforts without increasing their own team.
The Best WordPress Affiliate Marketing Plugins
The Best WordPress Affiliate Marketing Plugins Listed In Order
Expand List
There are numerous WordPress plugins available to support both affiliate vendors and marketers. However, they differ in the features they offer. To make your choice easier, we've chosen the top plugins specifically designed for affiliate marketers. These plugins will provide you with the tools you need to effectively promote products and boost your income.
1. Pretty Links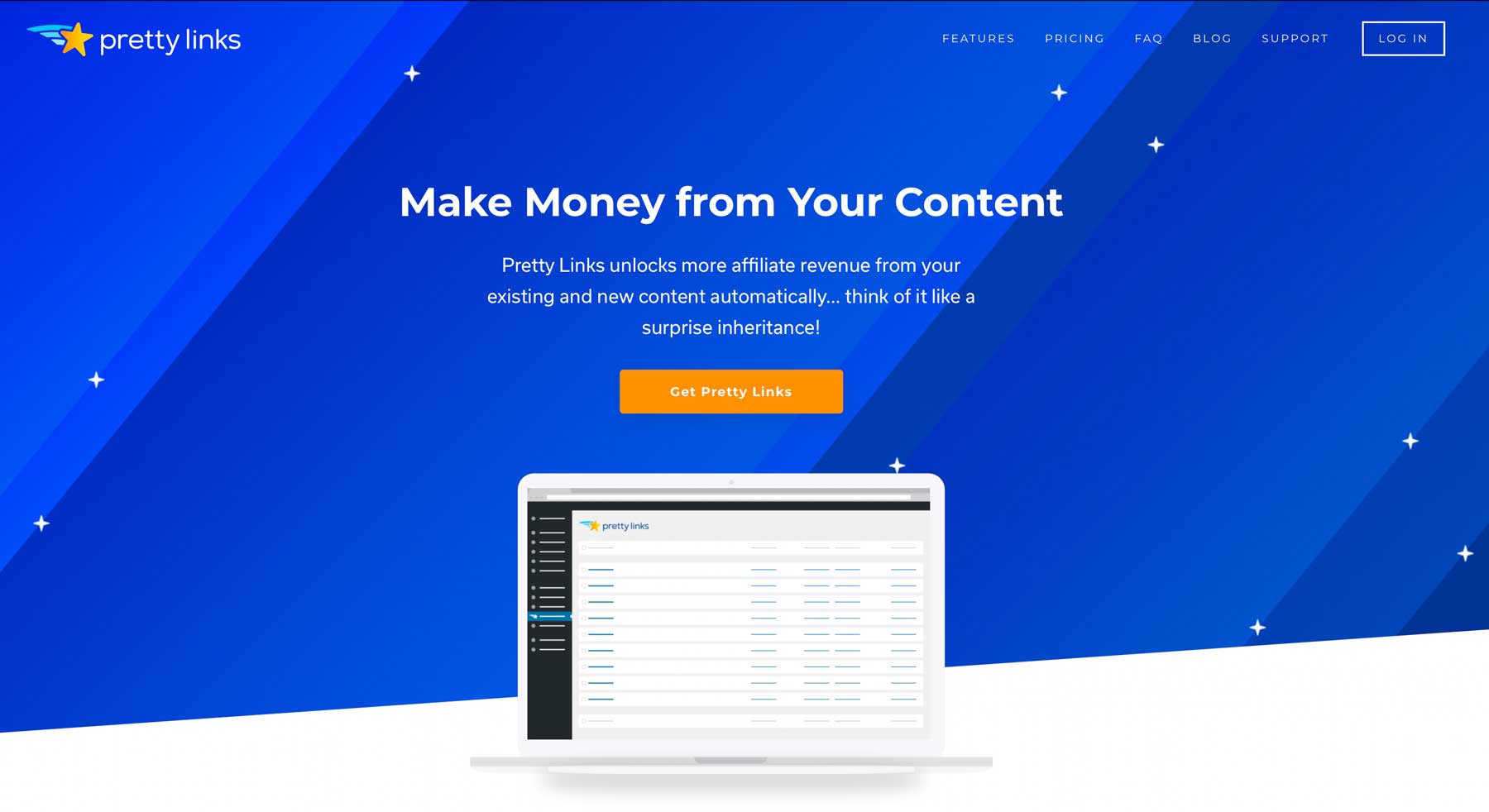 Do you struggle with overly long and complicated affiliate links? Not anymore! Pretty Links provides an easy solution to this problem and takes it a step further by helping you manage all your affiliate links. Say goodbye to those ugly and difficult links and say hello to a sleek and organized affiliate marketing strategy with Pretty Links.
Key Features for Pretty Links:
Easy to use, even for beginners.
Integrates with Google Analytics and includes a dashboard for tracking.
Automatically links certain keywords.
Tests different links to see which performs better on the same website.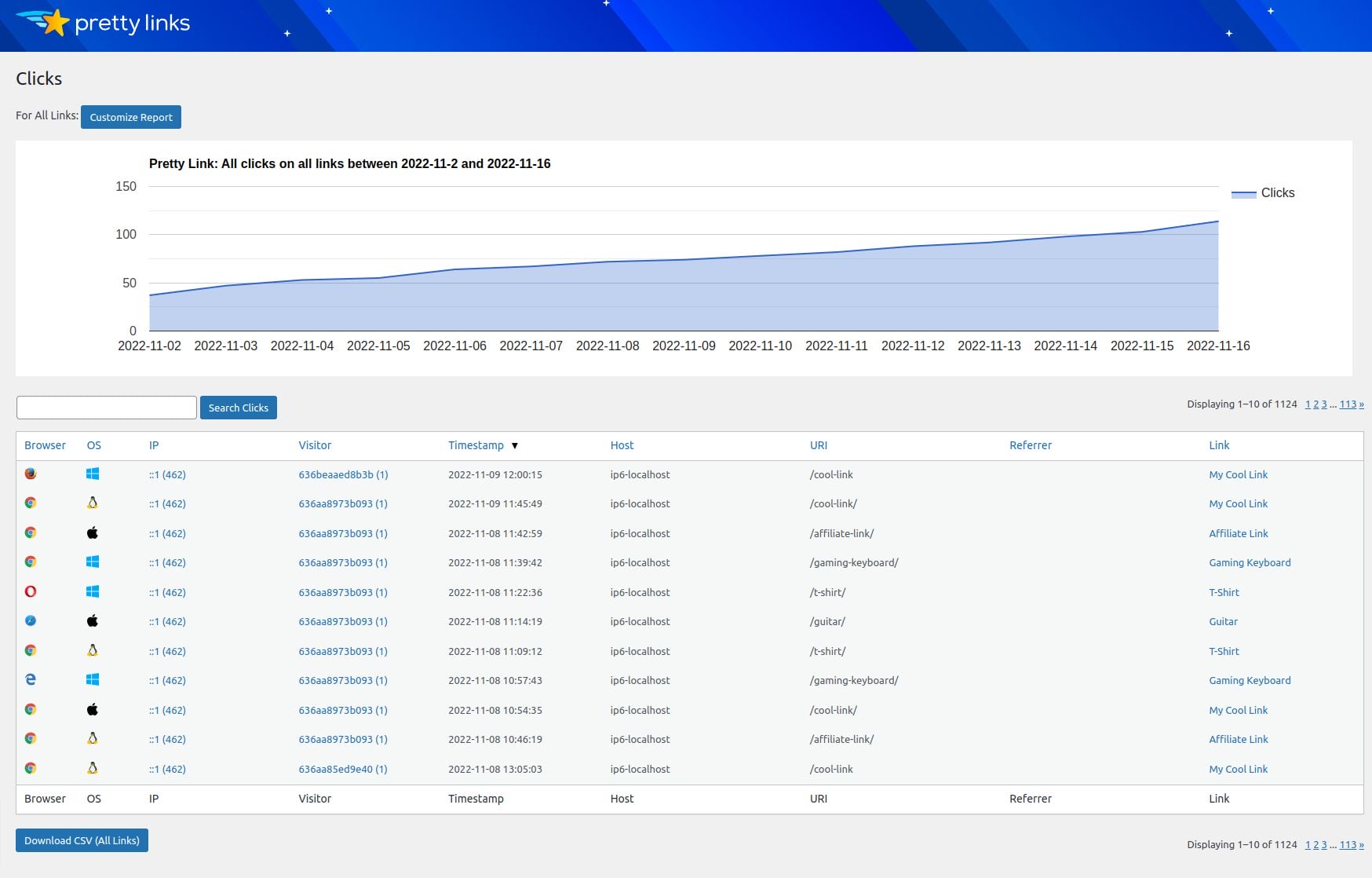 As an added bonus, Pretty Links can turn your ugliest URLs into beautiful and trackable links.
Pretty Links is for you if you…
Have a lot of affiliate links to manage
Want an easy way to update your website content with new or updated links
Need a way to track link clicks in your content with minimal setup
Pretty Links Pricing: Free Lite version or $99.50/year for Beginner Pro.
2. Thirsty Affiliates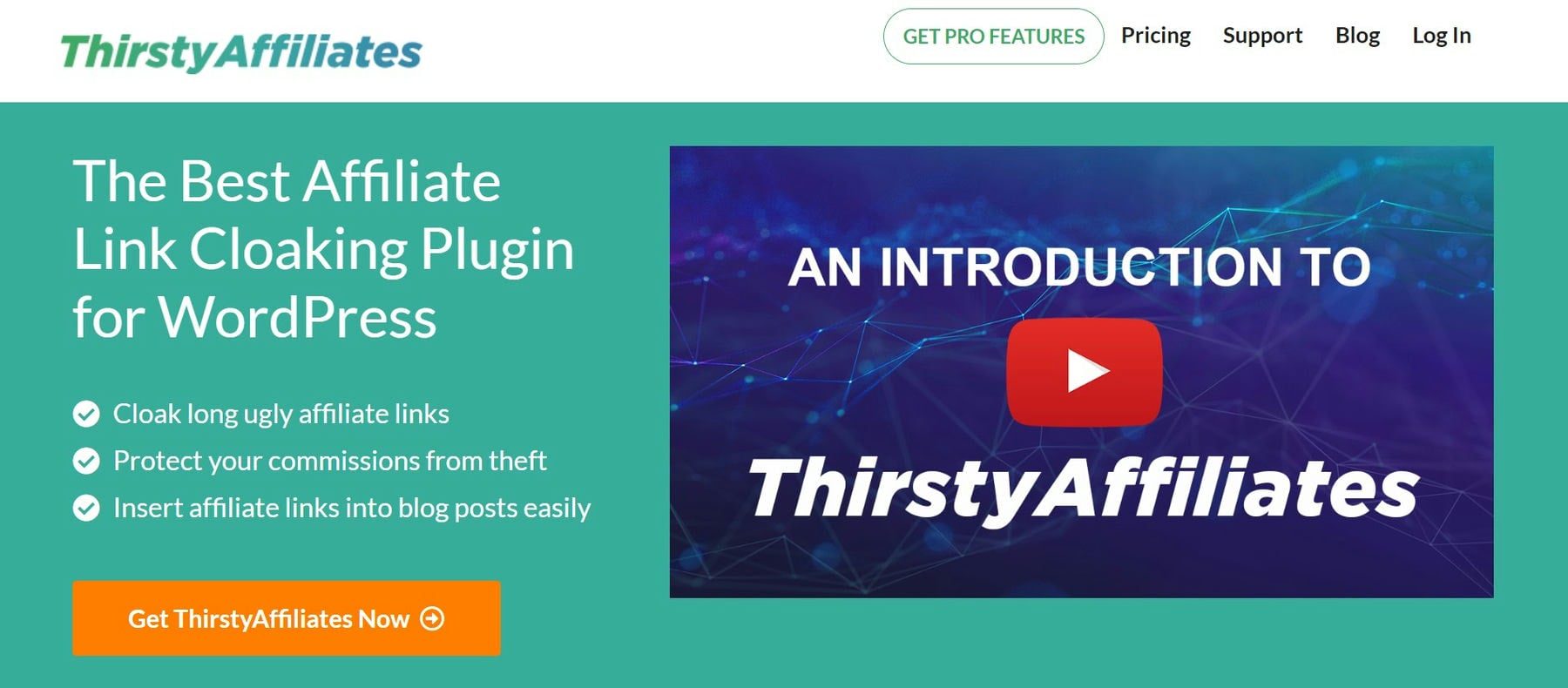 Thirsty Affiliates is an advanced Affiliate Link manager for the serious blogger. They take ugly and confusing affiliate links and create cloaked links that are easier to use.
Key Features for Thirsty Affiliates:
Link management with location-based switching and categorization
Add images to affiliate links
Analytics report on the dashboard
Easy import of affiliate products using Amazon API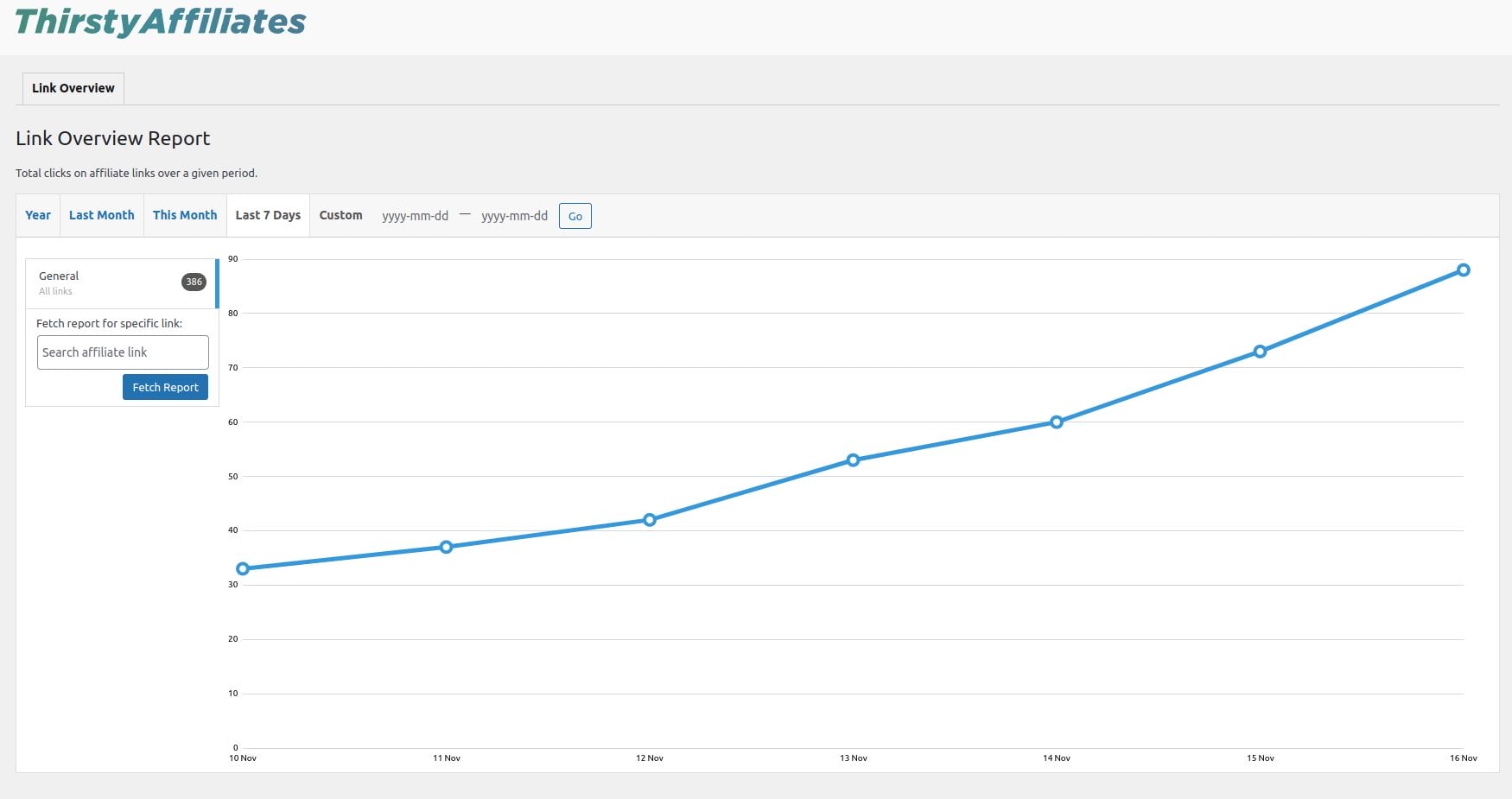 Plus, Thirsty Affiliates provides advanced features for better link management, making it easier for marketers to increase their income. Whether you're a pro at affiliate marketing or just starting out, Thirsty Affiliates is a good solution for a more successful monetization strategy.
Thirsty Affiliates is for you if you…
Need advanced link rendering based on geo-location
Want a more flexible way to manage and add linked banner images
Have links that need to be imported via API or CSV import (bulk and automatic)
Thirsty Affiliates Pricing: Free to starting at $79.50/yr.
3. AdSanity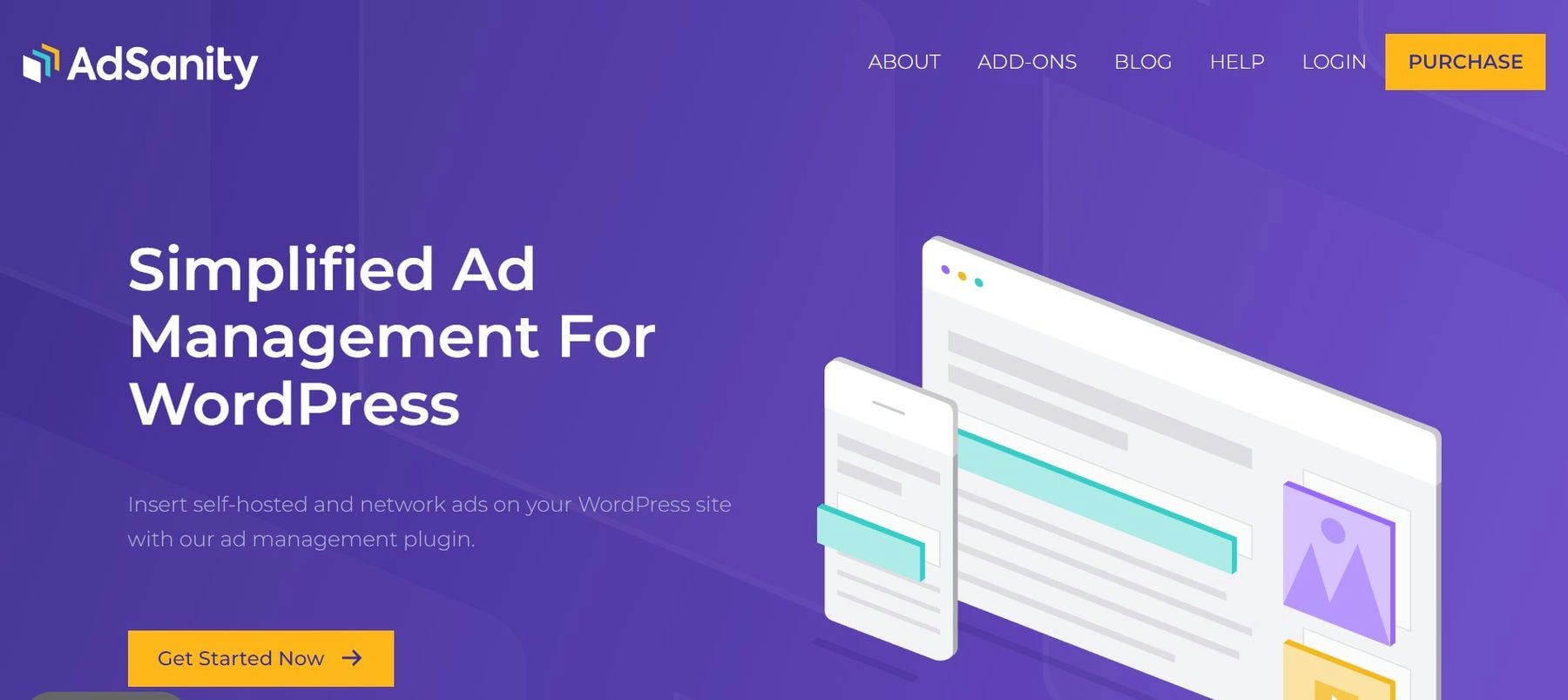 Moving on, we have AdSanity – a unique plugin that helps website owners generate consistent monthly income from their affiliate marketing efforts. AdSanity serves as an advertisement display plugin, specifically designed to display banner images for your affiliate products. With its ease of use and targeted approach, AdSanity is the perfect addition to your affiliate marketing strategy.
Key Features for AdSanity:
Can easily group and deploy self-hosted banner ads
Deploy ads via shortcodes, widgets, and template tags
Light-weight plugin that doesn't compromise on ability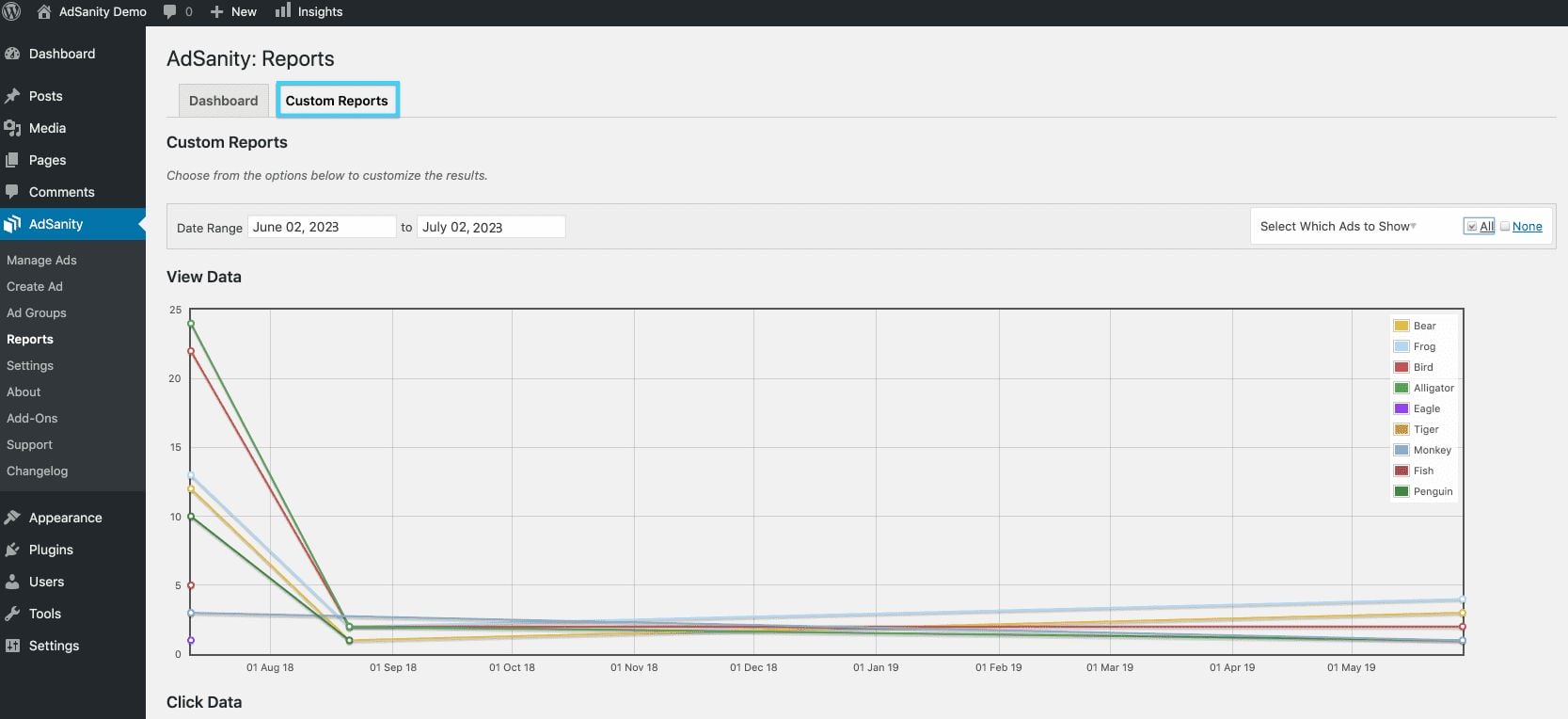 Furthermore, AdSanity makes perfect sense for website owners who treat their affiliate banner images like ads with special placement throughout their site. Not only does it allow for the display of affiliate images, but AdSanity can also be utilized to showcase traditional ads for products that you are not affiliated with. Its versatility makes it a valuable asset for any website looking to effectively display ads.
AdSanity is for you if you…
Want to show images and videos as your affiliate links
Want help while building your affiliate website
Want to add and remove ads on a schedule
AdSanity Pricing: $59/year with a Lifetime offering as well.
4. AffiliateWP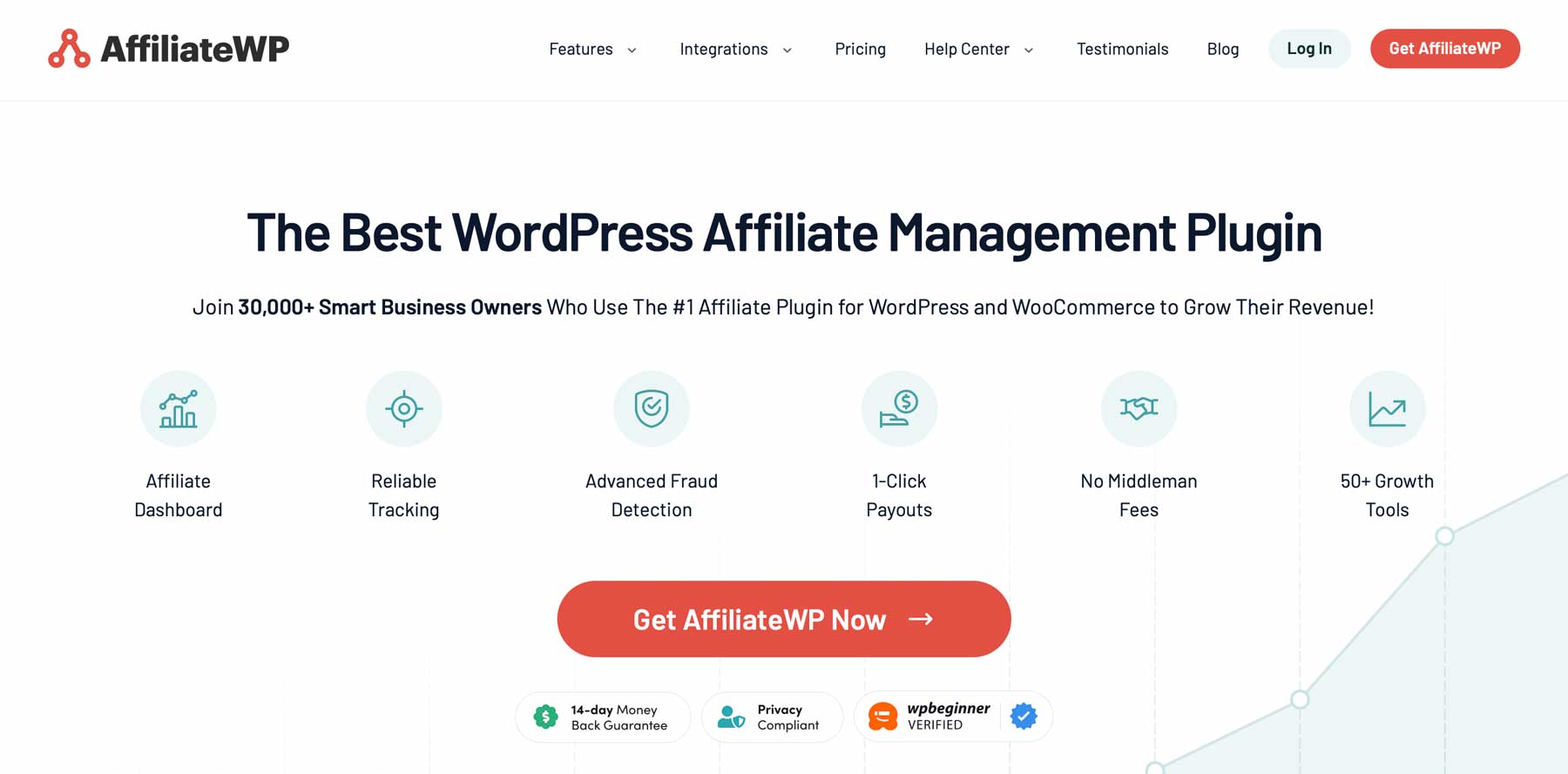 AffiliateWP is a popular WordPress plugin that makes it easy to create and run an affiliate program on your website. With a user-friendly interface, you can track referrals, manage commissions, and pay affiliates easily. It also offers features like custom coupon codes, an affiliate portal to monitor all referrals, and personalized landing pages to increase conversions.
Additionally, there are convenient features such as custom coupon codes, an affiliate portal to keep an eye on all referrals, and personalized landing pages to boost conversions. AffiliateWP makes running an affiliate program a breeze.
Key Features for AffiliateWP:
14-day money-back guarantee
17 free add-ons
Multiple payment gateway options
Works with popular plugins like WooCommerce and Gravity Forms.
In addition, AffiliateWP is a great fit for those using WooCommerce, membership plugins, and payment gateways. You have the option to either automatically approve affiliates or manually set them up, and the plugin tracks referrals from payment forms.
AffiliateWP is for you if you…
Want to set up multiple affiliates
Need an advanced portal to track referrals
Want to have the ability to design custom landing pages
AffiliateWP Pricing: Starting at $149.50/yr.
5. EasyAffiliate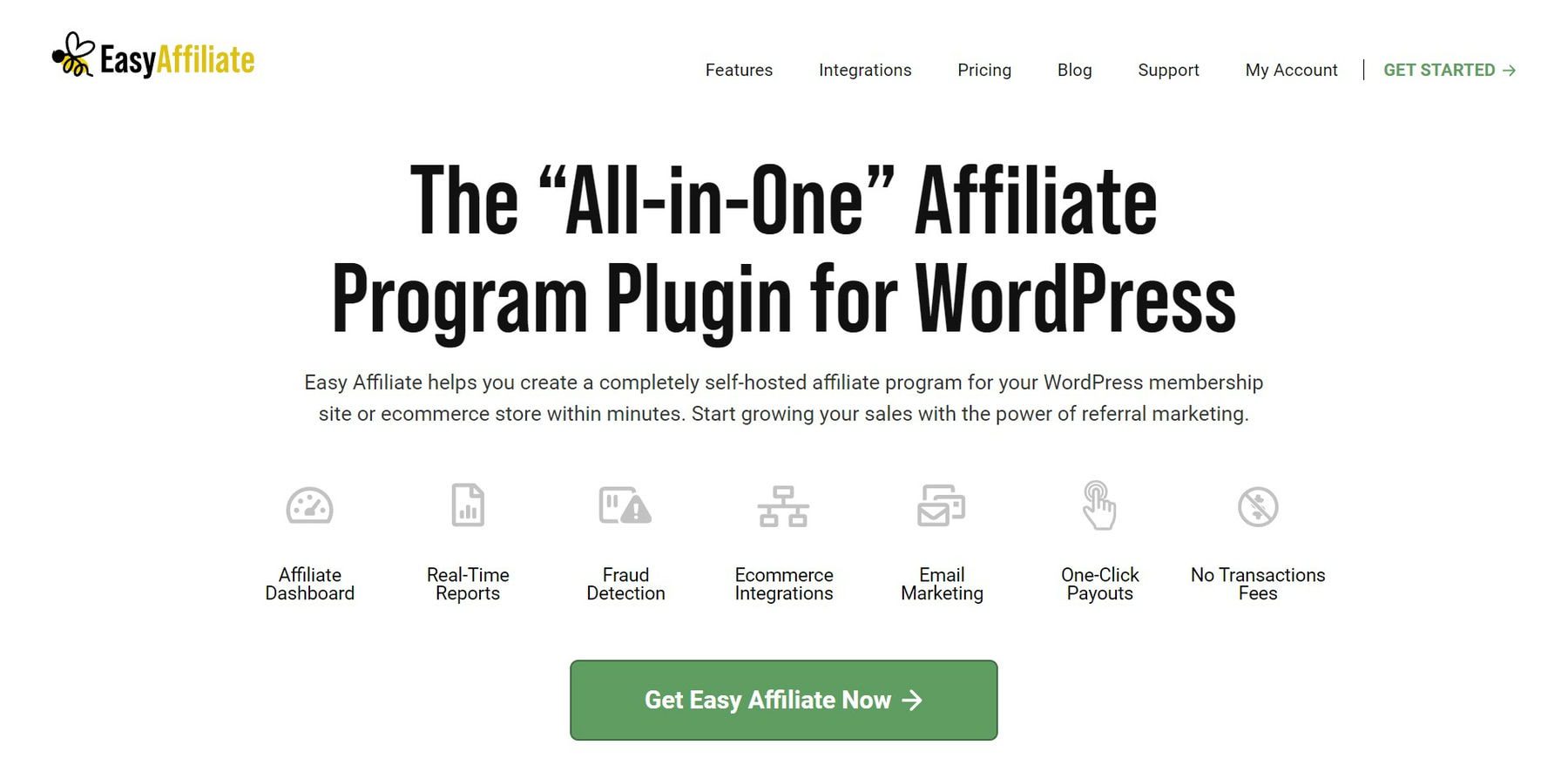 Moving forward, we have EasyAffiliate – a WordPress plugin that turns your website into a powerhouse for affiliate marketing. Developed by the team behind popular plugins such as MemberPress, Pretty Links, and Thirsty Affiliates, EasyAffiliate helps you recruit marketers to promote your products with ease. Plus, beginners or professionals will benefit from all the features EasyAffiliate has to offer.
Key Features for EasyAffiliate:
An affiliate dashboard to manage links and reports
Tracking for all affiliate traffic
Tax help for US-based affiliates

Balancing technology and process can be a challenge when it comes to managing an affiliate program, but EasyAffiliates makes it easy. With its rich features and simple program management, you can ensure your affiliate program runs like a top.
EasyAffiliate is for you if you…
Need a stable platform that has durability on its side
All the features of a complete affiliate management platform
Competitive pricing for the WordPress market
EasyAffiliate Pricing: Starting at $99.50/year.
6. MonsterInsights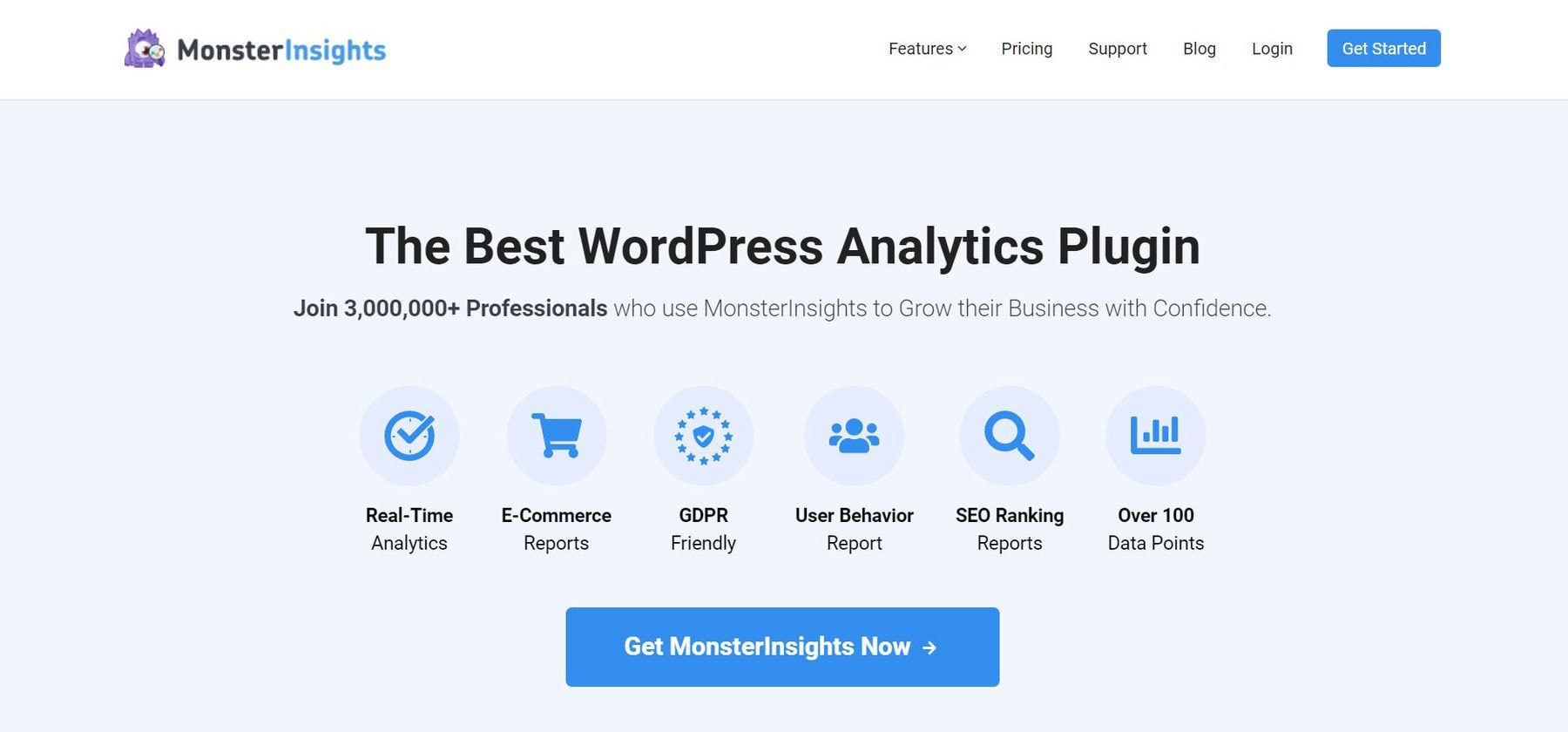 MonsterInsights is a top analytics tool for WordPress that aims to be the best. It's widely recognized as one of the best analytics plugins for WordPress and provides valuable insights to help affiliate marketers keep track of their website's traffic and performance. Whether you're looking to fine-tune your website or boost your affiliate marketing efforts, MonsterInsights is a must-have tool.
Key Features for MonsterInsights:
Instant information on what's happening on your website
Track success and areas for improvement
Use the benefits of Google Analytics
Track how affiliate content is performing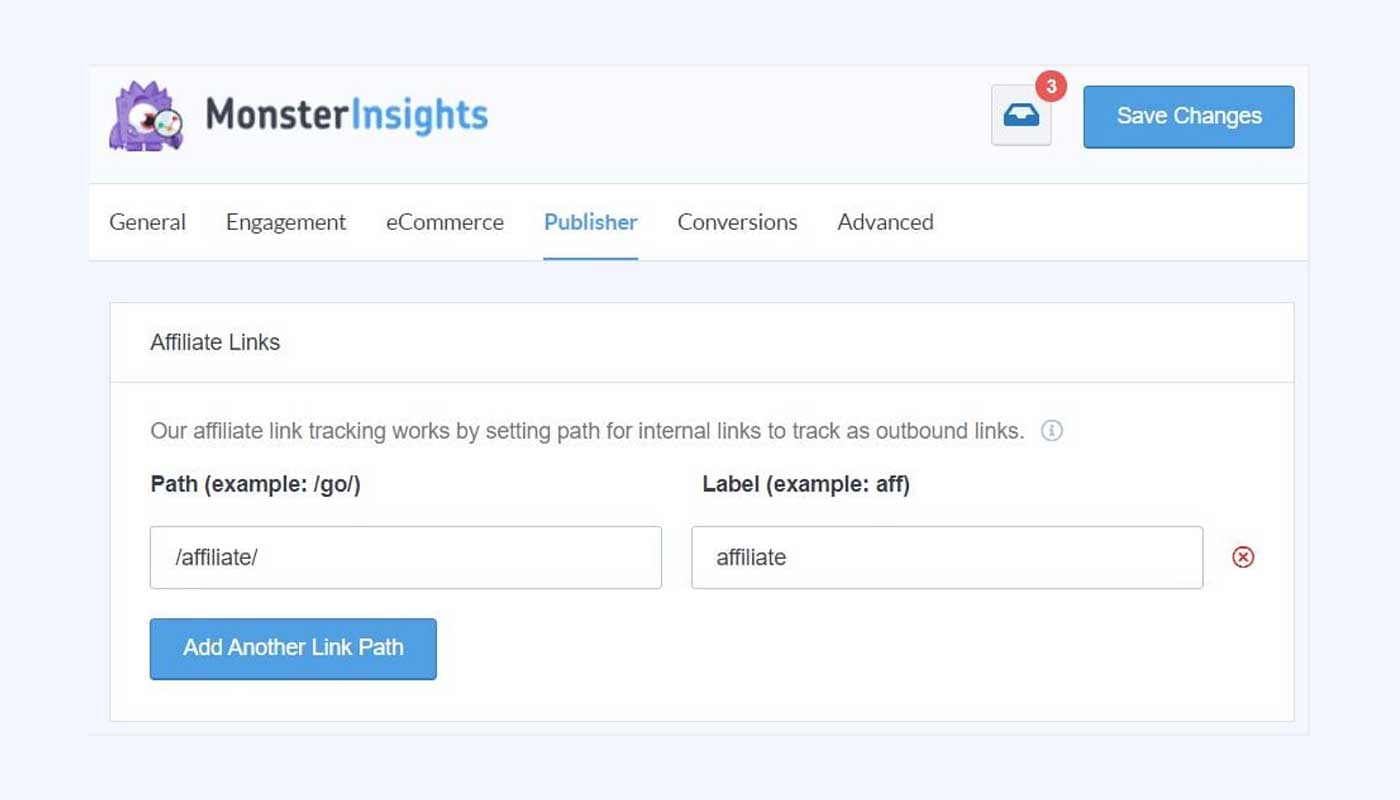 Additionally, Affiliate Marketing shares many similar traits with traditional digital marketing—the only difference being that the products being marketed belong to someone else. Given these similarities, MonsterInsights is a good tool for monitoring all of your inbound traffic data to assess its performance.
Similar to traditional digital marketing, affiliate marketing involves promoting someone else's products. To ensure the success of your efforts, it's crucial to monitor your inbound traffic data. That's where MonsterInsights comes in – as an important tool for monitoring all your affiliate marketing performance. With its advanced features, you can get the insights you need to optimize and improve your results.
MonsterInsights is for you if you…
Need better tracking for your affiliate website
Have complex affiliate campaigns with multiple elements
Want a solution that works with Pretty Links or Thirst Affiliates
MonsterInsights Pricing: Free for Lite Version and $99.50/year for Plus.
7. SliceWP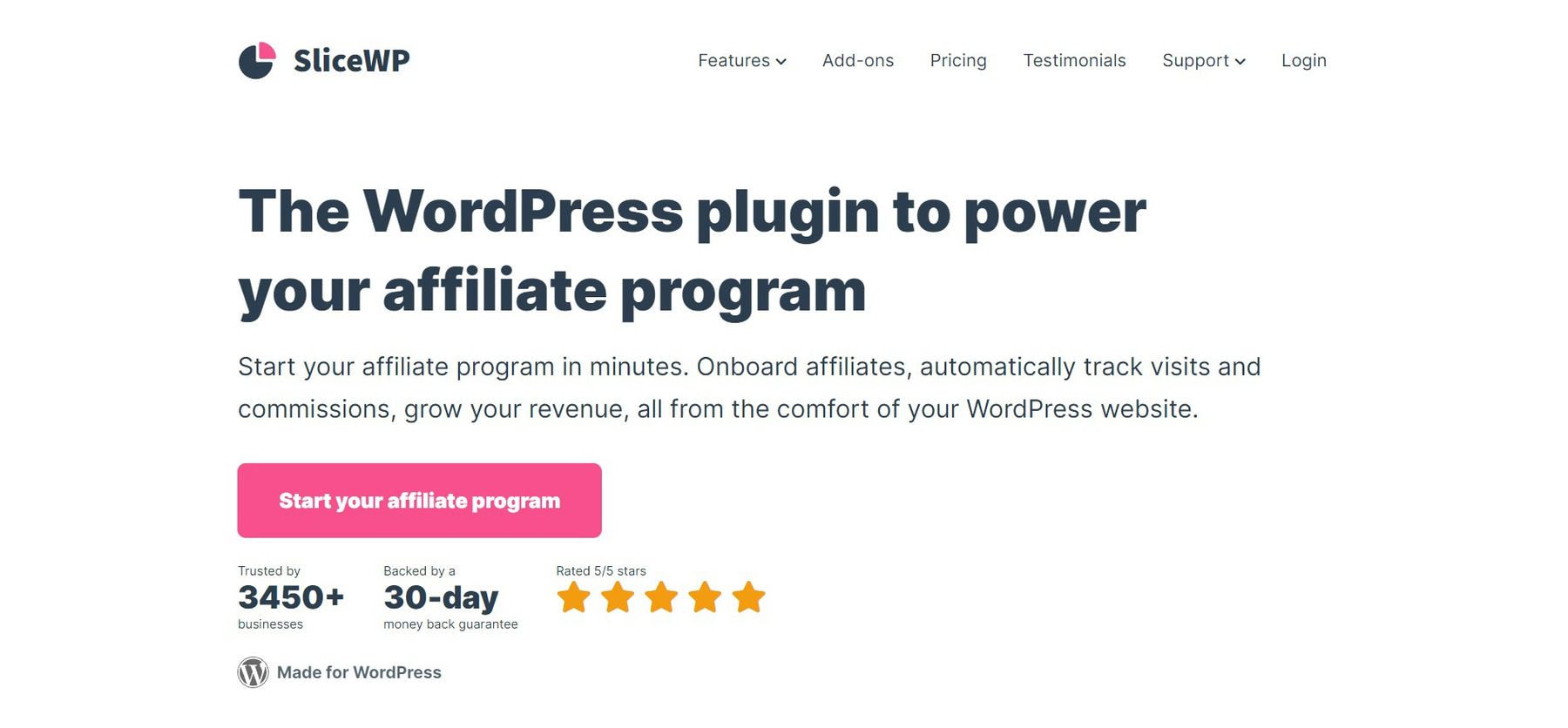 SliceWP is a new Affiliate Manager plugin for WordPress that has become popular because of its real-time reports, easy affiliate addition, and one-click Paypal payouts. Despite being new, it has become notable in a competitive market.
Key Features for SliceWP:
Affiliate links and coupons for promotion
Reports and integration with WordPress WooCommerce
Customizable commissions and easy PayPal payments
With SliceWP, you can get started quickly and easily. It automatically tracks visits, commissions, and revenue growth, so you can focus on other aspects of your business. Plus, with its 30-day money-back guarantee, you can try it to see for yourself if it's the right fit for you.
SliceWP is for you if you…
Unhappy with other solutions
Prefer a modern look for your dashboard
Want a complete affiliate management tool
Like the idea of paying once for the software and never again
SliceWP Pricing: $259/year with Lifetime plans available.
8. YITH WooCommerce Affiliates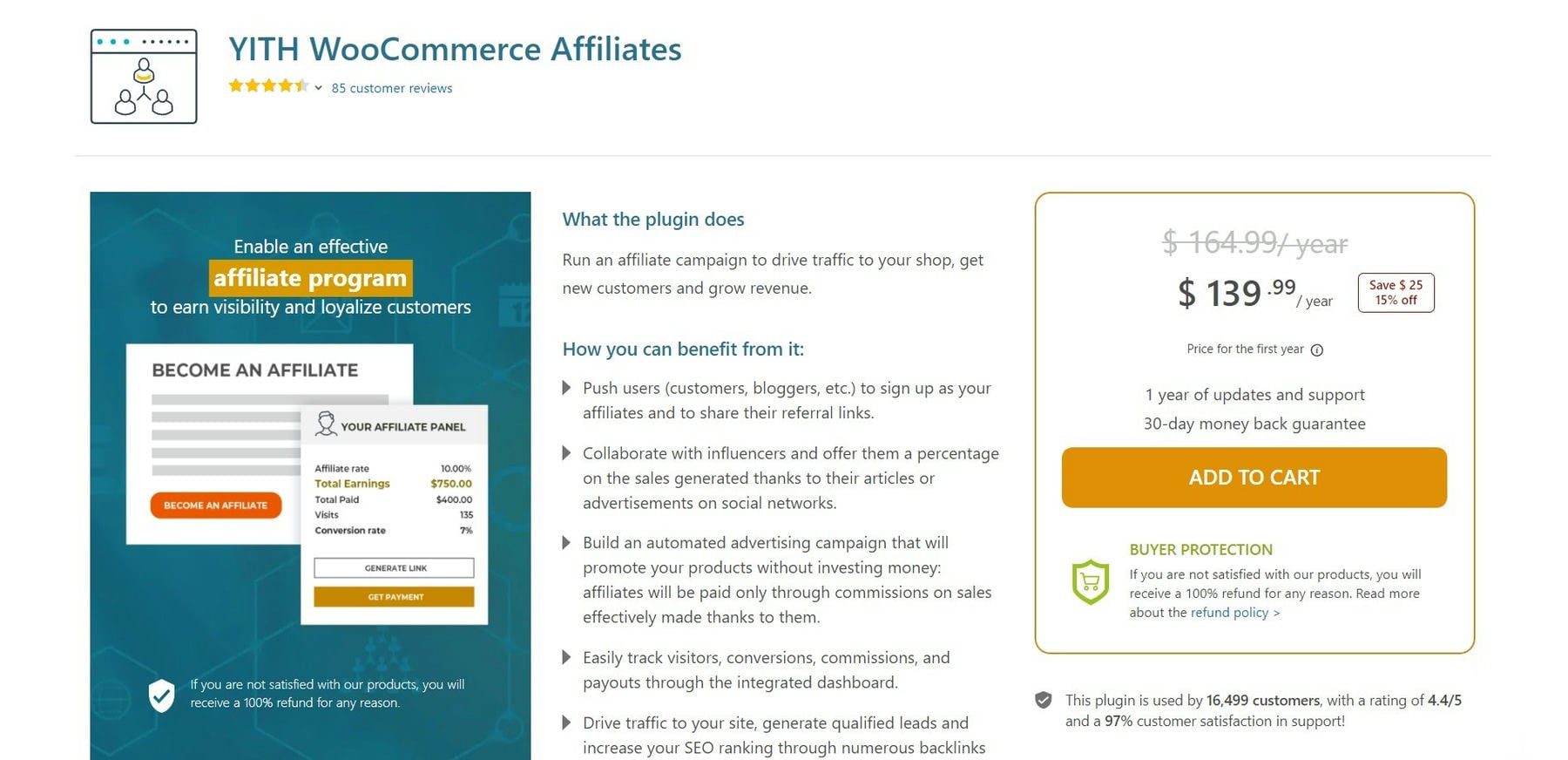 With YITH WooCommerce Affiliates, you can effortlessly transform your WooCommerce store into a thriving affiliate hub. This plugin is an excellent choice, especially for those who already use other YITH products.
Moreover, it offers a free-to-premium pricing model, giving beginner affiliate managers the opportunity to try it out before fully investing. With the option to try it risk-free, it's an excellent way to test the waters and see if it's the right fit for your business.
Key Features for YITH WooCommerce Affiliates:
Pay affiliates automatically based on set limits
Get updates on store progress
Easily manage affiliates with a simple dashboard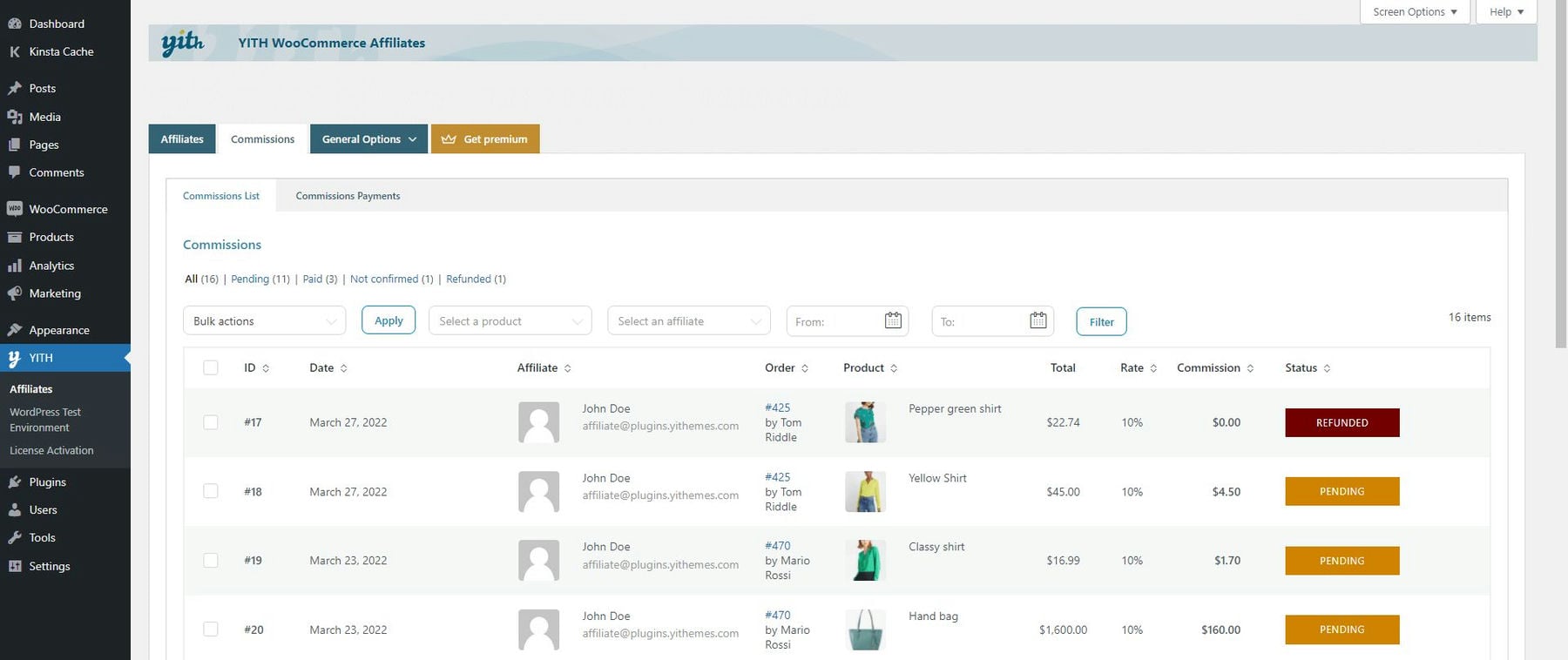 For those using other YITH products, YITH WooCommerce is a great way to get your affiliate program off the ground.
Additionally, it works with other YITH products, providing a streamlined and smart solution for managing your affiliate program. Whether you're just starting out or an experienced affiliate marketer, YITH WooCommerce Affiliates is an ideal choice for those looking to take their affiliate marketing to the next level. With its user-friendly interface and flexible pricing options, it offers a way to manage your affiliates and increase your revenue.
YITH WooCommerce Affiliates is for you if you…
Use WooCommerce for store and affiliate programs only
Satisfied with other YITH products for store operations
Need a free solution before paying for a premium one
YITH WooCommerce Affiliates Pricing: Free for the Lite version and $139.99/year for Pro.
Get YITH WooCommerce Affiliates
9. Affiliates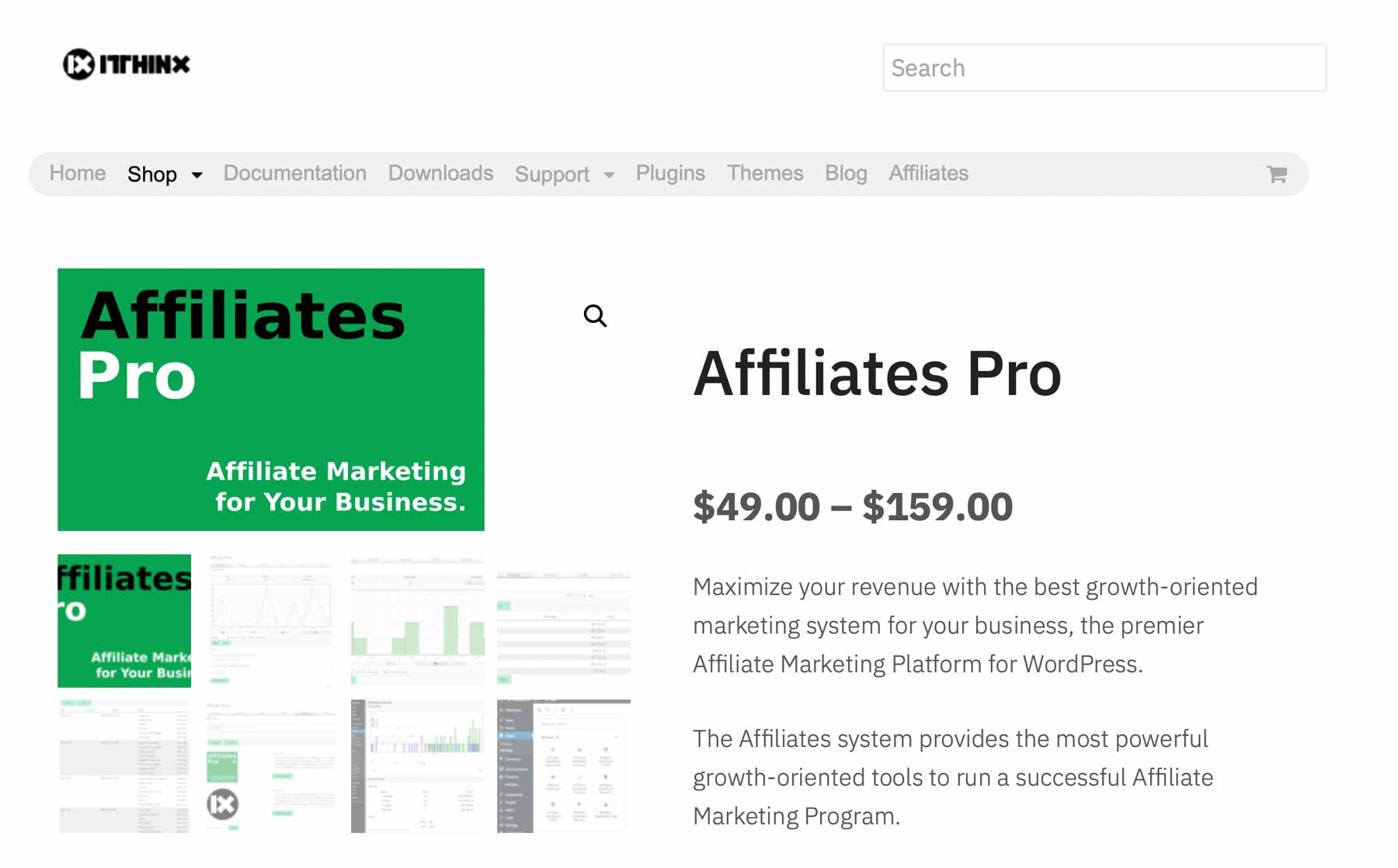 Affiliates provides a dashboard for affiliates to share their links. It's easy to navigate, and you can customize the dashboard to match your website. It also works with WooCommerce using an additional plugin. There are many free extensions available.
Moreover, the pro version features a more easy-to-use dashboard with benefits such as referral rates, banner management, and notifications. Additionally, it offers advanced commission rates, exporting capabilities, integrations, and a ton of other useful features.
Key Features for Affiliates
:
Strong affiliate control panel
Easy-to-use interface
Personalizable designs
Manage affiliate marketing
Friend referral program
Available extra features for free
Upgrade option available
Pricing: Free, pro version starts at $49.
10. Post Affiliate Pro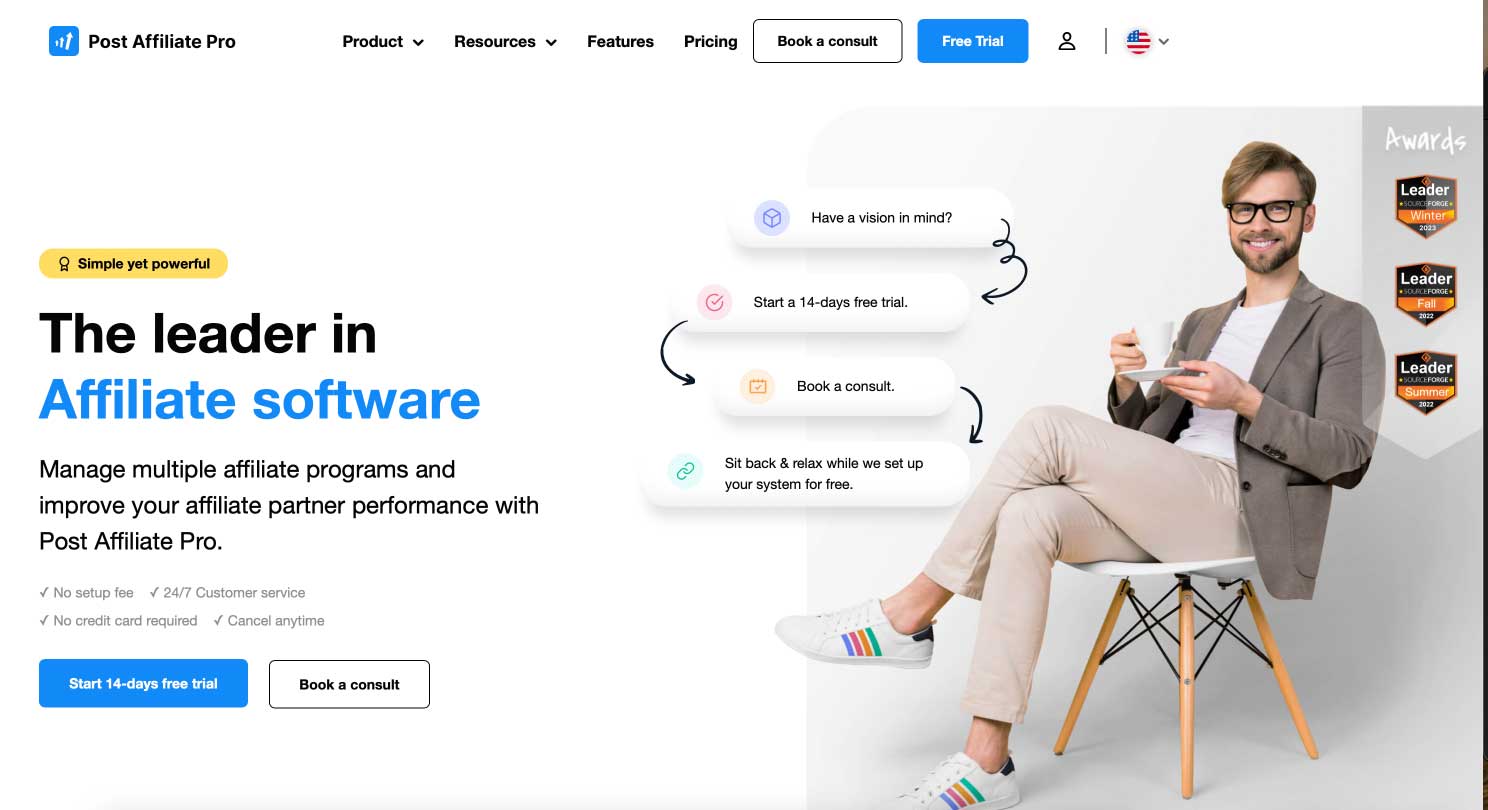 Post Affiliate Pro is a tool for building and growing your affiliate programs. It has many features including tracking methods, commission types, promotional materials, and reports. It also works with many CMS and payment systems. The interface is detailed and can be customized.
Plus, it includes themes, mass payments, Ajax, multiple affiliate styles, and fraud protection. Also, performance rewards, multiple pricing options, training, mobile apps, and lots more.
Key Features for Post Affiliate Pro:
9 tracking methods
7 commission types
13 promotional materials
8 reports
170 CMS and payment gateways
Customizable interface
Mass payments
Mobile apps
Training
Multilingual
Pricing: $97 per month.
11. Auto Amazon Links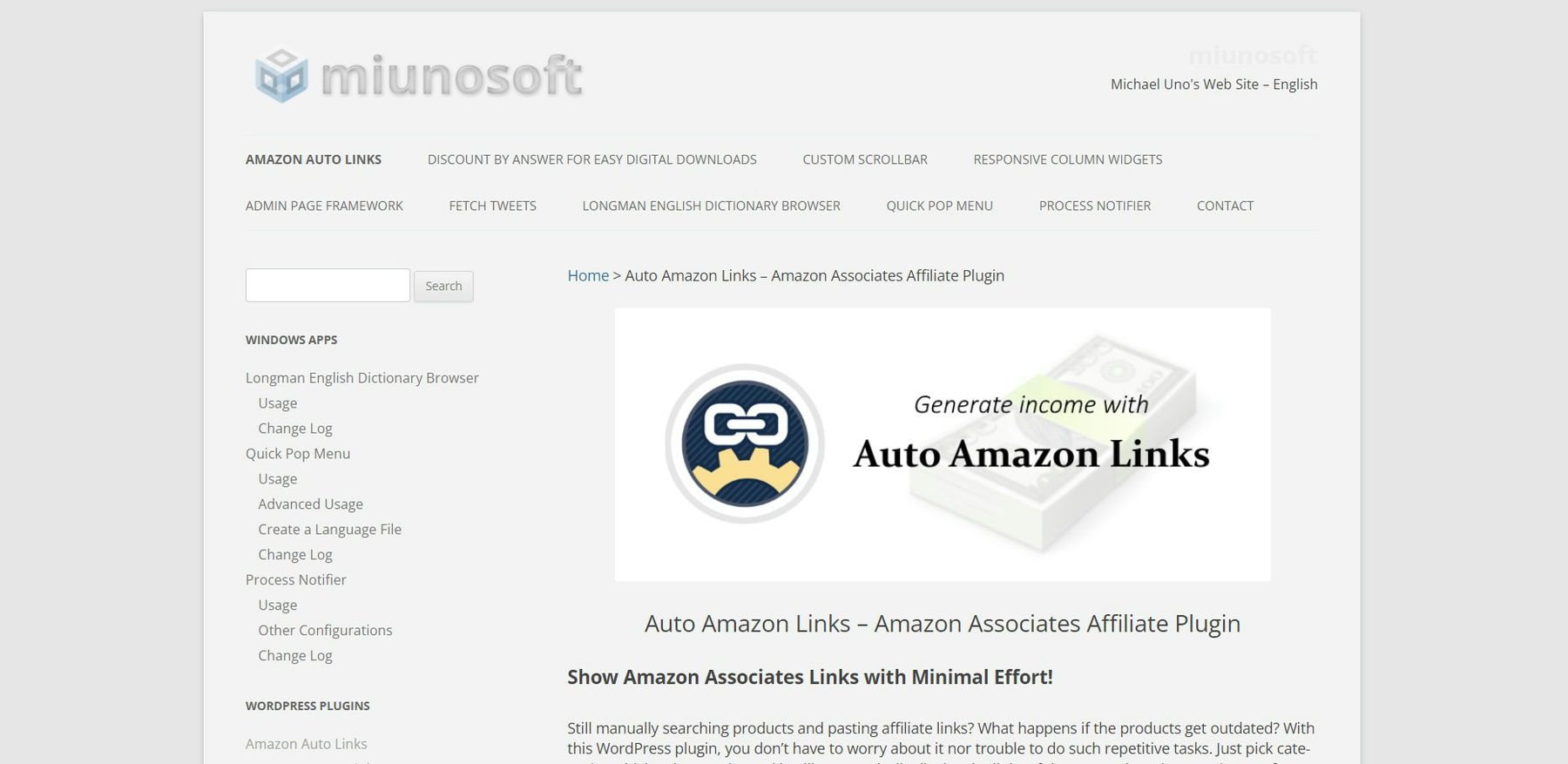 Getting new products for your affiliate marketing campaigns can take up a lot of time. The Auto Amazon Links plugin can help by bringing fresh Amazon products to your product galleries.
Key Features for Auto Amazon Links:
Choose product categories on Amazon to create your Auto Amazon Links galleries on your WordPress website.
Embed single products or galleries anywhere on your site using shortcodes, widgets, or auto-insert.
Set it and leave it function.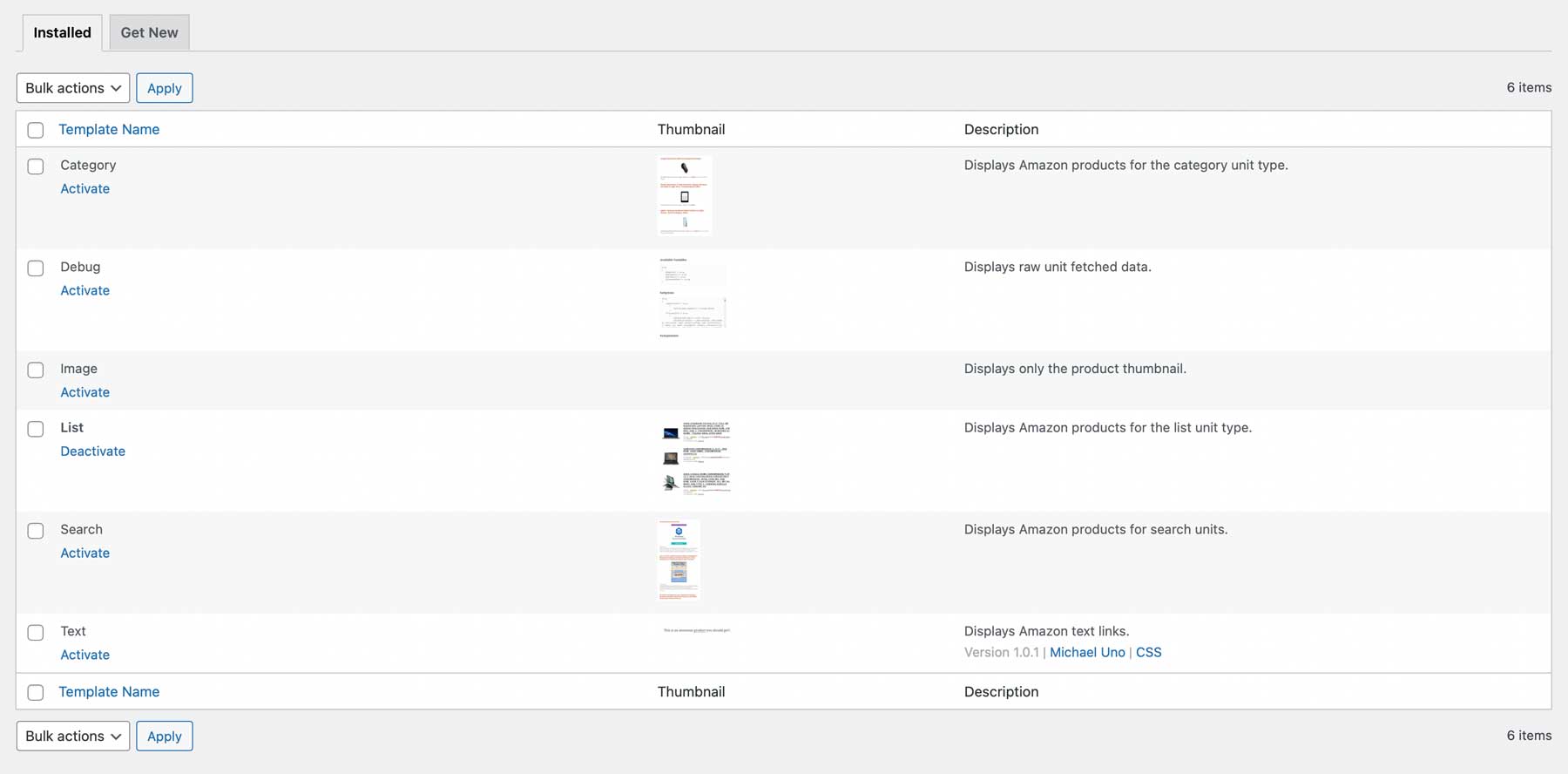 In addition, Auto Amazon Links automatically grabs the newest products from Amazon categories and shows them on your site. This way, repeat visitors will see new products as they are updated on Amazon.
Auto Amazon Links is for you if you…
Run a niche category site but don't want the extra work of writing content for particular products
Have high-trafficked content that Ad-like affiliate links would work well with
Need a low-maintenance solution
Auto Amazon Pricing: Free Lite version or $47.98/year.
12. Affiliate Booster Blocks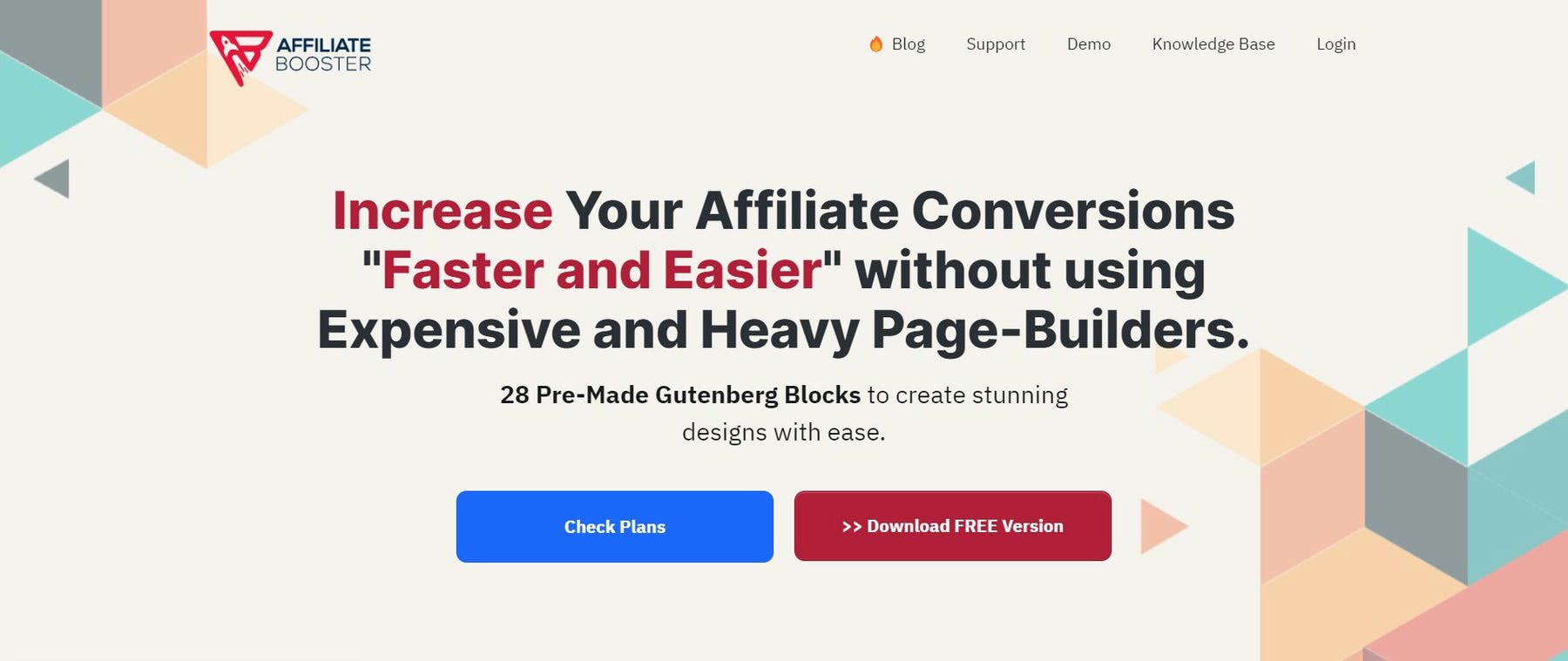 Affiliate Booster Blocks is another block editor plugin that adds custom blocks specially curated for affiliate marketers.
Key Features for Affiliate Booster Blocks:
Easily add in star ratings for product reviews
Optimized button and CTA blocks
Blocks that reduce the need for many standard blocks used together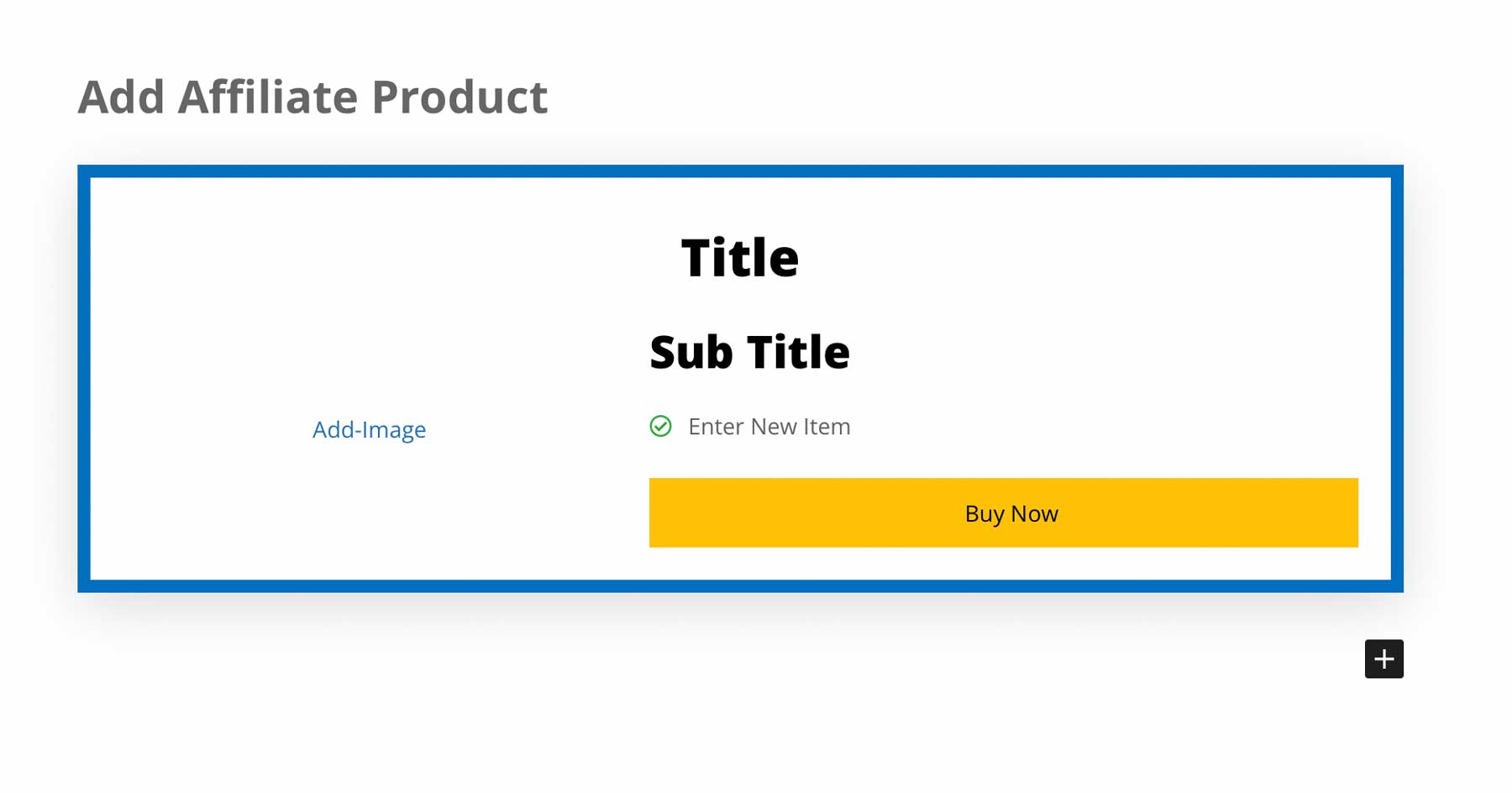 Affiliate Booster works with the block editor and comes at a great yearly price. It isn't quite as easy to use as AffiliateX but also comes at a lower cost.
Affiliate Booster Blocks is for you if you…
Work with the native Block Editor and not a page builder plugin or theme
Need a way to make content creation easy
Are slower with page design than content creation
Affiliate Booster Blocks Pricing: Free Lite version and $39/year for Pro.
13. WP Affiliate Manager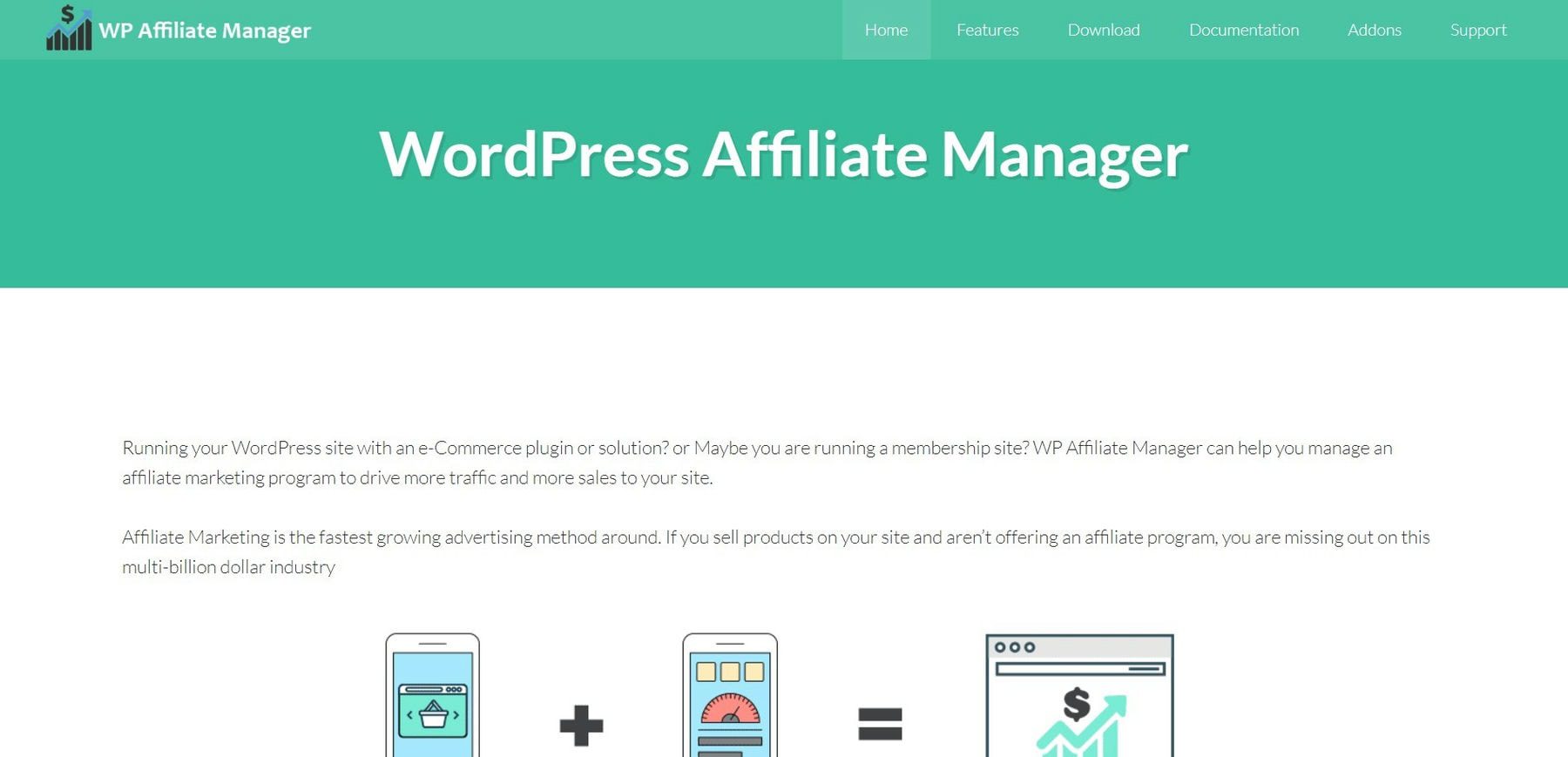 WP Affiliate Manager is a great plugin for managing affiliate programs on your website, and, it offers full custom options so you can create the affiliate program that fits your needs and goals.
Key Features for WP Affiliate Manager:
Host as many affiliates for your store
Create custom payout commissions
Customize the signup process to collect the data you need to
Lowest cost pro option in our list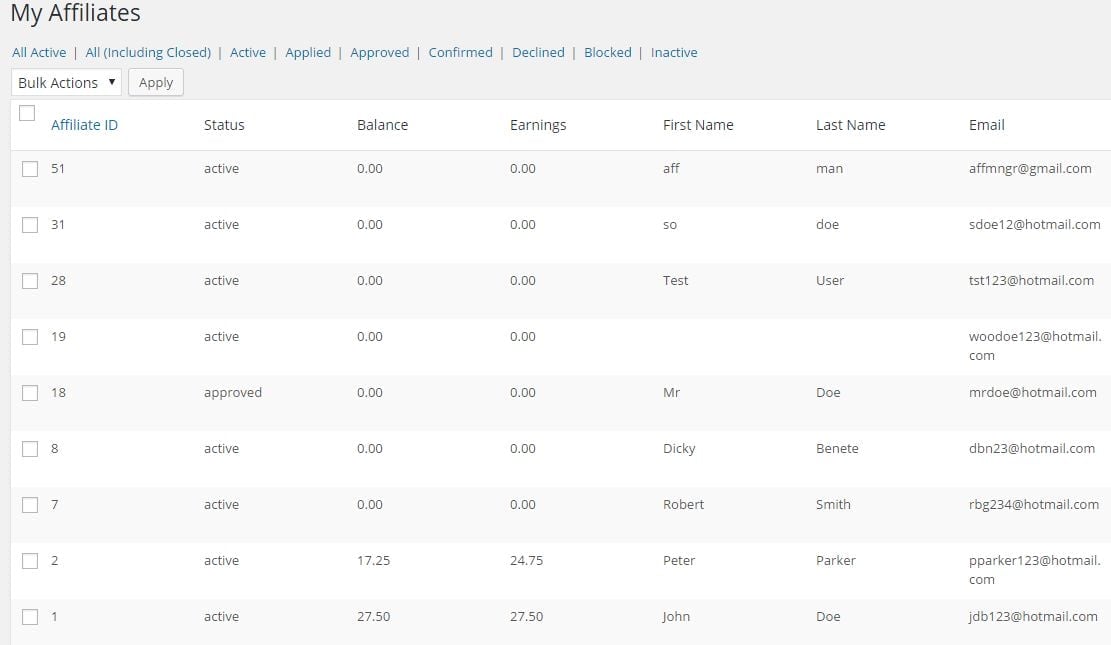 Of the plugins in our list, WP Affiliate Manager might have the most simple feature set for affiliate management—but that comes with its upsides as well.
Affiliates Manager is for you if you…
Are starting out or have a smaller store but want to offer an affiliate program
Need all the basics while you learn and grow your site
Want a plugin that works with your WooCommerce store
Pricing: Free with a Pro upgrade starting at $39.
Comparing All WordPress Affiliate Marketing Plugins
That's our list of the top 10 plugins for affiliate marketing on WordPress. These plugins make the process of adding affiliate links to your website or creating your own program easier. They provide helpful tools to boost traffic and sales. Whatever type of affiliate plugin you're looking for, you're bound to find one that fits your needs and budget on this list.
Affiliate Marketing Plugin Price Comparison
To recap, here are all the plugins we covered in this post. To make things easier, we've marked which plugins are available with free versions, along with pricing for each.
Top 3 Affiliate Marketing Plugin Features
Of the plugins on our list, there are three that offer the most features. Pretty Links is a great tool for customizing your affiliate links to make them more attractive. Plus, it offers excellent reporting through Google Analytics integration, so you can monitor which links are performing well and which ones need revising. Alternatively, if you want to start your own affiliate program, we recommend Thirsty Affiliates. It's a robust solution used by many of the top WordPress companies to power their affiliate programs. Finally, if you want to feature ads on your site, AdSanity is an excellent solution. With multiple display options, the ability to create beautiful ads and track their performance, there is no better option.
🥇 Pretty Links

🥈 Thirsty Affiliates

🥉 AdSanity

Starting Price
$99.50/year
$79.50/year
$59/year
A/B Testing
✔️
✔️
✔️
Google Analytics Integration
✔️
✔️
✔️(pro)
Importing/Exporting Tools
✔️
✔️
❌
Advanced Reporting
✔️
✔️
✔️(pro)
Customize Links
✔️
✔️
✔️
Scheduling
✔️
❌
✔️
Link Redirection
✔️
✔️
❌
Active Installations
300K+
30K+
N/A
Community Rating
5/5
⭐⭐⭐⭐⭐
Read Reviews
4.5/5
⭐⭐⭐⭐⭐
Read Reviews
N/A
Get Pretty Links
Get Thirsty Affiliates
Get AdSanity
Which WordPress Affiliate Marketing Plugin Is The Best?
For the best results, we think Pretty Links is the top choice if you are looking to promote affiliate links on your blog. This is mainly due to its simple design, helpful dashboard, and ability to link keywords automatically. With Pretty Links, you can make your less attractive URLs into attractive, trackable links that you can share.
If you're an Amazon Affiliate, you'll find our list of the best Amazon affiliate plugins helpful. And if you're looking for other ways to monetize, see how these advertising plugins can help you monetize in new ways. Make sure to check out our post on the best WordPress plugins as well, we provide a top recommendation for each type!
Frequently Asked Questions (FAQs)
Before we wrap up, let's answer some of your most common questions regarding the best WordPress affiliate plugins. Did we miss one? Leave a question below, and we will respond!
Which is the best affiliate marketing plugin for WordPress?
If you're looking for a great way to market affiliate links on your blog, we strongly recommend
Pretty Links
. Its user-friendly dashboard, customized reports, various redirect types, integration with Google Analytics, and automatic keyword linking capabilities make it the clear winner. By utilizing Pretty Links, you can transform unappealing URLs into eye-catching, traceable links that are easy to distribute.
What is the most popular WordPress affiliate plugin?
The most popular WordPress affiliate plugin is
Pretty Links
, with over
6 million downloads
on its free version since its inception. Its simple dashboard, customized reports, various redirect types, integration with Google Analytics, and ability to automatically link up keywords make it a favorite among users.
What are WordPress affiliate plugins used for?
You can use WordPress affiliate plugins for creating and managing affiliate marketing programs on your WordPress website. They offer a comprehensive suite of tools that enable you to keep track of referrals, collect commissions, and compensate your affiliates with ease.
What is the best WordPress plugin for creating an affiliate program?
AffiliateWP
is our pick for the best plugin for creating an affiliate program. It allows you to effortlessly keep track of referrals, manage commissions, and pay your affiliates with just a few clicks. Its advanced features, such as personalized landing pages and custom coupon codes, enable you to increase conversions and monitor all referrals through a convenient affiliate portal.
What is the best WordPress plugin for promoting affiliate offers?
Pretty Links
is the best plugin for promoting affiliate offers, as it allows you to cloak unsightly affiliate links and seamlessly integrate with Google Analytics. Additionally, it comes equipped with a monitoring dashboard to keep track of your progress. Furthermore, the plugin automatically links specific keywords and performs testing to identify the highest-performing links on your website.
Is WordPress the best platform for affiliate marketing?
Undoubtedly, WordPress is the perfect choice for those looking into affiliate marketing. Its intuitive content management system allows even those without coding experience to easily create and maintain affiliate websites. Additionally, WordPress is highly adaptable, meaning that as your business grows, your affiliate program can grow with it, ensuring that you always have a manageable program. With a vast community of developers and users, there are plenty of resources to support you in your affiliate marketing efforts.
Which WordPress affiliate plugin has the best integrations?
The
AffiliateWP
plugin boasts a plethora of integrations with marketing platforms such as WooCommerce, Easy Digital Downloads, and Gravity Forms. Additionally, it offers a diverse array of reporting and analytics tools, enabling you to monitor the efficacy of your affiliate program effectively.
Which WordPress affiliate plugin offers the best tracking and reporting?
AffiliateWP
is an excellent affiliate plugin with diverse tracking and reporting functionalities. It accurately tracks affiliate sales, commissions, clicks, and conversions. Additionally, AffiliateWP allows you to customize and generate reports that provide in-depth insights into your affiliate program.
Which WordPress affiliate plugin has the best user interface?
Choosing a user interface is a matter of personal preference. In our experience,
AffiliateWP
,
Pretty Links
, and
Slice WP
are all strong contenders. These plugins offer user-friendly interfaces that make managing your affiliate marketing efforts easy.
What are the top features to look for in a WordPress affiliate plugin?
If you're searching for a WordPress affiliate plugin, keeping a few crucial aspects in mind is essential. Specifically, you'll want to focus on the plugin's usability, reporting capabilities, commission-tracking features, and integrations.