As an Amazon Affiliate (or Amazon Associate), you can monetize your traffic and promote recommended Amazon products directly from your WordPress website. So, when visitors click on your affiliate links (or ads) and buy those products, you earn a commission from each sale. However, to maintain a successful Amazon affiliate site, it helps to have the best Amazon affiliate WordPress plugin to do the heavy lifting.
Not only can Amazon affiliate plugins simplify your workflow, but some can also provide valuable analytics to help grow your business. In this article, we'll share the top WordPress plugins for Amazon affiliates.
What is an Amazon Affiliate Plugin?
An Amazon affiliate plugin is essentially a WordPress affiliate marketing plugin that makes it easy to manage, promote and sell your Amazon affiliate products on your WordPress blog or website, so you don't have to worry about any technical issues getting in the way of your income.
If you don't already know, Amazon is stringent with its guidelines for its associates. For instance, you must use the Amazon Associates API to continue being a part of their program. You'll also need to make sure you're linking to the correct product, regardless of the country your user is visiting. For example, you'll have to make sure that a UK user gets a link to their corresponding store, not to an Amazon in the United States. These issues, among others, are greatly simplified using an Amazon Affiliate WordPress plugin.
The Best Amazon Affiliate WordPress Plugins
The Best WordPress Amazon Affiliate Plugins Listed In Order
Expand List
To help you avoid some common issues of being an Amazon affiliate. We have compiled a comprehensive list of the best Amazon affiliate WordPress plugins that will give you everything you need to start making more passive income.
1. AAWP

One of the most used plugins for Amazon Associates is the Amazon Affiliate WordPress Plugin (AAWP). This plugin lets you connect the Amazon Associates API to your page and add affiliate links to your WordPress articles simply and effectively.
You don't have to worry about violating Amazon's affiliate policies by including prices or inserting images because all the data displayed comes via the API. The plugin also has various alternatives available to display Amazon products or affiliate links, all of which look fantastic on the front end of your website.
Key Features of AAWP:
Product comparison tables (pictured below)
Automatic pricing updates
Easily implementable bestseller lists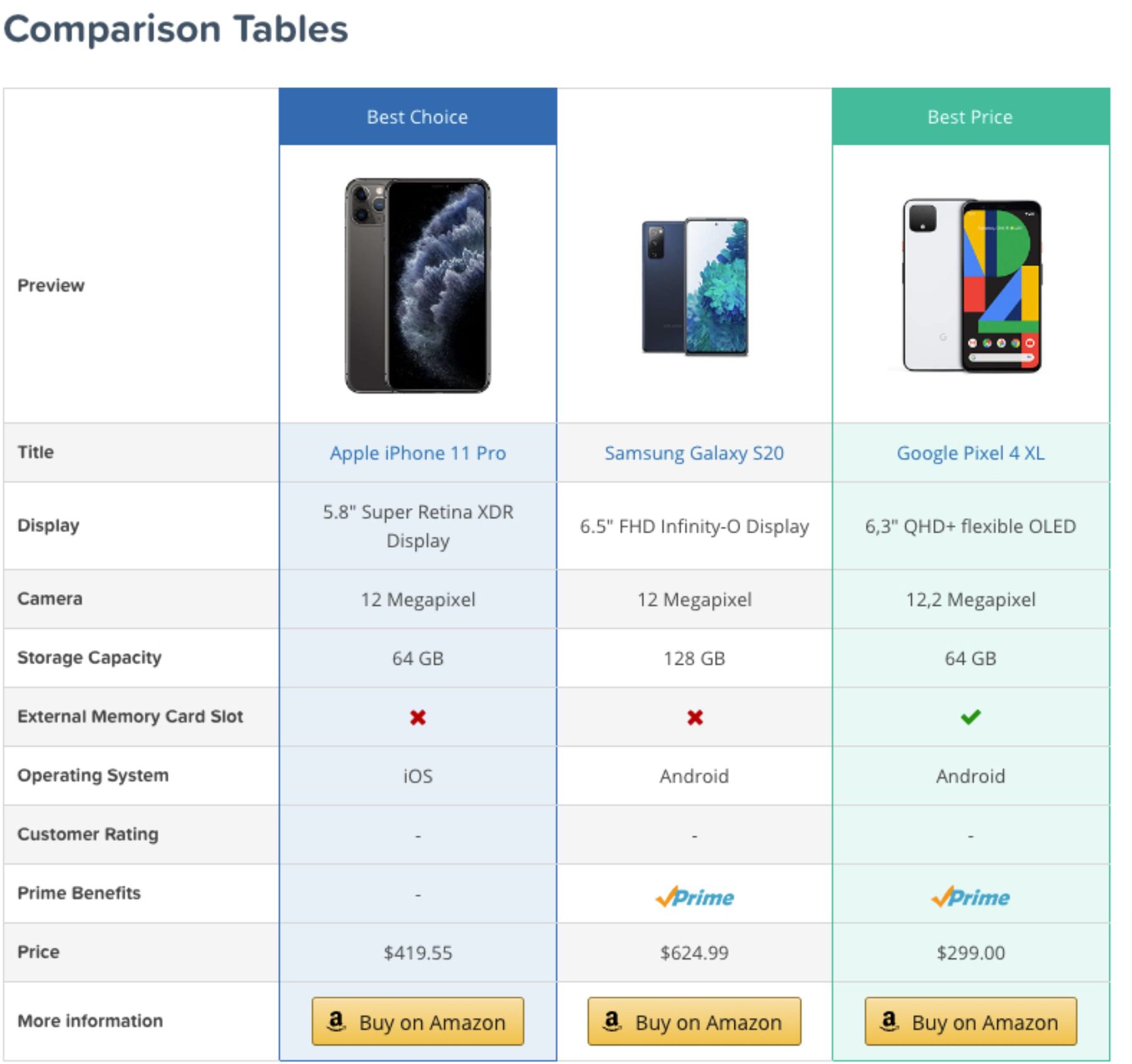 The appearance of any display element can be changed and is fully mobile-responsive; they look great and are sure to attract your users.
AAWP is for you if…
You are an advanced user looking to maximize revenue on multiple websites.
Free plugins aren't cutting it.
You want to display products in unique ways.
AAWP Pricing: Starts at $53/yr for single-site usage
2. AzonPress

AzonPress is a similar plugin to AAWP in that it easily allows you to insert affiliate links to texts and a variety of unique tables and displays as well.
The plugin allows you to receive automatic product updates, customizable tables, and automatic geolocation, so you won't have to worry about missing out on sales because of technical issues with the API. You'll also be able to track your link performances via their dashboard.
While it comes with many of the same features as AAWP, it's a bit cheaper, so it may be the solution you're looking for if you want to save a couple of bucks.
Key Features of AzonPress:
Comparison tables
Automatic geotargeting
Customizable product display (example below)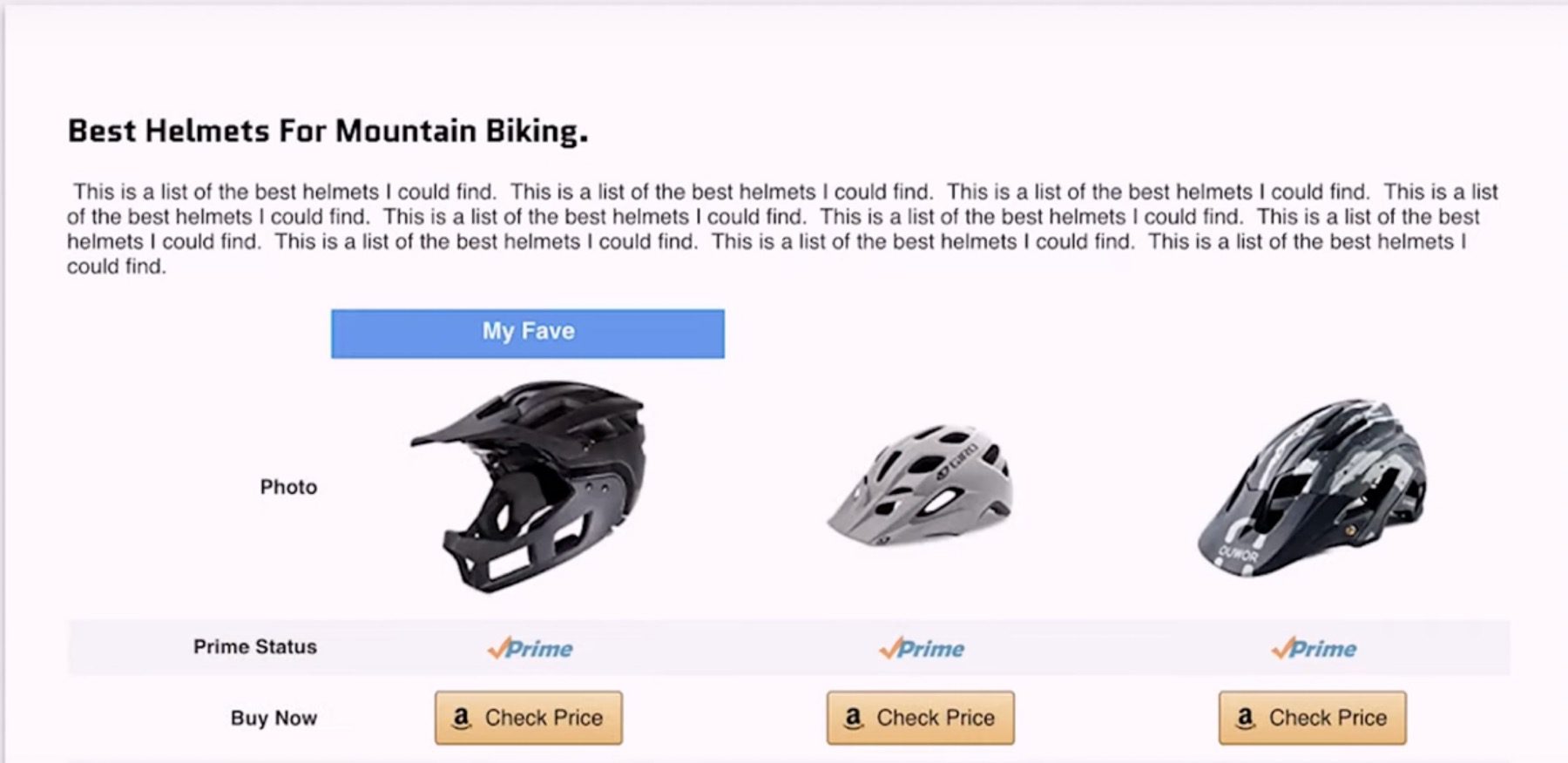 One of the plugin's standout features includes the ability to display affiliate links, product details, photos, ratings, and reviews in a beautiful product showcase box.
AzonPress is for you if…
You want a light and fast solution.
You want a way to track the conversions of your links.
AzonPress Pricing: $39/yr for single-site usage
3. Pretty Links

All links on your website, including affiliate links, can be hidden and tracked using the freemium plugin Pretty Links. The plugin switches out affiliate links with ones that feature your domain name to make your link look cleaner and more trustworthy. In addition, it may generate random shortened slugs for any connection, or you can select your custom slug.
Similarly to the other alternatives, Pretty Links tracks the clicks on your links and reports them to you through your WordPress admin panel. Link monitoring can be filtered based on the average number of clicks per link or the average number of unique clicks per link.
Pretty Links provides all the above features without cost, but you can get some pretty neat features with the pro version, albeit for a hefty price. These include auto-linking keywords, multiple WordPress Site licenses, and priority tech support.
Key Features of Pretty Links:
Link analytic tracking
Free version
Cloaks affiliate links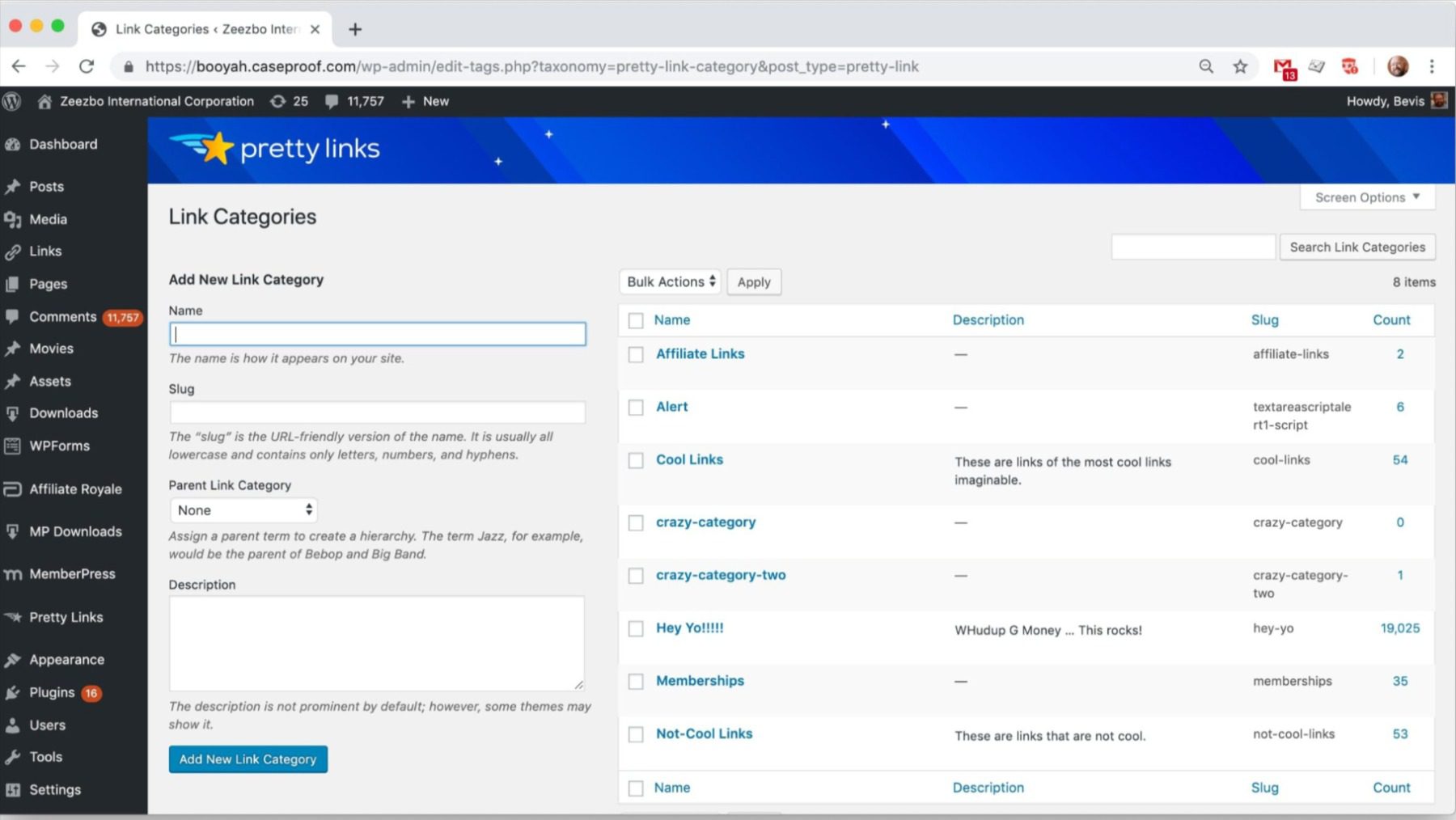 This plugin is the best for cloaking and redirecting affiliate links into short and presentable links.
Pretty Links is for you if…
You want a free solution.
You want to create SEO-friendly short links.
Pretty Links Pricing: Free. Beginner $199/yr
4. ThirstyAffiliates

ThirstyAffiliates is a popular affiliate link management plugin for WordPress that helps you manage and cloak your affiliate links. It makes your links look clean and professional and provides a range of features for tracking clicks and conversions, organizing links into categories, and more.
The free version of ThirstyAffiliates has many features that allow you to configure your basic links and customize them with additional details like product categories. The plugin also provides monitoring features to ensure your links are functioning properly and generates valuable user data to improve conversion strategies.
Key Features for ThirstyAffiliates:
Link cloaking and management
Click and conversion tracking
Link categorization and organization
Link scheduling and expiration
Link redirection options
ThirstyAffiliates offers a comprehensive solution for affiliate marketers using WordPress, providing a range of features for managing and optimizing affiliate links. This plugin is ideal for those looking for a complete solution to insert affiliate links on their website, keep track of links, cloak and localize links, and improve conversion strategies.
ThirstyAffiliates is for you if…
You are looking for a good all-around solution to inserting affiliate links
You want to manage and optimize your affiliate links
You need to track clicks and conversions on your affiliate links
ThirstyAffiliates Pricing: Free| Pro Version starts at $159/yr
5. Auto Amazon Links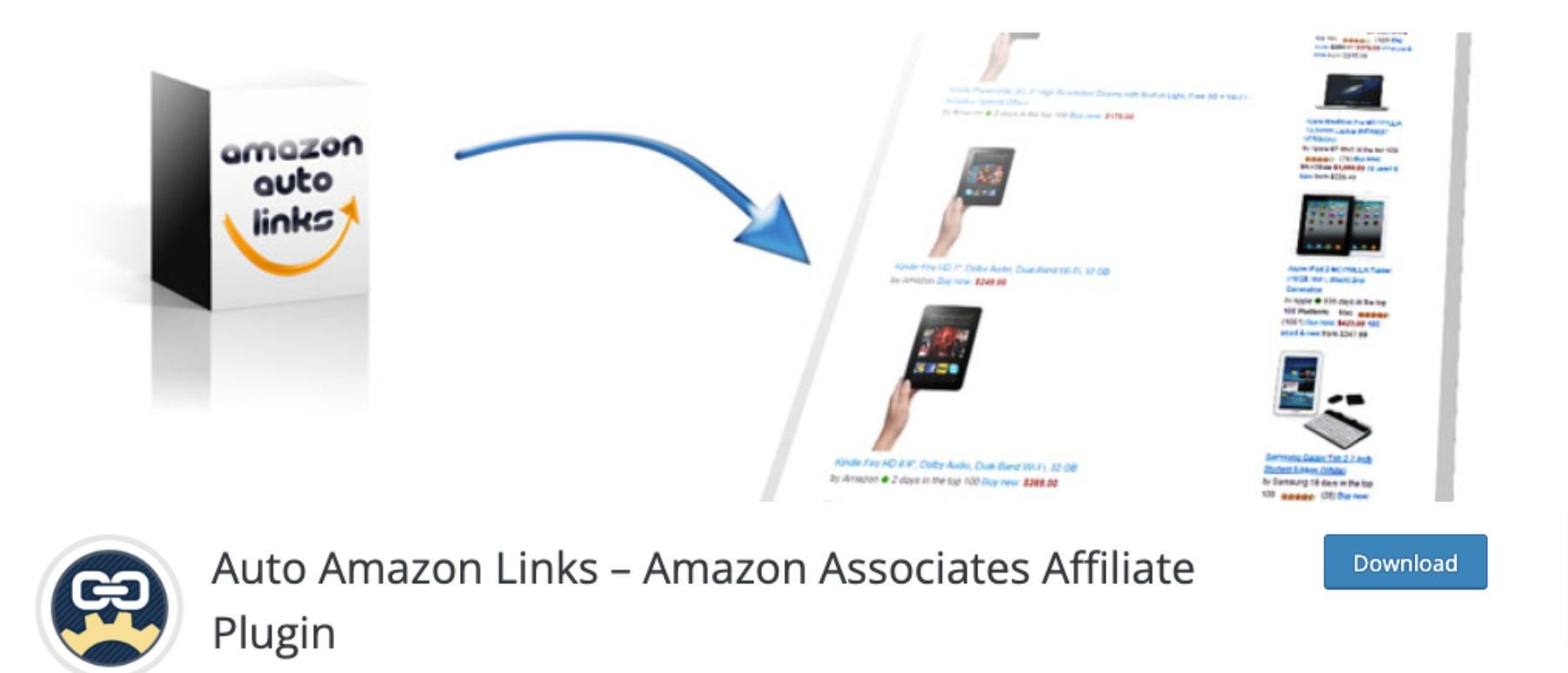 Amazon Auto Links is a great free Amazon affiliate solution for website owners on a limited budget. Like the other solutions listed, this program automatically adds Amazon's Amazon'sfeeds and affiliate links to your website.
The displays frequently update product listings and update them as product details and pricing change. Additionally, you can filter out undesirable items from your links based on their description, title, and ID number. Products that are no longer available will be automatically removed, and tables with the products will be updated accordingly.
In general, this product provides you with everything you need to quickly implement affiliate links without spending time managing them manually.
Key Features of Amazon Auto Links:
Free.
Geotargeting support
Four ways to display products (category, product search, item look-up, URL)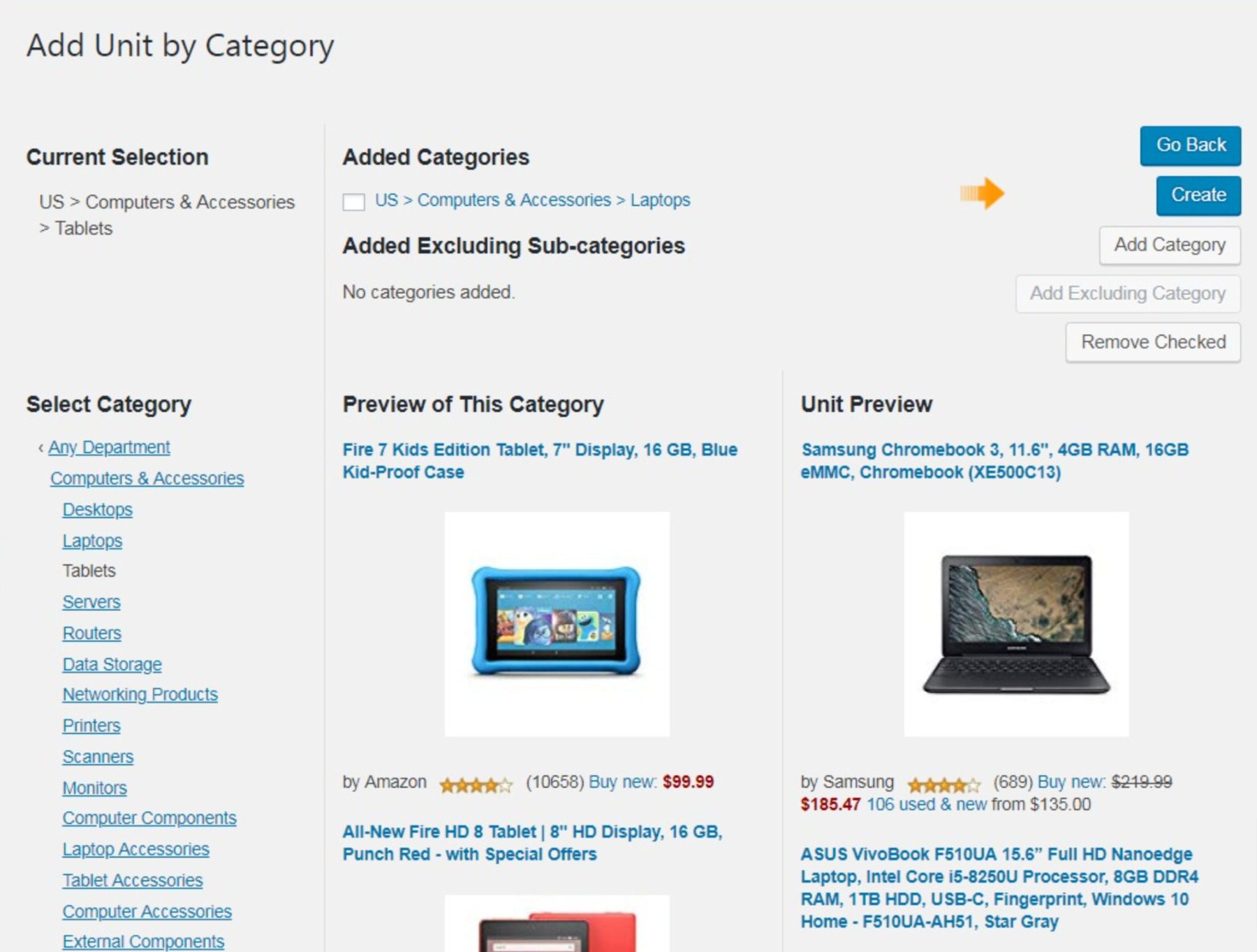 This plugin also gives you the tools to change the image size, description length, and product titles for your Amazon products.
Amazon Auto Links is for you if…
You want a cheap and easy solution.
You are just starting and don't need super advanced features.
You don't mind coding custom templates for new layout designs.
Amazon Auto Links Pricing: Free
6. WooZone (WZone)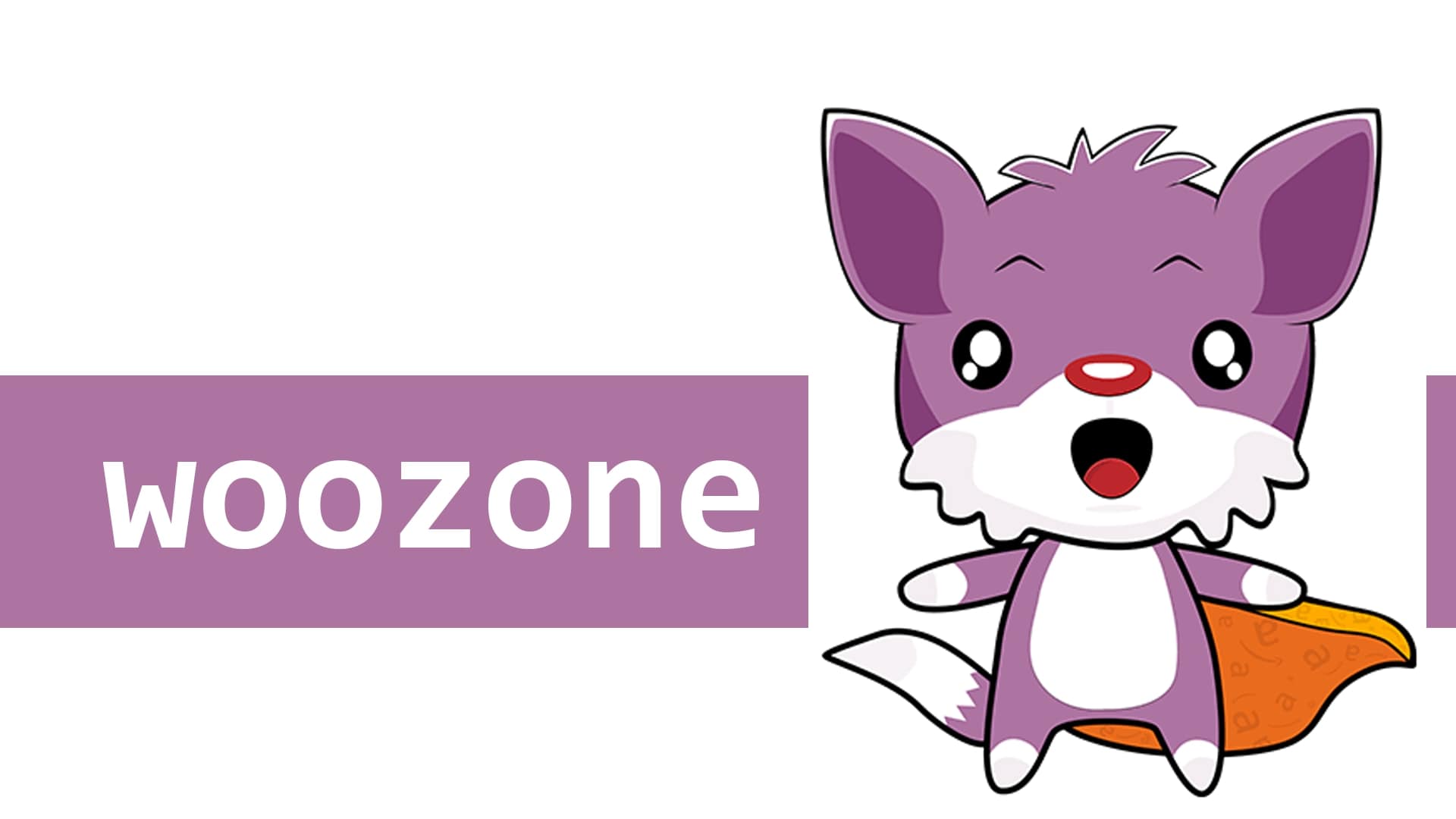 Also known as WooCommerce Amazon Affiliates, WooZone (WZone), assists you in linking your WooCommerce-based store with Amazon.
In essence, WooZone enables you to choose items from Amazon.com and display them as if they were WooCommerce items. Then, when ready to buy, customers who visit your website can examine these items as they would on a conventional WooCommerce site before being redirected to Amazon (via your affiliate link.)
Key Features of WooZone:
Automatically updates WooCommerce listings
Designed specifically for WooCommerce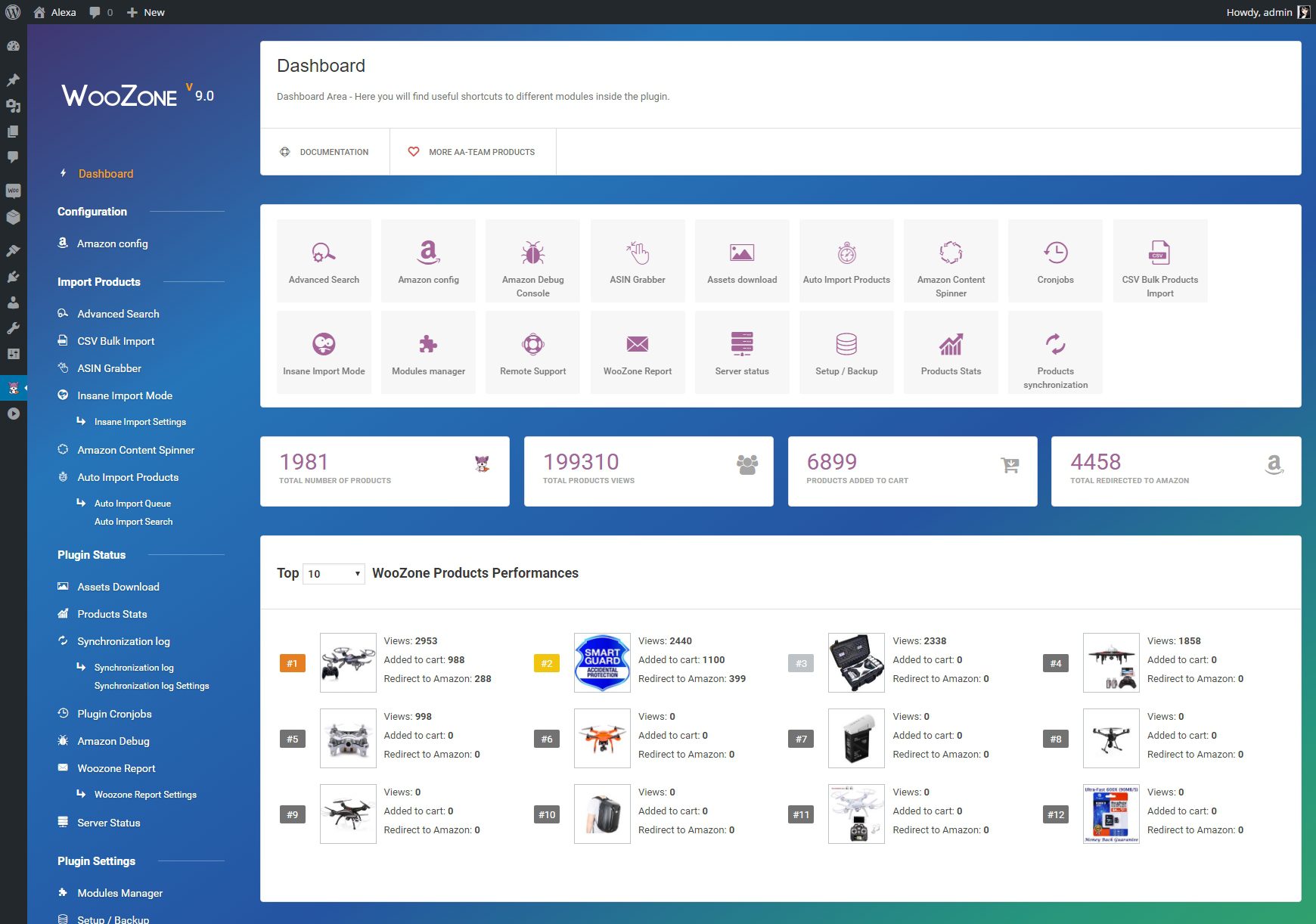 In short, WooZone is an ideal solution if you're familiar with working with WooCommerce products.
WooZone is for you if…
You are using WooCommerce.
You want to sync and import products without needing an API key
WooZone Pricing: $49 LTD for single-site usage
NOTE: We have a tutorial on their lite version of the plugin, which isn't currently supported.
Comparing The Best Amazon Affiliate Plugins
We covered quite a few great plugins in this post, but you can only install one! Before you make your choice, you should consider the price of each plugin and the unique features included in each.
Amazon Affiliate Plugin Price Comparison
We know that price is a big consideration. Here's a look at all our best Amazon affiliate plugin recommendations from the list and focus on the pricing differences. With this lot, you'll notice a spread of annual, lifetime, and free payment options that you can choose between.
Top Amazon Affiliate Plugin Feature Comparison
We've gone over each plugin one by one and introduced them. Now, let's take a look at the top 3 on our list and do a side-by-side feature comparison.
🥇

AAWP

🥈

AzonPress

🥉

Pretty Links
Starting Price
$53/yr
$39/yr
$199/yr
Affiliate Link Management
✔️
✔️
✔️
Customizable Link Appearance
✔️
✔️
✔️
Geo-Targeting
✔️
✔️
✔️
Click Tracking
✔️
✔️
✔️
Automatic Product Updates
✔️
✔️
❌
Responsive Product Tables
✔️
✔️
❌
Find/Replace Links
❌
❌
✔️
Automated Comparison Tables
✔️
✔️
❌
Bestseller Lists
✔️
✔️
❌
Automated Comparison Tables
✔️
✔️
❌
Active Installations
Unknown
Unknown
300,000+
Community Rating
N/A
N/A
4.8/5
⭐⭐⭐⭐⭐
Read Reviews
Get AAWP
Get AzonPress
Get Pretty Links
What is the Best WordPress Amazon Affiliate Plugin?
WordPress offers a lot of excellent plugins to help foster a profitable Amazon affiliate marketing program for your website. However, if you're looking for a solution that will give you everything you need for an advanced campaign and you're willing to spend some money, we recommend AAWP, which has everything you need and is known as the industry standard.
A slightly pricey but unique solution (one that has plenty of unique features) is Pretty Links, which is a fantastic option. Regardless of your choice, a WordPress plugin will significantly enhance your site's ability to monetize and present relevant products to your visitors.
If you are interested in adding an affiliate program of your own to WordPress, check out the best affiliate plugins for WordPress. Or, if you are looking for products/services to promote on your website and social channels, check out these great affiliate programs that can help monetize your online properties.
Know any other plugins that can help Amazon affiliates? Leave a comment telling us below!
Article featured image by ya_blue_ko/ shutterstock.com