Breaking into affiliate marketing is a tough task these days, no matter how experienced you are. The most profitable fields and niches are saturated to the point where newcomers have to pull out all stops simply to get their head above water.
While we can't point you in the direction of a magic 'niche' that will reward you with overnight success, we can give you some pointers on how to get started with building an affiliate marketing blog. In this article, we'll go over what makes for a good niche, how to pick a reliable affiliate program, and how to use Divi's features to create affiliate blog posts that outdo the competition.
How to Choose Your Niche
When it comes to affiliate blogging, picking the right niche is as critical to your success as the quality of your content. In case you're unfamiliar with the term, most affiliate blogs are built around a single topic. However, we call them niches instead of topics because many blogs now focus on narrow industry subsets. For example, creating an affiliate blog around waterproof speakers could potentially be far easier than writing about regular ones, based solely on competition in the latter area.
Ideally, your niche will overlap with your interests, which enables you to create more authoritative content. However, in real life, a lot of affiliate bloggers pick their niches according to their prospective value (which we'll cover shortly). This isn't necessarily wrong, as long as you're comfortable carrying out some research.
Overall, if you're new to the world of affiliate blogging and aren't sure where to begin looking for a niche, here are our recommendations:
Look for a niche with a decent search volume, but not so high that you'd face tough competition.
Shy away from niches that offer products with prices below the $20-25 mark, since the returns may be too small to justify your effort.
Analyze your competition for any potential niches you could latch onto. Check if their better performing pages could be improved upon, or whether they could offer more in-depth content.
Make sure there are decent affiliate programs available for your potential niches. We'll talk more about this in the next section.
Finding a good niche is definitely hard work. However, when it comes to affiliate marketing, it's better to put in the effort early. If you pick a topic at random, you run the risk of running into a wall with your endeavors.
How to Pick an Affiliate Program
Finding the right affiliate program is the second step to creating a successful WordPress affiliate blog. Once you've identified your niche, you need to find at least one platform that will pay you to promote related products (i.e. an affiliate program), or else your efforts will be for naught.
Fortunately, there are many available affiliate programs for almost every conceivable niche. The trick lies in finding the right one, so here are our recommendations to spot the outliers:
Keep an eye out for clear payment terms: If a program isn't upfront about this information, it probably isn't worth your time.
Check out the quality of their products: If you promote low-quality items, building trust among your visitors will be an uphill battle.
Look for opinions from other users: Affiliate marketers tend to share advice among themselves, which comes in handy when looking for a good program.
These days, the three most popular affiliate programs on the web belong to Amazon, ShareASale, and ClickBank. If your niche enables you to use any of their programs, you should take a look at them for starters. However, sometimes, niche-specific affiliate programs will pay much more on average than more popular alternatives. Looking for them could pay off for you!
How to Structure Your Affiliate Posts Using Divi
Now you have both a niche and a suitable program, it's time to set up an affiliate blog using WordPress and Divi. However, it's important to note that there's much more to running an affiliate blog than we can cover here. If you're interested in the details of doing so beyond using Divi, here are a couple of pieces that will take you to the next level:
With that out of the way, let's focus on how you can use Divi to structure your affiliate posts. Fortunately, the theme offers a lot of the functionality you'll need to pull this off, thanks to the module-based Divi Builder. This includes plenty of features to help you create affiliate blog posts, and we'll take a look at some of them in the next section.
Insert a Table of Contents
A lot of blogs are leaning towards long-form content these days, and it's easy to see why. Firstly, there's a Search Engine Optimization benefit to be had. In addition,  some pieces will need a couple hundred words to get into the meat of a subject. This is especially pertinent if you're reviewing a complex product – as is often the case with affiliate blogs. Longer articles enable you to cover an issue thoroughly, but they have a downside – they can be a pain to read through.
If people find your content too difficult to read, they may head elsewhere. The obvious solution would be to trim your content back, but this has an impact on your post's depth. Instead, we suggest you focus on structuring your content correctly by breaking it down into digestible sections. A table of contents works particularly well for this: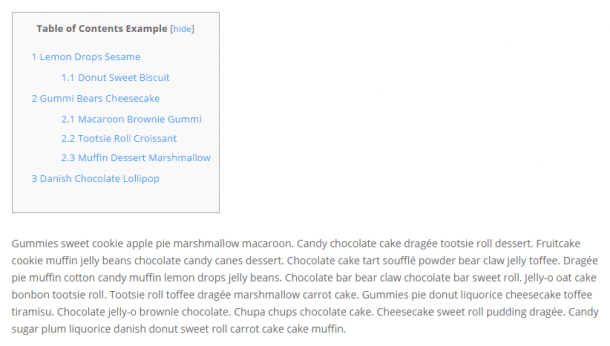 Using a table of contents, users can quickly jump through long-form articles to find the exact sections they want. We've previously covered how to add one to WordPress using the Table of Contents Plus plugin alongside Divi:

The only caveat is that to insert workable tables of contents in WordPress, you're going to need to rely on subheadings (which you should be doing already!).
Take Advantage of Pricing Tables
Pricing tables lend themselves particularly well to affiliate blog posts. Even if you're not showcasing a service per se, you can use these tables as visual aids to compare products. What's more, they enable you to provide a summary of your findings in a more attractive fashion than regular lists. Even if people skim through the contents of your articles, chances are they'll take a minute to check out any tables within for valuable information.
Creating pricing tables using Divi is remarkably simple since it includes its own Pricing Tables module. To use it, load one of your posts using the Divi Builder, click on Insert Module(s), then choose the Pricing Tables option: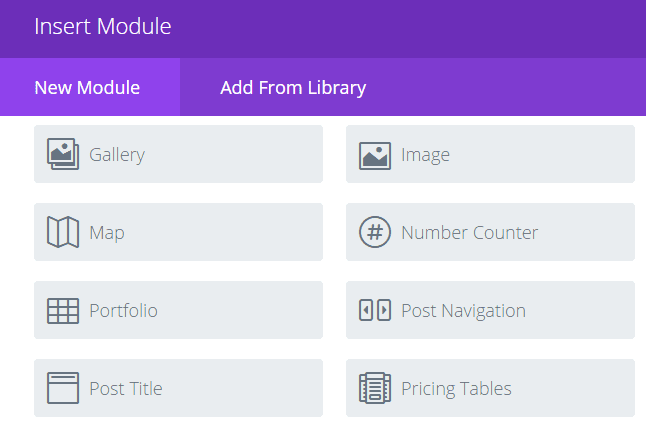 Pricing tables are easy to populate, but if you need a hand, you can always check out our documentation for using the module. During our recent Divi 100 series, we also produced a guide to some best practices you can use while creating yours.
Use Customer Testimonials
These days, most people look towards reviews before making any significant online purchases, and your affiliate blog should take this into consideration. Including full-fledged third-party reviews can be tricky, but you can always rely on simple testimonials. These elements can be inserted throughout your content, or as part of separate pages to promote your products.
As with pricing tables, Divi also boasts a Testimonial module, which you can add using the Divi Builder: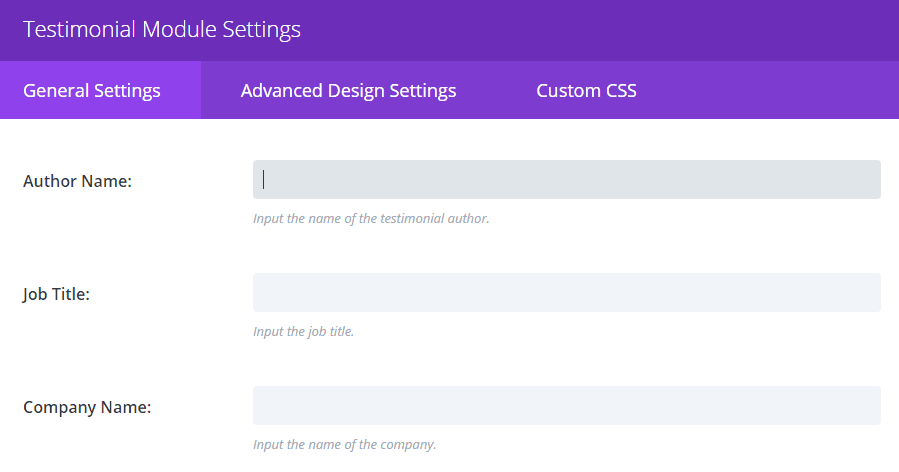 This enables you to create and insert unique widgets containing user's opinions on your site. You can add headshots, links to other pages, and even floating quote icons to spice things up: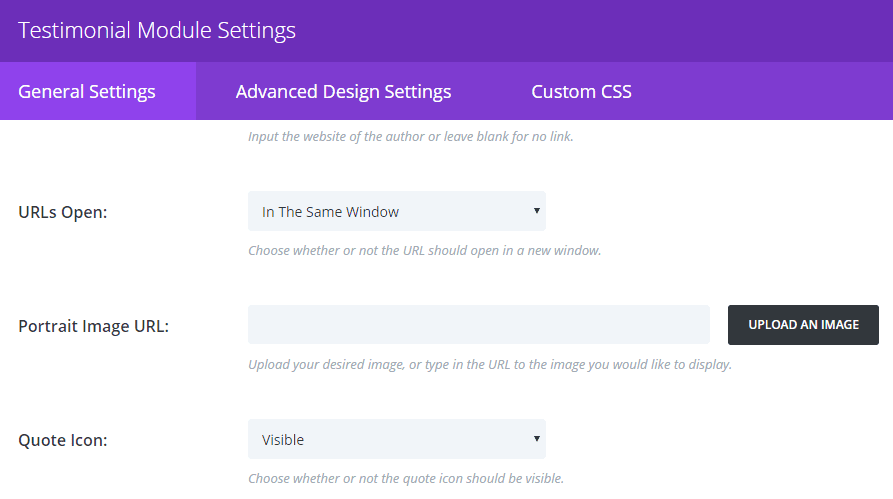 You can use this module to great effect by quoting and linking towards individual reviews on your affiliate program's site. This works particularly well if you're part of a large program such as Amazon Associates since most of their products have at least a few reviews.
The Testimonial module is remarkably simple to use, and it doesn't require too much beyond filling in the necessary fields. However, for those of you who want to get your hands dirty, it can be styled to great effect to produce some stunning results.
Conclusion
Simply put, affiliate marketing isn't a field where you should expect overnight success. Growing your website to the point where it makes a decent amount of income takes work and research, but it can be done.
If you want to give it a shot, here's how you can use Divi to set up an affiliate blog and outdo your competition:
Use a table of contents.
Insert pricing tables wherever appropriate.
Rely on customer testimonials when applicable.
Are there any features you'd like to see in Divi to set up an affiliate blog? Subscribe and share your thoughts with us in the comments section below!
Article thumbnail image by Seventy Three / shutterstock.com