Welcome to Day 16 of our Divi 100 Marathon. Keep tuning in for 100 days in a row of awesome Divi resources as we count down to the amazing release of Divi 3.0 on the final day of the series!
---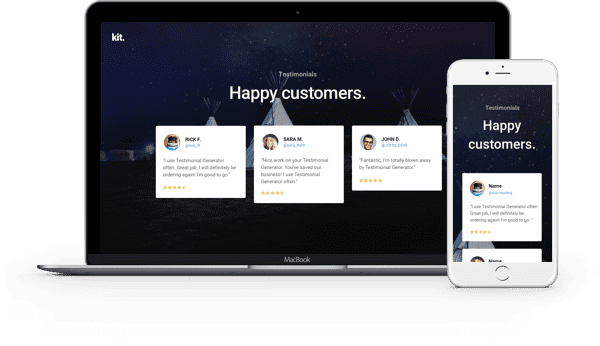 In today's world of online reviews no one seems to buy anything without first hearing what past customers have to say about it. That's why testimonials are so powerful. They're some of the most effective social proof you can provide for your product or service.
In today's post we want to help you get the word out about what it is you do best (whatever that may be) by giving away a brand new layout kit including 11 testimonial sections.
Downloading & Using the Divi Testimonials Layout Kit
To use this new layout kit you'll first need to download it's zipped folder divi-100-pack-4.zip by clicking the download button below. Then, locate it in your downloads folder and unzip it. Next, navigate in your WordPress Admin to Divi > Divi Library and click the "Import & Export" button at the top of the page.
When the portability modal pops up, select the import tab. Then, click the "choose file" button and go back to the folder you unzipped in your downloads folder. You have two options: Single Sections.json and Testimonials Kit.json. I would recommend importing them both, one after the other since you'll be able to use them in different ways.
When you've selected the first file, click the "Import Divi Builder Layouts" button and wait for the upload to complete. Repeat the process for the second file. When complete, you will now have both the 11 individual sections to choose from as well as the whole Divi Testimonials Layout Kit to choose from within the builder.
To pull up the full kit within the Divi Builder, which is simply all of the eleven testimonial sections in a single page layout, create a new page or navigate to the editor of an existing page and click "Load From Library" at the top of the builder. Then click "Add From Library" and choose "Testimonial Sections Kit".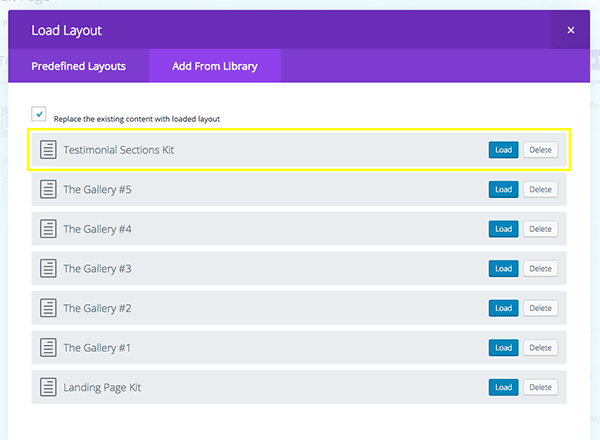 What's particularly great about the kit is that it allows you to some really interesting with the pre-designed sections. Namely, quickly and easily being able to swap out different testimonial section styles using the right-click "disable" feature. You can also see what they look like "side by side" as well as mix and match different elements to create your own unique sections. Which, of course, you can then save to the Divi Library for later use.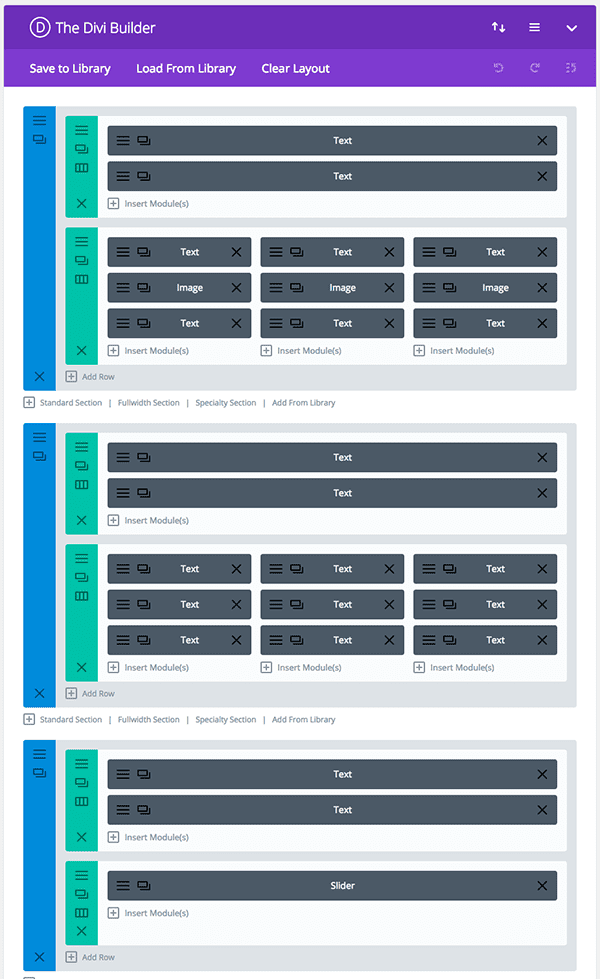 If, on the other hand, you know exactly which testimonial section you would like to use, the quickest way to add just that section to your page will be to use the "Add From Library" option in the "new section" controls.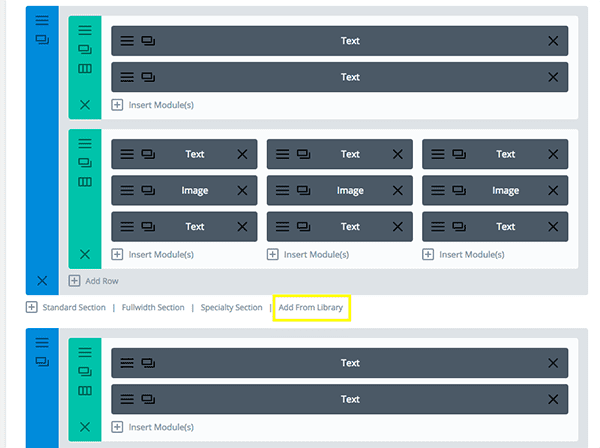 This will pull up a modal where you can choose which specific testimonial section you would like to add to your page.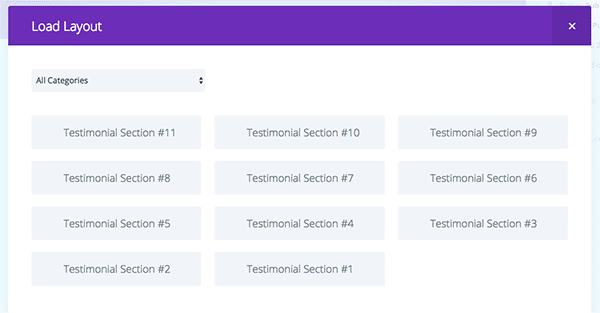 In this way you can get a brand new, stylish testimonial section loaded onto your Divi website in just a few clicks. Giving you more time to shine for your existing customers while also letting future customers know just how good it can be to do business with you.
Subscribe To Download For Free
11 Beautiful Testimonial Sections In One Kit
Below you will find previews of each individual testimonial section available in this kit. You can keep their designs as they are, swapping out your own information, or you can mix and match design elements to create new and unique testimonial sections.
Don't Miss Tomorrow's Divi 3.0 Sneak Peek!
Tomorrow we will publish the Divi 100 Marathon's first Divi 3.0 sneak peek. This post, by Nick Roach, will provide you with the first real glimpse of Divi 3.0's amazing new visual editing experience. Something we fully expect to be a game changing feature for both casual and power users alike.
Be sure to subscribe to our email newsletter and YouTube channel so that you never miss a big announcement or Divi freebie!

Divi 100 Day 16
The Countdown To Divi 3.0
This post is part of our Divi 100 marathon. Follow along as we post free Divi resources for 100 days in a row! This 100-day countdown will end with the game-changing release of Divi 3.0, including our brand new visual editor built from the ground up using React. Divi 3.0 will change the way you build websites with the Divi Builder forever!
Let the countdown begin.