Divi hosting by FlyWheel is a powerful combination for any WordPress website. Divi brings all the design tools one could hope for in a WordPress Theme, and Flywheel provides a powerful cloud platform tailor-made for Divi and WordPress. This is perfect for those who love to design amazing websites without having to worry about the more time-consuming, technical side of things.
About Flywheel Hosting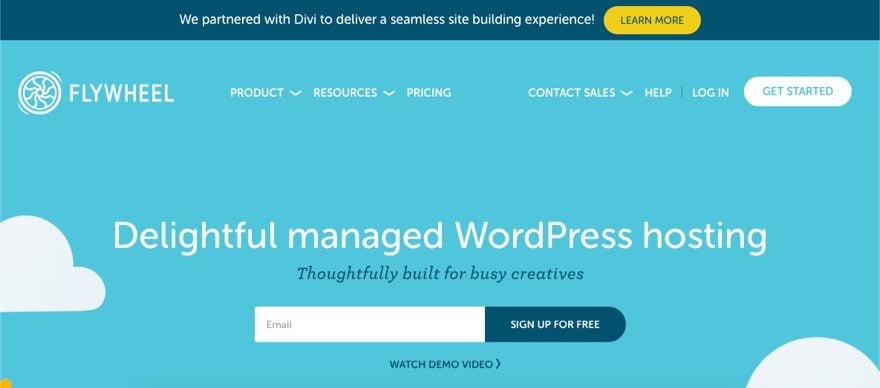 Flywheel provides some pretty great services for their hosting clients that make them one of the best managed WordPress hosting platforms. Their cloud platform (powered by Google Cloud Platform) has many great features, including:
Instant-scaling technology to handle traffic spikes
Flycache to handle caching optimized for WordPress sites
They also handle all the essentials of WordPress management including:
Security (like Free Malware cleanup, WordPress Updates, and nightly backups)
Support (you can submit tickets directly from the dashboard or find what you need from their Help Docs)
Plus, they have a few additional features that make development easier, including:
Blueprints
Site Cloning
Staging environments
Free CDN
Free SSL Certificates
Demo Sites
Local Development – With their local development application, aptly named Local, you can build Divi sites locally. Enjoy things like one-click WordPress Installation, demo URLs, Local SSL support, and more. You can even push your local site to Flywheel in a few easy clicks.
But that is all stuff that comes with Flywheel already. Let's explore what it means to take advantage of Divi Hosting by Flywheel.
What is Divi Hosting with Flywheel?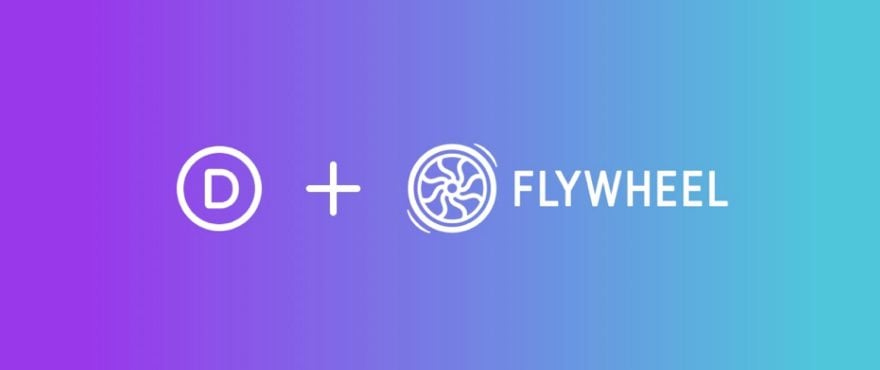 To be clear, Divi hosting simply refers to hosting that is geared toward websites using the Divi Theme. In this case, Flywheel is the hosting provider that has partnered with Elegant Themes to give customers a great experience for hosting their Divi sites.
Benefits of Divi Hosting with Flywheel
Here are some of the benefits of Divi Hosting with Flywheel:
Full Support on Both Ends
Now when customers take advantage of Divi hosting with Flywheel, they can enjoy better customer support from both ends. Because Elegant Themes and Flywheel are now working together, our support teams can collaborate with each other to get issues resolved faster. Plus, we will provide support links in the Members Area to help the user find the help they need seamlessly.
This doesn't mean Elegant Themes will offer dedicated hosting support directly or that Flywheel will offer dedicated Divi support. We want customers to keep getting the best support directly from the experts in their respective fields. If a customer has a hosting issue (eg. upgrading, downgrading, a hosting billing issue, etc), they should reach out to Flywheel.
Servers Optimized for Divi
Flywheel servers are specifically tuned for Divi in order to meet all of Divi's requirements so that customers get high-end Divi hosting that is fast and reliable.
Divi Hosting customers also have access to additional CPU resources (more power) to ensure speedy importing of your Divi theme and snappy uncached traffic. We've also optimized PHP timeouts so your longer running imports will still complete successfully. That means that more power is available for Divi hosting customers with no additional cost.
Integration and Easy Setup
With our Divi + Flywheel integration, users can sign up to Flywheel and create new Divi sites directly from the Flywheel Dashboard with a single click! No more having to download and install Divi manually, or verify username and API keys. You'll have a fully-functioning WordPress website with Divi pre-installed and configured with your Divi license.
Getting Started: Divi Hosting with Flywheel
Divi hosting with Flywheel has a smooth startup process.
Here's how it goes:
Step 1: Purchase Divi/Elegant Themes Membership
If you haven't already, you will need to purchase an Elegant Themes Membership in order to get access to Divi (and more).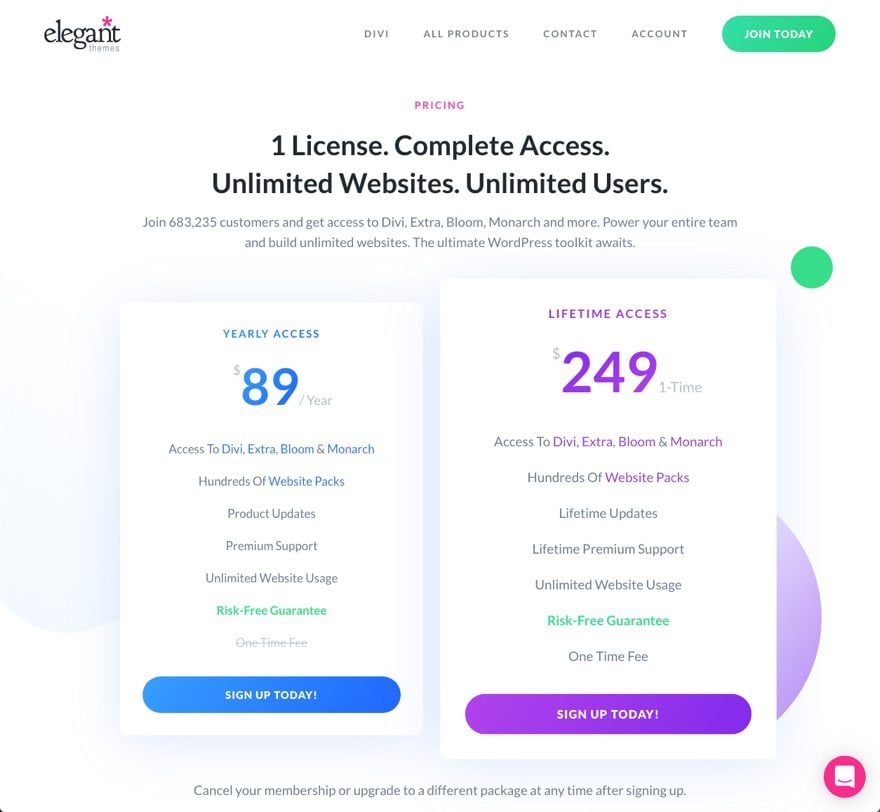 Step 2: Click to Sign Up with Flywheel
Once you have an Elegant Themes Membership, go to the Divi Hosting page and click the "View Details" button for Flywheel.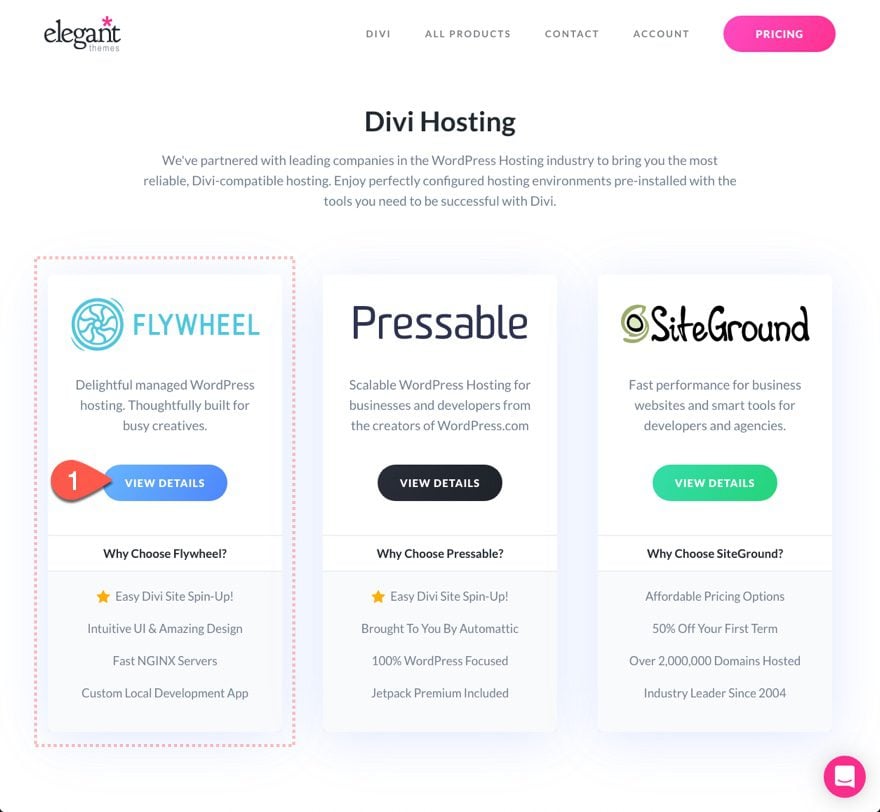 Then click the "Get Divi Hosting" button on the Flywheel landing page.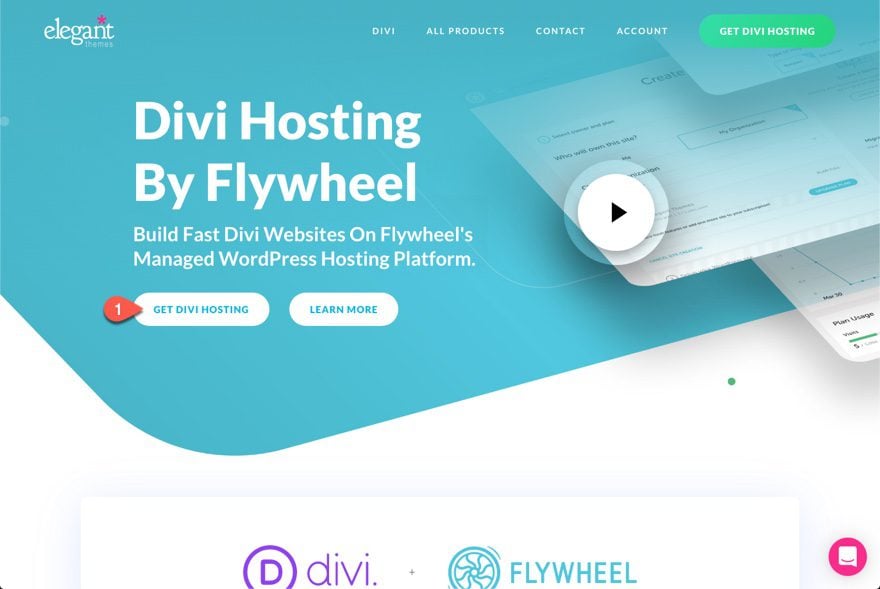 Step 3:  Login to Elegant Themes Account
Next, you will be redirected to ET's login page to login to your ET Members Area. This is necessary to connect your ET account to your new Flywheel Hosting account.
If you are already logged in to your ET account, you will be sent straight to Flywheel Sign Up page.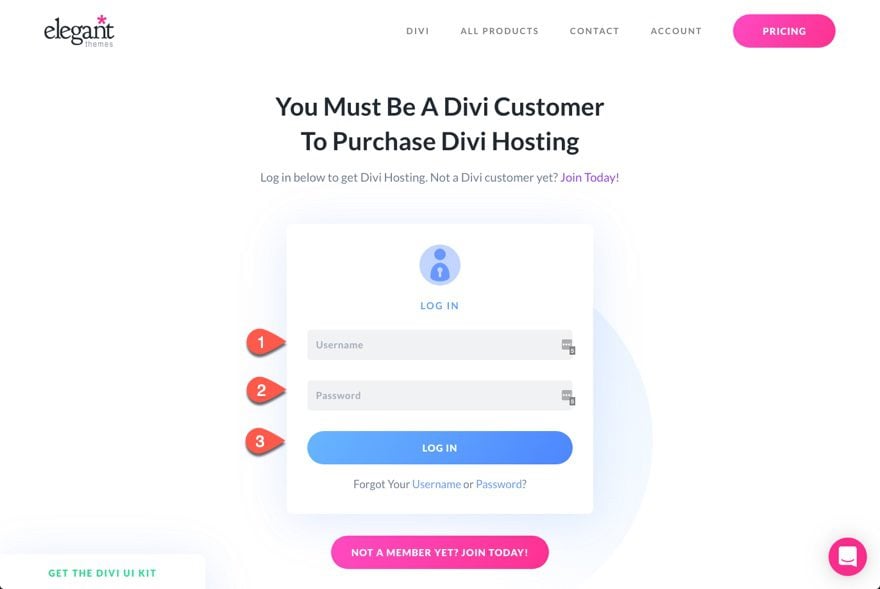 Step 4: Sign Up with Flywheel
After you are logged in, you will be redirected to the Flywheel login/signup page where you will sign up and purchase a Flywheel hosting plan.
You should see a co-branded logo section above the form. Otherwise, you may need to repeat steps 2 and 3 above to make sure your ET account will link to Flywheel successfully.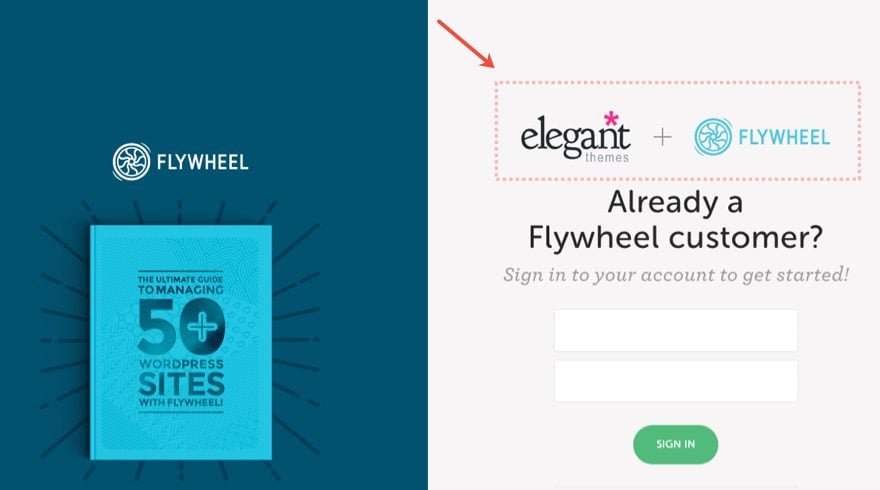 If you are already a Flywheel customer, you can sign in to your existing account…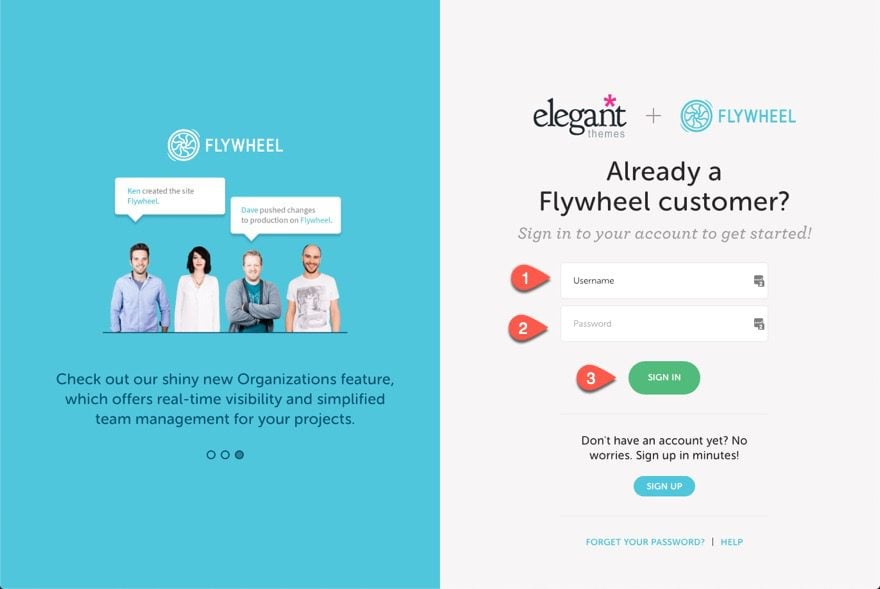 If you are new to Flywheel, you can sign up for a new account…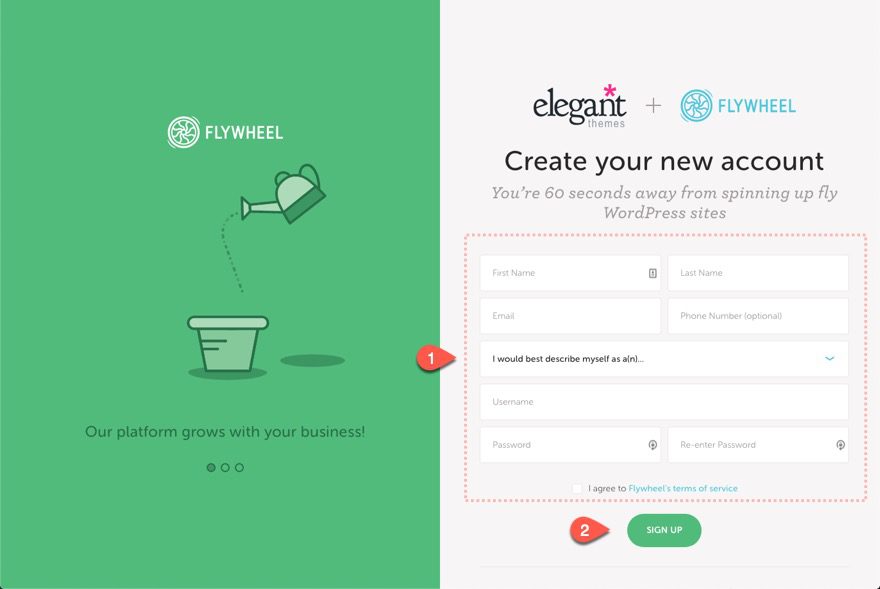 Step 5: Create a Divi Site
Once you are all signed up and the purchase is complete, you are immediately logged in and redirected to the dashboard where you can create your first Divi site. To create a Divi site, click the Create New Site button.

There are a few key pieces of information that need to be entered to create your new Divi site.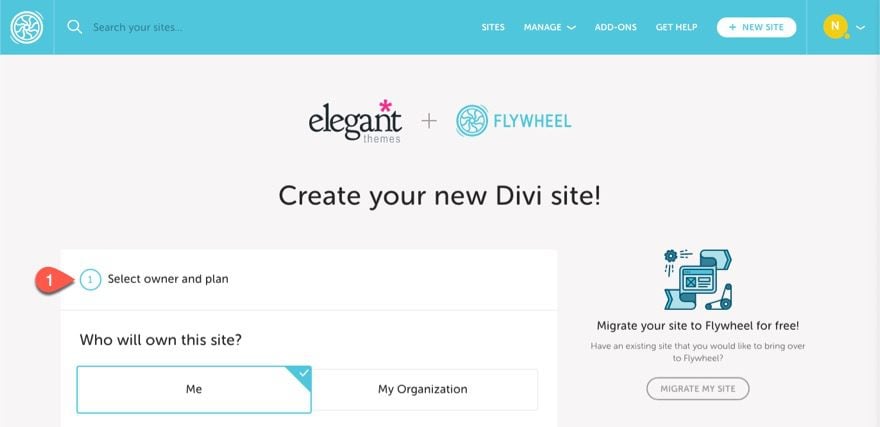 But after that, your new site will be created for you. No need to download, install, or set up anything on your own. You will have a fresh Divi site waiting for you.
Also, you can migrate any existing site(s) over if needed for free. Just click the "Migrate My Site" button a fill out a form and they will handle the rest.
Step 5: Access the WP Admin to your new Divi Site
From your Flywheel dashboard, you can click on the new site you created to access the site page. There you can see important info regarding your site, including a direct link to the WP admin for the Divi site. Click the WP Admin button to start editing your new Divi site!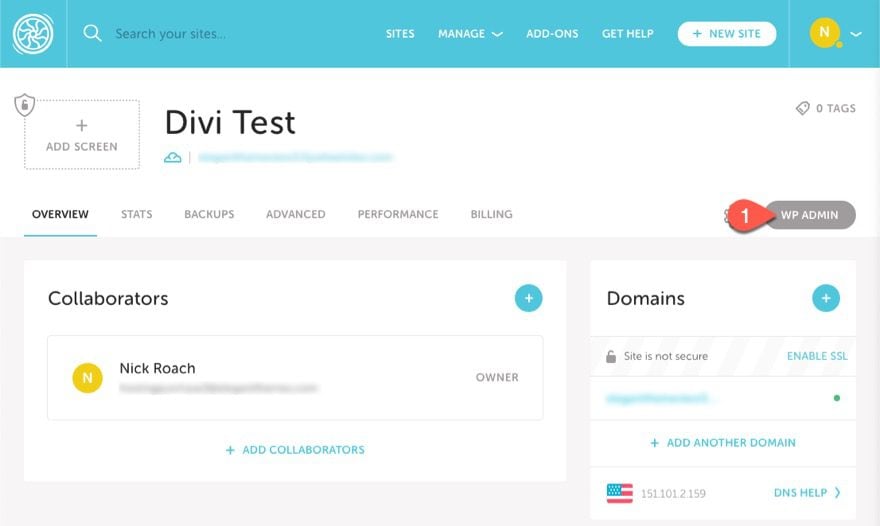 Your Divi + Flywheel Dashboard
The Flywheel Dashboard will contain all the features you will need to manage your Divi site hosting settings.
There are additional options available by clicking the gear icon, including the ability to create a blueprint of the site or clone the site.

There is a Stats tab that will show site stats including visits, storage, and bandwidth.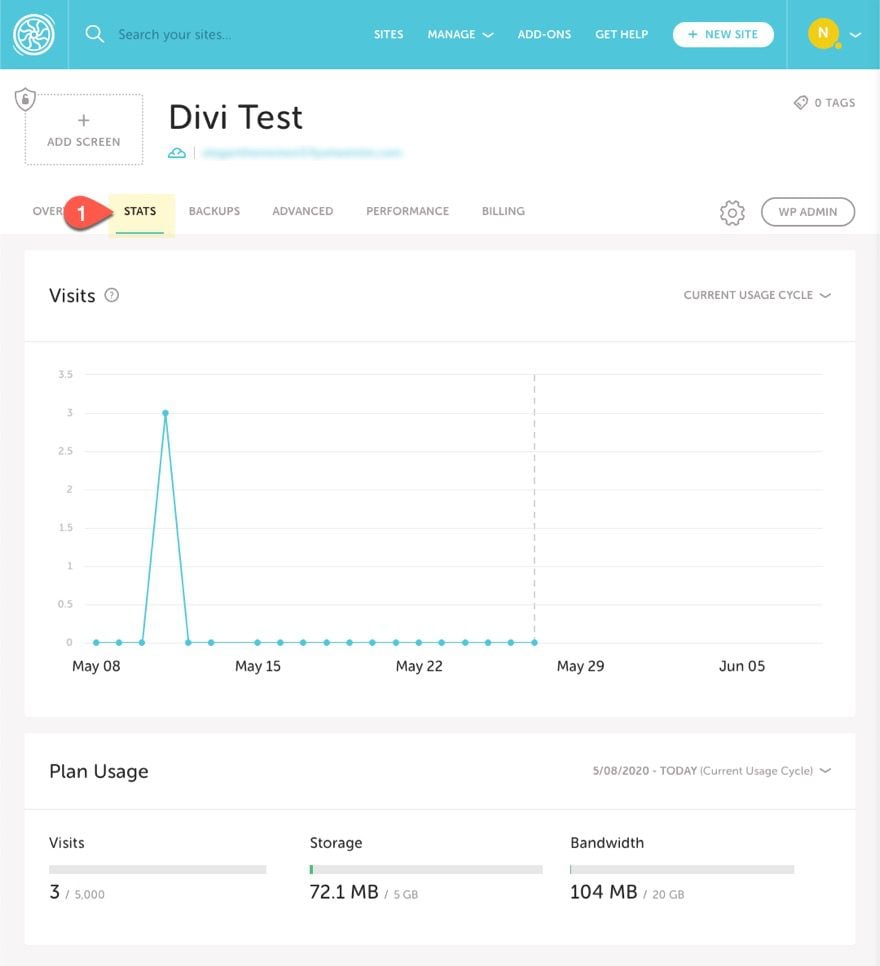 The Backups tab contains a list of all the nightly backups for your site as well as a link to create your own backup whenever you want.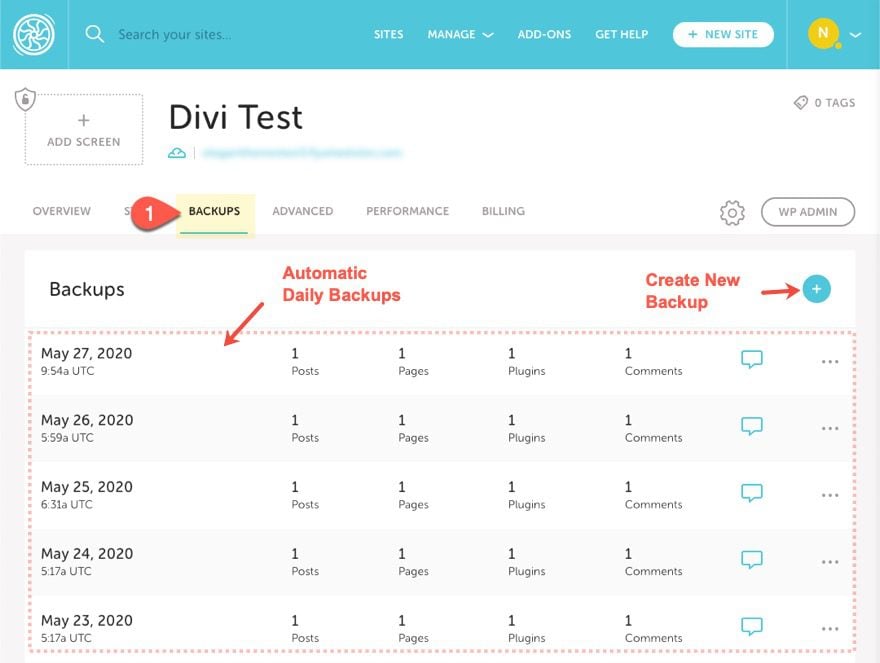 The Advanced tab includes the bulk of options available for your site including the ability to flush the cache, turn on a staging copy of the site and toggle development mode. You can also access the database manager directly from this page.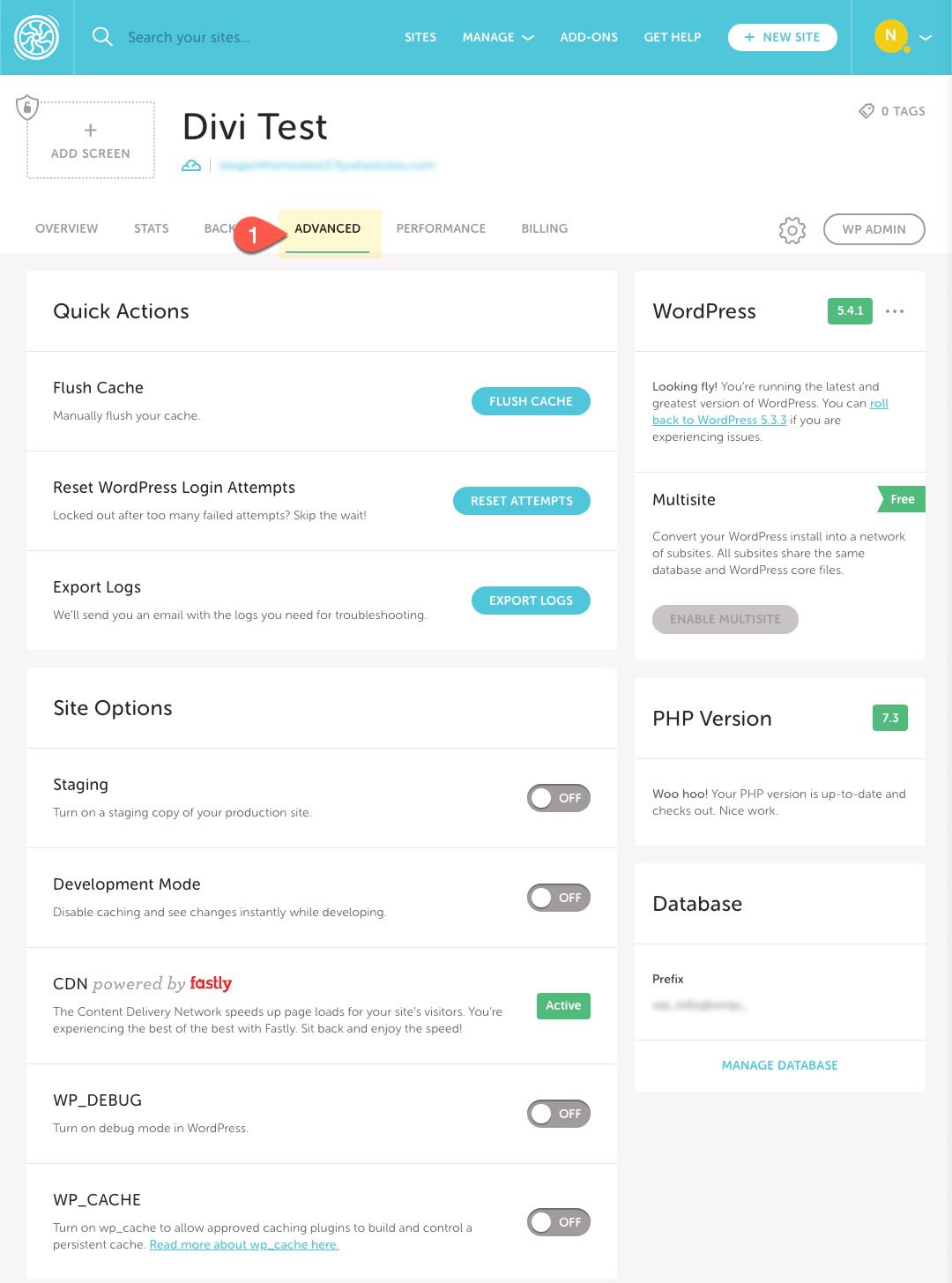 Your Divi Website
You shouldn't notice anything different in the backend of your website, other than better performance and a smoother setup workflow.
When you click into Appearance > Themes, you will see Divi already installed and activated for you.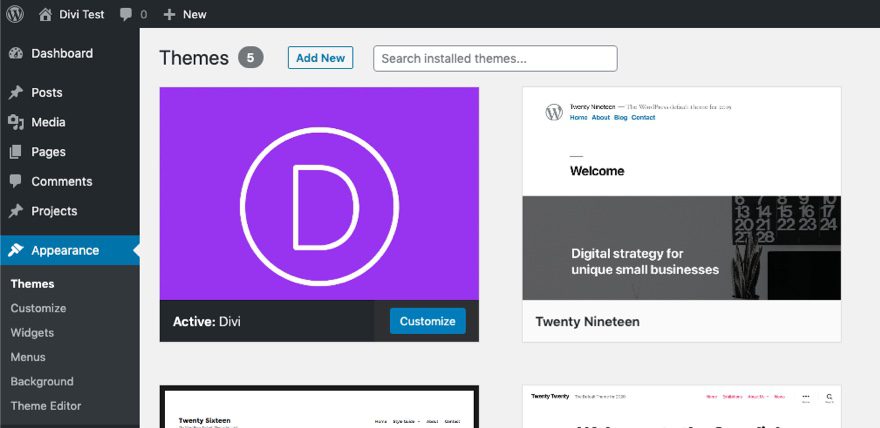 And when you check the Updates tab in your Divi settings, you will see the Username and API key entered for you already since you have a connected ET and Flywheel account.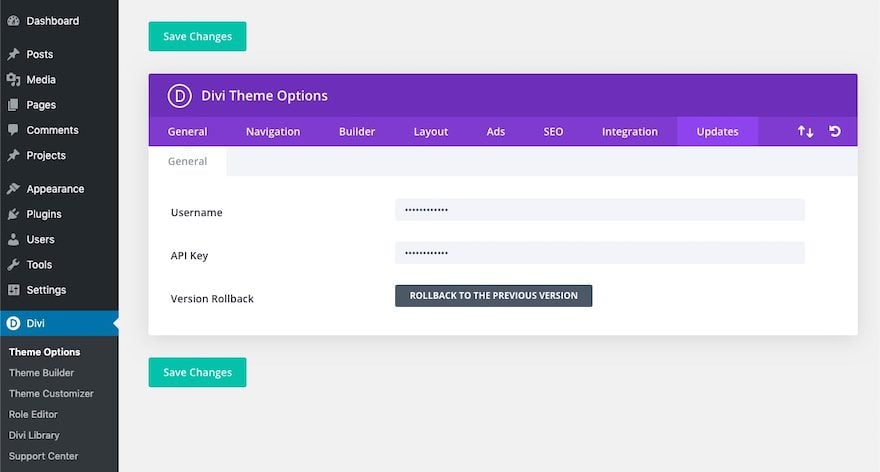 Wrapping Up
With Divi Hosting provided by Flywheel, you get one of the best WordPress experiences available. Not only do you get the benefits of an Elegant Themes membership and Divi, but you also get a hosting platform that is powerfully geared toward Divi and WordPress. Elegant Themes and Flywheel are proud to offer this joint service, and we hope that you are just as excited about it as we are.
Tell us what you think about Divi Hosting with Flywheel in the comments!