Have you spent hours and hours designing websites on platforms that are hard to use? Are you looking for a faster, more efficient way to create a visually stunning online presence? It's time to embrace the future with the best AI website builders that can give you a helping hand.
These new tools have already started to change the web design process, using artificial intelligence to take the heavy lifting off your shoulders. From AI-driven design assistance to code generation, the best AI website builders make it easier than ever to create a professional, mobile-optimized site in no time. These go beyond simply using AI art generators and AI writers for content creation by bringing these AI tools directly into the process of building websites.
This article will introduce you to the top AI website builders that have taken the industry by storm, including Wix ADI, Hostinger AI website builder, and more. Get ready to explore the ultimate tools for speedy web design.
The Best AI Website Builders of 2023

Subscribe To Our Youtube Channel
Most of these platforms have a complete AI design flow for creating new websites. The last one on our list can help more advanced WordPress users create custom code solutions using AI. Here's what we'll be covering:
The Best AI Website Builders Listed In Order
Expand List
First on our list is Wix ADI.
1. Wix ADI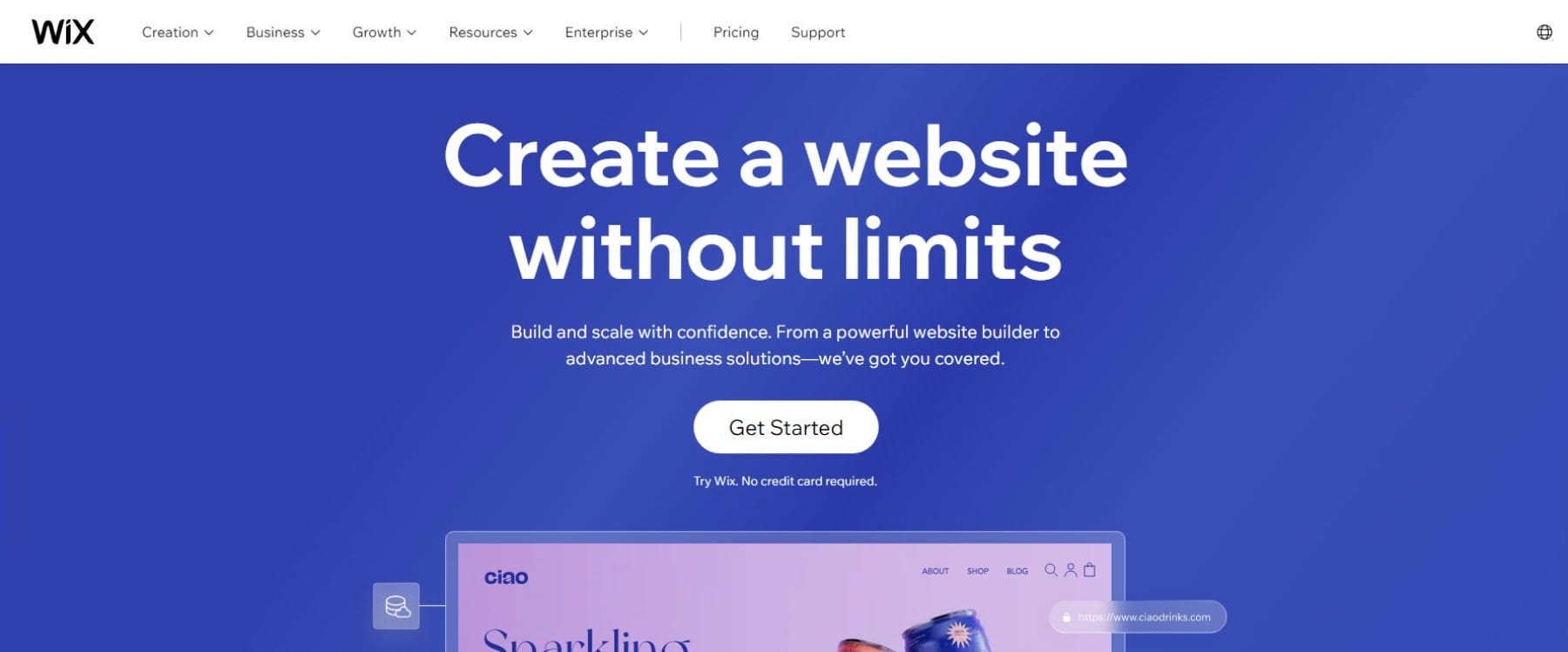 Wix ADI is an AI-driven website builder that simplifies website creation through its innovative AI assistant. Its innovative AI technology simplifies the process of designing websites, making it a go-to choice for users who may lack technical skills or time to dedicate to website creation. The platform enables users to create visually appealing web pages, landing pages, and online stores. Wix ADI is worth considering if you're looking for a convenient and efficient AI tool for web design.
Not all features in the standard Wix website builder are available in the ADI interface. Once an AI website is built, users can convert it to Wix's standard editing interface for advanced features. However, ADI won't be usable on that website once converted over. Users should stay on the ADI editor if they want to continue using AI website building for their websites.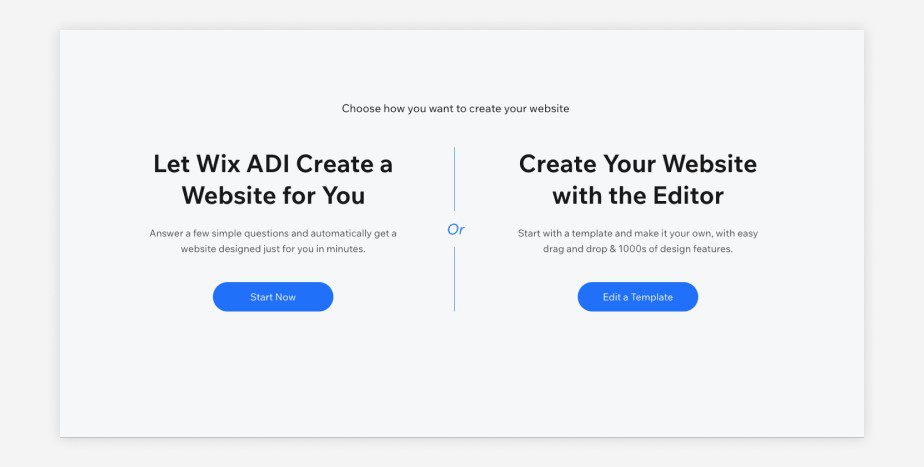 Key Features:
Intuitive AI design assistant for creating a website based on answers to simple questions
Customizable outputs to add a human touch to quickly generated AI designs
Can convert to a standard Wix site once built using AI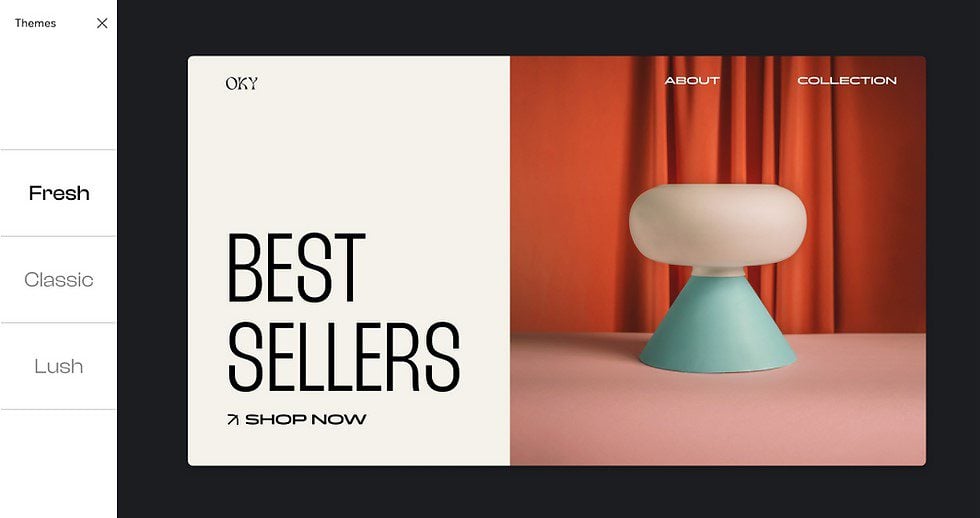 Best For:
Wix ADI is a very popular way to build websites for small business owners, online stores, and freelancers. Wix offers a unique way of creating websites that many people enjoy. ADI further simplifies the process by creating unique designs based on your needs.
Want to compare Wix and WordPress? See how they stack up: Wix vs. WordPress
Pricing: Create a Wix site starting at $16/mo
2. Hostinger AI Website Builder

Hostinger AI Website Builder makes it easy to generate, customize, and launch a brand-new website with the power of AI. The initial process of building your site with AI only takes about 1 minute. Simply fill out a few form fields telling the builder about your website and click the button.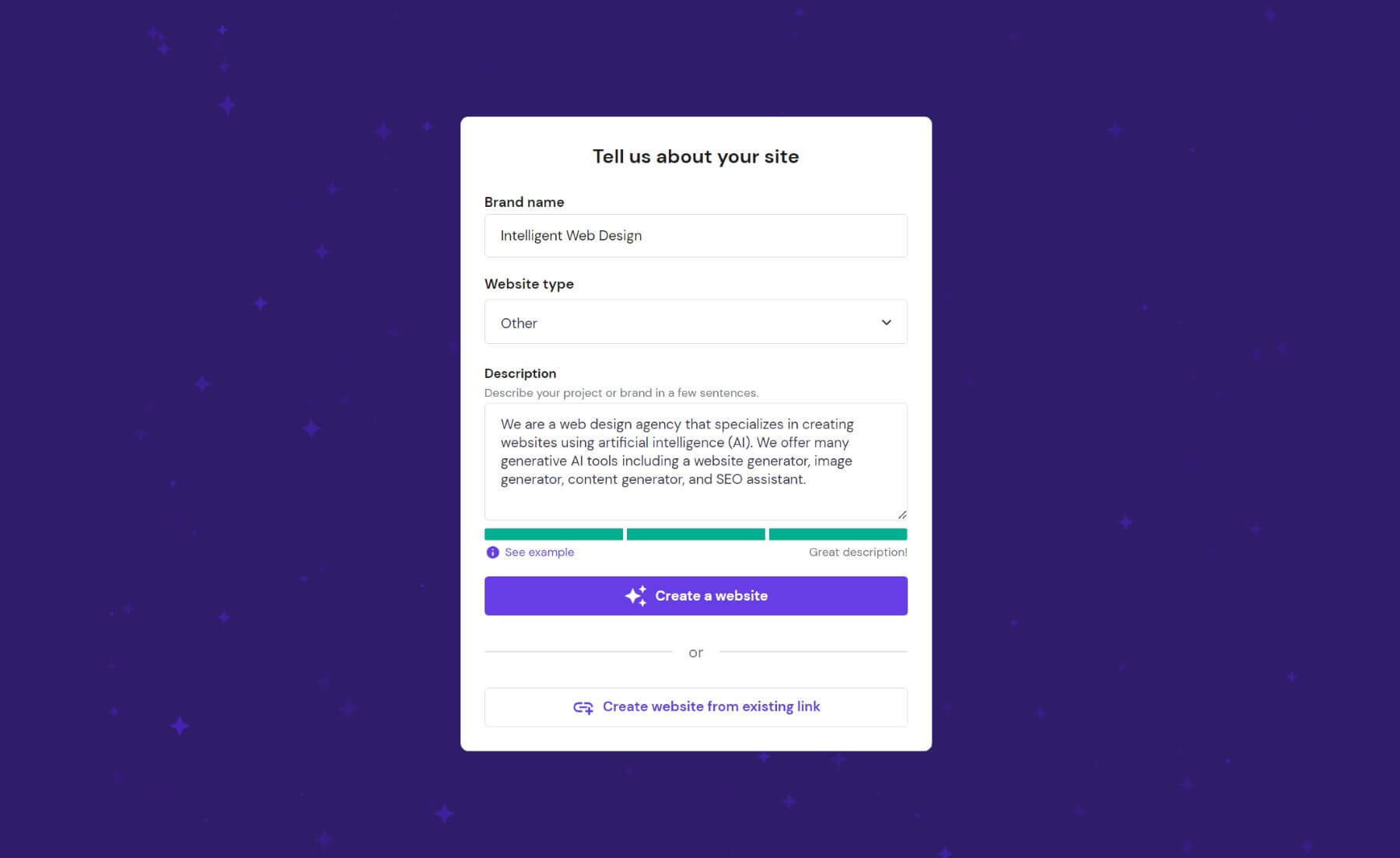 Choosing the website type helps the builder pick from premade layouts that provide the structure of the website. Based on the information provided, the builder uses generative AI technology, including ChatGPT, to generate content, images, fonts, and color schemes to build your site. The AI creation process only takes about 30 seconds before revealing your new website. If you are trying it out for free, you will have a few options at the bottom that allow you to change the layout, fonts, and colors. You can even add more pages if needed.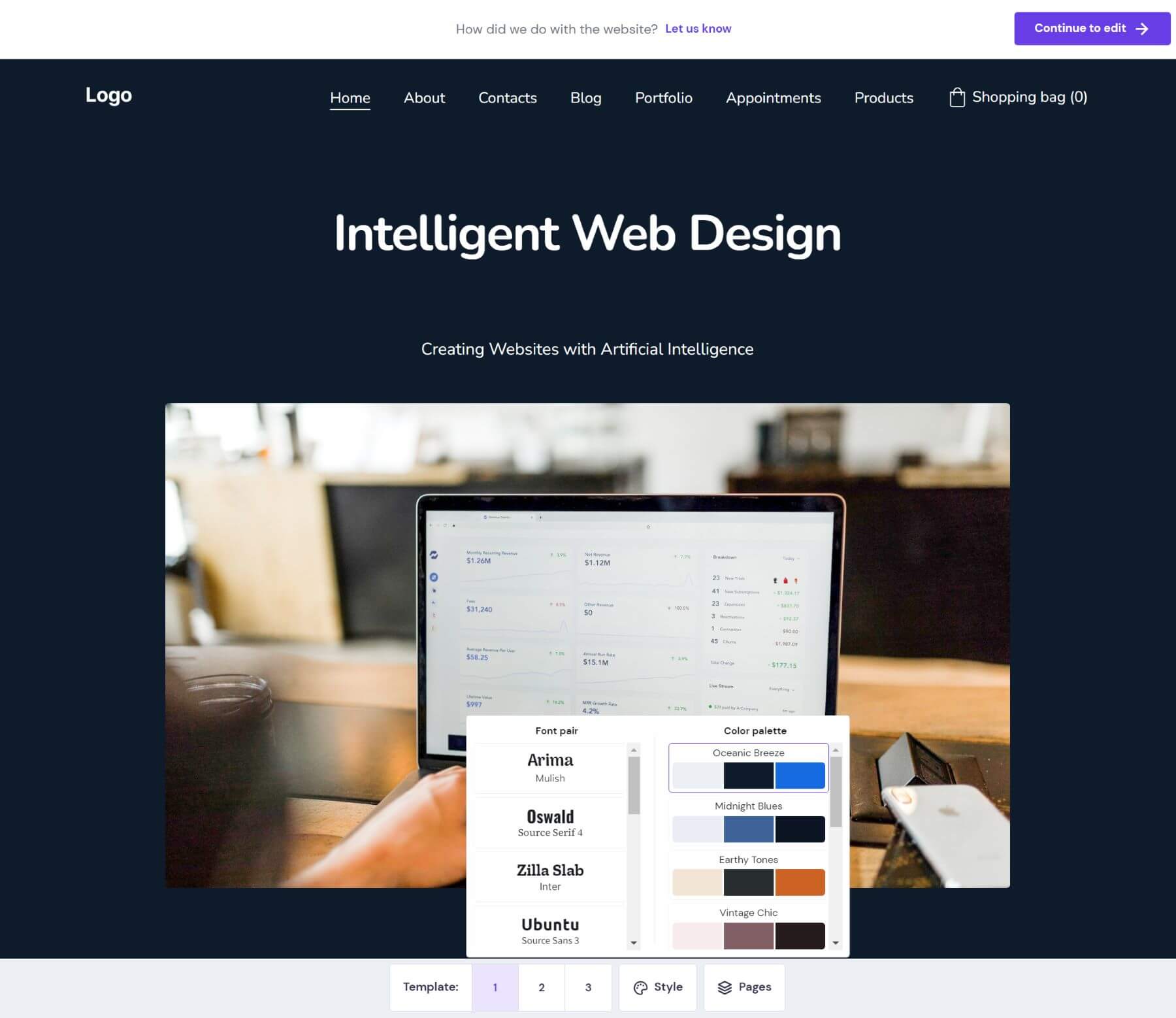 With a hosting plan starting at $2.99 per month, you will unlock all the AI customization features of the builder. This will allow you to generate more advanced AI designs and use built-in AI tools, including the AI writing assistant and image generator, the AI Logo Maker, and the AI Heatmap tool to help understand user behavior.
Key Features:
Create a website in minutes with AI just by entering a simple description
Responsive design out of the box
Drag-and-drop website builder for easy, no-code design
Built-in AI writer tool to generate copy on the fly
AI Logo Maker to make a custom logo in seconds (try it for free)
AI tools for SEO
AI Heatmap
eCommerce tools for creating an online store.
100+ premade templates
As a hosting provider, Hostinger is one of the best, offering fast speeds and generous storage at a low cost. With their Website Builder & Web Hosting platform, you can enjoy an all-in-one solution for building your site. You'll have full access to all the AI builder features as well as everything else a website may need (domain, hosting, email, eCommerce features, etc.).
Best For:
Hostinger AI Website Builder is great for beginners or small businesses who want an easy way to build websites on a fast and reliable builder platform. The AI builder and built-in AI tools will simplify the process of creating content and design for your site.
Pricing: Plans start at $2.99 per month
Try Hosting AI Website Builder
3. Divi AI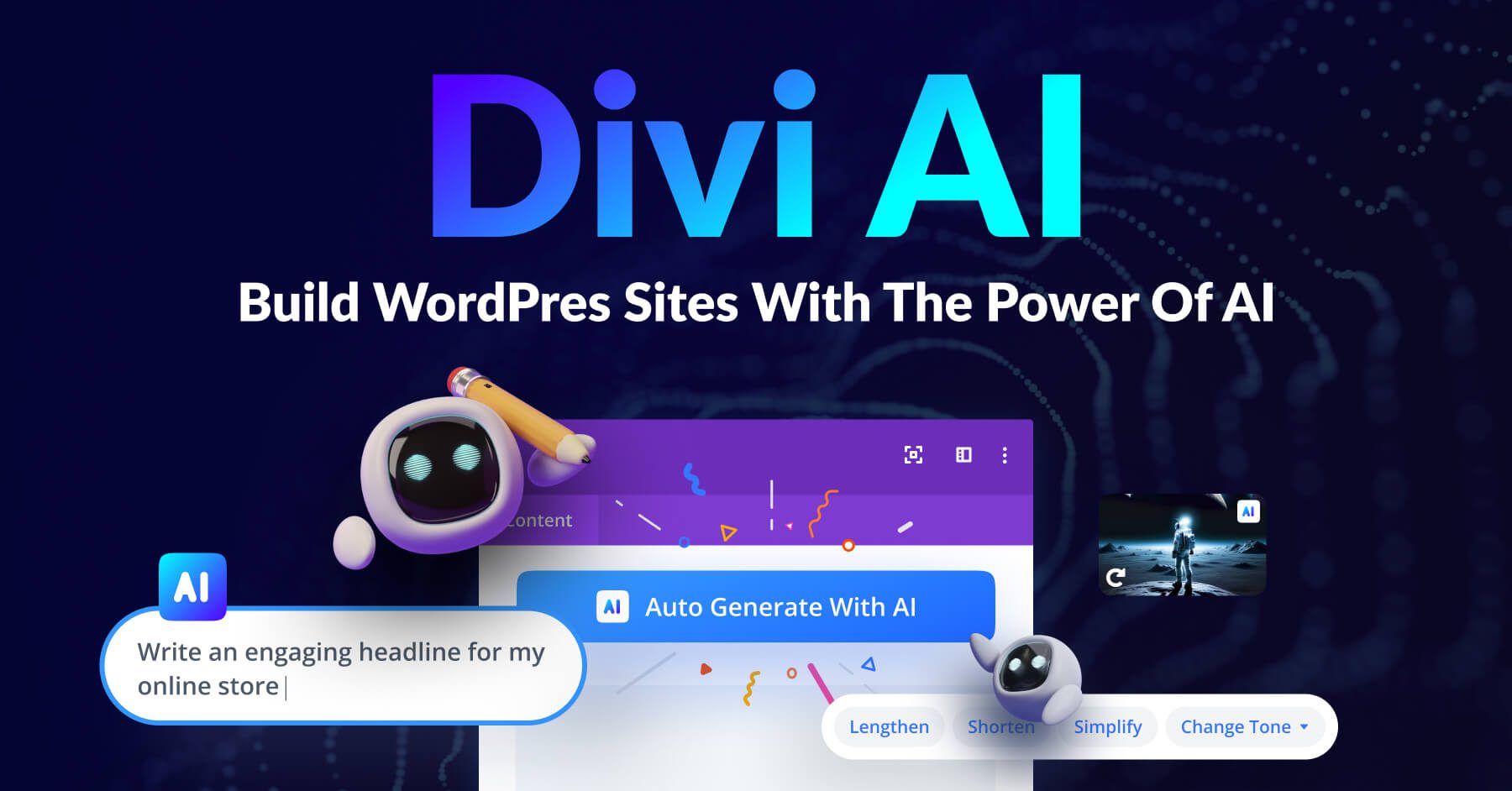 Divi AI is a robust AI website builder for WordPress that leverages the power of AI to make website creation simple. It's part of Divi, our WordPress theme and page builder plugin. Divi AI includes an AI image generator, content writer, and more — all in one powerful AI web design assistant. Divi AI understands your website, allowing it to generate contextually-relevant content consistent with your brand.
The Divi AI Image Generator can create spectacular images automatically — one click, and that's it! You can also generate images with AI by describing your desired image and choosing from various image styles.
You can even use Divi AI's image generator to refine and alter existing imagery, which honestly feels like magic.
The Divi AI Content Writer can also auto-generate content with just one click. It learns from your website and understands the context of your current page, using that information to generate new content on demand. You can also describe to Divi AI what you want it to write about, supplying the AI with as many details as you like.
Building websites with Divi AI is like always having a copywriter, digital artist, and photographer by your side! Pair that with Divi's massive selection of premade designs and its visual drag-and-drop interface, and anyone can have a new website up and running in no time.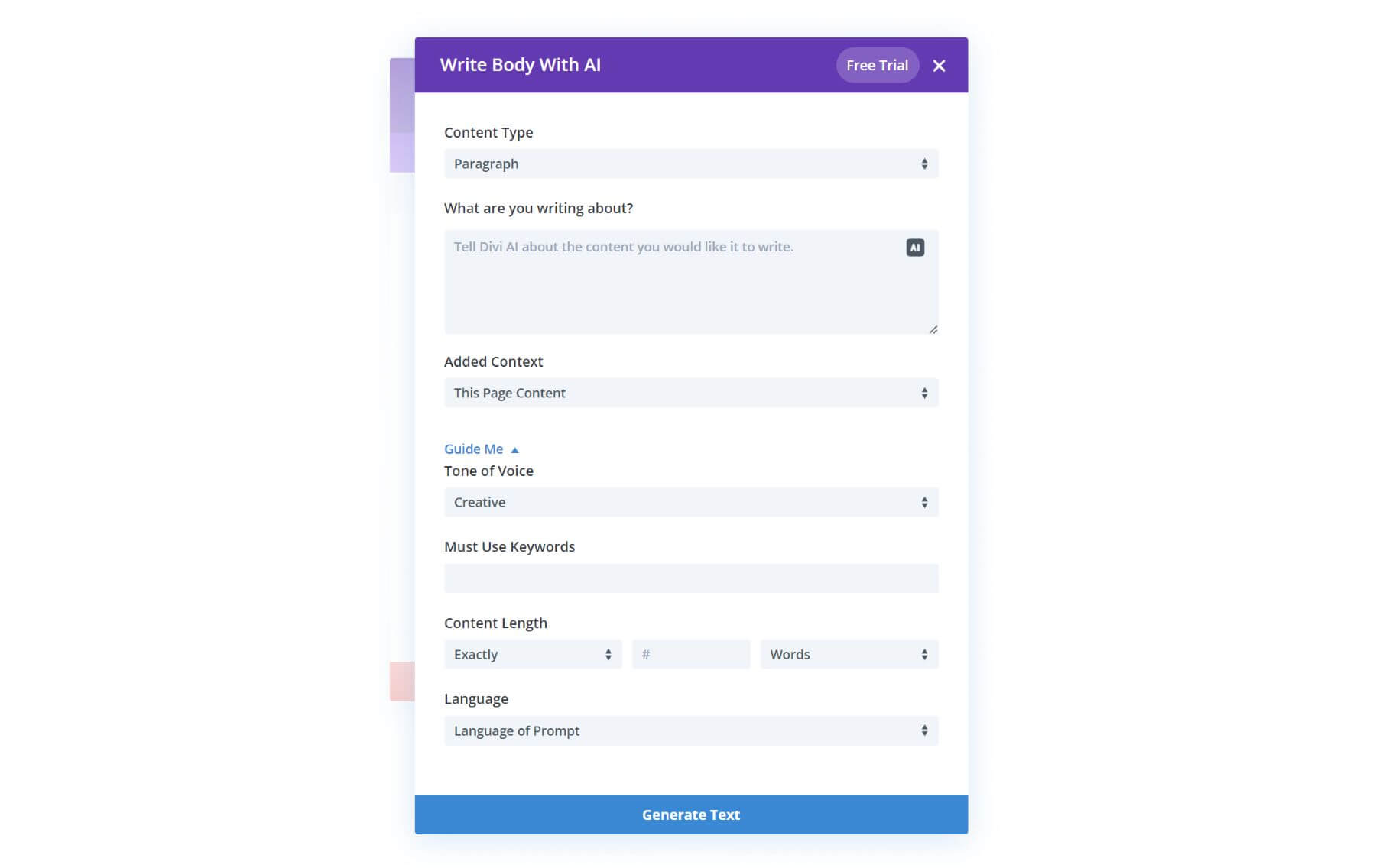 Key Features of Divi AI:
Generate AI content with one click while building your website.
Create stunning on-brand images for your site using Divi AI's AI image generator.
Refine existing images using built-in AI image styles, text prompts, and upscaling features.
Auto-generate contextually-relevant copy for your website on the fly.
Improve written content like a pro using  AI copy editing options.
Out of ideas? Get suggestions for new content with Divi AI's prompt generator.
Generate entire blog posts with specific keywords and edit them in seconds.
With Divi AI, you can get a complete website up and running quickly using Divi's 320+ premade layout packs. No matter what type of website you want to build, Divi has a design that will work for you. Anyone can take an existing layout and use Divi AI to make it their own. In no time, you'll have a complete website tailored to your business.
Best for:
Divi AI is best for any WordPress user looking to harness the power of AI to create stunning websites with an easy-to-use visual page builder. If you are a busy entrepreneur or small business owner, you'll save time and money building a professional website with Divi AI.
4. Framer AI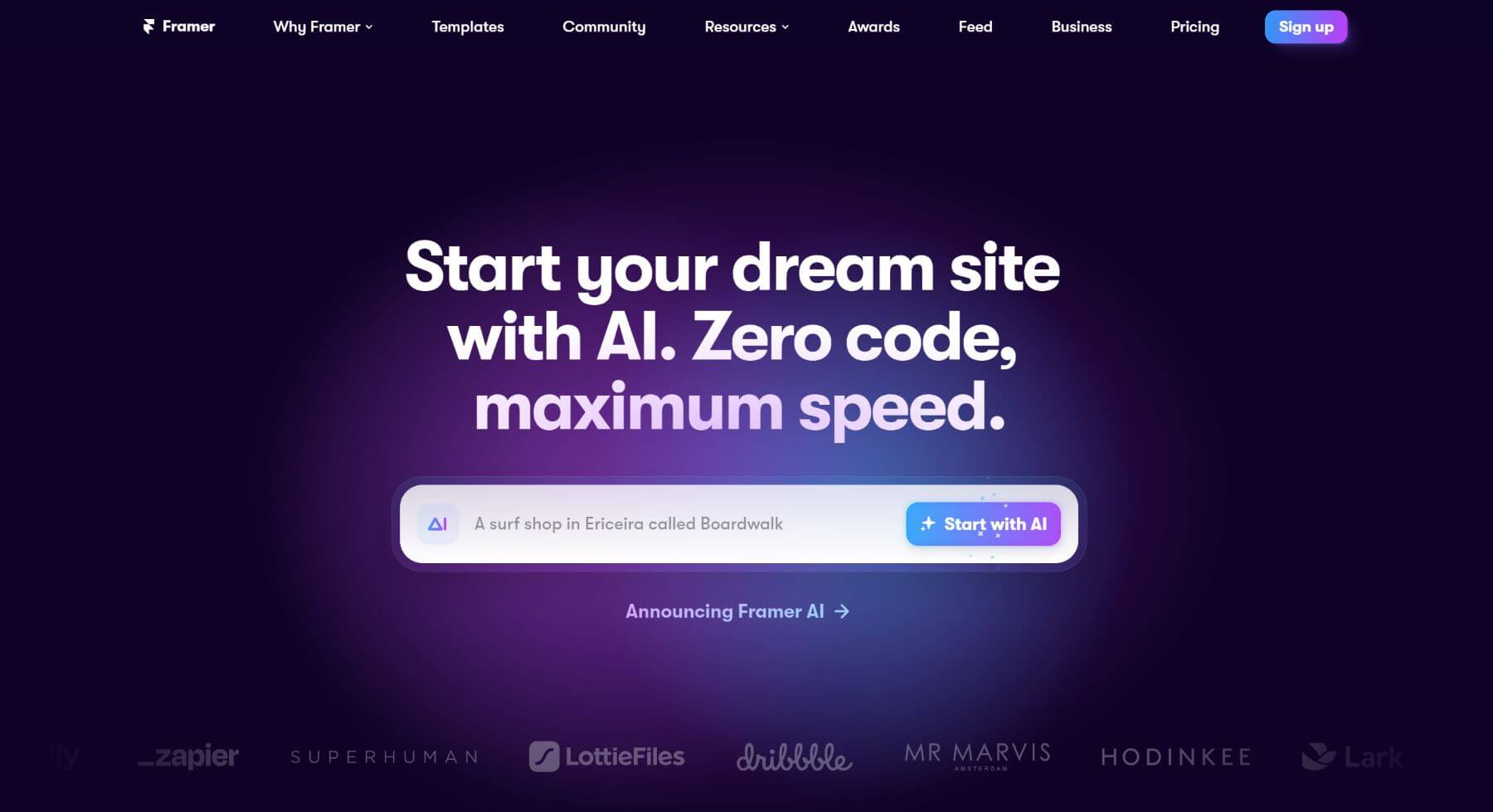 Framer AI is an impressive AI website builder that allows you to generate an entire website design using a single text prompt. Just type in what kind of site you want and watch the magic happen. If you don't like a particular color scheme or design, you can shuffle through alternative AI results on any element with a click of a button. You can use it for generating pretty much any type of site. You can use it to build professional landing pages or a dynamic blog with a built-in CMS.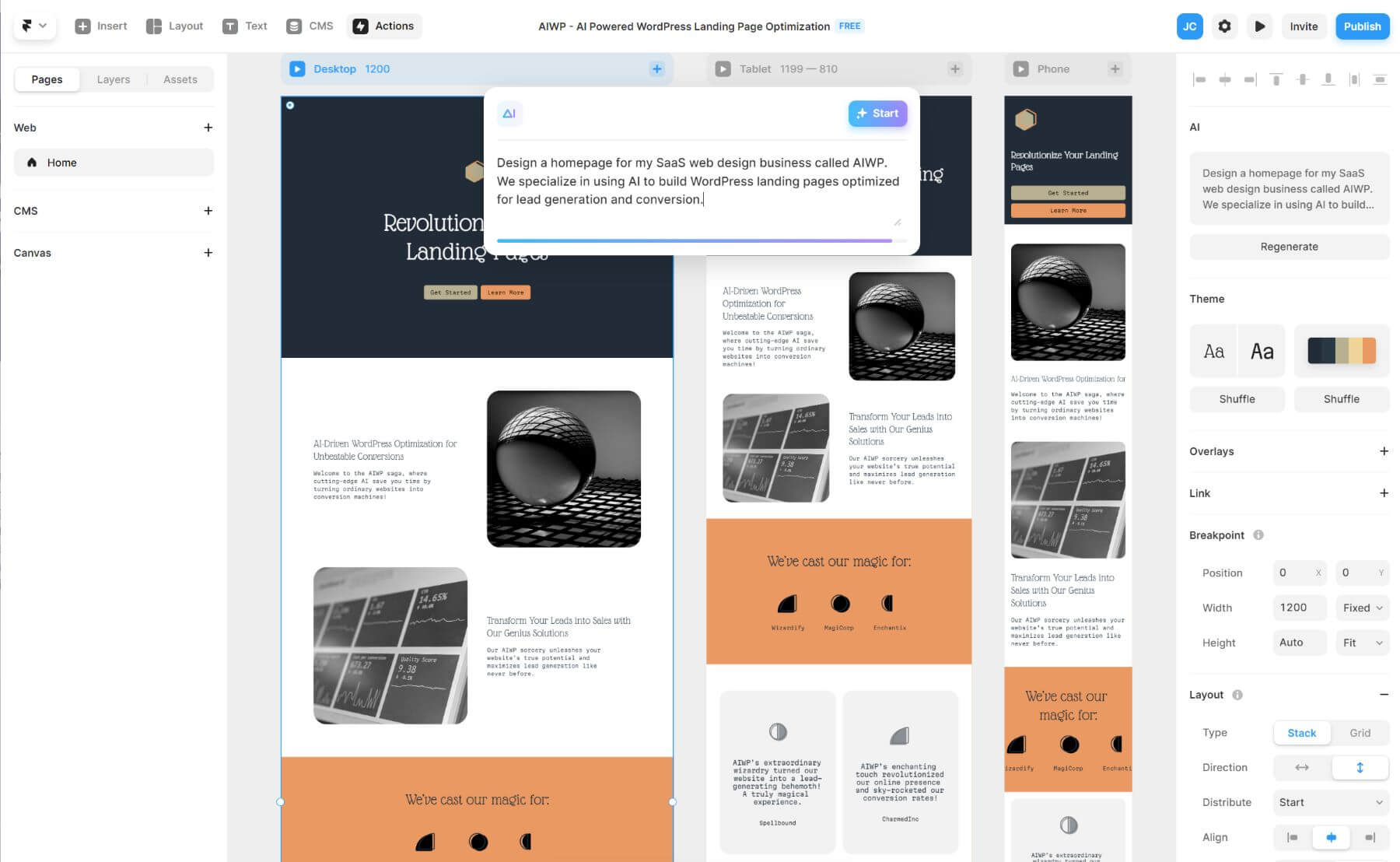 The user interface is very intuitive, allowing you to edit your designs using a no-code visual builder similar to Figma or Webflow. You can even start a project in Figma and migrate it to Framer with ease. You can also use built-in AI generation technology on the fly to generate content (like copywriting and images) for your site using text prompts. This speeds up the building process without having to hire a professional. The platform is built with performance and SEO in mind, so you can have a fast website with all the AI SEO tools you need to start your site off on a good foundation. It integrates with popular third-party apps like YouTube, Lottie, Eventbrite, SoundCloud, and more.
Once your design is complete, you can publish your site for free if you want to publish a simple project. Or you can upgrade to a basic plan to get your own hosted personal site with a custom domain and a CMS. A pro version includes built-in site analytics and a staging site as well. And if you don't want to start from scratch, the platform also includes free and premium templates you can use.
Key Features:
Generate entire websites or specific elements using text prompts
Create AI-generated text or images for your site on the fly
Intuitive user interface similar to Figma and Webflow
SEO-friendly, responsive, and speed optimized
Use a free domain on Framer or add your own personal domain.
Marketing tools and analytics
Best For:
Framer is best for those looking for an AI website builder with a powerful combination of web design tools and AI generation. The results you can get from a few lines of text are impressive. And even though you will need to make adjustments to the content along the way, its extensive range of design features is more than enough to finish the job.
Pricing: Free with paid plans starting at $5 per month (paid yearly)
5. 10Web

10Web AI WordPress Builder is a groundbreaking AI platform designed for agencies and freelancers looking to create high-quality WordPress websites with ease. Its AI-powered capabilities allow users to craft stunning websites that cater to their needs while saving time. It offers a variety of paid plans, each with an array of features, such as AI writer integration, drag-and-drop editor, and SSL certificates. Users can create stunning web pages and landing pages in real time.
What's great about 10Web's product is that it builds websites using WordPress, which has long been one of the best and more customizable platforms for creating any website. AI WordPress site creation brings the power of WordPress to even more users.
Key Features:
AI-powered website creation with content and images
Based on WordPress for the most customizable foundation for any website
Use AI to recreate old websites for an even faster process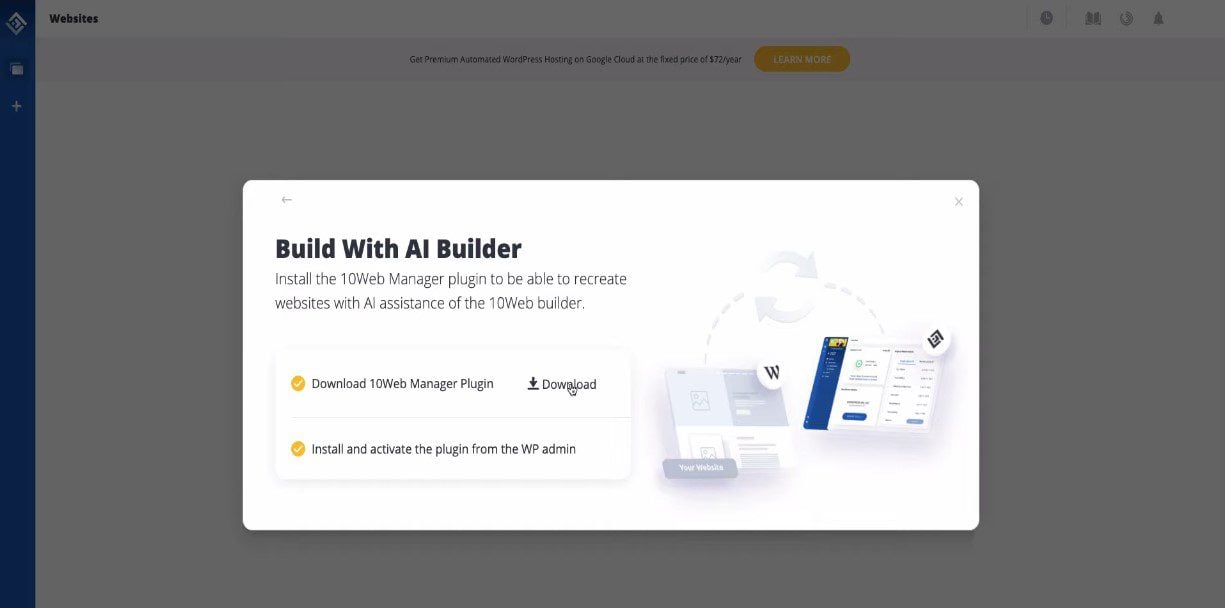 Best For:
10Web is a great AI website builder for those that want advanced websites. Though AI will help with the basics, WordPress will help with deeper customization as a business website grows and needs to do more. Agencies will love using this platform because its page recreation platform takes a URL and recreates it.
Pricing: $20/mo, including AI, hosting, and security tools
Get 10Web AI WordPress Builder
6. Bookmark AiDA


Bookmark is an AI-driven website builder designed to help users create professional websites effortlessly. The platform leverages artificial intelligence (with what they call Artificial Intelligence Design Assistant or AiDA) to streamline the design process and generate customized websites tailored to users' requirements. This AI assistant helps users create attractive and functional websites in no time.
Aside from being a quick-to-launch AI website creator, Bookmark offers AI Optimization of on-page content. It will analyze a webpage against key metrics and provide suggestions and hints about how to get better page results. It also creates AI translations of your whole website and publishes them using up to 3 target languages to reach your customers in every language.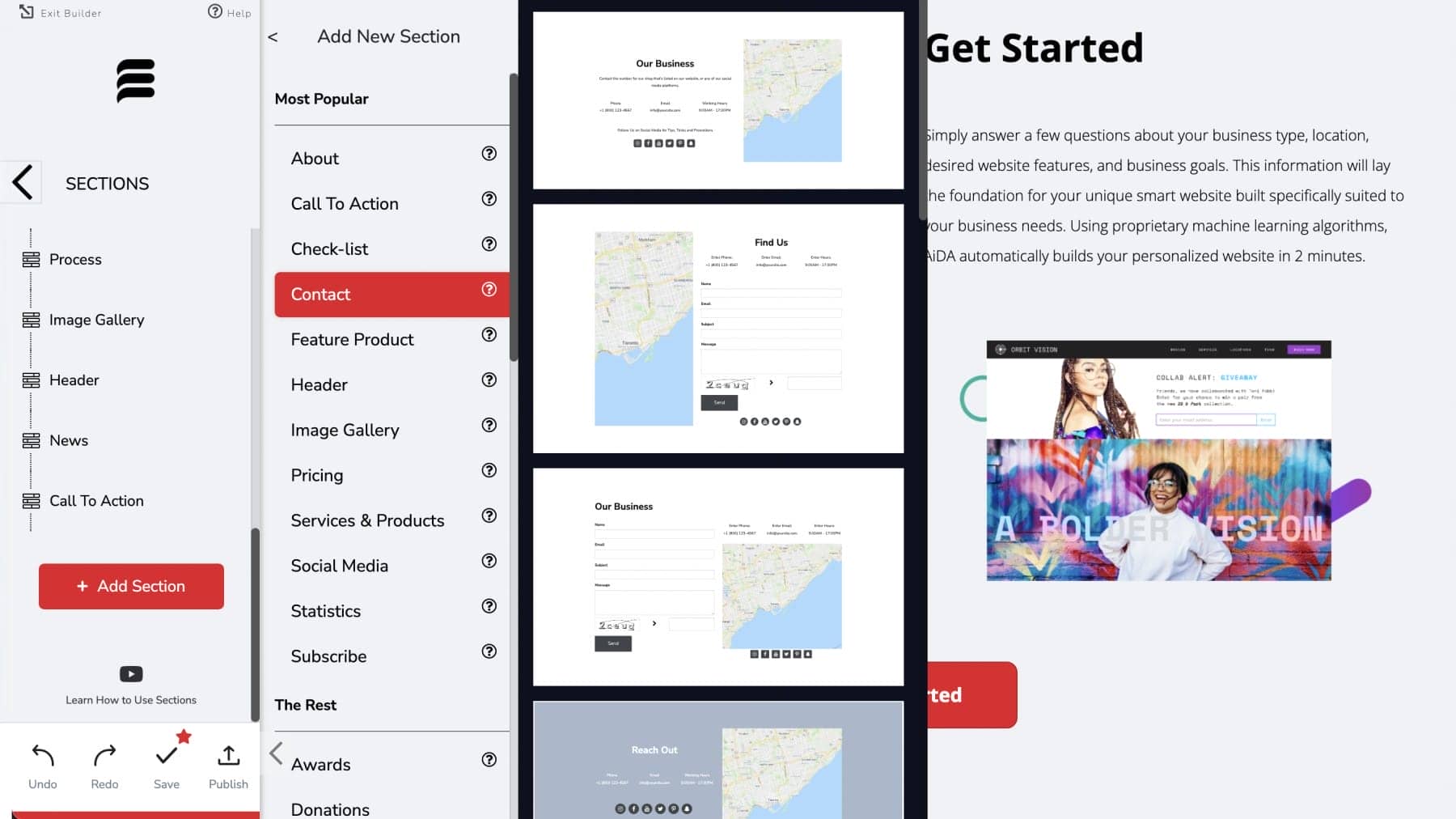 Key Features:
AI design assistant that creates goal-based websites
Drag-and-drop website builder when you want to take over from AI
Build responsive eCommerce stores and blogs
Agency tools to make and manage customer websites
Best For:
Bookmark is an excellent choice for small business owners, entrepreneurs, and freelancers who need a reliable platform that solves every website need. It has solutions for every type of website and includes booking, SEO, and contact form tools.
Pricing: Starts at $14.99/mo
7. GetResponse AI Builder


GetResponse AI Website Builder is a part of the all-in-one marketing platform best known for sending emails. It features an AI-powered website builder that enables users to create visually stunning and highly functional websites. Its intuitive design and powerful features make it a comprehensive solution for businesses looking to launch their online presence and grow their audience. With a focus on providing an all-in-one solution, GetResponse offers a range of features, such as website creation, landing pages, and integration with social media.
This website builder uses an AI wizard to determine website needs, industry, and brand elements. It uses all of that to create a solid starting point for a website that the owner can further refine.
See our GetResponse Review to see what it's capable of with Email Marketing
Key Features:
AI-driven website design to create new ones from scratch
Integrations with the platform's email marketing and automation tools
Utilize its live chat, web notifications, and webinar tools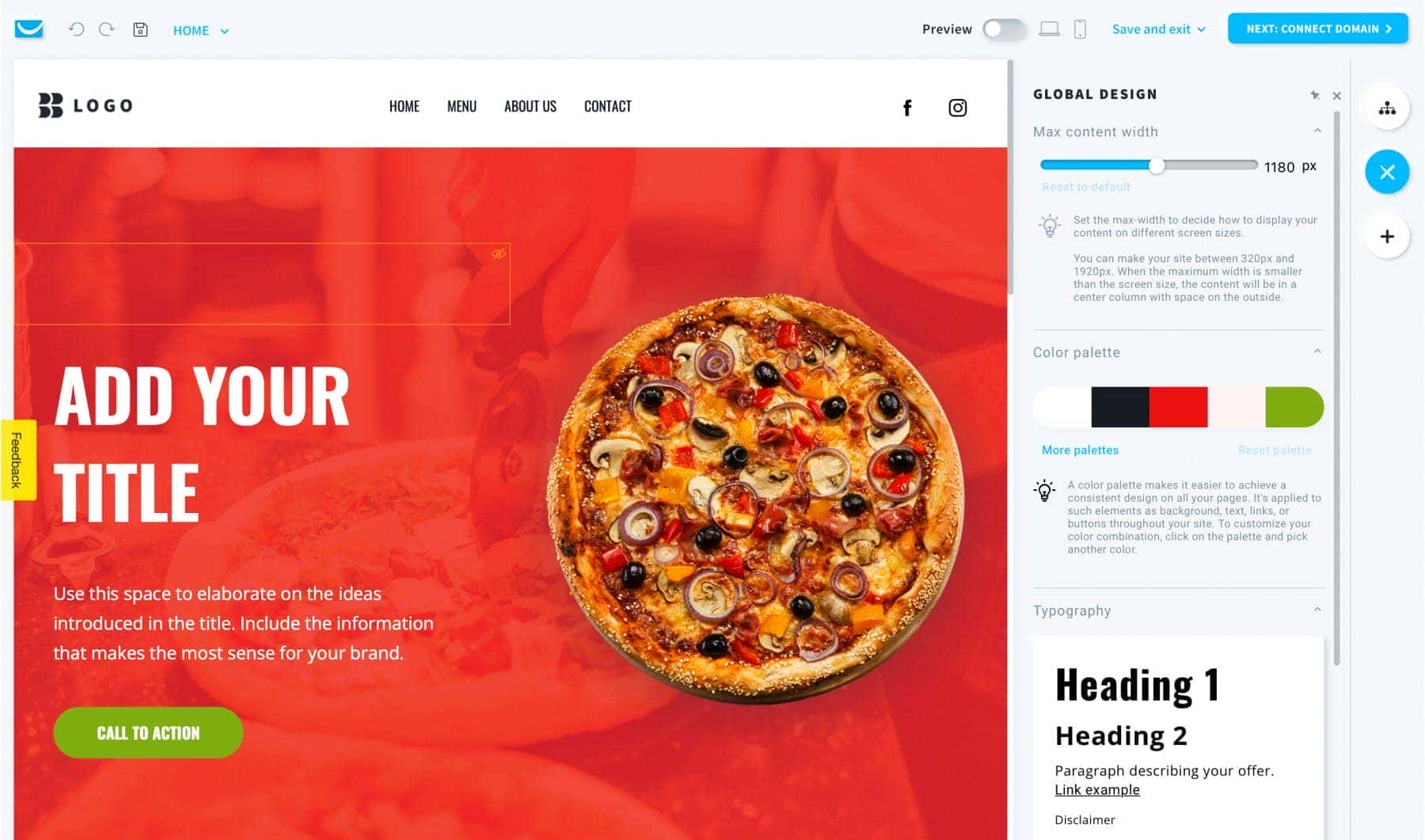 Best For:
GetResponse AI Website Builder is perfect for any business owner who trusts GetRepsonce for their email, live chat, automation, and social tools. Having all these basic business marketing tools under one roof makes it much simpler to manage everything and know everything will work well together. GetResponse has done a great job growing its whole set of tools, and that is most obvious with its AI website maker.
Pricing: Website builder available on the free plan with paid plans starting at only $19/mo
Best AI Website Builders Price Comparison
While AI is just now starting to enter full-scale web design, some solid tools make creating easier than ever. Here's a look at our top picks from this article.
What's the Best AI Website Builder?
If you are looking for an easy-to-use AI website builder on a platform that has stood the test of time, Wix is the best choice. Its ADI design system is reliable and one of the current bests.
Hostinger is an ideal choice for DIY types and small businesses that enjoy simplicity and speed. The AI website builder and tools will speed up the design process, and you'll have everything you need to get a website up and running.
If you want to combine the power of AI with the flexibility of WordPress, then Divi AI is the way to go. WordPress is the most popular website-building framework in the world, powering over 40% of all websites. There is a reason WordPress is so popular: it's backed by an amazing community and supported by thousands of free plugins, and its open-source nature continues to foster innovation.
Looking for more? Check out these top website builders and our complete collection of the best AI tools to boost productivity.
Frequently Asked Questions (FAQs)
Before we wrap up, let's answer some of your most common questions regarding the best AI website builders. Did we miss one? Leave a question below, and we will respond!
Featured Image by Ico Maker / shutterstock.com