As businesses and individual professionals strive for greater agility and efficiency, the role of artificial intelligence (AI) is becoming increasingly important. AI tools are increasingly adopted for productivity and simplifying business operations. From AI-powered content writing and sentiment analysis to image/video generation and predictive analytics, AI is changing how we work. This article explores the best AI tools available to help you optimize productivity on multiple fronts.
Best AI Tools for Productivity

Subscribe To Our Youtube Channel
This article covers many types of AI tools, which can be a little confusing. Ranking them in a specific order is challenging due to the differences between each AI productivity tool and its intended application. However, we have tried to provide you with a comprehensive list of almost everything AI can help you with. Rest assured that if a tool has made it onto this list, it is worth considering for improving your workflows and general productivity. Let's dive into these quality AI solutions to find the best fit for your needs.
The Best AI Tools Listed In Order
Expand List
1. Jasper

Tool Type – AI Writer
Jasper is an all-purpose AI tool designed to help users with various tasks, such as content generation and AI image generation. It's our top choice because it has refined what it means to be an AI writer more than other tools. It doesn't use a simple GPT 3 API to create content but mixes its own LLM and trained marketing and sales data. It's got wide usage and plenty of funding to keep innovating for years to come. And with its May 2023 launch of unlimited words for every plan, it is now one of the best-valued tools on the list.
Key Features:
One of the best marketing and sales content generation platforms on the market
Surfer SEO integration for SEO-informed AI content generation
Brand memory lets you save key information about your products and services for Jasper to use for accurate content creation
Jasper Chat – A powerful chatbot alternative to ChatGPT
Image and illustration creation with Jasper Art
Unlimited generated words and advanced brand voice styling

Best For:
Jasper is perfect for writers, marketers, and businesses seeking to improve writing quality and streamline content creation workflows for better productivity.
Pricing: Premium plans start at $39 / mo
2. WriteSonic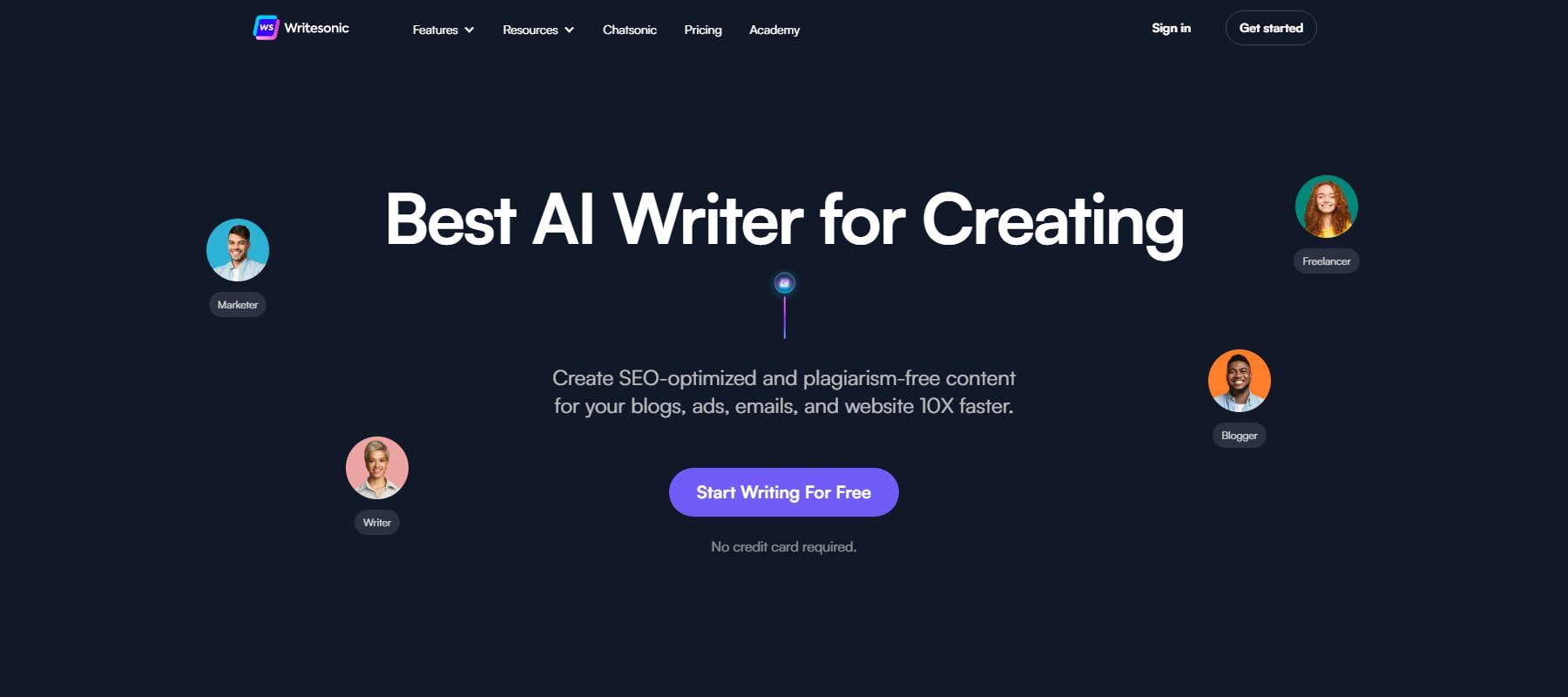 Tool Type – All-Purpose AI
WriteSonic is an all-purpose AI content creation tool that offers a suite of products, including AI writing assistance, AI-generated art, and ChatGPT-styled chat assistant. It's most similar to Jasper on this list and has unique features that set it apart. WriteSonic is a go-to tool for content creators who want to use AI in multiple different ways.
Key Features:
Best For:
WriteSonic is the go-to tool for AI enthusiasts needing a versatile solution to generate a wide variety of AI outputs, opening doors to endless creative possibilities. It's backed by Y Combinator and poised to keep innovating.
Pricing: Generous free plan with paid plans starting at $19 / mo
3. Descript

Tool Type – AI Video Editor
Descript is an AI-powered text-based video editor that simplifies the process of editing videos by allowing users to edit text instead of manually cutting and splicing video clips. Upload a video, and Descript transcribes it for you immediately. Editors can change the wording and remove filler words based on that transcribed text. Doing so edits your original video or audio. If that's not magic, then it's the next best thing.
Key Features:
Text-based video editing inside a doc (but it edits your video)
Automatic transcription of video and audio content
Audio editing for podcasters, even supporting multiple tracks
AI voices and voice clone
Best For:
Descript benefits content creators, video editors, and businesses that require high-quality videos and podcasts with easy-to-use editing features and transcription services.
Pricing: Free plan with paid plans starting at $15 / mo
4. Surfer SEO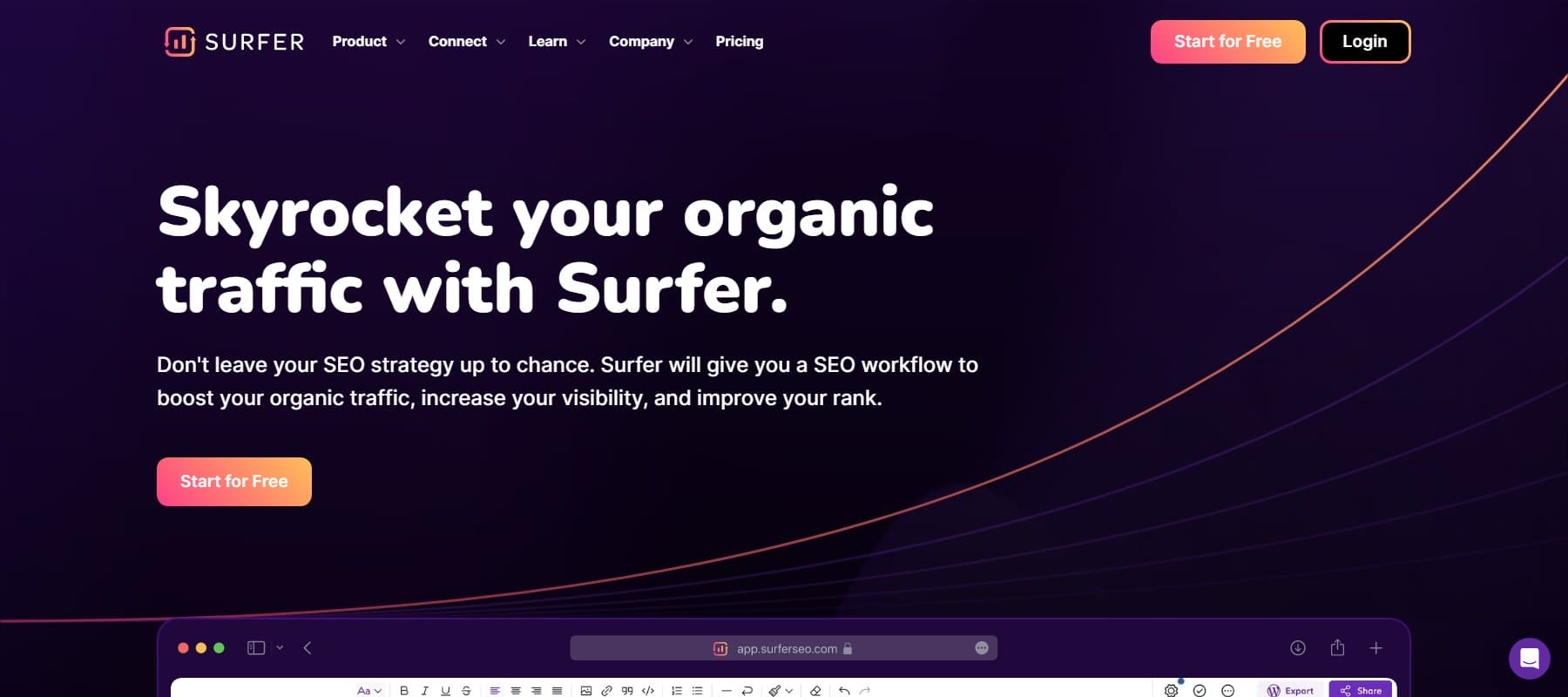 Tool Type – AI SEO
Surfer SEO is an AI-driven search engine optimization tool that helps users analyze and optimize their content for better search rankings and increased organic traffic. Use it to start your content creation process by researching SERPs and creating content briefs with complete outlines. Once the content is created, Surfer compares it against the top articles in the SERPs using natural language processing (NPL) and gives you suggestions on how to beat the competition.
Key Features:
Enhance blog posts with real-time content analysis and optimization in the Surfer editor.
Keyword research based on actual SERP data and keyword volume
Grow Flow that analyzes your website continuously, searching for content decay and quick-wins
Best For:
Surfer SEO is ideal for digital marketers, content creators, and website owners aiming to optimize their content, boost search engine rankings, and outperform competitors in search results.
Pricing: Premium plans start at $59 / mo
5. ChatGPT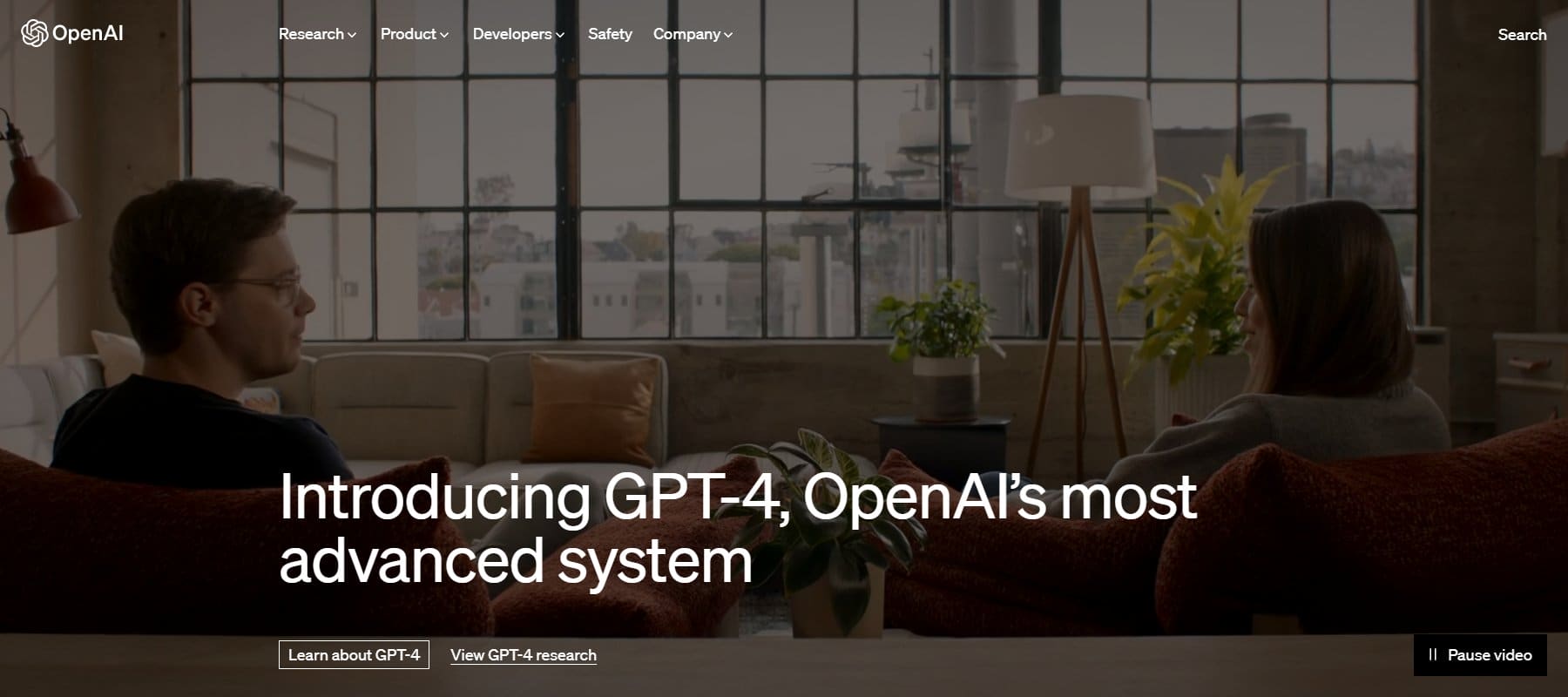 Tool Type – AI Chat Assistant
ChatGPT is the revolutionary AI Chat assistant that powers many other tools on this list. It is designed to help users with text-based tasks in an easy-to-use chat dialogue application. Ask it a question to perform a text-based task, and it'll do it using its extensively trained LLM. It even writes code and edits blogs.
Key Features:
Conversational AI that can talk about any topic and do complex tasks
Choose between different models based on your needs (multiple GPT 3.5 versions and GPT 4)
GPT 4 API that can connect to thousands of services to bring the power of the Large Language Model to your workflows and tasks
Best For:
ChatGPT excels in enhancing productivity, streamlining communication, and providing instant support for various tasks, making it suitable for individuals and businesses alike. Explore ChatGPT alternatives for more options.
Pricing: Free to use with Plus starting at $20 / mo
6. Midjourney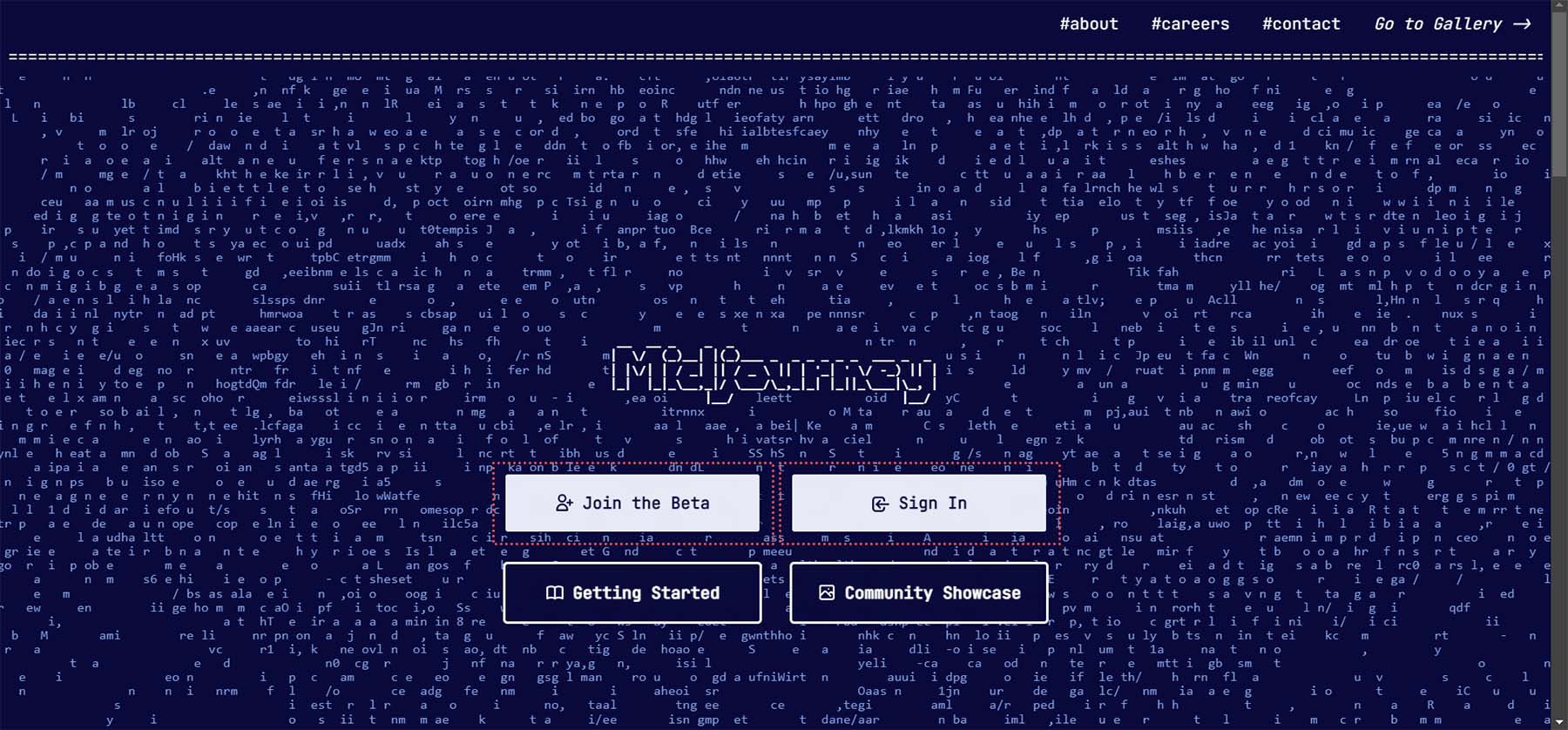 Tool Type – AI Image Generator
Midjourney is an AI text-to-image generator that allows users to create unique and captivating visuals for various purposes, including social media, websites, and marketing materials. Users can start with Midjourney on their discord server by creating an account.
Key Features:
Text prompt to AI image generation
Endless potential with prompts and four images per prompt output
High-resolution output
Best For:
Midjourney is the ultimate choice for those seeking to create stunning AI-generated images that leave a lasting impression on viewers. See how we used ChatGPT and Midjourney to create a Divi landing page.
Pricing: Plans start at $10 / mo
7. Pictory AI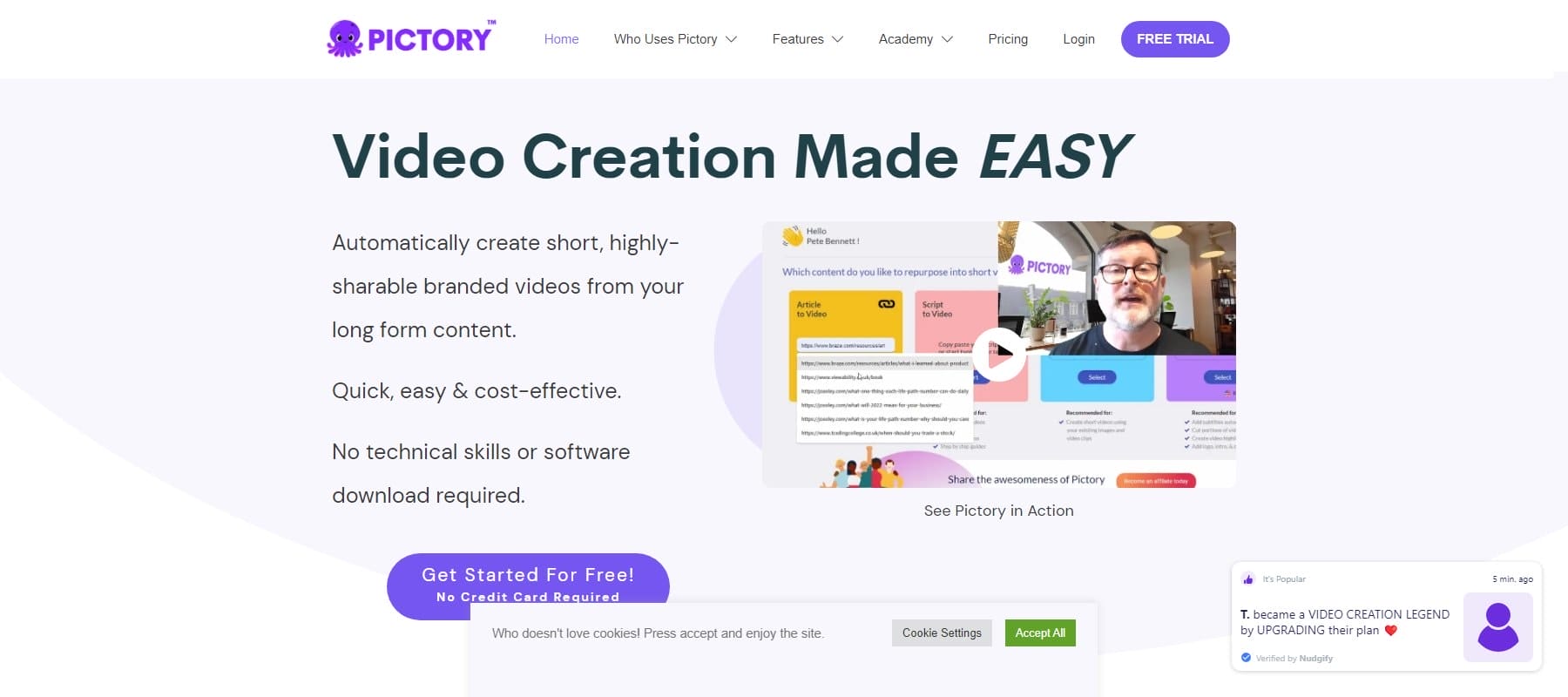 Tool Type – AI Video Generator
Pictory AI is an AI-powered video generator that creates visually stunning branded videos from long-form, written content. Give it a URL with your published content, and it can pull it in into its AI models. From there, it can choose the best content, create voiceovers and assign rich media to make a video worth publishing.
Key Features:
Create Shorts from longer videos
Creates videos using stock footage, background music, and AI-generated voiceovers
Impressive blog-to-video workflow editor
Automatic caption generator
Best For:
Pictory AI is perfect for designers, content creators, and businesses looking for an automated solution to convert long-form text and videos into engaging video content, enhancing visual storytelling.
Pricing: Paid plans start at $23 / mo
8. Scalenut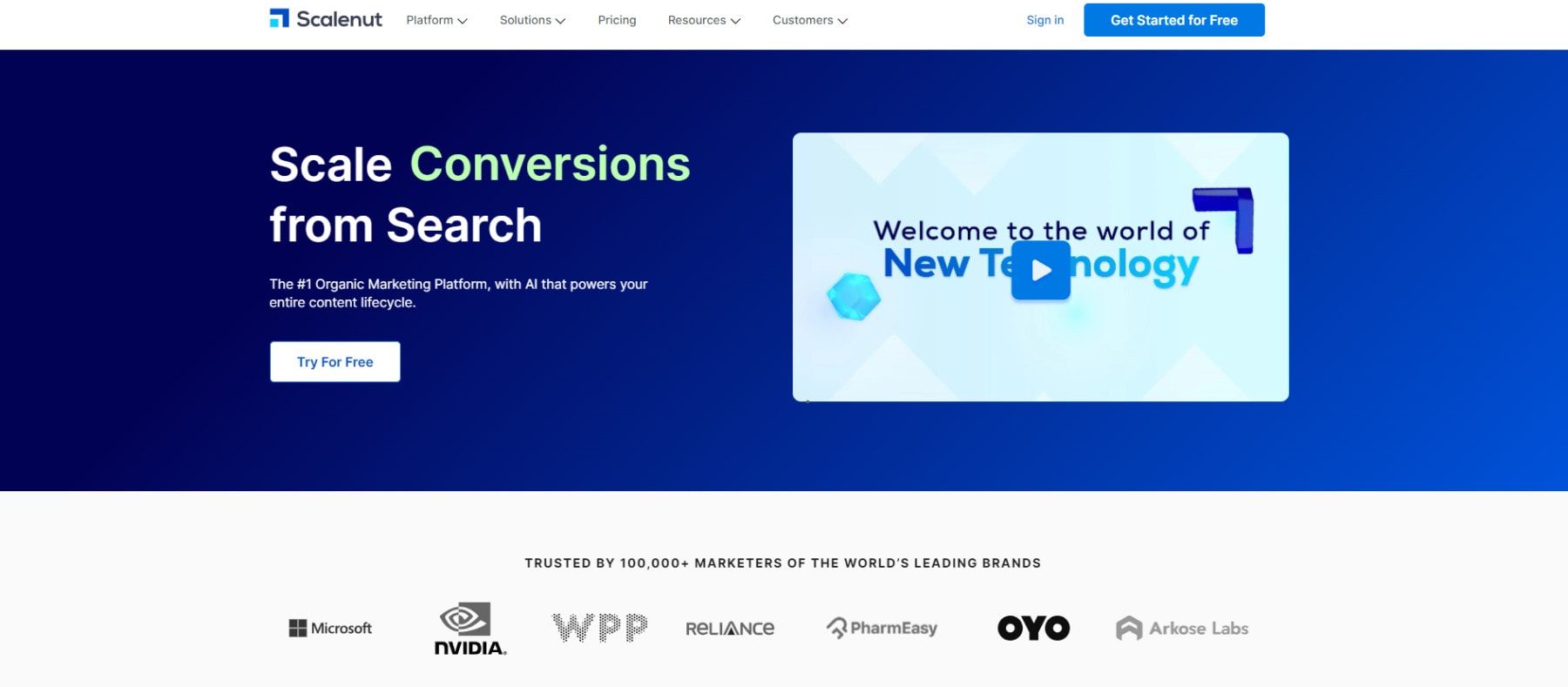 Tool Type – AI Writer
Scalenut is an AI writer that focuses on a total content creation workflow from start to finish. It plans content, creates outlines, generates content, and helps you optimize it in a full flow that is easy to work with. Scalenut is perfect for quick content creation and is the tool to use if you're a solo writer or manage a team of writers. Truly a 10x AI writer for SEO content.
Key Features:
AI-generated content that is informed on live internet data
Advanced NLP models for SERP comparison and optimization
Cruise Mode takes content creation to an unbelievably automated level
Best For:
Scalenut caters to content creators and SEO specialists who need to generate unique, engaging, and optimized written content at scale, improving content marketing efforts.
Pricing: Paid plans start at $39 / mo
9. Alli AI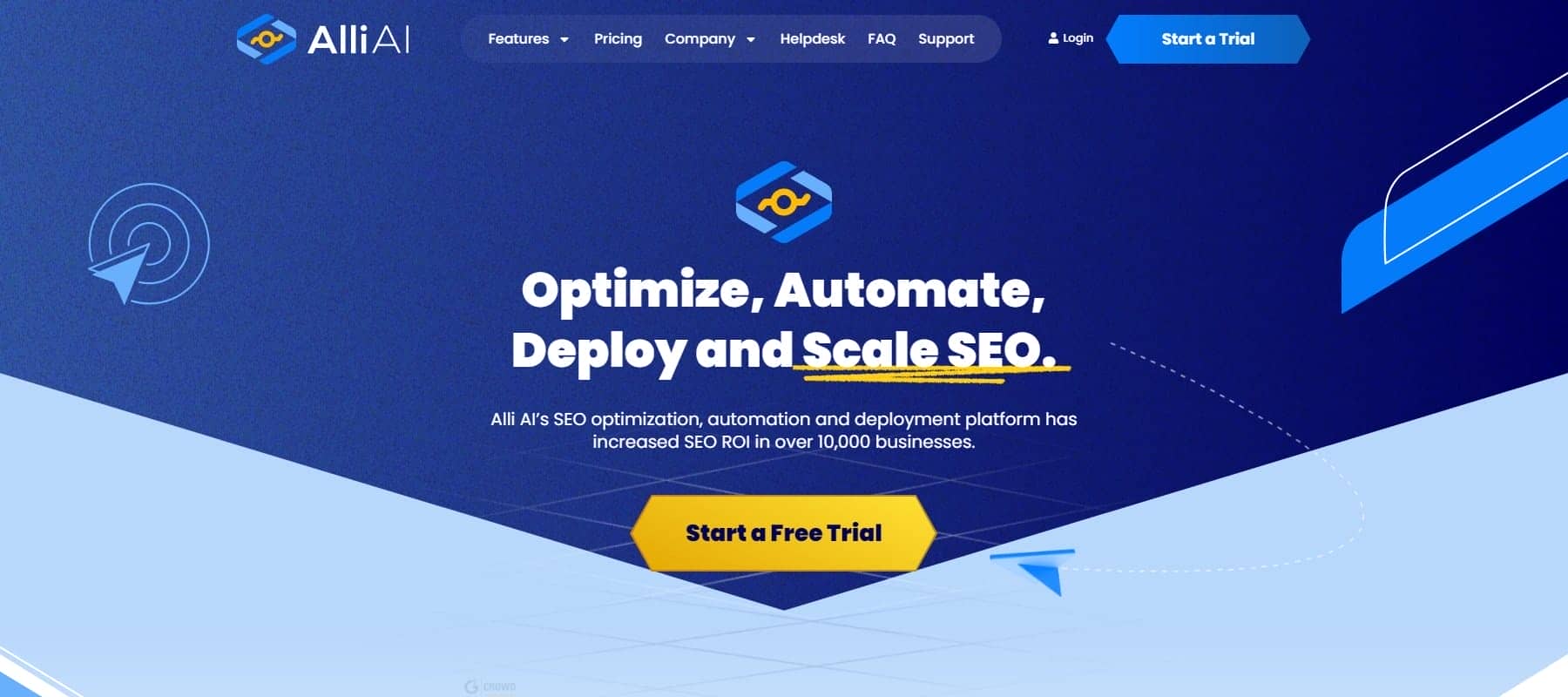 Tool Type – AI SEO
Alli AI is an AI-powered SEO tool that helps optimize websites, improve search rankings, and increase organic traffic by providing actionable insights and recommendations. With a simple embed script (or WordPress plugin), Alli can start tweaking your entire website from its easy-to-use dashboard. It offers suggestions and rapidly (and dynamically) applies changes across your website.
Key Features:
Site-speed optimization that works overtop your website (no matter your CMS or builder)
Bulk on-page optimization via content recommendations
Easy to deploy A/B testing designed for SEO
Best For:
Alli AI is an excellent choice for agencies managing multiple websites aiming to improve search rankings and drive new organic traffic, thanks to its AI-powered SEO optimization.
Pricing: $249 / mo
10. Grammarly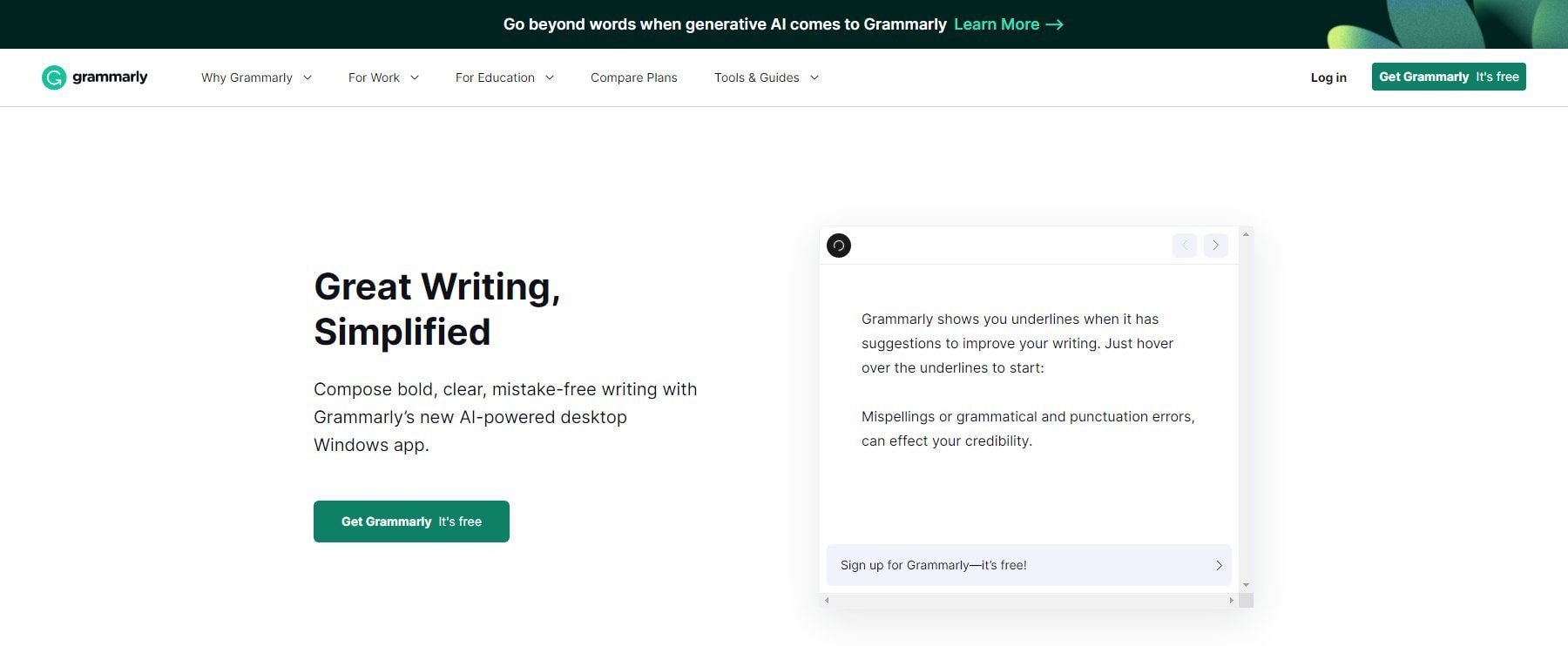 Tool Type – AI Grammar
Grammarly is an AI-powered grammar and writing assistant that helps users improve their writing by identifying and correcting grammar, spelling, punctuation, and style errors. Content is the cornerstone of marketing, business communication, and everything in between. Grammarly makes it error-free and ready for the eyes of your most important audiences.
Key Features:
Real-time grammar and spelling checker
Style and tone suggestions
Plagiarism detection
GrammarlyGO for generating content that matches your writing style
Best For:
Grammarly suits students, professionals, and writers who want to enhance their writing skills and produce error-free content. If you don't use it, we recommend trying the free version. Even the free version offers valuable features for all users.
Pricing: Free plan that everyone should get and paid plans starting at $12 / mo
11. Lovo AI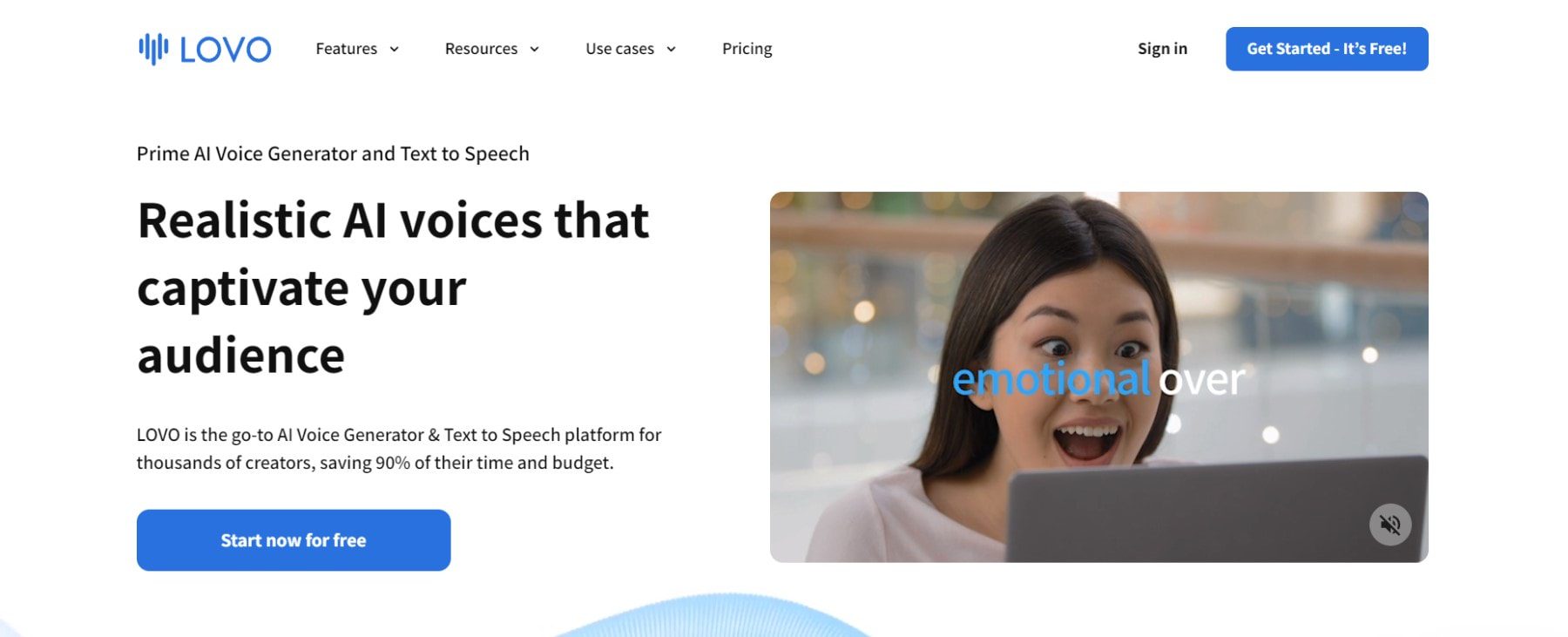 Tool Type – AI Text to Speech
Lovo AI is an AI-powered text-to-speech generator that allows users to convert written text into natural-sounding audio in various voices and languages. Simply load up written content, and Lovo transforms that into AI-generated audio using TTS technology.
Key Features:
400+ natural-sounding voices at different pricing tiers
100+ languages supported
Customizable speech settings and granular voice control
Best For:
Lovo AI is ideal for content creators, educators, and businesses requiring high-quality audio content for applications like audiobooks, podcasts, and e-learning materials, simplifying audio production.
Pricing: Free plan available with paid plans starting at $25 / mo
12. Divi AI

Tool Type – AI WordPress Website Builder
Divi AI is one of the most powerful AI assistants for designing websites in WordPress. The tool is seamlessly integrated into our Divi page builder which is available as a theme or plugin. With Divi AI, you can generate professional text and stunning images on the fly as you build your website in WordPress. Every content element and Divi module that is used to build your page is equipped with Divi AI. This makes it easy to magically generate any type of content or image in real time as you design your pages visually. Unlike other AI tools for web content, Divi AI learns about your existing website to offer contextual content that fits your brand.
Key Features:
Generate Content On-Brand and In-Context with Your Current Website
Generate Images Automatically in Seconds based on what it already knows about your website and page content.
Refine Your Images with Prompts and Quick Actions all in one place
Generate Text Content Automatically or With Easy-to-Use prompt guides
Divi AI can help you write website copy and entire blog posts like a professional
Divi AI is versatile and provides a unique web-building experience. You can create stunning images like magic and write copy like a pro with an AI assistant engineered for web design.
Best For:
Divi AI is perfect for anyone looking for a streamlined approach to using AI tools to create a WordPress website. The Divi page builder makes it easy to build a website in style while Divi AI takes care of the rest, generating all the content and images you may need with amazing accuracy.
Pricing: Free Trial, Paid plans start at $14.40/month
If you are new to Divi, you will first need to purchase a Divi membership before you can get access to Divi AI. Once a member, you can sign up for unlimited access to Divi AI. To sign up, go to the Divi AI landing page and click the green sign up button inside the Get Divi AI box.
13. Rank Math Pro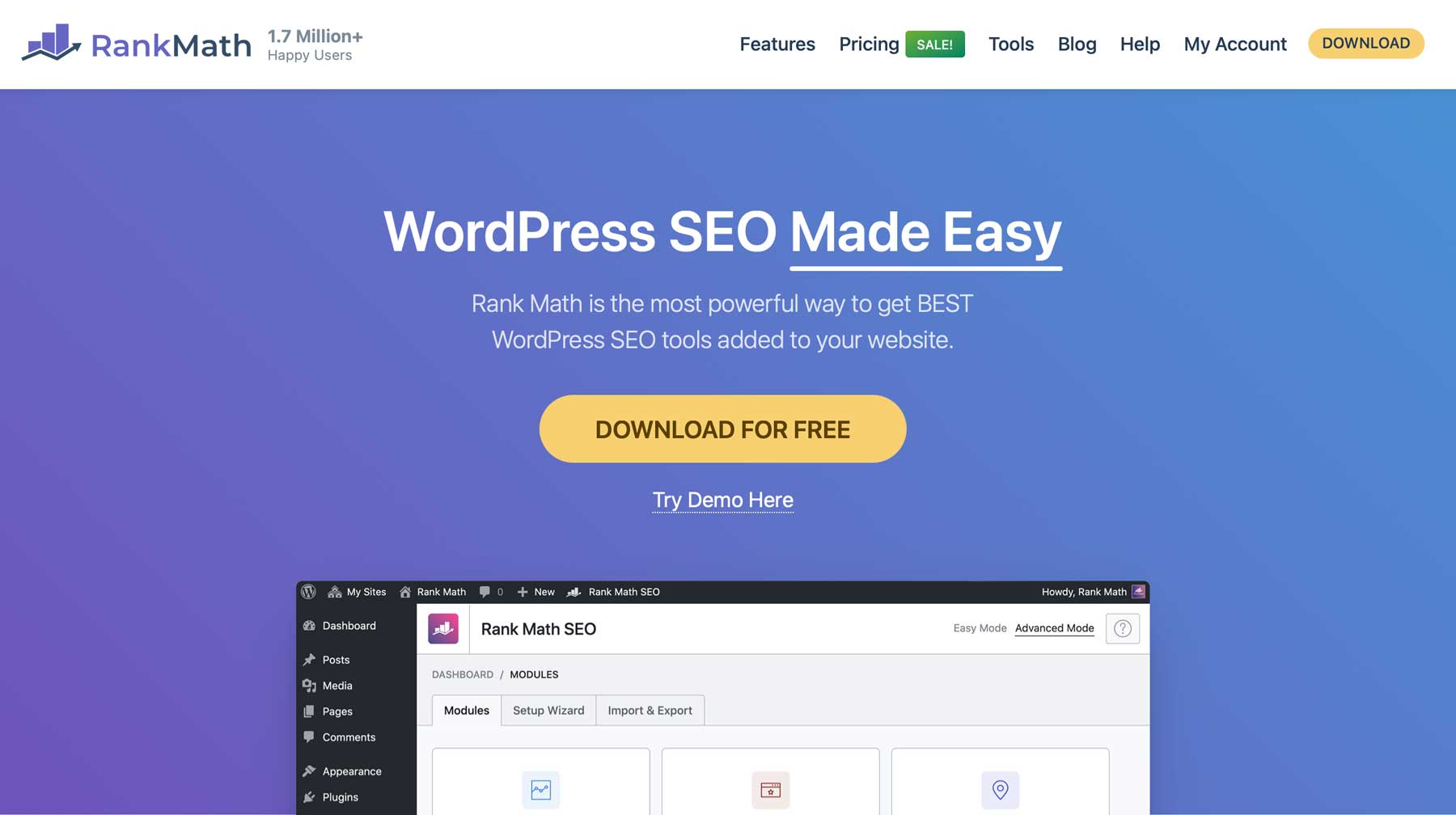 Tool Type – AI SEO
Rank Math is an AI-powered SEO plugin for WordPress that helps users optimize their content, insert schema markup, and drive more organic website traffic. Many website owners trust Rank Math to provide detailed and accurate feedback concerning website content and technical SEO. Rank Math works like a charm and pulls in AI tools to create content that ranks.
Key Features:
On-page SEO analysis that gives you an easy-to-understand scorecard
Keyword optimization on a page-by-page basis
Insert schema markup on pages and across elements site-wide
Content AI for on-page content suggestions
Best For:
Rank Math is a favorite among website owners, bloggers, and content creators using WordPress to optimize their content for better search rankings and increased organic traffic. It's one of our favorites. Check out our Rank Math review.
Pricing: $4.92 / mo
14. Pro Rank Tracker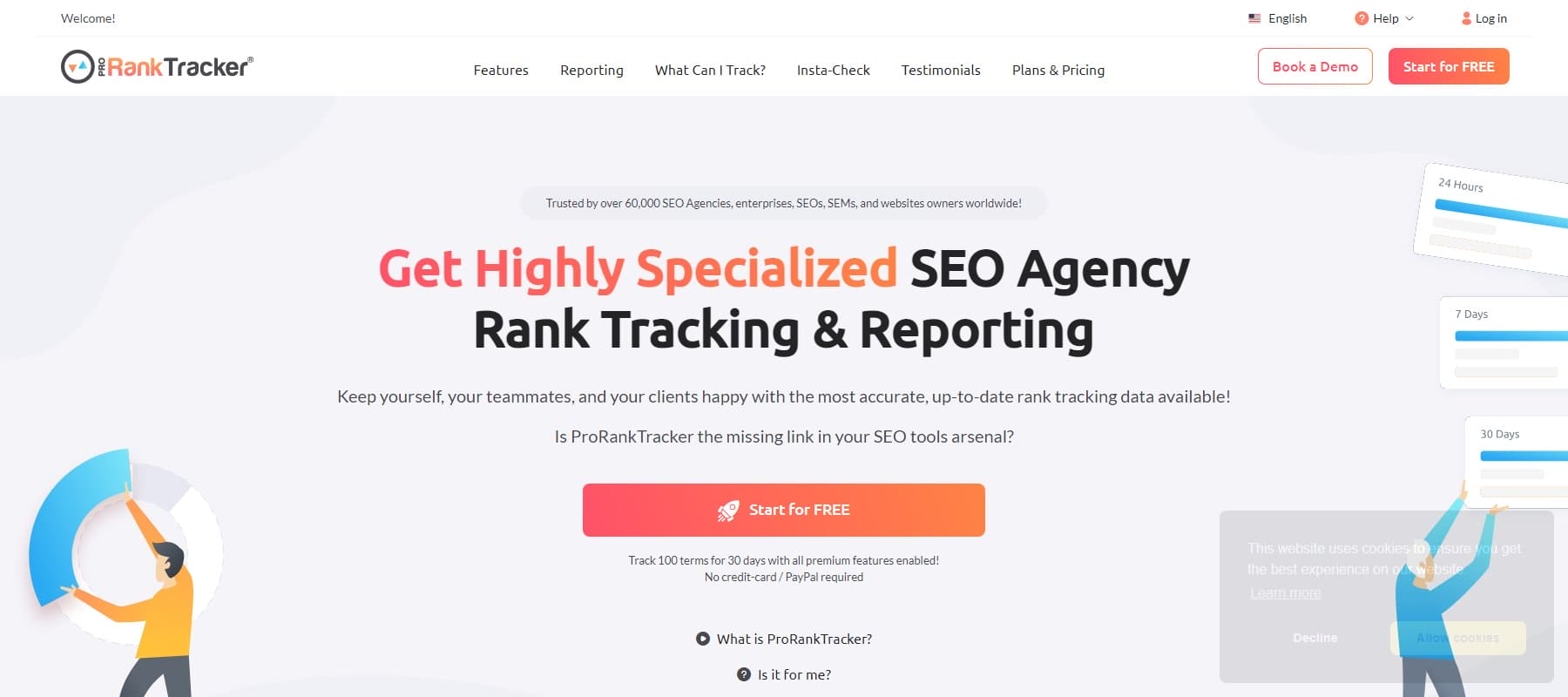 Tool Type – AI SEO
Pro Rank Tracker is an AI-driven search engine optimization tool that helps businesses improve their online visibility by tracking keyword rankings and providing insightful reports. Connect it with your Google Search Console (GSC) account, and it starts pulling in all the data points. Best of all, it tracks and displays ranking history so you can tell how your websites are performing over time.
Key Features:
Daily keyword rank tracking
Sub-accounts, perfect for agencies managing client accounts
SERP tracker to see movement in the top 100 results
Best For:
Pro Rank Tracker appeals to businesses, digital marketers, and SEO professionals looking to monitor website performance, optimize content, and stay ahead of competitors in the ever-changing digital landscape.
Pricing: Free plan available with paid plans starting at $13.50 / mo
15. Quillbot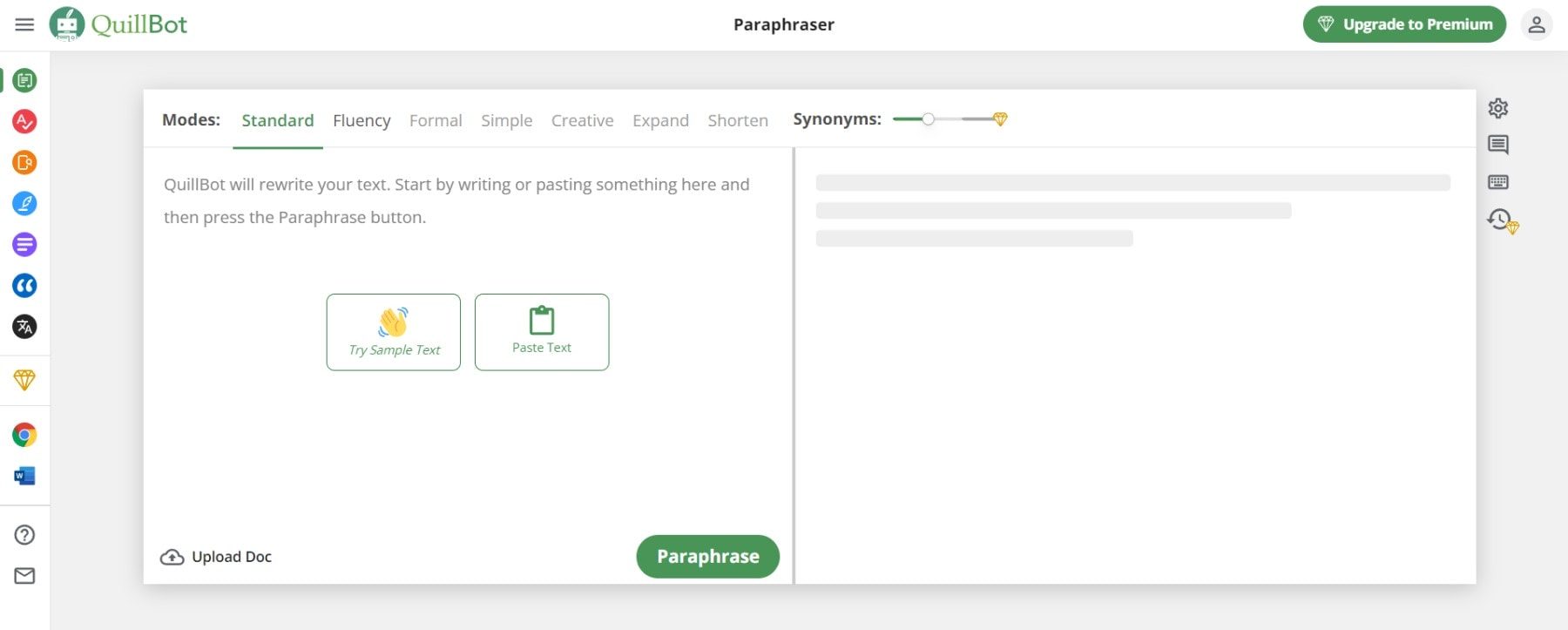 Tool Type – AI Paraphraser
Quillbot is an AI-powered paraphrasing and rewriting tool that helps users rephrase and restructure their text while maintaining its original meaning, making it ideal for creating unique, plagiarism-free content. It's a fantastic rewriter tool if used ethically.
Key Features:
Advanced paraphrasing by adjusting words and sentence structure
Multiple rewriting modes for a honed output
Settings to preserve original meaning and context
Add-on plagiarism detection tool
Best For:
Quillbot is perfect for content creators who need to rephrase text, create unique content, and avoid plagiarism issues, ensuring content quality and originality.
Pricing: Free plan with premium plans starting at $19.95 / mo
16. Originality.ai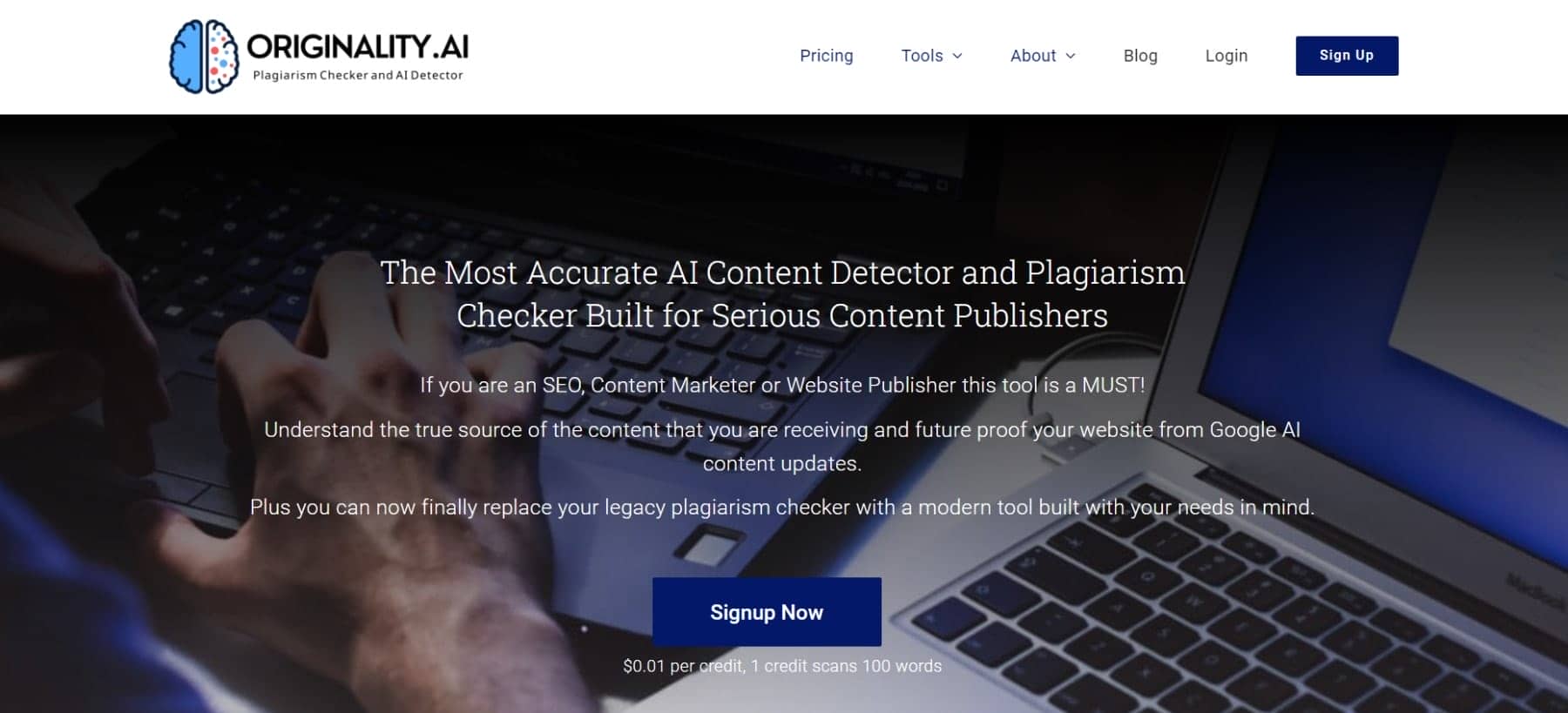 Tool Type – AI and Plagiarism Detector
Originality.ai is an AI-powered plagiarism detection tool that helps users ensure their content is original and free from plagiarism by scanning and comparing it to billions of web pages and academic databases. Its only job is to compare your content against a large database of already published content. It can even tell you if the provided text is likely created using generative AI.
Key Features:
Plagiarism detection
Extensive database to compare against
Detailed similarity report
Detects if written content is likely written by AI
Best For:
Originality.ai is perfect for students, educators, editors, and content creators seeking an AI-powered solution to ensure their work is original, plagiarism-free, and maintains a high standard of integrity.
Pricing: $0.01 per credit, where one credit scans 100 words
17. Support Board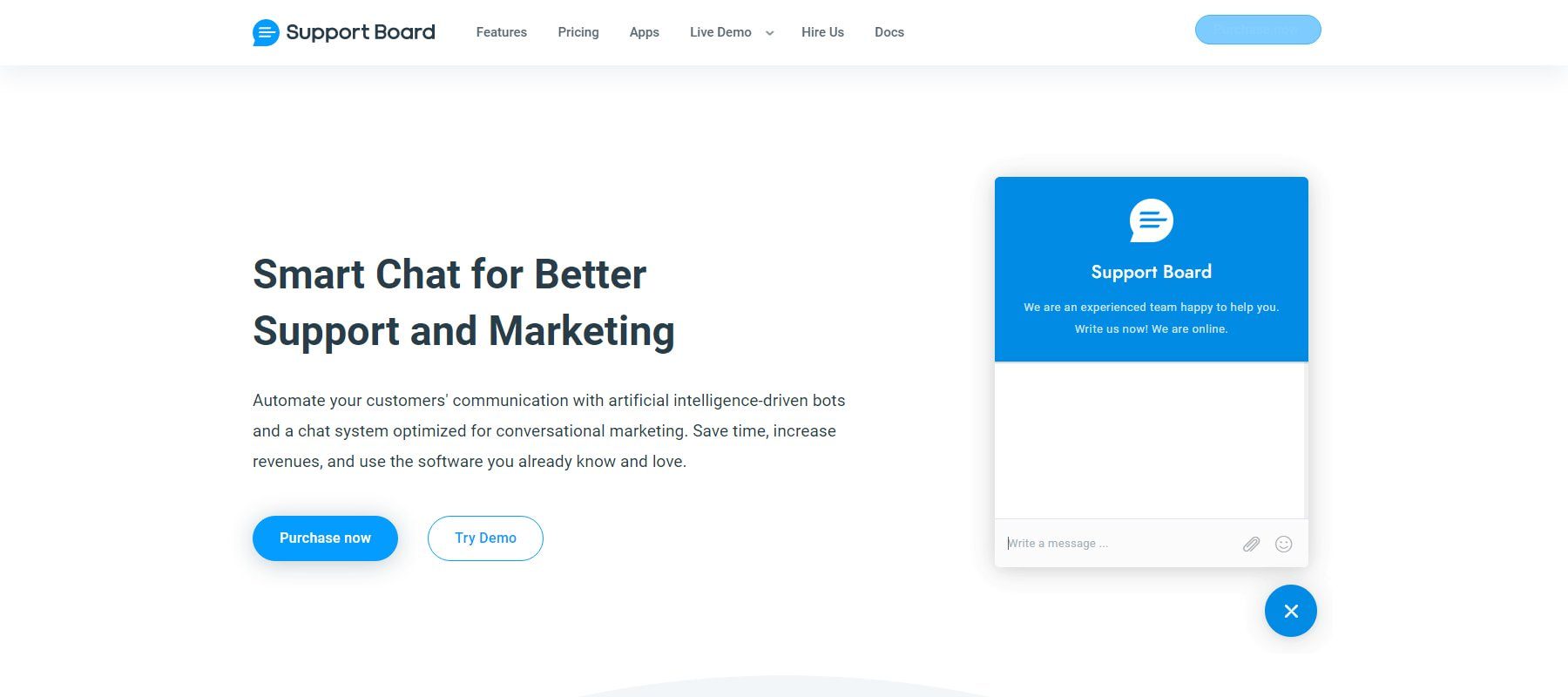 Tool Type – AI Chatbot
Support Board is an AI-driven customer support tool that helps businesses automate and streamline their customer support processes, providing quick and accurate responses to customer inquiries. It connects to OpenAI's GPT API and Google's Dialogflow for advanced chatbot development—a powerful AI chatbot builder with lifetime deal (LTD) pricing available.
Key Features:
AI-powered chatbot using GPT API
Trained automated responses using Dialogflow
Integrations with CMSs and eCommerce platforms to pull live customer data
Best For:
Board Support is designed for businesses aiming to develop an AI chatbot that improves customer support efficiency, reduces response times, and elevates customer satisfaction.
Pricing: Multiple ways of purchasing, including cloud-based, for $5 / mo. Or choose between PHP or WordPress versions at $59 one-time—numerous add-ons for additional one-time charges.
18. GitHub Copilot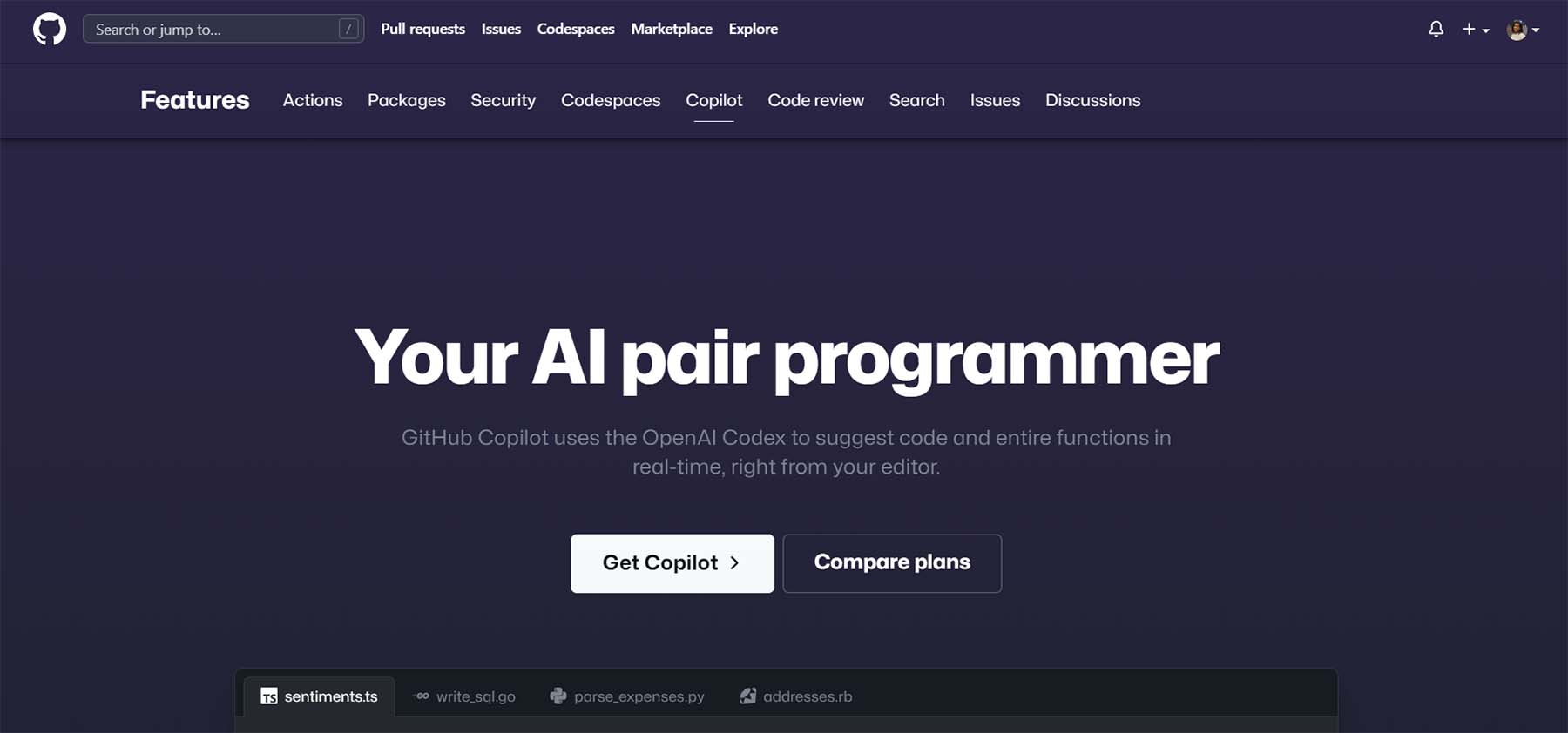 Tool Type – AI Coding Assistant
GitHub Copilot is an AI-powered coding assistant that helps developers write code faster and more efficiently by suggesting relevant code snippets and completing lines of code based on the user's input. Let it auto-complete routine lines and even offer up suggestions. Works with every programing language imaginable.
Key Features:
AI-assisted code generation via command prompts
Works with many different programming languages
Integrates with popular IDEs (Visual Studio, Neovim, VS Code)
Trained on OpenAI's Codex model
Best For:
GitHub Copilot caters to developers, programmers, and software engineers who want to revolutionize their coding processes, reduce time spent on repetitive tasks, and accelerate project completion.
Pricing: CoPilot can be added to Github's free plan for an add-on price of $10 / mo
19. Play.ht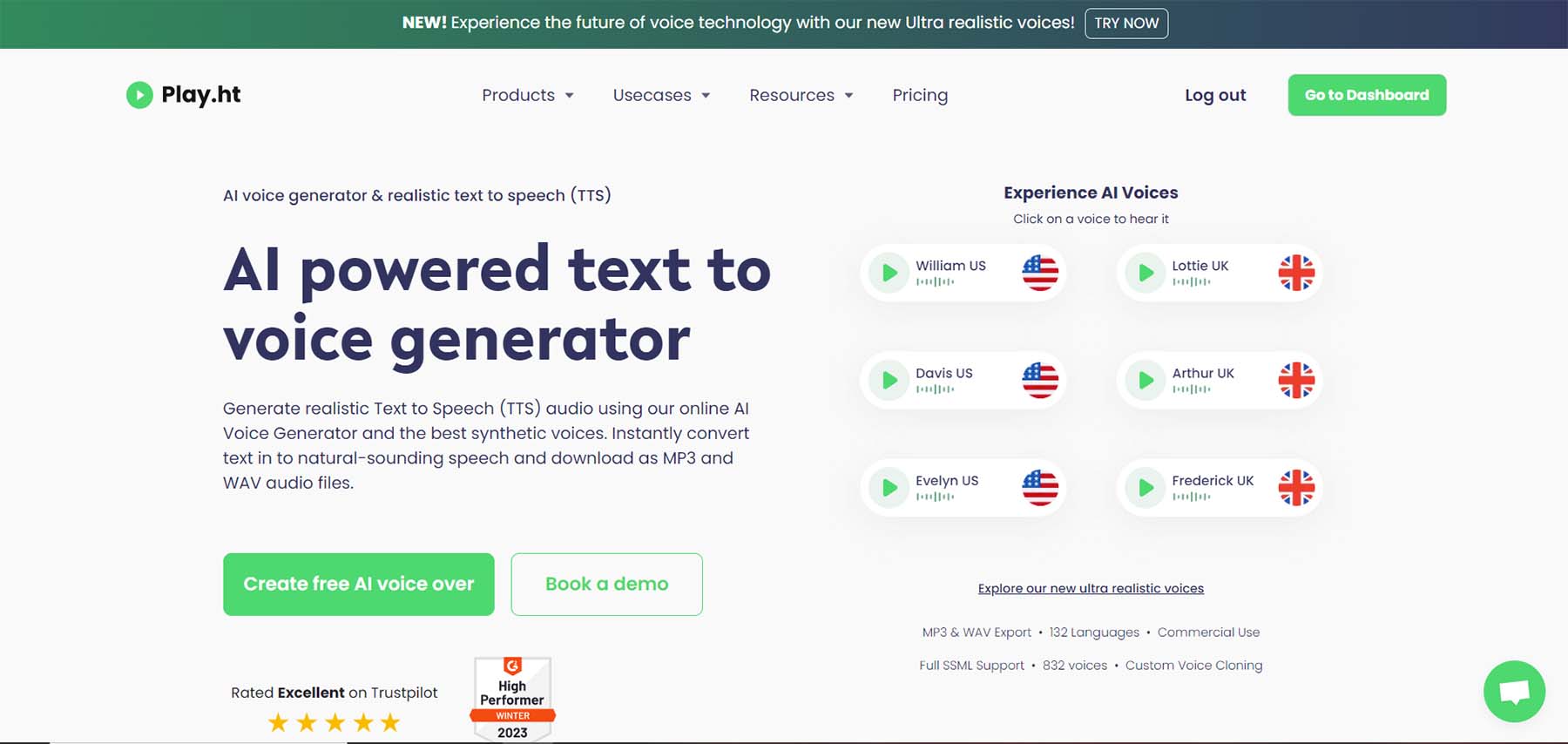 Tool Type – AI Voice Generator
Play.ht is another AI-powered text-to-speech platform that enables users to convert their written content into realistic and natural-sounding audio, perfect for podcasts, audiobooks, and more. It offers a reliable voice generator with additional editing tools to make it sound more human.
Key Features:
High-quality text-to-speech
Wide range of voices and languages
Audio editing tools to fine-tune AI voices
Best For:
Play.ht appeals to podcasters and audio-focused creators who want to transform text-based content into captivating audio formats, expanding their audience reach and accessibility.
Pricing: Great Free offering with paid plans starting at $39 / mo
20. Freshworks Freddy AI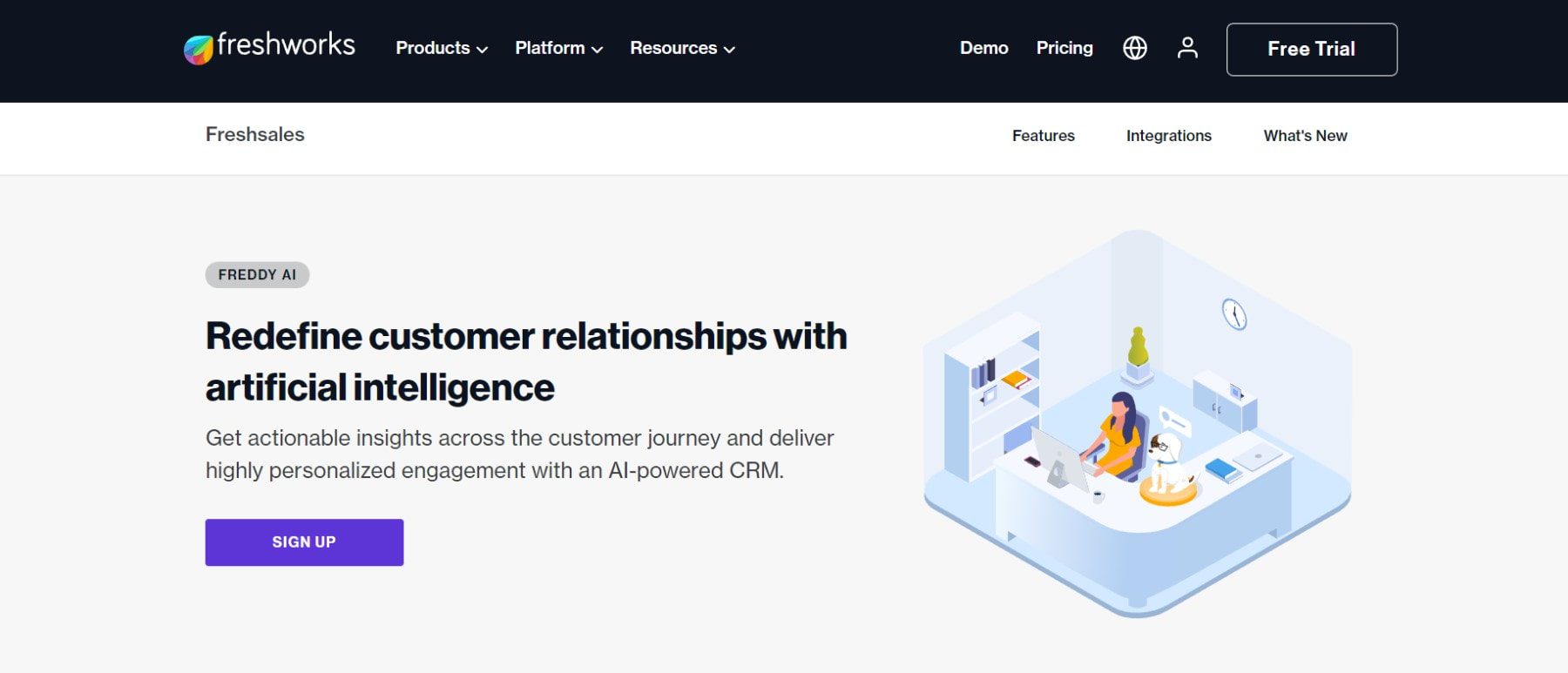 Tool Type – AI Marketing Automation
Freshworks Freddy AI is an AI-powered and CRM-driven marketing automation platform connected to the Freshworks platform. It helps sales teams understand customer relationships and automates repetitive tasks to improve customer engagement. If you already use Freshworks, then Freddy is a natural AI tool to grow into.
Key Features:
AI-calculated lead scoring for sales teams
Predicted deal closing score with next-step suggestions
Analyze full-funnel data to learn what is working best
Best For:
Freshworks Freddy AI is tailored for businesses wanting to enhance customer relationship management, drive customer engagement, and foster long-lasting relationships.
Pricing: Freshworks Sales CRM starts at $18 / mo per user
21. Ocoya

Tool Type – AI Marketing Automation
Ocoya is an AI-powered social media platform that helps businesses automate their social posting. More than that, Ocoya has thousands of social media templates paired with a trained AI writer to help you create standout graphics for social.
Key Features:
AI-driven social media content creation
Optimized for copywriting
Cross-platform scheduling made incredibly easy
eCommerce integrations for product-based marketing assets
Best For:
Ocoya is a dream come true for businesses and eCommerce ventures seeking effortless social media content creation and scheduling to boost their online presence.
Pricing: Starting at $19 / mo and up
22. Retention Science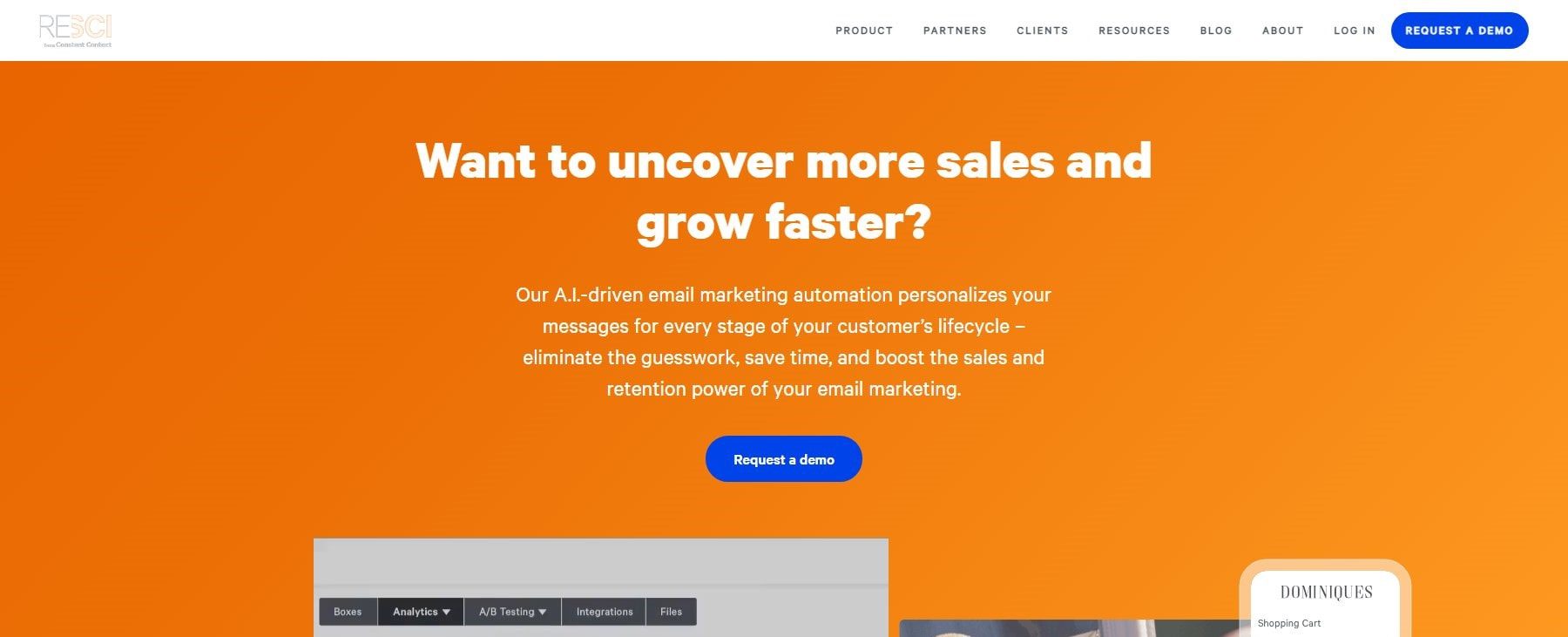 Tool Type – AI eCommerce
Retention Science is an AI-driven customer retention platform that helps businesses analyze customer behavior, personalize marketing campaigns, and improve customer loyalty. It connects directly to a store's data layer to power individualized email marketing campaigns, broad segmentation, and analytics / reporting using advanced AI and Machine Learning (ML).
Key Features:
AI-powered customer behavior analysis
Personalizes email campaigns for maximum customer retention throughout the sales funnel
Dedicated success managers to help onboard to this very technical system
Best For:
Retention Science is designed for large eCommerce brands aiming to improve customer retention rates, foster customer loyalty, and drive growth through data-driven insights and personalized marketing efforts.
Pricing: Custom pricing only via a sales representative
23. Pencil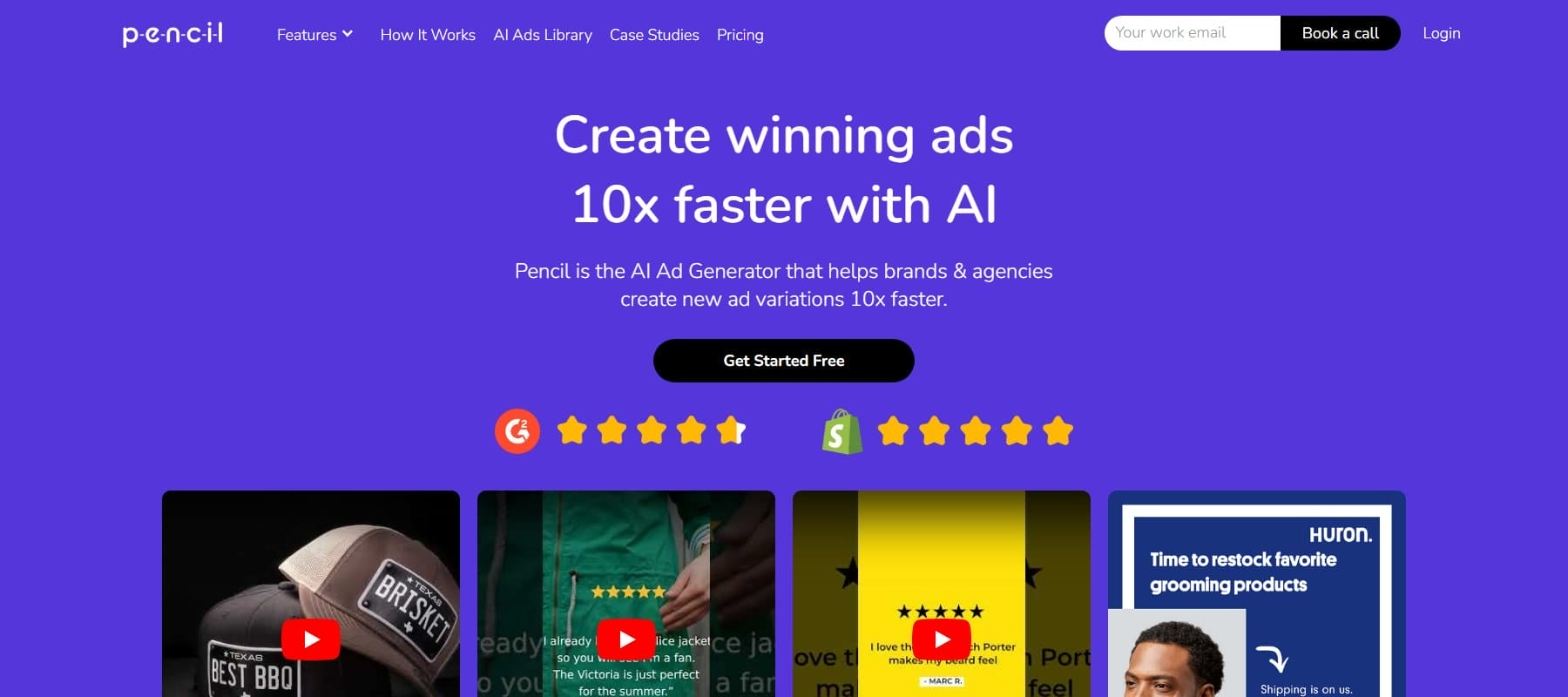 Tool Type – AI Ad Management
Pencil is an AI-driven platform that generates creative ad designs, copy, and ideas to help businesses create high-performing digital advertising campaigns. This platform does this one thing really well. If other AI social content creators haven't done it for you, Pencil might just.
Key Features:
Ad ideas and designs built using AI
AI predictions of performance before you spend a cent
Ad analytics with suggestions
Media assets created at several dimensions for multi-platform use
Best For:
Pencil is ideal for in-house marketing teams and agencies looking to create captivating digital ads using AI at every stage, delivering highly effective campaigns.
Pricing: Plans start at $119 / mo for this advanced ad platform
24. Synthesia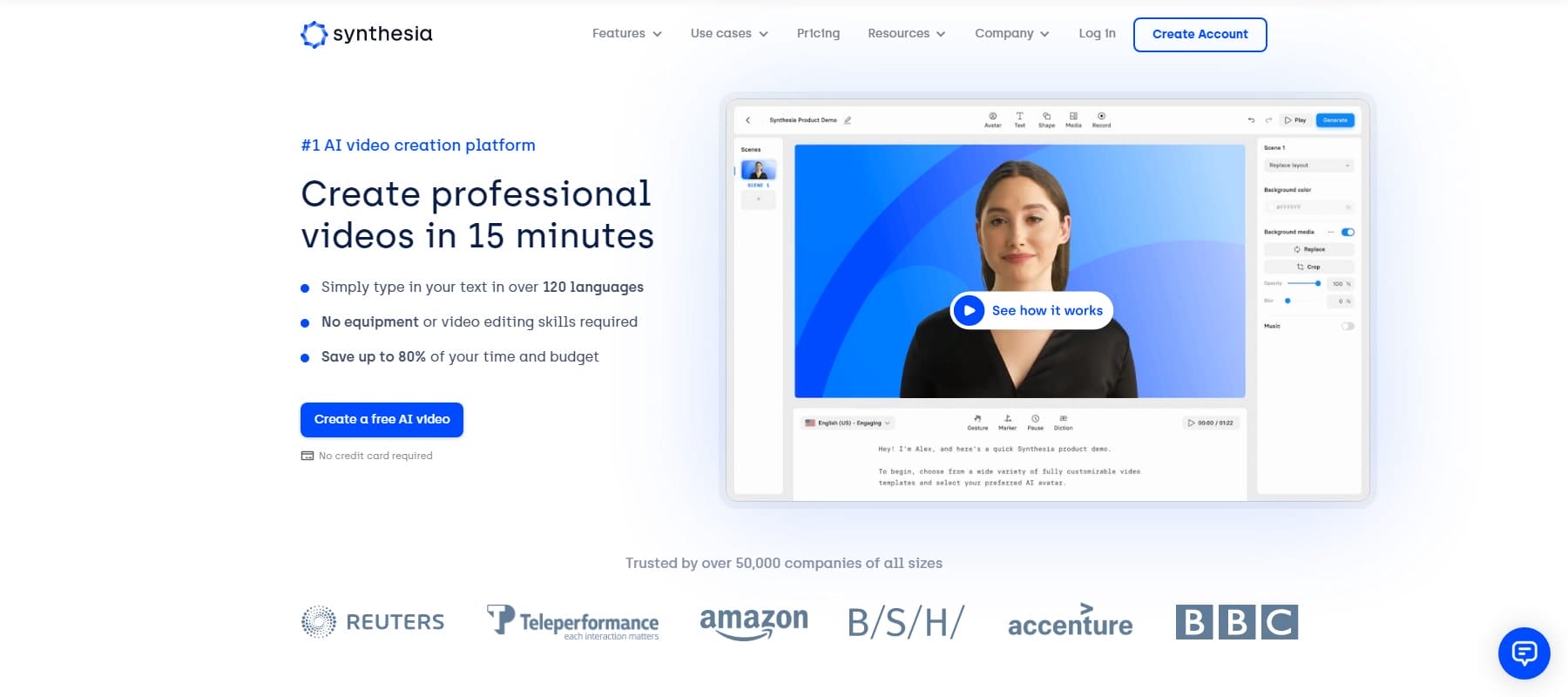 Tool Type – AI Video Generator
Synthesia is an AI-powered video avatar generator that allows users to create professional-quality videos in minutes. It generates virtual avatars based on a text script (doing both Text to Speech and Text to Video generation). This means that from single text prompts, Synthesia creates audio voices from it and a matching video with an avatar that is speaking it. That's double the power rolled up into one AI tool.
Key Features:
AI-generated virtual avatars
Easy text-to-video UI
Create highly professional videos without relying on actors and narrators
Best For:
Synthesia caters to larger businesses and marketing teams seeking professional-grade avatar videos for presentations, help documentation, and more, enhancing communication and engagement.
Pricing: Starting price for individuals is $30 / mo with custom enterprise pricing
25. Looka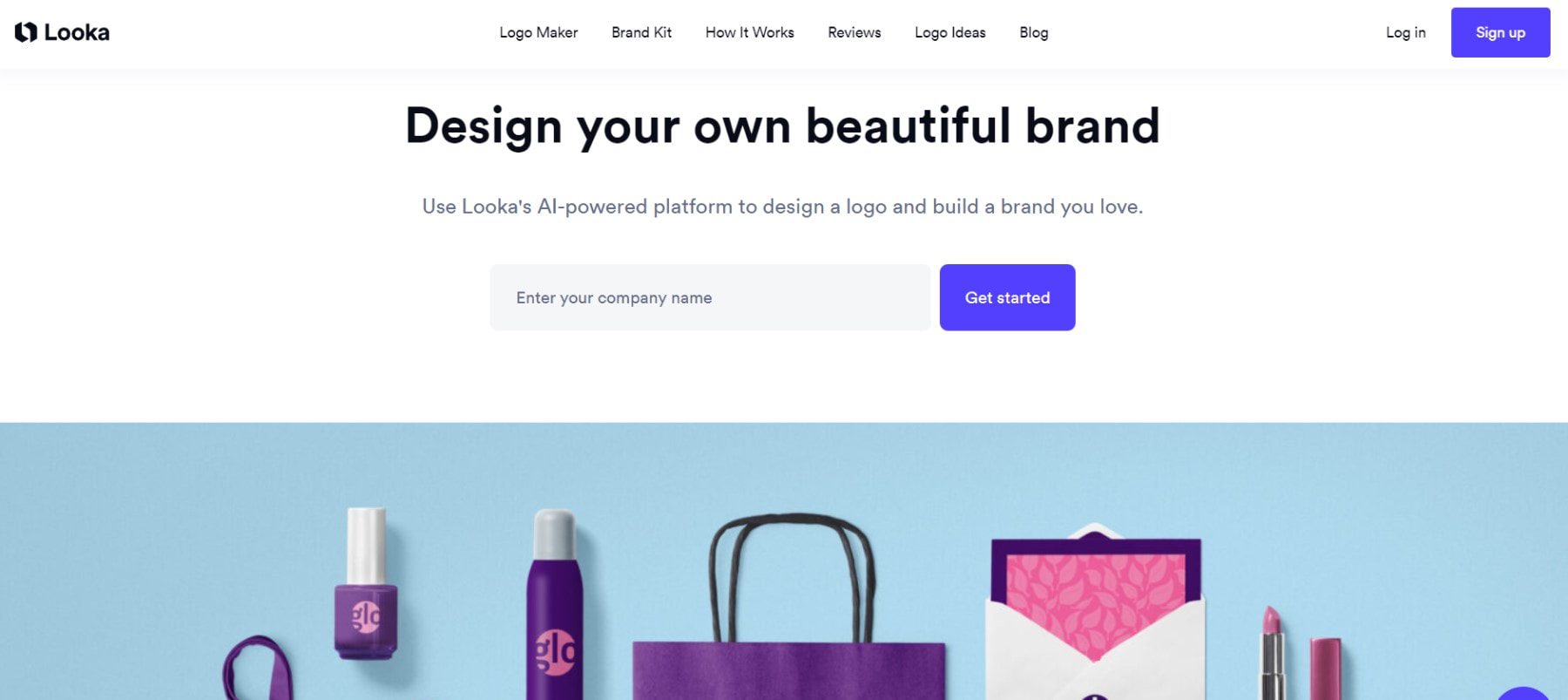 Tool Type – AI Image Generator
Looka is an AI-powered logo maker and brand guide builder. It can help create brand colors, logos, and other marketing collateral using the power and efficiency of AI. If creating an entire brand seems daunting, give Looka a try.
Key Features:
Generate dozens of AI logo designs and pick your favorite (download in SVG, PNG, and EPS)
Match logo with brand colors and font to create a well-rounded visual brand
Apply your brand to more than 300 templates for easy collateral creation (invoices, email signatures, business cards)
Best For:
Looka is a lifesaver for small businesses and entrepreneurs who want to create eye-catching logos and brands without advanced design skills, empowering them to focus on building their businesses.
Pricing: Purchase logos for as little as $20 (.png only) or build ongoing brand assets for $96 / yr
26. AskYourPDF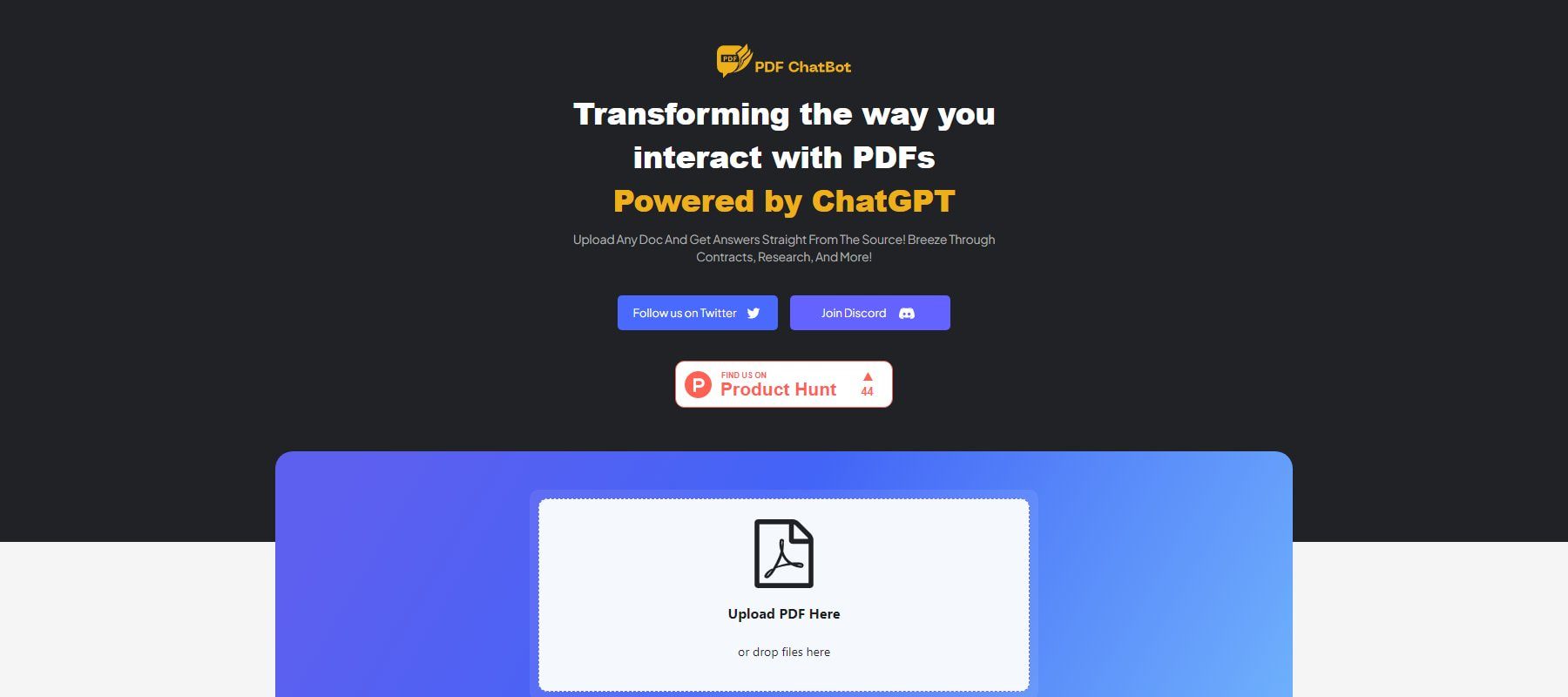 Tool Type – AI Chat Assistant
AskYourPDF answers, "Can I have a personal ChatGPT that pulls information from select data sources"? It's an AI-driven text analyzer that helps users extract helpful information from PDF files by analyzing the content and making it easier to understand and work with. Whether wading through a large quarterly financial report or trying to get key information from a 29-page academic article quickly, AskYourPDF can make mining info as simple as talking to your document.
Key Features:
AI-powered PDF content extraction
Text analysis and summarization
Keyword extraction and insights
Best For:
AskYourPDF is perfect for professionals, students, and researchers who need to quickly and efficiently extract and analyze information from PDF files by simply asking questions.
Pricing: At the time of publishing, this is an entirely free AI chatbot
27. Magic Studio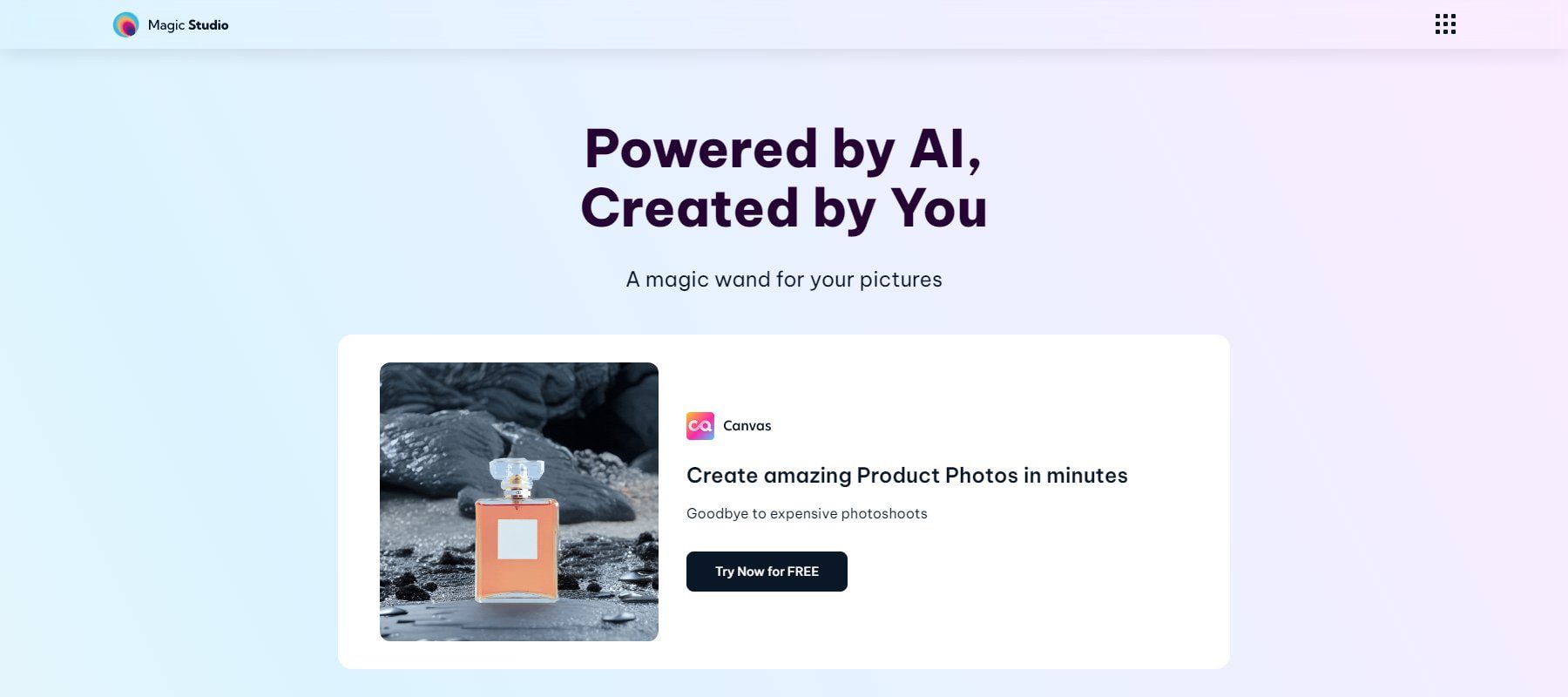 Tool Type – AI Design Tool
Magic Studio is an AI-powered design tool that enables users to create stunning visuals, including social media posts, product images, and other graphics, in just a few clicks.
Key Features:
AI-generated images
Magic Eraser to remove unwanted objects in photos
Background remover and eraser
Image enlarger to scale up images with AI without loss in quality
Best For:
Magic Studio makes it easy for creators to design visually appealing graphics without advanced design skills or expensive software, unleashing their creative potential.
Pricing: Free image creation with paid plans starting at $19.99 / mo
28. Resume.io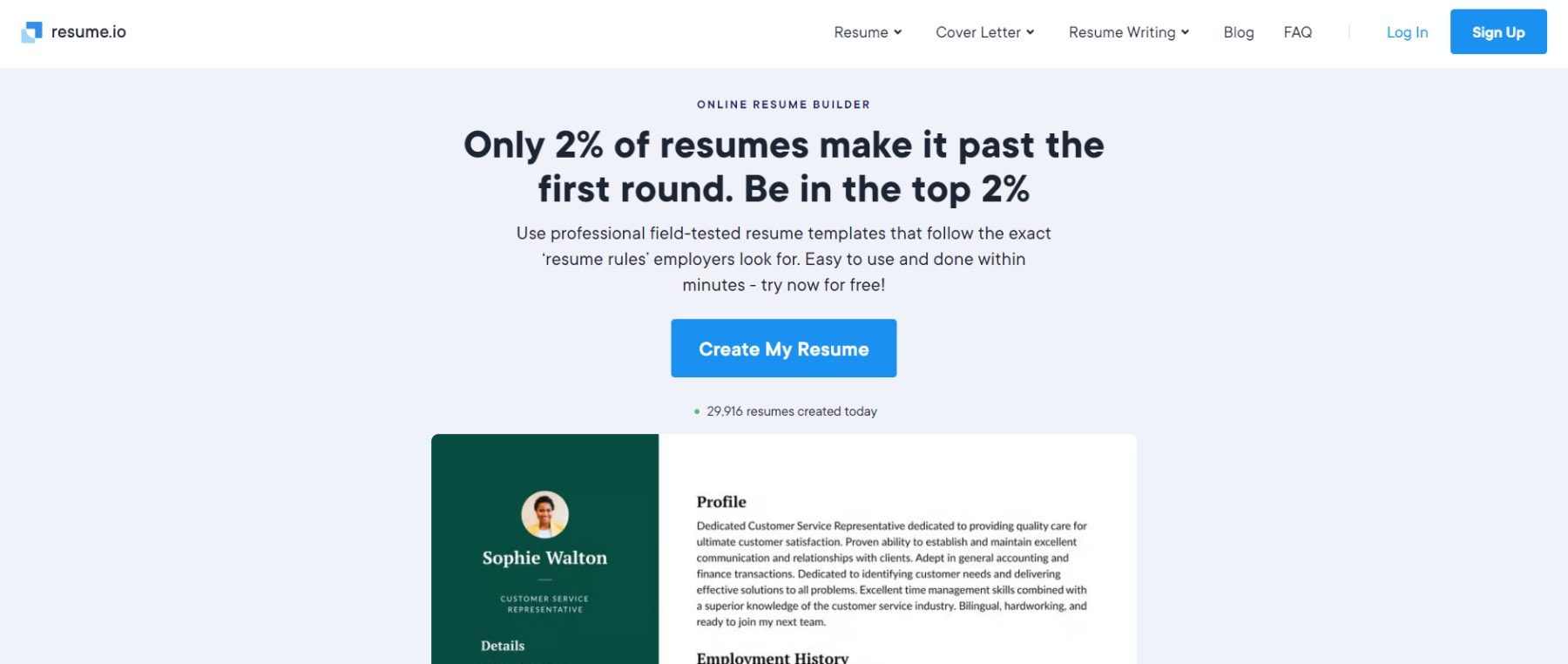 Tool Type – AI Resume Builder
Resume.io is an AI-powered resume builder that helps users create professional and polished resumes tailored to specific job openings. It takes care of resume templates and helps with professional wording to help you secure the bag.
Key Features:
Tried and true resume templates that export as Word or .PDF
AI summary generator and cover letter creator
Simple job tracking to stay on top of submitted applications
Best For:
Resume.io is designed for individuals seeking standout resumes for job applications, offering an easy-to-use interface that helps them shine.
Pricing: Limited free plan with paid plans starting at $24.95 / mo
29. Adzooma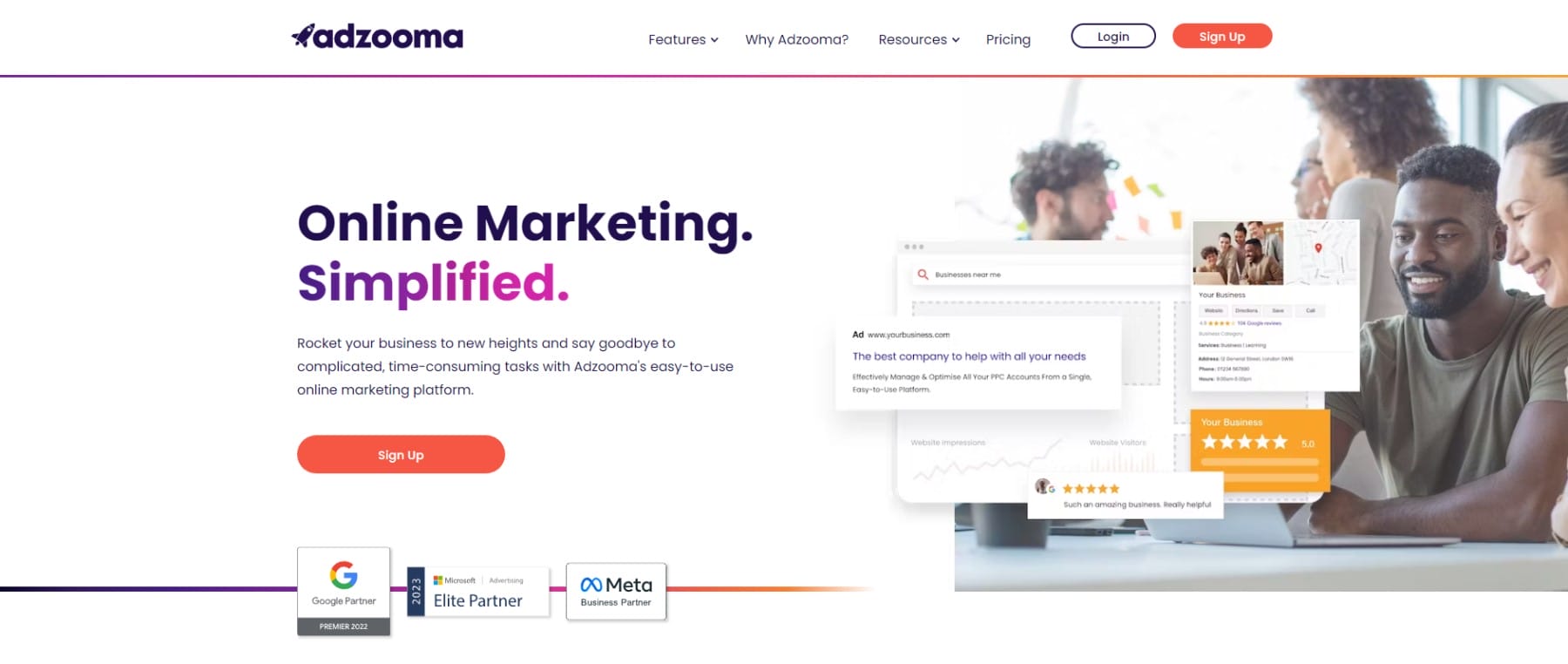 Tool Type – AI Marketing Automation
Adzooma is an AI-driven marketing and advertising platform that simplifies and optimizes digital marketing campaigns across multiple channels. It touches almost every aspect of marketing and can help improve efficiency for individuals or teams. Connect your Search and Social ad platforms, watch Adzooma pull in data, and help you launch new campaigns. Plus, it helps you maximize your ad initiatives by suggesting changes for increased ROAS.
Key Features:
Manage local listings and reviews from one dashboard powered by AI insights
AI-powered Ad campaign creation and optimization across ad platforms
SEO performance insights with action steps
Best For:
Adzooma is the top choice for digital marketers, small business owners, and agencies who need AI-powered insights and dashboards to make informed decisions across marketing initiatives.
Pricing: Free plan for ad management with paid plans starting at $99 / mo
30. Fliki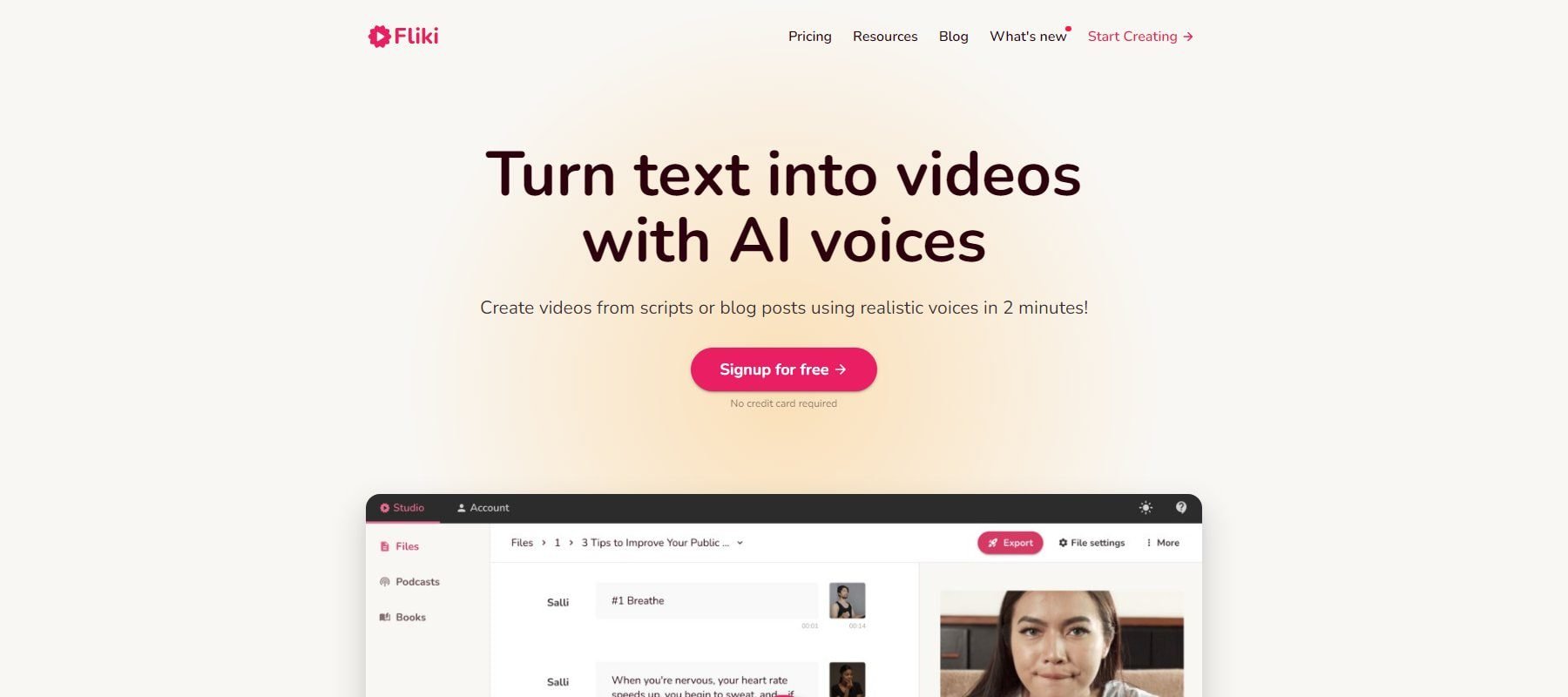 Tool Type – AI Voiceover Videos
Fliki is an AI-powered voice generation platform that turns written text into high-quality audio content. It also can pull images and b-roll videos from blogs and other sources and use them to create simple voiceover videos. Built by the same team behind the popular Rytr AI writing software.
Key Features:
A blog-to-video creation workflow
Stock media library, including images, video clips, and background music
900+ TTS voiceover voices in 75+ languages
Best For:
Fliki is a game-changer for content creators, marketers, and businesses looking to create engaging videos based on written text and static media, amplifying their storytelling capabilities.
Pricing: Free plan with paid plans starting at $8 / mo
31. Illustroke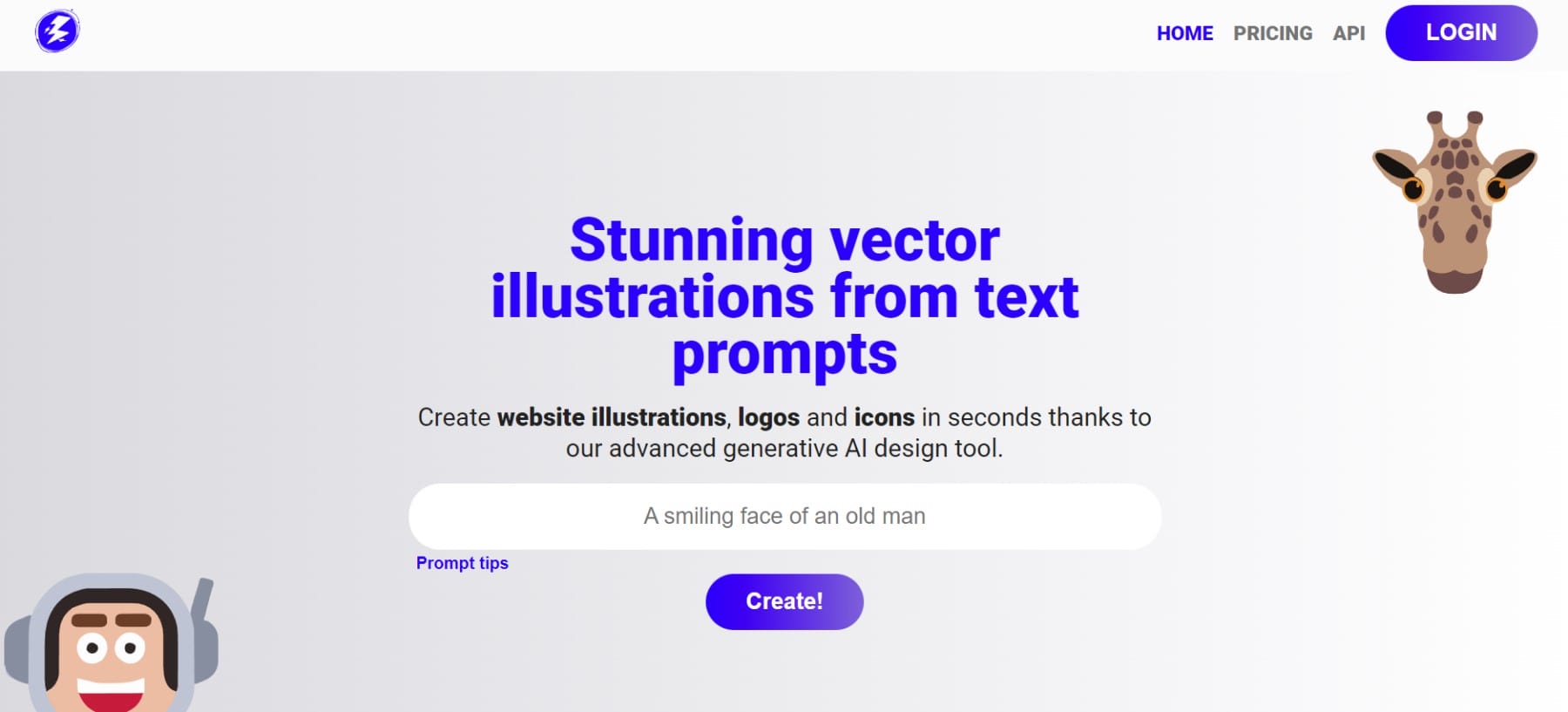 Tool Type – AI Vector Generator
Illustroke is a powerful AI-powered tool that helps designers easily create stunning and unique illustrations. While other tools make standard .jpg images, this tool produces editable vectors you can rework and resize once downloaded.
Key Features:
AI-generated illustrations with or without color
Commercial use allowed with no attribution required
API for bulk, automatic creation of illustrations
Four vector options per prompt / token
Best For:
Illustroke is tailored for web designers, illustrators, and creative professionals seeking to create striking illustrative designs with the help of AI, streamlining the design process.
Pricing: Starts at $6 for 50 tokens. No subscription fee. Pay as you use.
32. Otter AI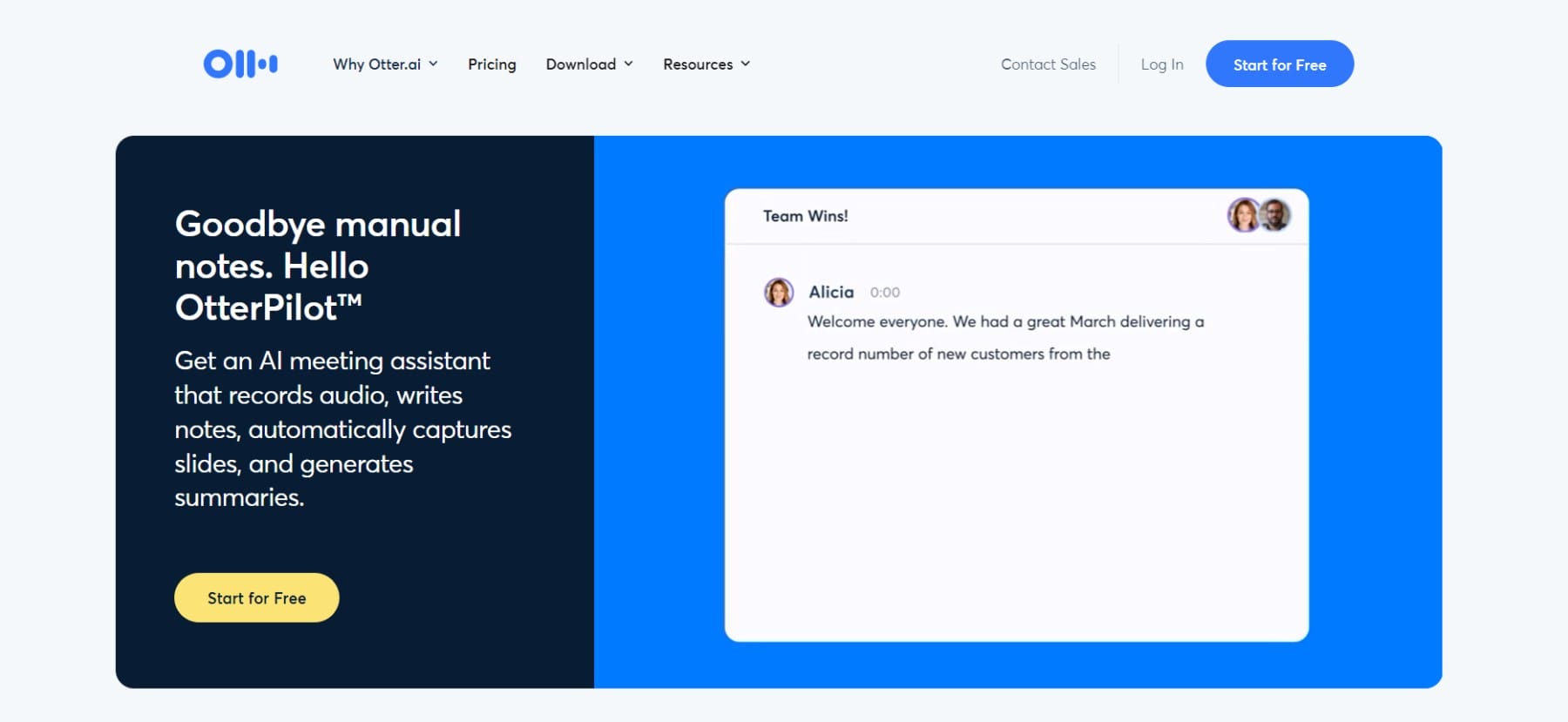 Tool Type – AI Meeting Scribe
Otter AI is an advanced transcription service that uses artificial intelligence to provide accurate transcriptions of live meetings. It helps teams save time by taking notes, time stamping key moments, and pulling in presentation slides. Everything is searchable across your entire team, so meetings are never wasted.
Key Features:
Real-time transcription with time stamps
Captures slides and presentations for notes
Searchable notes to refer back to
Best For:
Otter.ai benefits journalists, podcasters, and working professionals who require accurate meeting transcriptions, saving them time and allowing them to be more present during discussions.
Pricing: Free plan available with paid plans starting at $16.99 / mo
33. CodeWP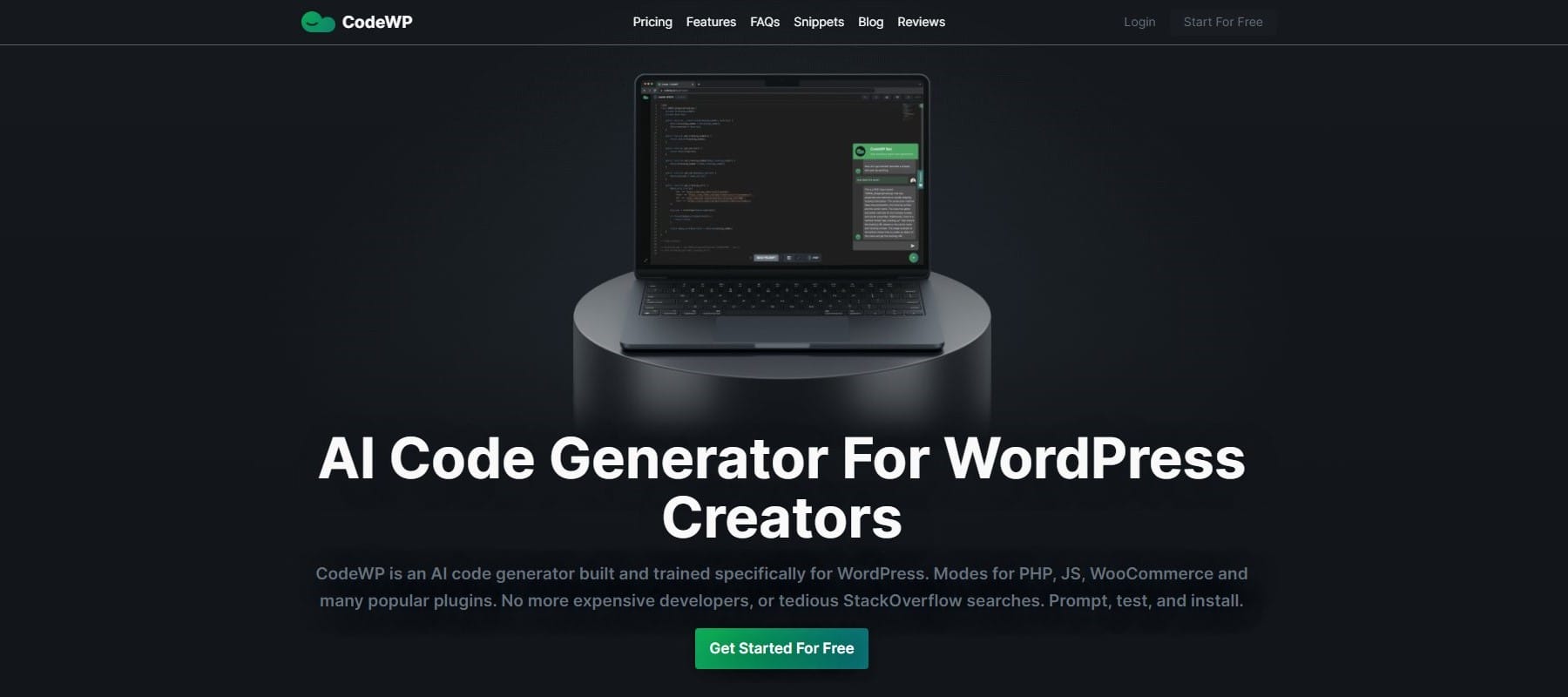 Tool Type – AI Code Generator
CodeWP is an AI-powered WordPress code generator that helps developers of all skill levels create and extend WordPress websites faster than ever. With CodeWP.ai, you can generate code for various tasks, use pre-made and vetted code snippets, and write secure and efficient code that is up to WordPress standards.
Key Features:
AI-driven WordPress code generation (PHP, CSS, HTML, JS)
WordPress code generation + for your favorite plugins
Pre-made and vetted code snippets are available
Secure, efficient, and compliant code
Best For:
WordPress design agencies, freelancers, and advanced owners of even single websites can benefit from rapid code generation for CodeWP. It creates simple code snippets that extend the customizability of your WordPress install. Plus, it saves everything for future use on other sites that you might have. This is especially great for agencies that are creating a lot of websites that might share some functionality.
Pricing: Free plan available with paid plans starting at $12/mo
34. 10Web
Tool Type – AI Website Builder
10Web AI WordPress Builder is a powerful AI-powered platform that helps you create high-quality WordPress websites quickly and easily. With its drag-and-drop editor, you can customize your website to your exact specifications without any coding knowledge required.
Key Features:
AI-powered website creation with content and images
Based on WordPress for the most customizable foundation for any website
Use AI to recreate old websites for an even faster process
Best For:
10Web AI WordPress Builder is a great option for business owners and agencies that need to create professional websites quickly and easily. With its AI-powered features, 10Web can help you create a visually appealing and informative website. Additionally, the WordPress platform allows you to customize your website further to meet your specific needs.
Pricing: $20/mo, including AI, hosting, and security tools
Price Comparison: Best AI Tools
These best AI tools offer a variety of solutions to improve productivity and automate workflows. To help you decide the right tools for you, glance over the table to compare our top AI products by their pricing and free plan offerings.
What are the Best AI Tools for Productivity?
If you do a lot of content writing, you can't go wrong with either Jasper or WriteSonic. Both platforms also include the ability to create AI art and images. With features packed into both, you can't go wrong.
For people doing SEO for one site or many client websites, we strongly recommend you look into Surfer SEO, Scalenut, and Alli AI.
Lastly, for the video creators, consider Descript and Synthesia to edit videos via text editor and create AI avatar videos, respectively.
Frequently Asked Questions (FAQs)
Before we wrap up, let's answer some of your most common questions regarding the best AI tools. Did we miss one? Leave a question below and we will respond!
What are the top most useful AI tools?
The most useful AI tools depend on the type of work that you do. The best all-purpose AI tools are
Jasper
,
ChatGPT
, and
WriteSonic
. The most useful SEO AI tools are
Surfer SEO
and
Scalenut
. For social media marketers, the best SMM AI tools are
Ocoya
, and
Pencil
.
What are the best free AI tools?
WriteSonic
is a versatile AI content creation tool, offering various products like AI writing assistance, AI-generated art, and a ChatGPT-styled chat assistant. It's a comprehensive tool for content creators seeking multiple AI-powered solutions. On the other hand,
Descript
is an AI-driven video editor that simplifies editing by allowing users to edit videos based on transcribed text. By uploading a video, Descript quickly generates a transcript that can be edited to modify the video's content, making video editing more efficient and user-friendly. Both have free offerings, but you'll need to upgrade to unlock additional features and higher usage limits.
What is the best AI right now?
Jasper
or
WriteSonic
are the best overall AI tools out right now. Both platforms also include a suite of AI features, including AI writing software, AI art generators, AI chatbots, and more. With features packed into both, you can't go wrong.
How to use AI to increase productivity?
AI can significantly boost productivity by automating mundane tasks such as formatting and data entry. By taking care of these repetitive and time-consuming tasks, AI frees up valuable time for professionals to focus on more strategic and creative aspects of their work. For instance, AI-powered tools can automatically format documents, spreadsheets, or presentations following predefined templates or guidelines, ensuring consistency and professionalism across all materials. Similarly, AI can handle data entry tasks, reducing the risk of human error and increasing overall accuracy. To create easy tables for WordPress, you can tell ChatGPT to generate a markdown table, provide the table headings, and then give it the content to go under each heading. It'll print out a table to select, copy, and paste into your WordPress document. ChatGPT can also follow your HTML pattern for content templates. Give it your HTML template, explain what information is a placeholder, and what information to replace it with. This works very well for listicles and product roundups.
Can AI increase efficiency?
Yes, AI definitely has the potential to enhance efficiency in various aspects of life, including business processes, decision-making, and research. By automating repetitive tasks, analyzing large datasets, and offering predictive insights, AI can help organizations streamline operations and make more informed decisions. Some ways AI can improve efficiency include:
Automating mundane tasks: AI-powered tools can handle repetitive tasks such as data entry, formatting, and basic customer support, freeing human resources to focus on more strategic and creative tasks.
Improving decision-making: AI can analyze vast amounts of data to identify trends, patterns, and correlations that might be difficult or impossible for humans to detect. This enables organizations to make better-informed decisions and optimize their processes.
Enhancing personalization: AI algorithms can analyze user behavior, preferences, and needs to offer personalized recommendations and experiences, increasing customer satisfaction and engagement.
Predictive analytics: AI can help forecast future trends and events based on historical data, allowing businesses to anticipate better and respond to potential market changes.
Are AI detection tools accurate?
The accuracy of AI detection tools varies depending on the tool you use. According to our research, the most accurate AI detection tool currently available for a fee is
Originality.ai
, with a 95.93% accuracy rate in identifying texts correctly. However, for those who prefer a free option,
OpenAI Text Classifier
is a solid choice.
How can I use AI tools to make money?
To monetize digital content, you can utilize AI tools for various purposes like generating scripts, brainstorming content ideas, and drafting blog posts. Moreover, the use of AI can boost your productivity, making your business more competitive. By leveraging AI-generated content, you can run ads or offer subscription-based models. However, it's important to note that generating revenue depends on successfully finding and engaging an audience, which can be challenging. AI tools can support content creation, but audience building remains a key factor in making money.
Where can I find the best AI tools?
You can find top AI tools, including
Jasper
for generating marketing content and
Descript
for video editing, in this very blog post! We also have
a series of posts
where we dig into the top AI tools of various categories, including art generators, chatbots, music generators, writing assistants and more..
Are AI writing tools worth it?
AI writing tools are great for businesses engaged in content marketing. If you regularly create various forms of copy, such as blog posts, landing pages, product descriptions, ads, social media posts, video descriptions, or emails, AI writing software can assist you in generating high-quality content efficiently, saving time and effort.
What is the best AI paraphrasing tool?
Quillbot
is a standout AI paraphrasing tool that rephrases and restores text while preserving the original meaning. With its advanced paraphrasing capabilities, it adjusts words and sentence structures to produce unique and plagiarism-free content. Quillbot offers multiple rewriting modes, allowing users to tailor the output to their needs.
What is the best AI tool to convert text to video?
Synthesia
is the top choice for converting text to video due to its AI-powered video avatar generator. It enables users to create professional-quality videos within minutes by generating virtual avatars based on text scripts. With Synthesia, you can produce highly professional videos without the need for actors or narrators, making it an efficient and convenient tool for video content creation.
What is the best AI writing tool?
Rytr
is the best AI writing tool. It offers a wide range of copywriting frameworks, blog writing templates, and use cases for product descriptions. With Rytr, users can quickly generate high-quality content for various industries, including marketing and eCommerce. The recent addition of Rytr Chat allows human writers to utilize prompt-based commands, enhancing content generation. Whether you're a seasoned writer or new to AI tools, Rytr provides an exceptional writing experience.
What is the best AI marketing tool?
Jasper
is ranked as the best AI marketing tool. It utilizes GPT-3 technology and a proprietary LLM trained specifically on live marketing and sales content. With SEO integrations, Jasper becomes a powerful tool for generating long-format, SEO-optimized content that ranks well in search engine results. Its unique blend of LLM and trained marketing data sets it apart from simple GPT-3 API tools.
Many AI tools are out there, and more are launching daily. Which ones are you using and loving?
Featured Image by Jackie Niam / shutterstock.com