If you're looking for a powerful tool to edit audio and video using artificial intelligence (AI), Descript is one of the best. But how does it work? And what are some of its newest features? In this complete Descript review, we'll give you an overview of Descript's best features, benefits, and drawbacks to help you decide if it's the right fit for your needs.
What is Descript?
Descript is an AI video and audio editing app that will revolutionize your audio and video editing experience.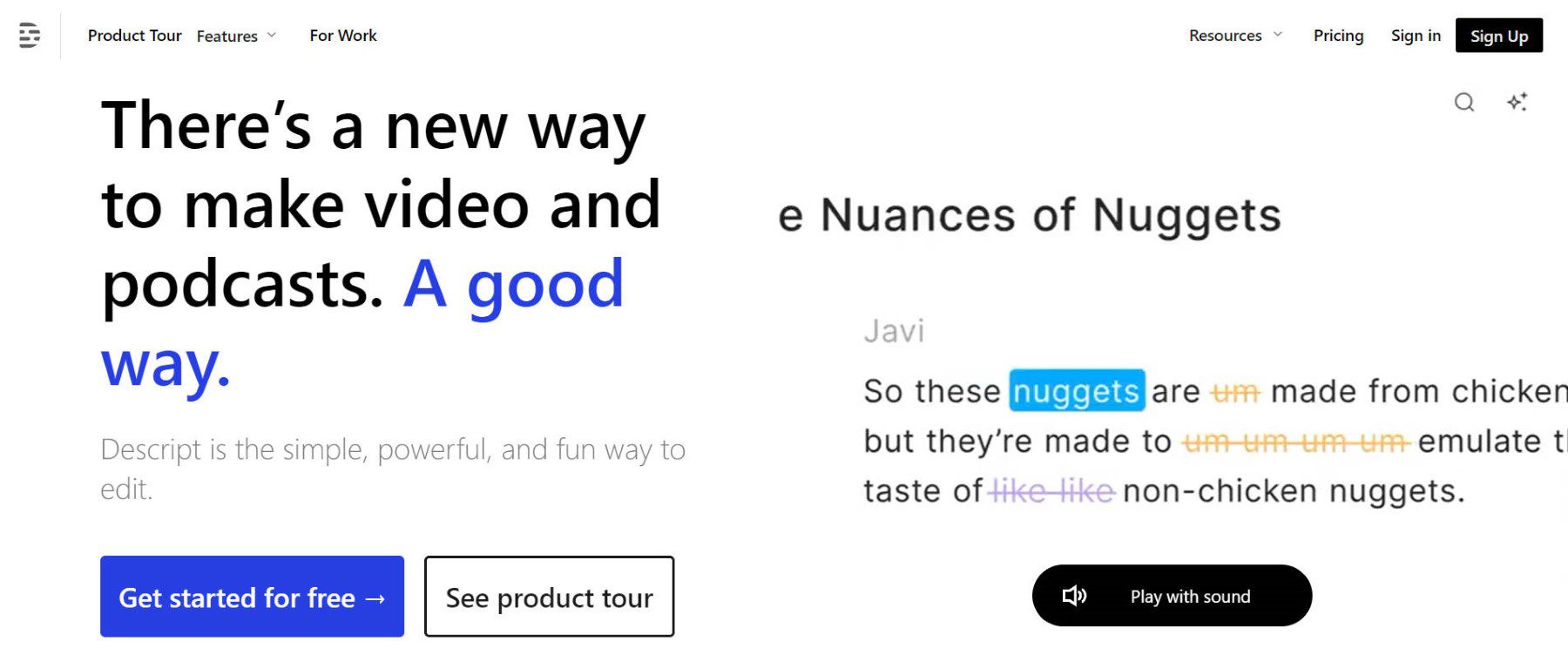 With Descript, you can say goodbye to the traditional, labor-intensive editing methods and embrace a whole new world of efficiency and creativity. Descript utilizes cutting-edge artificial intelligence technology to make editing videos and audio a breeze.
Descript's flagship offering is a desktop app available for free download. They've recently released a web browser (SaaS Beta) version of the service that takes the video editing experience to the cloud. It works via what they call a Document editor, which is an exciting way to edit videos and audio. It transcribes imported files so that all spoken words are directly editable in the document editor. This approach vastly differs from other video editing suites exclusively using timeline editors.
Whether you're a professional filmmaker, content creator, or just someone who enjoys making videos for fun, Descript has unique tools that will make your job easier.
Descript's Main Features Review
You probably can already tell that Descript is unique in what it offers. By being able to edit videos in a standard text editor, you don't need a ton of technical skills to succeed with Descript. Let's run through all the program's major features so you know exactly what you're getting into. After that, we'll discuss its pricing structure and see how affordable it is.
Overdub Voice Cloning
Have you been in a situation where you recorded a podcast, shook hands with the guest, and packed up your gear only to find an error in your recording? Instead of re-recording that slice of audio again, Descript lets you clone your voice with Overdub.

Overdub uses a sample of your voice (or from your guests) to create an AI-generated clone of it. Then, you can use Descript's editor to type in the missing audio. From there, Descript will use the power of AI to create the missing audio for you. All Descript needs from you is a voice sample, which is quickly done in the app.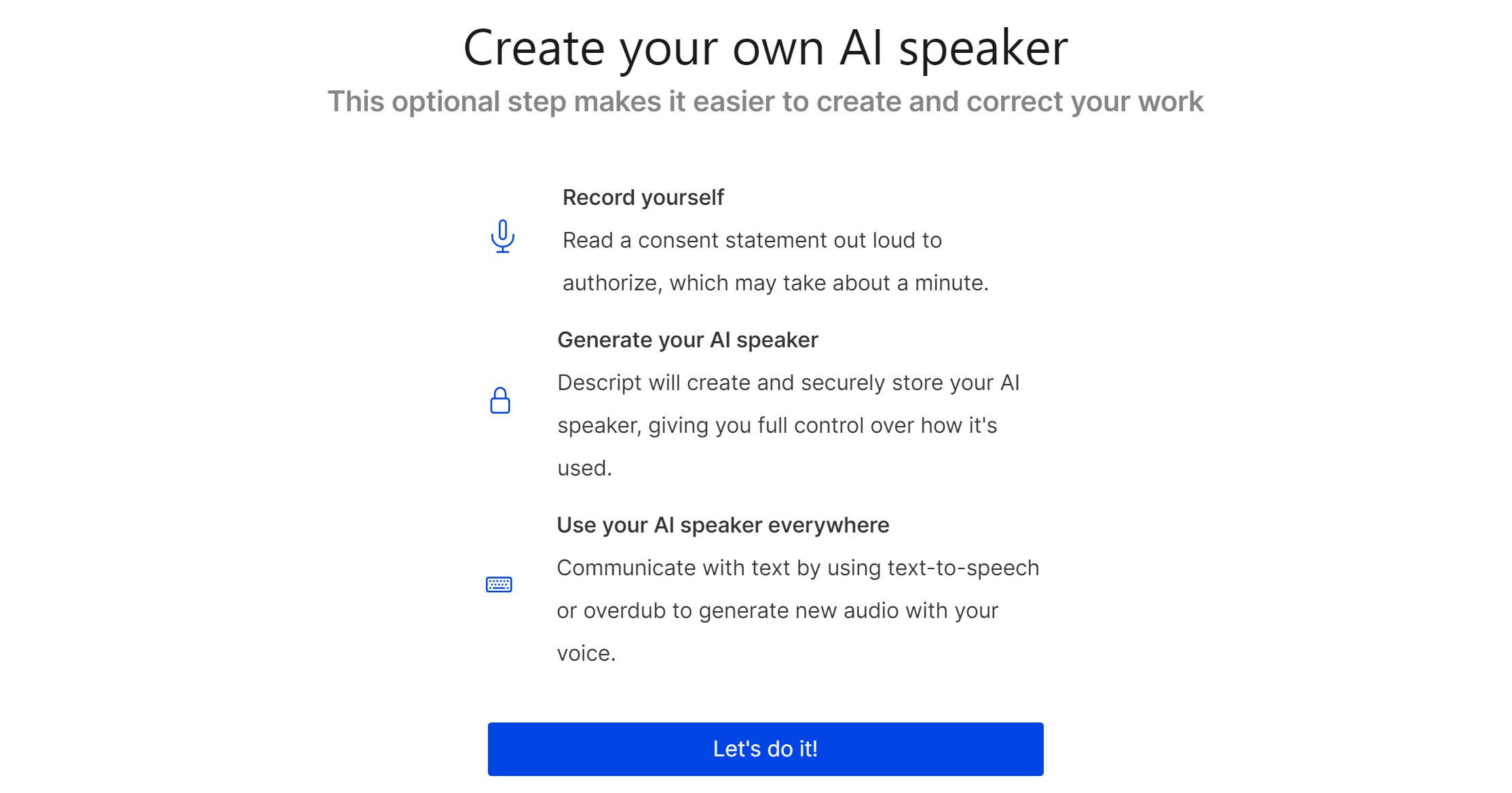 Descript's great voice cloning technology can also be connected with Synthesia AI, the popular AI Avatar generator, for those who use both services.
Studio Sound
Descript's studio sound editing can significantly improve the sound quality of any audio file. Its advanced AI algorithms effectively remove unwanted background noise, hum, and other distortions, resulting in a cleaner studio-quality sound. This is especially true for podcasts where clear audio is essential for non-distracting content. Best of all, the AI restores the presence of voices and filters out noise, which means your audio will be clear in both senses.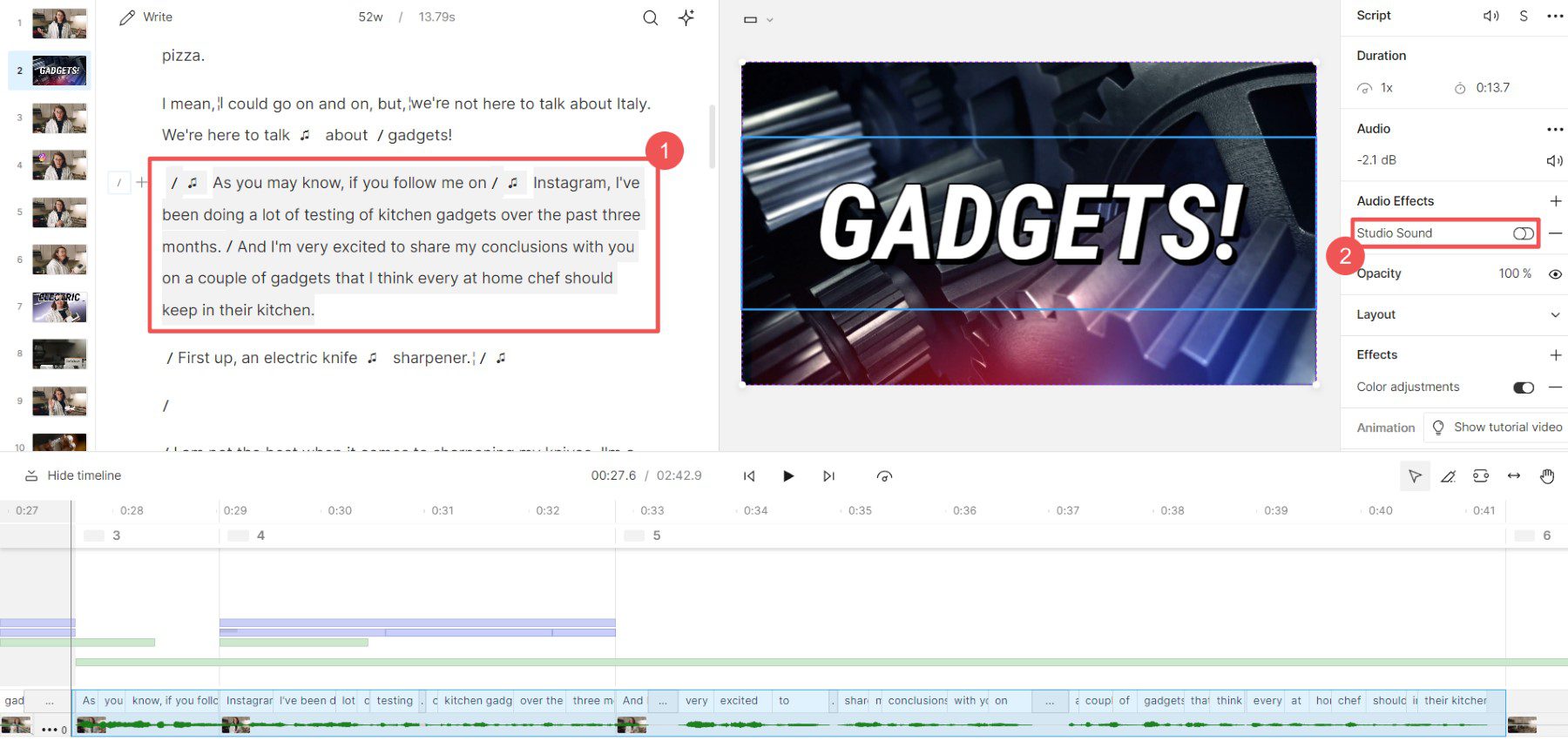 To see it in action, see this Studio Sound example video. You can also try one of your audio files directly and see how much of a difference it makes using Descript's Studio Sound Demo.
Remove Filler Words
This is probably one of Descript's biggest features that made it very popular. Not everyone is a seasoned professional who knows how to carry themselves behind a mic when the red record button is pressed. Being able to remove those unprofessional utterances easily makes a massive difference in postproduction quality.
Descprit takes away some of that pressure by seamlessly removing filler words, awkward pauses, or mistakes in just a few clicks. Need to rearrange or delete sections? No problem! Descript's intuitive interface makes navigating and making changes on the fly simple.
Some filler words that Descript automatically detects and takes care of are:
umm
but you know
hm
I guess
I mean
kind of
like
mmm
Descript makes it easy to come across as professional and reliable with these editing features.
Automated Transcription
Descript also saves podcasters and video creators time by automatically transcribing audio and video files. No more wasting time manually transcribing your content or paying someone on Fiverr to do it. Descript transcribes your work with impressive accuracy.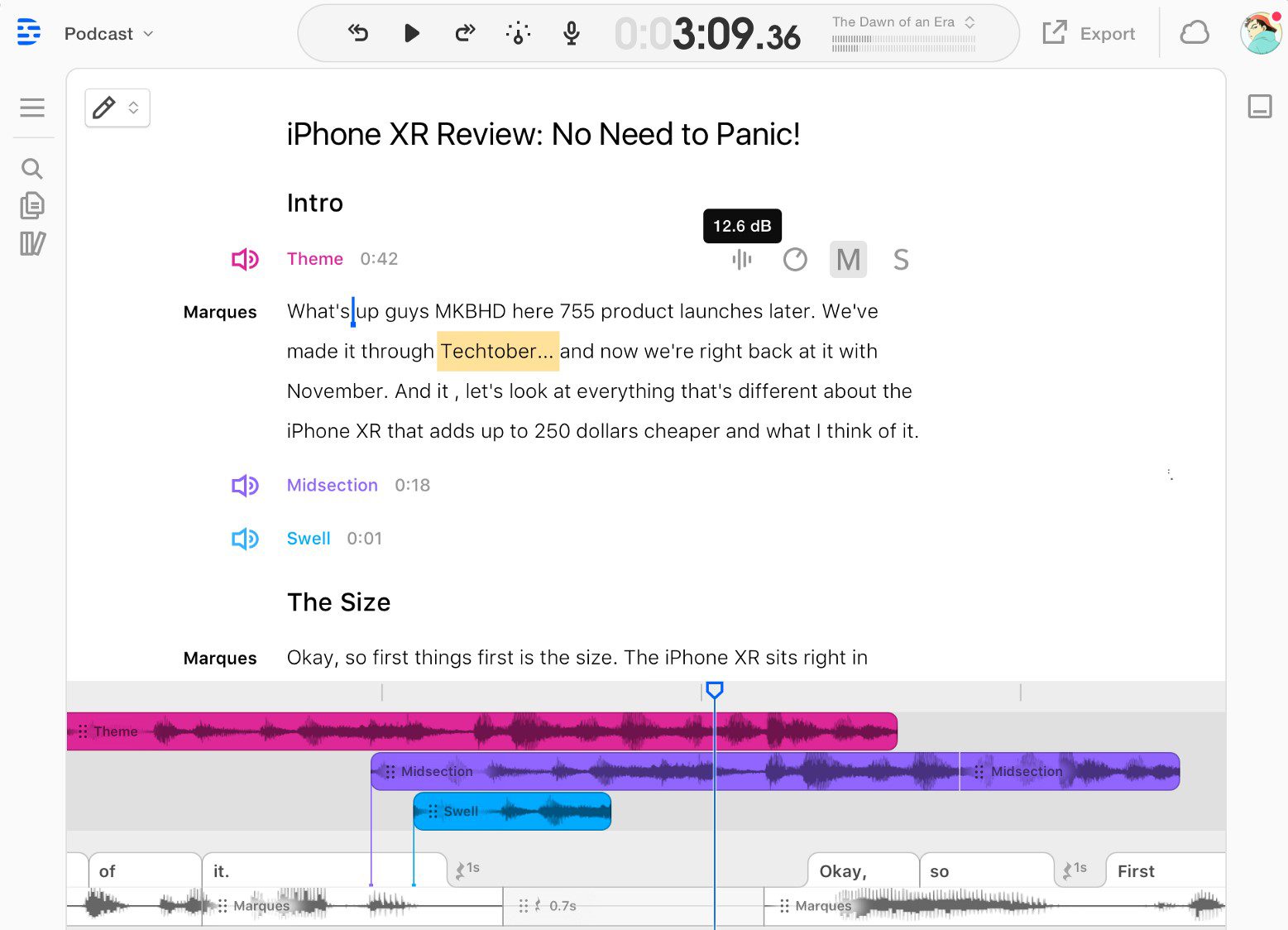 Transcription is vital for editing projects because the text editor is the primary way of making changes to them. But Descript goes above the bare minimum with transcription by recognizing various voices in the source files. This makes it easy to see which personality's transcribed text belongs to whom in the editor (and lets you more easily overdub content for that person).
Video Green Screen and AI Eye Contact
Descript's ascent into video editing has added some exciting features that video editors will be excited to use. The first of which is a green screen background editor. Similar to Zoom, it can take the background of a video and replace it with another one using powerful customization options. This can make unprofessional recording settings a thing of the past.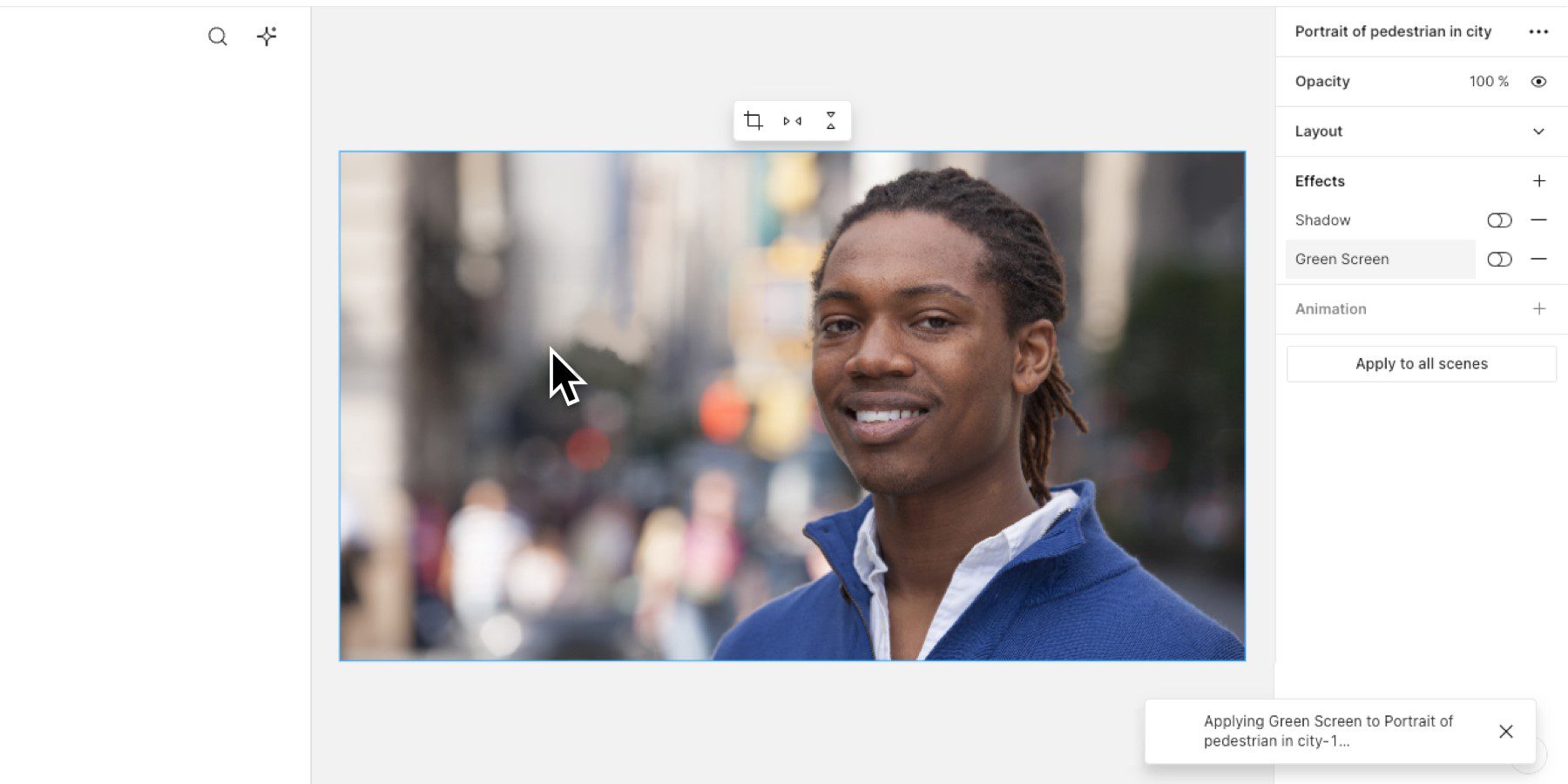 Descript's eye-contact AI makes it even more realistic for non-experts to create content. Things like nerves and performance anxiety largely happen because people don't know how they'll look on video. Since Descript can take out filler words and adjust your eye contact in a video, you have much less to worry about. Descript makes the recording process more human by making more powerful tools for the production stage.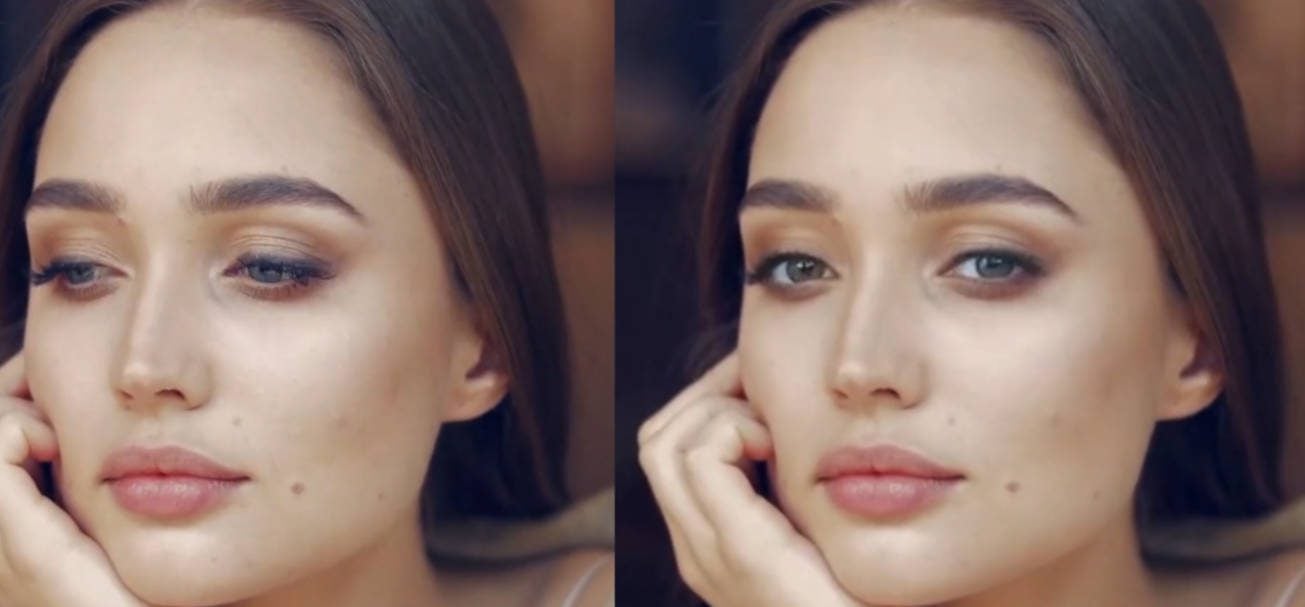 Descript Pricing Review
One of the best parts about Descript is how it has set up its pricing structure. There is plenty on offer in its free plan, so you can explore the platform and give it a fair shake. And honestly, the Creator and Pro plans are more than reasonable for AI audio and video editing.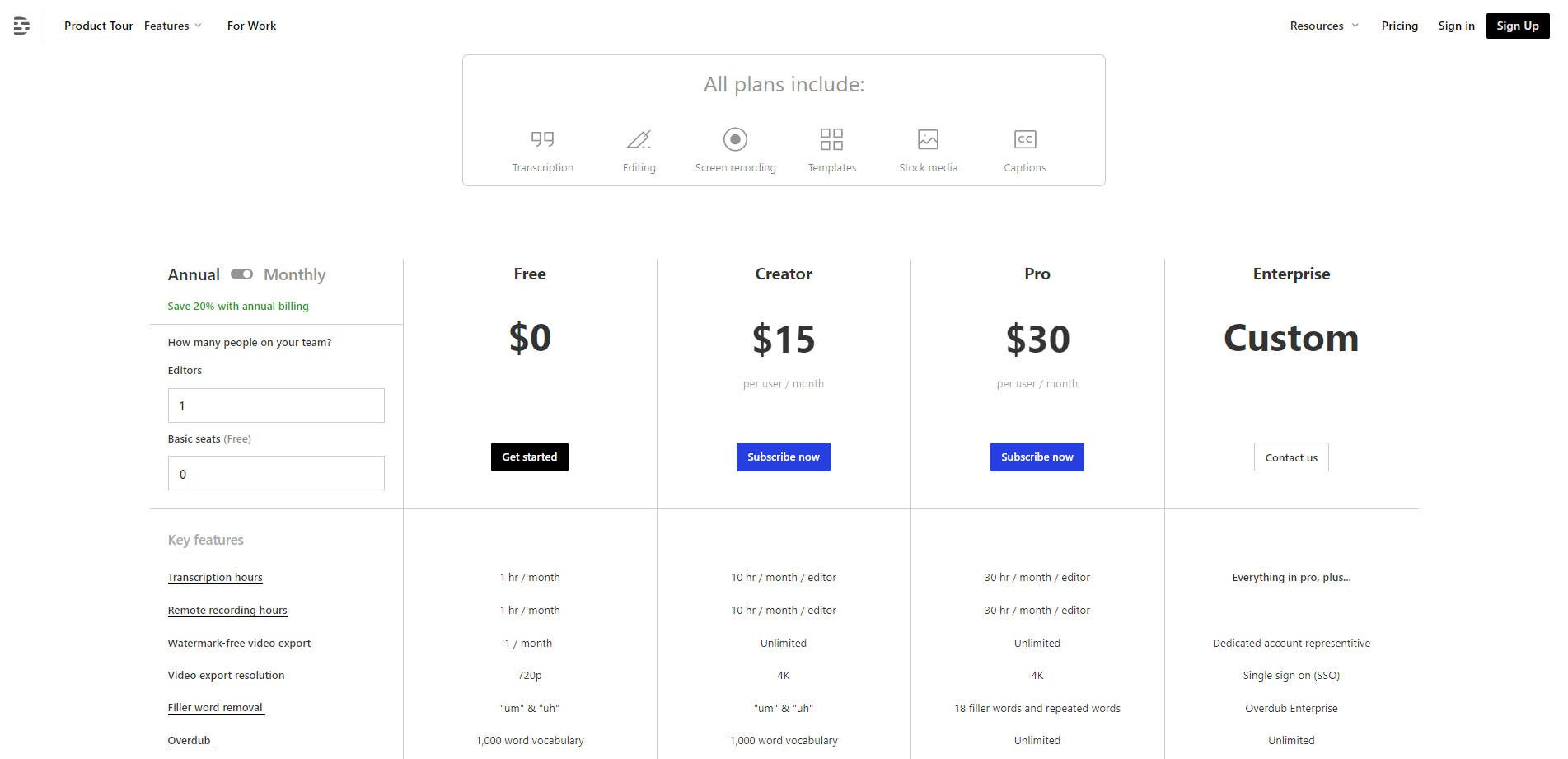 Free Tier
For free, you can explore the world of video and audio editing. You'll get 720p video export quality, a monthly allowance of one transcription hour, and a 1,000-word vocabulary for Overdub. Studio Sound, AI Green Screen, and AI Eye Contact are available for up to 10-minute files, and the stock library shows the first five results per search. It's more than enough to try out each of its features and, more importantly, see if you like Descript's new way of editing.
Creator Tier
Tailored for individual creators, this tier comes at a cost of $15 per user per month. It includes 10 hours of transcription and remote recording per editor per month. Enjoy unlimited watermark-free video exports at 4K resolution. Filler word removal still covers "um" and "uh," and Overdub vocabulary remains at 1,000 words. AI Green Screen and AI Eye Contact are available for up to 60-minute files, and the stock library shows the first 12 results per search.
Pro Tier
For professionals, the Pro Tier comes in at $30 per month. It offers 30 hours of transcription and remote recording per editor per month. All the features of the Creator Tier are included, but filler word removal expands to 18 words (more than just umm and uh) and removes repeated words. Overdub vocabulary is unlimited, and AI Green Screen and AI Eye Contact are also unlimited. The stock library is also fully accessible at this tier.
Enterprise Tier
Custom-priced and aimed at teams of 10 or more, the Enterprise Tier includes everything in the Pro Tier and adds a dedicated account representative, single sign-on (SSO), Overdub Enterprise, a security review, invoicing, and specialized onboarding and training. You will have to speak with a member of the Descript team to get more details about feature limits and costs for this tier.
Pros & Cons of Descript
Depending on your needs and other programs you are looking at, Descript may or may not be the exact tool you are looking for. Here are some of the top pros and cons we noticed with Descript to help you determine your needs.
Pros of Using Descript
Features & Usability: Descript offers fast and accurate transcription in 23 languages, allows editing media clips by tweaking the text transcript, and supports a range of advanced features like Studio Sound and Filler Word Removal. It also supports collaboration, recording in the editor, templates, captions, transitions, and music. The interface is friendly and intuitive, making editing as easy as using a Word doc. A powerful AI engine performs tasks like transcription and video enhancement in seconds.
Integrations: Descript seamlessly integrates with popular tools like Slack, Castos, Podbean, Restream, and Final Cut Pro.
Pricing: Descript offers a free plan with many features like transcription, editing, and screen recording. It also has flexible plans to suit different needs and budgets, with annual billing options that save 20% compared to monthly billing. Overall, we are impressed with its pricing options.
Cons of Using Descript
Features & Usability: Descript requires a stable internet connection and has a learning curve to master all its features. Additionally, it may lack some features that professional editors prefer since it devalues most other tools' timeline editing experience.
Pricing: Descript charges per user/editor can get expensive for larger teams. Depending on the plan, it also limits features like total transcription/video publish hours and export quality, which you should consider with any given plan.
Web Interface: Descript has recently launched its web app, which is excellent news. But it is only in Beta now, so you can expect minor issues compared to the desktop application as they iron out the solution.
Conclusion
Descript is one of the best AI tools for innovation and efficiency. It's not just another video app since it reinvented video editing with cutting-edge technology. With its AI-driven features like Overdub Voice Cloning, Studio Sound, and Filler Word Removal, Descript makes video and podcast editing even more accessible for those wanting to get into it.
From our detailed review, you should feel empowered to decide about using Descript AI.
Who Should Use Descript?
If you're a content creator, podcaster, or filmmaker who values time and quality, Descript is your go-to tool. Its text-based editing system is a game-changer, making it accessible even for those who aren't so tech-savvy. Medium to large-sized teams will find the pricing reasonable, and the annual billing option is a cherry on top.
For those curious about other AI tools and uses, we suggest you see how to make your own AI and our breakdown of the best video editing tools on the market.