If you're a vlogger, TikTok creator, or marketer, choosing the right video editing software is crucial for boosting your brand's success. As more consumers crave online video content from brands, it becomes vital to your marketing strategy. However, with so many options available, finding the right video editing software can be challenging, especially for beginners. Don't worry, though. We've compiled a list of the best video editing software to help you find the perfect fit for your needs.
What is Video Editing Software?
Video editing software is a computer program that empowers you to edit videos effortlessly. It provides tools and features necessary for trimming, cutting, adding transitions and effects, inserting text and graphics, color grading (adjusting the video's look, lighting, and feel), correcting footage, and exporting videos in various formats.
To start video editing, you'll need to gather your footage. This can include videos captured on your phone or camera and downloaded footage from the internet. Once you've collected all your footage, it's time to import it into the video editing software and let your creativity flow!
The Significance of Video Editing Software
Video editing software holds immense importance for content creators. It grants users full control over their videos and enables the creation of professional-grade content. With this software, you can incorporate graphics, text, audio, animations, and seamless transitions while effortlessly trimming and cutting footage.
Beyond its technical capabilities, video editing software plays a pivotal role in weaving compelling narratives through visual storytelling techniques. These techniques encompass skillful shot sequencing, harmonizing music and voiceovers, and leveraging creative elements. By doing so, you can emotionally captivate your audience, effectively conveying your message.
The Best Video Editing Software
Now that we know a bit more about video editing software, let's take a look at the best video editing software on the market!
1. Adobe Premiere Pro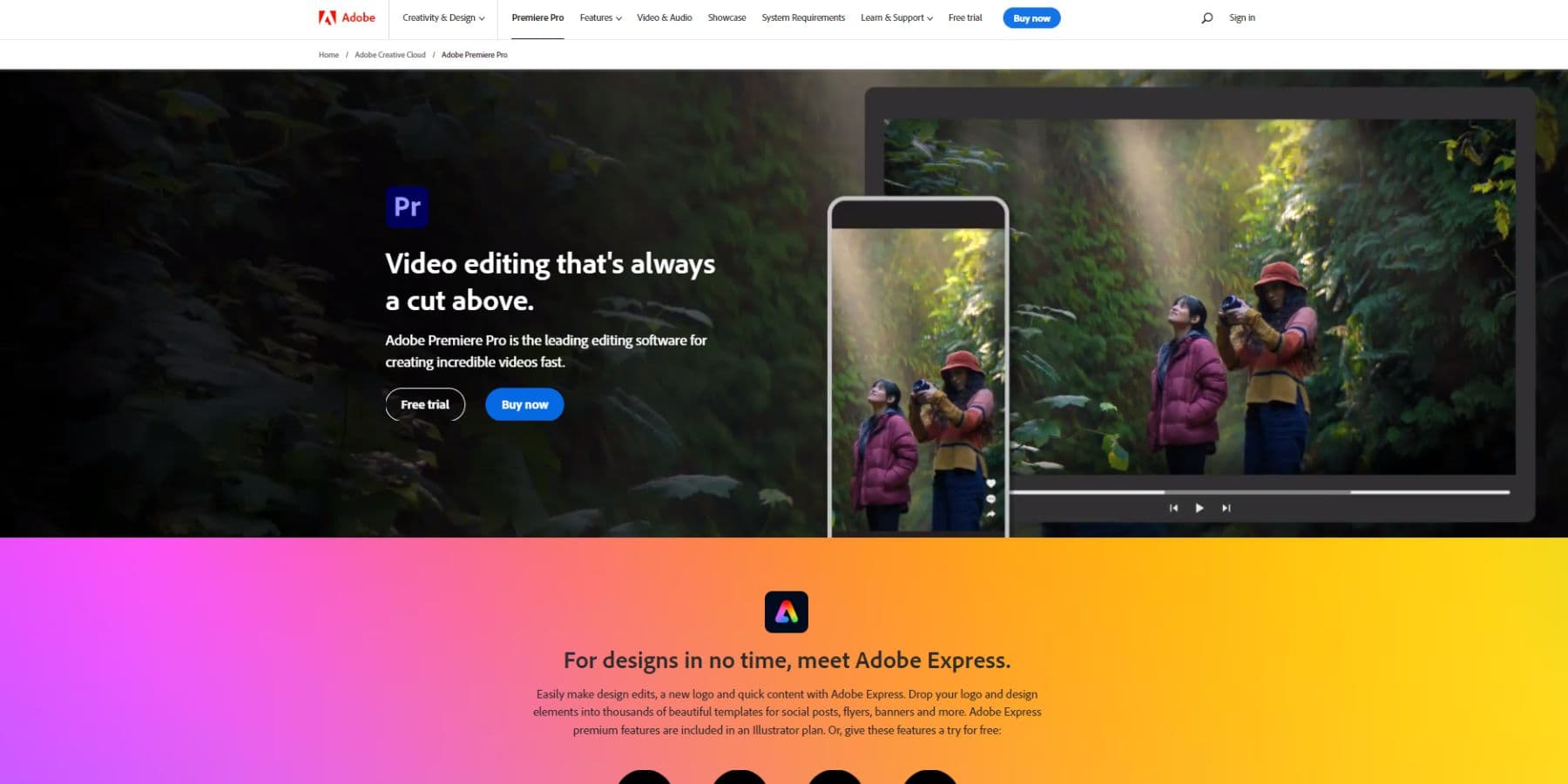 Adobe Premiere Pro stands as the top editing software for creating everything from YouTube vlogs to blockbuster movies. The software is packed with features, enabling users to cut, trim, and combine clips seamlessly in any sequence. With its non-linear editing approach, you can easily arrange and manipulate your clips.
Adobe Premiere Pro provides an array of tools and features for seamless editing, including multi-camera editing, intricate effects, and robust color grading with Lookup Tables (LUTs). LUTs enhance cinematic quality and can be purchased or obtained online for free. Additionally, the software offers audio enhancement options, and automatic speech recognition generates captions from dialogues.
Moreover, Adobe Premiere Pro stands out for its seamless integration with other Adobe software like Adobe Photoshop, Illustrator, and After Effects. This creates an impeccable workflow, especially for teams. With this industry-leading software, you can craft visually stunning masterpieces that captivate audiences at film festivals and online streaming platforms.
Key Features:
Enhanced Non-Linear and Timeline editing capabilities
Advanced color grading options with Look Up Tables (LUTs)
Seamless integration with other industry-standard Adobe software
Robust audio editing capabilities
Excellent organizational workflow and scalability
Advanced VR video support
Native multi-format support
Best For: Adobe Premiere Pro is ideal for professionals and teams with a substantial budget. It provides advanced tools and high-quality output. However, beginners might encounter a steep learning curve. Fortunately, numerous tutorials are available to help enhance your skills.
Pricing: For individuals, standalone software starts at $20.99 per month. A Creative Cloud subscription that includes bundled programs like Adobe Photoshop and Adobe After Effects starts at $54.99 per month.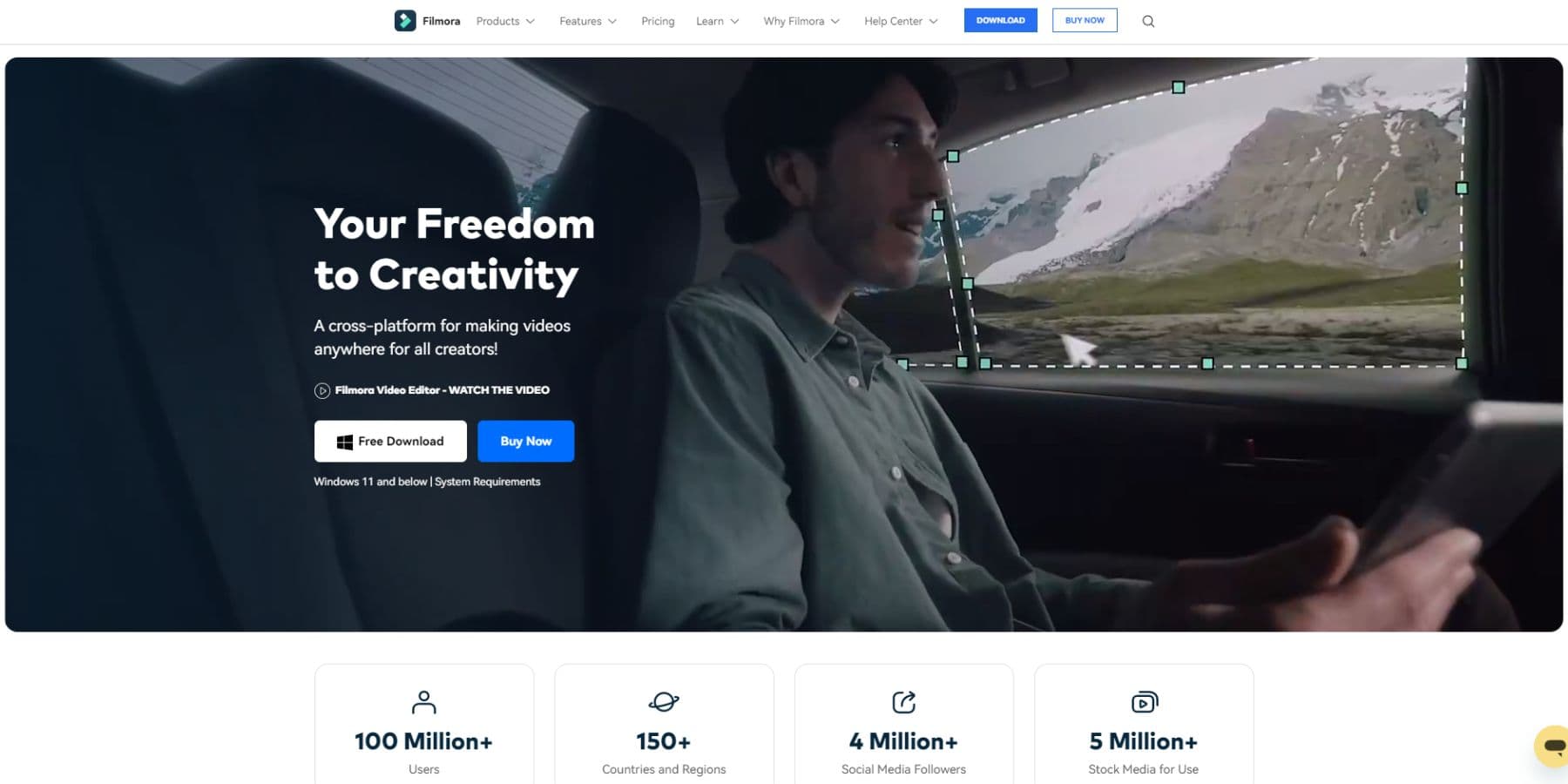 Wondershare Filmora is a user-friendly video editing software with powerful features for creating impressive videos. It offers various tools and effects to improve visuals effortlessly. Additionally, it excels in audio editing, allowing for the removal of background noise and the enhancement of voice clarity. It truly lives up to its name! Text animations and overlays can be added for quick visual appeal. Moreover, Filmora simplifies complex timelines for novice editors, allowing them to jump straight into edit mode without feeling overwhelmed.
Wondershare Filmora excels in both audio and visual editing. With this software, you can remove background noise and enhance voice clarity. It also offers text animations, overlays for added flair, and pre-made split-screen templates for seamless multi-angle views. Additionally, Filmora simplifies complex timelines to make editing easier for novice editors.
Filmora offers game-changing features like AI Smart Cutout, which automatically removes the background and allows you to replace it. Auto Reframe resizes footage based on the scene, making it perfect for converting YouTube videos to vertical formats. Additionally, Filmora uses AI to generate text, images, and portraits in your videos – saving time and hassle. It's an affordable video editor packed with essential tools.
Key Features:
Intuitive and easy-to-use interface
Wide range of video effects and transitions
Handy Mobile App for editing on-the-go
Advanced audio editing tools
Several AI tools
Screen recording capabilities
Export to various file formats and social media platforms
Best For: Wondershare Filmora is perfect for video editing enthusiasts who want professional-looking videos on a budget. Its intuitive interface and AI-powered tools make it an excellent choice for all users.
Pricing: Wondershare Filmora offers a free version with all features but includes a noticeable watermark when exporting files. To remove the watermark, upgrade your software for as low as $4/month (annually $49.99).
3. TechSmith Camtasia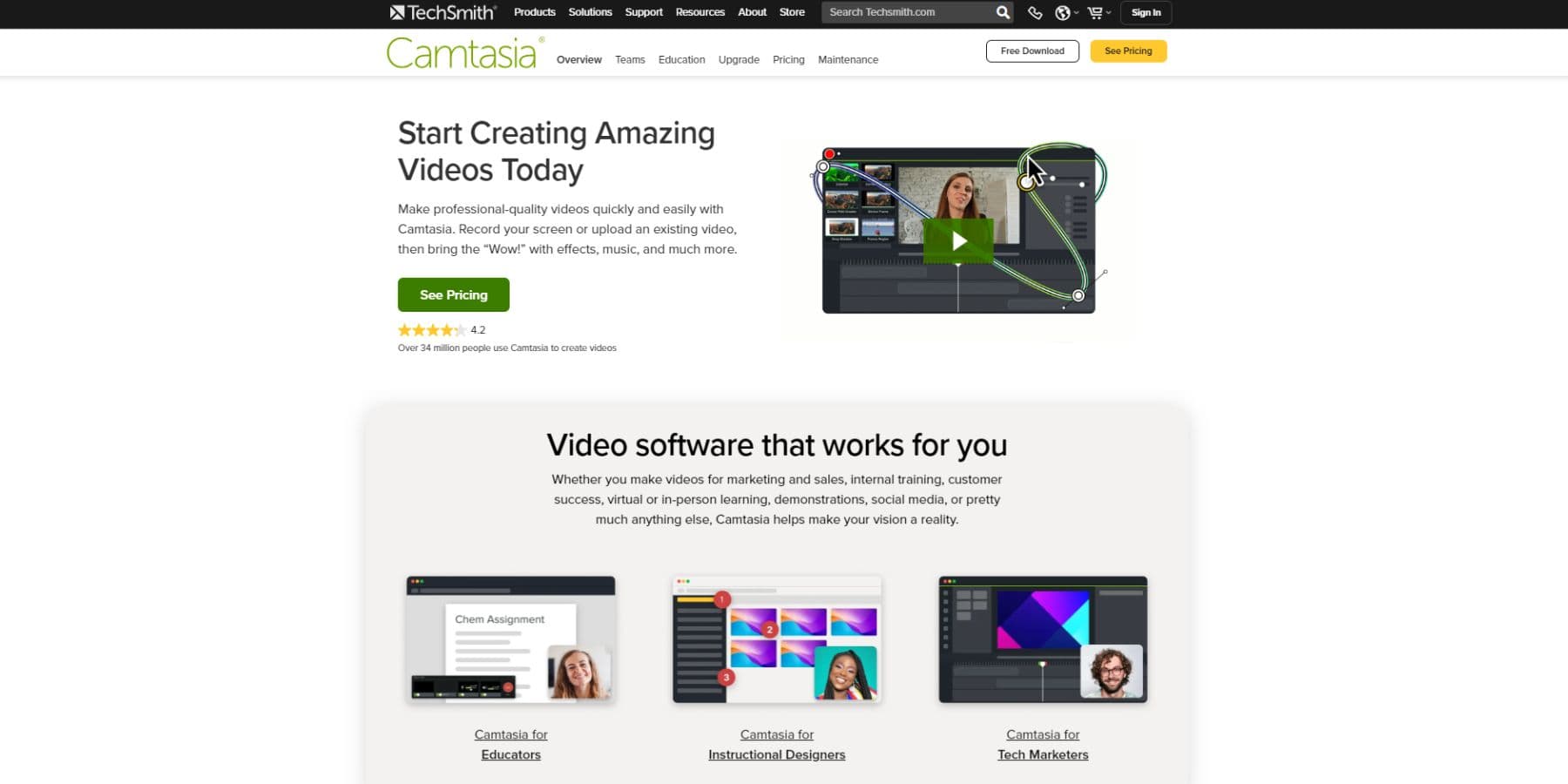 TechSmith Camtasia is a powerful software for screen recording and video editing. Whether you're creating tutorials, presentations, or gaming content, this software has you covered with its intuitive interface and fantastic tools that capture your computer screen with clarity and precision. It simplifies video editing by enabling professional-like trimming of clips and adds engaging transitions and animations to text/images effortlessly.
Additionally, it provides an extensive library of pre-built media assets, such as audio tracks and effects, for easy integration into projects. Users can also add voice narration using their computer's built-in microphone without needing separate recording equipment.
TechSmith offers Audiate along with Camtasia in a bundle to streamline audio editing, similar to the simplicity of Google Docs. So, don't miss out on TechSmith Camtasia if you'd like to enhance your screen recording with professional-quality effects.
Key Features:
Screen recording and video editing capabilities
Ability to add captions, annotations, quizzes, and effects to videos
Integration with PowerPoint for quickly creating video lectures
Animation and cursor effects to draw attention to specific areas of the screen
Audio recording and editing capabilities
Multitrack editing for combining multiple video and audio sources
Easy sharing options for uploading videos to YouTube, Vimeo, and other platforms
Best For: TechSmith Camtasia is ideal for creating high-quality screen recordings, tutorials, and presentations. It caters to educators, trainers, marketers, and content creators aiming to create captivating, interactive content.
Pricing: Camtasia offers a free version with watermarked videos and a maximum quality of 720p. The Individual subscription plan costs $14.99/Month (annually $179.88), while the Camtasia + Audiate bundle is available for $33/month (yearly $379.87). You can also purchase a lifetime license for $299.99.
4. Cyberlink PowerDirector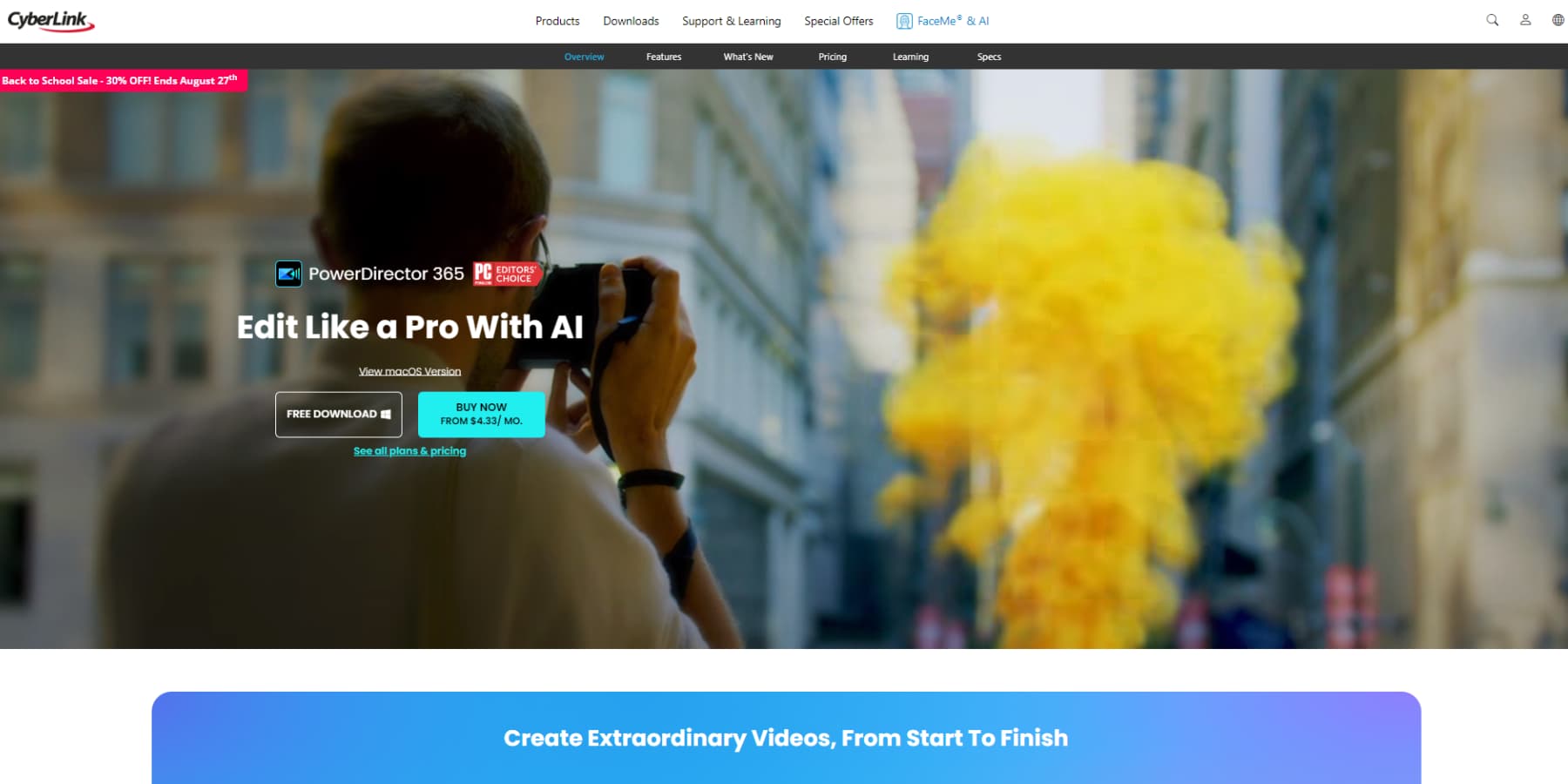 Cyberlink PowerDirector is an intuitive video editing software that allows you to easily import, edit, and combine various media files. It offers a range of effects options, including transitions, title templates, color correction filters, image stabilization capabilities, chroma keying (green screen), slow-motion effects, and more.
With multitrack editing capability and the power of AI features like Body Effects, Object Detection, Sky Replacement, and Motion Tracking, it enables users to achieve professional-grade results effortlessly.
Overall, Cyberlink PowerDirector has become popular among both beginners & professionals alike due to its user-friendly nature yet providing advanced pro tools, resulting in polished videos offering many possibilities when bringing ideas into reality.
Key Features:
Intuitive interface with a timeline-based editor
Support for importing, editing, and combining various media files (video clips, photos, audio tracks)
Numerous effects options, such as transitions, title templates, and animated objects.
Color correction filters and image stabilization capabilities
Multitrack editing capability to work on multiple layers of content simultaneously
Overlay text onto video clips or add background music while controlling timing and placement.
Editing on the go with Mobile Apps
Best For: Cyberlink PowerDirector is ideal for individuals seeking video editing software with advanced features and capabilities. It has significant popularity among YouTubers and mobile content creators.
Pricing: PowerDirector's free version has limited features, while the 'PowerDirector 365' plan starts at $4.33/month for access to most functionalities. A lifetime option is also available for $139.99 but doesn't include monthly updates.
5. Pinnacle Studio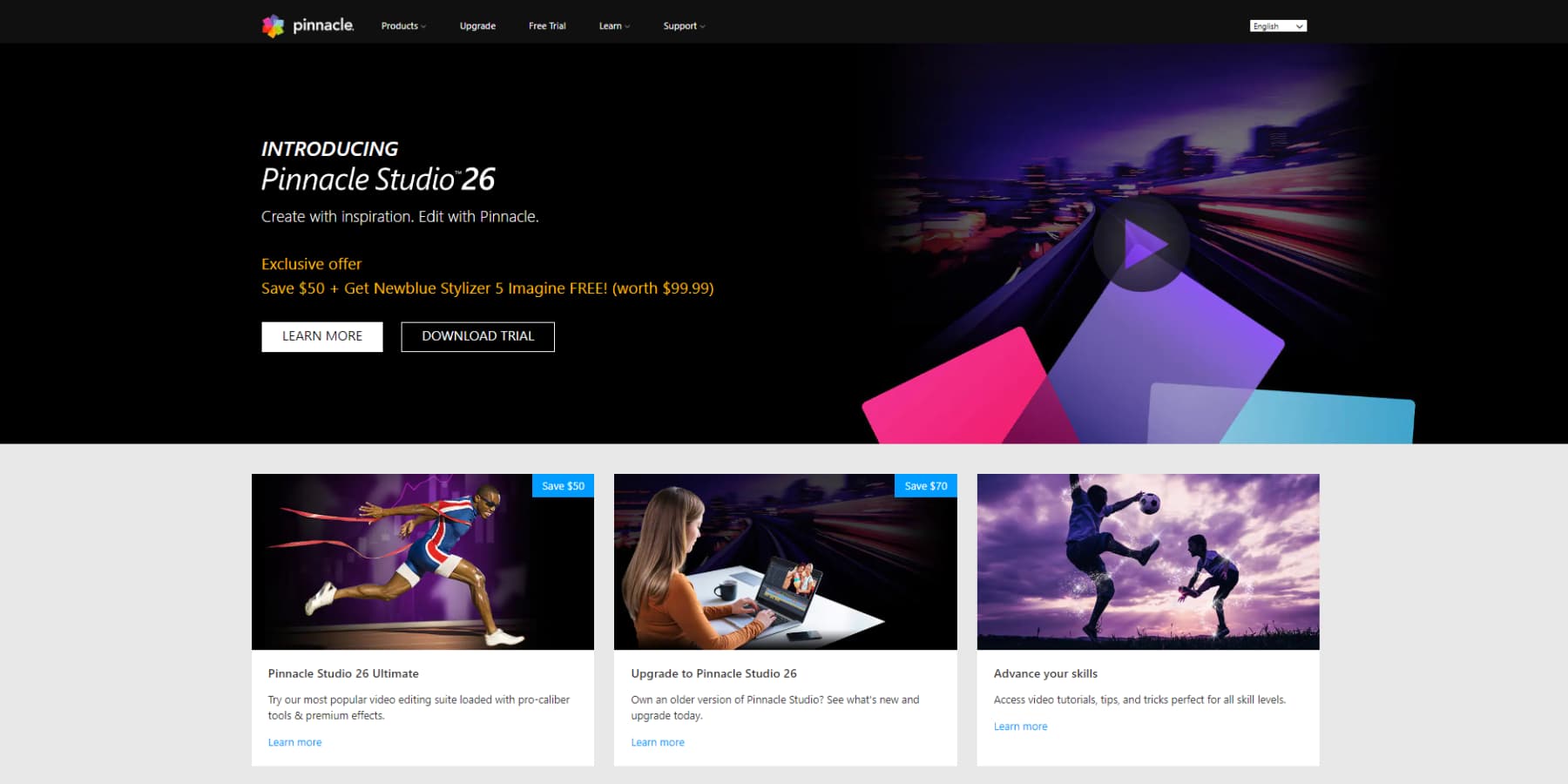 Pinnacle Studio is a popular video editing software program exclusively for Windows. Developed by Pinnacle Systems and now part of Corel Corporation, it offers powerful tools and features to create professional-quality videos within a user-friendly environment. It caters to a wide range of needs and skill levels, with versions tailored for beginners to experienced editors.
Furthermore, this software provides advanced color correction capabilities for adjusting colors and enhancing video quality with visual effects like animation overlays. It also offers audio manipulation options, allowing users to work on soundtracks alongside video editing.
Moreover, Pinnacle Studio offers many built-in effects such as transitions, color correction filters, film look presets, and picture-in-picture capability. It is perfect for beginners looking for basic enhancements and professionals needing top-tier features.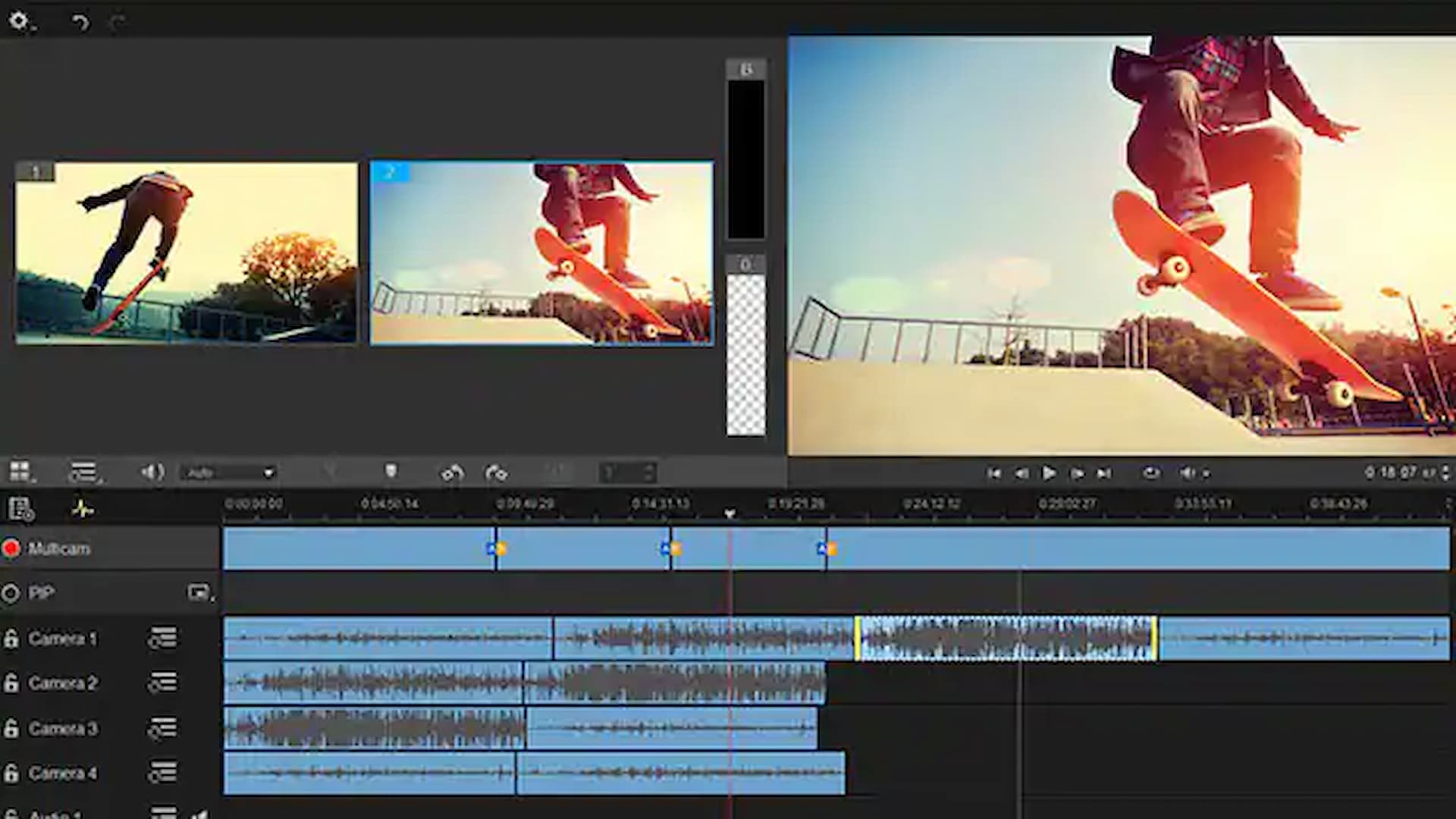 Key Features:
Advanced video editing capabilities
User-friendly interface
Diverse video and audio effects
Support for multiple file formats
Multi-camera editing ability
Titling and captioning options
Export to popular file formats and social media platforms
Best For: Pinnacle Studio is most suitable for amateur video editors using Windows who want to produce high-quality videos without learning complex editing tools.
Pricing: You can enjoy a free 15-day trial of Pinnacle Studio. After that, you can purchase the full version for a one-time fee of $59.99, which grants you a lifetime license.
6. Movavi Video Suite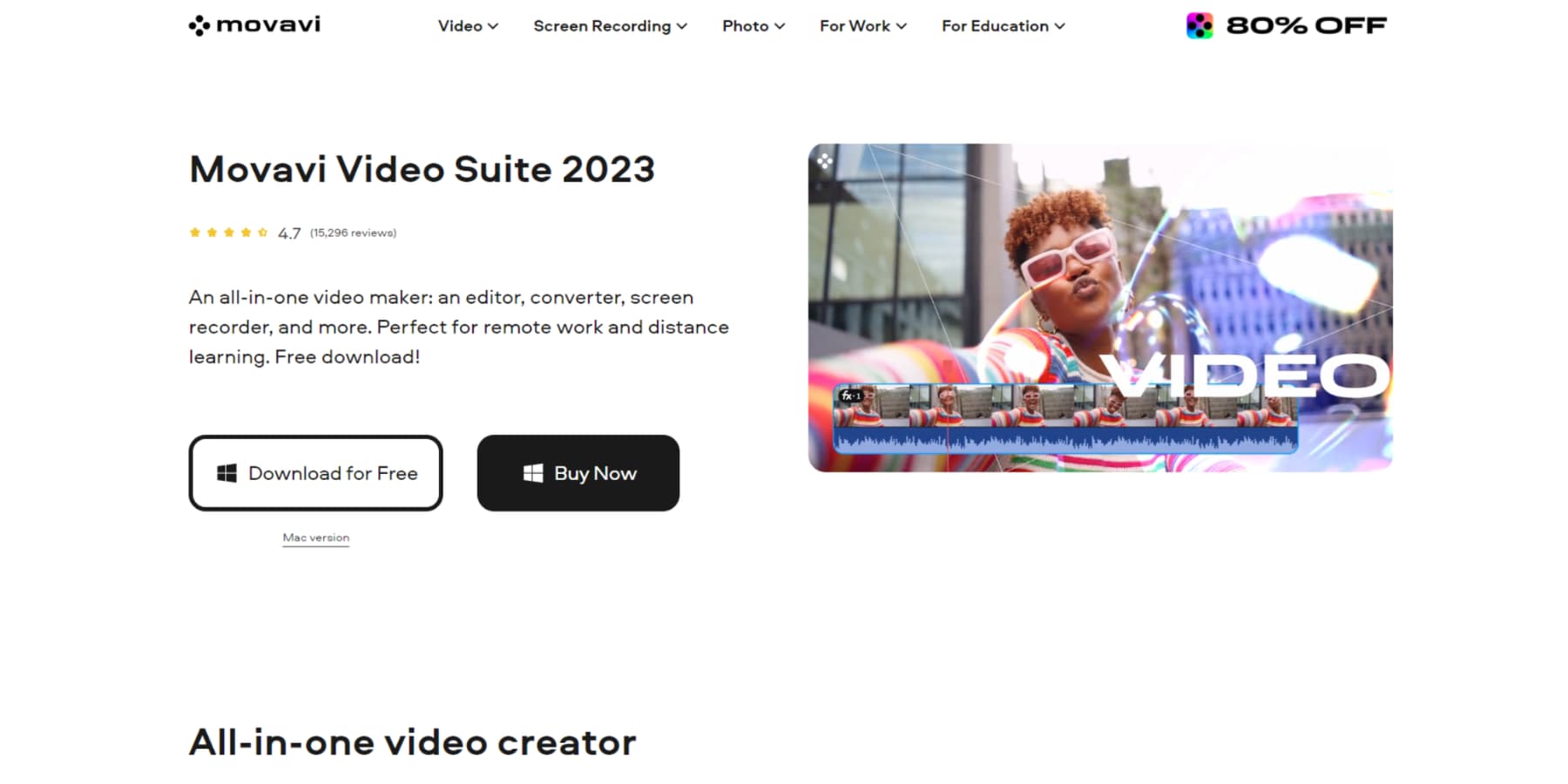 Movavi Video Suite is a comprehensive software package that provides powerful video editing tools, conversion capabilities, and content creation features. It allows you to effortlessly enhance and edit your videos by trimming and merging clips, adding special effects or transitions, adjusting colors and audio settings, and applying filters for professional-looking results.
Movavi Video Suite stands out with its intuitive interface, making it accessible even for beginners in video editing. With simple drag-and-drop functionality, you can effortlessly import media files from various formats.
Movavi Video Suite goes beyond editing existing footage; content creators can create captivating videos from scratch using its built-in screen recording feature. Users can capture gameplay sessions, provide vocal explanations in tutorials, and record online meetings alongside webcam feeds with just a click, providing you with everything you need to unleash your creative potential!
Key Features:
Screen recording and editing
Audio editing
Effects and filters
Video conversion
DVD burning
Best For: Movavi Video Suite is ideal for creative video creators and DIY enthusiasts.
Pricing: Movavi Video Suite has a free 7-day trial that gives you access to all features. After the trial, upgrading starts from $7.91 per Month ($94.95 annually).
7. VideoStudio Pro by Corel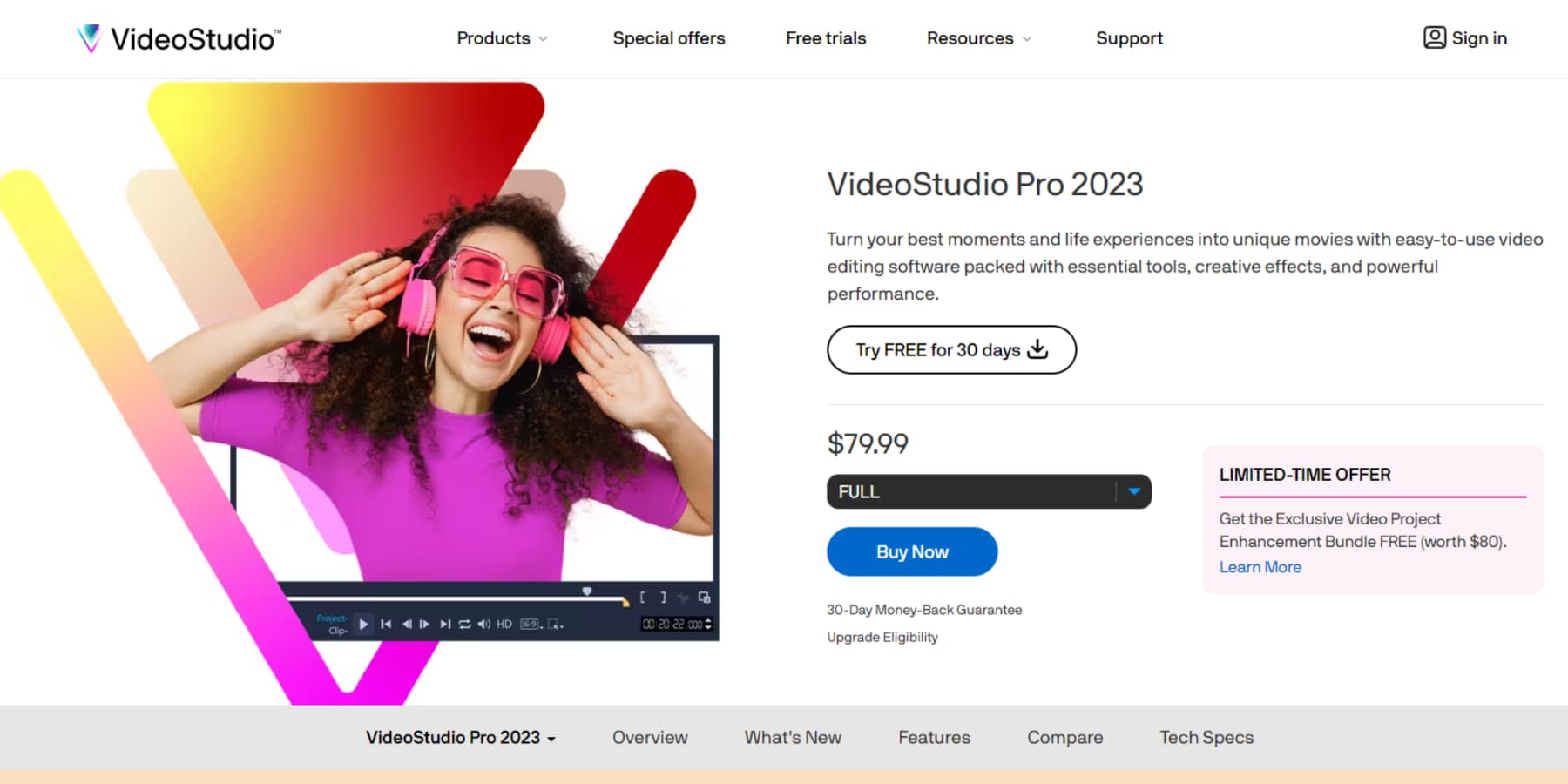 VideoStudio Pro, developed by Corel, is video editing software that caters to beginners and professionals. Its primary goal is to enable users to create high-quality videos effortlessly. Packed with an extensive array of features, including multi-camera editing, 360-degree video editing, 4K support, and various special effects and filters, VideoStudio Pro offers immense flexibility for creativity.
One noteworthy aspect of VideoStudio Pro is its user-friendly and intuitive interface, allowing efficient videomaking without hassle. Additionally, the software boasts diverse export options such as DVD production capability and Blu-ray compatibility – ensuring one's videos can be viewed via multiple platforms like YouTube or Vimeo.
This potent video editor aligns seamlessly with Windows operating systems, making it easily accessible to many users seeking professional-grade results from their projects.
Key Features:
Intuitive interface designed especially for beginners
Wide range of tools and effects
Multi-camera video editing
Audio tools to enhance sound quality
360-degree video editing
Best For: VideoStudio Pro by Corel is best for beginners, content creators, and gamers looking for versatile, user-friendly video editing software.
Pricing: The full version costs $79.99 for a lifetime after a free 30-day trial.
8. CapCut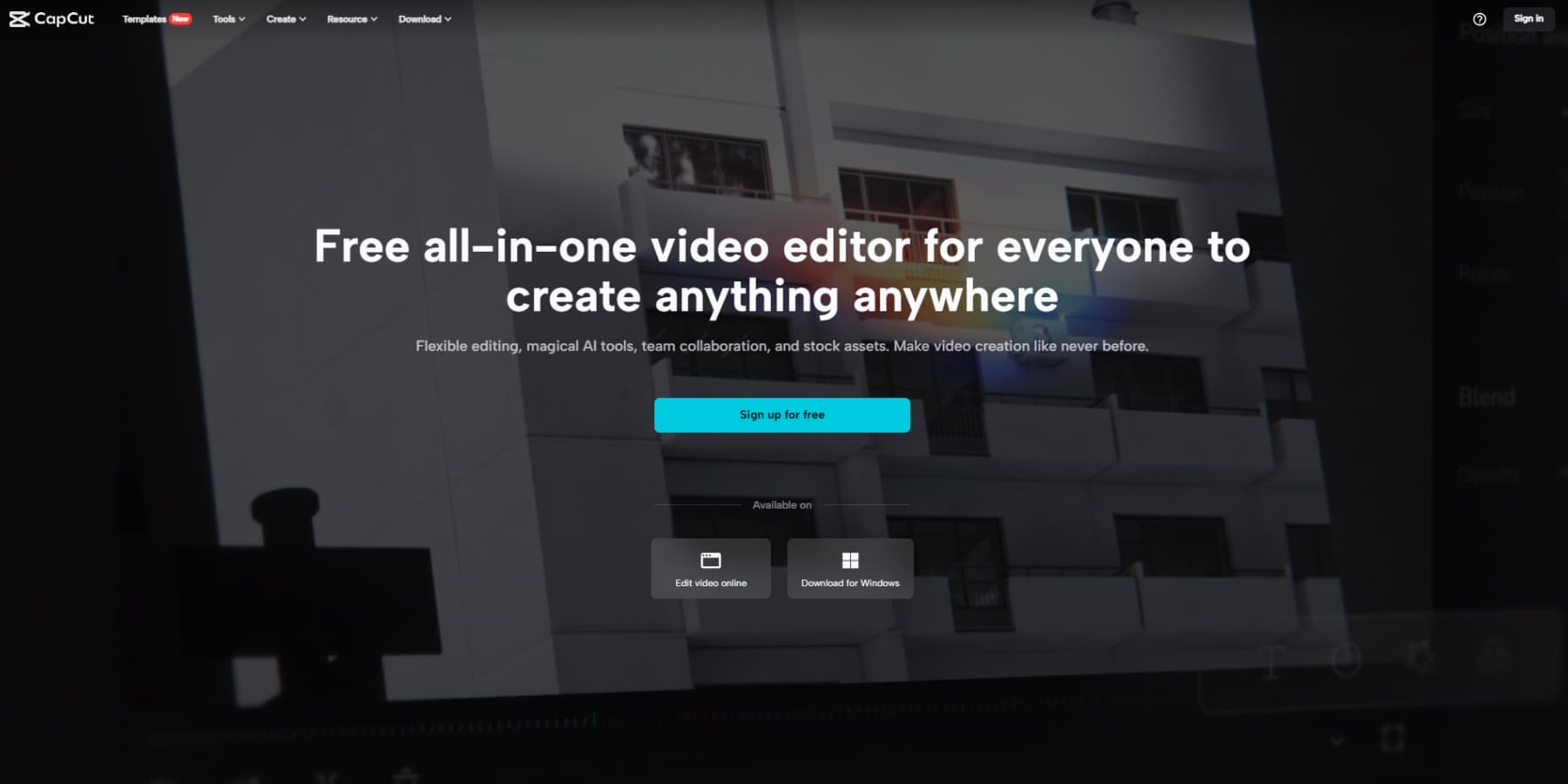 CapCut, a popular and free video editing app from the makers of TikTok, offers powerful tools for creating professional-looking videos. Its user-friendly interface allows creators to precisely edit footage using essential trimming functions and advanced effects like transitions and filters. CapCut makes it easy to unleash your inner creativity with just a swipe and tap on your smartphone screen.
CapCut's remarkable features include synchronized video edits with background music, innovative AI-driven algorithms for automated background removal, video upscaling, text-to-speech, and speech-to-text capabilities.
Whether creating content for personal purposes or crafting engaging clips for social media platforms like Instagram or TikTok, the possibilities are endless when utilizing this state-of-the-art app, specifically designed for modern needs. So, if you're looking to up your short-form content game, choose none other than CapCut—an undeniable game-changer!
Key Features:
Wide range of powerful tools and features for video editing
User-friendly interface with seamless navigation
Essential trimming functions to advanced effects like transitions and filters
Ability to synchronize video edits with background music flawlessly
Incorporates innovative AI-driven algorithms for automated object tracking and motion graphics generation
An intuitive platform that can be easily used on a smartphone screen, on Windows as well as on a browser
Capability to create content for personal purposes or engaging clips for social media platforms
Best For: CapCut is perfect for short-content creators who need fast and efficient video editing, whether for TikTok, Instagram Reels, or YouTube shorts. While it can be used for longer-form content, it doesn't have specific features tailored to long-form videos.
Pricing: CapCut is free but includes a watermark on exported files. Upgrading to CapCut Pro is necessary for just $7.99 monthly and has 100 GB of online storage for your projects to remove the watermark.
9. Magix Movie Studio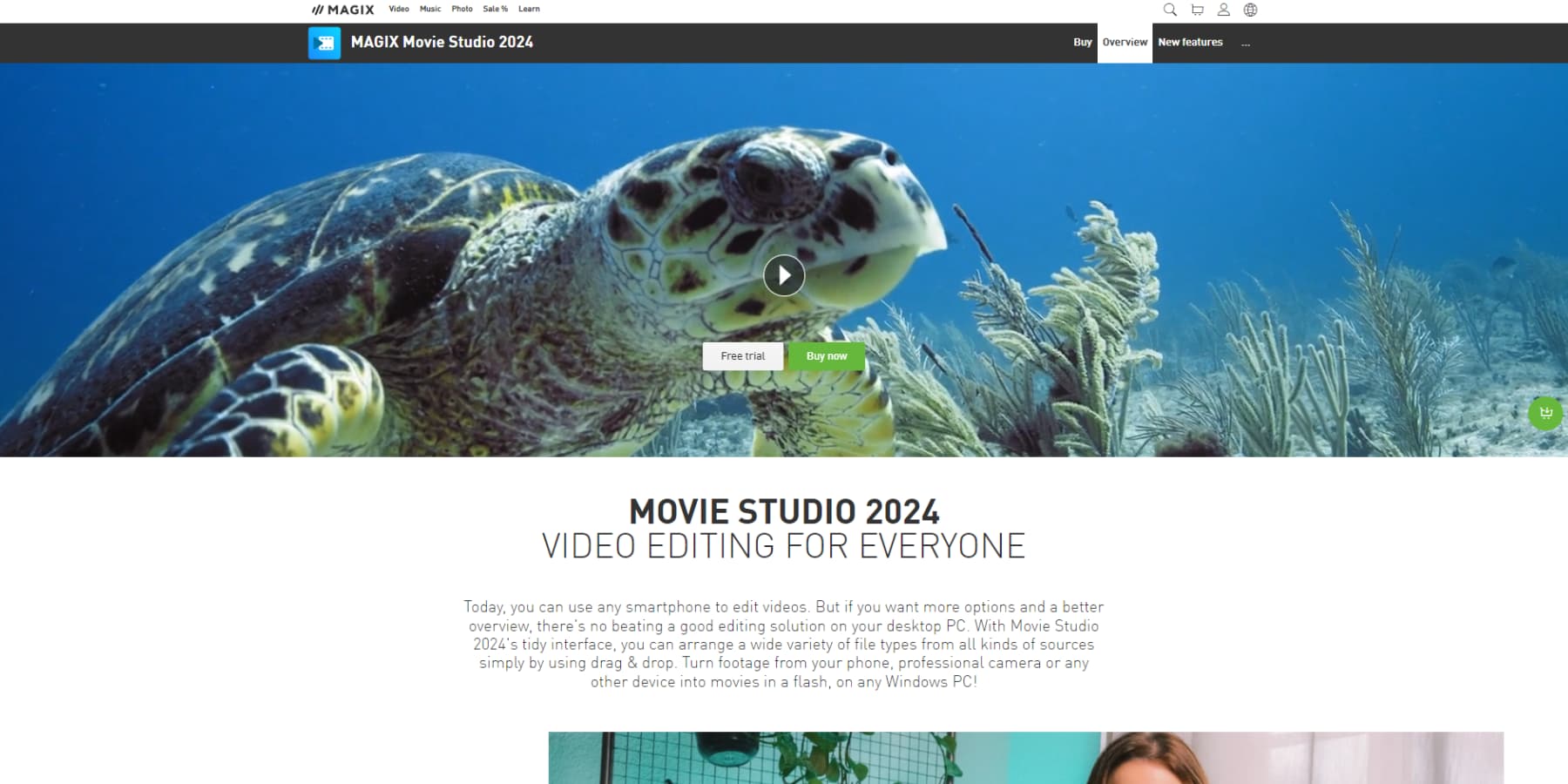 Magix Movie Studio is a comprehensive video-editing software with powerful tools and features for creating professional-grade movies. It caters to beginners and advanced users interested in creating professional-looking videos for any multimedia project.
Import video clips from various sources, trim them down, or split them into smaller segments for precise editing control using drag-and-drop functionality.
With its user-friendly interface, you can navigate different editing options easily without feeling overwhelmed by complexities, making it ideal for individuals who want to create professional-looking videos without acquiring extensive knowledge of complex advanced software. Other impressive features include deep color correction, LUT support, chroma key, music editor, picture-in-picture, and keyframe animations.
Key Features:
Easy-to-use video editing tools for creating professional-looking videos.
Advanced audio editing and mixing options to enhance the overall sound quality.
Wide range of video effects and filters to add creativity to your videos.
Support for 4K, HD, and 3D video formats.
Built-in templates to help you create videos quickly and easily.
Easy sharing options to publish your videos on popular video-sharing platforms.
Support for plug-ins and third-party tools to extend its functionality.
Best For: Magix Movie Studio would be most suitable for anyone who enjoys video editing as a hobby or profession, particularly those looking for user-friendly software that offers a wide range of editing tools and features.
Pricing: Free for 30 days, then subscriptions start from $7.99/Month.
10. VEGAS Pro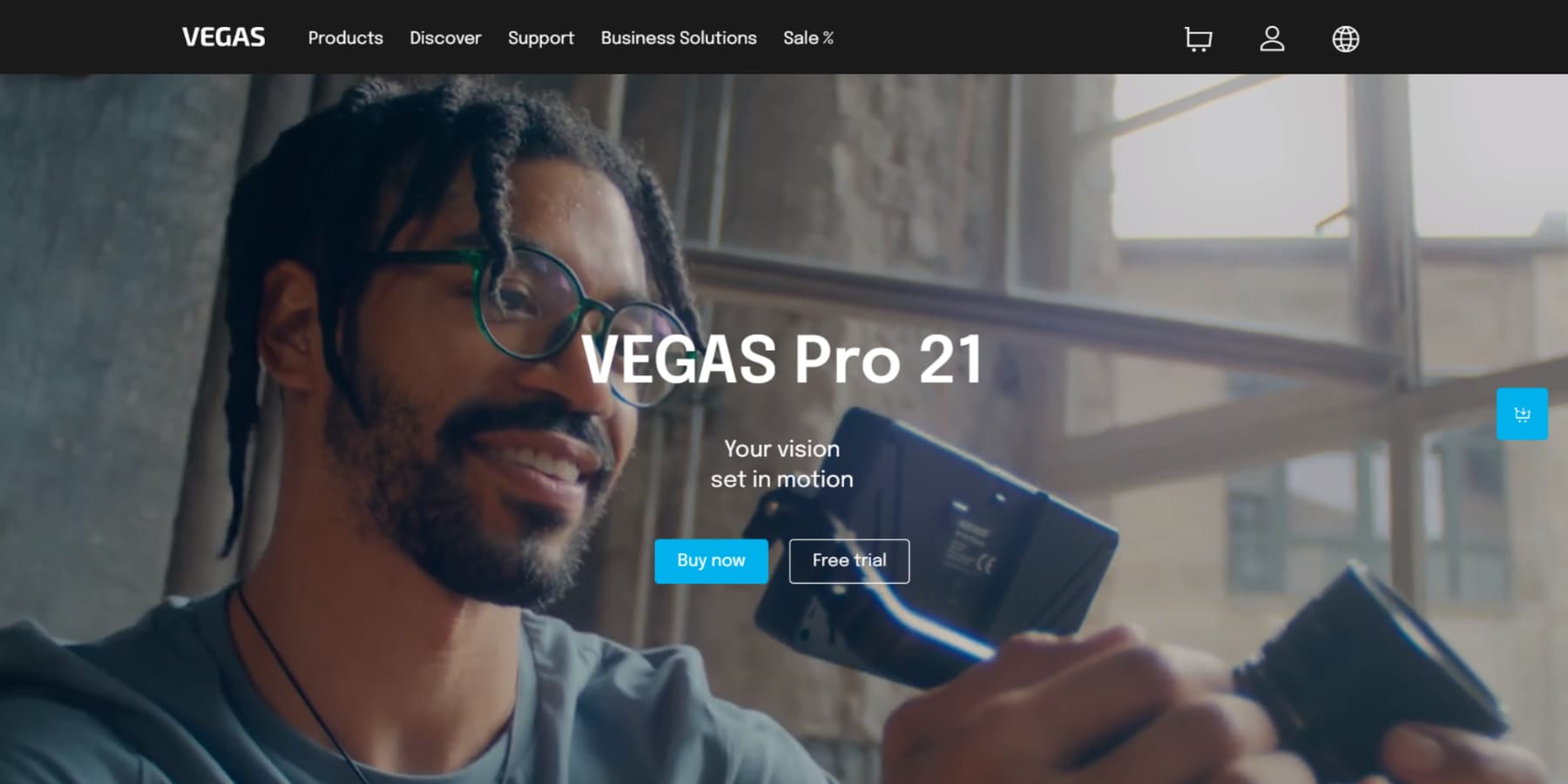 VEGAS Pro, formerly known as Sony Vegas Pro, is a professional video editing software developed by Magix. It offers advanced features tailored for experienced film and television industry users who need precise control over their editing process. With extensive capabilities, VEGAS Pro allows you to create high-quality videos with impressive visual effects and audio enhancements in various media formats, including HD and 4K resolutions.
Its intuitive user interface promotes efficient workflow management, while the timeline-based editor enables seamless integration between sequences or clips on multiple tracks. This makes organizing complex projects with visuals, sound effects, music tracks, and more easier, giving them complete creative freedom.
VEGAS Pro also includes powerful video compositing options like green screen/chroma key compositing and picture-in-picture effects for integrating multiple elements seamlessly into edits, along with tools for color grading, customizable titles/subtitles, transitions, and 3D support. This flexibility and power make it ideal for skilled professionals seeking exceptional cinematic experiences.
Key Features:
Non-Linear Editing
Advanced video and audio editing tools
Supports a wide range of file formats
Includes special effects, compositing, and color correction tools
Multi-camera editing capability
4K and HDR support
Collaboration and workflow management tools
Best For: VEGAS Pro is best for skilled professionals in the film and television industry who require precise control over their editing process and want to create exceptional cinematic experiences.
Pricing: VEGAS Pro comes with a free trial, and upgrading starts from $11.99/Month.
11. Final Cut Pro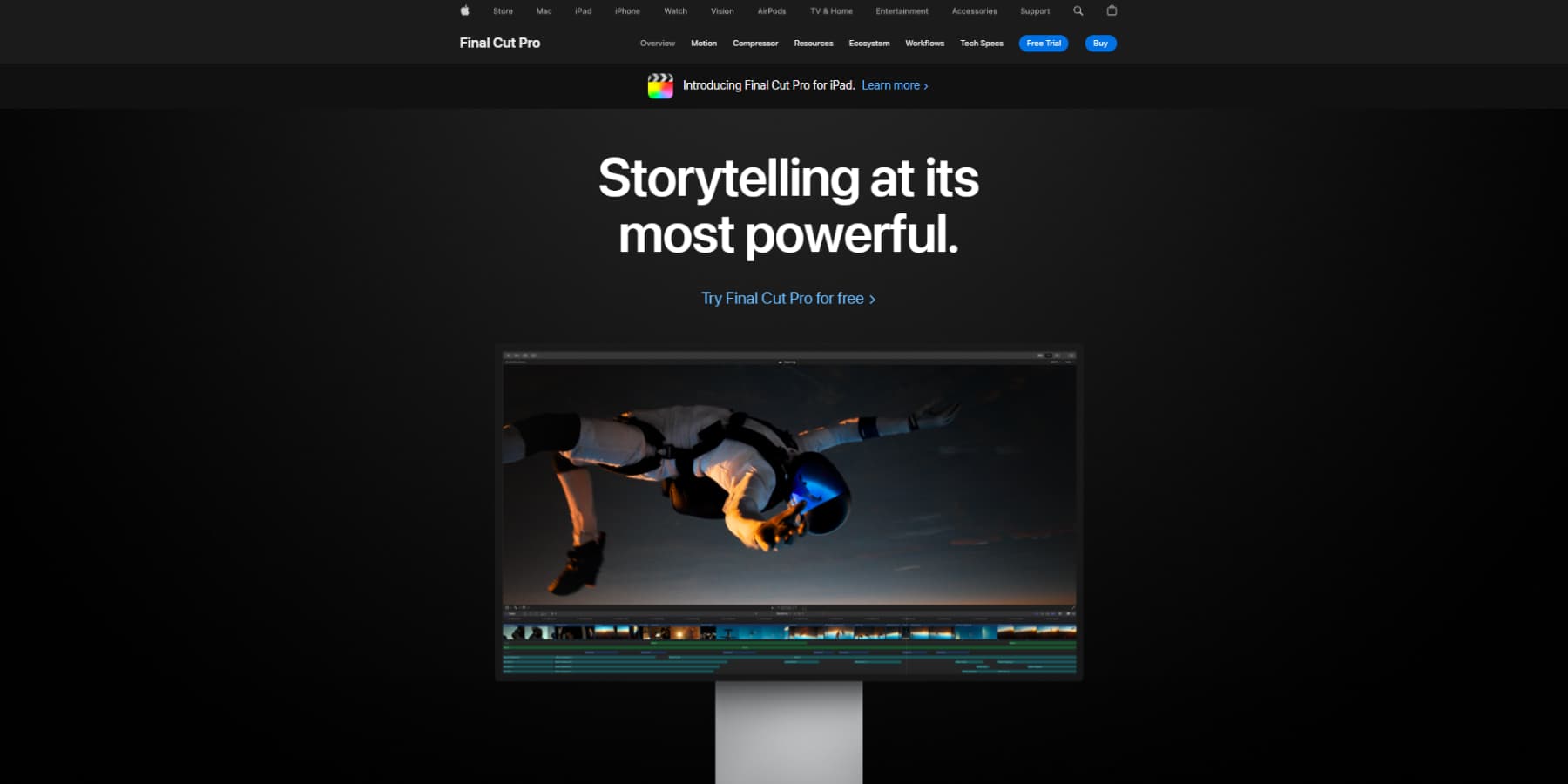 Final Cut Pro is a professional video editing software developed by Apple Inc. It offers advanced features for importing, organizing, editing, and enhancing footage from various sources. With an intuitive interface and multi-camera editing support, users can easily arrange clips on a timeline for precise trimming and syncing of multiple camera angles.
Furthermore, Final Cut Pro features built-in color grading tools for precisely controlling saturation levels and contrast ratios. It also offers powerful effects like keying and motion graphics template customization options through integration with the Motion app.
Professionals choose Final Cut Pro for its robust features, user-friendly layout, and seamless integration within the Apple ecosystem.
Key Features:
Advanced video editing tools
Professional-grade video and audio effects
Multi-camera editing capabilities
Support for multiple video formats and resolutions
Intuitive user interface
Well-optimized for Apple devices
High-quality rendering and exporting options
Best For: Final Cut Pro is professional video editing software designed for professionals in the film and TV industry or those seeking to create high-quality video content. It may be unsuitable for casual users due to its complexity and technical requirements.
Pricing: A 90-day free trial is available, and then the premium version costs $299.99 for a lifetime.
12. Shotcut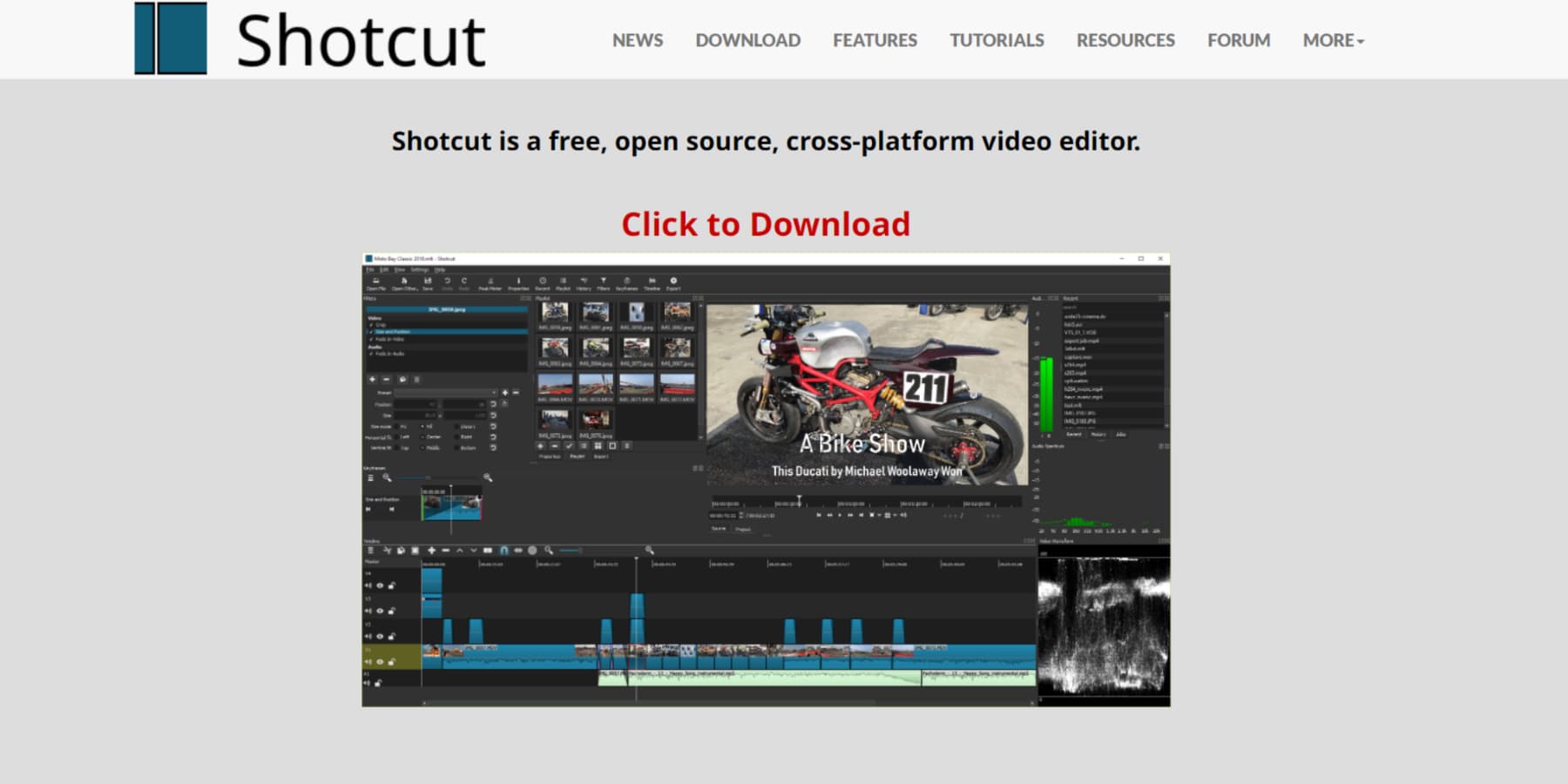 Shotcut is user-friendly, cross-platform video editing software that is free and open-source. It allows users to easily edit their videos, even without previous experience with video editing software. It also supports a broad selection of video and audio formats, along with an extensive range of filters and effects that can be applied to enhance your footage. Additionally, it allows users to export videos in various formats, including popular ones like MP4 and MOV.
Shotcut stands out with its exceptional capability to handle multiple audio and video tracks, allowing users to create intricate video projects effortlessly. Furthermore, it offers advanced functionalities such as color grading and keyframe animations that enable the creation of cinematic effects in videos, making it a video editing software that offers immense power and versatility. It caters to beginners and professionals with its ever-improving features and open-source nature.
Key Features:
Cross-platform editing
Support for multiple formats
Customizable interface
Audio and video effects
Open-source and free
Best For: Shotcut is best suited for content creators, YouTubers, and filmmakers who need a free video editing tool with the flexibility of cross-platform support.
Pricing: 100% free
13. iMovie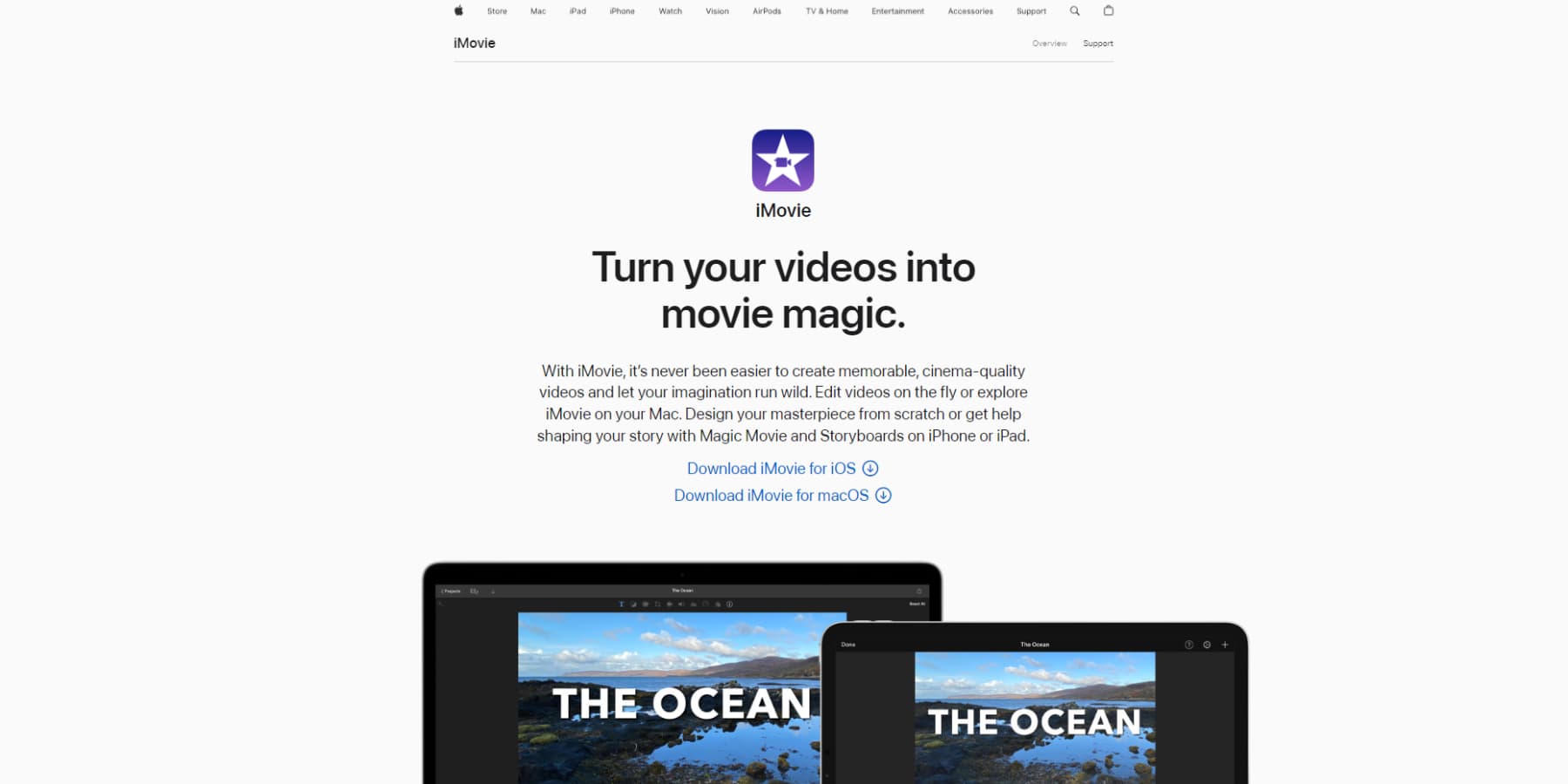 iMovie is a widely used video editing software developed by Apple Inc. It offers advanced features for creating, editing, and enhancing videos. With its user-friendly interface and comprehensive tools for basic tasks like seamlessly trimming clips and merging videos, beginners can quickly learn to use it.
Another notable feature of iMovie is the ability to adjust color balance or saturation levels in your footage, giving you complete control over the visual aesthetics of your videos.
iMovie offers various effects, including titles and transitions, that can enhance the content. Soundtracks and audio enhancement options are crucial in creating captivating cinematic experiences. Pre-installed stock music tracks are available for use. iMovie also conveniently exports finished film project files in high-definition formats suitable for sharing on social media platforms and websites, making it perfect for your first video editing project.
Key Features:
Native app for iOS devices.
Offers a simple and intuitive interface.
Users can add audio tracks, sound effects, and voiceovers to their videos.
It supports 4K resolution video editing and includes a range of video filters and effects and pre-made templates.
Easy share options for finished videos on social media platforms
Best For: It's perfect for anyone who wants to make home movies, travel videos, or even short films and owns an Apple device.
Pricing: 100% Free
14. Lightworks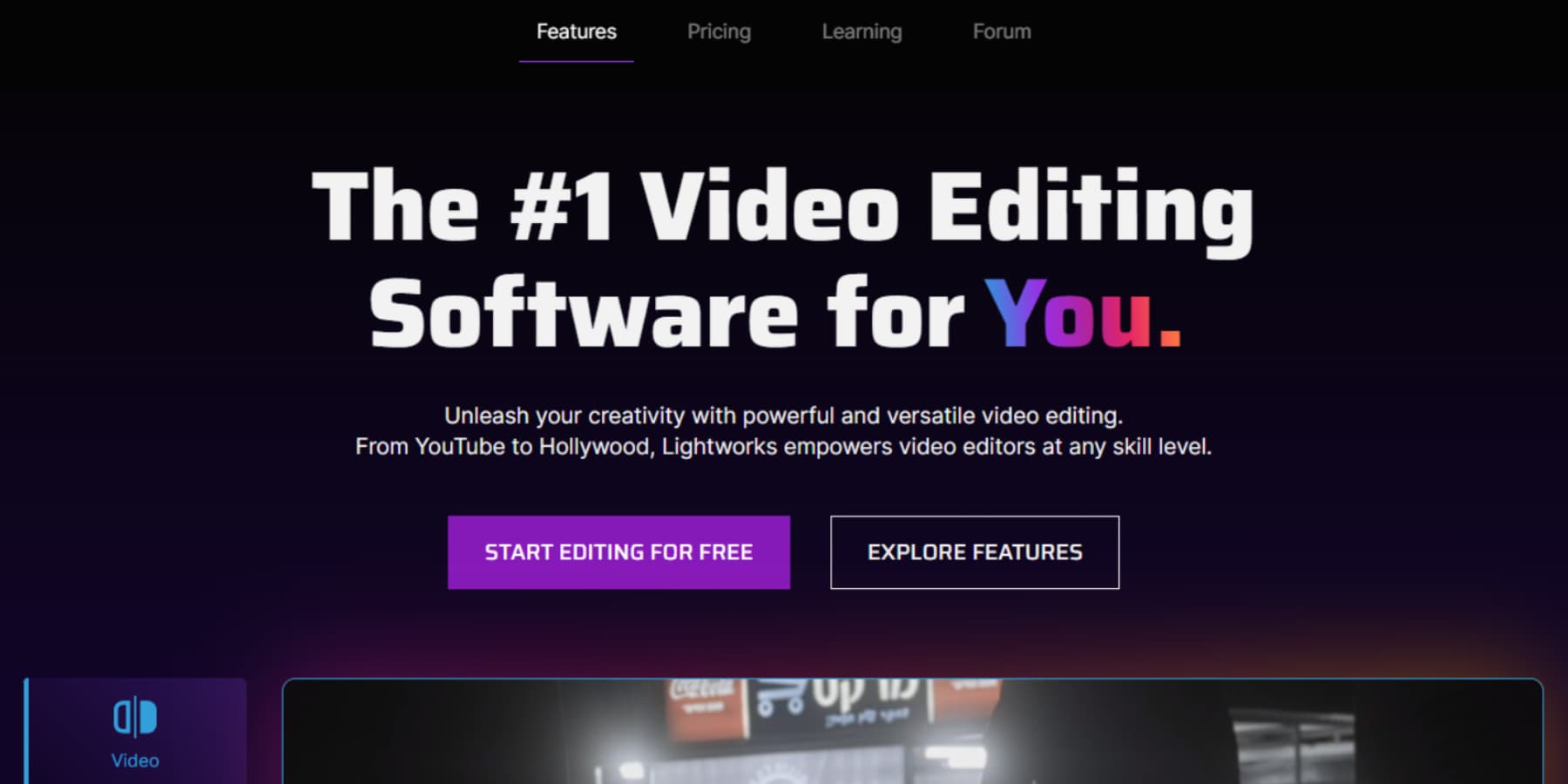 Lightworks, a renowned professional video editing software, has garnered recognition for its extensive use in popular films like The King's Speech, Pulp Fiction, and The Wolf of Wall Street. Boasting an intuitive interface that accommodates users at every level of expertise – Lightworks offers a vast repertoire of cutting-edge editing tools, particularly impeccable color correction capabilities, including real-time effects implementation options and audio mixing functionalities.
As an exceptional feature of this software, Lightwork's seamless handling enables effortless manipulation even when confronted with high-resolution footage. To ensure streamlined workflow throughout the entire process – Lightworks provides editors the convenience of working on a flexible timeline, making it more efficient.
Available across Windows, Linux, and Mac operating systems- consumers can avail of either primary tool offerings through their free version or opt for advanced features such as support for numerous video formats by opting for version. Moreover, their strong community pillars encompassing large-scale forum engagement make it seemingly favored by professionals and beginners venturing into film-making.
Key Features:
Intuitive interface
Wide format support
Advanced timeline editing (NLE)
Video effects and transitions
Real-time audio and video effects
Advanced Color Grading options
Multi-Platform
Best For: Lightworks is best for professional video editors and filmmakers who require advanced editing features.
Pricing: Lightworks has a free version that offers the basic features of the software. However, you must upgrade to one of its premium plans to access more advanced features such as 4K video export, Social Media Templates, and more, which start from $9.99/Month.
15. DaVinci Resolve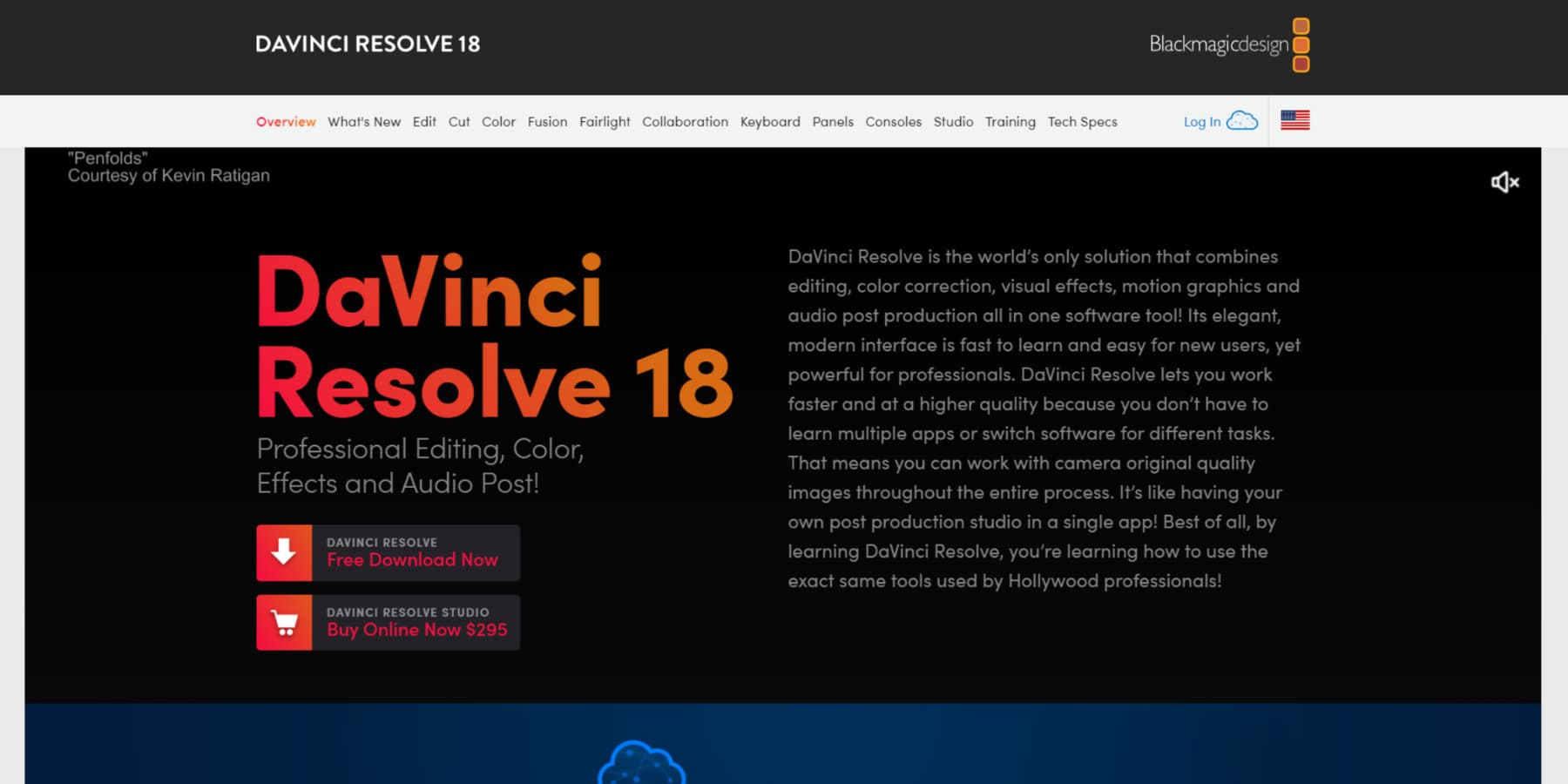 DaVinci Resolve, developed by Blackmagic Design, is professional-grade software for video editing and color correction and the most advanced software in this list. It offers extensive features, including advanced trimming, color grading capabilities, audio post-production tools, and visual effects options.
Widely recognized in the film and television industry for its cutting-edge functionalities alongside its user-friendly interface, DaVinci Resolve proves to be ideal even for novices. Furthermore, Multiple versions are available – The free edition meets most basic video editing requirements.
In contrast, DaVinci Resolve Studio (paid version) further expands possibilities with exclusive motion graphics abilities, 3D compositing support, and multi-user collaboration. Given its impressive offerings – this robust software effortlessly handles intricate projects without compromising quality or efficiency.
Key Features:
Advanced color grading capabilities
Professional audio editing tools
Powerful video editing features
Support for a wide range of file formats and resolutions
Collaboration tools for team projects
Best For: DaVinci Resolve is best for professional video editors and colorists who need advanced color grading and editing features.
Pricing: DaVinci Resolve has a generous free version offering all primary features, such as exporting basic video editing tools, 4K@60 Frames Per Second (FPS), and color grading capabilities. The premium version, DaVinci Studio, costs $295 for a lifetime for all advanced, cinema-level features.
Best Video Editing Tools Price Comparison
Each video editing software on our list brings unique strengths to the table, but it's essential for you to understand their pricing structures as well. For your convenience, we've compiled a comparison table below.
What Is the Best Video Editing Software?
If you're looking for an exceptional video editing experience backed by industry-leading technology and continuous innovation in this field, Adobe Premiere Pro is our top choice for outstanding video editing. With comprehensive tools and advanced capabilities, it effortlessly creates professional-grade content. Its seamless integration with other Adobe software has made it popular among filmmakers and content creators.
Meanwhile, Wondershare Filmora is the perfect choice for beginners or those not interested in advanced video editing techniques. Its user-friendly interface makes creating stunning videos easy, offering a wide range of effects, filters, and transitions, along with impressive AI features.
TechSmith Camtasia is an excellent choice for educators and product gurus looking to create top-notch tutorials and demonstrations. With features like magnification, annotation, audio mixing, and other editing tools at your fingertips, it's no wonder Camtasia boasts itself as the world's best screen recorder.
Featured image illustration by Lina Chekhovich / shutterstock.com