Are you tired of rewriting text manually? Paraphrasing tools can help you save time and create unique content without sacrificing quality. However, choosing the right paraphrasing tool can be challenging. That's why, in this post, we'll compare the best paraphrasing tools so you can choose the right one for your needs. So sit back and relax while we help you level up your writing game!
What is a Paraphrasing Tool?
A paraphrasing tool is a software or online application that helps you rewrite existing text. It alters the original phrasing while maintaining the same meaning. It uses synonyms and sentence restructuring strategies to formulate new content from pre-existing material.
Paraphrasing tools are frequently utilized by writers, researchers, students, and professionals who need to rephrase sentences or articles to prevent plagiarism or enhance readability. They offer a quick and easy solution for generating unique content, removing the necessity for time-consuming and manual rewrites.
The Best Paraphrasing Tool

Subscribe To Our Youtube Channel
We have handpicked 8 incredible online paraphrasing tools that can enhance your writing experience. Let's take a look!
The Best Paraphrasing Tools Listed In Order
Expand List
1. QuillBot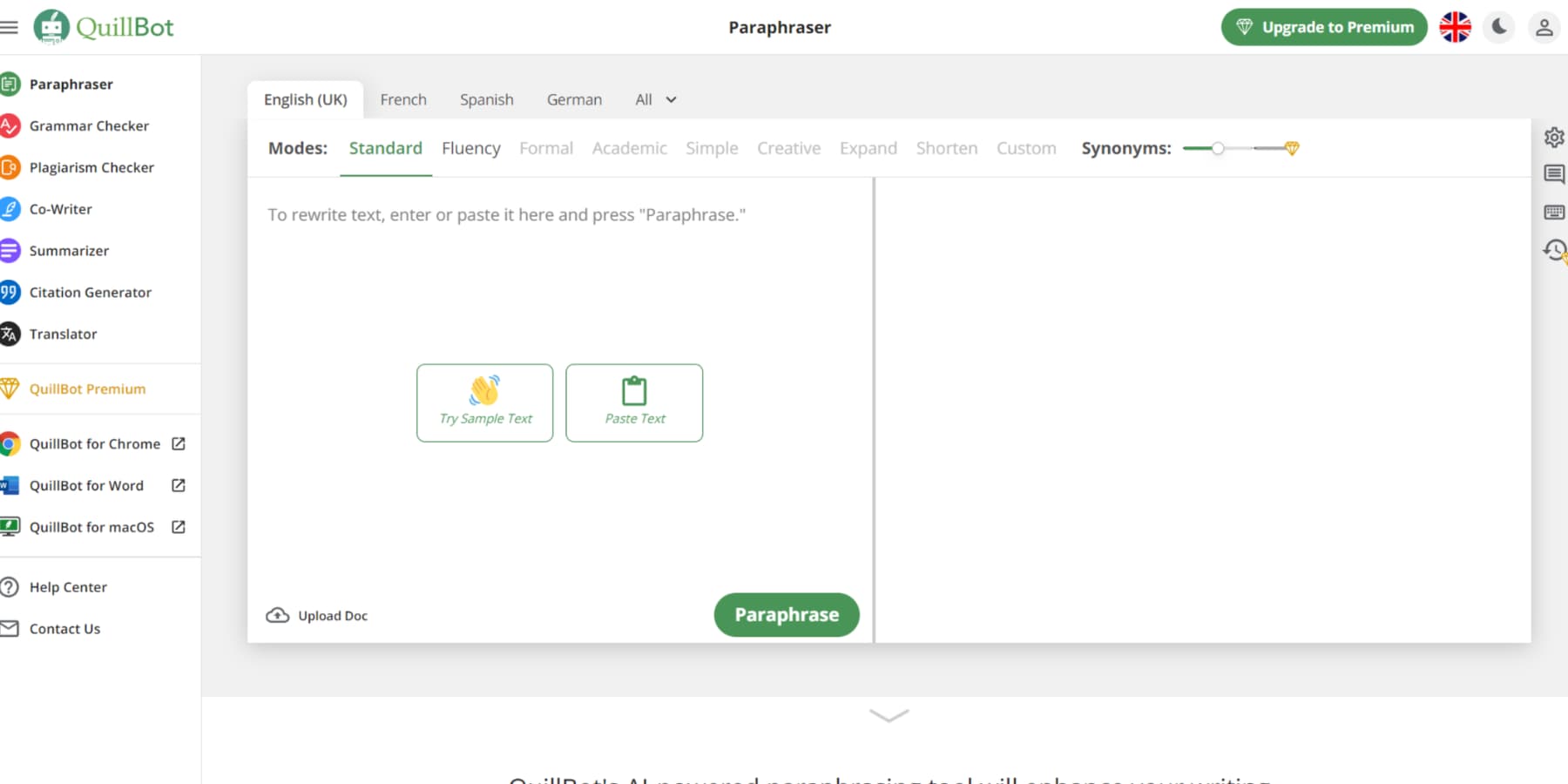 QuillBot is a great AI-powered writing assistant. It's designed to streamline the art of writing. Thanks to its advanced paraphrasing and grammar-checking abilities, it has gained significant recognition as one of the best tools.
Excelling at rephrasing sentences while preserving their original meaning aids in preventing plagiarism and enhancing readability. This makes the writing process not only simpler but also more effective. For those who value accurate word choice, QuillBot is undoubtedly captivating.
Additionally, QuillBot features a powerful grammar checker that accurately identifies errors and offers helpful suggestions for corrections. Its user-friendly interface promises easy navigation. QuillBot stands out as a top paraphrasing tool — a priceless asset for anyone looking to boost their writing abilities, including students, professionals, or aspiring writers.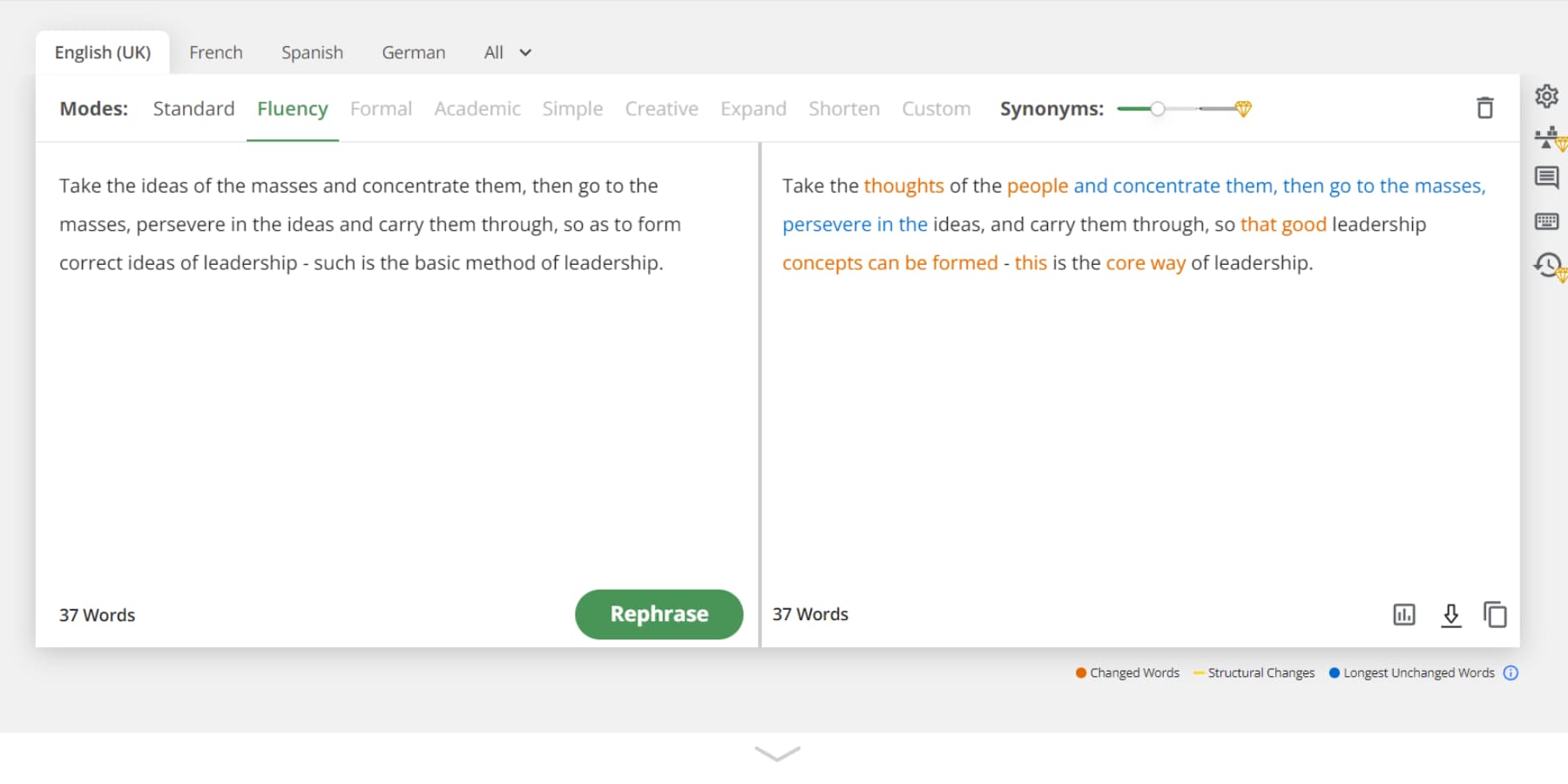 Key Features:
Offers different modes of paraphrasing such as Standard, Fluency, Creative, Shorten, and Expand
Provides translation in 6 different languages
Allows customization of settings and vocabulary
Offers a plagiarism checker to ensure originality of content
Available as a web-based tool and a browser extension.
Best For: Students, Writers, Professionals, and anyone who wants to paraphrase or reword their writing.
Pricing: Free with limitations such as 125 words in paraphraser, only 1200 words to summarize, and access to only standard and fluency mode. Premium with unlimited access to all features starts from $9.95/Month with discounts for the annual package.
2. Jasper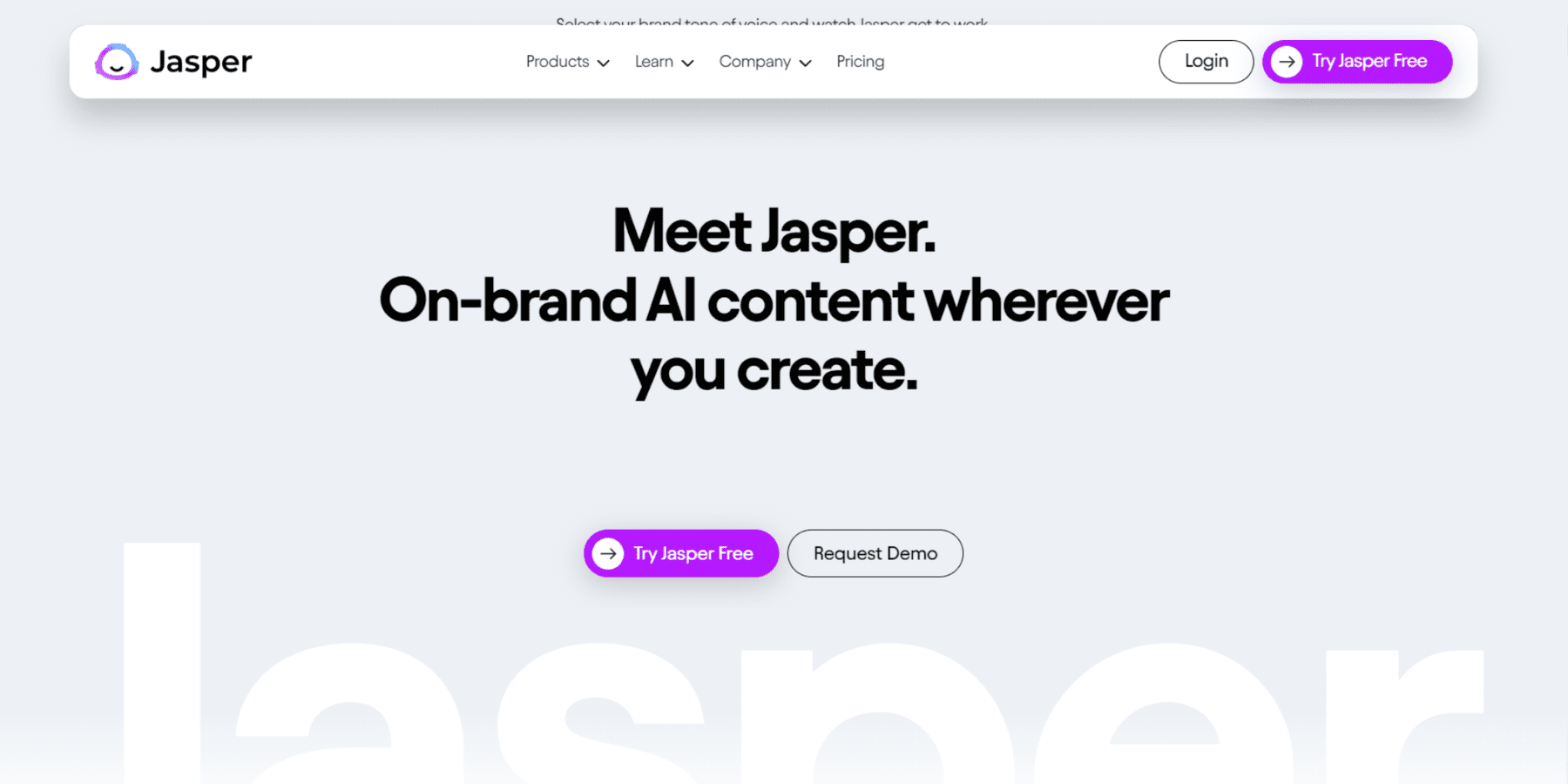 Jasper AI is a cutting-edge artificial intelligence technology focused on Natural Language Processing (NLP) and comprehension. Its primary purpose is to generate text that resembles human writing, deliver accurate responses when asked questions, and engage in coherent conversations within specific contexts.
Jasper AI's Intelligent Paraphrasing capabilities make it stand out from other technologies. These capabilities allow Jasper AI to grasp the subtleties of text and rephrase it without losing its original meaning. This functionality is particularly advantageous for content creators, writers, and anyone looking to enhance the clarity and uniqueness of their writing.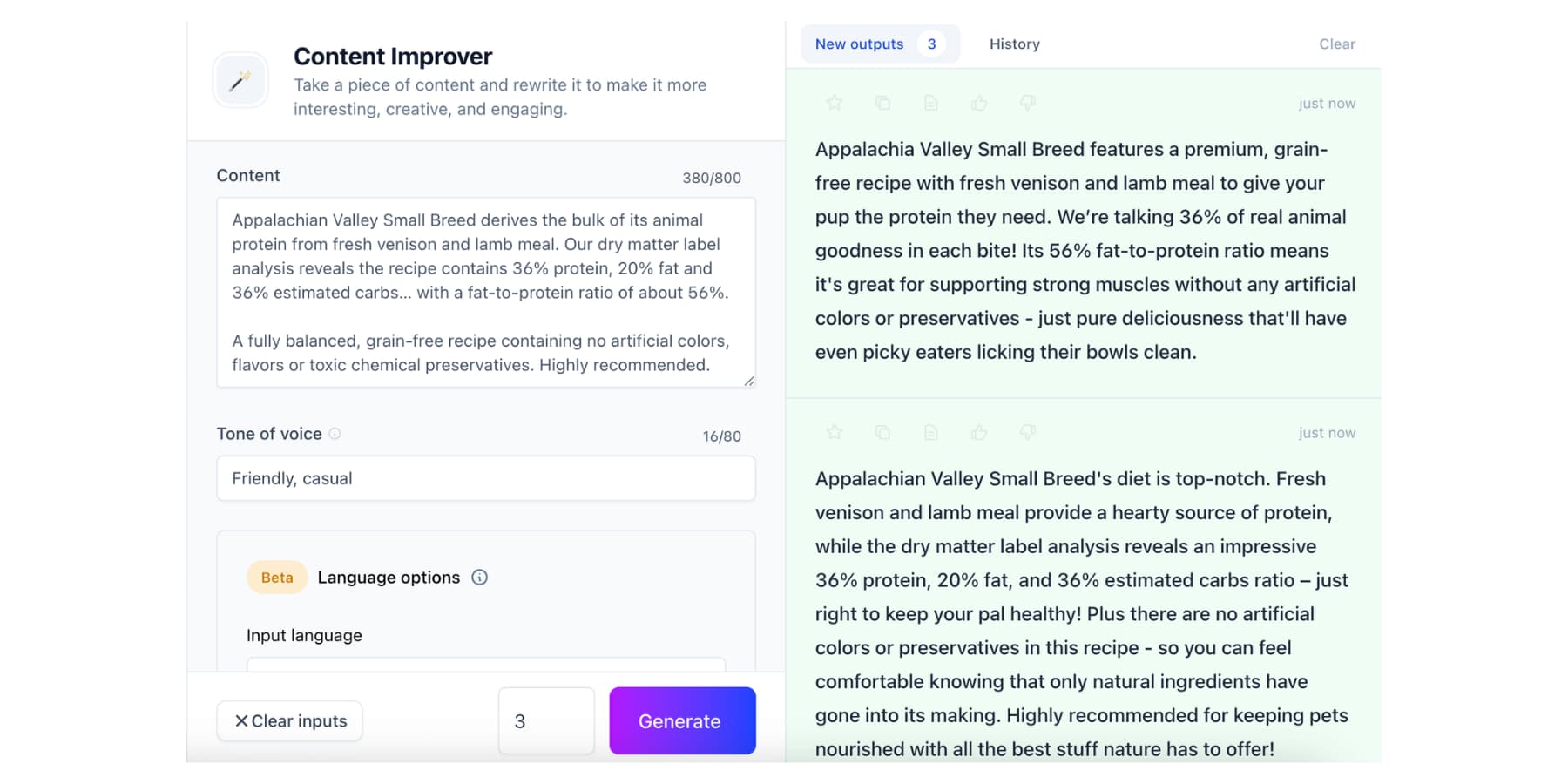 Using Jasper AI's paraphrasing ability, users can effectively elevate their content by presenting alternative wordings while maintaining core ideas and intentions. With this remarkable feature, writers can save time on manual rewriting processes while ensuring that their texts remain captivating and distinctive.
Key Features:
Intelligent Paraphrasing allows users to rewrite text while preserving its original meaning and context.
Built-in Grammar checker
Chrome Extension
Generate other content apart from just paraphrasing
Built-in support for 30+ languages
User-friendly interface
Best For: Jasper is particularly tailored for professionals and businesses due to its higher-end pricing.
Pricing: Starts at $49/Month with a 7-day free trial
3. WordAi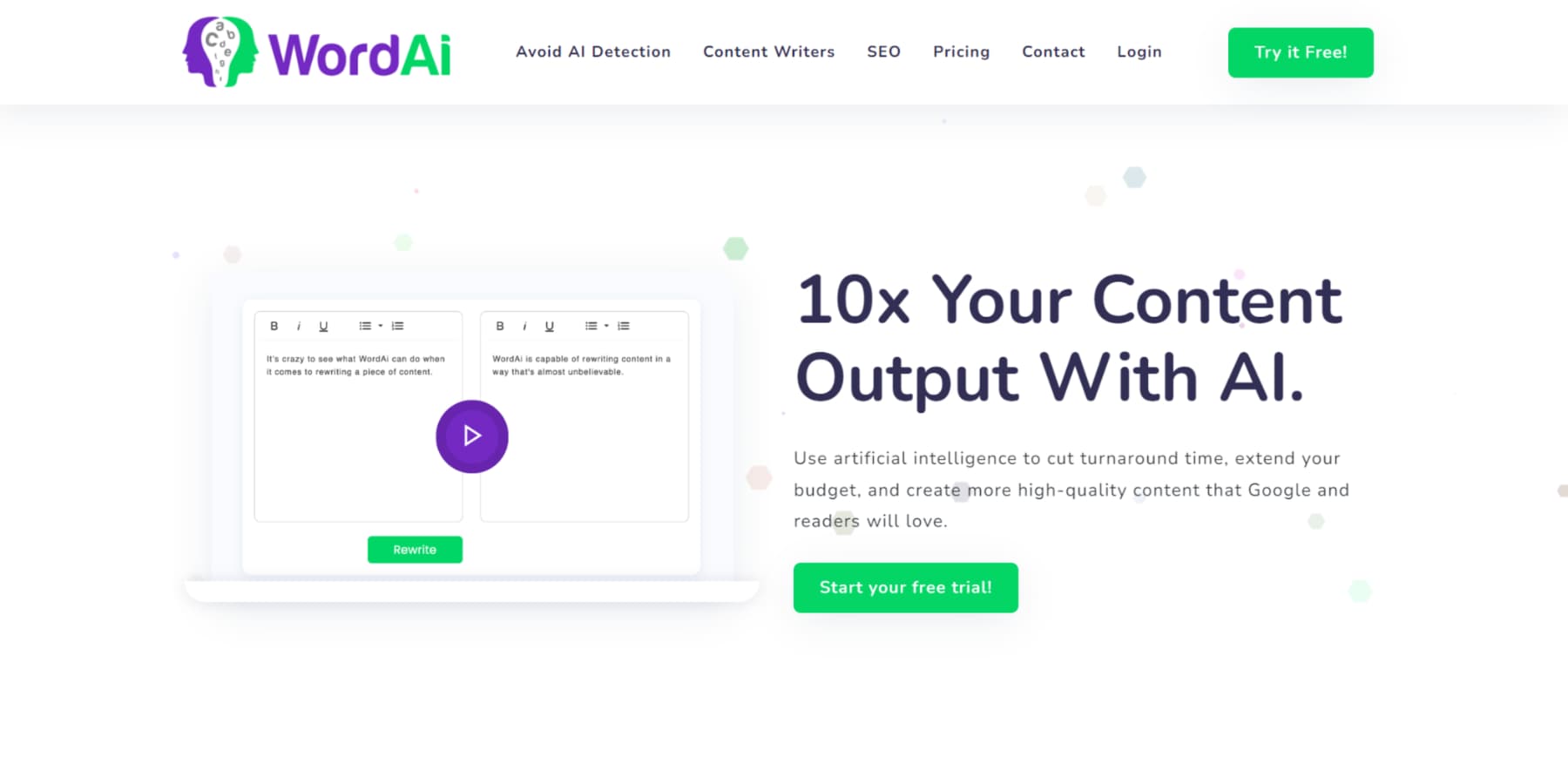 WordAi is an artificial intelligence-based tool that aims to generate human-like text. It uses advanced algorithms and machine learning techniques to understand context, grammar, and syntax to produce high-quality written content.
One of the notable attributes of WordAi is its contextual comprehension and ability to produce coherent, contextually significant content. WordAi provides various modes for paraphrasing that enable users to customize their output according to specific requirements. These modes offer the ability to produce easily understandable, SEO-optimized content, whether it's for everyday reading or creative pursuits.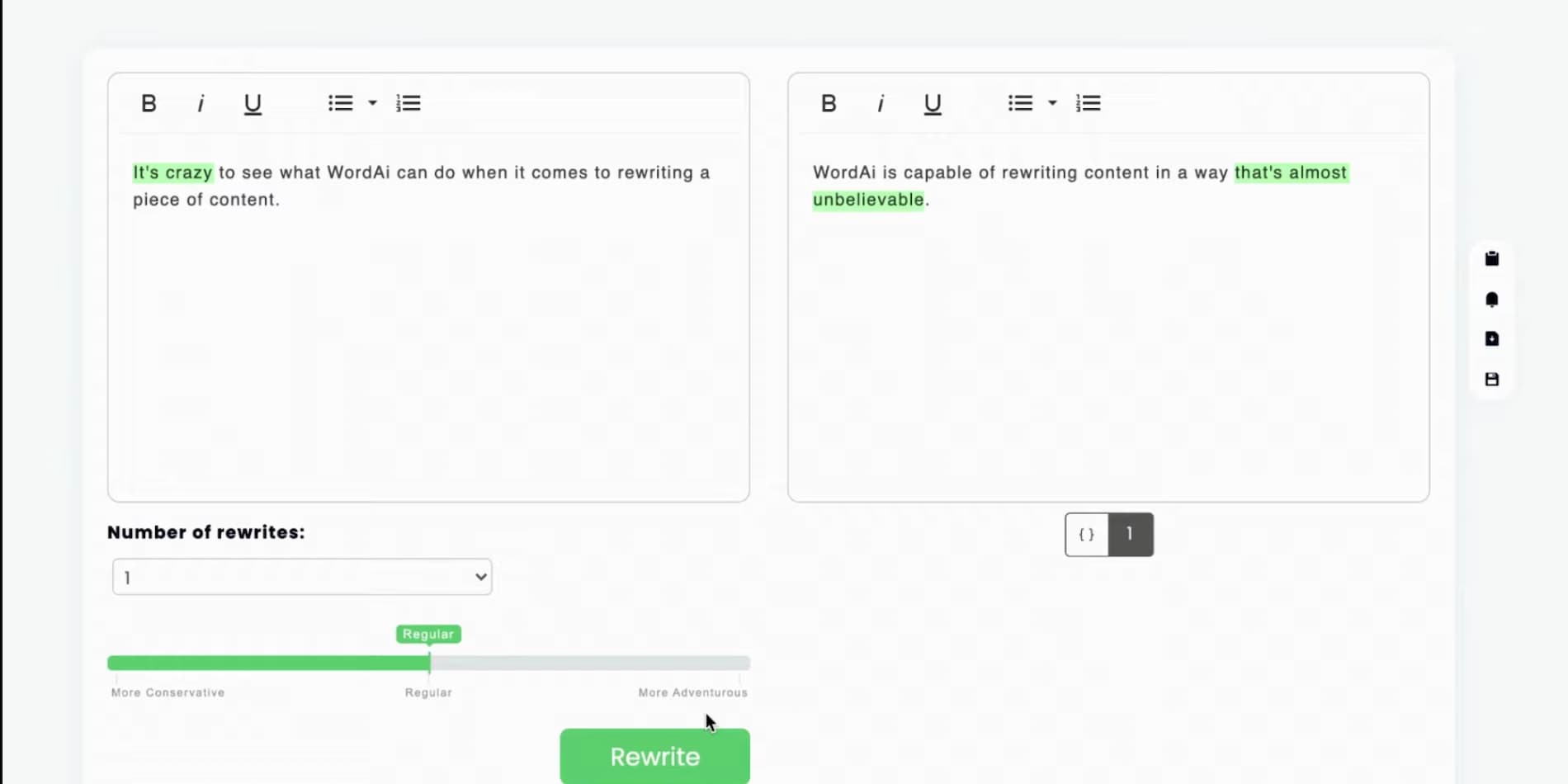 WordAi also claims that its rephrased content is entirely free from plagiarism and detection by AI Content Detector. This versatility makes WordAi ideal for a diverse range of requirements in content creation.
Key Features:
AI Detection-free rewriting
Human quality content
Plagiarism-free content
Bulk article rewriting
API Access
Best For: WordAi is best for content writers and marketers who need to quickly paraphrase high-quality, unique, and human-like content.
Pricing: A free 3-day trial, $57/Monthly after that, with discounts on the annual plan.
4. TextCortex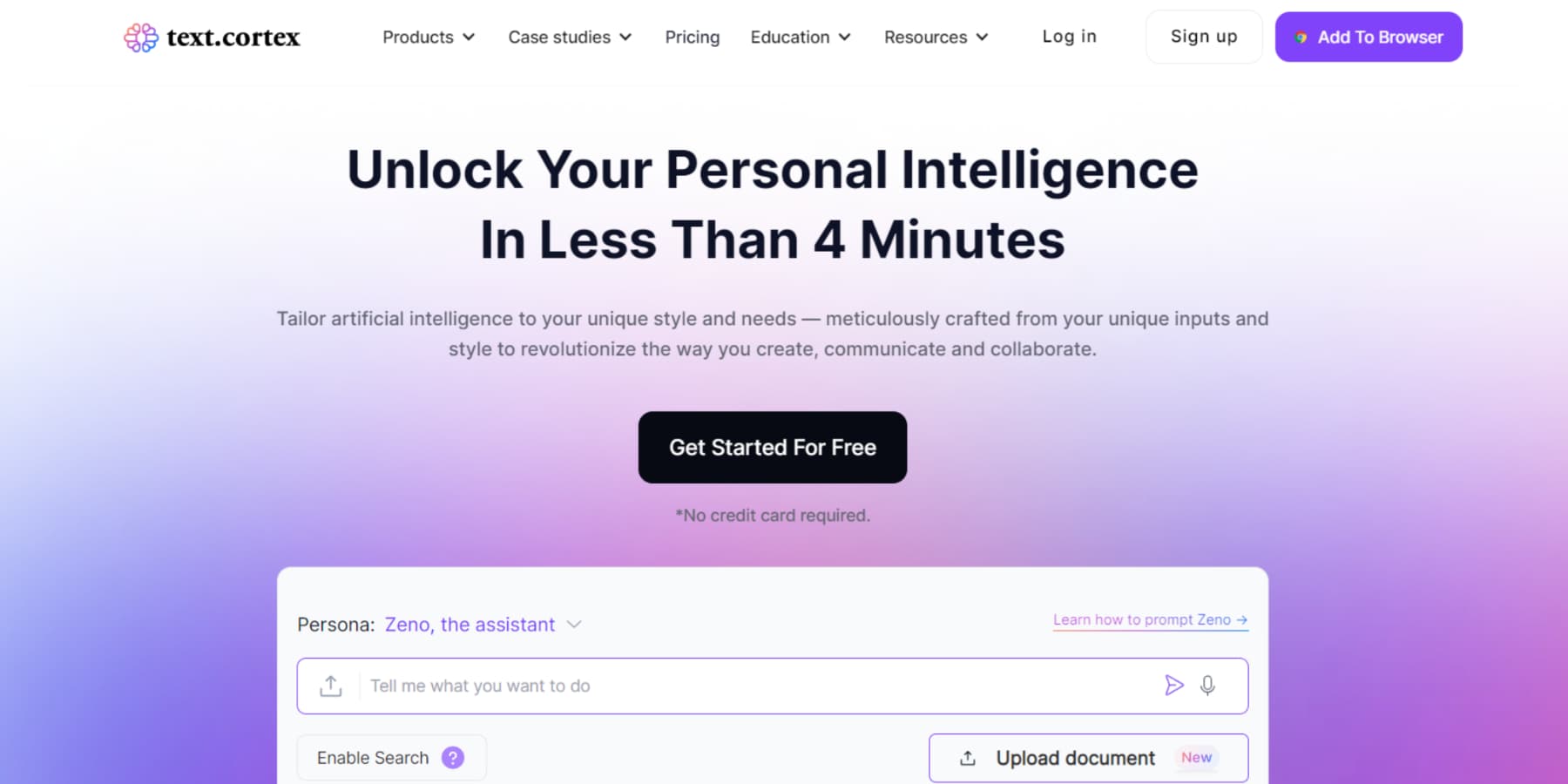 TextCortex is an AI-powered writing tool that assists in producing top-notch content with greater speed and efficiency. It can paraphrase, generate text, perform language translation, compose creative content, and provide informative answers to your inquiries.
TextCortex's AI-driven paraphrasing tool assists professionals and students in rewriting text while maintaining the original meaning. It allows you to effortlessly convert your ideas into compelling and high-quality content within seconds, all while creating a fully personalized AI model that adapts to your input, knowledge, and style. With TextCortex, generic interactions are now a thing of the past.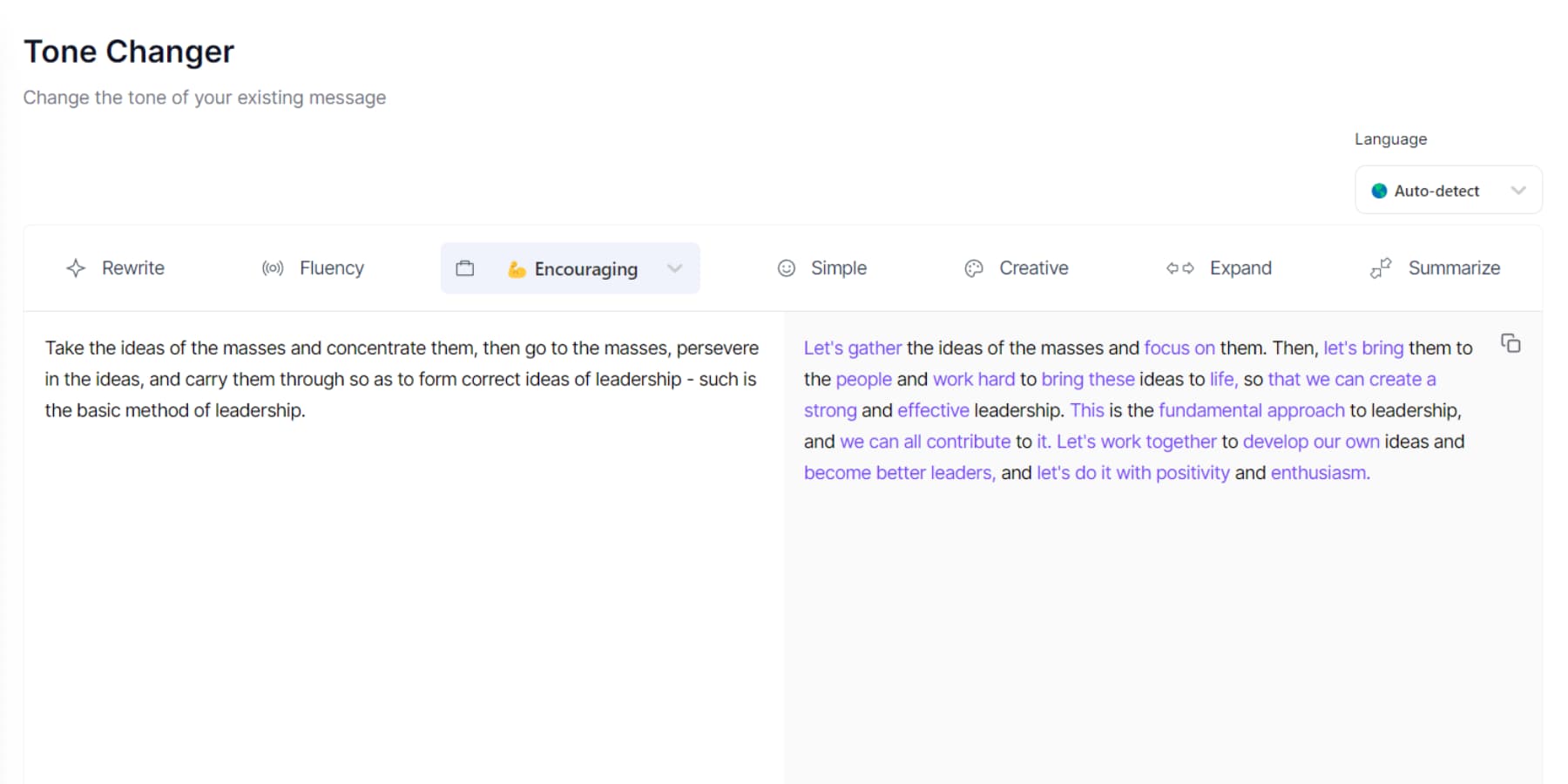 If you are seeking a solution to rephrase your content and effortlessly generate high-quality, tonally-matched text at an accelerated pace, TextCortex is worth considering.
Key Features:
Use TextCortex anywhere with its Chrome Extension
Grammar and Syntax checker
Improves Styling using AI
Generate and ensure original content with Plagiarism Detection
Offers other Content generation options apart from just paraphrasing
Best For: TextCortex is best for anyone who wants to create high-quality content quickly and easily, such as writers, marketers, and business owners.
Pricing: The free plan allows you to generate up to 2500 words and all features. The lite plan starts from $5.59/Month for up to 12,500 words, with options to upgrade to more words. The unlimited plan starts from $83.99/Month with unlimited words and generations.
5. Writesonic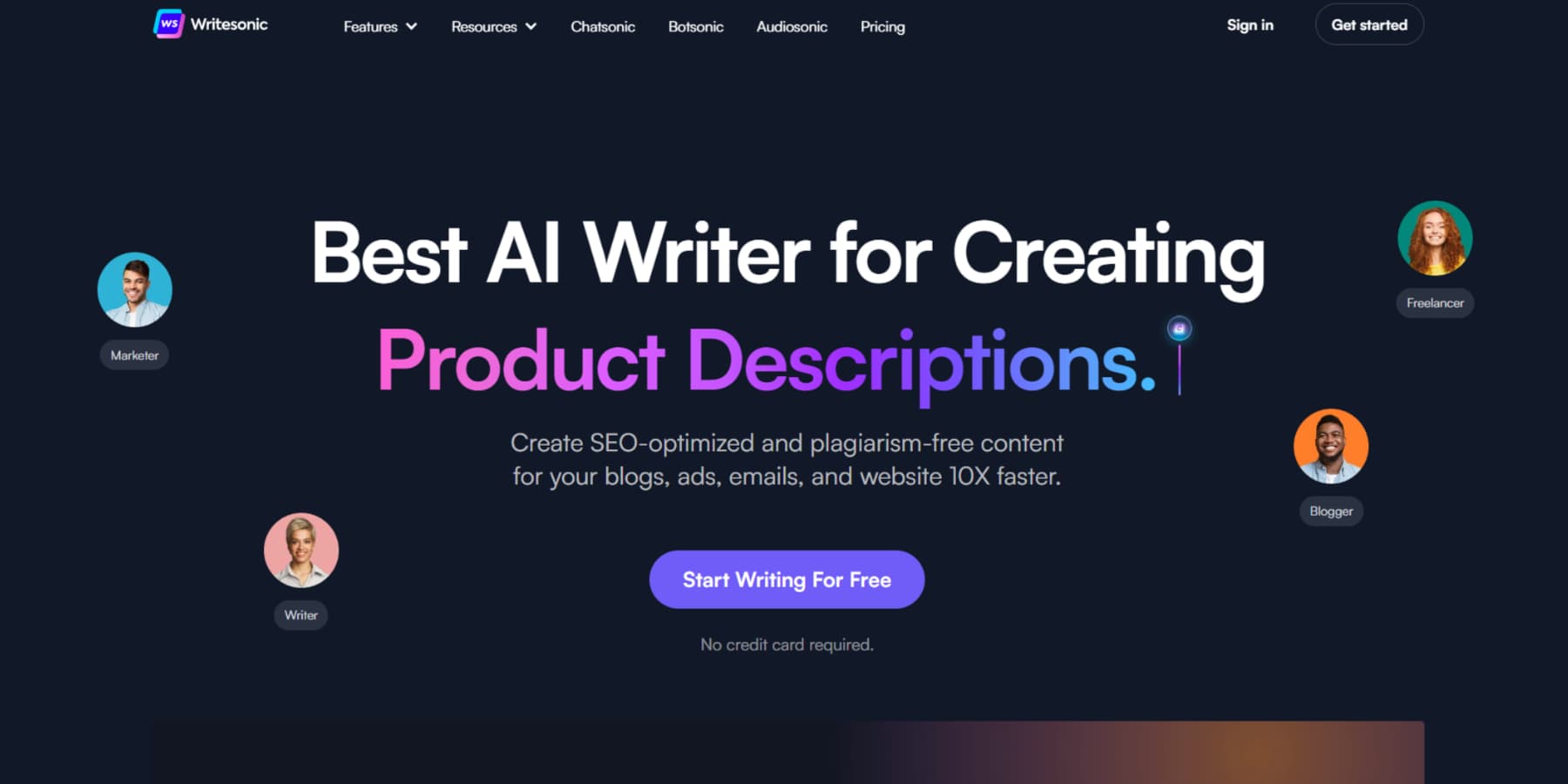 Writesonic is an advanced AI writing tool powered by GPT-3.5 and GPT4 32K. It claims to speed up content creation by ten times. The tool operates as a cloud-based platform, leveraging the power of artificial intelligence to produce text, translate languages, generate various forms of creative content, and provide informative responses to your queries.
Writesonic's paraphrasing tool lets you effortlessly rewrite sentences, paragraphs, essays, and entire articles free from plagiarism with just one click. Moreover, Writesonic offers a bulk upload feature that allows users to easily paraphrase or rephrase thousands of sentences, paragraphs, articles, or essays within seconds. It's an excellent tool for individuals or businesses seeking to paraphrase content quickly and effortlessly. Whether you are a content writer, a business owner, or someone who regularly creates text-based material, Writesonic can significantly assist you in creating large quantities of engaging content with ease.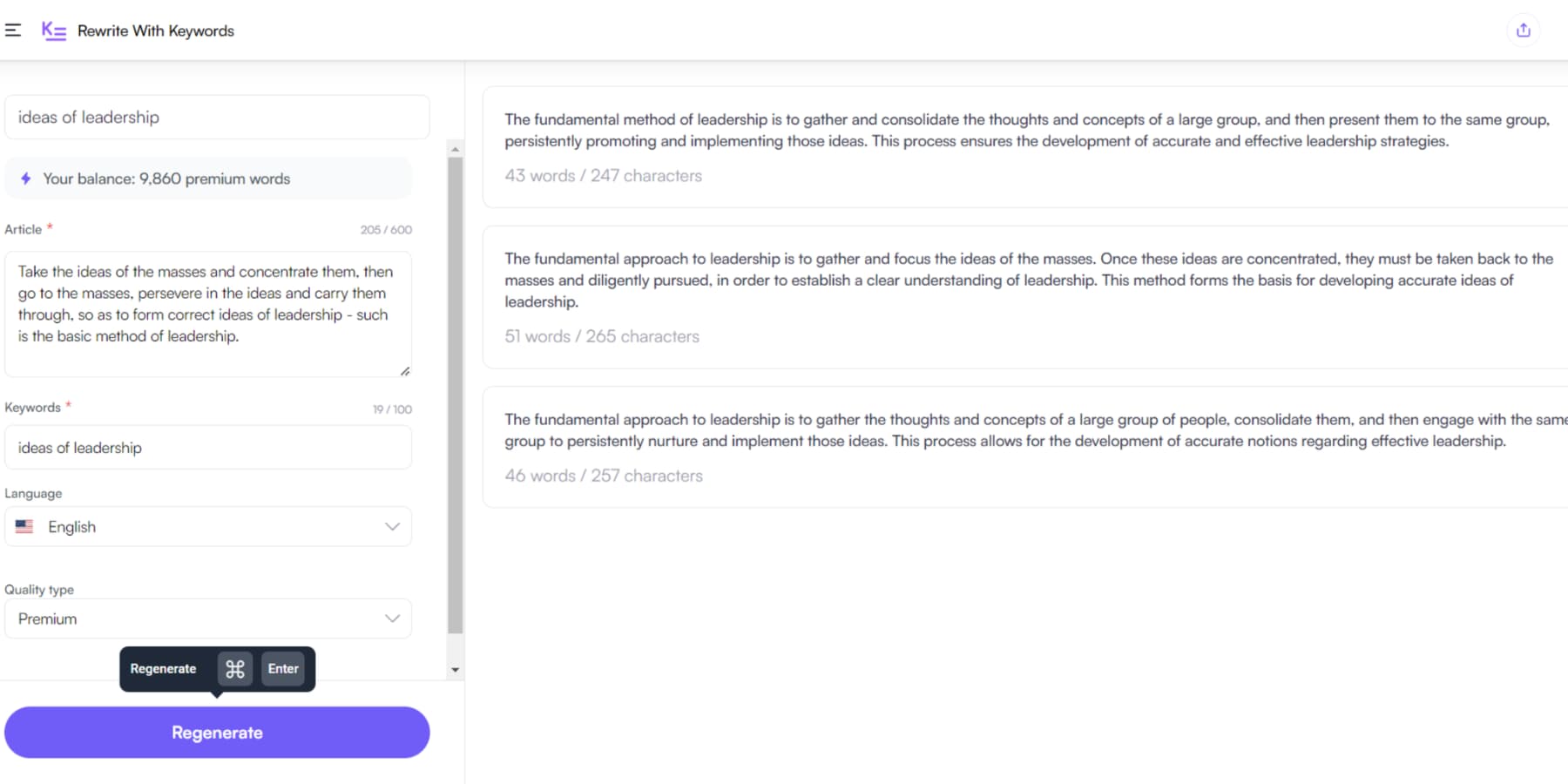 Key Features:
Generates high-quality content in seconds
Provides a variety of content types, including blog posts, product descriptions, social media posts, and more
It provides a user-friendly interface for easy navigation and use
Allows for easy collaboration between team members
Offers a free trial to test out its capabilities
Best For: Writesonic is best for writers, content creators, and marketers who need assistance generating high-quality content.
Pricing: The free trial comes with 10,000 words a month. The unlimited version costs $20/Month for unlimited words. The business plan offers all features plus access to ChatGPT 4 and starts from $19/Month for 33,333 words, with plans to upgrade to a higher word count.
6. SpinRewriter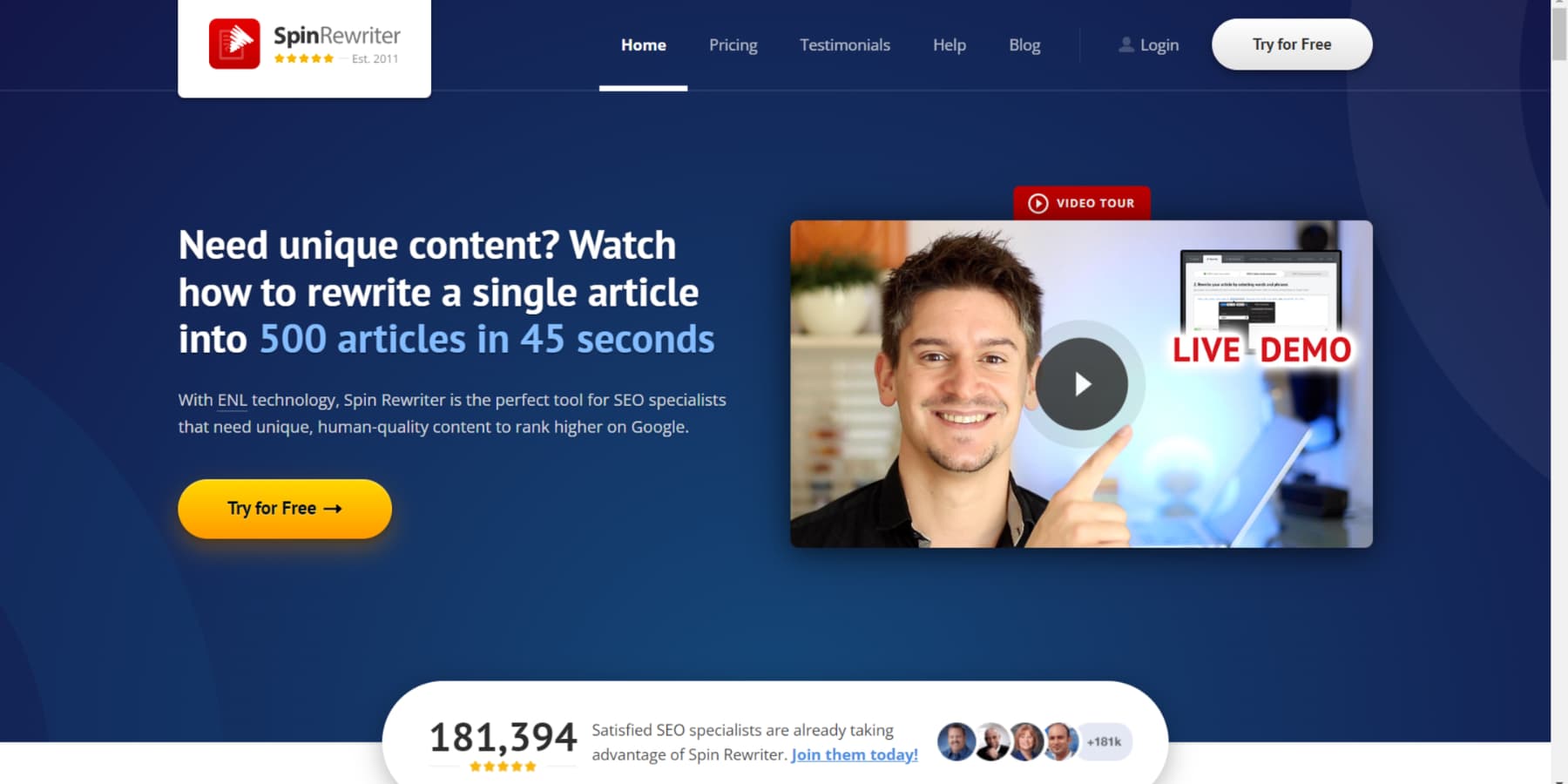 SpinRewriter is a tool designed for content spinning and article rewriting. Its primary purpose is to create unique versions of existing articles or content, making it particularly useful in content marketing and Search Engine Optimization (SEO) strategies. By generating multiple variations of an article, Spin Rewriter enables users to publish them on various websites or platforms without worries about duplicate content.
By leveraging Emulated Natural Language (ENL) technology for spinning articles, SpinRewriter can understand the relationships between words within their specific contexts. This profound comprehension leads to creating top-quality, easily digestible articles that mirror human accuracy, all achieved with just a simple button click.
SpinRewriter has become increasingly popular among content writers, bloggers, and SEO professionals. Its unique functionality allows users to produce exceptional and authentic content for websites, blog posts, articles, and various marketing materials.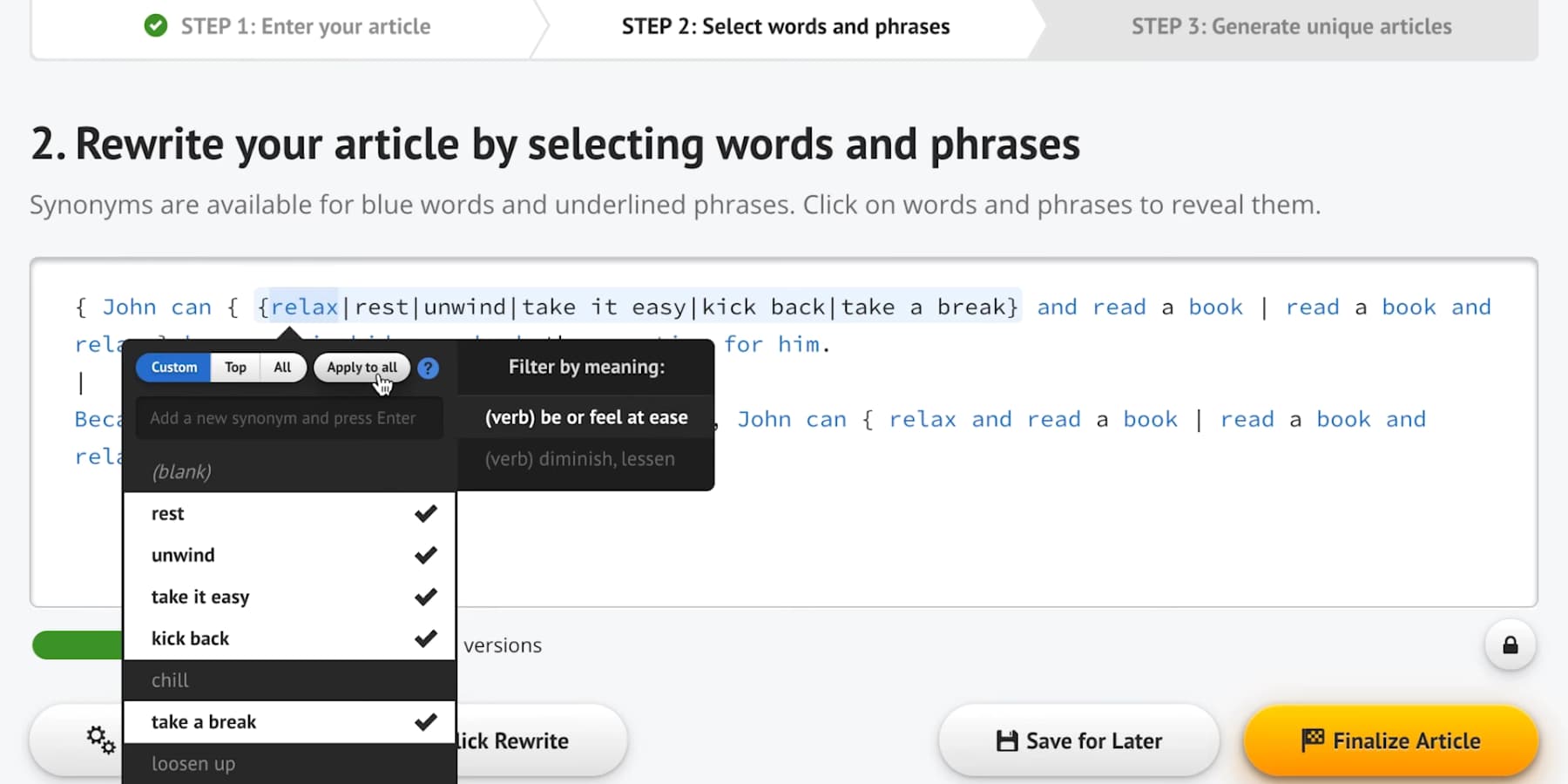 Key Features:
Vast database of synonyms and phrases
User-friendly interface
Automatic, manual, and bulk spinning options
Export to Microsoft Word and PDF
Cloud-based
Best For: Content Writers and Bloggers
Pricing: The Pricing starts from $47/Month. The annual plan costs $197/Yearly. Lifetime plan costs $497.
7. Paraphraser.io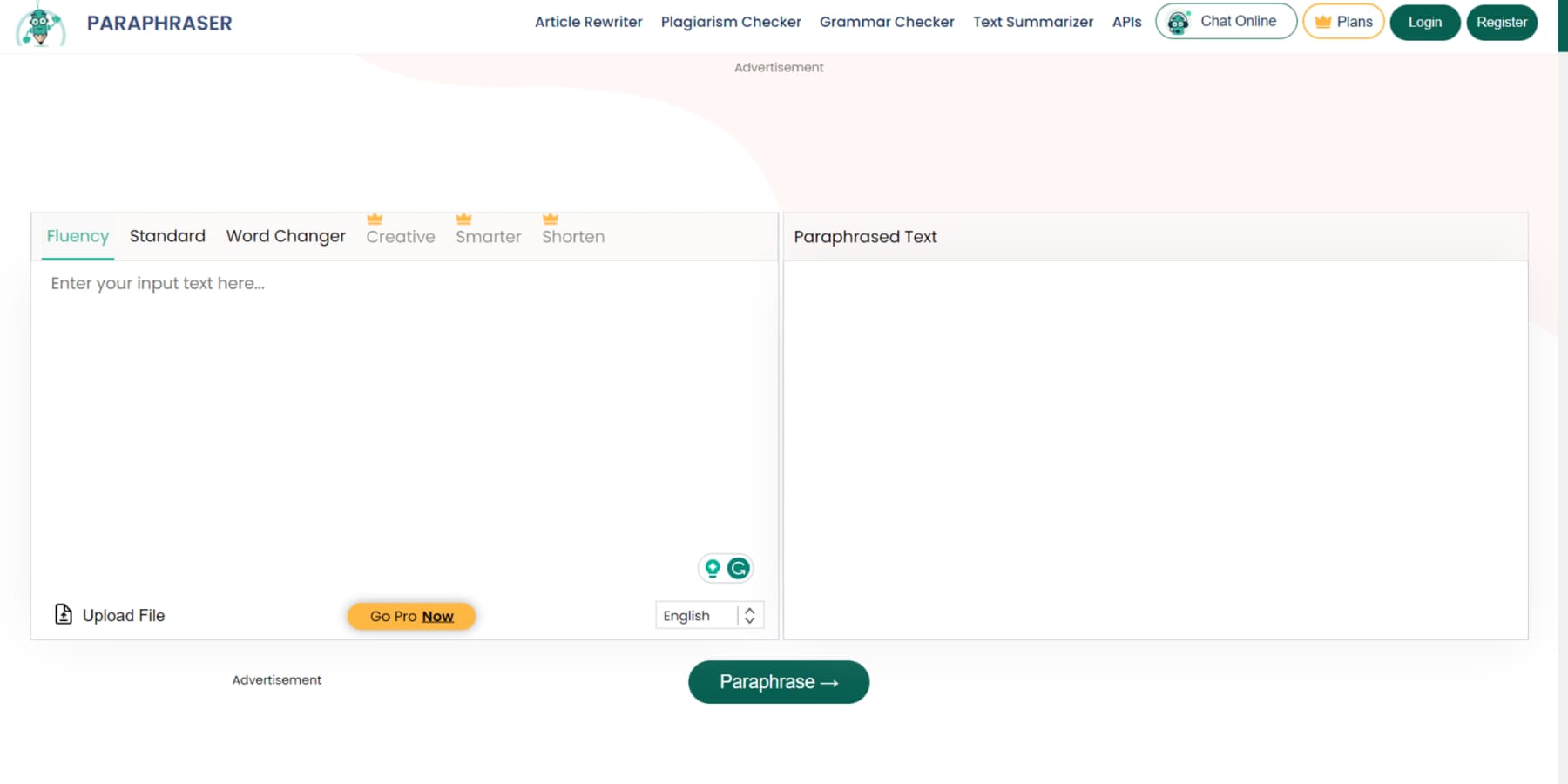 Paraphraser.io is an AI-driven online tool that uniquely rephrases text while preserving its original meaning. It is a valuable tool for improving content coherence and ensuring it remains plagiarism-free.
Furthermore, Paraphraser.io is an exceptional resource for individuals seeking to enhance the clarity and readability of their text while avoiding plagiarism-related issues. Students and researchers requiring help with paraphrasing in academic environments will particularly appreciate this.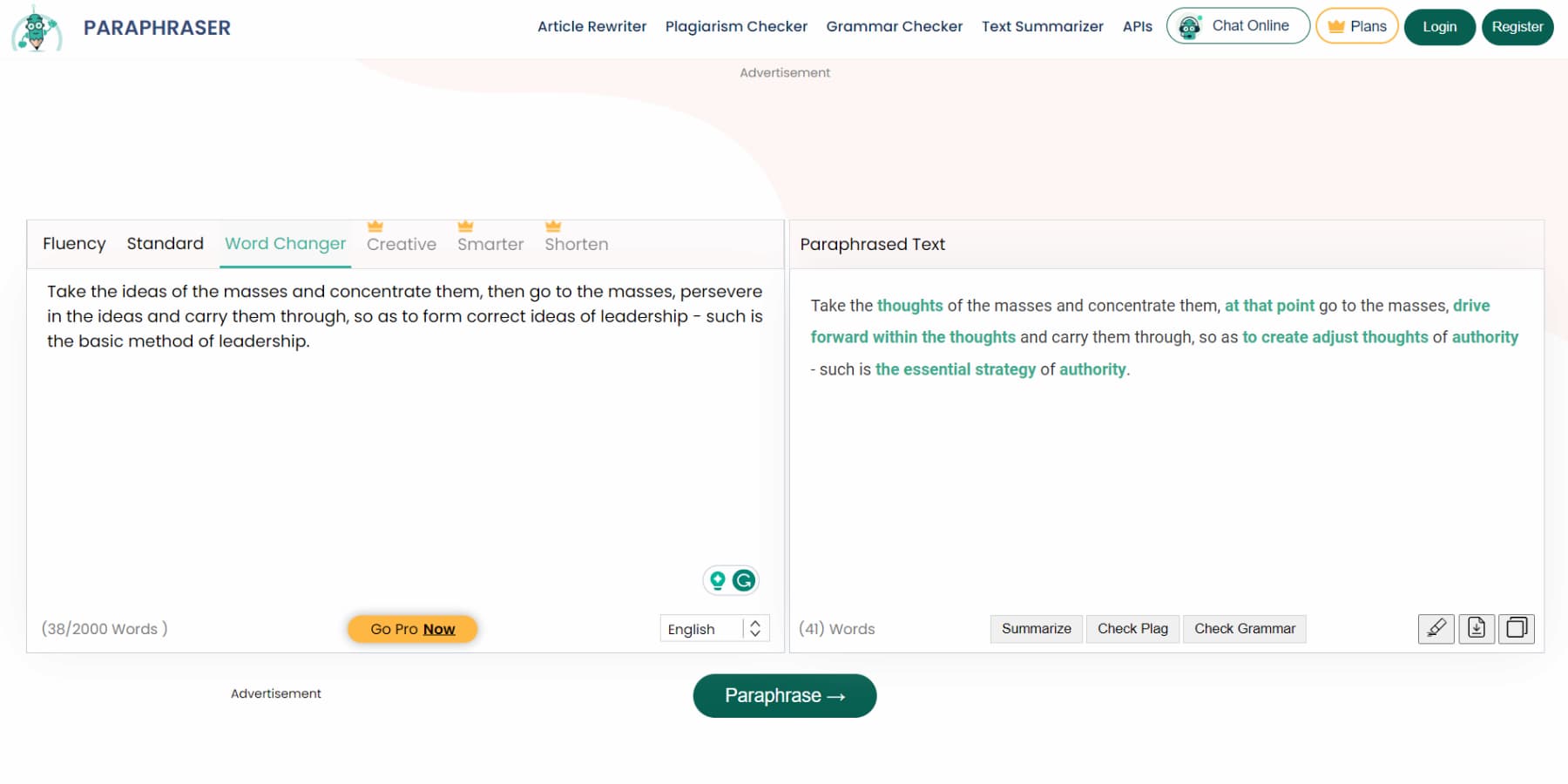 Paraphraser.io is an excellent option to consider if seeking a straightforward approach to enhancing the readability and clarity of your text without any extra features.
Key Features:
Six modes include Fluency, Word Changer, Creative, Smarter, and Shorten.
Ensure originality with Plagiarism Checker
Check for grammatical errors with the inbuilt Grammar Checker
Summarize vast amount of text
Best For: Paraphraser.io is best for writers, students, and professionals who want to rephrase or rewrite text for various purposes.
Pricing: You can use Paraphraser.io for free for up to 600 words and basic modes such as Standard and Fluency mode. The monthly plan starts from $20/Month with a limit of 1500 words to paraphrase and access all methods such as Creative, Smarter, and Shorten.
8. Hypotenuse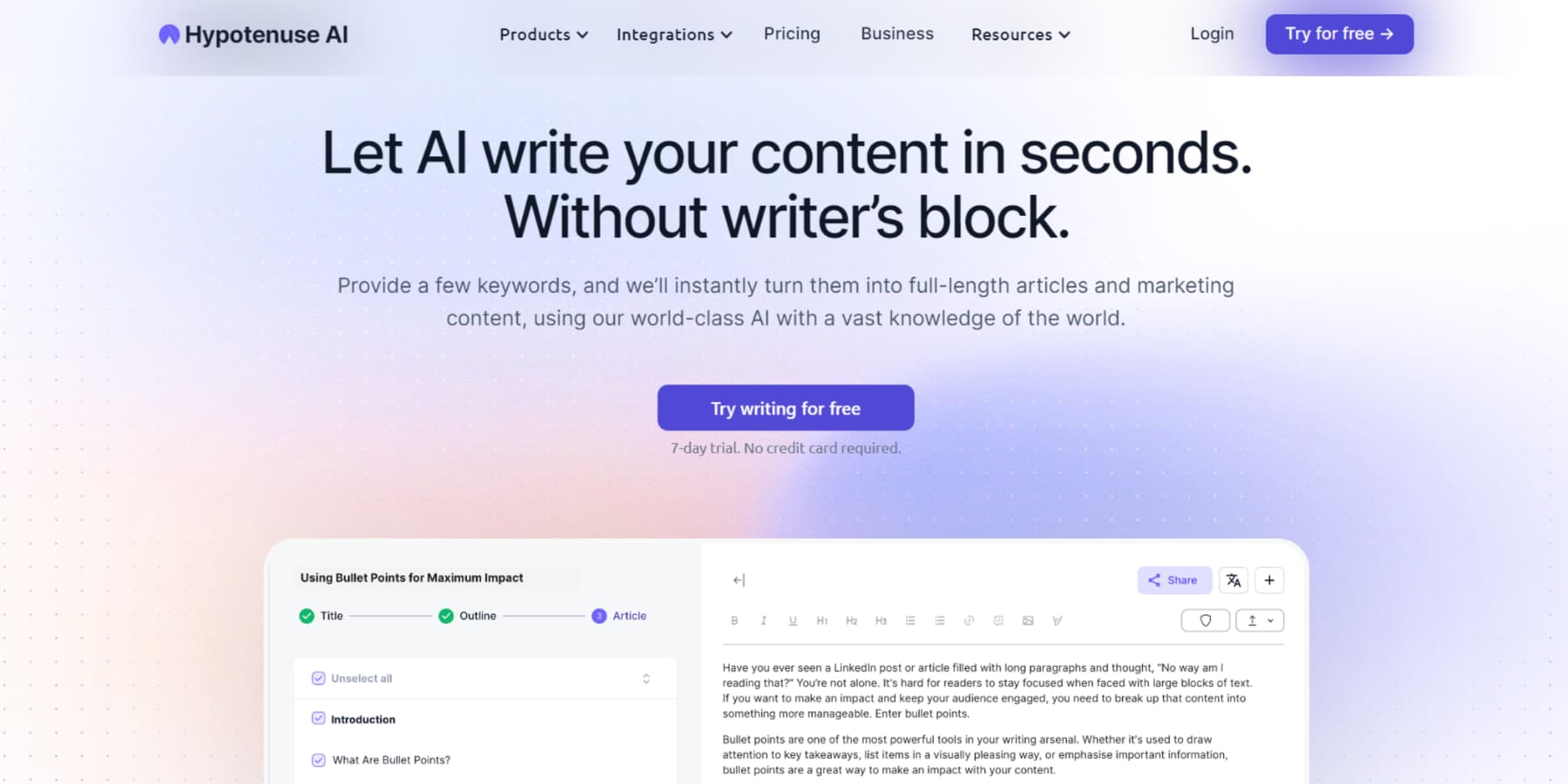 Hypotenuse AI is an artificial intelligence-powered writing tool that assists in producing top-notch content with incredible speed and efficiency. It uses a powerful language model trained on extensive text and code datasets, enabling Hypotenuse AI to effortlessly generate highly accurate and creative text.
Hypotenuse AI leverages AI technology to rephrase and enhance your content to match the desired tone you wish to convey, whether conversational, authoritative, or enthusiastic. This feature ensures the maintenance of your unique voice and style while guaranteeing that your text remains authentic, original, and plagiarism-free.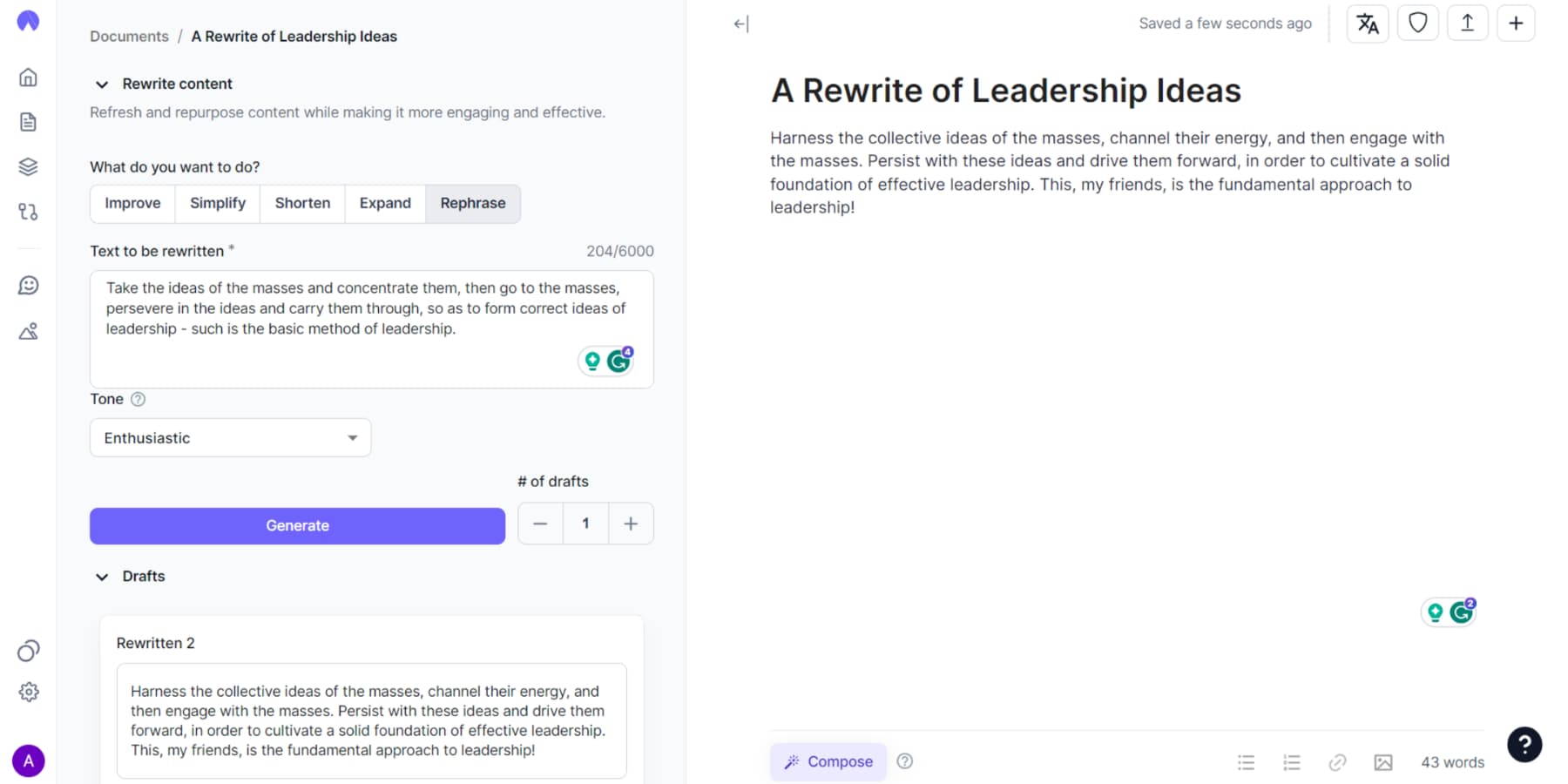 Whether you're seeking an AI writing assistant to enhance content creation efficiency, accurately accommodate your tonality, and ensure high-quality output, Hypotenuse AI is a worthy choice.
Key Features:
Paraphrase and Summarize content in a click
Inbuilt Fact Checker to eliminate wrong or incorrect information
Image Generation
Many other generative options, such as blog posts
Best For: Content Marketers and Agencies
Pricing: The individual plan starts from $15/Month for 25,000 words, with options to upgrade further. The team plan starts from $59/Month for 120,000 words and plans to expand the word count. Annual plans provide discounts.
Comparing the Best Paraphrasing Tool
AI writing tools are rapidly advancing, with various specialized tools focusing on tasks like paraphrasing. In such an intriguing period, selecting the right tool might pose a challenge. Therefore, we have organized these tools into convenient tables to assist you in making an informed decision.
Paraphrasing Tool Price Comparison
Finding the perfect paraphrasing tool that fits your budget can be challenging. We have compiled a table comparing the top-rated paraphrasing tools and their respective prices. This will provide you with a comprehensive overview of cost-effectiveness, simplifying your decision-making process.
Paraphrasing Tool Feature Comparison
These are our top three highly recommended paraphrasing tools. We've carefully analyzed their key characteristics to assist you in selecting the one that best suits your requirements.
| Features | 🥇 QuillBot | 🥈 Jasper | 🥉 WordAi |
| --- | --- | --- | --- |
| Modes/Tones | ✔️ | ✔️ | ❌ |
| Chrome Extension | ✔️ | ✔️ | ❌ |
| Unlimited Words | ✔️ | ✔️ | ❌ (Upto 3 Million word/mo) |
| Plagiarism Checker | ✔️ | ✔️ | ✔️ |
| Grammar Checker | ✔️ | ❌ | ✔️ |
| Different Languages Supported | ✔️ | ✔️ | ❌ |
| Price for All Features | $9.95/mo | $49/mo | $57/mo |
| | Get QuillBot | Get Jasper | Get WordAi |
What is the Best Paraphrasing Tool?
If you require a paraphrasing tool, whether it be for academic assignments or casual use, our top recommendation is QuillBot. This powerful tool offers many features and advanced capabilities that make paraphrasing content effortless. With QuillBot, you can easily change the style, tone, and length while maintaining the original meaning intact.
However, Jasper AI is ideal for a business or agency looking to paraphrase or generate content at scale. Its advanced features, like Natural Language Processing (NLP) and Intelligent Paraphrasing capabilities, provide unmatched solutions for writing content and paraphrasing at a quality unmatched by other tools.
On the other hand, if you're a content creator or blogger needing paraphrasing or spinning articles that feel human-written without being detected by AI content detection systems and ensuring zero plagiarism, WordAi is your ultimate choice.
Featured image by cosmaa / shutterstock.com