Artificial Intelligence (AI) has become a double-edged sword in content creation and management. On one side, AI writing software and content generators are considered to be invaluable for producing and optimizing content quickly. Conversely, AI content detectors help ensure that AI-generated content isn't plagiarized and reads more like a human rather than a machine. This article delves into this dichotomy of AI-generated content and AI content detection, emphasizing the best AI content detectors for you to try.
The Best AI Detection Tools?

Subscribe To Our Youtube Channel
Finding reliable tools can be a challenge. We've put together a list and review of the best AI-catching software. Starting with Winston AI, here's our list of top detection products to consider:
The Best AI Content Detectors Listed In Order
Expand List
1. Winston AI

Winston AI is arguably one of the best AI detectors for written content. Its whole purpose is to tell the difference between human-written and AI-written text, and it does so with 99% accuracy for ChatGPT, GPT-4, and Bard (based on their internal testing). It has one of the easiest-to-use UIs of similar tools and allows you to save reports so you can come back to your results without re-running the test.
Key Features of Winston AI:
Highly accurate at determining potential AI writing
Advanced plagiarism detection and readability results
Team plans for multiple users to share a workspace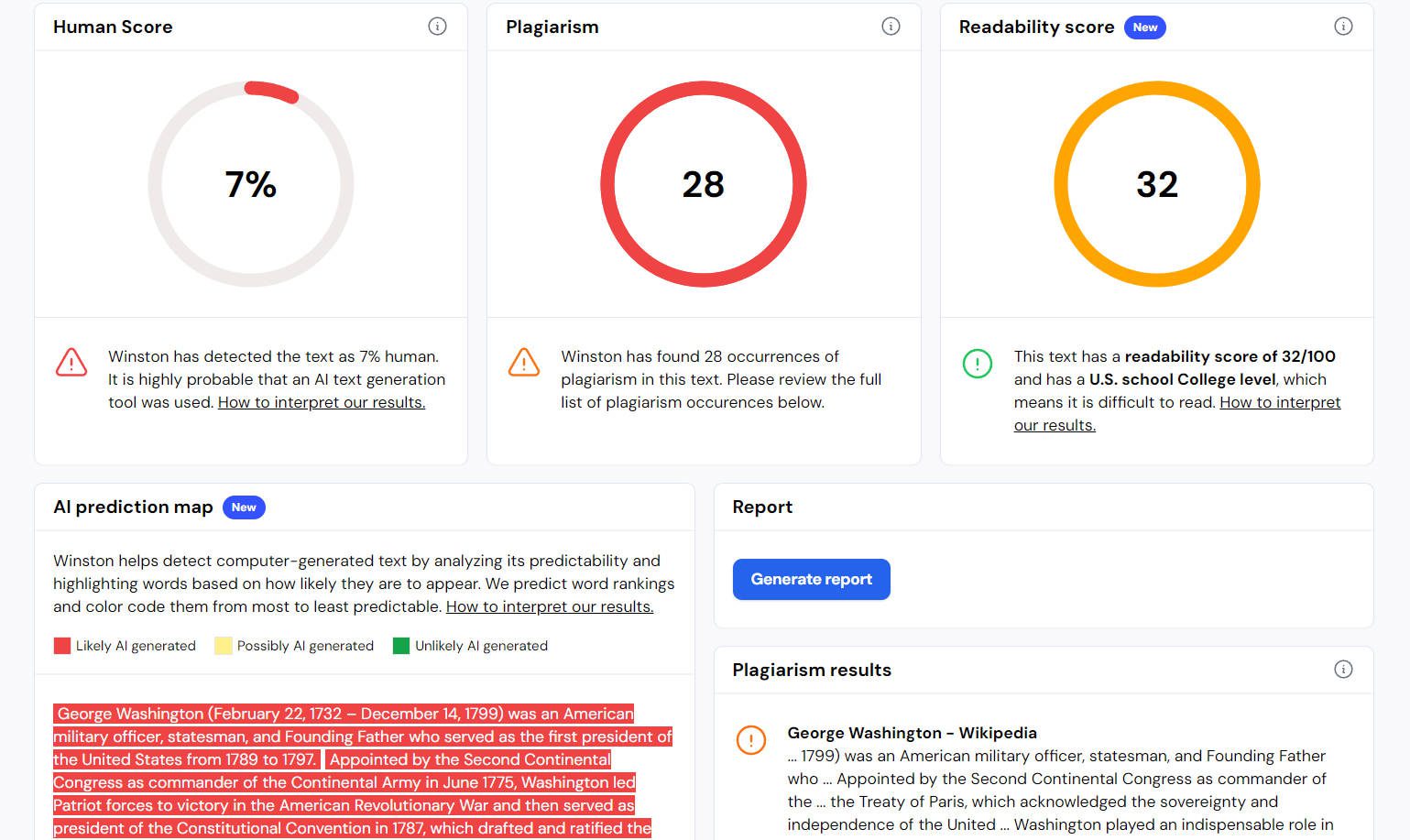 Since Winston AI's sole purpose is to help users detect AI (other tools also offer AI content generation), it brings a lot of tools to the table that are of very high caliber. Its AI detection pools sections of a text into Likely AI-generated, Possibly AI-generated, and Unlikely AI-generated and color codes each line. It also detects and reports on plagiarism, providing what text was plagiarized and its originating source.
Best For:
Winston AI is the go-to AI detection tool for those who need multiple file types and formats scanned. It supports pasted text, images with optical character recognition (OCR), and uploaded documents (PDF, Word, etc.). It even doubles as an advanced plagiarism detector against submitted text.
Pricing: Free plans are available, with paid plans starting at $18/mo
2. Originality.ai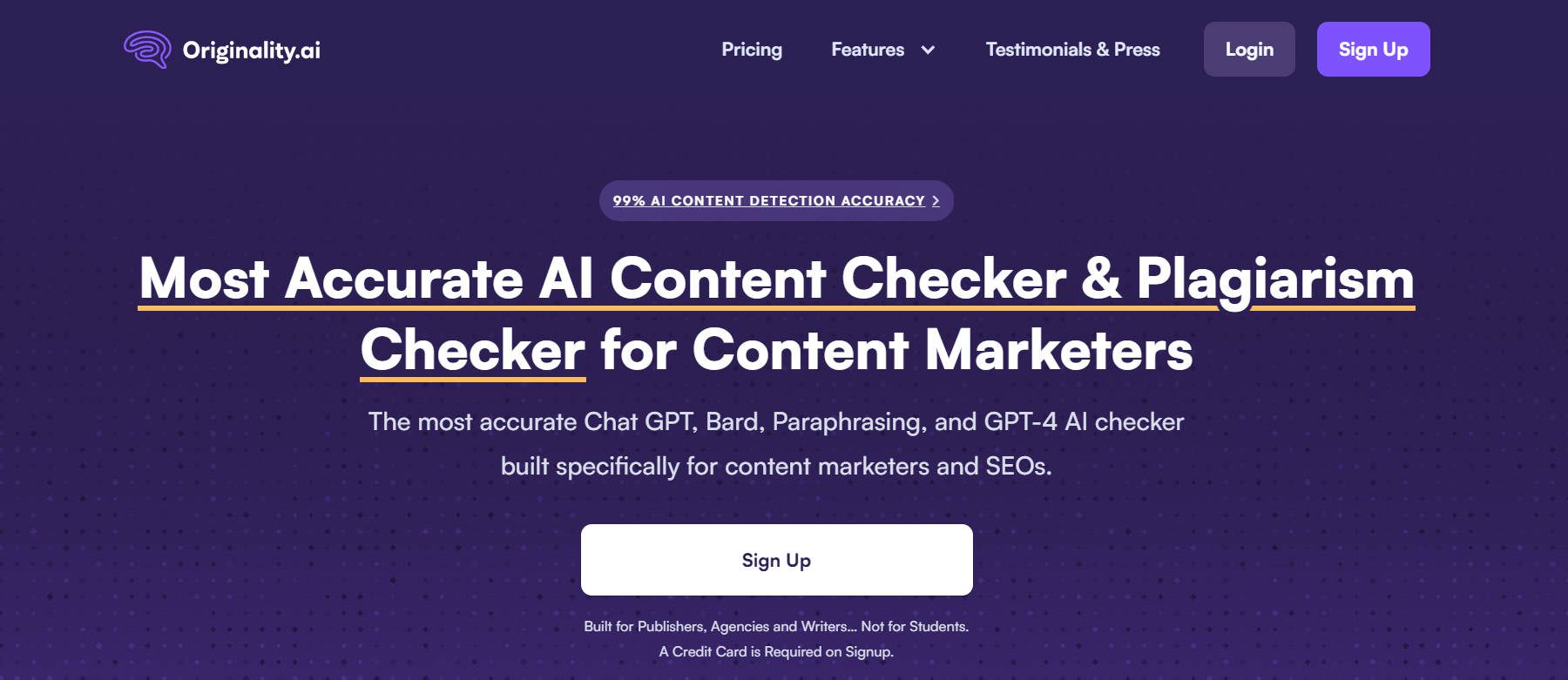 Originality.ai is a leading tool that brings the power of AI to the world of content detection. It's a favorite among users for its ability to swiftly and accurately identify AI-generated content, ensuring the authenticity and originality of written material. This tool is designed to provide real-time detection of AI-generated content, making it a valuable asset for those who need to verify the authenticity of their content quickly. Its speedy yet reliable analysis makes it a capable partner for preserving the integrity of your content.
Originality.ai also sports a Chrome extension which means you can take text analysis on the go—wherever you are browsing.
Key Features of Originality.ai:
Industry-leading accuracy for detecting AI content
Real-time detection of AI-generated content
Convenient Google Chrome extension
Breakdown of AI and Human text
API for text analysis at scale

Originality.ai lets authors scan any type of content. They can enter it onto the website's front end, connect its API, or scan content on specific URLs. Best of all, all content gets scanned to determine likelihood of it being written by AI, plagiarized, and even its readability level.
Best For:
Originality.ai is a great tool for content creators, editors, and digital marketers who need to check the originality of their content quickly. Its real-time detection makes it a useful tool for those working in fast-paced environments where time is crucial. It's perfect for digital marketers who must ensure their content is unique to uphold their brand's reputation and SEO rankings. It also has user seats that give teams the chance to work more efficiently.
Pricing: Monthly pricing starts at $14.95/mo with pay-as-you-go credits available starting at $30
3. GPTZero

GPTZero is a tool that's been designed with simplicity in mind. Primarily built for educators and educational institutions, GPTZero has plenty of academically minded plagiarism detection tools. This tool is designed to provide a simple solution for detecting AI-generated content. Its simple approach may be ideal for some but too simplistic for others (but its integrations with LMSs and MS Word are anything but simplistic).
Key Features of GPTZero:
Stripped down UI for simple text AI checking
Quick content check focusing on specific models (GPT 3, Bard, etc.)
MS Word and LMS integrations
Since this is a product focused on educational use cases, the fact that AI content scanning is able to be done inside a Word document can save a lot of time. There's no need to copy and paste data back and forth as you check your work.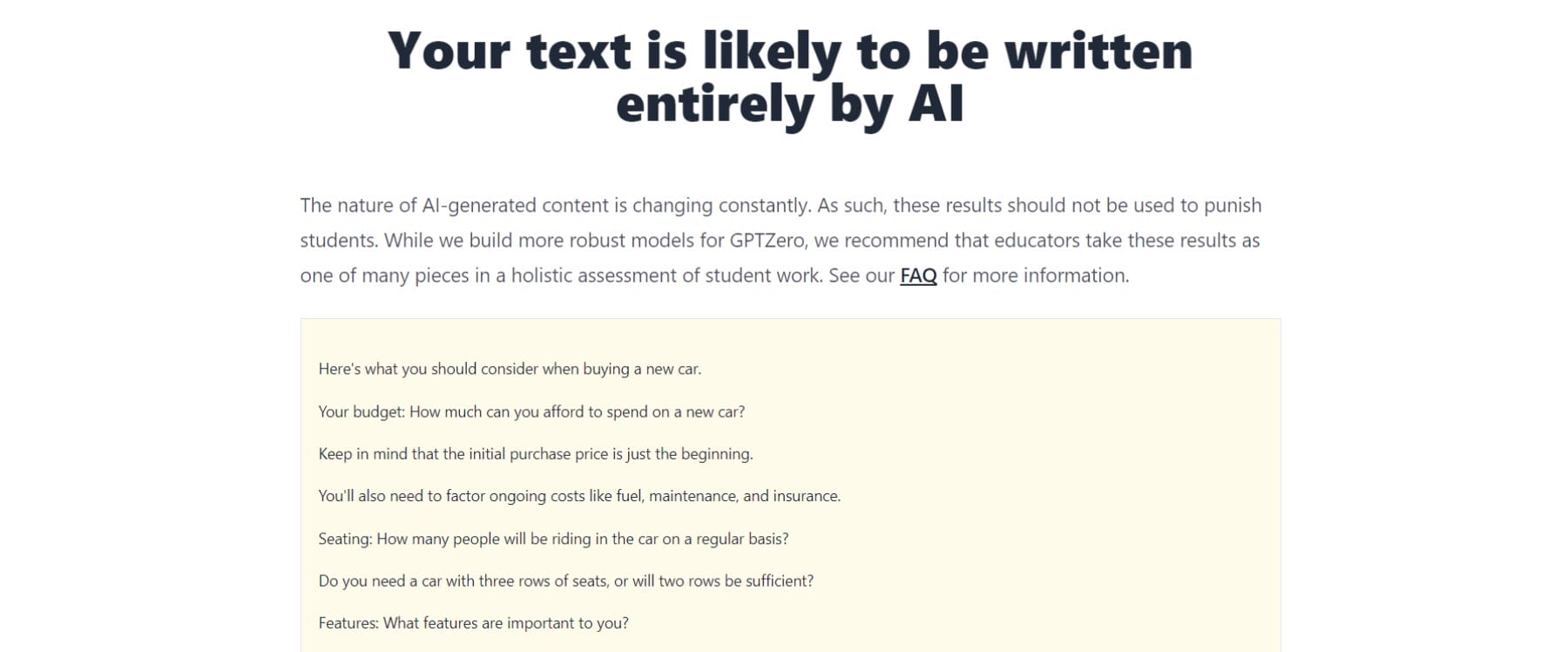 Best For:
GPTZero is ideal for educators and department heads researching AI use in academic work. Its clean design makes it a great choice for those who are new to AI content detection and want a tool that's easy to use. GPTZero is uniquely positioned to help educational organizations manage the shift into the future of AI.
Pricing: Free to use on their website, but API may cost based on usage
4. Sapling AI Detector

Sapling, known for its other AI tools, also offers an AI content detection tool. This tool is designed to provide a highly accurate solution for detecting AI-generated content. Its ability to see AI-generated content with as little as 50 words makes it a reliable tool for those who work with short-form content. Moreover, its color-coded results make it easy for users to interpret the results, making it a user-friendly tool for ensuring the originality of your content.
A subscription provides access to the AI content detector and sentence autocomplete (plus more). It is built for customer support and sales teams. It creates full reports on how agents use the AI to help in coaching and training to improve over time.
Key Features of Sapling AI Detector:
Provides an overall percentage of inauthentic content
Access to API for bulk or app-based content checking
Works inside CRMs and email clients
Sapling offers another great option for AI content checking. It also has a useful browser and API for extended use.
Best For:
Sapling is best suited for customer support or sales professionals though it is hard to imagine how the content detection tools fit in with Sapling's broader use cases. But just looking at its text generation detection, it offers a solid tool. Paid plans where one would get higher word count limits for detection are priced steep, so organizations would need to use the full product to justify the costs.
Pricing: Free to use on their website with paid plans and longer character limits starting at $25/mo
5. Writer.com AI Content Detector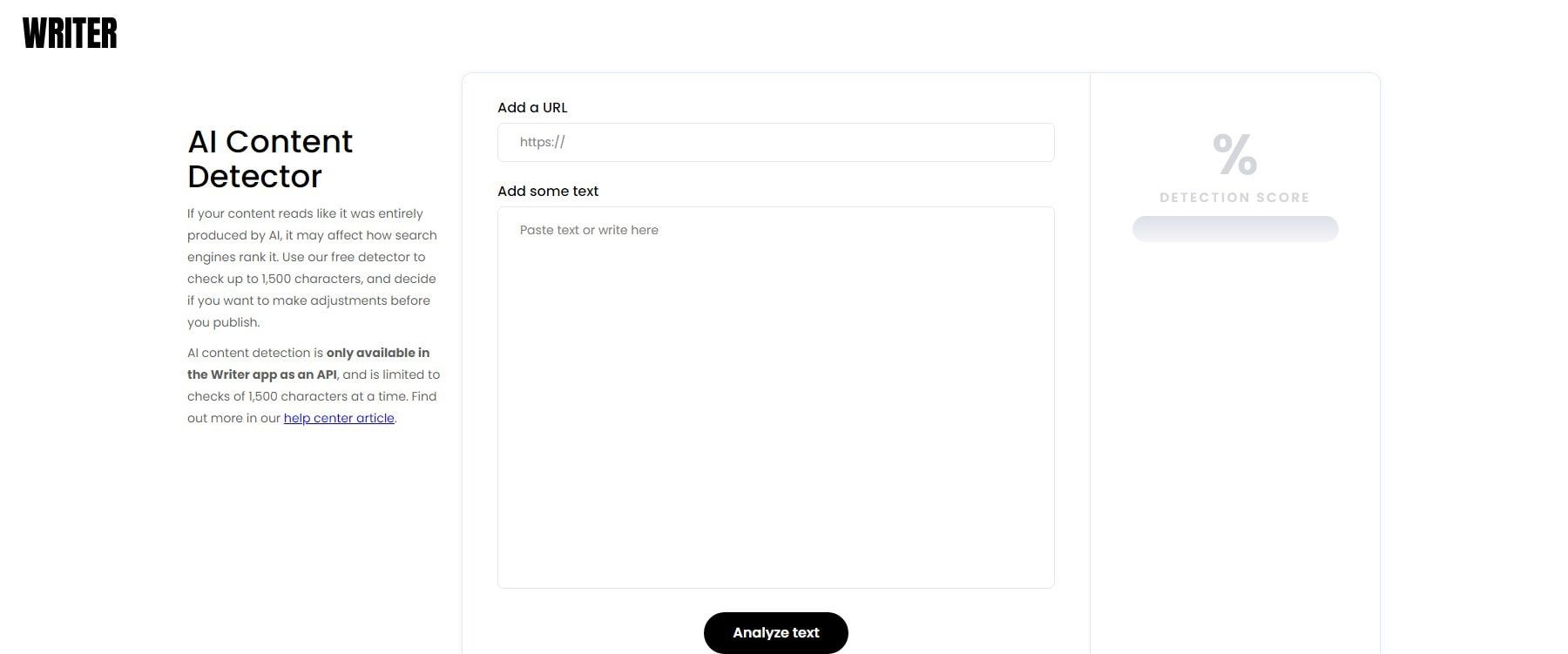 Writer.com is more than just a writing assistant. It's an all-in-one platform that helps improve your writing and spots AI-generated content (demo the AI Content Detector here). It's a versatile tool that ensures content is grammatically correct and unique. This platform aims to provide a complete solution for content creation and checking. It's not just about spotting AI-generated content but also about enhancing the overall quality of your writing.
Mainly for enterprises, Writer.com does everything. It can connect with your unique data and brand/voice guides to create and adjust the content so that it stays true to your business.
Key Features of Writer.com:
Provides grammatical suggestions, tone recommendations, and a plagiarism checker
Can detect AI-generated content from a URL or pasted text
Check up to 1,500 characters free
Plenty of other AI writing tools and features
Writer does a whole lot more than scanning content for AI origins. Its AI detection tools are built into its content generation tools, making the whole tool useful to writers.
Best For:
Writer.com is ideal for professional writers and copywriters who want to ensure their content is well-written and free from AI-generated or plagiarized content. Its comprehensive features make it a great tool for those who wish to enhance their writing while ensuring its originality. It's also a perfect fit for content marketers who want to maintain their content's quality and originality while improving their writing skills.
Pricing: $18/mo per user
6. Copyleaks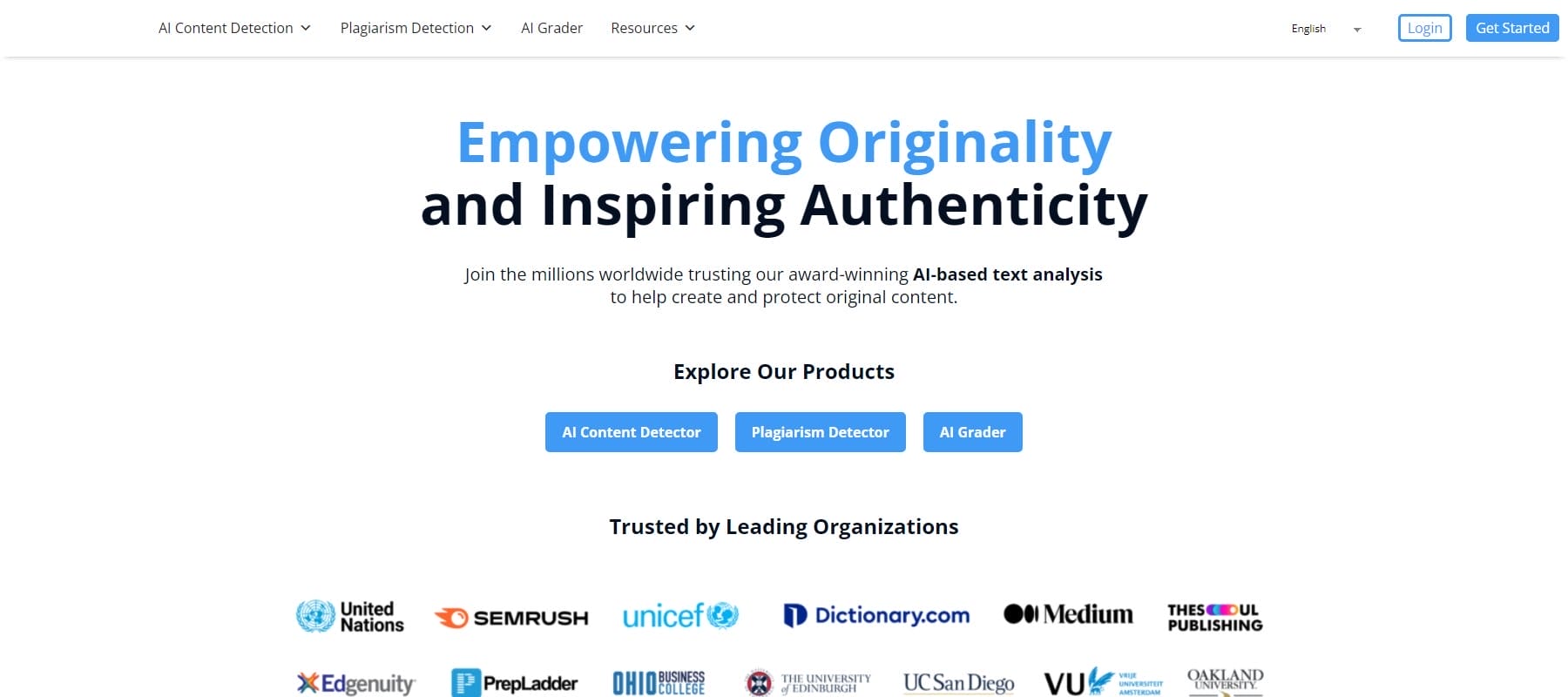 Copyleaks offers a simple-to-use AI-content detector on their website. This free service screens text using AI-based analysis of context. It also offers a Chrome Extension for detecting AI content on browsed pages. This tool is designed for detecting AI-generated academic content. It's not just about catching AI-generated content but also about understanding the different types of AI-driven content that can affect the integrity of submitted work.
Key Features of Copyleaks:
Simple-to-use plagiarism and AI detection
LMS integrations, including Canvas, Blackboard, and Moodle
Offers a Chrome Extension for real-time detection
Copyleaks' major LMS partnerships bring this vital technology closer to academia to ensure the honesty and integrity of written assignments. They also have tools to help educators grade assignments fairly and objectively.
Best For:
Copyleaks is perfect for educators, students, and content creators who need a versatile tool for catching AI-generated content. Its ability to assess a wide array of AI-driven content makes it a valuable tool in academic and professional settings. It's particularly beneficial for educators who need to ensure the originality of their students' assignments and for students who want to verify the authenticity of their work.
Pricing: Plans start as low as $10.99/mo with a limited free version available
7. CrossPlag AI Content Detector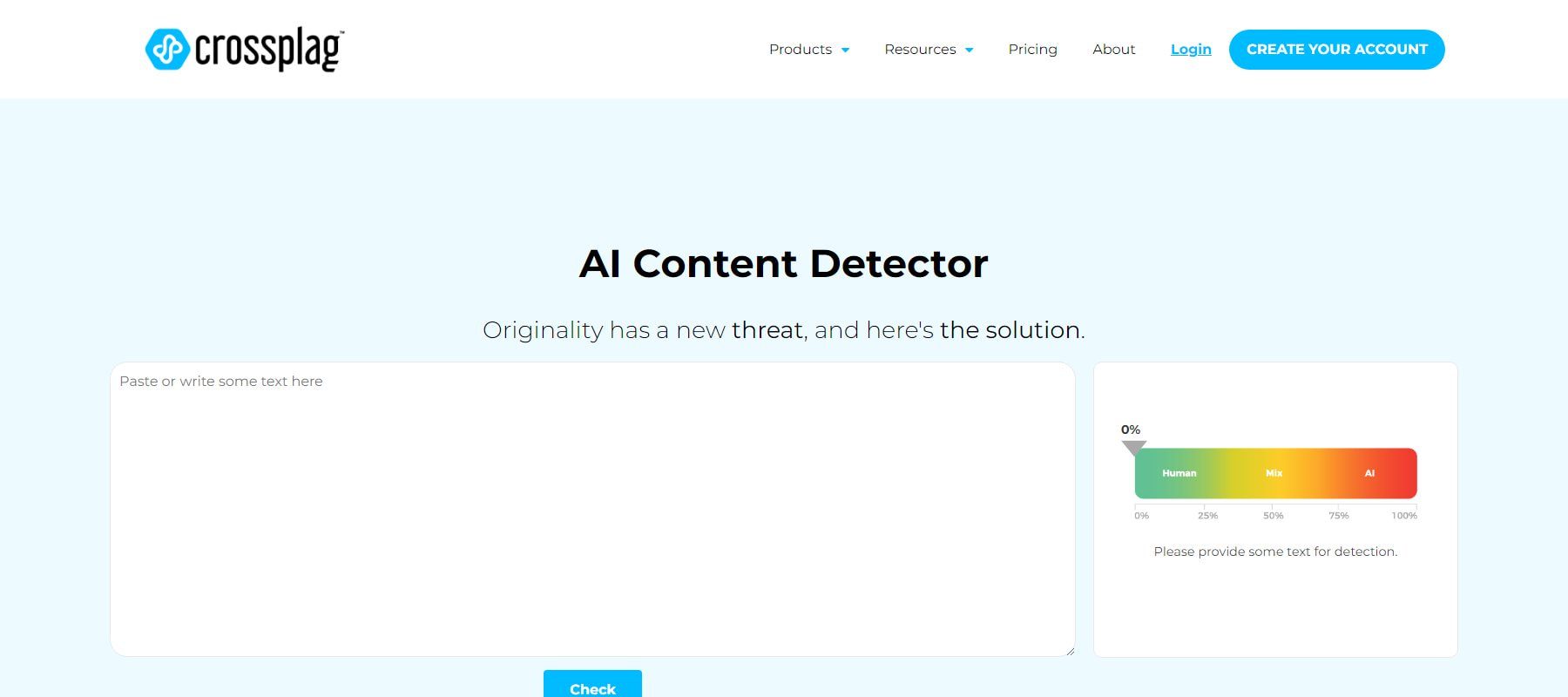 CrossPlag AI is a tool designed to detect AI-generated content with precision. It focuses on simplicity, making it a favorite among users who need quick and accurate results. Its intuitive interface and rapid detection make it a reliable tool for maintaining the integrity of your content. Moreover, its unique thermometer scale graphic visually represents AI-generated content, making it easy for users to understand the results.
Key Features of CrossPlag:
Thermometer scale for visually scoring confidence levels
Pricing for individuals and institutions
Data protection by not storing any of the submitted content
Crossplag's user roles make this a great product to use for teams. Teams of writers and editors can check for AI-written content and plagiarism.
Best For:
CrossPlag AI is an excellent tool for content creators and SEO professionals who need to ensure the originality of their content. Its fast detection makes it a great choice for those who manage large volumes of content and need a reliable tool to check for AI-generated text quickly. It's particularly beneficial for SEO professionals who must ensure their content's originality to maintain their website's SEO rankings. Teams and institutions that want to check for plagiarism and ai content can also easily use this platform.
Pricing: $9.99 for 5,000 words with different pricing tiers for organizations
8. Content at Scale AI Text Detector
Content at Scale stands out as a unique tool, offering an AI detector as part of its AI writing platform. This comprehensive solution aims to equip users with deep insights into the genuineness of their content. More than just detecting AI-generated content, it helps users understand the reasoning behind the AI detection verdict. Its best feature, the "Human Content Score," offers a careful analysis of the content, making it an excellent resource for those seeking to understand why a piece of content might be flagged as AI-generated.
Key Features of Content at Scale:
Unique Human Content Score
Quick verdict on the likely origin of content
Comprehensive insight into the reasoning behind the scoring
Content at Scale gives us another option worth considering. We love that it breaks down its score in a way that is easy to understand and take action on.
Best For:
Content at Scale is an ideal tool for businesses and content creators seeking a deeper understanding of their content's authenticity. Its unique scoring system offers a detailed content analysis, making it an excellent choice for those keen on understanding why a piece of content might be flagged as AI-generated. It proves particularly beneficial for content teams responsible for generating large volumes of content and seeking assistance writing and analyzing their work.
Pricing: Starts at $250/mo for the whole SEO writing platform (with AI content detection)
9. AISEO Content Detection

AISEO is a comprehensive platform that offers a suite of tools, one of which is its AI Content Detector. This tool scans text to see patterns indicative of AI-generated content. While the platform offers a range of tools, the AI Content Detector stands out as a valuable resource for maintaining the authenticity of digital content. The rest of the platform can be used for creating AI-generated content with quick and practical workflows.
Key Features of AISEO:
Helps generate SEO-optimized copy
Easy to use with accurate results
Comprehensive reporting that makes insights easy to understand
Every tool in the AISEO product is built for SEO. Obviously, creating quality and original content is crucial to that end. AISEO helps writers and content marketers ensure that their content is as fresh as they need it to be.
Best For:
The AISEO Content Detection tool is a good fit for content marketers and editors who need to check the originality of their content. It's great for analyzing large volumes of content and for those who need a tool that can provide a deep understanding of their content's originality. Its advanced writing features make it a good choice for businesses that want to create quality content. It's beneficial for SEO professionals who must ensure their content is unique to uphold their website's SEO ranks.
Pricing: Limited free options with paid plans starting at $19/mo
What are AI Content and Plagiarism Detectors Used For?
Low-quality AI content or plagiarized work can be a ticking time bomb for a business. If you don't catch subpar content, it can trigger a host of problems:
Immediate damage to reputation if work is found to be plagiarized
Potential penalties from Google for low-quality content, as per changing E-E-A-T standards
Overpayment to writers who may not have done the work they claimed to have done
Possible future copyright issues
Content that is merely average rather than exceptional
AI content detectors come to the rescue by helping to:
Estimate if AI writing tools generate content
Find copied or plagiarized content
Assess the percentage of original content of a piece
We all know that using AI carte blanche has inherent risks and a few new possibilities. A more thoughtful approach is to use AI alongside human writing practices. AI writing detectors can serve an essential piece in understanding the content before you—whether you wrote it yourself or are grading or editing the work of others.
AI Content Detectors Price Comparison
Content detection is only going to get more important for businesses, schools, and individuals. Choosing the right tool can help you have the confidence to know, as best as possible, whether the content you are looking into was created with AI or by a human. Many of these have free versions to try, but the best tools do cost some. Here is an overview of their pricing:
What is the Best AI Content Detector?
The best AI content detector in our books is Winston AI. It works well for teams, and its OCR technology can also scan images (if you snap a picture of a paper or whatever text you don't have digital access to).
Originality.AI has very reasonable pricing based on usage, meaning you aren't paying a monthly subscription even on months you use it less. It also helps with AI content sniffing and plagiarism finding, which are necessary for content operations. GPTZero is also a great tool for education organizations because of its integrations with LMSs.
Regardless, if you want to find out if Google will likely categorize your text as low-quality, or if you want to ensure your writers are doing the required work or see that your content isn't plagiarizing others' content, these AI content detectors can help you quickly analyze text using cutting-edge technology.
Looking for more AI tools? We recommend these top AI tools that are changing the way we work and live.
Frequently Asked Questions (FAQs)
Before we wrap up, let's answer some of your most common questions regarding the best AI content detectors. Did we miss one? Leave a question below, and we will respond!
What is the best AI content detector?
Winston AI
stands out as the best AI content detector. This leading tool effectively detects AI-generated content, guaranteeing the authenticity of written material. It scans contents in multiple formats to check if it was likely, possible, or not likely to be written by an AI writer. It is invaluable for maintaining content integrity with 99% accuracy. With its remarkable speed and reliability, Winston AI is the ideal choice for those seeking fast and accurate analysis.
What is the best free AI content detector?
GPTZero
is the best free AI content detector, particularly for educators and educational institutions. With a focus on simplicity, it offers effective plagiarism detection tools tailored to academic needs. While its straightforward approach may suit some users, its integrations with Learning Management Systems (LMSs) and Microsoft Word add depth and functionality.
What is an AI content detector?
An AI content detector is a tool that uses artificial intelligence (AI) to identify content produced by an AI writing tool. This tool is valuable for businesses aiming to guarantee the authenticity of their content and for students seeking to prevent any unintended plagiarism. Moreover, they are valuable for educators ensuring students' original work and moderators combating fake reviews and spam content, thereby upholding authenticity and integrity in various contexts.
Are AI content detectors reliable?
The reliability of AI content detectors varies depending on the tool and the content being analyzed. Some tools are more accurate than others, and some types of content are more difficult to detect. We recommend using
Winston AI
if you want the best chance of catching AI-written content.
Should I use an AI content detector?
Here are some situations where you might want to use an AI content detector:
Business owner who wants to ensure your content is original
Student who wants to avoid plagiarism
Content creator who wants to make sure that others are not copying your content
Teacher who wants to ensure their students are not plagiarizing
Researcher who wants to make sure that your research is original
AI content detectors can be a helpful tool in these situations. However, it is important to note that AI content detectors are not perfect. They can sometimes incorrectly identify content as being AI-generated, or they may miss content that AI has generated. Therefore, using AI content detectors in conjunction with other methods of detecting plagiarism, such as manual checking is important.
How accurate are AI content detectors?
AI content detectors vary in accuracy. Some reports have pegged
Winton AI
accuracy at 99% and
Originality.ai
at 95.93%. Most are getting quite good. The challenge is that LLMs are rapidly getting better at the same time. There is a need for constant training, testing, and innovation for AI detection tools.
Do AI content detectors work across different languages?
CopyLeaks
, an AI content detector, supports the verification of content in multiple languages such as English, Spanish, French, German, Portuguese, Italian, Russian, Polish, Romanian, Dutch, Swedish, Czech, Norwegian, Japanese, Korean, and Chinese (Simplified & Traditional). However, it's important to note that CopyLeaks currently only supports textual content and does not include support for coding languages.
How can I beat AI content detectors?
You can utilize advanced AI rewriter tools like Jasper to try and beat AI content detectors.
Jasper
is a powerful AI-powered writing tool that enhances your content using state-of-the-art AI and NLP techniques. It can analyze and rewrite your content to make it more engaging, effective, and error-free. Additionally, Jasper can generate new content based on user prompts, making it one of the top
AI writing tools
available. However, the best chance at beating these tools in the long term is to create original, human-generated content. Simulated human content is still different from human content and may be caught by these tools.
How can I detect AI content with Copyleaks?
Copyleaks
provides a user-friendly AI-content detector through their website, allowing users to screen text for AI-generated content using AI-based contextual analysis. Additionally, they offer a Chrome Extension that detects AI content on browsed web pages. This tool is designed to identify AI-generated academic content, enabling integrity preservation in submitted work. Copyleaks' collaborations with major Learning Management Systems (LMS) bring this essential technology closer to academia, ensuring honesty and integrity in written assignments. They also provide tools to assist educators in fair and objective grading of assignments.
Can AI content detectors detect a PDF?
Yes, SciSpace's AI detector can detect content in PDF format. Users can simply paste the content or upload the PDF file to the text editor, enabling quick and easy detection reports for AI-generated content.
How do AI content detectors work?
AI content detectors typically employ language models to assess the input text by asking whether it resembles the kind of text it would generate. If the answer is affirmative, the detector claims that the content is AI-generated. These models focus on two aspects: perplexity and burstiness. Perplexity determines the text's unpredictability or confusion to an average reader. On the other hand, burstiness analyzes the sentence structure and length variation.
Is there an AI detector for ChatGPT?
Most AI content detectors and checkers are specifically designed to catch outputs from ChatGPT. This means tools like
Winston AI
and
GPTZero
are suitable AI detectors to identify content generated by ChatGPT. With a few simple clicks, they easily provide a summary of text likely to be AI-generated.
Are you looking to leverage AI across your business to create new efficiencies and tap uncharted opportunities? Look at the best AI writing software and AI art generators for content sites and teams.
Featured image by Saxarinka / shutterstock.com