There are many places where you can find AI at work today. From your GPS to the recommendations of ads you receive, artificial intelligence is everywhere, including art. Whereas in the past, it would take years of training to create beautiful pieces, with the advent of AI art generators, you can create any type of digital art or image at the click of a button. The best AI art generators provide you with the ability to generate digital pieces from a few sentences, and some can do a lot more than that.
In our list, we want to showcase some of the best AI art generators you can use for work or fun today. But first, let's look at what an AI art generator is.
What are AI Art Generators (And What Can They Do for You)?
AI art generators take simple lines of text or prompts and create digital images. They can create various types of art mediums, such as music, collages, digital art, and more. They use neural networks and machine learning to analyze existing art styles and compositions to generate new creations digitally. You can now use AI art generators to create logos, flyers, 3D renderings, and more. They can help you cut down time on the creation process. They also can save organizations money in personnel costs.
The 10 Best AI Art Generators
Let's look at some of the top AI art generators and how they could benefit you in your next project.
The Best AI Art Generators Listed In Order
Expand List
1. Jasper Art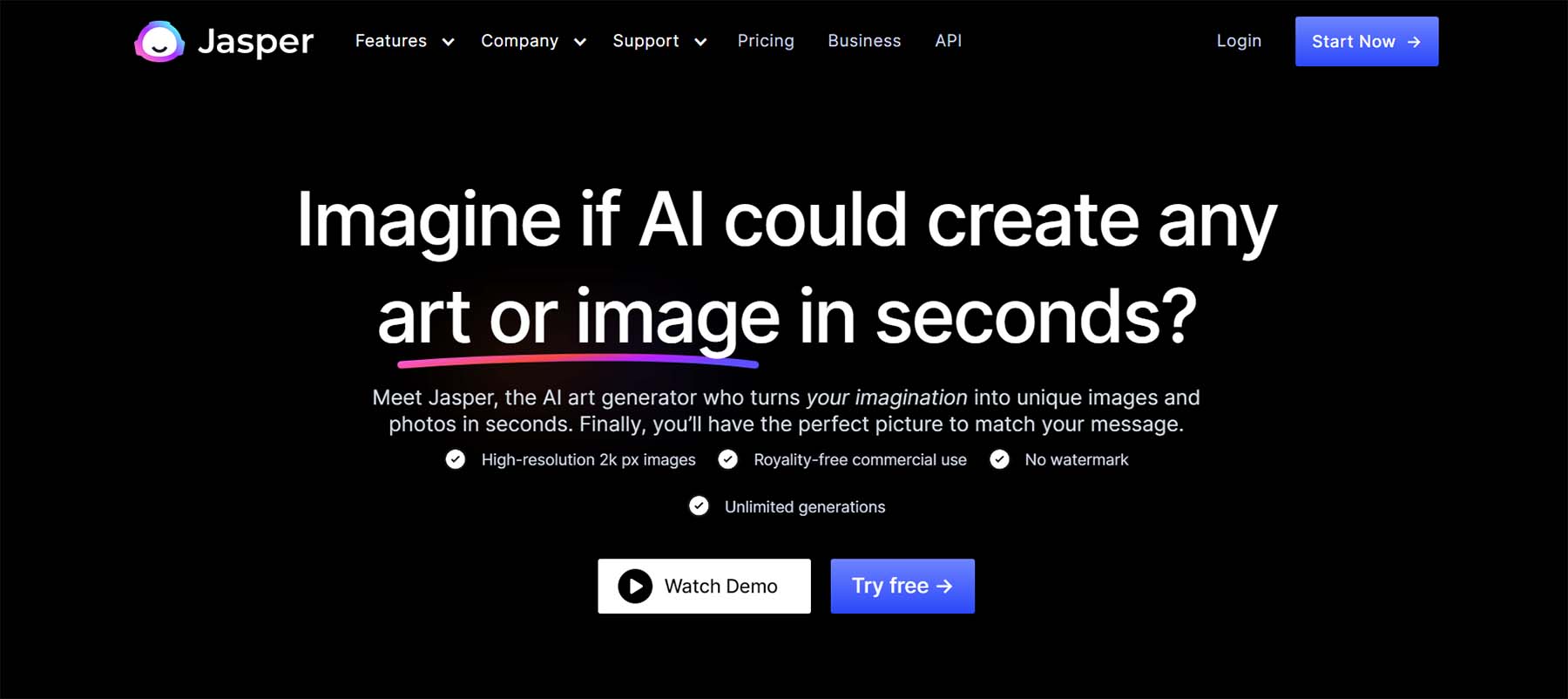 Jasper Art is a product of Jasper AI, the AI copywriting tool favored by marketing teams and professionals. With Jasper Art, you no longer need to spend hours looking for the perfect images for your blog posts. You can use its simple interface, simple text phrases, and easy interface to create pixel-perfect digital art. Jasper Art creates original images with various styles, inspired by artists, moods, and art styles that you decide.
After being fed your prompts, Jasper Art will generate four samples of digitally inspired art based on those prompts. You can then rate, share, download, and use your images in moments. Furthermore, the images created by Jasper Art are copyright-free, meaning you no longer need to invest in expensive royalty-free image libraries. Jasper Art makes a great companion tool for those who want to use AI for their written work and their visual needs.
Key Features of Jasper Art:
Works in 29 languages
Choose medium, artist, and mood for art pieces
High-resolution 2k px images
Royalty-free commercial use
No watermark added
Unlimited image generations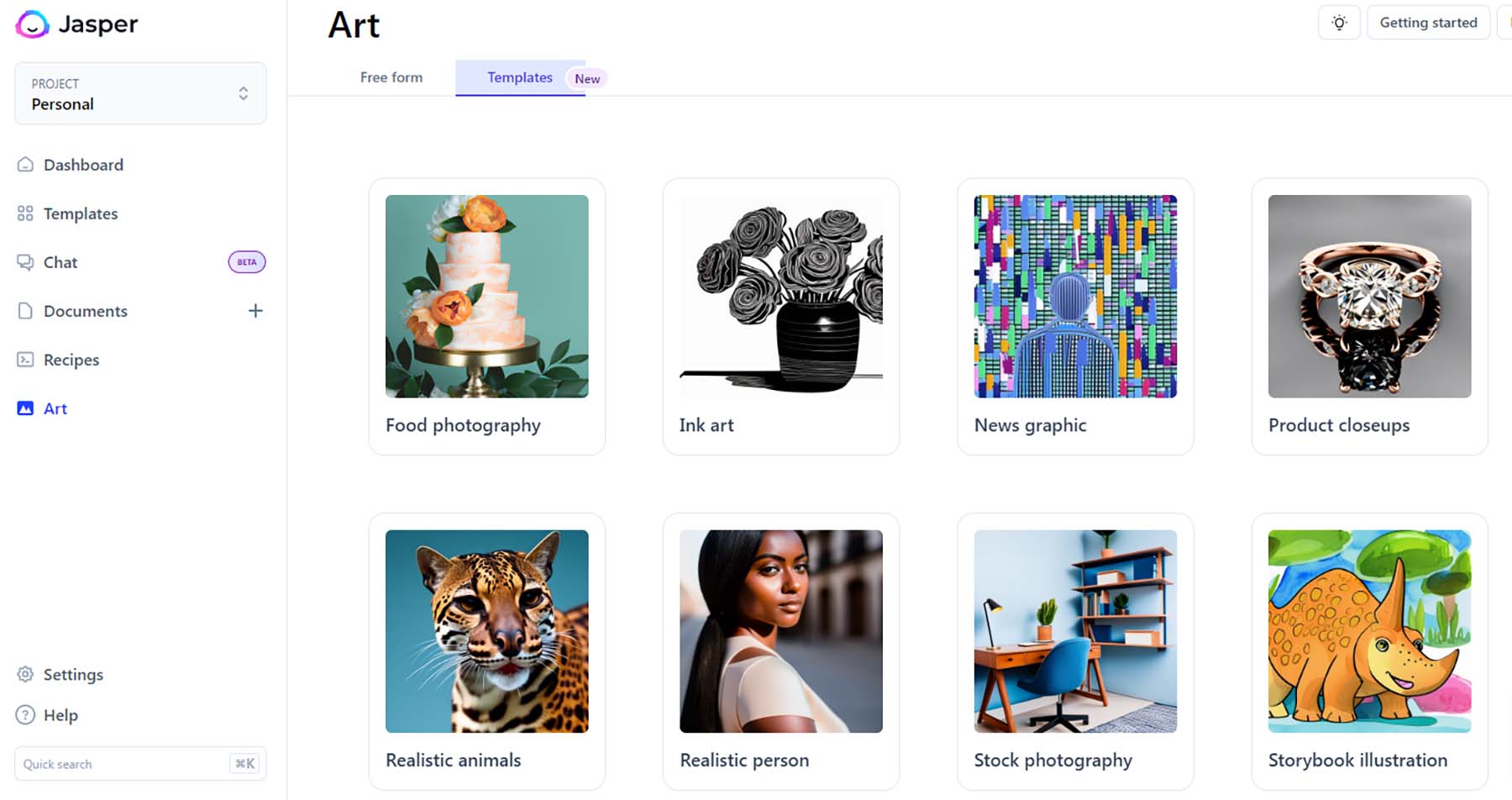 In addition to generating digital imagery from your text, you can use Jasper Art templates to save time when generating AI imagery. The templates are set styles that come with Jasper Art. You can use these preset templates to match the art style you need for your project quickly. From illustrations to photo-realistic generations, Jasper Art's templates are just another way that the platform supports you in using AI to make high-quality images quickly for your brand.
Best For:
For teams looking for a central location for their AI writing and art needs, Jasper Art is the platform for you. Switching between different tools within one account is beneficial for larger teams. If you want to speed up your content creation process for written and visual content supported by AI, join Jasper.
Pricing: Paid plans start at $49 per month
2. PhotoSonic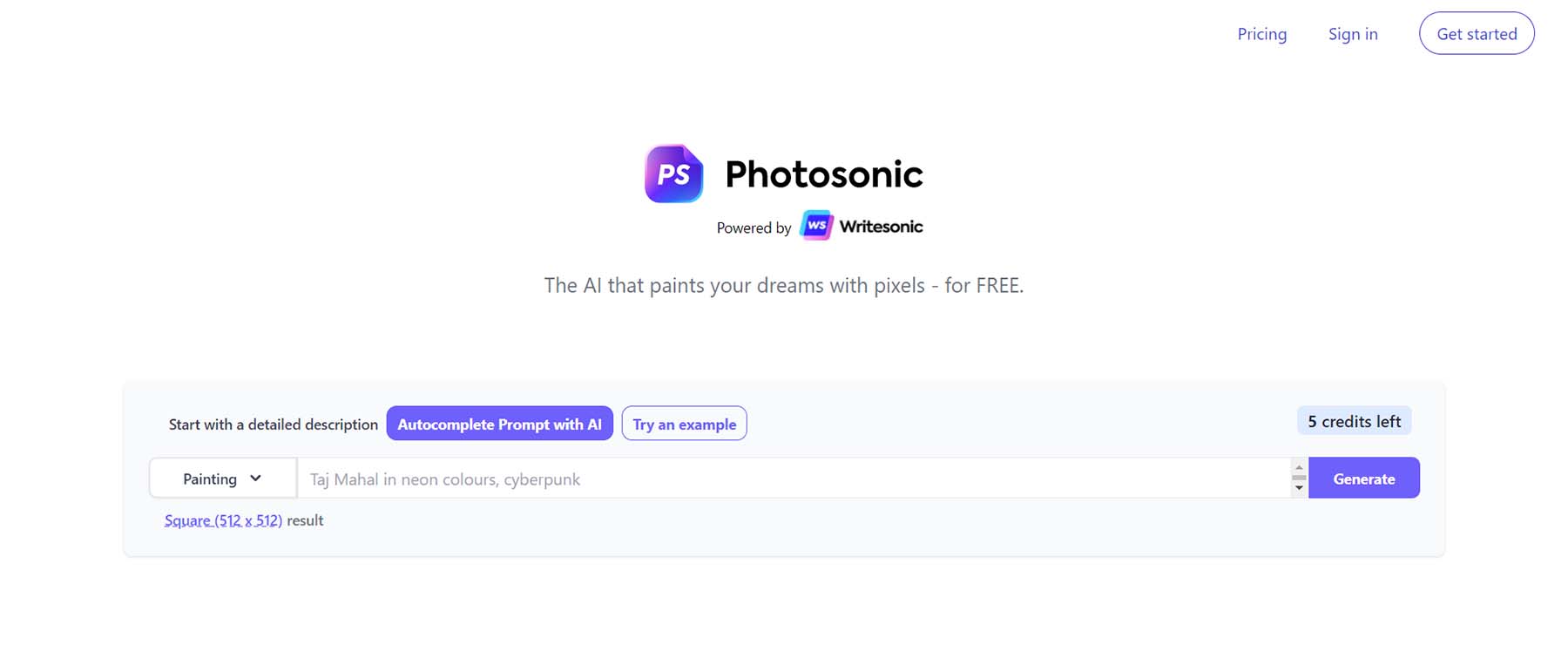 PhotoSonic is another AI art generator tool that is a member of a larger ecosystem of AI products. In this case, it's WriteSonic, another AI writing tool. Like most AI generation tools for art, PhotoSonic uses a highly sophisticated text-to-image AI model to turn plain language descriptions into artistic and realistic images. PhotoSonic's AI model is based on a type of diffusion. This means that based on the text you feed it, PhotoSonic will adjust a random noise image to match the provided content.
With PhotoSonic, you can control the quality and style of your generated images to get the images you need for your task. By optimizing your description and restarting the tool, you can create the perfect images for your next blog post, product shoot, and more. The interface is easy to understand PhotoSonic comes with a free trial that you can use to regenerate five images with a watermark.
Key Features of PhotoSonic:
10+ design and image styles
Choose the aspect ratio size of your creations
Remove the background from the images
Auto face restoration
Option to download high-definition versions of images generated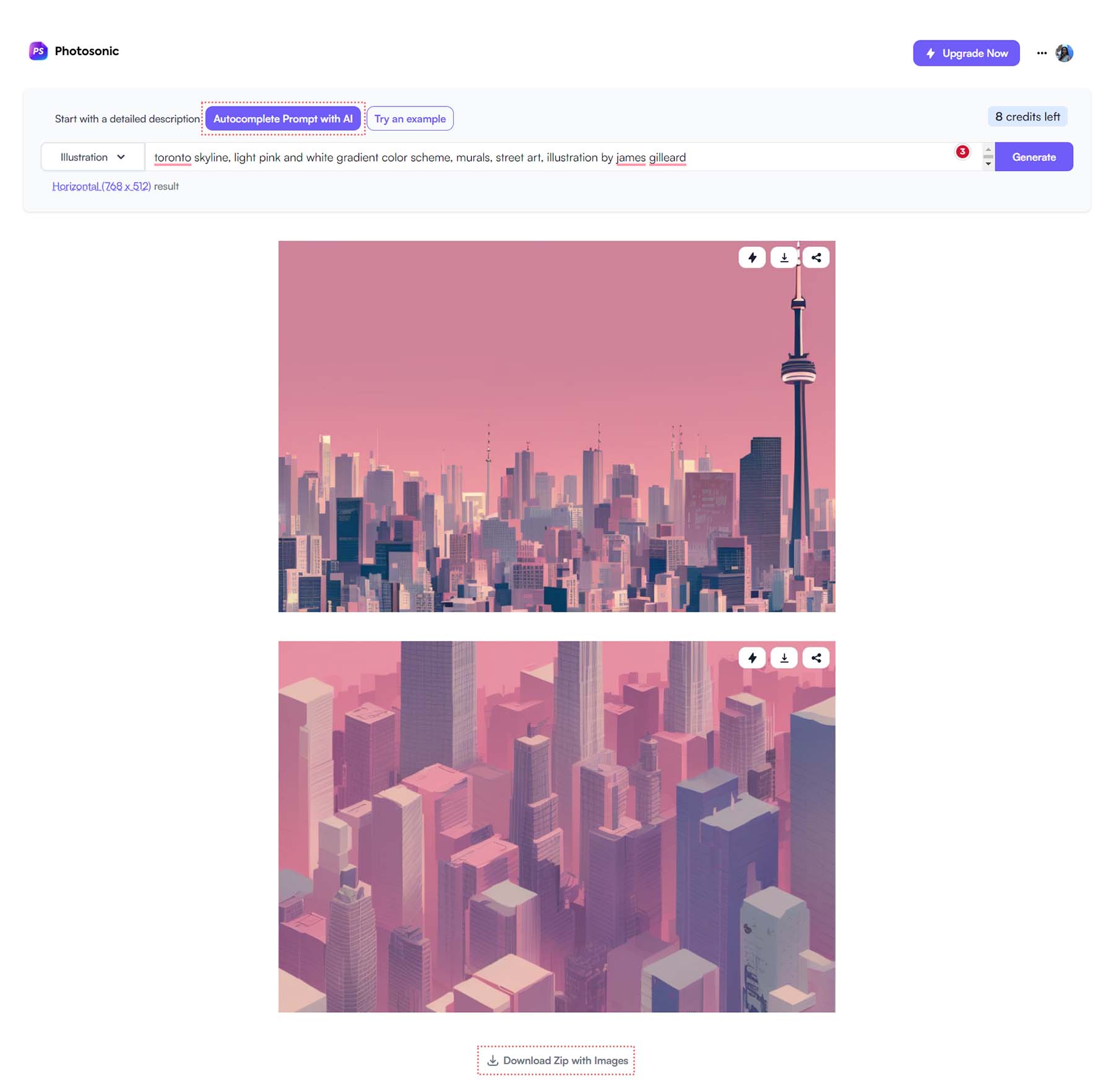 PhotoSonic's "Autocomplete Prompt with AI" is a helpful way to further expand on simple phrases and text given to the generator. In the example above, the term "Toronto skyline" was used. However, with the autocomplete prompt's help, we generated an image based on the illustration style of James Gilleard. This opens doors for those who may not have a clear idea of the style or specifics of the images to be created. Additionally, with PhotoSonic, you can download your generated images into a neat ZIP folder, making it easier to access your high-resolution images in one place.
Best For:
PhotoSonic will be a good fit for users who would like access to an AI art generation tool but don't want one that is complex. PhotoSonic makes it easy to create images with AI with low barriers to entry in terms of ease of use and product understanding.
Pricing: Free, Paid plans start at $10 per month
3. Shutterstock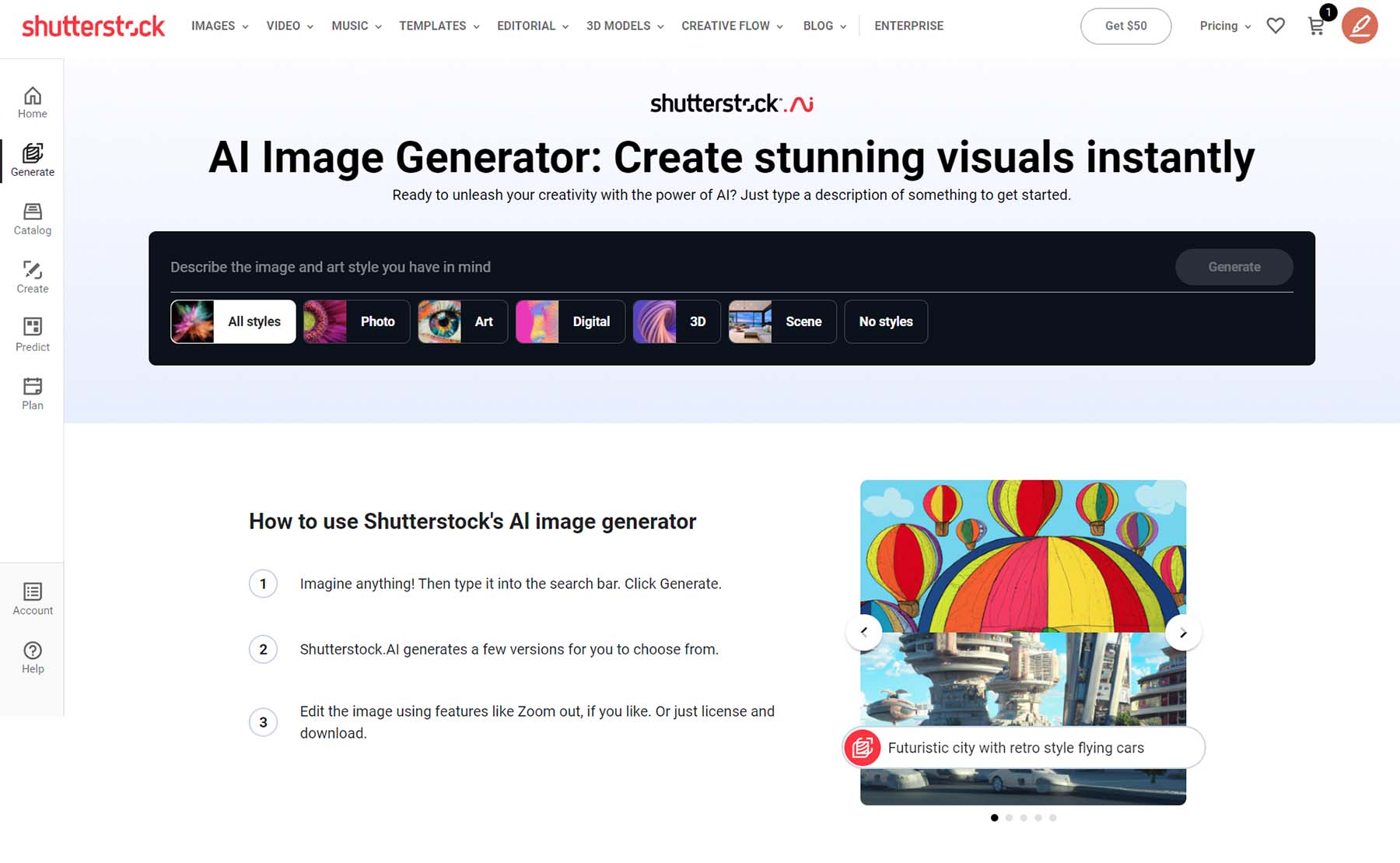 A popular royalty-free site, Shutterstock's AI tool is a simple way to generate images for commercial and personal use. It comes with a set number of image styles. But once you click on them, they open up more options for you to use to refine what you're looking to create. While Shutterstock's AI tool is backed by its vast library, it does take much longer to generate images than other tools on our list. This could be a downside if you need to batch images for your project quickly.
The Shutterstock AI tool has been used to create photos, digital art, and 3D art. It also claims to be an ethically designed AI tool, which is good news for those looking for a tool that uses AI for good.
Key Features of Shutterstock:
Input text prompts in 20+ languages
Five main image generation styles
Save images to public or private Shutterstock collections
Generate unlimited variations
Images available in 512 x 512 and 1024 x 1024 pixels

Shutterstock's AI art generator does not have as many templates or styles as some competitors on our list. Nevertheless, the tool provides a list of tags you can browse through when you select your chosen style. These tags add further clarity to your submitted text prompts, helping you to get closer to creating your desired AI art creations.
Best For:
Users with a Shutterstock subscription will benefit from using this tool alongside other Shutterstock tools. When used in conjunction with Shutterstock's Creative Flow Suite and Predict – Shutterstock's AI-powered design assistant – you can easily add AI-generated image content to your workflow, speeding up your creative process.
Pricing: Paid plans start at $49 per month
4. NightCafe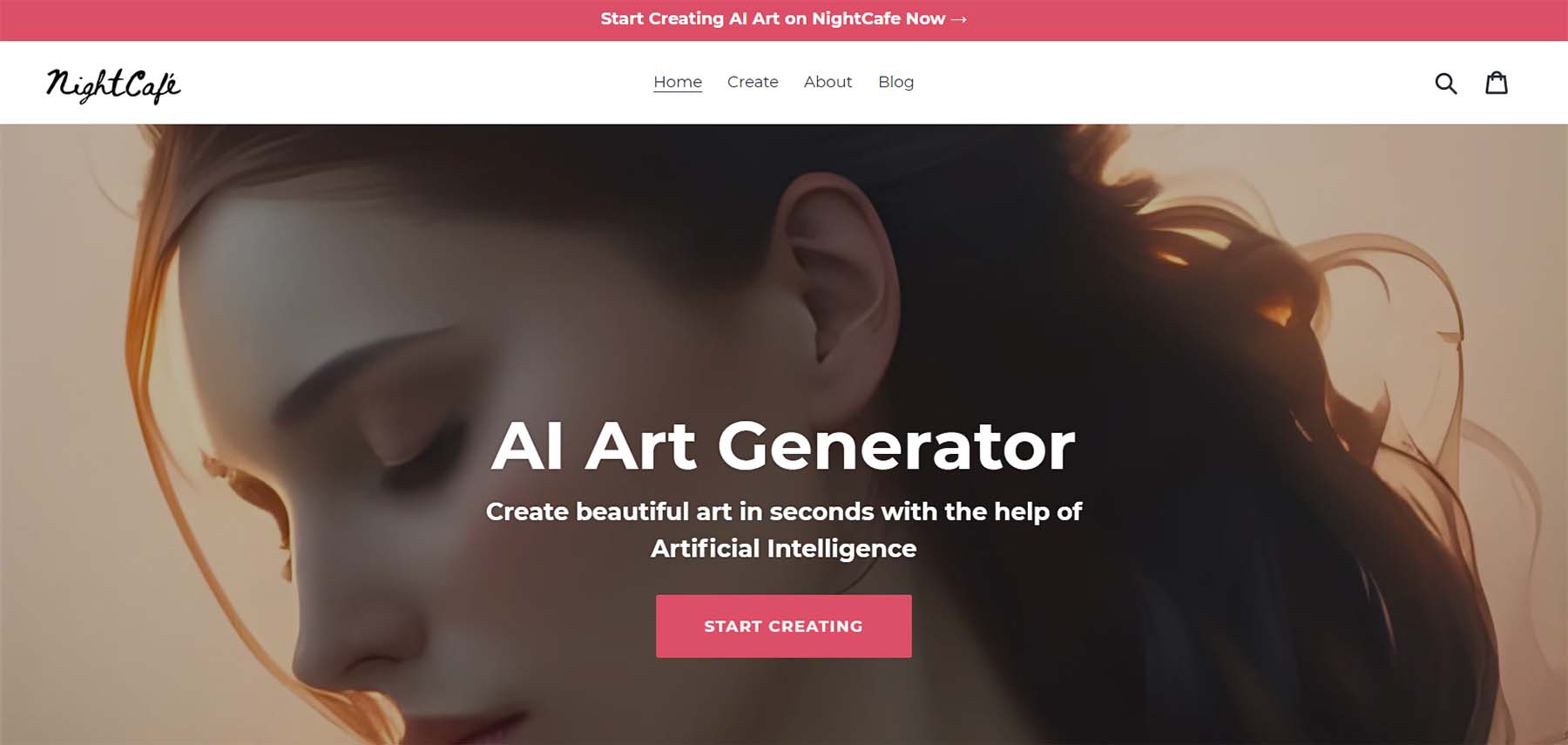 A community-focused art generator, NightCafe is a powerful AI art generator that allows you to create beautiful digital art pieces in seconds. Like most generators, NightCafe allows you to generate up to 4 images from one prompt. You can then refine your prompt and regenerate your art piece until you get the image you've imagined. NightCafe is a community-driven platform with a large searchable library of images created by users of the generator worldwide. The platform posts daily challenges, which are competitions that encourage you to use NightCafe to create art for a prize.
The platform is available in a mobile app so that you can take this AI art generator on the go. In addition to its AI art generator, NightCafe Studio comes with an AI face generator tool and an AI art therapy tool that gives you tips on how to use NightCafe to relieve stress and foster creative expression.
Key Features of NightCafe:
40+ preset styles to choose from
Choice of 5 text-to-image algorithms
Choice of stable diffusion model
Upload images from your hard drive as starting image
Choose pictures from Pexels as starting image
An advanced public and private search of creations on NightCafe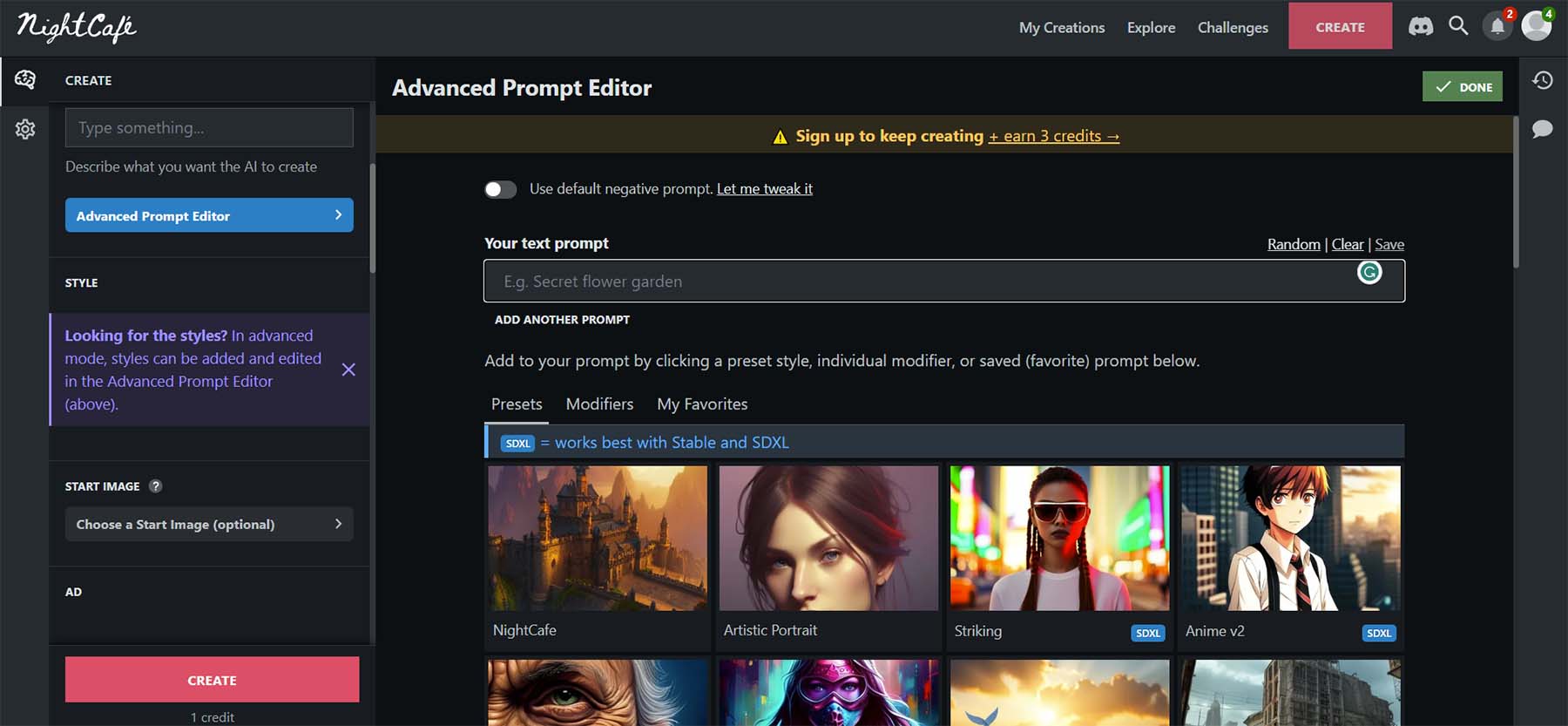 NightCafe's advanced prompt editor allows you to create your unique style for your AI-generated creations. You can base your styles on one of many from NightCafe's library. Then, you add modifiers like art movements, artists, genre, and more. Finally, you can save these prompts as your custom style, which you can then use within NightCafe to create unique art pieces custom-made for your use.
Best For:
NightCafe is a powerful tool for AI art aficionados. If you are looking for a powerful AI art generation tool with deep customization, NightCafe will be a good tool. Also, out of the tools on our list, it is one of the more affordable tools, especially when you compare its feature set to other generators on the market.
Pricing: Free, Paid plans start from $5.99 per month
5. CF Spark Art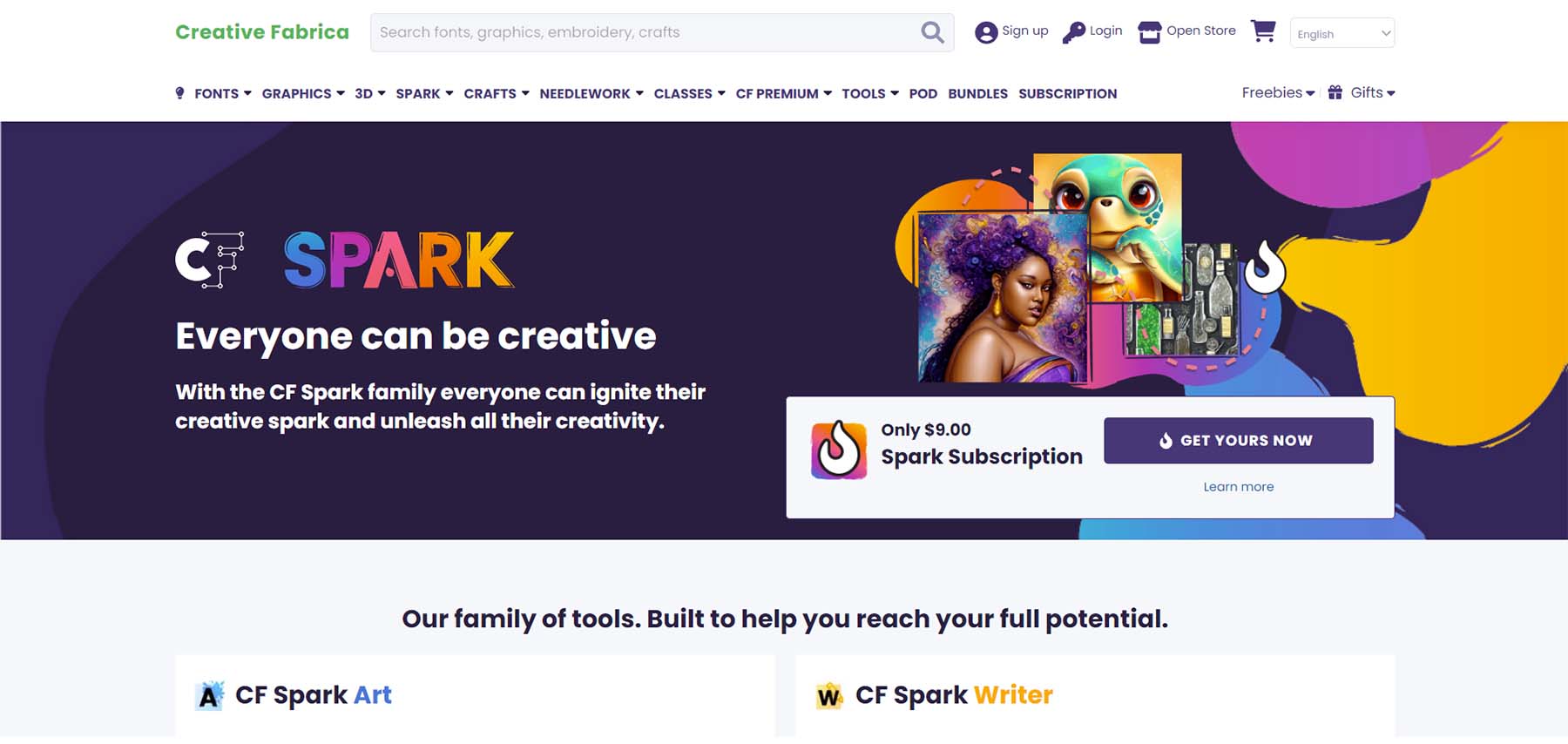 The CF Spark Family is a collection of online AI generation tools that features a pattern generator, content writer, and the AI art generator CF Spark Art. CF Spark is a text-to-image generator that takes simple and complex statements and generates them into digital art. It has several presets that can be used with your text to make creating digital art easier. The interface is friendly and easy to use, especially for those who want to venture into digital art creation but may be dissuaded by more complex platforms.
CF Spark Art creates four image variations of your art which you can publish to the CF community, download or remix with the CF ImageMix tool. The CF Spark Art tool is a little slower than its competitors of similar feature sets. However, with paid credits, you can speed up your art creation time and get access to your art faster.
Key Features of CF Spark Art:
Eight art presets
Generate art in 6 aspect rations
Advanced prompt builder and prompt library
A searchable, personal library of generated creations
Expert-level, visual prompt builder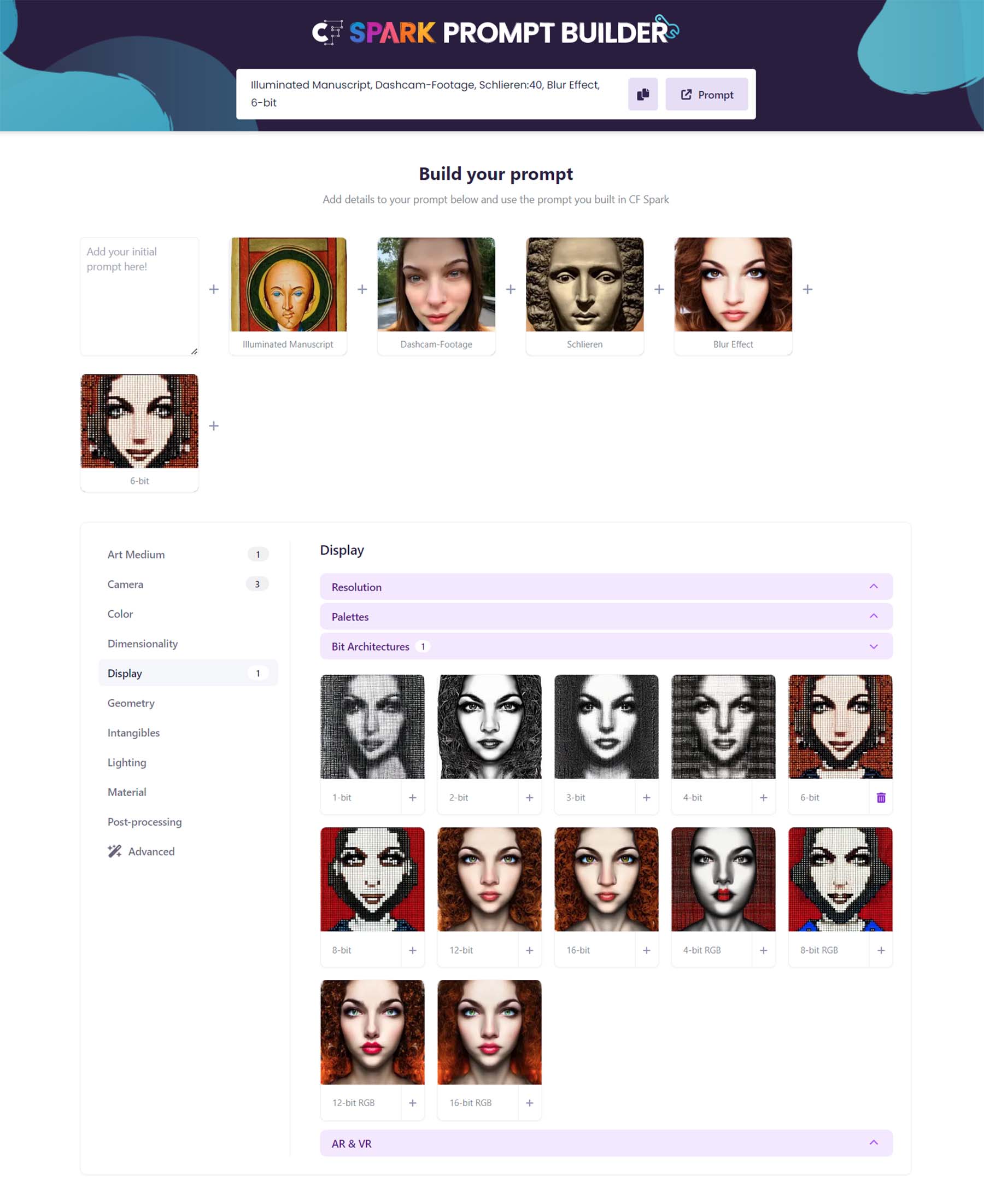 CF Spark Art has a powerful prompt builder that allows you to create your own style using a vast library of options. You can choose the lighting, art medium, color, and so much more for your generated artwork. Each option comes with a description and a thumbnail so that even if you're unfamiliar with the terminology, you can see a visual representation of what each term represents. When you add your selections, it builds a prompt directly into the textbox, to which you can then copy and add your text and content ideas.
Best For:
If you want to experience the full breadth and potential of AI-generated art but don't want to get lost in the technicality of it all, give CF Spark Art a try. The complete Creative Fabrica (CF) suite is an excellent place for those who want to use more AI-generated art in their work. The powerful art generator makes it easy to create AI art irrespective of your understanding of AI or technology.
Pricing: $9 per month
6. MidJourney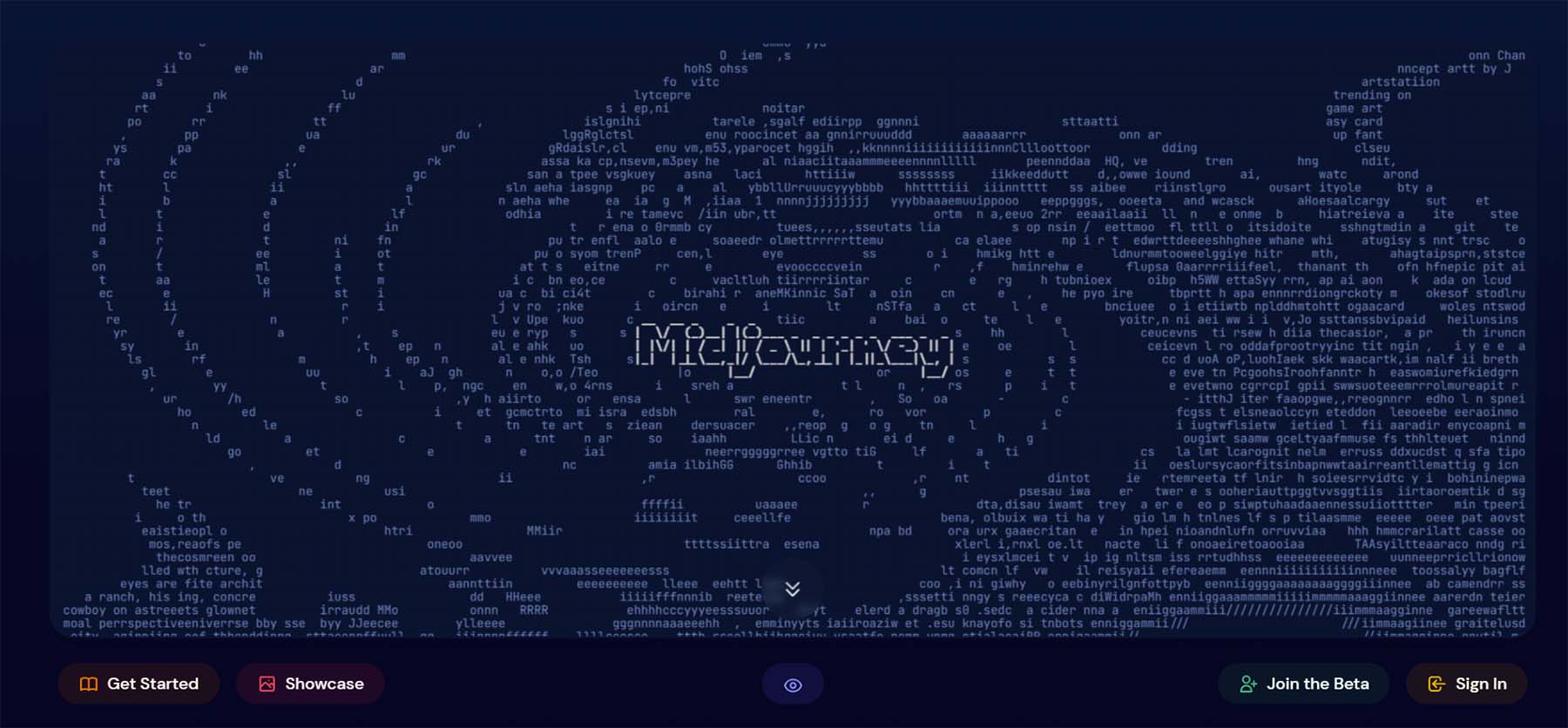 MidJourney is a Discord bot that allows you to use simple prompts to generate digital art with AI. We've also used the tool alongside ChatGPT to build a simple landing page with Divi. MidJourney has a vibrant community of creatives on its Discord server, where users share ideas, help each other with feedback, and more. You need a free Discord account to access the free trial credits used by the MidJourney bot to generate artwork. You interact with the MidJourney bot through Discord commands.
Unlike some tools on this list, there isn't a set list of presets to help you on your creation journey. Instead, MidJourney works best with clear, concise sentences describing the end result you are looking for. Once you have generated your initial image, you can download your work, upscale it (to make it bigger) or create variations. MidJourney's main prompt is /imagine. However, you can also use the /blend prompt to upload your own images and blend them together to make new digital art pieces.
Key Features of MidJourney:
Based on Discord, is a Discord bot
Can work in your Discord private messages
Has a strong community of digital artists
Can blend two uploaded images
Remix mode to change paraments used in variations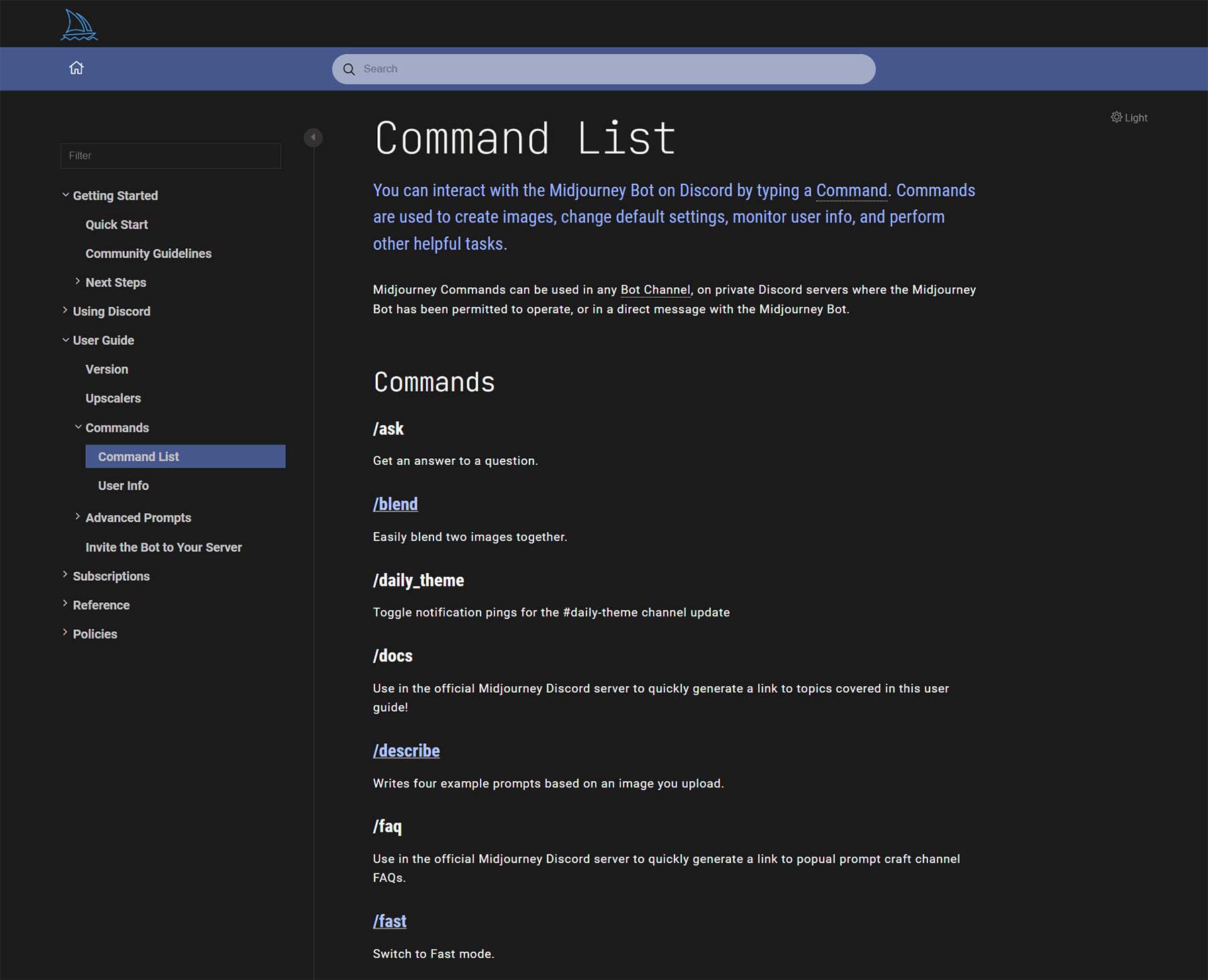 Though MidJourney is a Discord bot with less flair than its competitors, it still has a place on our list. MidJourney's command list is a great place to learn how to interact with the bot. These commands can help make your experience using MidJourney easier and more fruitful.
Best For:
For those familiar with Discord servers and who want to join a growing and supportive community of AI artists, MidJourney is for you. While it doesn't have a lot of the bells and whistles that others on our list have, it's the community and consistent quality art made by MidJourney that make it stand out. It's a good choice for those who want to plug into a solid digital art community.
Pricing: Free, Paid plans start at $10 per month
7. DALL-E 2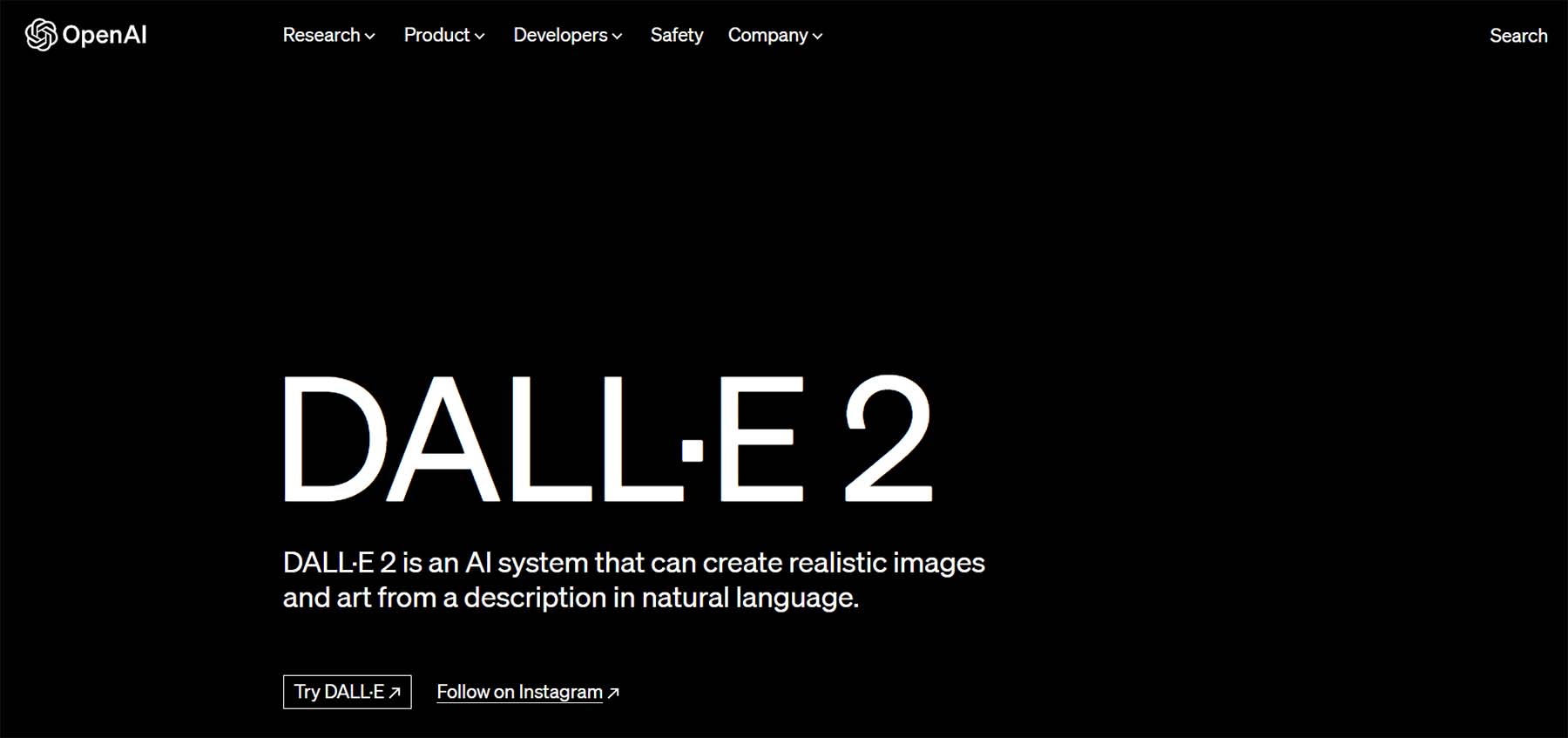 DALL-E 2 is an image-generation tool from the ChatGPT family. Additionally, DALL-E 2 powers several tools found on our list as well as other AI image-generation tools available for use today. The tool allows you to create realistic images and digital art from text and descriptions. DALL-E 2 can intermingle concepts, art styles, and more. The first iteration of the project was released in 2021. DALL-E 2, the second version, now creates more lifelike art at higher resolutions than its predecessor.
You can save your favorite pieces and see a history of the prompts used to create your artwork. DALL-E 2 – like its sister product ChatGPT – has a simple interface. This makes it very easy for anyone to access this powerful tool.
Key Features of DALL-E 2:
Simple interface
Random prompt generator
Generated can in the history tab
Save collections of generated art in collections
Generates high-resolution art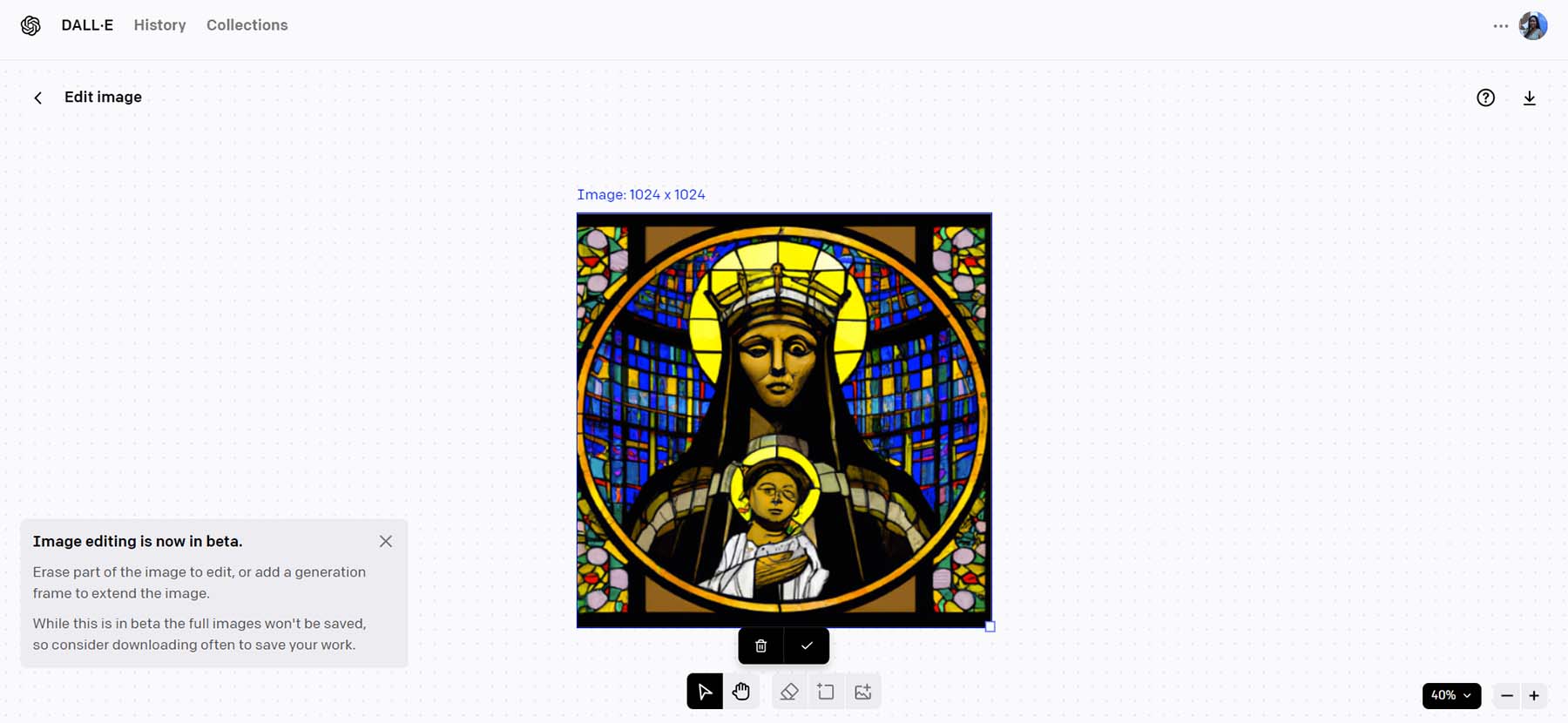 While in beta, DALL-E 2 allows you to edit your image before you use it in the tool. Unlike other AI art generators, you can erase a section of the image or set an area where you would like image generation to occur within the image you uploaded. You can also expand or shrink the image. As this feature is in beta, it is advisable to remember to save it as you are editing your artwork, especially for more complex edits.
Best For:
DALL-E 2 is the simplest of tools on our list and, as such, can be used by anyone. However, it is best for those new to AI art generation, as DALL-E is the backbone of many AI art generation tools today.
Pricing: $15 per 115 credits
8. Bing Image Creator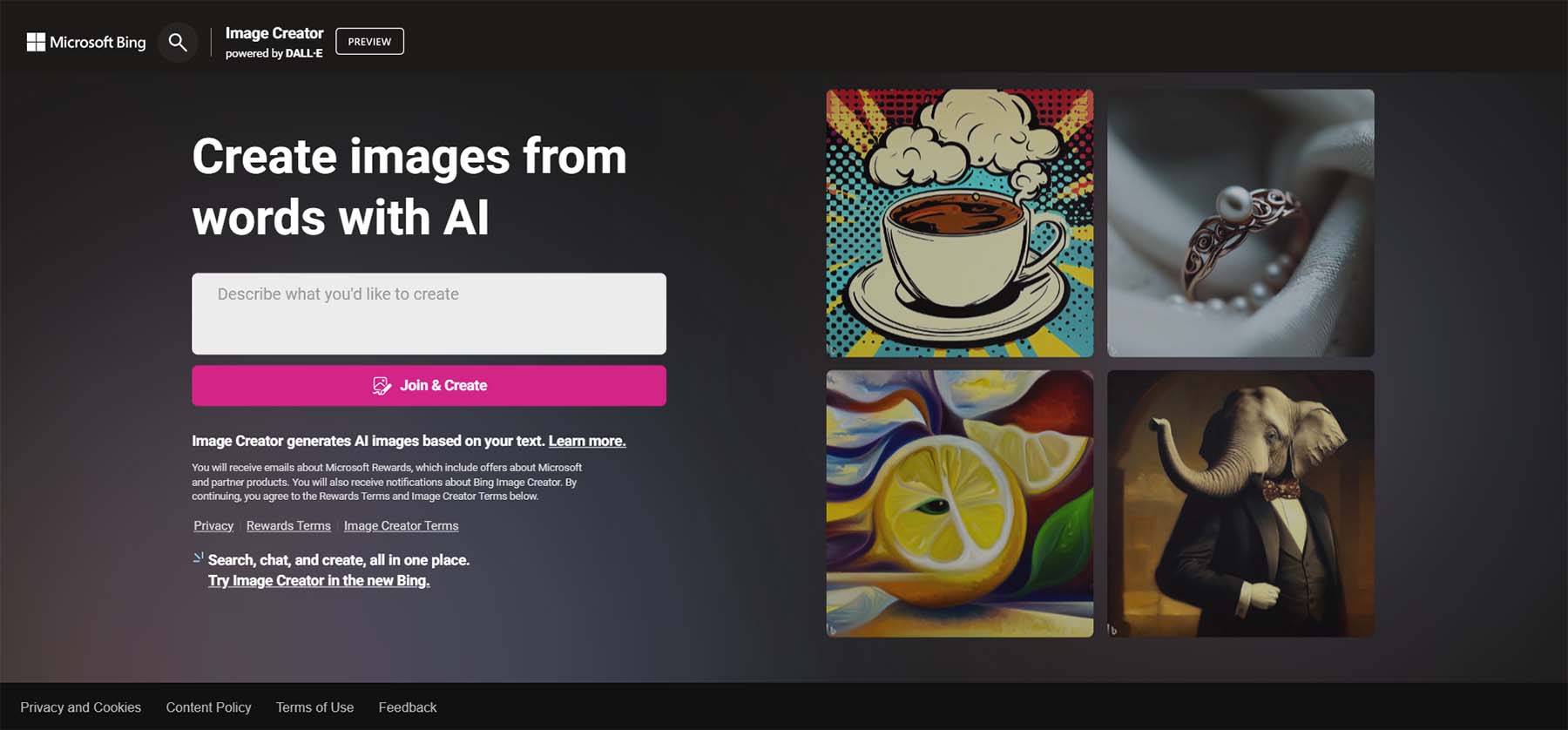 Bing Image Creator is a free AI art generator powered by DALL-E. Using text commands and prompts, you can use Bing Image Creator to make digital creations. The generator is free. However, you do need a Microsoft account to access it. Currently, Bing Image Creator only supports English language prompts and text. As such, you will have an Image Creator profile created.
Bing Image Creator does not have fancy presets, editing tools, or the ability to upload images. However, for personal use, the tool can be fun to use. All the pictures are generated in a 1:1 ratio (square) and are 1024 x 1024 pixels. The interface is straightforward to use and move around, and you can look at what others have created in a tab on the homepage called Explore Ideas.
Key Features of Bing Image Creator:
Integrated with your Bing and Microsoft account
Saves the history of generated content
Download generated images without a watermark
Save generated images to custom collections
Share generated image via a link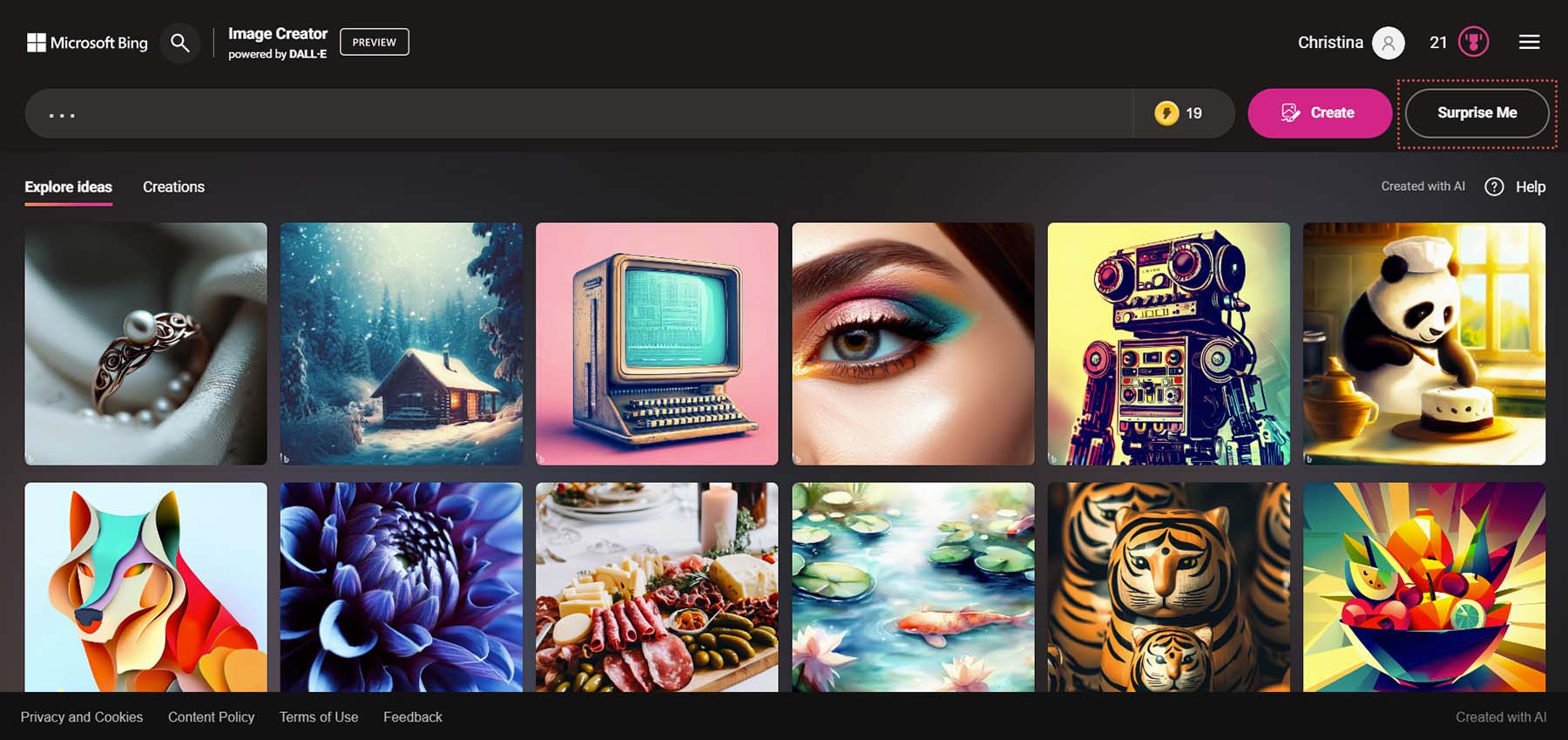 The Surprise Me button on the Bing Image Creator is an exciting way to see the generator's power. The button randomly generates ideas and prompts you can use and create digital art with. This is also a good way to see how specific terms are translated with the generator so you can get ideas on structuring your prompts for future use.
Best For:
Bing Image Creator is there for you as a quick and easy AI generation tool. It has no bells or whistles, but if you want to have fun and create digital art for personal use, give Bing Image Creator a go.
Pricing: Free
9. Dream by WOMBO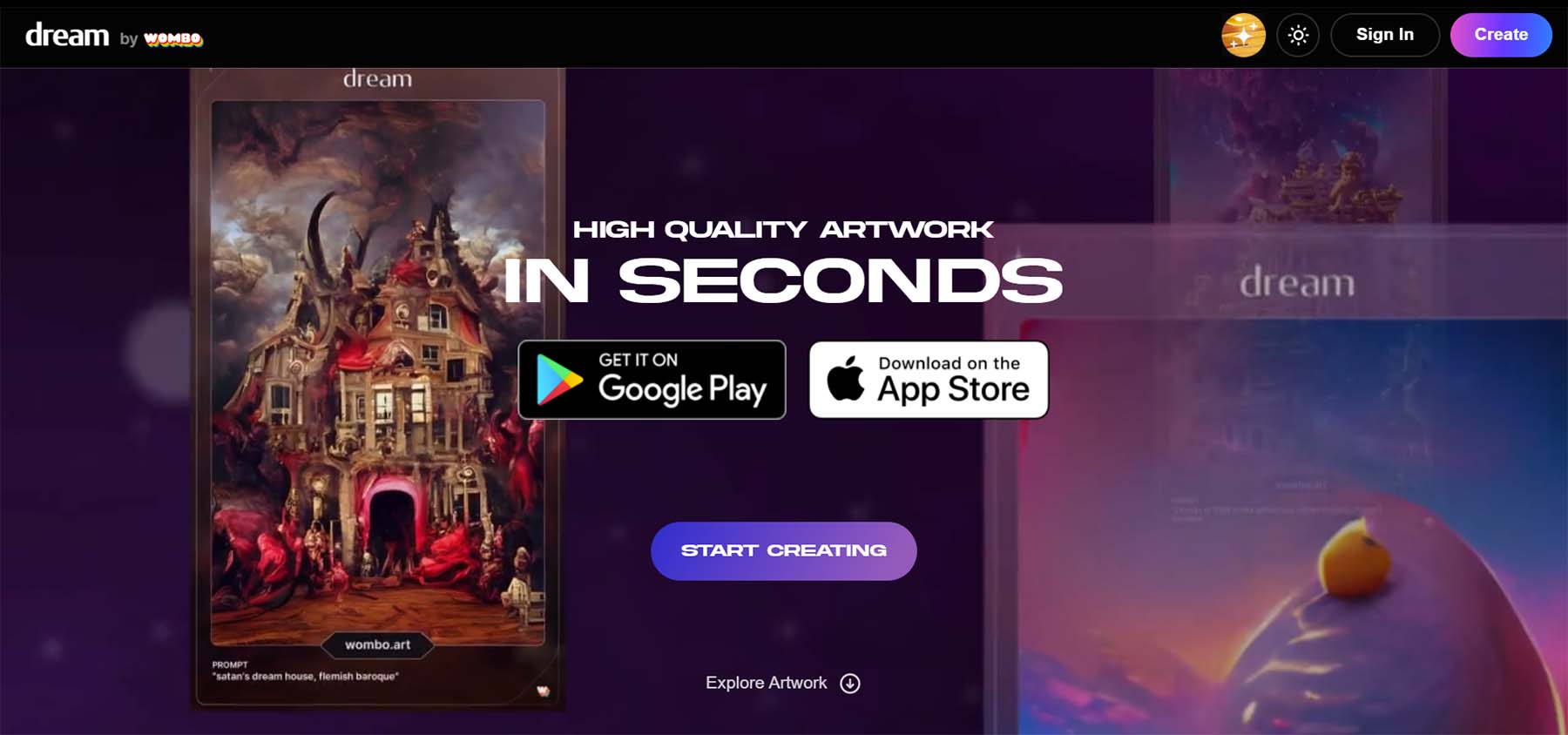 Dream by WOMBO is an online platform and mobile app for AI image generation. Both the app and the mobile interface are easy to use and come with an abundance of presets that you can take advantage of for your AI creation needs. Unlike many generators on our list, Dream's free version only allows you to generate one image at a time. Also, generations can only be created on a premium plan.
Nevertheless, for non-professional users, Dream is a cool app to use. The platform understands common language prompts and generates decent-quality images. It has a vast array of presets, making it a joy to tinker around with. You can also upload your own image and use text prompts and presets to create new art for personal use.
Key Features of Dream by WOMBO:
40+ image styles and presets
Generate four image variations at once
View and download video of Dream image generation in action
Use text commands to make edits to uploaded images
Download creations in two formats: trading card or background image
Easily access and create will all previously used prompts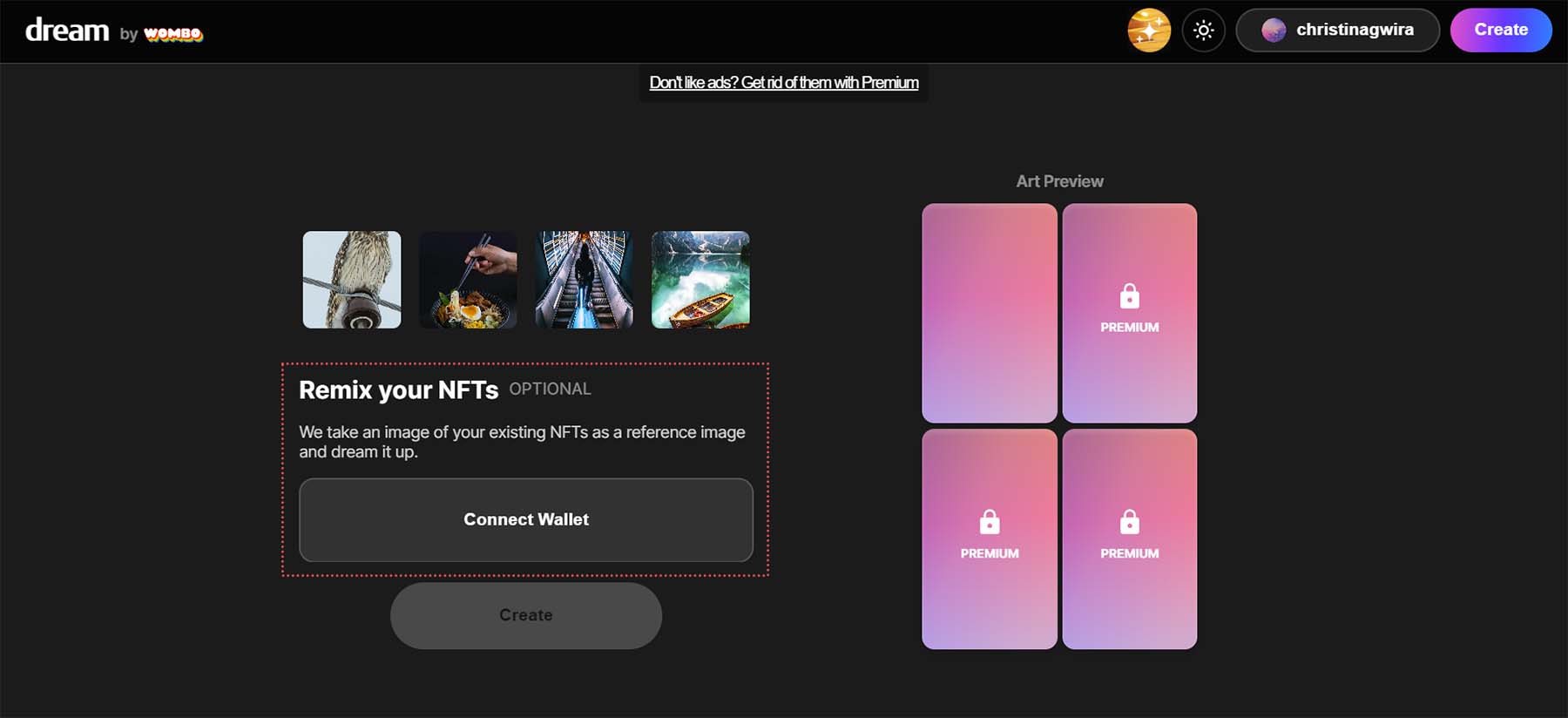 If you have NFTs, you're in luck. Dream's AI generation tool has a feature that allows you to use your current NFTs and turn them into something new with the power of AI image generation. You no longer need to go back to the drawing board when creating your NFTs. Hook up your wallet and use Dream's AI tools to make new creations from your pre-existing artwork.
Best For:
Dream by WOMBO is a good AI image-generation tool for personal use. Some of its generations in testing were not as sharp as others on our list. Also, its free plan is quite restrictive when compared to other tools in the market.
Pricing: Free, Paid plans start at $9 per month
10. Fotor AI Art Generator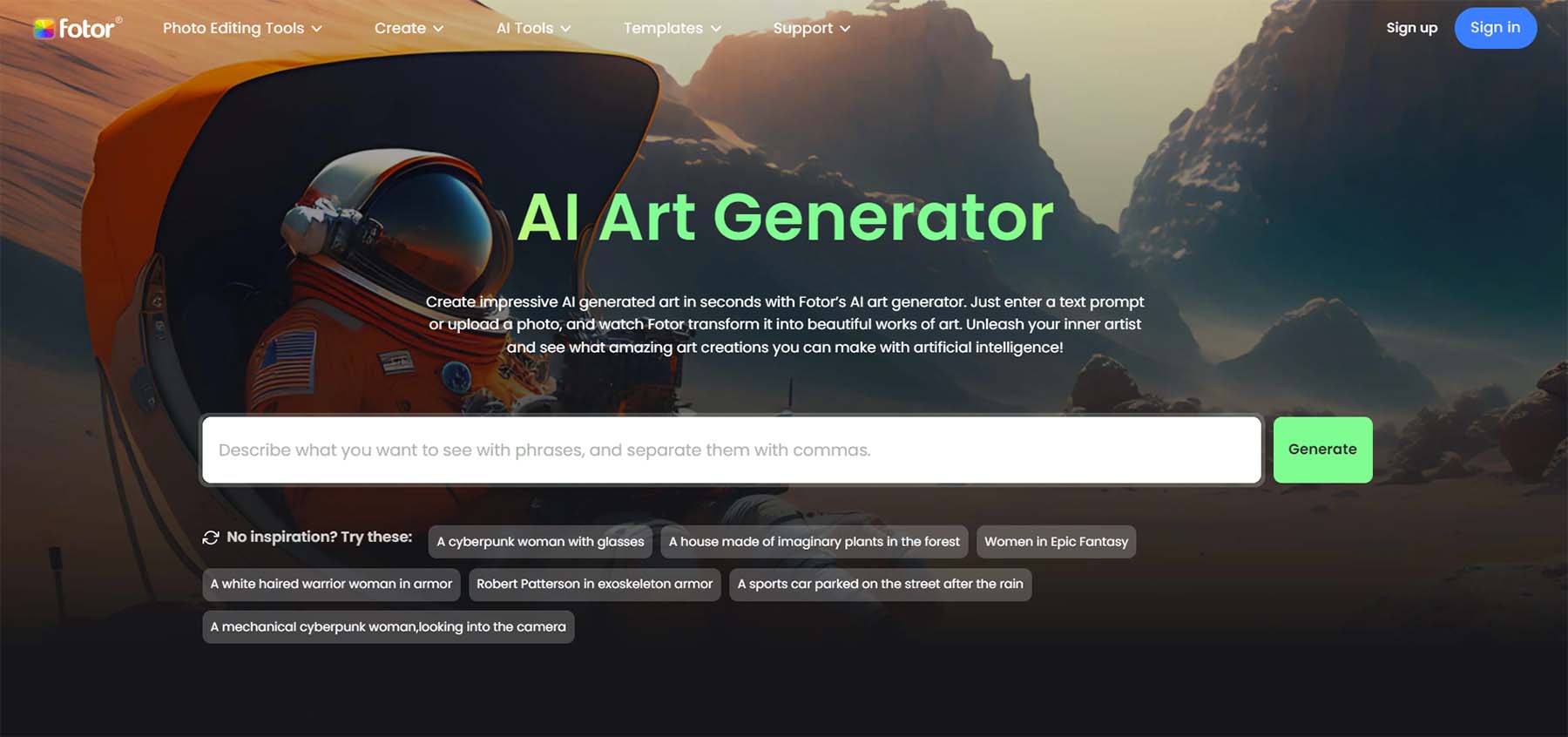 Fotor AI Art Generator rounds off our list but is a powerful tool for all your digital art needs. You have the choice to upload an image or to use simple text prompts to create your artwork. The size of your outputted image, as well as the number of images that are generated by the platform, can also be adjusted to your needs. You have a large selection of different presets that you can use for your art. Additionally, aspects like aperture, golden ratio, depth of details, and effects can all be customized from the sleek, dark-mode interface. You have a library where your generated art is saved. Also, your library lets you download past image generations and see what prompts, presets, and aspect ratios are used to create your digital art.
Key Features of Fotor AI Art Generator:
9+ style presets
Three aspect ratios
Adjust art styles, composition, light effects, and more
Generate up to 5 images per prompt
Upload your image to the platform for further customization with AI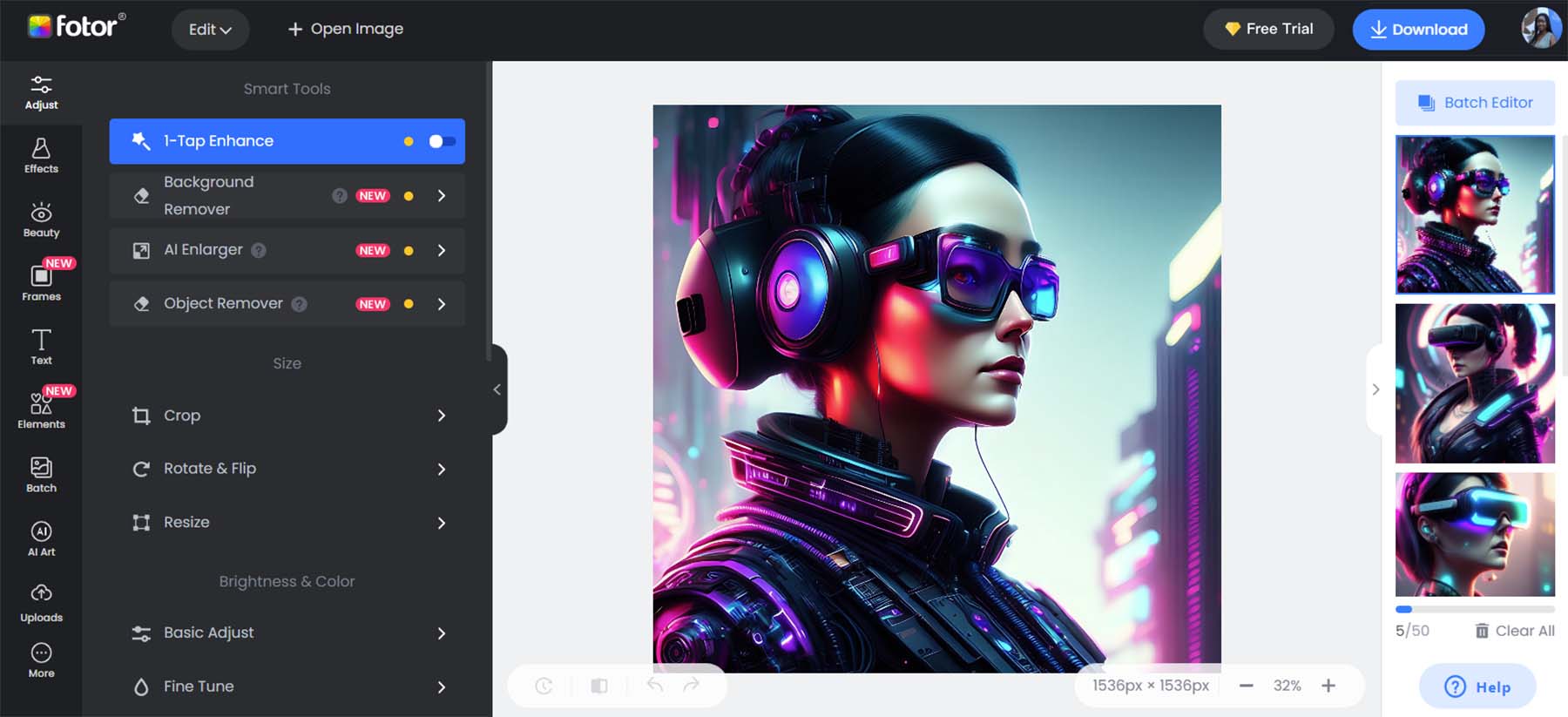 A bonus to using Fotor's AI Art Generator is that you can also use Fotor's Photo Editing Suite to make additional edits to your generated images. Whether you want to add text, recolor, resize or retouch, you can take your generated images to the next level by using Fotor's integrated suite of tools in your content creation process.
Best For:
Fotor AI Art Generator will be a good fit for those who want to customize their AI-generated art. It's studio of tools makes editing your AI-generated art a simple process that can be done from your phone or desktop computer.
Pricing: Paid plans start at $8.99 per year
What is the Best AI Art Generator?
Jasper Art is the best AI art generator for marketing teams and business professionals. Paired with Jasper AI, you and your team can speed up time spent on content creation with the power of AI. If visual content isn't at the forefront of your content strategy but is nice to have, consider adding PhotoSonic to your bag of marketing tools. Its simple interface makes embracing AI less daunting. Lastly, if you want to use a simple, professional tool for your AI art generation, the Shutterstock generator will help you simply create AI art for your needs.
Looking for more AI tools? Check out more of the best AI tools out there, including:
Frequently Asked Questions (FAQs)
Before we wrap up, let's answer some of your most common questions regarding AI art generators. Did we miss one? Leave a question below and we will respond!
What is the best AI art generator?
Jasper Art
is an excellent AI art generator. It allows you to turn text-based prompts into original images. You can adjust the output by modifying the medium, artist, and mood. The AI supports 29 languages.
Is there a free AI art generator?
PhotoSonic
offers a free plan to generate up to 20 free images.
MidJourney
is currently in beta and allows you to generate a limited amount of free images using their Discord integration. It's not particularly intuitive, but the results are stunning.
How much do AI art generators cost?
Most AI art generators charge between $20 and $100 per month, with more expensive plans offering additional features or additional image generation tokens.
Jasper Art
starts at $39 per month and allows you to generate unlimited images at 2k resolution.
PhotoSonic
provides a similar plan for $25 per month.
Can you sell AI-generated art?
That depends on the terms of the AI art generator. Most AI art generators do not place many restrictions on the use of your AI-generated images.
Jasper Art
, for example, states in its terms that you are permitted to "reprint and sell the images as your imagination permits."
Who owns AI-generated art?
Depending on the AI art generator, the ownership of the images you generate may be structured differently.
PhotoSonic
, for example, grants you and the rest of the community rights to use the images you generate. They own the copyright but give you (and everyone else) the rights to use images generated using its platform. There is also a broader and relatively unexplored debate as to whether AI art can be safely copyrighted when the AI model has learned from the works of real people.
Can you use AI-generated art commercially?
Most AI art generators permit you to use the images you generate commercially.
Jasper Art
, for example, doesn't restrict the types of commercial projects for which its images can be used. OpenAI's image generator,
DALL-E
(which also powers many commercial art generators), grants you full ownership of the images you generate.
How do AI art generators work?
AI art generators collect data (in this case, images), which are used to train the AI using a deep learning model. The model recognizes patterns, such as the style of certain types of art. The AI then applies these patterns in creating unique images based on a user's prompt. An iterative process typically allows you to hone in on your desired result by creating multiple images.
Is it ethical to use AI art?
This is a complex question that will indeed be debated for some time. AI art models learn from the works of real people, just like real people learn from and are inspired by the works of others. This has led some people to perceive AI art as theft, equating AI art to the "copying and pasting" of protected art. However, AI engineers will point out that this is not precisely how AI art generators work. Is it ethical to use AI art? The unsatisfying answer is that it depends on your perspective.
Which AI creates the most photo-realistic images?
The most recent updates to
MidJourney
have made it
very
good at creating photo-realistic images. In the past, art created by MidJourney had a painterly feel to it. Now, with the correct prompt, it can generate images that look like real photos.