AI voice generators use deep learning algorithms and neural networks to create a lifelike speech that sounds natural. They are an increasingly popular tool for generating voiceovers in various applications. These software programs convert written text into humanlike speech that can be customized to sound different ages, genders, and accents. With the ability to produce realistic voice simulations, they are frequently utilized in creating voiceovers for audiobooks, videos, and virtual assistants.
In this post, we'll examine several top AI voice generator tools, evaluating their overall performance, ease of use, and features.
What are AI Voice Generators?
Before diving into our review of the best AI voice generators, it's important to understand what AI voice generators are and what they can do.
AI voice generators are predominately online tools that use artificial intelligence and machine learning to create speech and audio that sounds natural and realistic. Along with other AI tools for writing and SEO, voice generators are becoming more popular in use in a variety of sections, including marketing, video production, and content creation as a whole. One of the main benefits of AI voice generators is their ability to create high-quality audio content like voiceovers quickly and cost-effectively.
The best AI voice generators have a variety of voices that can work in numerous languages and accents, making them more accessible and localized for businesses and creators who have a global reach. They are quickly becoming powerful tools for any user who wants to add high-quality, natural-sound speech to their projects.
The Best AI Voice Generators

Subscribe To Our Youtube Channel
In this blog post, we will explore a range of AI voice generators currently available. We will focus on their features, the ease of use of their interfaces, and overall performance to help you make an informed decision when choosing a tool for your project.
The Best AI Voice Generators Listed In Order
Expand List
1. Play.ht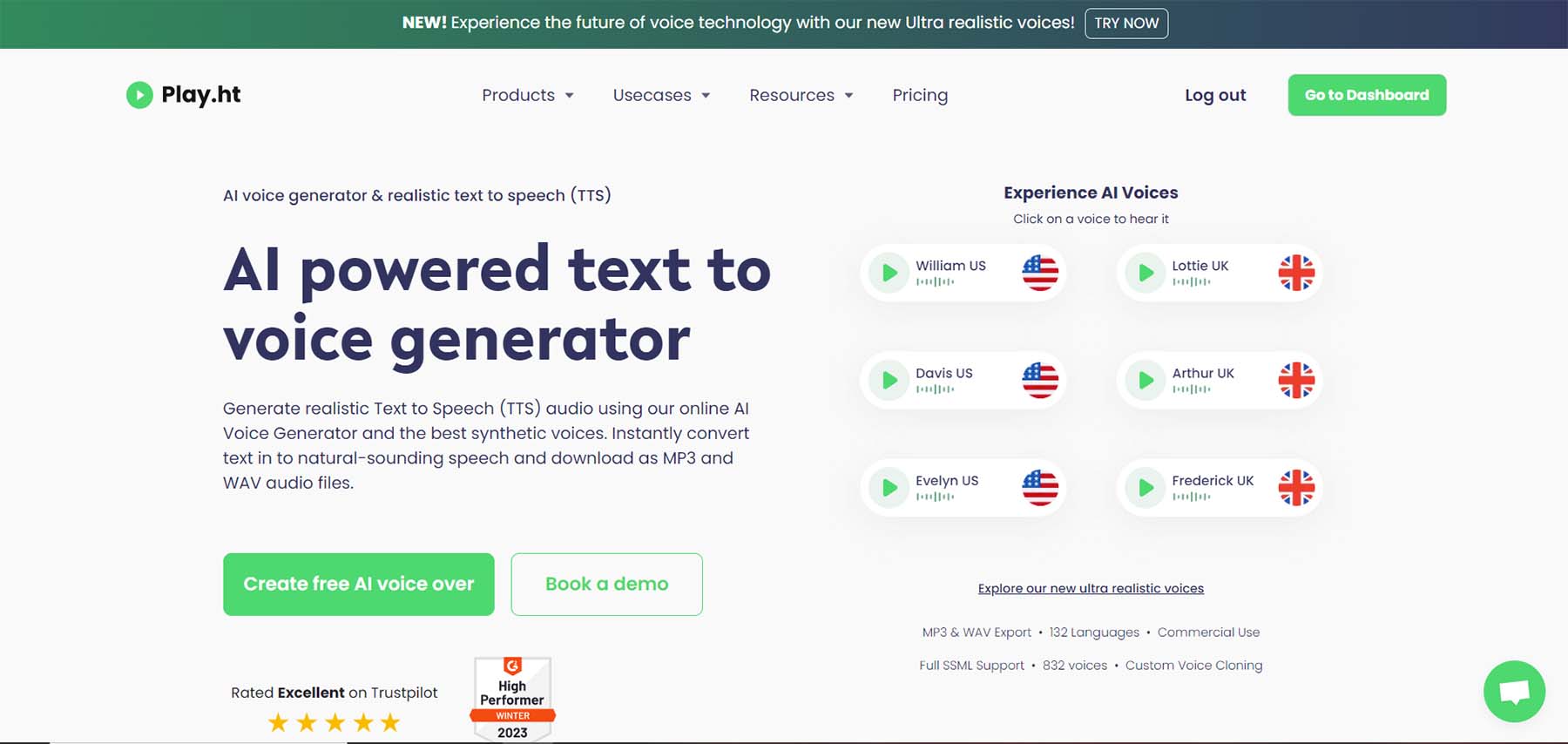 Play.ht is a powerful text-to-voice generator that provides an efficient way to create high-quality, professional-sounding audio from text. Whether you're making podcasts, videos, or articles, Play.ht has a wide selection of synthetic voices. With its powerful online text-to-speech editor, you can easily convert your text to audio. You can then customize the audio with speech styles and pronunciations. In many cases, the text-to-speech synthesis is real-time, taking just a few minutes to convert input text into audio.
Play.ht securely stores and manages your audio files. You can export them in MP3 and WAV formats and collaborate with team members. Moreover, Play.ht offers a podcasting solution, making it easy to distribute your audio content.
It is also considered to be one of the best text-to-speech plugins for WordPress, allowing you to embed audio widgets on your website to increase accessibility and engagement, which is great for SEO.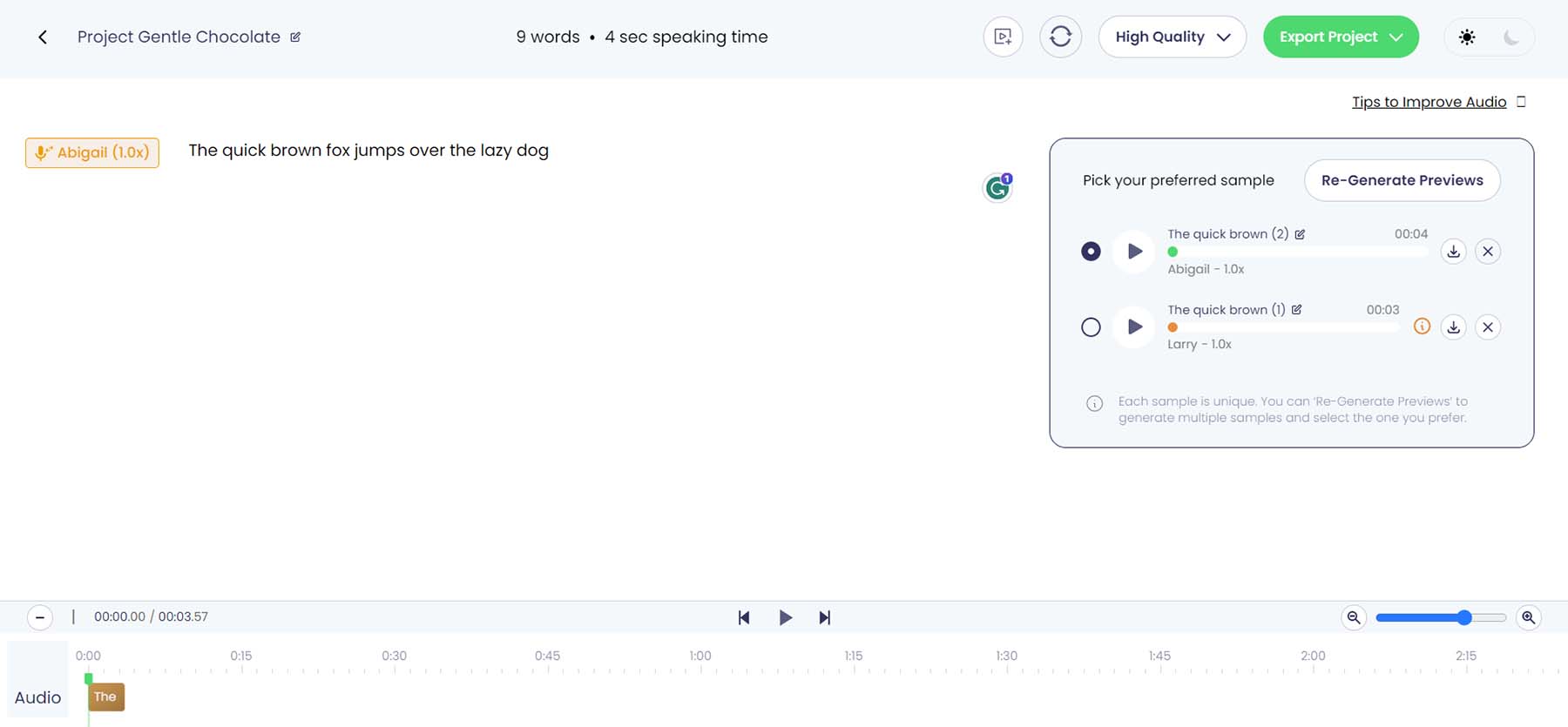 Key Features of Play.HT:
907 AI Voices
Customize and use emotional speaking styles
Create conversation-like voiceovers by using different voices
Fine-tune rate, pitch, emphasis, and pauses
Save and re-use custom pronunciations
Listen and preview text before converting it to speech
Best For:
If you create video content online and want consistent quality with your voiceovers, Plat.ht is a good choice. Also, if you are a podcaster that wants to embed audio versions of your podcast or show notes online, Play.ht would work best for your needs.
Pricing: Free, Paid plans start at $39 per month
2. Murf.AI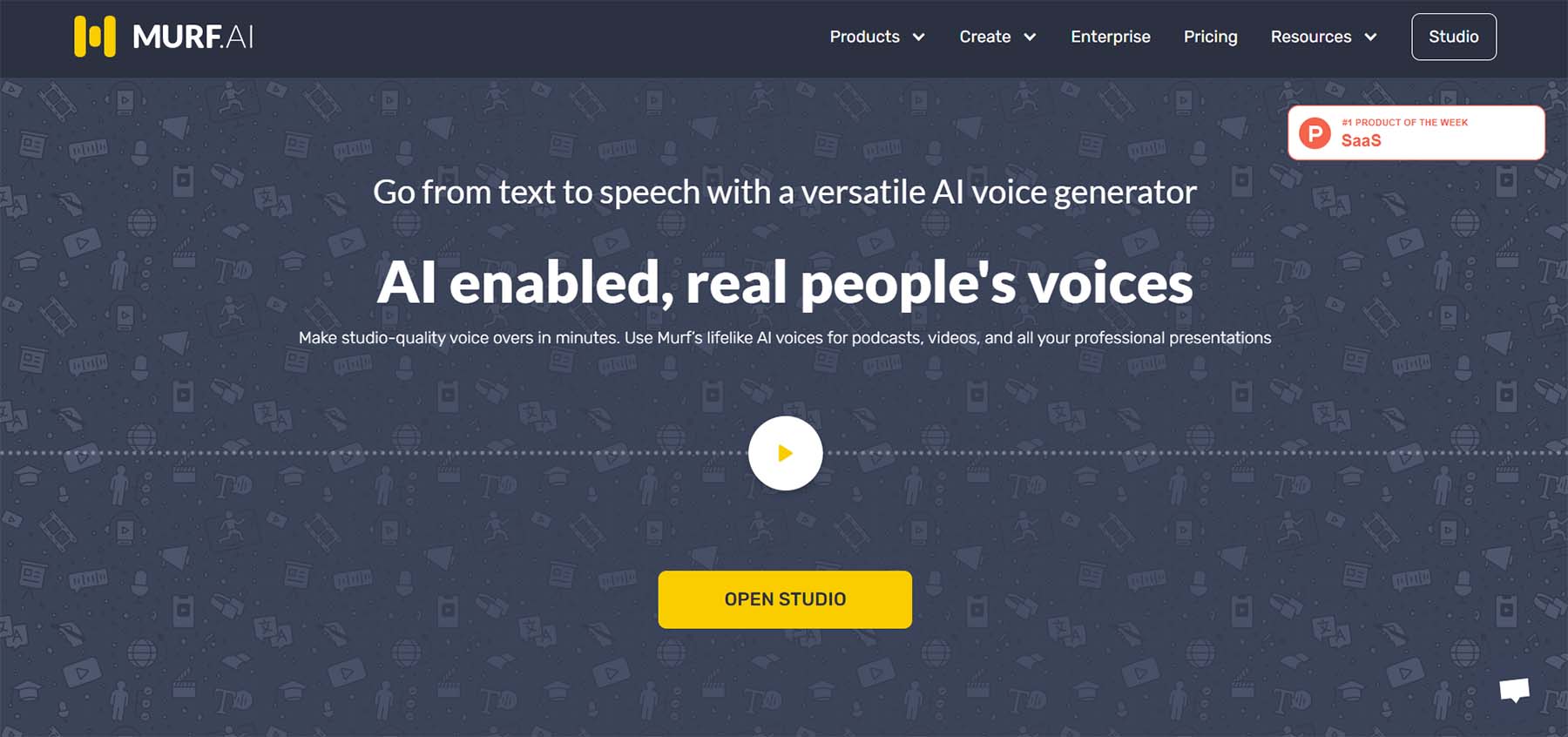 Murf.AI is an AI speech generator that is powerful and versatile. It provides users with a vast selection of natural-sounding voices in many languages and accents. The quality of the audio produced makes it almost indistinguishable from human speech. Murf.AI's voices can be edited with their pitch, speed, and tone tools. Because of this, the platform is suitable for a variety of uses, including videos, podcasts, and audiobooks, as well as in the creation of virtual assistants and chatbots.
The online interface is easy-to-use and makes generating and downloading your voice recordings easy. You can adjust settings and preview your audio before generating your final audio file. Finally, Murf.AI is part of a suite of tools to help you create better video content. With Murf Studio, you can natively build explainer videos or presentations within their platform with voiceovers, background music, and more.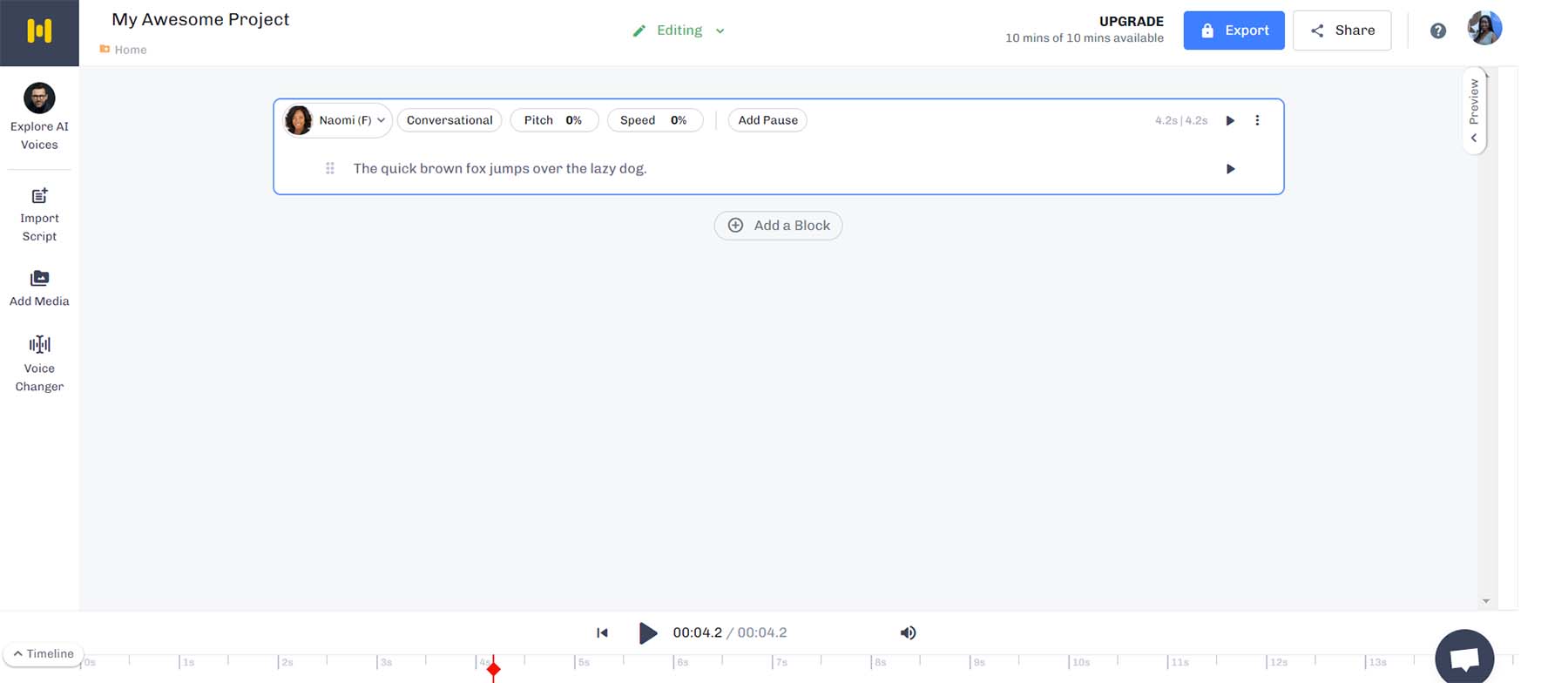 Key Features of Murf.AI:
Clean and uncluttered interface
120+ text-to-speech voices in 20+ languages
Filter voices by use case, tone, gender, age, and more
Import scripts, articles, and large documents
Library of templates to use as a starting point for projects
Integrates with Google Slides for voiceovers
Best For:
If you are a content creator, business owner, or individual who wants to use AI voice generation in your presentations and want an all-in-one suite of tools to help you create content and not just voice, Murf.AI Studio is for you. Murf.AI's interface was the easiest to use out of all the generators mentioned.
Pricing: Free, Paid plans start at $19 per month
3. Listnr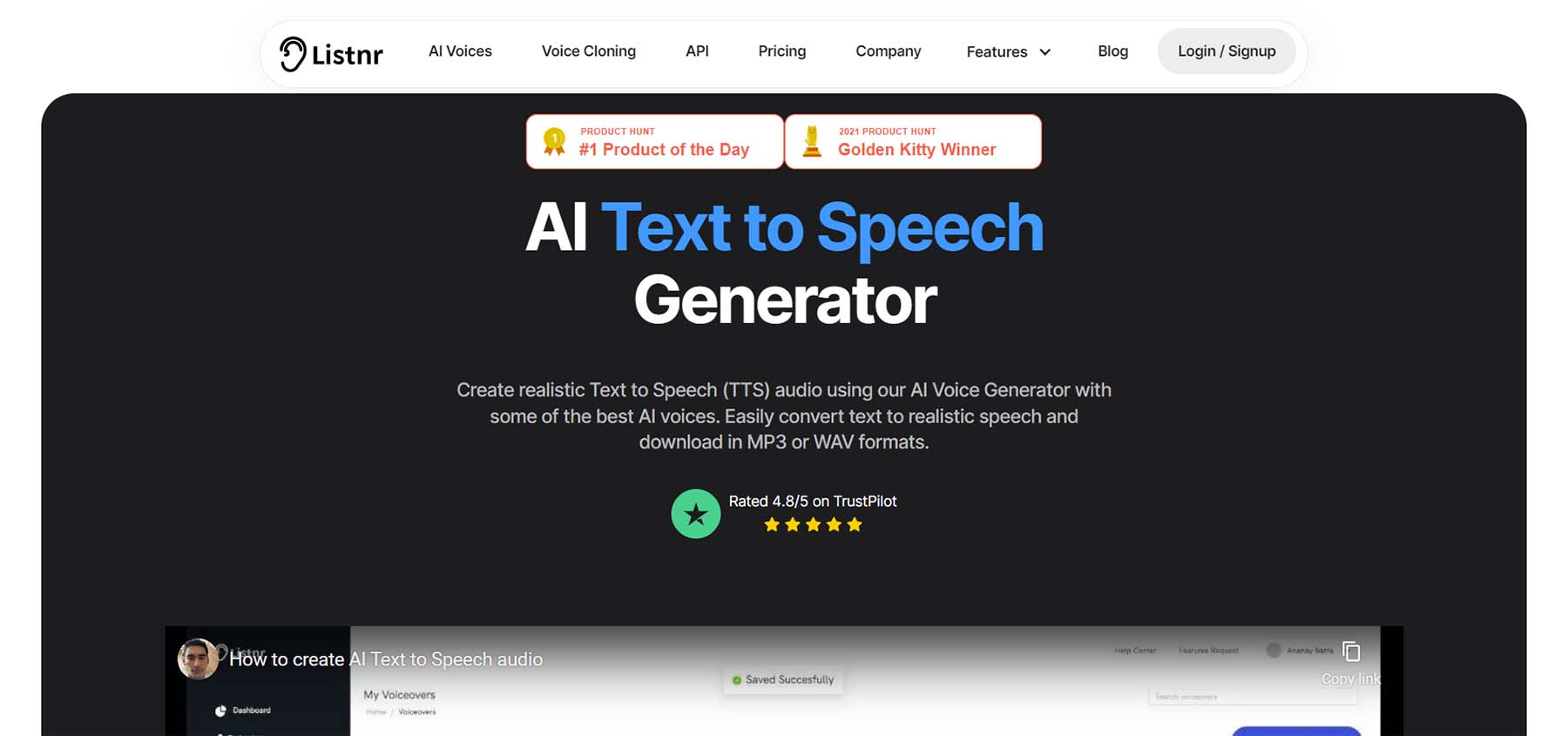 Listnr is an AI voice generator that claims to have some of the best AI voices available. The generator has a vast library of voices that you can use to create voiceovers for online courses, explainer videos, ads, and more. Listnr has the ability for you to record and edit your podcasts directly from their dashboard. Furthermore, you can edit the embed module provided by Listnr within their platform.
Using Listnr, you can insert a link to an online article or blog post, and Listnr will quickly generate the accompanying audio version for it. You can change the voice style, pronunciations, speed, and audio output from their minimal and easy-to-navigate interface. Audio generated by Listnr can be shared on various social networks like Tiktok, Instagram, and YouTube, to name a few. For programmers, Listnr grants you access to their TTS API so that you can integrate their solution into your application.
Key features of Listnr:
600+ voices and 75+ different languages offered
Five different voice styles
State-of-the-art text-to-speech editor
Unlimited downloads, exports, and audio embeds on external websites
Speedy voice cloning service
Podcast hosting, recording, and editing
Best for:
New podcasters would benefit best from using Listnr as their podcast tools give ample support to new creators.
Pricing: Paid plans start at $19 per month
4. Speechify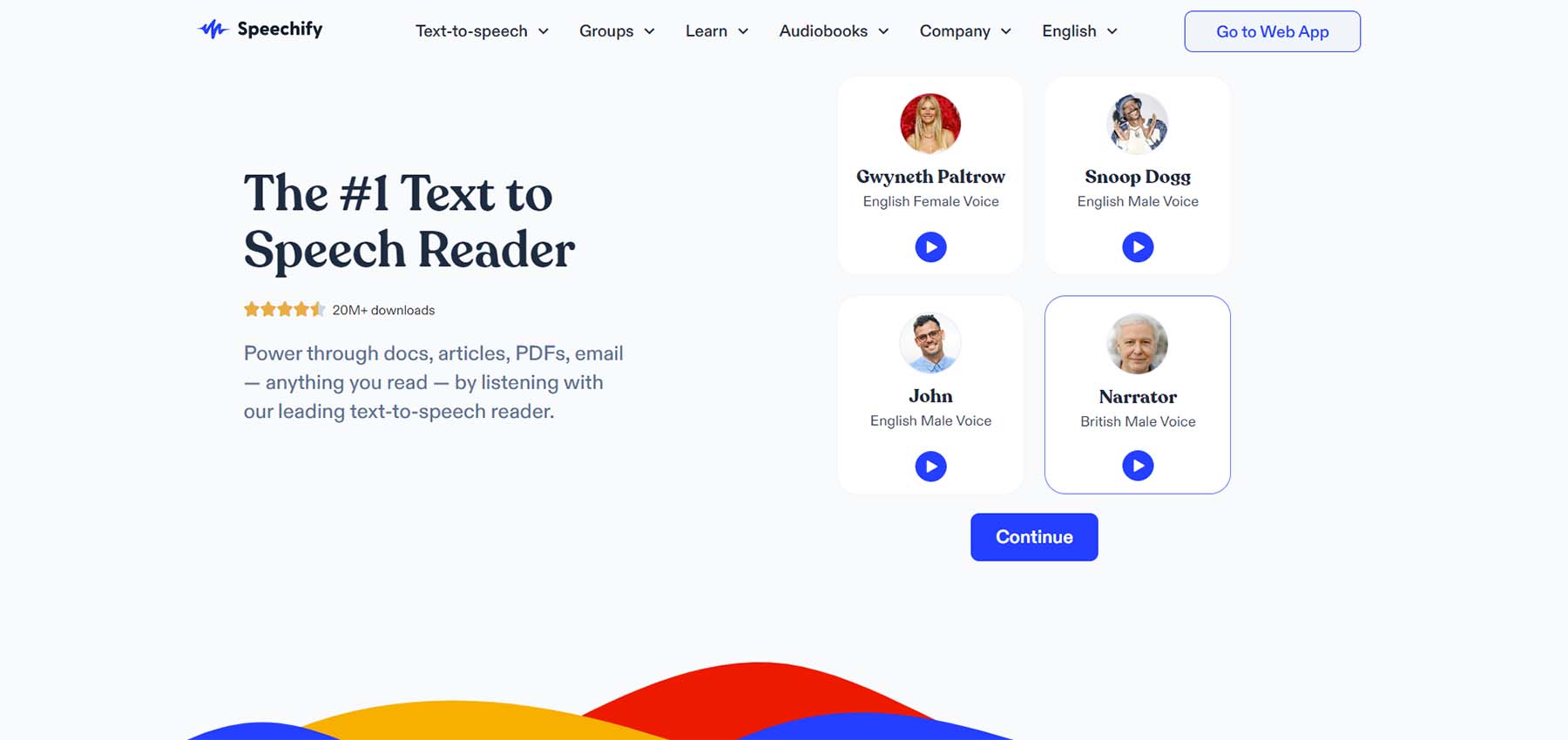 Speechify creates high-quality and natural-sounding audio from written text. You can adjust voice speed, choose from different voices, select a variety of accents, and more. For those who prefer a visual component, the platform also can highlight text as it is being read.
Speechify comes as an app for both Android and Apple devices, in addition to its web-based interface. A favorite among those in the education section, Speechify has the ability to import documents from various sources. On top of being able to read PDFs, emails, and eBooks, you can upload a photo with text to the platform and have it read back to you. All in all, Speechify is a versatile and powerful AI voice generation tool that helps make reading and listening to text easy and accessible.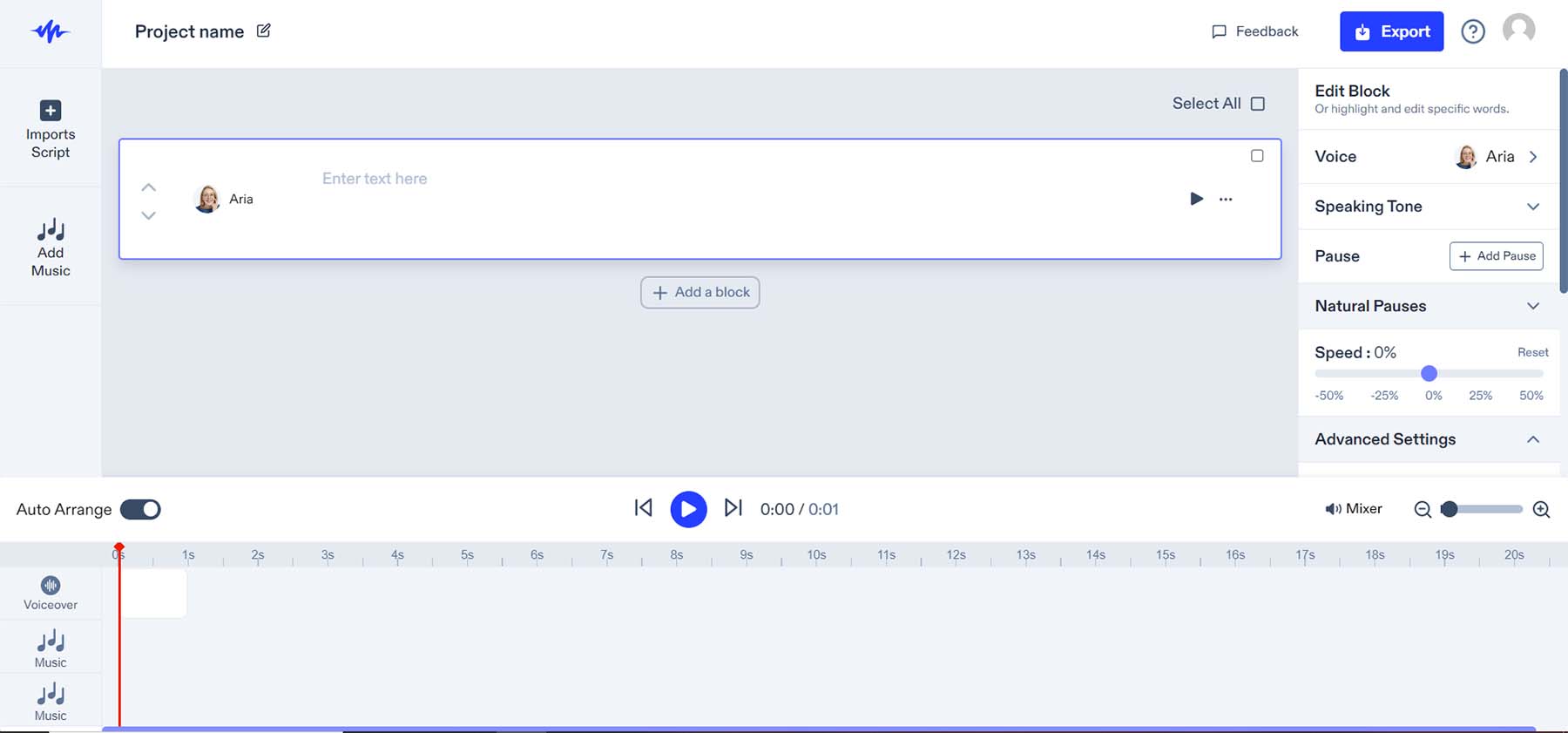 Key Features of Speechify:
50+ premium voices
Sophisticated user interface
Works on Chrome, as well as Apple and Android devices
Advanced highlighting, note-taking, and importing tools​
Change listening and playback speeds to increase productivity
Screenshot images with text to audio
Best for:
Students, educators, and users who need to digest and listen to a large volume of text will benefit from Speechify's services.
Pricing: Free, Paid plans start at $11.58 per month
5. LOVO (Genny)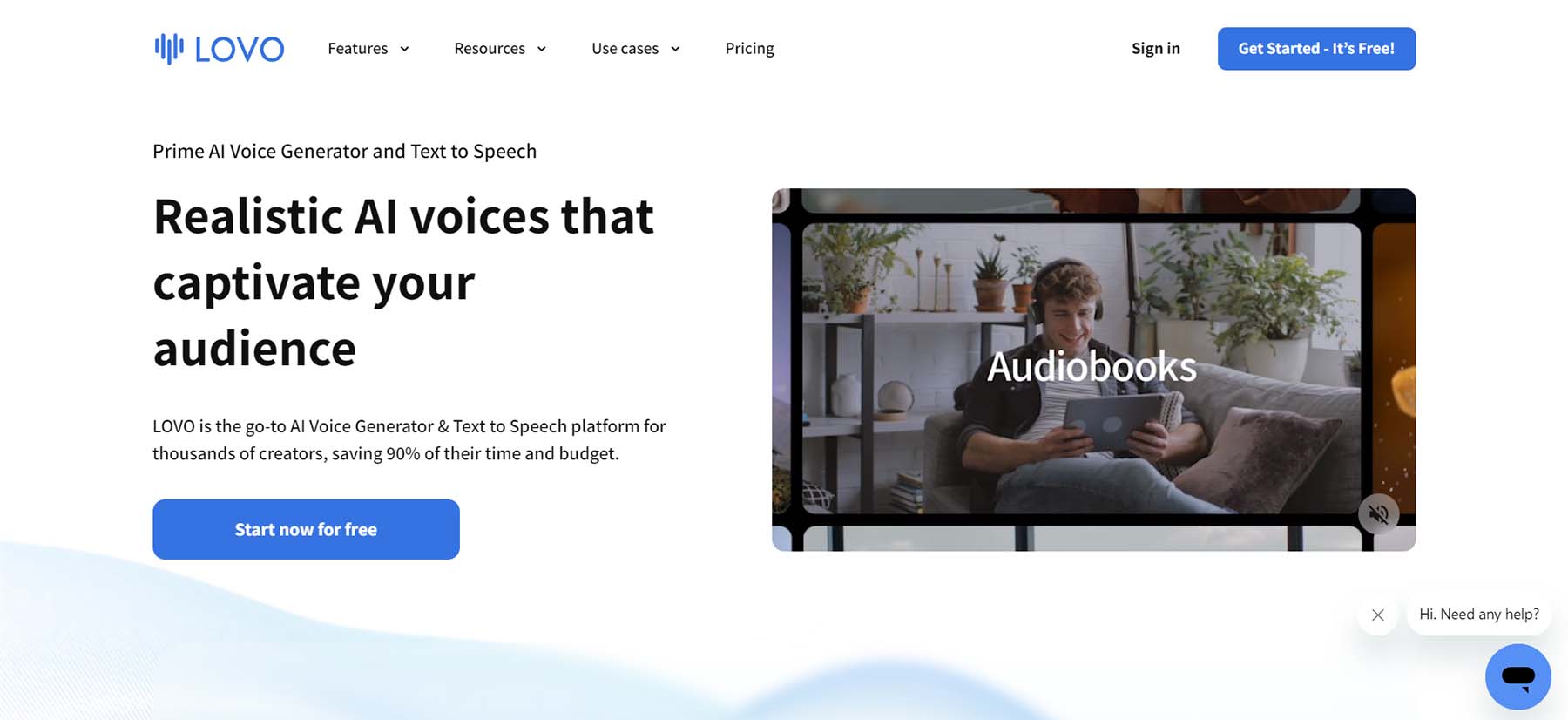 LOVO is one of the best AI voice generators for video producers and audio engineers looking for deep control of their audio files. It uses natural and human voices to create audio content in various languages and accents. The platform allows users to generate humanlike voiceovers and comes with a video editor that allows you to manage all your content from one dashboard. You can import articles, videos, images, and sounds into Lovo (or Genny) and create engaging content for audiobooks, social media, training videos, and more.
Lovo's platform has a library of third-party resources from sites like Pixabay. This lets you add creative commons and royalty-free images, video, and audio to your projects. You can create unlimited projects that you can download without restriction.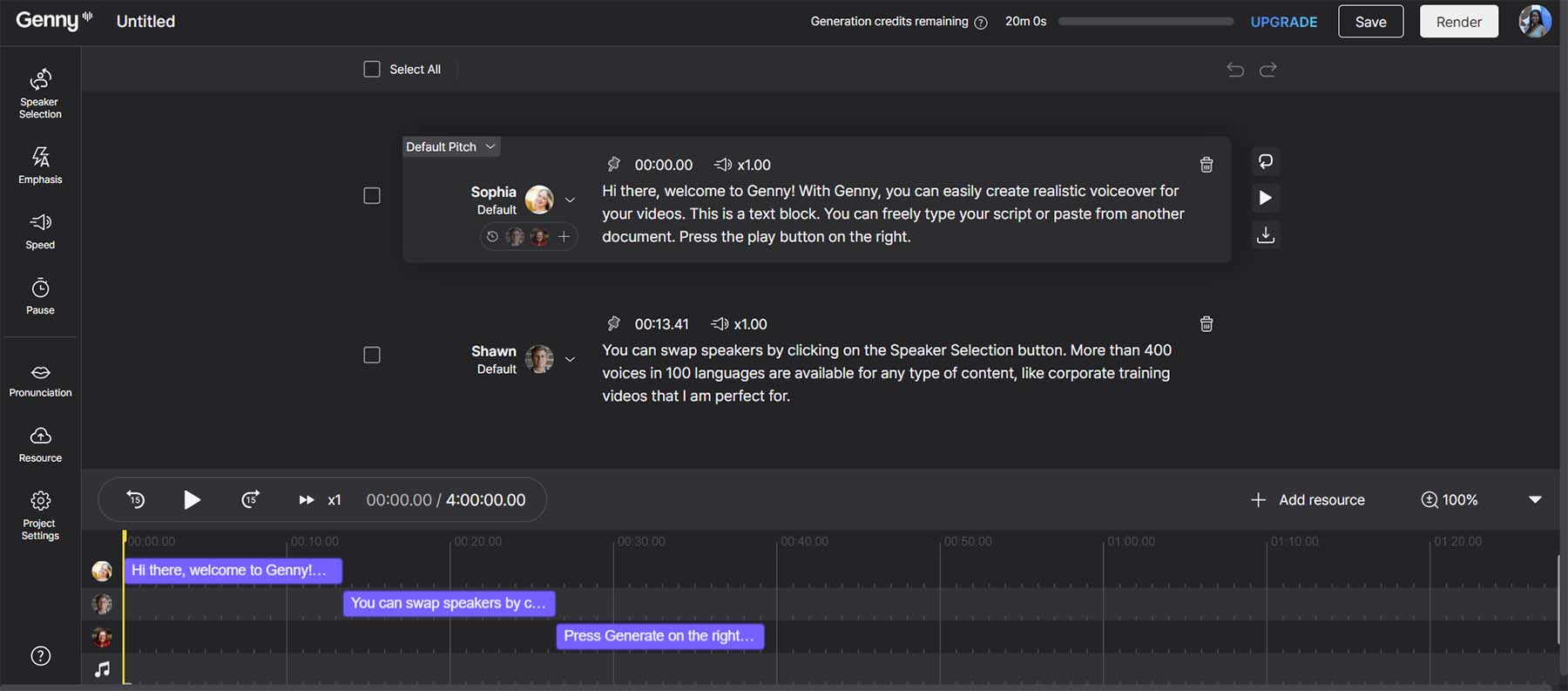 Key Features:
400 voices in 100 languages
Can express 25+ emotions
Full-featured UI for video editing and audio production
Upload your videos, audio, documents, images, and slides
Add sound effects and background music
Adjust pitch, add emphasis to words, and customize pauses
Best for:
Video producers and content creators who want a complete platform to create quality video content. Audio engineers who wish to have granular control over their audio will enjoy using Lovo's interface in their workflow.
Pricing: Free, Paid plans start at $25 per month
6. Synthesys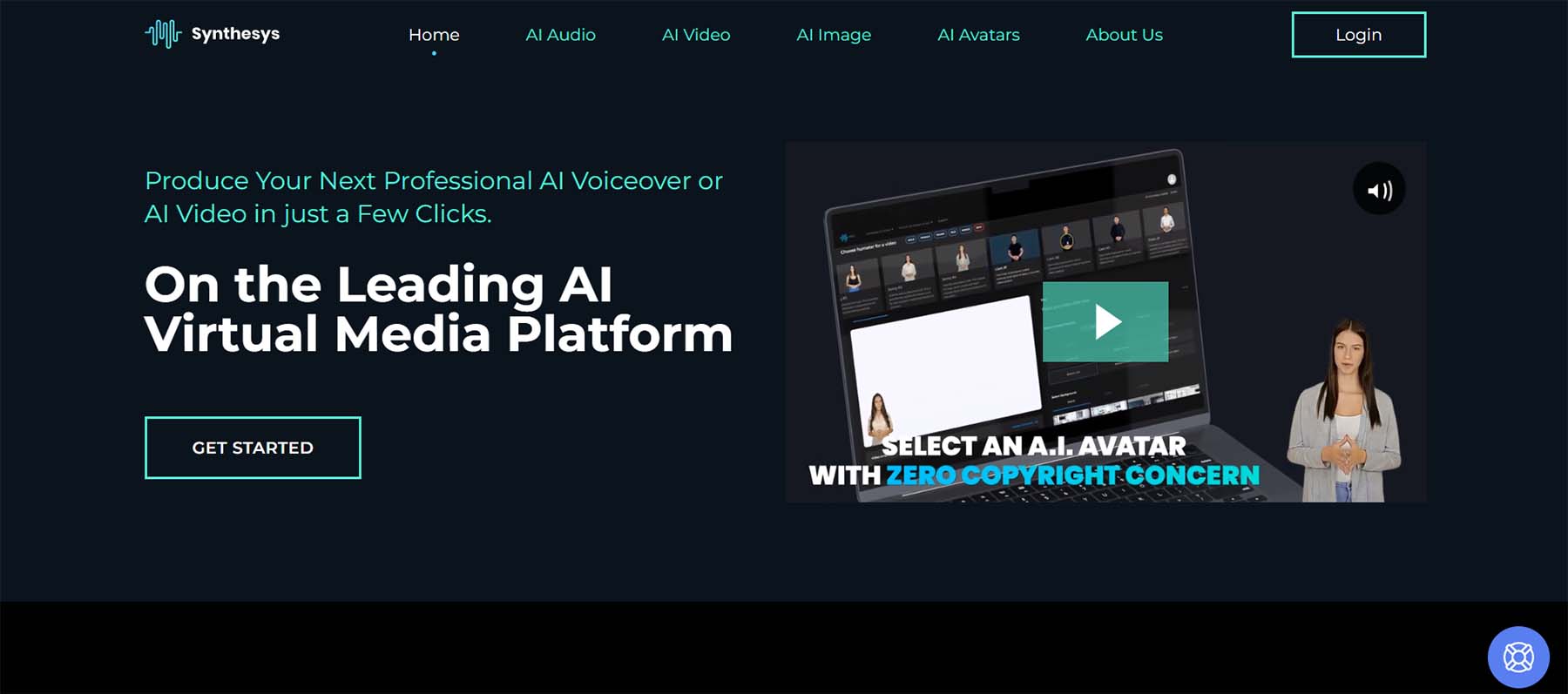 The Synthesys suite of products allows users to create AI audio content, video content, digital art, and even AI avatars. If you want to create video content but don't want to get in front of the camera, consider using Synthesys. In addition to generating AI voices in over 140 languages with over 254 different voices, you can create AI-generated videos with their suite of digital avatars.
Their AI generation interface is easy to use, and you can browse through their list of voice actors to see which one matches your project. You can merge audio clips, improve pronunciation, and add word replacements for special characters, words, or numbers. With the Human Synthesys Studio, you can create videos with human avatars. These avatars can be used in presentations, videos, and more within the Synthesys suite of tools.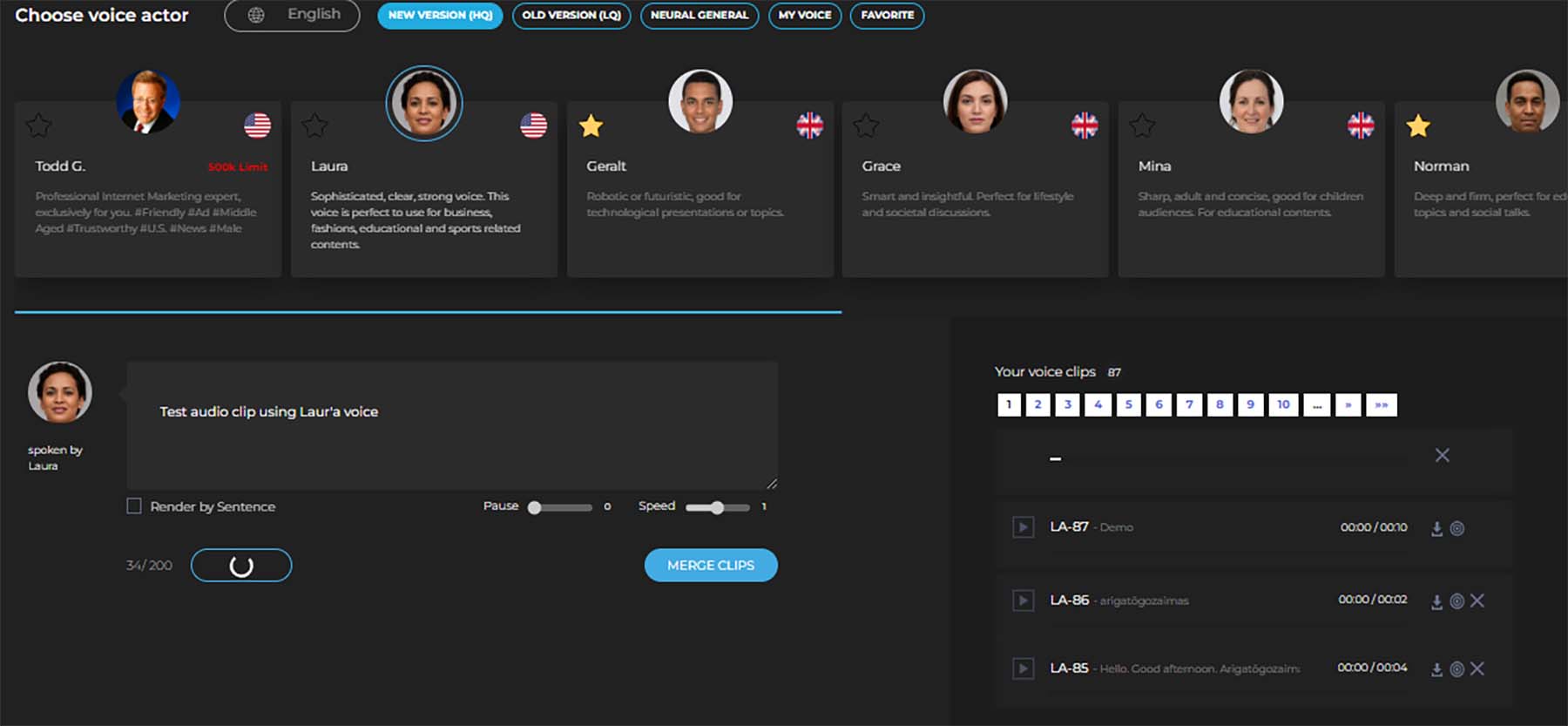 Key Features of Synthesys:
Unlimited voiceover downloads
35+ real human voices
140 Languages & 374 Voices
Lip-synching AI video technology
Upload your own voice for voice cloning
Choose from a library of AI avatars or create custom avatars based on yourself
Best for:
Camera-shy users or those who want to create a virtual brand ambassador for their content will benefit from the lip-syncing technology and AI avatars that Synthesys provides on their platform.
Pricing: Paid plans start at $35 per month
7. Resemble.AI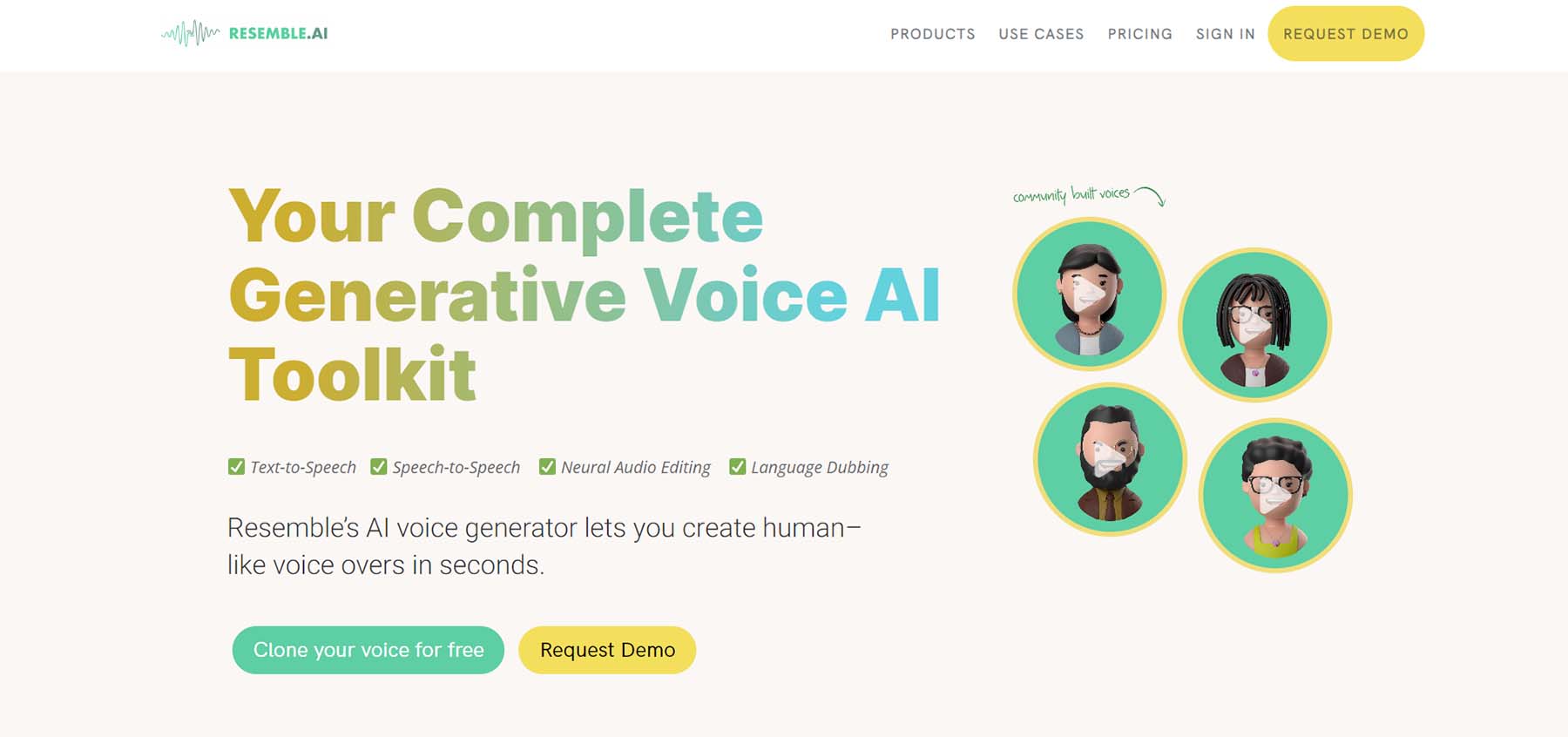 If you're interested in using AI for your voiceover projects but want to use your own voice, Resemble AI is right up your alley. The web-based platform gives you the tools to upload, type or speak and generate your very own AI voice, birthed from your natural voice. While it does come with a suite of voices for you to use, if you want a truly unique voice, Resemble AI can help you create that.
You can create your own AI voice from text or your own speech. Their editor allows you to add inflections and emotions and can be converted into various languages, allowing you to create custom and localized audio for your next content piece.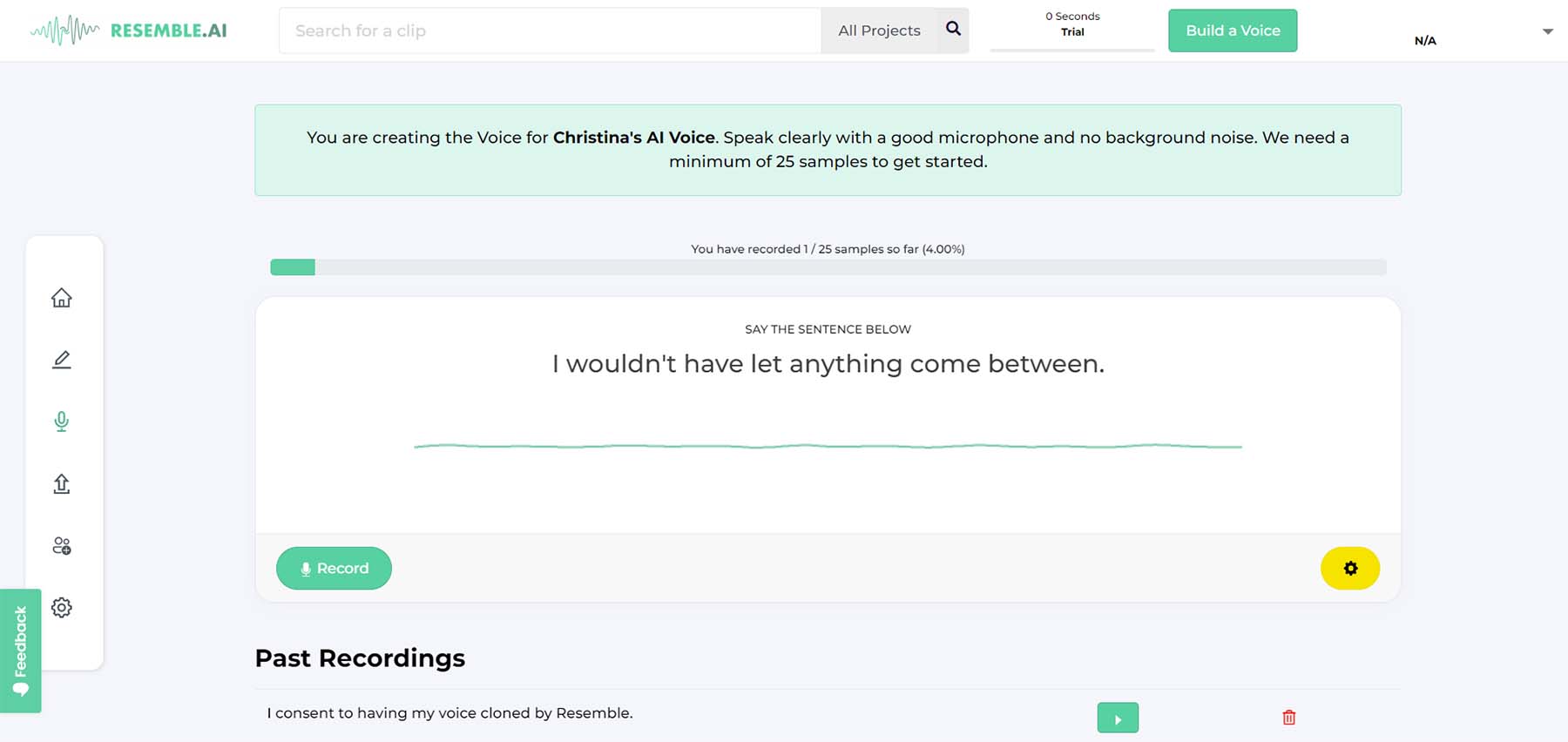 And, if you want professional help, Resemble AI has a marketplace where you can hire voice actors and use their voices to generate custom voices for your next project.
Key Features of Resemble.AI:
Cross-lingual support in 24+ languages
Unlimited projects, users, and audio downloads
Quickly clone your voice via the web
Generate and create custom AI voices from uploaded audio files
Build your own AI-generated voice from the marketplace of voice actors
Enhanced emotion control for generated voices
Best for:
Users who want a high-quality AI generator service focusing on custom voice cloning will appreciate Resemble AI.
Pricing: Paid plans start at $0.006 per second
8. Clipchamp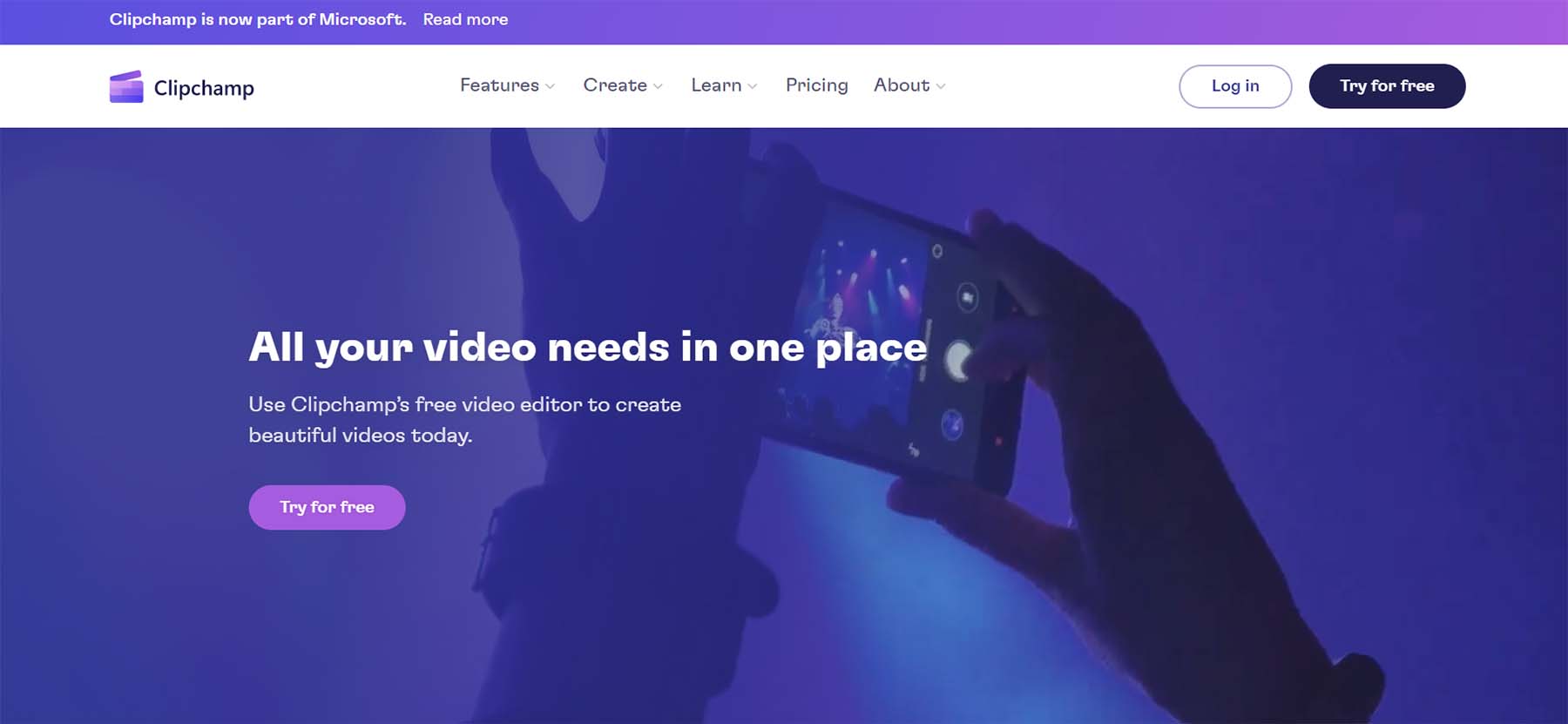 Clipchamp is one of the best video creation tools with AI voice generation. The editor allows you to clip, merge, import, and record video clips from the comfort of your web browser. In addition to video editing, their text-to-speech feature allows you to enter text and turn it into AI-generated voiceovers for your video projects.
After entering your text into the editor, you can fade it in, edit the speed, trim, and clip the audio generated. You can also generate captions from your voice to help create accessible videos for your viewers. Clipchamp is not a standalone AI voice-generating platform, so it does not have the most elaborate tools for editing and using AI voices. Nevertheless, the platform can benefit those who would like AI-generated voiceovers as an option for their videos.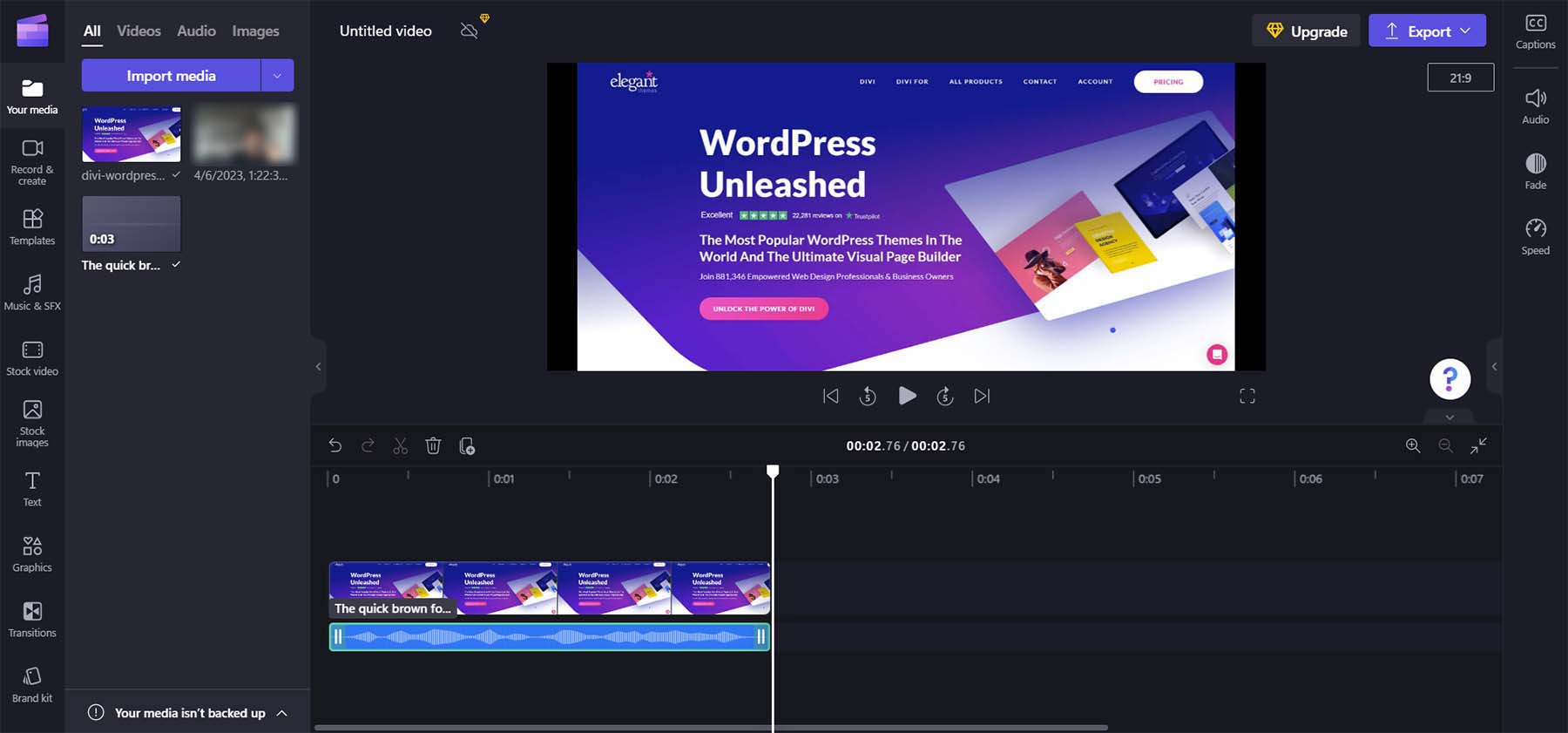 Key Features of Clipchamp:
170 voices across 70 languages
Control voice pitch, style, speed, and voice
Speaker Coach feature gives real-time feedback to improve voiceovers
Easy-to-use online video editor
Hundreds of video templates to choose from
Generates real-time captions to create more accessible videos
Best for:
Content creators and users who want an easy-to-use video editor with the option to generate voiceovers and audio with AI will benefit from the ease of use of the Clipchamp platform.
Pricing: Free, Paid plans start at $13 per month
What is the Best AI Voice Generator?
As with most review lists, the choice is up to you to decide which AI voice generator is best for your next project. If you want a rock-solid AI voice generator, Play.ht is our top choice. With consistent quality voices, custom pronunciations, and a simple-to-understand interface, it is the best choice for those who want great AI voice generation every single time.
If you create presentations extensively and use Google Slides, you will love the integration that comes built into Murf.ai. Upload your Slides to the platform and enjoy creating annotations for your work quickly and effectively.
To wrap it up, for those interested in getting started with podcasting, Listner's podcast hosting, editing, and recording platform will be of great help to you. Whether you want to use AI to generate your podcast or upload and edit your podcast episodes, Listnr makes it simple to incorporate AI voice generation into your content creation process.
Looking for more AI tools? Don't miss out on these top AI tools to improve your workflow like never before.
Frequently Asked Questions (FAQs)
Before we wrap up, let's answer some of your most common questions regarding AI voice generators. Did we miss one? Leave a question below and we will respond!
What is the best AI voice generator?
Play.ht is the best AI voice generator known for its natural-sounding voices and flexible pricing plans. It also offers a user-friendly interface and supports multiple languages and accents.
What is the best free AI voice generator?
Play.ht offers a free version that allows users to generate AI voices without any watermarks or time limits, making it an attractive option for those on a tight budget. It also offers a wide range of languages, accents, and voices and provides a simple, easy-to-use interface.
How much do AI voice generators cost?
The cost of AI voice generators varies depending on several factors, including the provider, the complexity of the voice, and the desired quality. Some providers offer free trials or low-cost plans for essential voice generation, while more advanced options can range from a few hundred to several thousand dollars per year or more. For example, Murf.AI has a free plan, but its monthly paid plans start at $19.
What is the most realistic AI voice tool?
Play.ht is an AI voice generator that offers text-to-speech capabilities in multiple languages with various natural-sounding voices. It uses deep learning algorithms to create lifelike speech patterns and intonations, resulting in a more realistic and human-like voice. Play.ht also offers customization options to adjust the speech rate, tone, and volume to better suit individual needs.
Is it legal to use AI voices?
In most cases, it is legal to use AI voices. However, using AI-generated voices to impersonate someone else or to deceive people in specific contexts may be illegal. It is critical to comply with applicable laws and regulations regarding the use of AI voices, including copyright and privacy laws.
Can AI replace voice talent?
While AI voice technology has advanced significantly, it can only partially replace voice talent. AI-generated voices can sound robotic and lack a human voice's emotional range and nuance. However, AI can be a valuable tool for generating voiceover drafts or creating synthetic voices that can be used in specific contexts such as virtual assistants or chatbots.
Can AI voice tools be used for video editing?
AI voice tools can be used for video editing. They can generate synthetic voiceovers that can be added to videos for narration or commentary. Some AI voice tools can automatically transcribe and caption videos, making editing and optimizing video content easier for accessibility and search engine optimization. For example, LOVO is an AI-powered tool that helps users streamline their video editing process and produce high-quality content quickly and easily. 
Can AI voice generators produce voices in multiple languages and accents?
AI voice generators can produce voices in multiple languages and accents. Most AI voice generators offer a wide range of language and accent options, allowing users to choose the one that best fits their needs. For example, Murf.AI offers multi-language support, allowing users to generate voices in various languages and accents. With advanced natural language processing technology, Murf.AI can produce high-quality voices that accurately reflect the tone and style of the content in multiple languages. 
Which AI voice generators are best for camera-shy users?
As a text-to-speech software, Synthesis allows camera-shy users to generate realistic AI voices for their videos without recording their voices. It offers a variety of natural-sounding voices and accents and the ability to customize voice parameters. Its user-friendly interface and affordable pricing also make it an attractive option.