Digital creators often know the struggle of creating voiceovers for videos and other projects. The process can be time-consuming and expensive. Thanks to the latest advancements in artificial intelligence (AI), it's now possible to create lifelike voiceovers in a fraction of the time. In this post, we'll introduce you to Murf AI, one of the popular AI voice generators on the market.
Let's get started.
What is Murf AI?

Murf AI is a powerful AI voice generator that enables you to create realistic-sounding voiceovers for your projects. It uses machine learning through generative AI to work its magic. Unlike most AI voice software, Murf's voices sound human. They offer more than 120 of them, each with different characteristics and styles, so finding one that meets your needs is a breeze.
That said, it's more than just a voice generator. It can help you create videos, too. It's not a traditional AI video generator where you generate a video from a text prompt. Instead, it provides millions of stock music, image, and video assets that you can use to create videos for the web, social media, marketing or training videos, and more.
Benefits of Using Murf AI
Murf AI is a powerful software that has many benefits. Whether you're a business professional looking to save time and money or a novice marketer looking for tools to help you expand your reach, Murf AI is a solid tool for generating voiceovers for your projects.
Some benefits include:
Saving time and money: You can create natural-sounding voiceovers in a few clicks, negating the need to hire professionals or spend hours editing them.
Choices: Murf AI provides over 120 voices available in 20 languages, so you'll never run out of options.
Media assets: Murf AI offers millions of media assets you can use to create quick videos inside the editor. You can also upload your videos and other media assets for on-brand results.
Customization: The voice editor allows you to change the pitch, tone, and speaking style to create the perfect voice for your projects.
Ease of use: One of the strongest arguments for using Murf is its intuitive dashboard. There are only a few tools to learn, and the interface is simple.
Murf AI Features
The folks at Murf offer many features to create voiceovers for your projects. Let's review them to better understand what you have at your disposal should you sign up for it.
Text-To-Speech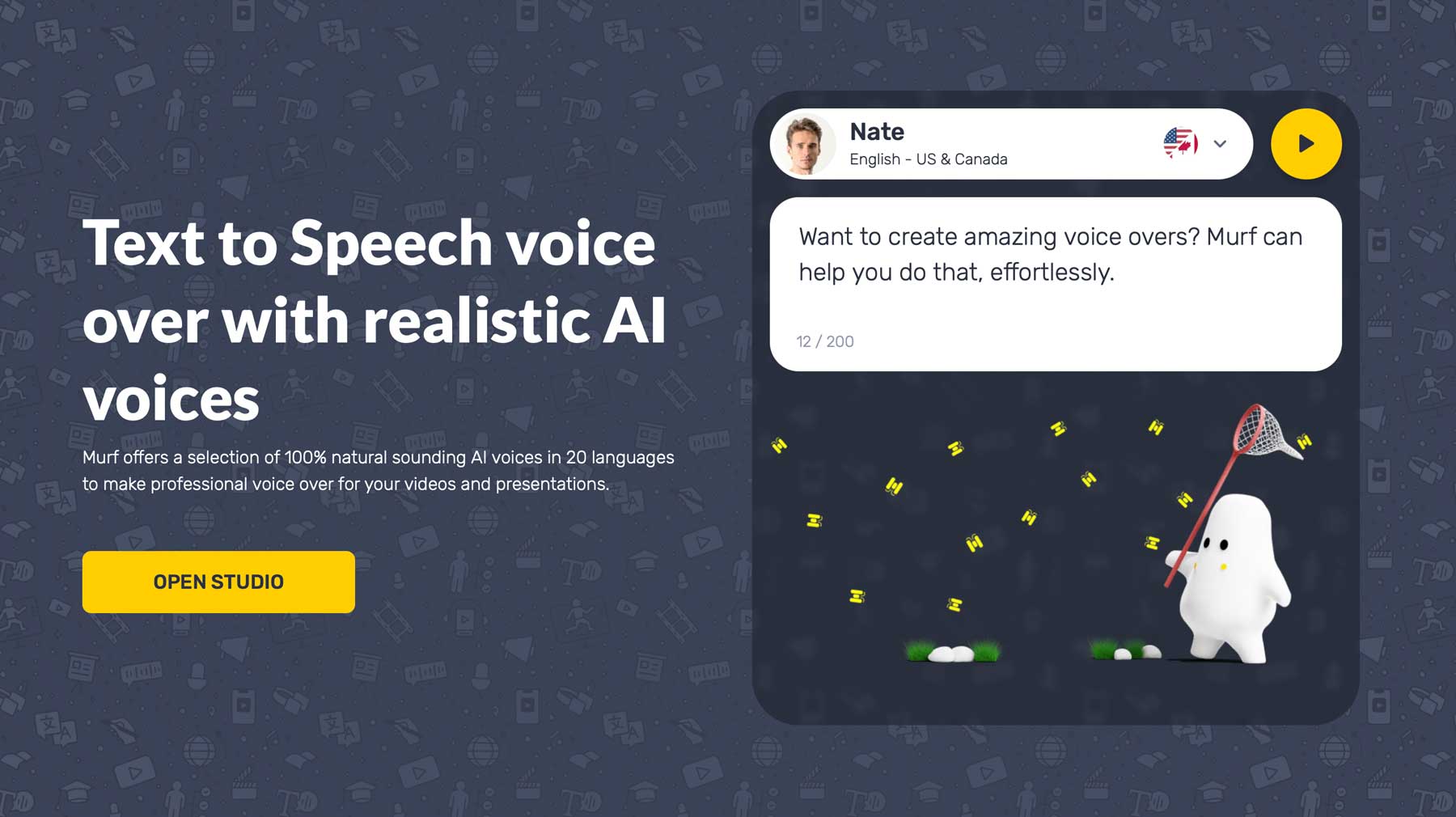 Murf AI's text-to-speech feature is, in our opinion, its best feature. As previously mentioned, they offer 120 AI voices and 20 languages, so you can be certain you'll find the perfect fit for your projects. With simple tools, you can edit your voice's style, tone, speed, and other characteristics. It also allows you to add pauses in the right places, making voices sound incredibly human.
Canva Add-On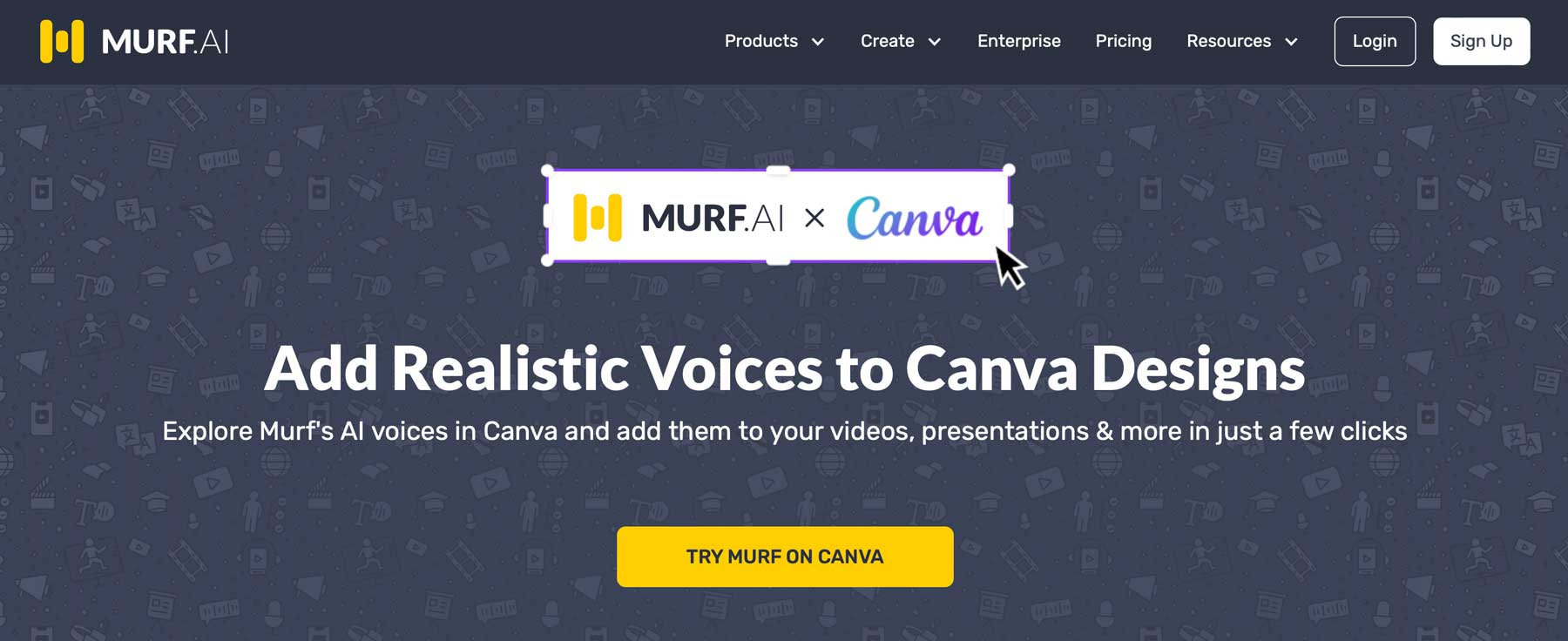 If you're a Canva user looking to incorporate voiceovers into your projects, you're in luck. Murf has full integration with Canva, allowing you to easily import voiceovers. They can be used in Facebook or Instagram videos, AI presentations, and more.
AI Voice Cloning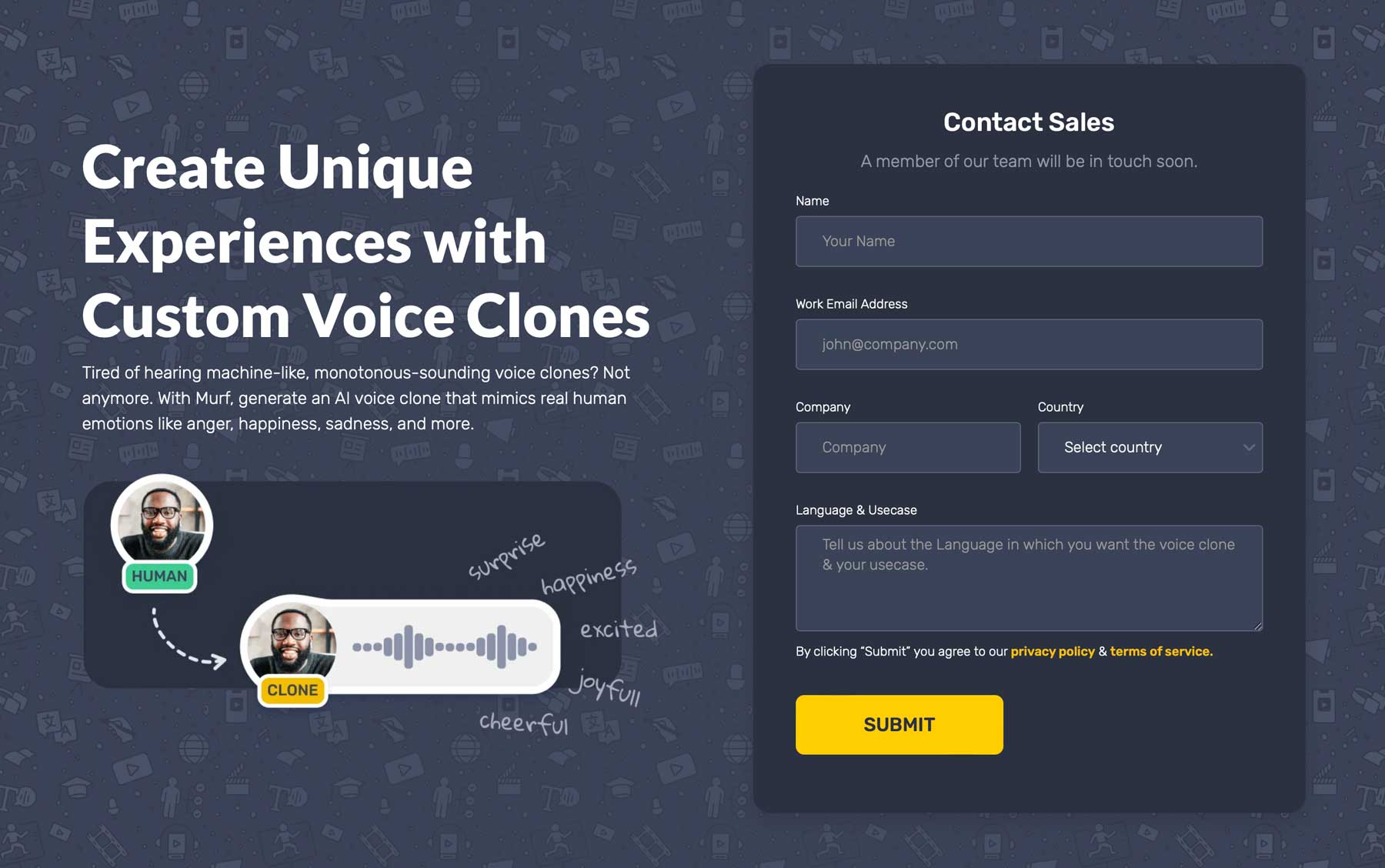 Another great feature of Murf AI is its voice cloning feature. However, it's only available as a separate purchase. It works by recording your voice and then uploading the voice samples to Murf's team so they can build a custom AI voice for you. You'll need professional equipment for the best results, but in the end, you'll have an exact clone of your voice to use in all your projects. This tool is great for medium to large businesses who want to streamline the process of voiceovers while saving time and money.
Voice Over Video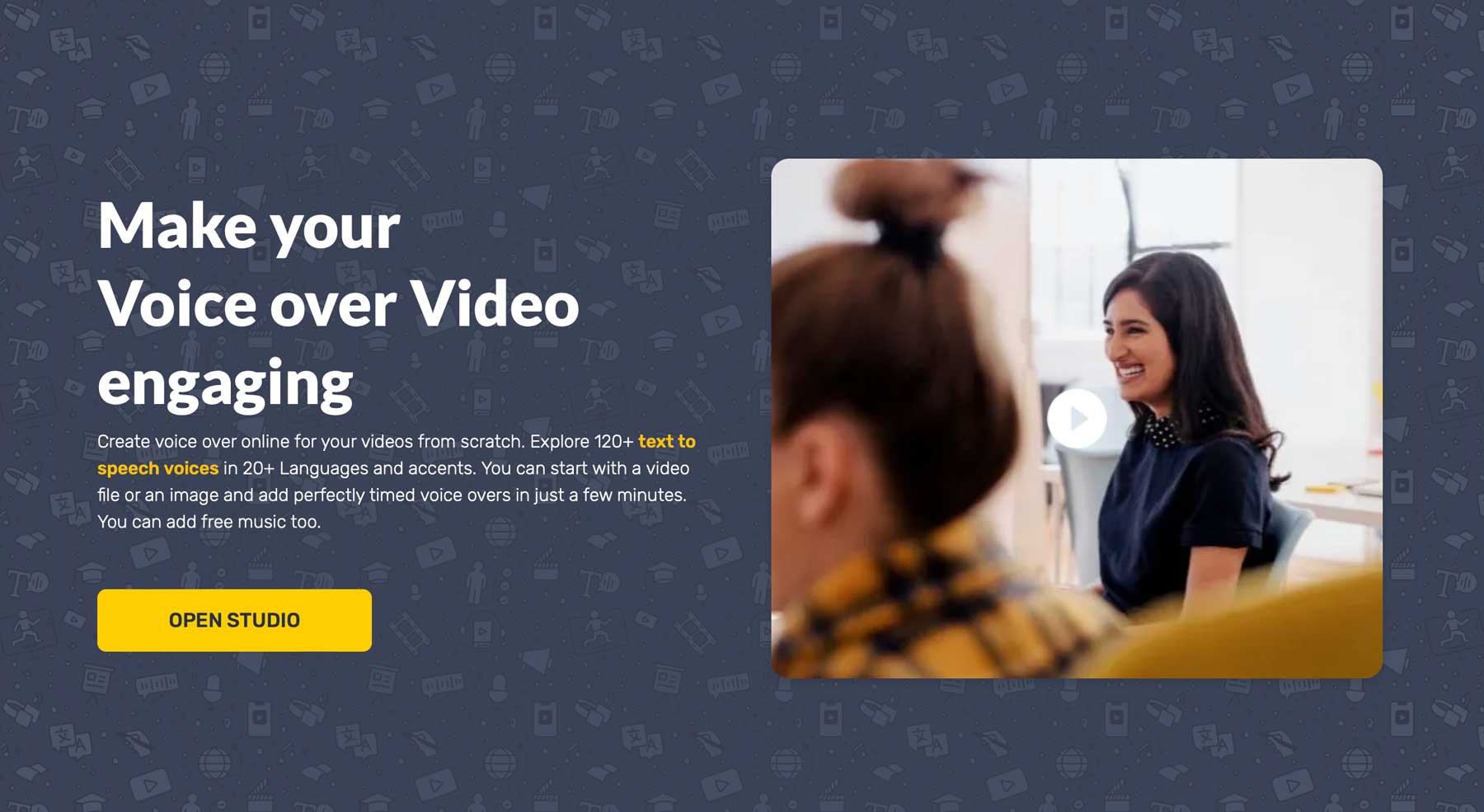 Suppose you have a video but need a quick and easy way to add narration. In that case, Murf AI's voiceover video feature is the perfect solution. Whether you're creating a catchy commercial, an engaging video tutorial, or even a comprehensive learning management system (LMS), this tool has you covered. The best part? You can unleash your creativity by accessing millions of images, music, and video assets to create video from scratch. Their AI voices range from young and old to different ethnicities, genders, and characteristics, giving you plenty of choices for your project. With that said, we found the video preview feature a bit buggy in our testing, so keep that in mind.
Google Slides Add-On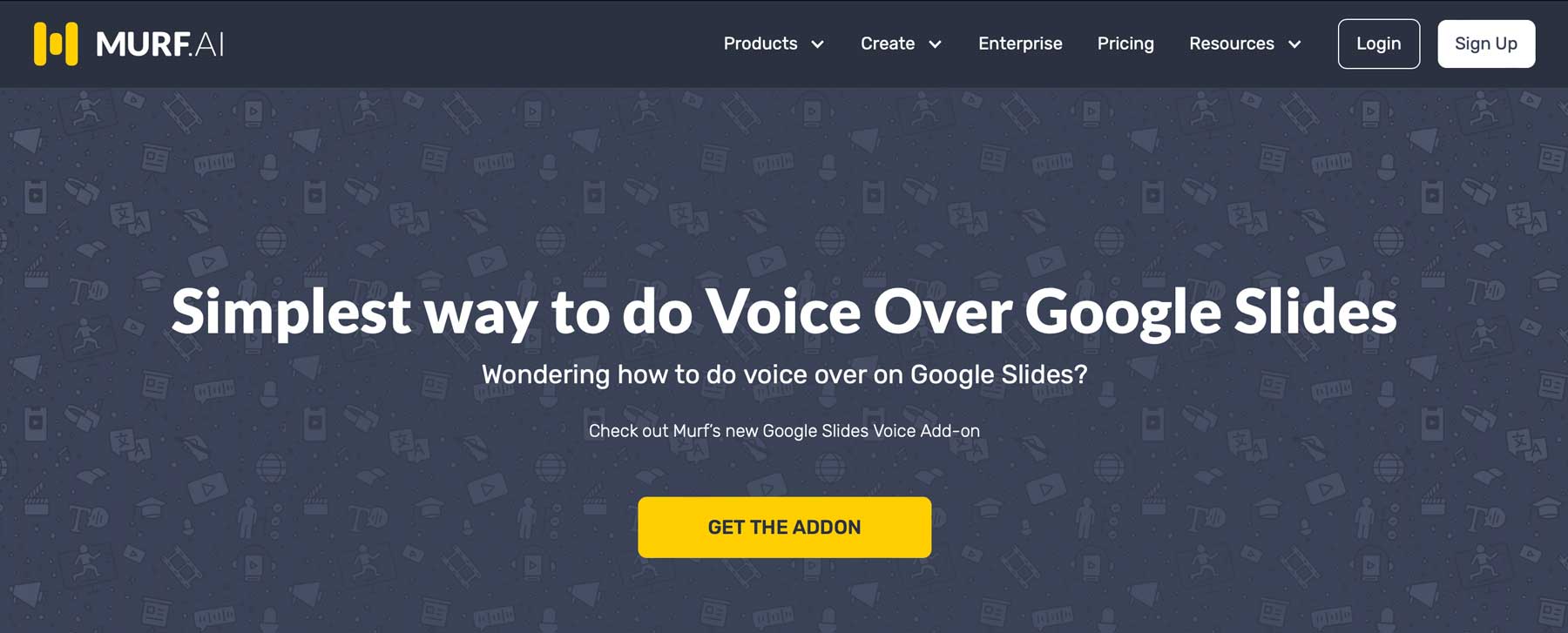 You're in luck if you want to add voiceovers to your presentations and use Google Slides. Murf AI offers a handy add-on, allowing you to easily add spoken words to your slides. It integrates directly with GS, so you can write and edit your voiceover script as your work. The best part? You'll have access to all of the voices in your plan – directly within the GS interface. Additionally, the AI will choose the best voice for your project based on the content within your presentation.
Murf API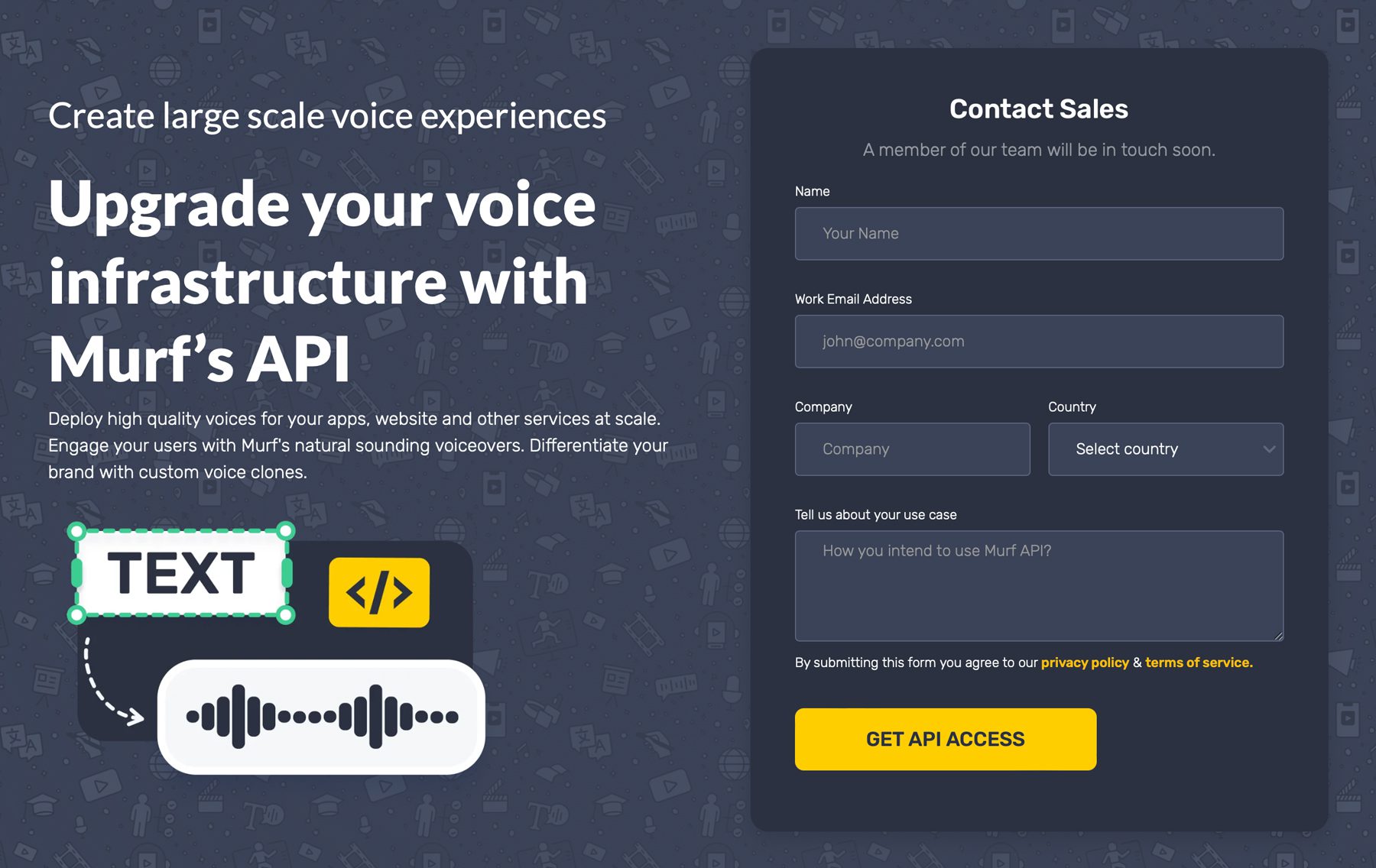 Do you need AI voice integration on your application or website? With Murf API, you can do it. As with the voice cloning feature, you'll need to request Murf to develop a custom solution. The API comes with more than 40 available voices you can use. However, you must purchase this feature separately, as it's not part of their subscription plans. The cost of API integration is steep for smaller businesses, costing roughly $ 3,000 per year. That said, if you are part of a large business or corporation, this is a steal compared to the cost of hiring voice actors.
Murf AI Pricing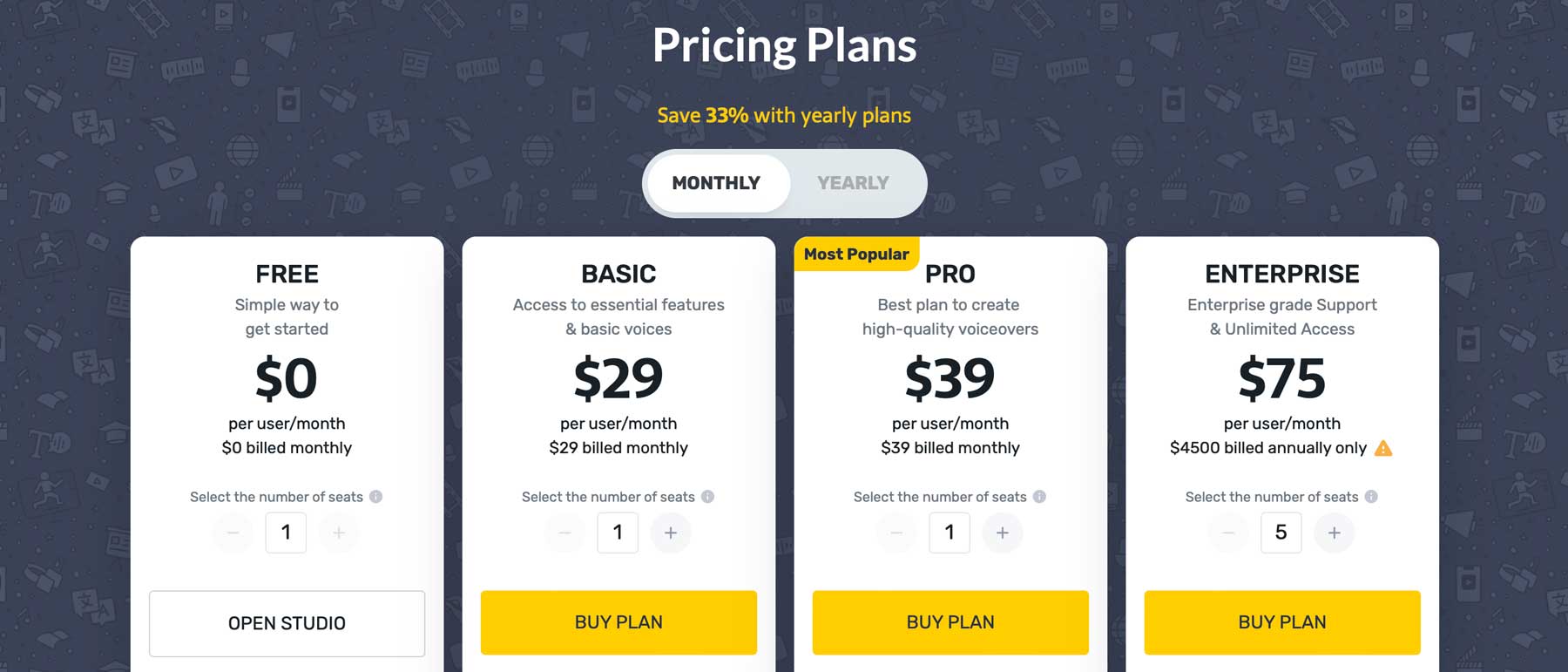 If you're considering signing up for Murf AI, you'll be pleased to know that the pricing is very affordable. They offer a free tier and three paid plans, so there's something for everyone. The free plan comes with 32 AI voices, 10 minutes of voice generation, 10 minutes of transcription, and up to three users. The downside to the free plan is that you can't download anything you generate. However, it is a great way for users to test Murf and decide if it's the right choice.
The Basic Plan includes unlimited downloads, 60 basic voices, access to 10 languages, 24 hours of voice generation per user per year, and over 8000 licensed soundtracks. Basic starts at $19 per user per month, billed annually. The Pro plan offers the benefits of Basic but adds access to all 120+ AI voices, 20+ languages, the AI voice changer, commercial usage rights, and high-priority support for $26 per month.
Finally, the Enterprise plan will cost you $75 per month for 5 users. It offers all of the benefits of Pro but sweetens the deal with unlimited voice generation, transcription, and storage. You'll also receive a dedicated account manager, advanced collaboration tools, and a security assessment. This is especially important because of the voice cloning feature. With deep fakes becoming a real concern, there is the potential for nefarious actors to gain access to your content to impersonate others.
How to Use Murf AI
Murf AI offers many compelling features but shines with text-to-speech. To put it plainly, they absolutely nail it. Most of its voices are really good. In most instances, it's hard to tell the difference between human vs AI. It offers a simple interface, so you won't get bogged down trying to learn complicated software. You can write directly in the editor or paste it from various sources, including AI writing software.
To demonstrate how simple it is to create a voiceover, we'll walk you through the interface and the steps needed to make your first voiceover.
Start by navigating to the Studio Home Screen, then click the Create Project button.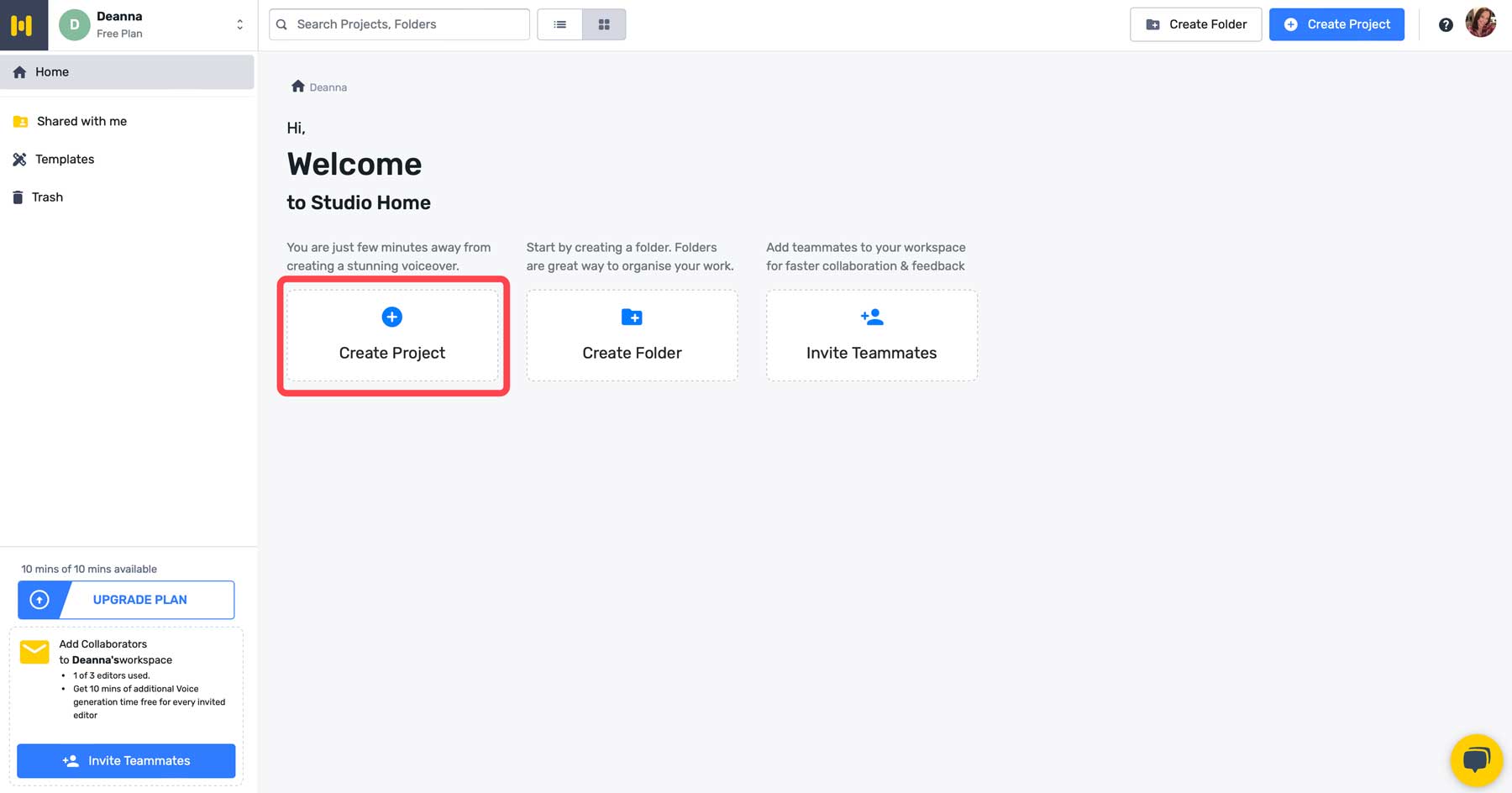 Next, give your project a name (1), select the video tab (2), choose social media as the format (3), and click the Create Project button (4).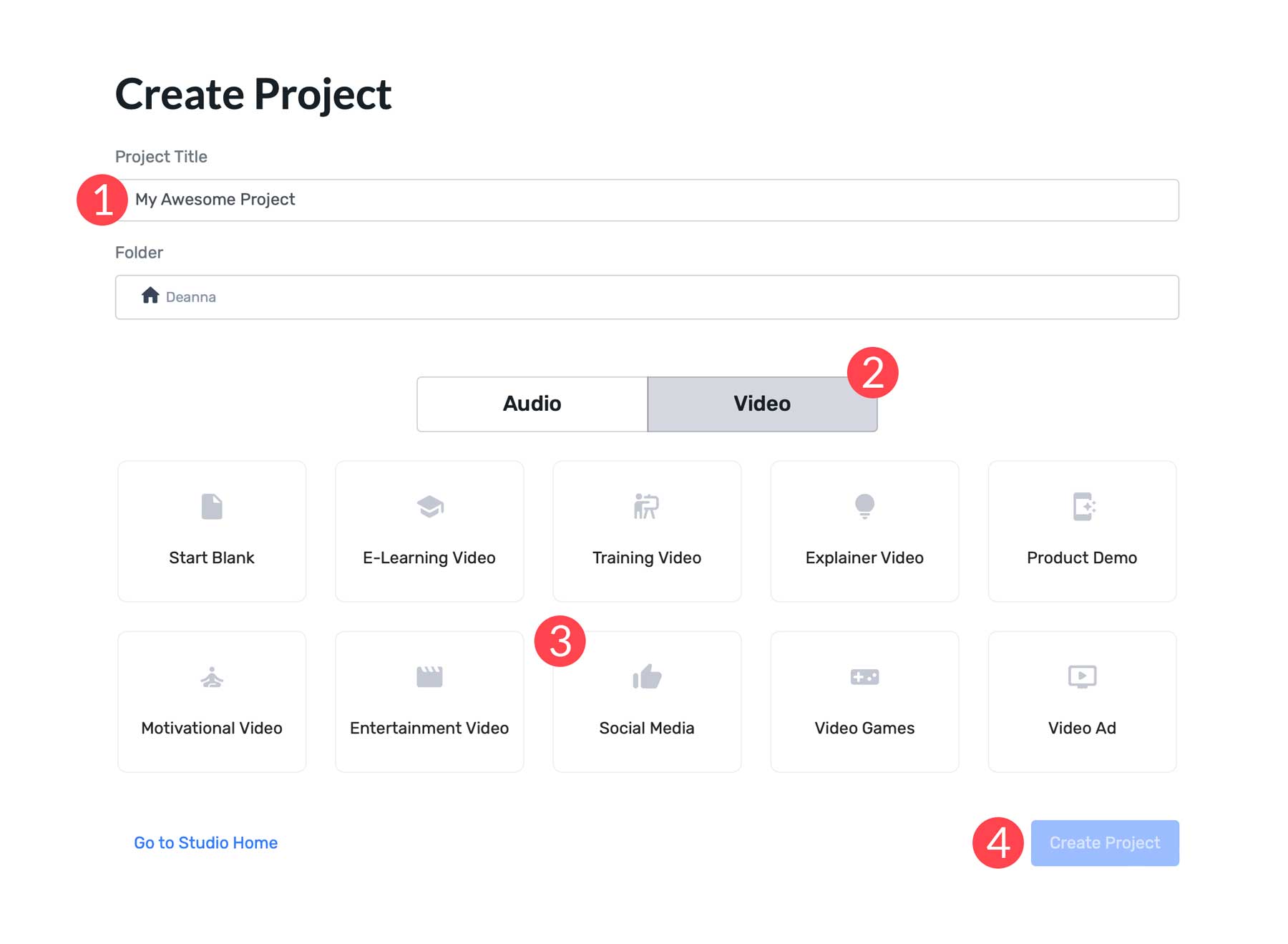 Choosing a Murf AI Voice for Your Project
On the next screen, you'll complete a series of steps to create your video. First, you'll need to select an AI voice for your video. For this tutorial, we're using the free version of Murf AI, which gives us over 30 voices to choose from. Go ahead and click on Explore AI Voices (1), or click the dropdown (2) at the top of the text field.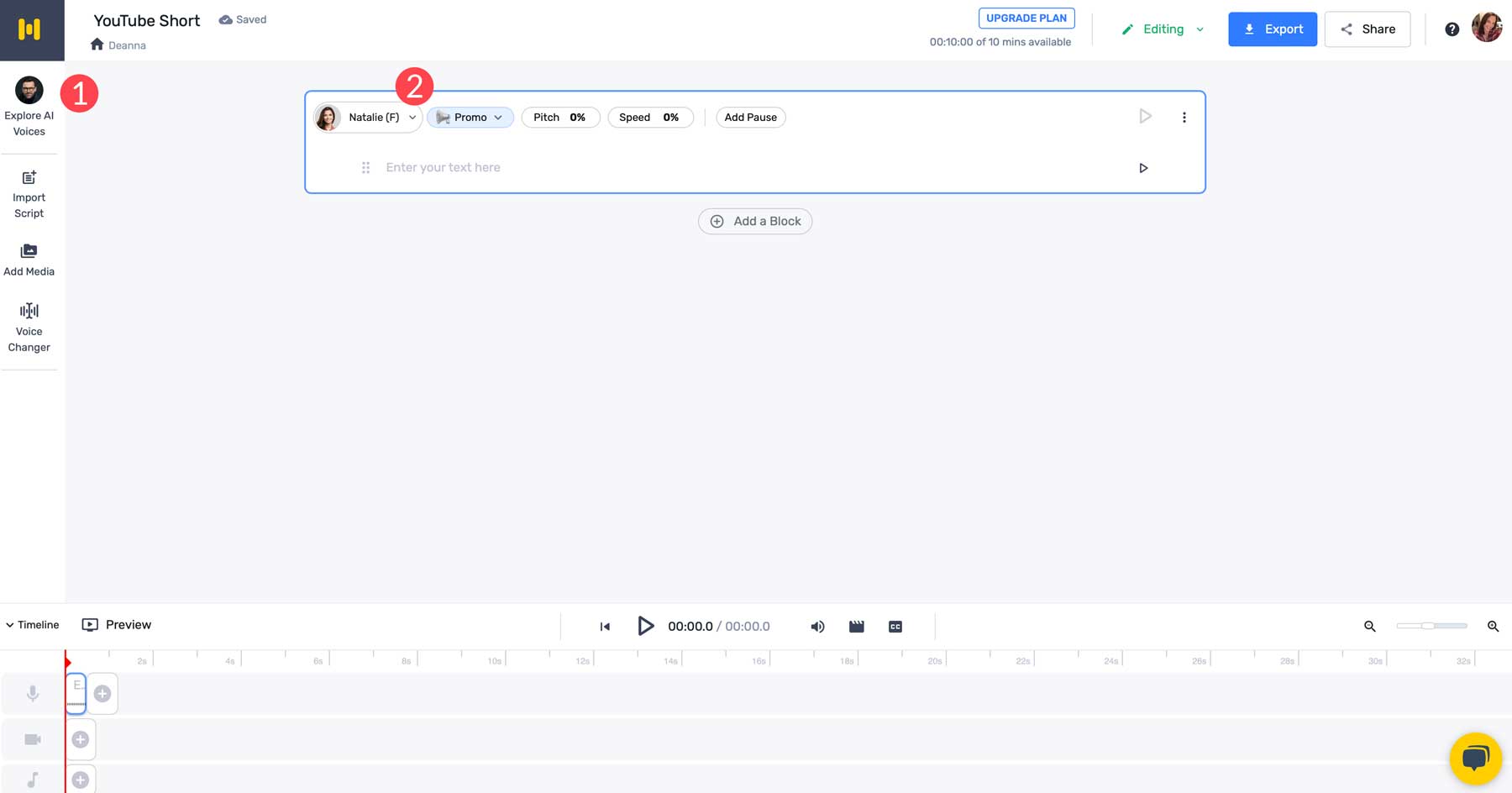 If you're following along with the free version, toggle Hide Pro Voices to view the available voices.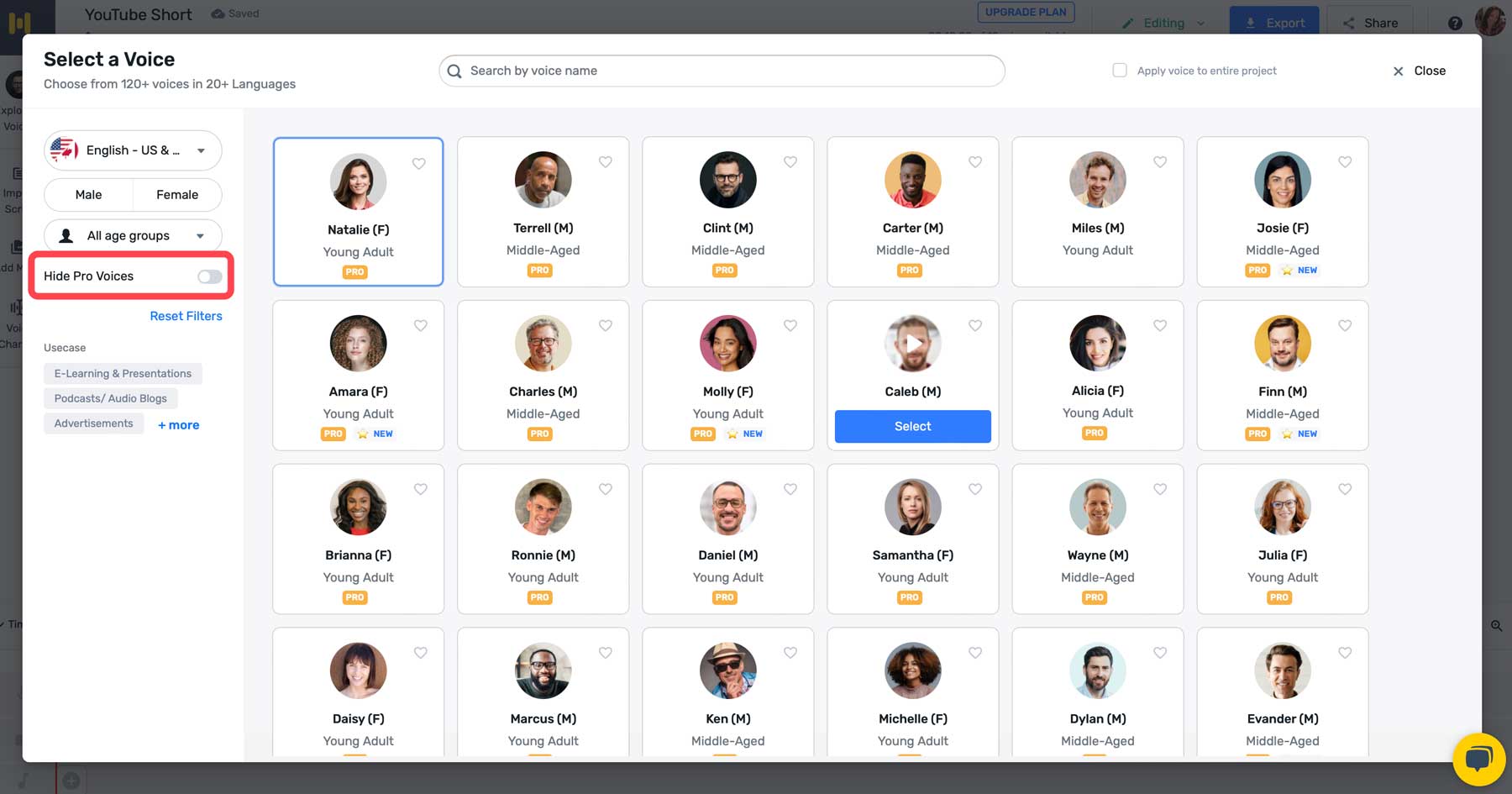 When browsing, you can drill down more using the provided filters. They include US, UK, and Australian voices, sorted by gender, age group, or use case.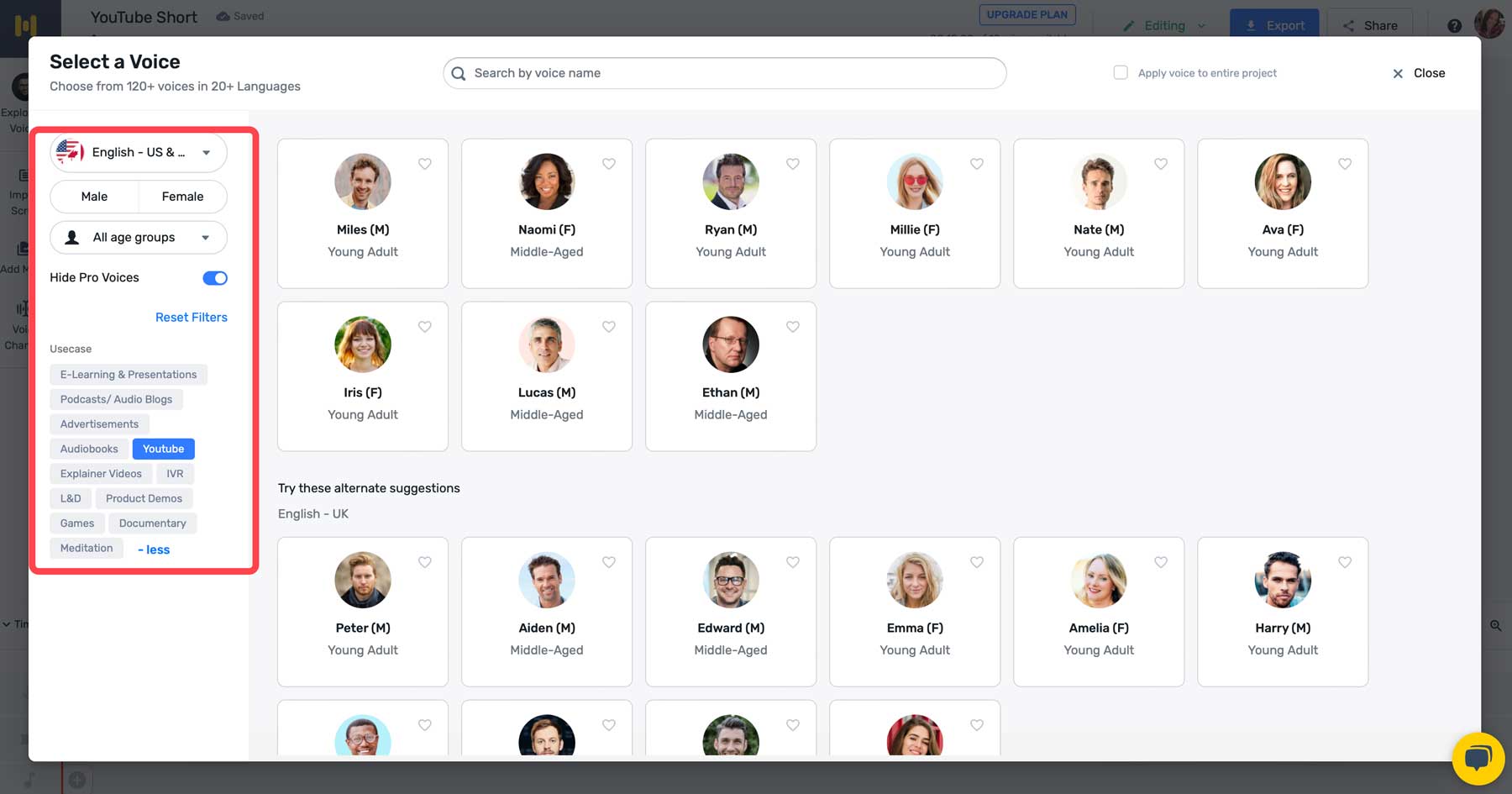 We'll use Ava for our video because she has the most natural-sounding voice for our project. However, feel free to preview each one to determine which one works best for your situation. Once decided, click the select button.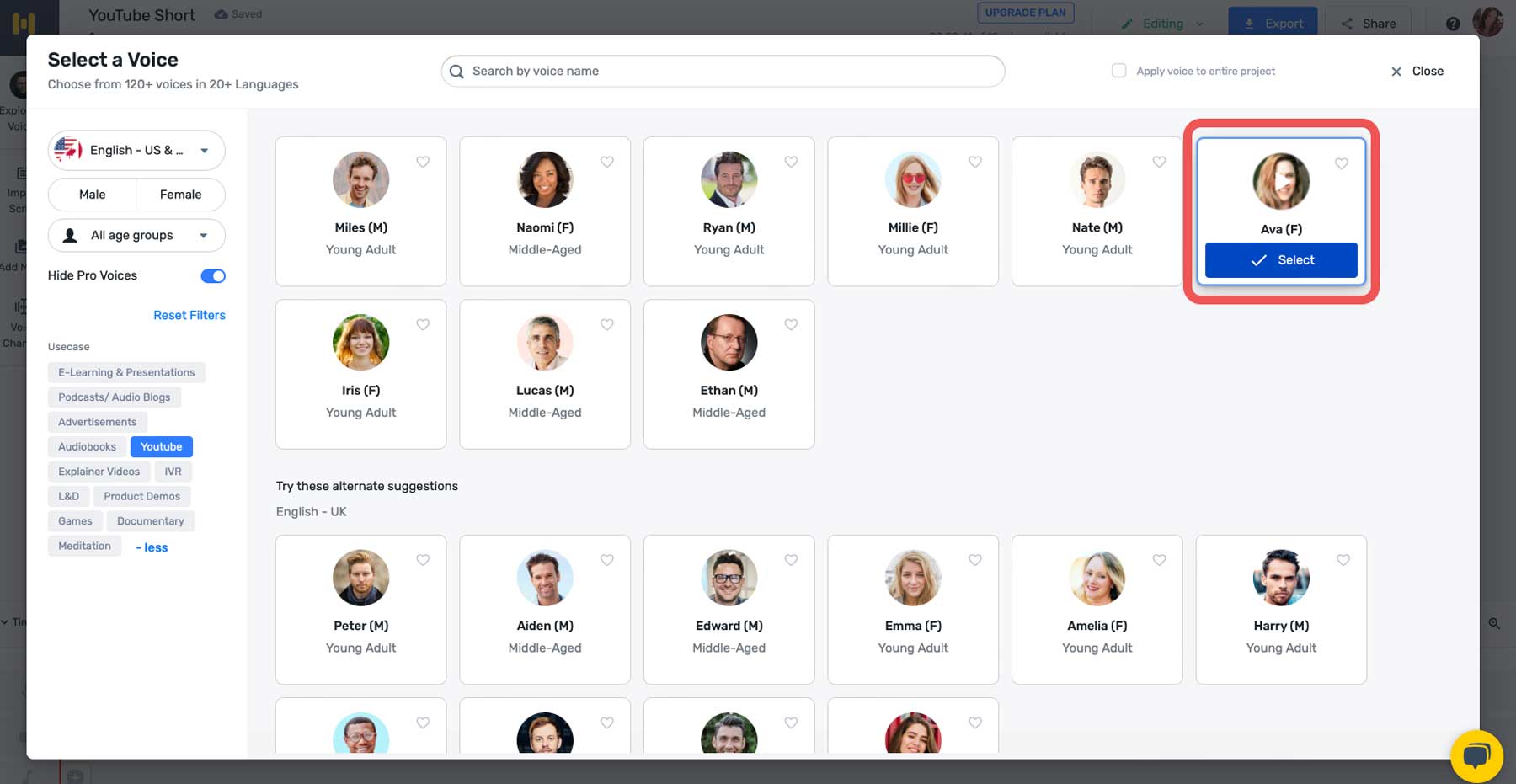 Adding a Video Script
The next step requires you to write a script for your video or use another program such as Jasper, ChatGPT, or an alternative to write it for you. We'll ask Jasper to write a short script about 5 web design trends in 2024. Next, we'll select the YouTube script outline tool, add our title, and set a witty tone of voice for our video.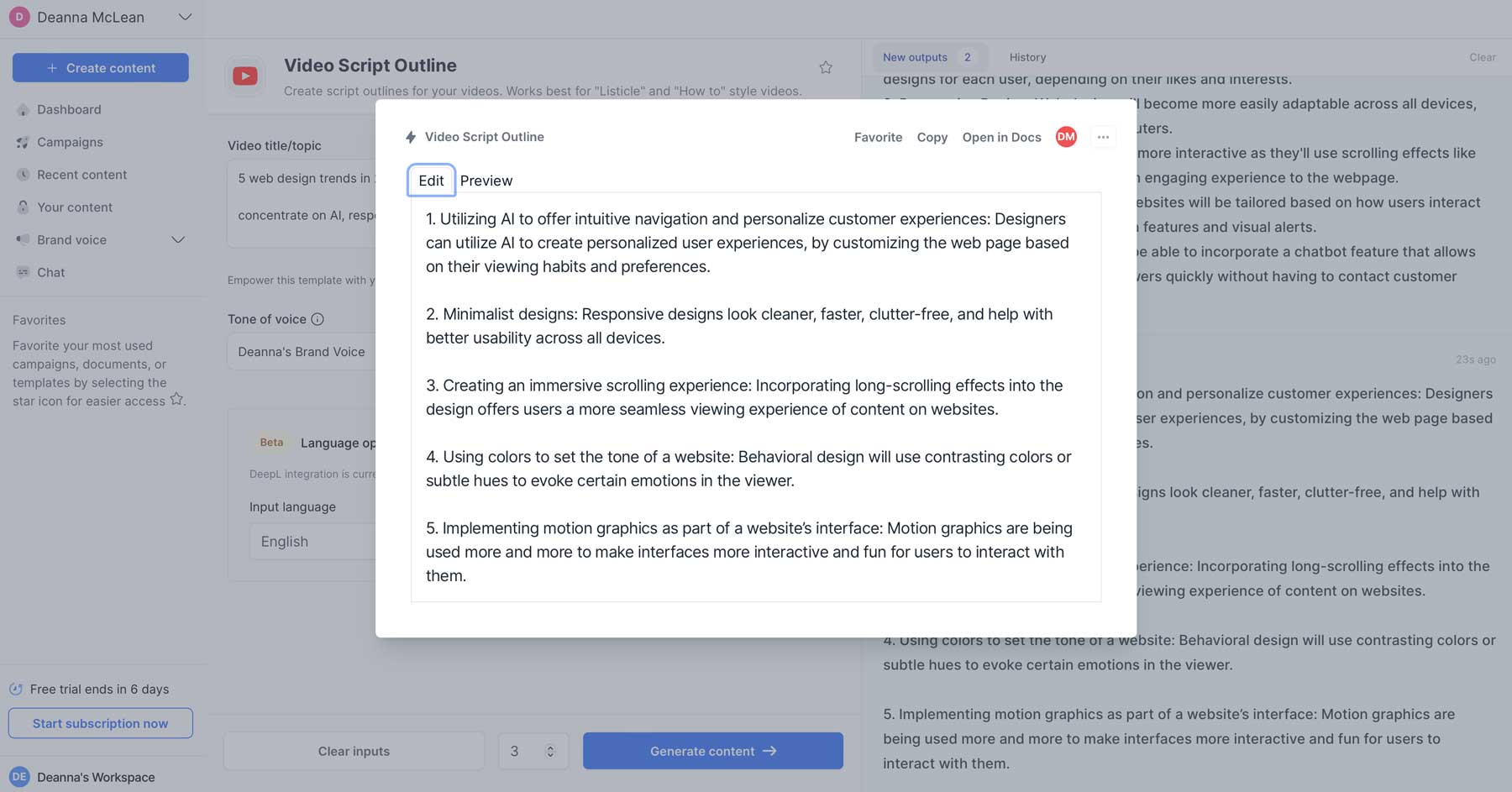 We'll copy the first section of the script and paste it into Murf AI. Click the play icon on the right to generate the audio clip. Once complete, you can preview your clip using the same button.

Once your audio is generated, you can preview the audio using the same play button. Murf AI comes with a few settings to help you adjust the output. These include tone (1), pitch (2), speed (3), and the ability to add a pause (4). These come in handy if the generated voice is too computer-like, has awkward run-on sentences, or needs to be adjusted to a lower or higher sound (pitch).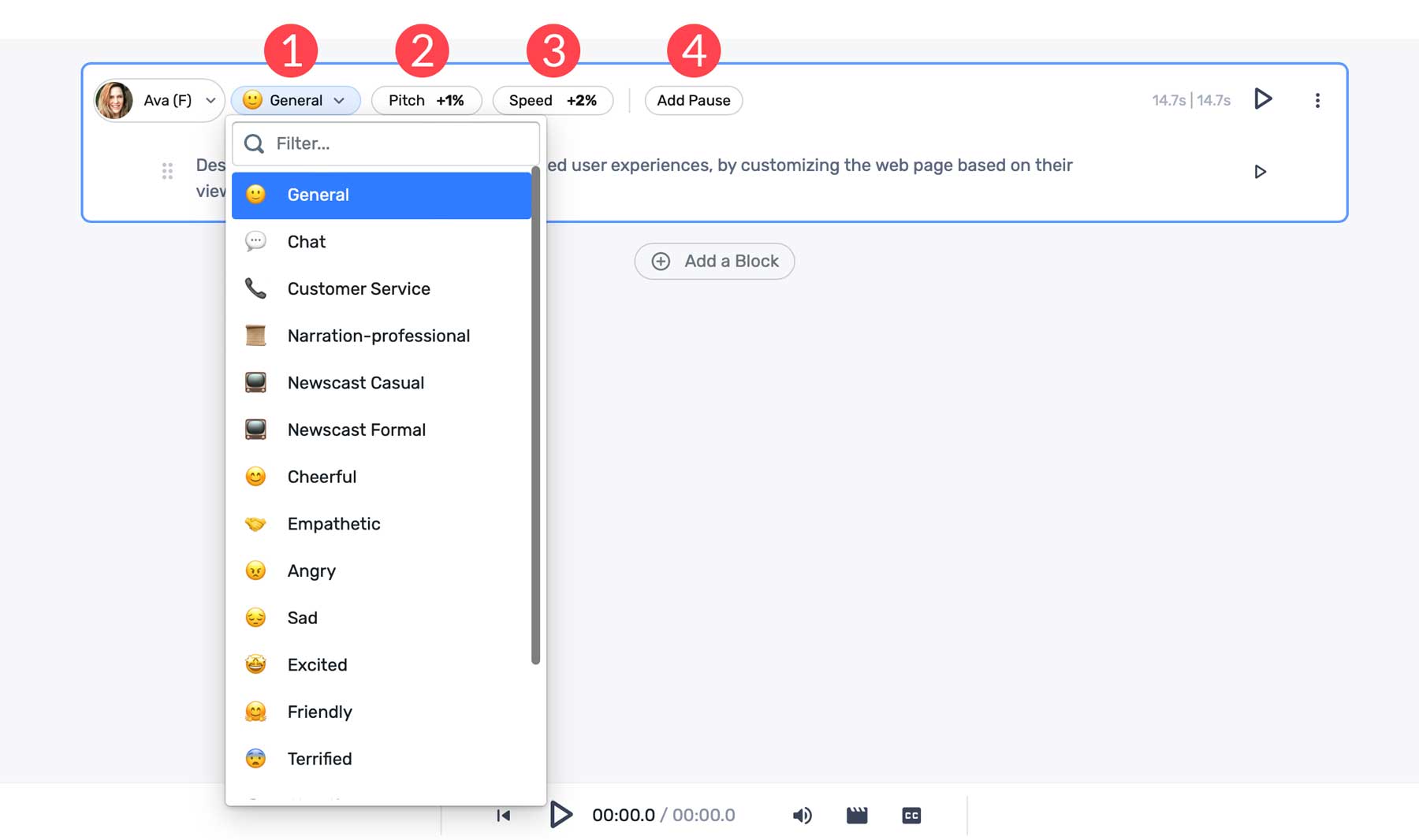 Click the + Add a Block button to add more text.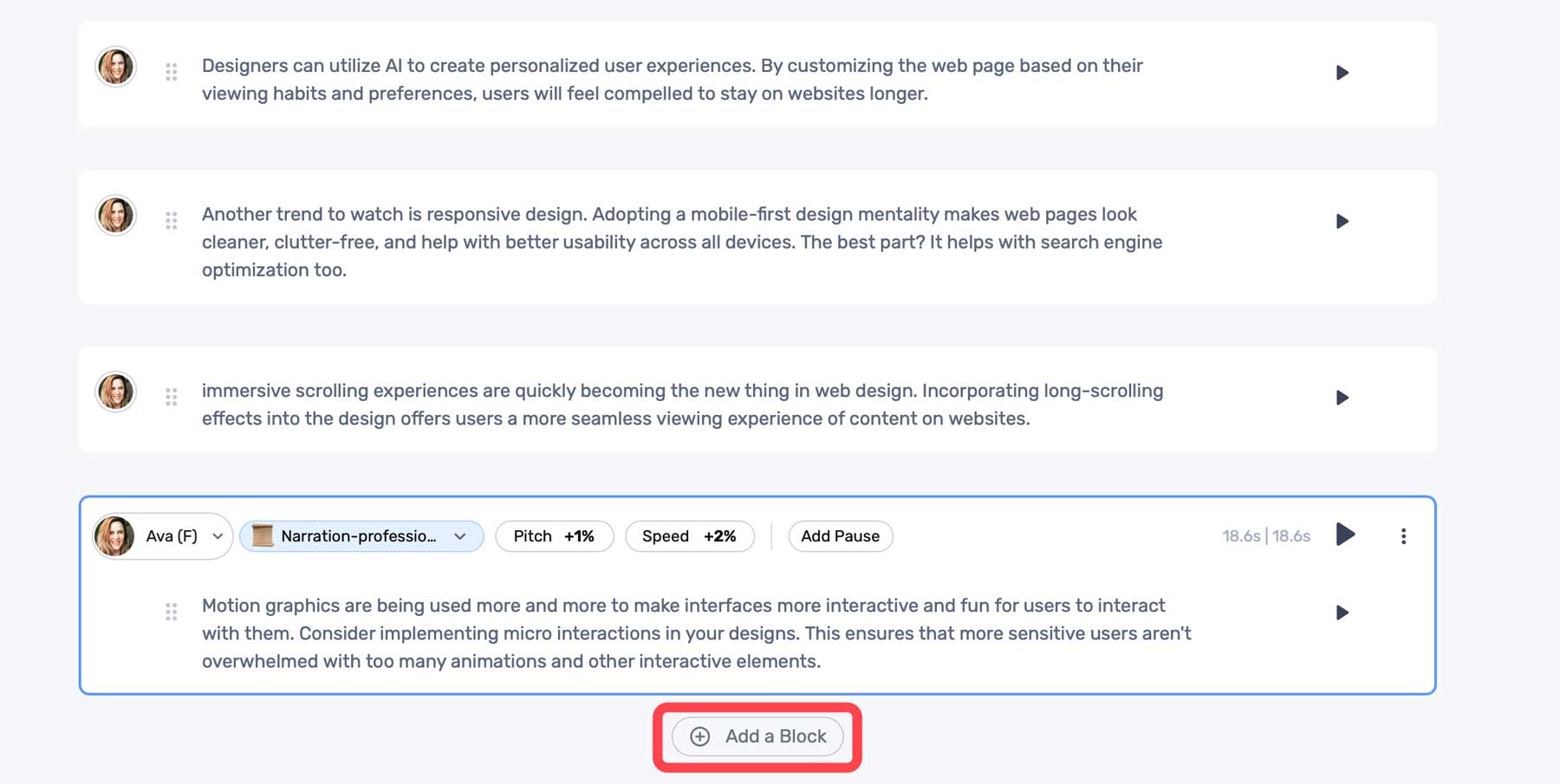 Adding Media To Murf AI Project
In addition to text-to-speech, Murf AI offers its users stock media assets you can use in your projects. These include stock music, images, and videos. To add media, click the Add Media tab in the dashboard.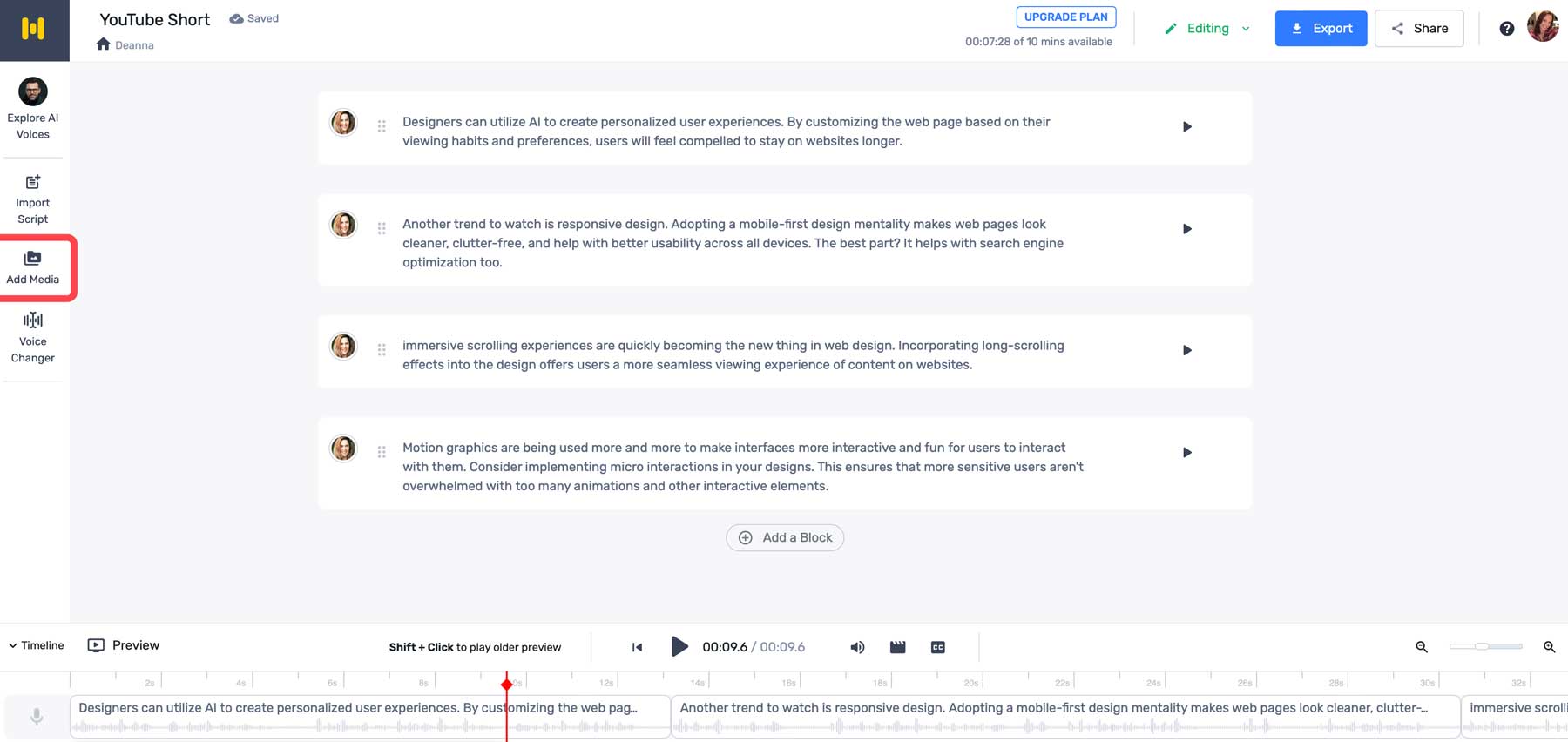 You can search the media library for assets to build your video from there.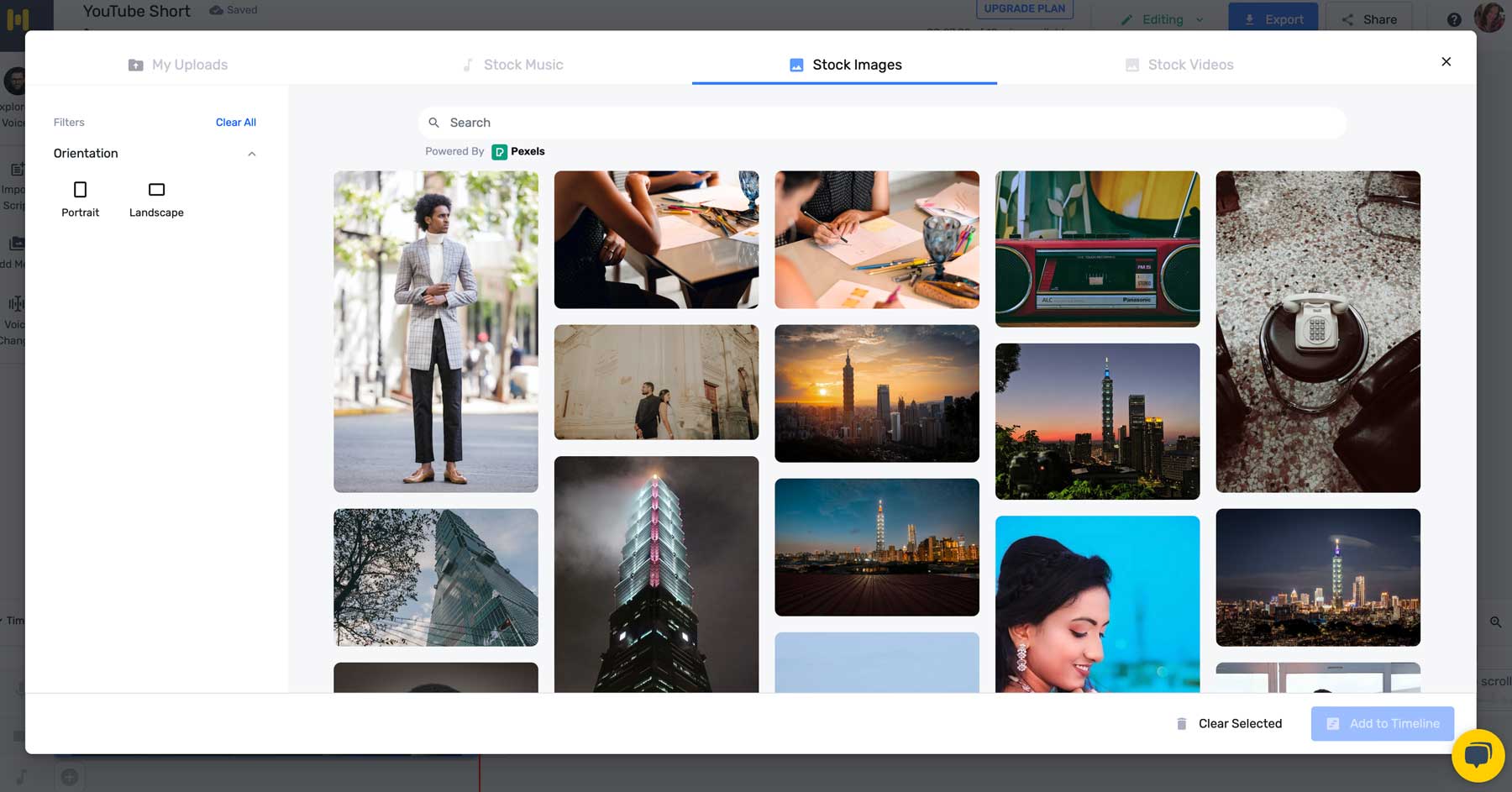 Click on any media to preview it. You can easily add it to your project by clicking the Add to Timeline button.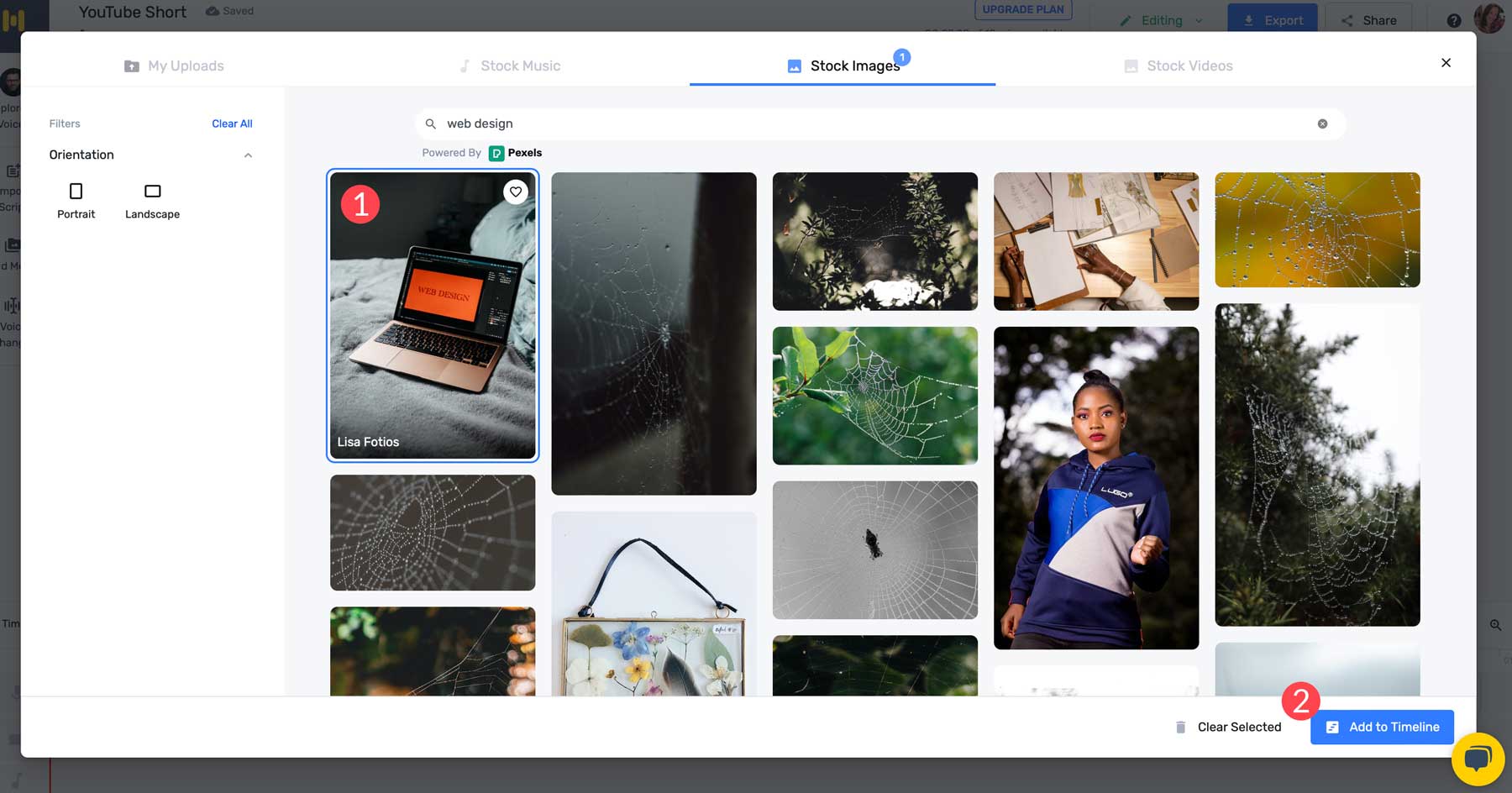 Using the Voice Changer Feature
If you prefer, you can add an audio sample and allow Murf AI to transcribe it. It'll use its proprietary algorithms to analyze your sample and convert it to written text. Once completed, it will automatically be added to the timeline, where you can edit it. At that point, you can make audio edits as necessary for tone or pitch, choose an AI voice, and generate a voiceover in seconds.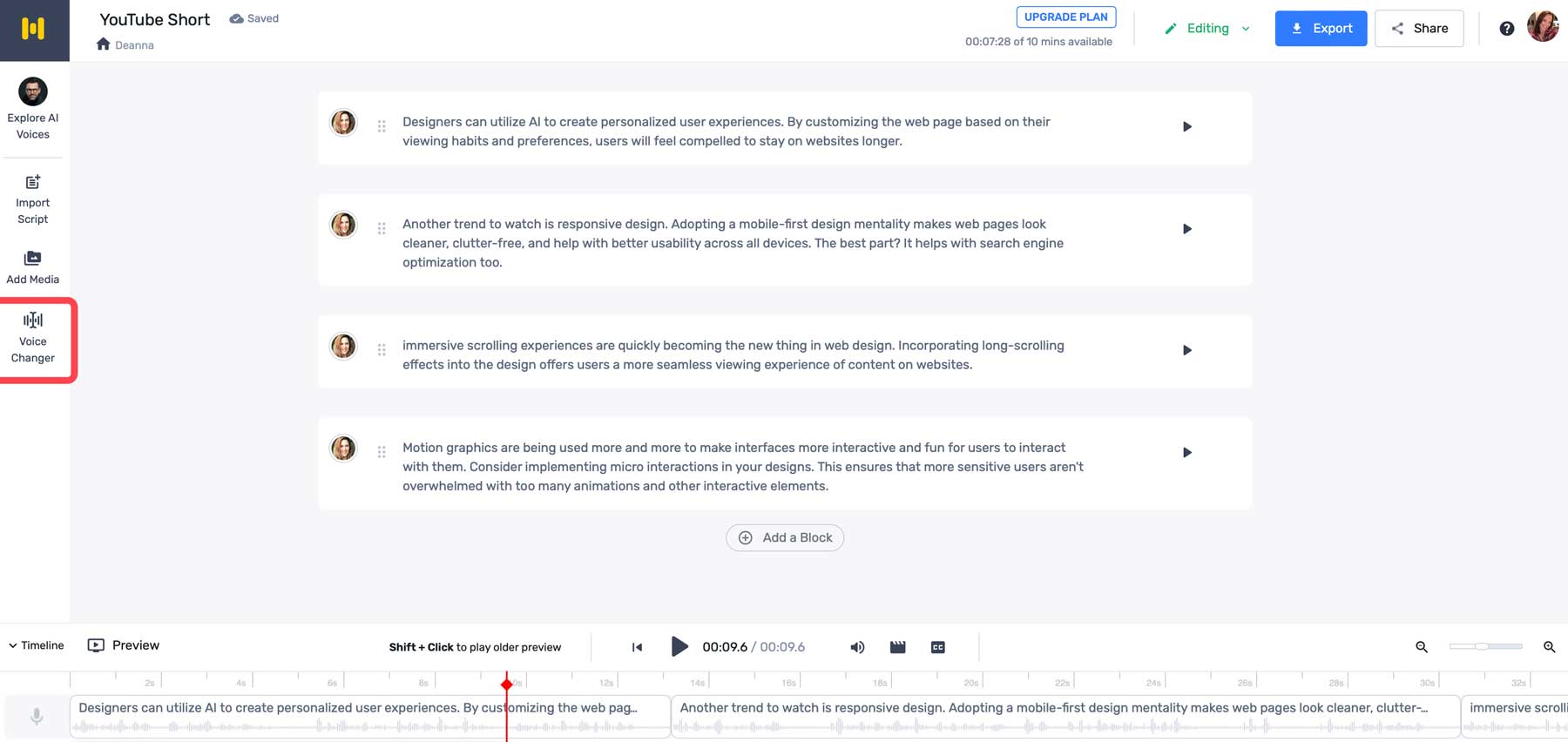 Creating an AI voiceover with Murf AI is easy, and the voices are quite good. As an added bonus, Murf AI does an excellent job of allowing its users to customize AI models to get the most realistic sound possible. However, it's important to mention that when using the free version, you won't be able to export your projects. However, they are saved in your user account, should you decide to upgrade.
Here's a short audio clip of the AI voice model, Ava, reading a portion of our script:
Pros and Cons of Murf AI
To be transparent for our readers, weighing the pros and cons of subscribing to Murf AI is important. While there are a lot of pros, including the wide range of AI voices available, there are some cons that you should be aware of.
Pros of Using Murf AI
Over 120+ realistic AI voices with support for 20+ languages
Saves time and money over hiring professional voice actors
Simple interface
Many ethnicities, tones, and styles to choose from
Cons of Using Murf AI
The free plan doesn't allow downloads
Customization of pitch and tone could be better
Potential security concerns with voice cloning
In our experience, the voice-over-video tool is a bit buggy at times
Final Thoughts on Murf AI
Murf AI is a versatile and valuable tool for creating voiceovers for presentations, videos, and more. With more than 120 natural-sounding voices and support for more than 20 languages, it saves time and resources and simplifies creating compelling voiceovers.
However, it's important to note that Murf AI isn't without its flaws. There are occasional bugs with the voice-over-video tool and a need for better customization options for pitch and tone. Despite that, Murf AI stands out above its competition due to how realistic its voices are. If you need a quick way to generate natural-sounding voiceovers, you'll be hard-pressed to find a better solution than Murf AI.