Video content is one of the most compelling ways to capture the attention of your site's visitors. In fact, according to Wyzowl, more than 91% of marketers use video content on their websites. If you are a video creator, you understand the importance of video assets but also know how time-consuming it can be to create them. Thankfully, with the development of artificial intelligence, you can use some great tools to streamline the process of creating videos to save time. In this post, we'll walk you through our picks for the best AI video generators so that you can crank them out faster. Let's dive in.
What is an AI Video Generator?
An AI video generator is a web-based or standalone software that allows you to create video assets effortlessly, usually without needing prior video editing experience. These tools can assist with tasks such as erasing video elements, creating green screens, using text to video to construct scripts from a URL or blog post, and much more. By incorporating an AI video tool into your skillset, you can create videos in a fraction of the time, making you more productive and opening up opportunities to creators who want to expand their reach on the internet.
8 Best AI Video Generators in 2023

Subscribe To Our Youtube Channel
To build our list, we conducted extensive research using a hands-on approach. We thoroughly tested all of the tools to test their functionalities and ease of use so that we could assist you in your quest to create excellent video content. So without further delay, let's dive into our picks for the best AI video generators you can use now.
The Best AI Video Generators Listed In Order
Expand List
1. Pictory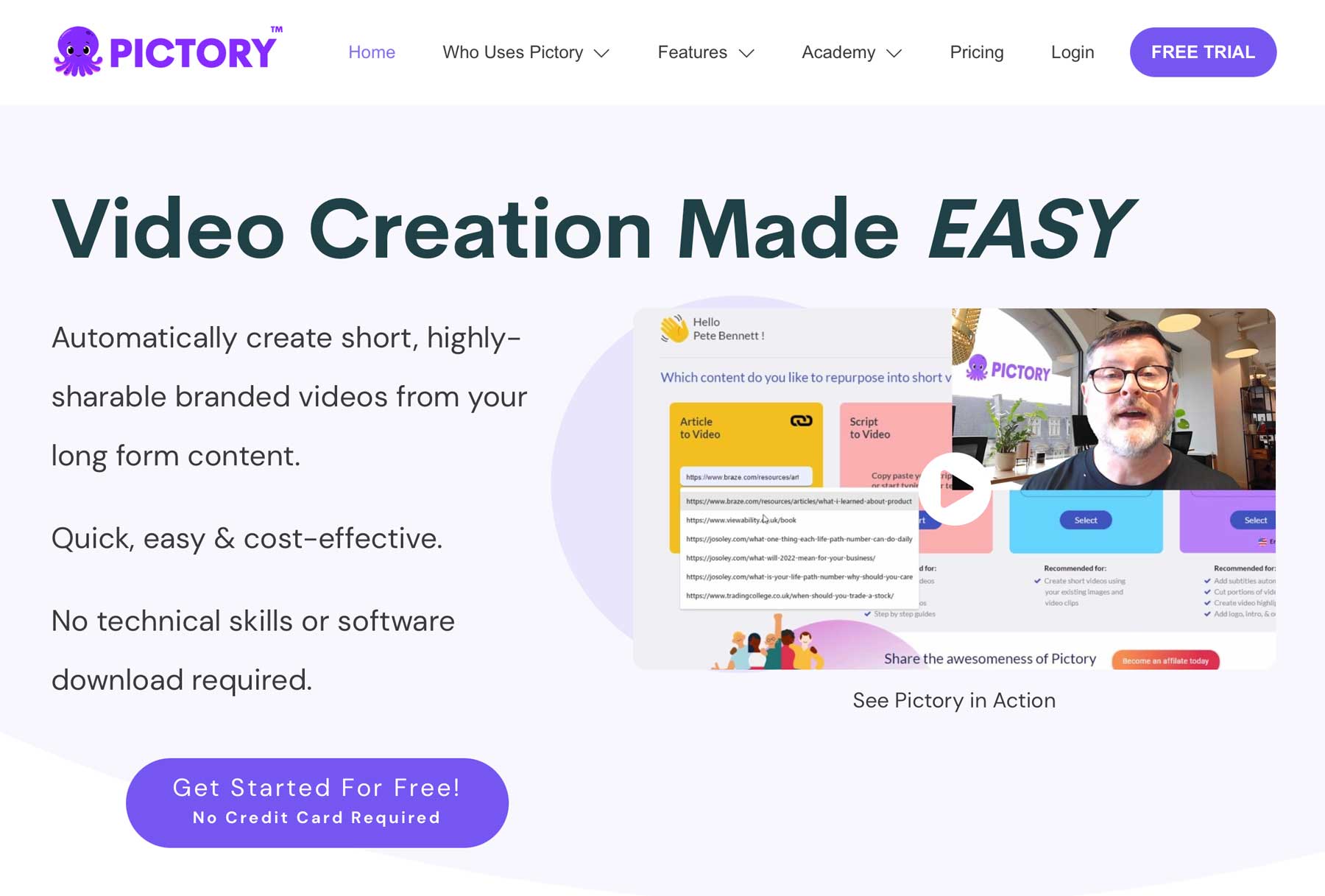 The first AI video generator on our list is Pictory, which enables you to create a video in just a few minutes. You can generate videos from a script or article, edit existing videos with text, or use a collection of image assets to create a video. Pictory comes packed with over three million royalty-free images, gifs, stickers, and emojis, which can be easily inserted into your video projects. It can streamline editing or generate complete videos with only a few prompts.
Key Features of Pictory:
Blog to video
AI or human voiceovers
Three million+ image assets
Add stickers, GIFs, and emojis
Pre-made video templates
Text to video (pro)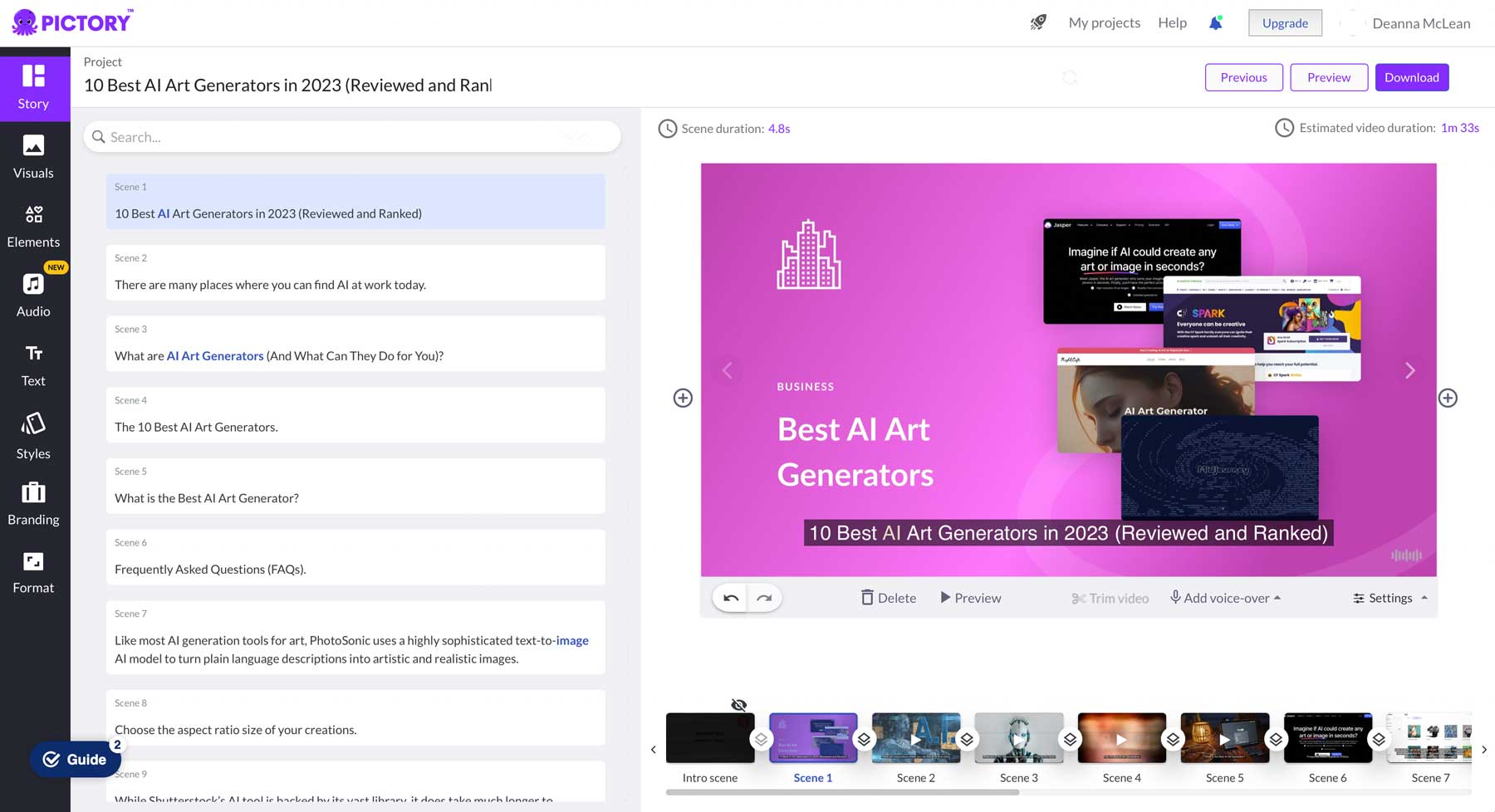 When testing Pictory, we selected the URL-to-video setting to see how well it works. We input a URL from one of our blog posts, uploaded it, and had a two-minute video within a few minutes. It did an excellent job of interpreting the essential parts of our post by recognizing headlines and main points. Plus, it provided us with nearly four dozen templates based on our content. It also automatically found relevant images and applied an AI voice for us. However, the video it generated for us required quite a bit of tweaking to get a finished product. The good news is that they allow you to change the video, including adding your image assets, branding, and voiceover, which automatically synced to our content.
Pictory is Best For:
If you're looking for a quick way to generate custom video assets for your website, blog, or social media, try Pictory. Although you can't take what it gives you and run with it, plenty of tools are onboard to take your video to a higher level.
Pricing: Free, with premium monthly plans starting at $23.
2. Synthesia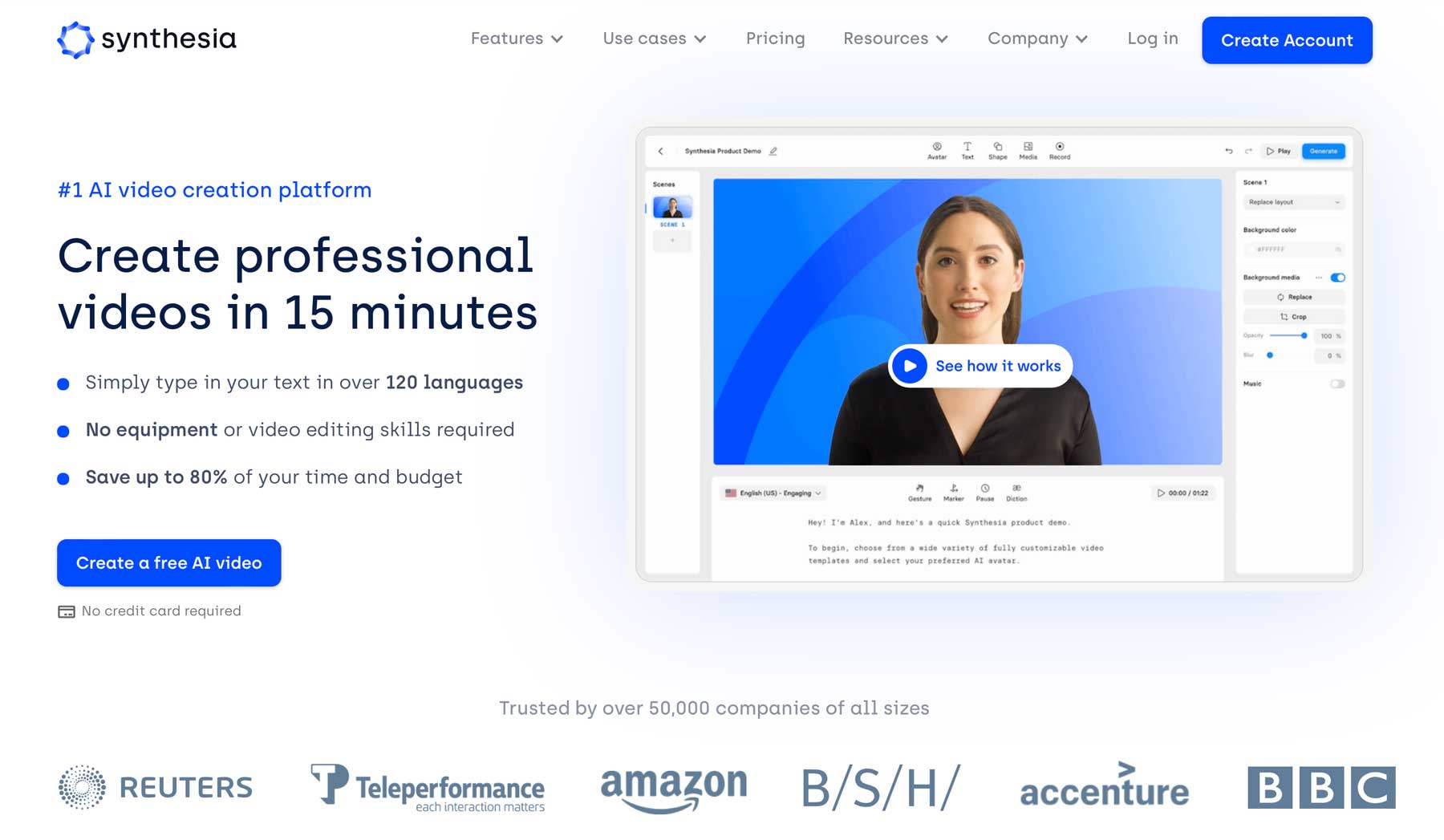 The following AI video creator on our list is Synthesia. Created in 2017 by AI researchers at several top universities, Synthesia has some of the best custom AI avatars and voices, with more than 120 unique AI models. They also provide native support for more than 120 languages, so if you have an international website, Synthesia can deliver your message in the language of your choice. However, they don't yet offer automatic translation, so you'll need to use another AI tool or Google Translate to do that for you.
Key Features of Synthesia:
Custom AI avatars
120+ AI voices
Text-to-speech voiceovers
AI script assistant
Built-in screen recorder
AI auto-sync (Enterprise only)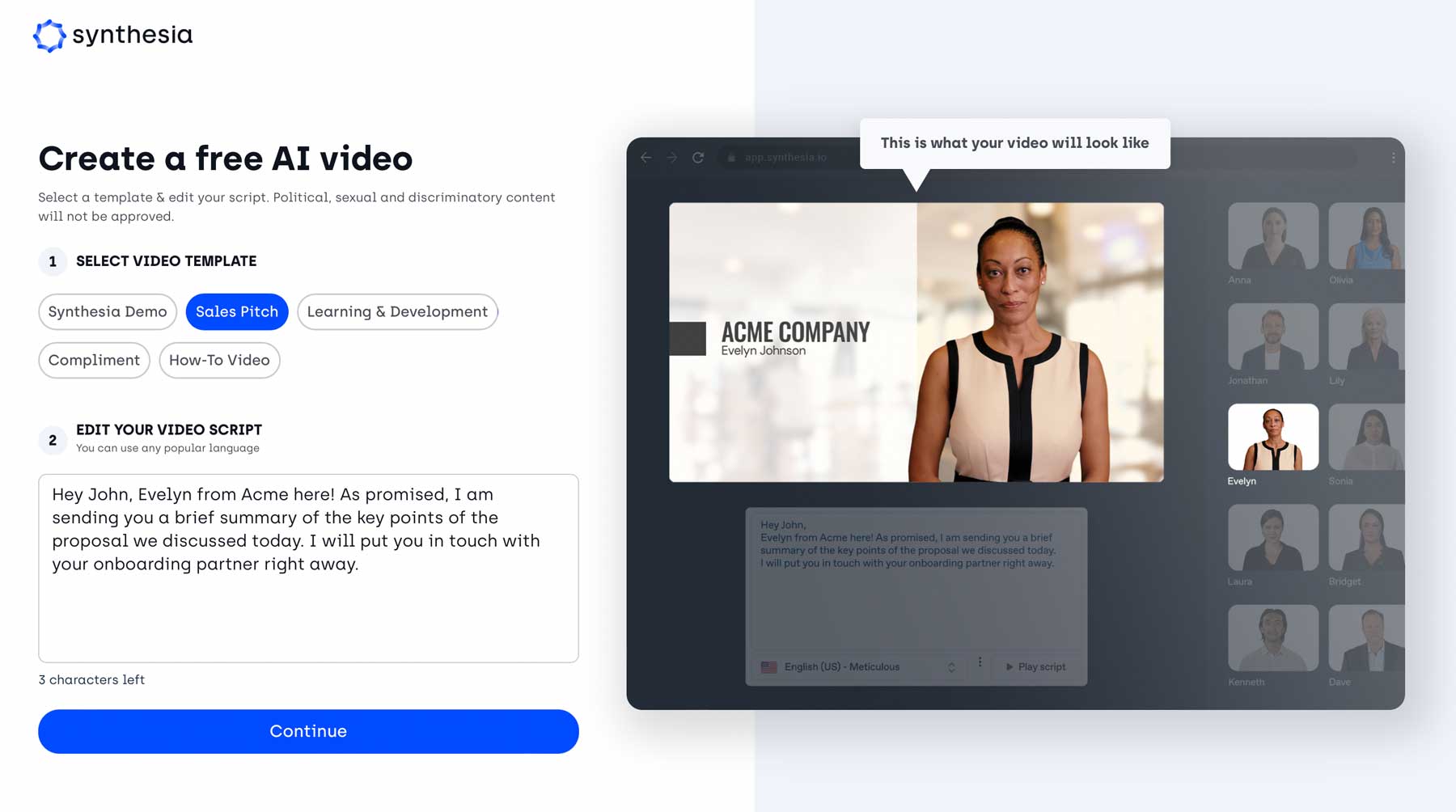 With Synthesia, you can start with a template, add an AI avatar, choose a voice, add custom assets, branding, and more. The result is one of the most realistic AI videos we've seen. Synthesia makes the entire process effortless and intuitive and provides excellent results. You can even create a custom avatar in a few minutes by recording your voice. However, there is a downside to Synthesia. While it is a fantastic tool for creating how-to videos, marketing materials, and training videos, Synthesia offers little else. If you want a tool to create social media videos for you, you'll need to look elsewhere.
Synthesia is Best For:
If you're in charge of training for your company, want to create a quick onboarding video for new hires, or need a short marketing video to incorporate into your presentations, Synthesia is an excellent option. It's reasonably affordable, too, with a personal plan that allows you to create 10 minutes of video per month for $30.
Pricing: starting at $30 per month.
3. Wave Video

Wave Video is ranked third on our list of top AI video generators, a platform that can be compared to Canva but for video. With many tools available for video editing, including image and video assets, text overlay effects, audio, captions, and much more, it's no wonder that Wave Video has become a popular choice among content creators. It offers a variety of video formats to suit your needs, ranging from vertical video formats for Facebook and YouTube to TikTok and Instagram, as well as web-based options. What sets Wave Video apart is its vast asset library, which boasts millions of options for live streaming, social media, holidays, and more – making it one of the most comprehensive resources available for content creators.
Key Features of Wave Video:
Text-to-video AI
Millions of stock assets
Video hosting
Video voiceovers
Text to speech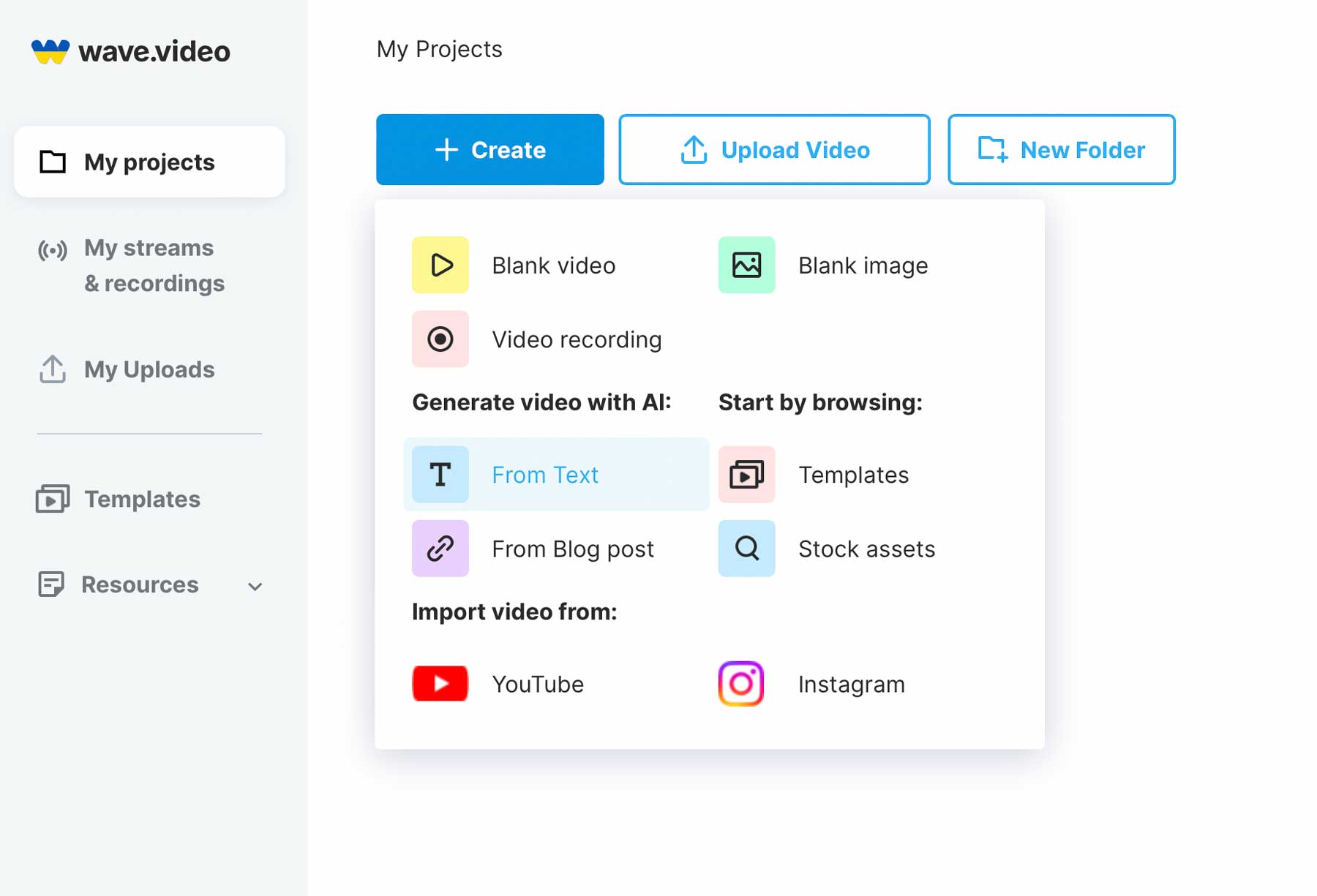 One standout feature of Wave Video is the ability to host your videos directly through their platform. This is a significant advantage, as hosting a video on your site can often lead to sluggish page speeds, especially when it comes to the critical metrics of time to first byte (TTFL) and largest contentful paint (LCP). By hosting your videos through a third-party platform like Wave Video, you can ensure that your content loads quickly and smoothly for your visitors. This can ultimately result in a lower bounce rate, keeping users engaged and satisfied with their experience.
Wave Video is Best For:
If you're a design professional, blogger, or marketer, Wave Video is worth trying. They offer an extensive template library with over 200 million assets, editing tools, and video hosting, so you don't have to host them on your website. Moreover, they have an impressive free plan with 10GB of storage, five embedded videos, and 10GB of traffic. If you need more, their paid plans are reasonably priced.
Pricing: Free, with monthly plans starting at $16.
4. Designs.AI

Our next AI video generator, Designs AI, is a creative powerhouse for creating videos, logos, text content, and more. While their video maker is a bit vanilla, the rest of their offerings warrant a high ranking on our list. Videos are created using a pre-designed template, your media, or their handy AI text-to-video feature.
Key Features of Designs.AI:
AI voiceovers
Text to video
Font pairing
Create outlines or entire blog posts with AI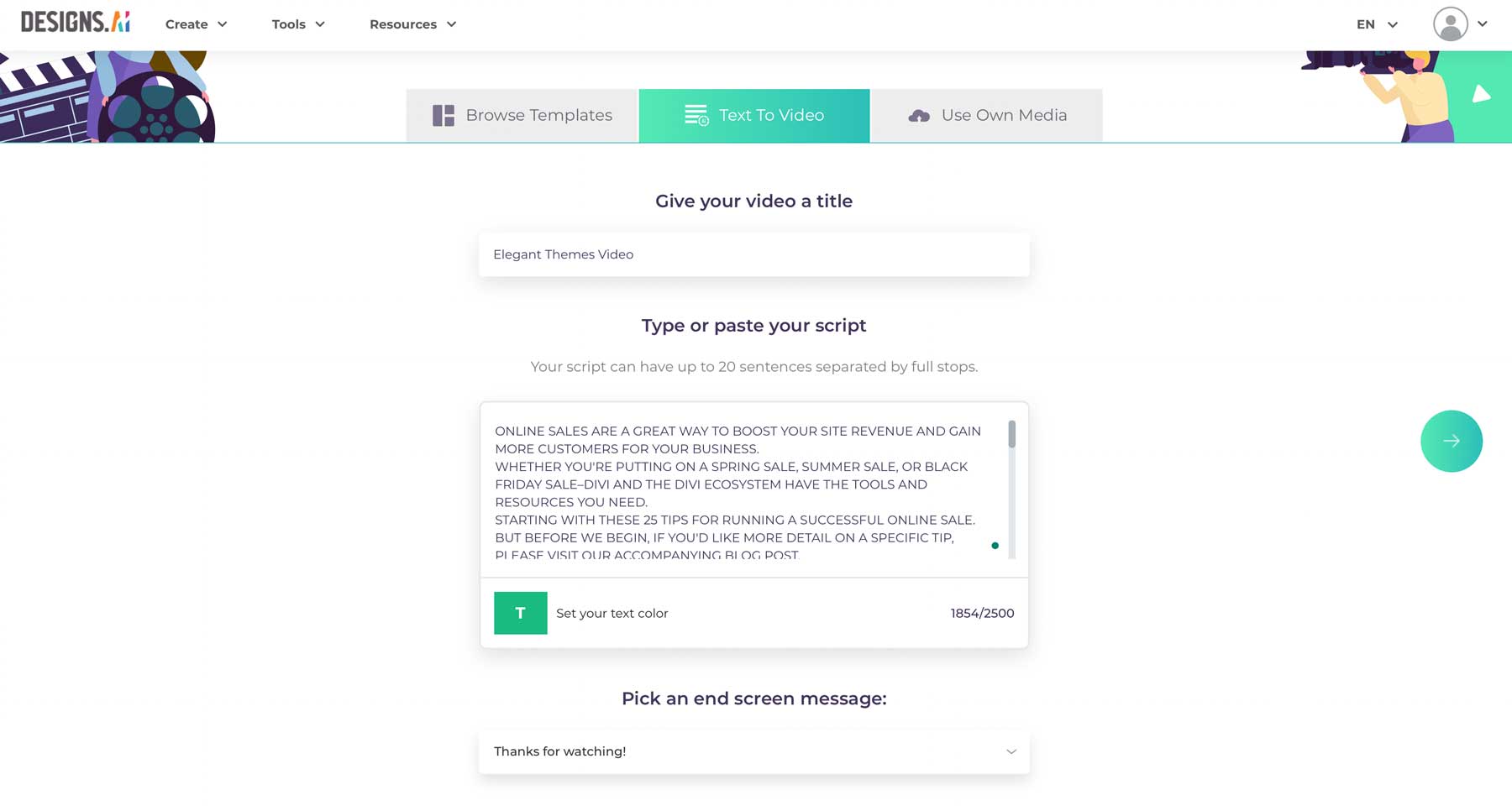 Designs AI offers several valuable features to assist content creators, including the text-to-video feature. Utilizing this feature, you can quickly create a video with text prompts of up to twenty sentences and choose from various voice and theme options to produce a full video in minutes. Designs AI excels at matching visual assets to your outline, but there's room for improvement regarding AI voices. While the free version offers seven relatively realistic voices, they tend to cut off sentence endings too quickly, making it evident to the listener that AI likely generated the video.
Designs.AI is Best For:
If you're looking for a one-stop solution offering more than just video assets to complement your website, blog, or social media platforms, Designs AI might be just what you need. This all-in-one platform has advanced AI tools to help you generate diverse digital content formats, including images, videos, text, and more; you can create any media you desire.
Pricing: Starting at $29 per month.
5. Runway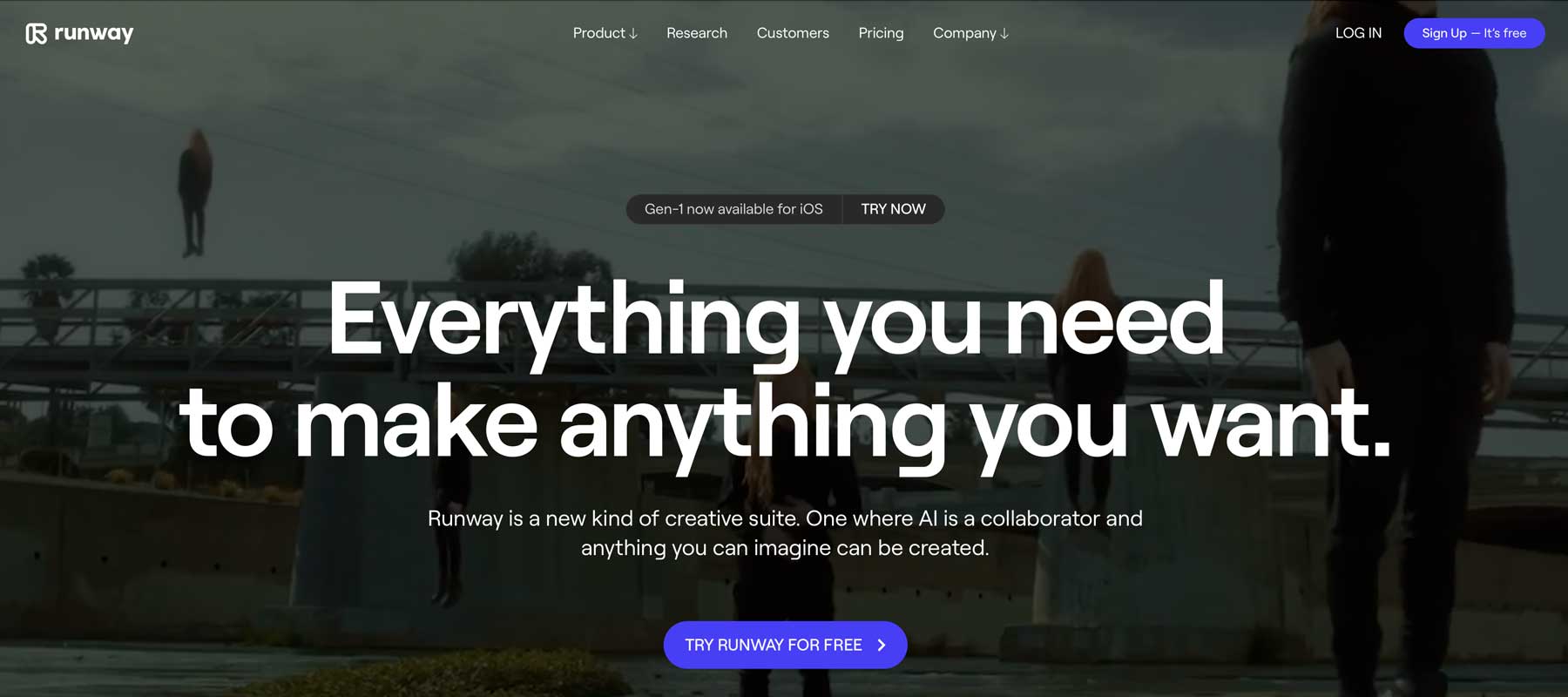 Ranked at number five is Runway, a cutting-edge AI video generator that boasts one of the newest technologies on our list. Created by the startup behind stable diffusion, this powerful tool stands out for its ability to transform and elevate the visual style of your existing videos. With many video effects at your fingertips, you can easily enhance your footage with slow-motion effects, blurred faces, removal of awkward silences, color adjustments, and more. However, Runway shines in Gen 1 video-to-video, which is their newest feature.
Key Features of Runway:
Gen 1: video to video
AI background remover
AI static image upscaling
Text to image generator (AI)
Erase and replace tool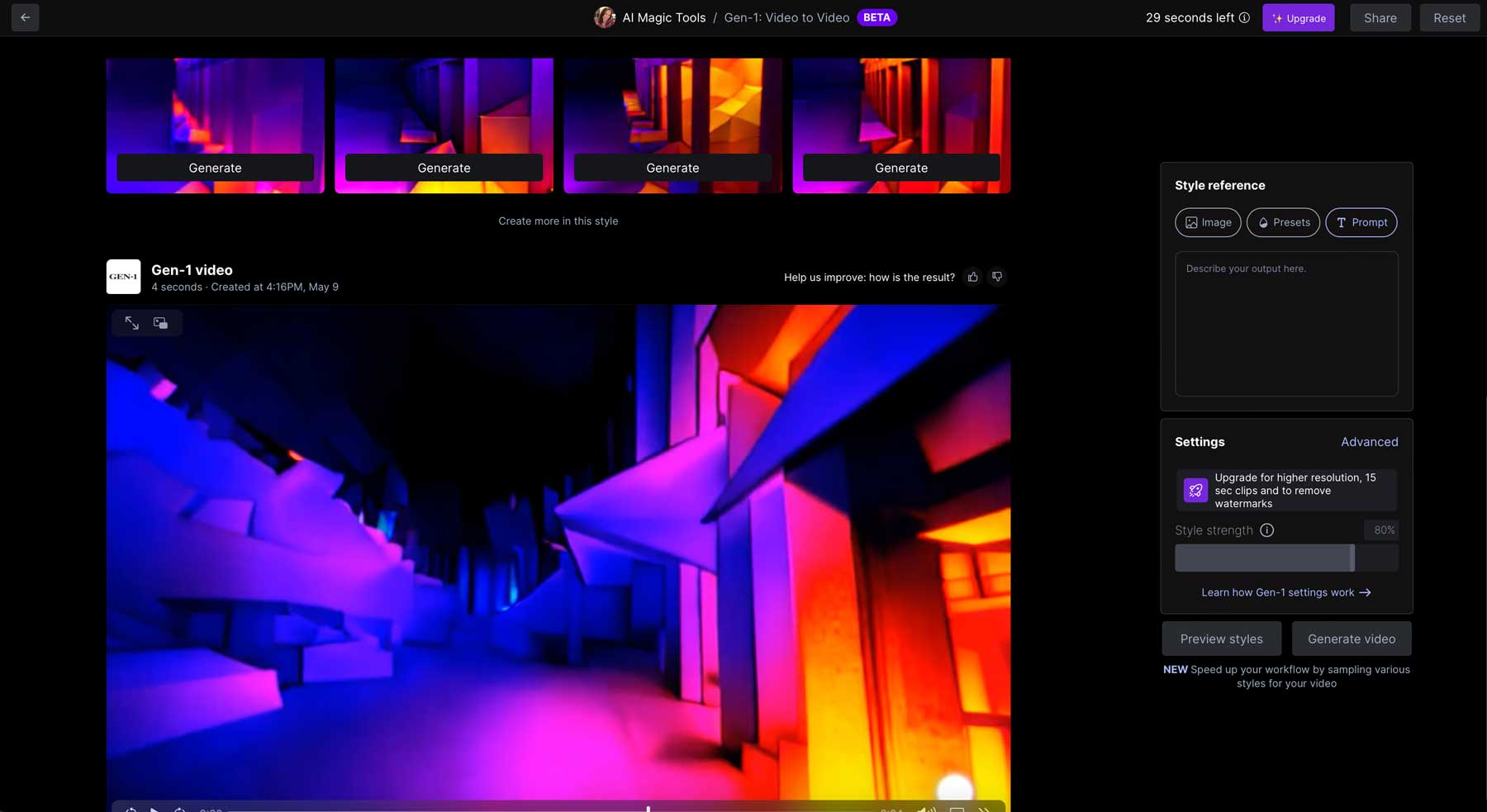 The video-to-video tool, powered by stable diffusion, allows you to upload a video and apply various AI-based effects using preset textures and styles for a unique look. For instance, we tried the gradient preset and achieved a fun Tron-like appearance. Additionally, their text prompt feature lets you input descriptive prompts for surprisingly excellent results. Though Runway is still in beta, it performed well during our tests, despite some kinks that need ironing out.
Runway is Best For:
If you've used MidJourney for creating AI art, you'll love Runway. It allows you to incorporate that level of AI into your video projects, so we highly suggest you try it. With a free tier available, you'll at least have a ton of fun altering your videos and improving your prompts for incredible results.
Pricing: Free, with paid monthly plans starting at $12.
6. Raw Shorts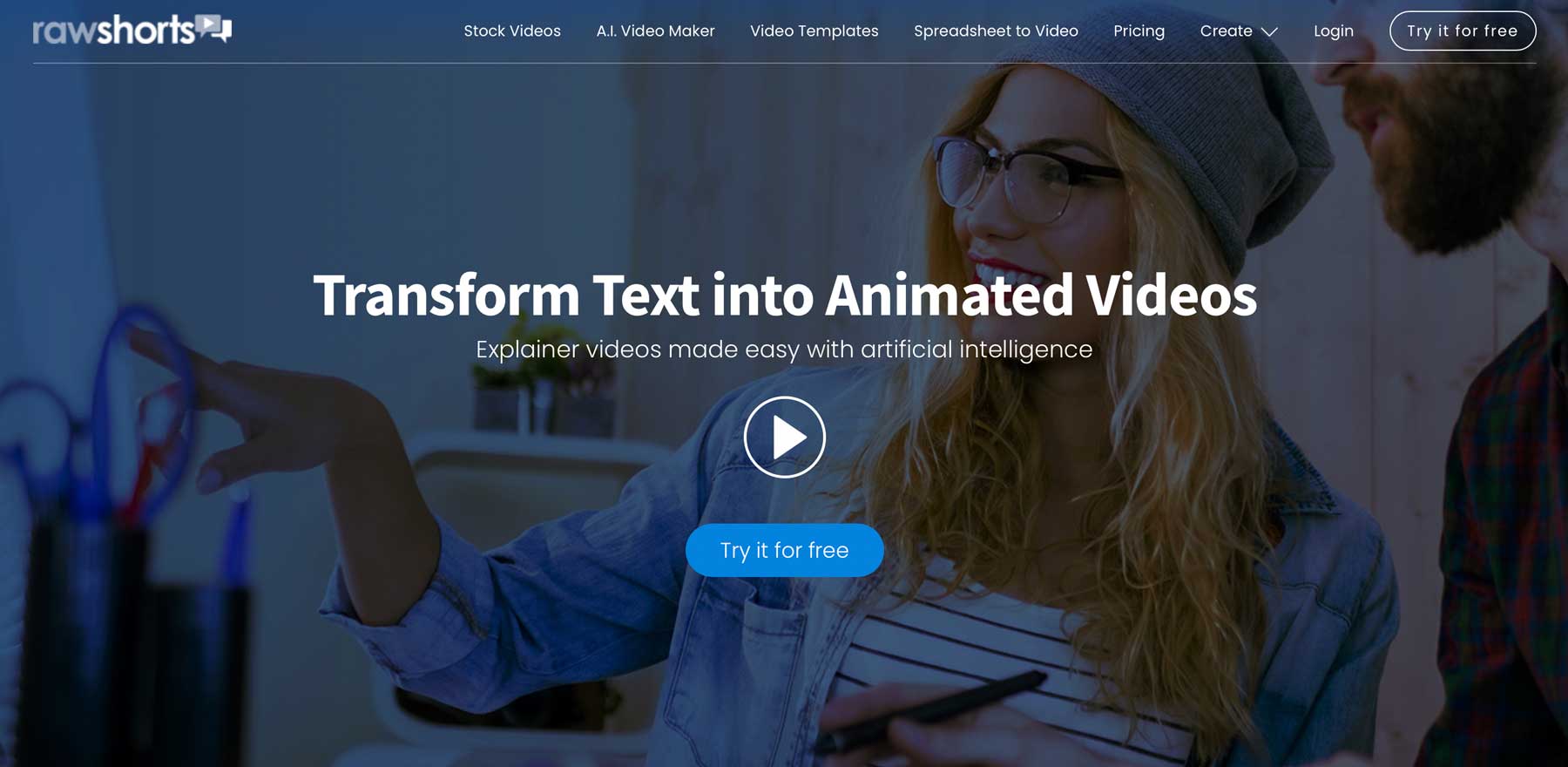 Our next AI video generator, Raw Shorts, offers several AI video tools to create your videos. You can start with the AI chat to video or the storyboard wizard, which walks you through a series of steps to make the video of your choice based on three categories: business, internal communications, or education.
Key Features of Raw Shorts:
100's of professional video templates
AI Chat (for video ideas)
AI script generator
Storyboard mode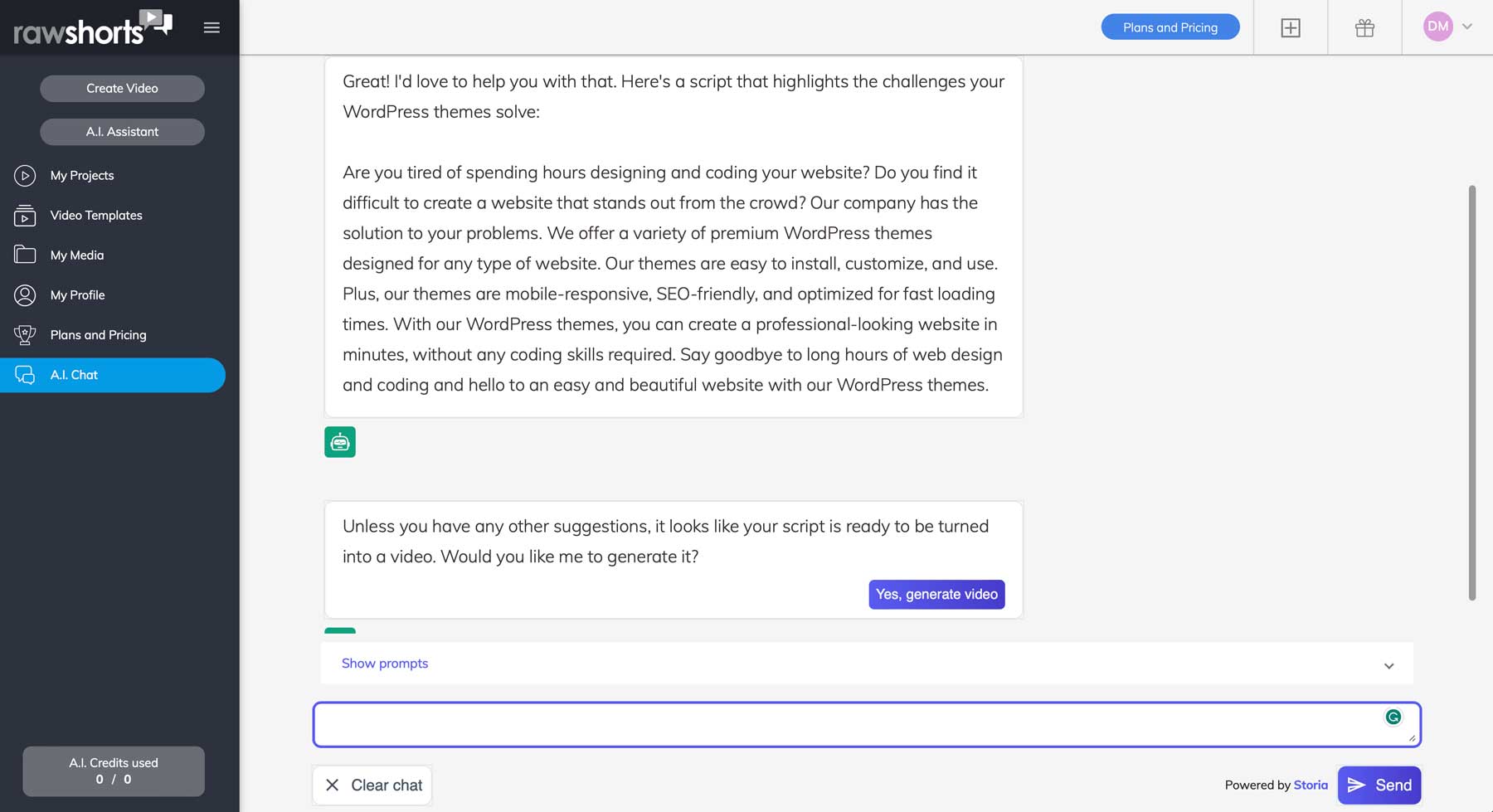 The best feature of Raw Shorts is the AI script generator. You can chat with their AI assistant to get script ideas to help you create great explainer videos. Some editing is required, but there are plenty of tools to do it. You can add text, audio, create voiceovers, and several cool hover and transition effects to make your video stand out.
Raw Shorts is Best For:
If you need a quick video to introduce a new product, announce a sale, or create a whiteboard, Raw Shorts is a great option. They do a great job of creating niche videos with animations that can be used for specific purposes. However, if you need a more advanced video creation tool with AI voices, AI avatars, and tons of assets, check out Wave Video instead.
Pricing: Free, with monthly plans starting at $20.
7. Lumen5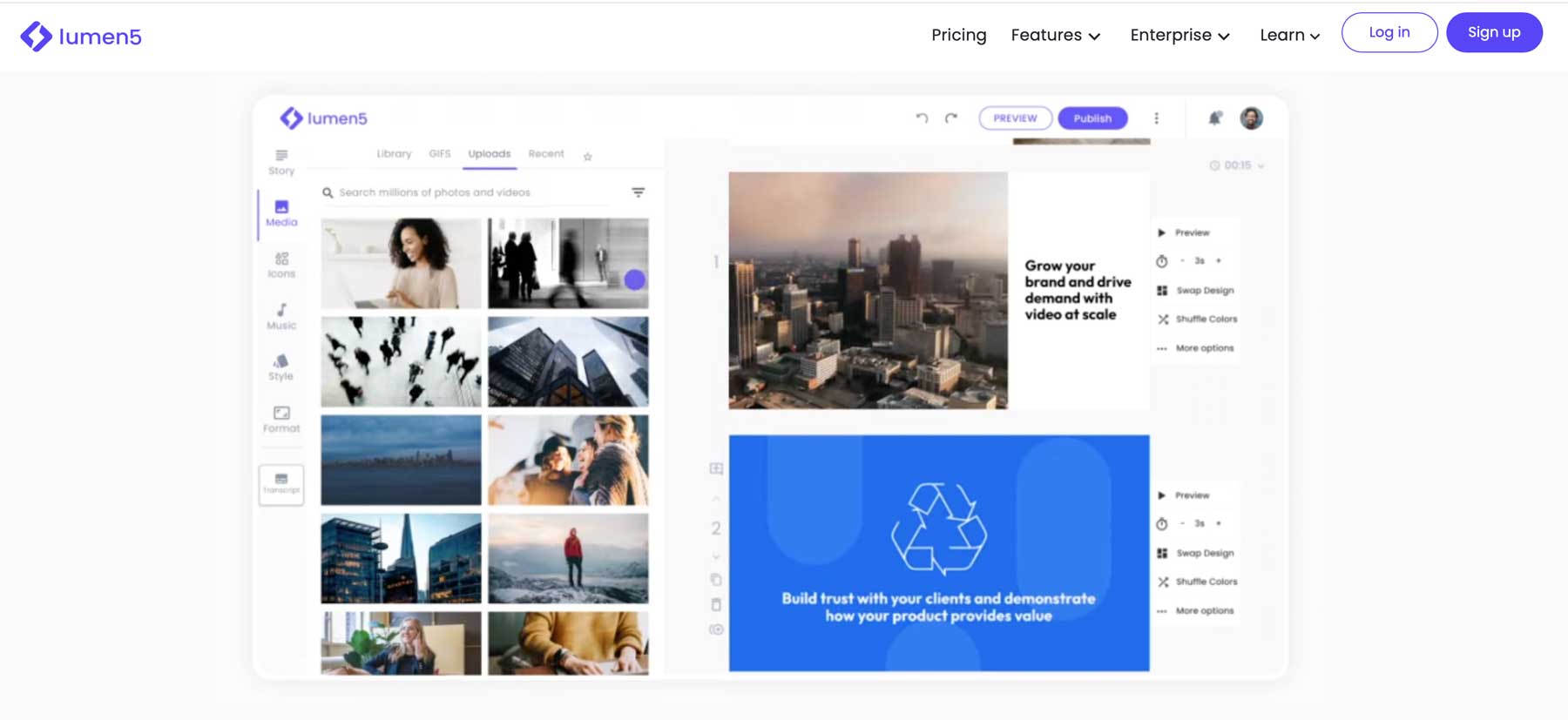 Our next AI video generator on the list is Lumen5. It uses machine learning AI to convert blog posts, whitepapers, and other written content into videos with scenes, transitions, and audio. You can start with a URL or paste your text. The process involves matching your content with relevant images chosen by AI, timing the voice with your text based on average reading speed, and applying it to create a video that can be used on multiple platforms.
Key Features of Lumen5:
URL or text to video
Automatically syncs voice with your text
Multiple formats for distribution
Create brand kits (pro)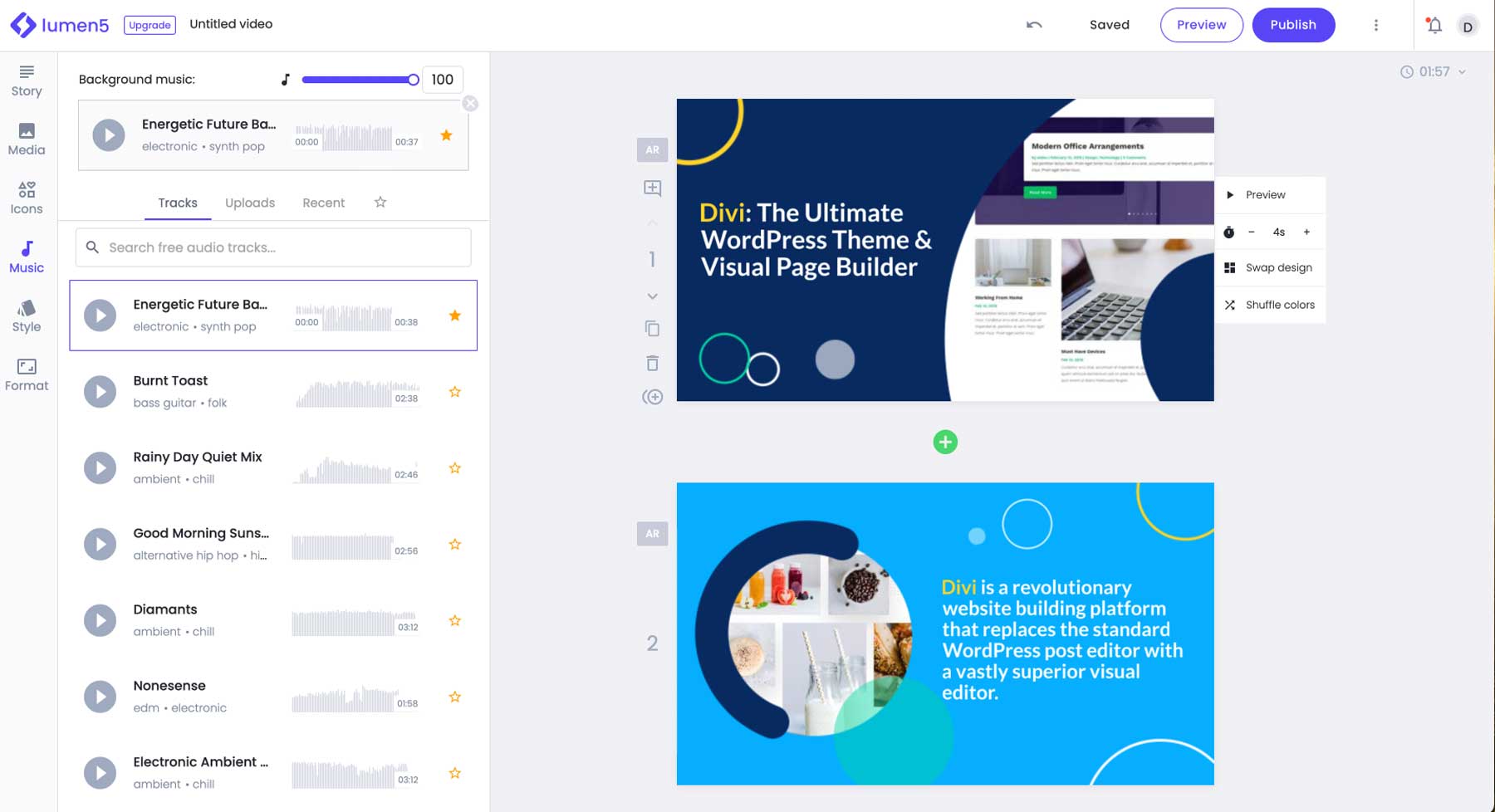 Lumen5 offers simple design tools and easy reformatting for various platforms. The brand kit tool lets you quickly create a uniform look for all your videos. It provides editing tools, including text editing, millions of assets, and customizable music. The downside to Lumen5 is the need for more template choices. As of the writing of this post, they only offer a little over 30 pre-made designs. Depending on your needs, this could be a dealbreaker.
Lumen5 is Best For:
Lumen5 offers an easy way to generate video with AI, but there are fewer tools than other providers on our list. If you have a creative background, Lumen5 could be a good fit. However, if your creativity is limited, we'd suggest opting for a platform that offers more templates to make things easier.
Pricing: Free, with pro plans starting at $19 per month (billed annually).
8. FlexClip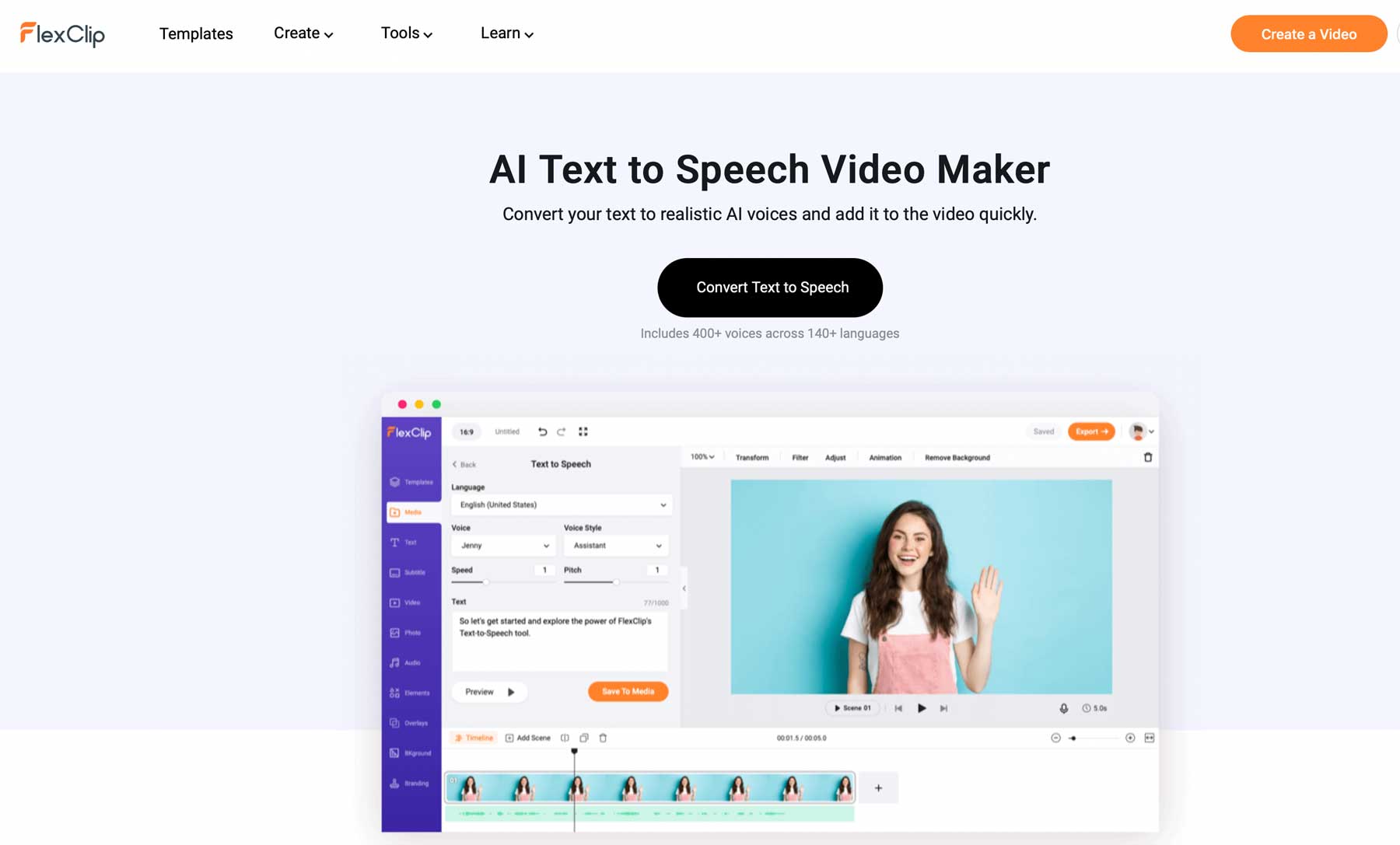 Last on our list is FlexClip. Quite a few features make it worthy of our list, including hundreds of video templates, a text-to-speech engine, the ability to create automatic subtitles courtesy of AI, and more. What FlexClip does best is make it easy to create videos. The interface is intuitive and fast, and all tools are identifiable. Anyone with any skill level can use it.
Key Features of FlexClip:
Text-to-speech AI with 140+ supported languages
Auto subtitles with AI
AI background remover
Thousands of pre-designed templates, including social media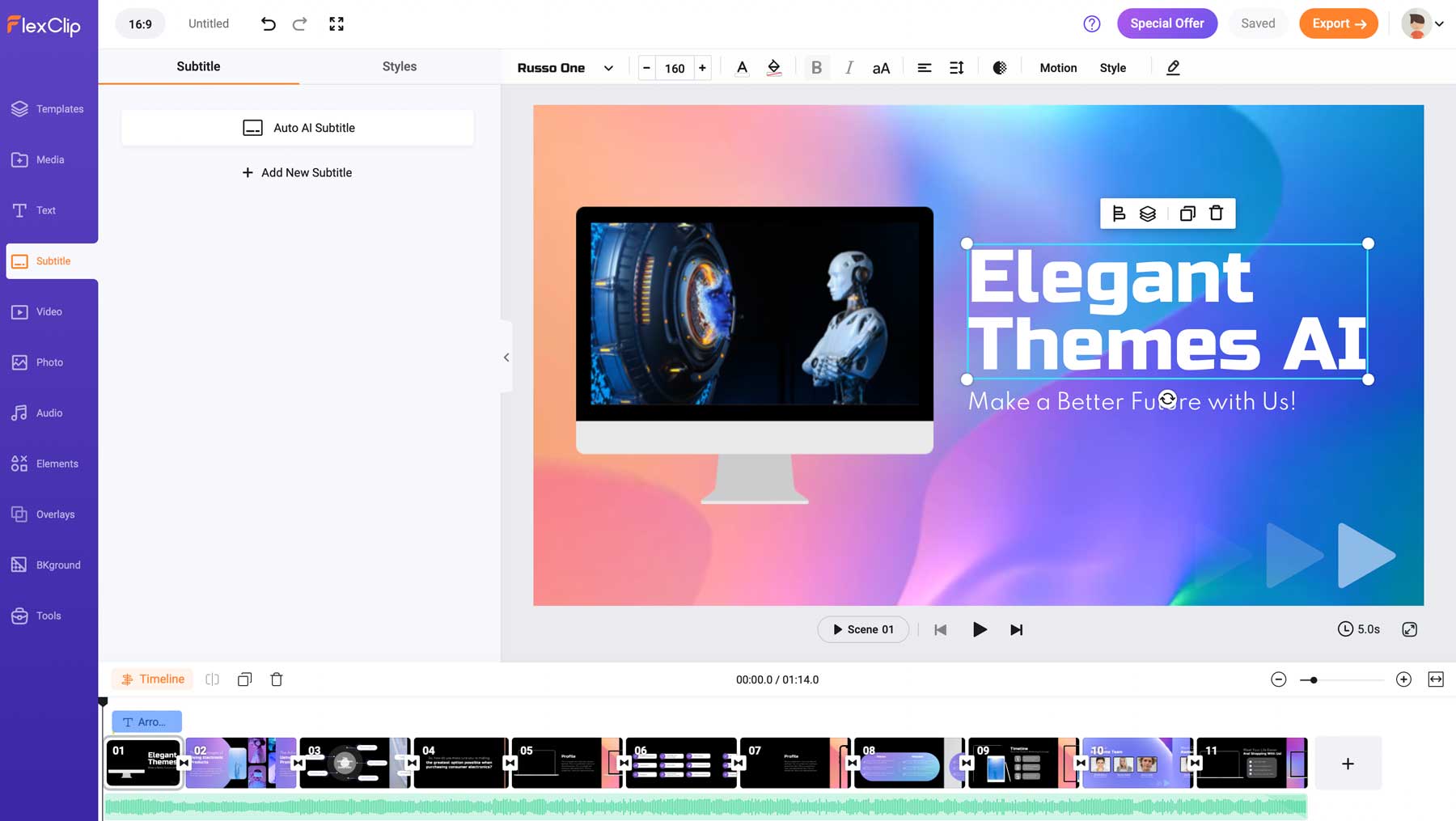 FlexClip offers a few unique features for editing your videos. With the automatic subtitle feature, you can effortlessly generate subtitles. With just one text prompt, their AI algorithm analyzes your video's frames and accurately applies subtitles to each one. FlexClip also comes equipped with an AI background remover that does a fantastic job of extracting the focus of your photos. This is a great way to enhance educational or product promos with various effects.
The downside to Flexcip is the limitations of the free account. We shouldn't be complaining about free stuff, but it is limiting. You can create up to 12 projects but only use one stock video. You'll only get one background removal; videos are capped at 60 seconds. However, you can edit video effects, text, and images, so there are some redeeming qualities. If you will likely only create a video or two for internal purposes, the free tier should be mostly fine.
FlexClip is Best For:
FlexClip provides a viable solution for small businesses that need videos for internal communications, product promos, or marketing. It's a simple tool to learn, has plenty of pre-made templates, and offers excellent value for the money.
Pricing: Free, with paid plans starting at $5.99 monthly (billed annually).
What is the Best AI Video Generator Overall?
AI video generators are revolutionizing content creation with intuitive, accessible tools for the masses. You no longer have to spend days or weeks creating videos. The tools on our list offer some excellent features that will take video creation to the next level. While all of the video generators on our list are noteworthy, a couple stands out above the rest.
If you're seeking an AI video generator that can assist you in producing impressive videos without design skills, check out Pictory and Synthesia. Pictory is perfect for fast video generation and script writing, with powerful AI algorithms and a vast library of assets. On the other hand, Synthesia is an excellent choice for creating short videos with breathtaking AI avatars and voices. Both platforms offer an easy-to-use experience to help you quickly create professional-looking videos.
Need more AI tools? Check out all the best AI tools to boost your productivity, including:
Frequently Asked Questions (FAQs)
Before we wrap up, let's answer some of your most common questions regarding AI video generators. Did we miss one? Leave a question below, and we will respond!
What is the best AI video generator?
Pictory
is the best AI video generator on our list. With Pictory, users can transform blog content into engaging videos effortlessly. It offers the flexibility of AI or human voiceovers, allowing for customizable audio options. With a vast library of over three million royalty-free image assets, including stickers, GIFs, and emojis, users can enhance their videos with visually appealing elements. Pictory also provides pre-made video templates and the ability to generate videos from text prompts, making the editing and creation process seamless and efficient.
What is an AI video generator?
An AI video generator is a tool that leverages artificial intelligence technology to enable users to create videos from scratch. It utilizes AI algorithms and features such as image and text recognition, natural language processing, and automated video editing to generate dynamic and engaging videos with minimal manual intervention.
Is there an AI that can create videos?
Yes, there are AI tools that can create videos.
Pictory
offers features like blog-to-video conversion, AI or human voiceovers, a vast library of three million+ image assets, the ability to add stickers, GIFs, emojis, pre-made video templates, and text-to-video functionality for professional use.
Synthesia
, on the other hand, provides features such as custom AI avatars, over 120 AI voices, text-to-speech voiceovers, an AI script assistant, a built-in screen recorder, and AI auto-sync (available in the Enterprise version). These tools empower users to generate videos efficiently using AI technology.
How can I use AI video generators?
You can use AI video generators by employing the text-to-video process. In this method, you input text into the video generator tool, which utilizes AI algorithms to transform the text into a video. The tool analyzes the text, generates visuals based on the content, and automates the video creation process, providing a convenient way to generate videos using AI technology.
How can I create AI-generated YouTube videos?
To create AI-generated YouTube videos, you can use tools like
Synthesia
. Begin by crafting a video script for your content. Next, select an AI avatar representing the narrator or presenter in the video. Then, paste your script into the tool and choose a voice for the narration. After that, you can edit the video by adjusting the visuals, adding graphics or images, and fine-tuning the timing. Finally, generate the video, and you'll have an AI-generated YouTube video ready to be uploaded and shared with your audience.
What is the best AI text-to-video generator?
Pictory
is considered one of the best AI text-to-video generators available. It offers the flexibility to generate videos from scripts or articles, edit existing videos with text overlays, and utilize a vast collection of over three million royalty-free images, gifs, stickers, and emojis. This extensive library allows for the seamless integration of visual elements into video projects. Pictory's efficiency is evident in its ability to streamline the editing process or generate complete videos with minimal input, making it a powerful and user-friendly AI text-to-video generator.
What is the best AI avatar video generator?
Synthesia
is regarded as one of the best AI avatar video generators available. It offers a diverse selection of custom AI avatars and boasts an extensive library of over 120 unique AI models. With native support for over 120 languages, Synthesia enables users to deliver their message in the language of their choice, making it a highly versatile tool for creating AI-generated avatar videos that can cater to a global audience.
What is the best AI animation generator?
Raw Shorts
is recognized as one of the best AI animation generators. With a wide selection of professional video templates, it excels at creating niche videos with specific purposes. The platform's AI Chat feature provides video ideas, while the AI script generator assists in generating scripts quickly. Additionally, Raw Shorts offers a storyboard mode, allowing users to visualize and refine their animations, making it a comprehensive and efficient AI animation generator.