Artificial intelligence (AI) powered chatbots are revolutionizing how we get work done. You've likely heard about ChatGPT, but that is only the tip of the iceberg. Millions of people leverage all sorts of AI chat tools in their businesses and personal lives. In this article, we'll explore some of the best AI chatbots and what they can do to enhance individual and business productivity.
What Types of AI Chatbots Are There?
AI Chatbot platforms are built on some fantastic technology. Large Language Models have a knack for following complex instructions without breaking a sweat. Most AI bots are text-based, but some can generate images, video, code, and audio or even solve complicated math. They're used in all sorts of applications, like image generators and article rewriting tools.
They help humans with just about anything related to information gathering, pattern-making, and generally tedious tasks. Because of these unique features, they can fill many holes in business and personal productivity.
Popular Use Cases for Business Chatbots
Chatbots schedule appointments and meetings, reducing the effort needed for staff and increasing efficiency.
Businesses can utilize chatbots to engage with website visitors, collect contact information, and qualify leads, resulting in easier identification of potential customers.
Chatbots can be used on company websites as live customer service agents. By directing users to relevant documentation, guides, and frequently asked questions (FAQs), chatbots enable customers to find the answers they need quickly.
Employees benefit from chatbot assistance in locating information, completing tasks, and accessing company resources, which leads to improved productivity and efficiency.
Chatbots also gather customer feedback, conduct surveys, and collect valuable insights and even come in WordPress chat plugins.
How You Can Use a Personal Chatbot
Personal chatbots can be valuable research assistants, delving into topics of interest and providing suggestions for further exploration.
Chatbots can enhance the experience by offering conversation prompts, vocabulary lessons, and grammar tips when learning a new language.
Personal chatbots ensure you have various entertainment options by recommending movies, music, books, or events tailored to your interests and preferences.
Meal preparation becomes more enjoyable and efficient with chatbots that suggest recipes based on dietary preferences, provide cooking instructions, and assist in planning weekly meals.
The Best AI Chatbots

Subscribe To Our Youtube Channel
The Best AI Chatbots Listed In Order
Expand List
1. Writesonic (Botsonic + Chatsonic)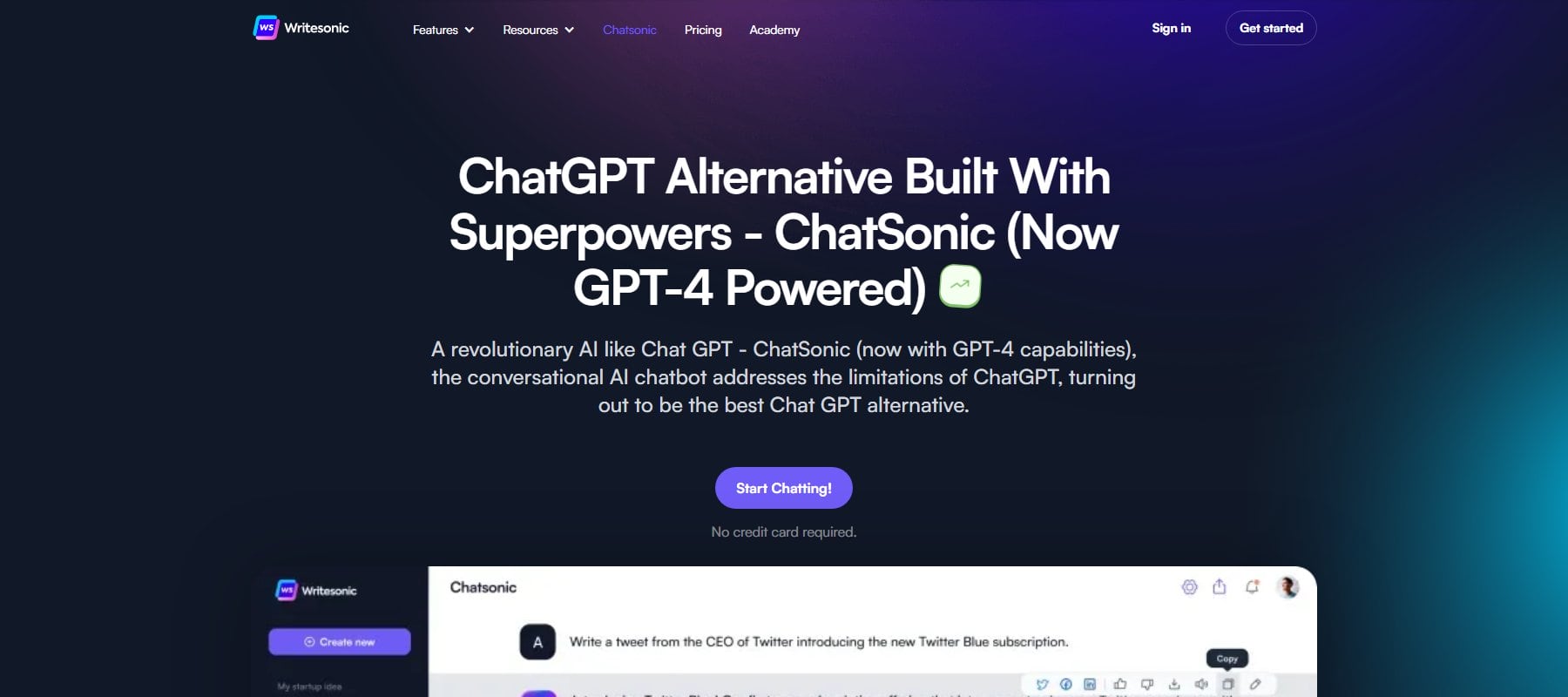 Writesonic is a leading AI-powered platform that performs many tasks to help businesses with efficiency and creativity. Backed by Y Combinator, it has gotten a lot of attention and development. It offers different products using the same underlying AI technology to save businesses money. We'll focus on two AI chatbot tools by Writesonic: Chatsonic and Botsonic. We'll go over the key features and then explain who the whole Writesonic platform is for.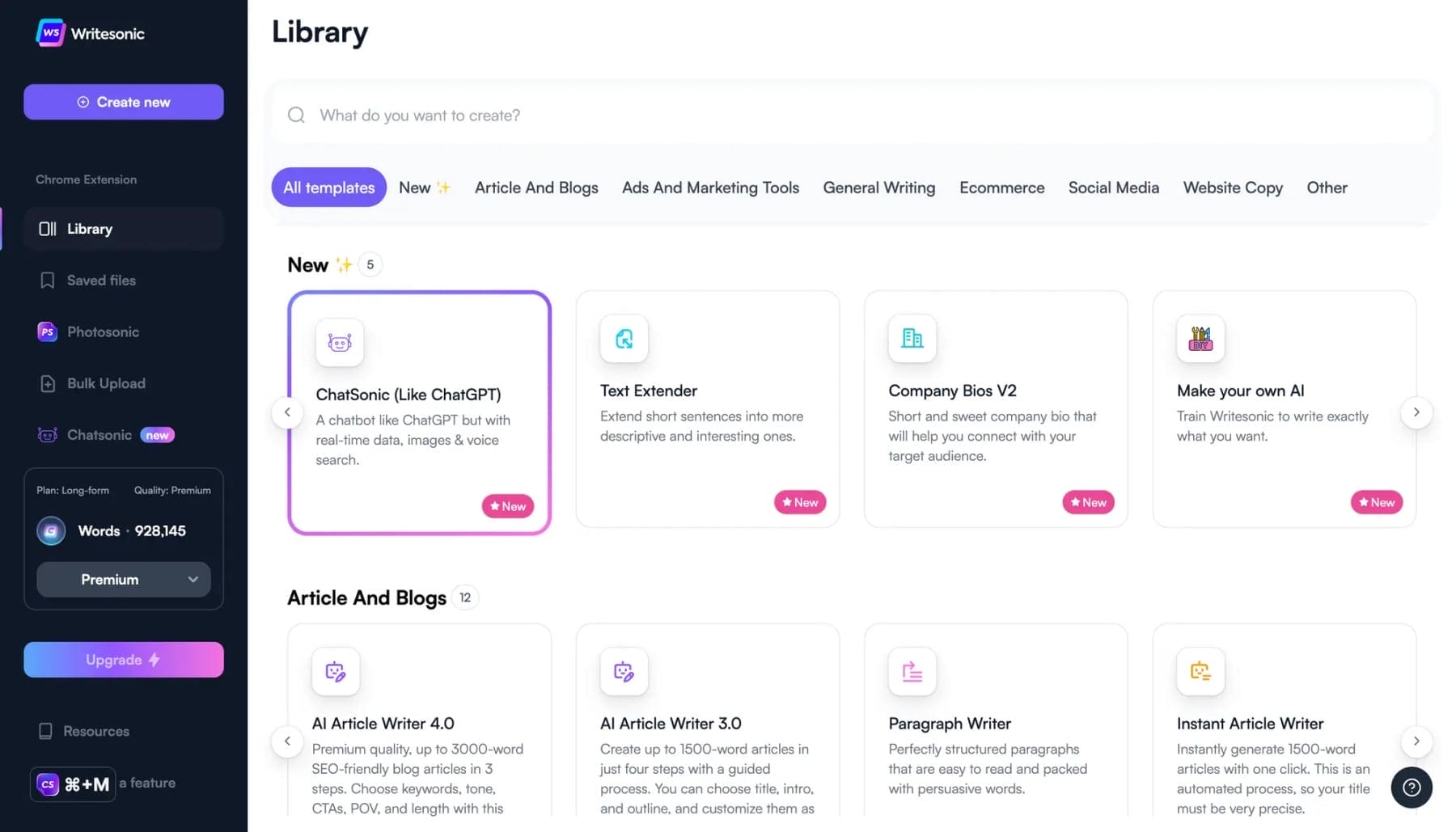 Chatsonic is an AI-powered chatbot by Writesonic that is a powerful ChatGPT alternative. It is built on top of GPT-4 but introduces other proprietary technology to bring even more capabilities for those used to the text-only output of ChatGPT. Botsonic is another integrated product from Writesonic that can create conversation AI experiences for your website users. It can connect your sales and support data to develop AI automated conversations with your customers and leads.
Writesonic's free plan includes 10,000 monthly words and access to nearly all of Writesonic's features (including Botsonic and Writesonic)
Key Features of Chatsonic:
Connected to the internet using Google Search technology
Generate AI art and images in the same chat flow
"Personality Avatars" can be set to help with different tasks (math teacher, translator, general AI, etc.)
Chrome extension to bring AI to all the places you write
Enter prompts using a voice command (you speak, and it listens)
Can cite sources (but still need to verify)
Key Features of Writesonic:
No-code, website chatbot builder
Built leveraging GPT 4, arguably the most advanced AI model on the market
Brand customization is available and allows for changing chat window colors, logo, and avatar
Simple embed script + API that makes it usable on almost any website
Best For:
Chatsonic is ideal for businesses needing AI-powered personal assistants. Its personality avatars make it adept at performing specific tasks while still being able to do just about anything. As helpful as ChatGPT has been for teams, Chatsonic tries to be even more valuable by doing what it can't. Botsonic is perfect for website owners who offer online customer support. Powered by GPT 4, Botsonic can leverage your customer support material and provide dedicated support to your customers 24/7.
Pricing: Free plan with paid plans starting at $19/mo (30% discount for non-profits and students)
2. Chat by Copy.ai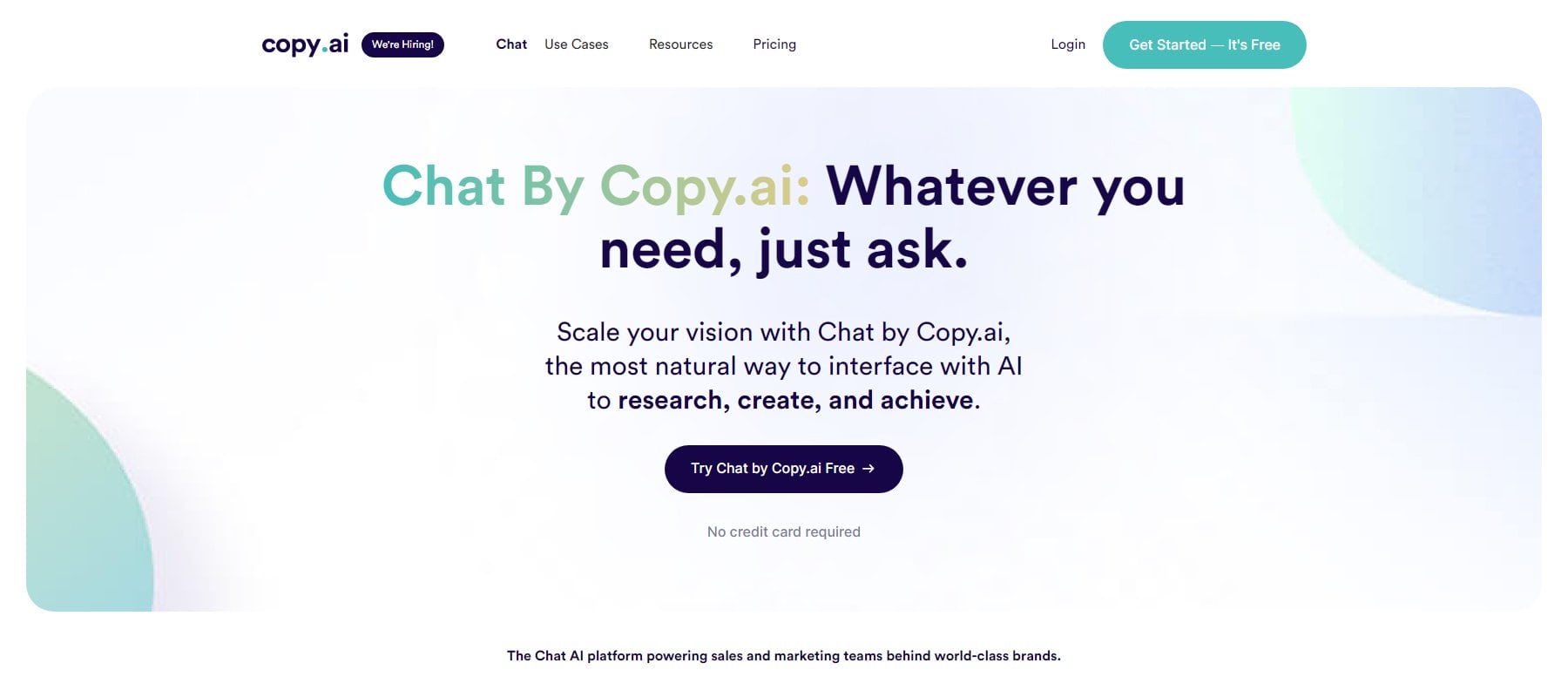 Chat by Copy.ai is a versatile chatbot that works like ChatGPT but has access to more data and is trained for marketing and sales tasks. But it is also great as an all-purpose AI that can help with creativity, solving problems, and any writing task. Chat by Copy.ai is built for the workplace, and paid plans can be used across teams, starting with five users per account.
Key Features of Copy.ai:
Access to the web so it can talk back with live information
Prebuilt prompts to save you time and get consistent results for routine queries
Go from a chat conversation to a long-form editor to create content with your AI assistant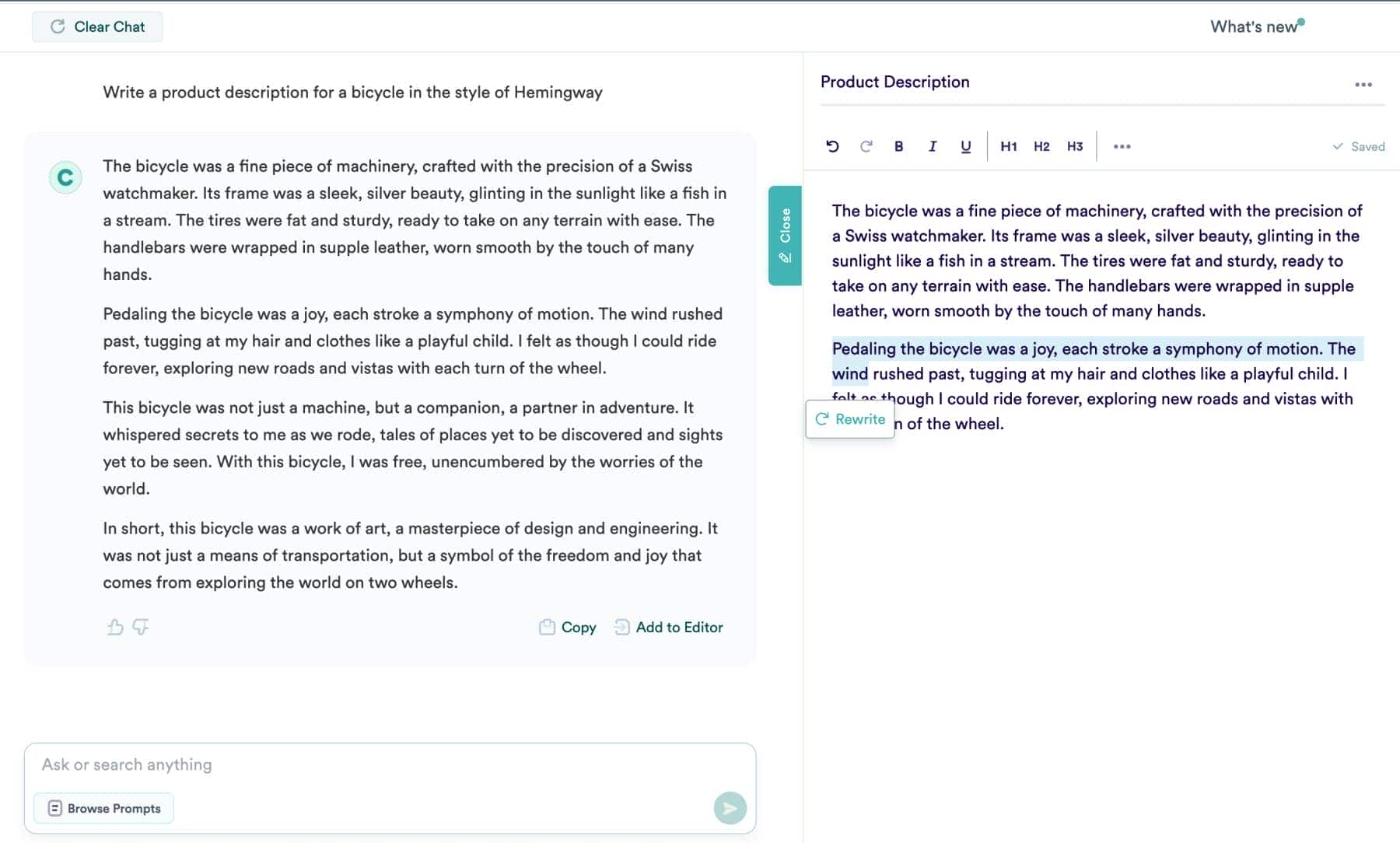 Best For:
Chat by Copy.ai is perfect for businesses looking for an assistant-type chatbot for internal productivity. It is built for sales and marketing professionals but can do much more. Since it can access Live-data on the web (and through API), it can be used to personalize marketing materials and sales outreach.
Pricing: Free plan available with paid plans starting at $49/mo
3. ChatBot

Chatbot by LiveChat is an AI chatbot provider focused on allowing businesses to provide excellent customer service using a live chat widget. It enables companies to create web chatbots and reduce dependencies on a 100% human support team. Its robust integration capabilities make it easy to incorporate into existing workflows and communication channels, including social media.
Key Features of ChatBot:
Integrates with several chat services (WhatsApp, SMS, Email, etc.) to create a unified support platform
Provides customer support based on the integrated HelpDesk and can create support tickets
Display product cards in chat to develop leads and even customers through Conversational AI
Tag visitors for powerful marketing and CRM segmentation campaigns
Ten high-powered SaaS integrations + Zapier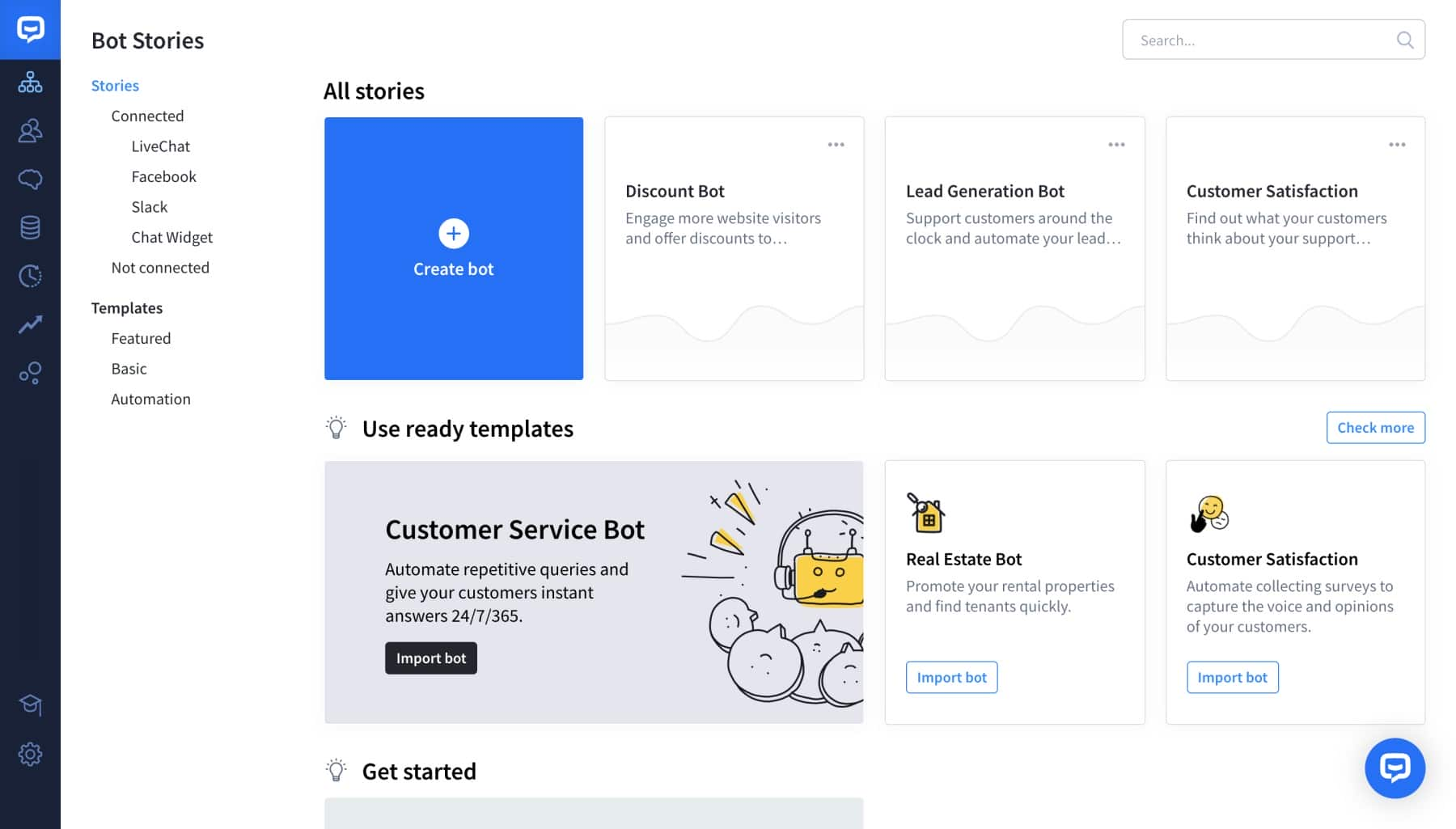 Best For:
ChatBot is an ideal solution for businesses that want a customer-facing virtual chatbot solution for sales and customer support. It integrates with LiveChat's other products, LiveChat and HelpDesk, to offer a 306-degree support system for any business. If your business is poised to scale into the major leagues, the LiveChat ecosystem is something to consider.
Pricing: Starting at $65/mo
4. Jasper Chat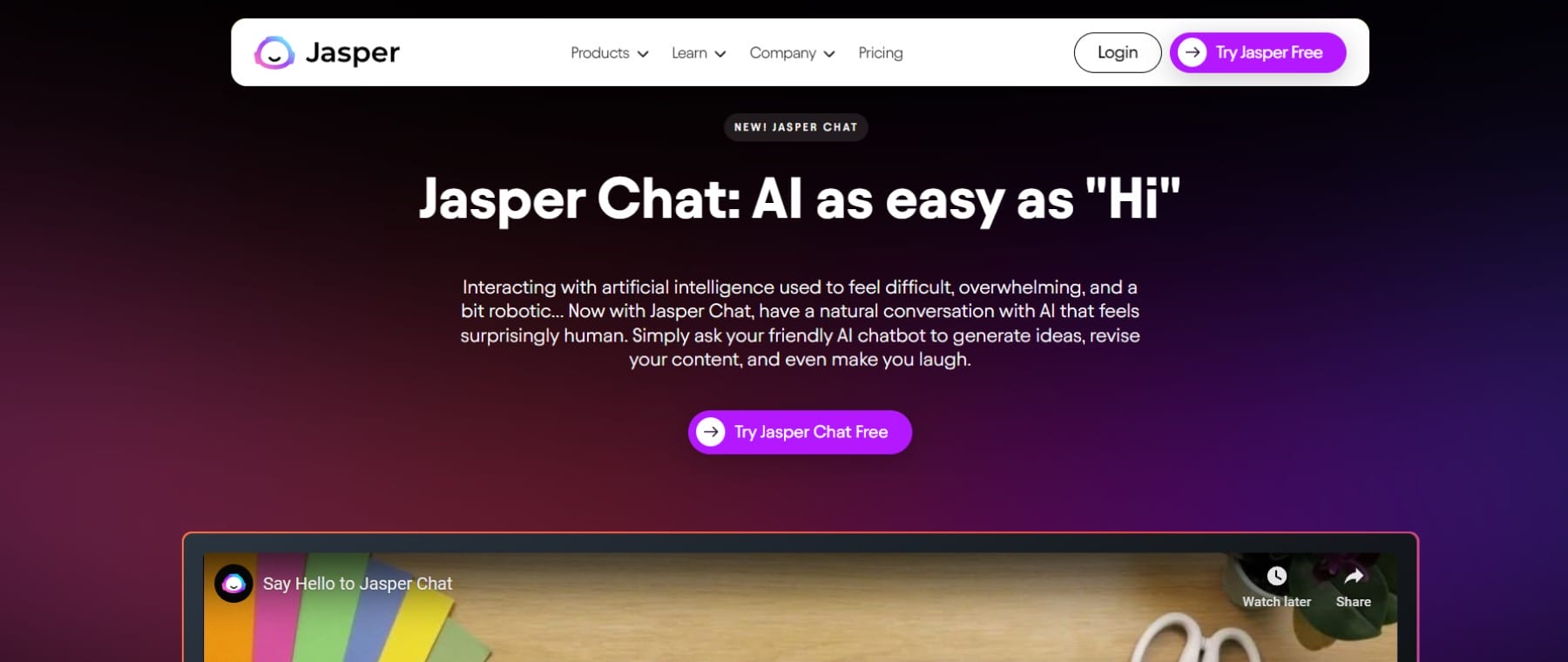 Jasper Chat is an AI chat platform built into one of the best AI writing software tools on the market. It is a prompt or command-based AI chat tool—put in a query or prompt, and Jasper will get to work. Built into Jasper Chat is a refining experience where you can slightly modify your prompt to optimize for a preferable generated output. It's an ideal AI assistant with an easy-to-use chat interface.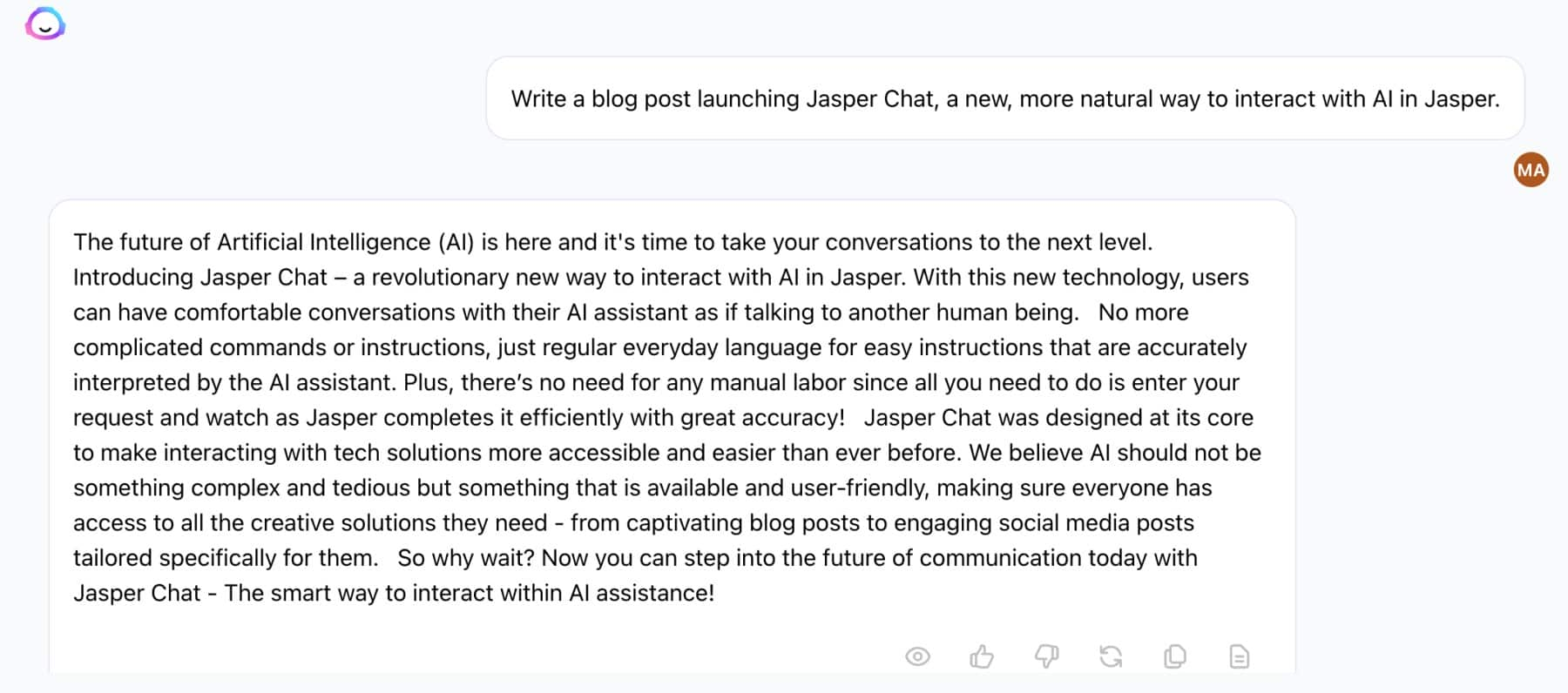 Key Features of Jasper Chat:
Jasper is trained on data from as late as 2021, so it is behind the ball compared to Chatsonic
Quickly transfer chat outputs into Jasper's long-form editor
Built for business use cases like marketing, sales, and business writing
Best For:
Jasper Chat is a decent chat assistant that can help you with writing tasks. Not the most advanced AI chatbot on our list, but it will likely mature as the rest of the Jasper platform has.
Pricing: Starts at $49/mo for Jasper subscription, including Jasper Chat
5. Tidio+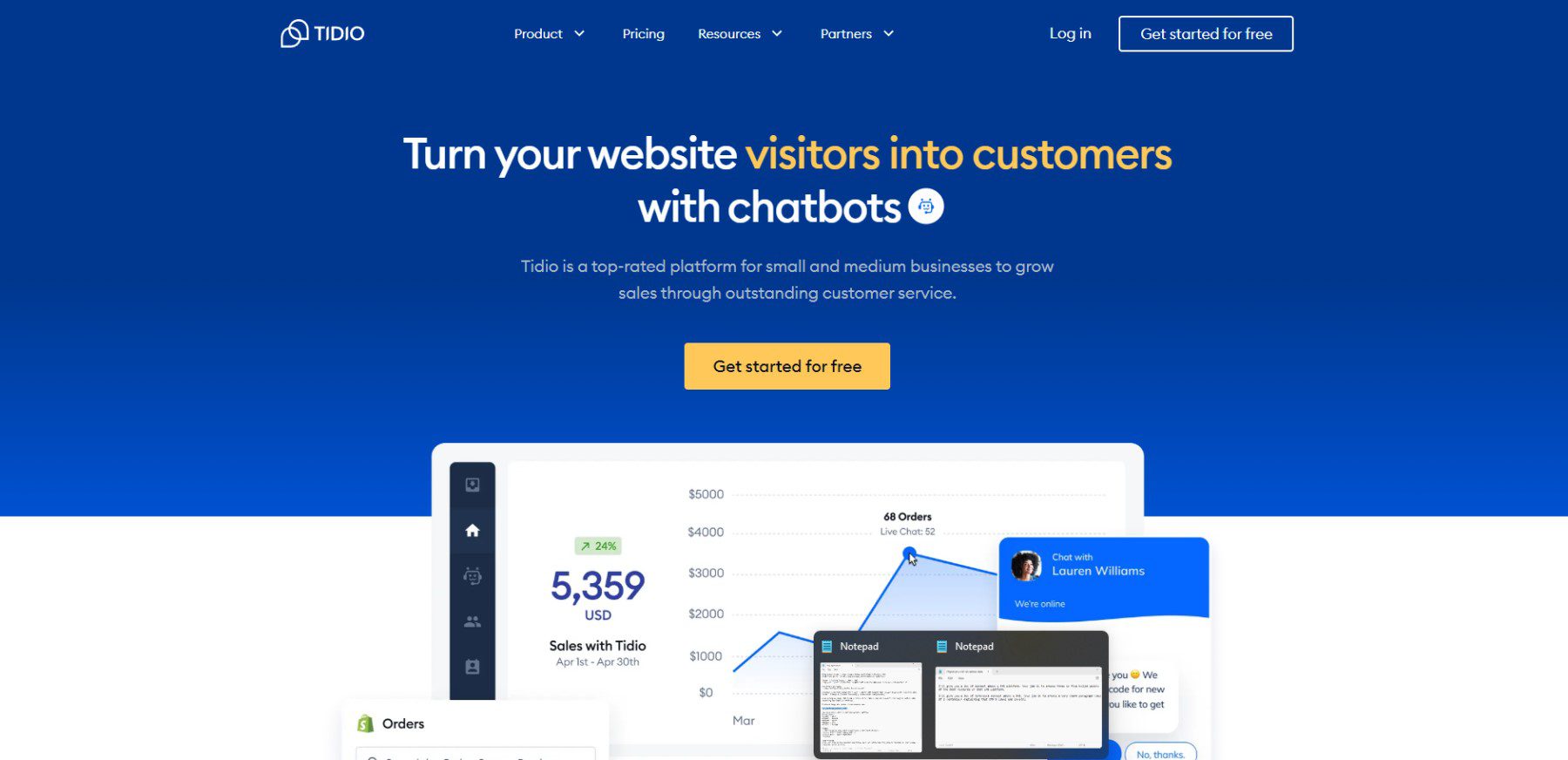 Tidio is a customer service chatbot platform. Most of its plans help people build traditional chatbots based on workflows, but with their Tidio+ plan, users can get the power of AI incorporated into advanced chatbots that help reduce customer churn and improve retention.
Key Features of Tidio+:
Tidio+ comes with unlimited chat interactions
Chatbot can handle conversations with customers but fallback onto live agents for a human touch when needed
It comes with a ticketing system when solutions will take a little bit of time
Ran from the cloud allowing operators to interact with customers on mobile device apps or using desktop applications
Best For:
Tidio is great for any business that has either a chat-based customer support organization or an inbound sales team. It integrates with major website platforms, including WordPress, as well as several popular messaging channels so you can deploy high-level chat solutions where ever your customers are. The AI tool is best suited for customer support for any business and automated sales chat with connected eCommerce stores.
Pricing: Tidio+ starts at $329/mo, with non-AI chatbot plans starting Free
6. Liveperson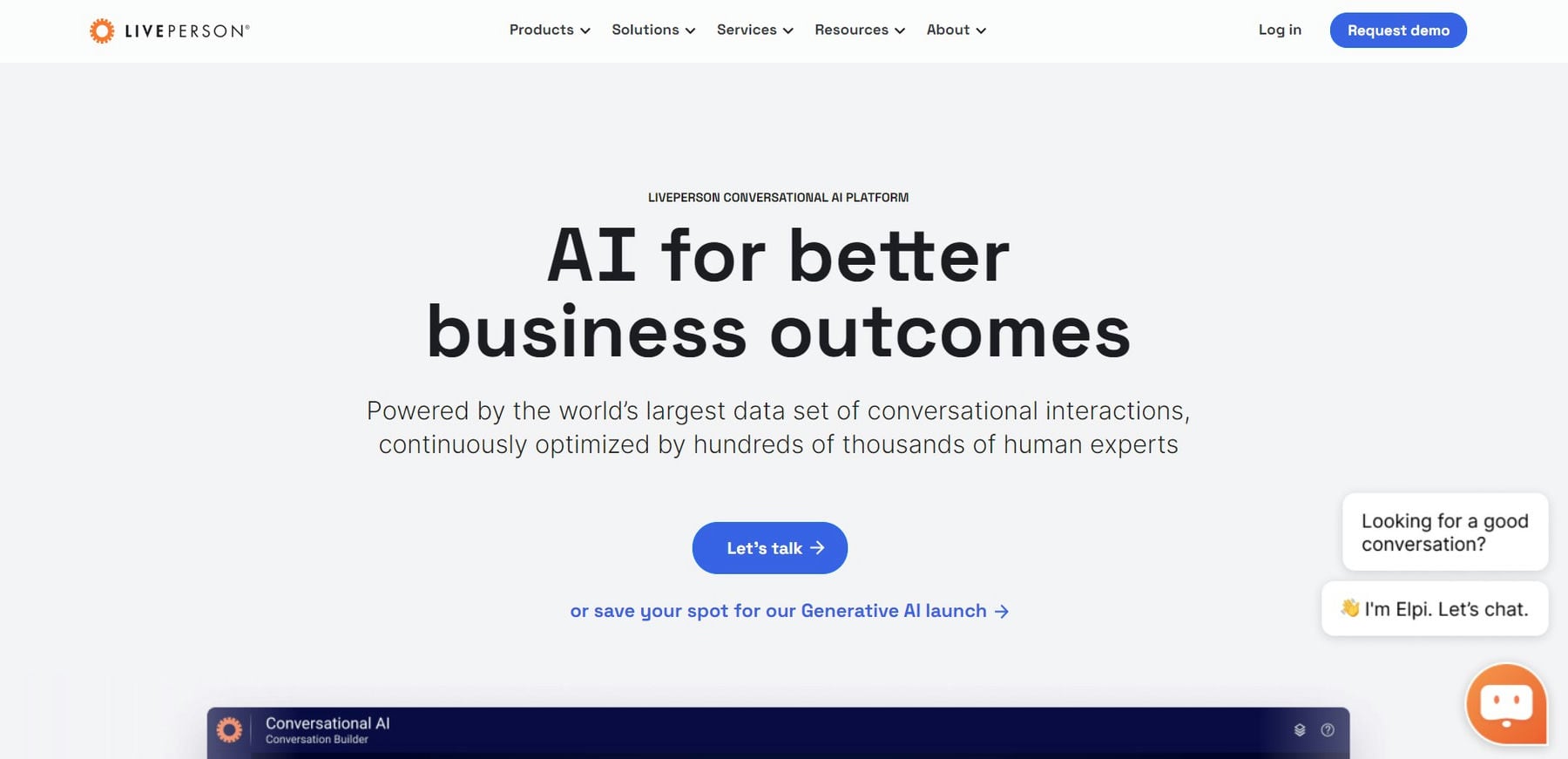 LivePerson is an advanced conversational AI chatbot platform. They built their platform to improve the old "rule-based" chatbot model that was limited to providing programmed responses based on keywords entered by the user. This was clunky and didn't fit the nature of how language works. The new Conversational AI technology by LivePerson is much more powerful. It is based on natural language understanding (NLU) and natural language processing (NLP) to handle complex interactions and deliver natural-sounding responses. This allows companies to enhance customer experience, engagement, and support.
Key Features of LivePerson:
Conversational AI technology for natural responses
Past AI chat interactions power and inform future conversations—Liveperson is always learning your business needs
Understands user intents to craft the best possible responses
Can connect with eCommerce platforms for conversation commerce experiences powered by AI chat
Best For:
LivePerson is for enterprise-sized businesses that want to leverage conversational bots across their business. It can be used in customer and eCommerce sales support and provide a casual chat experience across multiple mainstream messaging platforms.
Pricing: Pricing not available; contact Liveperson for a custom quote
7. You.com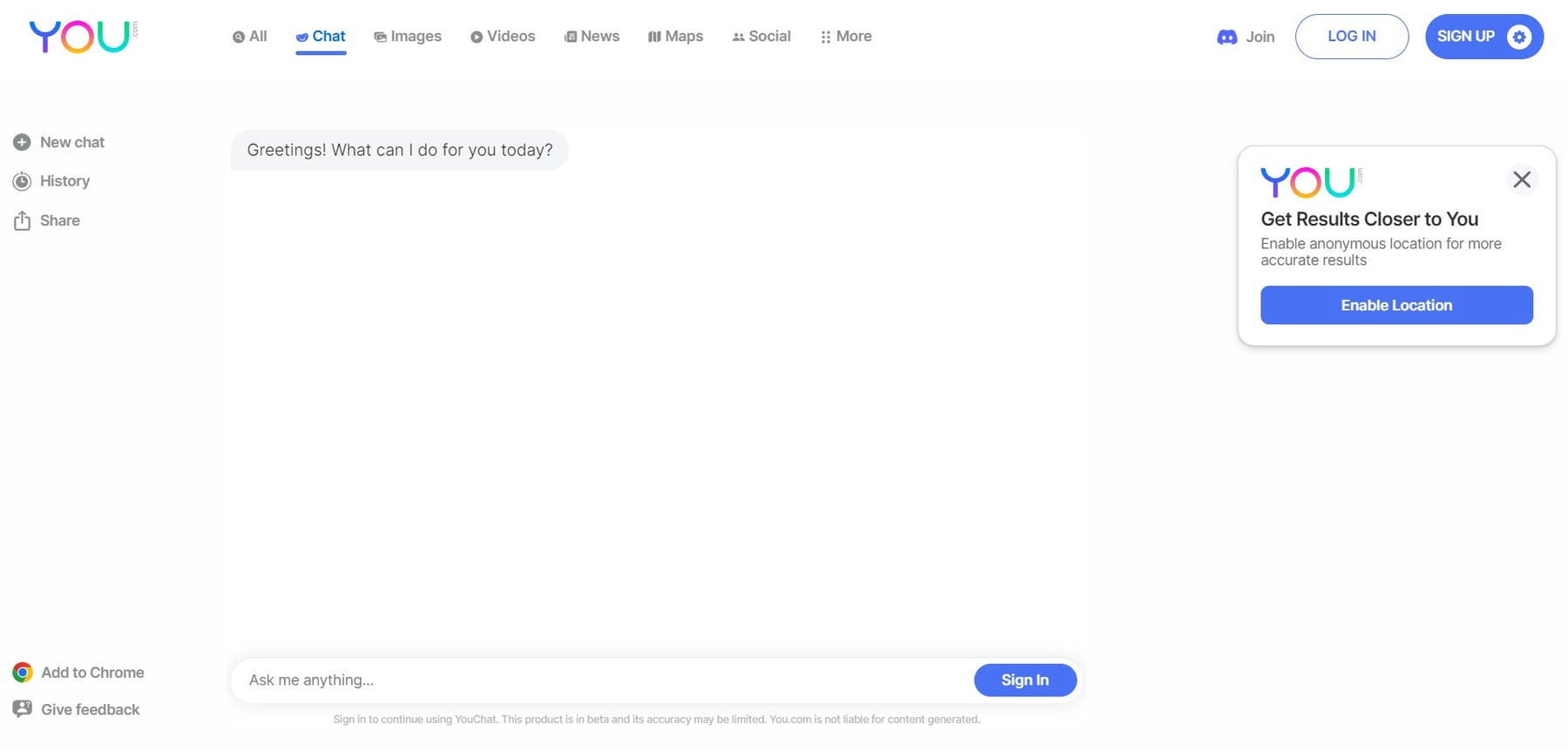 You.com is an AI-based search engine that also has a chatbot (YouChat) connected to it. Its powerful search algorithms enable it to understand conversational user queries and deliver accurate, context-aware answers. It can also interact with the prompter as it surfaces web results and creates custom answers in chat.
Key Features of You.com:
Advanced AI-powered search capabilities
Context-aware chat responses
A great alternative to Bard or Bing AI
Includes AI search tools for generating various types of content including images, videos, code, and more.
Best For:
You.com is excellent for anyone surfing the web, especially those trying to avoid the obvious search giants (Google, Bing) and use something else.
Pricing: Free search engine
8. Ada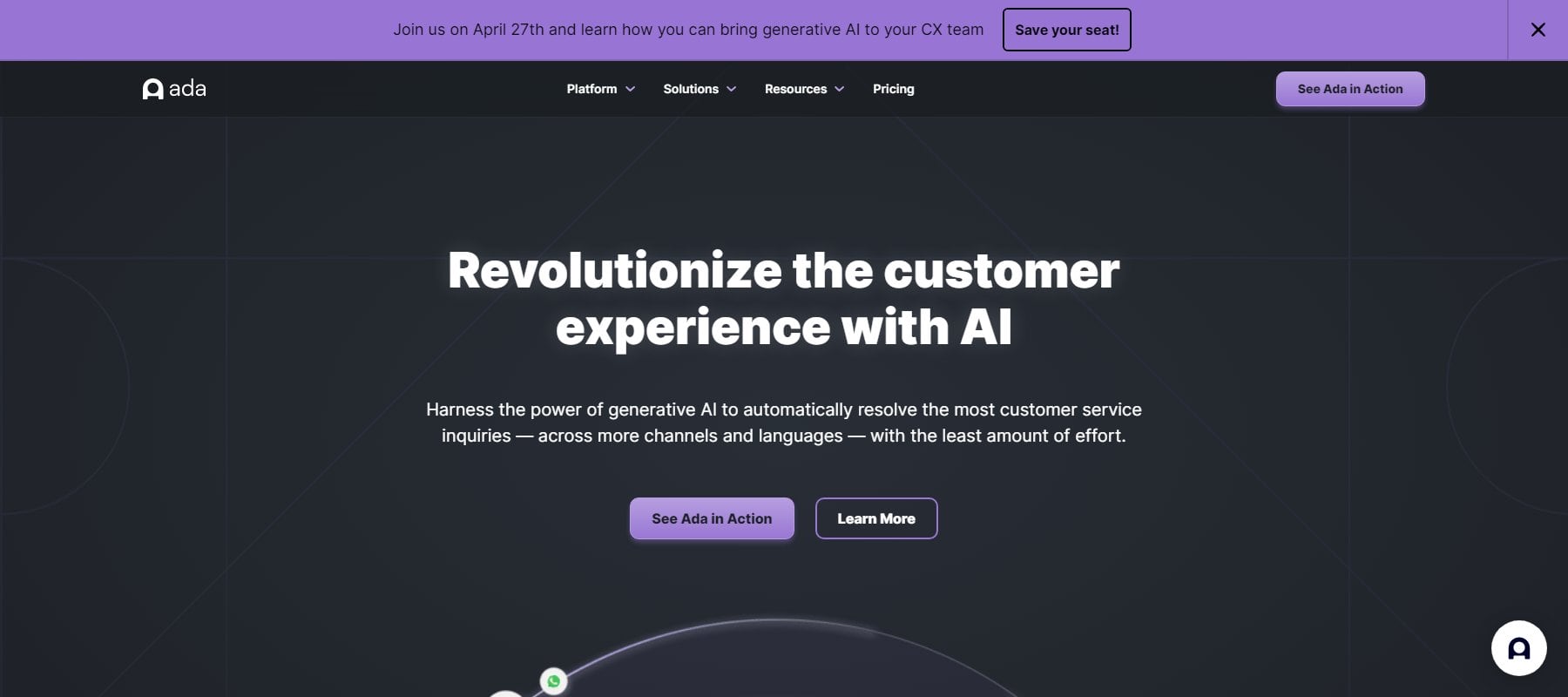 Ada is a customer experience-driven chatbot platform that streamlines support processes while delivering personalized interactions. The platform's AI technology enables it to understand complex user requests and respond conversationally. It can connect with your operational technology to create a deep and relevant customer experience.
Key Features of Ada:
Cross-channel AI chat conversations
Measure performance and iterate on how your chatbot works over time
No-code chatbot builder that is easy to deploy on a website
Multilingual (50+ languages) so you can deliver customer support at scale more accessible than ever
Integrates with 28 platforms (from eCommerce to appointment booking and more)
Best For:
Ada is the perfect solution for businesses that want an integrated chat solution that can pull from multiple business-critical data sources. Have it connect with your order management solution, helpdesk, or booking software to automate business processes at scale.
Pricing: No public pricing; contact for a customized quote for your business
9. Laiye Conversational AI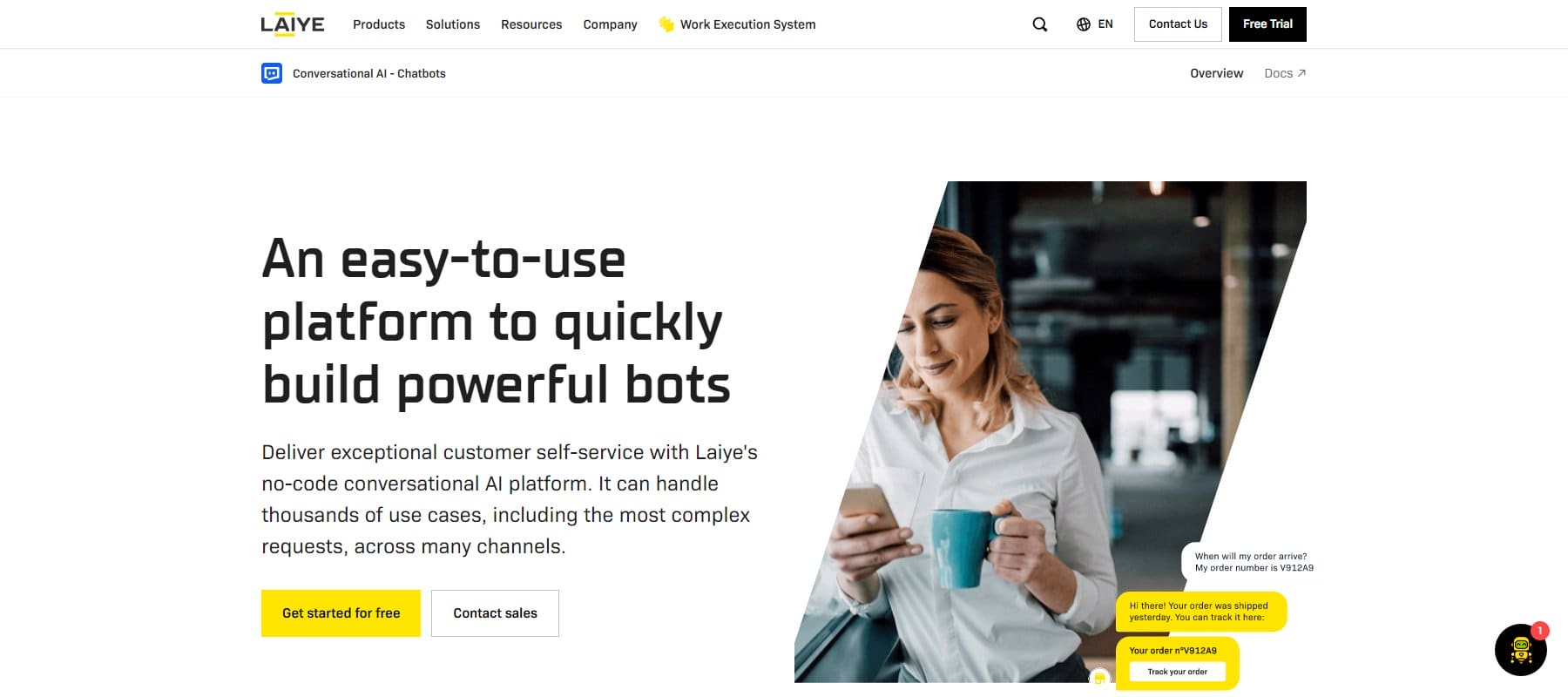 Laiye Conversational AI is another cutting-edge AI chatbot solution that excels in automating customer service and sales processes. The platform offers comprehensive tools for designing, training, and deploying AI chatbots across multiple channels.
Key Features of Laiye Conversational AI:
The AI assistant can collect information and qualify a customer before sending them to a human agent
Multi-channel deployment and integration so you can help people on your website and beyond
Real-time analytics and performance tracking to see just how much time and money you are saving
Rates and learns from its conversations, so it gets better at supporting your unique customers over time
SaaS and On-site versions of Laiye are available to fit the most complicated use cases that enterprises have
Best For:
Laiye is an enterprise AI chatbot and automation platform for businesses delivering support at scale. This platform should only be considered for large companies with large budgets. These companies stand to benefit from a lot of cost savings once deployed.
Pricing: No public pricing is available; contact Laiye directly for a customized quote
10. Botsify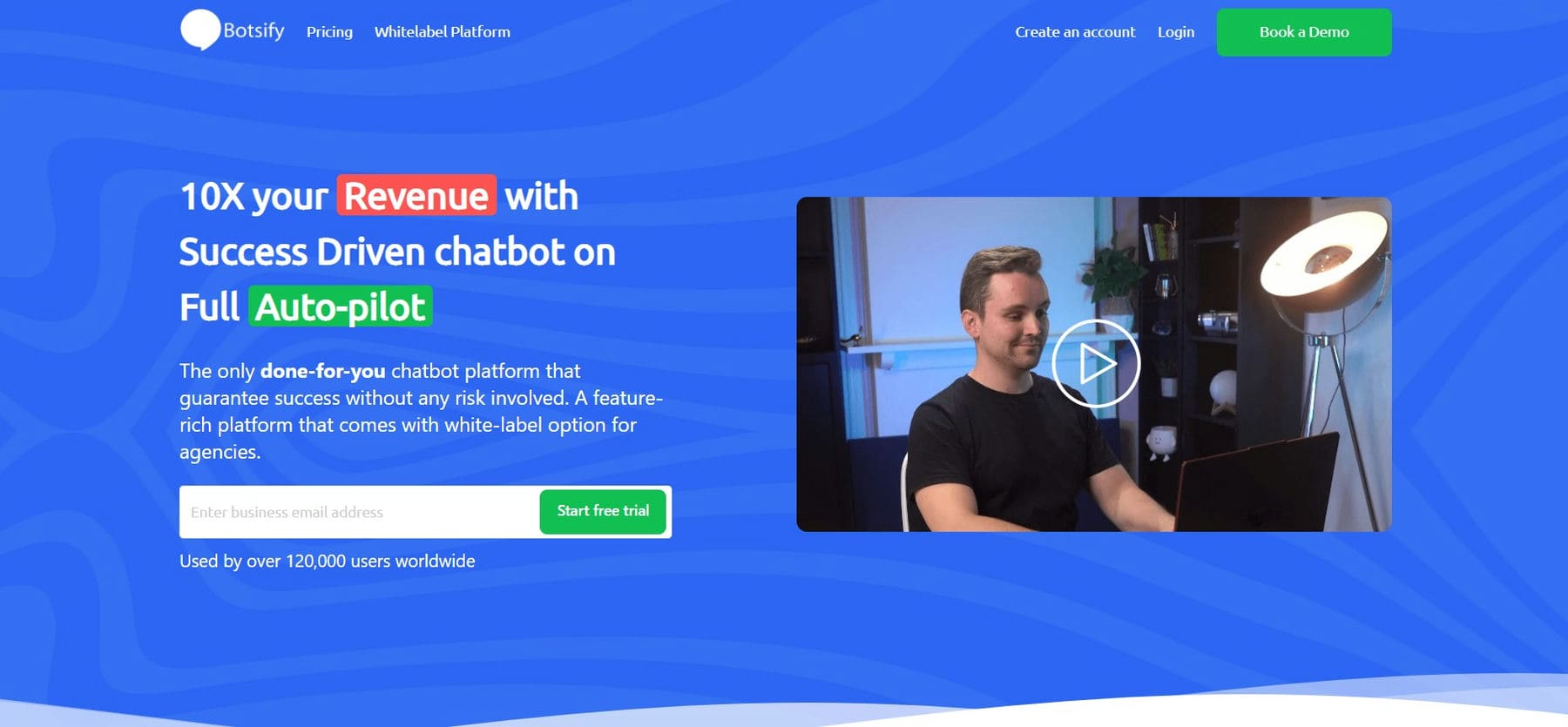 Botsify is an easy-to-use chatbot platform that allows small-to-medium-sized businesses to create, deploy, and manage AI-powered chatbots for customer support and engagement. It is built to help automate sales processes and customer support and balance growing workforce needs with AI.
Key Features of Botsify:
Multilingual AI chatbot
Whitelabel platform for agencies to offer chatbot building services
Integration with popular messaging apps and platforms
Integrates with WooCommerce and other eCommerce platforms
Agent fallback for when AI has done its job, but it is time for a human to step in
Best For:
Botsify is an excellent option for smaller businesses. It has most of the tools they'd need at pricing that matches their budgets. They offer a do-it-for-you development team that can help build you an AI-automated chatbot for business and help deploy it.
Pricing: Starting at $49/mo for 5k chat interactions
11. Bard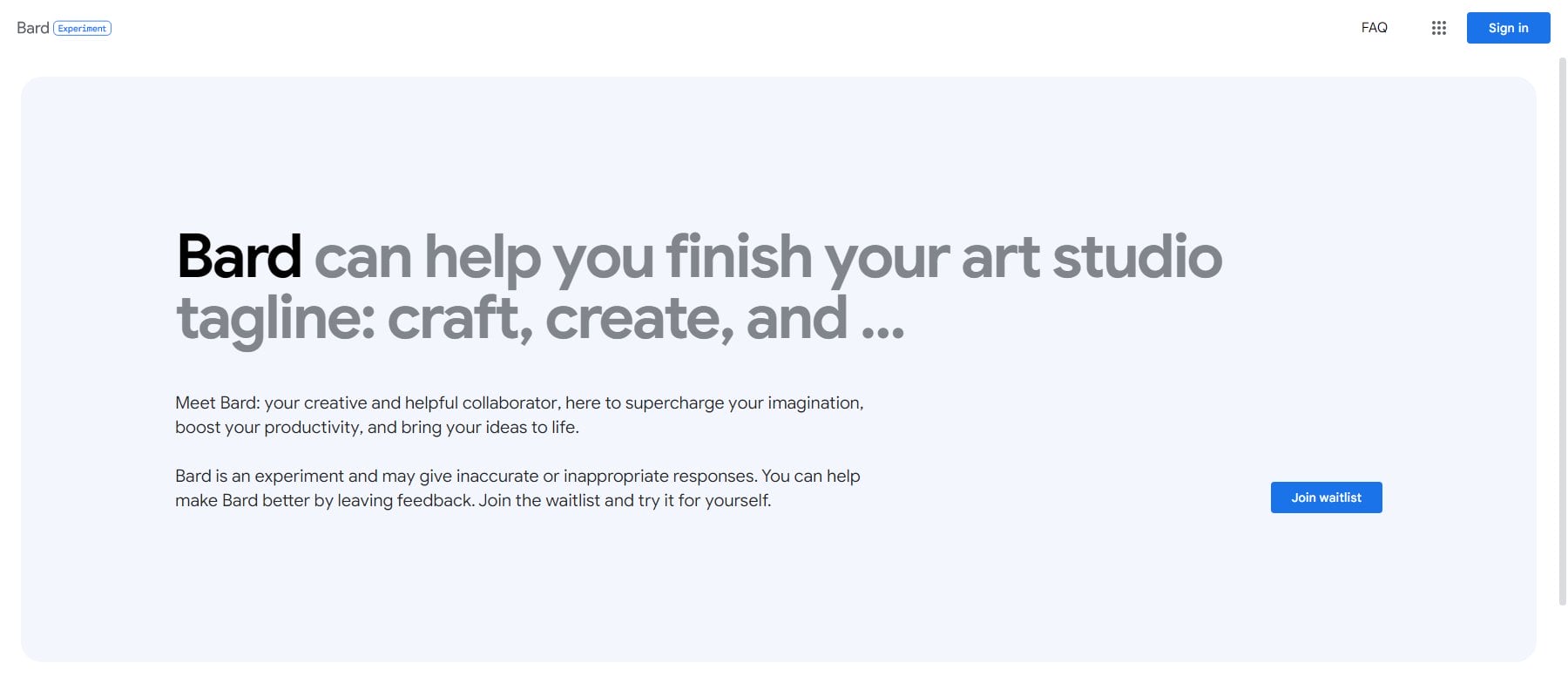 Bard is an innovative chatbot platform that leverages advanced natural language processing (NLP) and machine learning (ML) technologies to deliver engaging and intelligent conversations. Built by Google, Bard aims to be a helpful collaborator with whatever you bring to it. The platform focuses on providing human-like interactions and understanding complex user queries.
Key Features of Bard:
Advanced NLP and machine learning capabilities
It acts as a personal assistant where you can ask it to follow prompts
Trained with internet data newer than ChatGPT
Best For:
Bard is perfect for anyone wanting help with anything that comes to mind (that can be expressed in text, at least).
Pricing: Free to use
12. ChatGPT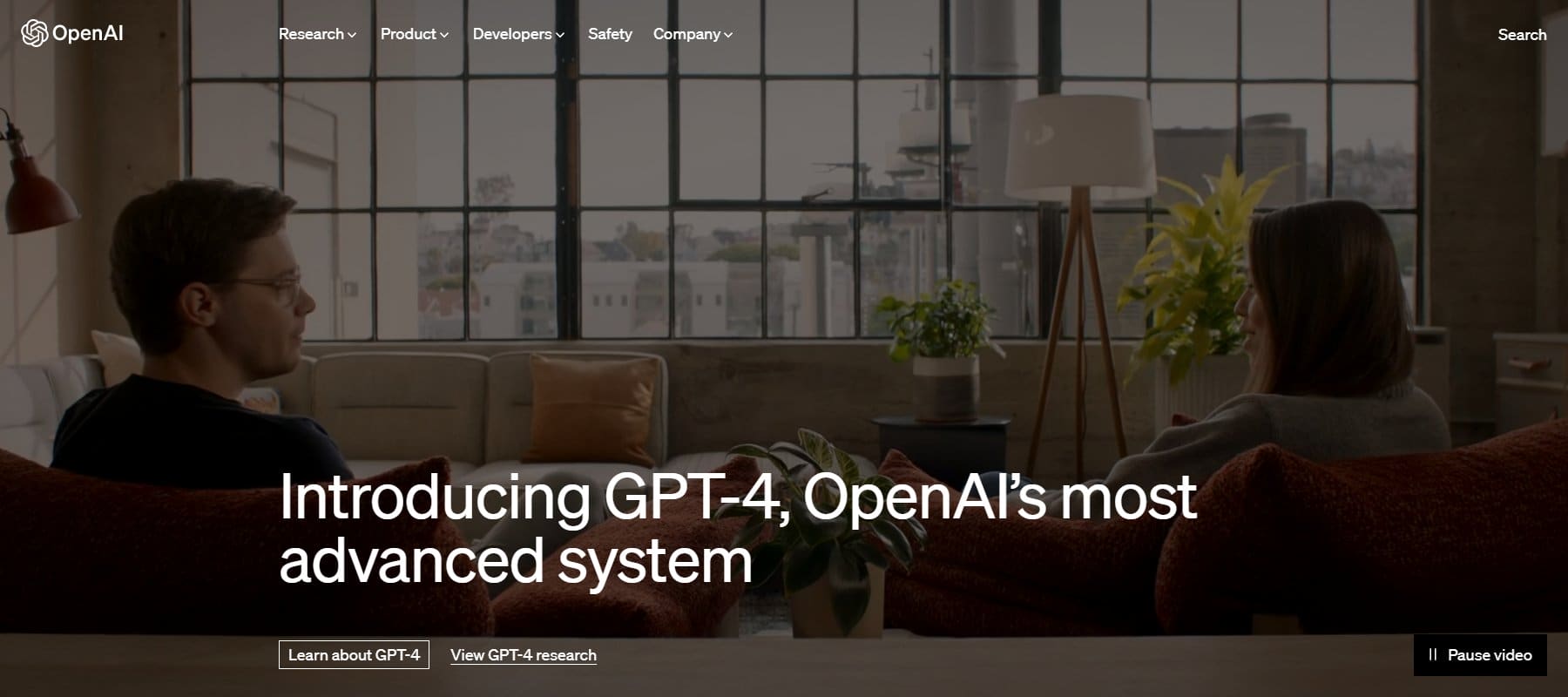 ChatGPT is the AI-driven chatbot of the hour. Created by OpenAI, it excels in providing contextual and meaningful conversations across various industries and topics. It is easy to use for countless personal and professional tasks like planning events, writing emails, and generating code. The paid version is based on GPT-4 which is trained on 45 gigabytes of data, making it one of the most prominent and valuable Large Language Models (LLMs). Paid users of ChatGPT have access to GPT-4 in its chat, but GPT 3.5 is available for all users (free and paid).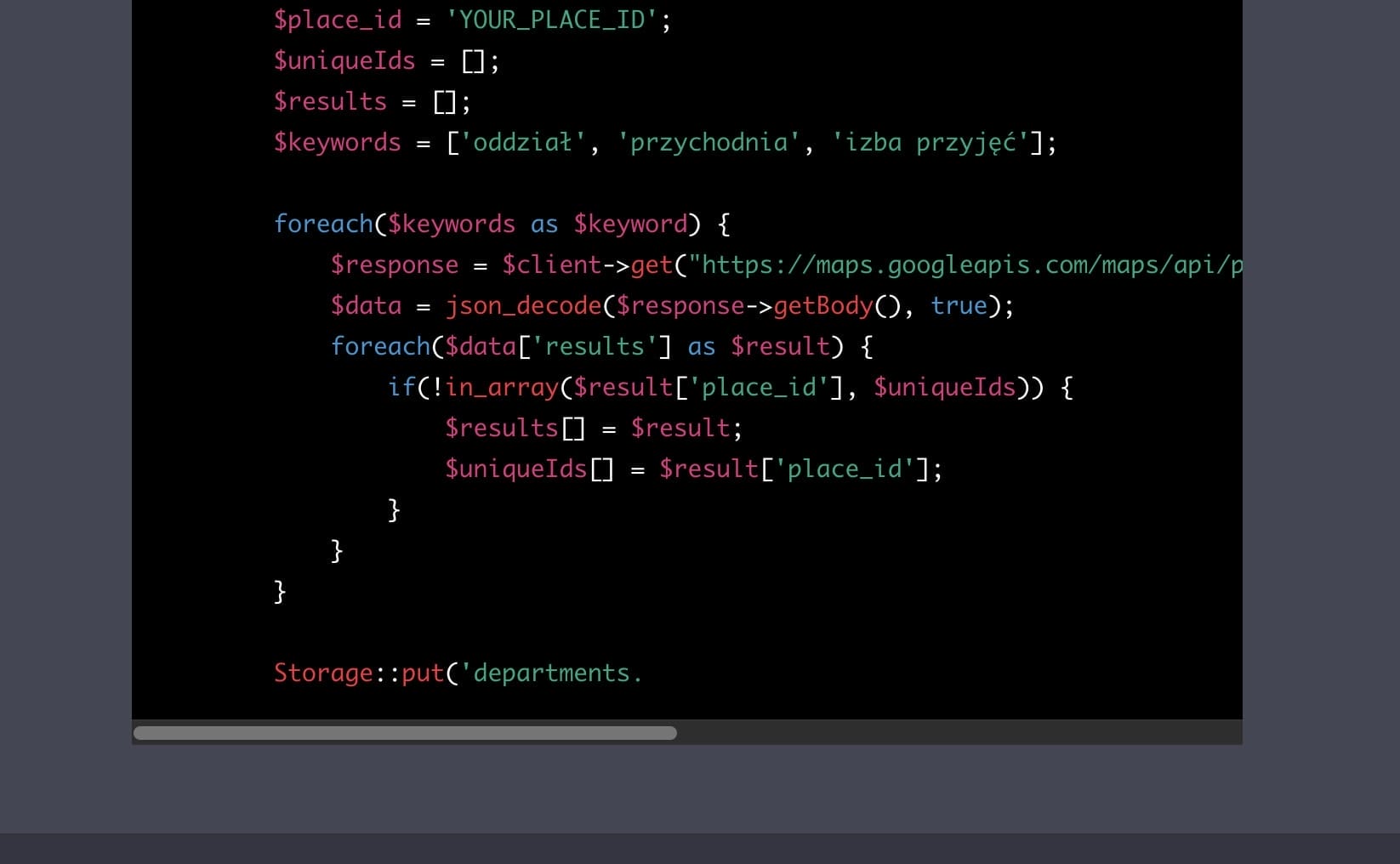 Key Features of ChatGPT:
State-of-the-art AI models that are used as a base technology for many of the tools mentioned in this article
Context-aware conversationalist that remembers what has previously been stated to inform current responses
The gold standard of basic chat functions with very sophisticated responses
It can help write and fix multiple coding languages
Best For:
ChatGPT is a great companion assistant. This AI chatbot is great for fleshing out ideas and performing text-based tasks. It is usable in almost any domain with enough context and prompt engineering.
Pricing: Free to use with the paid plan at $20/mo; API access costs are separate
13. Zendesk Answer Bot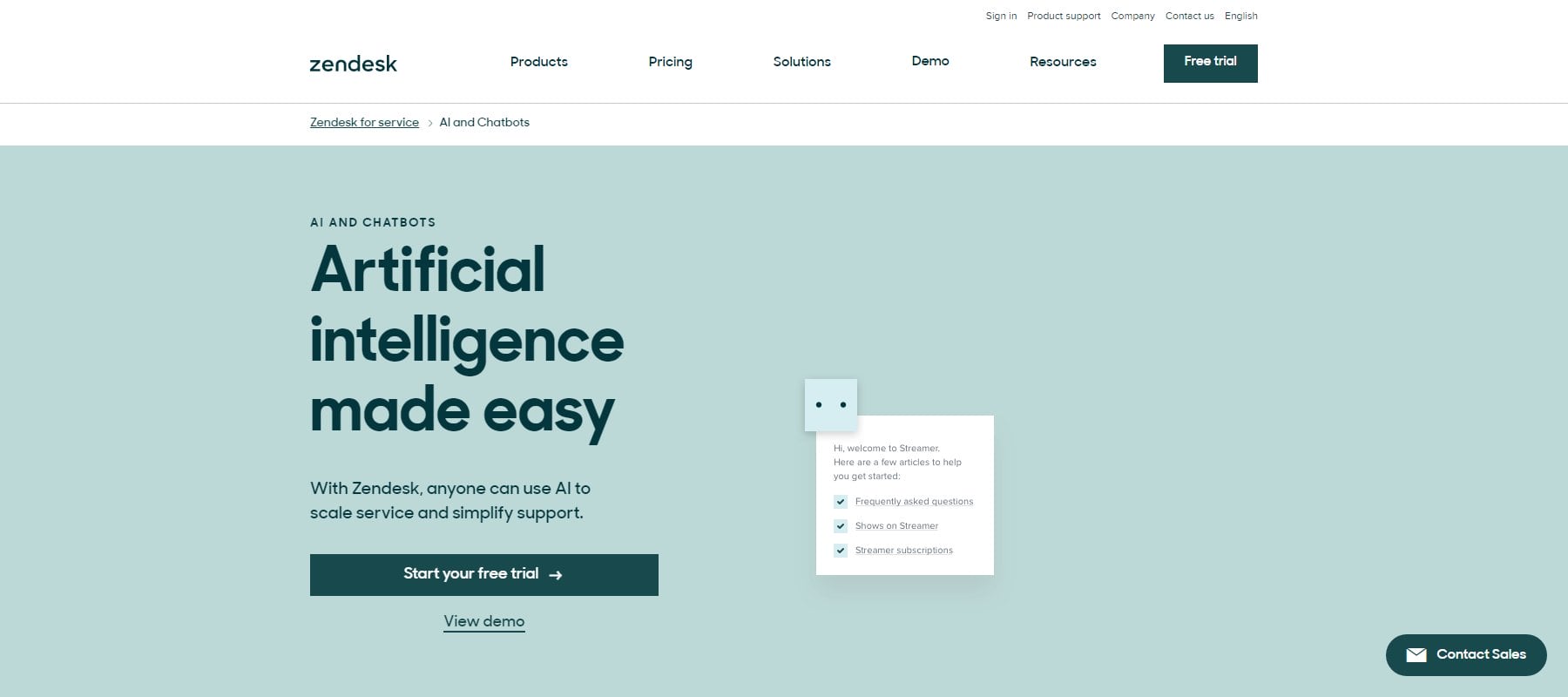 Zendesk Answer Bot is an AI-powered chatbot solution built into the popular Zendesk ecosystem of products. As another customer support-focused AI, Zendesk Answer Bot is excellent at taking support materials in Zendesk and leveraging those in conversational live chats with customers.
Key Features of Zendesk Answer Bot:
AI-driven support automation that works 24/7
Bots can triage interactions and transfer customers without manual sorting
Multiple messaging channels such as Slack, website, and Facebook Messenger
Can collect personalized customer data for segmentation and issue tracking
Best For:
Zendesk Answer Bot is perfect for businesses already using Zendesk products and looking to enhance their customer support processes with an AI-powered chatbot solution.
Pricing: Pricing is based on chat resolutions starting at $1 per resolution
14. Landbot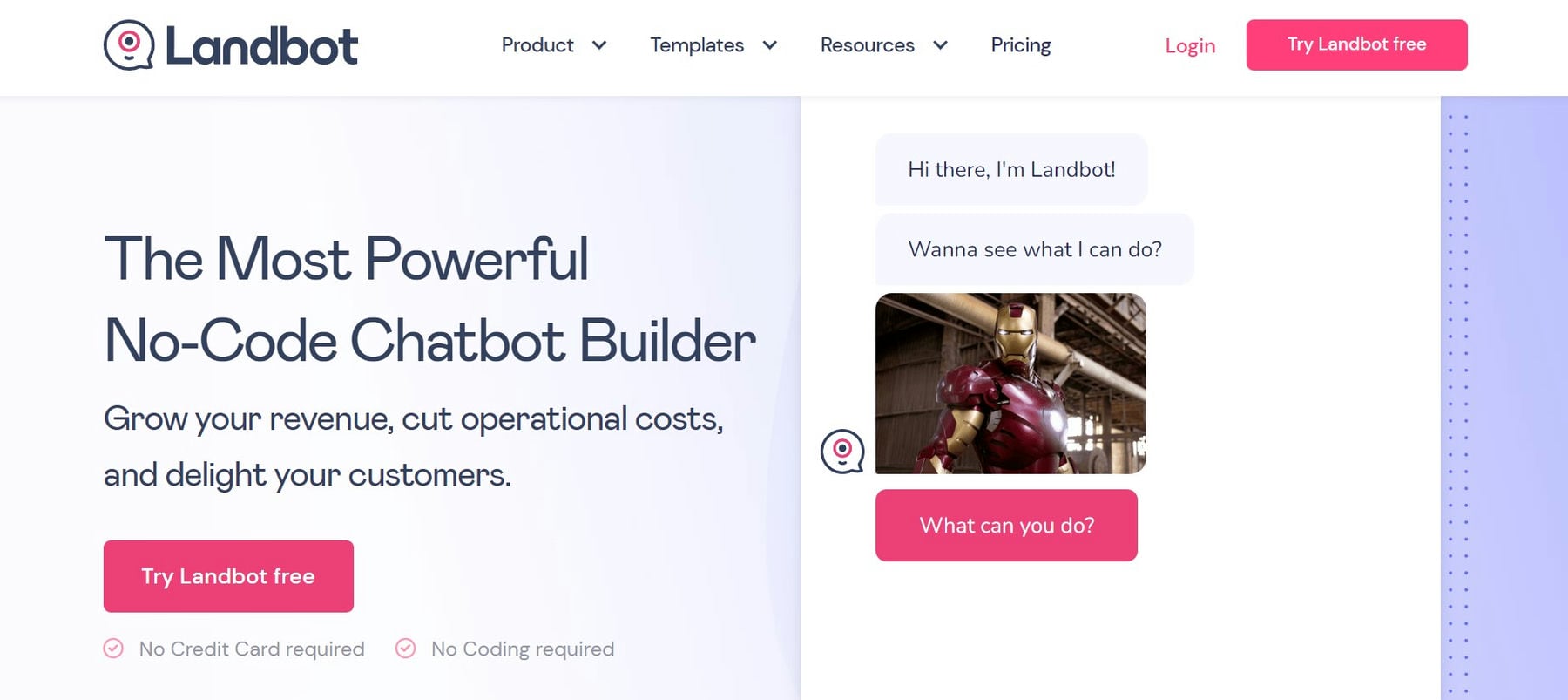 Landbot is a versatile chatbot platform that enables businesses to create engaging, interactive chatbots for customer support, lead generation, and more. Their core product is more of a traditional chatbot though they've launched Landbot AI as a beta experiment for their chatbot platform.
Key Features of Landbot:
No-code chatbot flow builder
Wide range of customization options and integrations
It can be used for customer support and lead generation
Best For:
Landbot is ideal for businesses with more minor chatbot needs. This can include wanting to automate your business's most common customer interactions. Its intelligent chatbot features are in their infancy but will show a lot of promise once they are out of beta.
Pricing: Free plan with 100 monthly chats and paid plans starting at $39/mo
15. Drift Conversational AI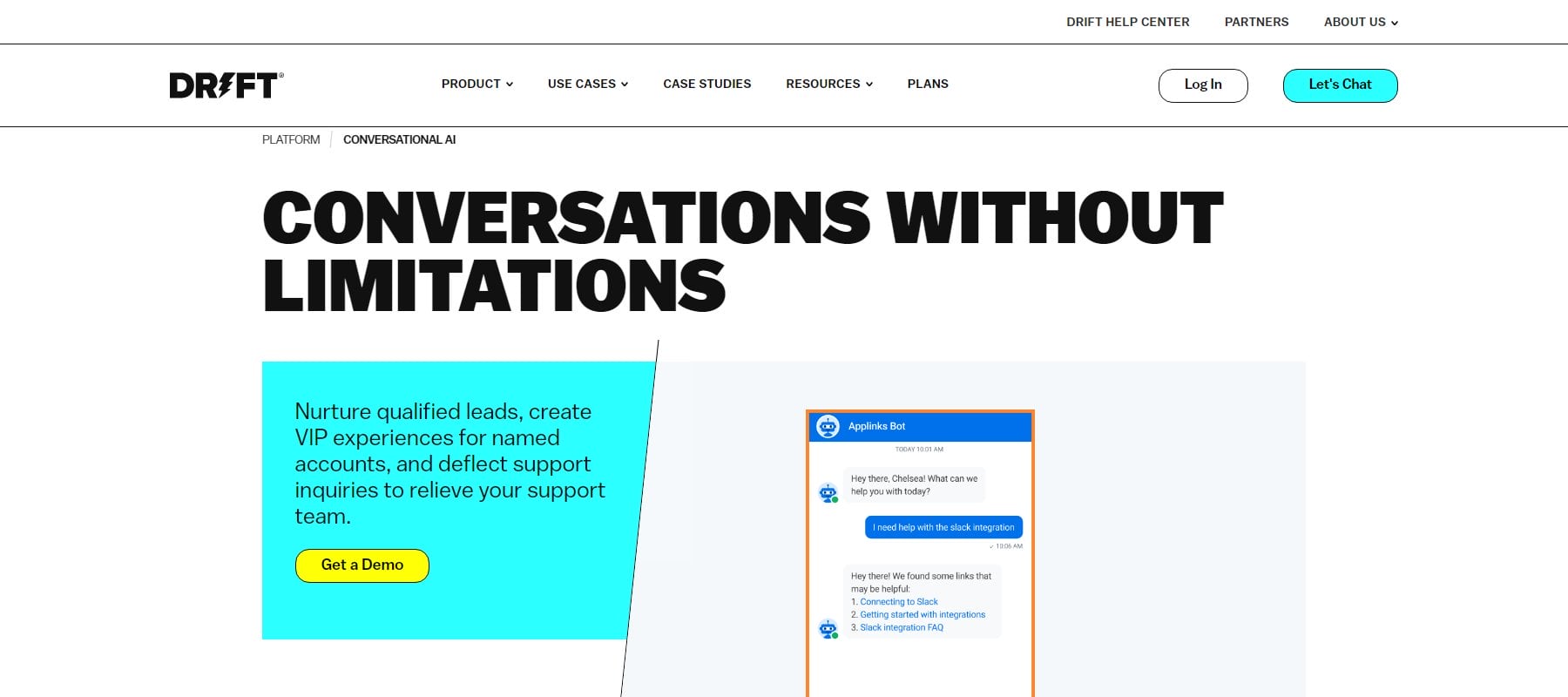 Drift Conversational AI is an effective enterprise chatbot platform that delivers personalized, engaging interactions to drive customer engagement and generate leads. The platform uses advanced AI technology to understand user queries and respond based on connected data sources. It goes beyond a chatbot by providing advanced landing pages and engagement options that bring even more data into your business.
Key Features of Drift Conversational AI:
Real-time, AI-driven customer interactions via chat
Schedule meetings automatically by connecting Google or Microsoft calendars
Use conversational engagement to gather actionable data and to de-anonymize critical data
Conversational landing pages that sell and interact
Best For:
Drift Conversational AI is for enterprises wanting to bring conversational bots to live chat and marketing flows. It excels at filling a CRM with actionable data through automated conversations. It's a high-growth platform for large-scale businesses.
Pricing: Starting at $2,500/mo
16. Socratic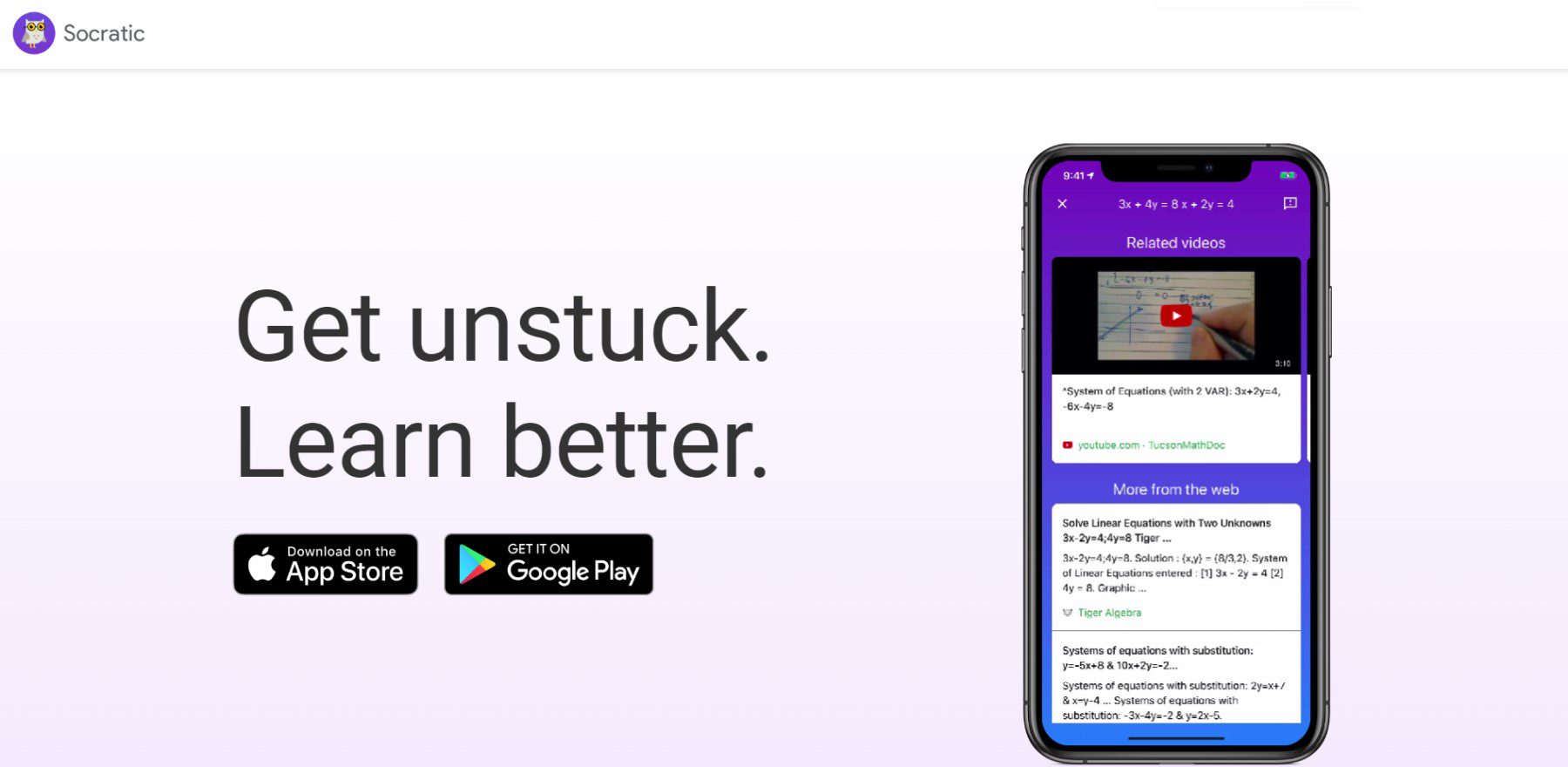 Socratic is an AI chat app that helps students with their learning goals. It uses AI to understand questions submitted by a wondering student and matches that query with the best online resources to help find an answer or to dig further into the topic. Users will need to download the Android or iPhone app, type a question into the chat, and surf the supplied resources related to the question. It works like a specialized version of Google Search, only completely tailored toward common learning objectives.
Key Features of Socratic by Google:
Free chat app available on Android and iPhone platforms
Step-by-step help with math problems so you can break them down instead of giving the answers
Provides practice test questions so you are prepared for any subject with realistic questions
Surfaces helpful content and sources (including videos and diagrams) to help you learn complex concepts
Best For:
Socratic is for life-long learners and students. It's best used for general academic subjects, and your mileage may vary when you get into graduate-level academics focusing on very narrow topics. If you are looking for a study partner, Socratic is always available and can even tutor you in a wide range of subjects. This is best for students who want to learn more efficiently and not just those who want to get the correct answers without putting in the work.
Pricing: Free
What is the Best AI Chatbot?
There are all types of AI chatbots available online. Here's a quick overview of our top choices.

Our Recommendations
Writesonic arguably has the most comprehensive AI chatbot solution. Not only is it a powerful AI writing software, but it also includes Chatsonic and Botsonic—two different types of AI chatbots. All of these are available in its free plan.
For businesses wanting to bring conversational AI to their support and sales operations, Botisfy and Zendesk Answers Bot are both within reach for most small businesses. Enterprises will want to look at Tidio+ or Drift/Ada.
There's no doubt that personal Chat AI is helpful as well. We recommend Socratic for students and ChatGPT or Bard for general-purpose AI chatting.
Looking for other tools to increase productivity and achieve better business results? Check out all our recommended tools for website owners.
Frequently Asked Questions (FAQs)
Before we wrap up, let's answer some of your most common questions regarding AI chatbots. Did we miss one? Leave a question below and we will respond!
What is the best AI chatbot?
Many other chatbot services use ChatGPT's underlying technology (GPT 3.5 and GPT 4).
ChatGPT
itself is one of the best personal chatbots out there. If you are using an AI chatbot for business,
Writesonic
and
Chat by Chat.ai
are some of the best to consider.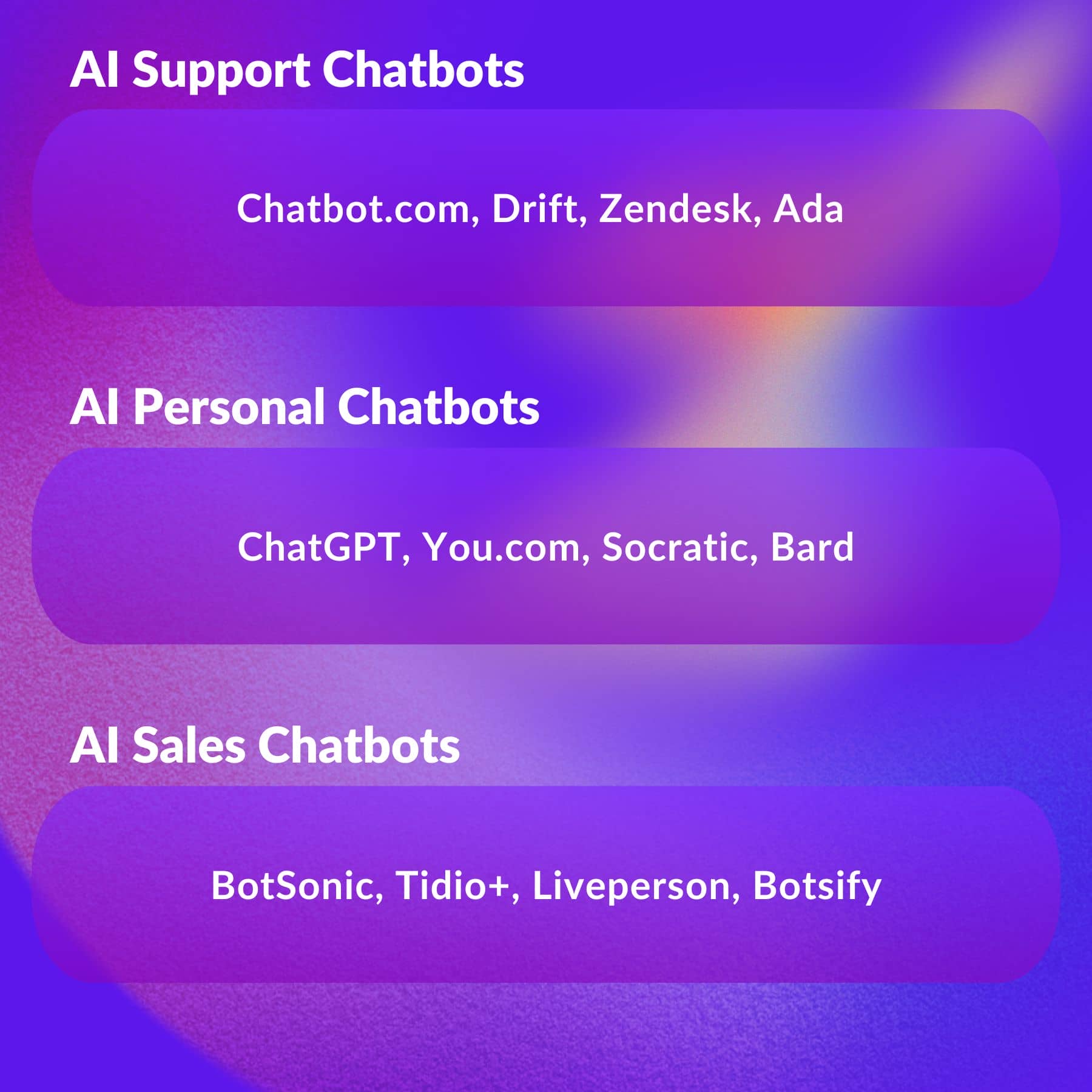 What is the best free AI chatbot?
There are several free AI chatbot platforms available, but the best one depends on specific requirements. Writesonic is one of the most popular AI chatbot platforms in the market. This platform offers various features, including natural language processing, integrations with popular messaging platforms, and customization options. It is best to research and evaluate each platform's capabilities before deciding.
Which AI chatbot is right for you?
What is an AI chatbot?
AI chatbots are software applications that use artificial intelligence to simulate human-like conversations via messaging applications. These chatbots can understand natural language and respond to user inquiries, making them valuable tools for providing customer support and sales assistance around the clock without human intervention. Whether integrated into a website or used as standalone applications, AI chatbots can help businesses engage with customers conversationally and interactively, improving customer satisfaction and overall experience. With the ability to handle a wide range of inquiries, from basic FAQs to complex product and service inquiries, AI chatbots can be a valuable addition to any customer support or sales team.
What is the most advanced Chatbot AI?
GPT 4 is the most advanced AI available today. Many people can access OpenAI's most current model by paying for the ChatGPT Plus plan, which allows users better uptime, faster response speed, and access to new features (like GPT 4). Many chatbots are now powered by GPt 3.5 and GPT 4 via OpenAI's API. This means chatbots can benefit from the best generative AI technology to power customer service and sales chat tasks. It also can help with Agent responses by improving grammar, spelling, and tone so your agents can respond professionally and accurately.
How do chatbots work?
Chatbots are computer programs designed to simulate conversation with human users. Different types of chatbots work in different ways. Some chatbots use predefined workflows or paths based on common questions to respond appropriately. For example, suppose a business receives 1000 chats daily, and 30% are about the same question. In that case, the chatbot can be programmed to recognize the question and provide the correct answer, saving human agents time and effort. Other chatbots use artificial intelligence (AI) technology, such as natural language processing (NLP), to better understand user questions and provide accurate answers. These chatbots can analyze different words and phrases within customer queries to determine the best response. For example, Google's Dialogflow uses NLP to classify words within questions and provide tailored responses based on the user's intent. Generative chatbots like OpenAI's GPT-4 are even more advanced. These chatbots use machine learning to generate unique responses based solely on a user prompt rather than relying on predefined workflows or pre-written responses. This removes much of the needing for legacy chatbot training that could take experts many hours to perform.
Can I create my own AI chatbot?
Creating your own AI chatbot using various chatbot-building platforms that provide easy-to-use interfaces, pre-built templates, and integrations with popular messaging platforms is possible. You must have some programming knowledge and familiarity with natural language processing to build an effective AI chatbot.
What are the risks of using AI chatbots?
One risk of using AI chatbots is that they may need help to provide accurate and helpful responses to complex or sensitive customer inquiries, leading to customer dissatisfaction. AI chatbots may inadvertently share sensitive information or make biased or offensive remarks, damaging a company's reputation if not correctly programmed and monitored.
What is the role of an AI chatbot?
An AI chatbot is a software program that uses artificial intelligence and natural language processing technologies to simulate conversations with human users to automate specific tasks and provide assistance or information. Its role is to communicate with users in a human-like manner, understand their requests, and provide relevant responses or actions.
What should I look for when choosing the best AI chatbot?
When choosing the best AI chatbot, you should consider factors such as the chatbot's natural language processing capabilities, its ability to handle complex requests, the ease of integration with your existing systems, its level of customization, and the availability of analytics and reporting features to measure performance and optimize the chatbot over time. For example, Writesonic helps users generate high-quality content quickly and easily.
Can chatbots work without AI?
Yes, chatbots can work without AI. Simple chatbots operate based on pre-defined rules and follow a decision tree to provide responses based on user inputs. While they may not be as advanced as AI-powered chatbots, they can still provide essential support and information to users.
What is the effect of AI chatbots in engaging with customers?
AI chatbots can positively impact customer engagement by providing fast and efficient communication, personalized experiences, and 24/7 availability. They can handle repetitive tasks and answer common questions, allowing customer service representatives to focus on more complex issues. Overall, AI chatbots can enhance customer satisfaction and loyalty.
How does AI influence customer interaction?
AI can influence customer interaction by providing personalized and efficient services through chatbots, voice assistants, and predictive analytics. It can help automate routine tasks, answer customer queries, and make recommendations based on their preferences and behavior. This can improve customer satisfaction, loyalty and increased revenue for businesses.
How can AI chatbots improve user experience?
AI chatbots can improve user experience by providing 24/7 customer support, answering frequently asked questions, and handling simple customer service requests, freeing up human agents to focus on more complex issues. They can also personalize the experience using customer data to tailor responses and recommendations.
Can AI chatbots work for websites that offer professional services?
Yes, AI chatbots can work for websites that offer professional services. They can be instrumental in providing quick and efficient customer support and handling basic inquiries or tasks. Secondly, chatbots can free up the time of human professionals to focus on more complex tasks and improve overall productivity.
Featured Image by Irina Strelnikova / shutterstock.com