When choosing a WordPress hosting provider, there are many things to consider, including speed, security, support, pricing, and hosting type. Your needs will vary depending on your business type, so it's important to understand the differences. In this post, we'll walk you through the steps to take in making your decision, the options available, and our recommendations for hosting partners based on type.
Let's dive in.
What is WordPress Hosting?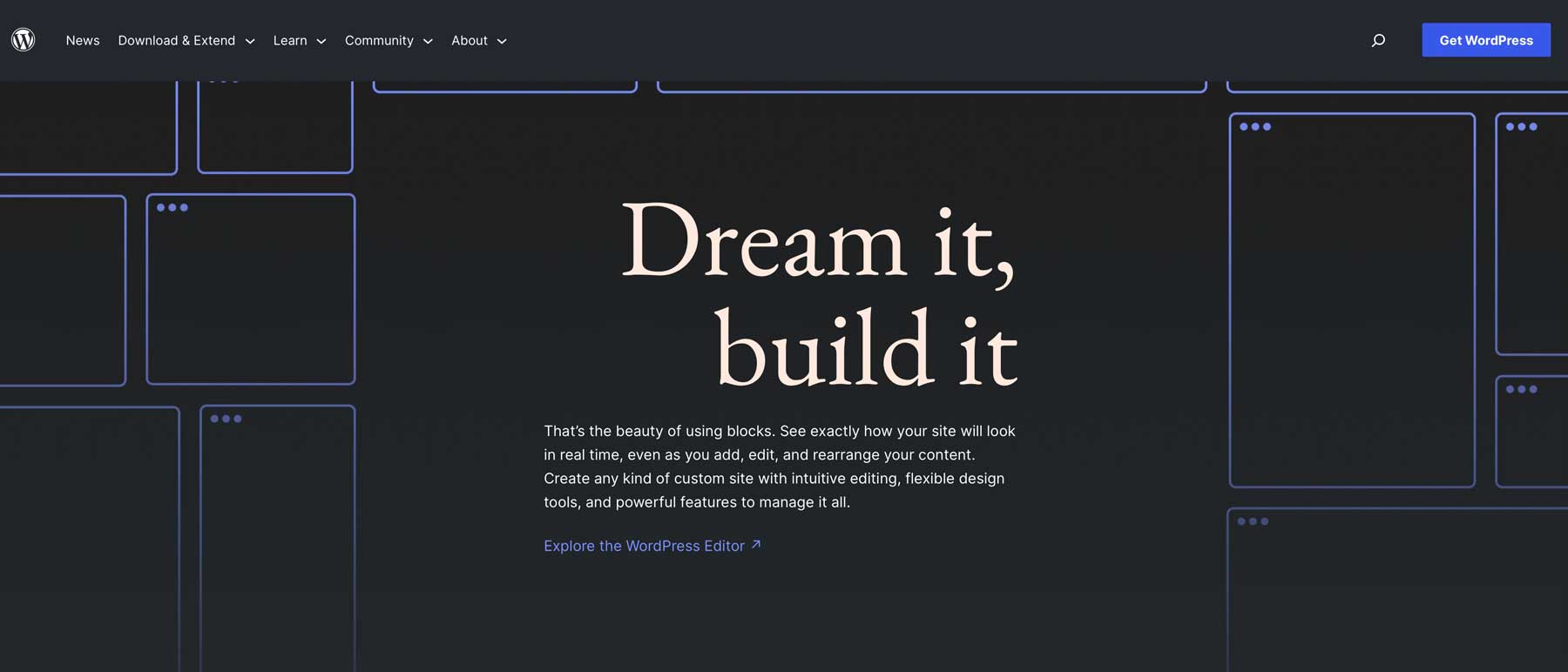 WordPress hosting is a type of hosting that specializes in the WordPress content management system (CMS). It typically provides the server setup and resources required to run WordPress efficiently. The best WordPress hosting companies offer features such as automatic updates, excellent security, and optimized performance. WordPress hosts provide either cPanel or a proprietary admin dashboard to make managing websites and their settings user-friendly and intuitive. There are several types, including shared, managed, VPS, cloud, and others, which we'll explore later in this post.
Factors to Consider When Choosing WordPress Hosting
When in the market for a WordPress host, there are a few things you need to consider, including how fast your site will load, the security measure in place, how easy it is to scale, the level of support you can expect, the learning curve, and most importantly, how much it will cost you. Let's look at what you should think about when purchasing a new WordPress hosting plan.
Speed and Performance
In short, a fast website keeps your customers and Google happy. With much of Google's core web vitals focused on performance, choosing a hosting provider that prioritizes speed is essential. Look for hosts that offer features such as object caching, a free CDN, support for the latest versions of MySQL and PHP, and other speed-boosting features that will help your site rank higher in the search engine ranking pages (SERPs).
Security Features
When researching hosting partners, ensure that they offer things like free SSL certificates, web application firewalls (WAF), malware scanning, distributed denial of service (DDoS) protection, and the ability to back up and restore your site. Having good security measures in place keeps your website safe from nefarious actors, such as hackers, that would love nothing more than to gain control of your website.
Scalability
When choosing a hosting partner, consider the big picture rather than where you are right now. While your business is new, selecting the cheapest hosting provider you can find might be tempting, but it's important to plan for future growth by ensuring your WordPress site is scalable. Choose a host that can easily alter your plan as your business grows. That way, you'll avoid costly downtime or potential issues when transferring your site to another host.
Ease of Use
Whether you're new to WordPress or a seasoned professional, finding a host with an intuitive dashboard is important. Most WordPress hosts offer cPanel or something similar to navigate the server's settings. For example, SiteGround uses a proprietary Site Tools dashboard that allows you to access the file manager, manage FTP accounts, access MySQL and phpMyAdmin, and more. Regardless of the host you choose, research how you'll manage your server's settings to ensure you can navigate server-related tasks easily.
Customer Support
Server-related issues are one of the most frustrating aspects of being a site owner. When looking for your next hosting provider, evaluate the type of support they have. Pick hosts that offer round-the-clock assistance because you never know what time of day your site will experience a problem. Also, look for multiple ways to contact the host, whether live chat, phone, email, or a combination of all three. Good customer support can provide peace of mind knowing that help is there when needed.
Pricing
When researching hosting companies, weigh the features they provide and compare them with the cost. Ultimately, you want to find a hosting provider that balances features and value for your budget. This way, you can ensure you're getting the most bang for your buck and making a wise investment for the future of your WordPress website.
What Types of WordPress Hosting Are There?
There are several different types of WordPress hosting, each with its features and benefits. The most common types are shared, managed, dedicated, VPS, cloud, and reseller hosting. We'll explain each type and who they are best suited for.
The most affordable option for WordPress hosting is shared. Its name is based on the idea of a shared server that is divided into sections, then distributed amongst multiple clients. In addition to sharing server space, those with shared hosting also divide up server resources, such as ram, bandwidth, and disk space, which can result in less-than-stellar performance. One benefit of shared hosting is the ability to take a more hands-off approach. As a shared hosting customer, you won't have to worry about maintaining the server's security or updates. The downside is that shared hosting is slower, making it suited for those who have small informational websites or blogs.
Managed WordPress Hosting
For those looking for a more hands-off approach, managed WordPress hosting is an excellent solution. While all hosting types can be managed or unmanaged, a managed hosting provider handles all the heavy lifting, such as server security patches, maintenance, and updates. They also implement specialized server settings to enhance your WordPress website's speed and performance.
Managed hosting is great for site owners who want the best for their sites but lack the time or expertise to maintain them personally. However, there is a trade-off with managed hosting: the freedom to choose plugins may be limited, as managed providers often have a list of disallowed plugins. That said, these restrictions are usually in place because the host offers settings to control caching, image compression, and other performance-enhancing features.
Dedicated WordPress Hosting
This type of WordPress hosting is designed for larger sites, big web agencies, or freelancers who want a server they plan to maintain themselves. Dedicated hosting allows you to lease an entire server with dedicated resources exclusively for your websites. The main benefit of it is not having to share your server's resources with other clients. You'll generally get the highest-performing server with excellent security features. Still, you'll be responsible for troubleshooting any errors that arise. We should also note that dedicated hosting is much more expensive than other types, such as shared, VPS, or managed.
VPS WordPress Hosting
VPS hosting is similar to shared hosting in that you share a server with other customers. That said, there are quite a few differences. With VPS, you share physical hardware with others but have your own resources, such as RAM, storage, and bandwidth. This gives you a server environment that functions more like a dedicated server. Because of this, you benefit from a private server without the added cost of dedicated hosting.
Cloud WordPress Hosting
With cloud hosting, multiple servers are utilized to distribute resources, resulting in much faster delivery of your site's content to visitors. Because of this unique setup, websites hosted in the cloud have access to almost unlimited resources offering faster speeds, a platform that is easily scalable, and superior reliability than other hosting types. Cloud hosting providers often provide excellent uptime thanks to automatic failover protection, which allows your site's files to be quickly swapped to a different server in case of a hardware failure.
Reseller WordPress Hosting
The last type of WordPress hosting is reseller hosting. Similar to dedicated hosting, reseller hosting allows you to lease an entire server (or a portion of one), then rent it out in pieces to your clients. You can usually white-label WordPress so it appears as a customized hosting plan offered by your company, rather than the company you purchase from. Additionally, it's not uncommon for a managed hosting provider to offer reseller hosting, reducing the time you'll need to spend maintaining client websites.
WordPress Hosting Recommendations
We realize that choosing a WordPress hosting provider can be a huge undertaking. That said, now that your brain is full of WordPress hosting knowledge, we have compiled an excellent option for each type of hosting. Whether you're content with a shared budget option or a more robust dedicated solution, these hosting providers are at the top of their game.
Best WordPress Hosting Options in 2023
Now that we've gone through the types of WordPress hosting, let's take a look at our recommendations based on type.
Best Managed WordPress Hosting: SiteGround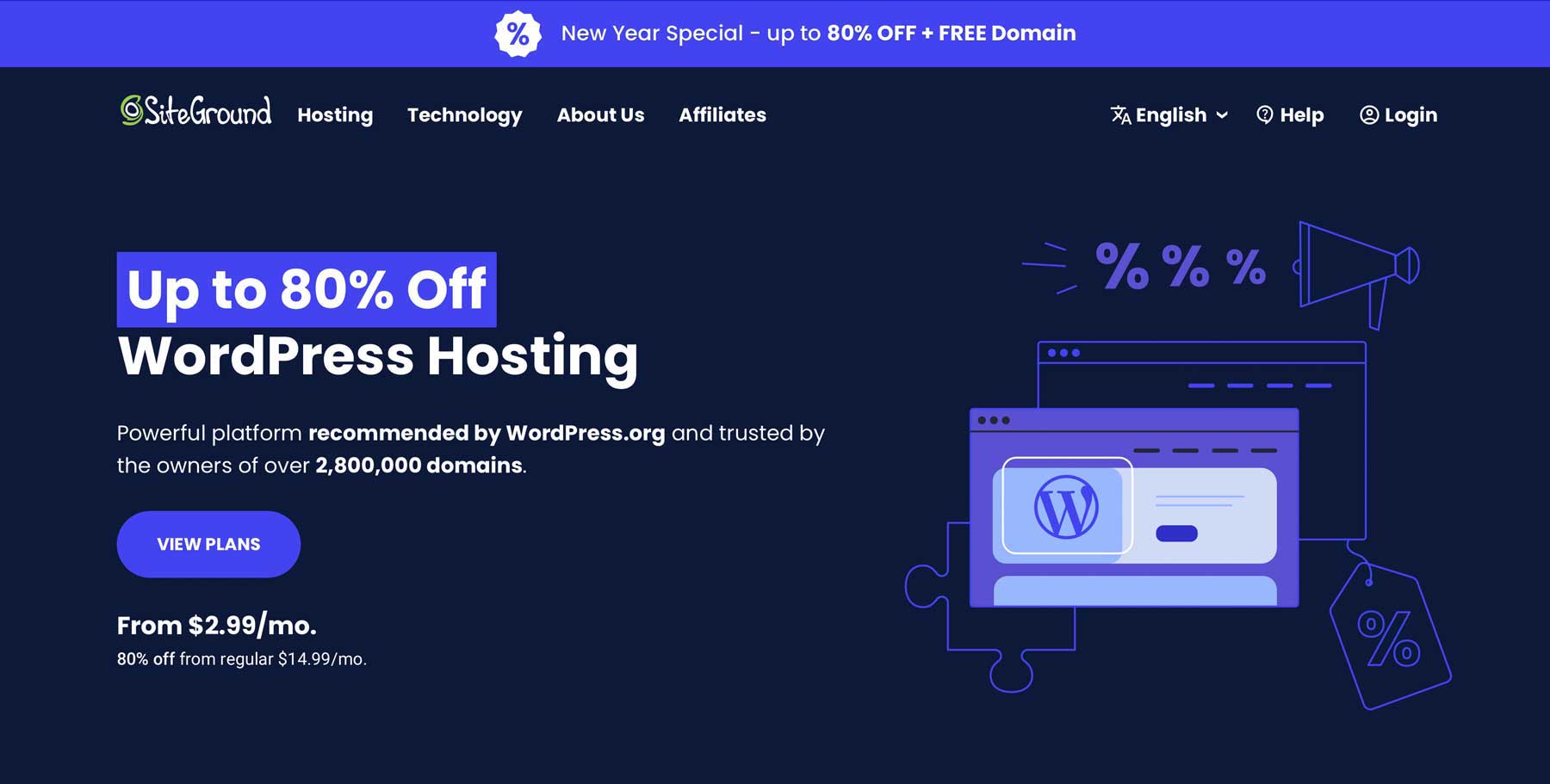 SiteGround is widely known as being the best managed WordPress hosting provider you can get. With all of their features, it's easy to see why. You'll get a huge speed bump thanks to a cloud-based infrastructure, free website migrations, an SSL certificate, CDN, email, WP-CLI, SSH, and FTP access, excellent caching capabilities through the SG Optimizer plugin, and more.
Key Features of SiteGround:
10 GB storage
Free SSL, CDN, email, backups, and migration
10,000 monthly visits
Unmetered traffic
As previously mentioned, the site tools dashboard is packed full of features for managing your hosting plan. You can easily monitor your site's traffic statistics, bandwidth, and disk space, access security features such as backups, SSL certificates, and a site scanner, make speed enhancements through caching and Cloudflare CDN, and more.
Best For:
SiteGround is an excellent choice for those looking for a stellar managed WordPress host. Customer support is stellar, the site tools dashboard is feature-rich, and the Google Cloud backbone provides lightning-fast speeds.
If you'd like to learn more about SiteGround, check out our comprehensive review.
Pricing: $14.95 per month.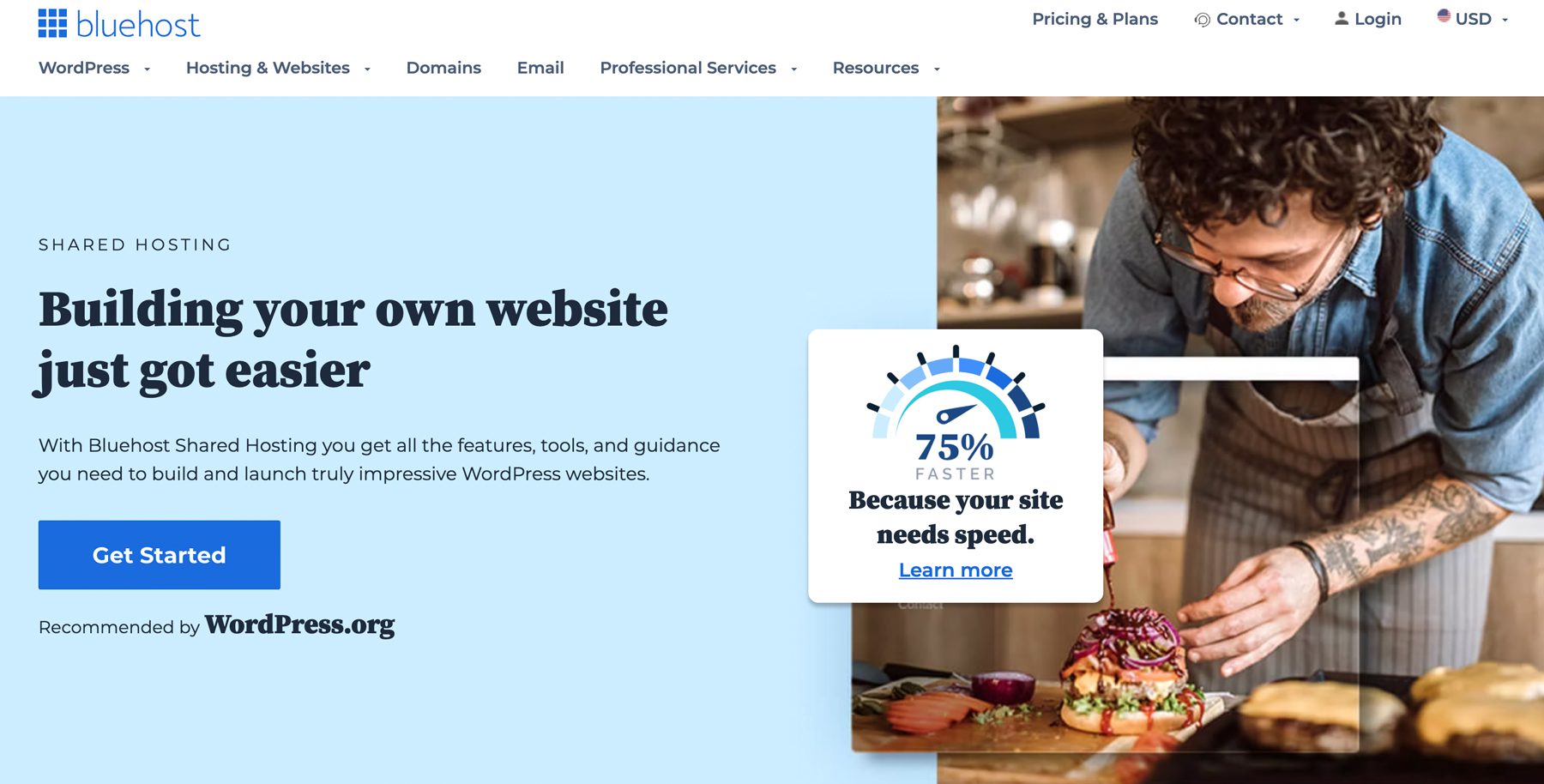 If you are most concerned with finding a good budget hosting provider, then check out Bluehost. As one of the three hosting providers recommended by WordPress, Bluehost has plenty of bang for your buck. Even their most basic plan comes standard with freebies like a domain for one year, an SSL, CDN, and at least 10 GB of solid state drive (SSD) storage.
Key Features of Bluehost:
Free domain for 1 year
10GB SSD storage
Free CDN and SSL
Unmetered bandwidth
Free WordPress themes
One of the best things about Bluehost is the dashboard. All tools are clearly marked, so they are easy to find. Additionally, there are a few attractive features for new business owners, such as free email accounts, marketing tools, and plenty of add-ons to upgrade your plan should the need arise.
Best For:
While Bluehost is a good budget host, there are some drawbacks. You must sign up for a one-year plan to take advantage of that low price. If you already have a website, you'll need to migrate it yourself or employ Bluehost to do it for you. If that isn't a dealbreaker for you, Bluehost might be a good fit.
If you'd like to learn more about Bluehost, read our in-depth review.
Pricing: $35.40 for one year of hosting.
Best Dedicated WordPress Hosting: DreamHost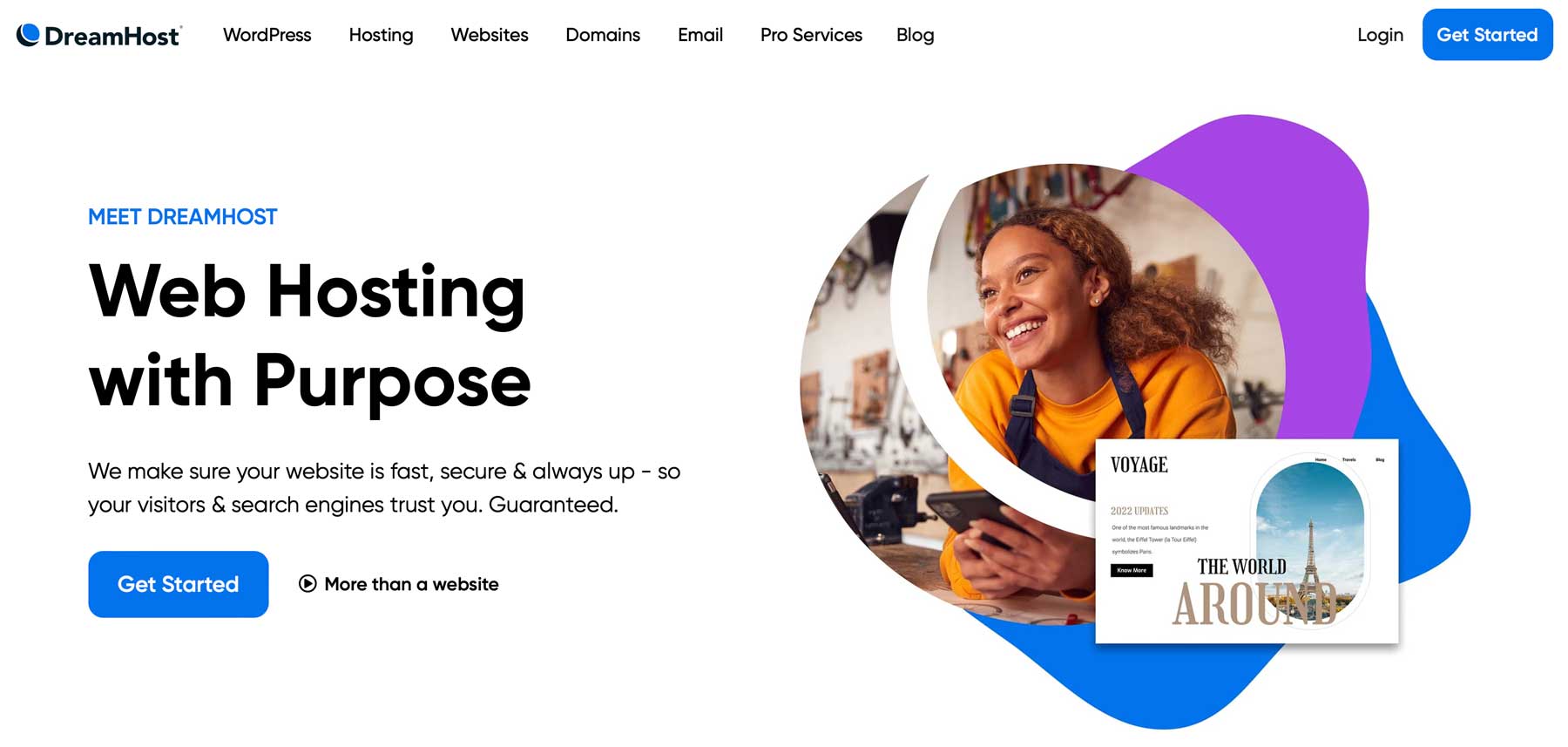 When considering dedicated WordPress hosting, you'll find an excellent solution with DreamHost. You have the freedom to choose each aspect of your server, from the hard drive, down to what type of CPU you want. DreamHost offers a 100% uptime guarantee, excellent technical support, and the ability to configure your server however you'd like.
Key Features of DreamHost:
DDoS protection
Reseller hosting available
100% uptime guarantee
At least 1 TB of storage
The best feature of DreamHost is the ability to set up your server by specifying how many CPU cores, storage, and memory you need, giving you the ultimate freedom to build a plan that meets your specific needs. All plans have a free dedicated IP address, full root and shell access (SSH), DDoS protection, and 24/7/365 expert-level support.
Best For:
Developers or tech-savvy business owners will love DreamHost for their affordable, dedicated hosting plans. You can white-label WordPress if you want to sell off pieces of your server to start a web hosting business and have a lightning-fast environment that ensures your websites will be fast, reliable, and make money in no time.
Pricing: $149 per month (billed annually), or $169 per month without contract requirements.
Best VPS WordPress Hosting: Hostinger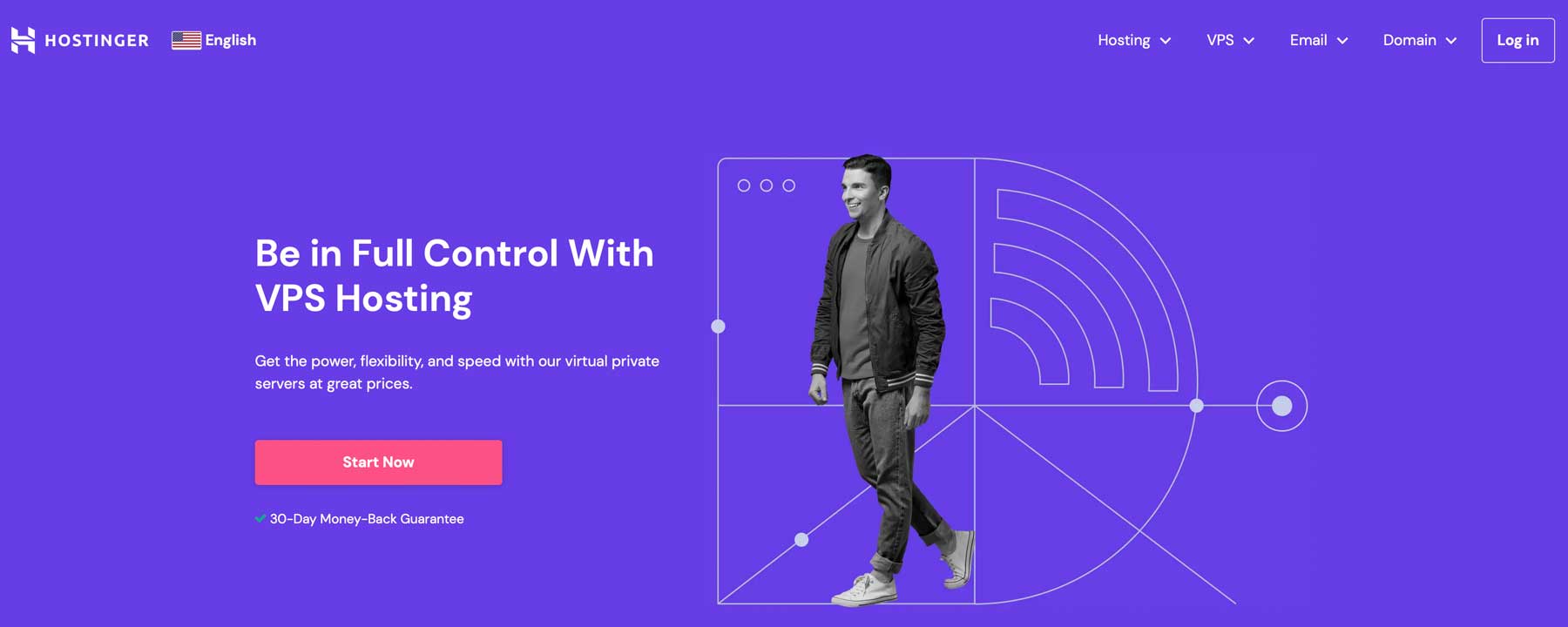 We rated DreamHost as our top pick for VPS hosting, but Hostinger is a strong second because of its unbelievably low pricing and features. Plans start at an incredible $8.99 per month and come standard with at least 2 GB of RAM, 40 GB of SSD storage, and 2 TB of bandwidth, giving you plenty of bang for your buck.
Key Features of Hostinger:
Dedicated IP address
Weekly backups
AI-powered firewall
Choose from CentOS, Ubuntu, or Debian OS
With every VPS plan, you'll get excellent features like weekly backups, a strong 100mb/s network, IP4V & IPV6 support, and a dedicated IP address. They also offer an AI-powered firewall that constantly scans network traffic to instantly identify and block any shenanigans. Additionally, a nice snapshot feature can be used to restore your site to a specific point should disaster strike. Besides those maintenance features, you're on your own, so keep that in mind if you partner with Hostinger.
Best For:
Like a dedicated hosting plan, Hostinger VPS plans require at least some server maintenance knowledge because you'll be responsible for important updates and security patches. Because of this, Hostinger is ideally suited for developers or site owners who know their way around a WordPress server and aren't afraid to get their hands dirty. If you get in a pinch, their customer support can happily solve any issue.
Pricing: $8.99 per month.
Best Cloud WordPress Hosting: Pressable

Pressable is an excellent option for cloud WordPress hosting, thanks to a simple interface and features such as automatic WordPress and plugin updates, free migrations, and staging. Pressable's most notable feature is its blazing-fast cloud infrastructure, perfectly optimized for WordPress. This should be no surprise because Pressable was created by the same folks who made WordPress – Automattic.
Key Features of Pressable:
Expert level support
Automatic failover system
20 GB storage
30,000 monthly visitors
Another notable feature of Pressable is its advanced security features, which include staples such as automatic malware scanning and removal, DDoS attack protection, a proprietary firewall, and an automatic failover system. With features like this, you can rest assured your site is safe and sound.
Best For:
Pressable cloud hosting is the perfect solution for balancing speed, support, and features. You'll get a lightning-fast website with superior security features at an attractive price. Plus, there's room for growth. Should you need to update your plan, you can easily do so with Pressable's one-click plan upgrade feature that allocates more resources without downtime.
Do you want to learn more about Pressable? Check out our hands-on overview.
Pricing: $25 per month.
Best Reseller WordPress Hosting: LiquidWeb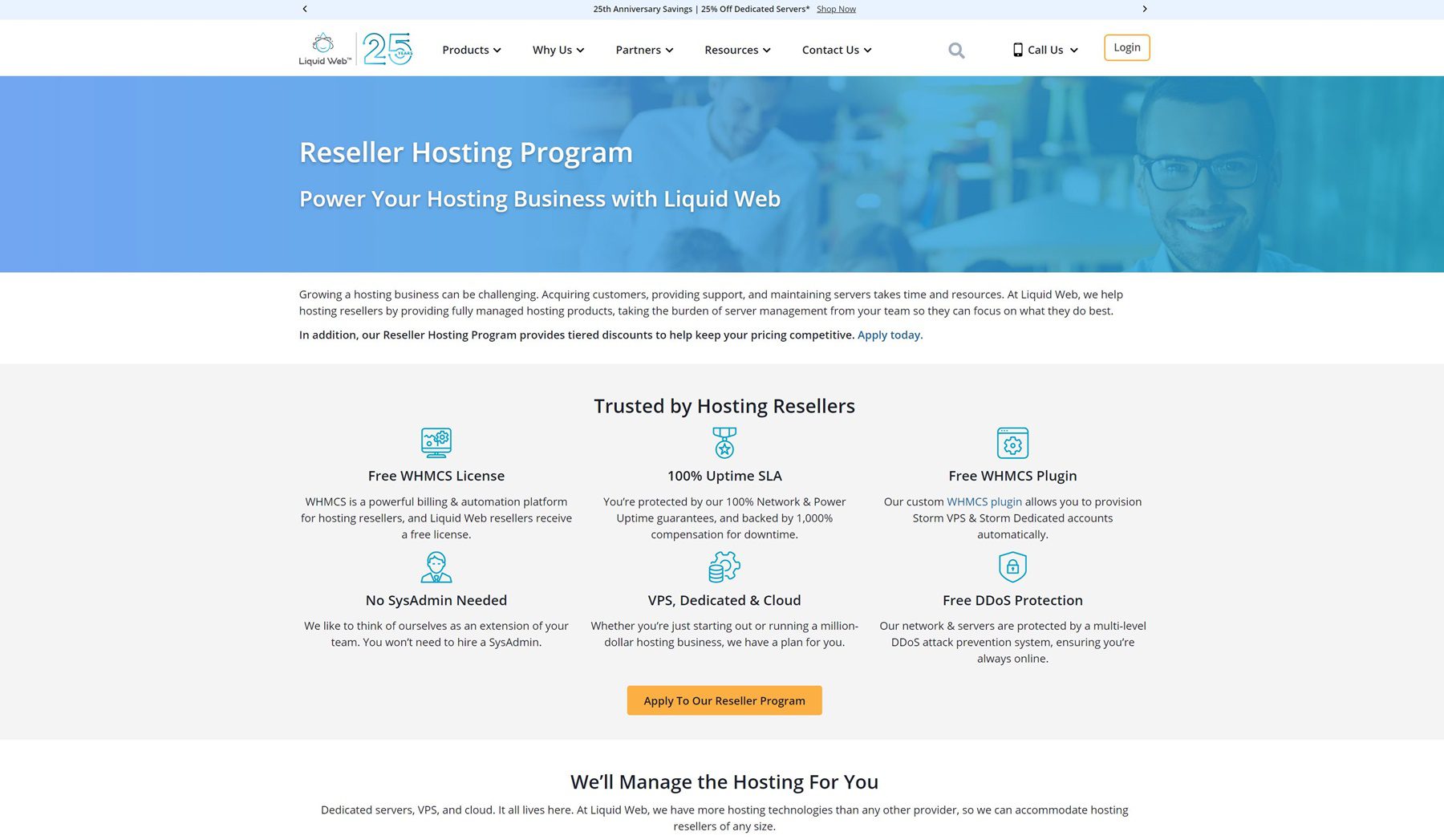 LiquidWeb is one of the best options for reseller hosting providers. However, they offer a unique approach compared to other reseller hosting providers. With LiquidWeb, you must first sign up for a hosting plan, then apply to be a part of their reseller program. Don't let that deter you, though, as it's been our experience that process takes little time.
Key Features of LiquidWeb:
Choose between VPS and dedicated hosting plans
250 GB of Acronis backups
Automate customer billing
Unlimited websites
Perhaps the most useful feature of LiquidWeb's reseller program is the WHMCS license that allows you to create custom hosting packages, services, and add-ons that you can brand, then sell to your customers. Additionally, a built-in invoicing system allows you to easily keep up with client invoices, payments, and renewals.
Best For:
LiquidWeb offers affordable solutions for reseller hosting plans, so it appeals to a large demographic. Whether you're a small business owner, web agency, or freelancer looking to build a lucrative side hustle, LiquidWeb is an excellent choice for any budget.
Pricing: $99 per month.
Final Thoughts on Choosing the Right WordPress Hosting
Finding the best WordPress hosting platform for your business doesn't have to be scary. Sure, there are many options out there, but when armed with the right information, you can make an informed decision about what's best for your specific situation. In this post, we've given you all the tools you need to make a confident decision. If you're still on the fence, opt for an excellent host such as SiteGround. You'll likely find what you need with their shared, managed, cloud, and reseller offerings.
Now that you're up to speed on how to choose a WordPress host, you can start shopping for one. Check out some of our hosting reviews to research the best provider to use in WordPress:
And for a more complete list, check out our breakdown of the best hosting providers for WordPress.
Frequently Asked Questions (FAQs)
Before we wrap up, let's answer some of your most common questions regarding WordPress hosting. Did we miss one? Leave a question below and we will respond!

What is WordPress Hosting?
WordPress hosting is a specific hosting service that many hosting companies offer. It focuses on building the ideal hosting environment for your WordPress website. It provides the web hosting you need to get the best speed, security, and performance on your website. Usually, WordPress hosting also comes with a straightforward one-click install. Although WordPress hosting makes hosting your website easy, you don't explicitly need WordPress hosting for your website; any other regular hosting solution will do the job as well.
How do I Host a WordPress Website?
Depending on the hosting company you choose, the process might vary slightly. You'll usually start by buying a WordPress hosting plan. After that, you register your new domain. Once that's done, you can install WordPress on your website in one click. When your WordPress website is ready, you can pick a theme, install plugins, set up your pages, and more!
What is the best WordPress hosting company?
SiteGround

is the best WordPress hosting company. It is known for its buttery smooth managed WordPress hosting experience. It leverages a cloud-based infrastructure and offers features such as free site migrations, SSL certificates, a CDN, and powerful caching capabilities, all backed by excellent customer support.
Who offers the best managed hosting for WordPress?
Hostinger

is the best managed WordPress hosting company. They offer a range of plans at the most competitive prices. Noteworthy offerings include effective security measures, automatic updates, a user-friendly control panel, and 24/7 customer support. This makes Hostinger an excellent choice for hassle-free WordPress hosting.
How do I choose the best WordPress host for me?
Choosing the best WordPress host depends on your specific needs. Consider factors like site traffic, speed requirements, server resources, security features, and technical support. Consider your technical knowledge: a managed host like

SiteGround

could be best if you prefer a hands-off approach. Always compare options and read reviews before deciding.
How much does WordPress hosting cost?
WordPress hosting costs can vary significantly depending on the type of hosting and provider. Shared hosting can start at around $3 per month, while VPS hosting can start at around $9 monthly. Dedicated hosting is more expensive, typically starting at $150 per month. Always check the specific hosting provider for exact pricing.
Can I build a WordPress site without hosting?
You can technically build a WordPress site without buying a hosting service, but it will only be accessible on your local machine. To make it live on the internet for others to access, you must keep your computer running and assign it a static IP address. This would be too much work, and you're better off paying a service provider 2-3 USD a month.
Does WordPress provide hosting services?
Yes,

WordPress.com

provides its own hosting services. However, if you use WordPress.org (self-hosted WordPress), you must secure your hosting from a third-party provider. Many opt for services like

SiteGround

or

Hostinger

. The self-hosted edition gives you more control and freedom to build and operate your site.
Is there a free hosting service for WordPress?
Free hosting services, such as

WordPress.com

's basic plan, are available for WordPress. However, they have limitations in customization, storage, and sometimes placing ads on your site. Paid hosting services offer more control and additional features.
What is the fastest WordPress hosting service?
The fastest WordPress hosting service often depends on specific needs and locations. However, many users find that cloud hosting providers typically offer superior speed due to their distributed resources and automatic failover systems, ensuring swift content delivery. You may check

Bluehost

to analyze if it fits your needs.
What is the cheapest WordPress hosting?
Among affordable options,

Hostinger

stands out for its blend of low prices and robust features. Their WordPress hosting plans start at an incredibly low cost while still offering significant resources, solid performance, and reliable customer support.
What is managed WordPress hosting, and how does it benefit my website?
Managed WordPress hosting is a service where the host handles technical aspects of WordPress like security, speed, updates, and backups. This lets you focus on your business, offering you peace of mind knowing that your site is in expert hands, optimized for performance and security.
Featured Image via ranjith ravindran / Shutterstock.com