Website builders are increasing in popularity every year as more users and companies look for streamlined solutions for building websites. They are designed to make it easy for anyone to get a new website up and running. You won't need advanced technical skills or coding knowledge to use built-in templates and drag-and-drop page interfaces. However, even the best website builders will have unique strengths and limitations to consider before choosing one for your website.
In this post, we'll give a detailed review of each of the best website builders. We'll compare key features, price, ease of use, flexibility, and more so you can make the best choice.
What are Website Builders?
A website builder is an online tool that allows users to build websites. They are usually offered by hosting companies or other hosted Software as a Service (SaaS) platforms that provide an all-in-one suite of tools for building a site from the ground up. You can use them to build anything from a simple blog to a large online store equipped with tools for email marketing, social sharing, SEO, and more.
Also, website builders will give you more control and ownership of your website than some blogging platforms like Blogger or Medium. But they won't give you as much flexibility and control as a dedicated CMS like WordPress. As such, they are best for those who want enough control over their site to get the design and functionality they want without spending much time on other technical aspects of a website.
The Pros and Cons of Website Builders
What makes website builders great is that they are easy to set up and use. You don't have to worry about correctly assembling all the pieces or your website. It's already done for you. You can get a custom domain name, hosting, SEO, security, pre-made template designs, a drag-and-drop visual interface, and a content management system for your pages and posts all in one place.
The drawback of using website builders is that they can be limiting. This is the tradeoff for ease of use. Website builders are easier to use because the platform does most of the heavy lifting for you. Because of this, you are bound to the limitations set by the platform for things like hosting, SEO, functionality, and design features. Additionally, site builders often require users to upgrade to higher-priced plans to access certain functionalities. So, finding a platform that can scale to your needs as your website grows without breaking the bank is essential.
Despite any drawbacks, in most cases, the stress-free benefits of website builders far outweigh the limitations. And getting the right website builder can make all the difference.
The Best Website Builders

Subscribe To Our Youtube Channel
The best website builders provide the complete package for creating your website. But each website builder on our list comes with its strengths and weaknesses. Let's look at some of the top picks across the web and see how they match against each other.
The Best Website Builders Listed In Order
Expand List
1. WordPress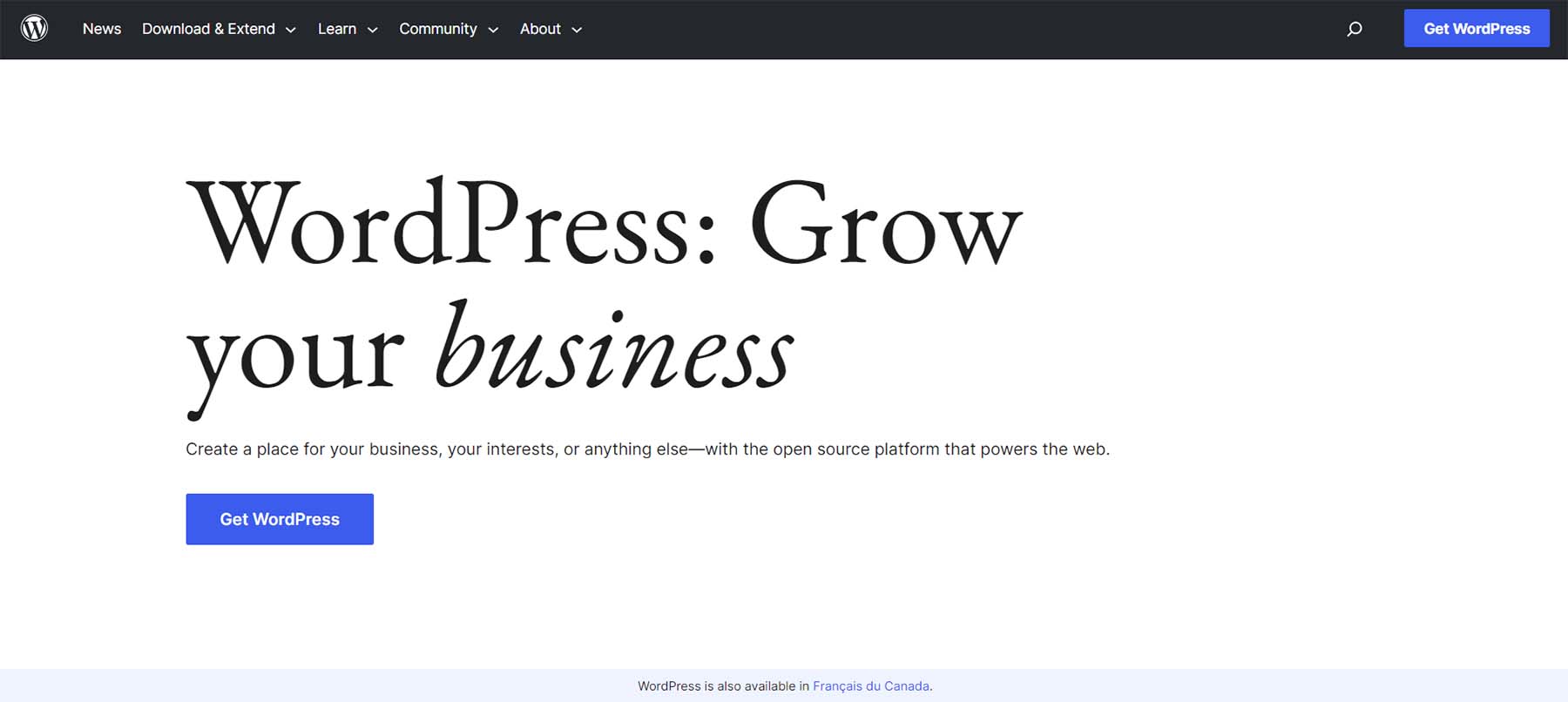 WordPress powers over 1/3 of all websites and has grown into a powerful content management system (CMS) that can be used to build just about any website. The software is open-source and available to download for free. It is also self-hosted, meaning it can be installed on any hosting provider.
Although the creators of WordPress offer an all-in-one hosted service platform at WordPress.com, it is much more limiting than using the .org version. Check out this post explaining their differences.
WordPress is More Flexible than Other Website Builders
WordPress is not bound by the same limitations as other hosted website builders. The customization options are virtually limitless. Countless WordPress plugins, themes, and integrations (both paid and free) allow you to build any site you want with advanced design and functionality.
The WordPress block editor also makes it easy to build websites using a visual drag-and-drop builder. You can also use a visual page builder like Divi to create custom layouts and stunning designs without any coding knowledge using thousands of pre-made templates.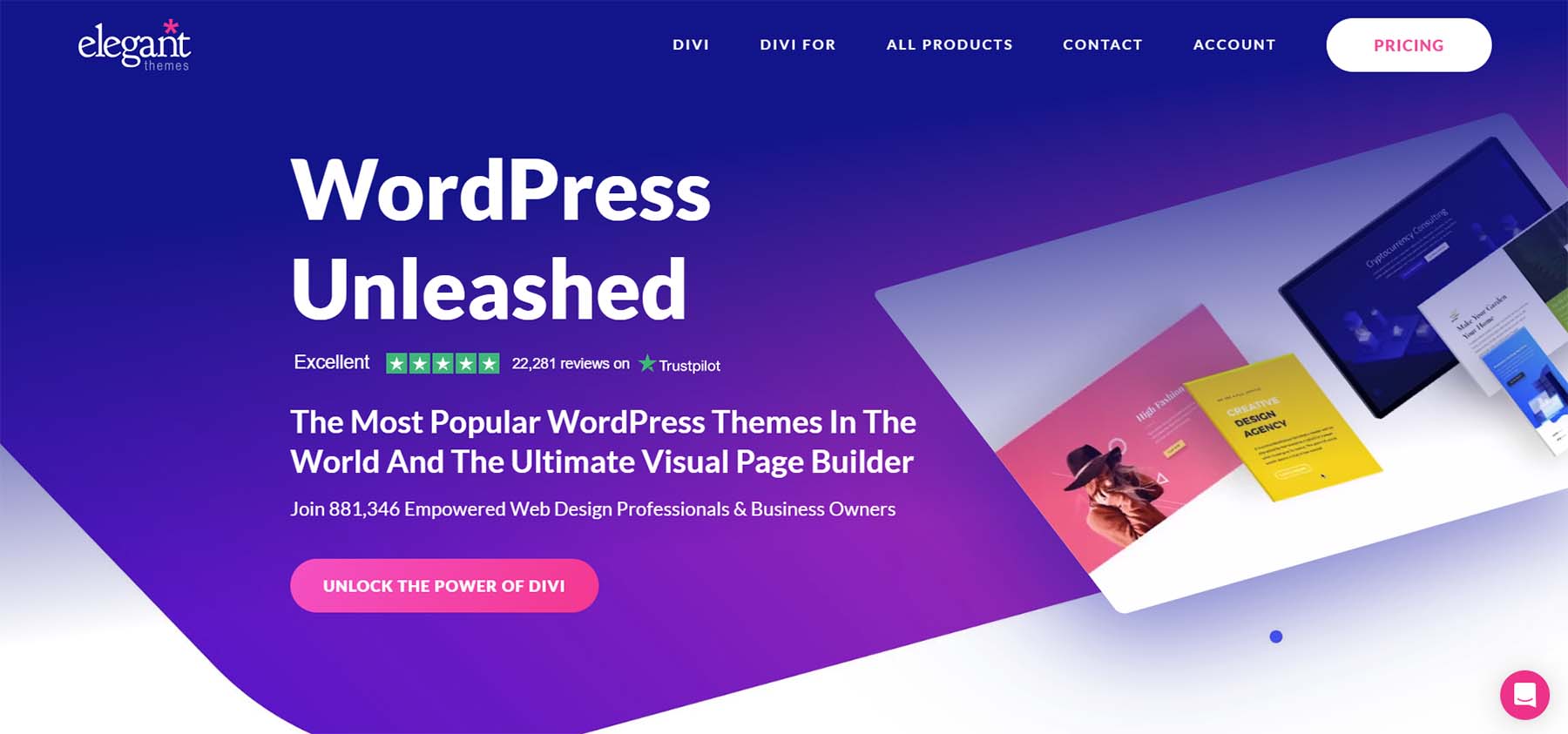 There are also tons of WordPress plugins for extending the functionality and capabilities of your WordPress website. For example, you can use WooCommerce to add exhaustive eCommerce features to any WordPress site for free. There are high-quality plugins for SEO optimization, eCommerce, memberships, speed optimization, and more.
A common drawback of using WordPress versus other website builders on this list is that it requires a steeper learning curve and more technical knowledge to get everything set up. You'll be carrying more responsibilities when managing and maintaining your site. However, once the work is done, you have complete control over every aspect of your site.
Although WordPress is free software, the actual cost of getting a complete website up and running will depend on other factors, like hosting and any premium themes or plugins you may need.
Key Features
Blocks-based editing for easy creation of complex page layouts
Exhaustive library of plugins and themes both natively and in third-party marketplaces
Excellent native blogging platform with a commenting system and social media integration
Powerful eCommerce capabilities with the WooCommerce plugin
Works with popular drag-and-drop page builders like Divi to give you thousands of pre-made layouts and powerful design options.
Pros
User-friendly interface for easy website creation and management
Customizable with thousands of themes and plugins
Scalable to grow with your website's needs
You have more control over your website than other hosted platforms for security, SEO, and speed optimization.
Available managed WordPress Hosting providers that handle all the technical stuff for you.
A large community of developers and users
Cons
Steeper learning curve
User must find a hosting provider and domain separately
A large number of resources and tools can be overwhelming for beginners
Requires more hands-on management and optimization
Best For:
WordPress is best for any user or company that wants complete control over their website using a drag-and-drop builder that doesn't have the limitations of other hosted website builders. Whether you are starting a blog, building a small business website, or developing an enterprise e-commerce solution, WordPress and its broad range of plugins are uniquely equipped to handle it all. Although you may need more technical expertise or resources to manage website hosting, security, and backups, you are rewarded with the highest levels of flexibility for your website.
Pricing: Free to use with any web host. SiteGround hosting starts at $2.99 per month.
2. Wix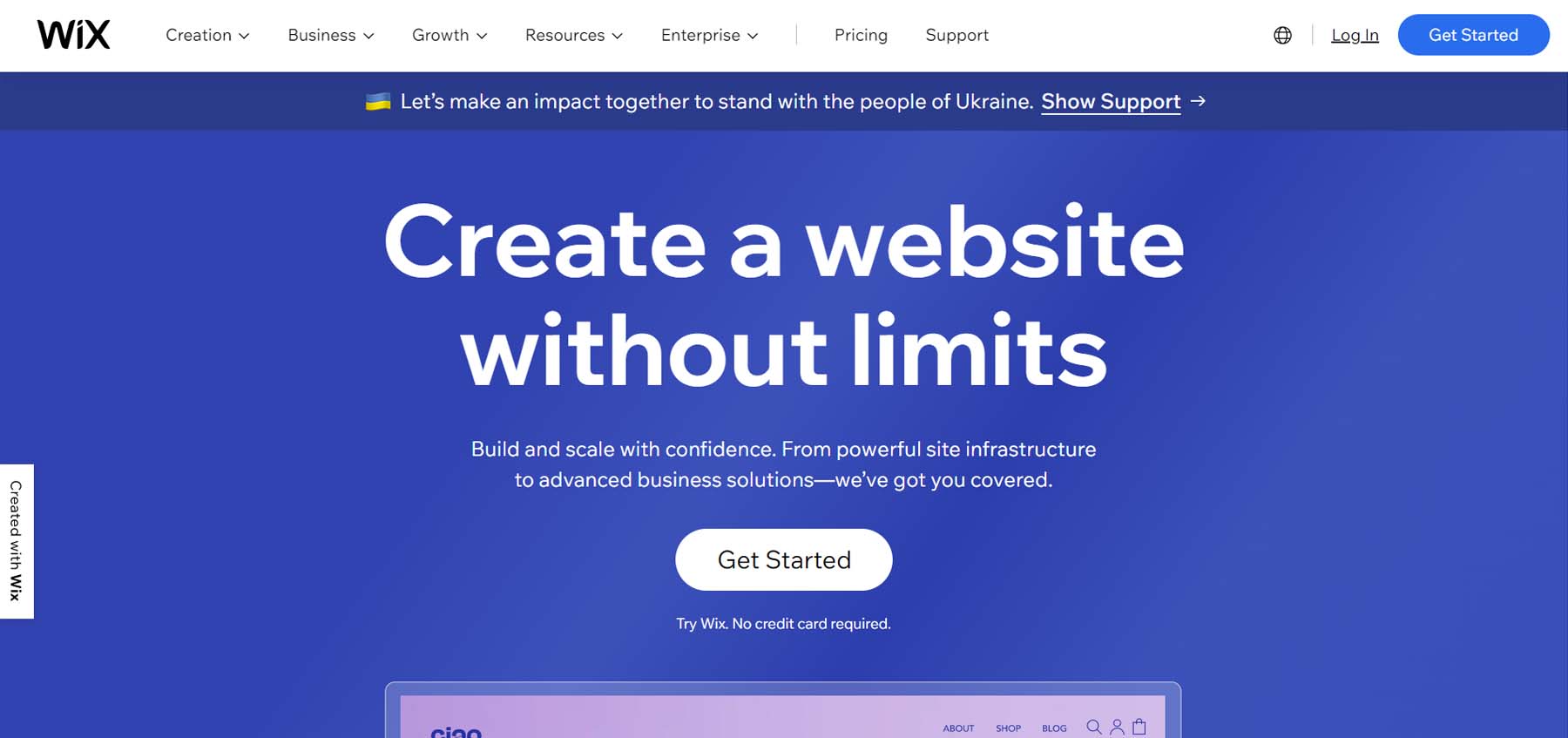 Wix is a well-known website builder that allows users to create professional-looking websites. With over 200 million users in 190 countries, Wix has become one of the best website builders. One of the main features of Wix is its visual page builder, which allows users to add and arrange elements on their website easily.
While Wix has essential elements such as text, images, videos, and buttons in its arsenal, it also boasts unique modules like in-page menus, member profile cards (helpful if you're building an online community), forum posts, and more. Wix also provides a wide range of responsive templates that can be customized with CSS and HTML. However, Wix has some limitations when customizing the code of templates that can limit some users.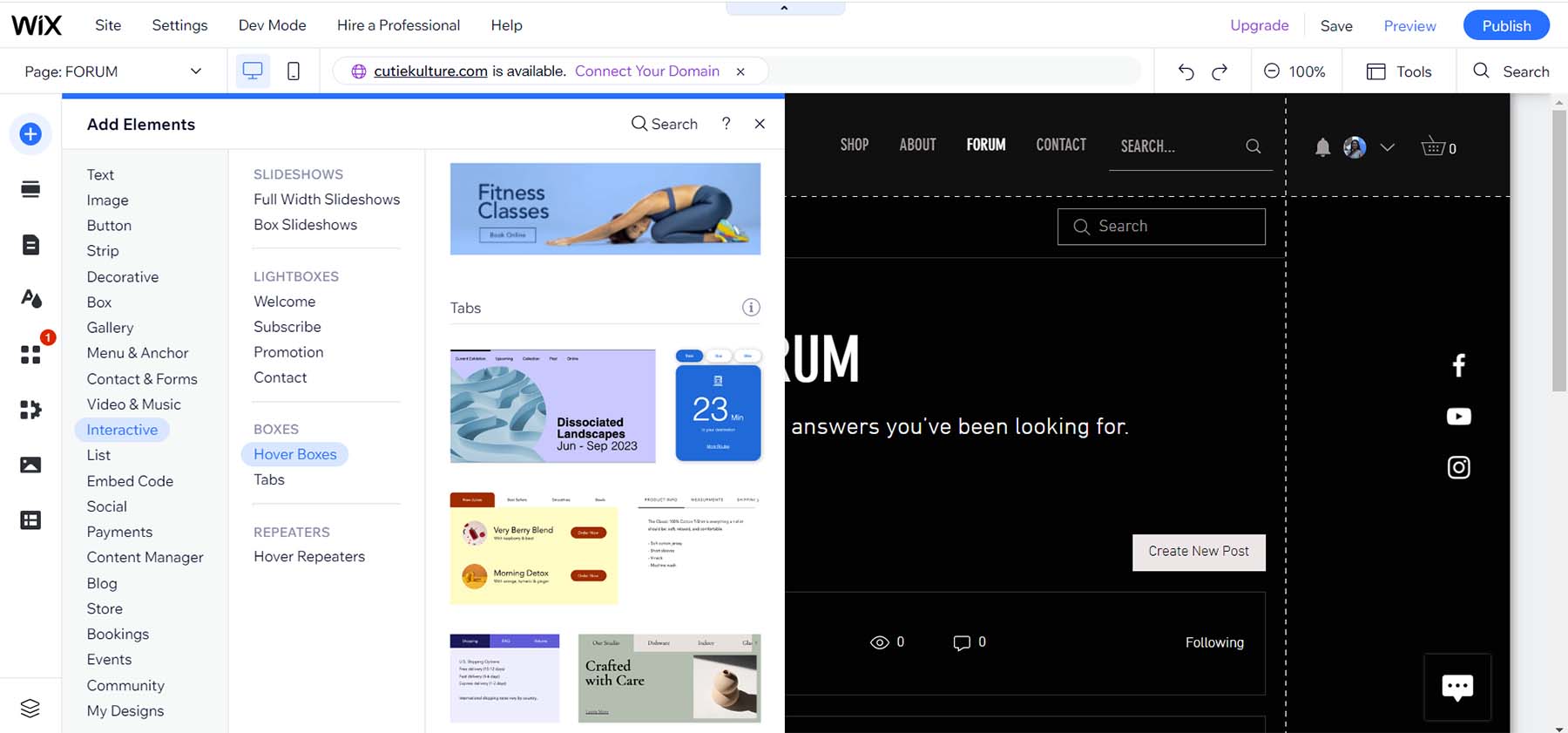 Wix's SEO management is more in-depth than its competitors by customizing meta tags, URL structure, site speed, and using structured data. Building an eCommerce store surrounding tickets, products, appointments, and more with Wix is easy. Standard features like product management,  inventory, order tracking, and shipments are all available.
Key Features
Visual drag-and-drop page editor
Drag-and-drop header and footer builder
Create and customize your website's color and text
Library of pre-designed layouts and sections
An exhaustive list of essential and complex content elements
Add page and element animations and hover interactions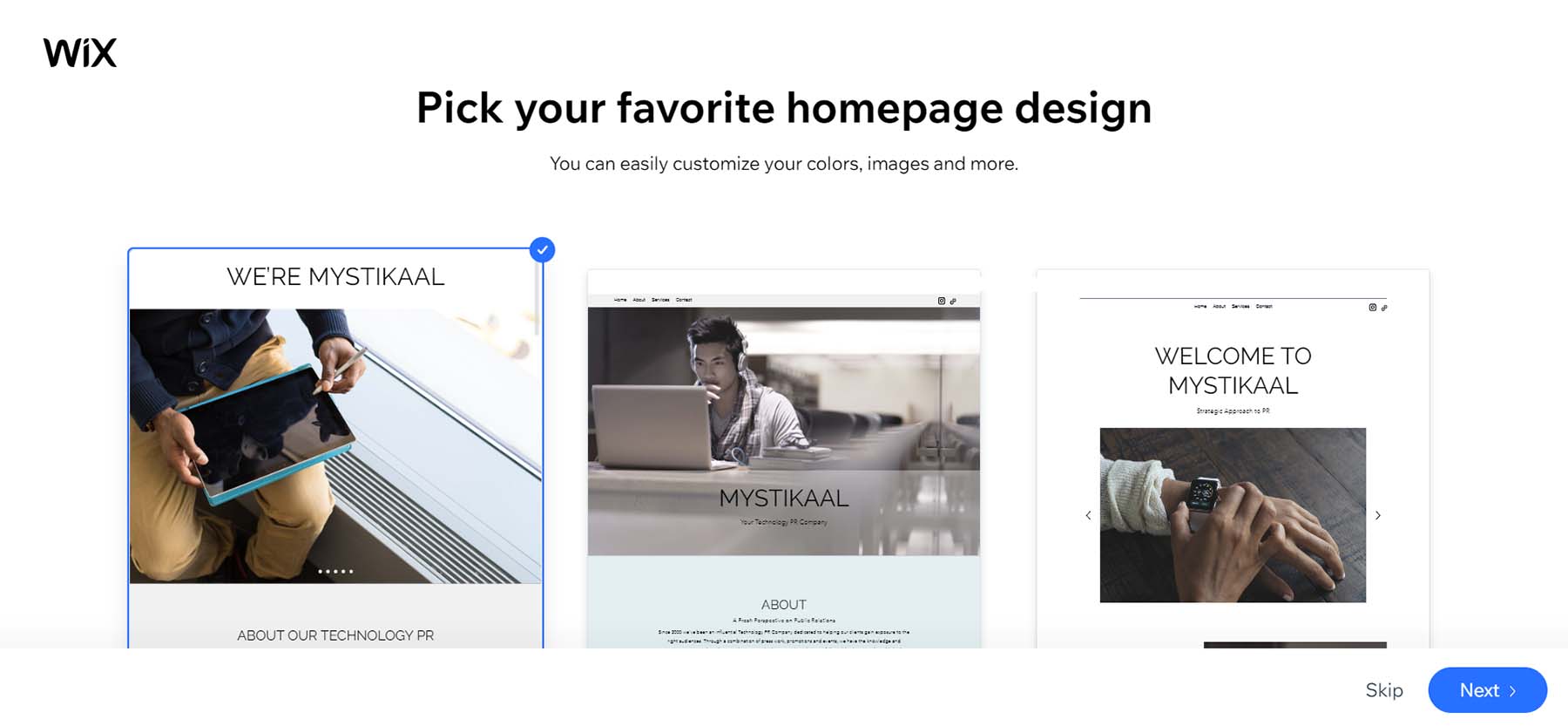 In addition to building your website from scratch, Wix's website builder can utilize AI technology to create your website. Wix asks users about their industry and preferred color scheme during the setup process. Using this information, Wix's builder generates working page templates with relevant copy, providing users with a starting point for their website.
Pros
Build your website with zero coding skills
Add CMS functions with Wix's Content Manager
Comprehensive eCommerce platform
Ability to build a multilingual website
Provides personalized content for sections and pages
An app store that has many dependable third-party extensions
Cons
Displays its branding and ads on free websites
Challenging to migrate to a different platform or website builder
Unable to apply a different template to a site you already created
Premium plans can be expensive
Best For:
Small business owners and non-technical users who seek deep functionality will enjoy using Wix. If you need a website builder that is easy to administer and allows you to expand your website with minimal coding experience, Wix is for you.
Pricing: Paid plans start at $15 per month
3. Hostinger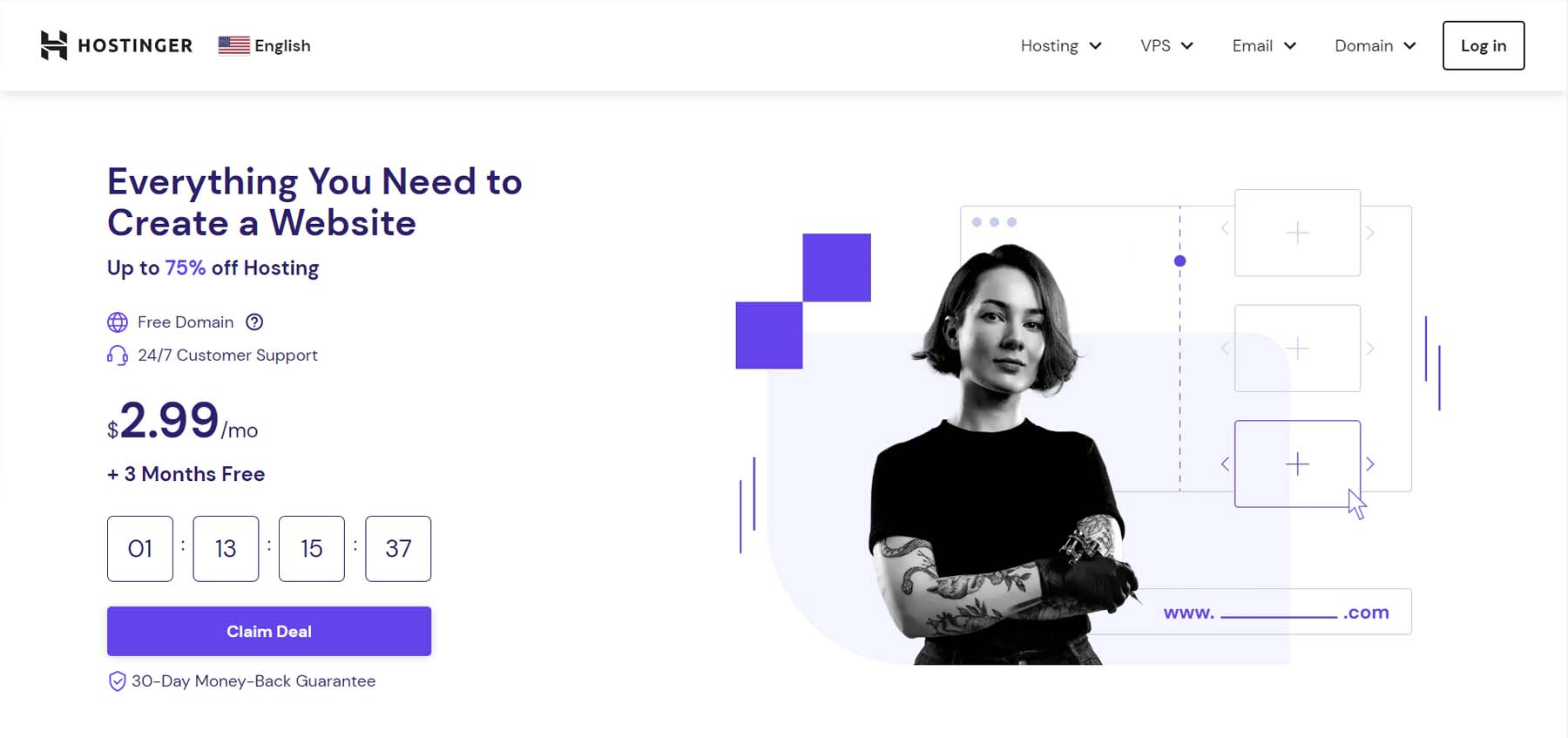 Hostinger is a powerful hosting provider with everything you need to create a website. Their website builder offers a wide range of customizable templates for creating websites. The templates cover a range of categories such as business, portfolio, eCommerce, and more. Each template can be customized with different colors, fonts, images, and other elements to create a unique website. Furthermore, the builder includes advanced design tools such as a color palette generator, a background image remover, and a shape divider tool.
The website builder provided via the Hostinger platform differs from Zyro, Hostinger's standalone website builder platform. The website builders are essentially the same, offering slightly different features and serving diverse audiences.
Regarding SEO, Hostinger's website builder includes built-in SEO optimization tools that allow users to customize meta tags, descriptions, and other SEO elements. The platform also provides users access to Google Analytics and other SEO analytics tools to help them track their website's performance.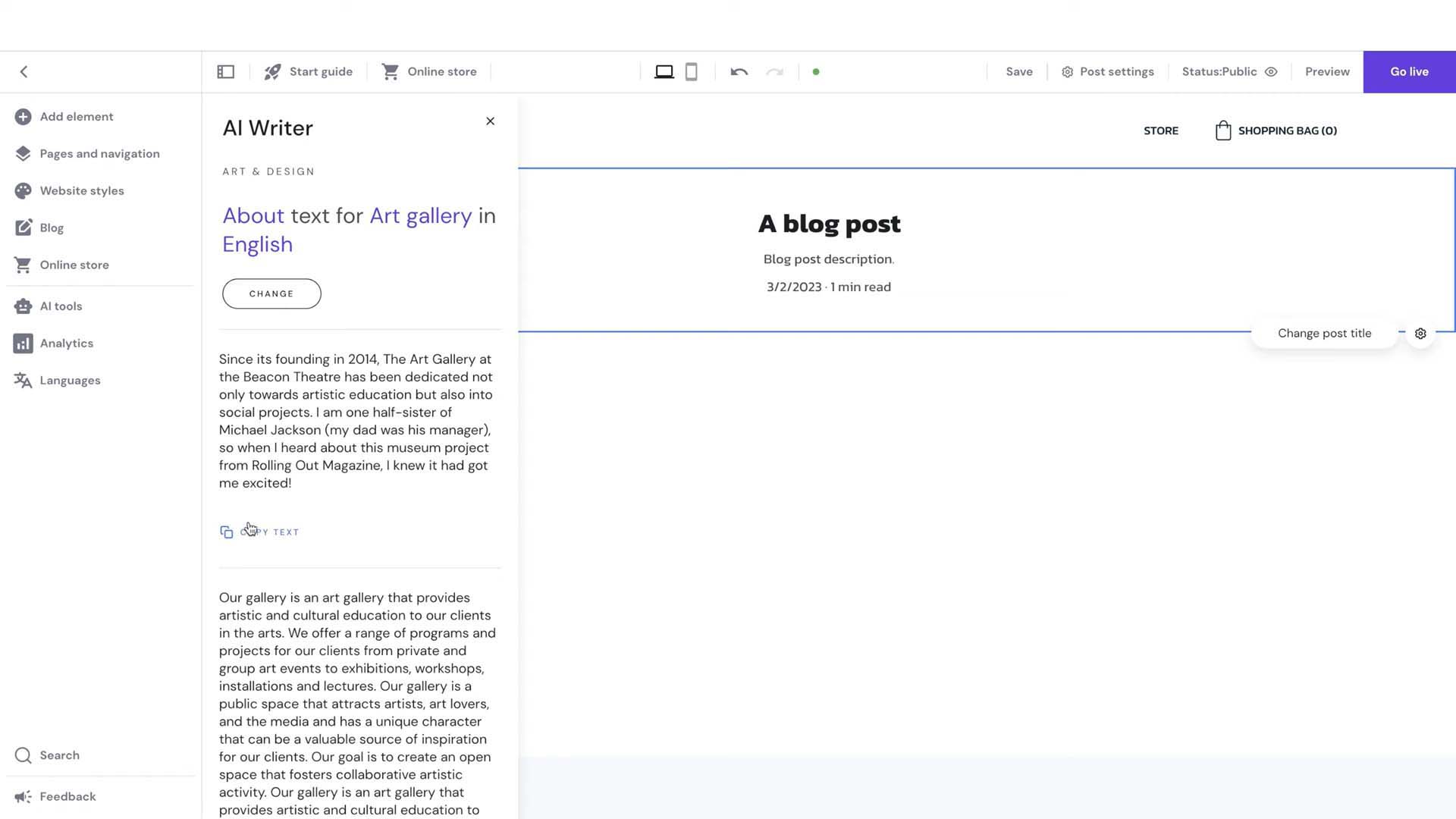 Hostinger's website builder includes AI tools to help users quickly and easily create a website. For example, the AI Writer tool can generate content for a website based on user input. In addition, the AI Heatmap tool can provide insights into how users interact with a website. Moreover, you can also create a logo in seconds with their AI logo maker.
Key Features
Uncomplicated drag-and-drop builder with interesting modules
Simple eCommerce builder and features
Code editor for advanced customization and coding
Image editor for basic image editing and optimization
Blogging tools, including a built-in blog editor
Contact form builder for creating custom forms
Pros
Simple to use and understand drag and drop builder
Global color generator to speed up the branding process
Integrated with Google Font library
AI-powered website design assistance
Includes AI-powered tools for writing, logo design, and heat maps
Websites can be migrated to WordPress or another CMS
Cons
Feature set pales in comparison to sister platform Zyro
Does not have an app store or extension gallery for third-party integrations
Each blog post needs to be laid out individually
Best For:
Small business owners, consultants, and service providers who want to create a professional-looking website quickly and efficiently will like the features of Hostinger's platform.
Pricing: Paid plans start at $2.99 per month
4. Weebly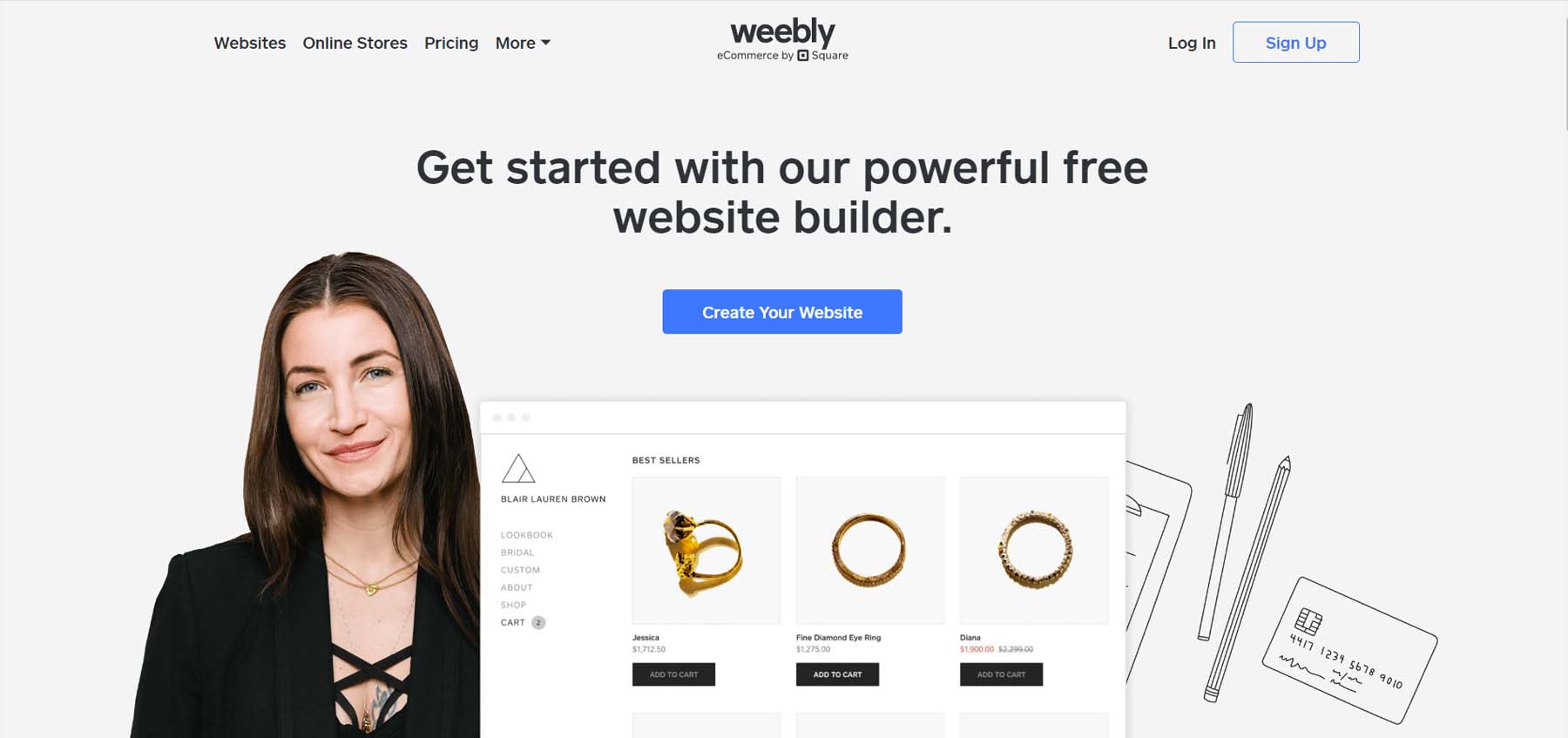 Weebly is one of the best website builders known for its easy-to-use interface and robust eCommerce platform, making it a popular choice for small businesses, entrepreneurs, and individuals.
The platform includes several themes and pre-made layouts to jumpstart the design of various types of websites. Online stores, portfolios, personal brands, event sites, and blogs can all be built with the Weebly website builder. You can customize the design of your page using an intuitive drag-and-drop interface with all content elements like forms, testimonials, PDFs, and even Instagram feeds.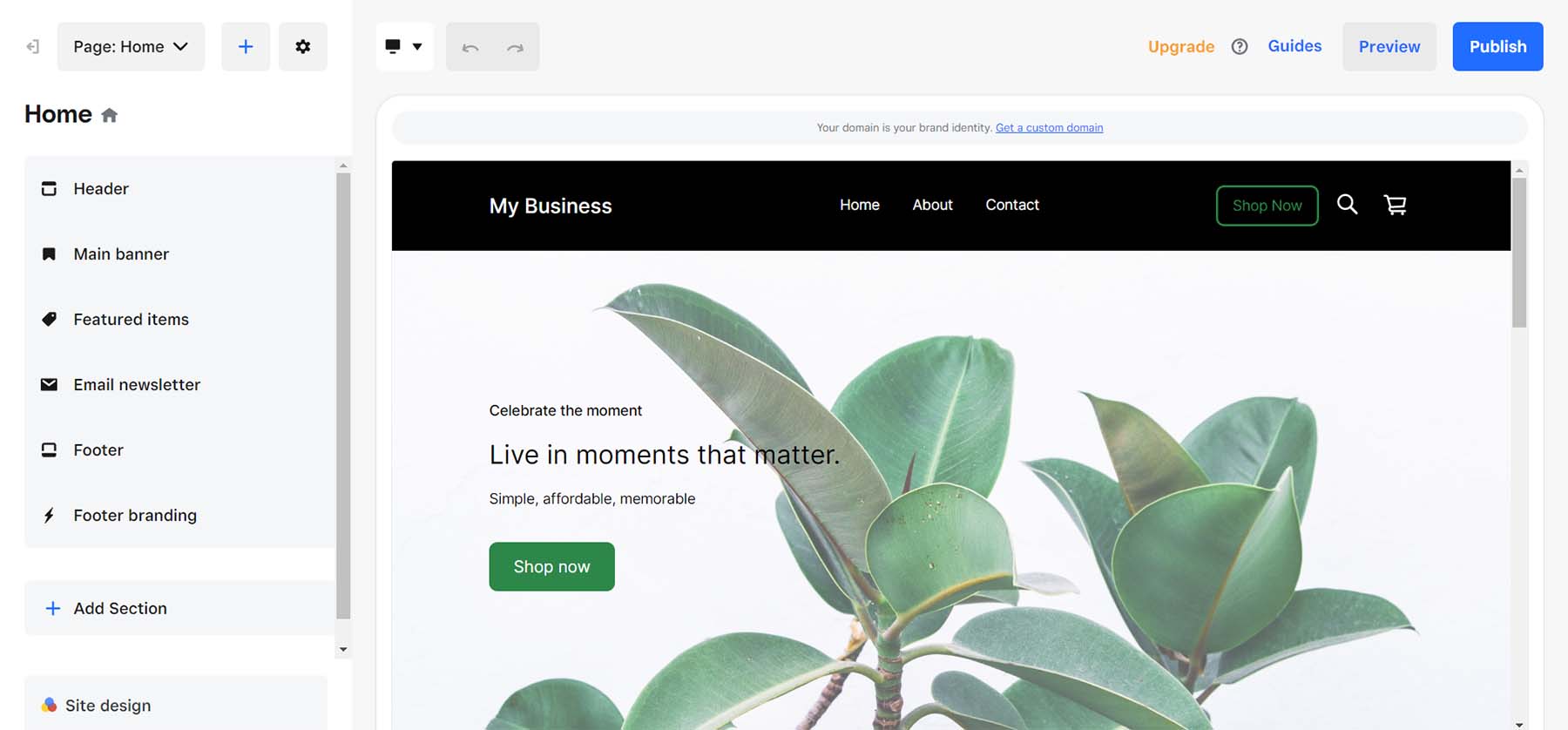 Weebly for eCommerce
Weebly's eCommerce features make it a uniquely powerful builder for online stores. Because Weebly is tightly integrated with Square, the POS service provides much power to online shops built on the platform. With Square POS tightly knit into the Weebly ecosystem, your website integrates quickly with several payment gateways, including PayPal, Stripe, and Square.
Weebly allows users to organize and add products to their store with images, descriptions, prices, and shipping options. You can generate a menu PDF with Weebly if you're a food-based business.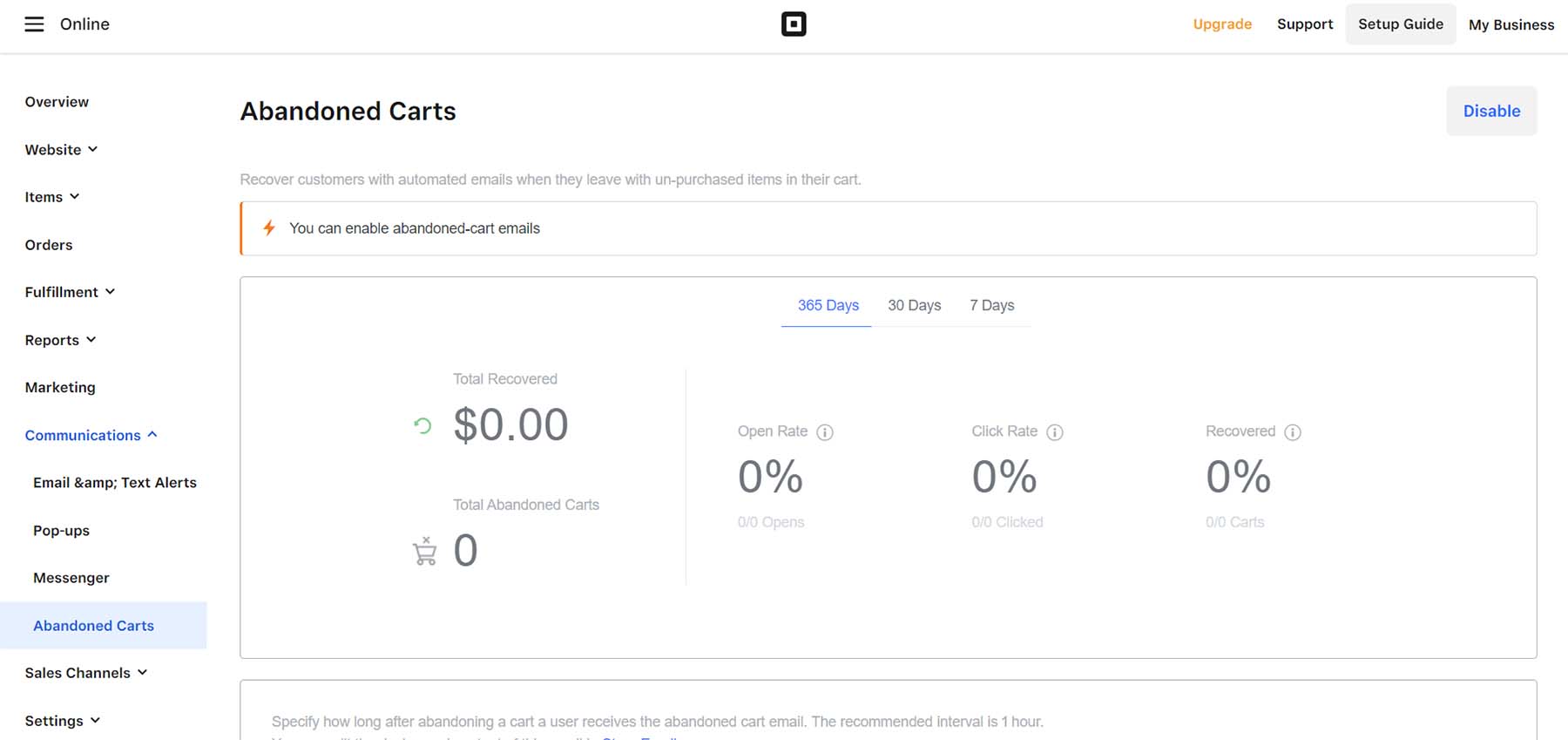 Weebly's abandoned cart sequence is a feature of their eCommerce platform that allows store owners to automatically send emails to customers who have added items to their cart but still need to complete the checkout process. They have built-in email marketing tools, including pop-ups. Plus, it has built-in SEO functions that help store owners optimize their stores for search engines. This includes adding meta tags, descriptions, and keywords to products and pages.
Key Features
Sell physical products, services, or food online for pickup or delivery

Accept reservations or bookings

Automatically sync with Square POS

Provides a selection of form templates for surveys, events, and more
Manage communications with customers through Facebook Messenger, text and email alerts
Create pop-ups with pop-up builder
Pros
Easy-to-understand and use builder
Quick to set up an eCommerce store
Sell from multiple sales channels like Facebook and Google
Set global styles for your logo, fonts, colors, images, and form fields
Manage multiple websites and stores from one account
Cons
Scare number of third-party integrations
Limited modules and design options
It doesn't integrate with many shipping carriers
Can't create complex product variations
Best For:
Cost-conscious small businesses and individuals looking to build a complete website with a wide array of features and ease of use would benefit from using Weebly as their website builder.
Pricing: Free, Paid plans start at $10 per month
5. Shopify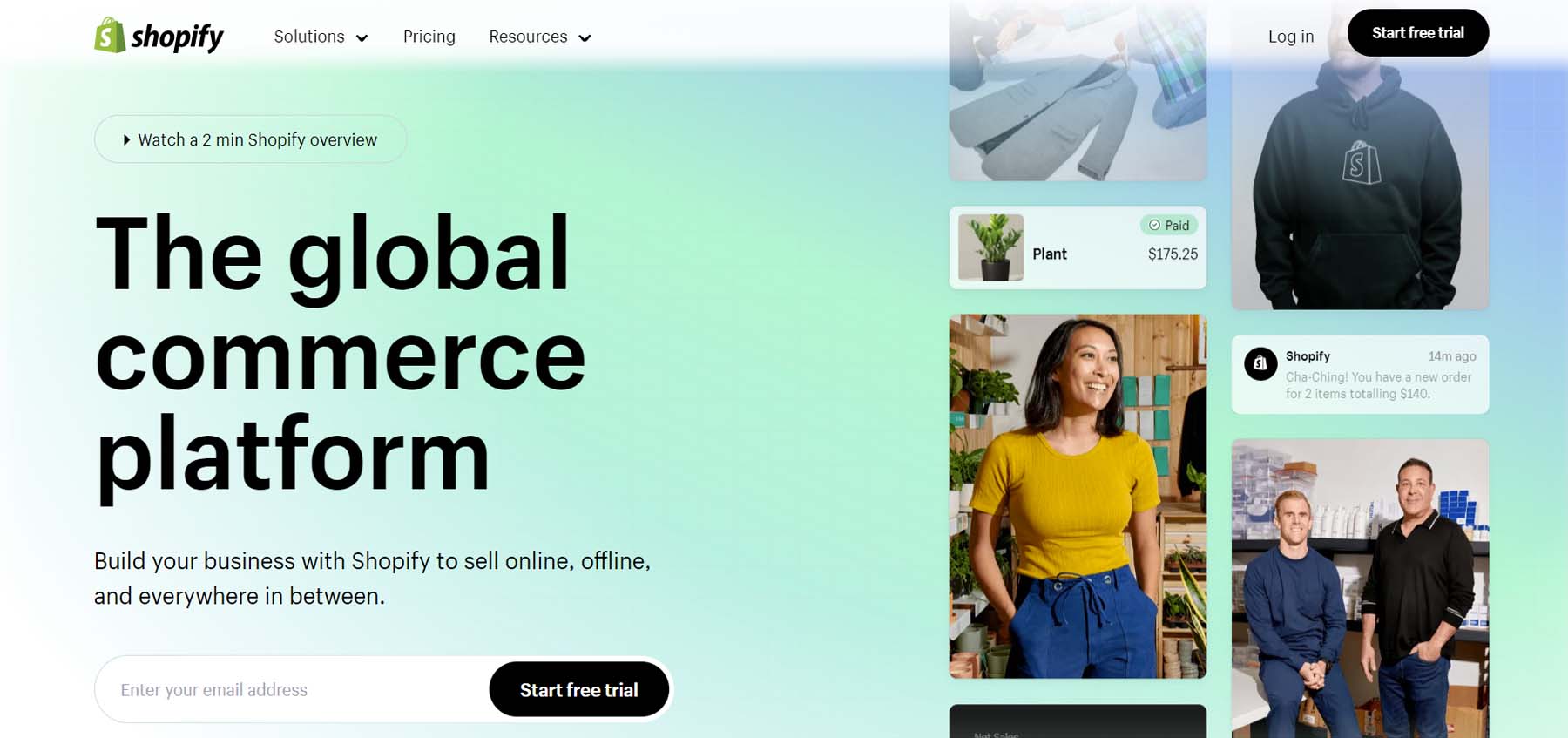 Shopify is an eCommerce platform and website builder that allows users to create and manage online stores. Their builder will enable you to add various modules to the header, body, and footer of set pages on your site. Depending on the template used, your website page could have multiple sections with which you can find a selection of modules to build your pages. While the builder is simple, it lacks complexity compared to other builders on our list.
Shopify's template store boasts several hundred free and premium template offerings. Templates are built using a combination of CSS, HTML, and Liquid, which can be customized should you know how to use these coding languages.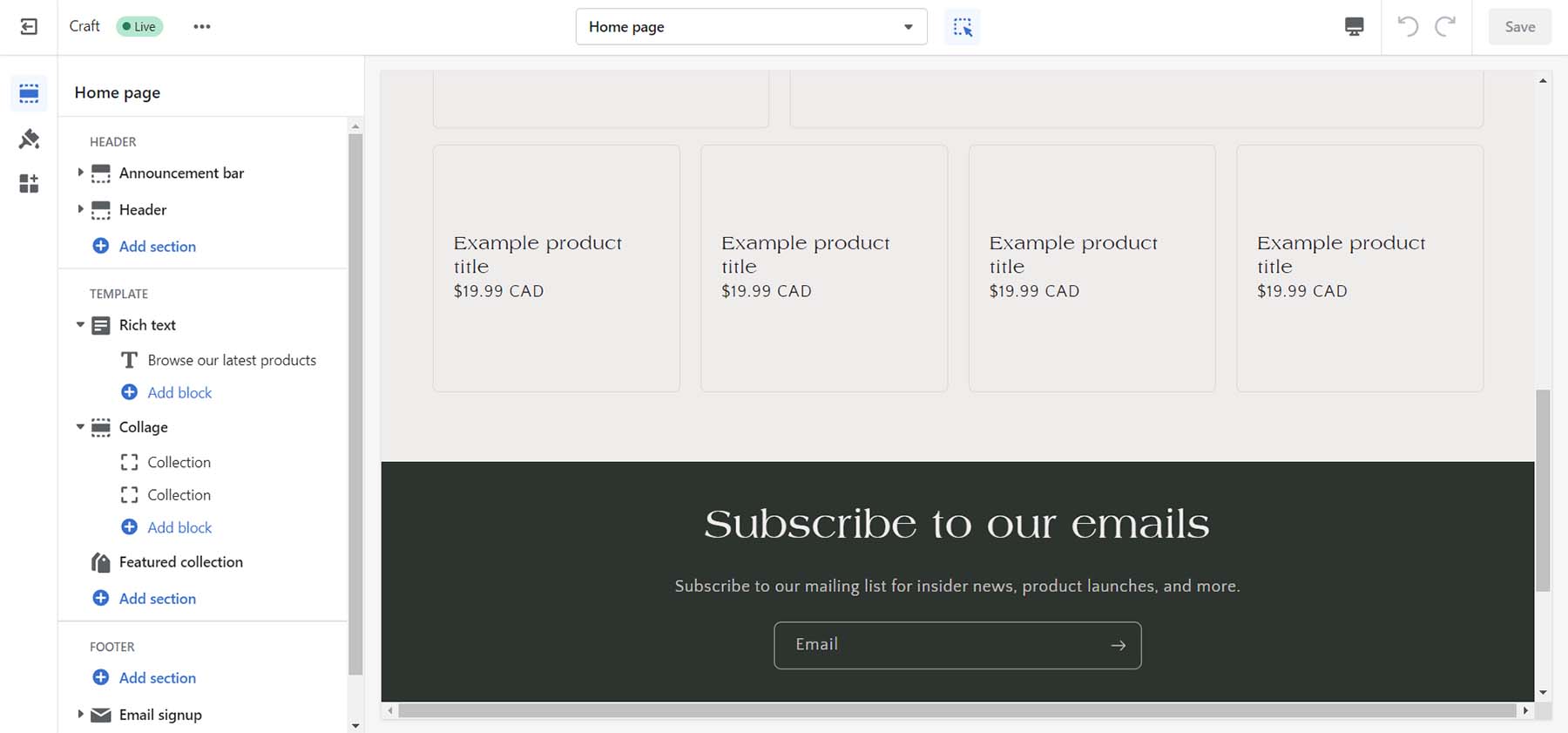 As an eCommerce platform, Shopify stands head and shoulders above the rest with native functionality for simple and complex eCommerce needs. Shipping, fulfillment, marketing, and analytics are built into the website builder, allowing the smallest of companies and the biggest of brands to flourish.
Key Features
Simple website builder with several feature blocks
Hundreds of free and premium themes
Payment processing with Shopify Payments or other payment gateways
Order management and inventory tracking
Analytics and reporting to track sales and customer behavior
App store with a wide range of add-ons and plugins that can help businesses grow
You can further expand your store with the apps available on the Shopify app store. Third-party developers create free and premium apps that you can install to add extra features to your site. Shopify's app store is a valuable resource for merchants looking to enhance their online store's functionality and improve their eCommerce business.
Pros
Drag-and-drop visual builder
Quickly set up an online store with no technical knowledge
Simple website management and design tools
Payment processing, order management, marketing tools, and analytics
Customizable templates
Cons
It can be expensive compared to other eCommerce platforms
Limited native design blocks
Little control over core code, hosting, and domain name
App dependencies and compatibility issues may arise if not properly managed
Best For:
Businesses and brands looking to build a stable eCommerce website can benefit from this website builder.
Pricing: Paid plans start at $37 per month
6. Duda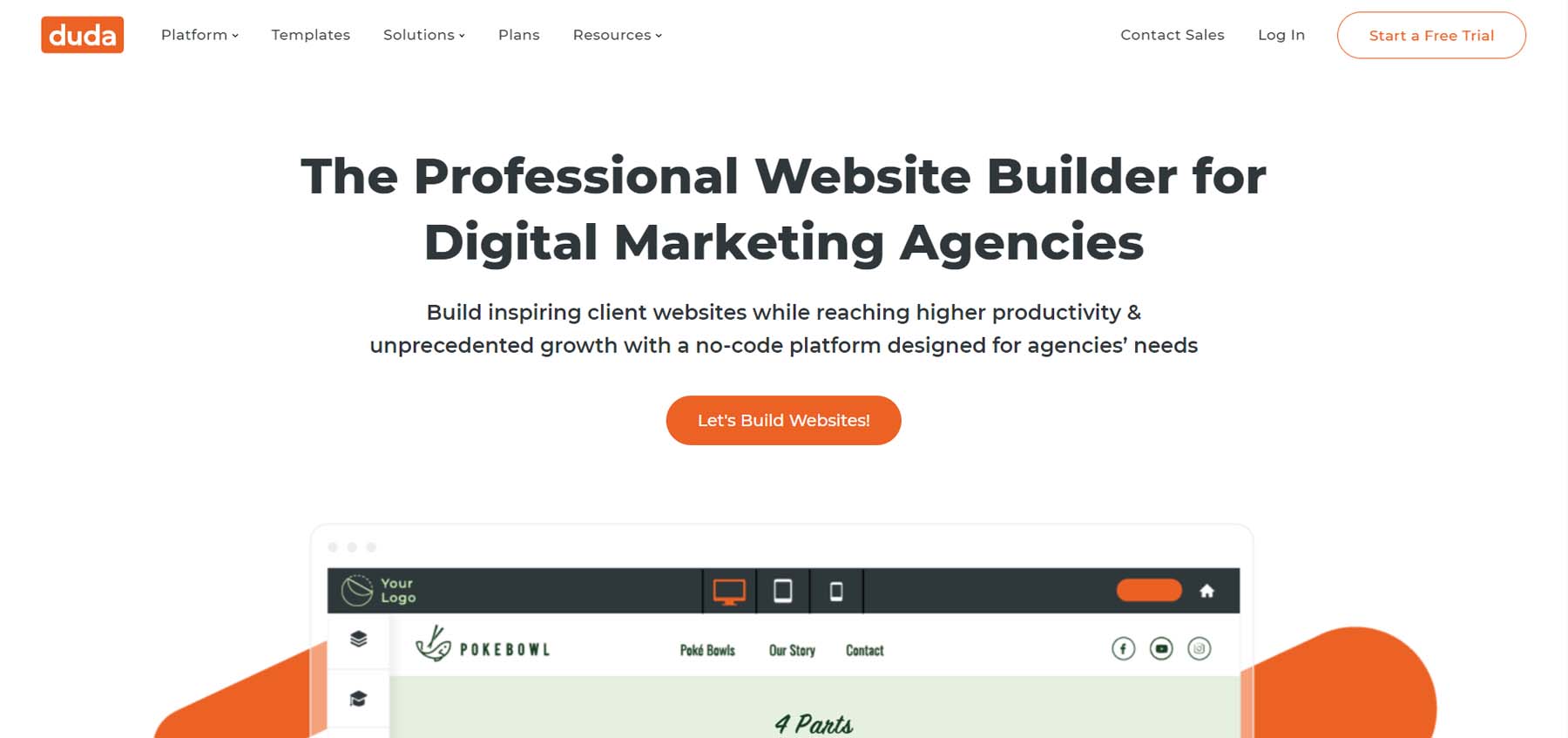 Duda is a professional website builder designed for businesses and agencies that want to create and manage multiple websites for their clients. Because Duda is a website builder geared towards agencies and designers, it offers a range of pricing plans to cover your needs.
Unlike many builders featured, Duda allows users to create custom templates from scratch or import templates from other sources. This gives users a high degree of flexibility in designing their website and ensures it stands out.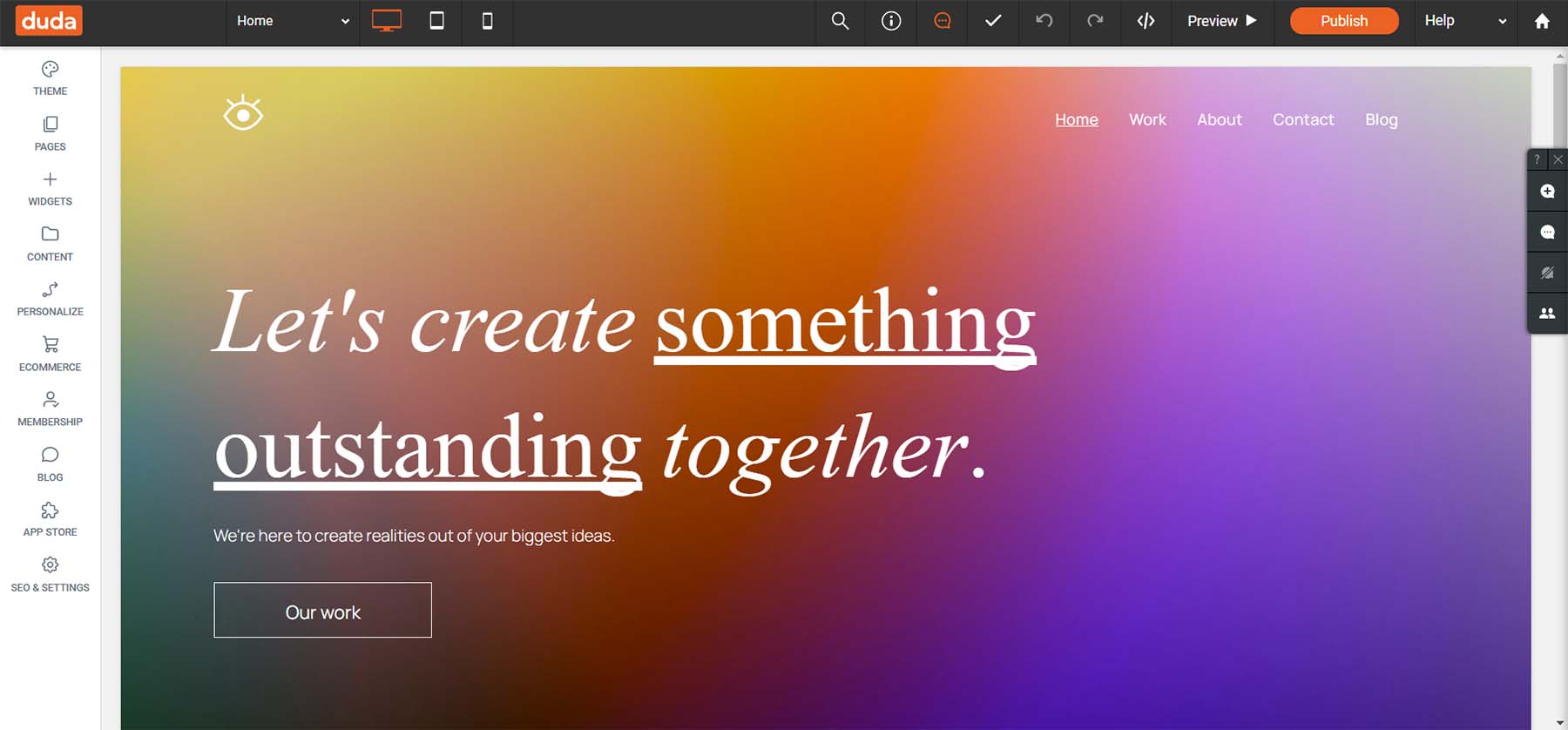 Duda's builder has a library of pre-designed widgets you can edit as you see fit. This can help you quickly build and edit websites for you and your clients. The builder also allows you to set global colors and fonts and style content elements like images and buttons.
Duda offers more robust SEO tools than most builders. Redirects, SSL, Google Analytics integration, and more are accessible and editable within the builder. You can enable local business schema and integration with the WooRank app to add more SEO features to your site.
You can build various eCommerce stores with Duda, including memberships, physical products, etc. Products, shipping, and payments are easy to manage, and if you sell memberships, you have a separate interface to manage the nuances of building a membership site.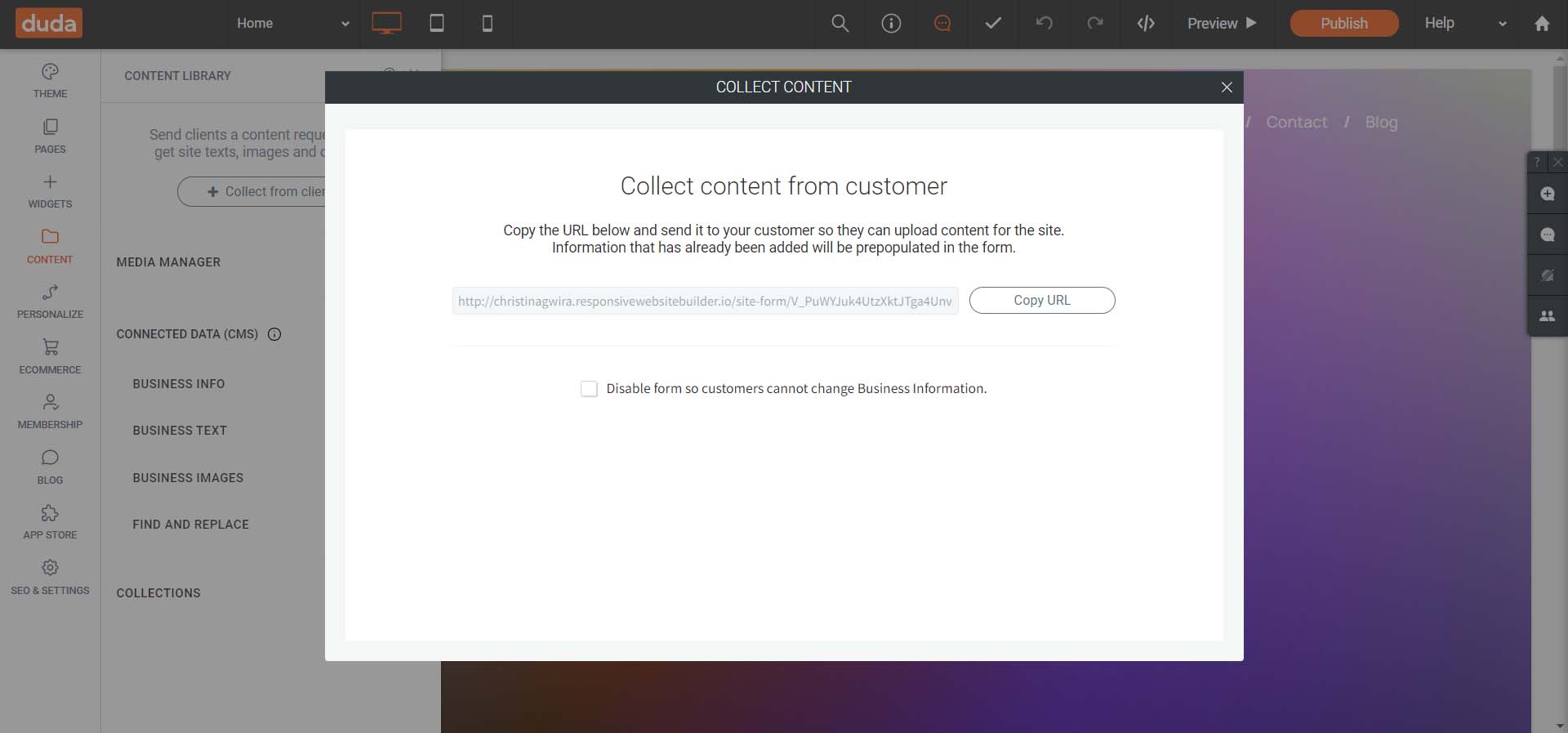 A unique feature of Duda is its ability to allow users to collect content from their clients. Directly from their builder, you can gather, organize, and insert content clients have sent you into your websites built by Duda.
Key Features
Builder allows for pixel-perfect mobile-optimized design
Global styling across custom fonts, colors, and modules
Decent library of pre-made templates and content widgets
eCommerce functionality for online stores, appointments, digital products, and memberships
White-label agency and team collaboration features
Built-in website analytics and reporting tools
Pros and Cons
Visually build pages and blog posts in real time
Hundreds of sleek website templates
Builder created with designers and agencies in mind
Built-in SEO tools and management
Native pop-up, notification, and announcement bar management
Cons
Duda App Store is smaller than most
Pricing is per site, per month
Building multiple websites can be expensive
You can't switch templates once the website is built
Best For:
Web design and marketing agencies looking to quickly build complex websites for their clients would benefit from using Duda. If you're a freelancer who wants an all-in-one platform for managing your clients, hosting, marketing, and web design needs, Duda is for you.
Pricing: Paid plans start at $19 per month
7. Squarespace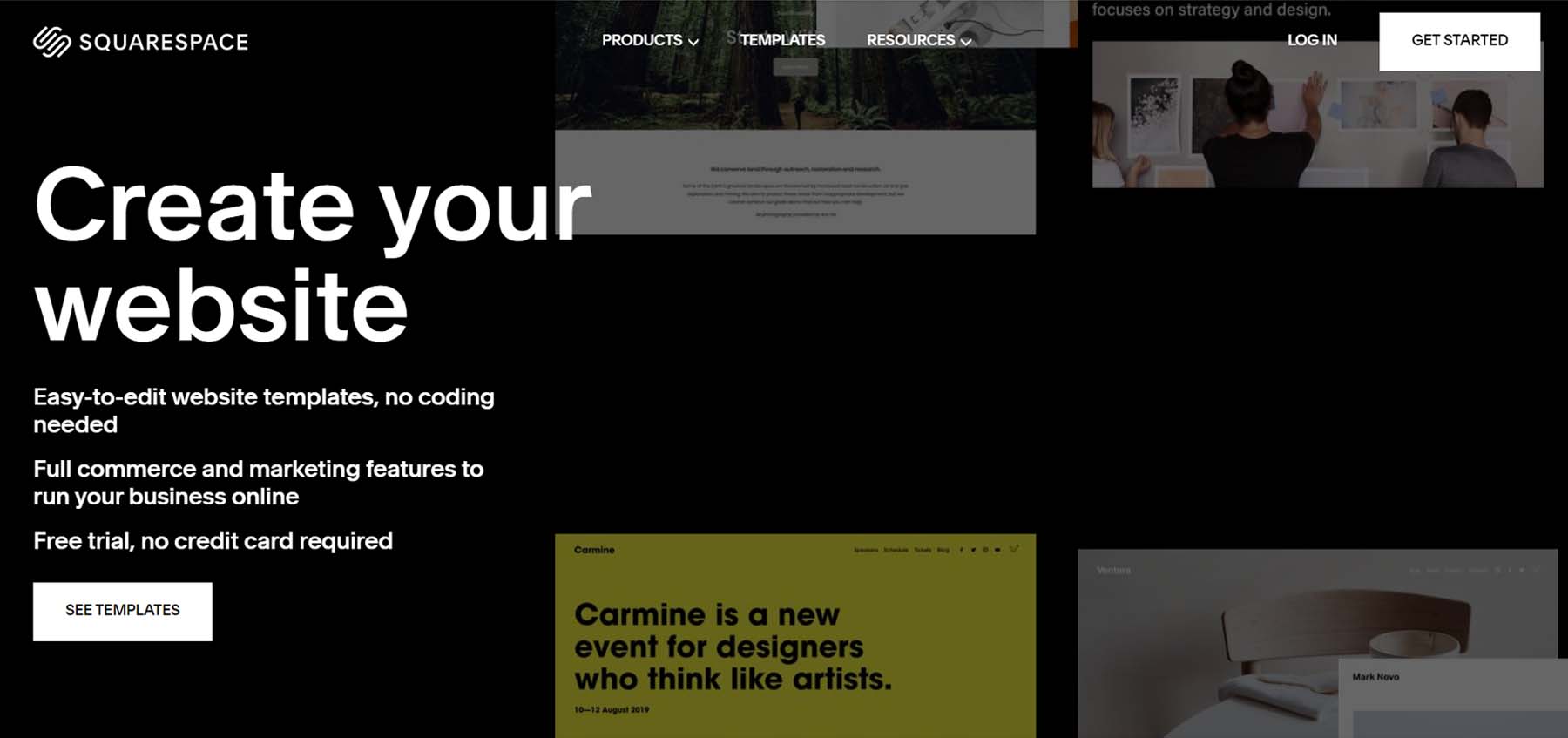 Squarespace is a website builder that allows users to create professional-looking websites without coding or technical expertise. The platform is known for its clean and modern designs, making it a popular choice for creatives, artists, and small businesses. Squarespace's templates are highly customizable and easy to use. The platform is also known for its responsive design, ensuring that websites look great on any device.
Its drag-and-drop interface allows you to place your elements with pixel-perfect precision. Design blocks included with Squarespace include your typical type, images, and galleries, but also exciting modules like scrolling text, CSS3 shapes, and three different types of charts.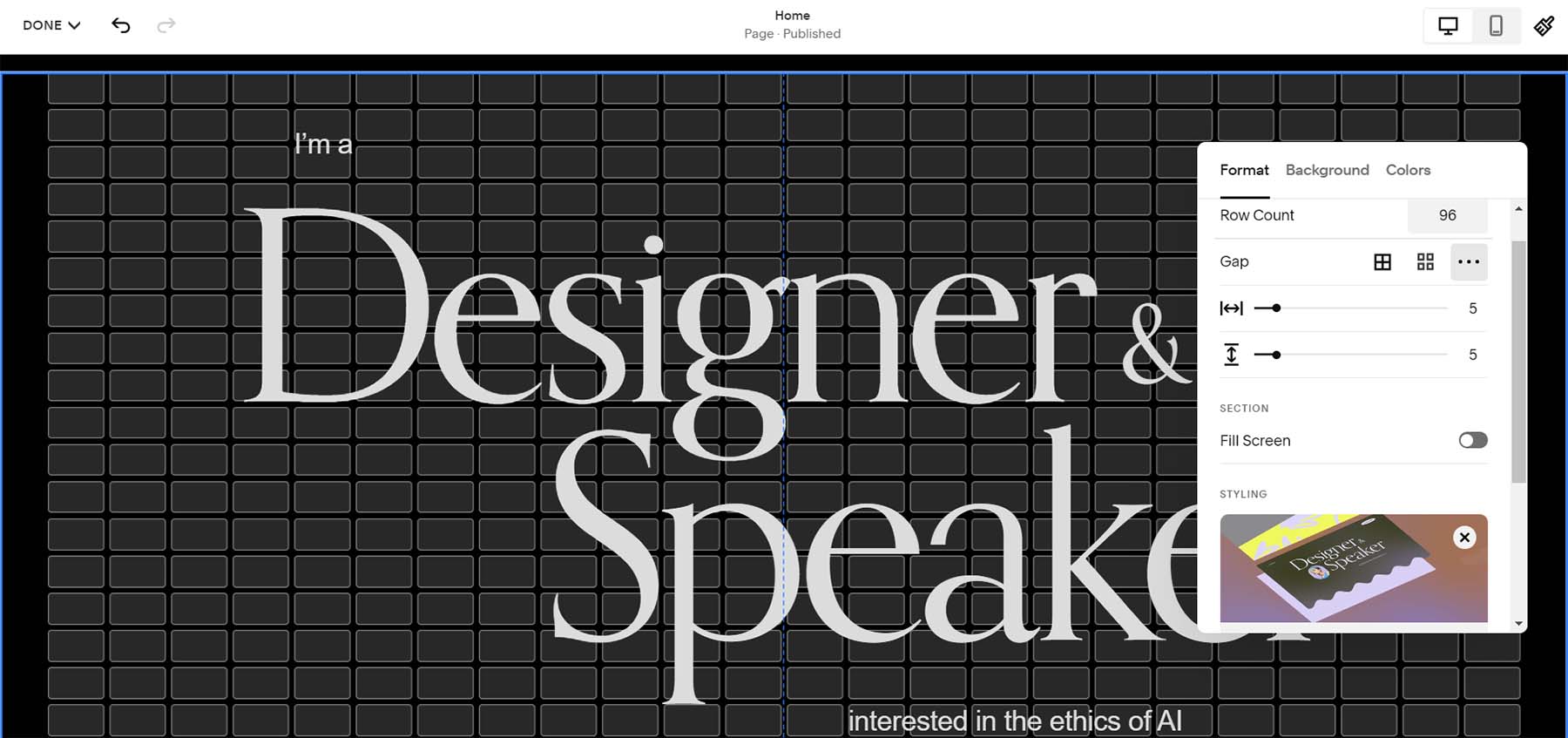 You can also dip your toe into online selling with Squarespace. You can sell on social media, pull your products from Esty, and more. Additionally, Squarespace provides various analytics tools to track website performance and audience behavior. You can easily handle your online booking calendar with Squarespace's Acuity Scheduler or run simple email marketing campaigns with its native email marketing solution.
Squarespace is known for its sleek and modern designs. However, regarding eCommerce, Squarespace allows you to sell almost any product online beautifully. Whether you want to offer digital downloads, a membership, or create a video-on-demand website, Squarespace gives you the tools to do this in a highly aesthetic way.
Key Features
All Squarespace templates are mobile-responsive
Set up an online store with a variety of product and service types
Create and publish blog posts on your website
Native promotional pop-up builder, announcement bar, and email marketing solution
Includes marketing tools, such as email campaigns, social media integrations, and analytic
Integrates with a range of third-party services, including Google Analytics, Mailchimp, and Adobe Creative Suite
Pros
Advanced design and styling options
The template library is expansive and uses eye-catching, trendy designs
Allows you to sell a variety of product types on your eCommerce store
Natively provides scheduling, email marketing, and analytics
Ability to password-protect pages and create members' areas
Custom domain name registration and management
Cons
It doesn't have an app/plugin repository, so third-party integrations are limited.
While easy to learn, the builder has a learning curve that may dissuade beginners from website building.
Blogging functionality leaves much to be desired
Expensive options for some eCommerce functions and support
Best For:
Photographers, designers, and creatives who want to build a beautiful website will love Squarespace. If you're a small business that wants to sell simple products online or take appointments, you will also enjoy how simple it is to do this with Squarespace.
Pricing: Paid plans start at $16 per month
8. GoDaddy Builder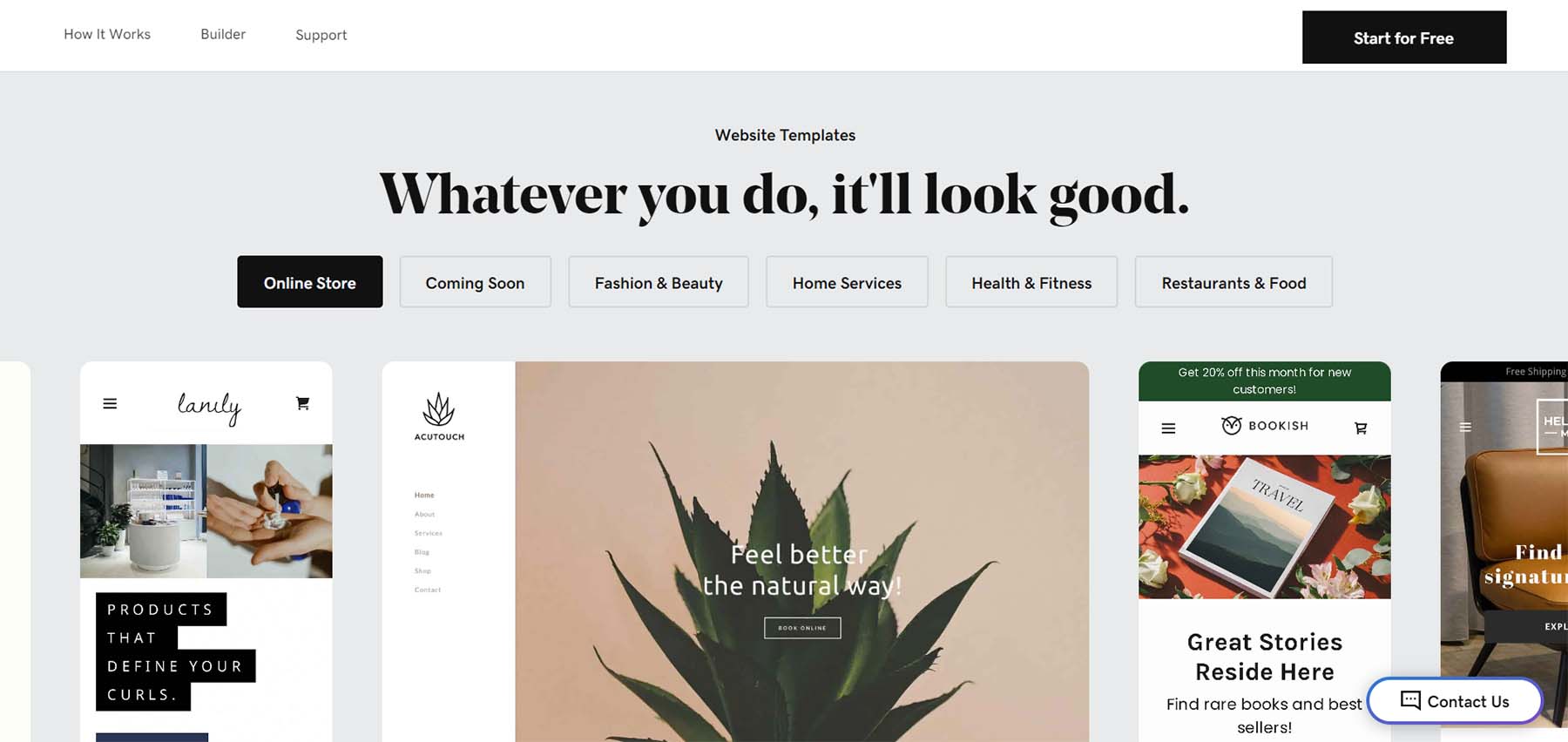 GoDaddy has been a significant player in the domain and web hosting industry for a long time. Their website builder is one of their most refreshing features, allowing users to start a new site quickly and easily. Their builder offers a user-friendly interface and a range of features to help users design and customize their websites. It comes with a drag-and-drop editor and various widgets for adding content. The platform offers pre-made templates for simple one-page sites and more complex multi-page sites with eCommerce functionality.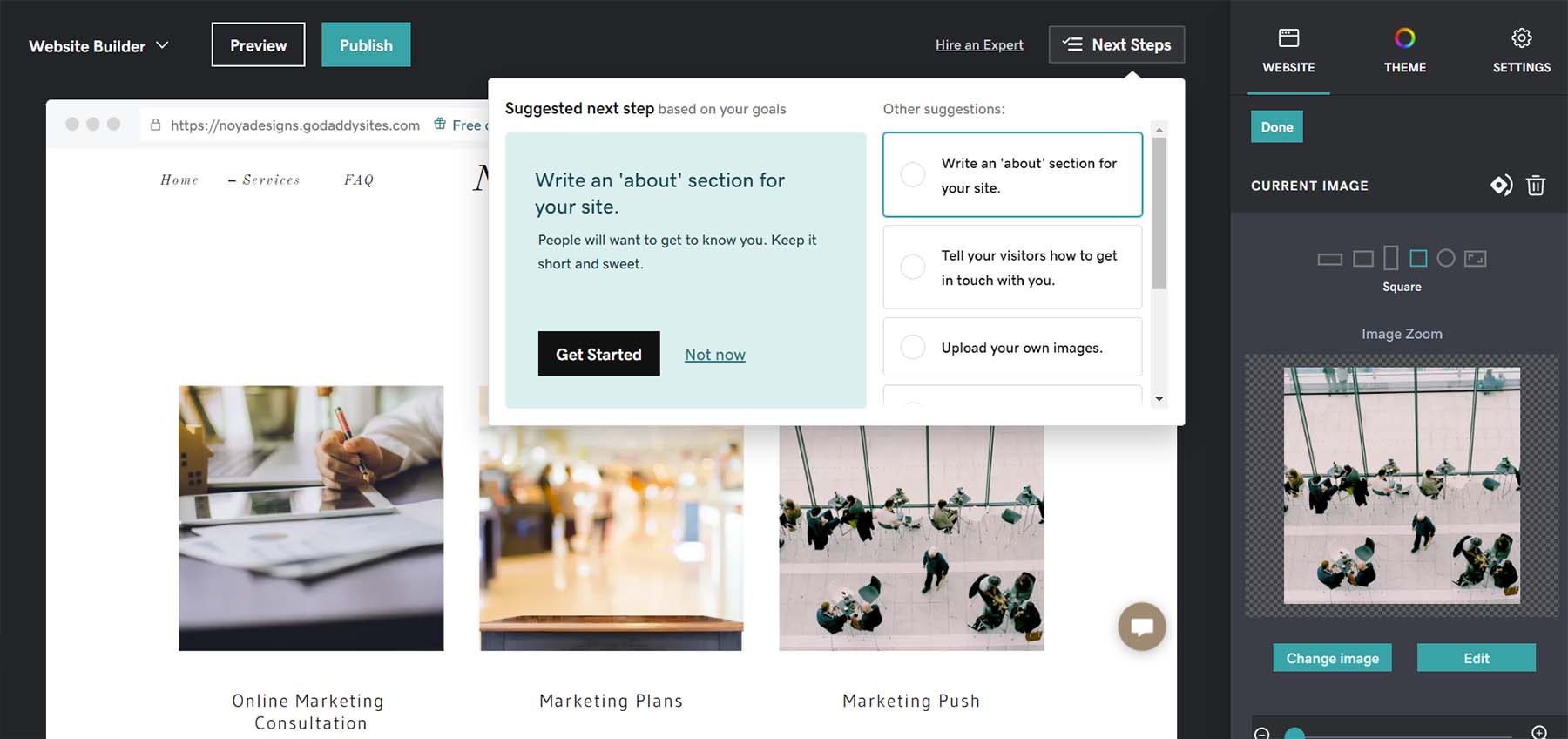 GoDaddy's InSight is an AI-powered tool that guides you as you build your website. Directly within the page builder, the device prompts you with ideas and steps to consider as you develop your site. InSight doesn't just tell you what pages would be an excellent addition to your site. It also helps with marketing, suggesting integrations (like videos, email marketing, eCommerce, etc.) that can better your website as you are building it. This is good for those without knowledge of web design and who would like some hand-holding through the creative process.
Key Features
A library of modern, professional templates
Sleek, responsive, mobile-friendly templates
AI-powered advice from GoDaddy InSight
Built-in tools for SEO, social media, and email marketing
Sites include free professional images that you can use freely
Build a full-featured online store
Pros and Cons
No coding experience is necessary
Consists of a variety of pre-made templates to build your site
Easily integrate appointments, eCommerce, and email marketing
Integrates with other GoDaddy services, such as domain name registration, email hosting, and online marketing tools
Cons
A limited number of templates, design features, font, and color options
Limited storage for media files, basic website analytics, and primitive SEO tools
Best For:
Godaddy's website builder is best for beginners and small businesses looking to start a website quickly and have their domain and hosting managed all in one place. Godaddy has a lot of additional services that scale to your needs. However, the builder will have limited options compared to more advanced website builders.
Pricing: Paid plans start at $14.99 per month
9. Webflow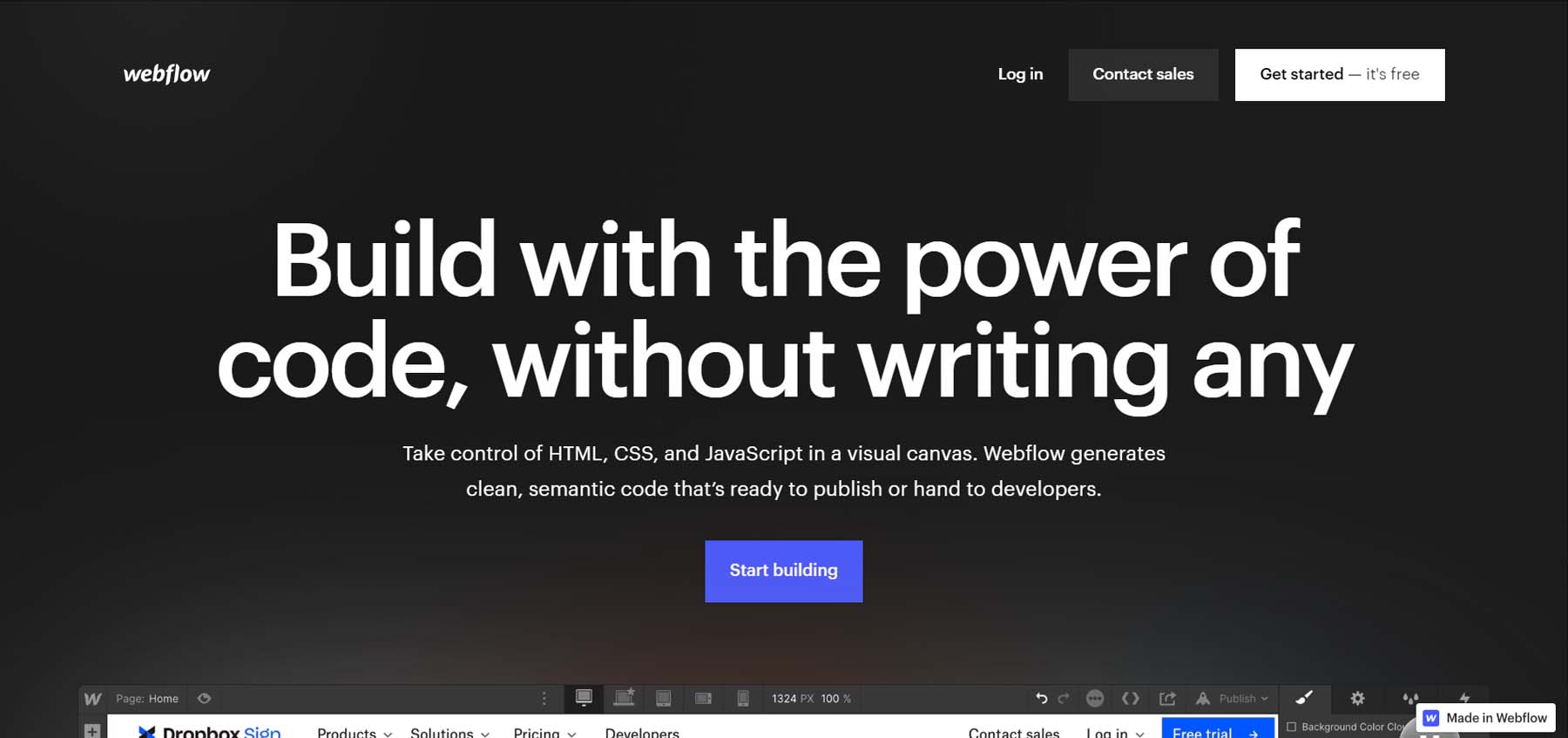 Webflow is known for being a multi-faceted website builder, making it a popular choice for designers and developers. The platform offers eCommerce functionality, responsive templates, web hosting, and collaborative features. With Webflow, users can create fully responsive websites. The builder includes the ability to add custom CSS and HTML. This makes the builder attractive to those who are familiar with coding.
Though Webflow is a drag-and-drop website builder, it is more geared toward advanced users with a good understanding of website design and development. Nevertheless, it also offers a good selection of free and paid templates to help users get started.
Though other builders may have more eCommerce features, Webflow offers solid tools for building an online store. For example, you can use Stripe and PayPal as payment processors. You can create a custom shopping cart and checkout page and customize the emails and invoices sent to customers.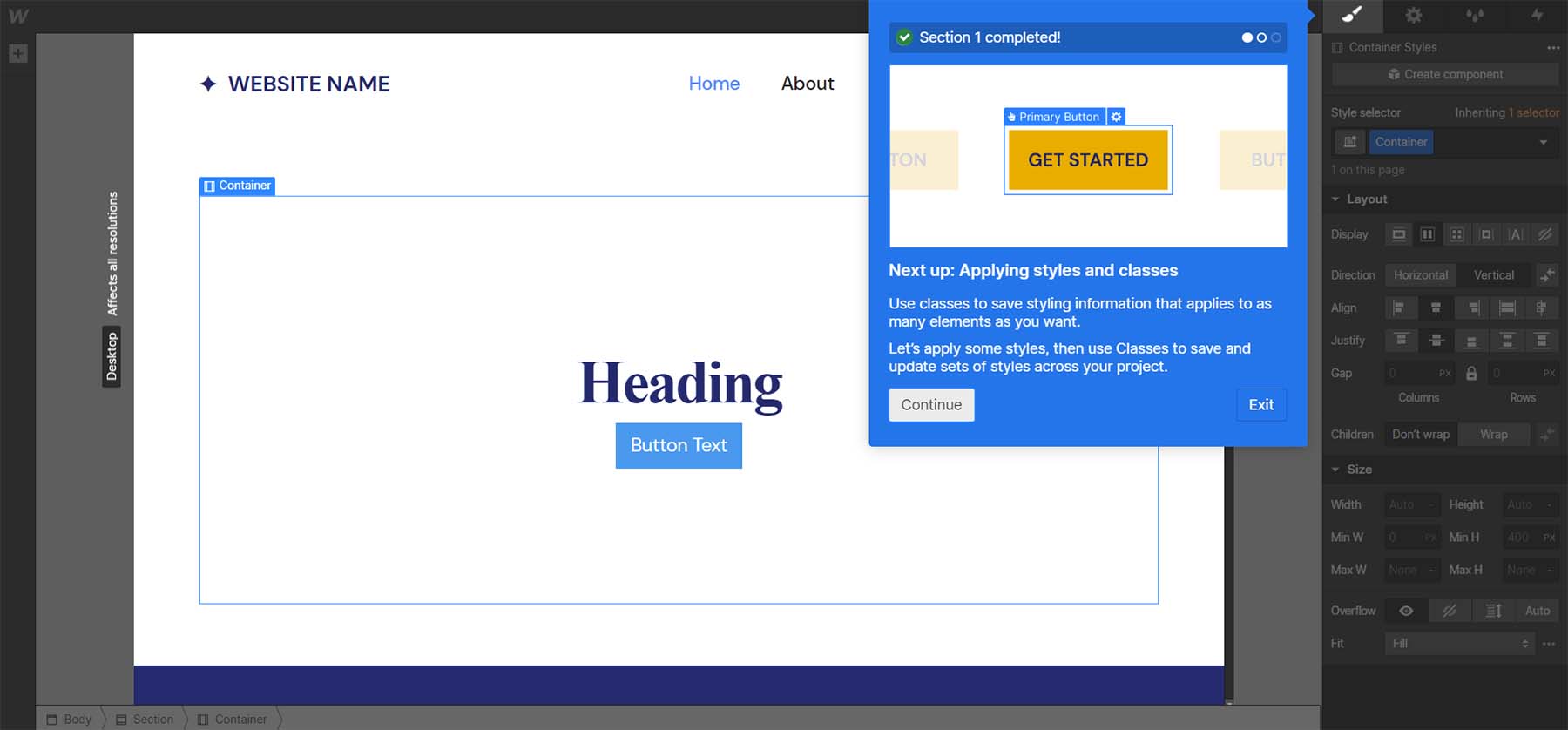 As a website builder, Webflow provides much more flexibility than other website builders. But because of this, you may need more technical knowledge to create more complex designs. However, Webflow does simplify the building process for beginners with a 2-minute walk-through when you start building your first site.
Key Features
Powerful drag-and-drop website builder
Custom HTML and CSS
Integrates with Mailchimp, Google Shopping, Facebook, and Instagram
Has eCommerce and CMS functions
WebP support
Pre-built interactions and After Effects Lottie integration
Pro
A powerful, flexible design tool
The ability to add custom code
All templates are mobile-responsive
Generates clean code
Robust and reliable hosting infrastructure to ensure that websites load quickly
Allows for custom templates and themes to be installed
Cons
It has many restrictions when it comes to user seats, storage, eCommerce, and more
Coding knowledge can make your experience better
The drag-and-drop editor can be intimidating and complex
There are limits on the eCommerce plan that could pose a hindrance to those who plan to build large-scale eCommerce stores
eCommerce is limited to two payment processors: Stripe and PayPal
Best For:
Web designers and developers who want the comfort of no-code design with the option of adding clean code to their projects will love using Webflow.
Pricing: Paid plans start at $18 per month
10. IONOS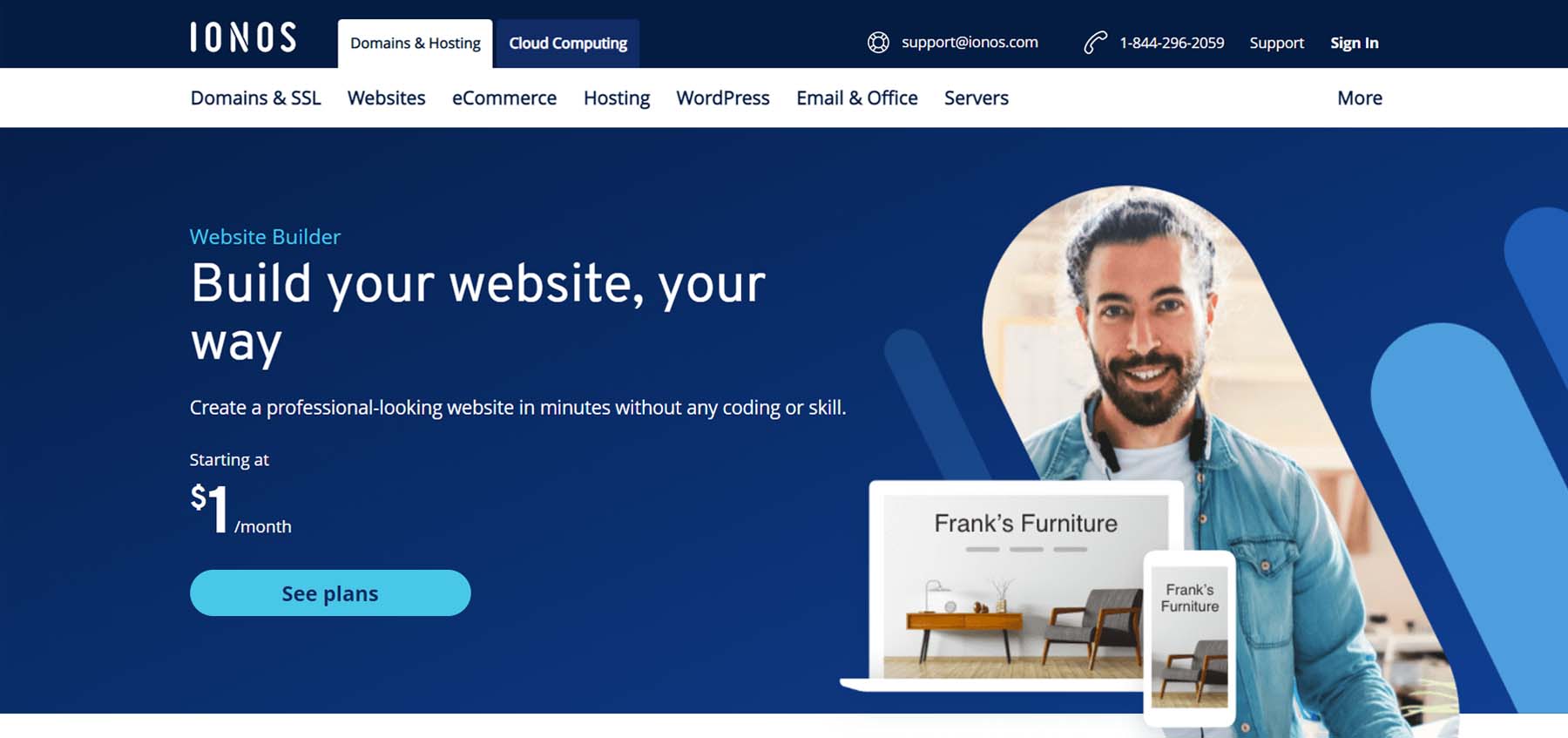 IONOS offers a web hosting and website builder service with various features for building and managing a website. With pre-made templates, a drag-and-drop editor, and content management features, creating a website using IONOS is easy. The built-in blogging platform and social media integration features are also helpful. While the mobile-friendly templates are customizable, there is a limited selection of templates available compared to other website builders.
However, where IONOS shines is in its SEO capabilities. The website builder provides clean, well-structured code that follows SEO best practices, including semantic HTML and customizable meta tags and descriptions for each page and post. IONOS also includes a site map generator and an SEO analyzer tool.
For eCommerce, the website builder relies on WordPress' WooCommerce and the Ecwid platform, which may not be ideal for those seeking a native eCommerce experience.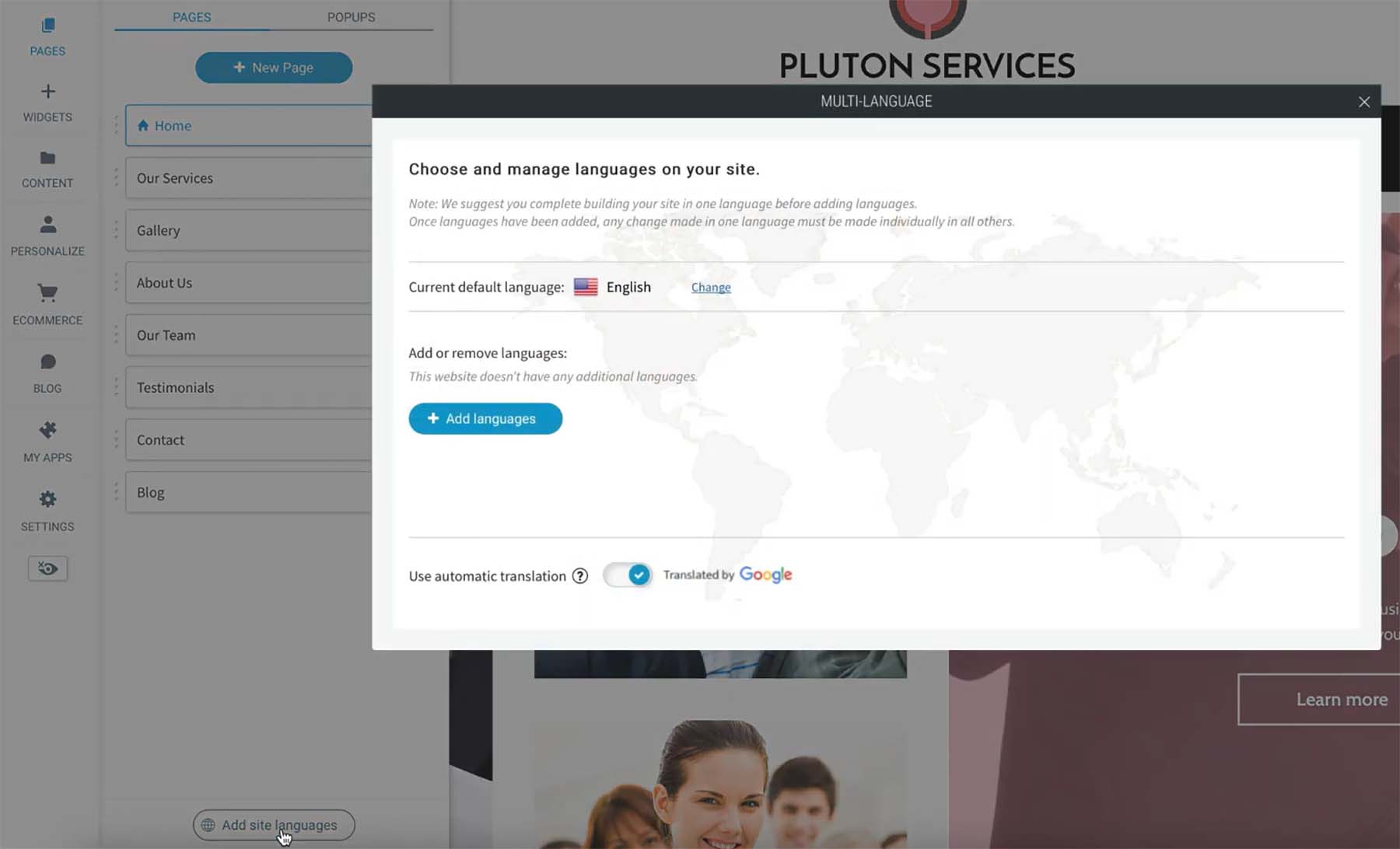 A standout feature of the IONOS website builder is its multilingual support for creating websites in multiple languages. Visitors to your website can select their preferred language from a dropdown menu, and the website content will be translated accordingly. You can use automatic translation through Google or upload your translations through the builder. The IONOS website builder also provides an SEO-friendly architecture for multilingual websites, which allows search engines to understand the different language versions of a website and index them separately.
Key Features
A wide range of widgets, including galleries, forms, and social media icons
Customizable headers and footers for consistent branding
Integration with Google Analytics for advanced tracking and reporting
Image editing tools for resizing, cropping, and optimizing images
Advanced customization options with CSS and JavaScript editing
Secure payment processing through PayPal and Stripe integrations
Pros
Easy-to-use drag-and-drop builder with unique elements
Multilingual support
Display and design pop-ups, banners, and announcements
Provides access to an extensive library of free images and icons
Built-in backup and restore features
Cons
No free option or trial
A small selection of website templates
Does not have native eCommerce support
Limited third-party apps and integrations
Best For:
Small business owners who want a website available in multiple languages for an affordable price should consider using IONOS' website builder.
Pricing: Paid plans start at $9 per month
11. Web.com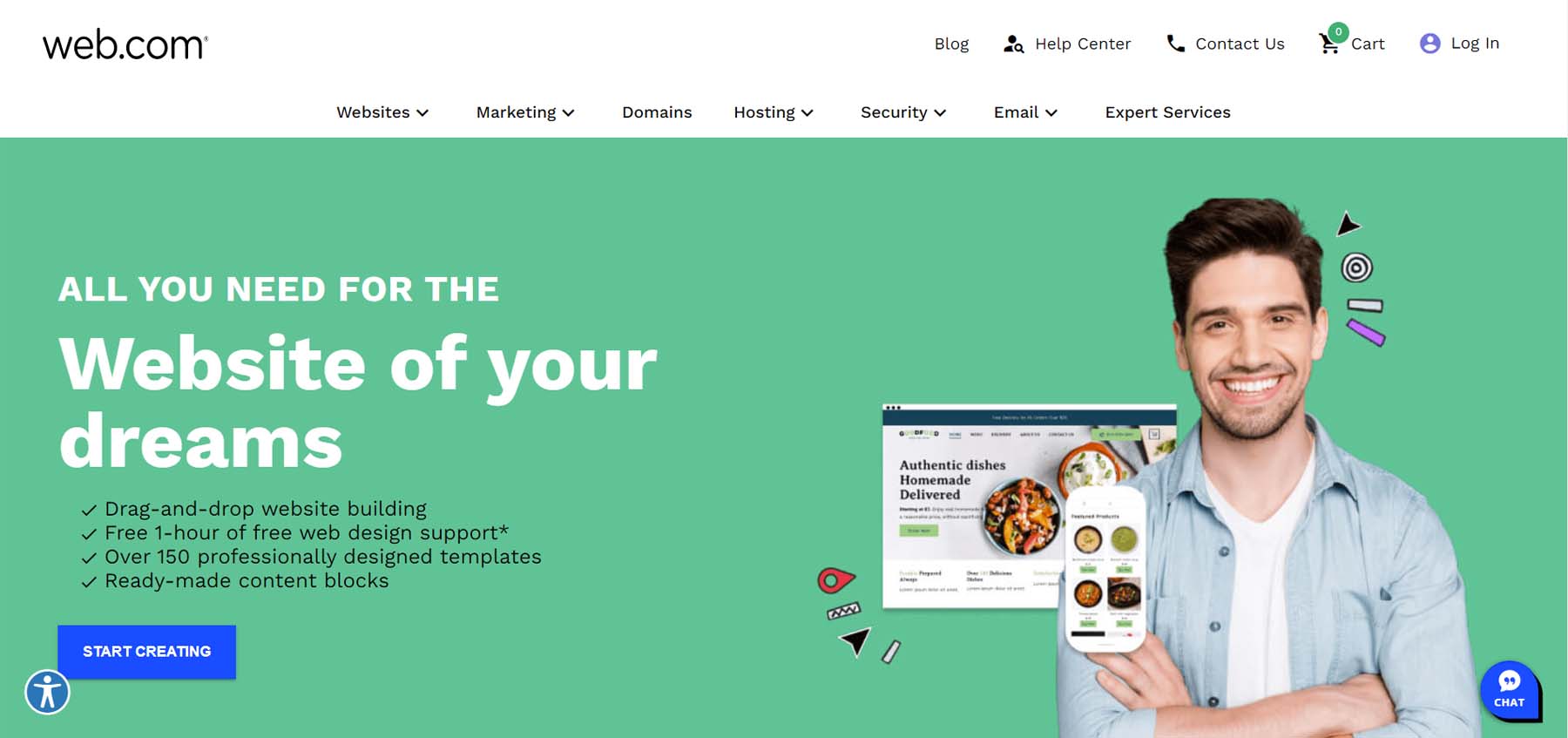 Web.com is a user-friendly and affordable website builder platform for those who want to create a website quickly and easily. The drag-and-drop interface allows users to customize templates rapidly, making it simple to match your website to your branding and style. The drag-and-drop website builder makes it easy to create a mobile-friendly website. With pre-designed building blocks, access to 2 million stock photos, and custom code blocks, you have everything needed to build your perfect website.
Web.com's responsive templates ensure that websites look great on any device. Web.com provides 24/7 customer support through phone, email, and chat, and users can also opt to have a personal website designer who can help them create a custom website.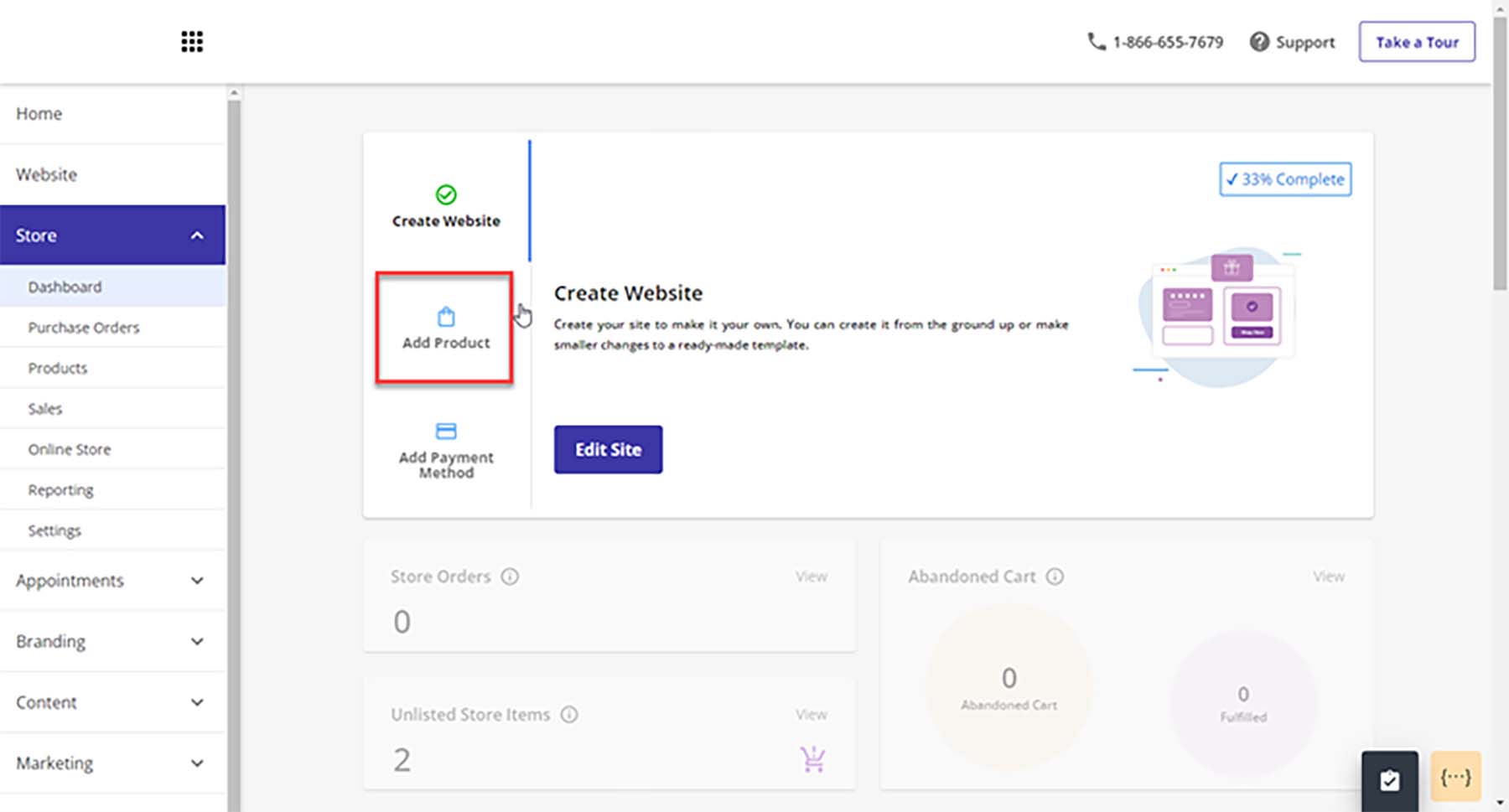 Web.com also offers eCommerce features, which allow users to set up an online store with a shopping cart and checkout. This feature is handy for small businesses that want to start selling online without investing in a separate e-commerce platform.
Key Features
Free Domain and SSL for one year
150+ responsive templates
Advanced eCommerce features
Connect to Quickbooks and Xero
Sell on Facebook and Instagram
Simple Google site verification with monthly SEO checks and to-do lists
Built-in customer relationship management (CRM)
Pros
eCommerce features are good value for the price paid
Templates are easy to use and mobile-friendly
Ability to manage email marketing, SEO, and pay-per-click from one place
Built-in SEO tools
Customizable forms to gather user data and feedback
Cons
Pricing can increase significantly for additional features or support options.
Offers limited storage for your website and its associated media
Some customers have reported slow load times on websites
Limited blogging features
Best For:
Small businesses and individuals who want to build a website quickly. While Web.com's website builder may offer fewer features than other website builders, it is an excellent option for those who want a simple and affordable platform that includes eCommerce functionality and SEO optimization tools.
Pricing: Plans start at $14.99 per month
12. Google Sites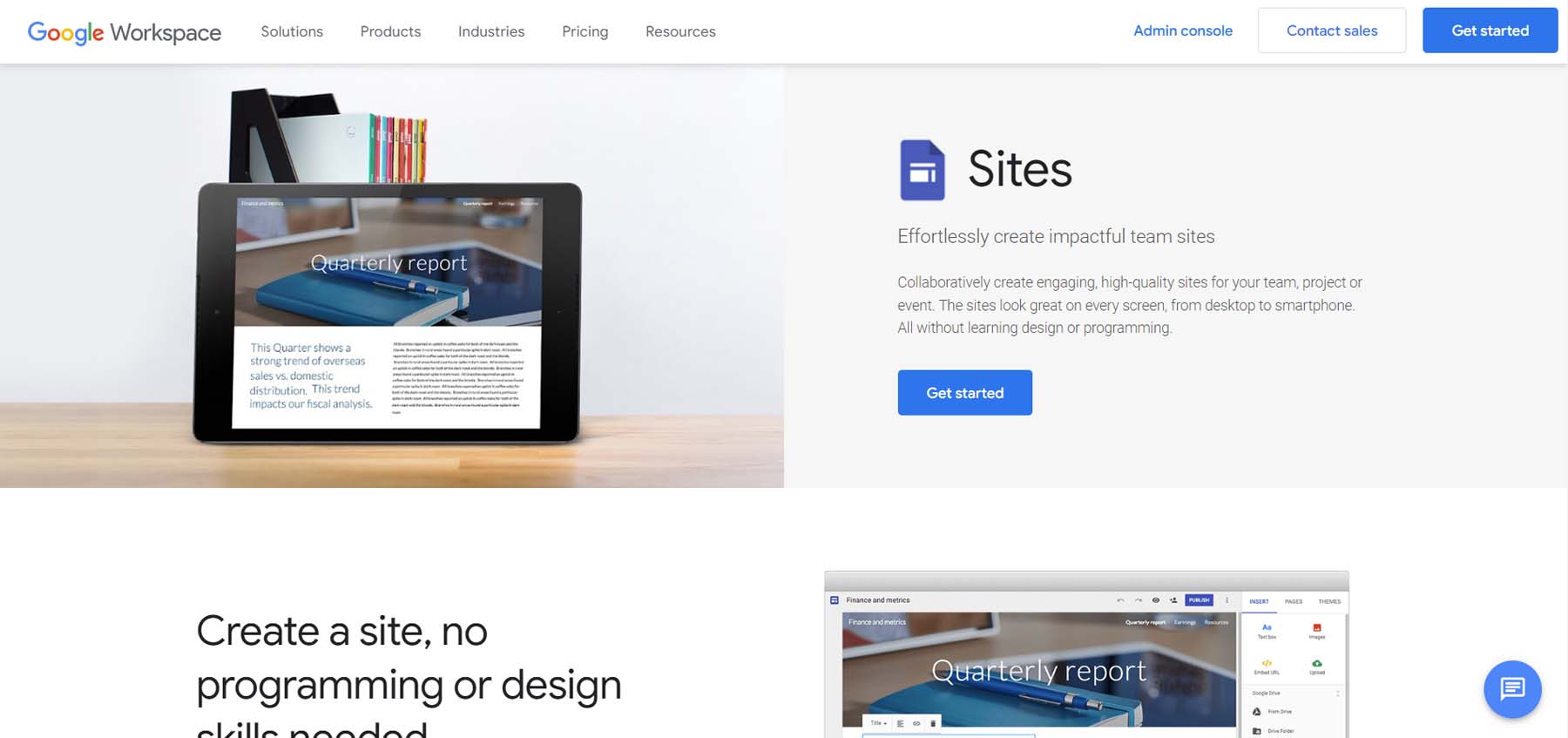 Google Sites is a free website builder provided by Google that allows users to create basic websites and collaborate with others in real time. The platform is designed to be user-friendly and straightforward, with a drag-and-drop interface that requires zero coding experience. You can use several elements on your sites: textboxes, images, image carousels, table of contents, social links, and spaces.
A unique feature of Google Sites is its tight integration with Google's suite of products. With Google Sites, you can quickly embed your Google Calendar, pull videos from YouTube, and connect your site to your Google Analytics accounts.
Google Sites is a good option if you're looking to build the most basic of websites. Creating a complex website with advanced customizations (like eCommerce) is not available with this tool. Google Sites is an excellent choice for building the most basic of sites, but better, free options are available, like Wix.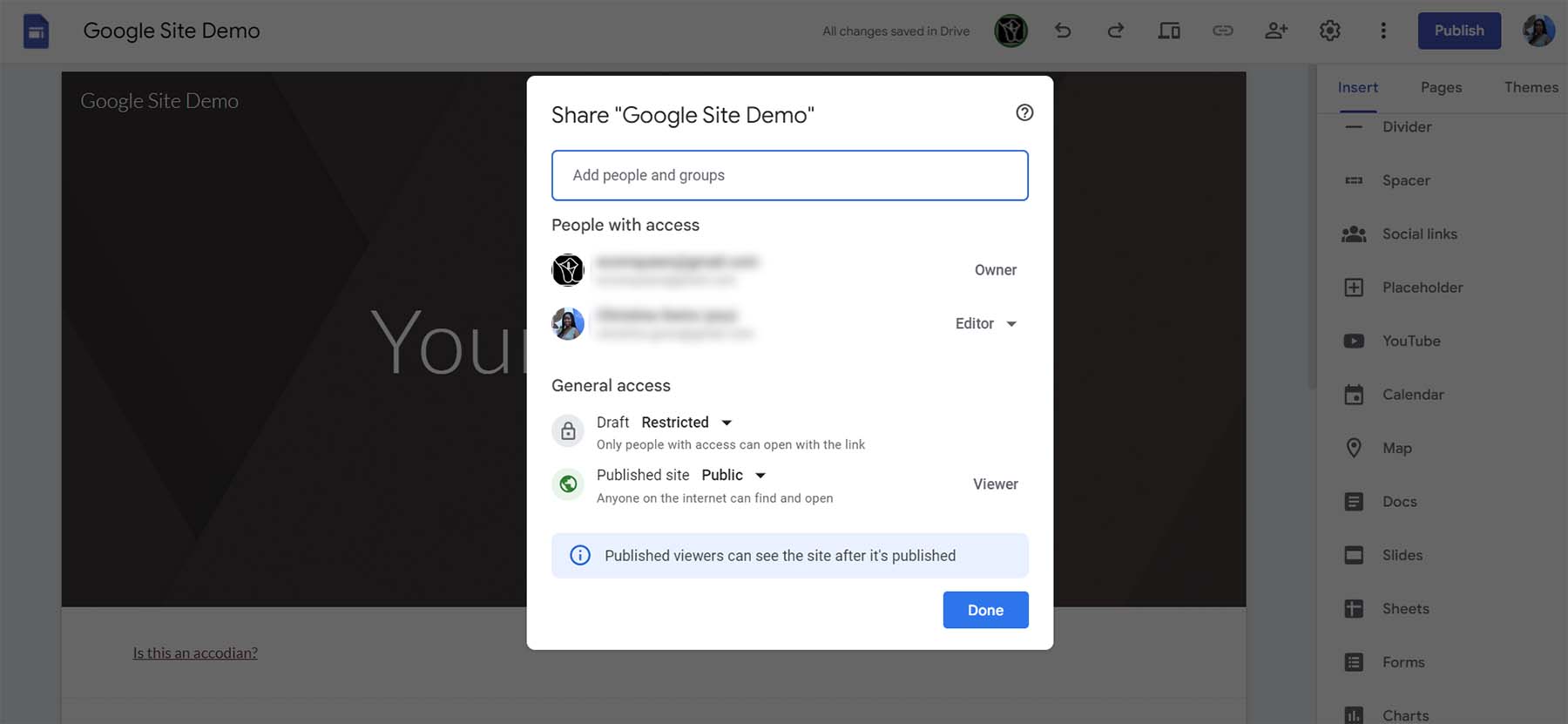 An exciting feature of Google Sites is its collaboration functionality. You and others can efficiently work on your website as quickly as editing documents in Google Workspace. Because Google Sites is a product of Google, the same robust version control you're used to with Slides, Sheets, and Docs is also present in Google Sites.
Key Features
Easily connect with Google Drive, Analytics, Slides, Docs, and other Google products.
Powerful collaboration features allow you and your team to work on your site in real time.
Build-in announcement banner builder
Build an unlimited amount of mobile responsive websites
Connect easily to Google Domains for custom domain names
Pull assets directly from your Google Drive, Google Photos
Pros
Free
Very easy to build a site in a matter of minutes
Deeply integrated into the Google Workspace and Google suite of tools
Easy click-and-drop builder
Zero coding experience of knowledge required
Cons
Less customizable than other builders
Limited themes and design elements
Limited access to fonts and colors
No eCommerce functionality
No ability to add custom scripts or plugins
Best For:
Google users and beginners who want a familiar way to create a simple website without all the bells and whistles.
Pricing: Free, Paid plans start at $7.80 per month
Comparing the Best Website Builders
What is the Best Website Builder?
For the most flexibility with your website, WordPress is an ideal choice for a website builder. Although it requires more work than other builders to get started, you won't have to worry about limitations. With its easy-to-use block editor, themes, plugins, and countless integrations, WordPress is the best website builder for those who want complete control over their website. We also recommend using a powerful page builder like Divi, which takes visual, no-code design to a new level.
For those looking for a hosted website builder solution that is easier to use and manage, you may consider Wix or Hostinger to help you build your website. Weebly has impressive features for eCommerce, and Wix is surprisingly flexible to handle any website you may need.
At the end of the day, the best website builder is the one that matches your needs. Who would you consider to be the best website builder? Did we miss anyone from the list? Let us know in the comments section below!
Frequently Asked Questions (FAQs)
Before we wrap up, let's answer some of your most common questions about website builders. Did we miss one? Leave a question below, and we will respond!
What is the best website builder?
WordPress
is the best website builder because of its ease of use, flexibility, and versatility. It offers various customization options, plugins, and themes, making it suitable for multiple types of websites. Additionally, it has a vast user community, ensuring reliable support and resources.
What is the best free website builder?
WordPress
is a great free website builder because it offers an easy-to-use platform with considerable flexibility and customization options. It also has a massive library of plugins and themes, many of which are free. A large community supports the WordPress ecosystem. Many free resources are available online, and there is an active support system on Wordpress.org.
Is using a website builder worth it?
Yes, using a website builder can be worth it, especially for beginners or small businesses looking for a DIY solution. Website builders offer an easy-to-use interface and pre-made templates, reducing the need for technical knowledge and web design experience. They are also cost-effective and can help create a professional-looking website quickly without hiring a web designer.
What are the cons of using a website builder?
The primary downsides of using a website builder are limited design customization, the potential for a generic or unoriginal website, and limitations in functionality and scalability. Website builders are easy to use, but they come with some limitations. Website builders may also have hidden costs, such as fees for premium features or added functionality. It also takes time to build your website, which can be saved by hiring someone to make your website.
How much does it cost to build a website?
The cost of building a website can vary widely depending on the platform and the needs of your website. A simple website can cost as little as $10 a month, while a custom-built website with advanced features costs thousands. For example,
Weebly
has a free plan, but its paid plan starts at $10 monthly. Similarly,
Shopify's paid plan
, which offers more advanced eCommerce functionality, starts at $37 per month and goes as high as $399 per month.
How do I build a website from scratch?
To build a website from scratch, follow these general steps: choose a domain name and web hosting, select a website platform, design and customize the website, create and publish content, and optimize search engines. You will also need to test and launch the website and maintain and update it regularly.
What is the best website builder for small businesses?
Weebly
is a good website builder for small businesses due to its ease of use, affordability, and range of built-in features. It offers drag-and-drop website building, responsive themes, and built-in eCommerce functionality. Weebly also provides SEO tools, analytics, and marketing integrations, making it a comprehensive option for small businesses.
What is the best eCommerce website builder?
Shopify
is a great eCommerce website builder. It offers an all-in-one eCommerce platform that's easy to use and has a range of excellent features. It has a simple setup process, responsive templates, and built-in payment processing. Shopify also provides advanced features such as inventory management, shipping integration, and marketing tools. It has a large app store and a helpful support team.
What is the best website builder for blogging?
WordPress
is the best website builder for blogging due to its user-friendly interface, customizable themes, and vast plugin library, allowing bloggers to easily add functionality and features to their sites. It also offers robust SEO capabilities, making it easy for bloggers to optimize their content for search engines.
What is the best website builder for SEO?
WordPress
is an excellent website builder for SEO. The structure of WordPress websites are inherently crawlable by search engines. There are also great free SEO plugins available for WordPress that provide website owners with advanced SEO features. A good WordPress theme and caching plugin can also make your website fast and mobile-friendly, which are essential ranking factors.