WordPress is one of the world's most popular content management systems (CMS), with over 44% of the internet built on it. For over a decade, website builders have allowed users to quickly build WordPress sites with drag-and-drop editors and easily load pre-design templates. With the emergence of artificial intelligence (AI) over the past year, there's a new way to build WordPress websites: AI WordPress website builders. In this post, we'll showcase our top picks so you'll know your options.
Let's get started.
What is an AI WordPress Website Builder?
AI WordPress website builders are innovative tools that leverage the power of AI to simplify and speed up the website creation process. They typically target beginners and busy creatives who want to build their websites faster with less fuss. Through the power of generative AI, users can easily generate text, images, and, in some cases, code. Some website builders ask questions to create your website, while others give you more control over the design, allowing you to create pages from scratch.
4 Best AI WordPress Website Builders in 2023

Subscribe To Our Youtube Channel
There aren't many options for AI WordPress website builders, but the existing ones are pretty spectacular. We have it on good authority that some other website builders are working to incorporate AI into their products, so it will be interesting to see who joins the fray in the coming months. But for now, we'll showcase the available ones and rank them based on a few factors, including user reviews, features, and ease of use.
So, without further ado, let's get to our list.
The Best AI WordPress Website Builders Listed In Order
Expand List
1. Divi AI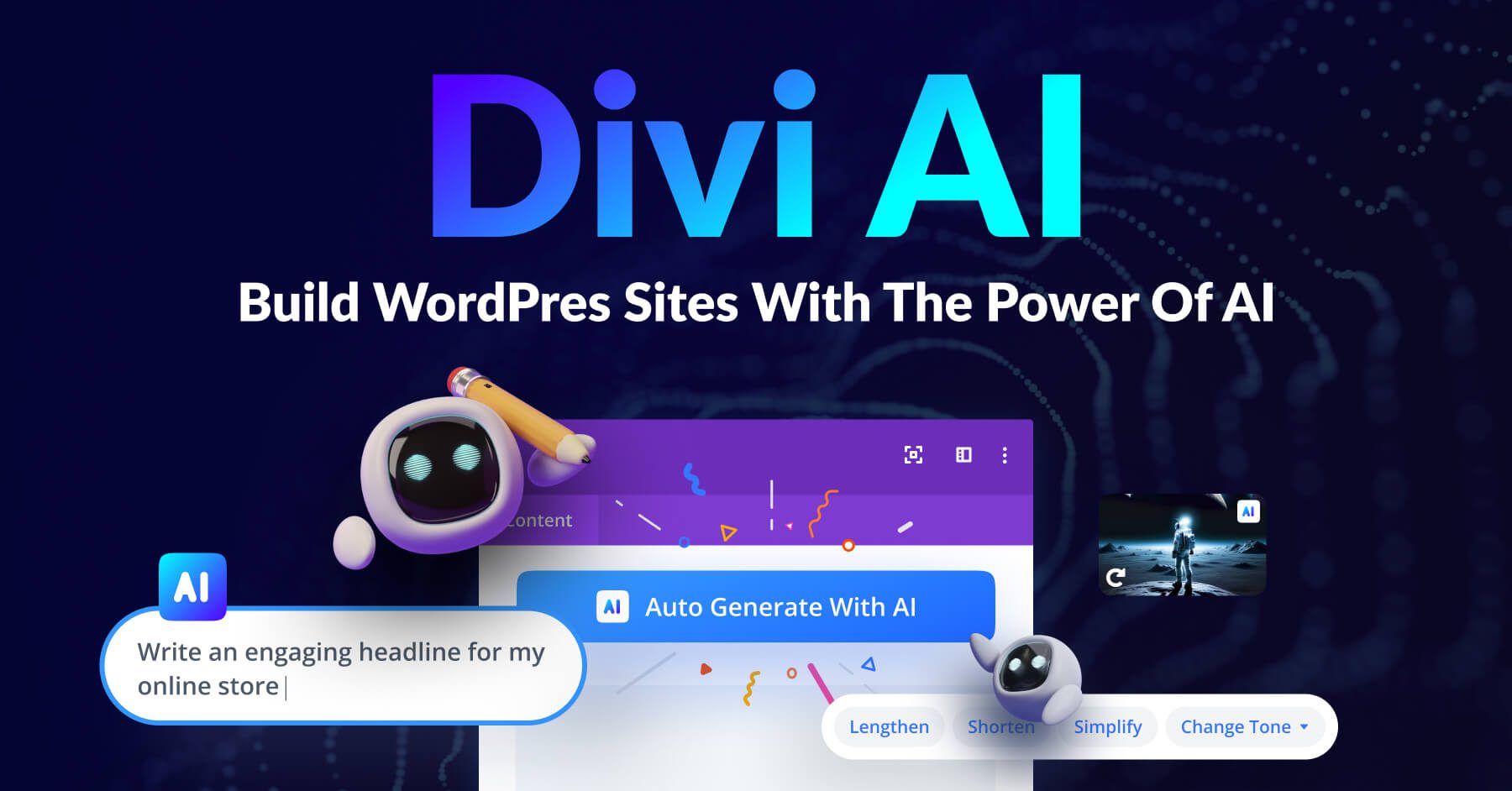 Up first on our list of best AI WordPress website builders is Divi AI. It's a page builder, premium WordPress theme, and robust AI tool all rolled into one. Divi AI is integrated deep within Divi's code, allowing it to generate text and images with a single click. It can also suggest and generate content based on your site's title, tagline, or surrounding content on any page. With Divi AI onboard, you can build your site's pages with a no-code Visual Builder, generate text and images, and easily build every aspect of your site, including headers, footers, and page templates.
Key Features of Divi AI:
Auto-generate text and images on the fly
Deep integration with the Visual Builder
Generate text and images based on surrounding content
Generate text and image prompts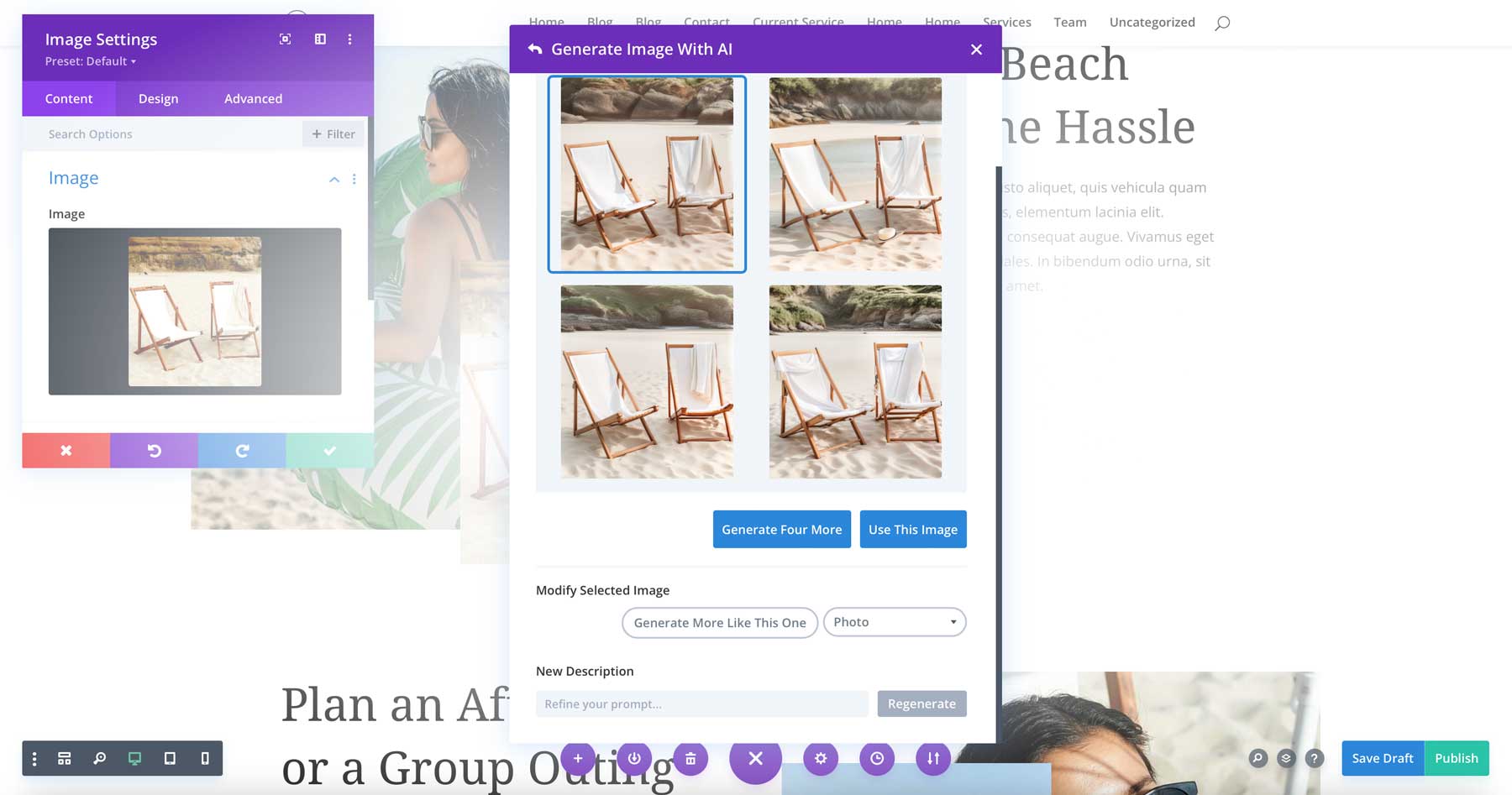 Divi AI can improve upon text already in place by lengthening or shortening it, improving it, fixing spelling and grammar, and paraphrasing, amongst other features. You can also enhance existing images by describing the elements you'd like your photo to include, and watch as Divi AI works its magic. Divi will analyze your photo and text prompt and then produce an entirely new image based on the original.
Best For:
Divi is a powerful AI WordPress website builder. With the ability to generate text and images, learn from your website's content, and improve existing content, Divi AI functions as your personal AI assistant. Combined with Divi's other unique features, such as the Theme Builder and more than 2000 professionally designed layouts, it is a must for anyone looking to build a gorgeous website easily.
Pricing: Divi AI subscriptions start at $18 monthly, billed annually. Elegant Themes subscriptions start at $89 per year.
2. Hostinger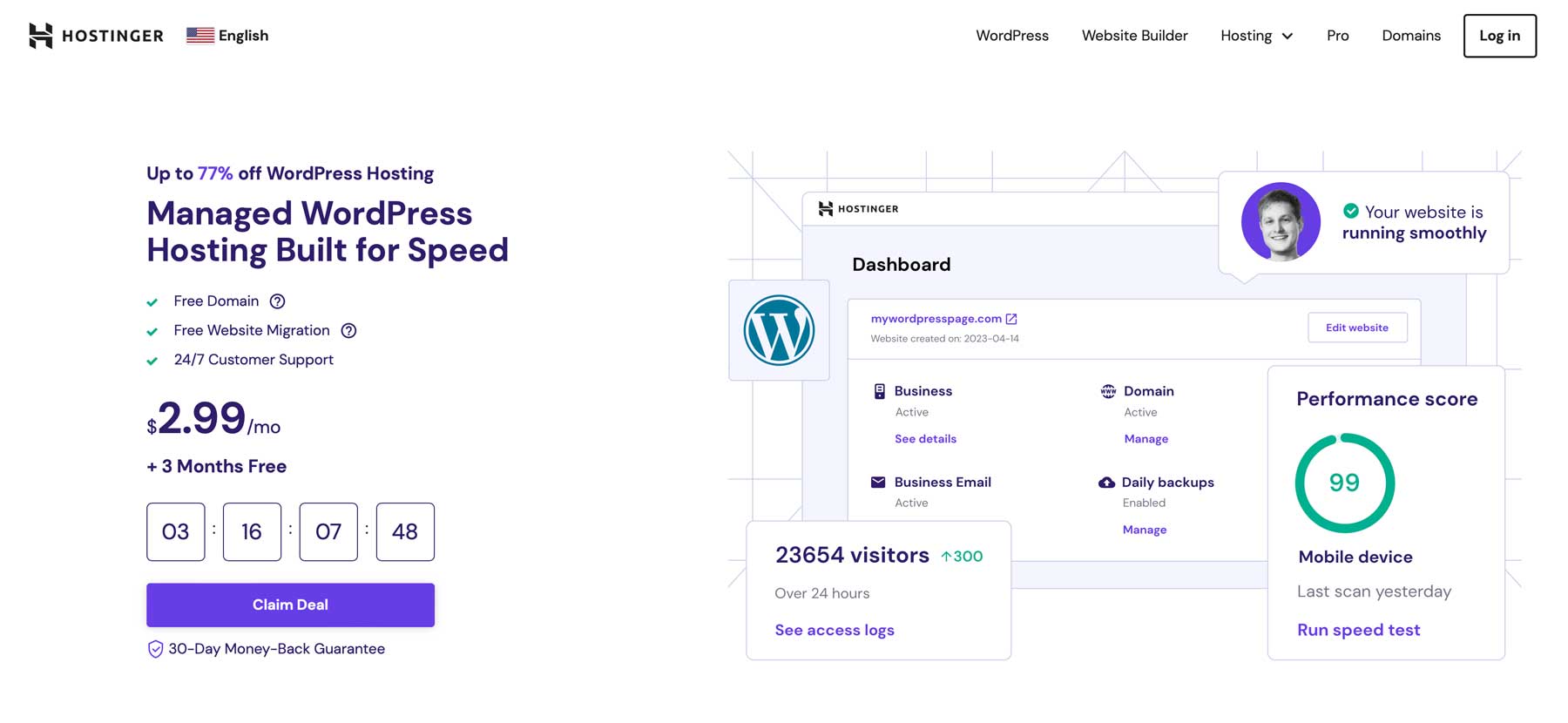 Hostinger is most well-known for being a great WordPress hosting option. They also offer one of the most impressive AI website builders available. But what many people don't know is that you can also use Hostinger's AI website creator with WordPress, making it one of Hostinger's best-kept secrets.
Key Features of Hostinger:
WordPress AI content-generation tools
Image generation (coming soon)
Create a website in a few clicks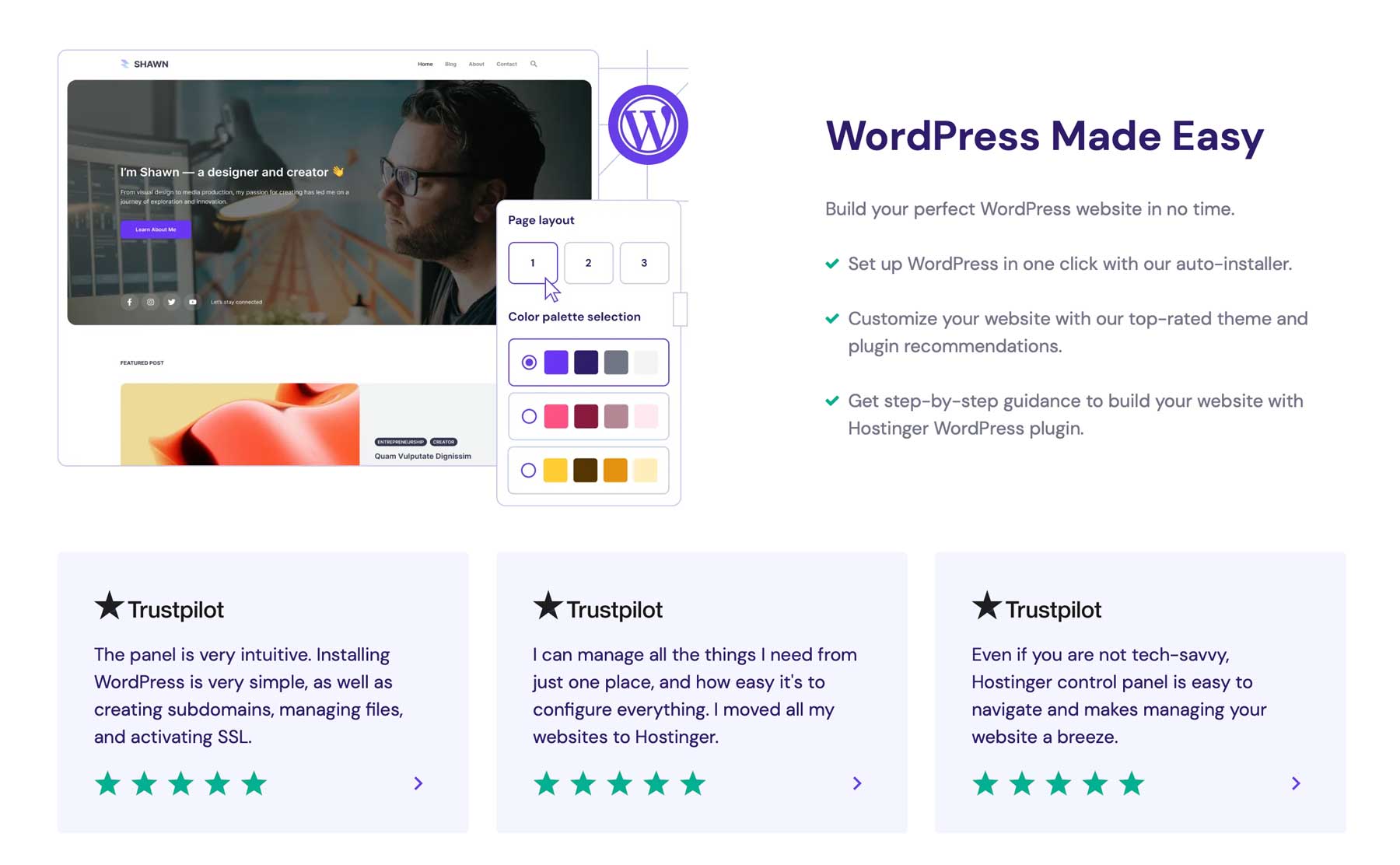 Hostinger offers an AI-assisted website builder with its Business and Cloud Startup plans. You'll answer a few questions, click a button, and sit back and watch as it creates a fully functional WordPress website. Once your site is made, you can easily edit every aspect with the standard WordPress editor or install any page builder you wish. Hostinger's AI assistant will also help you craft blog posts, web content, and headlines with a text prompt and button click. While Hostinger doesn't offer image generation yet, they will release that feature soon.
Best For:
Hostinger is an excellent choice for those looking to score good hosting and easily build a website at an affordable price. With its built-in AI assistant and website creation tools, users can create up to 100 websites for about the same price as a medium cup of coffee from Starbucks. However, there is a downside. You will have to sign up for a lengthy contract to take advantage of that pricing. But this isn't a stretch, considering Hostinger consistently ranks high in the WordPress hosting genre. Plus, they offer a 30-day money-back guarantee, so if you decide it's not suitable for your needs, you can easily cancel it.
Pricing: Starting at $3.99 monthly (billed annually for a 4-year contract).
3. 10Web Website Builder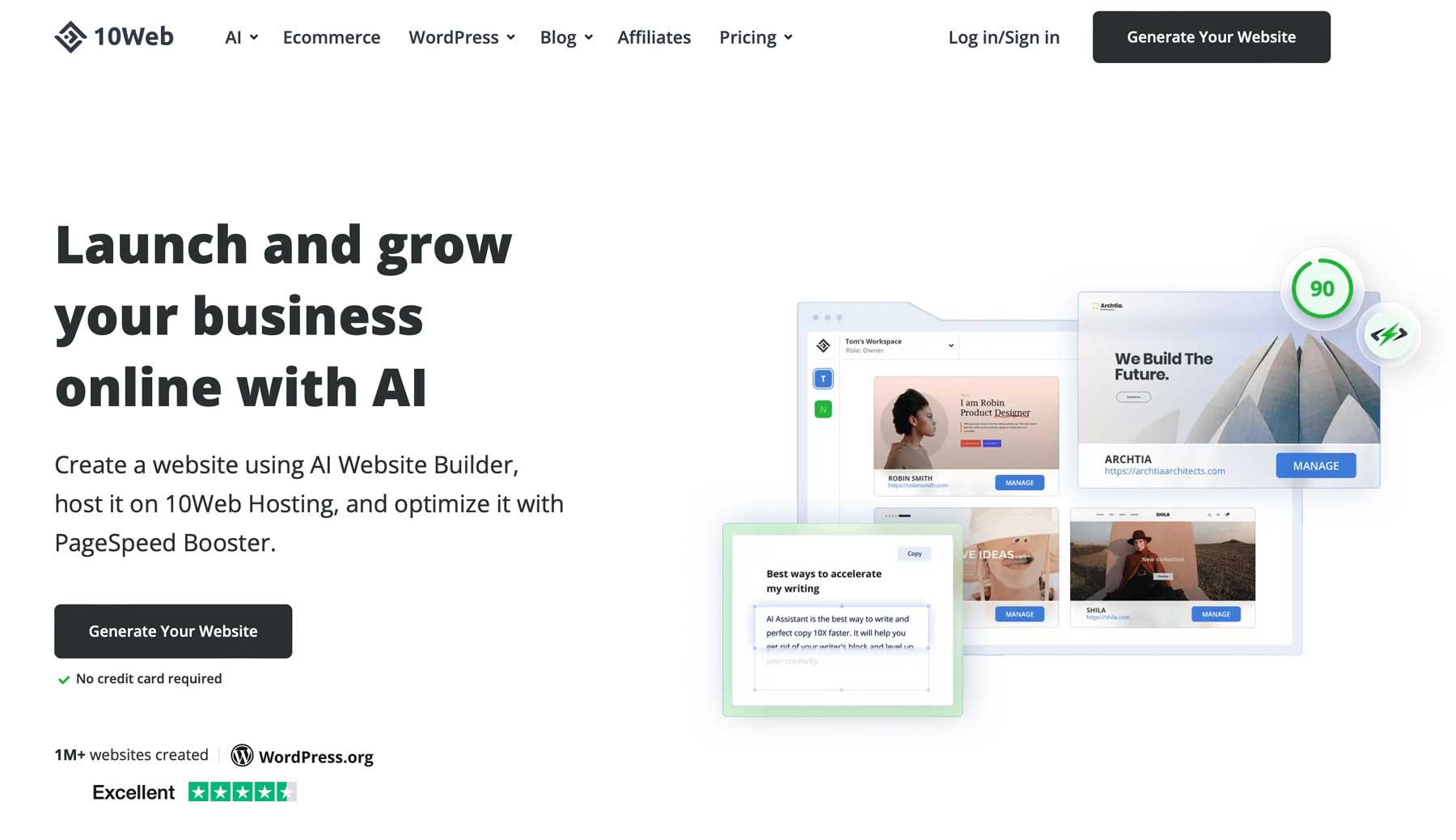 Next up is the 10Web WordPress website builder. This tool completely automates the process by asking users questions about their business and services. From there, 10Web creates your website in minutes, with a responsive design, so your site will look incredible on any device. You'll also get 10Web's Page Booster, an all-in-one optimization tool that minifies CSS, JavaScript, and HTML, adds a content delivery network (CDN), and optimizes images automatically.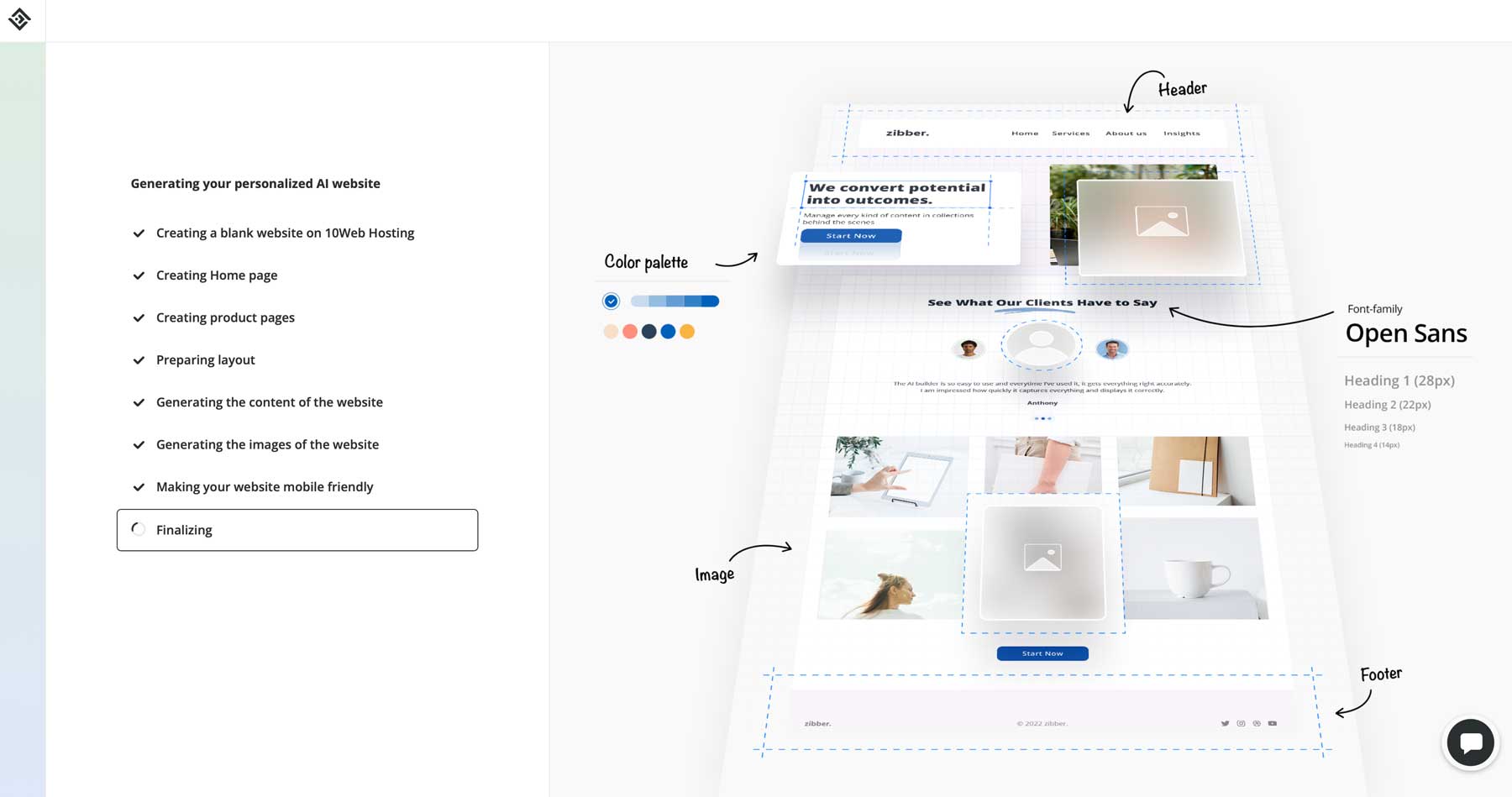 Key Features of 10Web Website Builder:
PageSpeed booster
Recreate any website with AI (including ecommerce websites)
Automated hosting
Generate images and text with AI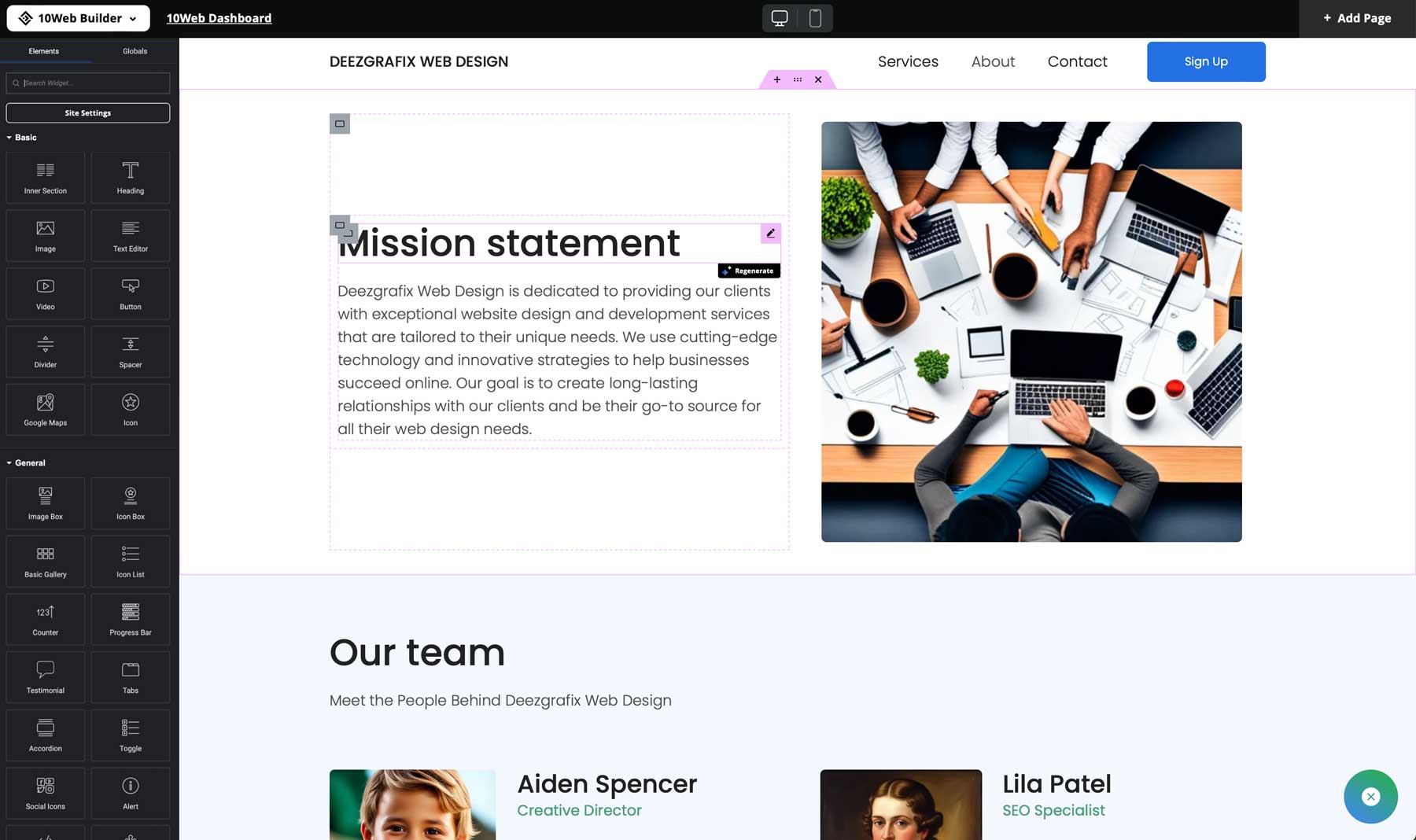 Once your site is created, you can apply a site-wide color palette and edit, add, or generate any content you wish, including images, text, or full layouts, thanks to the integration of the Elementor page builder. One thing that gives 10Web an edge over other website builders is that you can recreate any website you wish, making it an excellent tool for migrating websites from other platforms, like Squarespace, Wix, or Shopify, to WordPress. This is a huge benefit for website and shop owners who want to use WordPress but don't want to put the time and effort into switching platforms manually.
Best For:
If you're a Shopify, Wix, or Squarespace user who wants to migrate their site to WordPress without having to rebuild it completely, 10Web is an excellent solution. You can paste the URL of your website, then sit back and watch as 10Web recreates your website in minutes. There are three plans to choose from: AI Starter, AI Premium, and AI Ultimate.
Pricing: Starting at $10 per month.
4. Elementor AI

Our last AI WordPress website builder is Elementor AI. It is widely known as one of the most popular WordPress page builders. In recent months, they rolled out extensive AI tools that allow you to generate text, images, and code – all with a text prompt. These features are in addition to Elementor's already impressive toolset, which includes features like a theme builder, over 100 templates and design widgets, and direct integration with WooCommerce.
Key Features of Elementor AI:
100+ templates and widgets
WooCommerce, form, popup, and loop builder
AI text, code, and image generation
Theme builder
AI prompt library
One of Elementor's best features is its code generation tool. It works by describing the type of effect you want and then provides the code to make it happen. They also offer an Elementor AI prompt library, which houses code snippets you can use on your websites. Are you looking to improve existing images on your website? Elementor provides the Edit with AI tool, which allows you to expand the image area, erase elements, and replace them with generative fill, resize, provide variations, and remove or replace backgrounds for your pictures. It's like having a mini version of Photoshop built right in.
Best For:
Elementor AI is an excellent choice for building quick websites. The text and image generation tool allows you to quickly improve or edit text with AI or easily generate images for your website. You can also create a header, footer, and other page templates or access the template library to get a good starting point. However, all of these features require a pro license because Elementor's AI features are not available with the free version of the website builder.
Pricing: Starting at $59 per year.
Comparing the Best AI WordPress Website Builders
AI WordPress website builders will likely change how some people build websites. Although there are only a few choices, the available ones have plenty to offer. To help you decide, we've put together a couple of visual aids to help make your decision easier.
Best AI WordPress Website Builder Price Comparison
For some, finding the best AI WordPress website builder could be pricing. To better understand how our top picks stack up on the affordability scale, we've created a handy price comparison table to help you choose.
AI WordPress Website Builder Feature Comparison
In addition to pricing, features are essential in the decision-making process. Do you need an all-in-one solution that provides hosting, WordPress, and text and image generation, or just a killer front-end website builder with amazing features? Check out our feature comparison table to understand the differences in our list.
| Features | 🥇 Divi AI | 🥈 Hostinger | 🥉 10Web |
| --- | --- | --- | --- |
| Text Generation | ✔️ | ✔️ | ✔️ |
| Grammar Checker | ✔️ | ✔️ | ✔️ |
| Image Generation | ✔️ | ❌ | ✔️ |
| AI Image editing | ✔️ | ❌ | ❌ |
| Free Trial | ✔️ | ❌ | ✔️ |
| Price for All Features | $18/month | $3.99/month | $10/month |
| | Get Divi AI | Get Hostinger | Try 10Web |
What is the Best AI WordPress Website Builder?
Choosing the right AI WordPress website builder all depends on what features you're looking for. Thankfully, our list provides several options to choose from. That said, there are two that stand out above the rest. Divi AI is an excellent AI WordPress website builder. It gives you ultimate control over your design and can generate text and images through a simple text prompt. Additional tools like the Theme Builder and front-end Visual Builder are unrivaled.
On the other hand, Hostinger is an excellent choice for AI website generation. With affordable hosting, text and image generation (soon), and the ability to host up to 100 websites, they provide everything you need to get a site up and running quickly. Regardless of which AI WordPress website builder you choose, our list has options for any WordPress user.
Need more plugins? Check out all our articles featuring the best plugins to use in WordPress.
Featured Image via Siberian Art / Shutterstock.com