As you probably know, links play a pivotal role in Search Engine Optimization (SEO). From internal linking and on-page SEO to link building and backlinks, there are many methods to make the most of your SEO links. However, figuring out where to start can feel overwhelming.
In this post, we'll discuss the essential role links play in SEO. Then we'll overview the best techniques for SEO links and offer some guides you can reference for more detailed information.
The Importance of SEO Links for Your WordPress Site
Links are one of the most important ranking factors for search engines like Google. That means the way you create links on your site can affect how visible your content is in search results – for better or for worse.
There are various types of SEO links that can affect your rankings, including:
Internal Links: Links that point to pages within your website
External Links (or Outbound Links): Links on your site that point to external webpages
Backlinks (or Inbound Links): Links that point to your site from other websites
High-quality backlinks (or inbound links) have the most significant SEO benefits. Not only can they help with your overall optimization strategy, but they can improve your visibility and search traffic. However, these links can also be the most challenging to obtain.
Fortunately, you can boost your site ranking by concentrating on improving the SEO links you add to your own site. When creating, generating, and optimizing SEO links, it is important to use effective SEO techniques to make them successful.
A Simple Guide to Using Links for SEO (9 Tips)
Now that we have a better understanding of why links are so crucial for SEO, let's explore essential tips on how to use them. Below are nine tips you can use to get started right away. For each tip, we'll explain the benefits, how it works, and how to implement it.
1. Leverage SEO Link Building Techniques
Link building refers to acquiring links (also known as backlinks) from other websites to your own. If other high-quality sites link to your pages, it can improve your authority, credibility, and visibility.
There are a variety of techniques to leverage link building, including:
Guest blogging
Social media outreach
Creating helpful resources
Link building is important because it helps improve your website's organic search traffic. Additionally, it can build relationships with other important websites and bloggers in your industry.
If you want to learn more about SEO link building, check out these 8+ Simple Tips for SEO Link Building
However, the domain authority of the site linking to yours is important. The more popular and authoritative a site is, the better a boost its backlinks can give you.
Another essential element of this strategy is creating high-quality SEO content that people want to share. You can produce many different types of content and resources to help generate backlinks, including white papers, tutorial guides, infographics, and videos.
If you want to learn more about backlinks, check out our simple guide to getting backlinks for SEO.
2. Disavow Poor-Quality Backlinks to Your Website
The best backlinks are high-quality natural links that occur organically from someone else. These natural links aren't seen by Google as being created by you or your company. Poor-quality links, unnatural links (links that are paid for), or nofollow links aren't the best kinds of backlinks because search engines will take notice.
There may be times when you want to disavow (block) backlinks to your website. As we mentioned, backlinks can help boost your SEO, but only if they're from credible and relevant websites.
It's typically a good idea to disavow any backlinks from low-quality or spammy websites. This process can prevent the links from harming your website's SEO and organic search traffic.
You can monitor the links pointing to your site using an SEO backlink checker tool. Then, gather the link(s) you want to disavow into a single text file and upload it to Google. You can add the .txt file to the dedicated section in your Google Search Console account: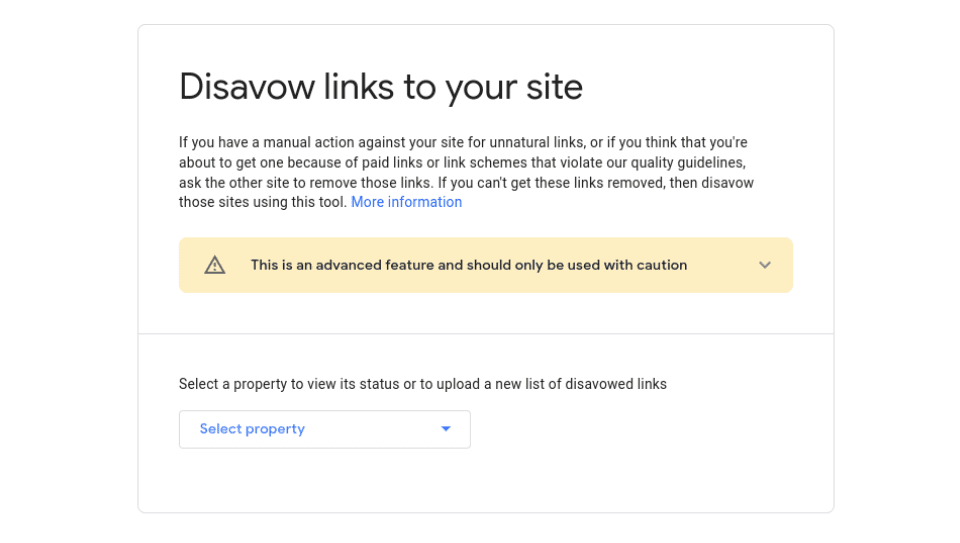 Choose your domain from the property drop-down menu. Then click on the Disavow Links button and upload the text file. This process may take Google a few weeks to complete.
For more in-depth information and guidance on good versus bad backlinks, you can review our guide on How to Disavow Backlinks to Your Website.
3. Create Quality External Links for SEO
When it comes to SEO, it's important to ensure that the external links you create are high-quality as well. To do this, you'll always want to link out to reputable sites that are relevant to your audience. Just as with backlinks, including external links to a poor-quality piece of content can hurt your reputation with users and your search rankings.
To see the domain authority of a website, you can use the Ahrefs Website Authority Checker tool:

You can use a tool such as Semrush's Backlink Analytics. On a scale of zero to 100, the closer the score is to 100, the better:

In addition, every link you add should be relevant to the content it's placed in. In other words, only link out to pages that might be of genuine interest and/or use to the reader. Each link should also be closely related to the text around it, and be placed on keyword-rich anchor text (which we'll discuss next!).
4. Optimize Your Link's Anchor Text for SEO
Anchor text is the visible, clickable text in a hyperlink. In HTML, it is the text wrapped around the a tag:
<a href="https://website.com/">anchor text</a>
The anchor text is the text that is displayed to users when they see a link on a web page, email, or social media post. It's what they'll click on, and is usually colored differently from the main text so that it stands out: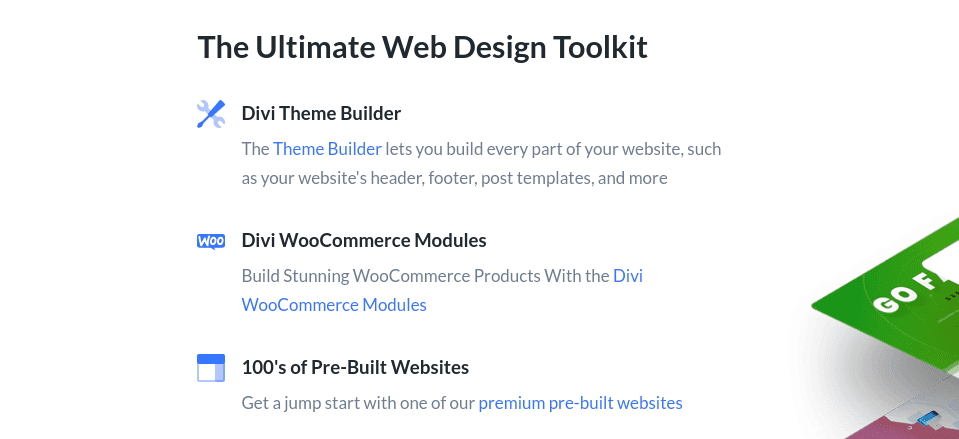 Anchor text is important for SEO because it helps search engines understand the context of the linked page. When optimizing a website for search engines, it's essential to use keywords in the anchor text to signal to Google what the linked content is all about.
For example, if you were linking to a blog post about dog food, your anchor text might be "best dog food for picky eaters" or "homemade dog food recipes."
Transparent anchor text is also useful for your human visitors. It ensures that they know exactly what they'll get if they click on a particular link, increasing the odds that they'll choose to follow through.
To learn more, check out Best Practices to Optimize Your Anchor Text.
5. Use SEO-Friendly Internal Links
Internal links are URLs that point from one page to another on your own website. They are essential for SEO because they help search engines index your website and understand the relationship between your pages.
Internal links can also improve your "time on page", by helping users more easily navigate your website and find what they need. Additionally, you can use these URLs to share helpful resources with your visitors.
Both internal and external links are important for SEO. However, you have more control over internal links. There are a few tips to keep in mind in order to use them effectively. You'll want to:
Use proper internal link structure with keyword-rich anchor text in all internal links.
Make sure internal links are linking to relevant content.
Vary up the internal links you use, rather than always sending readers to the same few pages.
Monitor the links on your website to verify that they're working correctly. Too many broken links can hurt your SEO.
SEO plugins are crucial to on-page SEO optimization and will often provide helpful link suggestions as well. For example, Yoast SEO will show provide internal link suggestions from within your blog while writing content. And you can see the number of internal and external links that are present in your content. This is a good visual way for you to keep tabs on the number of links that you have or need to add to your content.
To further improve your internal linking strategy, check out our in-depth guide on how internal links help SEO.
6. Use Nofollow and Follow Links Appropriately
There are two types of links: follow and nofollow. Follow links possess the default functionality of a link when adding a link in WordPress. When a website links to another site, the URL is "followed" by search engine crawlers. This connection can help both websites rank higher, as long as they are both good links with great content and authority.
Nofollow links have explicitly been tagged as "nofollow" in the URL's HTML:
<a href="https://website.com/" rel="nofollow">website link</a>
These links won't be followed by search engines, and in turn, won't pass authority to the destination website. Nofollow links can still be helpful for things like building relationships and driving traffic, but they won't assist with SEO.
In other words, you can use nofollow links when you don't want Google to crawl the site you're linking to. This is often appropriate for a website you wish to link to but not endorse. It also applies to "sponsored" links, such as affiliate URLs or paid ads.
On the other hand, you can use a follow link to pass on authority to the trusted site. This type of link can also help search engine bots understand your content better, as well as its relationship to other popular sites.
You can find more in-depth guidance on this topic in our How and When to Use Nofollow and Follow Links guide.
7. Use SEO Link Building Services
Link-building SEO is a critical long-term SEO strategy – even though it does require more time and patience. While you have total control over your internal links, you have much less control over your backlinks for SEO.
To generate more of the long-term effects of backlinks, you might consider using an SEO link-building service. This is a company or agency that can help you find websites to link back to yours. They can save you time and effort in research. However, you'll want to ensure that any service you use is legitimate.
Generally speaking, if what the link-building service offers seems too good to be true, it probably is. No reputable company can guarantee overnight results or specific search rankings. You should also consider transparency. Link-building services should be upfront about their processes and clearly communicate with you about your goals and expectations.
Note that you should also never outright buy your backlinks or participate in large-scale link exchanges. While trading backlinks is okay, search engines penalize large link-exchange campaigns, as that's considered a "black hat" SEO practice.
For more information, check out our guide on the Pros and Cons of Using SEO Link Building Services.
8. Optimize Your Permalinks for SEO
Permalinks refer to the permanent URL structure of your WordPress website. When it comes to SEO, your permalinks play a key role in allowing your content to rank higher in the Search Engine Results Pages (SERPs). In WordPress, you can optimize the default permalink structure of your site in the permalink settings.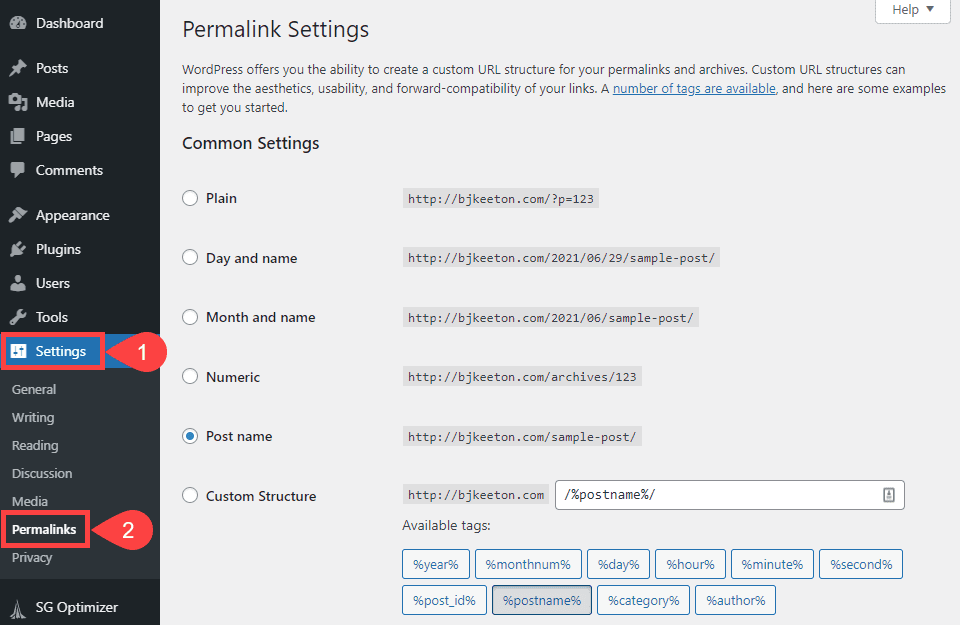 As a good rule of thumb, it is best to use Post name as the default permalink structure if you don't have a good reason not to. This will make sure your blog posts' permalinks have the ability to show the post title slug after your primary domain:
yourwebsite.com/post-name/
With this structure in place, your post title can include the keywords you are trying to rank for. Plus, users and, most importantly, search engines will be able to recognize your keyword in the permalink which will boost your ranking in the SERPs.
In addition to optimizing the permalink structure settings, you can also further optimize the actual permalink for each page or post you create. Since permalinks are an important ranking factor, this will allow you to customize the permalink slug for SEO. The slug will be automatically generated when adding a title to your page or post in the WordPress editor:

If you are targeting keywords, you will want to optimize that slug to make sure it includes the keyword(s):
Generally, it is also a good idea to shorten the slug to include only the necessary keywords or phrases. This will make it easier for search engines to read your keywords and for users to see the full slug in the SERPs.
yourwebsite.com/keyword-phrase/
For a more detailed overview, check out our post on how permalinks affect SEO.
9. Use Jump Links (or Anchor Links) for SEO
Jump links (also called "anchor links") are hyperlinks that allow users to quickly navigate to specific sections on a web page. They are typically used to help visitors find information more easily on long pages or to move to a particular topic of interest.
Jump links can be added just about anywhere on your WordPress site. They are often used on pages with a lot of text or other content, such as in the Table of Contents (TOC) at the beginning of a page:

Besides adding a nice boost in user experience, adding jump links to your post or page in WordPress will give you an SEO advantage in the SERPs as well. Google will identify your jump links and include them in your snippet when you show up in search results.

For best results, make sure those jump links include optimized anchor text with your targeted keywords.
Adding jump links to create a clickable TOC to a webpage is relatively easy. Using the block editor, highlight the text that should 'jump' to the section. There you can add a link and type in the "#" symbol followed by your unique ID (i.e., "#header-id").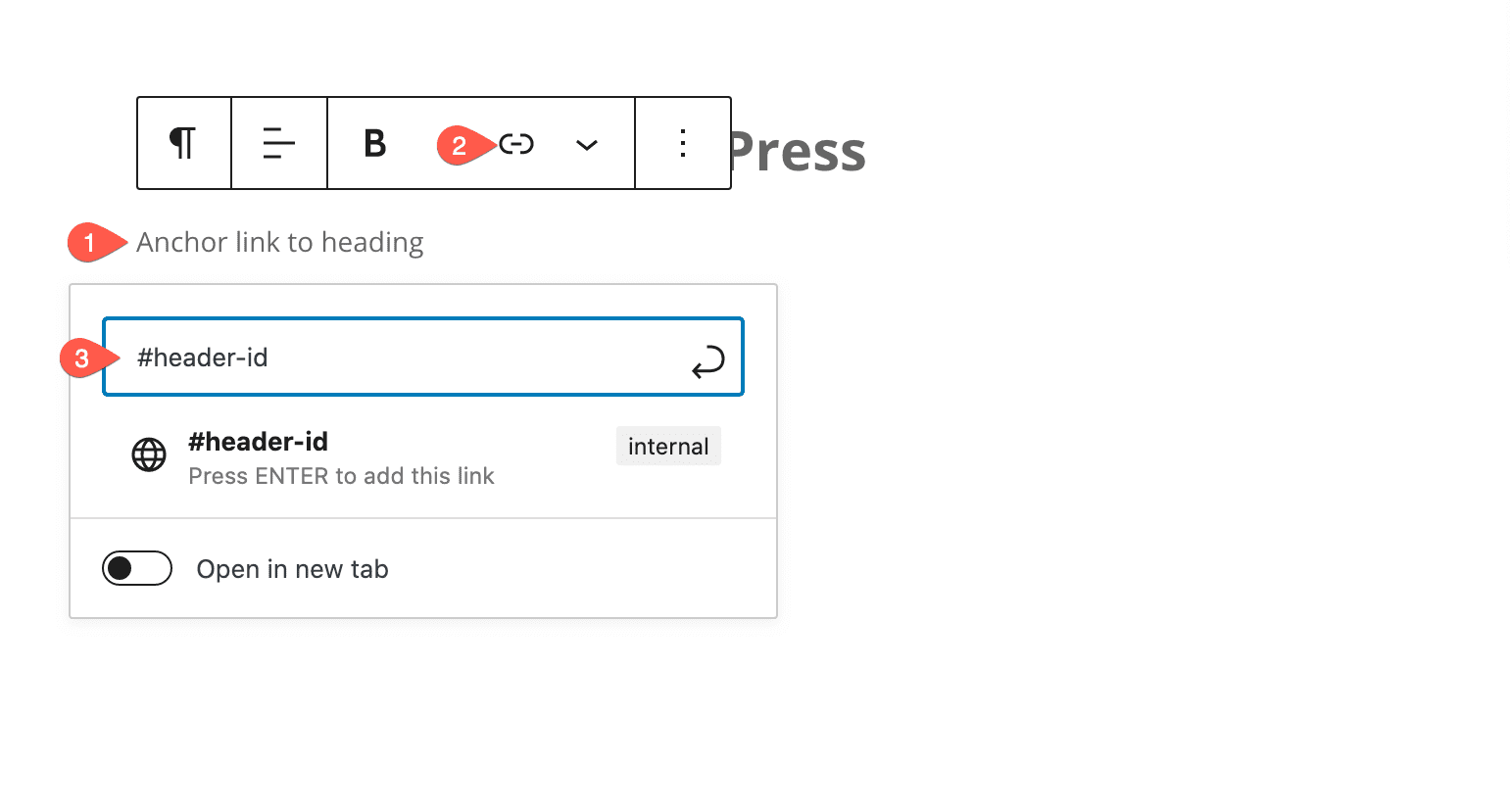 Next, assign a unique ID (or HTML anchor) to the heading that you want to target (or jump to). In the Block Editor, you can do this by clicking on the heading, opening the Advanced tab in the right-hand menu, and adding your chosen ID in the HTML anchor field.
Once the jump (or anchor) link and the heading's HTML ID are in place, the user can click the jump link to "jump" directly to the heading with the corresponding anchor ID on the same page.
You can also add a table of contents more easily by downloading a plugin that extends the Block Editor's functionality, such as Spectra.
For Divi users and/or those wanting to learn more about jump links, here are 5 Cool Things You Can Do In Divi with Anchor Links.
Conclusion
Links can boost your site's search rankings and visibility. However, to make the most of your SEO links, it's important to understand how to implement and optimize the different types, according to Google's best practices.
As we discussed in this post, you can leverage a variety of simple techniques. Some of the best methods for getting started include generating quality backlinks, optimizing your internal URLs, and knowing when to use nofollow links.
Do you have any questions about using SEO links on your website? Let us know in the comments section below!
Featured image via Sammby / shutterstock.com