WordPress is the most popular CMS in the world, but its reach is limited if your content is only in one language. Thankfully, WordPress translation plugins are a simple and elegant solution to that problem. With tools like these plugins and themes with built-in translation and multi-language support, making your site accessible to a much larger audience can take minimal effort on your part.
In this article, we'll introduce you to the best WordPress translation plugins currently available, as well as highlight some of their best features.
Let's get into it!
Why Use a WordPress Translation Plugin?
When you create your WordPress site, you can set your preferred language in the native dashboard. Go to Settings and then General, then scroll down to Site Language. Choose your preferred dashboard language from the drop-down menu.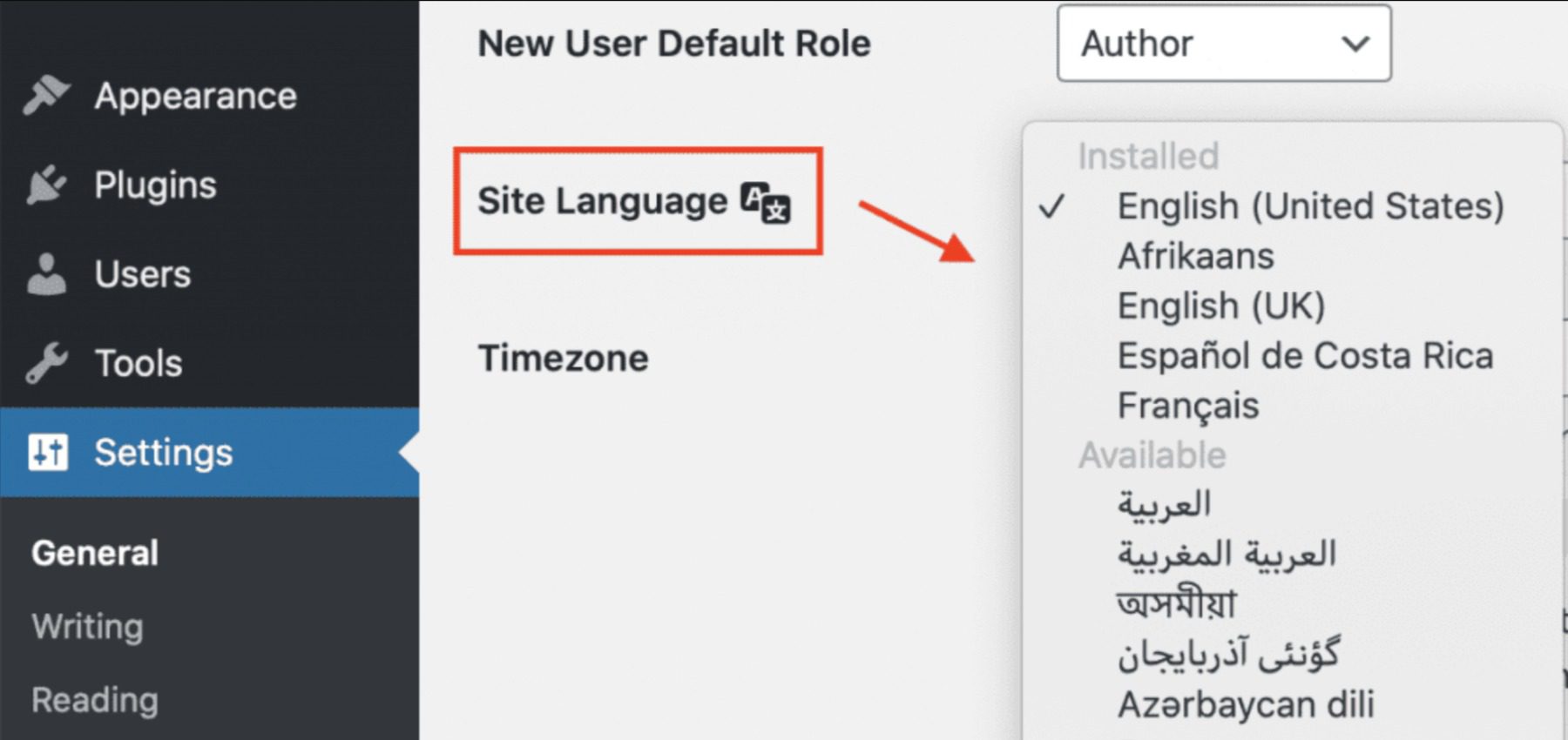 While this will change the language of your dashboard, you'll need a plugin if you want to create multilingual websites. These plugins eliminate the need to set up multiple WordPress subdomains and instead turn your website into a multilingual platform.
There are two types of translation plugins:
Auto Translations
Manual Translations
Auto-translations will automatically translate preexisting content from your website to your users' preferred language but will sacrifice some accuracy (Google translate levels of accuracy.)  On the other hand, Manual translations let your users view the languages you have transcribed manually, which sacrifices speed and convenience for accuracy and customizability.
The Best Translation WordPress Plugins
The Best WordPress Translation Plugins Listed In Order
Expand List
Now that we have a better understanding of what a translation plugin can do let's get into our top choices for best translation WordPress plugins.
1. WPML

While there are many free options for WordPress translation plugins, WPML or WordPress Multilingual is a premium plugin and service that covers essentially everything you need for translation. One of the driving forces behind WPML is that it is an all-in-one solution to translation that you get control of, not your readers' machines. Not every site out there will need the entire WPML platform (for instance, a small personal blog may be fine to rely on Google Translate). Still, sites with a significant international presence often need more than what a simple auto-generated, machine-created translation can offer.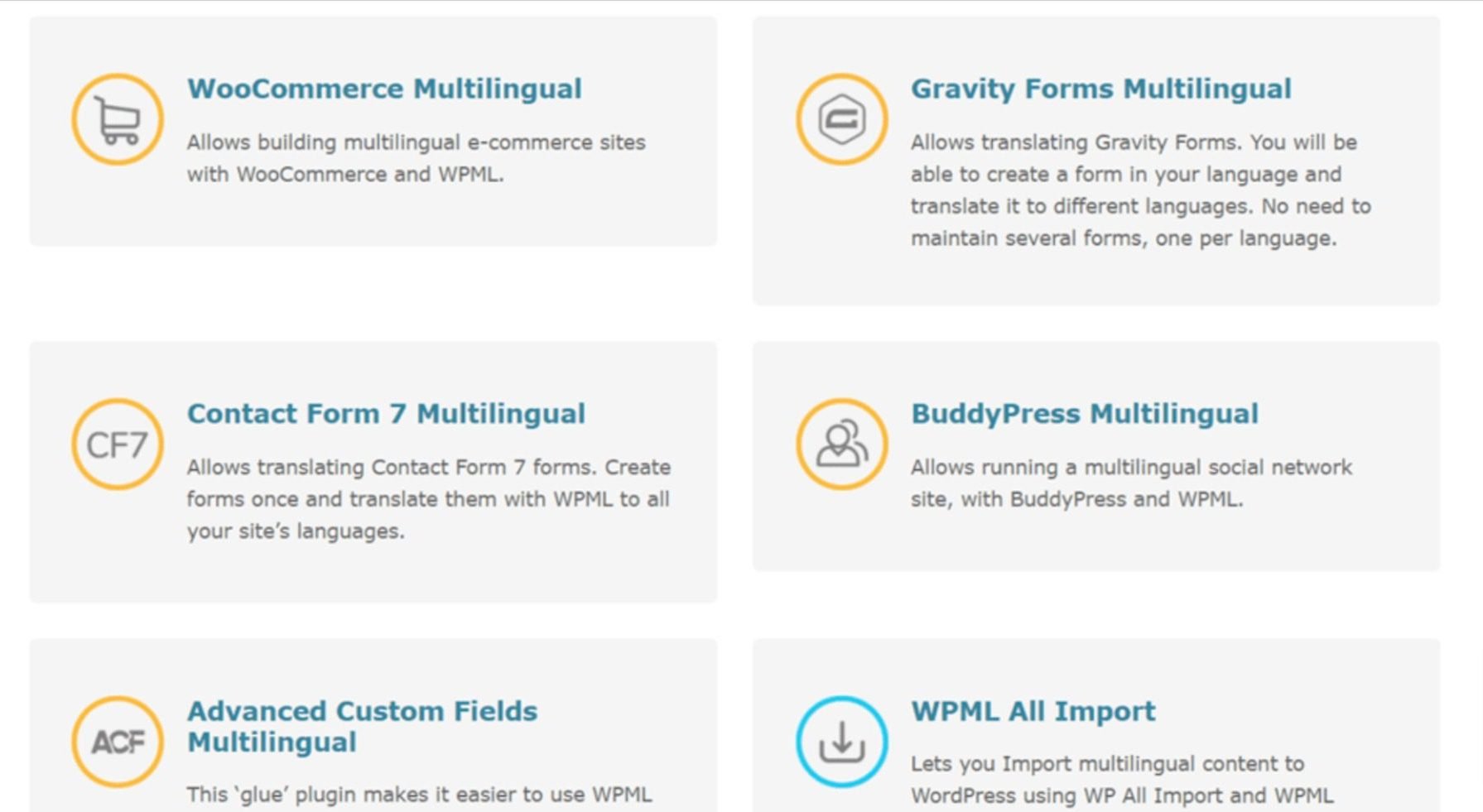 With that control comes compatibility with many major plugins and services that you may already be using. From WooCommerce to Gravity Forms, Contact Form 7, and Advanced Custom Fields (and more!), you can use WPML to translate them and their output for your customers. With fine control over which languages and what translations are used, you won't need to worry about your products being presented incorrectly or your forms being labeled incoherently.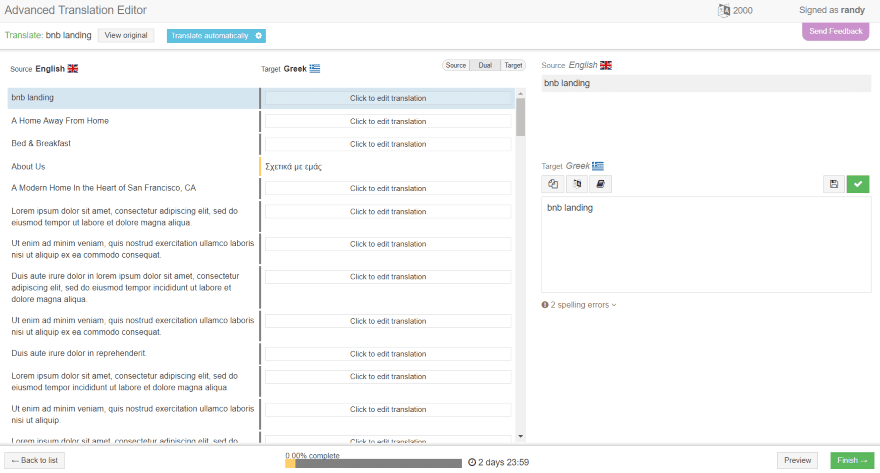 WPML is a premium-only plugin. Tiers start at €39 for a single blog site with basic functions. They can go all the way up to €199 per site for access to the entire platform. WPML is worth the price, regardless of the tier you choose.
Other Key Features:
Choice of individual languages for specific posts and pages
Professional translation is done by humans (as an add-on fee)
If the language you need isn't there, you can manually add it or choose from variants (such as Mexican Spanish)
Price: €39 per year.
2. TranslatePress

TranslatePress works a little differently than other WordPress translation plugins. It doesn't require you to use just the backend of the website to work with the translations. This plugin gives a real-time look at the translations that you provide, working almost like a page-builder to make sure that your site looks and feels the same to everyone, regardless of the language they see on your site.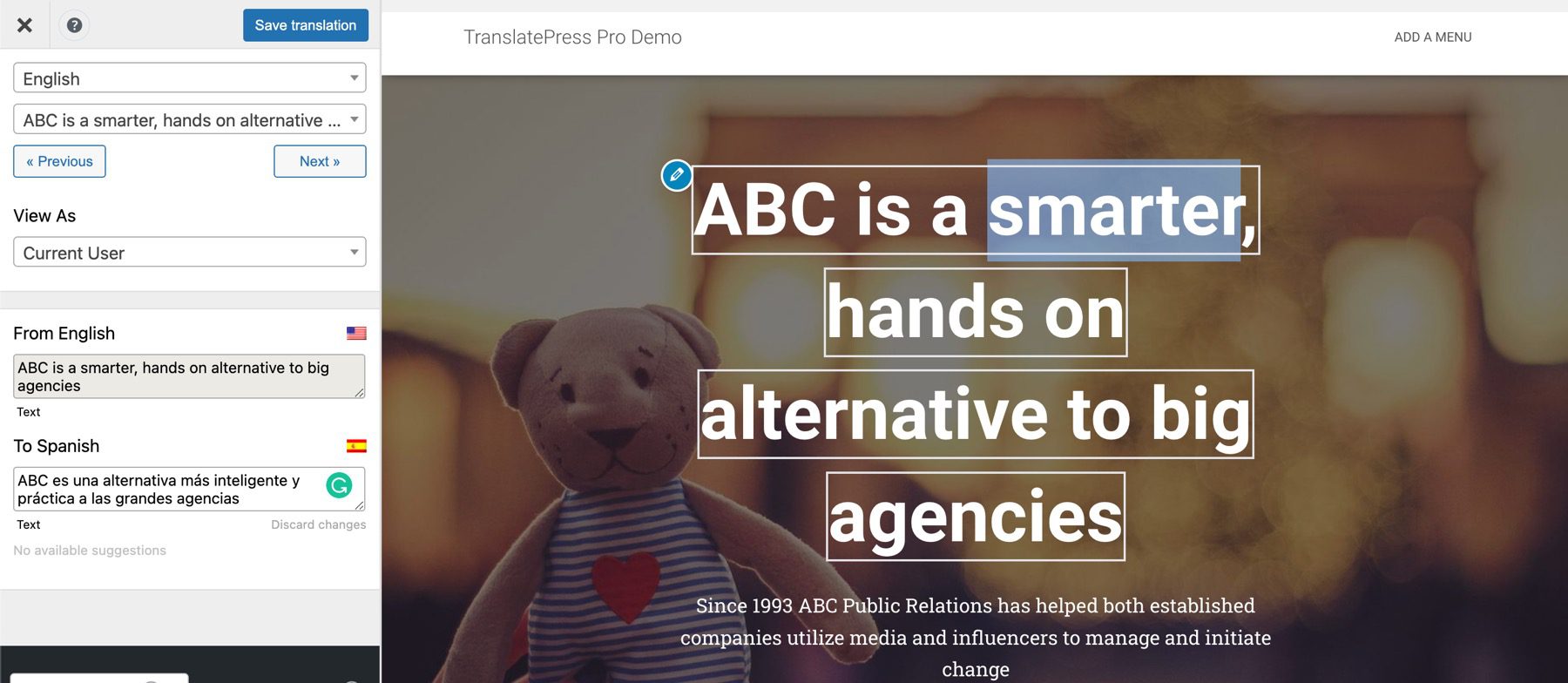 By giving this level of control, TranslatePress allows users to be specific about which elements of their websites get translated manually or automatically. One of the other highlights of TranslatePress is that this feature, among many others, comes in the free version. Paid upgrades unlock access to add-ons, extensions, and more advanced features.
Other Key Features:
Automatic translation through Google Translate or DeepL
WooCommerce support from the beginning
Administrators can "view as" any user or log out to test translation appearance
Translate some or all of the page, custom to your needs
Image translation
Price: €7.99 per month (billed annually at €89).
3. Weglot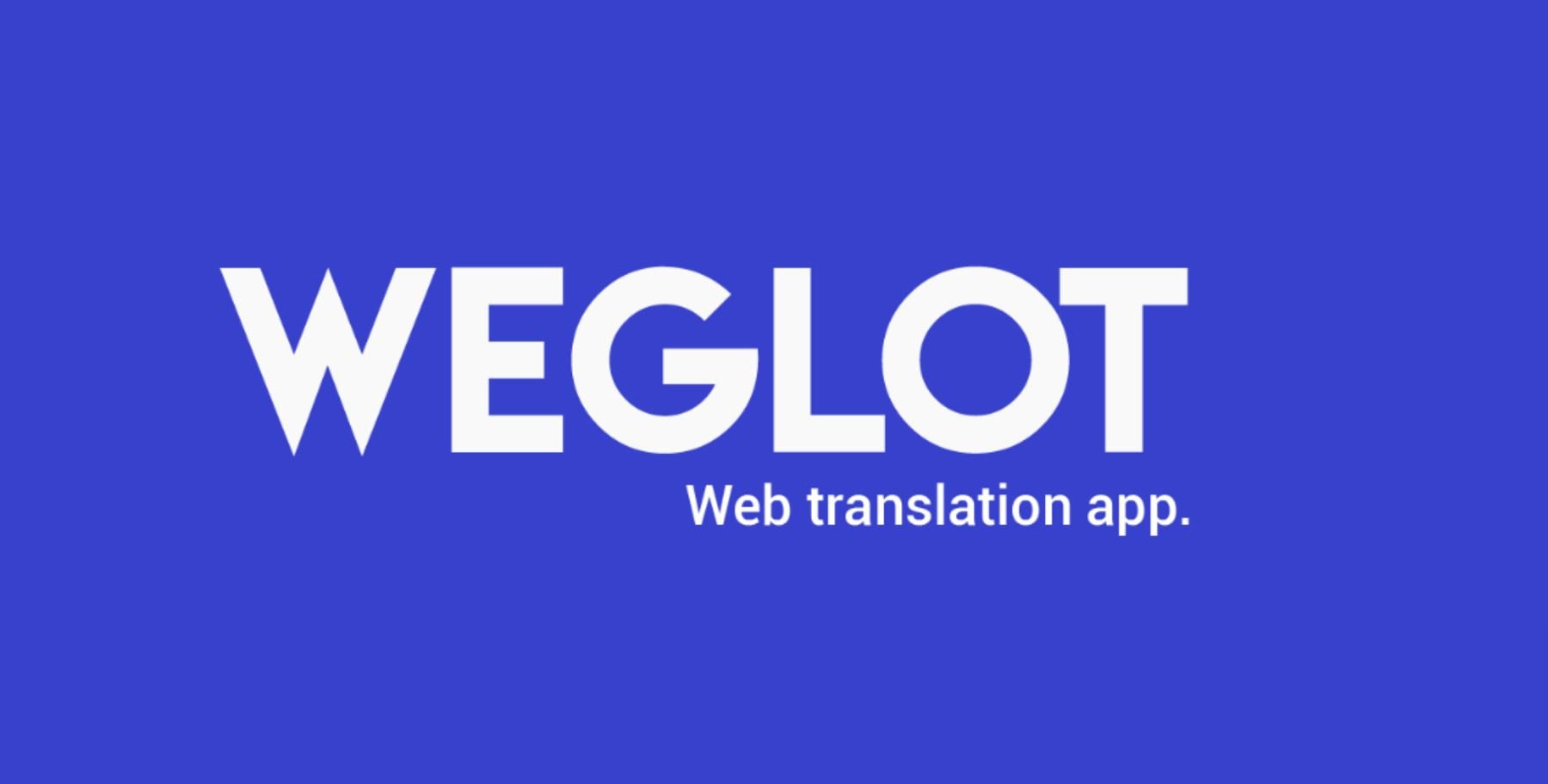 A major issue that comes up relatively often with multilingual websites is that each of the translations takes up space on the server, in your post and page list, and requires manual management. With Weglot, that's not an issue. The plugin takes your media and your content, even the content that's pulled from third-party sources, and translates it automatically. Meaning there is no need to maintain multiple identical and duplicate websites.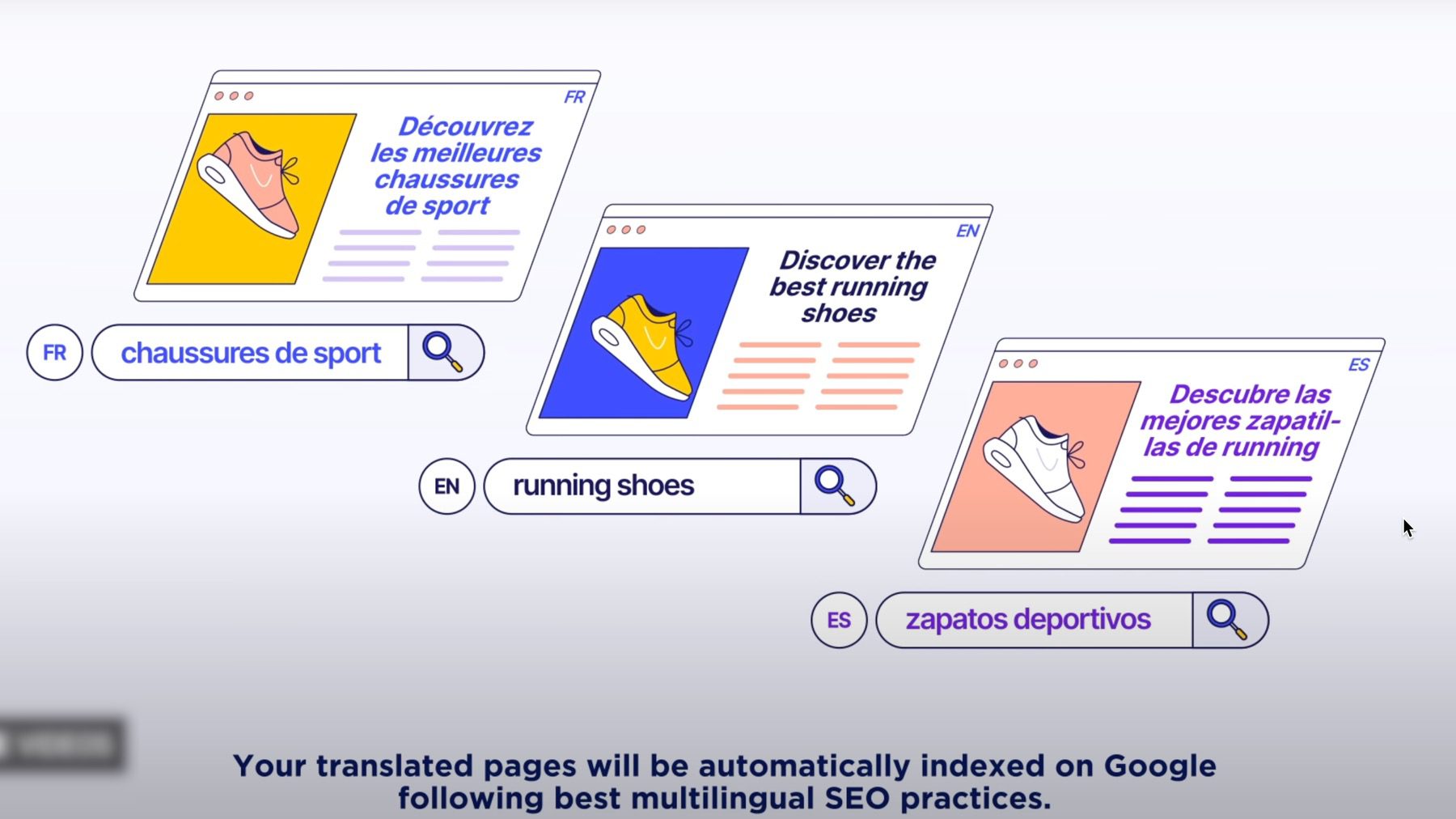 An interesting feature of Weglot is the ability to set guidelines for what you want the translation on your site to look like. You can set it to a fast translation, which will rely on Google, Yandex, and DeepL (among others) to translate your site automatically. You can take full control over it and enter your translations for specific languages manually. And if you have the budget and need, a human translator can work on the most accurate content possible. Weglot also provides a glossary of phrases and terms (your brand name, for instance) to never translate so it stays consistent across the site.
Other Key Features:
Visual, real-time translations
Compatible with Shopify and other platforms you integrate with
Automatic redirection for recognized languages
Price: Starting at €15 per month.
4. Multilanguage

Multilanguage is a very powerful WordPress translation plugin, but it is mostly designed for those users who already have a translation of their site and need a way to implement it. While this plugin does support automatic Google translation, the big draw is the ease with which you can provide your translations to posts and pages, categories, menus, and tags.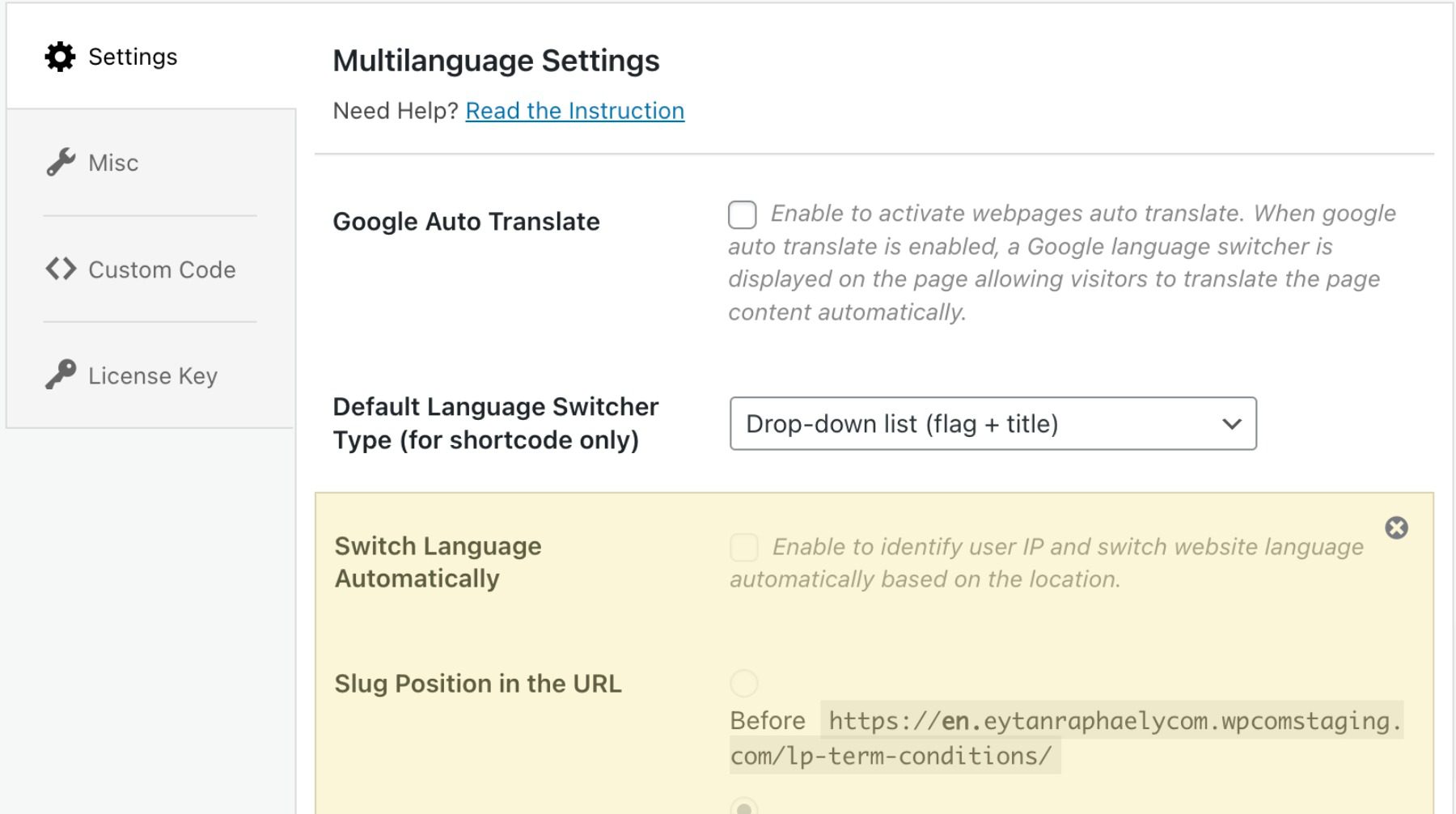 The free version of the plugin can handle what most blogs and sites need for translation, but if you need more than what comes for free, the Pro upgrade includes translations for WordPress taxonomies, page builder compatibility, custom fields, and language slug position changes (such as en.example.com versus example.com/en).
Other Key Features:
Gutenberg and Classic Editor-compatible
Customizable language switcher
Choose the default language
Website search in the translated language
Translates the WordPress admin dashboard
Price: FREE with Pro upgrade starting at $43 per year.
5. GTranslate

Most internet users are familiar with Google Translate. If you're a Chrome user, there's a good chance you've had a modal pop-up asking if you want a page translated from X language to your native tongue. Or perhaps you've copied/pasted some text into the Google search bar, and Google spat out an automatic translation. That's the same technology that Gtranslate uses at its base.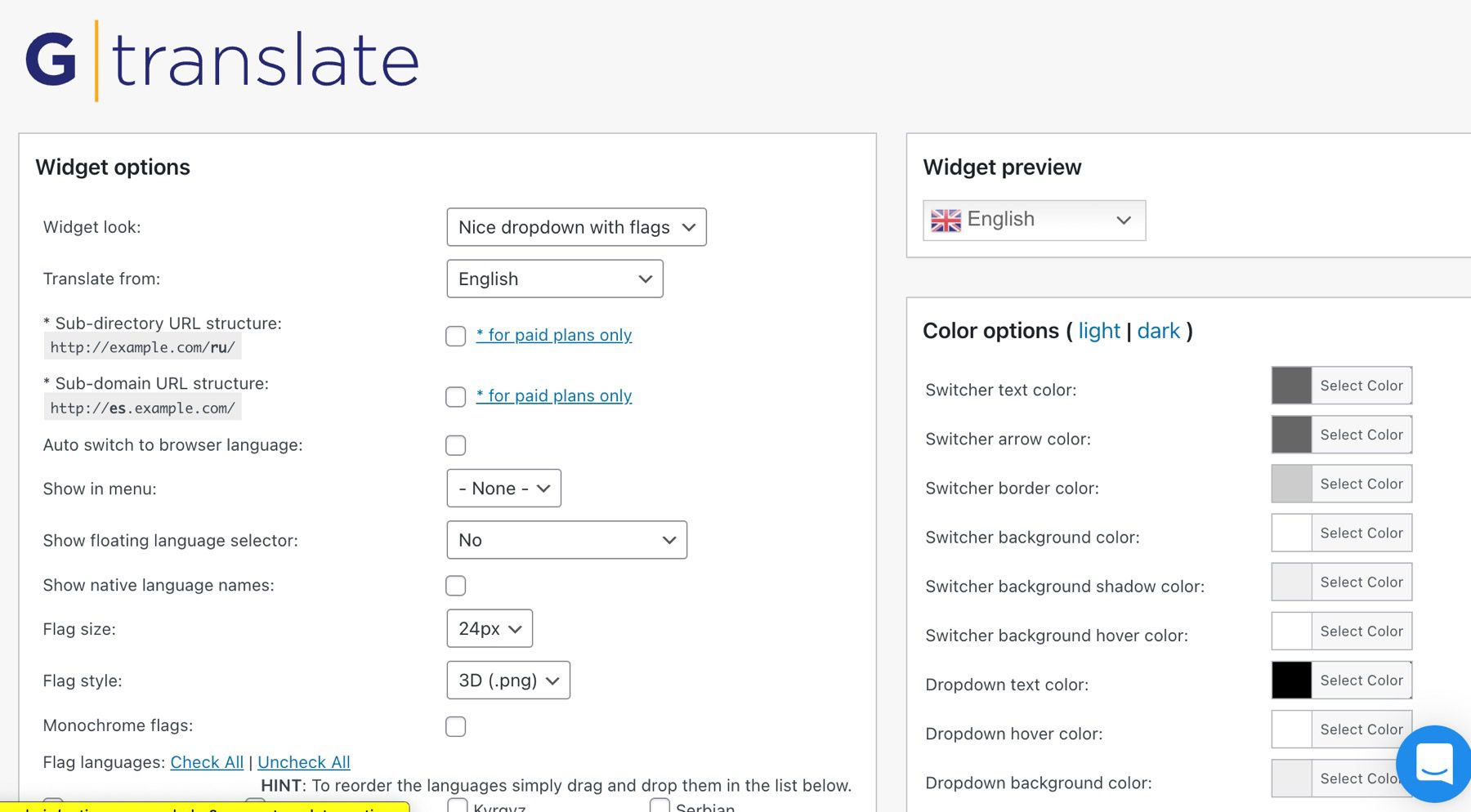 The most useful part of GTranslate is the ability for visitors to choose which translation they want. Because the free version uses Google's machine translation, not every single page may convey the exact information in the exact that you want. Or that is technically understandable by the reader. This isn't a fault of WordPress translation plugins, just the nature of translation itself. However, by providing the user a choice between translations, those polyglots who find your site will surely be able to find a translation that works for them.
Other Key Features:
Subdomain and subdirectory structures for translations
Automatic switch to browser's set language
Schema.org translations
Translates AMP pages as well as non-AMP
Price: FREE with premium upgrade starting at $9.99 per month.
6. Loco Translate
Loco Translate is fast and lightweight but also feature-rich. Developers can also love what Loco Translate offers. They can tie into multiple language APIs like DeepL, Google, Microsoft, and Yandex. Additionally, the plugin gives website owners the ability to update their language files directly from the theme itself (or the plugin) without having to go through a cloud host. And because of this, you can extract translatable strings from your source code to bring specific parts of your site to life for everyone.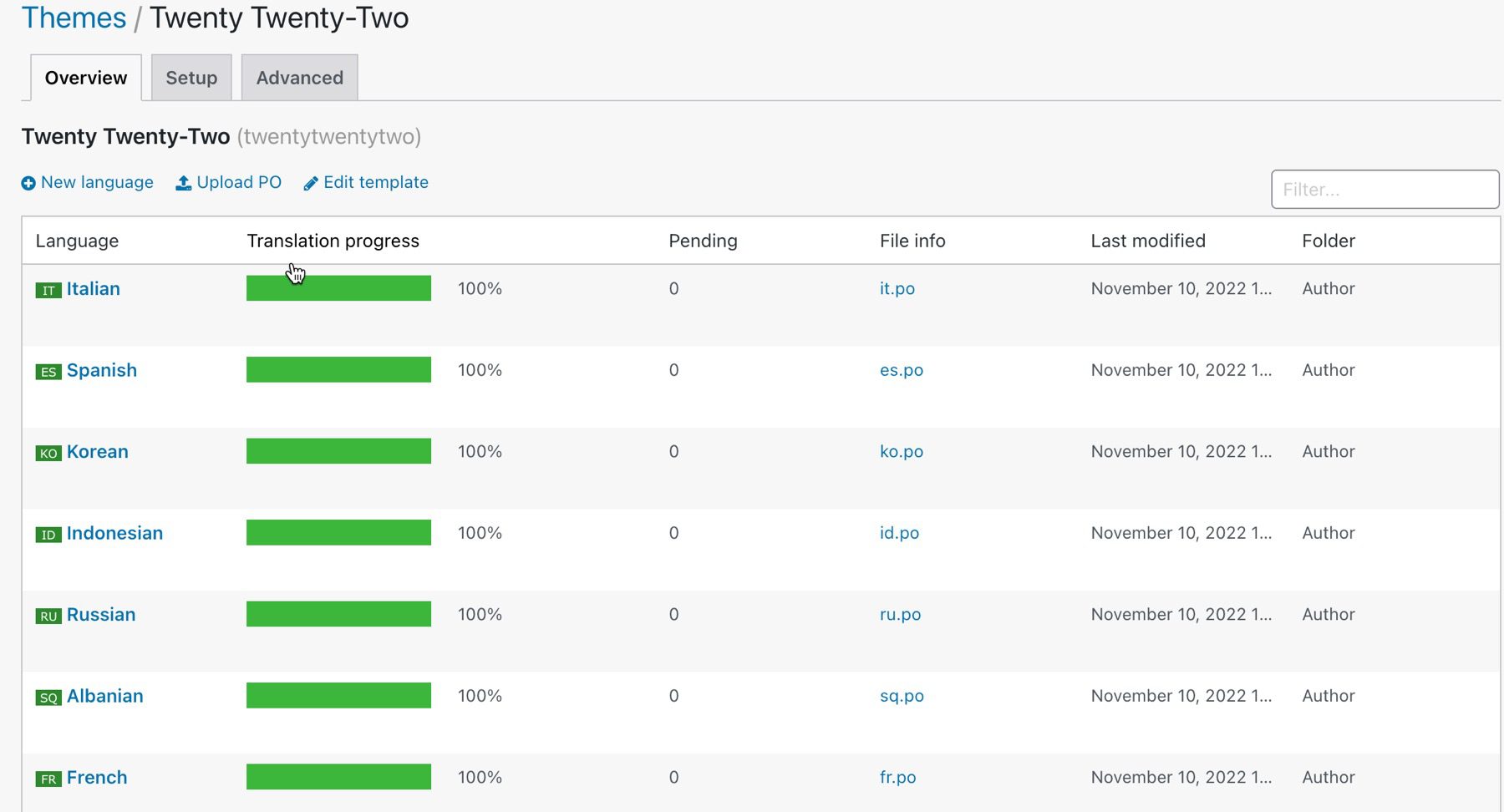 With over a million active users and a 5-star review, this is one of the more trusted plugins on the list and should certainly be considered if you are trying to translate your WordPress themes/plugins.
Other Key Features:
Configurable PO file backups and restoration
Uses WordPress native locale codes
Keyboard shortcuts built-in make using the plugin a cinch
Price: FREE pro version starts at $5.95 per month.
7. Polylang and Lingotek

Polylang is a great alternative to the more expensive plugins above. It lets you translate your pages, posts, media, and more to your chosen languages via language packs that you can purchase. It also adds an option in your navigation menu so your users can switch between languages with ease.
Polylang also provides integration with Lingotek to provide alternative translation options. You can select between machine translations, community/crowdsourced translations, and professional translations using the Lingotek cloud platform. This makes sure you'll always have the right translation option available. They also have a separate plugin for WooCommerce integration.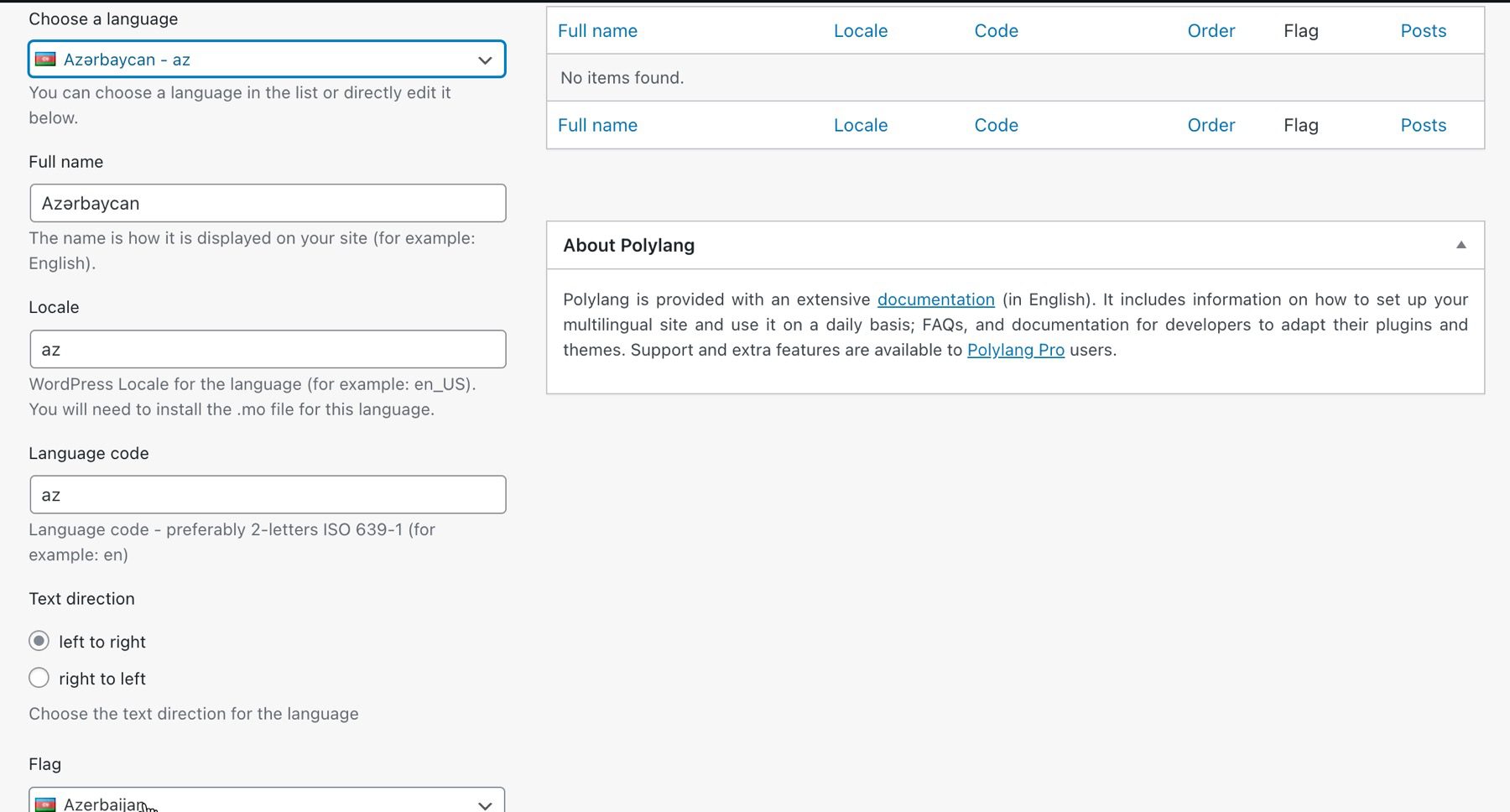 With over 500,000 active users and a 5-star review, Polylang is one of the best options available for translator plugins right now.
Other Key Features:
Can translate individual elements on your website such as widgets or custom post types
Multiple ways to select which language is default and which languages get swapped.
Automatically copies tags, categories, and metadata when creating new, multilingual content
Price: FREE with premium add-ons and extensions starting at 99.00€ for a single site.
8. Google Website Translator

Google Website Translator is fast, effective, simple, and easy. When you want a lightweight and efficient plugin, this one will do it. It translates your content and other plugins, and theme defaults, and you can set it all up with either a widget or a shortcode.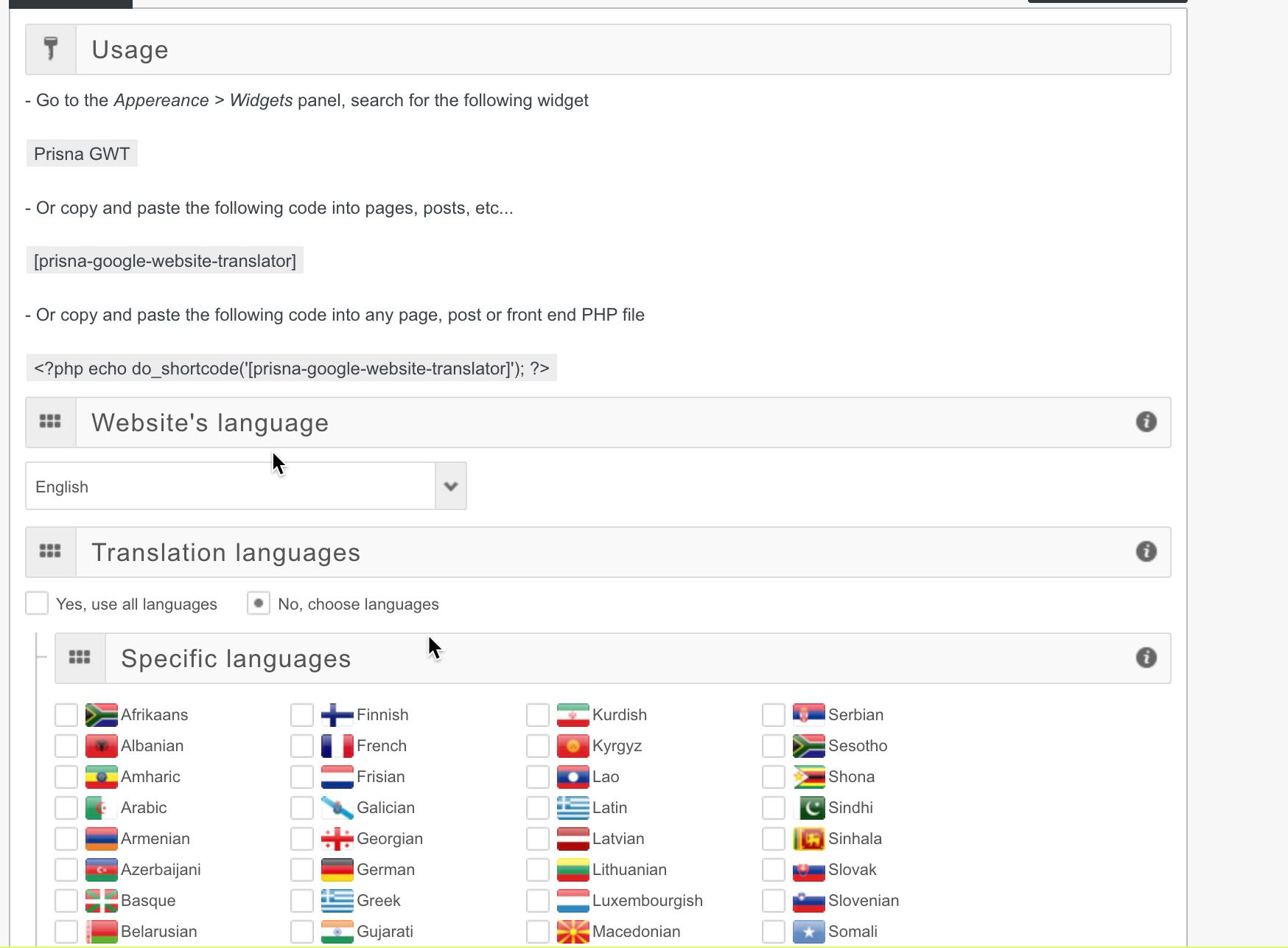 Any part of your site that you need to be translated can be done just by using a shortcode. Without the need to bring in any files from other platforms, this plugin simply does the job automatically and leaves you to handle the other parts of the website administration.
Other Key Features:
Lightweight and doesn't slow down page speed
Import and export your settings and configurations for multiple sites
Inline help for setting it up, so you don't have to be a dev or a translator to understand what the plugin is doing
Price: FREE with a premium license for a one-time fee of $50.
9. Multisite Language Switcher

The Multisite Language Switcher is a plugin for WordPress that adds multilingual support to a WordPress multisite installation. It allows users to manage translations of posts, pages, custom post types, categories, tags, and custom taxonomies. The plugin uses flag icons from FamFamFam.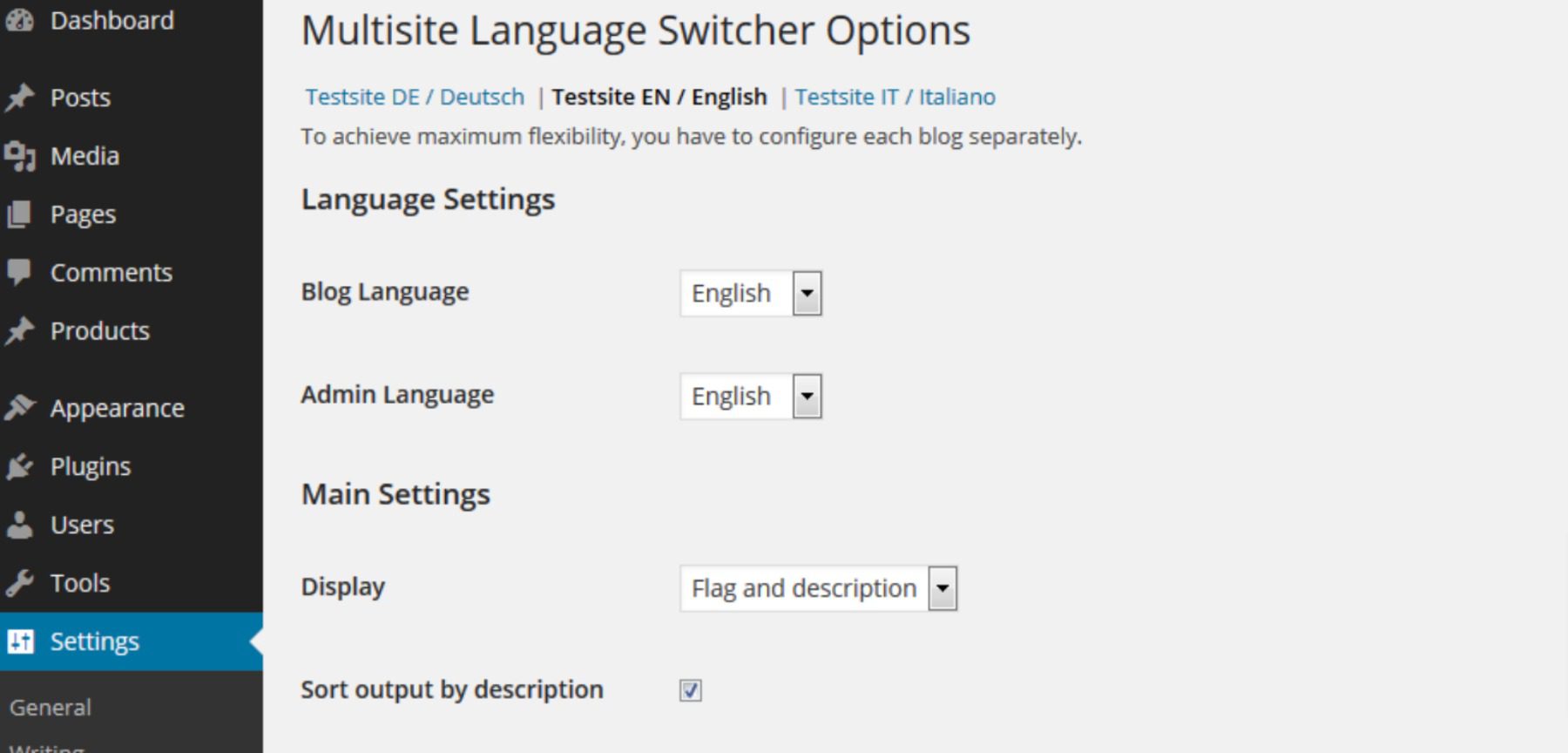 This plugin offers the option to incorporate one or multiple languages and is compatible with both Yoast SEO and All-in-One SEO Pack. Free extensions are available that allow you to set unique featured images for each language.
Key Features for Multisite Language Switcher:
Easy language switching for a multisite network
Management of translations for posts, pages, custom post types, categories, tags, and custom taxonomies
Support for Yoast SEO and All-in-One SEO Pack
Multisite Language Switcher Pricing: FREE
Get Multisite Language Switcher
Comparing All Best Translation Plugins
There is no lack of WordPress translation plugins that you can choose from. However, choosing the right plugin is a bit more difficult. Site owners should weigh their audience's needs and demographics versus what kind of content their site provides. Some plugins work best with stores. Others work best with huge enterprise blogs with dozens of custom taxonomies and post types.
Translation Plugin Price Comparison
The options on our list offer free and premium plugins, so no matter the level of translation you need, there's an option for you. Take a look at the table below to review all of our translation plugins as well as the pricing for each.
Top Three Translation Plugin Comparison
Out of all of the translation plugins on our list, there are three that offer the most bang for your buck. In the top spot, WPML is an excellent choice for those who need a premium solution. You have the freedom to control what content you need translated, or simply let WMPL do the work for you with automatic translations. If you want a preview of how your pages will look in other languages, give TranslatePress a try. It functions much like a front-end page builder, but for translations. Finally, there's Weglot. It works by taking all of your content, including that of other plugins, and automatically translates it, saving you time to focus on other tasks.
| | 🥇 WPML | 🥈 TranslatePress | 🥉 Weglot |
| --- | --- | --- | --- |
| Starting Price | €39/year | €7.99/ month | €15/ month |
| Automatic Translation | ✔️(pro) | ✔️ | ✔️ |
| Manual Translation | ✔️ | ✔️ | ✔️ |
| Plugin Compatibility | ✔️ | ✔️ | ✔️ |
| Multilingual SEO | ✔️(pro) | ✔️ | ✔️ |
| Customize Languages | ✔️ | ✔️ | ✔️ |
| WooCommerce Support | ✔️ | ✔️ | ✔️ |
| Image Translation | ✔️ | ✔️ | ✔️ |
| Active Installations | 1.5M+ | 250K+ | 50K+ |
| | Get WPML | Get TranslatePress | Get Weglot |
Which WordPress Translation Plugin Is The Best?
Our top recommendation choice is WPML. As the most feature-rich option on our list, there are plenty of features for those looking for a good translation plugin. You can choose from manual or automatic translations, apply different languages depending on page or post, and easily translate ecommerce products with WPML. Additionally, you can use your favorite page builder, whether it's Divi, Elementor, or similar, to make translations on the front-end so you can view how they look in real time. No matter what you need to translate, WPML is an excellent choice.
If you're looking for the best WordPress plugins out there, for various purposes, make sure to check out our ultimate list of recommendations!
Frequently Asked Questions (FAQs)
Before we wrap up, let's answer some of your most common questions regarding the best WordPress translation plugins. Did we miss one? Leave a question below, and we will respond!
What is the best WordPress translation plugin?
WPML
is often considered the best WordPress translation plugin due to its comprehensive features. It offers fine control over languages and is compatible with major plugins like WooCommerce and Gravity Forms. WPML also provides a premium localization service.
What is the best free translation plugin for WordPress?
Loco Translate
is a popular free WordPress translation plugin. It's lightweight yet feature-rich, allowing developers to tie into multiple language APIs. It enables updating language files directly from themes or plugins, making it an efficient choice for website translation.
What is the best Google Translate plugin for WordPress?
GTranslate
is an excellent choice for a Google Translate WordPress plugin. Used on 400,000+ websites and with over 3200 five-star reviews, it uses Google's tech for translations and even lets visitors choose their language. It's free to start, with premium features available.
How do you translate a WordPress website?
You must install a translation plugin like
WPML
or
GTranslate
to translate a WordPress website. Then set your preferred languages in the plugin's settings. These plugins can automatically translate the site or let you add manual translations. Users can then choose their language on your site.
Which WordPress translation plugin is the easiest to use?
TranslatePress
is one of the easiest-to-use WordPress translation plugins. Its strength lies in the real-time front-end translation interface, which allows you to translate directly from your website's front end. This intuitive visual approach makes it very user-friendly, even for beginners.
How do I translate a WordPress site without a plugin?
Translating a WordPress site manually is labor-intensive. It involves creating duplicate pages in another language and linking them manually. A simpler solution is using a plugin like
WPML
, which automates the translation of all site content, including image captions, saving you time and effort.
Why are translations not working on my WordPress website?
If translations aren't working on your WordPress website, it might be due to issues like incorrect plugin configuration, translation files not being correctly uploaded, or conflicts with other plugins/themes. Check your translation plugin settings first, ensure translation files are correctly uploaded, and disable other plugins to see if they're causing conflicts.
How can I implement multiple languages on my WordPress site?
You can use a translation plugin like
WPML
or
Polylang
to implement multiple languages on your WordPress site. These plugins let you translate your website content into various languages. Simply install the plugin, set up the languages you need, and translate your site content manually or automatically.
What is the best translation plugin for WooCommerce stores?
WPML
is often considered the best translation plugin for WooCommerce stores. It is fully compatible with WooCommerce, seamlessly translating product descriptions, categories, and other eCommerce elements. It's a premium plugin offering comprehensive multilingual eCommerce site support.
Which company offers custom translation services for WordPress sites?
WPML
offers custom translation services for WordPress sites. They provide professional human translations as an add-on for a fee. This is beneficial for site owners who want highly accurate translations. You can send the content directly from your WordPress dashboard to professional translation services available through WPML.
What do you think is most important when choosing WordPress translation plugins?
Article featured image illustration by igor kisselev / Shutterstock.com