To run a successful website, you need to plan ahead often. This means having a content marketing strategy that includes an editorial calendar. By implementing this, you'll know exactly what type of content you're going to publish and when, and will have an anchor for your future decisions.
As such, with an editorial calendar in place, running a blog becomes much simpler. In this article, we'll talk about how your content marketing strategy and editorial calendar work together. Then we'll break down the benefits of the latter and talk about how to get started with one. Let's get to work!
Why You Need a Content Marketing Strategy
An editorial calendar can be a part of your content market strategy, but it shouldn't be its only component – despite the focus of this article. In broad terms, your strategy should contemplate all the types of content you generate.
If you run a blog, your content marketing strategy will focus on posts. If it's a YouTube channel, it'll be all about video, and so on. You can, of course, tackle multiple types of contents within your strategy as well.
A clear-cut strategy should provide you and your team with the guidance they need on who to target content towards and how to market it. To put it another way, it should answer the following questions:
Aside from editorial calendars, your strategy may also cover email campaigns, ad spending, tracking your conversion rates, and many more cogs. However, for this article, we'll focus on calendars alone.
What Editorial Calendars Are
As the name implies, an editorial calendar will show you what posts you have planned for which dates:

Ideally, your calendar will also show who's working on any particular piece – such as the writer and editor – when the first draft should be in by, and any other pertinent details.
As the person in charge, having all of this information available at a glance can be illuminating. It can also benefit other team members, so they can mark their progress with specific tasks and check if any dates have changed.
There are now plenty of tools you can use to create and manage effective editorial calendars, with new ones seemingly appearing all the time. We'll talk more about this later. However, for now let's dig into what the practical benefits of using an editorial calendar.
3 Ways an Editorial Calendar Can Help You Execute Your Content Strategy
Of course, it's entirely possible to run a successful blog without an editorial calendar. However, there are so many upsides to using one, there's little sense not to (unless your publishing frequency is so infrequent that you have subjectively no editorial processes to schedule).
Let's roundup three of these upsides, starting with consistency.
1. It Helps You Remain Consistent
Most blogs have specific reader personas that are the primary target for the majority of content. Ideally, all your content will be geared towards a spread of user archetypes.
For example, if you're running a blog about WordPress-specific topics, you'll notice there's an inconsistency in the following headlines, which could look out of place within your editorial calendar:
How to Install a WordPress Plugin
X Top WordPress Themes in 2019
How to Give Your Dog a Mohawk
X Plugins to Set Up Contact Forms in WordPress
This is an extreme example, of course. However, the takeaway is that it's easier to spot inconsistencies or 'weak links' in your calendar when you see all your upcoming ideas side by side.
It's always fun to try out peripheral topics from time to time, as you should always be thinking of ways to expand your audience and grow your content. However, the more you stray from your target persona, the more difficult it can be to get the types of leads you want.
2. You Can Keep Track of What Your Team Are Doing
Editorial calendars are great for almost any type of blog. However, they really shine when it comes to situations that need high organization, such as teams with multiple authors and editors.
There are lots of tools to foster online collaboration – Slack and Trello are highly-popular, to name just two. However, there's something to be said for a simple calendar that enables you to quickly review entire weeks and months of content plans at a glance.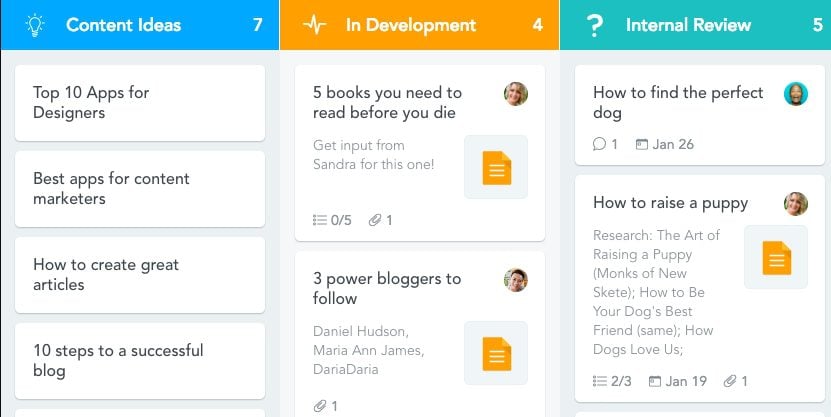 With an editorial calendar, you can see if anyone's got too much work on their plate, figure out if you need to re-assign tasks, and more right from a central dashboard in most cases. Depending on what type of tool you use, writers and editors might even be able to leave notes and other comments, in case anything comes up. This keeps all of the essential information in one place for future reference.
3. You Can Fill the Gaps in Your Content Strategy
Ideally, all your content should be part of a larger strategy. For example, if you want to sell hosting services, you might publish articles such as the following:
What Are the Differences Between Shared Hosting and Virtual Private Servers?
What Type of Hosting Plan Does Your E-Commerce Site Need?
How to Set Up a WordPress Blog
These posts would fulfill roughly the same purpose, which would be targeting users who might be looking into a new hosting provider. If everything goes well, a percentage of those readers will convert and sign up for one of your hosting plans.
This is an oversimplified version of a content marketing strategy, of course. One way you can increase the number of conversions you get is by making sure there are no obvious gaps in your content library. To put it another way, you're looking to make sure everyone you want to capture is able to get 'on the hook.'
To take our example further, let's say you publish the three articles on your blog. While this is a great start, you'd still be missing out on a lot of obvious searches, such as:
What is Dedicated Hosting?
What's the Difference Between Managed and Unmanaged Hosting?
How Much Should I Spend on a Hosting Plan?
The point is, you should have a clear idea of what your user persona wants. Knowing that will enable you to come up with the types of articles they might be interested in, and those which might get them to convert.
With an editorial calendar, you can easily spot gaps in your content strategy. Depending on how frequently you post new articles, you might look ahead and backward a few weeks or months and see if you've been neglecting any pertinent angles.
If there are any gaps, you can easily shuffle articles around to right the mistake. This way, you'll always have a well-rounded content strategy and won't miss any obvious topic ideas.
How to Integrate an Editorial Calendar Into Your Content Marketing Strategy
When it comes to editorial calendars, there are a lot of tools you can use. If you're au fait with spreadsheets, you can use Google Sheets to set up a simple calendar, give access to the people you want, and make annotations. What's more, it can be set up in a matter of minutes.
Spreadsheets can do pretty much anything you want given your expertise, but dedicated editorial calendar tools arguably give you more bang for your buck. Editorial Calendar is interesting, as it's a free WordPress plugin that adds a fully-functional calendar to your dashboard:

This took lets you schedule posts in advance, assign them to specific users, and re-arrange topics as you want. Another excellent option is CoSchedule, which is a third-party application that can also be integrated with WordPress.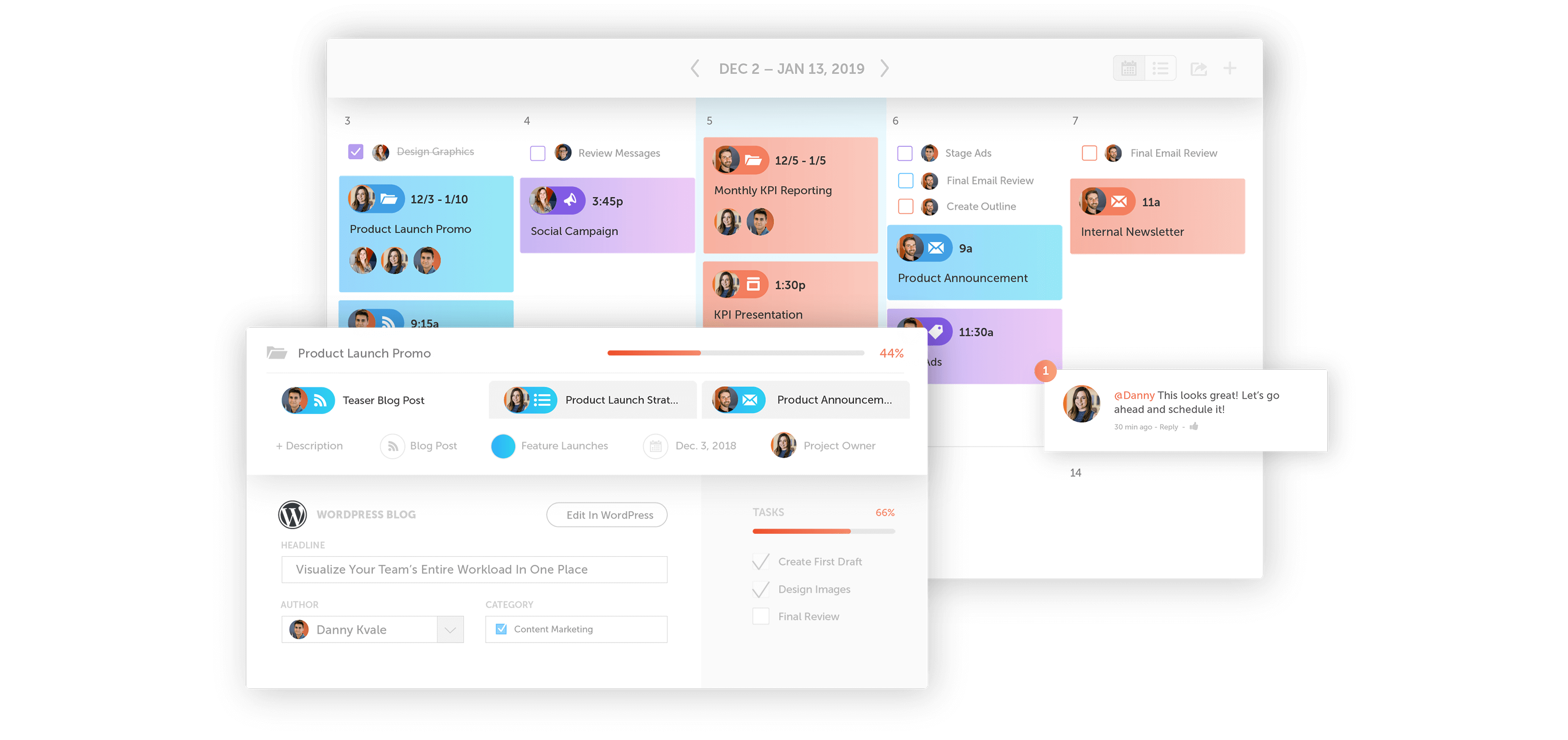 CoSchedule is a premium tool that offers all of the features Editorial Calendar does and more. For example, you can also schedule social media posts and other types of content. This makes CoSchedule an all-around marketing tool than just a calendar and scheduler.
Having integration between platforms is a great way to tackle your overall content marketing strategy more effectively. Since you'll probably be working with multiple platforms, you'll also want to have a hub where you can communicate and link all of them together, such as Slack.
Of course, deciding which tool to use is only the first step. When your editorial calendar is set up and everyone on your team has access, you'll want to decide how far ahead you'll schedule. One or two months of content is usually a good start. It could be considered overkill, but it will get you used to managing your team using the calendar. What's more, you'll be able to instantly spot any gaps in your strategy well before you reach the publishing date.
Conclusion
Editorial calendars are key if your content marketing strategy revolves around blogging. With one in place, you'll have a clear idea of the content you have in the pipeline, the topics you'll cover, and who's on top of which task.
Setting up an editorial calendar is relatively simple. You can use anything from a spreadsheet to dedicated tools such as the Editorial Calendar plugin or CoSchedule. As long as it enables you to collaborate with other users and add dates, you're pretty much set!
Do you have any questions about using an editorial calendar? Let's talk about them in the comments section below!
Article thumbnail image by Irina Strelnikova / shutterstock.com