A WordPress chat plugin is a great way to communicate with customers through your website. Live chats are ideal for answering presales questions and providing live support. Customers can get answers quickly, which increases confidence. There's a wide variety of WordPress plugins on the market, and luckily there are lots of chat plugins to choose from. In this article, we'll look at the ten best WordPress chat plugins to help you decide which is best for your needs.
Why Use a WordPress Chat Plugin?
Customers that have questions need an easy way to get answers. Many of those questions may be answered in an FAQ, but there's always a question that isn't answered on the website. Email communication is often a slow process.
Plugins allow you to automate the communication between you and your customers. Chatbots can manage the communication and hand it off to you when needed. This is a great way to capture leads and increase customer satisfaction.
A live chat feels more personal than an email. It's easier than communicating over the phone. With phone conversations, it can be challenging to know when the other person has stopped talking so you don't talk over each other. Also, it can be difficult to understand someone. Customer support often needs a screenshot, a file, a link, etc., so the conversation needs to revert to a text-based chat anyway.
A WordPress chat plugin solves these issues by bringing a live chat feature to your website. Let's look at some of the best live chat plugins available.
The Best WordPress Chat Plugins
The Best WordPress Chat Plugins Listed In Order
Expand List
Let's look at the top 10 best WordPress chat plugins, so you can decide for yourself what the best fit is!
1. HubSpot

HubSpot is a marketing behemoth; they provide live chat, CRM, and many other content management system (CMS) functions.
Live chat, help ticketing, automated bots, and much more are all included in the Service Hub package, which is available in the free HubSpot WordPress plugin. They have garnered 4.5/5 stars with over two hundred thousand active users.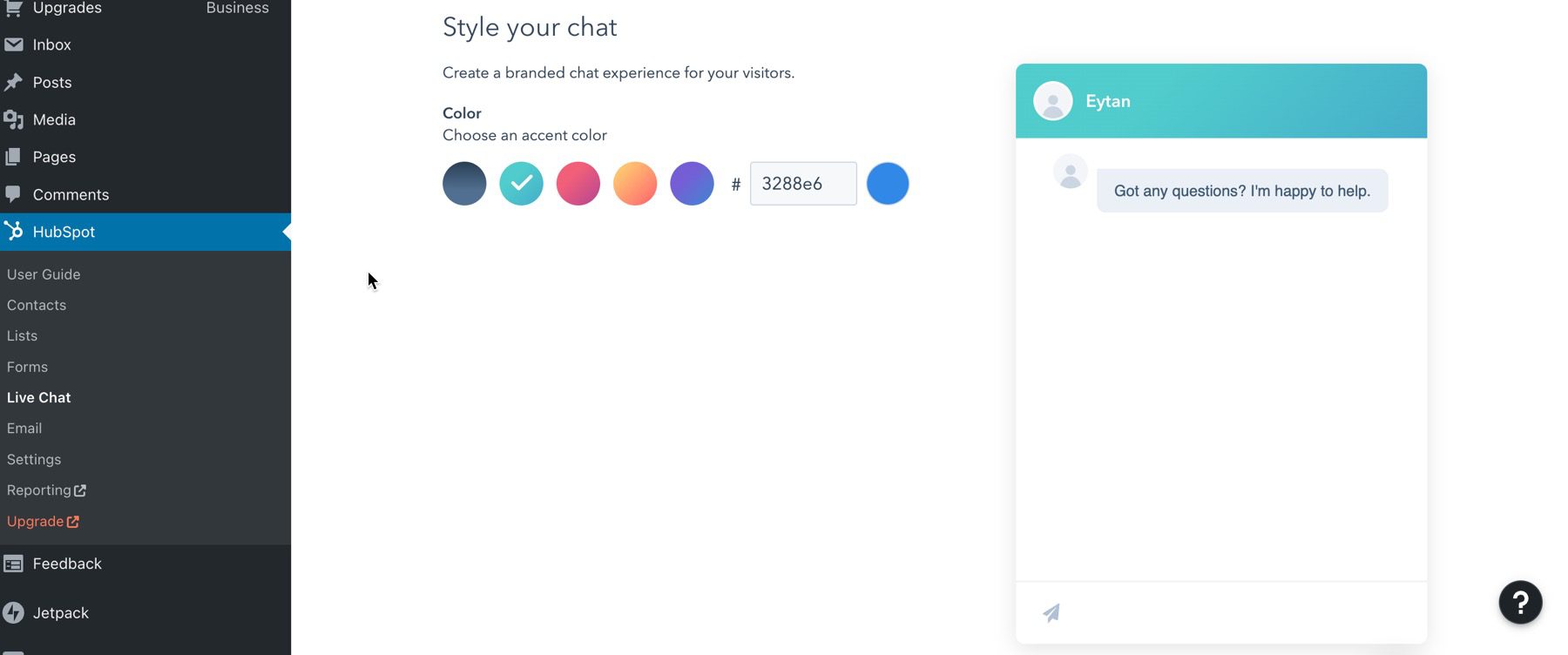 This plugin is reliable and adaptable, and with its no-cost live chat plugin for WordPress, it's a great choice, especially if you're familiar with the Hubspot platform. HubSpot only has a downside if they offer more than you need in its entire feature set. Of course, sticking with HubSpot's ecosystem make sense if you currently utilize its other services.
Key Features for HubSpot:
Multiple services, including chat
Popups
Live chat
Lead generation
Lead capture
Chatbots
Lead management
Live support
Price: Free, pro starts at $18/mo
2. Tidio
Tidio is a WordPress chat plugin with email marketing tools to help grow your business. The customizable widget works with your branding. It includes templates and an editor. A mobile app lets you use iOS or Android to respond to customers. Notifications show you when customers come to your website. It notifies you when customers visit your site and provides a live typing preview. You can see the page your visitors are looking at to give them specific help. Email marketing tools help you stay in touch with your visitors.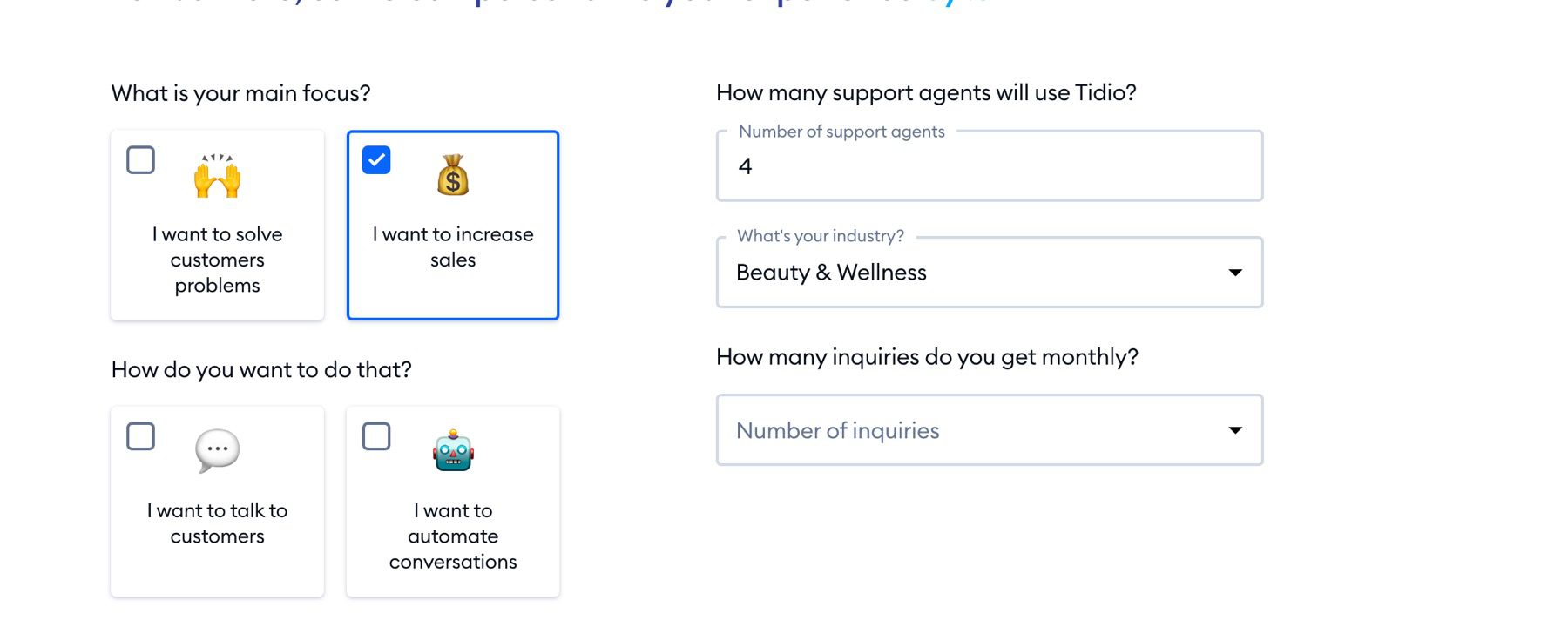 This plugin gives you all the tools you need to create aesthetically pleasing and functional chat boxes; it's a lightweight, customizable solution and is 100% mobile-friendly. Additionally, various third-party connectors are readily available for you to take advantage of.
Key Features for Tidio:
Customizable widget
Notifications
Live typing preview
See a list of viewed pages
Email marketing tools
Free mobile app
Templates
Price: Free; pro starts at $15.83 per month.
3. JivoChat

JivoChat is an all-in-one business messenger plugin that handles live chat, phone, email, and social media chatting platforms. Make and receive calls through the live chat widget. An offline message lets customers know when you're available. Provide options to call the customer back. You can have multi-agent and team chats. A live typing indicator shows when someone is typing. The live chat will automatically translate into the language of the visitors and back into yours. It supports 25 languages.
The pro version adds canned responses that can handle the chat automatically. You can transfer the conversation between agents, monitor the site in real-time, and it includes smart triggers.
Key Features for JivoChat:
All-in-one business messenger
Live chat widget
Connects to social media chat apps
Make and receive calls
Offline message
Callback options
Multiple agents
Team chats
Reminders
Premade responses
Live typing indications
Automatic translator
Pro version available
Price: Free. The pro version starts at $19 per month (billed annually).
4. LiveChat

The LiveChat plugin is a flexible and effective solution for adding live chat to your WordPress website. It is simple and easy to implement because it is compatible with almost all WordPress site builders and themes. Additionally, LiveChat has agreements with important e-commerce programs like WooCommerce, BigCommerce, and others, making this an ideal solution for those working with e-commerce.
The plugin welcomes users with a pleasant chat window at the bottom of the page on the customer side. That box is constantly visible and easily accessible. Plus, canned auto-responses save you time by responding to your visitors instantly.
Key Features for LiveChat:
Ticketing system
Customizable
Connects with multiple websites
Canned responses
File upload
Ratings
Tracking
Transcripts
Reports
Translation ready
Price: starting at $20 per month.
5. Live Chat by Formilla

Live Chat by Formilla is a free and premium plugin that adds many services. Most of the features are available in the premium edition. Chat is done through a customizable mobile-ready widget. Real-time visitor monitoring lets you see the number of visitors to your website. Pro-active chat lets you trigger automatic chats. It has marketing automation for email and in-app messaging. You can add private comments, offline chats, custom attributes, etc. It also adds desktop and mobile apps, canned messages, blocking, file sharing, multiple live agents, and more. It integrates with hundreds of apps, and it's multilingual.
Key Features for Live Chat by Formilla:
Premium plugin
Mobile-ready widget
Real-time monitoring
AI chatbots
File sharing
Chat transfer
Customizable
Offline chat
Integration
Multilingual
Pro version available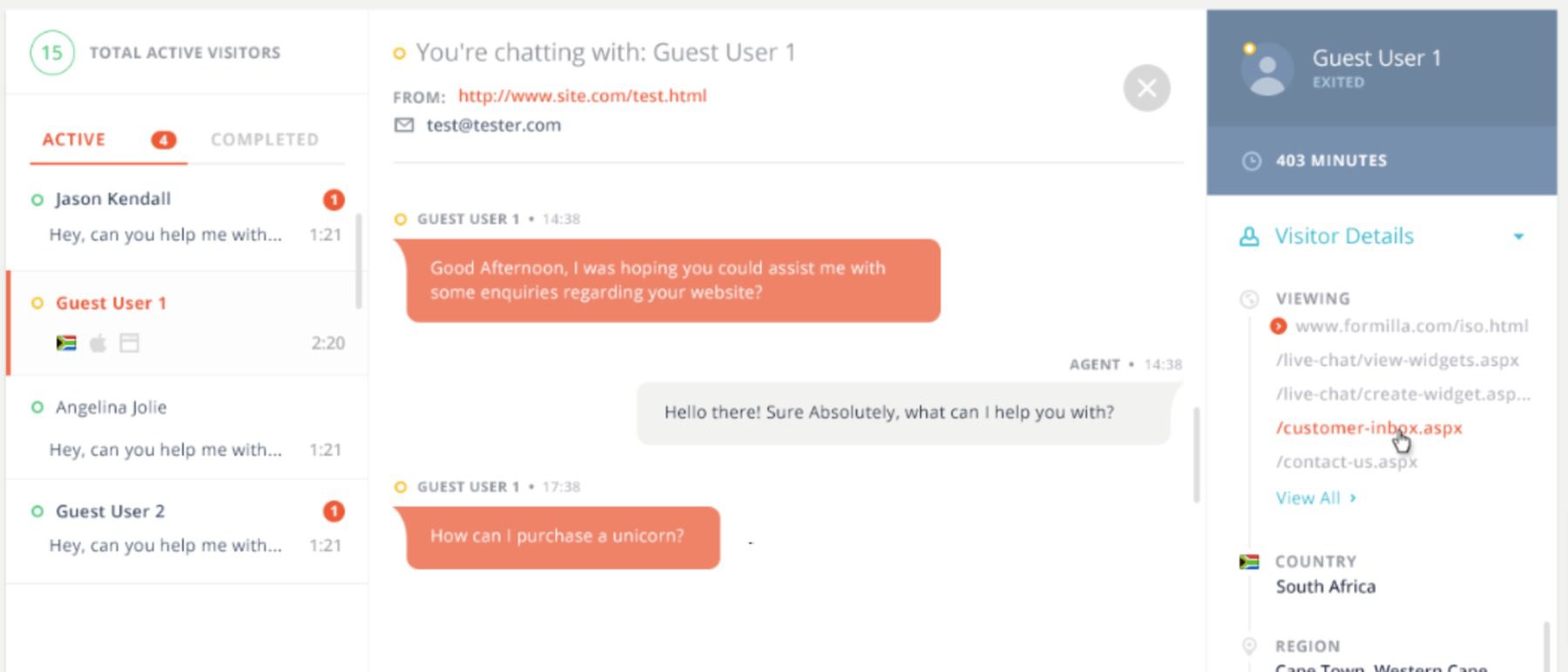 Formilla is excellent if you're looking for a solution that can easily integrate with your website's style but is ideal for those with more modest site traffic. Chatting is made simple with tools like preset responses, smart responses, and bots.
Price: Free; the pro version starts at $19.99 per month.
6. Chaty


Chaty adds a floating chatbox and call-to-action messages to your website. Set the display trigger to determine when the chatbox displays. Choose from 8 different effects. Customize the icons, choose different buttons, and change the size of the widget. A pending messages icon works as a CTA. It connects to different channels so visitors can use the chat apps of their favorite social networks and platforms. It also includes a contact form.
The pro edition adds 25 different social channels and apps, widget customization, Google Analytics, page targeting, traffic source targeting, location targeting, and more.
Key Features for Chaty:
Floating widget
Custom CTA
Display trigger
Multiple visual effects
Customize icons
Pending messages icon
Contact Us form
Connect to multiple channels
Too many features to list
Pro version available
Price: Free. The pro version starts at $49 per year.
7. Tawk.To Live Chat


Tawk.To Live Chat is a free WordPress chat plugin that lets you manage multiple websites and agents from a single dashboard. Agents can monitor and chat with visitors through computers and mobile devices using the free apps. The apps work with iOS, Android, Windows, and Mac OS; you can log in through any browser.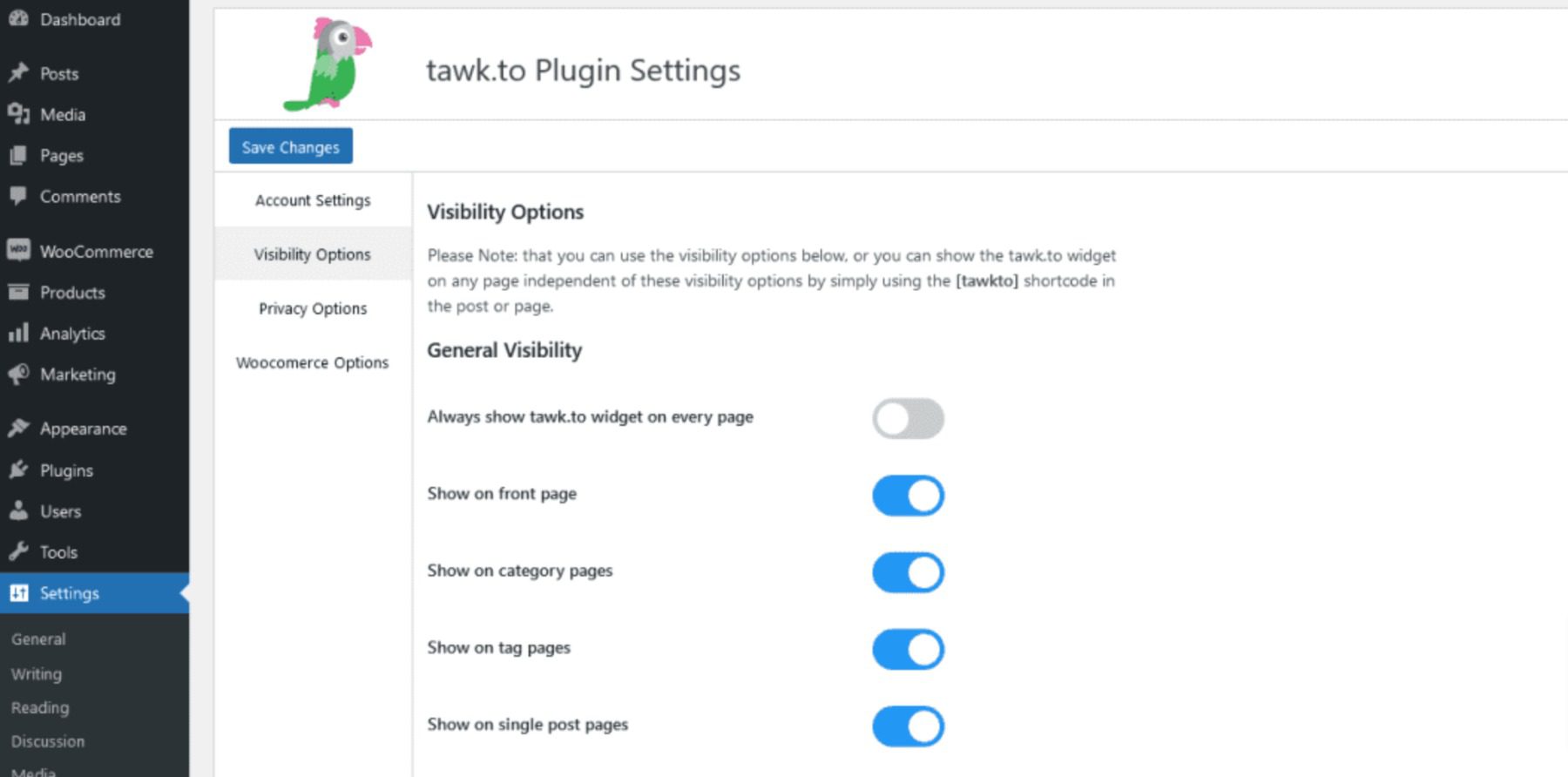 With this WordPress plugin, you can control numerous websites and agents from a single dashboard making this an incredibly simple and easy plugin to use. Plus, you can customize where chat boxes are available on specific pages on your site.
Key Features for Tawk.To Live Chat:
Use it on your computer and mobile devices.
Monitor visitors in real time.
Multiple agents and websites from one dashboard.
Apps for the most popular operating systems.
Price: Free
8. 3CX Live Chat

3CX Live Chat is a free plugin that works independently, but you can also integrate it with the 3CX Communications Suite to add voice and video. This WordPress chat plugin has unlimited agents, and they can transfer the customer to another agent. You can set up departments to guide traffic to the right agent. Create offline messages to keep the customers informed.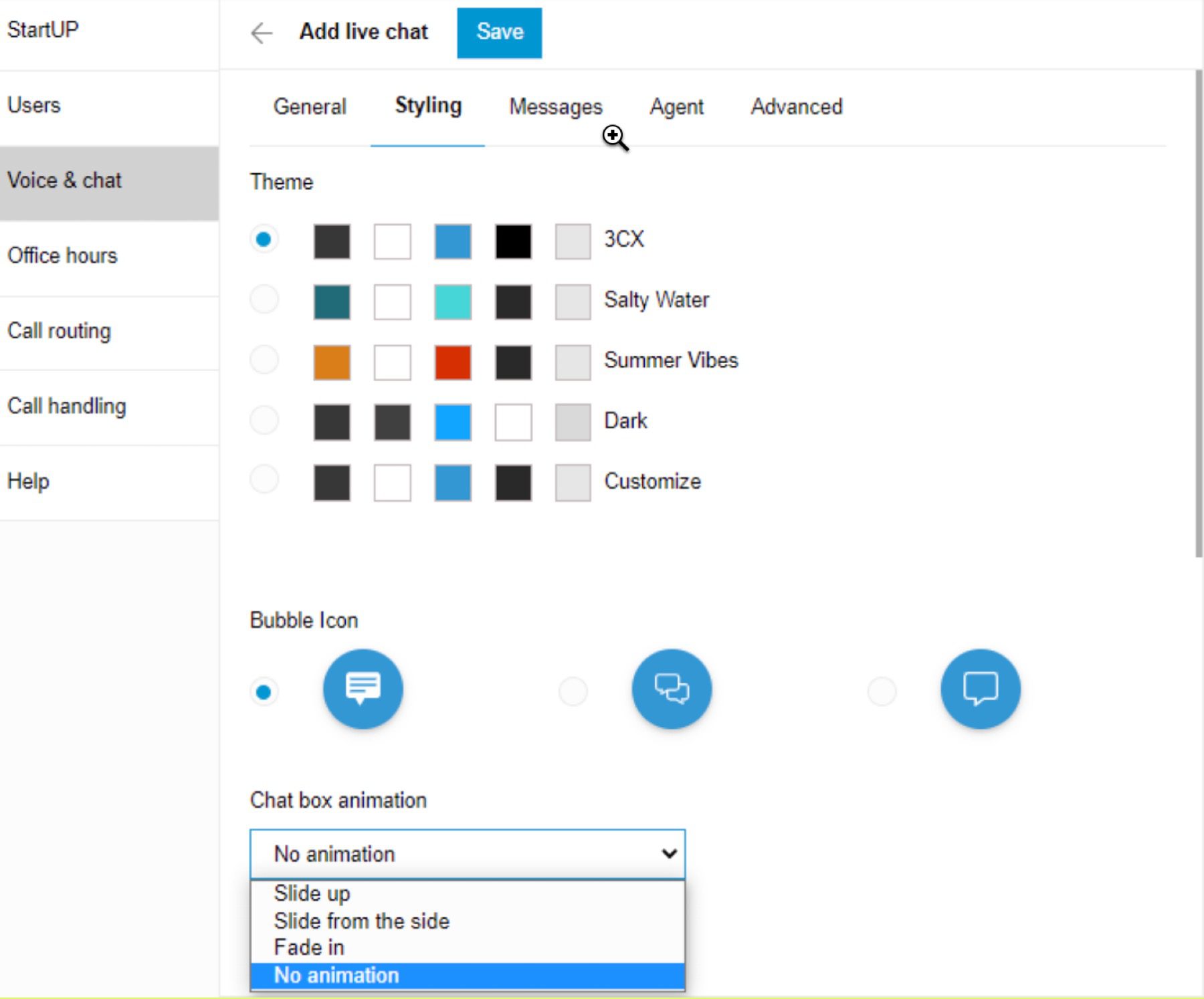 You can customize the style of your chatboxes and many other features via the dashboard; this plugin is a contender for the top free chat plugin available.
It keeps records of chats so you can refer to them. You can set the chatbox to pop up automatically. Add photos and logos to the chats. Chats can also include surveys and polls. This one has more features than can be covered in a description.
Key Features for 3CX Live Chat:
Unlimited agents
Transfer to another agent
Set up departments
Offline messages
Retains records
Automatic popup
Surveys and polls
Enterprise-level reports
Integrates with Communications Suite
Price: Free
9. Crisp

Crisp is a WordPress chat plugin designed to grow your email list and generate leads. It includes desktop and mobile apps, real-time notifications, and an availability schedule. You can tag the conversation to build a contact list. It shows what your visitors are typing in real-time, so you don't have to wait for them to finish and hit Send. The chatbot builder lets you create an automated chatbot.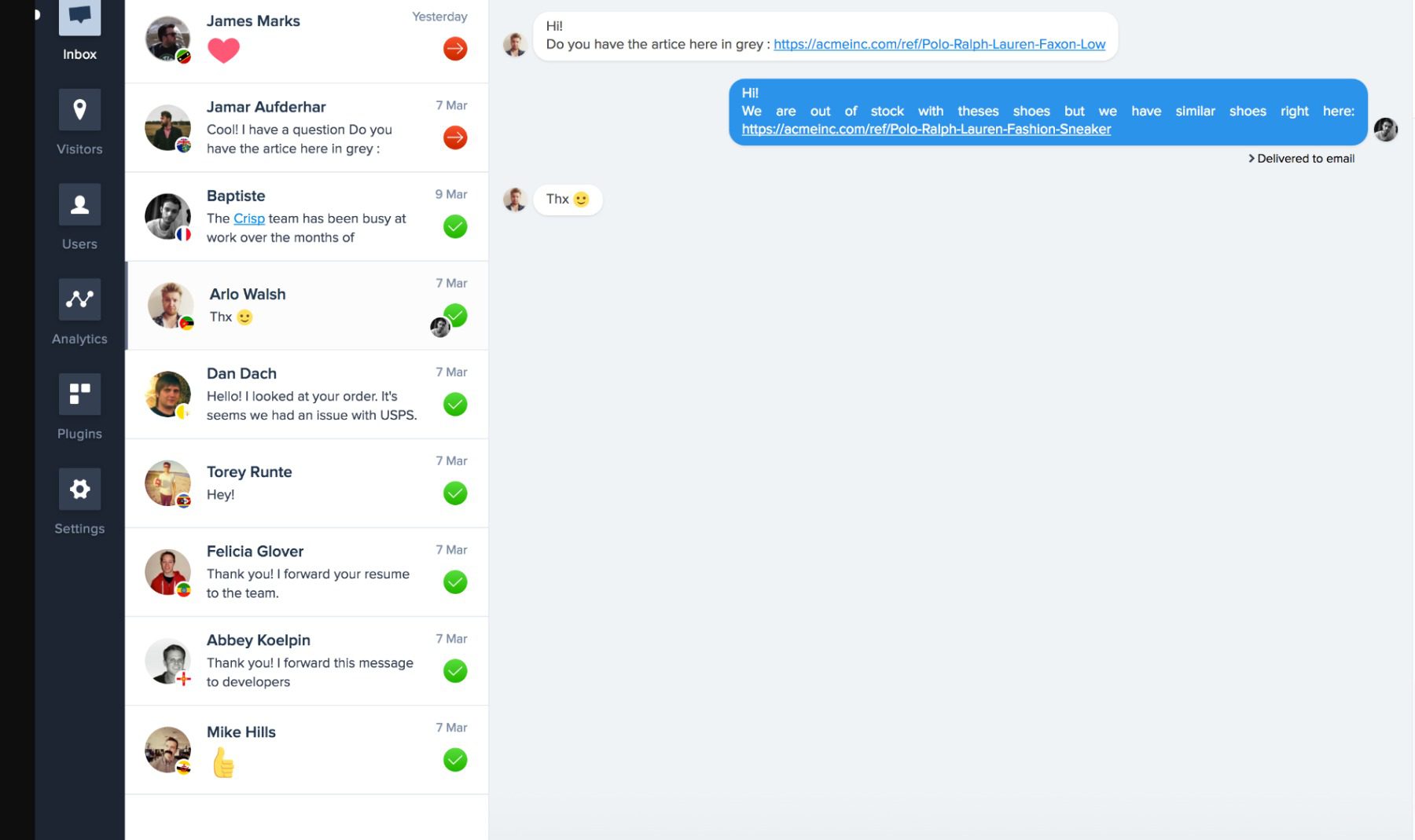 You can also expand it with integrations that connect with other platforms. Integrate with Slack, Messenger, Twitter, Telegram, SMS, and email. The pro version also adds triggers, blocking, canned responses, audio, customization, and more. Crisp even landed our best marketing plugins list.
Key Features of Crisp:
Tag conversations
Mobile and desktop apps
Real-time notifications
Availability schedule
Real-time typing
Team inbox
Expandable with the pro version
Integrates with other platforms
Price: Free; the pro version starts at $25 per month.
10. Olark

Olark is a less-known but equally strong live chat solution. It boasts one of the sleeker looks and functionalities of any live chat plugin currently available.
You can use data from your encounters to improve customer service moving forward. You can implement target support by creating comprehensive user profiles for more precise customer assistance, potential future sales, and other things.
It enables you to organize the data you've collected from your users within Olark or your preferred CRM.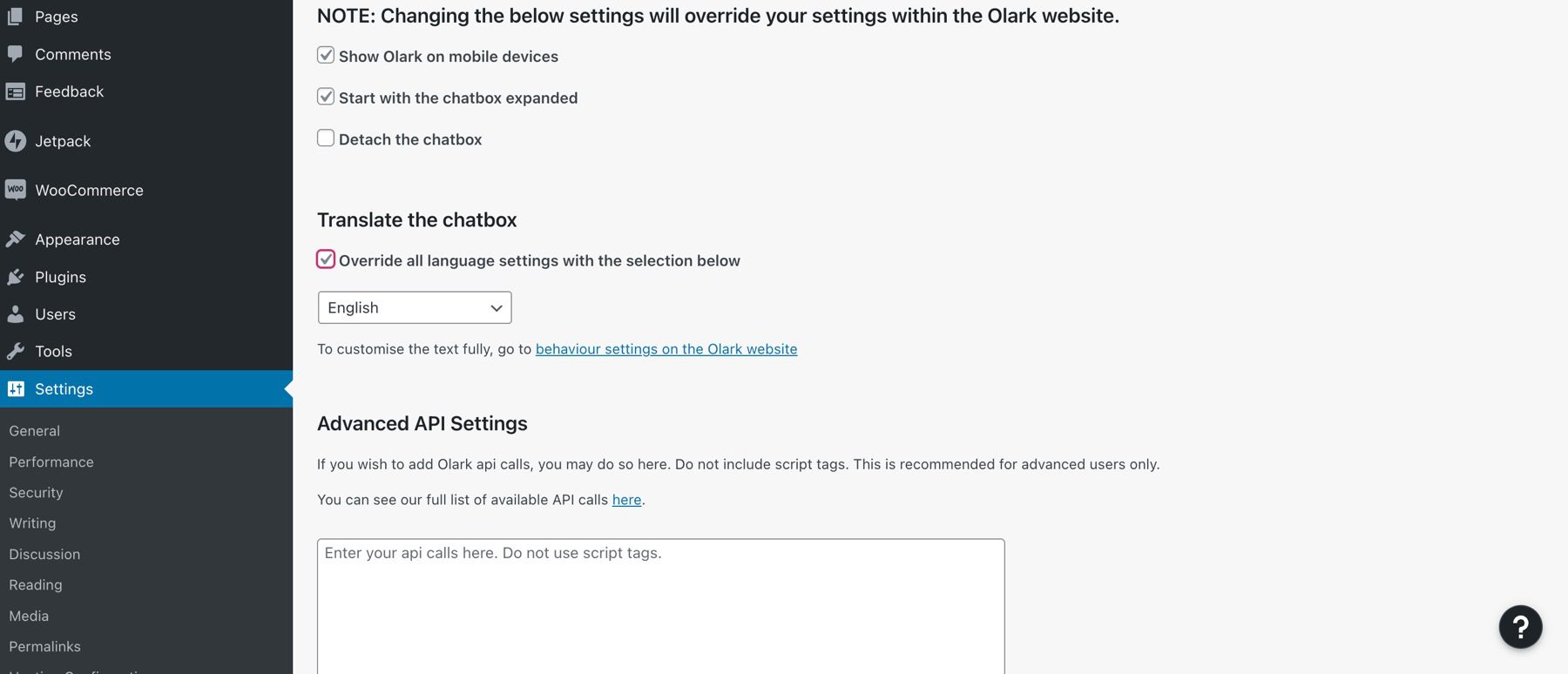 This plugin is a fantastic solution for companies that depend on customer service interactions to support their sales plan. More so, you can translate information in your chatbox to the language of your choice.
Key Features for Olark:
Customizable alerts
Easy automation configuration
Route chate to the right agents
Price: Free. Pro features start at $29/month
Comparing the Best WordPress Chat Plugins
If you need help figuring out which chat plugin is right for you, the following sections will provide a curated list of the best WordPress chat plugins and two separate tables comparing their prices and features for a comprehensive understanding.
Chat Plugin Price Comparison
Price is always an important consideration. Here is a list of every plugin we covered in this post and their prices for easy comparison.
Chat Plugin Feature Comparison
HubSpot, Tidio, and JivoChat have the most features of all of the chat plugins featured in this post. Thanks to its advanced CRM integration, email capabilities, and comprehensive analytics, HubSpot is the most robust. However, Tidio or JivoChat are better options if you have an international business. Here is how their features compare:
🥇 HubSpot
🥈 Tidio
🥉 JivoChat
Price
$18/month
$15.83/month
$19/month (billed annually)
Live Chat
✔️
✔️
✔️
Live Typing
✔️
✔️
✔️
Translation
❌
✔️
✔️
Analytics
✔️
✔️
❌
Email Integration
✔️
✔️
✔️
CRM Integration
✔️
✔️
✔️
Popups
✔️
✔️
❌
Support
✔️
✔️
✔️
Active Installations
300k+
100K+
30K+
Community Rating
4.5/5
⭐⭐⭐⭐⭐
Read Reviews
5/5
⭐⭐⭐⭐⭐
Read Reviews
5/5
⭐⭐⭐⭐⭐
Read Reviews
Get HubSpot
Get Tidio
Get JivoChat
What is the Best WordPress Chat Plugin?
Live chat usage is growing for a variety of reasons. It's a terrific method to attract assistance-seeking clients, provide a way for them to self-resolve problems, and allow access to your support funnel in a way you can manage. Looking for the best solution will be a unique journey for every website.
HubSpot is the plugin for you if you need a chat plugin that offers live chat, excellent reporting, and stellar CRM integration. With so many other features besides chat functionality, HubSpot is a powerhouse for website owners who want to communicate with their customers while managing email segmentation, marketing automation, and more.
Frequently Asked Questions (FAQs)
Before we wrap up, let's answer some of your most common questions regarding WordPress chat plugins. Did we miss one? Leave a question below, and we will respond!
What is the best WordPress live chat plugin?
For a reliable live chat experience on your WordPress site,
HubSpot
is the top choice. It boasts many features, including a user-friendly interface, compatibility with many platforms, and the ability to integrate chatbots.
What is the best free live chat plugin for WordPress?
If you're looking for a cost-effective solution,
Tawk.to
is the best free live chat plugin for WordPress. It offers many great features free of charge, such as unlimited agents, chat history, and customization capabilities.
How do I add a chat feature to my WordPress website?
To add a chat feature to your WordPress site, navigate to the Plugins page on your WordPress dashboard. Search for
Crisp
,
Tidio
, or
Hubspot
and install the one that suits your needs best. We highly recommend Crisp for its wealth of features, affordable pricing, and positive user feedback. Tidio also shines with its straightforward interface and mobile app functionality.
What is the best Chatbot provider for WordPress?
Hubspot
is a great chat plugin that also offers chatbot functionality. For more alternatives, we have a
comprehensive post
on chatbot solutions.
What is the best free chatbot plugin for WordPress?
Chatbots typically require resources for training or services from companies like OpenAI, making it challenging to offer free chatbot services. Maintaining a live chat feature also requires substantial hardware resources.
How do I enable the WhatsApp chat feature on my WordPress site?
To enable WhatsApp chat on your WordPress site, search the WordPress.org repository for WhatsApp and select the plugin with the most active installations and best reviews. Our research suggests
Joinchat
could be an ideal solution.
Can you connect Facebook Messenger chat to your WordPress store?
Indeed, you can integrate Facebook Messenger with your WordPress store. This feature is quite popular among social media solutions and is supported by most chat service providers, including
Tidio
.
What is the best AI chatbot plugin for WordPress stores?
Featured Image Illustration via Yuliia Konakhovska / shutterstock.com