Let's get right to it: loyal customers are more valuable to your business than not-yet-acquired or un-loyal customers. Well-executed customer loyalty programs pay themselves back over time. Unfortunately, a lot of brands set up loyalty programs and convince customers to sign up, but they don't see any results.
There are a ton of stats out there about customer loyalty and satisfaction. I read them. They all boil down to these points:
It's less expensive for a business to keep a customer than to acquire a new one.
Satisfied and loyal customers spend more.
More satisfaction leads to more loyalty and more spending.
Satisfied customers tell other people about the brand, which leads to more satisfied-turned-loyal customers.
Bottom line: customer loyalty can help a business scale faster than sales and marketing can.
The Difference Between Customer Loyalty and Customer Satisfaction
Let's define customer loyalty and customer satisfaction to understand the difference:
Customer Loyalty: The customer's willingness to purchase from a company multiple times.
Customer Satisfaction: How pleased a customer is thanks to their positive experiences with a brand and the value they receive from interactions and purchases.
While they're related, customer loyalty is the result of customer satisfaction. Loyal customers have decided that they get the most value from sticking with one brand, even if there are lower prices or different benefits offered by a competitor.
Customer satisfaction is driven by customer experience and customer service, and brands have to keep those experiences positive. According to American Express, 33% of American say they'll consider switching companies after just one poor experience.
The Customer Loyalty Program
Brands create customer loyalty programs to reward loyal customers with coupons, freebies, advanced-release products, VIP treats, etc.
The problem is that some brands are wasting time and money on their loyalty programs. According to The Loyalty Report from 2017, which sampled over 28,000 consumers in North America, the average consumer is enrolled in about 14 loyalty programs but only participates in less than half of them. In one way or another, half of those programs aren't offering enough value to the consumer or they're too complex to figure out. The program is so not worth it that the consumer went through the trouble of signing up but never feels like taking advantage of the perks.
Don't create that kind of loyalty program.
5 Types of Loyalty Programs
1. The Point System
The point system is possibly the most common type of loyalty program out there. Customers earn points when they make a purchase. The more frequently they shop, the more points they accrue. Those points can eventually buy them a reward, like a discount, freebie or VIP service.
The point system is best for brands that have short-term products (coffee, makeup) and that want customers to make frequent purchases. However, points (and miles) are also used in the travel industry, possibly because the purchase amounts are so high that customers can accrue thousands of points with just one purchase, adding to the program's appeal.
How the points are acquired and how they can be redeemed for an award can be too confusing. "For every dollar spent, you'll get 1.5 points, and 1.5 points are equal to 50 cents, and once you get $20 dollars in points, you'll get 15% off your next purchase." Thanks, but I'll pay the extra 15% to not have to listen to that again.
Starbucks has one of the better loyalty programs, but I still think it's too confusing. Plus, they don't just say "rewards," they also talk about "stars," which I guess are points, but it's an extra level of stuff to understand. It's also unclear how many stars/points actually translate to rewards: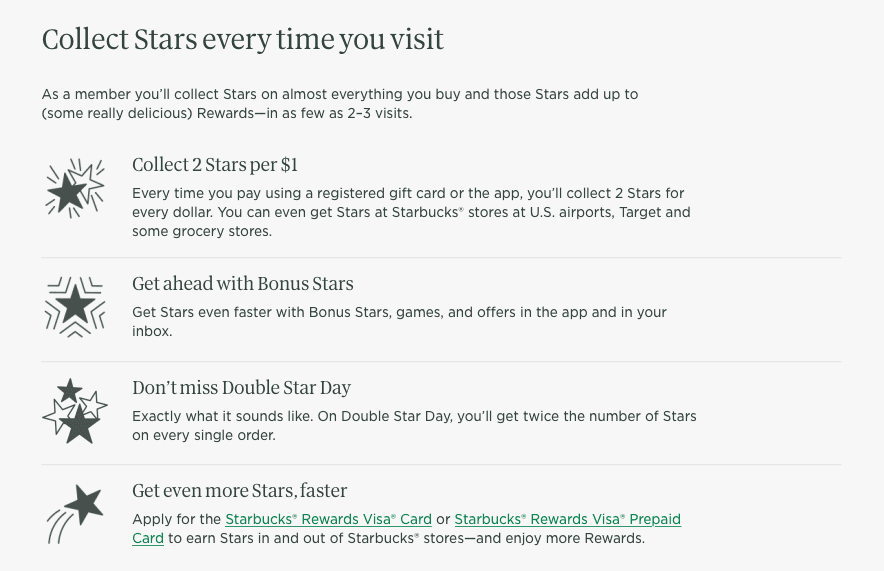 Make the conversions simple. Speak the customer's language. I had a hard time finding an example of a company that does this well, but the closest I came was this travel rewards card from Wells Fargo. The numbers make sense in relation to one another – $3,000 gets you 30,000 points, which is $300 cash value.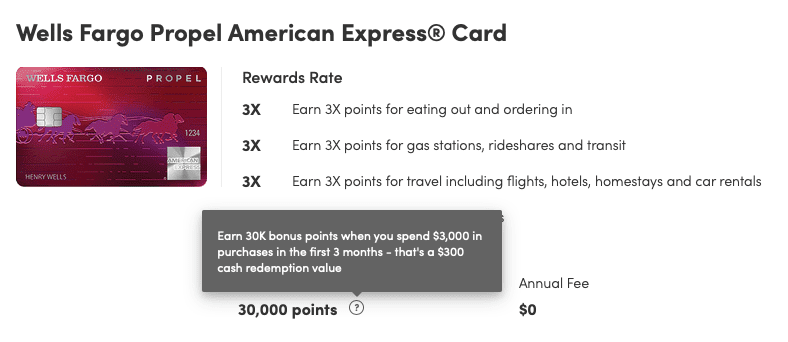 PayPal also does this well. If you use your PayPal debit card, you get 1% back on certain types of transactions. At the beginning of every month, the cash back is deposited into your account. Couldn't be easier to understand, and they handle the reward collection component for you.
2. The Tier System
At first, the tier system sounds almost exactly like the point system because points (or rewards) are given to customers. However, the tier system starts off with small, base rewards and then increases the value of the rewards as the customer becomes more loyal and buys more. Customers get short-term value from the program no matter how little they spend.
The tier system is best for brands with high price points and high-commitment customers, like travel and insurance companies. The goal is to hook the customer as early as possible so they keep returning.
I see the same problem with the tier system that I see with the point system: it can be hard to figure out. However, brands that have expensive offerings may find it easier to hook customers with this type of loyalty program. I may not be willing to figure out the tiers for saving on cosmetics, like with the Tarte program, but I'll definitely sit down to figure out the tiers when I'm spending hundreds or thousands of dollars on travel. The stakes are higher, and therefore my commitment is higher.
3. The Upfront Fee Charge
This type of loyalty program requires the customer to buy-in to reap the benefits. There's a one-time, monthly or annual fee serving as a paywall to the loyalty program. This program is best for companies that need frequent, repeat business, and that want to make it more convenient for customers to buy regularly.
This program sounds terrible at first, right? Then I realize I'm doing it with Amazon Prime, and that I love Amazon Prime and order from them constantly.
I want to walk through a mini case study to illustrate how companies can do this well. This is based on my experience with Amazon Prime, and even if you're an anti-Amazon-er, there's wisdom to be gleaned from how I became so loyal:
Competitive prices plus free 2-day shipping mean that I will stand in a store, holding the item I want to buy, and still order it from Amazon. I save money on the item and don't pay for shipping – Amazon has solved two purchase barriers for me (and the mobile app couldn't be easier to use).
The other Prime freebies are highly valuable to me – free movies, TV shows and books. I take advantage of them weekly.
Since I'm already watching and reading with Prime, if I do want to rent a movie or buy a book, I do so through Amazon – I'm already there, they're giving me a great experience and my credit card information is ready to go.
Solve the purchase problems your customers have, throw in extra perks that complement the products you sell and make it super easy for the customer to take advantage of everything.
4. The Values-Focused Program
For brands with customers who have strong values, a loyalty program can tap into those beliefs.
I wrote about this in our Marketing to Millennials: What You Need to Know to Close the Sale article, so I'm going to quote myself here to give you an example:
"My favorite example of this is BoxLunch and their Get Some Give Back initiative, which provides a meal to someone in need for every $10 spent. BoxLunch sells unique pop culture clothing and gifts, with bright colors and cartoon characters kids would love. You only have to spend $10 to have that meal donated, and being surrounded by so much fun makes me think of all the families that don't even have that much to spare. Without fail, I make a purchase every time."
This type of program is ideal for the millennial buyer because they tend to choose brands based on shared values.
Brands can approach this from either direction. They can get customers in the door with the products they sell (like BoxLunch does), or they can put their value-based message front-and-center, like TOMS does. Even though I've never owned a pair of TOMS, I'm well aware that they donate a pair of shoes for every pair purchased.
5. Honorable Mention: The Coalition Program
Brands can partner with complementary businesses to expand the reach of their loyalty program. When I ran digital marketing for a bakery in North Carolina, I encouraged them to partner with a nearby coffee shop to promote each other's businesses. The bakery sold individual treats but didn't serve coffee, and the coffee shop had limited baked goods available. Is there anything better than something sweet and bready paired with a cup of hot coffee? There isn't.
A co-branded deal is beneficial for both companies as well as their customers. The companies will reach each other's customers, who are all part of the same audience. Customers will trust your brand because they see that you care about what's best for them, not just getting another sale.
Loyalty Program No-No
There are some brands that seem to always have coupons for loyalty program members – DSW, Bath and Body Works and Bed, Bath and Beyond are three of them. On the one hand, this is great for the company because if I'm going to buy shoes, candles or household items, I'm going to these stores because I have a coupon for them. On the other hand, I don't value the products for their quality, I value them for the money they save me – and if I'm shopping during a rare time when I don't have a coupon, I'm not shopping there at all.
All three of these companies could do more to gain my loyalty, and none of the improvements have to do with discounts:
DSW could have more sizes available and check customers out faster so the lines don't take forever.
Bath and Body Works could lower the price of their large candles (almost $30 for a fast-burning candle is too much) or make product changes so they burn for longer.
Bed, Bath and Beyond could have a less-cluttered store and better customer service. Even thinking about walking in there feels like a time-suck.
These are perfect examples of where customer satisfaction would lead to more customer loyalty. The customer loyalty program would then just be the cherry on top for an already-committed customer.
The #1 Way to Create a Successful Customer Loyalty Program: Generosity
The more you give away, the more your customers will appreciate you.
I'm a member of the REI Co-op, and the day I joined, I was on the phone with a hiker friend of mine – we were signing up at the same time so we could take advantage of a discounted outdoors class. "That can't be right," I kept saying. "It must be $20 every month. How can that be right?" It was right – for a one-time fee of $20, REI gives you lifetime benefits. Fantastic benefits, like 10% cash back, seriously-discounted garage sales and wilderness classes, and even more discounts off purchases and new products.
Give away as much as you can, as often as you can. Show your customers you care about them. Throwing a generic 10% discount at them isn't going to gain you any loyalty.
Final Thoughts
There are a couple of different sides to customer loyalty, and the way customers express their loyalty may be based on customer satisfaction. A customer may spread positive word-of-mouth about your company, but they may not make frequent purchases – maybe they like the experiences they've had, but they don't find value in having too many of them. Or, the customer may be a frequent buyer because you've made the process easy in some way, but they could be neutral about or displeased with the experience. You want the customer to be both loyal and satisfied.
Here are the key takeaways:
Loyal customers are the most valuable customers you can have.
Customer satisfaction has to precede customer loyalty if you want the biggest ROI for your loyalty program. Don't try to gain loyalty through rewards alone.
The best loyalty programs are simple to understand and/or simple to take advantage of. For example, a well-designed mobile app can make it easy for the customer to collect, view and use points.
Loyalty programs should solve some problem for the customer or make their life better in some way.
Be as generous as you can possibly be.
Like any marketing program, a customer loyalty program has to be tracked and assessed to make sure it's working. Surveys, data and tuning in to online mentions of your brand will help you determine if and why your customers or loyal. Check out my article about identifying the best KPIs to track for your goals to help with this part.