Marketing is getting more difficult and the entire landscape is more competitive. That means that it costs more to run a marketing campaign—no less a marketing department. You need solutions, strategies, and tactics working together to drive revenue, leads, and a spot in the future for your business.
Omnichannel marketing is the current high watermark for successful marketing teams. Here's how you can leverage it for your website and business.
What is Omnichannel Marketing?
Omnichannel Marketing is the ever-changing strategy for reaching your ideal customer wherever they are. Omnichannel marketing campaigns and strategies are changing all the time due to new technologies, social platforms, and even international government regulations. Whatever Omnichannel Marketing is (which we promise you'll feel comfortable with here shortly), it isn't static or unchanging. Once you set up your first attempt at omnichannel marketing, you'll be working through your next iteration.
So where do customers spend their time? Facebook—probably. TikTok—surprisingly yes. Search results—even on Bing. Your website—from time to time.
How do they experience these and other platforms? Maybe through their work computer, personal laptop, cell phone, the ads they see on Hulu, etc. A growing reality for marketers to be aware of is the sheer number of devices and channels customers use. More than that is how they expect this ambidexterity from the brands they plan to buy from.
Can you meet this omnichannel expectation with your current marketing plans?
It is not uncommon for someone to:
see a compelling ad while on their work computer
sign up for emails that they later read at home on their laptop
pull out their phone to do tangential Google searches about the product and competitors
scour the apps of G2, TrustPilot, or Google Reviews for honest feedback about the product/service
see another more compelling ad
meticulously comb through the pricing/product page
dig up the email with a promo code
then make a decision to purchase
Salesforce did some research back in 2020 saying that 66% of customers switched devices in the middle of a transaction and that 74% had switched channels. Limiting marketing to one or two channels is a disadvantage in 2022 and beyond. Omnichannel marketing meets this reality of your customer being in many places depending on their preferences and where they are at in their buyer journey.
What is a Marketing Channel?
A marketing channel is any platform or location where the marketing happens. Essentially, it could be considered any place customers are spending time where you may have the opportunity to engage them. When discussing marketing channels, most people think about digital channels, but physical channels also abound (e.g. newspapers, political signs in front yards, and sign spinners outside tax offices—for example). In this article, we'll be focusing our attention on digital channels and how you can leverage them.
Examples of Digital Marketing Channels
Let's start by listing a few basic examples of digital channels you may already be using.
Multichannel vs. Cross-channel vs. Omnichannel Marketing
There is no doubt that you have encountered a few marketing channel-related jargon. Each has some merit in its own right. But, each is a progression toward sophistication. Omnichannel Marketing is the gold standard of the three and requires the highest levels of sophistication and coordination.
Multichannel Marketing
Multichannel marketing is the simple use of multiple channels in your marketing. Maybe a business will send a monthly newsletter to all their email contacts, post weekly on Facebook, and maybe do a direct-mail campaign for their big, yearly sale(s). Many small businesses are stuck at this juncture as they have very little strategy in regard to how different channels play into their marketing.
Crosschannel Marketing
Cross-channel marketing is another level of sophistication where there is a continuous strategy employed from channel to channel. An example of this would be a business gearing up for Black Friday. They have their Black Friday ads for Facebook, Instagram, and Pinterest coordinated. They have a custom landing page on their website that those campaigns funnel into. Lastly, a reminder or 'thank you' email is sent to those who signup or purchase from that landing page. There is a level of coordination but as you'll notice, the data only flows one way. Most entry-level marketing agencies and small internal teams get to this point.
Omnichannel Marketing
Omnichannel marketing is marketing that starts where your customers start and end where your customers end.
What would our Black Friday example look like, revamped for Omnichannel? The business runs the same ad campaigns that bring traffic to its Black Friday landing page. Only now, visitors who first bounced off the page get retargeted with a similar ad—on multiple ad channels— to get them back to the landing page. Other visitors who browsed the site but did not make a purchase were retargeted on social platforms or sent an email with a compelling additional 10% off their first purchase. Those who ended up purchasing at any point are removed from all other retargeting ad campaigns and instead are sent an email or SMS message asking them to refer a friend.
The level of logic from omnichannel marketing campaigns can be dizzying. This is because the goal is to accommodate the customer; wherever they start and whatever their journey looks like. It takes a level of synchronization that is hard to achieve—but worthwhile.
Benefits of Omnichannel Marketing
Our last example shows a clear, net-positive scenario for your business. Omnichannel marketing uses data from each stage to inform other stages (even across platforms/channels). This is not endless interconnectivity for the sake of it. This is the use of data across the channels that customers occupy. The data that your customers give you through their interaction is some of the best data you can hope for. Cycling this data into targeted ad audiences and SMS/email campaigns converts more.
Your customers already have established behaviors when making purchasing decisions. Your customers even expect educational and entertaining information about your products and services. And they expect this on the channels they already spend time on. Omnichannel marketing allows you to market your business to your customers in many channels with data synchronization that adds personalization and automation to the mix.
In 2022, Omnisend found that marketers who used 3+ channels per campaign saw order rates that were 494% when compared to the order rates of marketers who used one channel. There are four (4) benefits that we see from this reality.
Omnichannel marketing allows marketers to diversify their marketing efforts
Omnichannel marketing maintains top-of-mind awareness among target audience segments
Omnichannel marketing allows marketers to use a multitude of contextualized Calls to Action (CTAs)
Omnichannel marketing keeps the customer at the center of the journey and not a pre-defined funnel that customers are forced through
This shows a huge advantage for businesses that take advantage of omnichannel marketing.
How to Start an Omnichannel Marketing Campaign
Omnichannel marketing starts with aligning your marketing technology stack (mar-tech stack). It is important to look at what marketing you are already doing. Omnichannel is both a strategy and an aligned tech stack that your marketing software may or may not already support. If it does not support omnichannel marketing or support it enough, it will be hard to get a campaign off the ground.
Marketing Audit
Looking at what you are already doing is critical. So, it's worth the effort to conduct your own marketing audit. To conduct a simple audit, check the following:
What Channels you are currently marketing on and how much do you spend on each channel monthly?
What are the most common touchpoints that potential customers and clients take on their buyer journey?
Is there any automation currently integrated with your marketing?
Are there any Data silos — data collected but not able to break free from the silo into other channels?
Once you've thought through each of those you can take a deeper dive into possible points of automation, data synchronization, and marketing spend. Next, attempt to answer these questions to get started on your omnichannel journey:
Do I have targeted audiences on social, email, SMS, and search that would be good to share with other channels (e.g. Email list of 3000+ potential customers that can be turned into a custom audience on Facebook/Instagram ads)
Do I need to increase my marketing output but utilize automation to accomplish that?
Does my business know which channels work best in particular situations or are we just guessing?
Do I know what technology is on the market and in my price range that will get the job done?
CRM and Email Marketing
Omnichannel marketing is usually powered by some type of Customer Relationship Management (CRM) software. CRMs come in all shapes and sizes. There are some created for niche industries (think mortgage lending, storage units, and golf courses) that are not useful for businesses outside the niche.
Other CRMs are built for particular business models. Hubspot is an excellent CRM that enables sales and marketing teams to qualify and make calls to prospects. Mailchimp and Constant Contact are good at giving Small Businesses (SMBs) the right mix of tools without overdelivering complicated systems. There are also a lot of WordPress-powered CRM options that are highly customizable for business owners looking for a flexible solution.
Many CRMs do multichannel marketing but not omnichannel marketing. They don't do a great job of pulling data from various places so that they are usable across your marketing efforts. CRMs that help with Omnichannel marketing can dynamically create audience segments based on a multitude of actions that your customers take. Toward the end of the article, we have recommendations to start your search.
Social channels are likely the first ones marketers think about when they are figuring out their omnichannel strategies. For good reason too—social platforms command millions and billions of people's attention daily.
The biggest thing about starting with social channels is to start collecting data—now. Even if you don't have any solid plans to use Facebook, Instagram, LinkedIn, Pinterest, Google Ads, or TikTok—it is a smart idea to do enough work to start collecting the data that they need from the beginning.
Marketing Pixels
Setting up marketing pixels on your owned properties (websites and apps) is necessary if you want to start running effective ads on these channels. Marketing pixels (or tracking pixels) are tiny snippets of code that anonymously track user behavior on your owned properties to display relevant ads to your visitors later. E-commerce businesses have the easiest time settings these up. The nature of e-commerce means that all touchpoints the customer has with your business are online. Thus, everything is trackable. Meta has created several official Facebook plugins that can help you get your pixel on your website. WooCommerce also has a Facebook/Instagram integration that fully and automatically sets up the pixel on your website. WooCommerce also integrates with Google Ads and Google Merchant to easily set up campaigns that are directly connected to your store.
Website & App Channels
With all the talk of Pixel installations on websites; websites and apps offer critical functions with your customer segmentation and therefore your omnichannel marketing to customers. There are three major considerations for your website as you grow the omnichannel marketing arm of your business.
Customer Self-Identification
Customer self-identification is powerful. This takes place when a customer voluntarily gives information about themselves. Notice this example from MobileMonkey where they ask a simple question that will inform later marketing.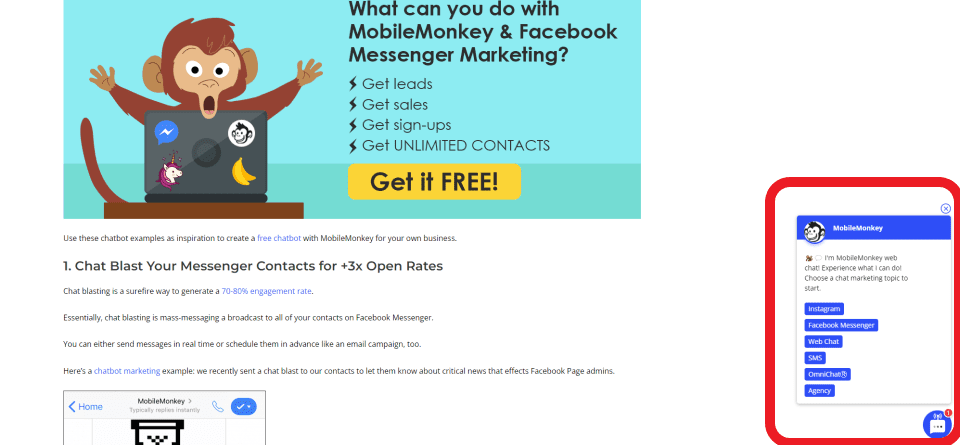 If you click on SMS or Instagram in this chatbot, MobileMonkey's options for marketing to you just got a lot more specific. Their platform does a lot and offers many solutions, but the one solution that appears to be a driving factor in your being on their website is Instagram marketing help. They can take this information and send you specific ads, emails, and SMS messages that teach you about Instagram marketing which should increase confidence in their expertise and product.
Customer self-Identification doesn't have to be just with chatbots. You can get the same effect with forms using conditional logic or with different forms deployed on specific pages. You could even add a survey form on your site using a plugin for valuable customer feedback. If your website has only one simple contact form on the Contact Us page, you may be leaving valuable data on the table.
Behavior Monitoring
Behavior Monitoring works in much the same way that self-identification works—at least from a strategic level. On a tactical level, the technology involved is going to be different because in these instances the customer is not filling out a form, responding to a chatbot, or wittingly opting in for a specific purpose. ActiveCampaign is a great example of a platform that "watches" visitors to your website. When they perform a predetermined action (like clicking on a sales page, spending 10+ minutes on your site, etc.) ActiveCampaign can track that in its CRM and assign point values to your contacts. You can then set particular automation up for when customers reach certain point values. This can help qualify leads or add people to segments without you monitoring every single interaction.
Tracking Behavior on your site is something that you should be doing. Your site is a dynamic tool and not a seldom updated brochure.
Even if your CRM doesn't offer Behavior Tracking you can use Divi to create content that displays via Conditional Logic. Want to show off a hot upsell item when a customer puts one of your most common items into their cart? Or do you want to show a special promotion only to logged-in visitors? With Divi and its Condition Logic, you can create display rules for just about anything. That way you can target customers based on things based on each visitor.
Personalization
Personalization is the backfilling of customer data from your CRM (and other connected tools) onto your website. Say you have a hero section on your Agency's Pricing page:
Extraordinary Websites starting now at $599
But what happens if you knew what industry the customer was in because they filled out a form or responded to a chatbot? What if they are a Bakery? Could we dial in Personalization to make this page seem to fit this particular customer a bit better?
Your World Class Bakery Website starting now at $599
Couple the personalization with A/B testing and you might just have a very specific and tested message to display on your best-performing pages.
6 Tools to Manage an Omnichannel Marketing Campaign
There are three things that an Omnichannel Marketing tool or platform needs to be able to do.
It needs to, most obviously, be able to create campaigns on multiple channels
Data from each channel needs to be brought into the platform so it can push the same data to other platforms
Automation should be a key feature that you can set up beforehand that takes care of customer interactions wherever they take place
Each of these tools performs all three of these for you. We've tried to compile a list of lower-cost tools that are more accessible for those getting started with Omnichannel marketing.
1. Omnisend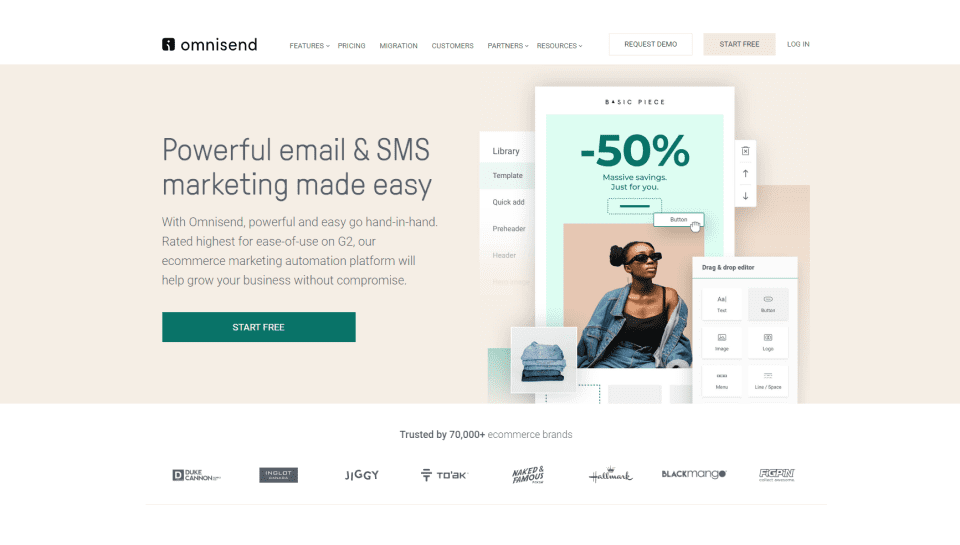 Omnisend is a marketing automation and omnichannel platform that powers e-commerce marketing that drives more revenue. They help personalize messages based on contact shopping behavior and improve conversions using Omnisend's intuitive, e-commerce-tailored segmentation. Best of all, Omnisend's built-in audience sync dynamically syncs contact segments with Facebook and Google Ads for more effective ad targeting. That means Omnisend allows marketers to build full marketing campaigns across email, SMS, Facebook & Instagram, and Google Ads in one unified platform. This dramatically saves time for e-commerce store owners. They even sport a robust integration with WooCommerce.
Pricing starts at $0/mo with Omnisend's Free Email plan. It offers limited email & SMS sends and web tracking but is more than enough for those getting started. The free plan offers almost all of Omnisend's feature set including audience building on Facebook & Google for omnichannel ad campaigns.
2. Sharpspring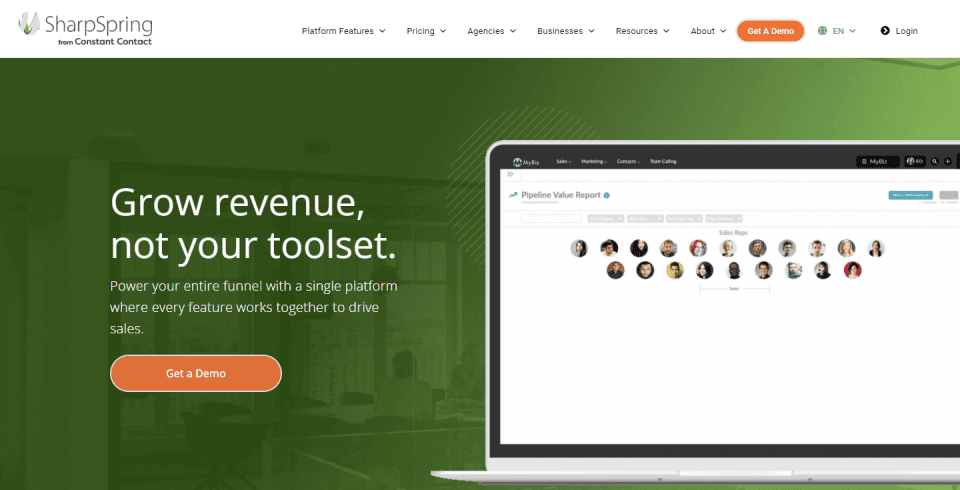 Sharpspring is a full-featured marketing automation platform that spans email, SMS, Social Ads, and Display Ads across the largest display network. Primarily a tool used by Marketing Agencies for their customers, Sharpspring is a heavy hitter. The pricing is steep for most SMBs but the feature set will keep marketers and sales folks busy with comprehensive tools that build full funnels. Sharpspring is a sales-oriented CRM+ and does not do marketing with e-commerce in mind.
Pricing starts at $449/mo but offers top-tier marketing automation tools at a fraction of the price of Adobe Marketo or Salesforce Marketing Cloud.
3. ActiveCampaign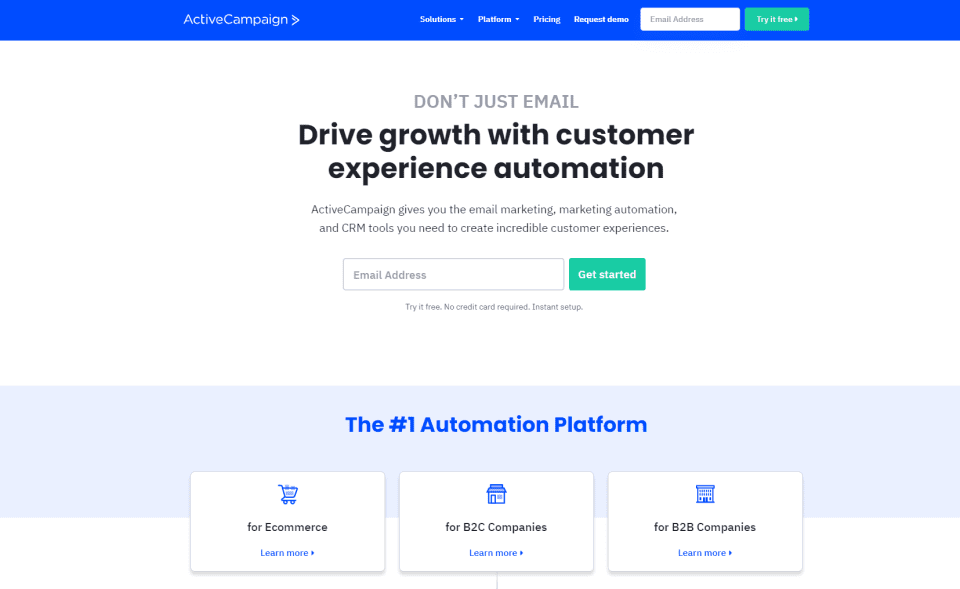 ActiveCampaign is another heavy-hitter on this list. It powers marketing automation across channels (email, SMS, website personalization, and Ads). The greatest differentiator with ActiveCampaign is its Website, Email, and SMS Behavior tracking that is pulled into what they call Lead Scoring. When a visitor clicks on the pricing page—that's 10 points added to their score. But if they unsubscribe from emails, you can subtract 50 points. Lead tracking helps you create both intent-based segments and lists of marketing qualified leads (MQLs) for your sales team to reach out to. Integrates fully with WooCommerce for advanced e-commerce marketing capabilities across channels. Divi also has an integration with ActiveCamapgin.
ActiveCampaign offers its platform for as low as $9/mo. Additionally, you can dial in the product suite based on the business model as they have solutions built for B2B, B2C, and e-commerce.
4. AdRoll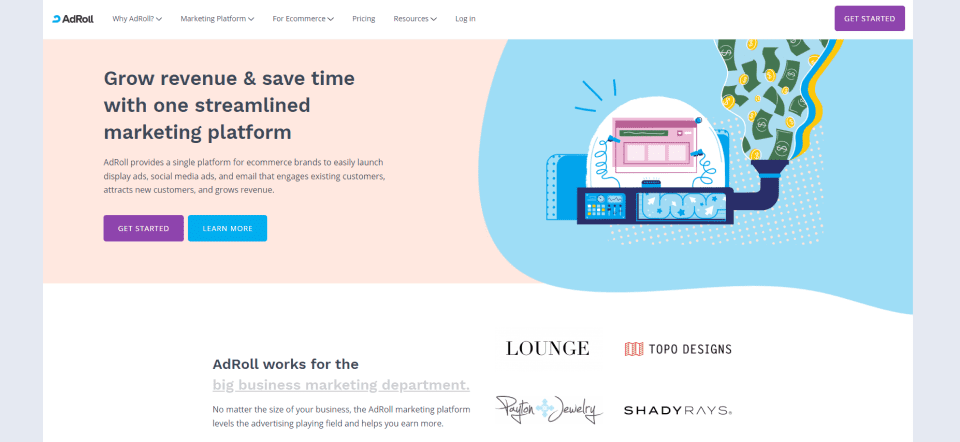 AdRoll specializes in, well, Ads. Many of the other platforms only build dynamic audiences within Facebook, Instagram, and Google Ads. AdRoll adds to the mix TikTok and Pinterest which is a very enticing differentiating factor. They offer unlimited email but no SMS capabilities right now. AdRoll integrates with the major e-commerce platforms including WooCommerce. E-commerce businesses looking to go omnichannel with their ad and email campaigns would do well with AdRoll.
AdRoll has a "Pay as You Go" plan that charges a percentage on top of ad spend or a "Marketing + Ads" package that includes their omnichannel marketing with email—which starts at $36/mo.
5. MobileMonkey's Funnel Pro for Marketers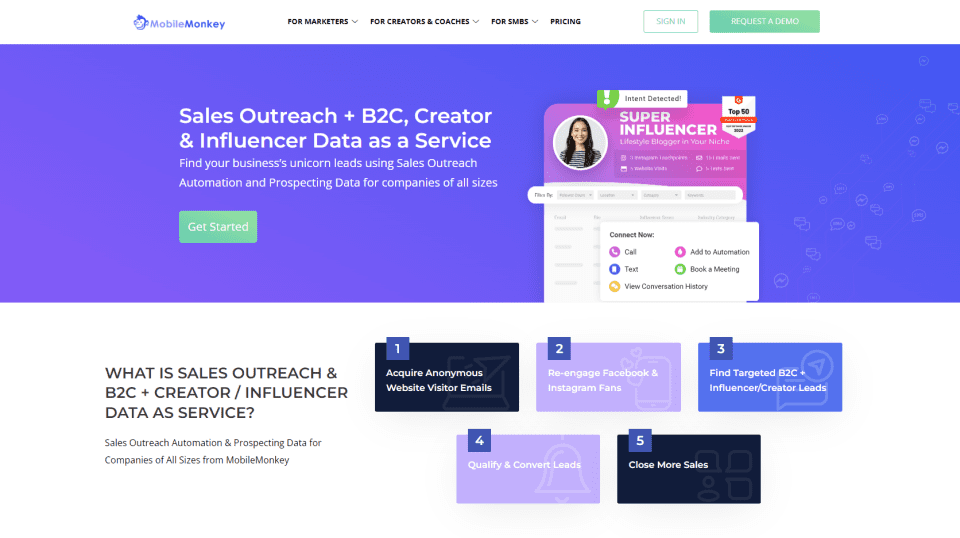 Funnel Pro by MobileMonkey is an excellent choice for omnichannel marketing with a particular focus on chat, ads, and social engagement. Funnel Pro is an all-in-one chat solution that integrates with SMS, Instagram, web chat & Messenger—making this a powerful alternative to other chat plugins. The information that is pulled from the various chat channels can be reintroduced to create segmented audiences for targeted ads.
Funnel Pro starts at $119/mo but packs a large punch if you are hurting for a comprehensive chat solution.
6. RightMessage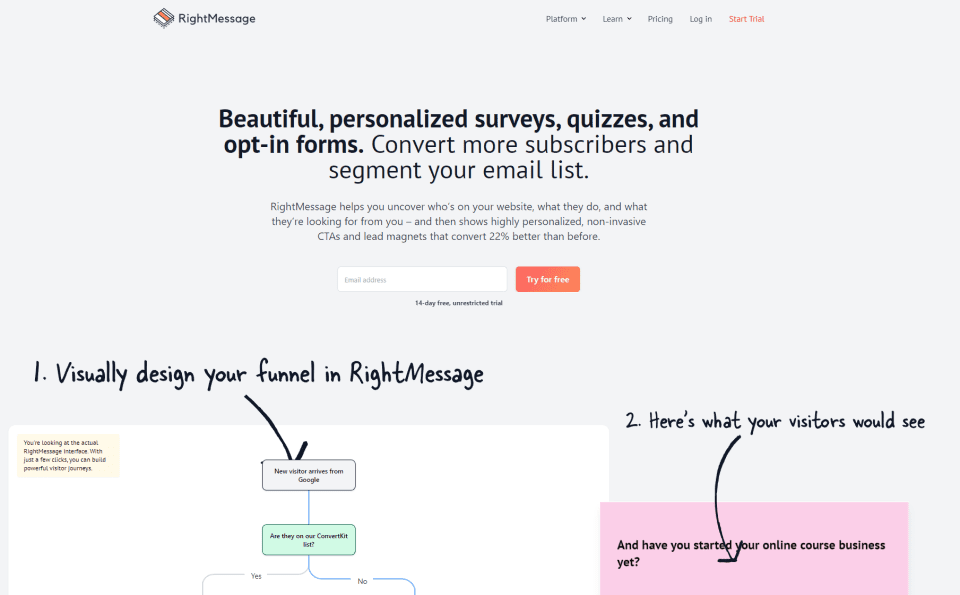 RightMessage isn't so much an Omnichannel marketing platform as it is a personalization and segmentation platform. But since it offers native integrations with ActiveCampaign, ConvertKit, Hubspot, Drip, and others (and has a WordPress plugin) it is an excellent solution to layer into your omnichannel marketing. RightMessage populates programmatic surveys, quizzes, and other forms that collect user information. Your connected CRM stores this segmented data. This data is then used to personalize your website to fit each particular customer. Personalization leads to greater conversion rates which should be a major focus once your omnichannel campaigns are off and running.
RichtMessage will help you personalize your whole website for $179/mo but offers a $79/mo plan to get you started.
Examples of Successful Omnichannel Marketing Campaigns
Marketing examples are plentiful but it is good to have some hand-picked for you. Learn how these companies pulled off some omnichannel marketing campaigns.
Starbucks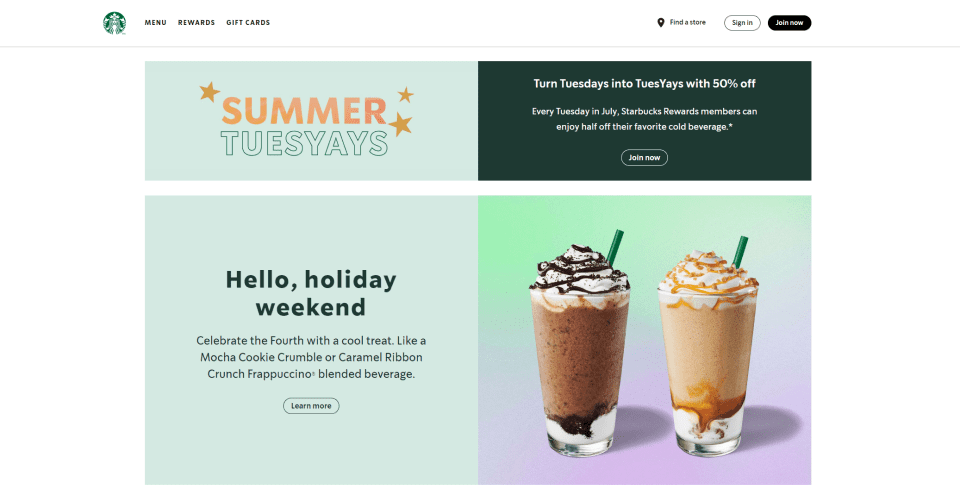 Starbucks is a marketing organization known for its delectable product photos, crisp calls-to-action, and right-on-time touchpoints. What they do well is synchronize all their efforts to get you to do one thing. Stop by a store.
In recent years, Starbucks' marketing has centered around its mobile app. It is the hub of the marketing machine in a lot of respects.
They reinvented rewards membership using it. Starbucks' gift cards have been insanely popular and they brought that into the app so you can see your balance instead of calling a hotline. On top of that, you earn rewards in the same place you spend your gift card balances.
They created a physical experience within their app where you build your order, hit submit, and your order (with your name) is ready to be picked up in 10 minutes.
They've created a marketing machine that goes way past marketing and into the operations of their store.
Even signing into their Wifi is an exercise in omnichannel marketing. When you sign in to connect to their Wifi (which comes with the benefit of being automatically connected when you arrive at any store) you are giving them your email address and adding your information to their pixels so they can retarget you in ads.
Disney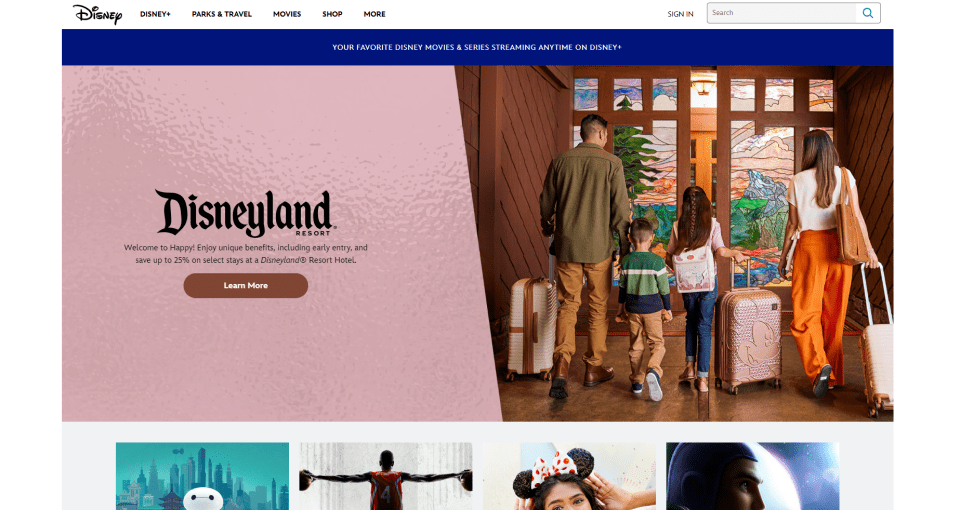 Disney has mastered the art of creating and unleashing its intellectual property. Not only can they make the world love an animated mouse but they bring their whole collection of characters to life on their cruises and in their amusement parks.
They've created digital and physical properties that people want to go to and interact with. Disney gets this data in droves that they cycle back into their marketing and operations practices. They've even gone past an app being their main touchstone at their parks.
Season ticket holders and one-time guests alike can get a wristband that they swipe over various inputs to allow them magical entry into rides and dining. The fact that so many people have adopted these in-park wearables is a shining testament to the amount of information that their customers trust them with.
Walmart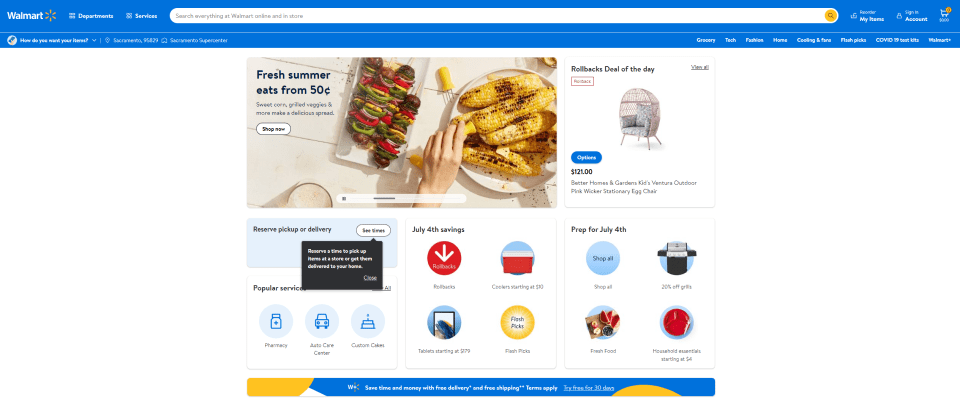 Walmart takes its omnichannel marketing very seriously. They sync data from purchases at their stores and viewed items online to target people with recommendations and offers.
And they've made their app effortless to order from by remembering your favorite items as well as offering things they bet you'd give a try. Their marketing really takes advantage of the app and email as inexpensive, owned marketing outlets. But they also spend a lot of brand awareness ads on TV and digital channels.
Conclusion
Omnichannel is not a ploy to get you to buy certain marketing technology. It is a whole strategy for using data that brings your customer closer to your brand—no matter where they start. So, investing in omnichannel now can only be a positive factor for your business.
And the recommendations, tips, and advice don't stop here. Look over this list of top plugins for marketing that work with any WordPress website. A few of them can help you get started with your omnichannel marketing journey.
Have a question about omnichannel marketing? Let us know in the comments below!
Featured Image via Superstar / shutterstock.com