TikTok is a fun, rapidly-growing marketing platform with tremendous potential for brands, small businesses, artists, musicians, performers, freelancers, and entrepreneurs of all kinds. The platform utilizes short-form video, primarily to entertain and raise brand awareness. TikTok marketing is still new compared to other social media platforms. That means brands that utilize it have a higher likelihood of getting seen.
TikTok's entertainment value can't be overstated. The platform began as the Chinese social media platform Douyin. ByteDance, its parent company, acquired and renamed it Music.ly in 2017.
Music.ly quickly became popular for its short, lip-sync music videos. However, it soon transitioned into TikTok, whose video content is similar to the defunct Vine platform.
Now, TikTok marketing has gained worldwide popularity among multiple generations, and its momentum is only growing. In fact, it surpassed one billion downloads in its first year–so it's a marketing trend that's here to stay. While it's particularly popular among Gen Z users, there are a fair number of Millennial and Gen X users on the platform as well. However, if you're looking to expand your age demographic and attract a younger audience, TikTok can help you do that.
These days, a wide range of users utilize TikTok, from major corporations and celebrities to freelancers and side-hustle creatives. Because the platform is still so young and isn't oversaturated, it's easier to go viral with the right combination of variables.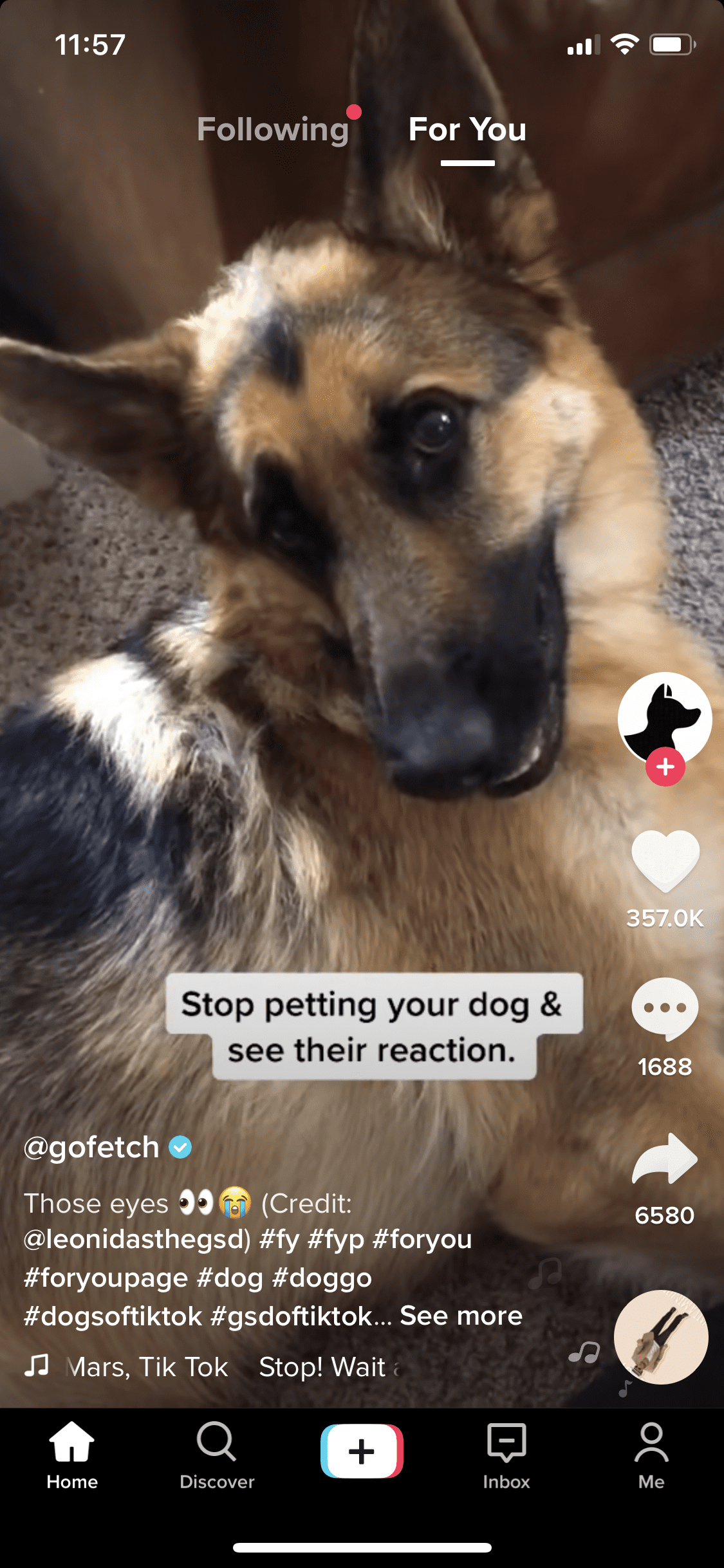 TikTok is a great way to bring attention to what you do, who you help, and how you help them. If you're interested in using TikTok marketing for building your own brand awareness, there are a few things you need to know about how it works. Let's dive into a little more information about the platform, and break down a few best practices for using it.
How Does TikTok Work?
TikTok allows users to create 15- or 60-second videos that play on loop in the TikTok feed. Videos tend to be humorous and entertaining in nature, and may also incorporate a "wow" factor. The platform offers brands and users a way to authentically share their voice, personality, and humor.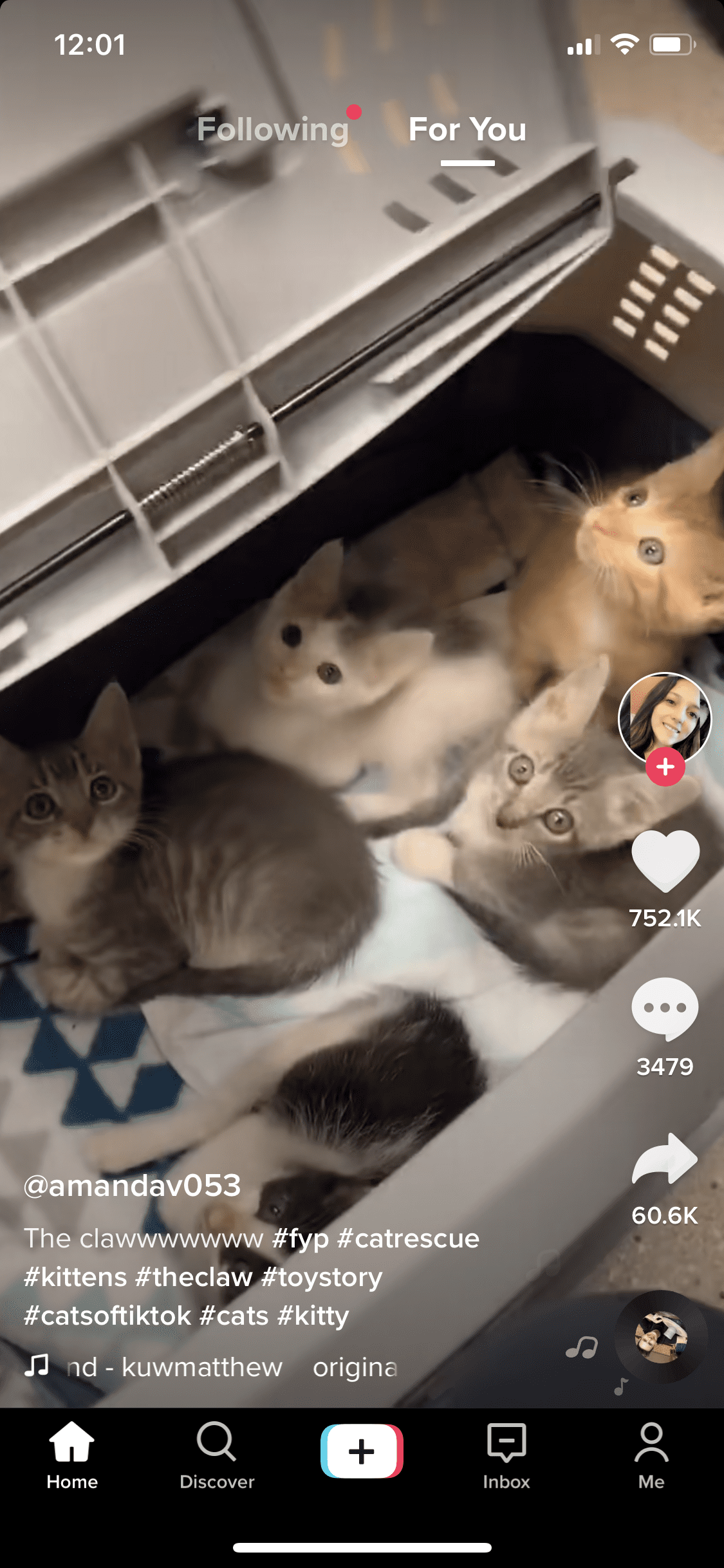 There's a wide variety of users in various industries using TikTok marketing right now These include media outlets, corporations, celebrities, artists, authors, musicians, comedians, performers, cosplayers, visual artists, magicians, entrepreneurs, and even everyday families. Almost any kind of brand can utilize it, in any niche, to raise brand awareness.
Exposure on TikTok is determined by your videos' performance. Initially, videos are targeted to your local area. Then as they gain popularity, the platform's algorithm expands their reach into other areas.
Popularity is determined by how many people are watching, rewatching, and engaging with your videos. Comments, shares, and likes have a strong bearing on performance as well. As long as your content is fun or interesting to watch, you're pretty good to go.
Because of how TikTok's recommendations work for individual users, old videos can go viral from time to time. So it's possible for content, no matter how long it's been posted, to stay evergreen and resurface among popular trending videos long after it's posted.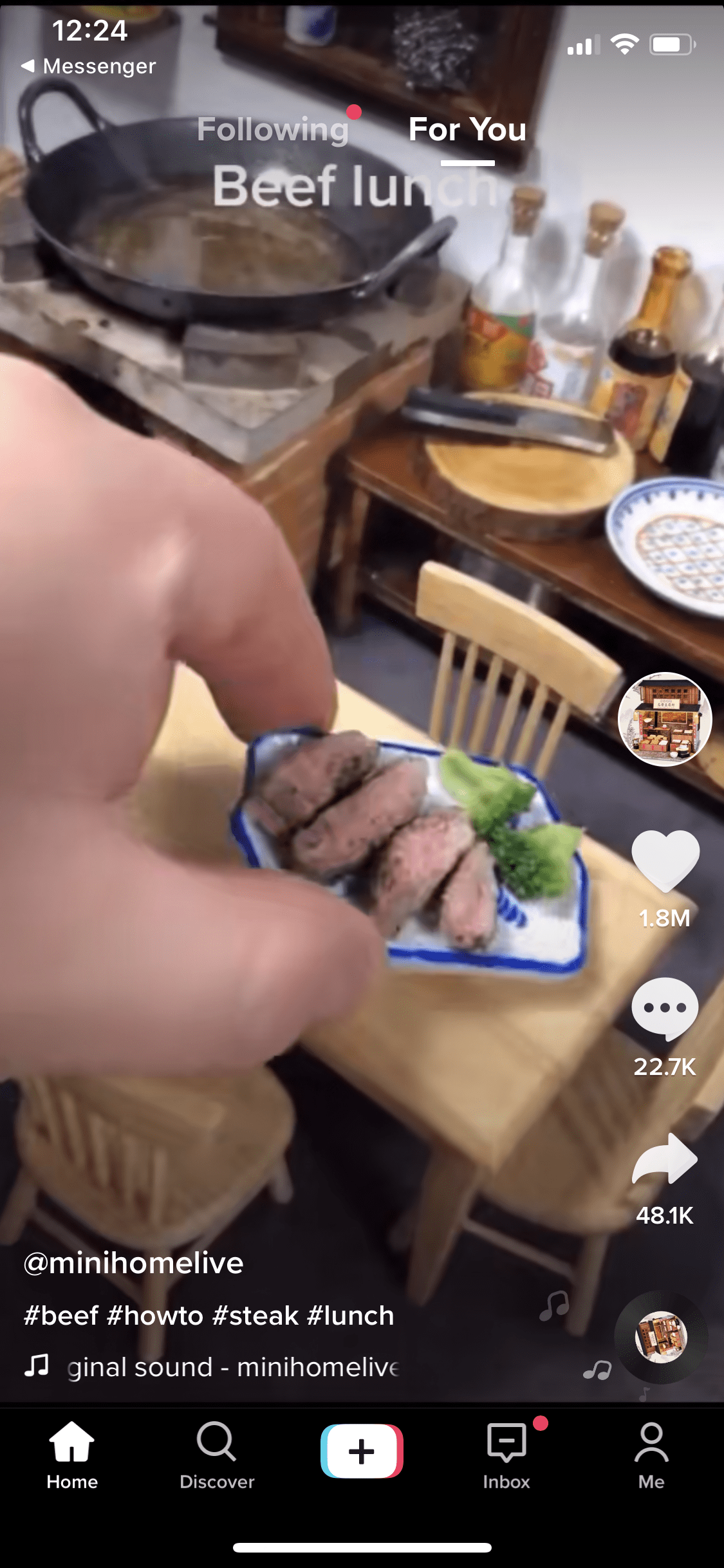 Keep in mind that TikTok videos don't link out to your website or other external sites. There also aren't many TikTok users who are selling via the platform, but rather raising more brand awareness. So while your brand can gain a lot of traction on TikTok, it's not the best place for direct marketing or sales.
How Can Brands Use TikTok Marketing to Build Their Audience?
TikTok is a lighthearted platform that's all about having fun. So for many brands, it's fairly easy to attract viewers based on shared interests. There are several strategies you can leverage to help you start building momentum.
Hashtag Challenges
TikTok hashtag challenges are community-oriented trends that get users creating content off a similar trending concept. You can check out the Discover button at the bottom of your home screen for a list of trending hashtags and topics for the day, then use those as inspiration for your own content.
Some challenges incorporate the same sound clip or song, while others are just around a similar topic. For example, on #DonutDay, users posted photos and videos of donuts and used the challenge hashtag.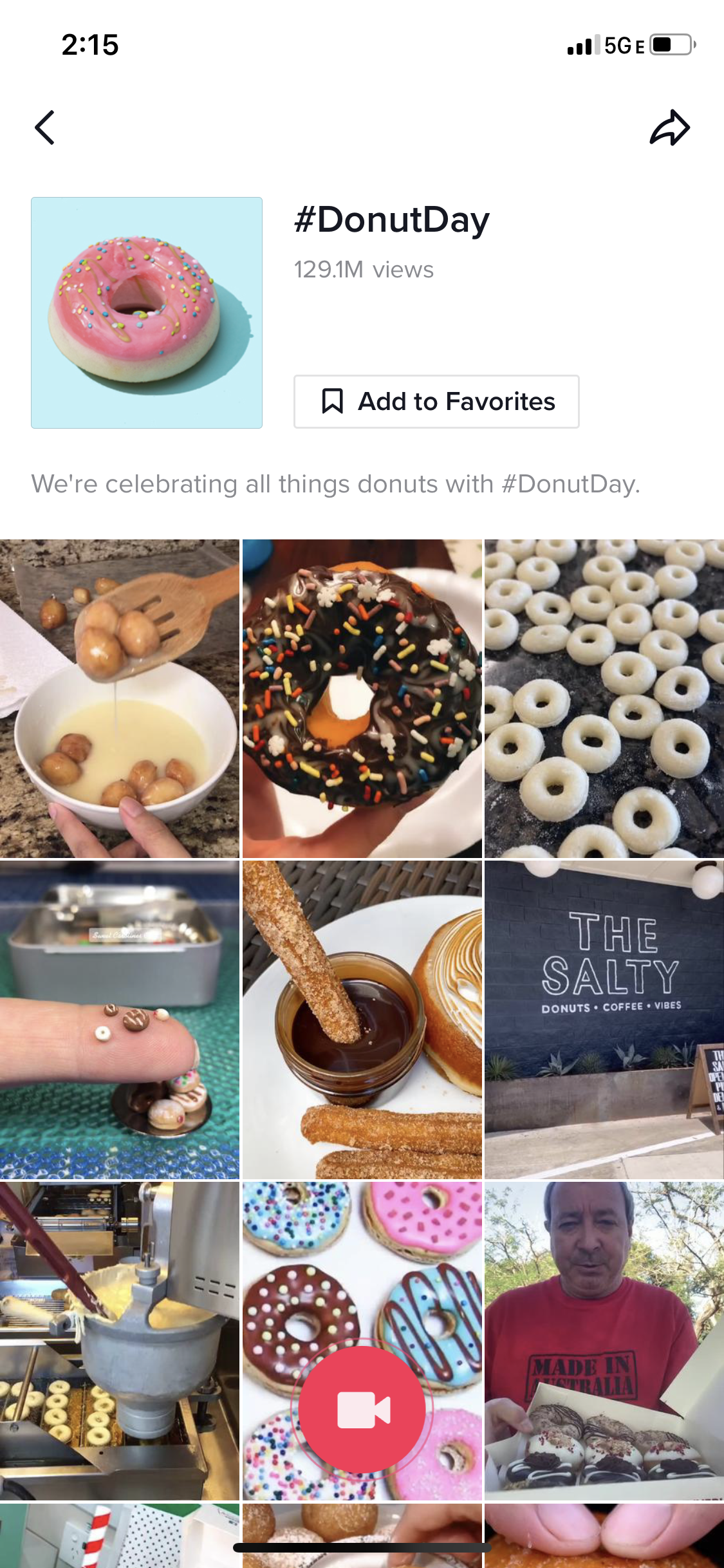 The #HiddenTalents hashtag prompted users to upload videos of themselves showcasing their own talents for their audiences. This led to a wide array of entertaining and awe-inspiring content from many different creators.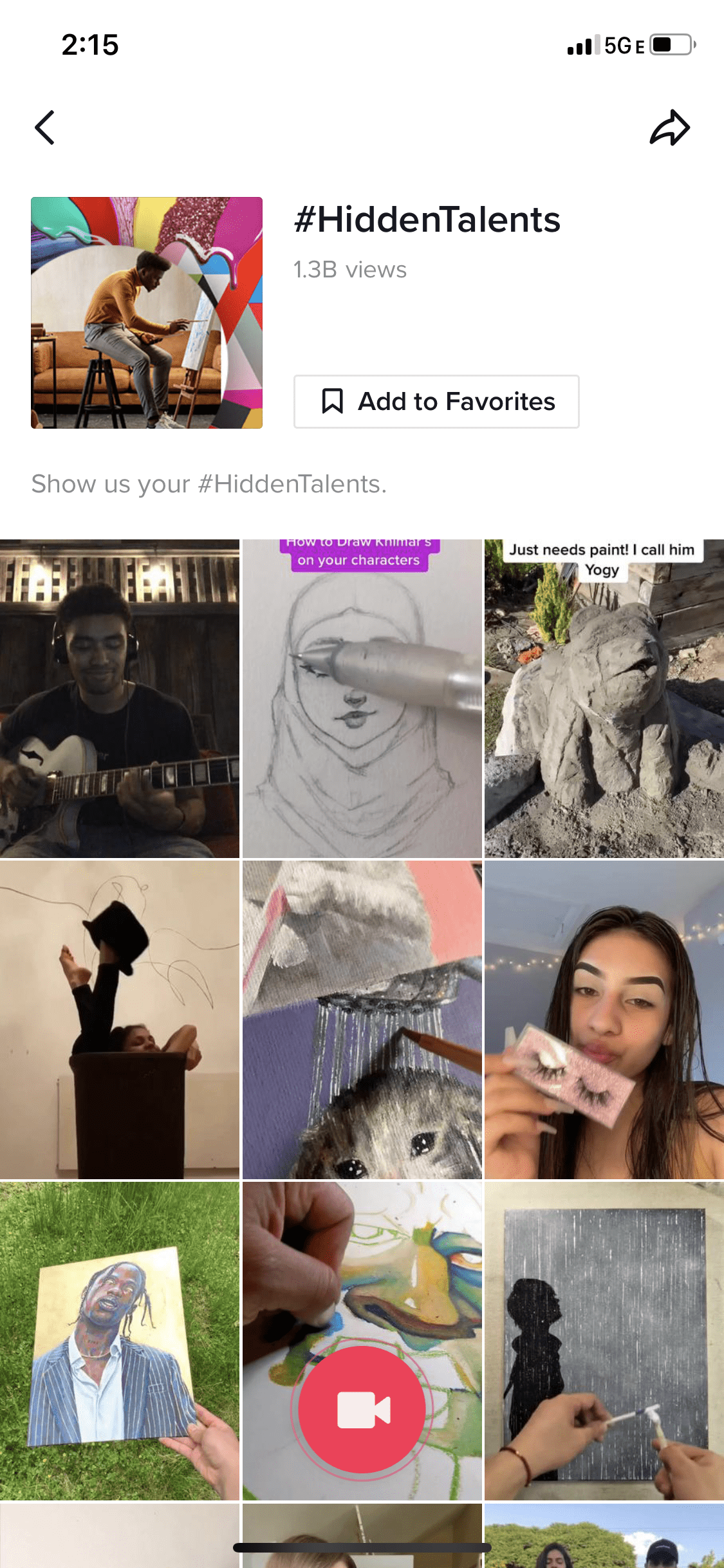 Challenges are not only great for promoting the community aspect of TikTok marketing. They're also great for removing decision fatigue when it comes to content creation. Instead of having to decide what you're going to create and how to pull it off, you can easily take a look at the trending feed and bounce off an existing idea–with your personal touch, of course.
Music Videos, Dances, Lip Syncs, and Performances
Music- and dance-based videos are particularly popular on TikTok. If it makes sense for your brand, incorporate some of these elements into your own videos. You can also use special effects and filters in your videos.
One popular video format on TikTok is the lip sync video. These can be serious, heartfelt, or just plain funny–and funny videos tend to do really well. In general, video marketing is great for generating organic reach. Therefore, TikTok can fit in nicely with your video marketing strategy.
TikTok Duets
Duet videos allow a user to split-screen an existing video from a different user next to their own. Often, this is a reaction video to the original. Sometimes, though, users create duets that have more of a collaborative effect and look as though they worked together with the original creator.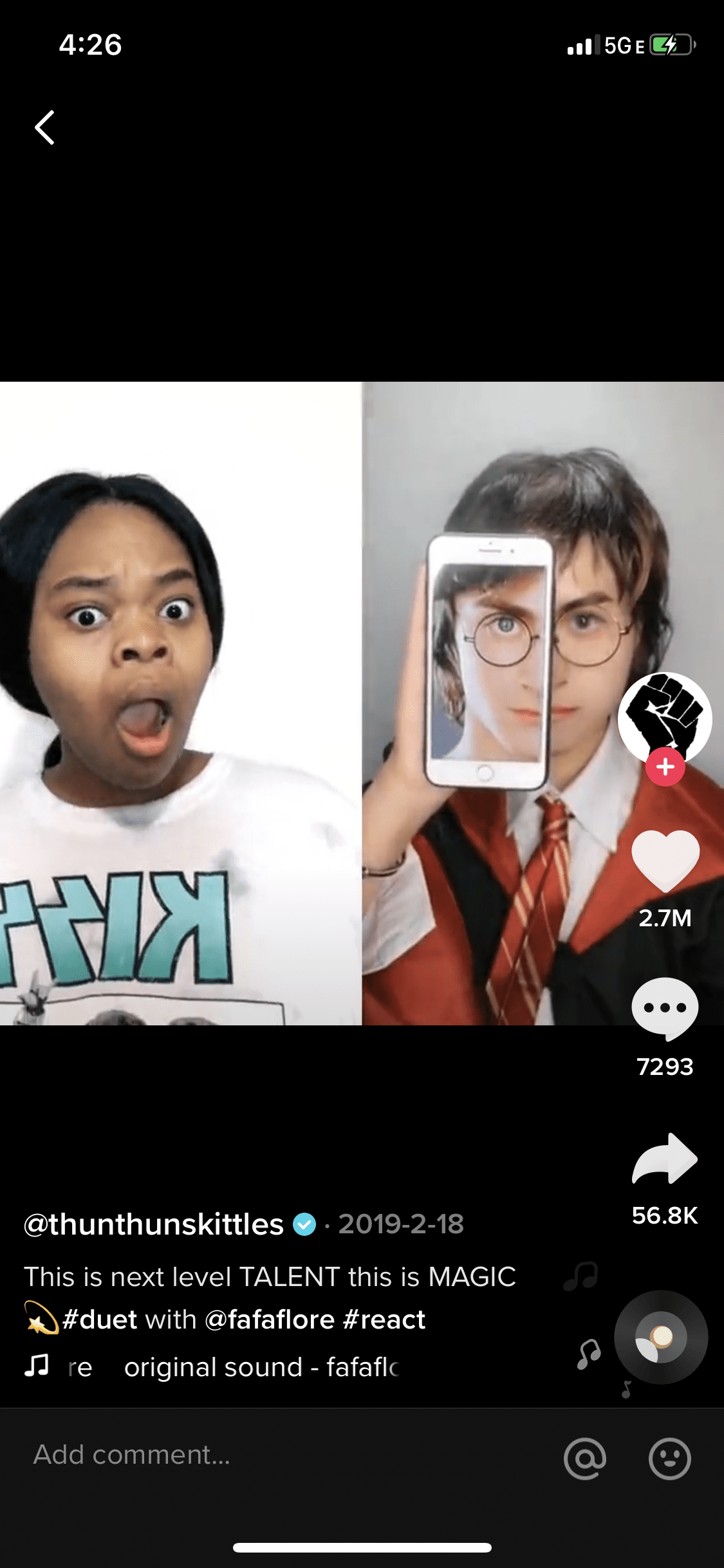 User-Generated Content and Influencer Marketing
User-generated content (UGC) is a fantastic way to raise and spread brand awareness, in addition to having a strong pipeline of content you can use. Brands such as Nike utilize UGC in their TikTok marketing, sharing content from users who show off their Nike shoes and apparel.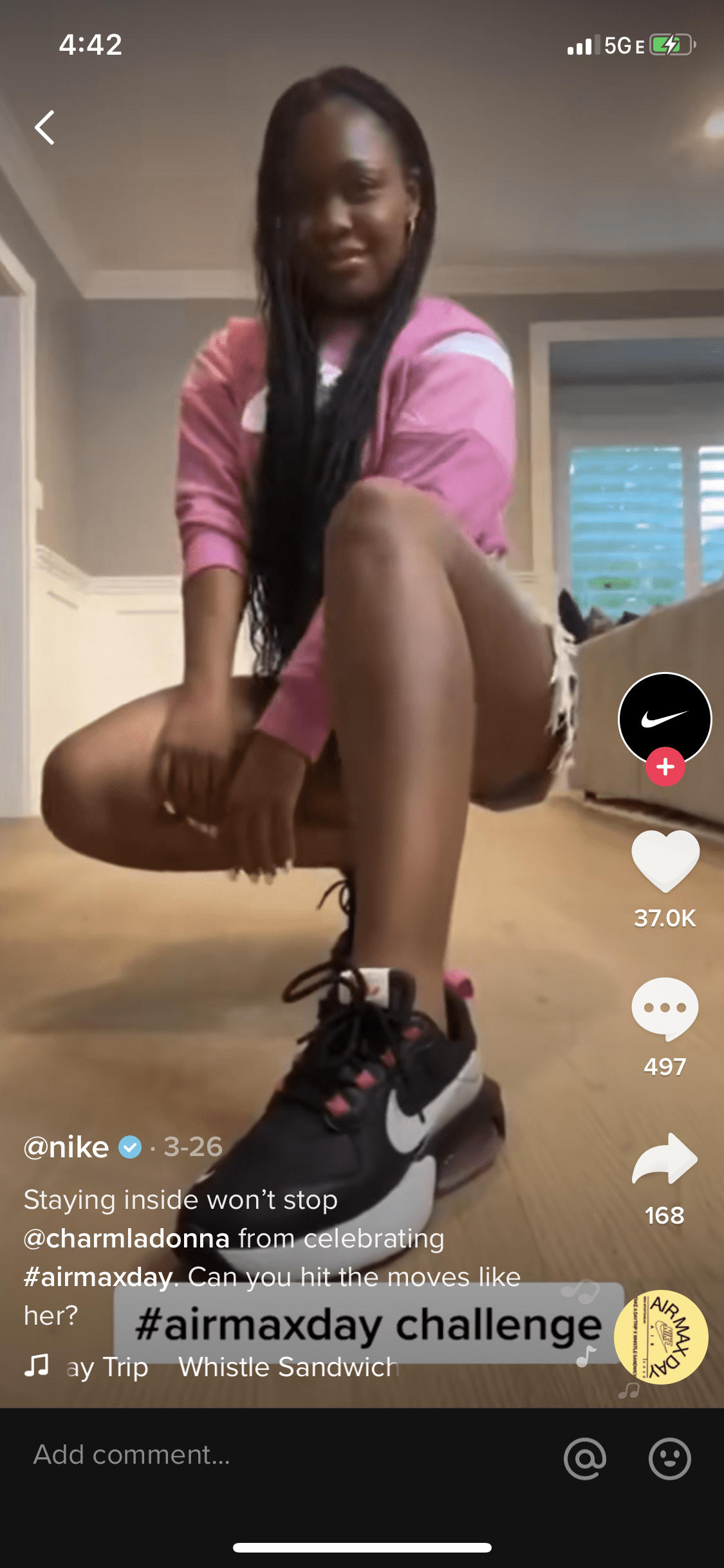 Additionally, influencer marketing partnerships are highly effective on TikTok. Your reach, impact, and who you partner with will ultimately depend on your brand and budget. Whether you partner with an influencer or another brand, you can increase your reach exponentially this way.
TikTok Ads
For some brands, paid advertising is the way to go on TikTok. While options are expanding, paid advertising via TikTok tends to be costly. For now, your brand will need a hefty budget to do paid advertising as part of your TikTok marketing strategy.
TikTok allows brands to sponsor paid advertising via short native ads, which play in the feed. Additionally, you can have a branded TikTok lens designed for your audience. Your brand can also sponsor a hashtag challenge or participate in a brand takeover.
TikTok Marketing Best Practices
To get off to a strong start with TikTok marketing, there are a few best practices you need to follow.
Keep your content short and snappy. That's pretty easy to do since TikTok only offers 15- or 60-second video length choices.
Utilize the template library to help you create stylized videos and slideshows. Additionally, TikTok has some great filters and effects available to help enhance your content.
Videos that incorporate music tend to perform well on TikTok, so take advantage of the platform's extensive music library.
Use hashtags to help your content get more exposure.
Keep your video descriptions down to the 140-character limit, including hashtags.
Avoid overproduced videos and aggressive, sales-centric content.
Use vertical video on TikTok wherever possible, utilizing the entire screen. (Here's why that's important.)
Do you have any TikTok marketing tips to share? Have you had success using the platform? Share your experiences in the comments section.
Featured image via ART PAL / shutterstock.com