When looking at blogging trends for upcoming years, it's more about seeing what things will continue to be important rather than adopting completely new things. Blogging trends are more about knowing what works and improving upon those things.
In this article, we'll look at the most important blogging trends you should know about in 2020. You might already be doing some of these while some others you might not have started with yet. We'll not only put these trends on your radar, but we'll give you direction on how to get started with each one.
Let's get to it!
1. Follow a Content Marketing Plan With Topic Clusters
Blogging might only be one of the branches of a marketing plan, but it sure is an important one. Creating blog posts without a set plan isn't going to cut it anymore, especially if you want to be successful at it. With a content marketing plan, your blog can have goals, an order, and a system. When you create blog posts according to a plan with topic clusters, not only your blog will be better for it, also your business. Of all the blogging trends for 2020, this is the most important and the one that will help your blog improve the most.
The main aspects of a topic cluster strategy for a content marketing plan are pillar pages and topic clusters. The idea is that all the content on your blog is organized into a few main topics. All topics are set up as clusters, with the main page, called a pillar page, linked to and from a number of different types of content. Keep reading for some tips and resources on how to gets started with this strategy.
How To Set Up A Topic Cluster Strategy
One of the best online resources for learning how to create topic clusters is the Hubspot blog. If you want to go all out and learn from the ground up, you might as well take the free Hubspot Content Marketing certification where you can get all the tools to create your own content clusters and pillar pages. They give you tools to both start with an empty blog or optimize your existing content.
The video below will give you a quick rundown of how this strategy is set up and how it works. If you decide to embark on any of the trends in this article, we'd suggest you tackle this one.
2. Publish Different Types of Long-Form Content
Long-form content is still your best bet for the length of content you publish. But don't stick to one type of long-form content, use a variety of different styles.
For example, try these different types:
Expert Roundups
Ultimate Guides
Resource Lists
Best Of Lists
Trends Forecasts
Case Studies
Research-Based Articles
Annual Reports
Long-form content is an article of at least 1200 words. In some cases, it can even be 5000 words or more. It all depends on the quality of content you include. The trick is to not add any fluff in order to make long-form content truly valuable.
Good quality content is still king, therefore everything in your long-form article must have value to your readers. In order to make it easier for them to follow your content, include a floating pop-up menu at the top. That way they can navigate the article easier, see what comes next, or jump to the end.
How To Know What Kind Of Long-Form Content To Publish
The list above has 8 ideas. That's a bit overwhelming. Don't try and tackle all of these ideas, just pick one or two. But how? Look back at the first step, the content marketing plan. Your topic clusters, along with what you know about your readers will help you decide what kind of long-form content to create.
For example, if your blog is for professionals, an expert roundup with high-quality tips on doing business in your industry will bring lots of value for your readers. If your blog is educational in nature, an ultimate guide on a topic that your readers want to know more about will be a great resource for them. Long-form research-based articles will do well on editorial and newsworthy blogs. SaaS and B2B blogs are perfect for case studies, travel blogs are great for Best of Lists.
Always Link To Relevant Third Party Content
Long-form articles are the ideal real state for placing backlinks to your favorite sites and blogs. Make sure to only link to sites with a good reputation. In the expert roundups, link to your expert's websites, in the resource lists offer links to those resources. Adding third-party links will add more value to your content, as long as they are reputable. Before adding a link, check the web site's domain authority on a site like Moz or SmallSeoTools. Linking to sites with a high domain authority will improve your own DA and the team at the site you linked to will be glad you did.
The video below from Ninja Outreach gives great tips on using their tool to put together an expert round-up.
3. Repurpose Your Blog Content As Infographics And Video
Long-form content is perfect for repurposing into other formats. For example, you can use the content to create a visually rich infographic. This infographic can then be shared for backlinks in both social media and other blogs through an outreach campaign. Other ways to repurpose content are newsletters, social media posts and most importantly, videos.
Repurposing your content is an easy blogging trend to adopt. Finding the right content formats is something you have to try out until you find what works best. Remember that video is huge in 2020 and beyond. Just take a look at TikTok and how much it's grown!
The Tools You Need To Repurpose Content Into Video
Your videos made from repurposed content can be short to post on TikTok, longer to post on YouTube or can also be a live broadcast on Facebook. Short videos can be created as a series, a number of long-form blogs in the same topic cluster can be turned into an educational series on YouTube. There are plenty of tools available to create videos. From apps in handheld devices to complex desktop software. In the Elegant Themes blog we've reviewed some video software that can be of help:
What You Need To Create Infographics From Existing Content
Long-form blogs are perfect for creating infographics. If you have the means, you can hire a designer to make these for you. Alternatively, you can use one of the many graphic design tools available online with the help of infographic templates and widgets. Turning a blog post into an infographic is straightforward and easy to repeat:
Outline the content into snackable sections.
Shorten the content as much as possible to only maintain the main idea.
Find the right template, it could be a comparison, a timeline, a flowchart, or a list.
Source icons and widgets that have to do with the content.
Put it all together with an attractive color scheme.
Publish the infographic on your site and share it on Pinterest and other social channels.
4. Host a Variety of Content Writers
Blogs can either use in-house writers or a selection of freelance writers. Larger scale blogs usually have a mix of both. On top of those writers, some blogs accept guest writers as well. The blogging trend for 2020 that we have seen working for many blogs, is to have a selection of writers to write different kinds of articles.
By hosting different types of writers, your content can be enriched by different voices and styles. The key to this practice is to be choosy with the writers you accept. Look at the content they have written for other publications and consider if they will match your brand.
How To Manage A Team of Writers On Your WordPress Site
Once they come on board, give the writers some training as to your brand voice and how your articles are formatted. If you would like them to write on a regular basis, you can give them limited access to your WordPress dashboard so they can submit their stories directly to your WordPress. Keeping track of your writer's workflow will need an editorial team that is always checking for quality control and for keeping the content in the brand voice.
5. Optimize For Rich Snippets
Rich snippets are the single best real estate on Google. In order to get your blog articles into that exclusive spot, the content needs to be optimized for SEO. Optimizing for rich snippets involves aspects of SEO like search intent, short and long keywords, posing questions like a reader would and then answering them in full.
Format your posts as numbered lists with properly ordering headings. Use an SEO tool like Yoast to help with the keyword density and schema plugins to help with the management of your structured data. But don't forget to make sure you also double-check your grammar and message so the content flows well.
When it comes to blogging trends, optimizing for rich snippets goes beyond the "maybe I should" and towards "I definitely should" category.
Resources To Help You Optimize Your Site
Optimizing for rich snippets is a big trend right now and there are plenty of resources online. One of the best articles out there right now is by Ann Smarty on Moz.com. She goes through all the details you need to know to optimize your site for rich snippets. From keyword research and optimization to detailed analysis of old and new content. The number one step to optimizing for rich snippets is to create content as numbered lists.
The content marketing certification from Hubspot that I mentioned above also covers this strategy and how to go about it.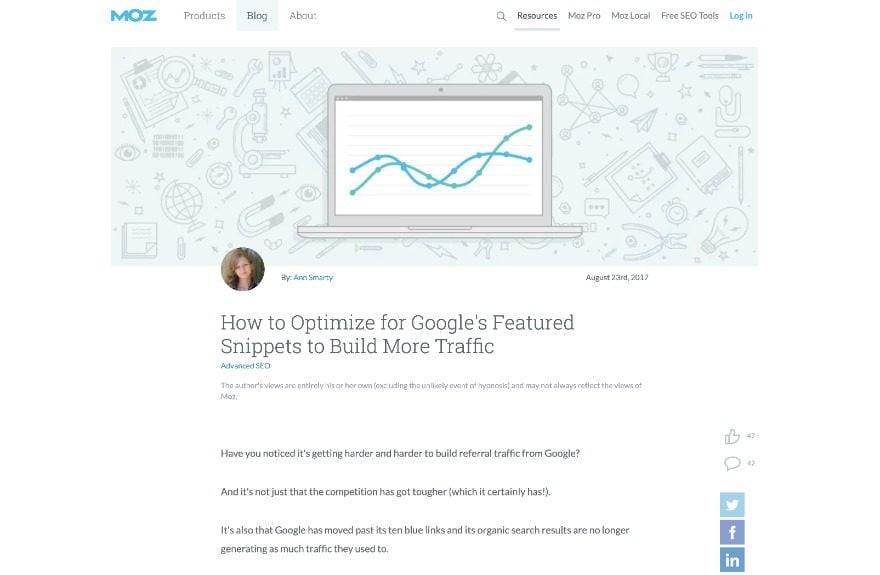 6. Start With Accessibility If You Haven't Already
Blog posts, just like the pages on your website, need to be optimized for visual search, screen readers, and color blindness. Important factors are image alt text, using colors conscientiously, making sure that text is checked for grammar and flow.
Accessibility on the web is rapidly moving away from blogging trend status to a complete necessity. If you haven't optimized your blog for accessibility, it's time you start and improve from there.
Things You Need To Do To Improve Accessibility
Be mindful of color schemes for color-blind users.
Always add alt-tags to your images.
Make sure there are no grammatical errors, these confuse screen readers.
When making videos, add subtitles and closed caption titles.
Create downloadable audio versions of your content.
7. Respond To Comments Or Get Rid Of Them
Comments are a bit of a minefield in blogging. If your blog is widely read, your comments section will become famous for its linkback power. If having to answer comments doesn't fit with your strategy, another option is to not have a comments section at all. This practice is becoming increasingly common in blogs of all sizes and niches. Taking out the comment section completely will save you from having to answer any. This can also make your content more evergreen.
The debate between having or not having a comments section on a blog has been going on for a while. This article by Optinmoster covers all the bases in the debate. Read it all to see why or why not to get rid of the comments section.
Make Your Comment Section Feel Like A Community
People that leave comments expect to be answered, otherwise, they will feel ignored. Nurturing your comments section shows humanity and connection. Ask your writers to answer the comments in their articles or have a dedicated person doing it for all blog posts. Get to know the people leaving the comments, if you notice them leaving comments regularly, connect with them. When conversations start to happen in your comments section, take part and collaborate. That way they will get to know you better.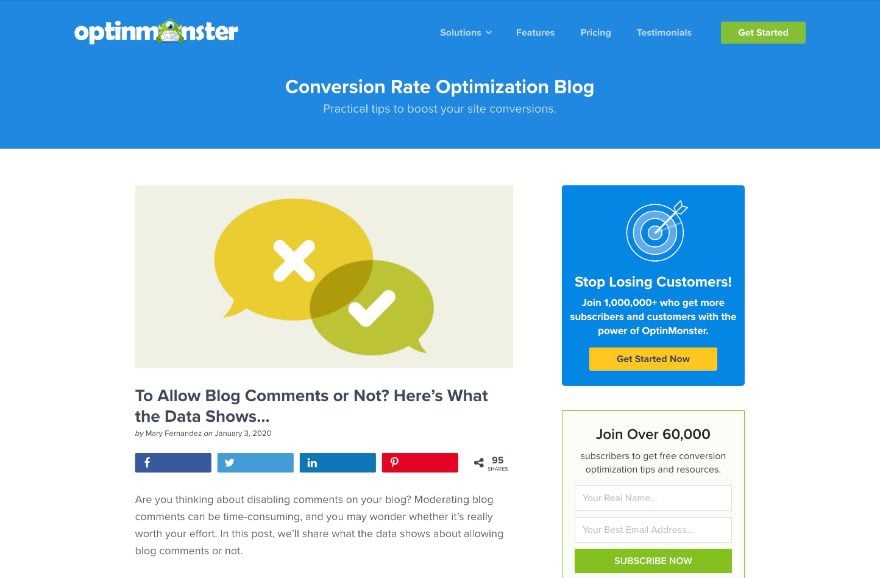 8. Get Acquainted With Data Visualization
During 2019, the use of data visualization in blog content has become quite popular and it doesn't seem to be going away in 2020. What used to be considered solely as charts, graphs and complex data visuals is now a growing trend. Data visualization is becoming mainstream through the information is beautiful movement.
What used to be seen mostly in journalistic articles and research magazines is now making its way to blogs and websites. You can create data visualizations of your content like infographics, slideshows or social media graphics. Likewise, you can include DataViz in newsletters and annual reports.
Data visualization as a blogging trend is quite new for the mainstream blog and it's an easy one to adopt. You just have to find the right tools to create them or find the right designers to create them for you.
Tools To Add Visualization To Your Site
Charts and graphs are just the tip of the iceberg when it comes to data visualization. Use Google Data Studio for the simplest visualizations. Try Visme for a bit more control over your data and learn Tableu for more complex creations. Alternatively, you can create artistic style data visualizations like the ones in this article published by Visme.
Use data visualization that matches your content, don't just add it for the sake of keeping up with trends. Believe it or not, pretty much any content can use a data visualization or tow, specially long-form content.
Last Thoughts
Blogging trends are funny things. They aren't ideas set in stone or rules you need to follow to the letter. They are more like suggestions that can help your blog improve and your business grow. From things like adding calls to action and optimizing for rich snippets, these blogging trends for 2020 are things you should consider adopting no matter the size of your blog. How many of these trends have you already adopted on your blog and which of them are you considering to add? Let us know in the comments.
Featured Image by Sammby / shutterstock.com