When you're creating a content strategy for your business or personal projects, there are a lot of things that you have to take into account. A few of those things are the topics that you handle, the keywords that you choose, the content promotion you'll apply and the post frequency you want to stay loyal to. Nevertheless, choosing between short-form or long-form articles is a thought that'll keep you busy as well.
In this post, we're going to explain the difference between short-form and long-form articles. Besides that, we're also going to show you why long-form content is more useful when we're talking about articles as one of the types of content you produce.
Difference Between Short-Form & Long-Form Articles
Short-Form
Short-form articles are obviously easier to create. To create short-form articles, you'll have to invest less time and energy. The minimum number of words that short-form articles should have (if you want them to rank well in search engines) is 300.
Although that might sound like a big number at first sight, 300 words are usually too little to talk about a certain topic in an as readable and valuable way possible. Therefore, short-form articles often have more or less 600-700 words with a maximum of 1000 words.
Long-Form
Long-form articles, on the other hand, are usually double the amount of short-form articles. The average number of words is more or less 1500-2000 words (although there are different opinions on this) and the information that's being provided is, of course, more in-depth and put into context (often with more examples and sources as well).
But creating long-form articles requires more effort and maintaining the quality of the content you're providing is usually a lot harder, as you need to keep your visitor entertained throughout all the parts of the post.
Factors That Play a Role
Deciding on creating primarily short-form or long-form content (no matter what content type) depends on several things. We've listed two of them that have a significant impact the decision you make on the short-form and long-form content balance within your content strategy.
The Target Audience
The first thing that plays a big role is the target audience since they are the people you want to reach and understand. Their thoughts and behavior matter the most. Question what kind of relationship you have with your target audience by asking yourself the following questions:
How interested are my clients in the products I provide?
How often do they use them?
To what extent are they emotionally involved?
Is there a sense of community?
Which types of content have delivered the best results in the past?
You can create as many short-form or long-form content as you want. But if you want the content to get results, your target audience has to be interested in it and willing to spread the knowledge you're providing.
The Added Value You Can Bring
Another factor that needs to be taken into consideration when choosing the content types (and choosing between short-form and long-form) is the added value you can bring. Added value beats content length. It's not the words you use that people will necessarily keep in mind, it's the knowledge they've obtained that'll help them bring things to the next level.
Reasons to Choose Long-Form Articles
Short-form and long-form content will always be complimentary. You can use both to build your content strategy to the point where it delivers the result you want. However, there are different types of content. For certain kinds of content, such as infographics, short-form does a better job than long-form. For articles and blog posts, however, long-form content has many advantages towards short-term content. Let's take a look at some of them.
The Optimal Length of a Post is More or Less 1600 words
According to Mike Sall, former Head of Product Science at Medium, the best length for a post or article is around 1600 which equals a 7-minute read. In the graph below, you'll see how the average of total seconds on a post fluctuates depending on the length of a post in minutes.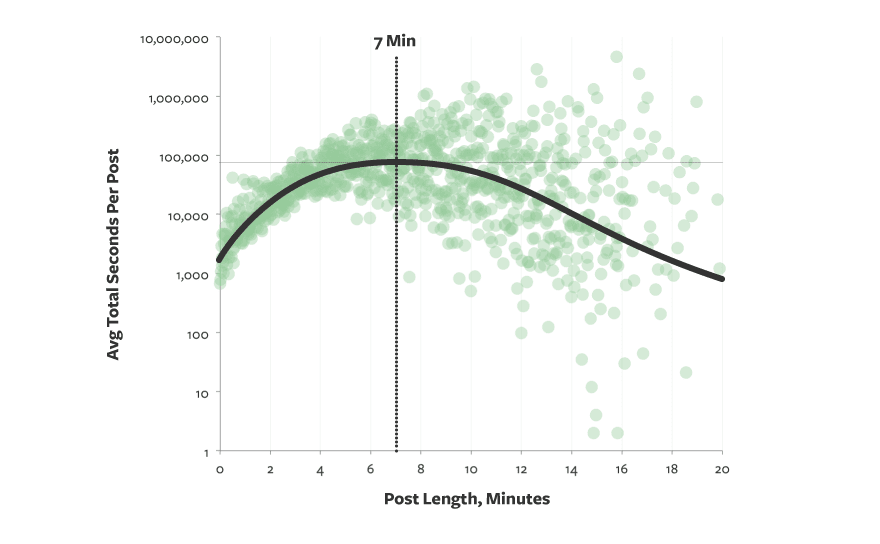 This graph obviously shows that there has to be a balance. You can opt for long-form articles but that doesn't necessarily mean that you have to make articles longer than 2000 words. A good long-form article provides just enough information without boring the audience.
SEO Purposes
Another major reason to go for long-form articles is SEO. If you're writing an article that's above 1000 words, you'll naturally have to put in less effort to make sure the keyword appears within the text as optimal as possible. Besides that, you'll also have higher chances to rank for long-tail keywords which usually lead to more engagement.
In a chapter of a study by Buzzsumo and Moz, you'll find an overview of what kind of articles get more shares (depending on the length of the article). These results come forth from analyzing 489,128 articles and their shares. After looking at the correlation, the following numbers were constated:
In these results, you can obviously notice that long-form content does a better job at gettings shares. In fact, the difference in shares between short-form articles and long-form articles is pretty big. Long-form articles result into almost 5 times more shares than short-form articles do. And, obviously; more shares results into more organic promotion which is one of the things that'll definitely boost your content strategy and decrease the promotion costs.
Higher Chance to Convert Random & Casual Visitors Into Regular Ones
Long-form articles send out a message of expertise and effort. Everyone knows it takes a lot more time and energy to create long-form articles than short-form ones. It's that specific effort and added value (that you hopefully maintain consistently) that'll make random and casual visitors think it's worth to become a regular visitor.
Final Thoughts
Knowing how you want to approach your content strategy is a must. A big part of creating your content strategy is taking into consideration what kind of content you want to produce. In this post, we've specifically compared producing short-form or long-form articles. If you have any questions or suggestions; make sure you leave a comment in the comment section below.
Be sure to subscribe to our email newsletter and YouTube channel so that you never miss a big announcement, useful tip, or Divi freebie!
Featured Image by  Sammby / shutterstock.com