Creative Cloud may be the gold standard, but some of us non-designer "designers" need something a little more…free. I totally believe in the power of top-of-the-line software, but if you're not going to need or use the features available, it's too expensive. Enter the world of free graphic design software.
Maybe you're just getting the hang of graphic design and you want to start slowly and inexpensively for now. Maybe you have one specific graphic design need and full-service suites are overwhelming. Or maybe you're like me and you need to create the random social media post or blog image, nothing more.
For creatives who need pared-down graphic design tools, there are Adobe-like options out there that still do a bang-up job. Choose the one tool that does exactly what you need or piece together a free graphic design software suite with every feature you need access to. Let's check some of them out.
Subscribe To Our Youtube Channel
Build and Animate 3D Graphics
Daz Studio and Hexagon

Daz Studio and Hexagon offer free 3D programs and they can work together if needed. Animate, sculpt and texturize 3D models and create animated 3D scenes with Daz Studio. Build 3D models from scratch with Hexagon, then import them into Daz Studio or another program for animating, rendering or styling. The Daz3D website also has pre-made 3D models for purchase.
Blender
Blender is an open source 3D graphics program with a host of features:
Animating
Modeling
Rendering
Rigging and skinning
Sculpting
Soft body simulation
Texturing
Video editing
Create short or feature-length films with Blender, and make your own extensions and tools if you need more functionality. The interface can be tricky to learn, but there are a lot of YouTube tutorials to help you out.
Edit Photos and Images
GIMP

GIMP is a general image and graphics editor, not too far off from Photoshop (for freebie software, at least). It has an easy interface for beginners, plus plenty of tutorials on YouTube and the GIMP website. GIMP has advanced brushes, filters, layers and masks, and it can be used for digital painting, creating materials like posters and flyers, and photo retouching. Here's a bit more about what GIMP is able to do:
Pixlr Editor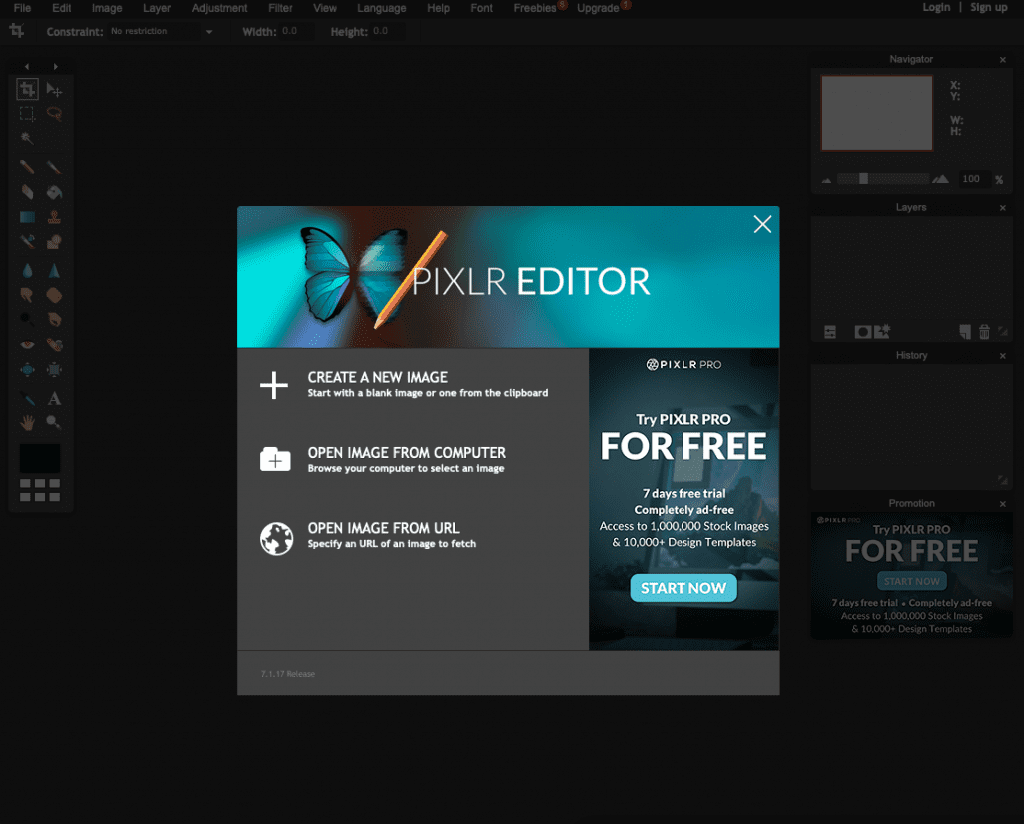 If you don't want to download software, use Pixlr Editor's browser-based image and graphics tool for editing. You'll see all the familiar photo editing tools, like brushes, cloning, filters, lasso and layers. You can crop and resize photos, and edit portraits to get rid of red-eye and whiten teeth.
Note that the quality of your images may look pixelated in the editor, but they should be fine once exported.
Once you're finished perfecting your images, protect them with a watermark. We rounded up eight water apps to check out.
Design Online Graphics
Canva and Snappa are so similar in terms of what they can do that I decided to talk about them together. Both tools have these features:
Create a variety of online graphics, including blog images, ebook covers and social media headers.
Choose from their library of pre-made templates and free icons, fonts and images.
Upload your own fonts and images to use in your designs.
User-friendly interface that's easy for beginners.
Personally, I prefer Canva because I like its interface more and I think the quality of their templates is a bit higher: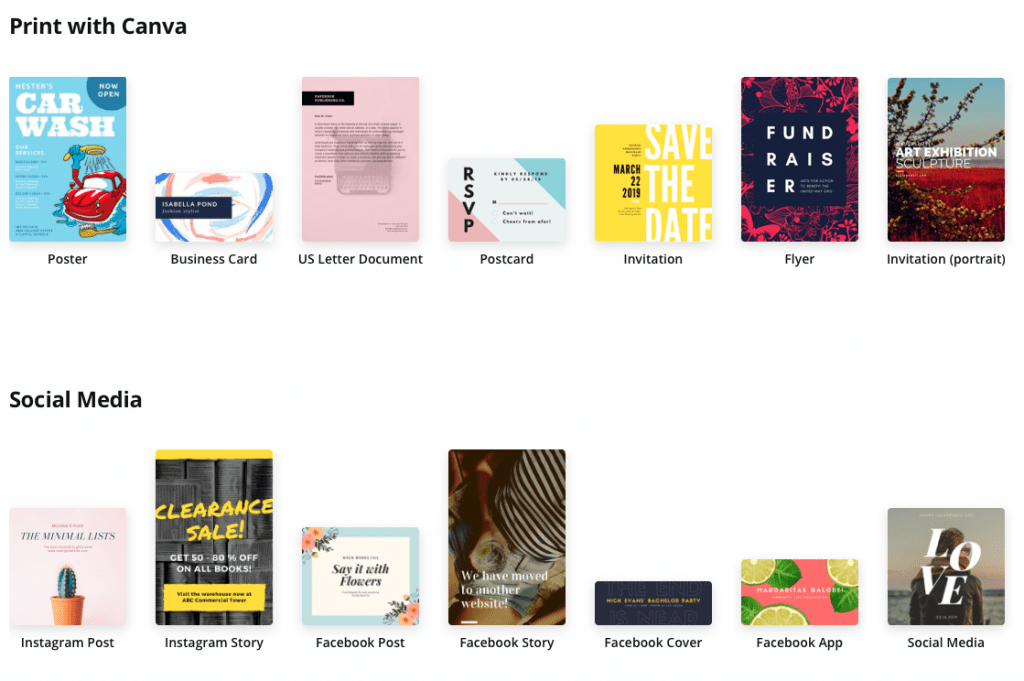 On the other hand, Snappa has more templates for Facebook ads and infographics:
Both Canva and Snappa have many of their features for free, but the biggest difference is that Snappa only lets you download five projects per month, while Canva has unlimited downloads (for everything other than images with a transparent background).
Learn more about Canva here and learn more about Snappa here
Build Infographics with Easel.y

If all you want to do is create infographics, opt for Easelly. Build your infographic from scratch or choose from free templates, then incorporate graphics and fonts from their library. Projects are saved online, so you can edit or export them at your convenience.
Create Vector Graphics
Inkscape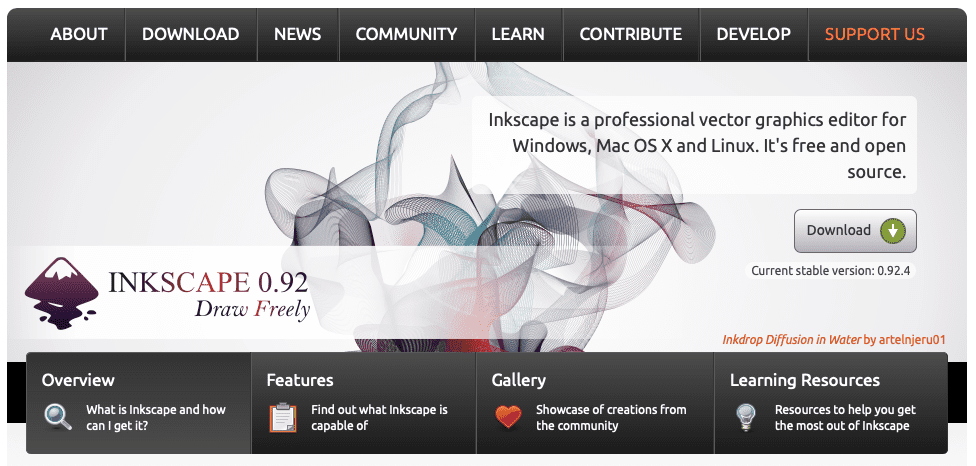 General graphics editors don't always support vector graphics, which is why you may want a dedicated tool. Inkscape has the basic vector graphics tools you'd expect, but it also has features you don't see in other free graphic design software:
Alpha blending
Cloned objects
Markers
Trace bitmap images
Variable width strokes
Vectr
Vectr is another option for creating vector graphics, especially if you're collaborating with another designer or a team. It has standard vector features and plenty of options for using filters, fonts and shadows, but where it really shines is with its live editing and sync. Work on a project in real-time, see changes as they happen and provide feedback ASAP.
Draw and Paint with Krita

Krita's excellent for making concept art, comics, illustrations and texture patterns, and it also has photo and image editing features. It has advanced drawing aids like layer masks, smooth shapes and vanishing points, plus templates and customizable brushes and tools. Here are a few of its standout features:
Brush stabilizers to fix shaky lines
Pop-up color palette for quick selection
Wrap-around mode for patterns and textures
Krita was created by artists, for artists, including the starving artist (as much as I hate that term) thanks to its $0 price tag. There's a lot packed into Krita, which can make the learning curve difficult to navigate. You'll want to look up tutorials to get the most out of it.
Wrapping Up
Great designers can do a lot with free graphic design software. Novice designers can improve their skills without dipping into their bank account. Either way, the programs on this list have their place in (almost) every designer's tool kit. The best part about them all being free is that you can experiment with them without any risk.
Want some cool fonts for your design projects? Check out these steampunk and Victorian fonts.