Looking for a Blender tutorial? Truth be told, just one will not be enough. That's why we put this post together.
Blender is one of those programs that seems daunting to get started with. But when once you get the hang of it, it can be a game-changer. With the ability to turn 2D art to 3D creations to adding visual effects to video. For those of you wanting to get started with Blender, we dove into the program to see just how much it could do.
In this post, we bring you a Blender tutorial showcase for beginners. It's a look at the fundamentals to get you started. We give you the tools to understand important things like what all those buttons are on the interface and why there are so many options and keyboard shortcuts.
Take a seat and get comfy, by the time you're done reading this post you'll have a better idea of what Blender can do for your creative business.
Here we go!
Following Blender Tutorials and Taking Blender Courses is Key
The first thing you need to know is that Blender is Open Source and therefore is completely free. You can download it on Blender.org and get started with it straight away.
Blender is the type of program that you need tutorials to help you get started as a beginner. If you have used other 3D animation programs, the learning curve is less steep but it's still much faster to get comfortable if you follow the right blender tutorial sequence.
But which tutorials should you watch? There are so many things you can do with Blender that you might not want to watch a tutorial that teaches you something you don't need. For example, let's say you want to learn how to animate words for video intros, or you want to learn how to make animated logos. Watching a tutorial on how to add fire to your hair won't help you much.
No matter what you want to do with Blender, you need to watch the fundamental blender tutorials that show you everything on the interface first. There are also plenty of settings you need to know before getting started, like left or right-click select or rendering speeds according to your computer CPU and Graphics Card. The Blender YouTube channel is a great place to start because they are very detailed and will always be updated for the latest version.
Blender YouTube Channel
Below is the first video in the official Blender 2.80 Fundamentals Playlist. There are 42 videos but thankfully they progress in difficulty. To get a good idea of the interface you have to watch the first three videos, after that, it goes into specific actions like modeling, creating meshes, extrusion, bevel cuts and other practical tools for creating 3D scenes.
If what you want is to learn Blender from the ground up to then be able to build any type of object and create realistic scenes, you should watch the entire series. Since it's on YouTube it's all free.
BlenderGuru YouTube Channel
Another great resource for beginners is the Blender Guru YouTube Channel. They have a series for beginners that starts with a quick look at what's new in Blender 2.8, then a look at the tools and interface. Those are followed by a step by step tutorial of 23 videos to create a 3D scene with a donut, and a coffee. After creating the entire scene, there is an animation of the plate sliding on the table.
The series is 25 videos long and as you follow along you learn everything you need to know to create a 3D animation. The series is easy to follow and a great place to start. Also, it's completely free.
For those of you with a Skillshare subscription, there are some good blender tutorials available on the platform. From interface fundamentals to specific challenges like modeling and animation objects.
Here are some of the best blender tutorials for beginners on Slideshare:
Blender 2.8: Your first day – get the basics right
This tutorial is fast-paced so you might need to watch the first few from the Blender channel first to get a grip of things. The two-hour course covers lots of steps to create a 3D scene. It's a great starting point for beginners.
3D Modeling In Blender 2.8 For Beginners – The Modeling Toolset
This course is all about modeling objects to create scenes with. It's a fast but detailed look at modeling on Blender. Follow along with the exercises to get more practice with the interface.
Blender Inspiration on Instagram
A great way to get inspiration Blender creations is to follow the Blender communities on Instagram. The official Blender Community profile is a great place to start. From there you can start following other communities like blendercentral and blender.daily. Also, follow blender hashtags like #blender #blender3d.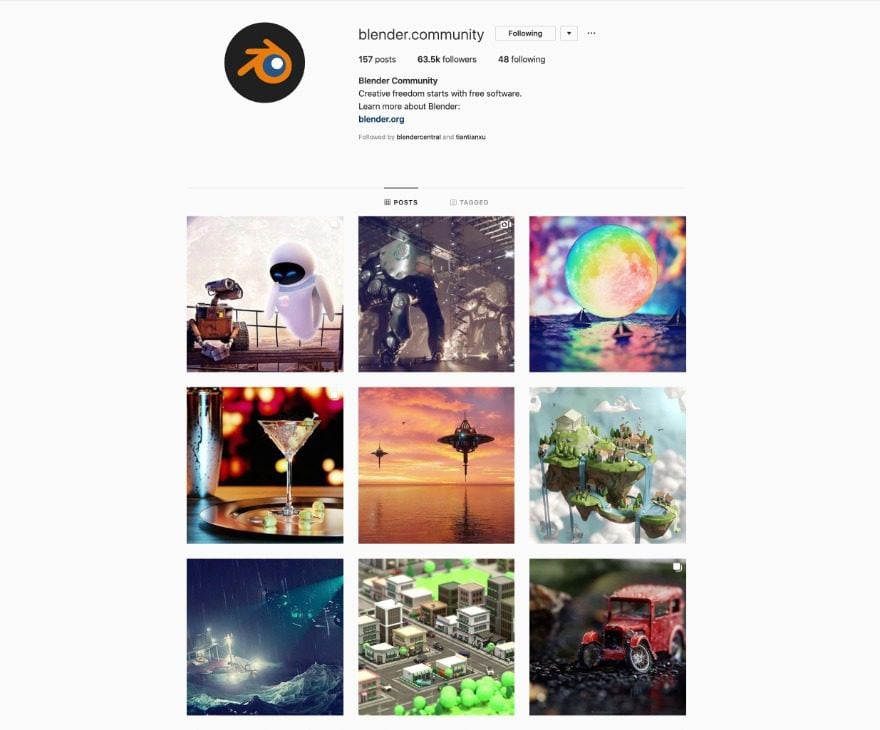 You Need to Know About Rendering
The term "render" is extremely important in Blender. It's also one of the most confusing things for beginners to Blender and especially to 3D art and animation.
Before you start on your Blender journey, it's important to know what rendering is, how it works and how long it takes to do its job.
What is Rendering?
Rendering is essentially the action a computer takes to transform a 3D scene into a 2D image. When creating a static 3D scene, you will ask Blender to render it into a .jpg image which you can then use for any other purpose. For animations, each frame of the animation is rendered into its own image. Those images are then set in motion.
What rendering does is take all the information you add to your scenes, like materials, textures, lighting, and shadows and compiles it all into a single file. You can render as you go to see how the final product will look.
Blender has a few different rendering engines; Eeveee which is fast and can be seen in real-time, Cycles which takes longer and gives better results, and a couple of others that you might never use.  The visual output between Eeevee and Cycles is quite different, mainly in terms of quality of texture and real-life resemblance.
Rendering Times and Preventing Frustration
3D animators use an actionable term for better rending, its to be "render-smart." This means that you have to learn how to optimize your rendering so you don't waste time and maybe also your sanity.
For example, if you are creating a 3D scene, you can build it all in viewport view until you're ready to add textures and lighting. Also, once you move to render view, use Eeevee while you are still in draft mode.
Small 3D scenes can be rendered with Cycles quite easily but an animation with many frames could take over an hour. Longer animations can take much more. Animators always render their frames overnight.
Blender Documentation has plenty of information about optimizing your render times. From improving your hardware to optimizing the creation process.
Low Poly vs High Poly
Another important aspect of Blender which you should know is the definition of low poly and high poly. Both are terms related to the way things look like in the finished render. In general terms, low poly has less definition then high poly but that doesn't necessarily mean that low poly doesn't look as good as high poly.
Poly is a shortened version of the word polygon. 3D objects are made with a polygon mesh which you can see on its surface. A mesh is made with different polygons next to each other. Taking this into account, the low poly render has a lower amount of polygons on the mesh compared to the high poly render that can have up to millions of polygons on a mesh.
Rendering is faster on low poly and slower on high poly.
Low poly is generally used for 3D games and high poly for animated films. Low poly is a trendy visual and is used a lot in an artistic way.
What Blender can Do and How to Learn What You Need
Even though Blender is one program it can do a few different things. In many cases, you'll want to learn how to use Blender for a specific purpose. Most want to learn to make 3D animations and 3D art
Build 3D Scenes and Animations
First and foremost, Blender is a 3D scene maker. In film and animation terms, a scene is a sequence of actions and events captured with a camera. In a movie, for example, there is a set that has been painstakingly designed and set up by art directors, set dressers, directors of photography and lighting technicians. When it's ready, the actors play out an action and the director captures it with a camera. The outcome is a scene. Scenes are then put together as sequences and a set of sequences makes a film.
In Blender, the basic interface is an empty set with a camera and one light source. With that as a starting point, you can create a 3D scene. Afterward, you animate it or navigate around in it.  3D animators, create scenes in different layers, for example:
First layer: the background
Second layer: the foreground
Third layer: the characters
Animating The Elements
When the set is ready, they animate the characters and elements, pan the camera to their preferred position and create scenes. Then, just in like a film, they make sequences to create a story. Quite a few feature-length animated films have been created with Blender, like NextGen.
This is the most common definition of 3D scenes for animation, but it's enough to understand how it works. Furthermore, in the Blender interface, you have a large range of artistic and creative tools to build, sculpt, texturize and render pretty much anything your creativity desires.
Blender is also extremely valuable to architects and interior designers. They can create 3D scenes to show clients a rendered design that looks like what the finished product will look like. In this way, Blender can achieve similar results to CAD, the industry-standard program for architecture rendering.
Here is a beginner blender tutorial for animation.
Below is a video tutorial for beginners on how to create a room with Blender 2.8. It's rendered with Eevee for lower rendering times.
Visual Effects – VFX
The first thing most people think of when considering Blender is that it's a 3D animation program. Well, it is. But it's also more than that. Blender has video editing capabilities like most video editing programs out there. The reason for that is so that you can add visual effects to your footage. Visual effects include things like:
Fire
Explosions
Weather phenomenon (rain, snow)
Digital additions to real-life shots
Animation and real-life compositions.
Color correction and filters
Below is a beginner's tutorial on VFX for Blender 2.8. You will need to go through the interface tutorials to follow along easier.
Transform Static 2D Objects Into 3D Objects
Transforming 2D design and turn them into 3D artwork is one of the greatest things you can do with Blender. A 2D design or object can be practically anything, from text to logos and illustrations.
This technique is great for creating branding animations or video intros. Turn a line into a flying ribbon, a dot over an i into a falling drop of water.
Below is a quick and easy blender tutorial for this technique.
Create 2D Animations With The Grease Pencil
Blender 2.8 has a great tool called the grease pencil. It's perfect for artists who prefer to sketch instead of building with shapes. The best way to use the grease pencil is with a digital drawing pad or tablet. With grease pencil, you can create 2D animations quite easily. Blender 2.8 has become one of the best programs for 2D animation, and don't forget that it's completely free.
The tutorial below is a great place to start with 2D animation using the grease pencil on Blender 2.8.
Draw in 3D With the Grease Pencil
The grease pencil is not just for 2D animation, it also works for 3D creations and animations. You can use a 2D drawing as a base or draw completely freehand. These techniques might be a little more advanced for beginners but can be quite easy for artists that are used to sketching on digital drawing pads.
Below is a tutorial on how to create a 3D scene from a 2D drawing.
Your Turn!
Now it's your turn to get started with Blender 2.8. What do you want to create? Did you find all the blender tutorials in this post useful? As we mentioned above, Blender is the type of program that most definitely needs visual help to take you on the learning journey.
Let us know in the comments if you have been using Blender already or if you are just starting to think about it.
Featured image via Microba Grandioza / shutterstock.com