WordPress survey plugins provide you with a fantastic way to collect user feedback, gain insight into their opinions, and make your website more engaging. However, it's important to choose the right solution for your site if you want to make the most of this feature.
As usual, there are plenty of options to choose from. In this article, we'll introduce you to our nine favorite WordPress survey plugins. We'll examine their features, pricing, and everything else you need to know to pick the best solution for your site.
Let's get to it!
9 Top WordPress Survey Plugins
For each survey plugin below, we'll show you what style of forms it enables you to create. We'll also discuss if it includes functionality to help you design and publish other types of elements, what its key features are, and its pricing.
We've listed them in no particular order, so feel free to choose whichever option best suits your needs.
1. Forminator Pro

First off, if be sure to check out our introducing to the free version of the Forminator plugin.
As the name implies, this is the premium version of the Forminator plugin. Forminator Pro is part of the WPMUDEV family of plugins and includes the high level of polish that we've come to expect from those tools.
Using Forminator Pro, you can build responsive surveys, polls, and quizzes. Basically, if there's any type of form that you want to include on your website, this plugin can help you build it.
One thing to keep in mind is that Forminator Pro doesn't include dedicated survey templates. However, it does enable you to build quizzes that don't require users to enter specific answers, which is perfect for a survey: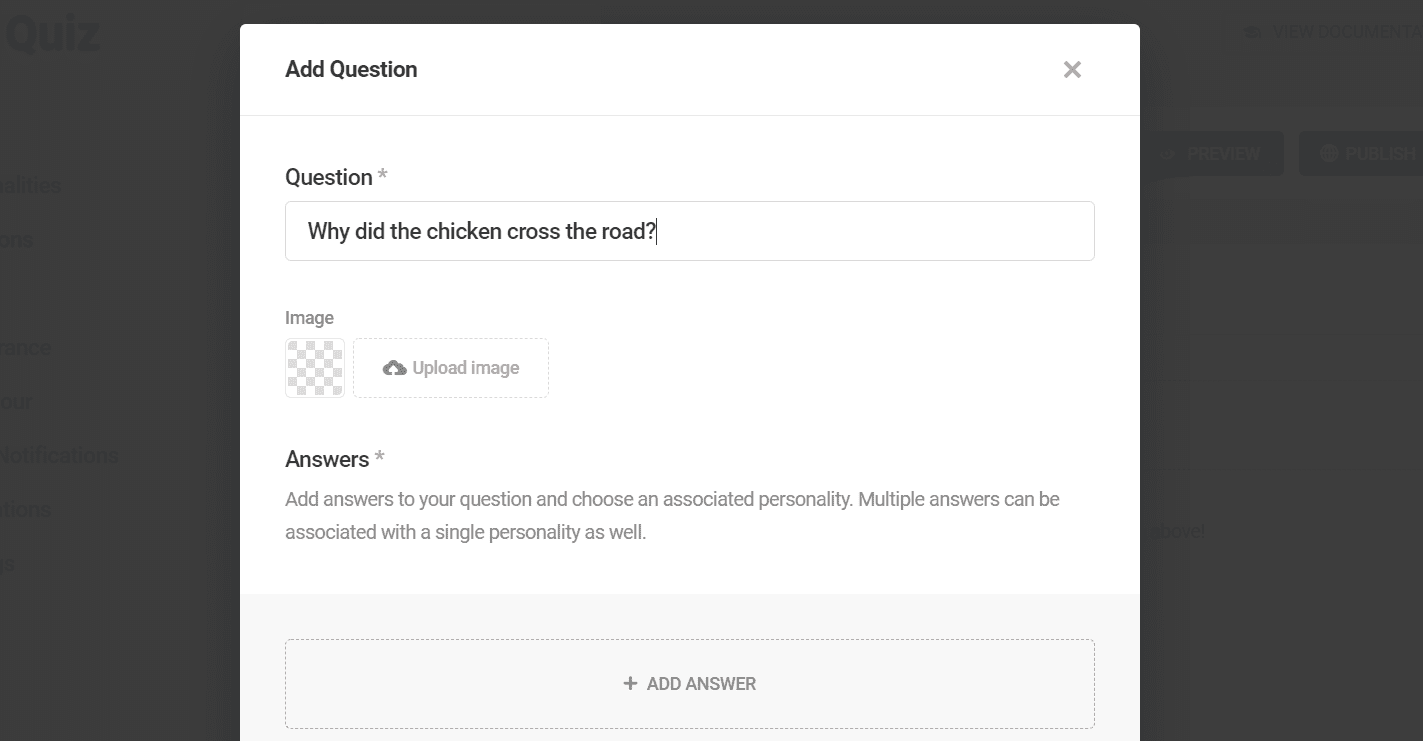 With Forminator Pro, you get access to advanced functionality such as support for eSignatures, conditional form logic, and spam protection. The plugin includes over 25 types of fields that you can put together in any way that you want for your surveys and it integrates with tons of third-party services.
Key Features:
Ability to build surveys, polls, quizzes, and other types of form-based elements
Drag-and-drop form builder
Responsive forms out of the box
Over 25 types of elements that you can use within your forms
Integration with dozens of third-party services, including PayPal and Stripe
Price: Starts at $5 per month | More Information
2. Formidable Forms

Formidable Forms enables you to create interactive content such as quizzes, surveys, email signups, and registration forms. The plugin comes with a broad selection of pre-built elements that you can include within your forms and enables you to use a drag-and-drop builder.
If you're using the free version of the plugin, you can design surveys by hand using its drag-and-drop builder. However, if you want access to survey templates, you'll need to upgrade to the plugin's premium version. Here's an example of one of Formidable Forms' premium survey templates: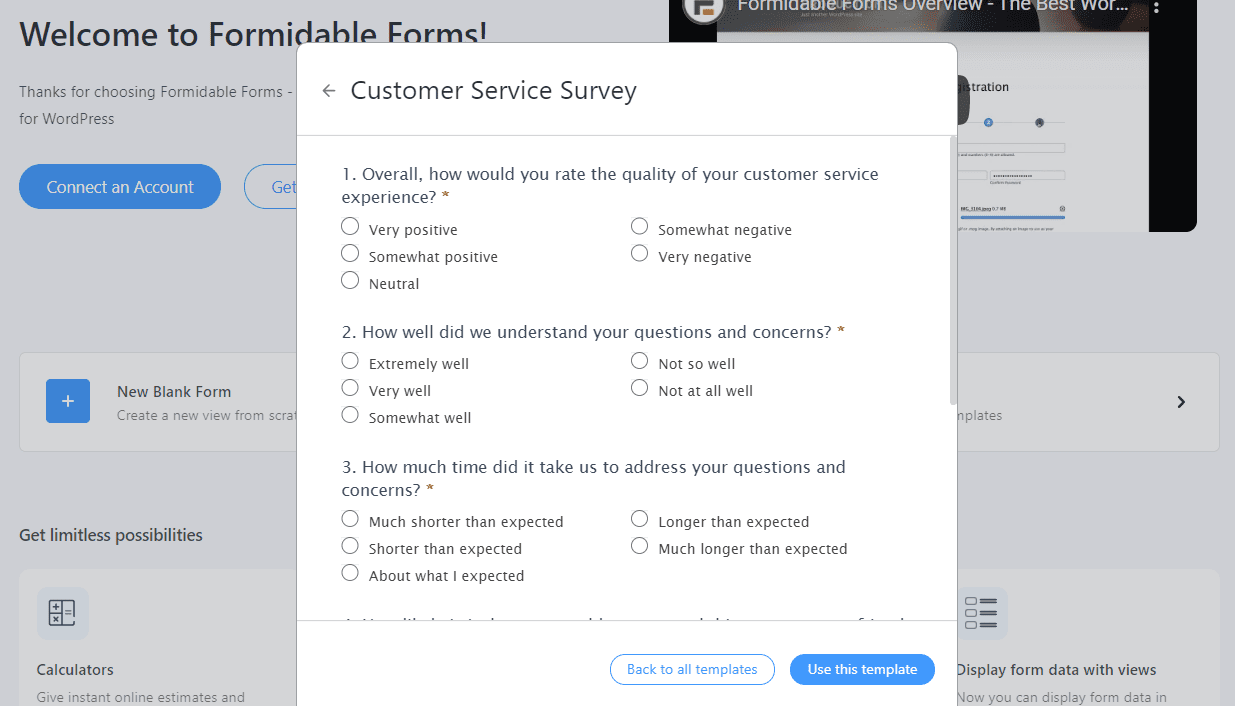 A lot of Formidable Forms' more advanced features, such as calculator and file uploads are only available within its premium version, which is relatively expensive. If you just need access to basic fields for your surveys, though, the plugin's free version will serve you just fine.
Key Features:
Build quizzes, surveys, email signups, registration forms, and more
Use a drag-and-drop builder and ready-to-go form elements
Extend the plugin's functionality with add-ons
Price: Free with premium licenses starting at $49.50 per year | More Information
3. Quiz and Survey Master

If you want to use a WordPress survey plugin that also doubles as a quiz solution, Quiz and Survey Master should be right up your alley. You can use this plugin to create user-friendly surveys, but its true strengths lie in designing online exams.
This is one of the only WordPress plugins that enable you to create timed surveys and quizzes. If that's something that you want to incorporate as part of your forms, then this should definitely be a top contender for you. As far as surveys go, this plugin enables you to use multiple types of questions, divide them into multiple pages, and use different types of fields for user answers. For a simple survey, you can stick with checkboxes: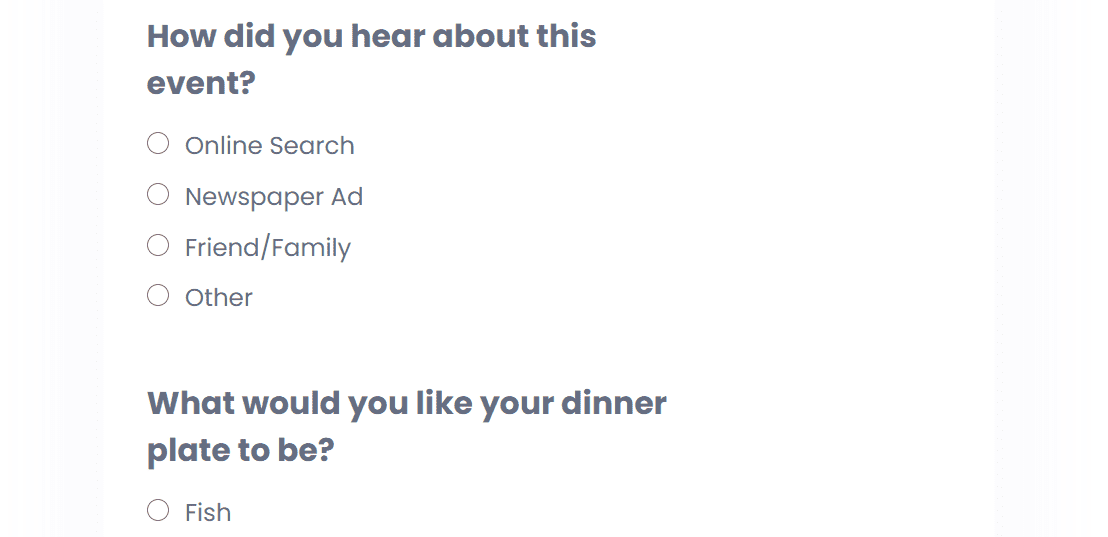 The plugin integrates with several email marketing solutions to help you engage with visitors, collect leads, and send them follow-up messages after they complete a survey. Plus, users are able to share their quiz or survey results via social media, which can help you bring in more traffic.
Key Features:
Design quizzes or surveys
Include timers within surveys and quizzes
Send automated reports to survey takers concerning their responses
Integrate the plugin with your email marketing platform of choice
Extend the plugin's functionality using premium add-ons
Price: Free with premium licenses starting at $79 per year | More Information
4. Poll, Survey & Quiz by OpinionStage

OpinionStage is a survey, poll, and quiz building platform. Using its free plugin, you can connect an OpinionStage account to your WordPress site and display any surveys that you create using the platform.
With OpinionStage, you get access to dozens of templates for polls, quizzes, and surveys. However, it's important to note that all editing occurs off-WordPress. Here's a quick look at the OpinionStage survey builder in action: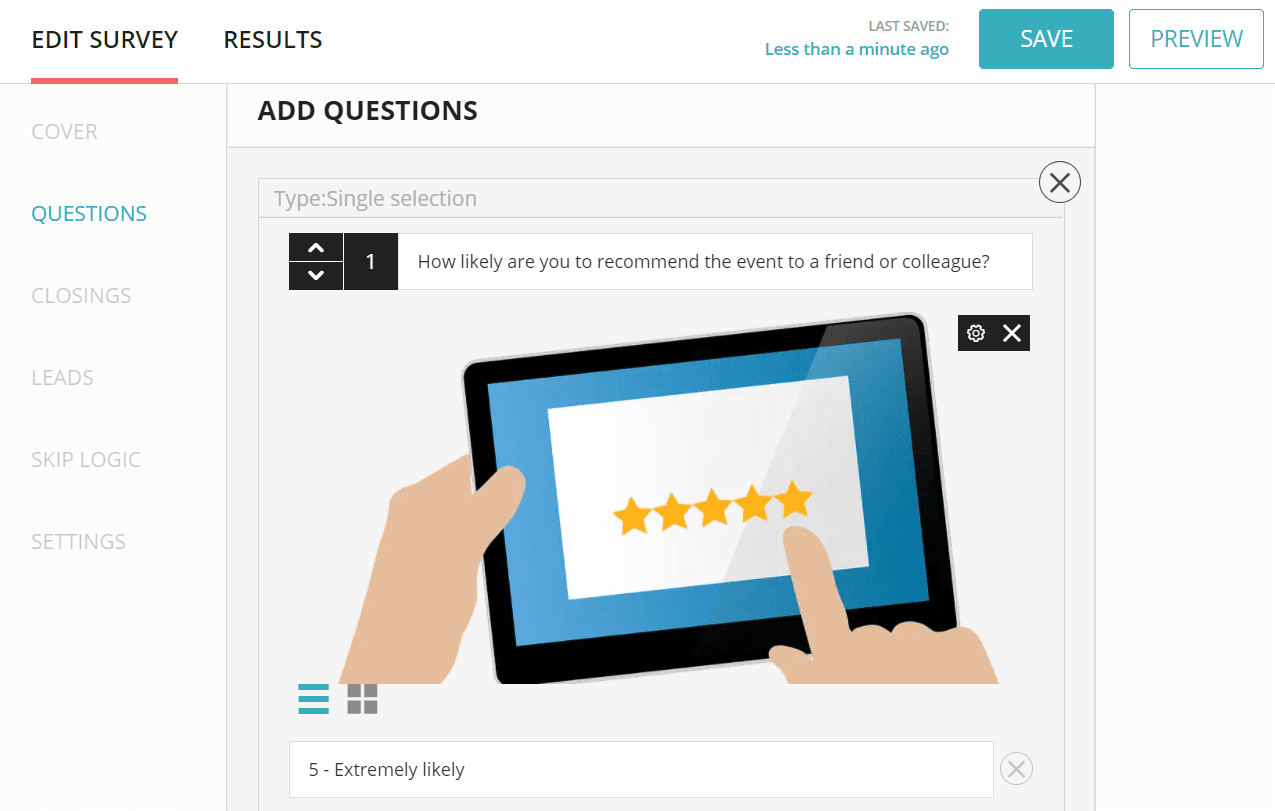 The OpinionStage survey builder is easy to use and it provides you with multiple question types that you can use. However, style customization is a bit lacking and some advanced features, such as adding CSS to your surveys, are limited to premium plans.
Once you create a survey, you can save it as a draft and it will appear within the plugin's tab on your dashboard. From there, you can choose whether to display your surveys using pop-ups or as part of your pages using blocks. If you don't mind using a third-party platform to design your surveys, OpinionStage can be a good option.
Key Features:
Build surveys, polls, and quizzes on the OpinionStage platform
Take advantage of dozens of pre-built survey templates
Customize each survey's style
Use blocks and/or pop-ups to display surveys wherever you want
Price: The Poll, Survey & Quiz plugin is ree and you can create a free account on the OpinionStage platform | More Information
5. Form Maker

Form Maker by 10Web is a drag-and-drop form builder you can use to create simple surveys, quizzes, feedback forms, and more. We say "simple" not because the plugin lacks functionality, but rather because its default styles are very minimalistic (which is not a bad thing).
With this plugin, you gain access to over 43 types of fields that you can use within your surveys. Moreover, you can display surveys by embedding them in your website's pages or as popups. For simpler forms, you can also use fixed top or bottom bars.
Unlike other survey plugins, Form Maker doesn't include a broad library of templates. That means you have to create surveys from scratch, which isn't all that difficult thanks to the plugin's intuitive editor: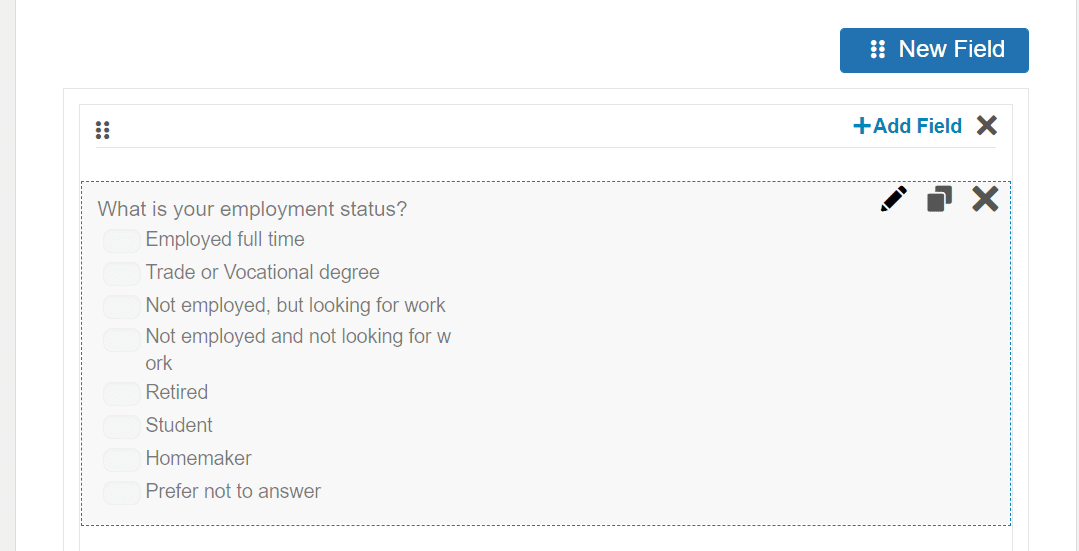 The surveys you can create this plugin are mobile-friendly and they can span multiple pages. Users can save unfinished surveys and come back to them later, too, and you can configure automated emails based on their responses.
Form Maker integrates with multiple third-party services, including MailChimp and several cloud storage solutions such as Dropbox and Google Drive. Most of the plugin's features are available in its free version. However, e-commerce functionality and front end file-uploads are limited to premium users.
Key Features:
Create surveys, quizzes, and any other type of form you need
Use drag-and-drop functionality to design responsive forms with over 43 types of fields
Design multi-page surveys
Let users save their progress on a survey and return to it later
Send automated emails to survey takers
Integrate with MailChimp and multiple cloud storage solutions
Price: Free with premium licenses starting at $30 for six months | More Information
6. Typeform

As you may know, Typeform is an online service for creating stylish, interactive content. However, it's real strength doesn't lie in simple forms – it's better geared towards multi-question elements such as surveys. With Typeform, you can use a drag-and-drop builder and ready-to-go elements to design your surveys. However, it goes above and beyond what many of its competitors provide: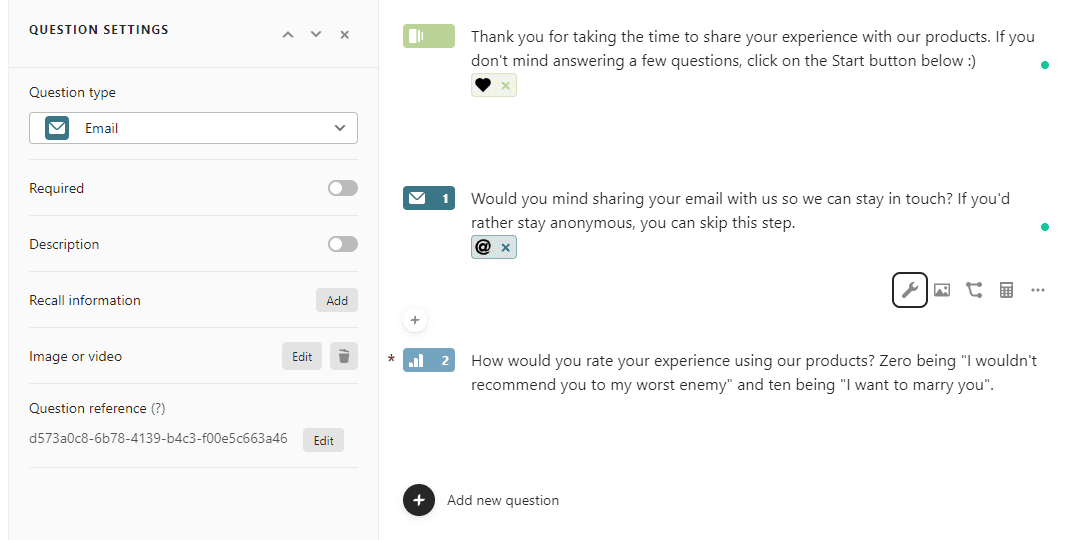 The Typeform plugin doesn't enable you to build forms from within WordPress. For that, you'll still need to sign up for a Typeform account and create your surveys from your user dashboard. What the plugin does is connect your account to your website so you can embed your interactive content on your pages.
Arguably, you don't need the plugin to accomplish this as Typeform provides you with several ways of embedding surveys into your site. If you don't mind that caveat, this tool can help you create forms that are miles ahead of what most dedicated WordPress survey plugins offer in terms of usability.
When you're creating a new survey, you can choose from multiple templates and decide what you want to do with the data you collect. You can export it manually or connect Typeform with other services such as MailChimp or Dropbox. Alternatively, you can submit survey responses directly to Slack.
Key Features:
Design interactive surveys, quizzes, and other types of forms
Use a third-party service to create and host surveys
Embed surveys into WordPress manually or via the plugin
Use templates to quickly create new surveys
Export your data by connecting Typeform with third-party services
Price: Free with premium plans available starting at $35 per month | More Information
7. Crowdsignal Forms

Crowdsignal Forms is a plugin that enables you to connect your WordPress website with the Auttomatic Crowdsignal platform. Using that platform, you can create user-friendly polls, enable users to cast votes and fill out satisfaction forms on your website.
For this plugin to work, you need to have a WordPress.com account. The plugin will ask you for those account's credentials to provide you with an API key and connect the Crowdsignal Forms plugin to your website. Once the plugin is active, you'll be able to access a collection of new blocks within the WordPress editor: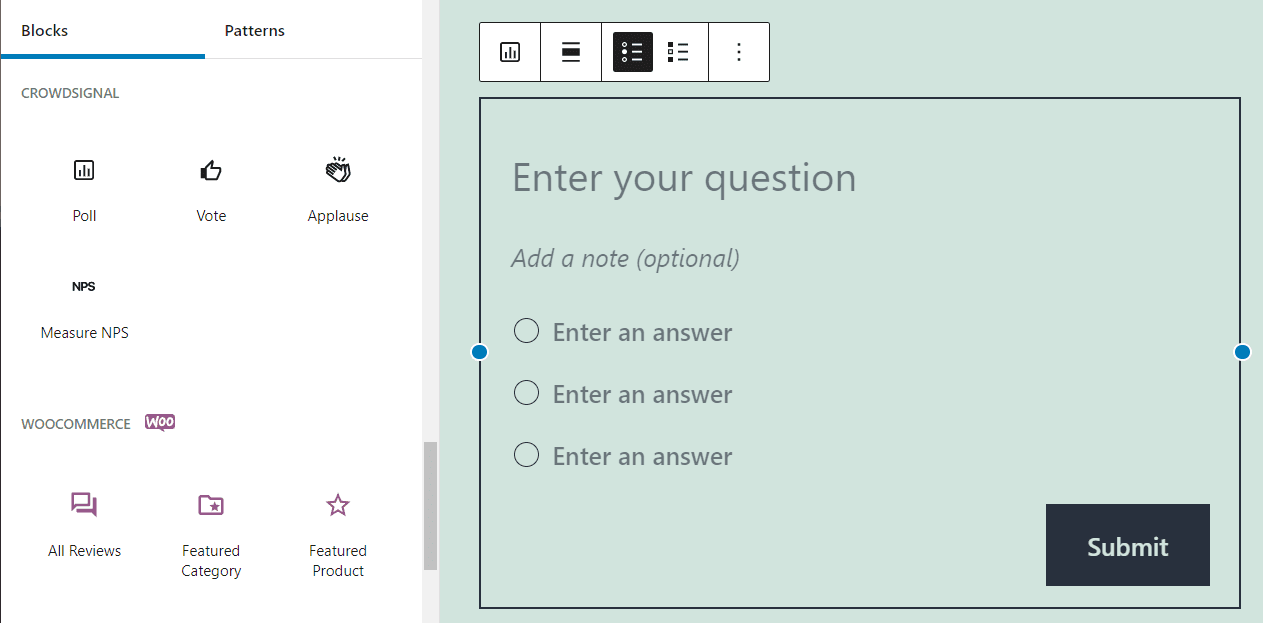 Crowdsignal doesn't include a survey block by default. However, once you sign up for an account on the platform, you'll be able to create surveys using its editor: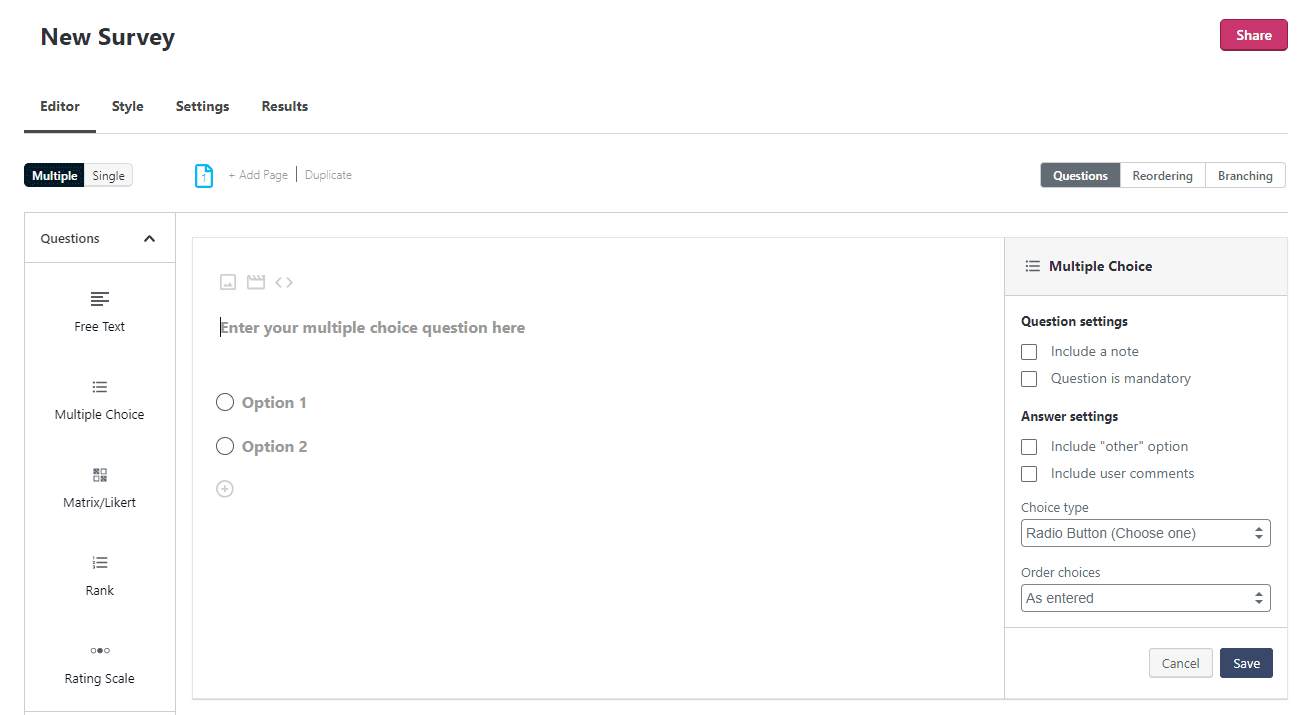 Free Crowdsignal plans enable you to create as many surveys as you need. Once your survey is ready, you can embed it into your website using a Crowdsignal URL block, which is one of the options that the Crowdsignal Forms plugin adds to your website.
Key Features:
Create forms, surveys, satisfaction forms, and other types of user-feedback elements
Use the Crowdsignal platform to design complex surveys
Embed surveys into WordPress using the Crowdsignal Forms plugin
Design simple poll questions using the Block Editor
Price: You can download the Crowdsignal Forms plugin and sign up for a Crowdsignal account for free | More Information
8. Watu Quiz

Watu Quiz enables you to build an unlimited number of quizzes and surveys for your WordPress website. Unlike other WordPress survey plugins, it doesn't feature a visual drag-and-drop builder, though. Instead, you get to add questions to your surveys using a classic WordPress editor interface: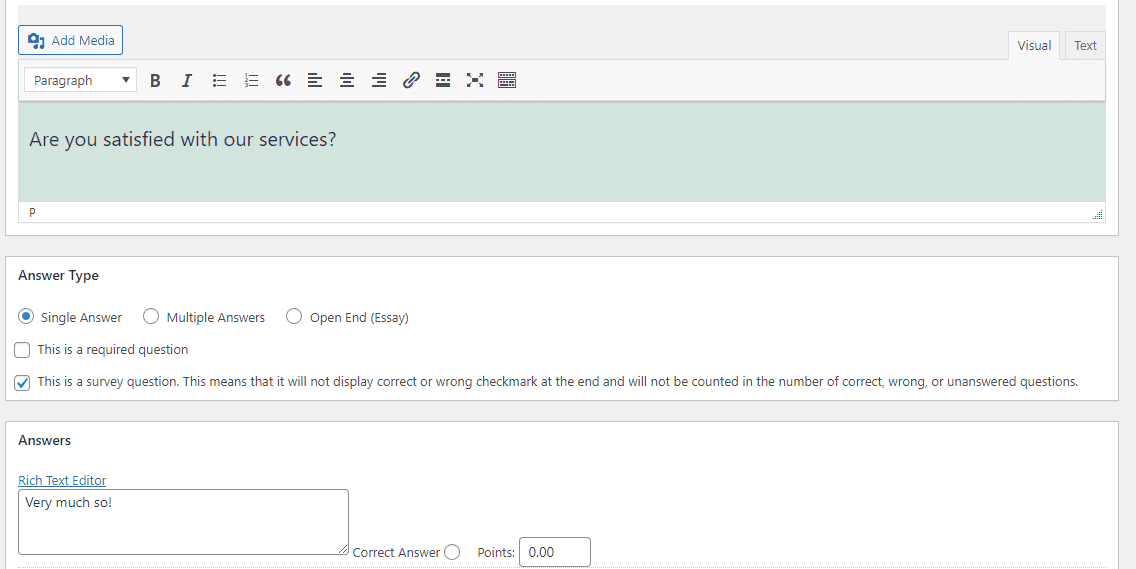 Surveys can include as many questions as you need and you can embed them into any page on your website using a unique shortcode for each element. Moreover, the plugin includes a broad range of advanced features, such as requiring users to log in to answer surveys, automatic post-survey emails, and more.
Although Watu Quiz's user interface is a bit rough around the edges, it's a great WordPress survey plugin option if you want to create comprehensive surveys without paying too much attention to their style. Plus, all of the features that you need to create surveys are included in the plugin's free version.
Key Features:
Create unlimited surveys and polls
Add and edit survey questions using the classic WordPress editor
Customize your survey's behavior
Price: The Watu Quiz plugin is free and there's a premium option available | More Information
9. eForm

As the name implies, eForm is all about forms. We've seen a lot of WordPress form plugins so far, but eForm stands out because it offers one of the most feature-filled form and survey builders that we've had the pleasure to use. For each survey question that you add, you get to select from dozens of user input options and the plugin shows you a live preview of how the end result will look like: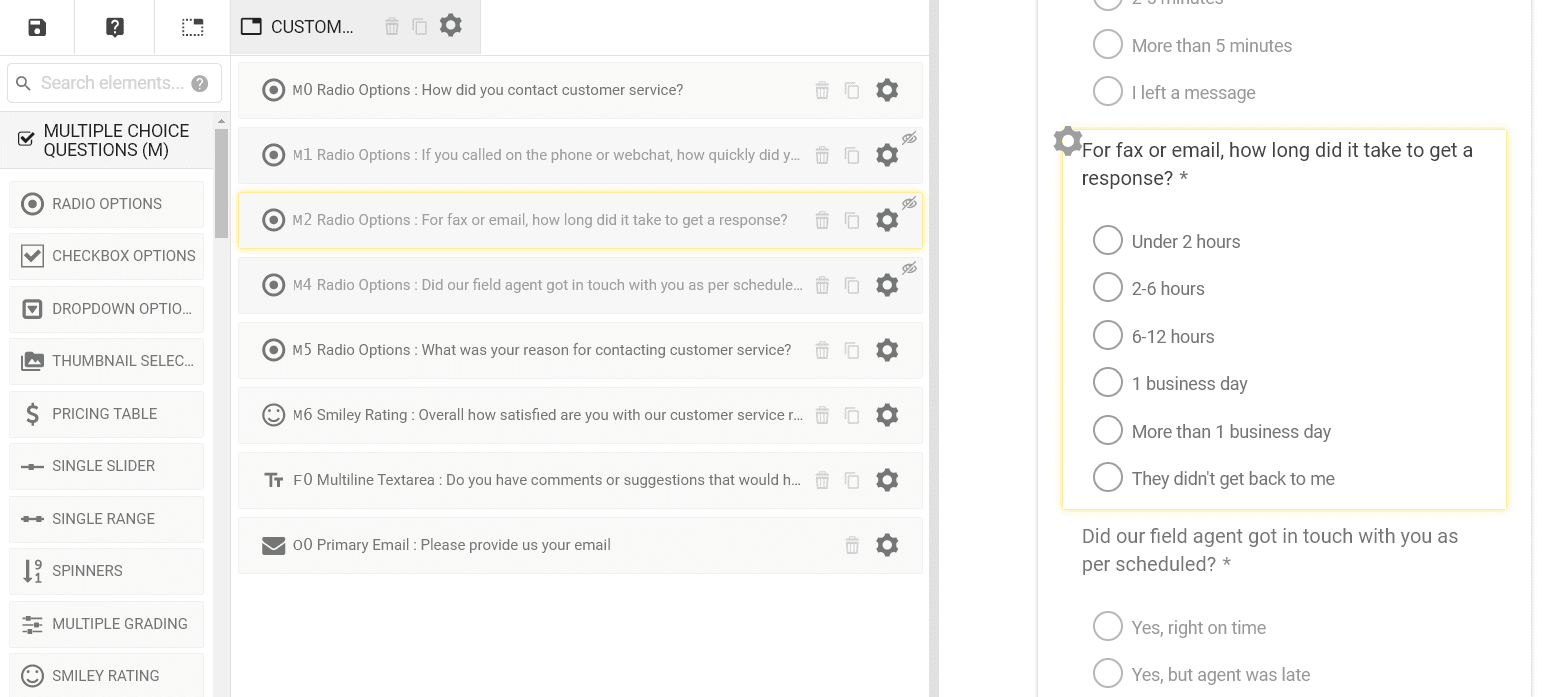 Using eForm, you can switch previews for different types of screens without leaving the builder. Considering how important mobile-first design is these days, that's a feature that should come in very handy.
The premium eForm plugin includes a decent selection of templates for complex forms, polls, and surveys. However, you'll most likely want to build your surveys from scratch so you can learn how to use the plugin's powerful editor.
Key Features:
Design forms, polls, surveys, checkout forms, and more
Choose from dozens of elements to add to your surveys
Customize each survey question
Preview how your surveys will look in real-time
Price: An eForm license will cost you $39 | More Information
Conclusion
Surveys are some of the best tools you can use for collecting user data and feedback. They can provide insights into what users think of your website, products, branding, and much more. However, if you want to create highly engaging surveys that work with WordPress, you'll need to choose the right plugin for the job.
There are many WordPress survey plugins available, but these nine take the cake as far as we're concerned:
Do you have any questions about how to create engaging surveys for your website? Let's talk about them in the comments section below!
Featured Image via VectorMine / shutterstock.com