Want to add a dose of professionalism to your WordPress site? LinkedIn is by far the most popular social network for professionals. So if your site is focused on business or other topics professionals concern themselves with, then it's a good idea to take advantage of this fact and add some of the social network's elements to WordPress.
But how? That's the question, and I've got the answer…
In this post, I'll go over the different methods of integrating this social network with WordPress. Then, I'll give you the best plugins and tools to accomplish each method. Let's get into it…
1. Embed LinkedIn Profile Information in Your WordPress Site
One of the simplest ways to integrate your profile with WordPress is embedding the profile information. The exact information that you're embedding will depend on your specific situation:
If you're an individual, you can embed your personal profile in various ways.
If you're representing a company, you can embed your company's profile on your WordPress site.
I'll show you solutions to accomplish both. Here's how you can do it:
Use the Manual LinkedIn Developer Embed Code
For this one, you don't even need a plugin. Plugins might make your life easier, but the network provides a handy embed code that you can use to add personal or company profile information to WordPress.
Just head to the LinkedIn Developer Network's Plugin page. Then, click on the embedded object you're interested in. For example, if you click on Member Profile, you'll see a preview page for your own profile (assuming you're logged in). Then, you just need to click Get Code: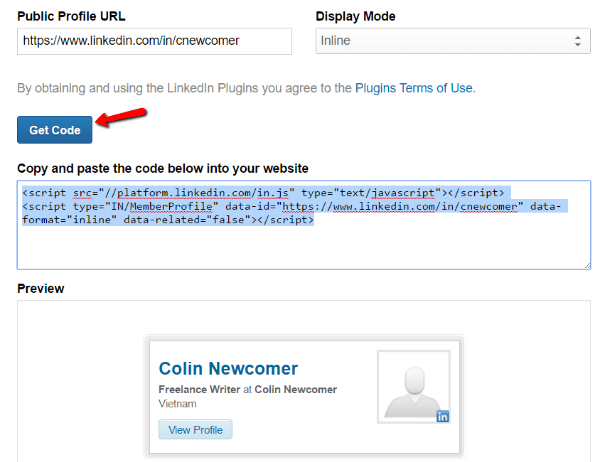 You can add that code to any WordPress post or page to embed your profile. It's also possible to add it to the Divi Code Module to embed profiles when building pages with Divi: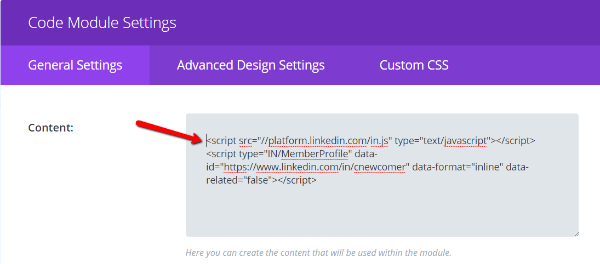 You can play around with other LinkedIn Developer plugins to integrate even more profile information. For example, if you're creating a company website and you want to highlight the employees working at your company, you can use the Company Insider plugin: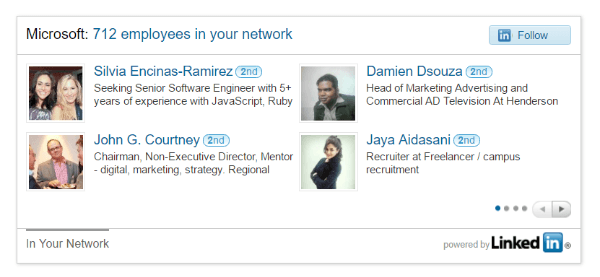 Price: Free | More Information
WP LinkedIn – Plugin to Help Embed Profile Information

If you don't want to deal with embed codes, you can also turn to a plugin to help you include your profile on WordPress. WP LinkedIn provides simple shortcodes to display your profile anywhere on your WordPress site.
For example, to add your profile card, all you need to do is use the "[li_profile]" shortcode in a post, page, or Divi module.
Price: Free | More Information
WP LinkedIn for Companies
A premium extension to the above plugin, WP LinkedIn for Companies allows you to embed similar cards for company profiles. You can also include company updates via shortcode.
Price: $40 | More Information
Another simple method for integrating this social network with WordPress is using follow and social share buttons. Many social sharing plugins include this network as a default option, but I'll also share some plugins to add social buttons.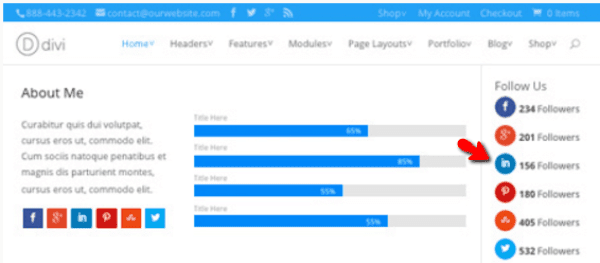 If you're subscribed to the Elegant Themes Developer package, you've already got access to a social sharing plugin that can handle LinkedIn. Monarch lets you add social share buttons to all of your posts and pages.
You can also use Monarch to add follow buttons to your sidebar.
Price: Included in the $89 Elegant Themes' Developer package | More Information
LinkedIn by BestWebSoft

If you don't need a full social sharing plugin, LinkedIn by BestWebSoft lets you create share and follow buttons exclusively for this network. You can choose whether to display your buttons before or after your post content and whether or not to display share numbers.
Price: Free | More Information
3. Cross-Publish Content Between WordPress and LinkedIn
Both WordPress and LinkedIn allow you to publish content. But if you don't have time to create unique content for each platform, you may find yourself wanting to cross-post content between your WordPress site and your profile. These tools will help you accomplish that…
LinkedIn Auto Publish

LinkedIn Auto Publish lets you automatically publish your WordPress posts to your profile. It also lets you customize how exactly this happens and which posts get published.
For example, you can choose whether or not to include images when posting content to this social network. You can also choose to exclude certain post types from being published to your social profile.
Price: Free | More Information
LinkedIn Company Updates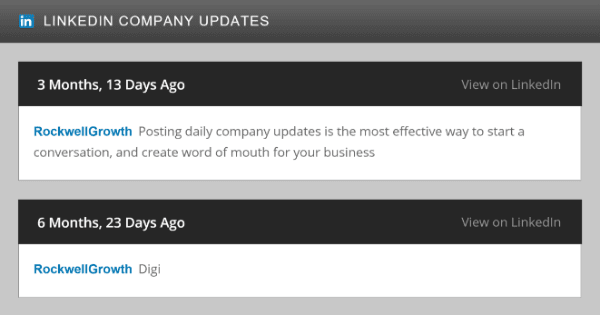 LinkedIn Company Updates allows you to bring content from your social profile onto your WordPress site. The plugin gives you a shortcode which you can use to display an updated feed of all of your company's latest updates.
Price: Free | More Information
IFTTT LinkedIn and WordPress Recipe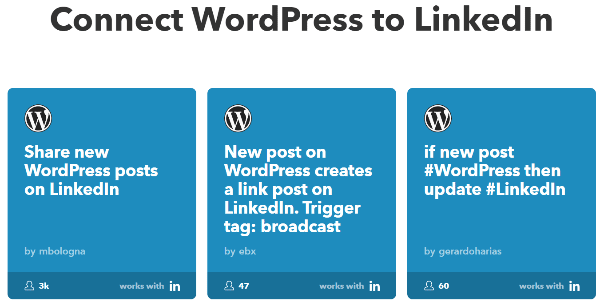 This one isn't a plugin, but if you're familiar with the automation website called IFTTT (If this, then that), you can set up a recipe to automatically publish your WordPress posts to your social profile. No need to create your own recipe – there's already an existing recipe which lets you cross-post WordPress content straight to your profile.
Price: Free | More Information
4. Add LinkedIn Login to WordPress
You're probably familiar with Facebook login for third-party websites. But did you know that this social site has its own login functionality? You can add this login method to your WordPress site to allow your users to log in or sign up with their profile.
LinkedIn Login

LinkedIn Login lets your visitors sign up to your site with a single click. If they're already signed up, they can log in just as seamlessly.
To create a user's WordPress profile, the plugin will automatically pull their first and last name from their social profile. Adding the sign up/log in button is as simple as inserting a shortcode wherever you want it to appear.
Price: Free | More Information
5. Accept Job Applications on WordPress via LinkedIn
If you have job postings on your WordPress site, you're probably looking for the most efficient way to accept applications. Well, let me submit one idea:
Allow readers to apply via their social profile.
Apply with Linkedin For WordPress

Apply with LinkedIn For WordPress lets you add an "Apply with LinkedIn" button anywhere on your WordPress site.
But here's the best part:
You can view all of your job applications directly from your WordPress dashboard. Yup – you can download CVs and view basic profile information without leaving the comfort of your WordPress site
Price: $17 | More Information
Wrapping Things Up
There you go! Five different ways to integrate LinkedIn with WordPress with all the tools and plugins you need to utilize each method.
Whether you just want to add share buttons or go more advanced with cross-published content and  job applications, you should have everything you need.
Do you actively make an effort to integrate LinkedIn with WordPress? I'd love to hear why or why not in the comments.
Article thumbnail image by Gamegfx / shutterstock.com