Using social media is quickly becoming an unavoidable part of running a website. To build a strong online audience, you'll want to engage their interest through as many channels as possible. At the same time, running a lot of social media accounts in addition to your site can be time-consuming. Enter IFTTT for WordPress. It's an intriguing tool that helps you automate your social media management.
In this article, we'll talk a little about the importance of automating your social media and website-related tasks, then introduce IFTTT and explain what it can do. Finally, we'll show you ten useful IFTTT WordPress integrations to make your life a little easier. Let's begin!
Social media has become a central part of the online experience. For example, 81% of the U.S. population has at least one social media profile. This makes it an excellent tool for conducting marketing and driving traffic to your business or website. After all, the vast majority of adults prefer to follow brands through social networking more than any other channel.
There's a good chance you already know this, and have your own set of professional social media accounts. However, if you're managing these accounts by hand, you may be spending more time dealing with them than is necessary. A lot of common, repetitive social networking tasks can be handled effectively through automation.
There are a number of reasons automating your social media accounts is a smart idea. For example, it:
Saves time you can devote to more important, big-picture tasks.
Helps you maintain consistency across all your social media platforms.
Enables you to set up and maintain an effective posting schedule.
If you decide to go down this route, there are plenty of online tools that can help. Let's introduce one of those handy tools now.
Introducing IFTTT for WordPress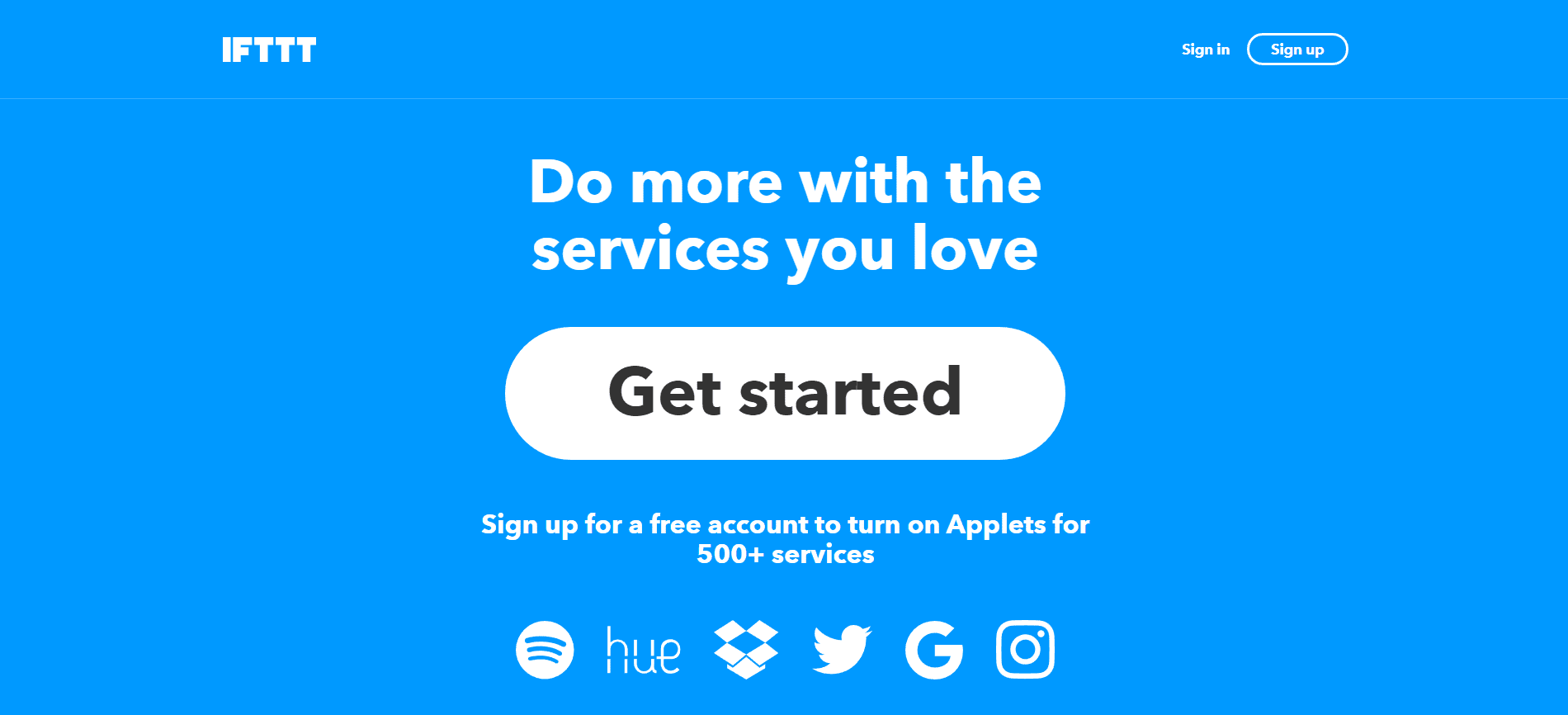 IFTTT is a simple but useful platform that helps you automate tasks you would otherwise have to perform on a daily basis. It enables you to create individual apps – or 'applets' – that integrate two services, platforms, or tools, and automatically performs a set task. While IFTTT works with many platforms, it of course caught our attention for its impressive library of applets that integrate with WordPress.
For example, you can create an applet that connects your WordPress site to Tumblr. While the app is running, all posts you add to Tumblr will also be uploaded to your website. This means you don't have to go through the hassle of posting duplicate copies of content yourself. Plus, you can create and run these applets for free, although there are premium plans available that enable you to more fully customize what each integration can do.
Key Features:
Connect WordPress to various social media platforms and other online tools.
Create apps that perform a rote task automatically.
Customize your apps' settings (limited options in the free version).
Create your own apps and share them with the IFTTT community.
Price: Freemium | More Information
How to Set Up IFTTT
If you're interested in using IFTTT for WordPress, you'll find the process is quite simple. You'll start out by signing up for an account – either with an email and password, or through Google or Facebook. Once your account is set up and you're logged in, click on Discover or Search at the top of the screen to look for a suitable applet.
When you find an applet you like, select it and choose the Turn On option. Then, the platform will walk you through a simple wizard that will help you set up your new app. This will be a slightly different process in each instance, but in general you'll need to provide your account details for each platform or tool the applet will need to connect with: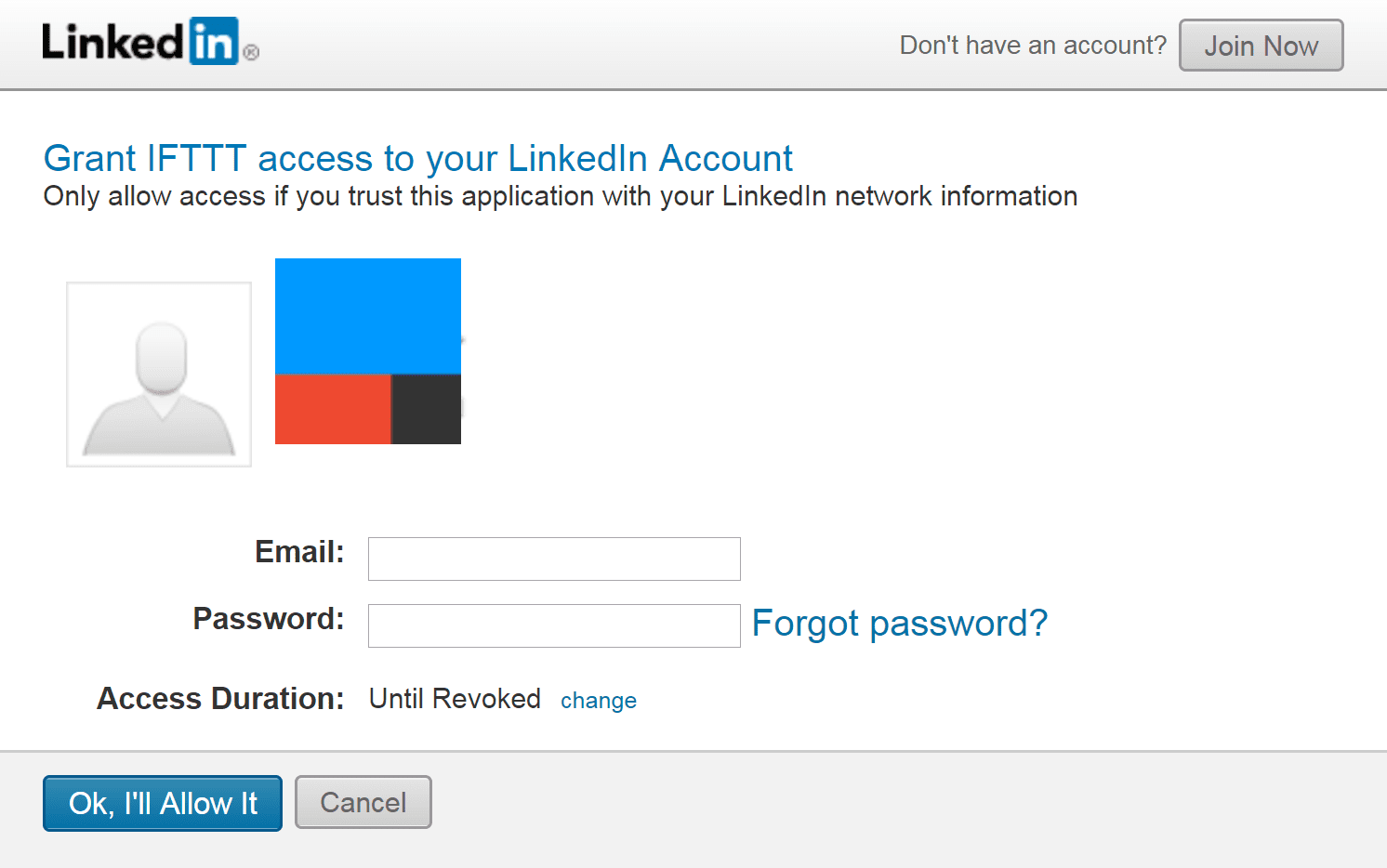 Next, you may be asked to customize a few settings that will determine how the applet operates. For example, if the app is designed to publish WordPress posts with a specific tag to LinkedIn, you'll naturally need to specify a tag it should look for. Finally, you'll be able to publish the applet, at which point it will run automatically. You can see all the applets you currently have active, and edit them if necessary, under the My Applets screen.
10 Useful WordPress Integrations Using IFTTT
There are a lot of WordPress-related tasks you can accomplish with IFTTT. To give you an idea of what's possible, let's introduce ten integrations you may find useful.
We chose these options for their variety in function and their reliability – all ten were created by the WordPress developers rather than the IFTTT community. Most help you out with rote social media tasks, although a few connect WordPress to other commonly used online tools. Let's dive in!
We'll start off with a bang, since this is one of the most useful applets IFTTT offers. It does triple duty, integrating your WordPress site with Twitter, Facebook, and LinkedIn all at once. Since these are three of the most popular social media networks, chances are you'll already be active on each one. When you set up this app, it will share your new posts as a link to all three platforms. The only downside is that it won't let you skip one of the networks if you don't happen to use it.
Unlike the previous applet, this one targets only a single social media platform. LinkedIn is a great way to network with other professionals in your field and attract customers, and sharing your content there can improve your credibility. With this applet, you can determine a specific tag or category, and all posts from your site that meet the criteria you set will be shared on your LinkedIn account. This means you can share your business insights with colleagues, while saving your recipe collection for visitors to your blog.
Pinterest may not be the first social network you think of for promoting your business or website, but it's popular enough to be worth the effort. This applet makes the job easy, by enabling you to choose a specific category or tag, then adding a link to all new posts meeting that criteria to your Pinterest account. The link can be accompanied by an image and title, and you can even select a specific board to post it to. This helps you share new crafts projects, recipes, or other useful tips with your Pinterest audience without any hassle.
If you're active on Instagram, you may at times find yourself wanting to share the photos you post on your WordPress website as well. You could add them to your site manually, but why waste the time? With this applet, you can automatically publish Instagram photos on your blog. Since you probably don't want to share every picture across both platforms, you can tell the app to look for a specific hashtag on your Instagram pictures, and only import those.
Sometimes, maintaining a single blog isn't enough. Perhaps your target audience is split between platforms, or you run a niche blog on one site and a more general-purpose blog on the other. Either way, there's a good chance you'll want to share content between the two, cutting down on the work required to keep both blogs updated. If your platforms of choice happen to be WordPress and Tumbr, this applet can help you out. It will share WordPress blog posts on Tumblr (in text format) – automatically, of course. Plus, there's another handy applet that does the same thing in reverse.
If you aren't familiar with Telegram, it's an instant messaging app that works on a wide variety of platforms. Plus, it offers features such as group coordination, encryption, and automatic deletion of messages. It's a great tool to help you coordinate with your team while running your website or blog. What's more, you can use the IFTTT for WordPress Telegram applet to automatically post new content on your WordPress site to a specific chat channel. That way, you can keep team members updated, or easily share content with an interested group of readers.
Trello is an organization and collaboration platform that makes communicating with your team simple. You can use it to brainstorm ideas, plan your blog content, or create a social media posting schedule. If you do use Trello already (or are interested in picking it up), check out the integration applet offered by IFTTT for WordPress. Whenever you create a Trello card with a blog post idea, the app will create a WordPress draft on your site's back end, based on the card's details.
Running your WordPress site probably takes up a lot of your time – but there's more to life than sitting at your computer screen. Yet when you're out and about, there's a good chance you think about your site from time to time. If you have a great idea for a quick blog post while on the go, or need to update your readers on something urgent, you can use this applet to create a post from your phone. Simply use the widget it offers to write out a note, and it will be published to your WordPress site right away.
Twitter remains one of the top social media platforms, and it's a perfect platform for promoting your blog or website's content. You can provide your audience with quick, timely updates, without having to compose long posts. Plus, Twitter gives you a wide reach you often can't surpass on other social media networks. Best of all, you can use the WordPress applet for Twitter to automate the notification process. After you set up the app, it will send out a link for each new post to your Twitter followers (including the post's title).
Facebook is the number one social media platform out there, so it makes sense to both open and close our list with applets that integrate it with WordPress. Whether you're using Facebook for marketing purposes, to maintain a community around your site, or to build connections, you'll want to keep your friends and followers up-to-date. The Facebook Page applet will share links from your new WordPress posts to a Facebook page that you have access to. If you want, you can also pick up an additional Facebook applet that shares blog posts as link statuses on the platform.
Conclusion
Regardless of whether you run an online business or a successful blog, you probably have a lot on your plate. That's why automation tools are so valuable. They take some of the most tedious, repetitive tasks off your hands so you can focus on growing your audience and providing quality content.
IFTTT for WordPress is a useful tool that helps you automate many tasks involved in maintaining your social media accounts. With its applets, you can automatically share posts to social media sites, cross-post to other blogging platforms, create post drafts, and more. The ten integrations introduced above are only a sampling of what's available.
Which of these IFTTT for WordPress integrations do you think would be most useful for your website? Tell us your thoughts in the comments section below!
Article thumbnail image by Tokarchuk Andrii / shutterstock.com.