If you're running a business on WordPress, you know how important it is to be engaged with your customer base. The best tools help you with reliable customer relationship management. A CRM can help you keep track of your leads, customers, and sales and can make it easier to manage every aspect of your involvement with them.
In this article, we'll explore some 9 of the best WordPress CRM plugins available to help you decide which one is best for your needs.
What is CRM and Why It's Important?
Customer relationship management (CRM) is software that helps businesses manage their interactions and relationships with leads, prospects, and customers. It allows businesses to store and organize customer data, track customer interactions and communications, and manage sales and marketing efforts. Businesses can use CRM tools to improve their customer service, increase customer retention, and boost sales.
WordPress is a powerful content management system (CMS) that allows businesses complete control and freedom over how they build their websites. But a CMS is different from a CRM. That said, WordPress can still be the engine for your very own CRM. With the installation of a simple plugin, you can transform a basic website into a sprawling management system that is intimately connected to your website and other necessary technology.
Different Types of CRM
CRMs can be built for certain types of businesses or tasks. So, it becomes really important to know what your business needs are and how a CRM can alleviate some pressure from your job (and not add to it). Here are some specialties that CRMs can focus on:
Sales Focused – Made to help sales teams manage communication, deal value, and lead scoring
Marketing Focused – Built-in tools that connect with advertising platforms and email marketing tools and often provide a level of automation for marketing efforts
Project Management/Invoicing – Made for service-based teams that need client management post-sale including managing projects
Niche – Created for particular industries such as Real Estate, SaaS, or Health Care
While all CRMs should have a little of each of these, some do specific tasks particularly well. At this point, you should agree that using one should be a no-brainer! But finding the right CRM plugin can be a bit of a hassle. Don't worry, we're here to help you find the best solution.
The Best WordPress CRM Plugins

Subscribe To Our Youtube Channel
We have scoured every corner of the internet, looking to find the top WordPress CRM plugins for your needs. Let's start with a crowd-pleaser—FluentCRM—and move on through a total of 9 killer WordPress options. Note, the last 2 plugins on the list are important if you use a standalone CRM like Hubspot CRM or Zoho CRM.
The Best WordPress CRM Plugins Listed In Order
Expand List
1. FluentCRM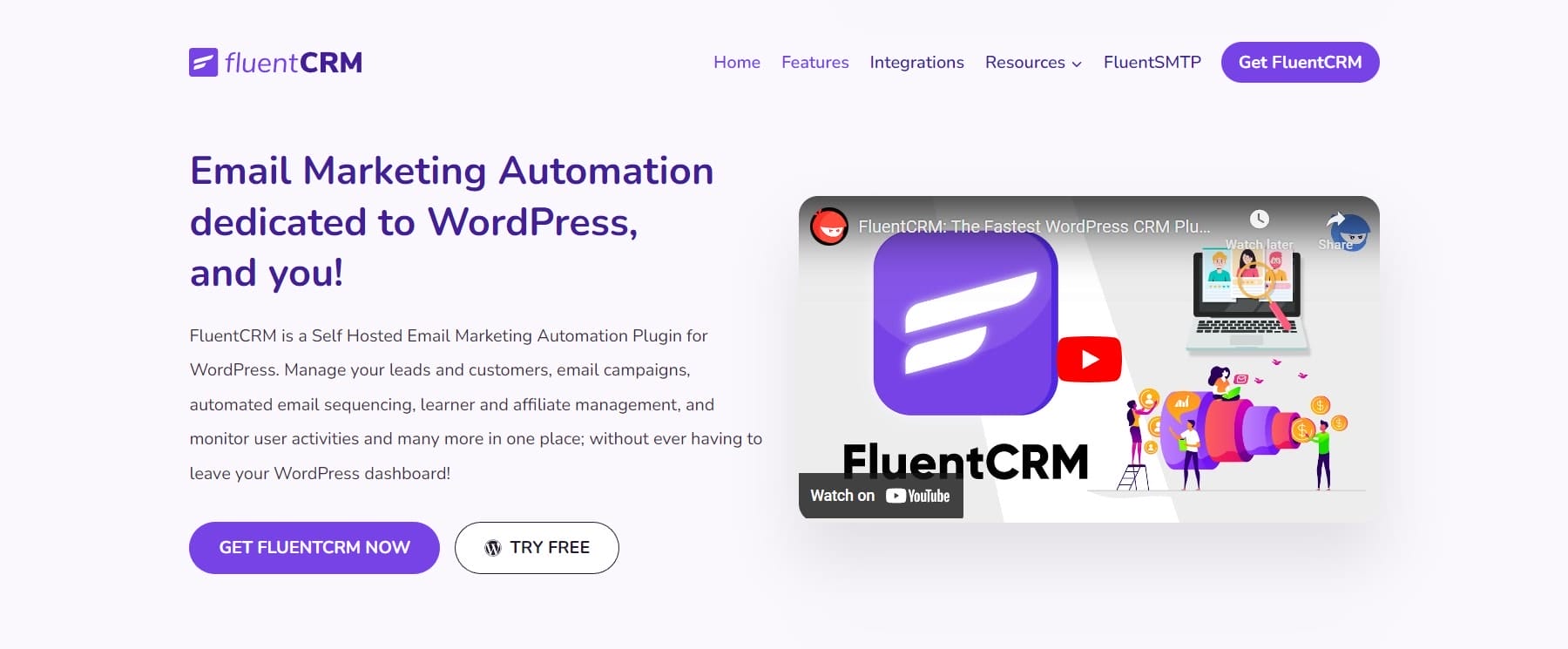 FluentCRM is a cutting-edge WordPress plugin that offers both self-hosted email marketing automation and CRM solution. It was built to rival other email marketing solutions such as Mailchimp, ActiveCampaign, and Groundhogg (also on this list). What sets FluentCRM apart from its competitors is that it is a self-hosted WordPress plugin, allowing you to access and manage your email campaigns and contacts directly within your WordPress installation.
Key Features for FluentCRM :
Automatically import your contacts from CSV, WordPress users, and WooCommerce customers
Comprehensive data analysis to give you better visibility into your contacts, pulling from integrations with WooCommerce, EDD, LearnDash, and LifterLMS.
Feature-rich email marketing straight from the WordPress dashboard
Contacts' can store notes, custom fields, and tags, and can be segmented based on triggers
User-friendly interfaces
FluentCRM is a highly flexible plugin that works with many different eCommerce, membership, and learning management plugins. With user-friendly interfaces and a flexible automation builder and email campaign editor, FluentCRM provides an easy and efficient way to manage and create your marketing campaigns.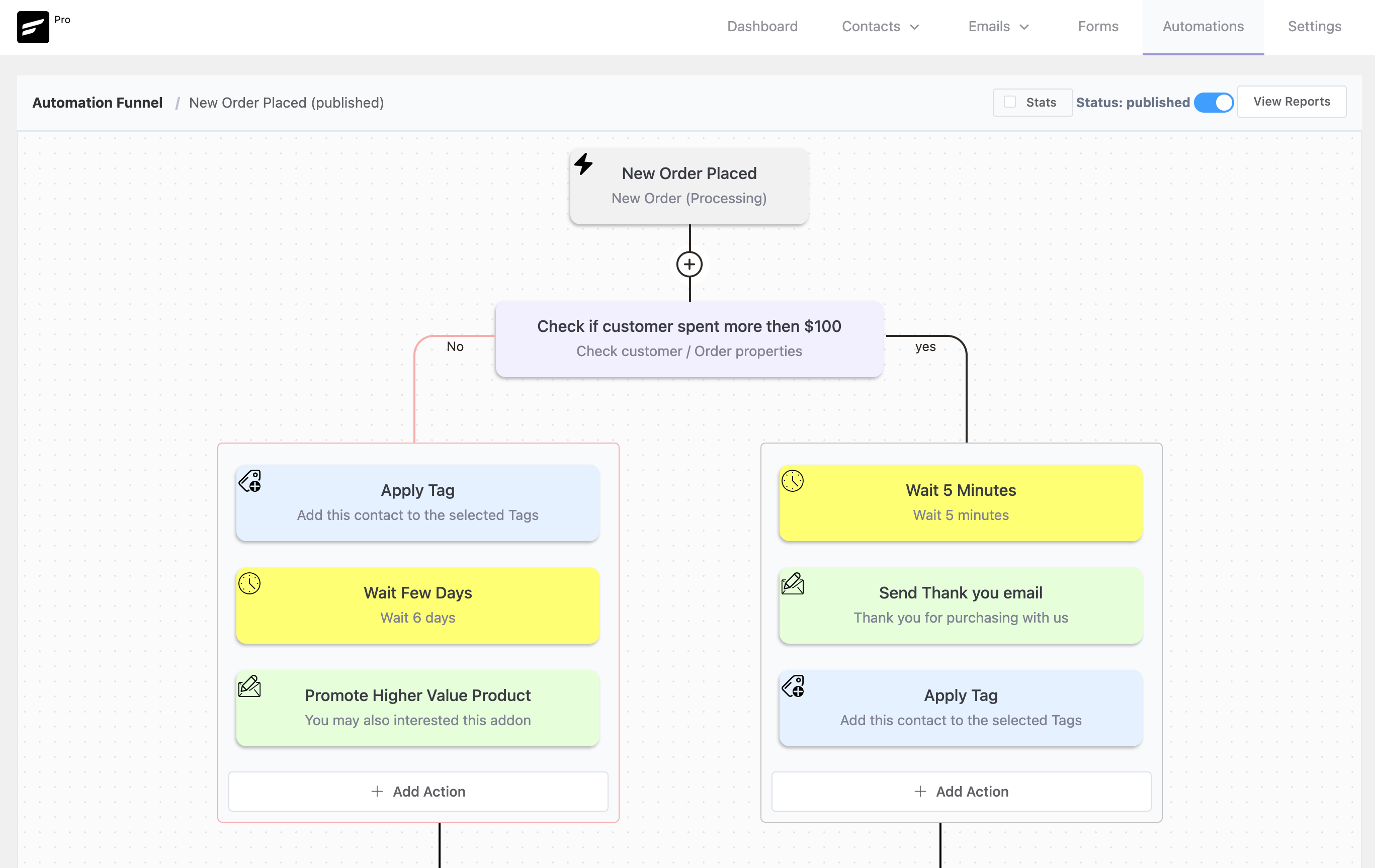 FluentCRM is for you if you…
Need a CRM + Email Marketing that runs off of WordPress
Want state-of-the-art features like funnel builders and deep campaign analytics
Don't ever want to look back to subscribers and campaign sends being limited by your provider
Enjoy a tight ecosystem of integrated plugins (they also built FluentForms and FluentSMTP which both have free versions)
Want to pay one price for all the features
FluentCRM Pricing: Free, Premium starting at $129 a year
2. Groundhogg CRM

Groundhogg is an all-in-one CRM and marketing automation plugin that offers advanced features typically found in large SaaS tools but at a much more affordable price. The plugin competes with other popular SaaS tools like Keap and Zoho but it is a 100% native WordPress plugin. We have a much broader review of Groundhogg but here are the highlights. Like FluentCRM, Groundhogg is a marketing automation CRM that is especially useful for eCommerce brands and marketing-heavy industries.
Key Features for Groundhogg CRM:
Total contact management with tagging and segmentation
Marketing automation including email marketing and SMS
Many integrations to save time (some only come with higher priced tiers) including a Divi integration with "Plus tier"
Groundhogg CRM allows business owners to do more with WordPress. You can easily create marketing automation and sales funnels and manage your email campaigns directly within your WordPress installation. Even creating automated sequences is easy enough from the dashboard
Groundhogg CRM is for you if you…
You're a small business looking for a comprehensive CRM solution
You are interested in getting help with your marketing from the Groundhogg support team
You want to automate your sales and marketing process
Pricing: Free, Paid plans starting at $20 a month
3. Propovoice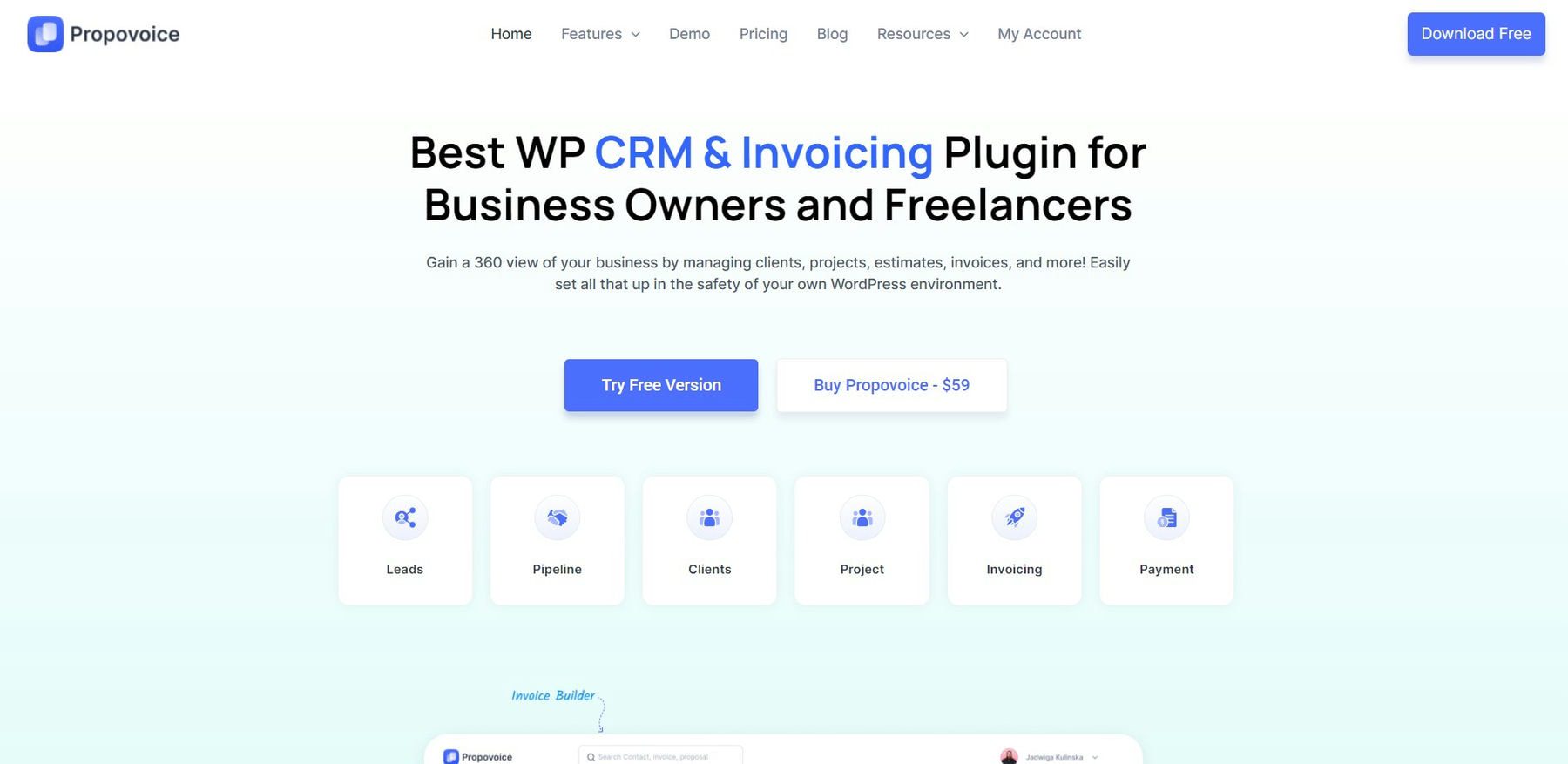 Propovoice is a comprehensive CRM and invoicing plugin for business owners and freelancers. It'll allow you to manage clients, projects, estimates, invoices, and more—all in the comfort of your own WordPress installation. If you're looking to scale up your freelancing or service business, Propovoice is a must-have tool to help you manage your clients and projects more efficiently. It, however, is not a marketing-focused CRM but a sales and project-focused one making it stand out from the first two plugins on our list.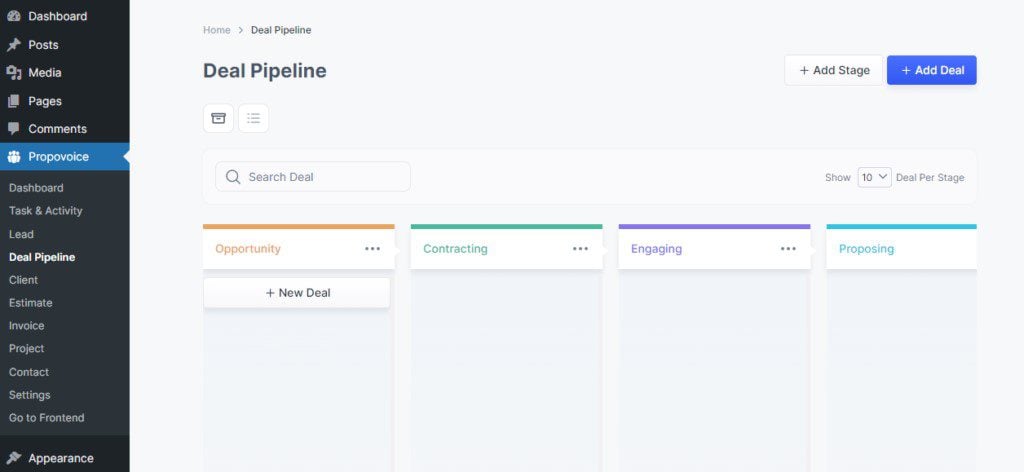 Key Features for Propovoice:
Sales and lead management
Estimate, invoice, and project management
Project management (with a forthcoming client communication portal)
Templates to make your estimates and invoices look professional
One thing about Propovoice is its simplicity and modern design. Whether working through the deal desk Kanban board or selecting an invoice template, the plugin doesn't feel dated at all. Being a newer plugin, though, Propovoice has limited integrations. Though, it is in active development and is getting new integrations fairly often.
Propovoice is for you if you…
Are a small to medium-sized business looking for a sales-based CRM
Want a modern-looking CRM for WordPress and are tired of dated WP dashboards
Need a sales CRM that costs just a little less than average
Propovoice Pricing: Free, Paid plan starts at $79 a year
4. FunnelKit
FunnelKit is a marketing CRM that is built to power WooCommerce websites to new heights. It brings in tools that are focused exclusively on eCommerce growth. It covers every aspect of lead generation, email marketing, and store conversion rate optimization/automation.
Key Features for FunnelKit:
Funnel builder for WordPress with Analytics, A/B testing, and Lead Generation
Contact management for email marketing and eCommerce account tracking
Visual, drag-and-drop email designer (all inside WordPress)
Workflow builder for email and contact automation tasks (create contacts, add a tag, and track upsell performance)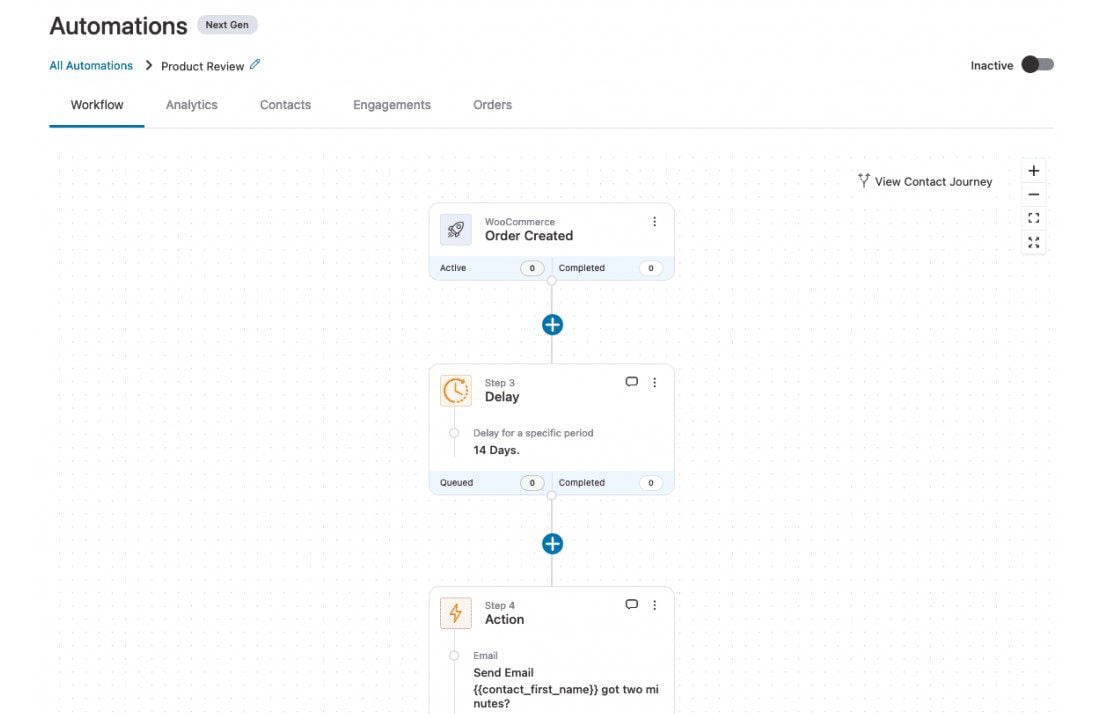 This plugin's contact management features enable users to store and organize customer information in a central location; combined with its email marketing tools, this is one of the best CRM solutions available.
FunnelKit is for you if you…
Run a WooCommerce store and want to squeeze every last bit of performance from it
Looking for a native WordPress CRM built for WooCommerce
Need eCommerce features such as product-specific funnels and upsells
FunnelKit Pricing: Starting at $99.50 a year
5. WP ERP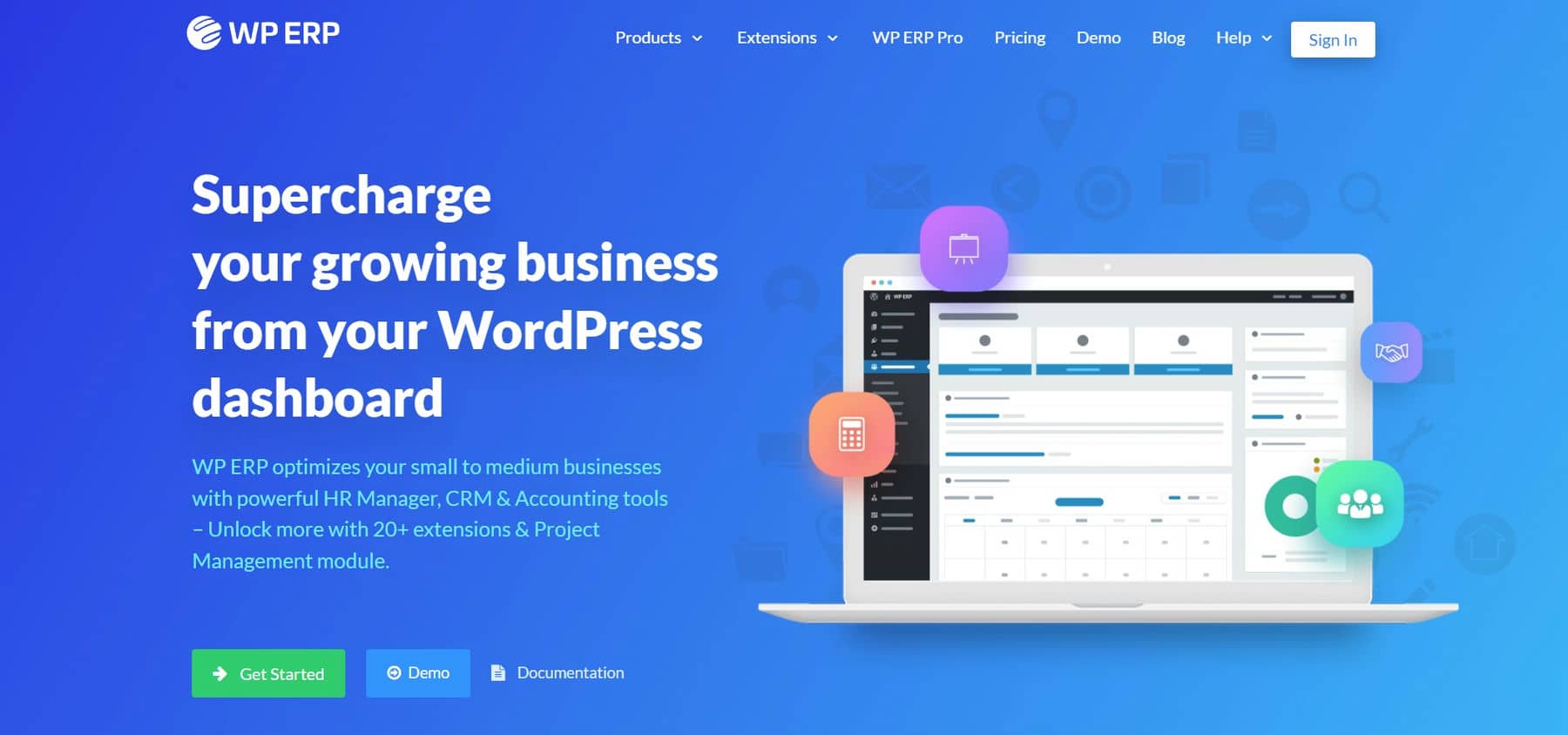 WP ERP is a total business management platform that includes CRM as a core function. This base plugin consists of three main modules: HR Management, CRM, and Accounting. There are a total of 23 extensions that add specific functionality to the base plugin. WP ERP aims to be your business' operating system—not just for CRM but operations over the span of your business' footprint.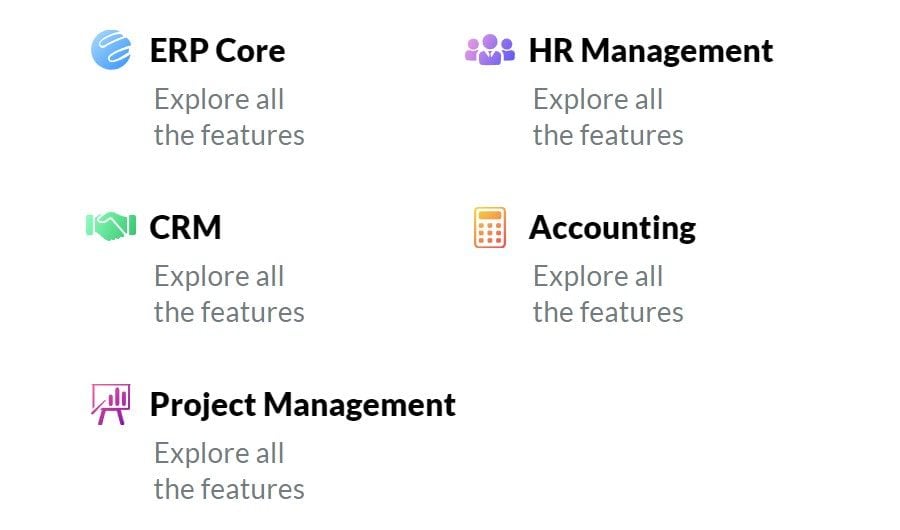 Key features for WP ERP:
Lead and contact management with customer segmentation
Extension for Help Desk, email marketing, and advanced accounting
Module pricing structure so you only pay for what you use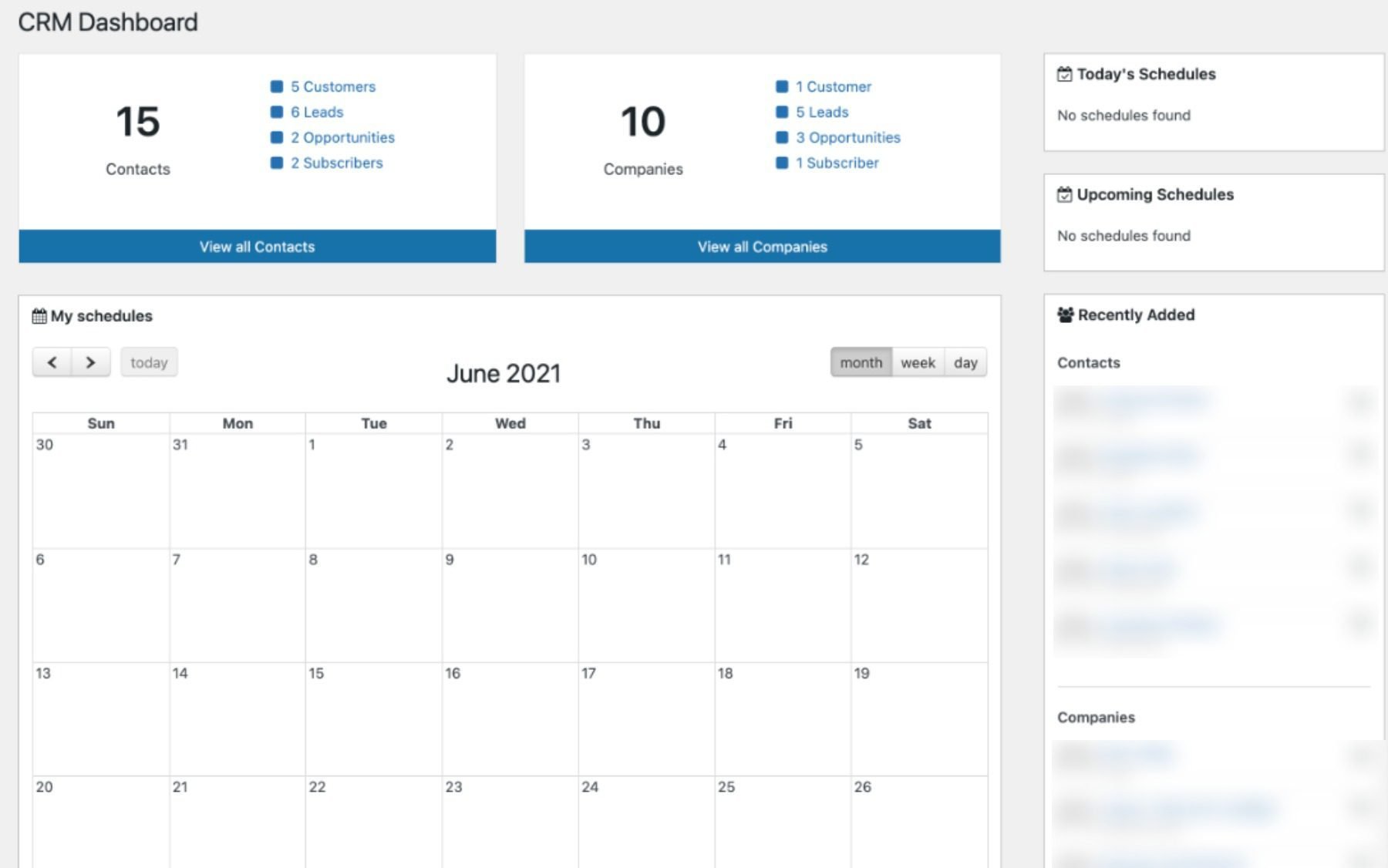 One of the standout features of WP ERP is its easy-to-navigate dashboard which can help you schedule meetings and track tasks that are assigned to leads and opportunities.
WP ERP is for you if you…
Need more than just a CRM baked into your WordPress installation
You want to automate your marketing efforts
You need a free tool to help you forecast future sales
WP ERP Pricing: Free, Premium tier starts at $129 a year (extension ranging from $2.49/mo to $9.49/mo)
6. WP-CRM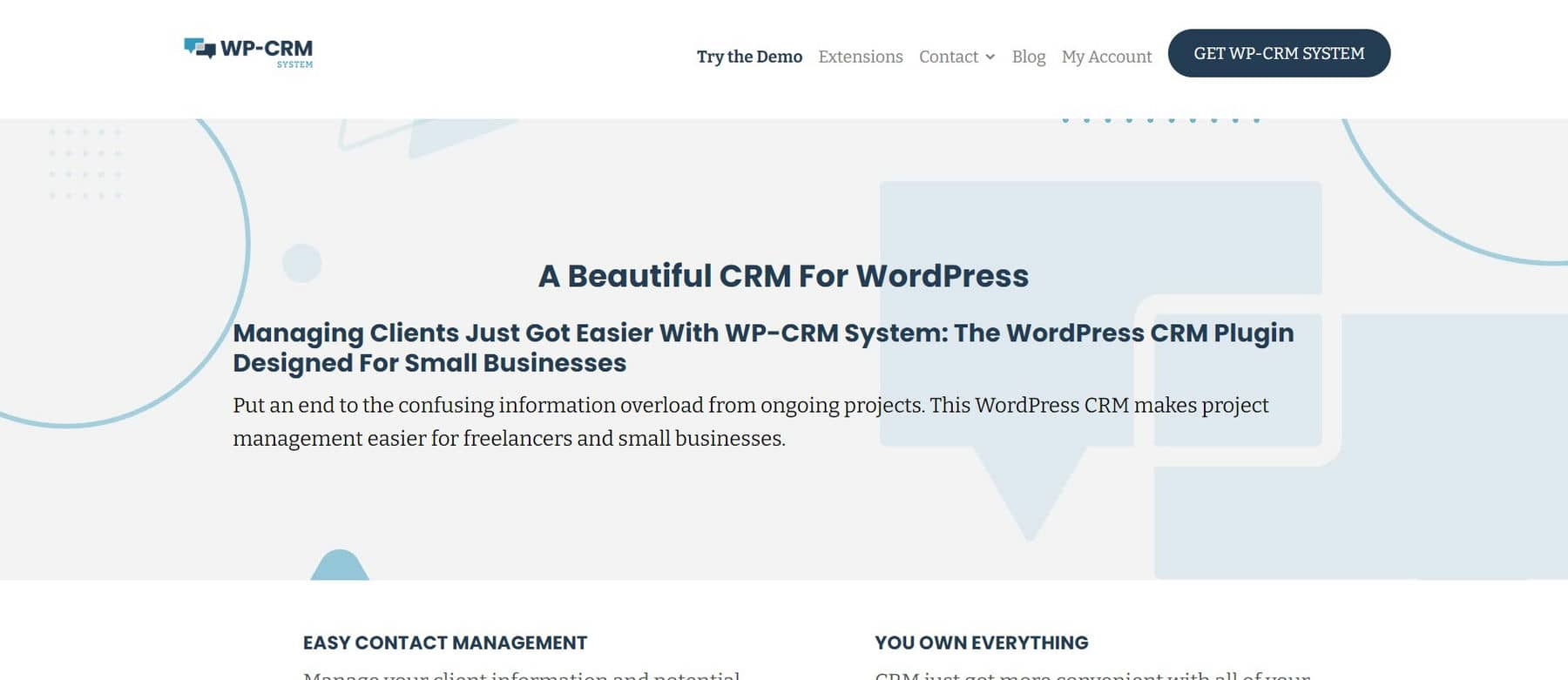 WP-CRM is another, long-standing, CRM interface that works inside WordPress. Though some aspects of it look dated, it handles client management and project tracking between users. Like WP ERP, it has premium add-ons available to add extra features, integrations, and functionality.
Key Features for WP-CRM:
CRM and contact management
Handles projects for teams and tasks for individual users
Allows for custom fields to create a CRM that fits your needs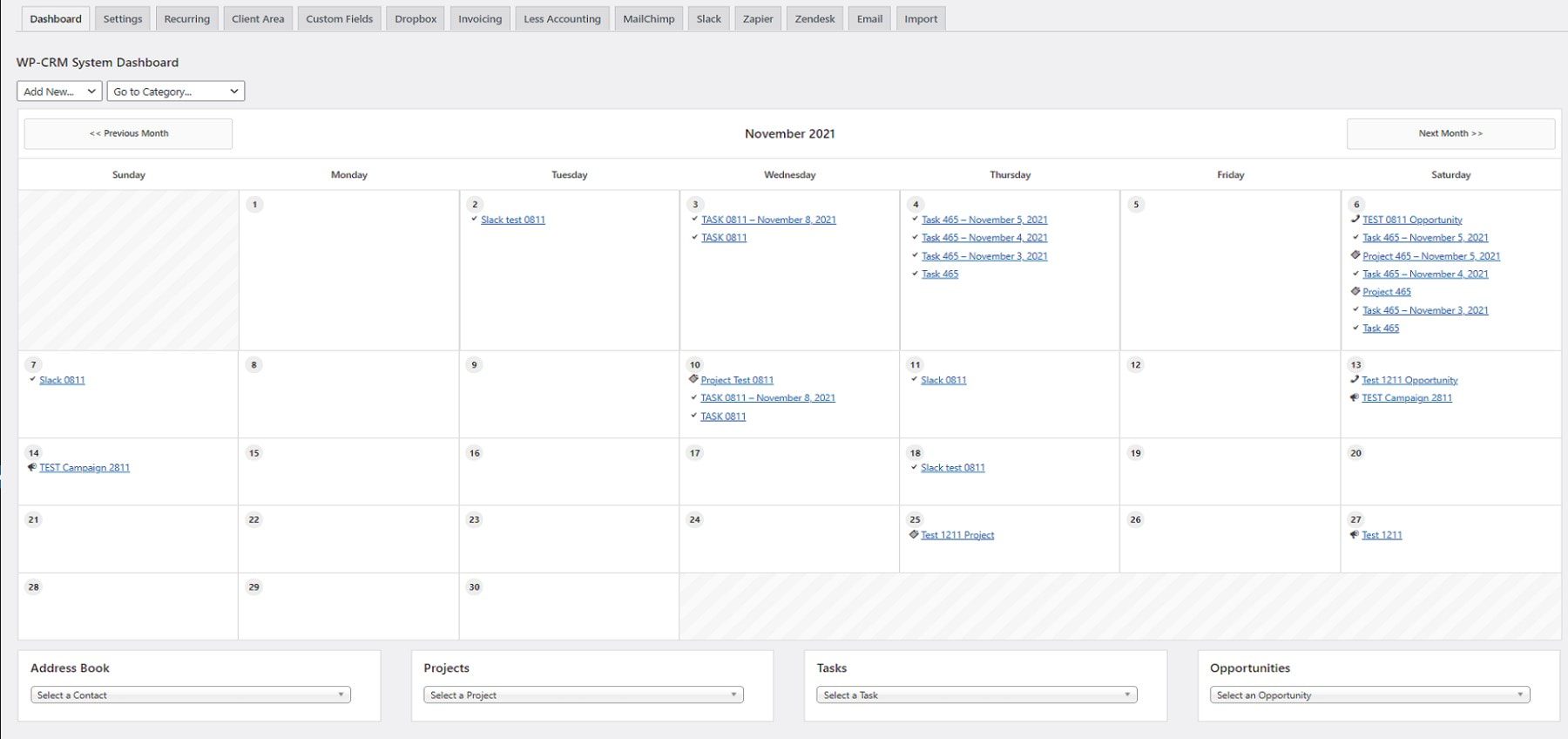 WP-CRM is for you if you…
Want to improve your customer relationships and grow your business
Need a platform that is customizable to fit the operations and strategy of your company
Don't mind its "traditional" WordPress look
WP-CRM Pricing: Free, Premium Extensions (ranging from $29/yr to $89/yr)
7. Jetpack CRM

Jetpack CRM is a plugin for WordPress that offers small businesses a secure and customizable solution for managing their customer relationships. You have probably heard of Jetpack in other contexts (like CDN or advertising) but it also has a CRM module. With Jetpack CRM, you own and host your own data, giving you complete control over access and security. The plugin runs on your server and can be used in conjunction with other security plugins, allowing you to set roles and permissions to determine who can do what within the CRM. We have a detailed Jetpack CRM review but here are the highlights.
Key Features include:
Complete contact management
Deal tracking and reporting
Task and appointment scheduling
Sales and marketing analysis
Email marketing integrations (Aweber, Convertkit, Mailchimp, and more)
Paid Add-ons to integrate CRM with Membermouse, Gravity Forms, and Optinmonster
Jetpack CRM offers a range of features to help businesses manage their customer relationships, including a client portal, contact management, and invoicing. It also provides a customizable dashboard that allows users to keep track of their sales and revenue. The plugin allows users to add or remove modules to create a personalized CRM tool that meets their specific needs.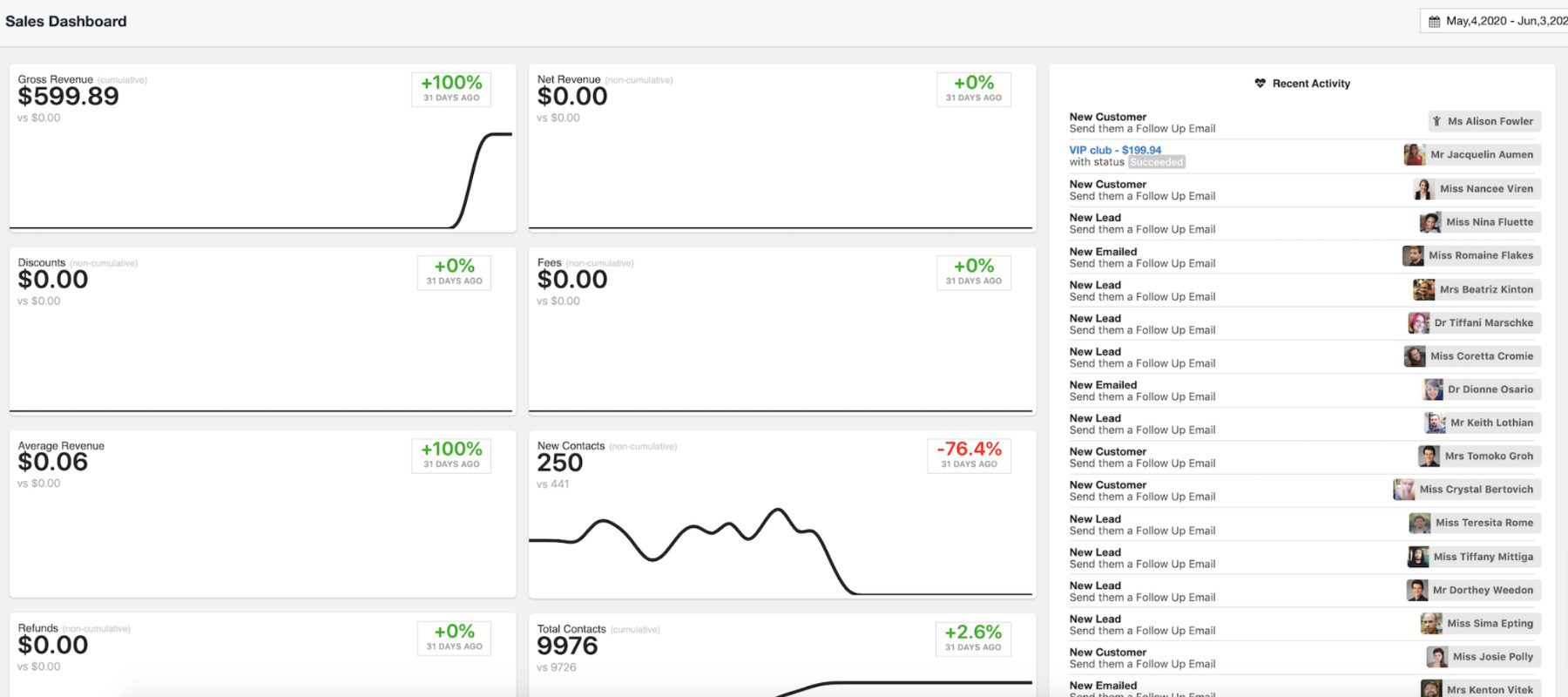 Jetpack CRM is for you if you…
Are a business owner looking for a secure and customizable CRM solution
Want to manage your customer relationships in one place
Need to track your sales and revenue
Jetpack CRM Pricing: $129 a year
8. Bit Integrations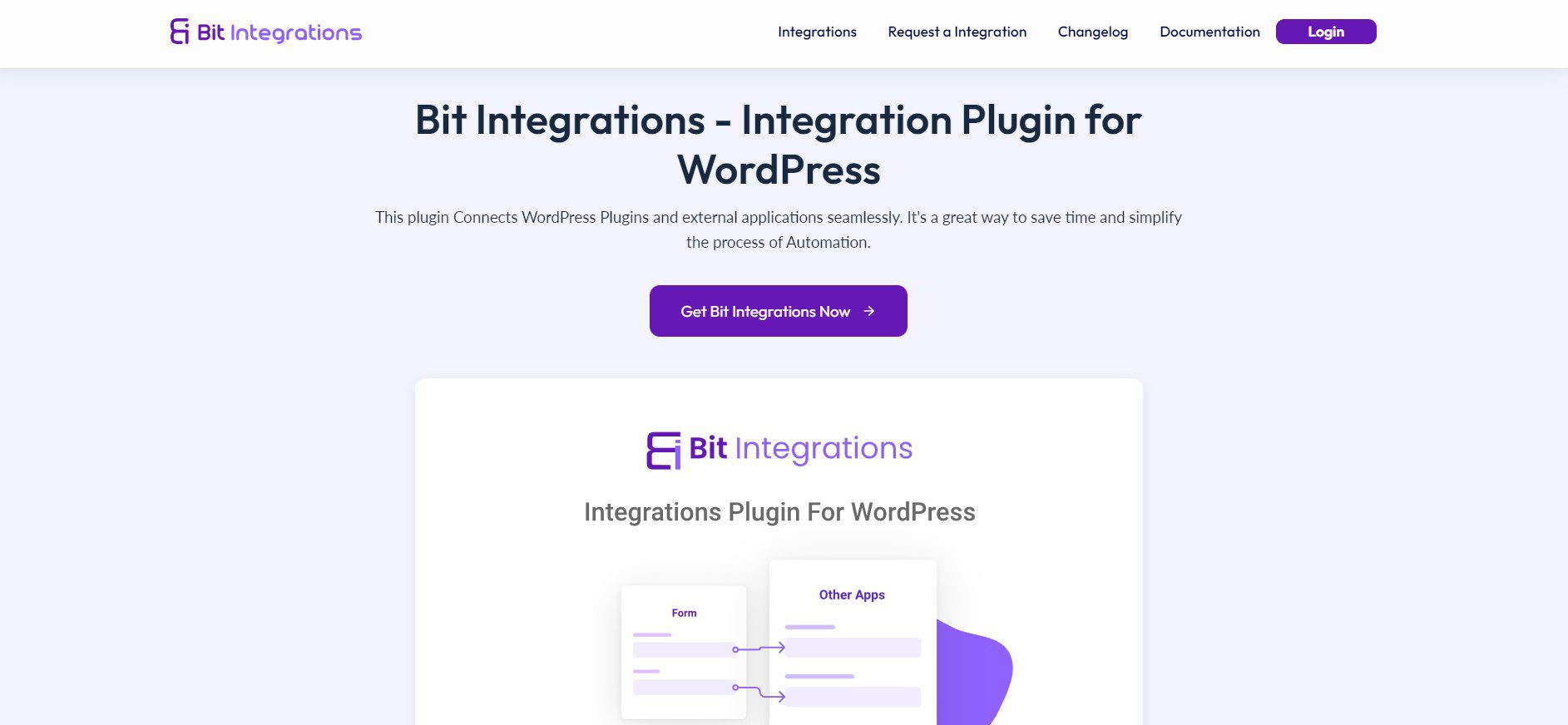 Bit Integrations is a WordPress integration suite for connecting different plugins (same-site) to create advanced automation between your installed tools. Many plugins connect your WordPress website with external tools, but this one connects your internal tools together so that they work as one cohesive machine—instead of frustrating silos.
This may seem like a weird plugin to feature in an article about WordPress CRM plugins, but it could prove consequential. If you are already using a standalone CRM (think Hubspot, Zoho, or ActiveCampaign) you might be able to use Bit Integrations to connect even more than you originally thought possible. It may not work for your particular setup, but it (and its competitor, Flowmattic) is perfect for creating a little more automation and integration within your website.
Key Features for Bit Integrations:
They have over 150 WordPress integrations to leverage
Works with their other products (Bit Form, Bit SMTP, and Bit Assist)
Lowly yearly pricing for an automation platform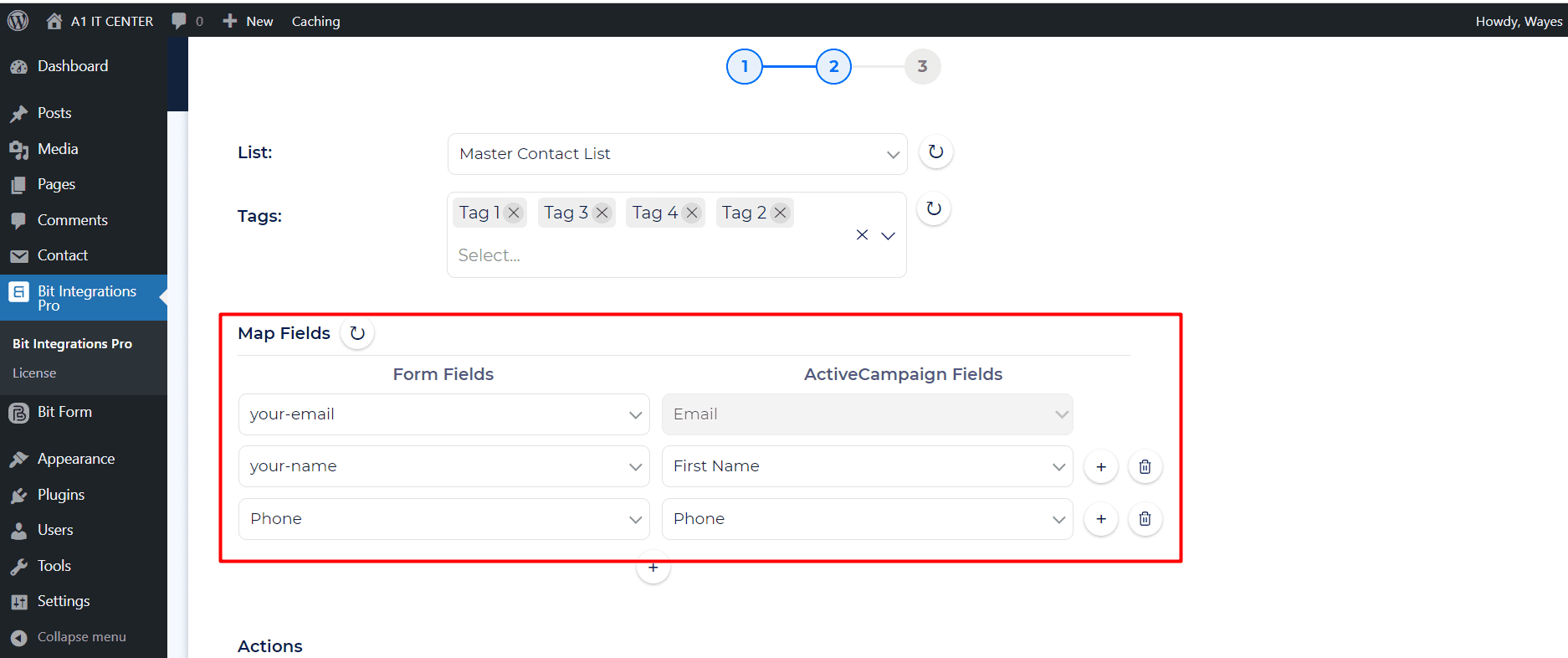 Take a look at its listed integrations and see what is possible that you previously thought couldn't be done without custom-coded APIs and webhooks.
Bit Integrations is for you if you…
Want to realize new integrations between your plugins and external apps
Have an external CRM but want to explore even more automation with it
Bit Integrations Pricing: Free, Premium version $19 a year
9. WP Forms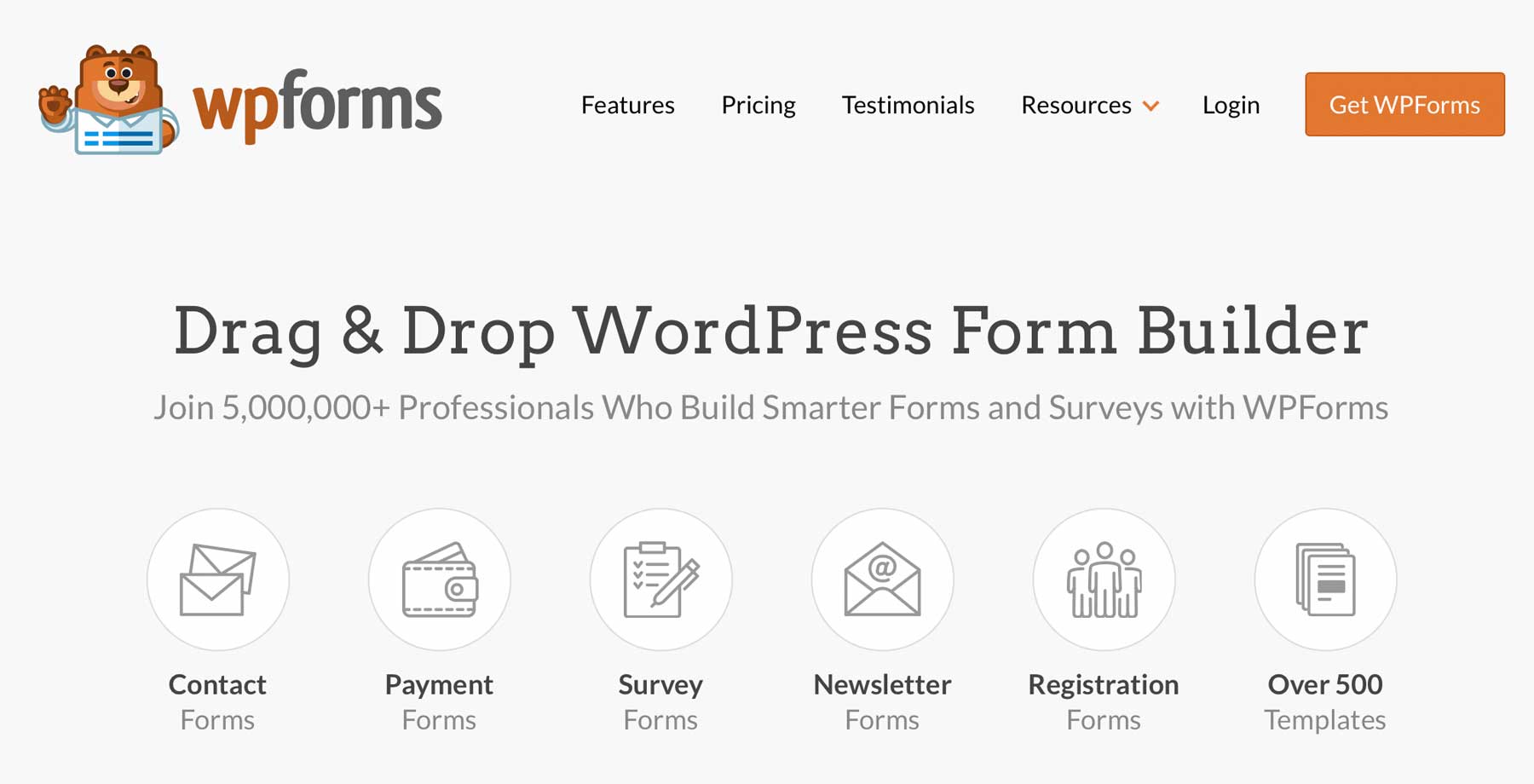 WP Forms is another plugin that we bet you didn't expect on this list. CRMs (WordPress or not) are data-eating machines. If they don't have very much data (or actionable data) consider your investment in a CRM moot. Forms plugins, therefore, are a vital step in your data machine. WP Forms (though there are other great contenders in our best form plugins article) is an excellent choice when it comes to forms with a lot of integrations. Those integrations are the pipes between your website and CRM that are sending over precious data.
Key Features for WP Forms:
Hundreds of templates for every use case
Integrations on top of integrations to send data through
Tons of flexibility with different types of forms (conventional, newsletter email opt-ins, contact, etc.)
Choose from hundreds of categorized templates for fast form-building that powers your business. Everything from donation forms to opt-in—WP Forms has got you covered with time-saving features.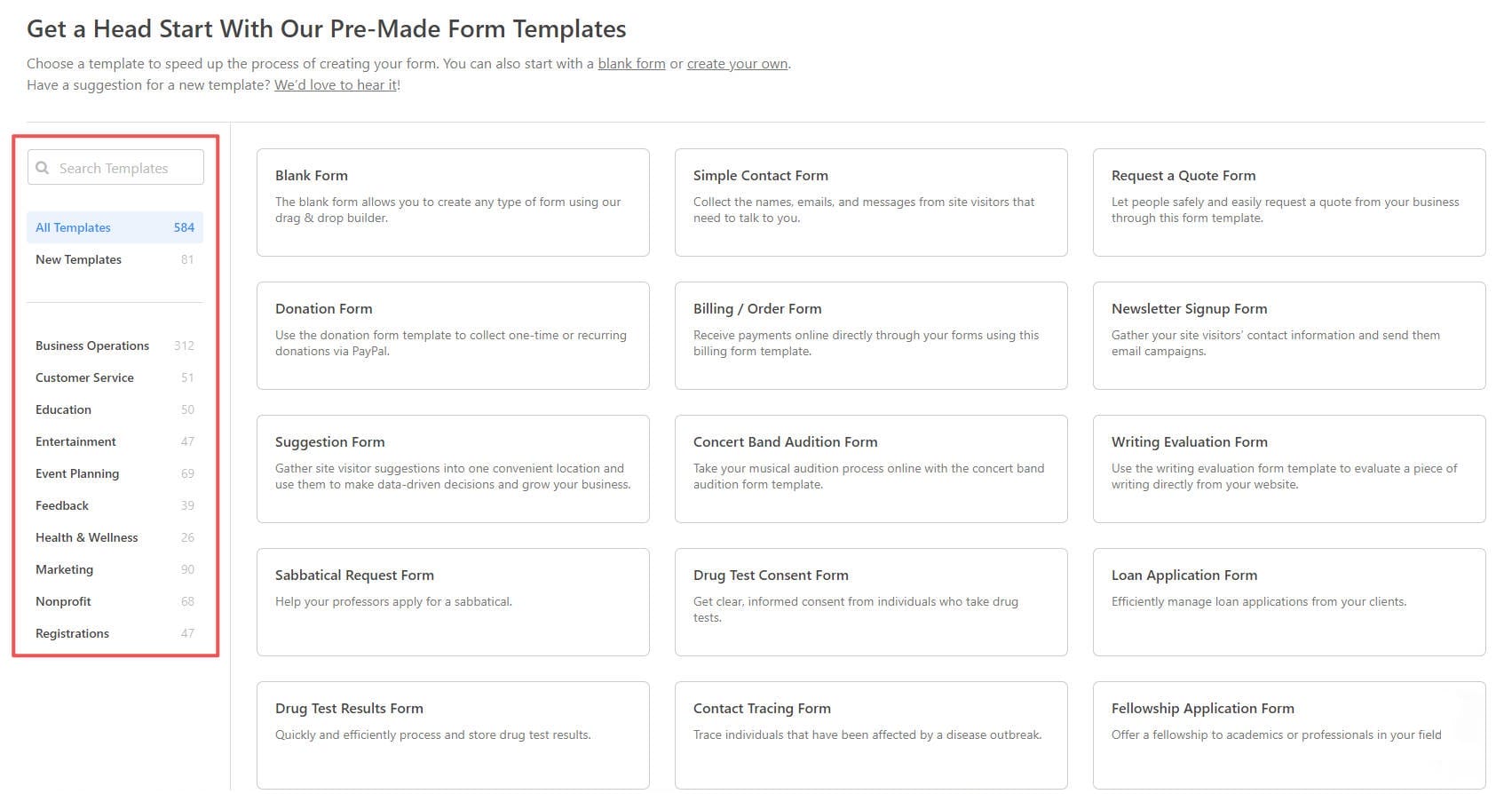 WP Forms is for you if you…
Haven't explored what a premium form builder can do for your data strategy
Know your budget for a form plugin and can find the pricing tier that has the integrations you need
Don't want to waste time creating forms from scratch
WP Forms Pricing: Free, Premium starts at $49.50 a year
Comparing the Best WordPress CRM Plugins
In today's competitive business landscape, it is more important than ever for companies to have strong relationships with their customers. WordPress-based CRM plugins are significant assets for businesses that are looking to manage and track customer interactions. As we saw, some have specific tools built into them that make them better at certain tasks than other CRMs.
CRM Plugin Price Comparison
Here's a look at how each plugin's base premium price compares. You'll also notice that all of the options featured in this article have free, limited options you can use today.
CRM Plugin Feature Comparison
Let's dive a little deeper into our top three WordPress CRMs. Here's a side-by-side analysis of some must-have CRM features.
🥇

FluentCRM

🥈

Groundhogg

🥉

Propovoice
Starting Price
$129/yr
$240/yr
$79/yr
Email Campaigns
✔️
✔️
❌
Contact Segmentation
✔️
✔️
✔️
CRM Analytics
✔️
✔️
✔️
Email Sequencing
✔️
✔️
❌
Contact Management
✔️
✔️
✔️
3rd Party Integrations
✔️
✔️
✔️
SMS Marketing
❌
✔️
❌
Web Forms
✔️
✔️
✔️
Sales Funnel
❌
✔️
✔️
Invoicing
❌
❌
✔️
Active Installations
30,000+
2,000+
800+
Community Rating
4.8/5
⭐⭐⭐⭐⭐
Read Reviews
4.9/5
⭐⭐⭐⭐⭐
Read Reviews
4.9/5
⭐⭐⭐⭐⭐
Read Reviews
Get FluentCRM
Get Groundhogg
Get Propovoice
What is the Best WordPress CRM Plugin?
For those who are after the best marketing automation CRM, we suggest you take a look at FluentCRM or Groundhogg. If you are needing more sales and post-sale project management, check out Propovoice and see if it covers your needs. For any CRM setup, Bit Integrations and WP Forms may prove useful for collecting and syncing data across all your tools.
Remember, CRMs are a tall commitment. It takes time to properly set up all the custom fields, automation, and processes that make for a well-oiled machine. But all that work will be worth it as that data comes in and makes you able to stay on top of your customers' needs.
Frequently Asked Questions (FAQs)
Before we wrap up, let's answer some of your most common questions regarding WordPress CRM plugins. Did we miss one? Leave a question below and we will respond!
What is the best WordPress CRM plugin?
FluentCRM
is the best WordPress CRM plugin known for its email marketing automation, campaign segmentation, and integration with popular eCommerce, eLearning, and membership plugins. Its additional capabilities, such as webhook and Zapier integration, make it a powerful tool for managing customer relationships within the WordPress ecosystem.
What is the best free WordPress CRM plugin?
FluentCRM
offers robust features such as reporting and analytics, automation, and segmentation with different metrics in the free version, making it the best free WordPress CRM plugin. You can even use different triggers and integrate various forms, eCommerce, and eLearning plugins without spending a dime!
What to look for in a WordPress CRM?
The most important features to look for in a WordPress CRM are contact management, lead tracking & scoring, interaction tracking, and detailed sales and marketing reporting. Here's a deeper look into each.
Contact management: The CRM should allow you to store contact information, such as name, email address, phone number, and company. All of that is simple. But it should also allow you to create custom fields so you can track unique information based on your business.
Lead tracking: The CRM should allow you to track leads, such as when they were first contacted, what stage of the sales process they are in, and any notes about their interactions with you. Many WP CRMs have a Kanban view of deals for this reason.
Customer interaction management: The CRM should allow you to track customer interactions, such as emails, phone calls, and support tickets. This lets everyone in your business know what communication has been had with any given lead or customer.
Reporting: The CRM should provide reports on your contacts, leads, and customer interactions. This information can help you improve your sales and marketing efforts.
Can WordPress work as a CRM?
Yes, WordPress can work as a CRM with the help of a CRM plugin. Many WordPress CRM plugins are available for WordPress, each with its features and pricing. Some of the most popular CRM plugins for WordPress include:
Which CRM works best with WordPress?
FluentCRM
and
Groundhogg CRM
are two of the best CRMs that work with WordPress because they run on WordPress. Both have CRM connect forms and connect with WordPress' native user management system. Their deep integration with WordPress makes them work well with WordPress itself.
How do I add a CRM system to WordPress?
To add a CRM system to WordPress, simply install
FluentCRM
. After installation, configure the settings, add contacts manually or import them, and utilize email automation and segmentation features. With FluentCRM, you can effectively manage and engage with your contacts within your WordPress website.
Which WordPress CRM plugin has the best automation features?
FluentCRM
offers advanced email marketing automation, campaign segmentation, and behavior-based triggers. With its intuitive interface and intuitive automation capabilities, FluentCRM empowers users to automate their marketing efforts effectively and engage with their audience in a personalized manner.
Which WordPress CRM plugin integrates with Zoho CRM?
Bit Integrations
is a WordPress CRM plugin that integrates with Zoho CRM, enabling seamless synchronization of contacts, leads, and customer data. This integration streamlines sales and marketing processes, combining the strengths of WordPress and Zoho CRM into one unified solution.
Can a WordPress CRM plugin help me track sales and leads?
Yes, a WordPress CRM plugin can help you track sales and leads. Plugins like
FluentCRM
provides a centralized database to store customer information, track interactions, and record sales activities. With features like lead management, pipeline tracking, and reporting, a CRM plugin empowers you to monitor and analyze your sales.
What are the top-rated WordPress CRM plugins available in the market?
FluentCRM
,
GroundHogg
, and
Propovoice
are top-rated CRM plugins with free versions suitable for small businesses. Each tool specializes in areas like email marketing, billing, and automation. You can use multiple plugins to fulfill various needs based on your requirement.
Which WordPress CRM plugin works best for real estate businesses?
You can use
FluentCRM
for real estate business. It can help you capture leads from the contact forms, categorize them with different segments and tags, and run automated emails based on various conditions to help you close the deals and increase revenue!
Looking for more great plugins? Check out this list of the best WordPress plugins for every need and function.
Featured image by Grafvish / shutterstock.com