No matter what type of business you run, your contacts—whether they're clients, customers, or companies you do business with—are your company's lifeblood. To keep them happy and ensure revenue continues to come in, it's a good idea to organize the information for each individual or business that matters to you and plan, track, and document your interactions with them. A customer relationship management (CRM) tool, especially one that flawlessly integrates with WordPress like Jetpack CRM, will help you do all that right inside your WordPress Dashboard. If you are looking at the capabilities of the Jetpack CRM, it would be helpful to compare it with other WordPress CRMs to make sure that you are getting the features that will be most helpful to your business.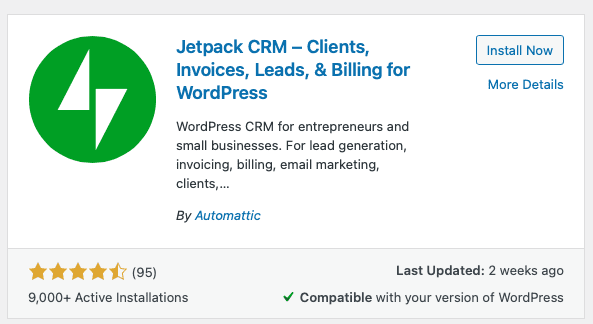 Plus, with Jetpack CRM, you self-host your data, which means you own it. This is safer than relying on a third-party CRM provider that's at the risk of security breaches that are out of your hands. Another reason why the plugin is extra-secure is that it runs on your server. You're in charge of access and security, and you can set roles and permissions to determine exactly who can do what within the CRM. You can also use Jetpack CRM along with other security plugins you've installed on your WordPress website.
Note that to use Jetpack CRM, you need an active install of WordPress 4.0 or newer. The plugin and extensions can be run on WordPress.com's Business plan or WordPress.org. And while you don't need Jetpack installed for Jetpack CRM to work, you might find that combining Jetpack and its CRM is helpful because Jetpack has its own marketing, performance, and security tools.
Jetpack CRM Features
Jetpack CRM has core features and modules that can be enhanced with priced extensions. Let's talk about the free features available with the base plugin:
Client Portal: Add a client area so they can view documents.
Contacts: Each contact will have a detailed activity profile so you can see exactly how they've interacted with your company. You can also assign contacts to specific team members.
Dashboard: Keep on top of your business and leads by seeing your sales funnel and revenue from the dashboard. By default, the Dashboard shows overviews of your contacts, sales funnels and revenue, but you can customize it however you want.
Forms: Capture the contact information you need most with forms.
Invoices: Send invoices and receive payments online.
Proposals: Write and send proposals directly from Jetpack CRM.
Quotes: Send contacts quotes so they can consider a project you've been discussing.
Tasks: Keep track of the tasks you need to complete for your contacts.
Transactions: Track transactions either per contact or per company, then see their total value.
As you enable and disable different features, the plugin's functionality will adapt so that you only see what you need without the CRM getting bloated.
Let's dive into some of these features a bit more.
Contacts
Since there are no pricing tiers with the Jetpack CRM plugin, you can add as many contacts as you can generate. Enter them manually and/or import them from tools you already use, like PayPal or WooCommerce (you'll need an extension for that – more on that in a bit).
You can then organize your contacts using tags and segments. Also, thanks to the optional AKA Mode, a contact with multiple email addresses will have only one record to avoid confusion and a messy database. Other information that can be included in a client's profile includes:
Contact and location information
Social media handles
Photo
"Contact since…" date
Employment information
Lead information (invoices, transactions, etc.)
The Activity timeline on the right of a contact's profile shows you when they've taken action. Plus, you can add an unlimited number of custom fields if you need to further categorize your contacts or add personalized information.
When you have a contact in your database, you can send them an email right from the plugin. The communication will then be logged in the contact's profile.
Dynamic Segments
We mentioned the Segments feature in the previous section, but it's powerful enough to deserve a section of its own. With Dynamic Segments, you can set conditions and rules to smartly define a segment and then take action on it. You'll set one or more conditions, and you'll get a preview of your segment as you continue to build it.
Every time you create a segment, it'll be added to your Contact List sidebar. That way, you can easily click it to see all of the contacts in that particular segment. And aside from viewing contacts in a particular segment, you can also do the following:
Track the contacts that enter or leave a segment
Email newsletter campaigns to a segment
Trigger an automation when a segment-changing activity occurs
Quotes
With Jetpack CRM, you can write and send quotes and proposals to a contact. You can also create reusable templates to make writing proposals even easier. The template will automatically add the contact's information. When you're finished, you'll email the quote, and then the contact can accept it online. The quote will be added to the contact's record so you always know exactly where they are in the sales funnel.
Transactions
Possibly the most powerful feature of Jetpack CRM is how it lets you track transactions. A transaction is basically any action where money changes (digital) hands, whether that's a purchase, refund or another type of monetary plus or minus. You can add, edit or allocate a transaction for a contact, and some will even update automatically, like when a payment is made through the Client Portal or when an invoice is partially or fully paid. Plus, if you add a syncing extension from a provider like Stripe, that info will be auto-added for you. To see only certain transactions, you can use filters and/or tags.
Client Portal
If some of your contacts are clients, you can set them up with their own Client Portal. This is where they can log in to view all of the documentation relating to them, like downloadable files, invoices and quotes. If you want to customize the Portal, you can add pages using the regular WordPress interface (like you would add a page to your website). This is a good way to display additional information, like terms of service or more project details.
Also, if you're using certain extensions, you can extend the Client Portal's functionality. For example, with invoicing and payment processing extensions, you may be able to add a one-click payment button. Or, with a support extension, clients can see their support tickets in the Portal.
Jetpack CRM Extensions
There are a number of paid extensions that you can add to Jetpack CRM, and they fall into six categories:
Analytics: Awesome Support, Funnels, and Sales Dashboard
Email Marketing: AWeber, ConvertKit, Mailchimp and more
Forms: Contact Form 7 and Gravity Forms
Payments: Invoicing Pro, PayPal and Stripe
Sync Tools: Google Contact, OptinMonster, WooCommerce and more
More Tools: Automations, Bulk Tagger, CSV Importer and more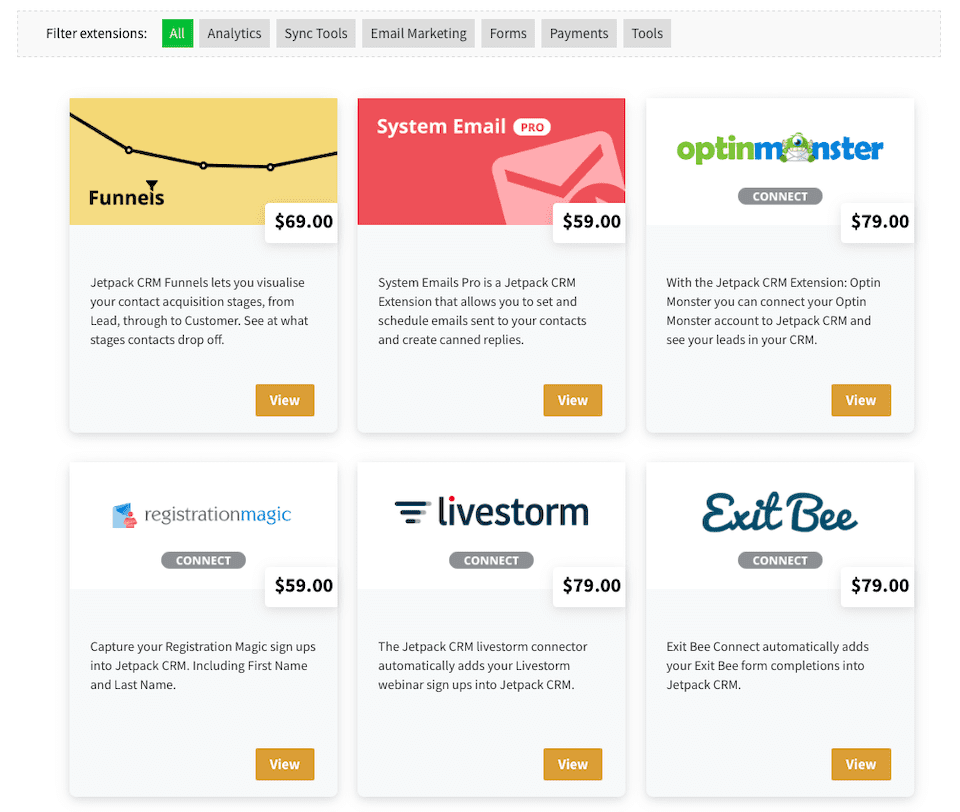 You can bundle extensions, too. The bundles group extensions you're likely to use together for a discounted price. For example, the Freelancer bundle includes four CRM extensions: Gravity Forms, Invoicing Pro, PayPal Sync and WooCommerce Sync. You'll also get access to the Slack community and 12 months of updates and email-based priority support.
Jetpack CRM Usability
After installing and activating the Jetpack CRM plugin, you can opt to go through the Welcome Wizard. This is the easiest way to get started. You'll input your company's most important details, add customers (if you're using an import-ready extension) and decide which (if any) extensions you want to add.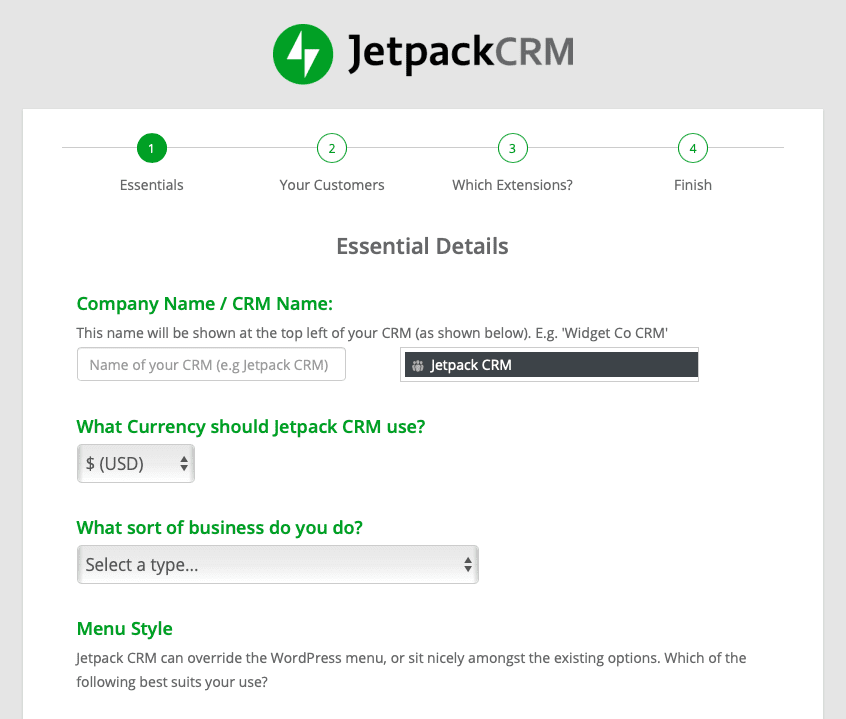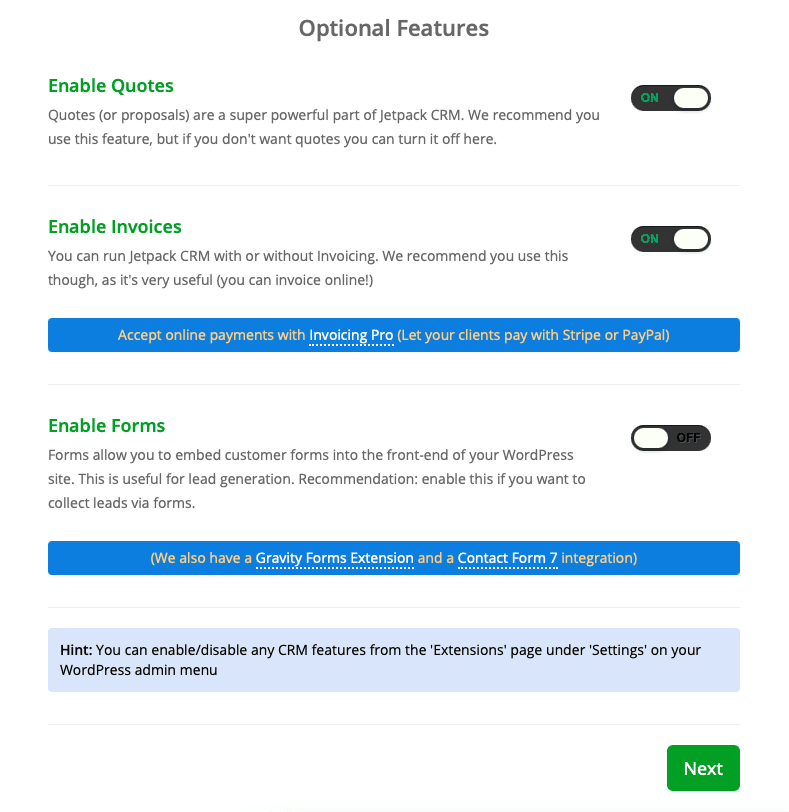 There's also a Welcome Tour so that you can onboard team members (and yourself) quickly. The Tour includes explainers about the following:
An overview of the CRM and its functionality.
The different menus within the system.
How to learn about different features of the CRM. There are "Learn" buttons placed near features so you can explore them further.
Where you can find more help through the knowledge base, support forum and Slack community.
When you get started, your Dashboard won't have any info (unless you've imported contacts during setup). Figuring out how and what to add is a cinch, though: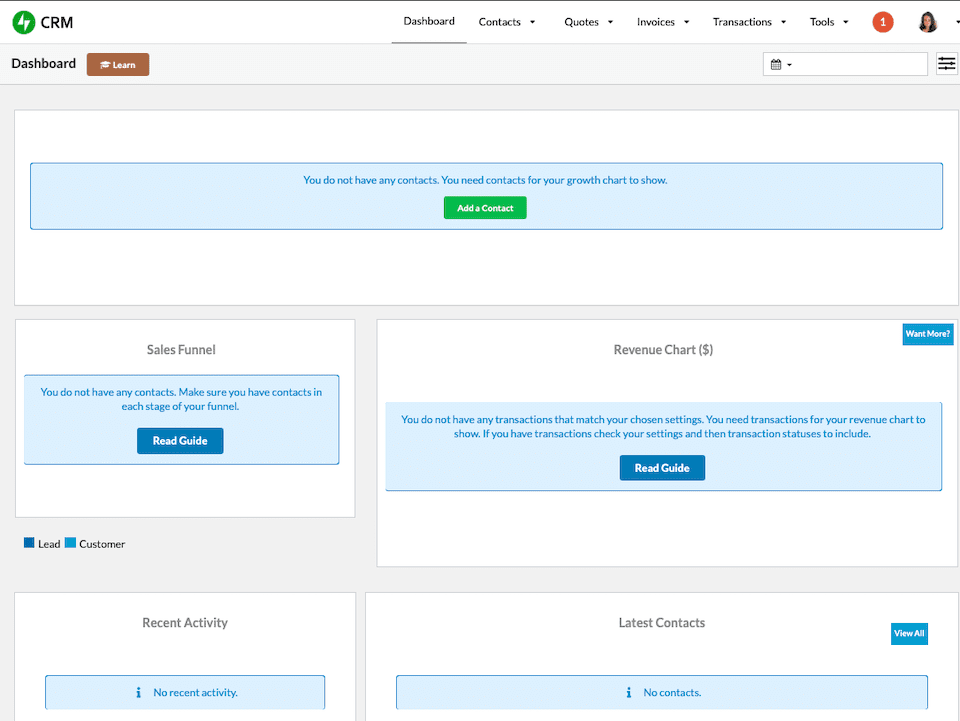 From there, the tabs and drop-down menus at the top are easy to navigate. Your choices are the following:
Contacts: Add or view all contacts or companies; filter by tags or segments; and import or export contacts.
Quotes: Add or view all quotes; filter by tags; access templates; and export quotes.
Invoices: Add or view all invoices; filter by tags; and export invoices.
Transactions: Add or view all transactions; filter by tags; and export transactions.
Tools: Access and manage the Task Scheduler, forms, data tools and extensions.
Overall, the plugin is easy to understand, get around and use. Its design leaves a little something to be desired – it's not as colorful or aesthetically pleasing as some other CRM tools – but that's just looks, not function.
Jetpack CRM Pricing
The base plugin is free, and there aren't any per user or per month data limits. You can have any number of contacts in your CRM, and you can also have any number of team members managing the CRM.
If you want to add extensions to increase the plugin's functionality, you can purchase each one individually (they start at $29) or purchase a bundle to save a bit on the overall price. All purchases have a 14-day money-back guarantee.
Jetpack CRM Support
There's a knowledge base that you can search for help. And if you don't choose a plan with priority support, there's a support forum if you need to submit a ticket.
Wrapping Up
For brands that want a cost-effective, limit-free way to organize contacts with a tool that will grow as their business does, Jetpack CRM is a solid option. The interface's design isn't as appealing as some other CRMs, but everything is well-organized and easy to both understand and navigate. We especially like that certain modules can be turned on or off, allowing users to custom-design their dashboard without needless tools adding bloat. And while extensions are available in case you need additional functionality or integrations, the plugin can do quite a bit on its own out-of-the-box.
If Jetpack CRM sounds like the right fit for you, download it for free here. And if you want to explore more CRM tools, check out our overviews of WP ERP and WP-CRM.
Featured Image via Nadia Snopek / shutterstock.com