One-size-fits-all doesn't work when it comes to the essential tools that run your business, perhaps especially when it comes to your Customer Relationship Management (CRM) software. Before you can choose the right CRM solution, you have to figure out what your customer relationship strategy is, then evaluate the technology at your disposal based on your requirements (and budget). Knowing what you need and understanding what the software does–and does not do-–is imperative if you want to figure out which tool is best for you.
The right CRM tool will help your business hone in on individual relationships and increase profitability. And if you have a WordPress website, you'll definitely want software that integrates seamlessly with it. WP-CRM System is one of many WordPress CRM plugins. This is one is special because it is a totally free solution that can be extended through paid extensions.
What does WP-CRM System do?
With WP-CRM System, you can manage customers, projects, and tasks from the WordPress interface, which is great since you're probably familiar with how WordPress works at this point. Plus, it means that you don't need another stand-alone tool to open every day. The major benefit of this plugin is that since the information lives in your WordPress dashboard, not a separate third-party tool, it's yours for as long as you have your site.
You can do more than just manage your customers, too. You can also manage projects, assign tasks and track marketing campaigns. Let's go over its baseline and premium features.
WP-CRM System Features
WP-CRM System has a lot of out-of-the-box features that you can take advantage of without any premium upgrades:
Import contacts and records with the CSV uploader, which is helpful if you're moving data from one CRM tool to WP-CRM System.
Create new contacts from your website's existing users with one click. Information from the user's account, like their name and email address, will be added as a contact in WP-CRM System.
In addition to contacts, create items like opportunities, projects, and tasks to keep track of.
Get updates via email when a project or task that you're assigned to is created or edited.
GDPR features (optional) help your company ensure compliance. (Note that the plugin does not guarantee compliance. Instead, the optional GDPR features will help you create a more compliant company.)
From the dashboard, you can see a list of your projects, then get into more details with a list of opportunities and tasks. And with the reporting feature, you can also see pending deadlines or due dates. These features give you the functionality of some project management plugins within your CRM, saving you the hassle of using separate systems to manage projects and customers.
Developer Tools and Customizations
While you first want to choose a CRM tool that will work well with your business and meet your needs, you also want one that you can further customize. You may not find everything you want in a CRM system out-of-the-box, but if you can make tweaks to it, you can get one that's pretty close to perfect. WP-CRM System is developer-friendly, so if there's a feature you need that isn't offered, you can add custom functionality with code.
Your CRM tool should be able to be customized as time goes on, too, not just once during implementation. Every department should be able to get out of the tool what's needed. Business processes and goals are always changing, and automation workflows should change along with it. With different add-ons to choose from and the option to add one at a time, you can tailor the plugin to your needs, even as they change.
Customer Support
If you're having trouble with the plugin, you can submit a support ticket, then check on its status here. There's a customer service contact form here, too. There's also a forum on WordPress.org dedicated to the plugin, where you may be able to find solutions and advice.
Getting Started with WP-CRM System
After installing and activating the WP-CRM System plugin (which you can find by searching for it by name from the WordPress.org plugin library or going here), click the WP-CRM System link in the left-hand sidebar of your WordPress dashboard. This will expand a menu underneath. Click Dashboard from that menu.

The WP-CRM System Dashboard
By clicking that link, you'll be brought to your main WP-CRM System dashboard, which lives in WordPress (you won't be directed to another site). From here, you can click through the different tabs.
(Note that there are Client Area, Custom Fields and Invoicing tabs here, but you'll need to add those extensions to actually access anything.)
Dashboard
This is a calendar layout where you can see everything you've got going on (campaigns, contacts, invoices, opportunities, organizations, projects and tasks). You can also add new information here or sort by a certain category.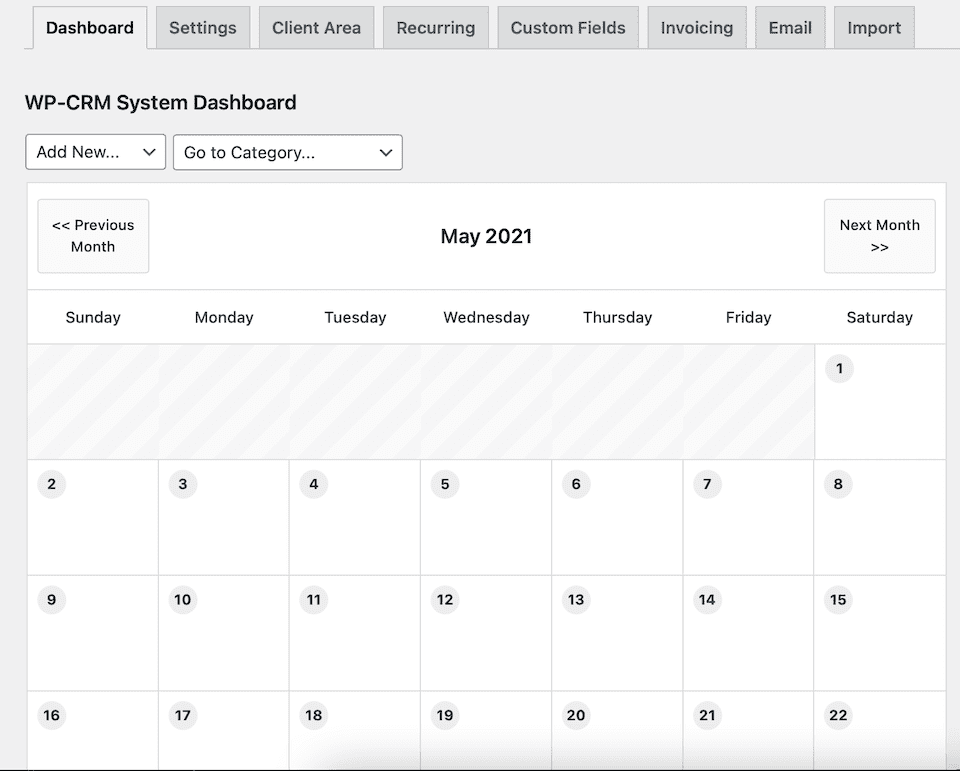 Settings
Play around with different settings, like setting access levels, your site's currency, and format and privacy for user content.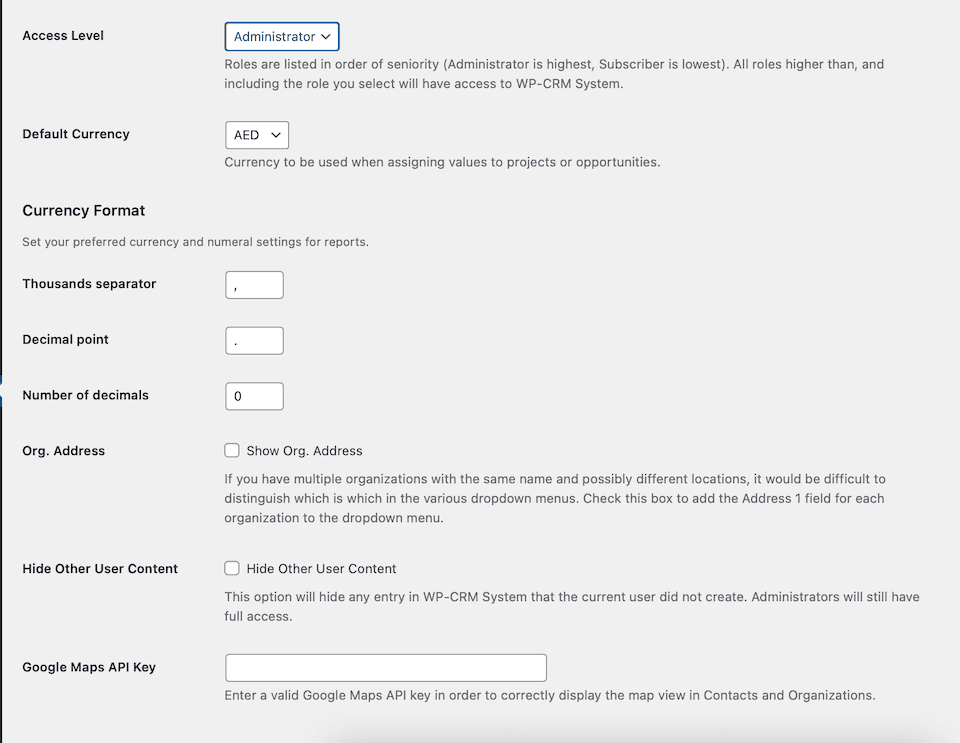 Recurring
This is where you can create recurring projects and tasks. You'll need to already have a project or task created in order to make it recurring. Once you do, you can set the project's start and end dates, as well as its frequency.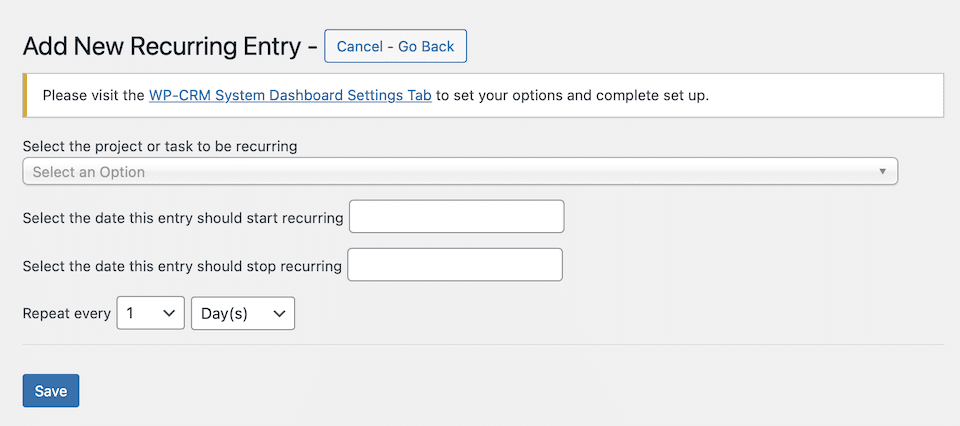 Email
This is where you can enable email notifications. From this tab, you can also create task, opportunity and project notification messages.
Import
On this screen, you can important campaigns, contacts, opportunities, organizations, projects or tasks from a CSV file.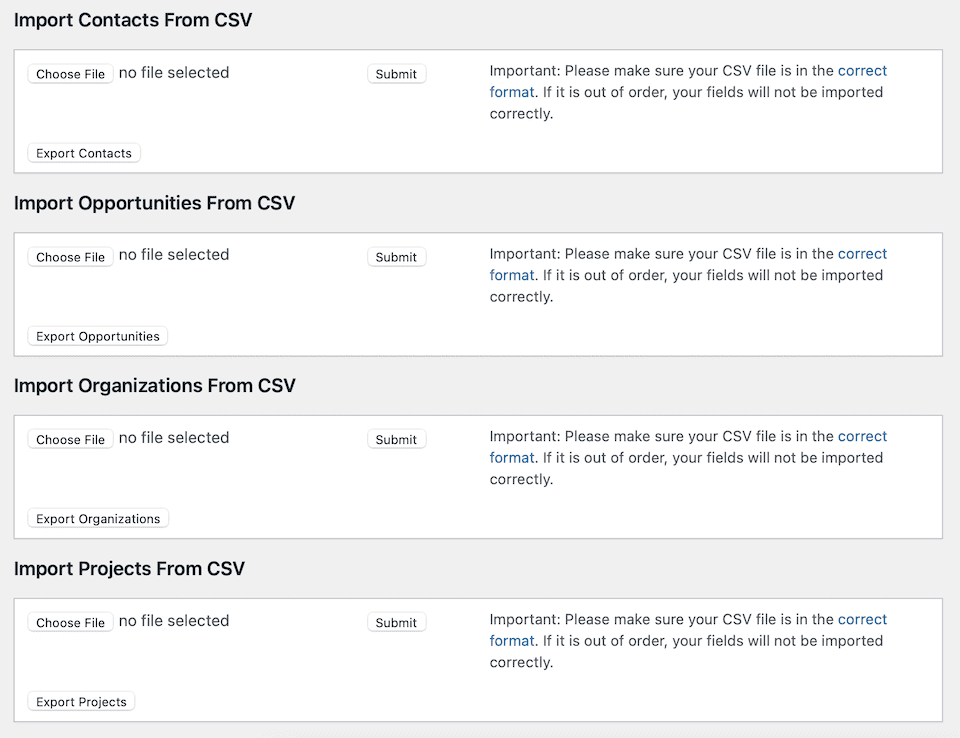 Under the WP-CRM System link in the left-hand sidebar there are other links to take you to different sections of the plugin.
When you click Contacts, Tasks, Organizations, Opportunities, Projects or Campaigns, you'll be brought to a dedicated page where you can view what you have or add a new item. Here's an example of what the page looks like when you add a new contact. The other "add" pages look similar, but with different fields based on the type of item you're creating.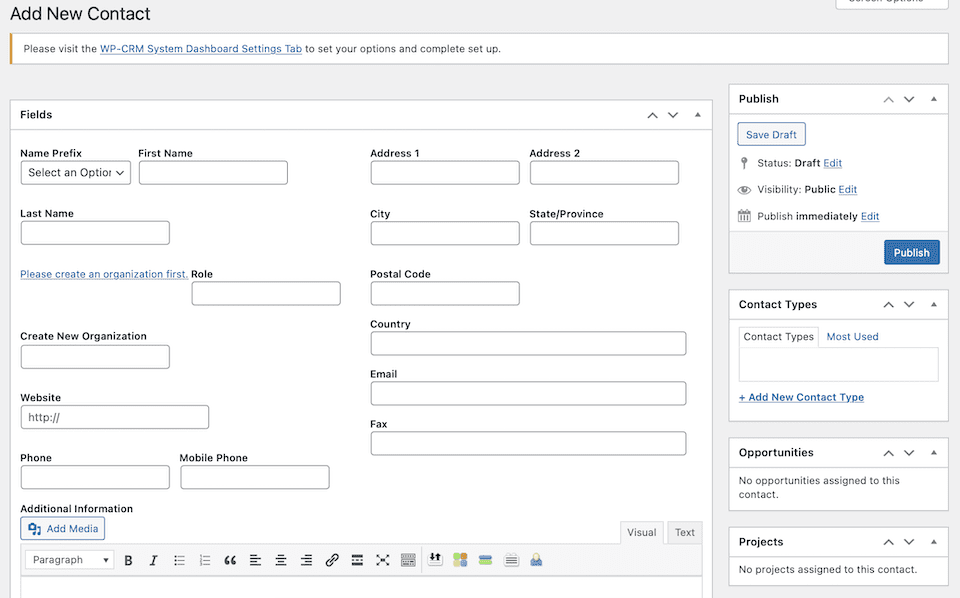 Email
The Email link in the sidebar is different from the dashboard tab. In the sidebar link, you can create and send an email to your contacts.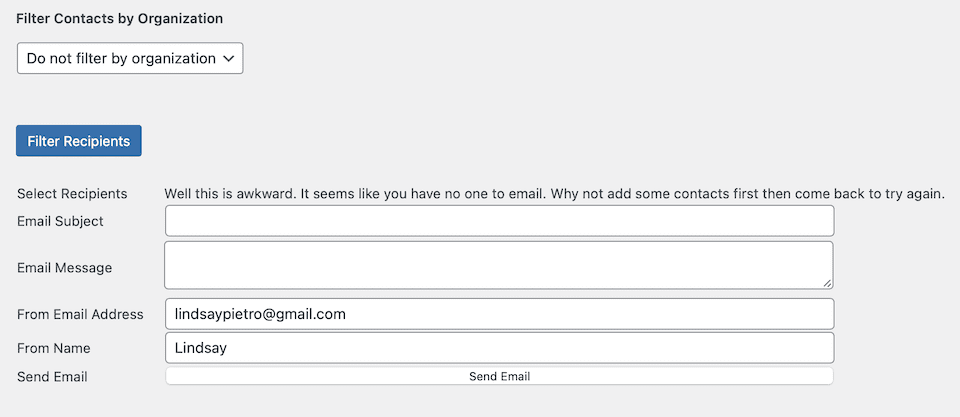 Reports
The Reports link brings you to a page with different tabs. Here, you can either see an overview of your opportunities, projects or tasks, or you can click through the tabs to drill down into more specific stats.

Extensions
From the Extensions tab, you can opt to add individual extensions (more on what they do in the next section).
If you need more functionality from WP-CRM System, you can get it with low-cost premium extensions. This means that you can integrate many of the tools you already use to create workflows.
Client Area
If you have clients who want access to information about their campaign or project, you can create a password-protected access portal where they can see status updates. Invoice information can be included here, too, if you have the "Invoicing" add-on (more on that below).
This extension works by adding shortcodes to different pages of your site. If a client is logged in, they'll be able to see records that they're assigned to (only if you want them to see the records, that is).
There's also a text field for different items where you can add images, files or notes for clients. This helps speed up the feedback process so you can update and complete projects faster.
Custom Fields
With this extension, you can add extra fields to WP-CRM System entries, which allows you to keep track of any extra data that you want in the records. You can add things like a URL field, a date selector and/or dropdown menus. This is a great way to keep track of the information that's most important to your company-customer relationship, like their anniversary or birthday, social media profiles, etc.
Dropbox Connect
Attach Dropbox files to a WP-CRM System record. You can't access the actual Dropbox account, but you and other team members can download attached files.
Easy Digital Downloads
When a customer orders via Easy Digital Downloads, you can view their order history and auto-create a WP-CRM System contact or update an existing contact.
Forms
If you have Gravity Forms or Ninja Forms installed on your WordPress site, you can auto-create a WP-CRM System contact when someone fills out a form.
Invoicing
With the Invoicing extension, you can send invoices and accept credit card payments via Stripe. The best part of this feature is that you don't have to leave your WordPress site to send invoices – you can do it right from your site when a project is finished. Also, you can customize how your invoices look, and you can add payment instructions for customers who may want to pay another way.
Less Accounting
By connecting to Less Accounting, you can manage client records and invoices. As you work on projects and tasks in WP-CRM System, you can add a line item for that project or task to the client's invoice, then add information like the item's price and a description.
MailChimp Sync
With this extension, you can subscribe WP-CRM System contacts to your MailChimp list(s), either one at a time or all at once. Also, you can either instantly subscribe them or generate an opt-in email.
Slack Notifications
When a project or task is updated, you can alert the rest of the team by sending an auto-alert to a predetermined Slack channel. To customize the messages that are sent, you'll use placeholder text that will populate with the correct value.
WooCommerce
When someone orders through your WooCommerce shop, you can automatically create or update a WP-CRM System record.
Zapier Connect
Use Zapier to connect WP-CRM System with more than 750 apps. Apps can "talk" both ways, too. You can send plugin information to another app via Zapier or have that app send information to the plugin.
There are tons and tons of use cases for the WP-CRM System and Zapier integration. For example, you can connect Zapier to your accounting tool and set up a workflow (called a "Zap") that will update the contact information in the accounting tool when the WP-CRM System entry is updated. Or, you can connect WP-CRM System with Trello via Zapier to sync projects and tasks.
Zendesk Connect
When a ticket is submitted to Zendesk by a WP-CRM System contact, a project or task can be created in the plugin using the information from the ticket.
WP-CRM System Pricing
The WP-CRM plugin is free. The makers feel that you shouldn't have to pay a ton of money and be charged based on how many records or users you have in your database. With WP-CRM System, you can add a limitless number of records, and everyone at your company can access the data, too.
This is important in terms of scalability. You don't need a CRM system that will just work now; you need one that will work in the future, too. And the hope of any business owner is that the future will be richer than the present. Successful CRM software has to be able to grow in an affordable way as customer inquiries and orders grow.
If you decide that you do want extra functionality via extensions, there are three pricing plans to choose from. (Note that you don't need extensions for WP-CRM System to work – they'll add to its functionality, but the plugin also works out-of-the-box.)
P.S. If you don't need an extension bundle plan, you can buy individual extensions as needed.
Plus
For $99 per year, you get one year of support and updates for one website. You can access the plugin as well as three premium extensions – Client Area, Custom Fields and Invoicing.
Enhanced
For $199 per year, you get one year of support and updates for one website. You also get all current and future extensions during that year – and for however long the license is active if you choose to renew the subscription.
Professional
For $249 per year, you get one year of support and updates for as many websites as you want. You also get current and future extensions for the time the license is active.
Final Thoughts: A CRM Plugin With Rich Basic and Advanced Features
WP-CRM System is a lightweight tool that works well out-of-the-box and can also be expanded and customized with premium extensions and code. It's low-cost (even free if it works for your needs without extensions), and you'll have access to customer data for the life of your website.
It's important to choose a CRM tool that works pretty well for your needs out-of-the-box. The better it works as-is, the less need for customization there will be. You won't be able to use a CRM tool off-the-shelf without modifying something, but if it already has most of the features and functionality you need to start with, you'll benefit from swifter implementation and a faster ROI.
Remember this, though: Even if you think long and hard about the CRM software you choose, your job isn't quite done. You have to monitor and measure the tool to make sure it continues to be successful for all of the departments that rely on it. If it works well for marketing but not sales, for example, it may not be the right solution for your business, or you may need to make customizations so every department can maximize it. If there's a segment of your business that's using or impacted by the software, it should be part of measuring its ROI, too.
Once you've chosen the best CRM tool for you, check out these five tips for getting the most out of your new software.
Featured Image via Inspiring / shutterstock.com