Customer relationship management (CRM) tools help businesses hone in on individual relationships and increase profitability. Before you can choose the right tool, though, you have to figure out what your CRM strategy is, then evaluate the technology at your disposal based on your needs (and budget). Knowing what you need and understanding what the technology does–and does not–offer is imperative to find what works for you.
Groundhogg is a marketing automation and CRM tool for websites that run on WordPress, and it's best for businesses that want marketing features, sales funnels, and CRM all in one. It's one of our top picks for self-hosted CRM solutions for WordPress.

With Groundhogg, you can create both marketing automation and sales funnels and manage your email campaigns all from within WordPress. Plus, as your business grows, you won't be charged more; pricing is based only on the plan you choose, not how many contacts you have. (Note that this isn't a solution for huge businesses. Instead, it caters to agencies, eCommerce, freelancers, and small businesses.)
In this article, we're going to go over the features and usability of Groundhogg's Pro plan, the most versatile one it offers. We'll also get into the details of the pricing for all of your options.
Groundhogg's Main Features
Compliance: Groundhogg is GDPR- and CASL-compliant.
CRM: Gather contact information using custom forms and manage your contacts with the CRM features.
Developer Tools: Developers can change or add features to custom-build exactly the solution they need.
Email Marketing: Send personalized, targeted emails to your contact list.
Integrations: Groundhogg seamlessly integrates with more than 25 popular WordPress plugins and services, like Amazon Web Services, Easy Digital Downloads, and WooCommerce.
Marketing Automation: Create sales funnels, both simple and complex, to show leads how to go through your sales process.
Plugin Compatibility: While Groundhogg is compatible with most other plugins, it will alert you to and attempt to fix any incompatibilities it comes across.
Theme Compatibility: Groundhoog will automatically work with any WordPress theme. And since it's a tool that only runs in the backend of your site, it won't affect your site's appearance at all.
Tracking and Reports: See detailed reports about contact activity, emails, and funnels. Find out what's working and what's not so you can make savvy decisions.
More Features of the Groundhogg Pro Plan
When you sign up for a Pro plan, you'll enjoy these features (and more):
Tagging
Payments
Contracts
Extensions
SMS texting
Tracking links
Booking calendar
Conditional logic
Content restriction
Backup and restore
Custom meta fields
Social proof pop-up
Birthday automation
Email countdown timers
Lead generation templates
Drag-and-drop email editor
Form integrations and styling
Bonus: The Pro plan includes Divi integration!
Lead Generation Templates
Since one of Groundhogg's biggest features is the ability to create funnels, their lead generation templates are worthy of a deeper mention. The templates pack in great tools without much need for additional lead-generation plugins installed on your site. In addition to mapping out your funnels (both marketing and sales) with Groundhogg, you can use ready-made templates that will help you with the following:
Feedback requests
Lead magnet downloads
Long-term nurturing
Reclaiming abandoned carts
Webinar registrations
Welcome series
Here's what a portion of the lead magnet funnel looks like: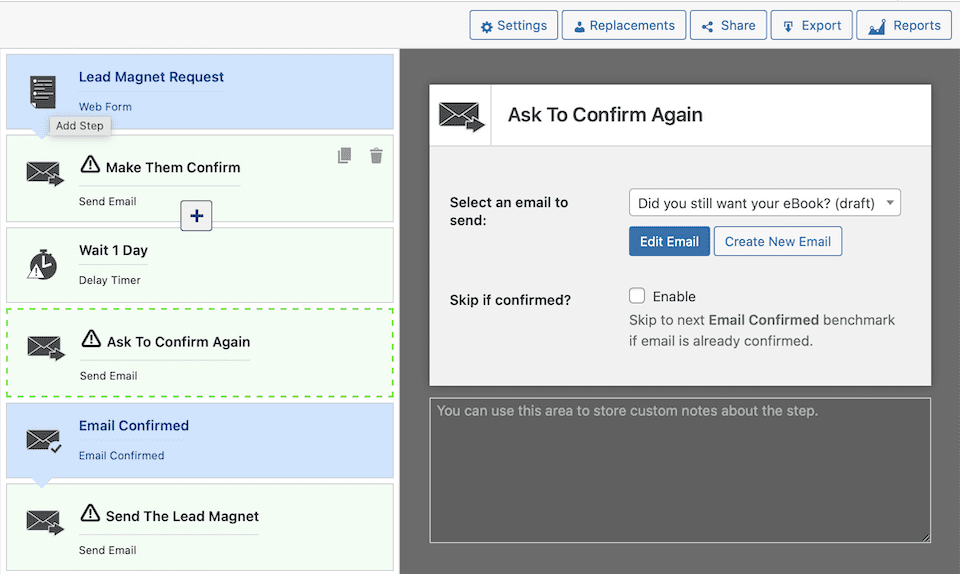 Emails
Another one of Groundhogg's main features is the ability to send emails from within WordPress. By clicking the Email link in the left sidebar of the WordPress dashboard, you'll be taken to a page where you can compose and choose settings for an email.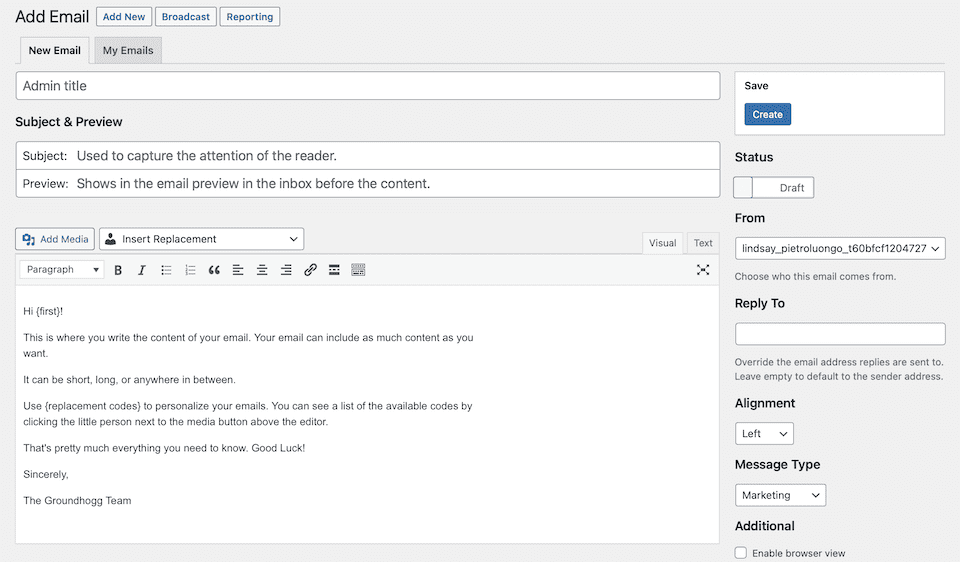 Then, if you click Broadcast at the top of the page, you can select the email you just composed and choose which contacts to send it to based on tags.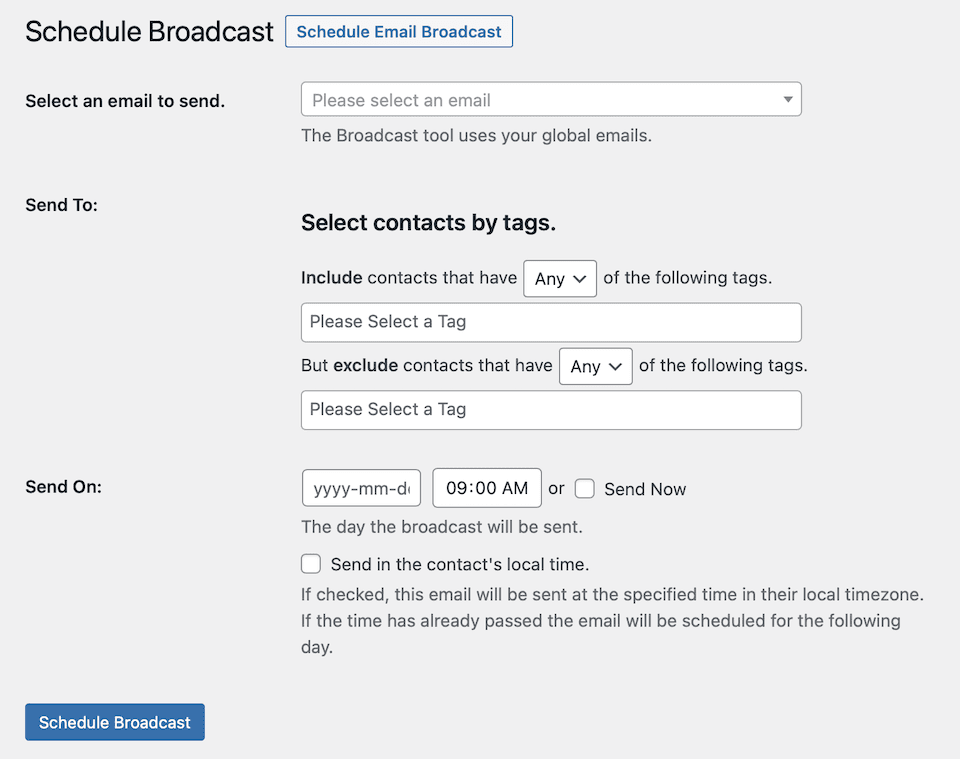 Analytics
There are all sorts of detailed analytics that you can view right from your dashboard, including:
Customer location data
Engagement rates, including CTR and open rates
Funnel analytics
Lead sources
Revenue trends
Web form conversions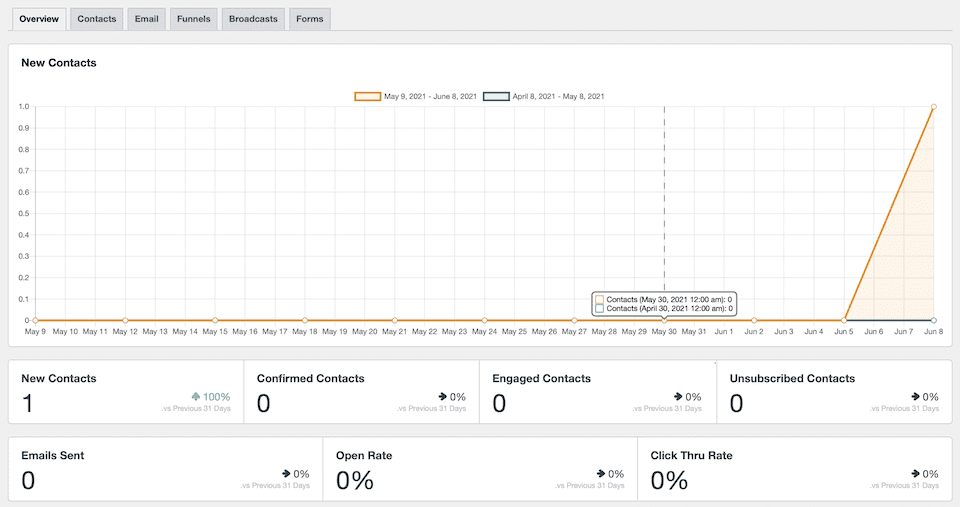 Getting Started With Groundhogg
Getting started with Groundhogg is as simple as installing and activating the plugin on WordPress. Once you do that, you'll walk through a guided setup process.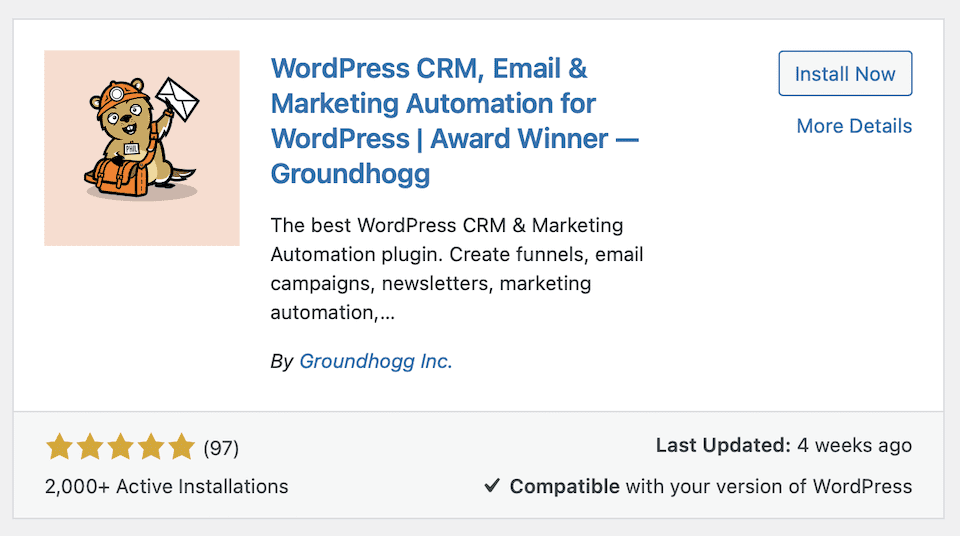 Setup Wizard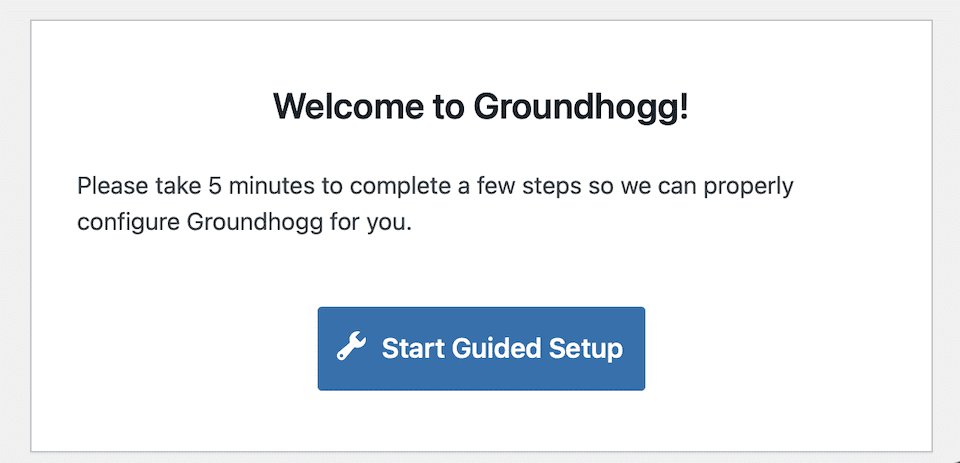 The setup process includes the following:
Entering your business information, which will be used in the footer of outgoing emails. Recipients will know who the email came from, and your business will remain compliant.
Adding compliance information, like your privacy policy and terms and conditions. Again, this helps your recipients understand more about your business while keeping you compliant.
Choosing your email integration service. Options include Amazon Integration, Elastic Email Integration, MailHawk, SendGrid Integration, and SMTP.
Enabling statistics, which allows Groundhogg to collect data. If you do this, you'll get 15% off a premium plan.
Quickstart Checklist
Once you're done with the setup wizard, you'll see a Quickstart Checklist, which shows you tasks that you might want to do next. They include:
Installing a Groundhogg cron file to improve website performance. This can be done automatically, but there are also directions if you have to (or want to) do it manually.
Importing a CSV list of your contacts.
Syncing contacts and users from WordPress to Groundhogg.
Sending an email to your list.
Launching a marketing funnel to welcome new subscribers to your mailing list.
Contact Records
Since the lifeblood of your business and CRM is your contact list, let's look at how your contacts show up in Groundhogg. By clicking Contacts in the left sidebar of WordPress, you'll see a list of all of your contacts, similar to how your pages or posts come up in a list. Then, when you click Edit under a contact, you'll be brought to their detailed record.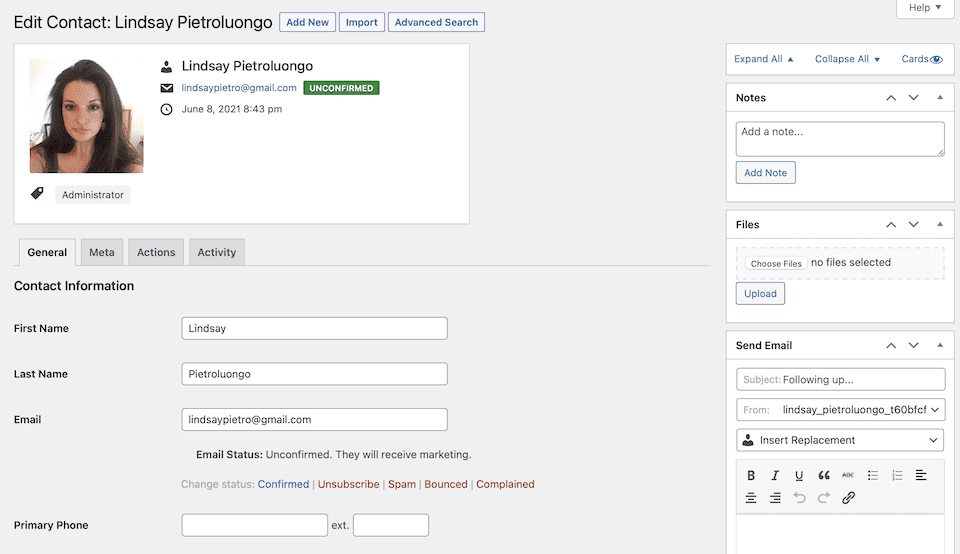 There's a decent amount of information here:
Contact information and photo
Join date and time
Metadata
Activity tab with past and upcoming actions and events
Notes and files
You also have the ability to send the contact an email, add them to a funnel, or submit an internal form for them.
Groundhogg Support
The tool you choose should be easy for you or your team to handle, or there should be support if you can't do it on your own (or if there are so many features that you could run into a problem). If you think you'll need premium support from Groundhogg, you can add it for $99 for one year. Or, if you buy one of the paid plans (instead of purchasing a single extension), you'll automatically get premium support included. And overall, there are a lot of options if you need help from the Groundhogg team:
Every Tuesday, there are free office hours, during which you can learn about marketing strategies and get answers and advice from experts.
There's a searchable knowledge base where you can find answers to common queries and look for support documentation.
The Quickstart Course designed for beginners teaches you how to build and launch your first funnel, and there are additional learning videos to help you master the different features of Groundhogg.
You can join the Facebook group with fellow users.
If you need help implementing a funnel, Groundhogg can connect you to a certified partner in their network.
There's also basic chat and ticket support.
Groundhogg Pricing
Groundhogg has four pricing tiers, with the Pro plan being the most popular:
Basic for $20 per month; use on one site
Plus for $30 per month; use on up to three sites
Pro for $40 per month; use on up to five sites
Agency for $80 per month; use on up to 25 sites
Each plan is billed annually. You can compare the plans in detail here.
It's a little tricky to find, but you do have the option to pay monthly if that works out better for your budget or business plans. That pricing page can be accessed here, and you can toggle between monthly and annual payments. For the Basic, Plus, Pro, and Agency plans, this raises pricing to $24, $36, $48, and $96 per month, respectively.
The best part about Groundhogg's pricing is that it's a flat rate no matter how many contacts you add to your list. Whether you have 25 or 25,000, you'll pay one price.
There isn't a free trial of Groundhogg. If you want to pay the full price upfront, you can get a 100% refund within 14 days of signing up if you're not happy with the tool.
The $1 Test-Drive Option
Another option is to use the Pro plan for 14 days for $1. While you don't get access to every single Pro-level integration, you can get a feel for how it works without paying for it and going through the trouble of requesting a refund. And you will be able to access Groundhogg's own extensions.
With the 14-day test drive for $1, you get the following:
Access to your own demo site so that you can play around with Groundhogg and see how it works.
Extensions are included in the Pro plan. Note that these aren't downloadable; they live in your demo site and can only be activated and used there.
If you don't want to sign up for a regular-priced plan after that test-drive period, that's fine – you won't be automatically billed once the two weeks are over. You can even get your $1 back!
Extensions and Bundles
You can purchase single extensions, or you can bundle them to save on the total. Let's take Ninja Forms as an example. To purchase just that one extension, it will cost:
$59 for a single site
$119 for two to five sites
$219 for an unlimited number of sites
That pricing is yearly; you'll get a one-year license with the purchase. If you opt to bundle with the Pro plan, you can get access to all integrations for $480 per year. If you only need one extension, it may be better to purchase it individually. However, if you need two or more extensions for your sites and you want the other benefits of a Pro plan, the cost isn't a bad deal.
Wrapping Up
Successful CRM software has to be able to grow as custom inquiries and orders grow. And while you first want to choose a CRM tool that will work well with your business and meet your needs, you also want one that you can further customize. You won't find everything you want in a CRM system out of the box, but if you can make tweaks to it, you can get one pretty close to perfect.
Groundhogg lets you grow your business at whatever pace you want without charging you more as your contact list expands. That's huge – most CRM tools have a tiered payment scale based on how many contacts you store in the database. Also, with numerous extensions and integrations, you can pick and choose exactly what you need to make Groundhogg work for you. While their website is somewhat cluttered and tries to sell to you in a heavy-handed way, the plugin itself is more streamlined than you'd expect. While the $1 test drive is just so-so (not being able to test it on your own site is a drawback), their refund policy makes up for it. And best of all, you can combine your funnels and email marketing with your CRM, giving you a one-stop shop for the most important functions of your business.
Settled on CRM software? We have 5 tips for getting the most out of it.
Featured Image via TeddyandMe / shutterstock.com