The tricky thing about trying to market your business on social media is that it's constantly changing. Platforms come and go, and you'll need to continually try and keep up. Most recently, this means taking a look at the latest social media app to make it big – TikTok.
In this post, we'll offer a brief introduction to the TikTok platform. Then we'll look at a few TikTok WordPress plugins you can use to integrate it with your website.
Let's get going!
Subscribe To Our Youtube Channel
Why TikTok Should Be on Your Radar
Every few years, a new platform comes along to shift and broaden the social media landscape. If you're looking to build a strong audience online, whether for your website or business (or both), these changes are vital to pay attention to.
Most recently, this means giving serious consideration to the emergence of TikTok as the new "big thing" in social media. While it's technically been around since 2012, this platform has grown substantially in reach and prominence over the past two years.
In fact, TikTok has become the sixth largest social network in the world. It's also the top downloaded app of 2020, and in the US alone there are more than 30 million active monthly users. Plus, it's a highly-globalized platform.
All of this means TikTok can offer you a huge potential audience. If you're looking to reach younger demographics in particular – especially those between 18 and 24 – it's become a top platform for getting their attention.
5 Best TikTok Plugins for WordPress
TikTok itself is not hard to get started with. This social media network thrives on short and casual content, which isn't difficult to create.
However, like any social media platform, it's best not to use it in isolation. Instead, you'll want to bring your TikTok marketing efforts together with the rest of your online presence – this means your website as well as your other target social media sites.
This includes looking for a way to integrate TikTok with your WordPress website. Unfortunately, because this platform is new in terms of market penetration, it means that tools for integration are thin on the ground – at least they are currently.
However, the river is not totally dry, and there are already a few TikTok WordPress plugins worth checking out. We'll introduce five of them below. These tools have been selected for their positive ratings (where possible), their recent update history, and their TikTok-specific functionality.
As such, most of these plugins are very new, and don't boast many downloads and reviews just yet. So we'd recommended testing whichever ones you'd like to try out on a staging site first, before implementing them on your live WordPress website.
1. Embed Block for TikTok
First up is a straightforward and lightweight tool. Embed Block for TikTok does exactly what it says on the tin. It provides a new TikTok-specific option for the WordPress Block Editor. You can add the dedicated block to a post or page, then paste in a URL to feature a specific TikTok video. Note that WordPress also comes with a native TikTok embed block that you can use as well.
However, Classic Editor users are not left out, despite the plugin's focus. It provides oEmbed support too, which means practically all WordPress setups can leverage its functionality.
Key Features:
Price: Free | More Information
2. WP TikTok Feed

WP TikTok Feed is a simple tool to help display your TikTok feed on your WordPress site. You can configure how the feed will be displayed, and it also gets updated automatically. This lets website visitors see your latest TikTok content, and makes them aware of your account if they'd like to follow it directly.
Key Features:
Add your TikTok feed to your website using @ids or #tags
Choose a gallery or carousel layout
Customize the feed's display (boxes, images, backgrounds, masks, and buttons)
Use a lightbox feature to help your TikTok content stand out.
Keep your site running quickly with integrated caching
Price: Free | More Information
3. TikTok Feed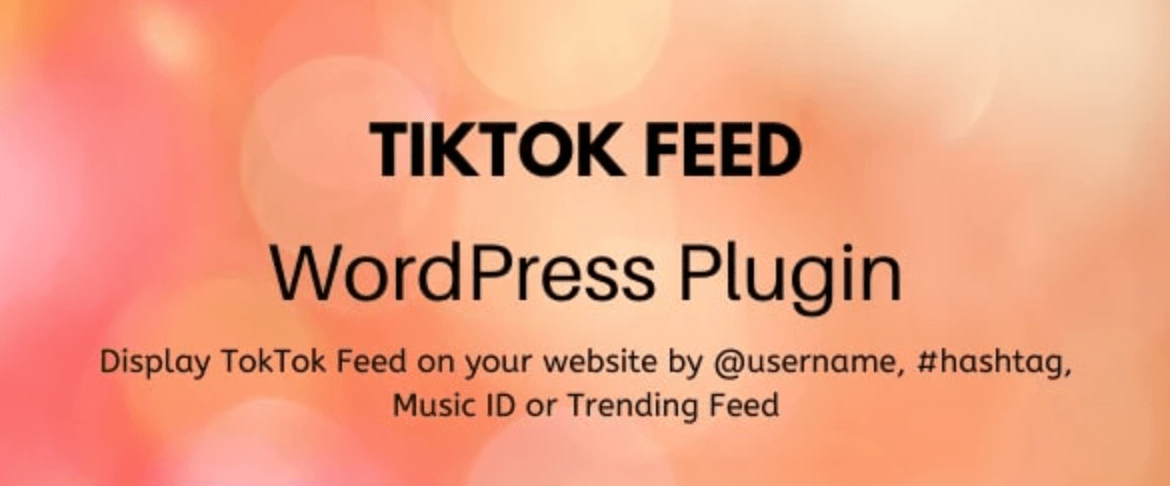 Next up, TikTok Feed is similar in purpose to the previous plugin on our list. This TikTok WordPress plugin also enables you to feature your latest TikTok content on your website, via an imported feed.
However, this plugin is more customizable and ships with a larger set of options. It gives you a great deal of control over exactly what is included in your feed, and how it appears to visitors.
Key Features:
Display a TikTok feed for a specific username, hashtag, or music ID (or feature "trending" content)
Customize the look of your feed, including text, colors, backgrounds, and so on
Show/hide specific sections of the feed, tweak how many videos appear per page, edit pagination, etc.
Generate shortcodes to feature your feed(s) just about anywhere on your site
Benefit from built-in caching to reduce the videos' impact on your site
Price: $19| More Information
4. TikTok Video Downloader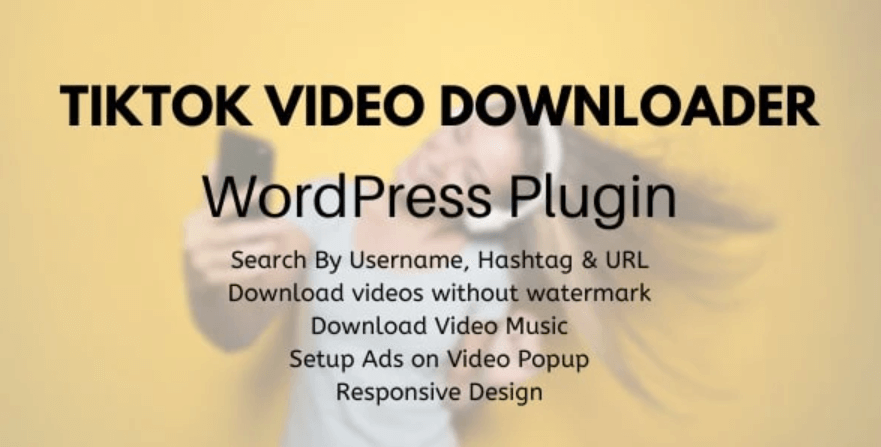 Next up, let's look at something a bit different. TikTok Video Downloader is less about showing off your own content on the platform, and more about providing your website visitors with a different way of interacting with the main TikTok site. It enables you to place a feature on your site to let users search for TikTok videos using a variety of criteria, then download the ones they like without watermarks.
Key Features:
Use a shortcode to add the video downloader tool to posts, pages, and sidebar widgets
Let visitors search for specific videos by usernames, hashtags, and video URLs
Customize the appearance of the downloader, include colors and font sizes
Offer downloads of videos with and without watermarks
Keep page speeds low via various speed optimization techniques
Price: $19| More Information
5. BioLinks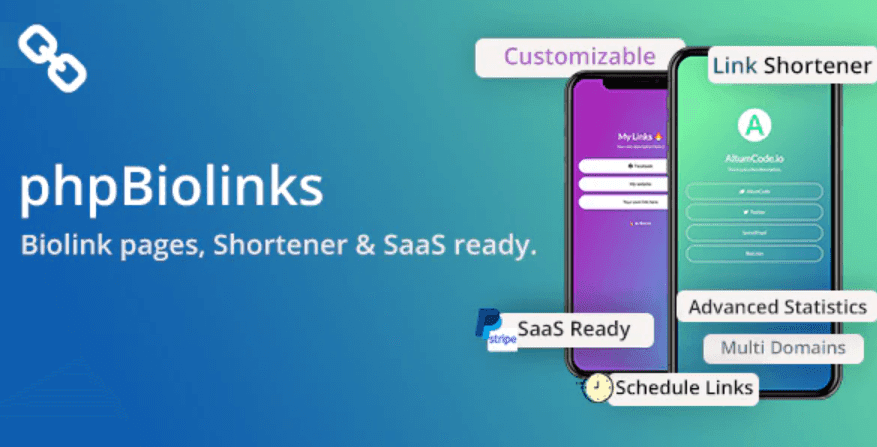 Marketing via TikTok means facing the same problem that's been around on Instagram for a while now. You're severely limited in how and where you can feature links. BioLinks aims to solve this problem on both platforms. It helps you create an attractive shortened link that you can add to your TikTok bios, which will direct users to a landing page featuring as many URLs as you like.
However, it's worth noting that this isn't actually a WordPress-specific plugin. However, it can be used effectively to bridge the gap between your website and your social media profiles, especially for users on mobile devices. For this reason, and given the ease at which you can integrate it into your WordPress website, we think it deserves a place on this list.
Key Features:
Create a simple landing page that you can customize with URLs, images, and videos
Generate a shortened link to your landing page, which can be placed in social media bios
View statistics on your page's visitors, and integrate the data with Google Analytics
Price: $59| More Information
Conclusion
New platforms like TikTok can feel intimidating, and it can be challenging to figure out how they can be used effectively. Your best bet is to incorporate them as part of your existing online presence – which means integrating TikTok with your website and your other social media accounts.
While there are few platform-specific solutions just yet, there are a few TikTok WordPress plugins you can try out right now:
For more information on how to effectively market your website and integrate social media, including TikTok, with your WordPress site, check out our post on the best marketing plugins for WordPress. By leveraging the right tools and strategies, you can effectively reach your target audience and grow your online presence. Here's to some success!
Have you created a TikTok account for your website yet, and what kind of content are you creating? Share your experiences with us in the comments section below! Looking for more? Check out our best social media plugins for WordPress.
Featured Image via ART PAL / shutterstock.com