Although it became available worldwide back in 2018, TikTok has made a big splash in 2020. Despite security concerns, social media marketers and brands alike are looking to make the most of what this app has to offer. However, before you can start promoting your own business on this channel, you need to know how to edit TikTok videos. It can also be handy to know how to embed popular TikTok content or even the latest videos from your feed on your WordPress site. In this article, we'll teach you how to accomplish both of these goals.
Let's get started!
How to Edit TikTok Videos With the Default Editor
While there's a lot that could be said about how to record videos in TikTok and the types of content you can create with this app, this post is going to focus strictly on the editing and embedding processes. Let's take a look at the default editor first, since this is probably where you're starting as well.
It has a pretty simple interface: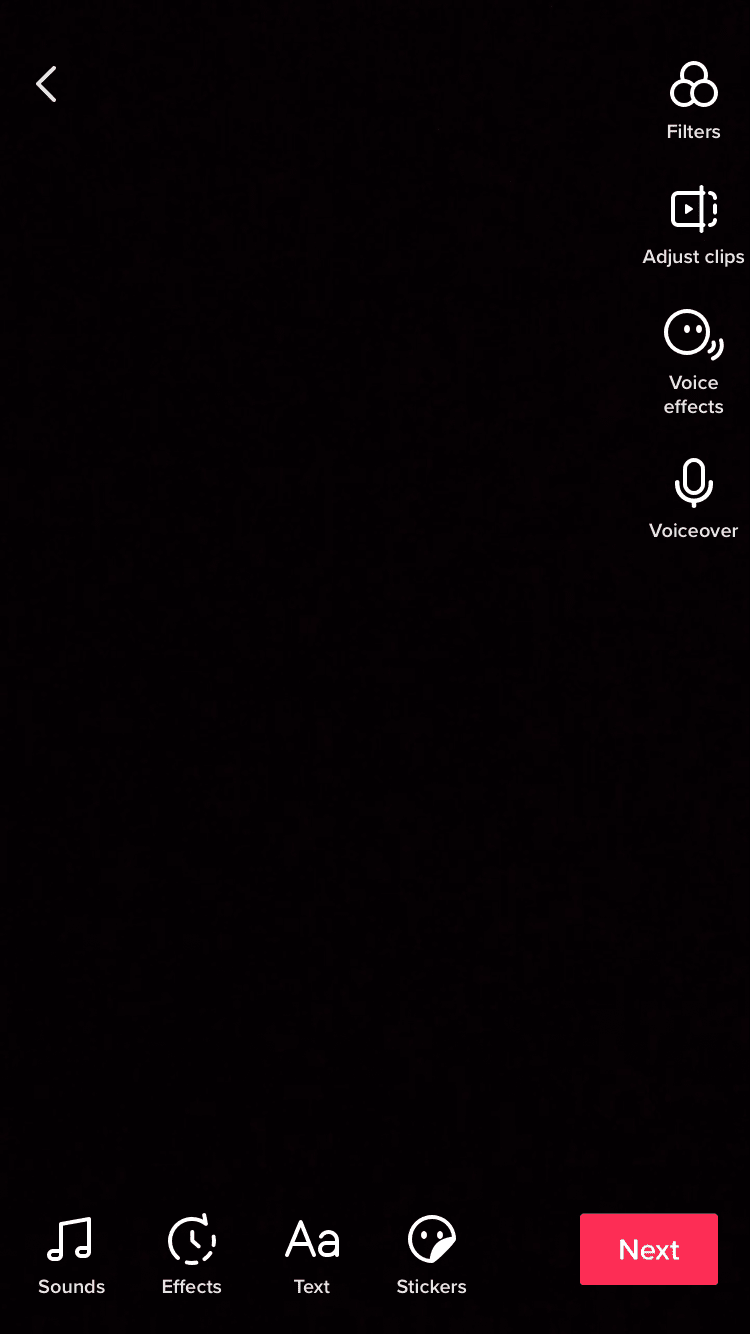 Here's a quick introduction to the built-in options, starting in the top right corner and moving to the bottom left corner of the screen:
Filters. This feature is also available during recording. Like Instagram filters, these are presets that you can apply to change the appearance of your videos. There are four categories – Portrait, Landscape, Food, and Vibe.
Adjust clips. With this tool, you can trim your videos to cut out unwanted content at the beginning or end of the clip.
Voice effects. These audio effects enable you to modify your voice. Some examples include Chipmunk, Robot, and Helium.
Voiceover. Use this to record a voiceover. You'll be able to see a preview of your video so you can time the audio correctly.
Stickers. Here, you can add emojis and other pre-made graphics to your video. Once you've selected one, tap on it in the editor to see more options.
Text. Tap this to add a text layover to your video.
Effects. These include a variety of visual effects to spice up your content. You can add fireworks to your video, make it look like an 'old-timey' movie, and various other options. The editor enables you to drag effects to specific parts of the video as well.
Sounds. This is where you add music, sounds, and other audio components – a big part of TikTok.
That's all there is to it. It's a pretty simple process, and these features will likely be enough for most content creators. Once you're happy with your video, you can tap on the Next button to access sharing settings and publish it.
How to Edit TikTok Videos With Third-Party Apps
When recording your TikTok videos, you might notice the Upload button in the bottom right-hand corner: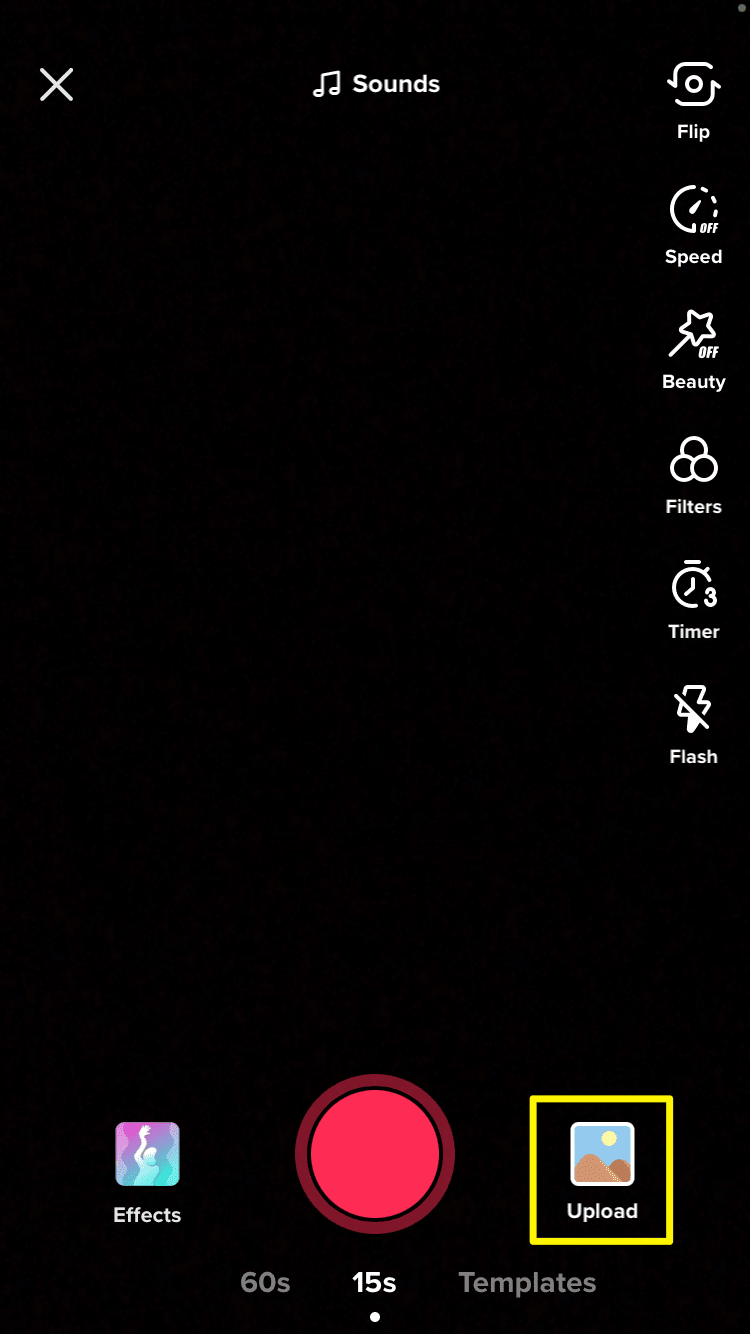 This enables you to import videos you've created elsewhere and publish them on TikTok. As such, you can take advantage of third-party editing apps that may include more features than the default interface. There are dozens of these apps available, but unfortunately, we don't have the space to discuss them all here. Instead, let's take a look at two of the best options.
CapCut is a newer TikTok editing app, but it's created by Bytedance, the company behind TikTok itself. This means you should expect a pretty seamless experience: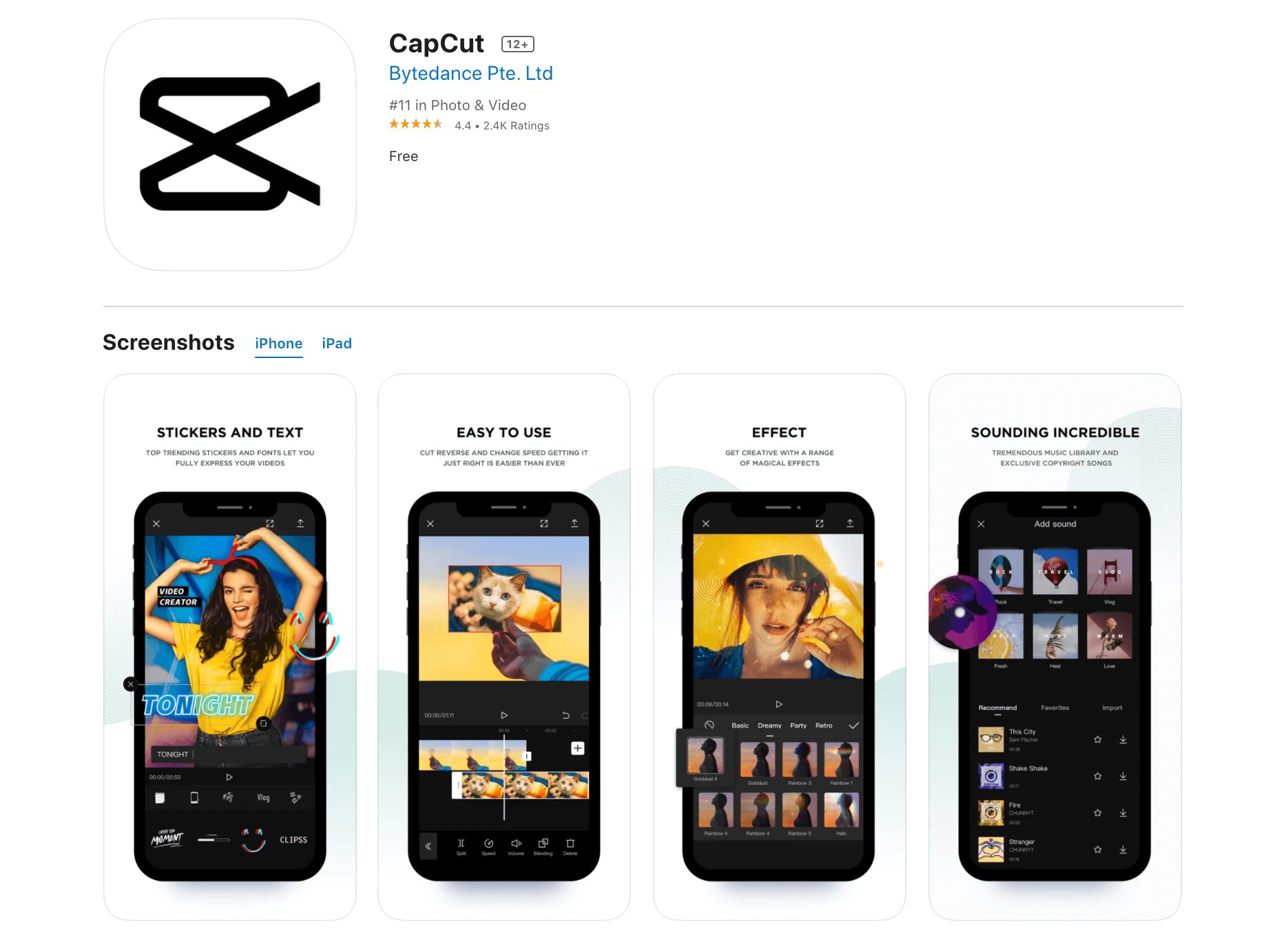 This app is geared towards creating social content, and therefore perfect for marketing purposes. It includes cut, reverse, and speed change options, as well as advanced filters, exclusive music, and additional stickers, fonts, and effects.
Another – and potentially more beginner-friendly – option is Zoomerang: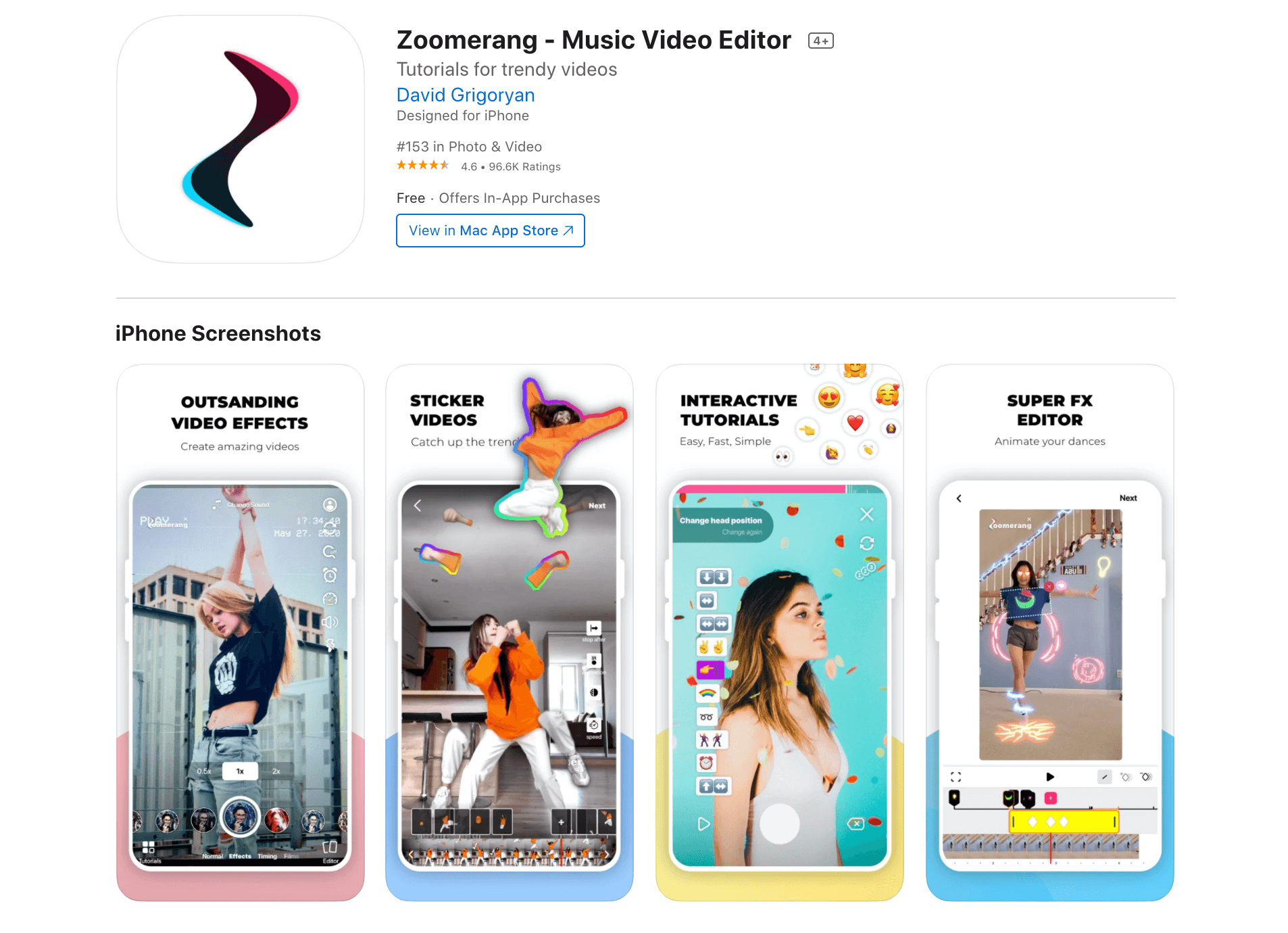 This app includes video tutorials to guide you through its features. It includes several additional effects and stickers that are free to use.
How to Embed TikTok Videos in WordPress (2 Methods)
After you edit your TikTok video and publish it on the app, you can also share it via your WordPress website. The platform includes a built-in functionality to help with this, but you can also enhance it with a social plugin specific to TikTok. Here's a quick walkthrough for each option.
1. Use the Block Editor's Default Embed Functionality
If you'd like to use the Block Editor to embed your TikTok video, all you need is its URL. Then head to the post or page where you would like to feature it, and add a TikTok block: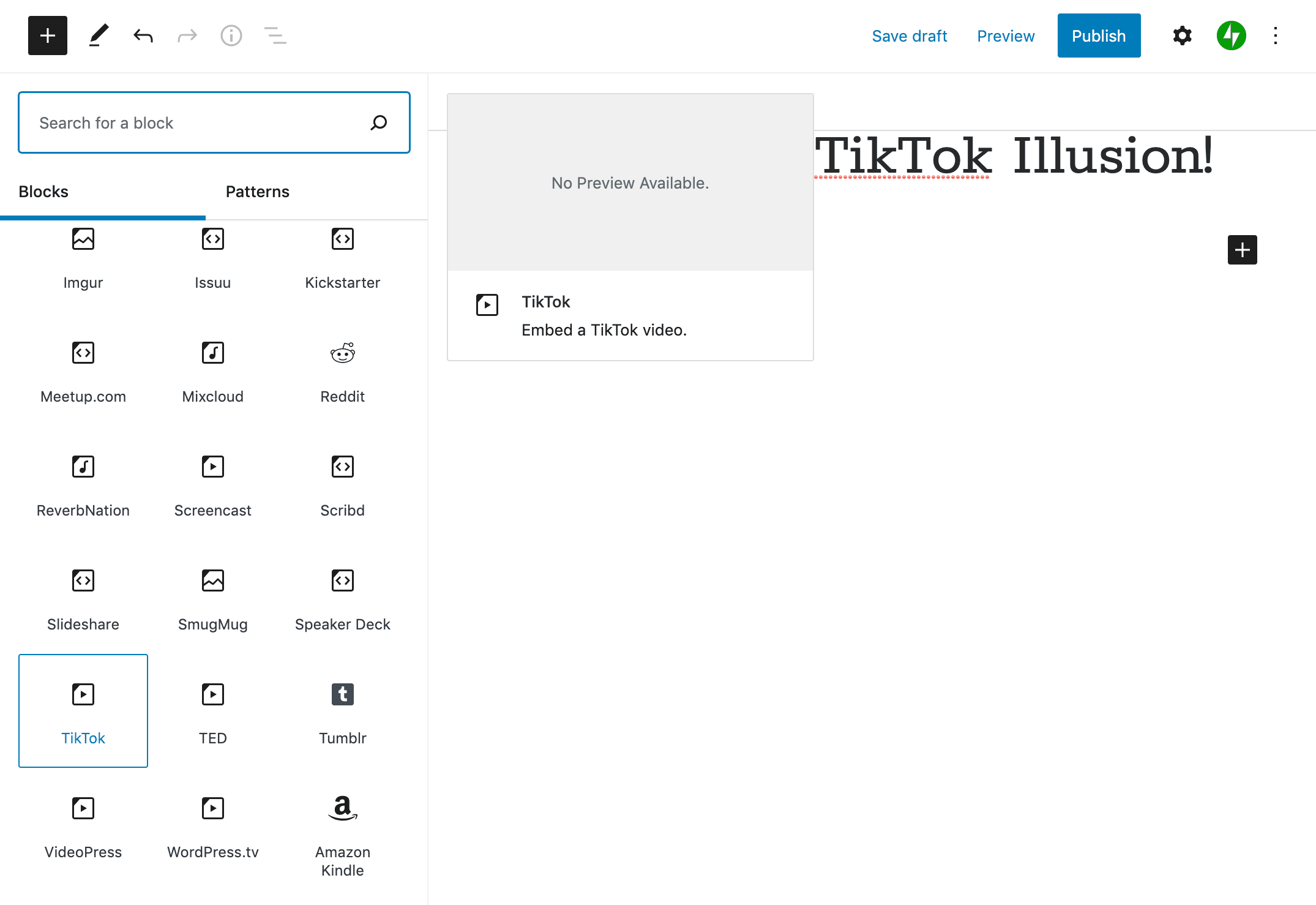 You can find it under Embeds or by searching for "tiktok" in the block library.
Next, paste the video's URL into the address field: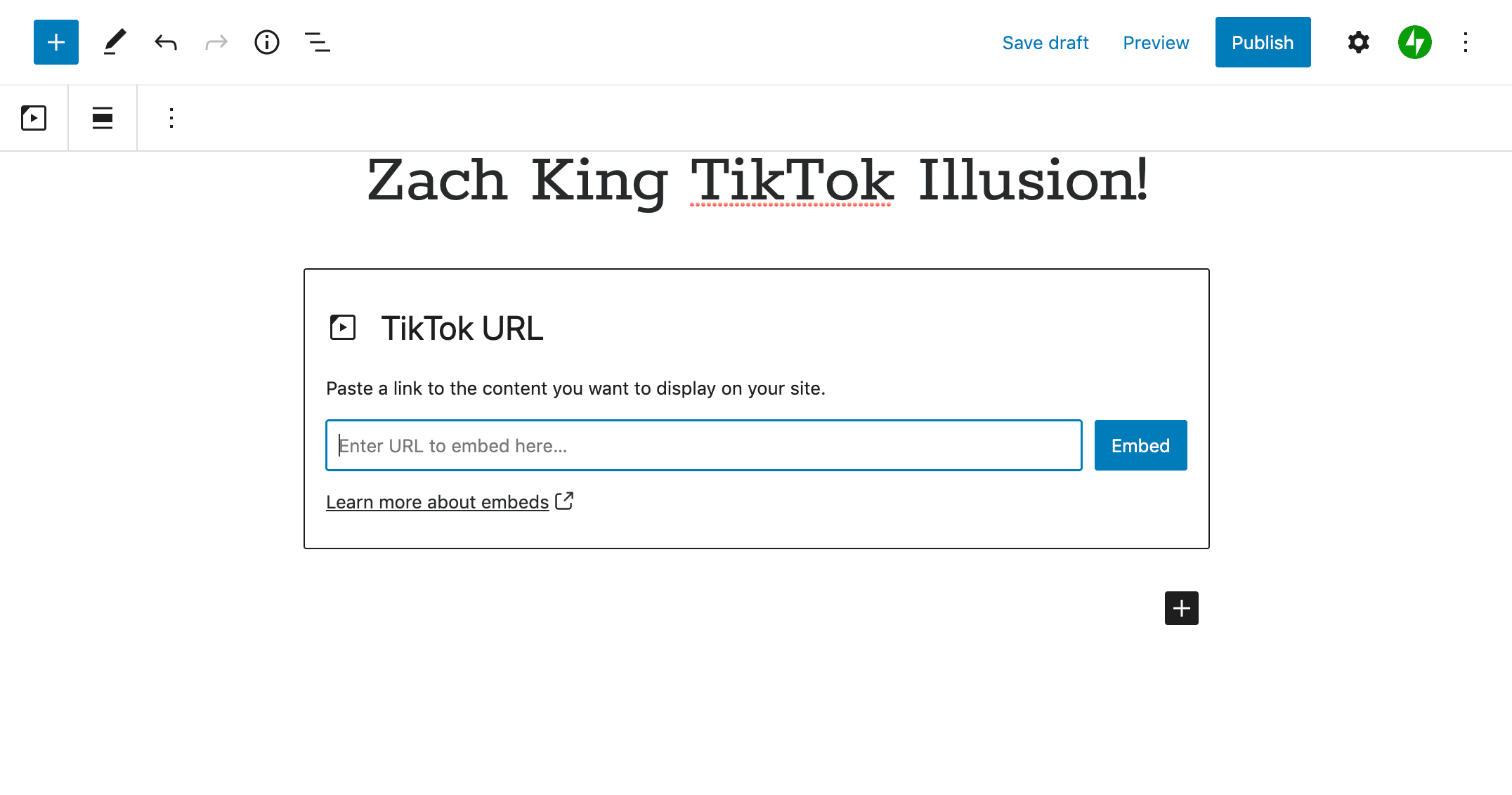 Your TikTok should then appear in the editor so you can preview it:
You can also add TikToks to widget areas using the Video widget. Click on Add Video > Insert from URL and paste the web address you sourced earlier: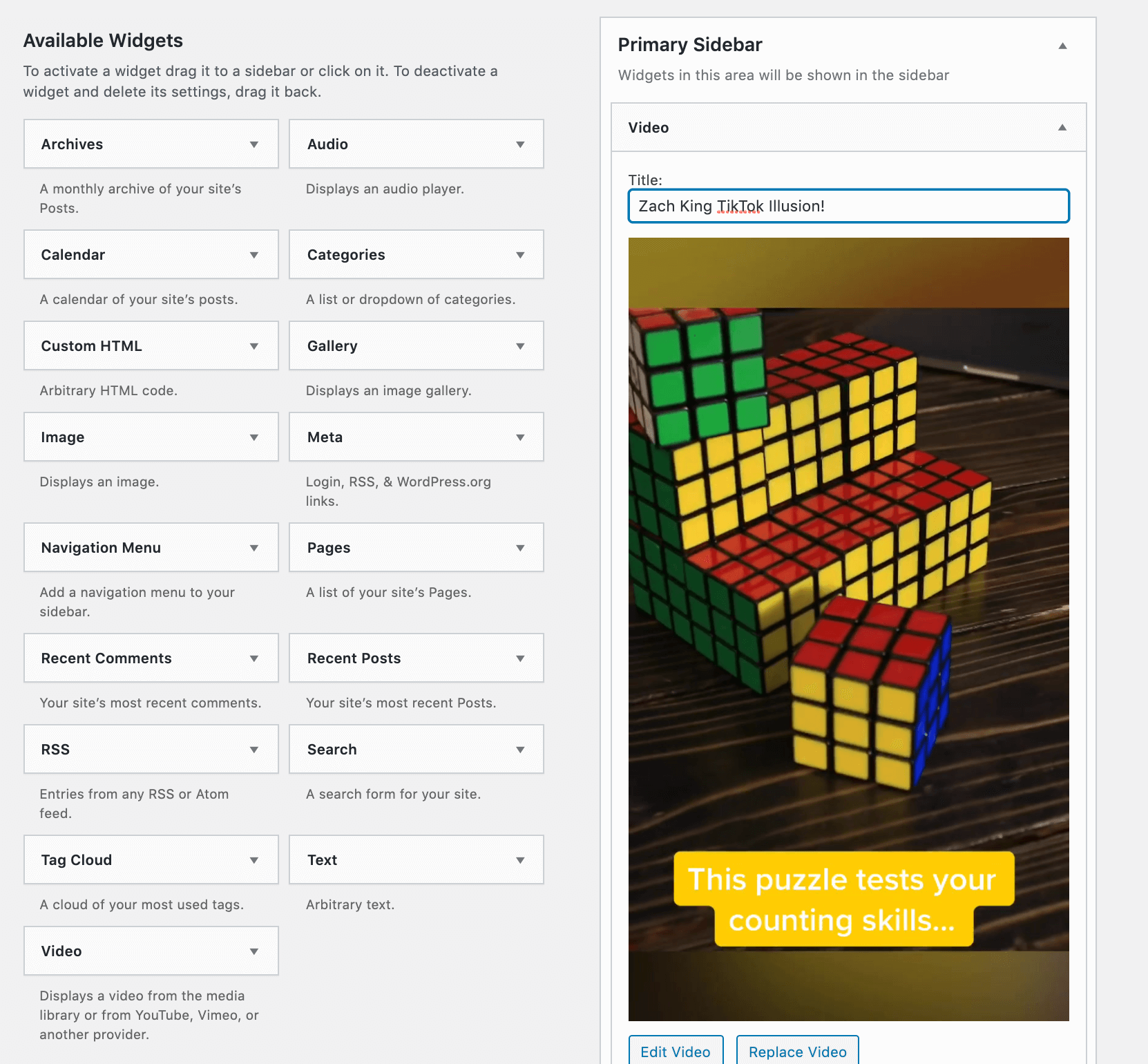 You'll see a preview of the video and can add it to any widget area your theme supports.
The first method works fine if you just want to embed a few individual TikTok videos on your site here and there. However, if you want to feed to be an integral part of your online platform, you may want to look into installing a TikTok plugin.
There aren't many of these available, which isn't surprising considering TikTok is relatively new on the social media marketing scene. QuadLayers TikTok Feed is one of the most highly rated options:

After you install and activate it, you can navigate to TikTok Feed > Feeds to get started: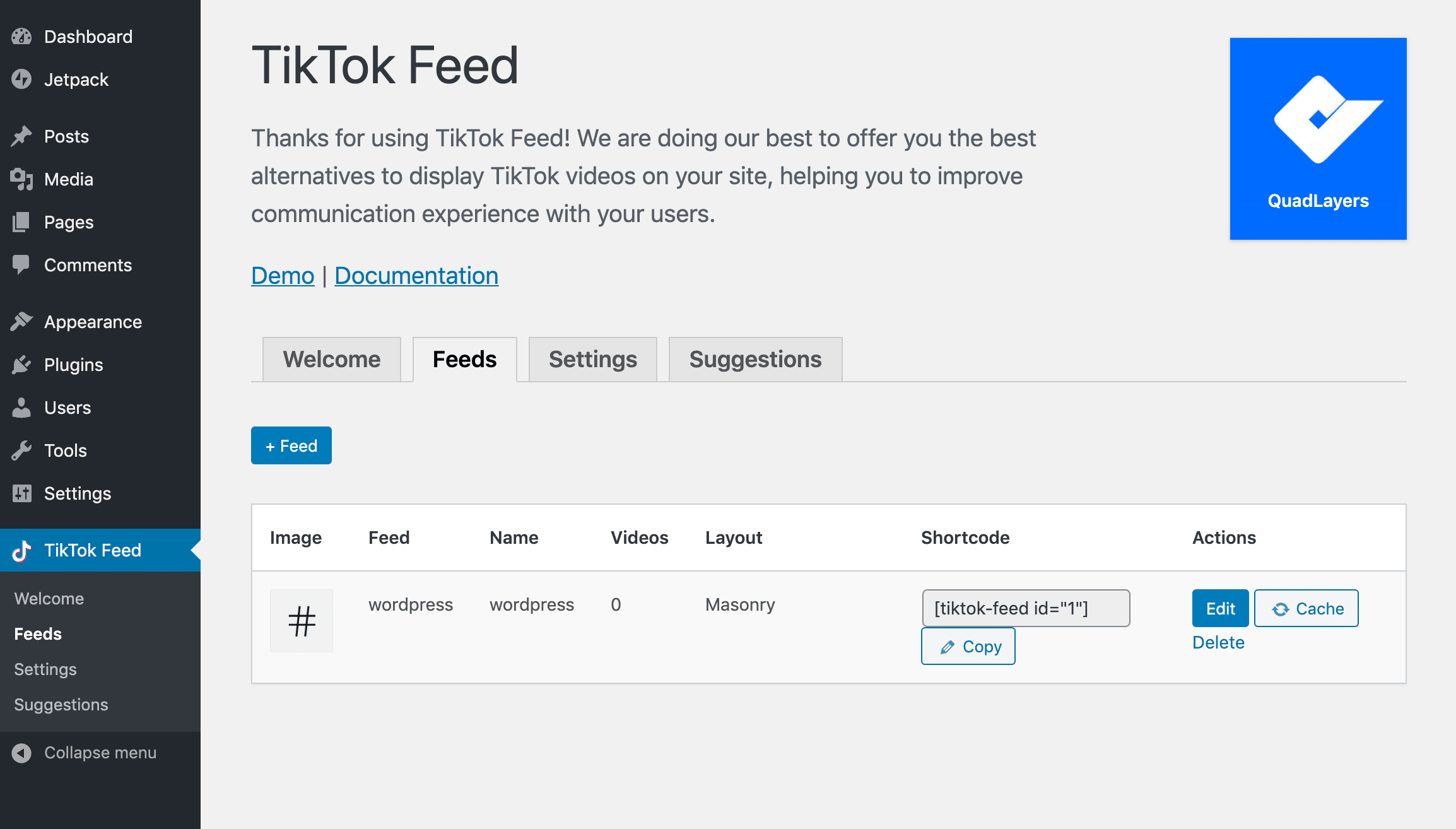 Click on the +Feed button. This will open a window where you can configure the displays settings: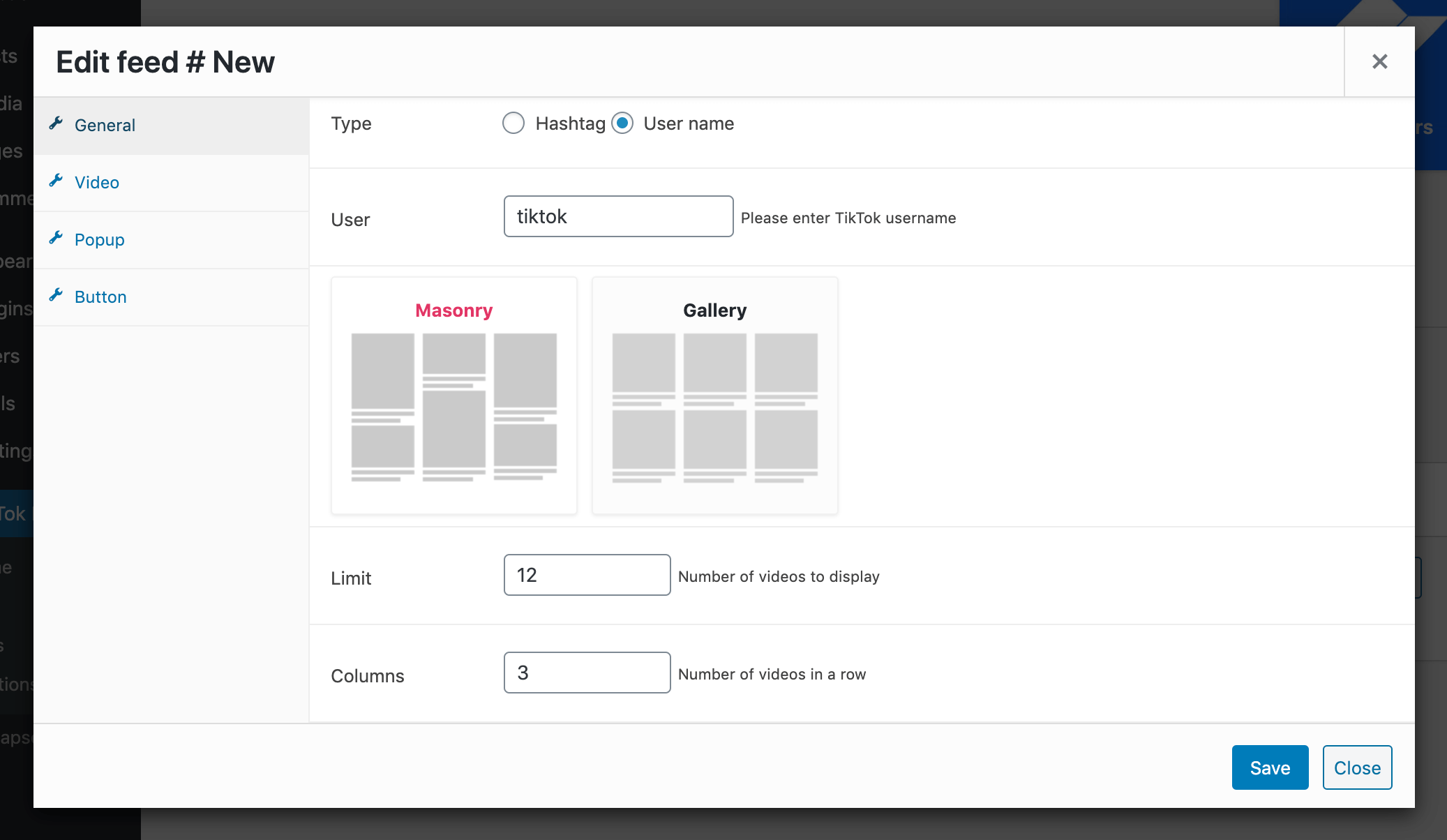 Here's a quick rundown of the options:
General. You can add feeds by username or hashtag. You can also choose the gallery style and how many videos it should display at a time.
Video. Specify if you want to show video controls (play, pause, etc.) and if your feed should autoplay. You can also adjust the gallery's spacing and radius, add video masks, and customize the mask color.
Popup. Enable a video lightbox so visitors can view your TikTok videos in more detail. There are also options to show user profiles, likes, and comments here.
Button. Add and customize a View on TikTok button.
When you click on Save, the plugin will generate a shortcode for this feed. Paste it anywhere on your site to display it: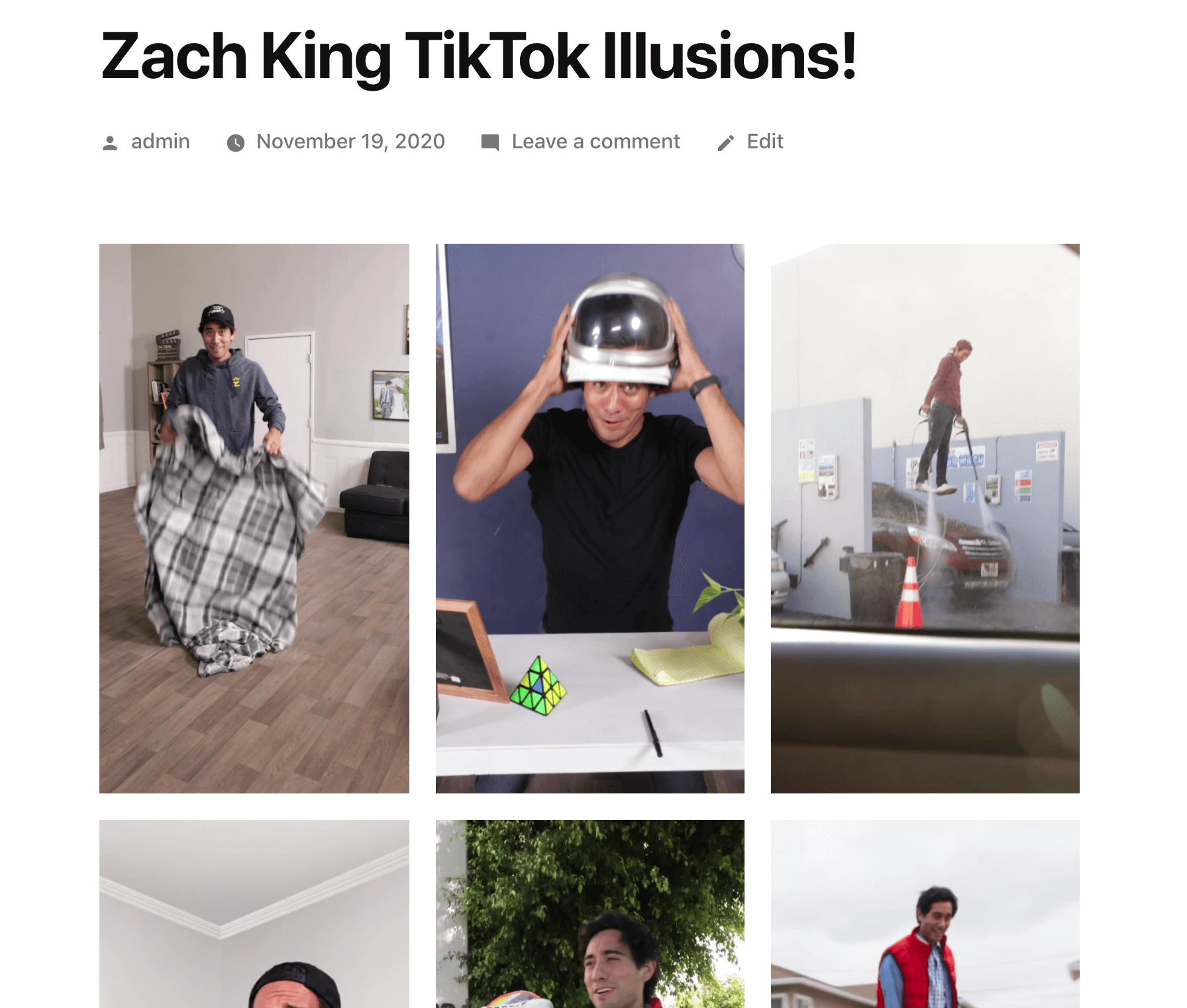 The easiest options are to use the Shortcode block for posts and pages or the text widget if you want to display your feed in your sidebar.
Conclusion
When it comes to promoting your brand online, it's important to keep one finger on the pulse of the digital marketing industry and watch for emerging trends. TikTok is a now-popular channel and a ripe opportunity for reaching younger audiences, but only if you know how to edit and embed TikTok videos.
In this post, we showed you the default TikTok editor's key features, shared a couple of recommendations for third-party editing apps, and walked you through two methods to embed this type of content on your site:
Use the Block Editor's built-in embed functionality.
Embed TikTok videos using QuadLayers TikTok Feed.
Do you have any questions about editing or embedding TikTok Videos? Let us know in the comments section below!
Article image by Garno Studio / Shutterstock.com