Search the web for information on AWeber or MailChimp and you're likely to come up with two themes: firstly, advice suggesting that you must be using an email platform to build your email list; and secondly, a constant debate between bloggers on which of the two to use, including some who have switched between the two and back again! So what are my thoughts on this hot topic?
Well, I agree that building a list of readers, followers, or customers – however you want to define them – is paramount to building your brand. Data is very powerful, since once you have somebody's email address and their permission to contact them; you can send them tailored information direct to their inbox. They might have seen your content online but what they receive by email can be "subscriber exclusive" and the more valuable the information you send them, the more they build up their trust in you.
This is relationship building and is the start of the sales funnel. A percentage of these subscribers will go on to interact with you further through your comments and social media channels and become loyal readers. The ultimate goal is for them to hang onto your every word and finally, make a purchase from you since they value your knowledge so much.
You can start building your email address very easily by offering something in return, such as a free eBook download. You then need to make sure the content you supply in your emails is useful for them to make sure they want to open every email they receive from you. The sending of your emails should be at a consistent time every day or week. Using an email platform, you're able to set up these times and create a series of emails that are sent out automatically to every new subscriber.
So that's the basics of why and how you should be collecting email addresses and sending out communications. Now let's go deeper into the how and specifically look at which of the two biggies you should be using to complete your email goals: AWeber or MailChimp.
A Brief Overview
AWeber has over 120,000 users across the world, including small businesses, entrepreneurs, and bloggers. Set up 16 years ago, AWeber calls itself "The Original Autoresponder Provider" with industry-leading deliverability. It has everything that you need to build an email list: a web sign up form, the ability to collect and manage subscribers, autoresponder follow ups, and of course, the email sending facility.
You're also able to track the performance of your emails and receive expert support every day of the week. One standout feature of AWeber is the free 30-day trial, making it easy and risk-free to see the benefits of building an email list.

And MailChimp? It boasts over 7 million users who send 500 million emails every day. MailChimp has all of the features that AWeber has for email campaigns: custom forms, email creator and sender, automation, and analytics. To manage your subscribers, it's really easy to view profiles and segment them into groups for various email campaign set ups. MailChimp promotes its mobile campaigns too if you're considering SMS direct mail. The pricing structure is really clear, based on your numbers of subscribers, and there's even a free option.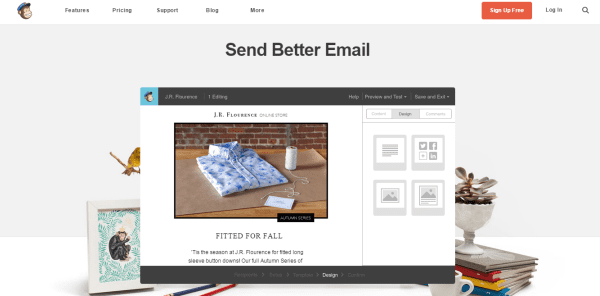 Both sound great so far. But still, which should you choose? Let's break down their pros and cons.
Pricing
Let's start with pricing, as sometimes the choice will always come down to this. MailChimp clearly outlines the options for different sized businesses. If you're just starting out and sending up to 12,000 emails to 2,000 subscribers, it's completely free. This isn't a trial or expiring contract period, so you don't need to input credit card details. Of course, a free service won't come with bells and whistles like the upgraded options, so you'll miss out on automation, email chat and support, and delivery by time zone.
If you're a growing business, you can opt for a monthly cost or pay as you go option. The latter is the better option if you sporadically send out emails, but if you have regular, planned campaigns, it's more cost efficient to pay monthly as your email sends are unlimited. The costs range from $10 per month for up to 500 subscribers to $25 per month for 2,000 subscribers. And with this, you get the ability to segment your audience into lists based on their profiles and integration into other web services that you already use. The experts are on hand to help you with your email marketing strategy. There are also options for agencies that are sending up to 1.3m emails on behalf of clients.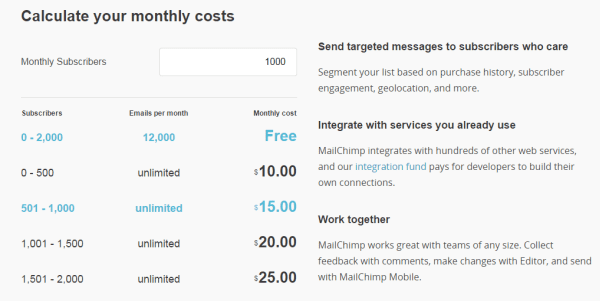 Through AWeber, sending emails up to 500 subscribers will cost you $19 per month, versus MailChimp's $10 and $29 per month for up to 2,500 subscribers, versus MailChimp's £25. Again, there are options with increasing prices for those sending much higher volumes. AWeber offers your first month for free as its free 30-day trial, which brings the annual price down a little. But compared to MailChimp's prices, what do you get? Expert customer service and autoresponders, just like MailChimp, but you also have access to over 700 email templates and 6000 stock images.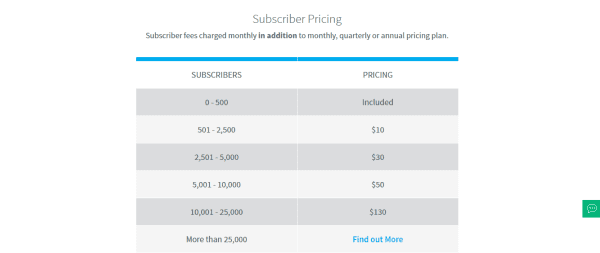 Designing Your Email and Signup Forms
Both options offer email and sign up form templates for you to follow. MailChimp is particularly easy to use, which is great for beginners. It's optimized for mobile, so you don't need to worry about the technical aspects of coding. It has a drag-and-drop feature so you can rearrange where your image and text content sits, plus you're also able to replicate areas.
You can use the built-in photo editor to tweak your images, rather than editing in another program and importing the content. The file manager will help you to organize your images and other documents and you can access this while you're editing your template as well as through your dashboard. For the sign up forms, you have the choice of 30 fields that can be included alongside the email address to capture more data.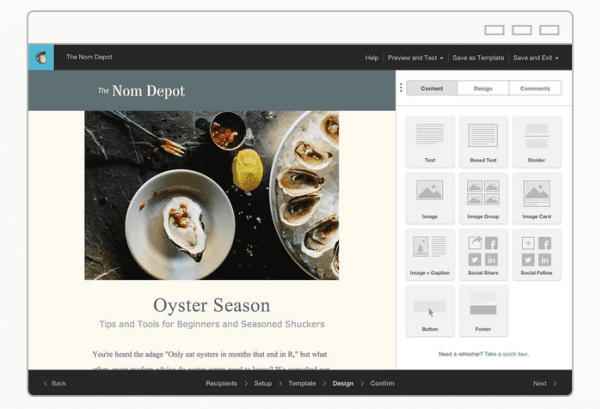 MailChimp's editing process for emails is also incredibly easy. You can have multiple collaborators who can post comments and send test emails while you're working on the campaign. When you're checking that the links work, you can see where the URL points to if you hover over the link, plus the platform automatically verifies links in your email. Finally, the previewer works for PC, laptops, and mobile, so you can see how your email will look on each device side by side.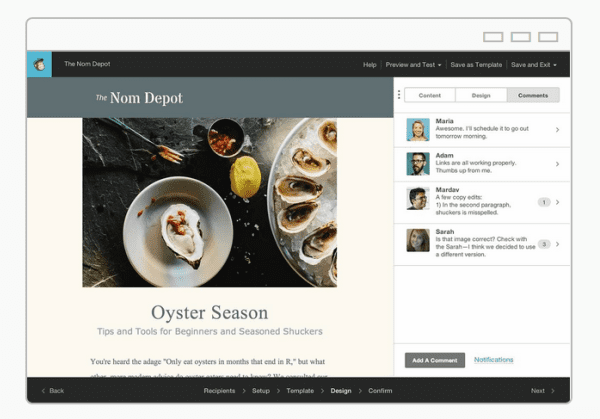 AWeber is even easier for beginners as you simply need to choose a template (mobile responsive) and input your content. However, for anyone who wants to customize the communications they send to their customers, this might not be their preferred way of working. There are a huge amount of templates to choose from – over 700 in fact – or you can pay a premium to have a template designed for you.
This option starts from $29 to modify one of the existing templates to your layout, font, color, or background of your choosing. You can pay $229 to have AWeber's design team work with you to develop a bespoke template that matches your brand. For the same price, you can design a PDF template yourself and have the team convert it into an HTML email. This is great for those who are designers themselves, but it's a pricey option.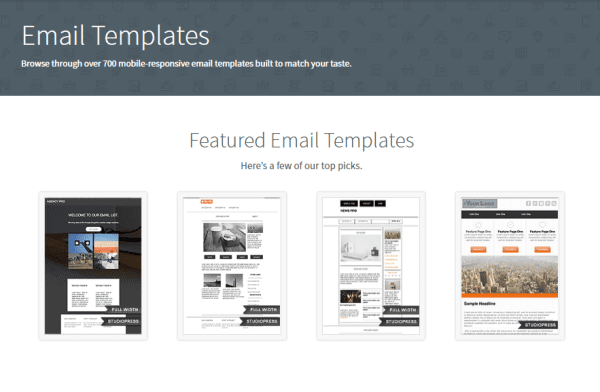 So there are cost considerations to make, but mostly, it's your preference over how much control and flexibility you'd like over your email design. Two important points for both: they're able to host your images for you and embed the sign up form into your own website, rather than navigating your customers away to an external site.
Autoresponders
When a customer decides to make the move to hear more from you and signs up to your emails via your website, you'll want to initially thank them and perhaps send them a series of emails as an onboarding campaign. This is one of the easiest ways to really engage your customers as you can send them tailored information as new readers.
For instance, if you sell a service online, the series could include how that service can benefit the customer with the final email in the series offering a discount on the online price. Your customers will have seen all of your content leading up to the sales message and be ready to buy.
You can also send autoresponders to those who've made a purchase to increase their loyalty. As a customer, what's better than buying a product from a company that you trust? Perhaps receiving useful information, like product instruction guides, after you've bought it. It all helps to build that important relationship. Autoresponders allow you to send out these welcome or product emails without you having to manually take note of every new signup and mark in the calendar when to send what email.
The good news is that both AWeber and MailChimp offer autoresponsers that are easy to use and effective at what they do. Both allow you to schedule the days and times that the emails should be delivered and any new signups will receive them in a sequential order.
You can use the email design features and analytics tracking of both platforms to set them up and monitor their performance. You can then segment the customers based on their purchases using behavioural targeting, resulting in really personalized experiences.

Where MailChimp trumps AWeber is its ability to integrate with other web services. So you might hold your customer data elsewhere, such as Salesforce, and use MailChimp simply to send out your emails. The integration means that your customers' activities are feedback into your external CRM. MailChimp is also better at creating segmented lists to begin with. You can create different sign up forms for different customers, allowing you to have separate marketing strategies for each part of your business.
However, to use MailChimp's autoresponder feature, you need to be a paying customer. So the free contract does have its drawbacks. This premium is well worth it though as the features are great and the expert support is really valuable to your business. MailChimp also gives you access to the research it compiles on its data, so you can improve your own campaigns.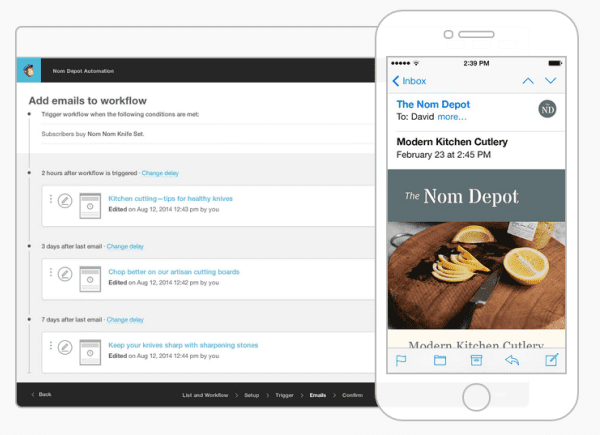 Deliverability
Of course you want your customers to open and click through your email, but you also want to know that the email will be delivered into their inbox in the first place! Email service providers (ESPs) like AWeber and Mailchimp all have reputations with the email providers like Gmail and Hotmail. Put simply, if the two don't get along, there's a higher chance your emails will bounce. Email providers do this to make sure their customers receive more of the emails that they want to receive, and so they are strict on spam.
For AWeber and MailChimp, it's reassuring to know they both have good reputations and have deliverability rates well into the 90s. A quick search online tells us the general consensus is that AWeber has the best deliverability rates in the industry and they themselves promise a 99% deliverability rate.
Analytics
Both AWeber and MailChimp have extensive tracking capabilities. Both allow you to really understand your customers so that you can learn who they are, such as what country they view your email in and what email provider they use; and what type of content they like and build that into future campaigns. You can also split them off into lists and send them different communications based on their activity history and preferences. This means you can send them more relevant and targeted content, which is a sure fire way to get sales.
You can track your sales through AWeber so you can see what email has made you money and therefore is most successful. The analytics dashboard gives you a clear overview of opens and clicks per email via graph format. You can see exactly where they've clicked so you can build up a picture of what content is interesting for them. It's also really easy to see who has unsubscribed and use this information to monitor what emails are causing unsubscribes.

MailChimp also provides analytics via graphs, plus it has an email overlay feature so you can see visually where your customers have been clicking. This allows you to see the most clicked links as well as using the information to design a more effective email layout in your next campaign.
For those who haven't opened or clicked, you're able to send them a modified campaign specifically for them. Like AWeber, you can view your unsubscribes, plus you can identify which emails have bounced and MailChimp will advise whether to try the address again or not.
There's a really cool feature where you can compare your email performance against others in your industry, so you can see how your campaigns stand up against the competition. Another great feature is the ability to choose which sections of the analytics reports to show others so that sensitive information is easily hidden.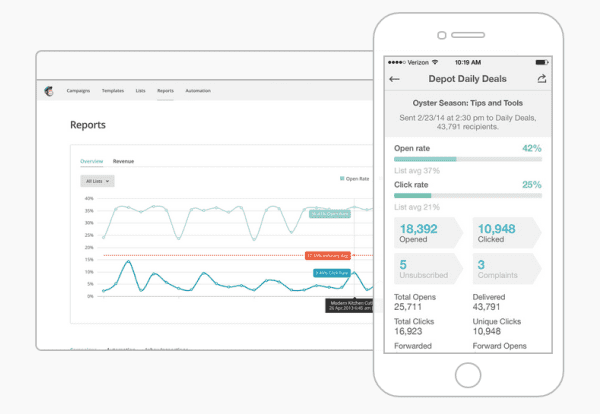 MailChimp makes it easier to do AB testing than AWeber. AWeber promotes this service for its opt in forms, but MailChimp outlines many tests that you can do for your whole email campaign. It can help with testing the best day and time to send your email or split testing subject lines, for instance.
Support
Whether you're familiar with HTML and CSS, are an email design whizz kid, and have analyzed many statistical reports, or you're completely new to email marketing; you will always need support. It could be help with the initial set up of your account or emails.
You might not understand what your analytics are telling you and will miss out on the opportunities to use this knowledge to better your communications strategy. Or they may be a failure somewhere in the email send out process and you have to speak to an expert to rectify it. Whatever it is, a service provider like AWeber or MailChimp has to provide support.
This is where AWeber blows MailChimp out of the water by some distance. AWeber provides support via telephone, email, and web chat every day of the week. Their support stops at 8pm during the week and 5pm on weekends, but it's a lot better than MailChimp's support, which is through a contact form only. All businesses need to be efficient with their time, so waiting around for a response isn't really an option. Plus, waiting for an answer is even more stressful when you've uncovered a major problem with your campaign.

Where both providers are incredibly useful is their resources. They have how-to guides and video tutorials for both the technical and strategic sides of email marketing. They both have ideas blogs for you to take inspiration from and keep up with the latest trends. AWeber also provides clear information on switching from other email providers.

Affiliates
Your business model might include income from affiliate links. To do this, you'll need to pepper your website content with them and promote them via email. Even though affiliate links are often inconspicuous – as the whole idea of affiliate marketing is built on trust and recommendations, rather than the hard sell – MailChimp doesn't really like them.
It doesn't ban affiliate links, but if any of its blacklisted links appear in your emails, it'll come down harshly on you. Its blacklisted links include many retailers, so it's a tricky thing to get around. You risk being shut down completely if MailChimp disagrees with the content you're promoting. And it can do this without warning.
New Options
Both AWeber and MailChimp keep up to date with industry trends and tailor their offer to meet their customers' needs. They've both developed integration with social media, which is a great option for those who incorporate it into their marketing strategy.
You can send your Twitter and Facebook followers a link to your latest email and see the reports on who clicked on it. As with all things social media, this link has a chance of being shared to a wider population, further spreading your message.

Both MailChimp and AWeber have recognized that their customers might want to quickly edit something or view their campaign's performance while on the go. They have therefore developed their own mobile apps, which allow you to send campaigns and view reports directly from your mobile. You can even design emails on the app and keep up to date with your team. You can also use your mobile to send texts to your subscribers as another way to communicate with them.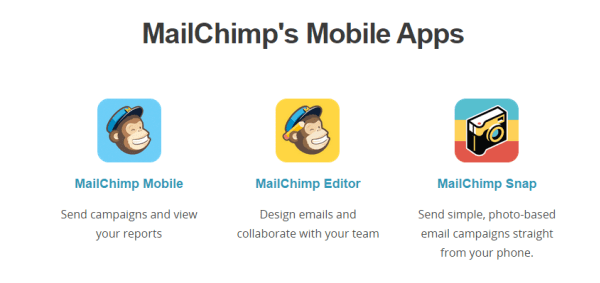 The Final Decision
Think about your needs now and in the future. Yes you might only have a few subscribers at the moment and could get away with using the basic, free service from MailChimp, but you'll need to think to the future and be sure that you'd be happy with their prices and service as you grow. It's very easy to set up an account and an email campaign using either provider, but less easy to switch later down the line (although not impossible).
So if I were to start from scratch, which provider would I choose? Both are brilliant options for email marketing and have many similar features. However, MailChimp has more options for designing and reporting. It seems easier to use and all of the information is clearly there for you to digest. Plus, even the paid options are cheaper than AWeber.
However, the couple of drawbacks could be too major: the lack of support and the harsh restrictions on affiliate links. It could be worth paying the extra simply to get the return on investment through your affiliates or put your mind at rest that you can reach a friendly voice. If these two things aren't deciding factors for you, then the winner is MailChimp.
Article thumbnail image by kostolom3000 / shutterstock.com